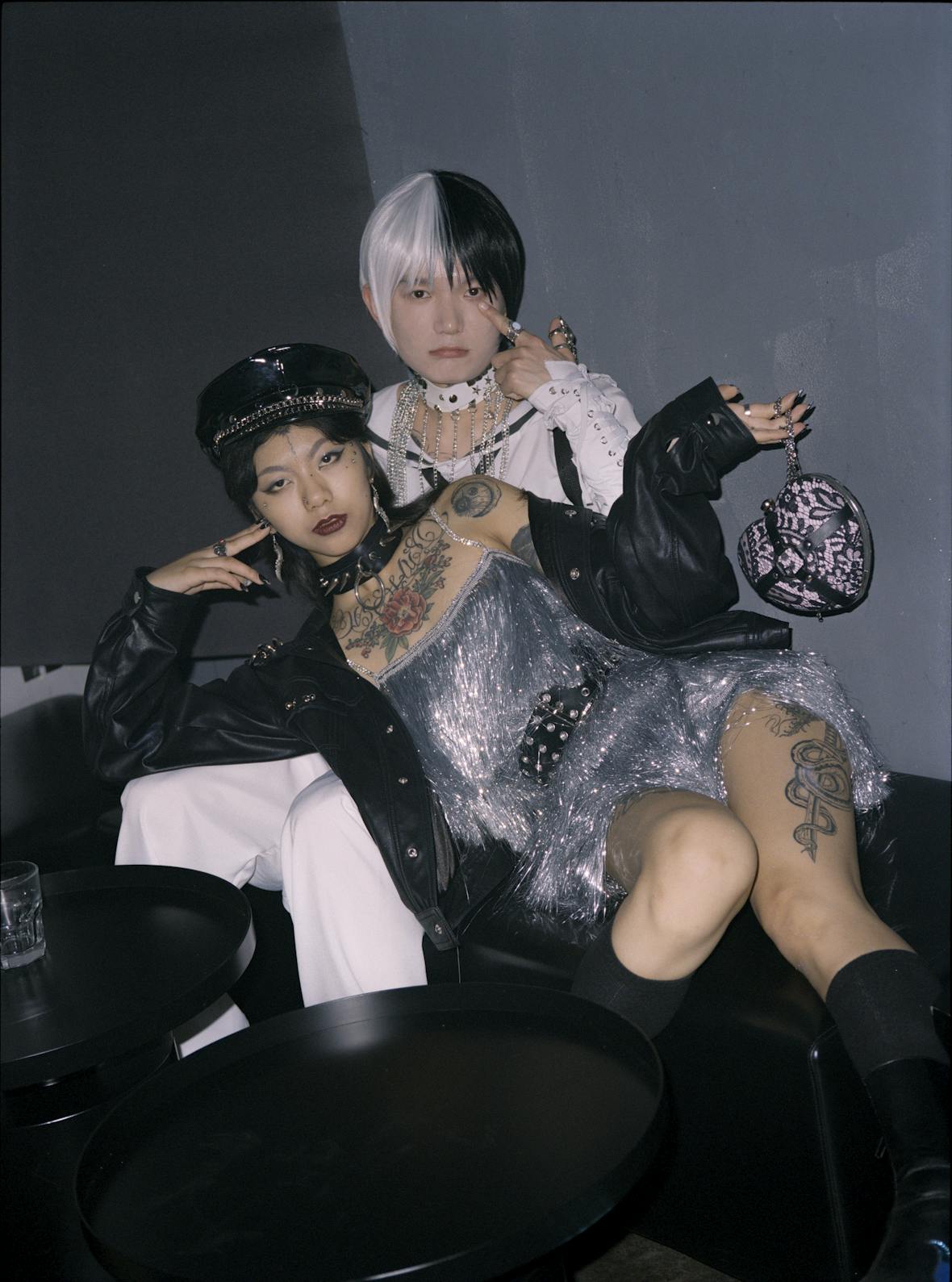 Inside

44

KW – Shanghai's most styl­ish club
"Club cul­ture is an inte­gral part of every city, when I first moved to Shang­hai five years ago, there were one or two good places, but they've all closed in recent years, the ones that are left are going in a very com­mer­cial direc­tion," explains Charles Guo – fash­ion pho­tog­ra­ph­er and founder of 44KW. ​"My friends start­ed com­plain­ing that Shang­hai was get­ting bor­ing, there was no place to go for good music, so I thought, let's do some­thing about it."
In the mul­ti-venue nightlife com­plex Found 158, where mega­club Taxx sits next to craft beer brew­eries, 44KW is an under­ground space that is ded­i­cat­ed to house, dis­co and tech­no, proud­ly boast­ing a VOID sound sys­tem and an inte­ri­or with a min­i­mal­ist-con­crete-indus­tri­al aesthetic.
Open since 2018, the club is divid­ed into two sep­a­rate spaces – Room 44 and KW – and its design flour­ish­es encour­age moments well-suit­ed for social media. A glow­ing red orb is sus­pend­ed above the main bar, ​"dance me to the end of love" beams in neon let­ter­ing scrolls behind the DJ booth and a pro­jec­tion of laser beams invite the club's styl­ish ravers to work on their poses.
On a Thurs­day night, the crowd is suit­ably mel­low, the line-up is all local DJs, who will play until about 2am (run­ning through to 5am or 6am on week­ends). At the same time, 44KW also focus­es on bring­ing inter­na­tion­al tal­ent to Shang­hai, with acts like Nick Höpp­n­er, Volvox, Bam­bounou, Boris, Arnaud Le Tex­i­er, Oliv­er Deutschmann, DJ Hoku­to and Orphx, and Mono­lake to name a few.
By virtue of Guo's day job, 44KW has attract­ed a fash­ion-indus­try heavy crowd from the begin­ning. Ash­ley, 23, works in a fash­ion trade show­room (her com­pa­ny OnTimeShow pre­vi­ous­ly held a par­ty here), runs in the same cir­cles as the three DJs per­form­ing tonight and came to sup­port her friends. It's her fourth or fifth time at 44KW.

Listen now:

Ashley on her discovery of 44KW through Shanghai's tight knit community of DJs.
Sim­i­lar­ly, Ye Ye Sun, a 25 year old street style pho­tog­ra­ph­er says she heard of the club because of Charles Guo. ​"It's not the week­end yet, so the vibe here is very chill tonight," she says. By the entrance, there is a ping-pong table where a match is underway.
Sarunas, a 25 year old Lithuan­ian stu­dent at Shang­hai The­atre Acad­e­my is at the bar with a Kore­an friend. ​"I'm sur­prised to see so many peo­ple here on a Thurs­day night. We just went out to Dada, the art club, and it was emp­ty," he says. ​"There are maybe 20 clubs in Shang­hai and on any giv­en day they play the same music, but here peo­ple seem more edu­cat­ed (about music)."
The pop­u­lar­i­ty of 44KW is no doubt aid­ed by the weak­ness of the com­pe­ti­tion – pre­vi­ous ​'it' club Arkham is dimin­ish­ing, Shel­ter and Ele­va­tor have shut­tered, and the oth­er indus­try stal­wart Le Baron caters to a more high-fly­ing, table ser­vice crowd.



Bai Yun is a mid­dle-aged woman who works in the club as an ​'ayi'. From 7pm through until clos­ing time on the five nights a week 44KW is open, it's her job to clear the tables. She's been here since Feb­ru­ary but pre­vi­ous­ly worked at Ele­va­tor for over two years, where she devel­oped an appre­ci­a­tion for house music. ​"You can say it's more of a niche crowd, some of the kids like to come in weird get-ups and take pic­tures, but most­ly they're here to relax."

Listen now:

Bai Yunayi describes the 44KW crowd
She intro­duces me to a few reg­u­lars – Yi Hao, is a 19 year old make up artist and occa­sion­al drag per­former from Chongqing. On this night he's not ​"dressed up" but still turned out in home­made leather pants and a crop top bought from TaoBao, show­ing off his var­i­ous self-designed tat­toos, acces­sorised with a cable-cord chok­er. ​"I heard about this place by word of mouth, every­body comes here, so I start­ed com­ing too, it's a good mix between under­ground and commercial."

Listen now:

Yi Hao on what attracted him to 44KW
Yi Hao's boyfriend, Mar­cus, 29, is a styl­ist from Sin­ga­pore who now lives in Shang­hai. It's his sec­ond time at the club, although the first time he ran unex­pect­ed­ly into a dis­co night. ​"I expect­ed tech­no, so tonight is much more my vibe, it reminds me of Berlin a bit," he says. ​"Since Ele­va­tor has gone now, this is a good replacement."
In a city with a most­ly homoge­nous club cul­ture, any devi­a­tion from the main­stream attracts a cer­tain atten­tion. Yi Fei, a VJ with a goth-inspired look, sums it up outside.
"Half the peo­ple obvi­ous­ly come because they know and love this music, the oth­er half just want to try some­thing new."
---