A new dawn for alt black girls
Black alternative people have always existed, but faced alienation in the scenes they inhabited, or ridicule within their own community. Now, propelled in part by poster girls like Rico Nasty and Doja Cat, things are changing, writes Yomi Adegoke.
Scrolling Instagram and seeing the rapidly changing reaction to alternative black women, it's hard to imagine just how different things once were for say, black goths or grungers in the ​'90s and noughties. The internet is now littered with images of black women embracing alternative identities (e‑girls, punks or something else entirely), but we often forget how much black millennial women once endured so that Gen Z could fly its freak flag.
"Not to sound like an old man, shaking his fist at a cloud, but the amount of HEAT I got for getting my septum pierced when I was about 19 was wild," Kirby Partington, a 30-something creative producer from London, writes to me. ​"Things like that, which were renegade when I was in my teens, are pretty much mainstream now."
The past few years have been a new dawn for black women whose tastes lie outside of the mainstream. For years, having an interest in anything deemed ​"weird" was posited as diametrically opposed to blackness, but the newfound visibility of alternative black women has been propelled in part by quirky rappers like Rico Nasty and Doja Cat, influencers like Mimi the nerd and alt-it girls like Willow Smith. These women depict self expressions that have often been made invisible in the black community and are usually perceived as the sole domain of white social outcasts.

Though black alternative people have always existed, it has not been without alienation in whichever scene they inhabit, or ridicule within their own community. The ballad of ​"too white for the black kids, too black for the white kids" is an often mocked one, but it isn't without some truth. Growing up, whether you were a skater, goth, emo or indie, if you were black you were also an Oreo, or the British equivalent, a Bounty: white on the inside and black on the outside.
This was something mid-20s journalist Niellah Arboine had to contend with at school for being a ​"bit of a weird theatre kid" whose eclectic music taste included Bowie, Blur, Fall Out Boy and My Chemical Romance. ​"Yeah for sure I was teased for listening to ​'white music'," she says. ​"You learn to be careful with who you share yourself with, as a form of protection. Music was so precious to me and so personal that I didn't share it with people who might not get it and I didn't really know any alt black girls IRL."
Like Niellah, Kirby's musical taste was taken as a barometer for her blackness in her formative years. She'd grown up on hip-hop, and made the crossover into nu-metal, which was peaking in popularity in the early noughties (and was her gateway into metal, punk, pop punk, emo and hardcore). ​"I was definitely given many a side-eye when instead of rolling my skirt up at the bus stop after school with the other girls I'd untuck my wallet chain from my jumper over my school kilt and put on a spiked choker," she writes.

Things got worse than side-eyes at university: frequenting gigs and alternative nights as opposed to R&B and dancehall events saw Kirby alienated within the Afro-Caribbean society. ​"Not to be dramatic, but I was ostracised," she says. ​"I didn't really have the language then to stand my ground and show them that there is not just one way to be black, and me liking the music I liked, and dressing how I did didn't make me any less black than them."
For some, the issues didn't take place at school or university, but in staunchly religious households, where anything seemingly dark or odd was banned as an omen of the occult. Chinwe Nnajiuba, a DJ from Essex who now lives and plays in Berlin under the name Juba, was an indie-kid from the age of 13 and loved ​"The Kooks, The Strokes, The Foals, The Cribs". Now in her late twenties, she remembers her mother trying to bin her Doc Martens and accusing her of devil worship, then having her sit down with a priest soon after they were discovered.
Alegria Adedeji, a senior content marketing executive from London, says whilst her peers at school were largely unbothered by her tastes, she did note similar confusion from those older than her. ​"It was more black adults who were completely taken aback by my ​'eccentricity'," Alegria writes over email. ​"Especially at church. Then when they discovered who Slipknot were? Yeah, I had every hand laid on me in prayer."
But nowadays, black alternative women no longer elicit such negative reactions, at least not from their peers. The documented death of subculture has seen trends that were once specific to certain groups become partially submerged into the mainstream. Once upon a time a lip ring was the height of subverting the status quo. Now? Not so much.

​"The same people who would have laughed at me for wearing Doc Martens and having purple – albeit terrible – hair are now happy to wear neon green wigs and rock band t‑shirts," Chinwe says. ​"Alternative is the new normal, some would say."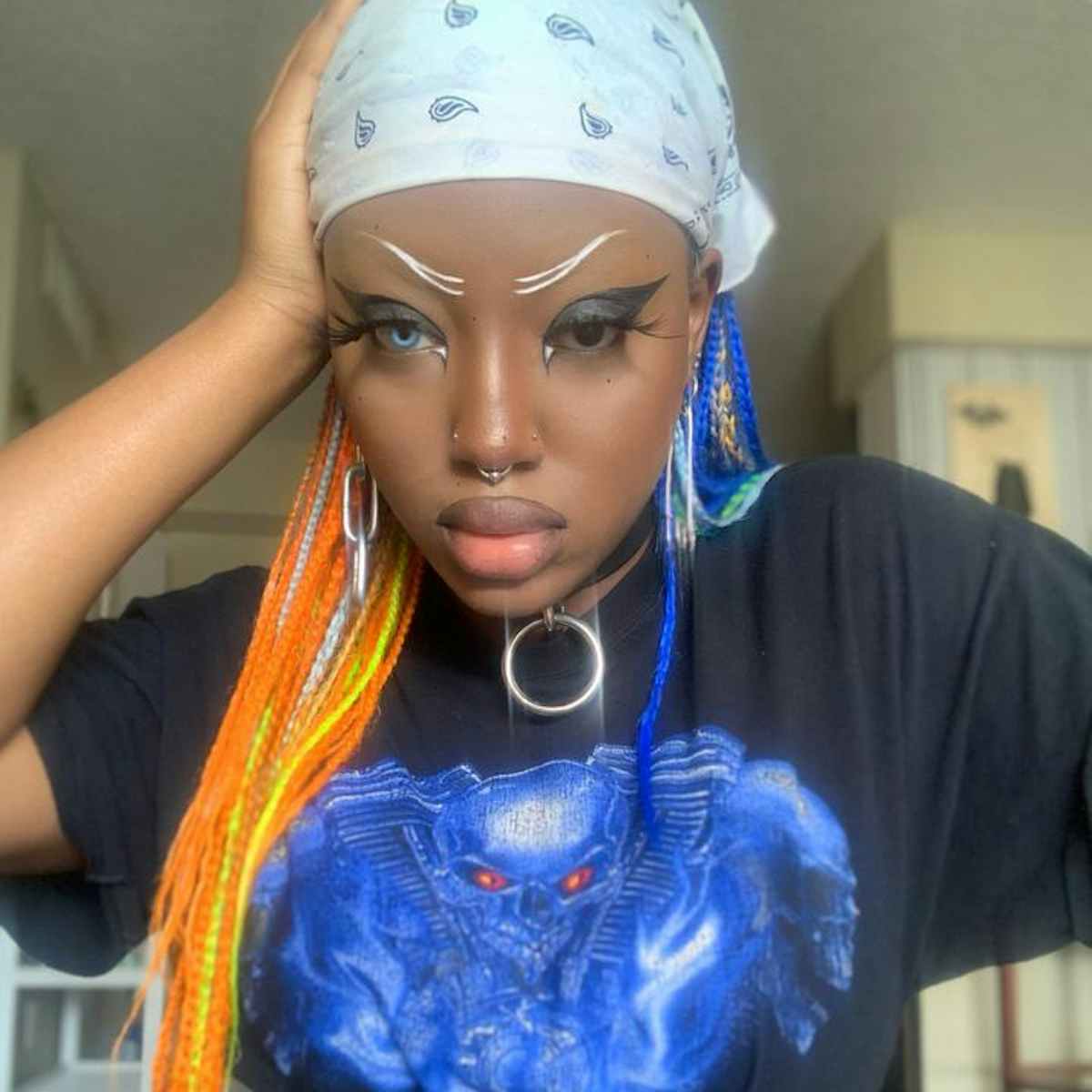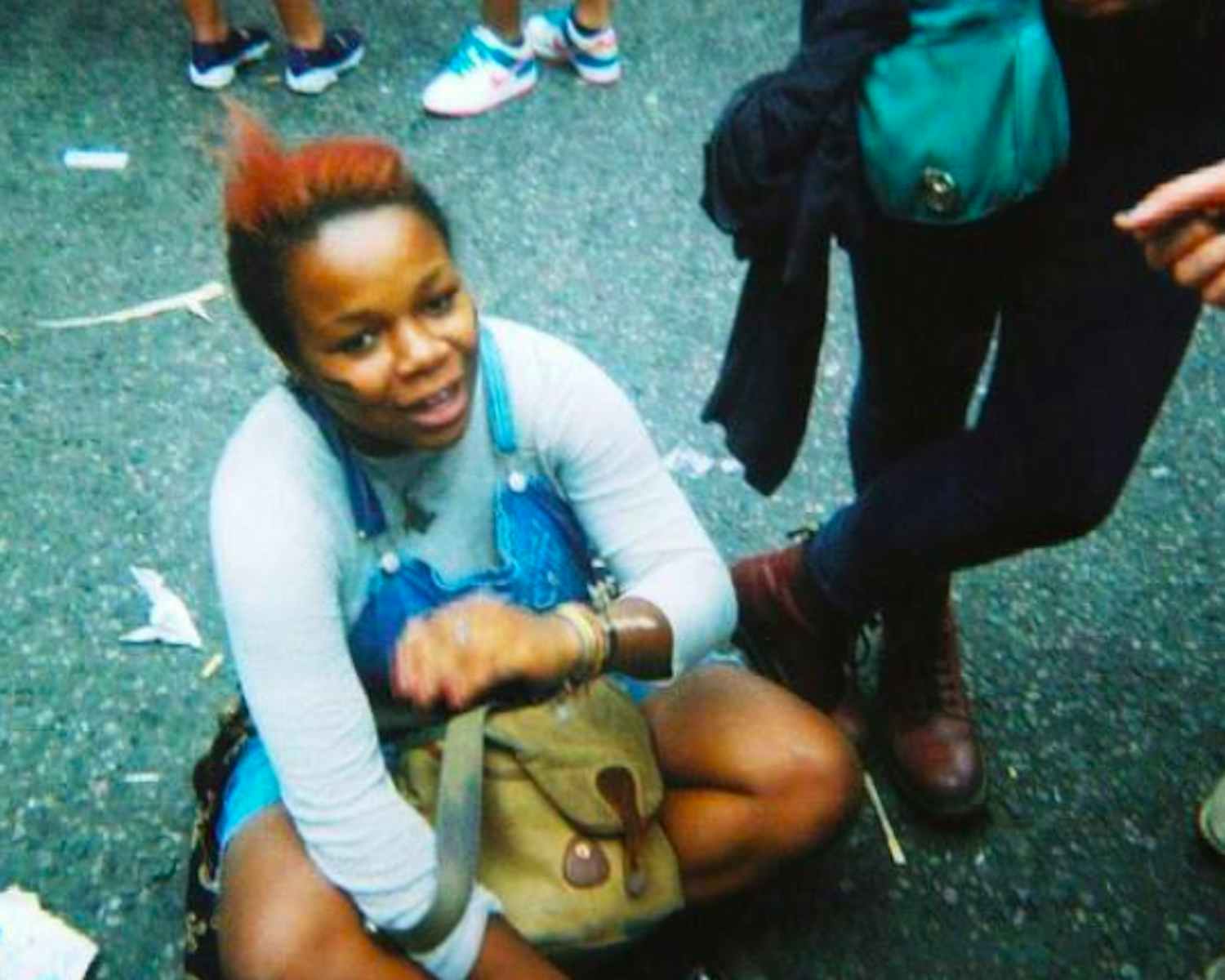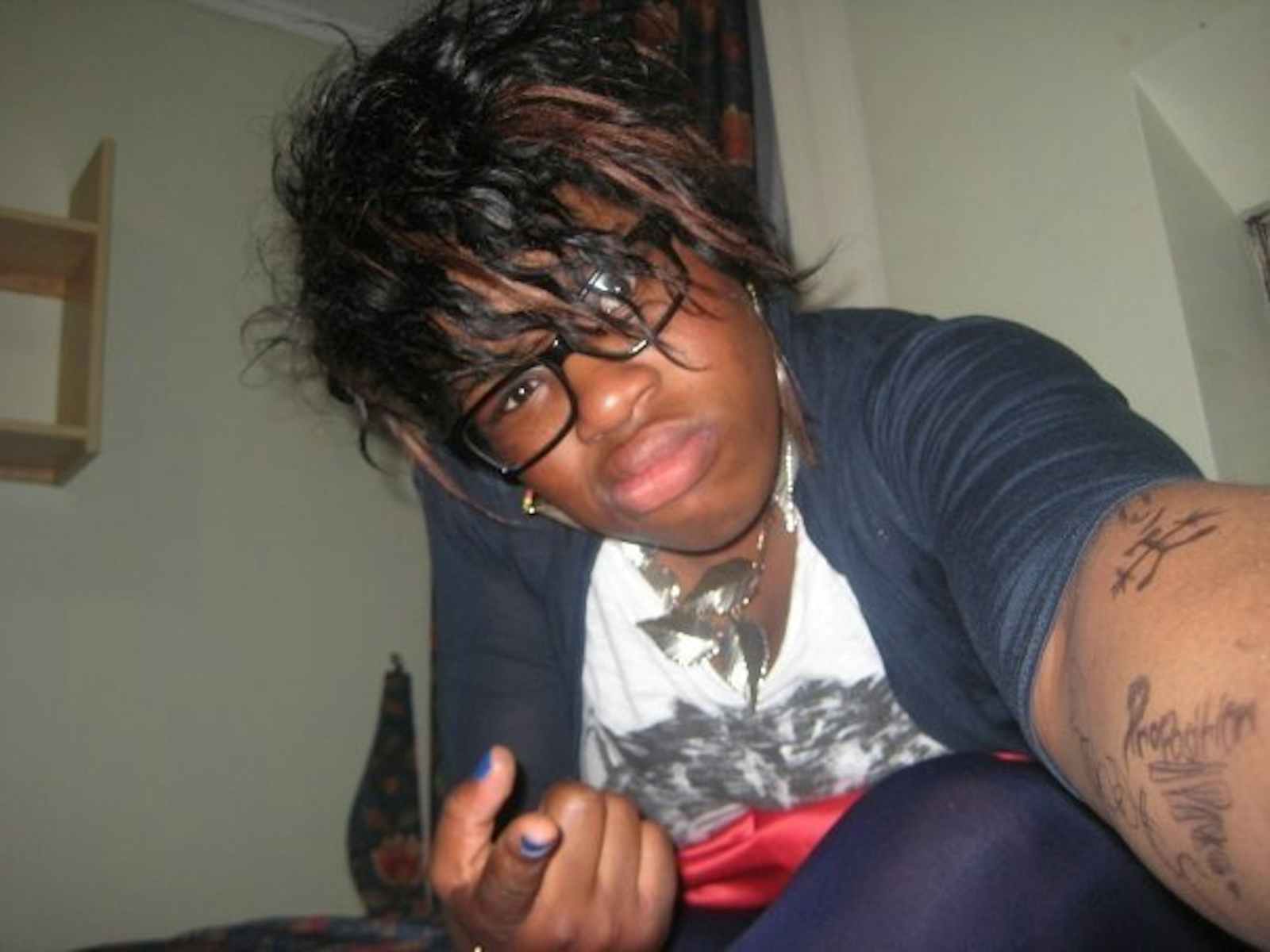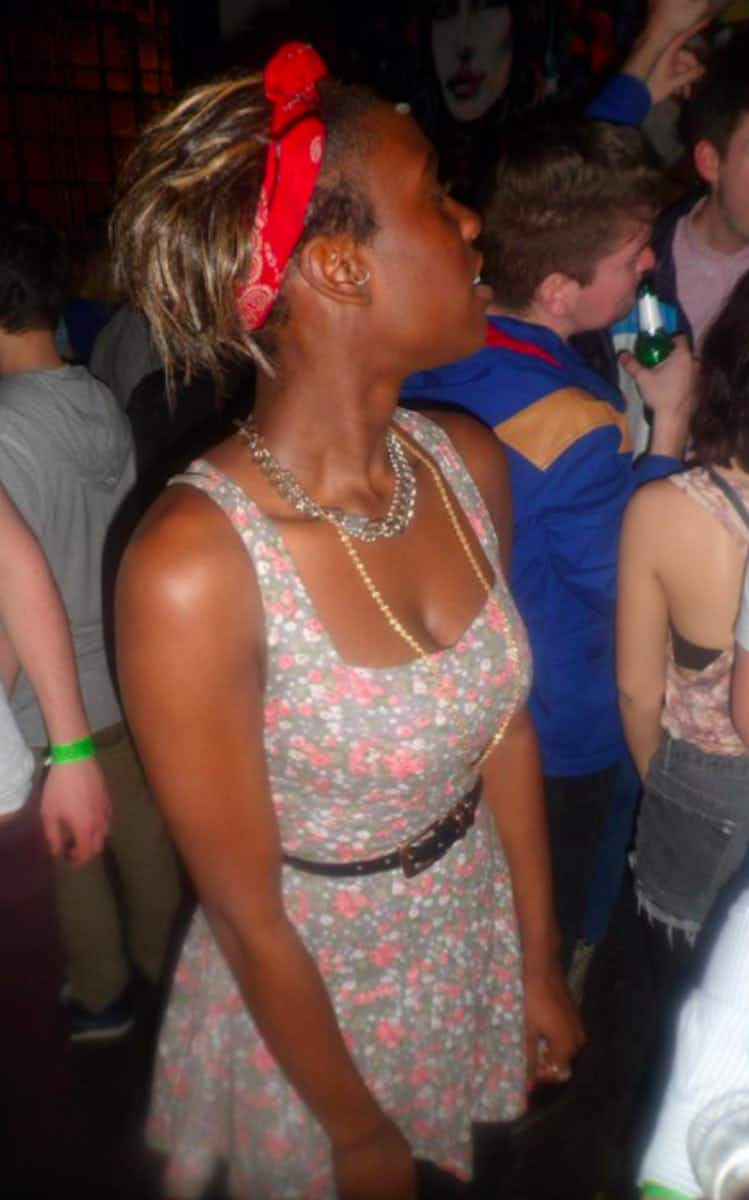 We have come a long way in reaching this new normal. Black people's undying love for Paramore is now so widely accepted, it has become an internet meme (in 2018, the bands frontwoman Hayley Williams noted that their tour that year saw their most diverse audience yet). After going viral for recording himself singing the band's hit Ain't It Fun in 2016, Lil Uzi Vert – who's part of a generation of rappers incorporating emo melodies and embracing a rock star aesthetic – later cited Williams as a major influence on his songwriting. A lockdown highlight for many was Tory Lanez rendition of Panic At The Disco's classic hit I Write Sins Not Tragedies performed with Bryson Tiller on Instagram Live. Meanwhile the Gorillaz are frequently collaborating with artists like DRAM, Little Simz, Popcaan, Ray Blk and Kano.
"We all love Blood Orange now, but he was a little indie kid with a flicky fringe before," Niellah adds. ​"I wish artists like Nova Twins and Rachel Chinororiri were around when I was younger, or shows like High Fidelity, and festivals like Afropunk – I probably would have listened to less white boys."
There is not nearly enough black female representation in popular culture, so when it comes to black alternative women, there's an even greater absence. Still, we do have our veterans: Cree Summer, Grace Jones, Skunk Anansie's Skin, Janelle Monáe, Lisa Bonet and Rachel True, who starred as Rochelle in the gothic 1996 cult film The Craft. And let's not forget Jada Pinkett Smith's largely forgotten stint fronting the heavy metal band Wicked Wisdom. The 2010s have had their share of alternative icons in Amandla Stenberg, FKA twigs and Zoe Kravitz, though it's worth noting that their fairer complexions arguably makes their ​"weirdness" more palatable.
For many, recent representation and reappraisal of history have played a big part in reconciling blackness with cultures they were taught were opposed to it. Much of alternative culture has black roots: many forms of body modification derive from African culture, for instance. Niellah learnt about the black women who paved the way in music, too. ​"Once I discovered rock ​'n' roll was invented by black people – Big Mama Thornton, Sister Rosetta Tharpe, and therefore anything that branched off and came after wouldn't have existed without African Americans who created that sound – I was at peace. But regardless of the connection, I'm old enough and wise enough to know the music I listen to doesn't impact my blackness."
"We been about!" Kirby adds. ​"But the pioneers are still not getting the flowers they deserve." This is unsurprising. The erasure of black people's contributions to music – especially rock music – are rife and unrelenting. It is also unsurprising that many alternative black women are made to feel unwelcome in spaces that play the music they like; heavy metal has well-documented issues of white nationalism and neo-nazism.
Other less extreme, but still invalidating examples are white male gatekeepers of scenes, who treat these women as guests who must prove their authenticity and commitment to it. ​"White guys loved to try and hit you with the pub quiz of bands to see if you ​'really' liked the music." Alegria says. ​"That was always annoying."
Kirby recalls experiencing a toxic combination of both racism and sexism in the hardcore community in her 20s, despite its progressive, leftist presentation. This came to a head when she was once white power saluted by a bandmember at a show where she was the only black woman. ​"I handled it, but not one person said or did anything in response to him despite witnessing what happened," she recalls.
She also experienced the typical and sexist lumping of female fans as ​"groupies", but has since wondered how her race affected that, too. ​"I'm unsure if this was more acute for me because of the hypersexualised black woman trope but it definitely left me questioning my place in these communities and has tarnished a lot of my memories of the time."
Often ostracised in a number of communities, this reflects the importance of alternative black women fostering their own safe spaces online, and explains why we have seen a growth of these communities over the last few years. The #carefreeblackgirl movement has popularised alternative aesthetics and we have seen the rise of Facebook groups, pages and forums that have fostered thriving communities free from judgement. Events like Afropunk – at least before it went mainstream – allowed those digital communities to flourish offline. The same can be said of other minorities within minorities; blerds (black nerds), gamers, DIYers, anime fans, cosplayers.
"Alt black online forums were a lifeline for me in those days," says Kirby. ​"I'm still friends with so many people from all over the world that I met through MySpace and the Afropunk forums (before it was a festival, yeah!). There was instant camaraderie between us, as they were safe spaces where we could all be black AF and emo/​goth/​punk/​whatever AF and it wasn't scrutinised in any way by anyone else."
Alegria agrees that the internet has been integral to the changes we see now. ​"If you were a black emo kid in the ​'00s, there were no smartphones and Facebook didn't appear until the end of the decade, so you just had no clue other black people were into the same stuff as you. And Myspace wasn't like Twitter where you got recommendations or could easily pull up to complete strangers' pages."

Each time I've noted how much things have changed, it's been because of an internet video. First was when I stumbled across a clip of a Nigerian traditional wedding with a goth spin where the attendees all wore purple and black native and moshed out to Toxicity by System of a Down. The second was this year, watching the viral Tik Tok ​"Don't Rush Challenge" video featuring alternative black girls, that Kirby says made her ​"weep with joy". A number of black women – e‑girls, goths, punks – recorded their own take on the trend, showcasing their wide-ranging looks and replacing the song Don't Rush by Young T & Bugsey featuring Headie One (which had featured in most other videos) with Duality by Slipknot.

Esosa Odia, 22, from Austin Texas is the video's creator, and it was so popular she was tasked with doing another which also went viral. A third was made, fronted by the current alt-black poster child herself, 23-year-old Rico Nasty, whose punk and hip-hop sound and stylings have struck a chord with many black alternative women. Her taste in music aged 13 – Pink Floyd, Joan Jett, Slipknot – made her an immediate outcast growing up. ​"Listening to to rock music was the best way to alienate yourself," she says. ​"If you wanted to be antisocial, if you didn't fuck with anybody, listening to rock music was the best way to be the odd one out."
As a member of Gen Z, Nasty feels things have changed a great deal and for the better. ​"I'm really happy that we've reached a point where, whether it's makeup or hair, no one's questioning what the fuck we do. I mean, no question that sometimes. We wear mullets, we wear the spikes now – we wear whatever the fuck we want."

Esosa agrees that things are moving in the right direction, but notes there is still a long way to go. She recalls being told aged 12, whilst in the throes of her emo phase, that she couldn't be one because she is black. ​"Ever since then I have come across people who have said racist things to me whether it be at shows or online," she says.
And whilst many are more receptive, a certain stigma still remains in the minds of many that alternative equals white. ​"They assume that I hang around mostly white people because of the stereotype that being alternative is a ​'white people thing'," Esosa writes. ​"Many people don't really recognise that the black alternative community is huge. The community is growing rapidly, especially online."
The parameters of perceived blackness are often limiting and externally defined. Many of the most eccentric, interesting and boundary-pushing people in the world are black and they're not less so because of it. As the next generation of alt-black girls take on the world and the web, those who've come before offer some words of advice: ​"Don't let anyone try to make you feel shit for the things that you enjoy," Kirby says. ​"And do not stretch your earlobes more than 10mm — they will not shrink back and you won't be able to wear any cute studs when you're trying to be a sensible 30-something auntie.


More like this