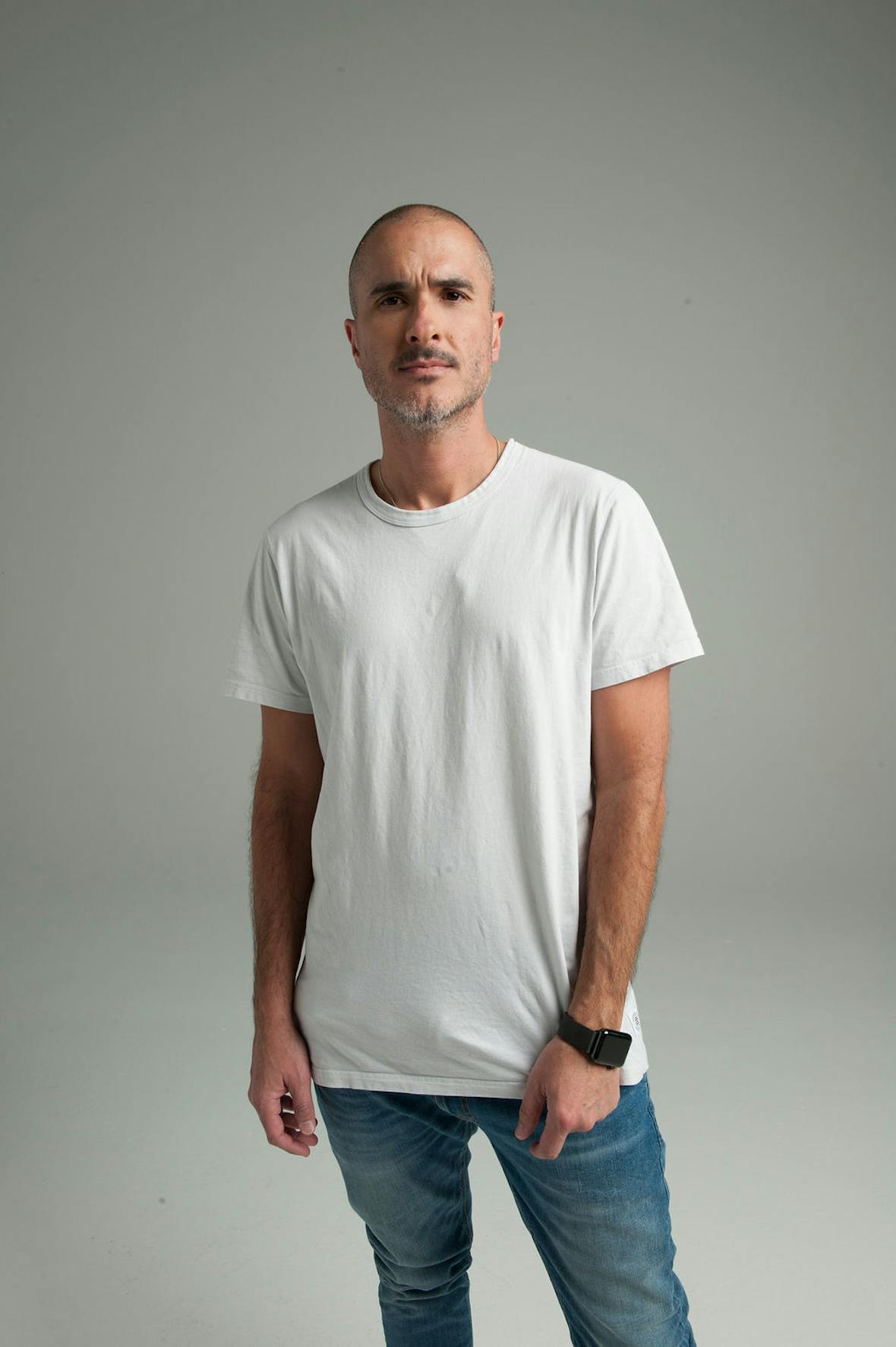 What's hot? Chat­ting music with Zane Lowe

The first time I saw Zane Lowe play­ing Ibiza, he had to do some­thing that doesn't come eas­i­ly. That's against his reli­gion, even.
He had to turn down the music.
It was 1st Sep­tem­ber 2007 and the New Zealand-born DJ, then BBC Radio 1's new music guru, was spin­ning before a set by Arc­tic Mon­keys. That sum­mer was Peak Mon­keys, when they were already well on their way to fes­ti­val head­lin­er sta­tus. But here they were, play­ing a tiny, open-air beach­side bar in San Anto­nio, as part of the then-new Ibiza Rocks bands-play­ing-Ibiza strand.
"I was talk­ing about that the oth­er day," he begins with a grin. ​"There were some great moments and there were def­i­nite­ly some great shows with Ibiza Rocks, but Arc­tic Mon­keys, in that moment, the hysteria…"
He exhales.
"It's the only time any­one has ever asked me to tone down what I was play­ing because of the amount of beer being thrown around the sound desk. It's, like, either turn the vol­ume down or stop play­ing bangers."
Low­er the vol­ume or stop play­ing bangers. You might as well ask Lowe to cut off his ears.
Twelve years on, Lowe has come a long way. Four years ago this sum­mer he swapped his adopt­ed home of Lon­don for Los Ange­les, join­ing Apple Music's start-up radio sta­tion Beats 1. The 45-year-old recent­ly re-upped his con­tract: now he's Apple Music's Glob­al Cre­ative Direc­tor, while main­tain­ing a dayjob which sees him lead­ing a radio sta­tion that streams round the clock, sev­en days a week, to over 100 countries.
He's also the go-to guy for world exclu­sive first-plays and inter­views, scor­ing globe-rat­tling sit-downs with every­one from Kendrick Lamar to Madon­na via Bil­lie Eilish.
We're talk­ing on an unusu­al­ly rain day in Ibiza, dur­ing May's Inter­na­tion­al Music Sum­mit. Lowe has flow in from LA with an Apple Music/​Beats team. He's here to take part in a keynote dis­cus­sion with Pete Tong at this annu­al dance music con­fer­ence – and, ever the tune-spot­ter, to take the tem­per­a­ture of the White Island as it gears up for the immi­nent sum­mer season.
Ibiza is still a great incu­ba­tor for new music, he says force­ful­ly (although tbh, he says every­thing forcefully).
"That's why we came. We came out here because we recog­nise its val­ue to the core of what dance music is. It's full of music fans a good por­tion of every year, and everyone's ears are wide open and their atten­tion is on music. Even if you're going out to have a good time with your friends, music is the sound­track to that.
"I have been a part of that expe­ri­ence, when I was at Radio 1," he con­tin­ues, ​"I have been a part of that expe­ri­ence as a DJ play­ing var­i­ous clubs. And to come out as a part of Apple Music and see a dif­fer­ent point of view, from a stream­ing point of view, it's excit­ing to see what we can do with that."
Is that, then, part of his Mediter­ranean mis­sion: to plant a flag in what he sees as unclaimed ter­ri­to­ry vis-à-vis stream­ing and dance music?
"We're work­ing hard at try­ing to fill it and we're try­ing to be real­ly, real­ly strong advo­cates for the dance music com­mu­ni­ty in the stream­ing age. It's real­ly impor­tant to us."
What, then, is the next inno­va­tion, or big leap for­ward, for Apple Music?
"Well, you know, if it's big and inno­v­a­tive, chances are they prob­a­bly don't want us to talk about," he shoots back with a smile.
What he can talk about till the stream­ing fig­ures come home is new music. Lowe gives a shout-out to Dave, laud­ing him for ​"being so trans­par­ent and hon­est with his feel­ings right from the get-go. Talk­ing about how he feels about liv­ing in Britain right now, but also talk­ing about anx­i­ety and what he goes through – he's a very, very inspir­ing artist. Slowthai, likewise."
Bare­ly paus­ing for breath, he rhap­sodis­es about Tyler, the Cre­ator. ​"IGOR went Num­ber 1 [in Amer­i­ca] this week," he says of his new album, ​"which is a crit­i­cal achieve­ment for an artist who has made an album that is uncom­pro­mis­ing­ly brilliant."
What about his old pal Kanye West – has he heard any of his new stuff?
"No, but I was talk­ing about that the oth­er day… It's fun­ny: every­body who works on that, you can tell, is so des­per­ate to talk about it, but they don't out of respect… Ty Dol­la [$ign] told me that it was great and that he's lin­ing up some­thing very special.
"He's nev­er let me down as an artist," he con­cludes, firm­ly, hope­ful­ly. ​"His music has nev­er, ever, ever let me down."
But has he let you down as a man – a man in a Don­ald Trump MAGA cap? There's the briefest of paus­es before Lowe replies.
"No. He's his own man and at the end of the day, every­one is enti­tled to their opin­ion and enti­tled to say what they want to say. There are things lots of peo­ple say that I dis­agree with, and some­times strong­ly dis­agree with. I am not a sup­port­er of Don­ald Trump. I don't mind telling you that, I'm just not. But it's not up to me to judge…
"What Kanye choos­es to believe is up to Kanye, and if we ever had a con­ver­sa­tion about it, then, yeah, maybe there are some things I will dis­agree about. But he seems open to dis­agree­ment, he seems open to con­ver­sa­tion. I leave it at that."
His slot on the IMS stage is call­ing, so one more ques­tion for the Apple Music's chief Music Man: who, to him, is the new music artist of the year. The answer flash­es back. First he men­tions Eil­ish, and then he pivots.
"Ros­alia. Watch, just watch." This com­ing sum­mer, he says, the Cata­lan singer is only going to get bigger.
"There's no doubt about it," he enthus­es. ​"She's the sin­gle most excit­ing and impor­tant young super­star in the world of music. You know, there's oth­ers who are equal­ly excit­ing and impor­tant. But no one has bro­ken out the way she has.
"She's just got everyone's atten­tion in the biggest way."
Zane Lowe's flag­ship Beats 1 show can be heard Mon­day to Thurs­day at 9am to 11am PT. Lis­ten live for free at apple​.co/zane or On Demand with an Apple Music subscription
---