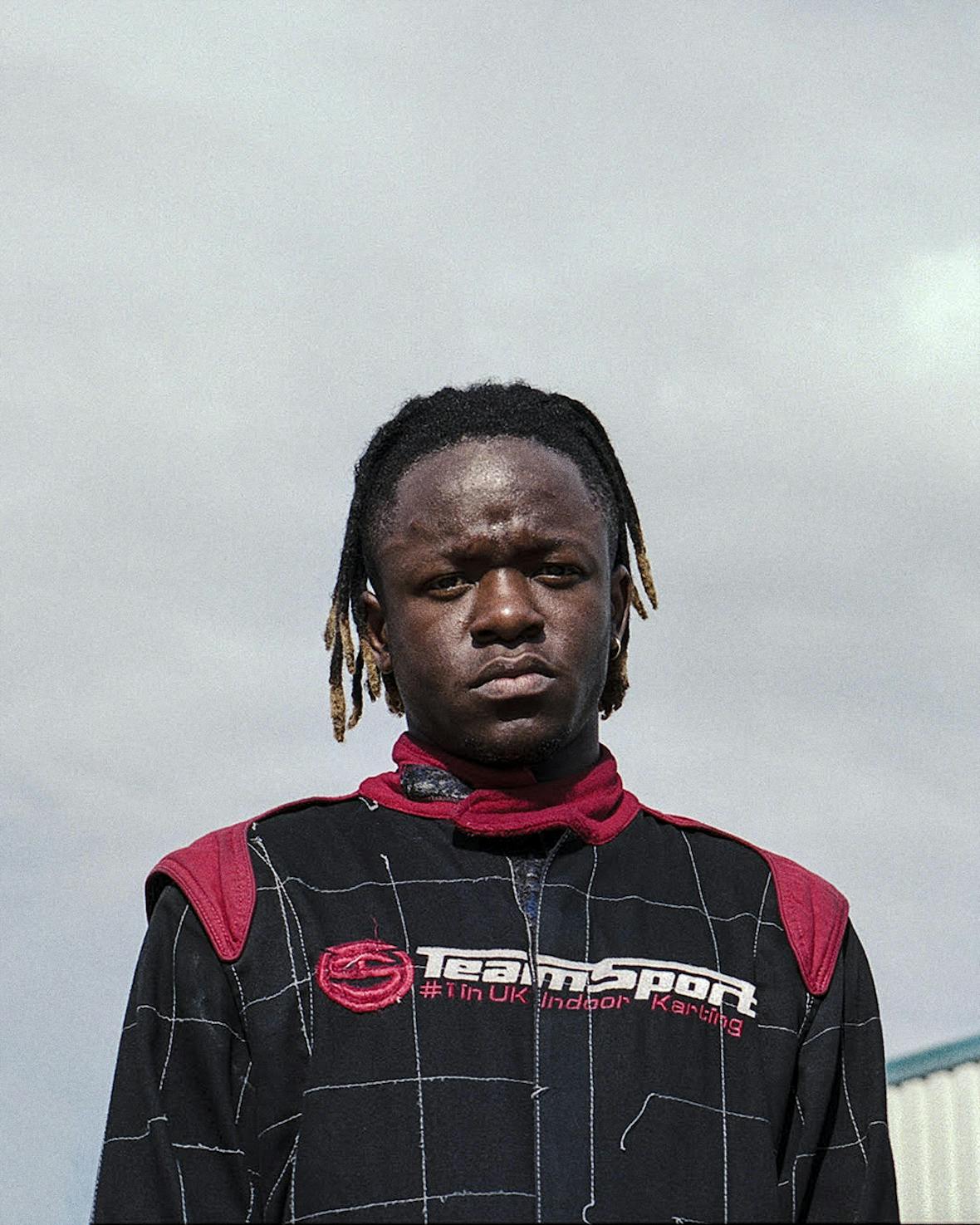 black midi's Mor­gan Simp­son picks his favourite drummers
black midi are tee­ter­ing on that rocky precipice that only the most hyped new bands end up on. In bare­ly a year, the Croy­don four-piece have built a hard­core fol­low­ing off the back of a caus­tic live show, a hand­ful of intense tracks and vir­tu­al­ly zero social media pres­ence. Many ​"sav­iours of rock" before them have stum­bled. Can they make it to the next level?
The out­look is promis­ing. First, as for­mer pupils of the BRIT School – the Croy­don pop fac­to­ry that's giv­en the world Adele, King Krule and, um, Dane Bow­ers – they're not short on indus­try con­nec­tions. Sec­ond, they've teamed up with Mer­cury-nom­i­nat­ed pro­duc­er Dan Carey, whose no-frills, one-take record­ing ses­sions bring the best out of a band who honed their sound onstage. Most impor­tant­ly, they've got raw tal­ent for days – and while they're all high­ly trained, it's the chem­istry they unlock as a unit that sets them apart.
black midi's music is a mael­strom of spit­tle and scree, with echoes of Shel­lac and This Heat at their fiercest – and all held togeth­er by one jaw-drop­ping drum­mer. On a YouTube clip of a live show in Ice­land, the top com­ment sim­ply states: ​"It's every musician's dream to play with a drum­mer like that." So, we thought we'd put the spot­light on the man at the back, and ask 20-year-old sticks­man Mor­gan Simp­son about the play­ers that have shaped his sound since he was plonked behind a kit aged two.
Den­nis Chambers
Jazz-fusion mas­ter; Par­lia­ment-Funkadel­ic member.
Den­nis Cham­bers is prob­a­bly my ear­li­est influ­ence. I got a VHS for my birth­day, a drum­ming video of Den­nis Cham­bers and Tony Roys­ter Jr., who was like 15 at the time, this upcom­ing young drum­mer. I used to watch that video every day, non-stop. Den­nis Cham­bers has mas­tered a lot of dif­fer­ent types of music, which has allowed him to play with such a range of musi­cians. That's a big thing for me as well – I want to be able to do that, where one night I do a Black Midi gig and the next night I do a jazz gig.
Jaki Liebezeit
Can drum­mer; pio­neer of the ​"motorik" beat.
There was an inter­view with Jaki Liebezeit talk­ing about his drum­ming epiphany, when some­one told him to play in a ​"monot­o­nous" way – which in the drum­ming com­mu­ni­ty is real­ly under­ap­pre­ci­at­ed. Flashy is cool, peo­ple like that, but over the years I've grown to appre­ci­ate drum­mers like Jaki who are able to play the same thing and main­tain the same feel. On Hal­leluh­wah on [third Can record] Tago Mago he's lit­er­al­ly play­ing a groove for 16 min­utes and he doesn't change. Some peo­ple might say that's bor­ing, but it's com­plete­ly the oppo­site – he's set­ting the foun­da­tions. He sounds like a funk drum­mer, but not in a funk environment.
Greg Saunier
Avant-rock drum­mer; Deer­hoof founder.
Greg Saunier's set­up is so min­i­mal but he gets so much out of it. It's easy to have the biggest drum kit in the world, but Greg lit­er­al­ly has a kick drum, snare, hi-hat and cym­bal, and what he can get out of that is incred­i­ble. At no point does it sound like something's miss­ing. Self-trained drum­mers like Greg and Jaki have this lev­el of raw­ness that would have been coached out of them if they'd had lessons. I've had a good amount of train­ing and I think it's quite dif­fi­cult to main­tain the raw­ness. I try and pick it up off drum­mers like Greg.
Bil­ly Cobham
Jazz-fusion pio­neer; Mahav­ish­nu Orches­tra founder.
Mahav­ish­nu Orchestra's The Inner Mount­ing Flame was life-chang­ing when I heard it. I scratched the sur­face a few years back but it didn't quite reg­is­ter with me. That was around 2015, when I start­ed at BRIT – me and Geordie [Greep, Black Midi gui­tarist and vocal­ist] were chat­ting about fusion bands and Mahav­ish­nu Orches­tra came up. I gave it anoth­er lis­ten and was like, ​'Oh, shit – this is amaz­ing.' It's so vir­tu­osic. I find it incred­i­ble how he can hold the rhythm togeth­er while also play­ing incred­i­bly com­plex things.
Chris ​'Dad­dy' Dave
Con­tem­po­rary vir­tu­oso; D'Angelo's drummer.
Chris Dave has rev­o­lu­tionised mod­ern drum­ming. There's some­thing he's known for – I don't know how he does it – but he puts delay on the snare live, as he's play­ing, which was unheard of before, espe­cial­ly in a pop con­text. He's essen­tial­ly a DJ and drum­mer at the same time. He start­ed out as a heavy jazz guy but he's played for Erykah Badu and he's D'Angelo's drum­mer – one of the most sought after jobs in the music indus­try. He also played on Adele's 21, which sur­pris­es a lot of peo­ple. When you lis­ten to those tracks it still sounds like Chris Dave – in no way is it watered down.
Zach Hill
Death Grips co-founder; for­mer­ly of Hella.
Like Greg Saunier, Zach Hill has a real­ly min­i­mal set­up but what he gets from it is incred­i­ble. I don't nec­es­sar­i­ly see them as drum­mers, even – they're musi­cal parts, inte­gral to the song. It's not like a back­beat here, a fill there – you can tell they're not think­ing about drum­ming like that. With Zach, he's fast and pow­er­ful but not for the sake of it. I'm com­ing from a sim­i­lar place, being in a band where I can do my own thing. I'm try­ing to be as musi­cal as pos­si­ble, and not just using drums in a west­ern pop­u­lar music way.
Steve Jor­dan
Pop and rock ses­sion mas­ter; mem­ber of David Letterman's house band.
Steve Jor­dan has played with so many rock and roll musi­cians, but one of the big things in his career was when James Brown was on Late Night with David Let­ter­man. This was after his hey­day, and he came on and played with the house band, which he didn't do usu­al­ly because he was so par­tic­u­lar about his band. After­wards he told them, ​'You guys are the hottest band I've had since my first band.' You can tell that from the per­for­mance, they're just so tight. Steve must have been in his ear­ly 20s at that point, and it's amaz­ing for some­one at that age to sound so mature. He's mas­tered the basic com­po­nents of pop and rock drum­ming, which involves great tim­ing and a steady back­beat. Those grooves are not tech­ni­cal­ly dif­fi­cult, but they're real­ly dif­fi­cult to mas­ter.
Mitch Mitchell
Lon­don-born drum­mer; one-third of The Jimi Hen­drix Experience.
Mitch Mitchell feels like a jazz drum­mer in a rock ​'n' roll band. He was into Elvin Jones and Bud­dy Rich, which you can actu­al­ly hear in his play­ing. It's that mar­riage of a jazz influ­ence with a rock band that real­ly brings out unnat­ur­al grooves, like on Man­ic Depres­sion – the groove on that is real­ly inter­est­ing. The first time I heard it I was like, ​'What the… are you sure?!' But the more I lis­tened to it, I realised it's a big part of the song. And this guy com­ing from Eal­ing and play­ing with Hen­drix, one of the great­est gui­tarists ever, is quite inspirational.
---