black midi's Morgan Simpson picks his favourite drummers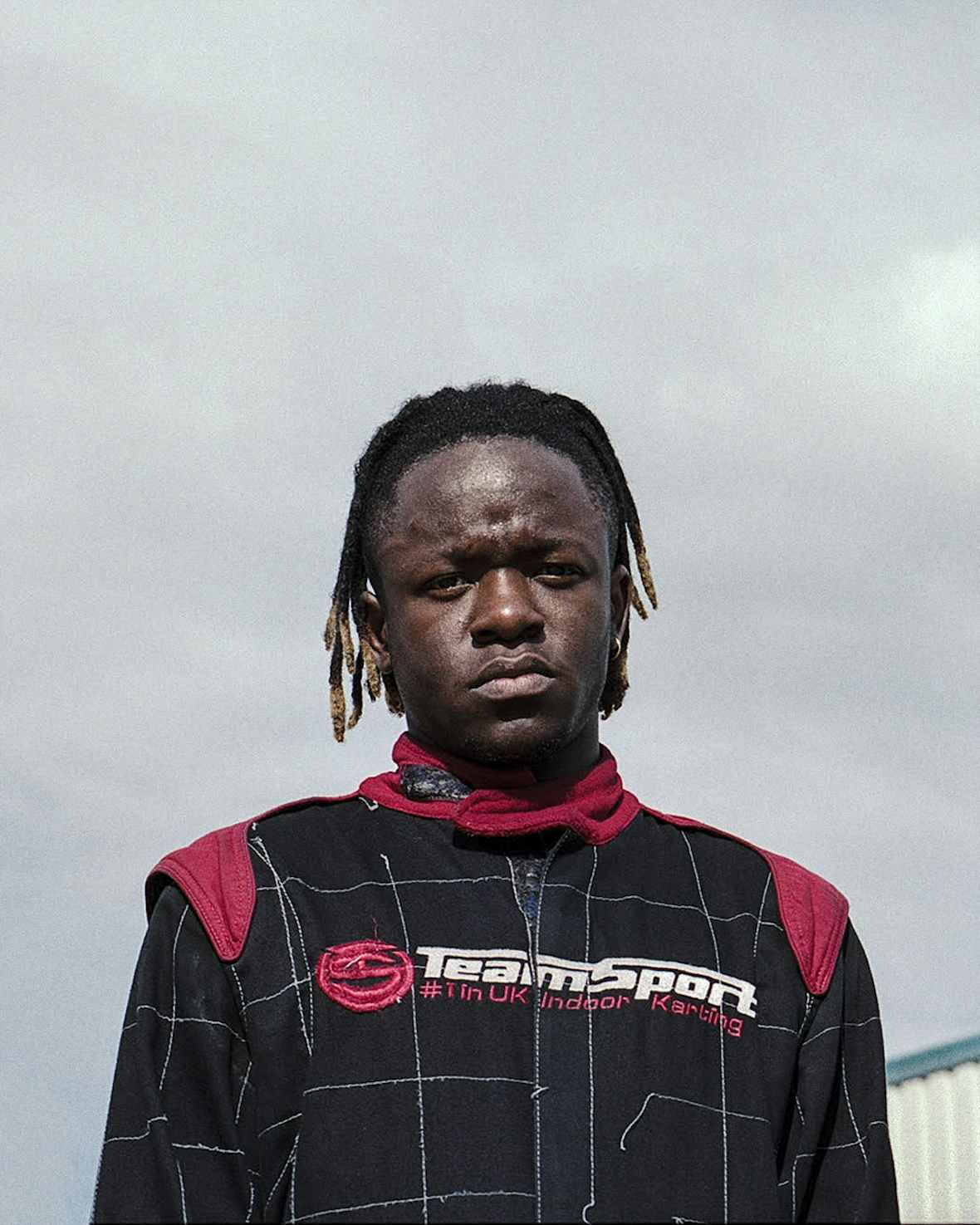 The 20-year-old sticksman is the engine behind the UK's most exhilarating new band.
black midi are teetering on that rocky precipice that only the most hyped new bands end up on. In barely a year, the Croydon four-piece have built a hardcore following off the back of a caustic live show, a handful of intense tracks and virtually zero social media presence. Many ​"saviours of rock" before them have stumbled. Can they make it to the next level?
The outlook is promising. First, as former pupils of the BRIT School – the Croydon pop factory that's given the world Adele, King Krule and, um, Dane Bowers – they're not short on industry connections. Second, they've teamed up with Mercury-nominated producer Dan Carey, whose no-frills, one-take recording sessions bring the best out of a band who honed their sound onstage. Most importantly, they've got raw talent for days – and while they're all highly trained, it's the chemistry they unlock as a unit that sets them apart.
black midi's music is a maelstrom of spittle and scree, with echoes of Shellac and This Heat at their fiercest – and all held together by one jaw-dropping drummer. On a YouTube clip of a live show in Iceland, the top comment simply states: ​"It's every musician's dream to play with a drummer like that." So, we thought we'd put the spotlight on the man at the back, and ask 20-year-old sticksman Morgan Simpson about the players that have shaped his sound since he was plonked behind a kit aged two.
Dennis Chambers
Jazz-fusion master; Parliament-Funkadelic member.
Dennis Chambers is probably my earliest influence. I got a VHS for my birthday, a drumming video of Dennis Chambers and Tony Royster Jr., who was like 15 at the time, this upcoming young drummer. I used to watch that video every day, non-stop. Dennis Chambers has mastered a lot of different types of music, which has allowed him to play with such a range of musicians. That's a big thing for me as well – I want to be able to do that, where one night I do a Black Midi gig and the next night I do a jazz gig.
Jaki Liebezeit
Can drummer; pioneer of the ​"motorik" beat.
There was an interview with Jaki Liebezeit talking about his drumming epiphany, when someone told him to play in a ​"monotonous" way – which in the drumming community is really underappreciated. Flashy is cool, people like that, but over the years I've grown to appreciate drummers like Jaki who are able to play the same thing and maintain the same feel. On Halleluhwah on [third Can record] Tago Mago he's literally playing a groove for 16 minutes and he doesn't change. Some people might say that's boring, but it's completely the opposite – he's setting the foundations. He sounds like a funk drummer, but not in a funk environment.
Greg Saunier
Avant-rock drummer; Deerhoof founder.
Greg Saunier's setup is so minimal but he gets so much out of it. It's easy to have the biggest drum kit in the world, but Greg literally has a kick drum, snare, hi-hat and cymbal, and what he can get out of that is incredible. At no point does it sound like something's missing. Self-trained drummers like Greg and Jaki have this level of rawness that would have been coached out of them if they'd had lessons. I've had a good amount of training and I think it's quite difficult to maintain the rawness. I try and pick it up off drummers like Greg.
Billy Cobham
Jazz-fusion pioneer; Mahavishnu Orchestra founder.
Mahavishnu Orchestra's The Inner Mounting Flame was life-changing when I heard it. I scratched the surface a few years back but it didn't quite register with me. That was around 2015, when I started at BRIT – me and Geordie [Greep, Black Midi guitarist and vocalist] were chatting about fusion bands and Mahavishnu Orchestra came up. I gave it another listen and was like, ​'Oh, shit – this is amazing.' It's so virtuosic. I find it incredible how he can hold the rhythm together while also playing incredibly complex things.
Chris ​'Daddy' Dave
Contemporary virtuoso; D'Angelo's drummer.
Chris Dave has revolutionised modern drumming. There's something he's known for – I don't know how he does it – but he puts delay on the snare live, as he's playing, which was unheard of before, especially in a pop context. He's essentially a DJ and drummer at the same time. He started out as a heavy jazz guy but he's played for Erykah Badu and he's D'Angelo's drummer – one of the most sought after jobs in the music industry. He also played on Adele's 21, which surprises a lot of people. When you listen to those tracks it still sounds like Chris Dave – in no way is it watered down.
Zach Hill
Death Grips co-founder; formerly of Hella.
Like Greg Saunier, Zach Hill has a really minimal setup but what he gets from it is incredible. I don't necessarily see them as drummers, even – they're musical parts, integral to the song. It's not like a backbeat here, a fill there – you can tell they're not thinking about drumming like that. With Zach, he's fast and powerful but not for the sake of it. I'm coming from a similar place, being in a band where I can do my own thing. I'm trying to be as musical as possible, and not just using drums in a western popular music way.
Steve Jordan
Pop and rock session master; member of David Letterman's house band.
Steve Jordan has played with so many rock and roll musicians, but one of the big things in his career was when James Brown was on Late Night with David Letterman. This was after his heyday, and he came on and played with the house band, which he didn't do usually because he was so particular about his band. Afterwards he told them, ​'You guys are the hottest band I've had since my first band.' You can tell that from the performance, they're just so tight. Steve must have been in his early 20s at that point, and it's amazing for someone at that age to sound so mature. He's mastered the basic components of pop and rock drumming, which involves great timing and a steady backbeat. Those grooves are not technically difficult, but they're really difficult to master.
Mitch Mitchell
London-born drummer; one-third of The Jimi Hendrix Experience.
Mitch Mitchell feels like a jazz drummer in a rock ​'n' roll band. He was into Elvin Jones and Buddy Rich, which you can actually hear in his playing. It's that marriage of a jazz influence with a rock band that really brings out unnatural grooves, like on Manic Depression – the groove on that is really interesting. The first time I heard it I was like, ​'What the… are you sure?!' But the more I listened to it, I realised it's a big part of the song. And this guy coming from Ealing and playing with Hendrix, one of the greatest guitarists ever, is quite inspirational.

More like this