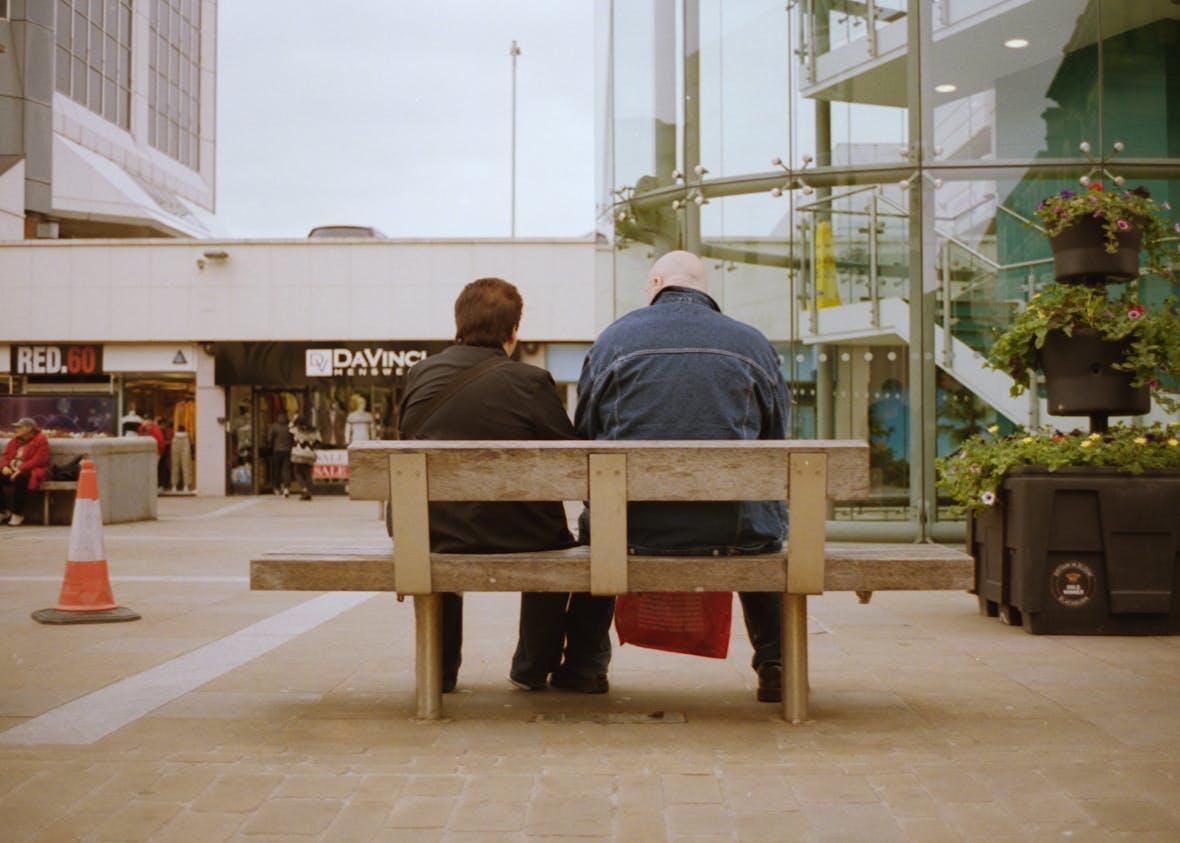 Black­burn Ravers
In an air­less, strip-lit back­stage room in a local the­atre, Gary Asp­den has some­thing to say about his hometown.
"Even dur­ing the Thatch­er years, there was still nice clothes shops," he begins, his por­tion of chips going chilly in front of him, ​"and there were night­clubs. Peo­ple would come on coach­es from all over the North. I saw acid house grow from 30 of us in a flat to 10,000 peo­ple in a field with riot police."
In this for­mer mill town in the Eng­lish north-west, Asp­den is known as the design brains behind Adi­das' Spezial col­lec­tion. A local boy made good in Lon­don and beyond, the 49-year-old is now a con­sul­tant and brand expert for the com­pa­ny, the lat­est role after two decades in enter­tain­ment and pro­mo­tion at the Ger­man sports­wear firm. His job means he's all over the place, all the time.
But fol­low­ing a divorce, Asp­den began return­ing to the place he left in his ear­ly twen­ties with increas­ing reg­u­lar­i­ty. This new Black­burn was noth­ing like the old Black­burn. ​"What hap­pened?" he asks, rhetor­i­cal­ly, gen­uine­ly alarmed at the ruinous decline in the Lan­cashire town's fortunes.



I know what he means. On Fri­day and Sat­ur­day nights in my ear­ly teenage years, I would see my broth­er get­ting ready to take the short train jour­ney into Black­burn from our home in the yawn­ing sub­urbs. I'd hear him stum­bling loud­ly back home in the ear­ly hours. I burned with envy; too young to get served, too young to be allowed to sam­ple the town's nightlife. Nat­u­ral­ly, I couldn't wait for the time when I could join the par­ty in Blackburn.
Unfor­tu­nate­ly, the start of my own under­age drink­ing career coin­cid­ed with the finan­cial crash of 2008. For­get those images of bankers in the City exit­ing shiny offices, box files grasped under arms, high­ly paid jobs dis­solved in an instant. Here in the north, there was a very imme­di­ate sense that the par­ty (and a pret­ty aver­age par­ty at that) was over.
Late night walks between Blackburn's already skele­tal selec­tion of nightspots grew longer as clubs and pubs shut their doors. Soon, me and my mates kept on walk­ing. I left the town short­ly after my 18th birth­day, and in the years after­wards would oscil­late between Lon­don and Manchester.




But after a bit­ing­ly hard decade for my home­town, some­thing has been rum­bling in Black­burn in the last cou­ple of years. In music, arts, enter­tain­ment, man­u­fac­tur­ing and local pol­i­tics, peo­ple are now dar­ing to imag­ine a future oth­er than being left to rot as the col­lat­er­al dam­age of late capitalism.
Some facts. Lan­cashire is the sev­enth poor­est area in all North­ern Europe. Indeed, nine out of ten of the poor­est areas in North­ern Europe are in the UK. Shouldn't this fact be the nois­i­est cri­sis in mod­ern Britain? Hot­ter than Brex­it, even, scorch­ing min­is­te­r­i­al careers, blaz­ing night­ly across the 10 O'Clock News.
Blackburn's for­tunes rose with the Indus­tri­al Rev­o­lu­tion. At points in the town's his­to­ry, near full employ­ment was pro­vid­ed by the cot­ton and tex­tiles indus­tries. It's a his­to­ry vis­i­ble in the impos­ing mills that stalk the town­scape. Now, of course, they're long vacant, the cot­ton hav­ing long stopped spinning.
As it did in mul­ti­ples cities, towns and com­mu­ni­ties across the UK, Thatch­erism took this indus­tri­al decline and stamped on the accel­er­a­tor. (Bizarrely, Mar­garet Thatch­er was Hon­orary Vice Pres­i­dent of Black­burn Rovers FC. Fol­low­ing her death, plans for a minute's silence were, sen­si­bly, scrapped).
Take a hang­over from Thatch­erism and add the cur­rent Con­ser­v­a­tive government's aus­ter­i­ty pro­gramme, and we're some way to under­stand­ing why half of the chil­dren in Black­burn are grow­ing up below the pover­ty line. Why, between 2002 and 2016, the num­ber of sui­cides in Black­burn with Dar­wen (the uni­tary author­i­ty under which the town is gov­erned) was dou­ble that of oth­er east Lan­cashire bor­oughs. It's a human cost being passed on from gen­er­a­tion to generation.
When the nation­al press cov­ers Black­burn at all, it's often a sto­ry of racial seg­re­ga­tion. Peo­ple of Asian her­itage make up 28 per cent of Black­burn with Dar­wen, con­cen­trat­ed in inner Black­burn. As in Brad­ford and Old­ham, racial anx­i­eties per­sist, but these have been well doc­u­ment­ed. There's anoth­er sto­ry, one of fight­back, that has been missed.




On exit­ing the train sta­tion, the panora­ma of ​"mod­ern" Black­burn unfolds in front of me: impos­ing stone build­ings sit sulk­ing in dis­agree­ment with the mid-'00s plas­tic bling shop­ping cen­tre, brack­et­ed by the new mod­ern British high street – pound shops, vape shops, bet­ting shops, emp­ty shops. Red ter­raced hous­ing ris­es ver­ti­cal­ly to the over­cast sky the colour of dishwater.
But to the station's left is one imme­di­ate bea­con of hope: the Cathe­dral Quar­ter. It's a pop­u­lar and taste­ful rede­vel­op­ment of the once neglect­ed area around the town's 19th cen­tu­ry cathe­dral. Guess where much of the mon­ey came from? The Euro­pean Region­al Devel­op­ment Fund. In the 2016 EU ref­er­en­dum, Black­burn vot­ed 56 per cent Leave.
Inside the shop­ping cen­tre, above the indoor mar­ket, is a Nando's. For two of the staff, if things away from their day jobs con­tin­ue on their cur­rent tra­jec­to­ry, they might not be load­ing up the peri peri chick­en for much longer. George Jones and Joe Mitchell are, respec­tive­ly, the singer and bassist with The Illicits.
They're a four-piece gui­tar rock band from Black­burn who are threat­en­ing to become the town's biggest musi­cal suc­cess sto­ry since, well, ever. They've signed to Creation23, the new label from Cre­ation Records co-founder Alan McGee. The man who, famous­ly, dis­cov­ered Oasis, and shep­herd­ed to suc­cess every­one from Pri­mal Scream to My Bloody Valen­tine, released The Illic­its' debut sin­gle. ​'In What World' is a three-minute siren blast of post-Gal­lagher rock'n'roll, and it reached Num­ber Four in the Indie Vinyl Charts on week of release.
George, Joe, Brad Hayes (gui­tar) and Matt Cot­tram (drums), all aged 22, are child­hood friends from Black­burn who bond­ed over Arc­tic Mon­keys, Oasis and a mutu­al wor­ship of sports­wear-brand­ed foot­ball ter­race cul­ture. But find­ing stuff they loved and stuff they had in com­mon, that essen­tial glue for any band, was the easy part.
"Music, foot­ball and fash­ion," says Black­burn Rovers diehard Brad, out­lin­ing the band's pri­or­i­ties. ​"When you're from Black­burn, what else have you got?"
But, after get­ting togeth­er as The Illic­its two years ago, they quick­ly learned that form­ing a band in Black­burn was far from straight­for­ward. There were no locals with music indus­try ​"con­nec­tions", no venues to per­form in, not even any reli­able spaces in which to rehearse.
Still, while the band may not have had much – ​"up against it" is their catch-all descrip­tion for their cir­cum­stances – they were can­ny. And they were patient. Even­tu­al­ly carv­ing out a prac­tice space in for­mer com­mer­cial premis­es, they stuck at it for eight months, hon­ing their tunes, their play­ing, their bond.
Only then were they ready for their first gig. It's over­stat­ing it to sug­gest that The Illic­its arrived ful­ly formed. But, well, almost. No scene? No both­er, we'll make one of our own.


Last year, The Illic­its were play­ing the Sun­bird Records bar in Dar­wen, one of sev­er­al local venues they'd man­aged to per­suade to book them. Amongst the small the crowd of drinkers and (semi-)interested onlook­ers, they spot­ted some­one in the audi­ence that they all fol­lowed on Insta­gram. It was Gary Aspden.
"My girl­friend Joanne, she's real­ly into music," Asp­den tells me. At her urg­ing, he found him­self watch­ing The Illic­its that Fri­day night. The band, train­er-spot­ters to a man, col­lared him after the show. Asp­den, for his part, was struck by the strength of their mate­r­i­al, and by the pas­sion with which it was deliv­ered. For him, their straight-up, heart-on-sleeve gui­tar rock artic­u­lat­ed some­thing local, some­thing he per­ceived to be authen­tic, some­thing from the heart. Some­thing that didn't give a shit about what peo­ple in the big cities thought was fashionable.
The Illic­its' enthu­si­asm got him think­ing. Could one band of young musi­cians be part of the answer to the prob­lems of a town hol­lowed out and gut­ted – of jobs, hope, young peo­ple – over the last 40 years? He agreed to man­age the band, even though had no expe­ri­ence of work­ing in the music indus­try. Fuck it, why not? Let's give it a go. That's what The Illic­its were doing.
Asp­den got in touch with McGee. The Cre­ation man respond­ed like Asp­den had respond­ed: quick­ly, keen­ly. He asked to watch The Illic­its rehearse. Two of the band can­celled hol­i­days to be there for McGee's vis­it. A wise move – McGee signed the band that same day.
When I speak to him on the phone, McGee is typ­i­cal­ly effer­ves­cent – not only in his praise for the band but also in his scorn for the media types and genre snobs who deride gui­tar rock as passé.
"Scot­land, Ire­land, the north of Eng­land, they love rock'n'roll bands," says McGee. ​"In Lon­don, you're seen as some kind of right-wing con­spir­a­cy the­o­rist Brex­i­teer if you like rock'n'roll!" he adds with a tra­di­tion­al McGhee-ian, head­line-friend­ly flourish.
For Asp­den, The Illic­its were the first domi­no that need­ed to fall. If he could help build the band, they could build a fol­low­ing, and that could help build a cir­cuit of pubs, clubs, venues – and of excite­ment. So, work­ing with the band's new­ly signed con­cert book­ing agents, 13 Artists, they came up with a plan: before going south, let's con­cen­trate on gig­ging local­ly, build­ing this band in the north­east. And to para­phrase a hoary old cliché: if you build it, they will come…
As Asp­den said to me with impas­sioned force: ​"What the mon­ey­men don't see, because it can't be quan­ti­fied, is that cul­ture dri­ves commerce."
One per­son who did see that cul­ture dri­ves com­merce was Black­burn-born design­er and Red Or Dead founder Wayne Hem­ing­way. In 2017 Black­burn host­ed the first nation­wide Fes­ti­val of Mak­ing. It's a two-day arts, design and man­u­fac­tur­ing fes­ti­val organ­ised by a group of organ­i­sa­tions led by Hem­ing­way. The 2017 event was a suc­cess, but the 2018 event dou­bled atten­dance fig­ures and brought real rev­enue into the town. It's a suc­cess­ful mod­el for urban regen­er­a­tion, or for its begin­ning at least, and Hem­ing­way has rolled out relat­ed projects in Lon­don and var­i­ous coastal com­mu­ni­ties around the UK.
The 2017 Black­burn event was also posi­tioned to act as an aide and spur to integration.
"The Asian pop­u­la­tion can be insu­lar, they'll admit it them­selves," Hem­ing­way tells me. ​"Yet the Fes­ti­val of Mak­ing seems to bring peo­ple togeth­er, because a lot of the new suc­cess­ful busi­ness­es in Black­burn are from the mak­ers com­mu­ni­ty – and a lot of those are from the Asian com­mu­ni­ty. It seems to have brought a com­mon­al­i­ty. We had an inkling about that," he admits, ​"but we didn't know it would be on the scale that it's happened."
At the far end of Blackburn's dilap­i­dat­ed high street are The Mak­ing Rooms. Occu­py­ing an emp­ty retail space, it's a stu­dio com­plex and com­mu­ni­ty cen­tre that main­tains a shop's spir­it of open­ness. Any­one can drop in, look around and get booked onto one of their cours­es or programmes.
I enter a room bustling with silent con­cen­tra­tion and cre­ativ­i­ty: heads down over laser cut­ters and screen print­ings, some­one stand­ing exas­per­at­ed over sheets of sculp­ture design. The most com­mon refrain staff heard from res­i­dents when The Mak­ing Rooms opened three years ago: ​"We nev­er get stuff like this round here."
I talk to Aziza Foz­dar, 37, who dropped into The Mak­ing Rooms with no back­ground in cre­ativ­i­ty what­so­ev­er. She tells me that her son attends a school that's 90 per cent Eng­lish her­itage, and how she was frus­trat­ed by his sheep­ish­ness at dis­cussing Ramadan and Eid with his class­mates. His mum won­dered: ​"What can I do to try and solve that problem?"
At The Mak­ing Rooms, Aziza began work on a large wood­en Ramadan treat box, which incor­po­rates tra­di­tion­al Islam­ic design with a con­cept that's sim­i­lar to an Advent cal­en­dar. Open a win­dow and each day there's a mes­sage designed to pro­voke thoughts about life, Islam and community.
"I'm learn­ing every day, and I can't thank this place enough," she beams, before tak­ing me over to see her pro­to­type play mosque.
Behind the high street and up the road from the curi­ous insti­tu­tion that is Blackburn's Club Trop­i­cana (where, sad­ly, the drinks are not free but three quid), is the Prism Con­tem­po­rary Art Gallery. It opened in 2017, an inno­v­a­tive and impres­sive ges­ture from cash-strapped Black­burn with Dar­wen coun­cil to the local artist community.
The site was built as a ware­house for the grain indus­try, then the cot­ton indus­try, and then noth­ing. ​"It's clas­sic Black­burn," laughs Jamie Hol­man, 45, an artist cen­tral to Prism's work and mis­sion. ​"We've got love­ly build­ings but they're empty."
Late­ly, Hol­man has been cre­at­ing large ban­ners, inspired by the ban­ner art of trade union­ism, show­cas­ing the town's cul­tur­al and polit­i­cal her­itage. He's draw­ing on the rad­i­cal his­to­ry of Black­burn, which stretch­es from ear­ly trade union­ists to Danyall Mah­mud, the 23-year-old cus­tomer ser­vices advi­sor from Black­burn who threw the first milk­shake at far-right goon Tom­my Robin­son in May.
Hol­man bris­tles that, while Black­burn was too squea­mish about drug and crime asso­ci­a­tions to cel­e­brate its acid house her­itage, Man­ches­ter brash­ly appro­pri­at­ed the whole thing. He points out that Black­burn Rovers was one of the found­ing Foot­ball League teams, and, join­ing the dots, con­cludes, ​"because of that, you get Gary Aspden!"

Emma Col­bert, 26, and Lydia McCaig, 21, oper­ate under the name Girls Girls Girls. Work­ing out of Prism, they're artists and cura­tors who met at Black­burn Uni­ver­si­ty. After Prism opened, they had the idea for an exhi­bi­tion of fem­i­nist art cen­tred around Inter­na­tion­al Women's Day 2018. ​"It was also a hun­dred year since some women got the vote," Col­bert adds pointedly.
The pair put out an open call for sub­mis­sions, receiv­ing over 200 by way of return: film, sound, print, paint­ings and sculp­ture sub­mit­ted by artists locat­ed every­where from Italy to Israel.
"If we'd have start­ed try­ing to do this in Man­ches­ter the result would have been dif­fer­ent," says Col­bert, ref­er­enc­ing Manchester's soar­ing prop­er­ty prices. ​"But there is such an amaz­ing com­mu­ni­ty of sup­port and prac­tice in Black­burn. Where else would we get giv­en a free gallery? It's the first time I've been real­ly proud to say I'm from this area and want­ed to stay per­ma­nent­ly. Now I can actu­al­ly imag­ine a future around here."
More than this, the exhi­bi­tion proved a use­ful hub and meet­ing women for women across the com­mu­ni­ty. Peo­ple would drop in who had nev­er pre­vi­ous­ly thought about fem­i­nism, and stay for chats which extend­ed to hours. Be it an Illic­its gig or an exhi­bi­tion of inter­sec­tion­al fem­i­nist art, this is what it means for a town to be trans­formed – and its peo­ple unit­ed – by art and culture.





Rebec­ca John­son is the Arts and Her­itage Man­ag­er for Black­burn with Dar­wen Coun­cil. She's vis­i­bly proud of the council's inno­va­tion in hand­ing over space direct­ly to artists.
"We have to think much more clev­er­ly here, and talk about our­selves bet­ter," she says when we meet at Prism. ​"As a coun­cil we can't run the gallery, so what we have to do is cre­ate the space for oth­er peo­ple to do it."
Regen­er­a­tion being thirsty work, I head for an emer­gency pint at Blackburn's cav­ernous Wether­spoons, The Postal Order – so named after its prox­im­i­ty to the Roy­al Mail office, which means there's plen­ty of postal work­ers drink­ing in the pub today. As I leaf through my notes, three pen­sion­ers are sat around a table next to me. One is speak­ing into his phone. ​"Siri!" he booms in flat East Lan­cashire vow­els, ​"how did There­sa May end up as Prime Min­is­ter?" Even Siri can't answer that one.

Pete East­wood, 55, is Blackburn's most promi­nent music pro­mot­er. Spot­ting that the tra­di­tion­al for­mat of bands in bars was no longer work­ing for the town, he began putting on shows in Blackburn's ​"her­itage" build­ings. Soon he was sell­ing out shows at the town's muse­um, and putting on a two-day fes­ti­val in a church.
"If you'd spoke to me five years ago it would have been a dif­fer­ent sto­ry," he acknowl­edges. ​"But in terms of music, art and cul­ture, I'm real­ly pos­i­tive. There are some great things happening."
Equal­ly impor­tant­ly, East­wood has observed bands help­ing one anoth­er out for the first time, bring­ing out the best in every­one under tough circumstances.
"A lot of young bands are sup­port­ing oth­er young bands. I love it – the fact that one band would watch anoth­er, and all that lot would then watch anoth­er. It's great to see!" he enthuses.
Dami­an Lee, who runs the venue Elec­tric Church, housed in a for­mer night­club, agrees. He views The Illic­its' suc­cess as already hav­ing a pos­i­tive impact on the town's oth­er bands.
"It's made a lot of bands think: hang on a minute, peo­ple get signed from Black­burn? Let's get stuck in."




That evening I trav­el with The Illic­its to their show at The Grand The­atre in the sleepy near­by mar­ket town of Clitheroe. All 400 tick­ets sold out in just over a day. The most­ly-male audi­ence is almost exclu­sive­ly the kind of young men that what remains of the music press likes to dis­miss as ​"lad rock" aficionados.
But there's more at work here. If gui­tar rock has lost its cen­tral­i­ty from the cul­ture, then shouldn't we con­sid­er this kind of British gui­tar rock fan as a sub­cul­ture in and of itself? As with all sub­cul­tures, it takes place with­out per­mis­sion from elites. It has clear ene­mies to define itself against – ​"main­stream chart shite" is a label I hear from sev­er­al of the fans I speak to, and from the stage via tonight's sup­port act, The Ruby Tues­day. And, like all sub­cul­tures, it's mon­grel – a bit of casu­al cul­ture here, a bit of Mod there, a touch of mid-00s indie, all absorbed con­scious­ly and unconsciously.
Again, easy to sneer at. But just in the act of describ­ing their cir­cum­stances – and alchemis­ing the shit­ty day-to-day into uplift­ing rock'n'roll – these bands are at least able to tran­scend those same cir­cum­stances. Illic­its' singer George is straight-up in his ambi­tion: ​"We want to sell out sta­di­ums, are­nas, right to the top. That's the dreams and aspi­ra­tions we've had since we start­ed out just play­ing acoustic gui­tar in our bedrooms."
As fans stream out of The Grand The­atre after a thun­der­ous 40-minute set – sweat drip­ping from their Gal­lagher hair­cuts – I'm hard pressed to remem­ber any­thing from Black­burn gen­er­at­ing such pride, such positivity.
"I'd just love peo­ple from Black­burn to stop shoot­ing them­selves in the foot," Girls Girls Girls' Lydia McCaig had said to me ear­li­er, shak­ing her head in mild frus­tra­tion. ​"There's so much poten­tial here. And it's on the rise."
In any com­mu­ni­ty let down and hung out to dry by suc­ces­sive gov­ern­ments, it's under­stand­able if cyn­i­cism comes eas­i­er than curios­i­ty. How res­ig­na­tion can come more nat­u­ral­ly than hope. But unlike oth­er regen­er­a­tion schemes, what's hap­pen­ing here is com­ing from its peo­ple – and it's time the town took note.
Let's start shout­ing about what's going on in Black­burn. This cor­ner of the North is ris­ing again, and guess what? It's hap­pen­ing with­out your permission.

---