Northern soul: Christian Alexander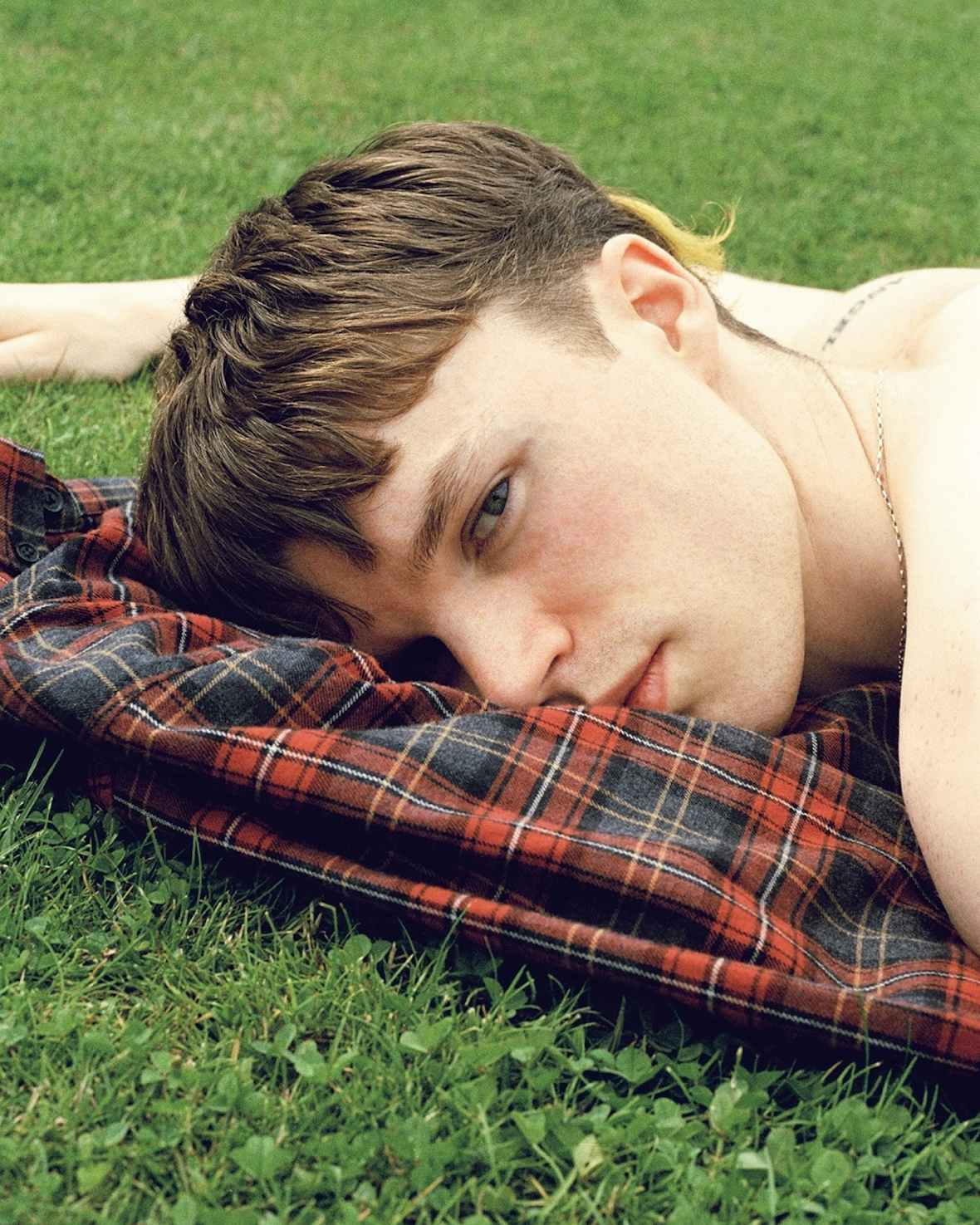 Volume 4 Issue 001: His songs helped make sense of the humdrum of his hometown. Then his self-recorded album racked up half-a-million streams.
Arti­cle tak­en from The Face Vol­ume 4 Issue 001. Order your copy here.
Christian Alexander doesn't walk, he bowls.
On an overcast summer's day, the musician approaches Preston train station with the cocky gait of a lad who's just been crowned captain of the local football team. A ribbed white top shows off the lean build of a greyhound. Finding a local cafe in the city's lively tangle of budget high street chains and charity shops, the 22-year-old removes his baseball cap to show off a new streak of canary yellow at the back of his otherwise dark hair. ​"It's just good," he says of his own recent dye-job.
Alexander may have a swagger, but he's a softboy at heart, creating emotionally tender ballads that are sticky as gum. Dusty acoustic guitars play off threadbare arrangements to create a skeletal, melodically-attuned version of the blunted soul practised by post-King Krule artists such as Nilüfer Yanya or Rex Orange County.
And then there's his voice: his vocals are hushed, filtered and gauzy on his remarkable debut release, this spring's self-funded, self-recorded, 10-song, 28-minute Summer ​'17. He didn't like the way his voice sounded at first, so he turned his microphone 180 degrees away from him, giving his songs the feeling of a memory that's only just within reach.
Drug 2 Me provides vulnerable weight to the often-glib lyrical trick of using narcotics as a byword for infatuation. I Wanna Go Home has ghostly, overlapping layers of longing and loss ("I miss you so much…"). Meanwhile, the suicidal themes of Ledge are as desperately bleak as songwriting gets ("It's mad that all the time that I spent/​Disappears as a splat on the cement").
Alexander croaks out the lyrics as if an anvil had been placed on his chest; although he says he's never really thought about killing himself. ​"I was really sad when I wrote it. All I know is writing stories when I feel happy or sad. I don't know whether they're fantasies." Like so many musical poet laureates from so many provincial towns before him, songwriting is Alexander's way of making a little more sense of the humdrum.
Alexander grew up in Garstang, a small market town a 30-minute drive from Preston in Lancashire. He still lives and records there today. Influenced by the lo-fi artists that his older brothers would play around the house, he started playing guitar while still in primary school. ​"That was all I knew… and then I discovered Tyler, The Creator."
Tyler's ability to create his own musical language on 2013's WOLF totally beguiled him, and Alexander started creating his own beats. His new song Lemonade is rap music done in the Christian Alexander-style, with a gentle guitar riff and sad lyrics about his grandfather.


While studying at Preston's College, the music room was both his creative incubator and escape hatch. ​"It's not that I didn't fit in with anyone, it's just that I didn't want to. Everyone was dressed the same – me as well – parka, Adidas shoes… I dropped out after the first year. I hated it," he recalls with a slight wince, admitting to having felt increasingly uncomfortable in his own skin.
He tried out a music production course in Salford, but moved back home after his anxiety became increasingly acute. He remembers having to leave a house party after 30 minutes when he became overwhelmed by the noise and frantic social interaction. Back in Garstang he knuckled down, putting his paypackets from a job in a local restaurant towards kitting out a basic home studio in the family garage. Establishing a clock-in, clock-out recording routine, he began to rebuild his confidence.
Alexander's influences are emblematic of a generation who care little for yesterday's rock canon – for whom Mac DeMarco is their John Lennon, Frank Ocean their Kurt Cobain. ​"Blondewas the first album where I was just blown away," he marvels of Ocean's 2016 second album. ​"It drove me. I thought, ​'If people out there can make amazing music like this, then I can make amazing music as well.'"
Later, in a vintage store decorated in the colours of an ice cream sundae, Alexander picks out a Wrangler denim waistcoat, which he buys and puts on. We chat about his potential move down to London, which he sounds cautiously excited about, as well as a music video idea that involves vomiting slime.
How different Alexander must have been a few years ago, hiding from his classmates and dipping out of parties. That was before Summer ​'17racked up half-a-million Spotify streams in a few months, purely on word-of-mouth buzz – enough to give any introvert a boost. With studio sessions coming up in LA, the scope of his vision is expanding by the day. ​"I am ambitious," he tells me with a decisive tone. ​"I believe in the hard work that I've put in. I believe in the world that I have in my head."
Production Rosanna Gouldman, Photography assistance Luca Strano

More like this