d4vd is ready for fame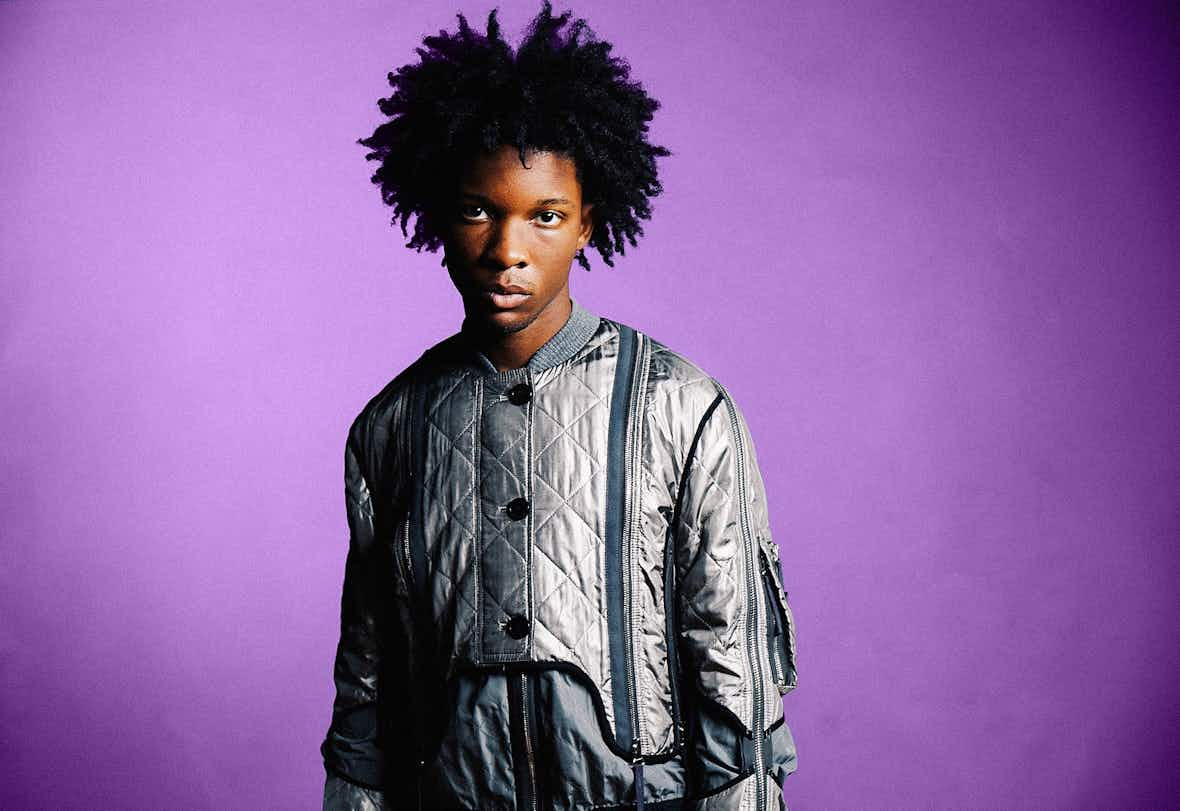 The teenager gamer-turned-musician has racked up hundreds of millions of streams and he's signed with the label that Billie Eilish is on. So why does he still record everything with his phone?
In a bid to graduate from viral success to real world stardom, d4vd played his first London show last week. Beabadoobee and Holly Humberstone were part of a hyperactive crowd at the 250-capacity Lower Third venue, while an audience of thousands watched via a TikTok livestream. It was a familiar scene for the 17-year-old. At d4vd's recent New York show, Reneé Rapp posted clips of him on her Insta stories, then he hung out with SZA at Madison Square Garden the following night. Not bad for a kid from Houston who still makes music in his sister's wardrobe.

"I used to make songs that would sound crazy on headphones," he tells me over Zoom from a hotel in Paris, the next stop on his tour. ​"Now I need to make songs that sound crazy live."

Thirteen months ago, d4vd (it's pronounced ​"David", by the way – his birth name is David Burke) didn't make songs at all. The original goal was to become a pro gamer, and so he started creating tracks to soundtrack compilation videos of him flexing his shooting skills in Fortnite. ​"You have to really subvert expectations with those videos because people's attention spans are so short," he says. When TikTok creators started using his tracks, d4vd knew it was time to give the music thing a proper go.
d4vd started recording in his sister's closet because it was the only place where his DIY studio set-up (which is pretty much just a phone and Apple earbuds) doesn't sound too shitty. The songs he's recorded there have racked up millions of streams, and secured him a deal with Interscope records and the Darkroom label, also home to the bedroom pop queen herself, Billie Eilish.

Testament to his star appeal, there's already a busy Discord server called ​"d4vd's closet", where fans can share their own creations in music and gaming. ​"I definitely feel comfortable with all the attention I've been getting," he says, seemingly unfazed by the rapid blow-up. "[Because] I already have such a strong community behind the music."

He believes his music is connecting with audiences because of its imperfections. ​"I make everything on my phone. I don't mix or master anything. All my songs are full of imperfections. Feeling like you can make the song yourself is so important to me," he says. ​"What I'm doing is relatable."

Having been homeschooled in a Christian household, d4vd didn't hear secular music until he was 13. Then, he ​"discovered everything all at once". His musical diet now includes Paramore, Wallows, Deftones and jazz greats like Chet Baker, Brenda Lee and Elvis Presley. He's also digging into The Cure's back catalogue, after noticing his music being compared to theirs.

d4vd's songs range from fast-paced, reverb-drenched dream pop to woozy slacker rock, and you might hear elements of R&B and pop-punk in his vocals. But like most Gen Z artists, he describes his music as genreless.

Five months after releasing his first song, Run Away, in December 2021, d4vd dropped Romantic Homicide, a downbeat indie track which spread like wildfire on TikTok (it currently has over 461 million Spotify plays), in part thanks to its relatable lyrics about heartbreak. But d4vd also thinks it stood out in contrast to the hectic hyperpop that so many musicians of his generation were peddling. ​"I came out of nowhere with one vocal and a couple of guitars," he says. ​"People were so used to being overstimulated; my music gave them a break."
But new track WORTHLESS marks the end of quiet time. The thundering song simultaneously nods to Soundcloud rap, garage punk and soaring, radio-friendly pop. ​"I just like contrast," d4vd shrugs. ​"I'm not afraid to take risks."

Now he's got a budget behind him, d4vd is also pairing his songs with cinematic music videos. His ultimate dream is to build a bold, expansive aesthetic universe around his music. ​"When people say ambitions, they're probably talking about awards or whatever. But I'm thinking about where the music can take me creatively – movies, TV shows, anime, comic books. It's endless."


More like this