Loved Dave's flame-throwing BRITs performance? Thank these guys
If there's one person who knows how to put on a show at the BRIT Awards, it's Dave – and TAWBOX, his live-show creative directors.
Remember Stormzy​'s legendary 2019 show at Glastonbury? Dave's poignant performance of Black at the 2020 BRIT Awards? Olivio Rodrigo stunning the room at last year's BRITs?
You have Amber Rimell and Bronksi, the creative direction duo behind production designers TAWBOX, to thank for those break-the-internet moments.

At last night's awards ceremony at London's O2, the pair once again pulled out all the stops for Dave's climactic performance of In The Fire. In case you missed it: after scooping the award for Best Hip Hop/​Grime/​Rap Act, Dave quite literally set the arena on fire, bringing out Giggs, Ghetts, Meekz and Fredo for the most memorable BRITs performance since, well, Dave's last BRITs performances. There was a full choir, intricate set pieces and lots of flames coming out of Dave's guitar.

How exactly does a multilayered performance like that come together? We're glad you asked. THE FACE caught up with TAWBOX to find out the hows, whats, wheres and whys of Dave's twisted firestarter performance.
Congrats on another incredible show. How are you feeling the morning after?

Bronski: Straight after that performance, we actually drove ourselves up north to go straight into Dave's arena tour production rehearsals. No afterparty for us! We're feeling groggy, but we're delighted, obviously.

No rest for the wicked! How did you guys get into creative direction?

Bronski: As a young kid, I was absolutely obsessed with music. I went down the musician route myself as a teenager, but decided not to pursue that and instead pursue something that could be around music. I worked in sound first, and then ended up touring. From that experience, my passion for the creative element kept coming through. About 10 years ago, we started creating performances for artists. The first one was Rita Ora. From that, some other artists asked if we could work with them. It spiralled on from there.

Amber: I started off as a professional dancer. I've been dancing for the age of two-and-a-half because I was a very hyperactive child. I worked with artists on tours and did some shows in the West End. But about eight or nine years into my dance career, I had a bad knee injury. I thought: ​"If this keeps happening, what am I going to do?" I stepped into the world of choreography, which I absolutely fell in love with. Then Bronski and I met while working for N‑Dubz, and we started using both of our backgrounds to start creating ideas for shows. That's how TAWBOX was born, really.

You've worked on so many amazing performances. Do any stand out as being particularly special?

Bronski: There are multiple performances over the last 10 years that stand out for us, but in the last four or five years, we've mastered our craft. There's Stormzy at Glastonbury, Dave at the BRITs – both times now. We also did The Pussycat Dolls' comeback show – with a week's warning – which just exploded [online] afterwards. It felt so fresh but still felt nostalgic, in the way that resonated with the fan base. I remember Simon Cowell grabbing us straight afterwards and saying… What did he say?

Amber: He said: ​"Are you two responsible for what I've just seen?"

Bronski: Yeah, and then he said: ​"You guys don't create performances, you create events."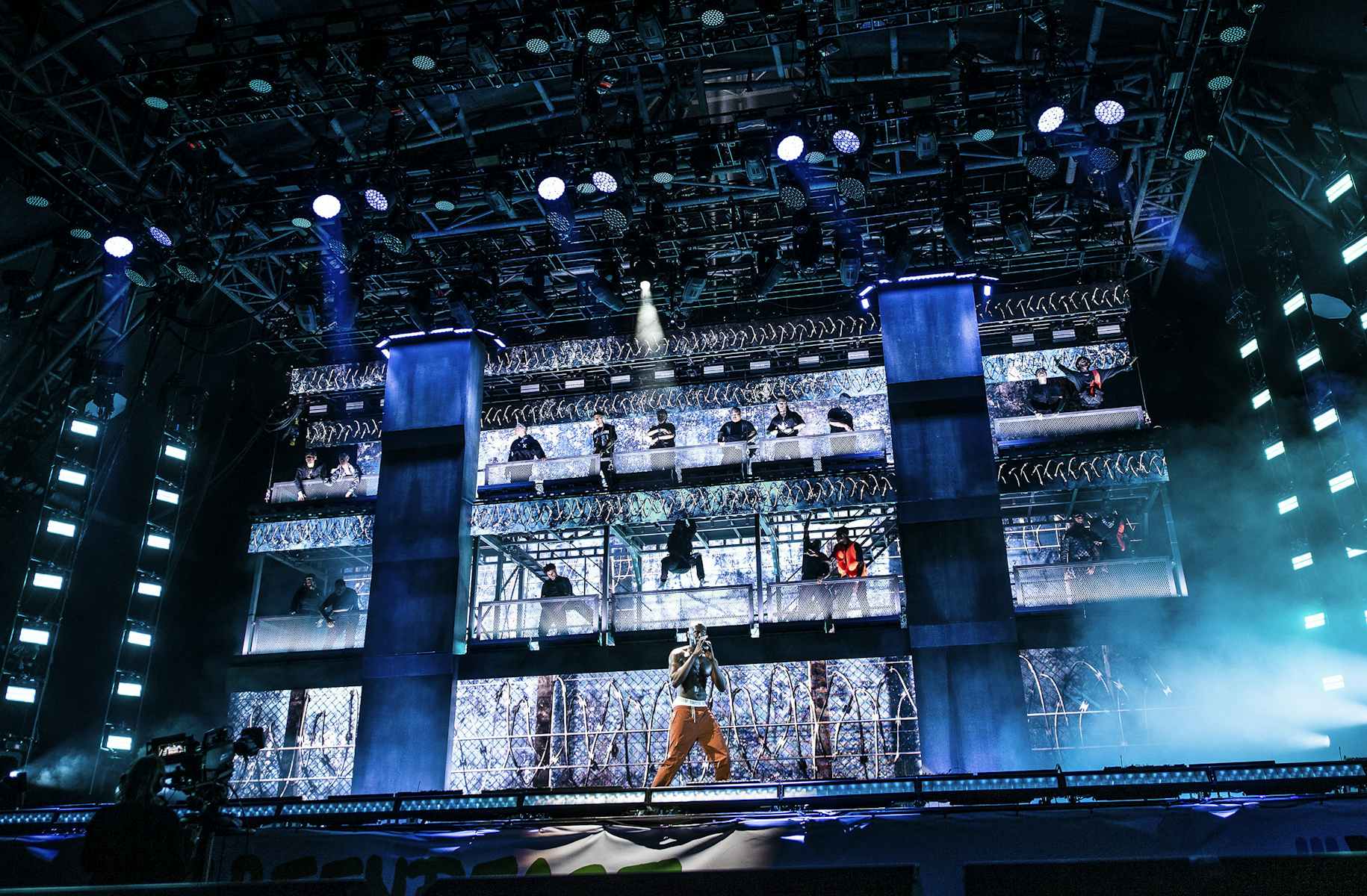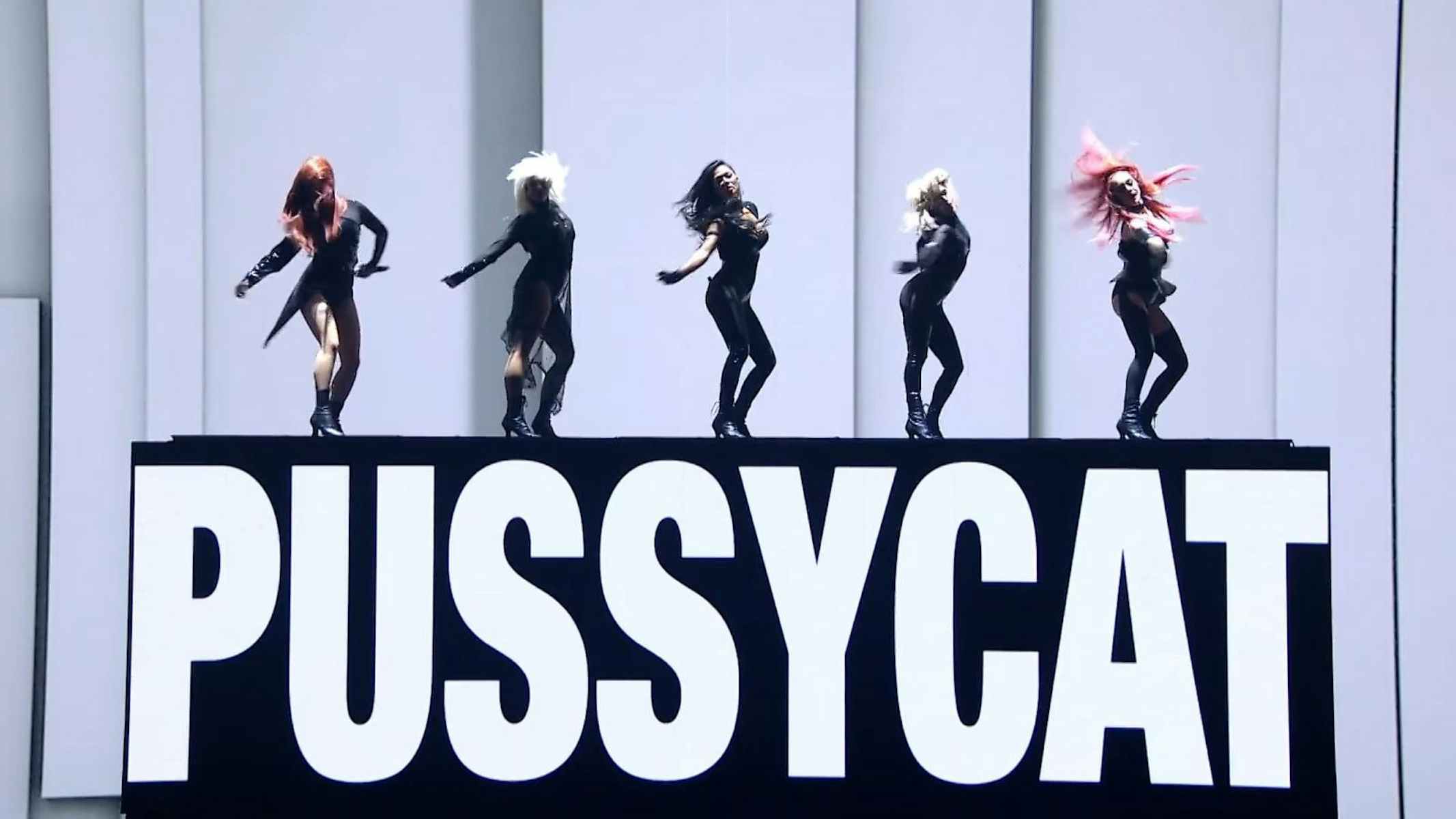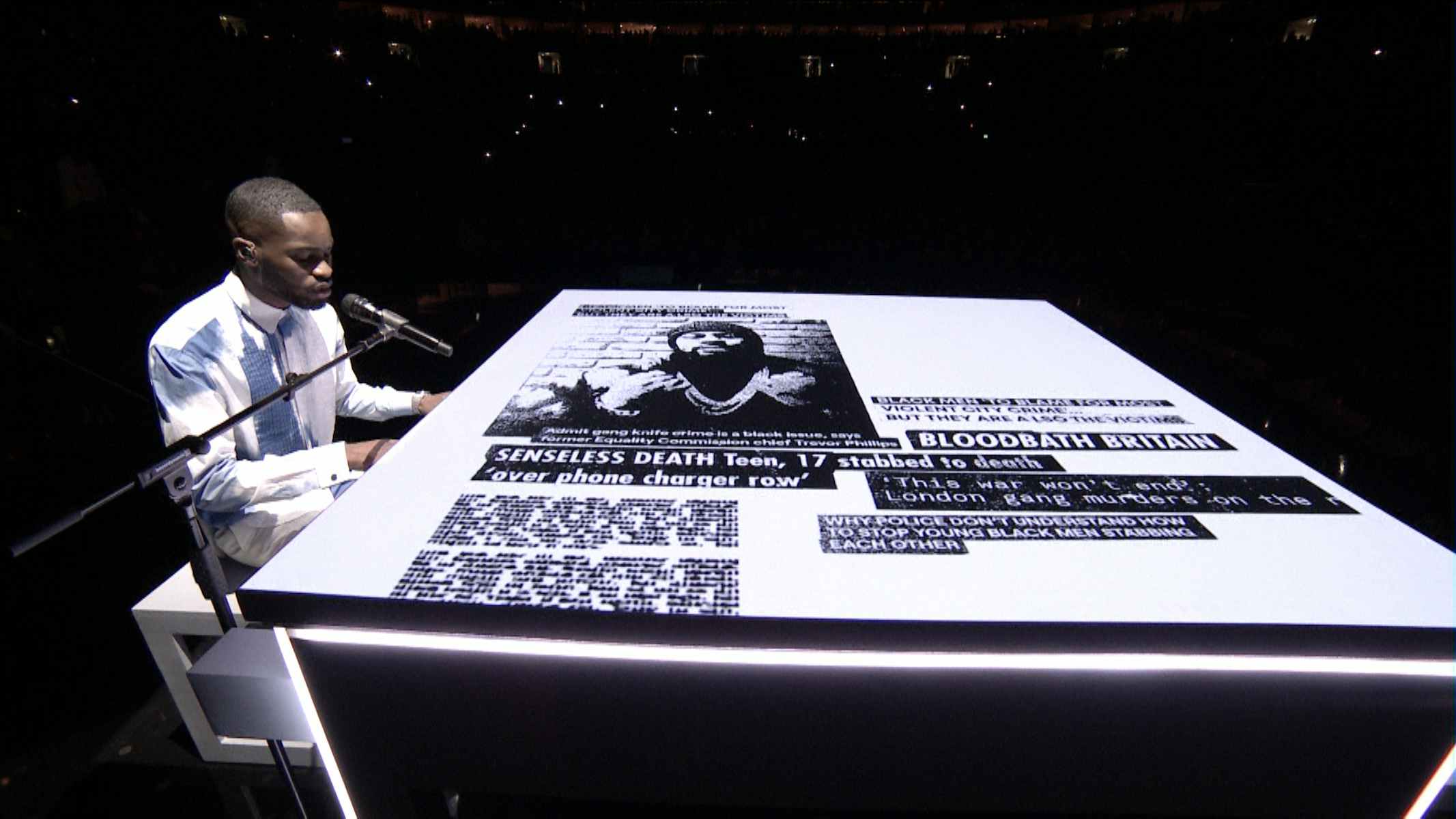 That's a great quote for your website. There were a lot of elements to Dave's performance last night. Can you break them down for us?

Bronski: For sure. Ultimately, In The Fire is an insane track from a ridiculous album and, when it first dropped, we were already talking about how we would do it as a performance. The BRIT Awards came up and felt like completely the right moment to do it.
In terms of putting it together, when we look at a performance like this, we have to think practically, architecturally, creatively and narratively. Getting the balance of that right was important. Dave really wanted to do it with a live band and we knew there had to be a choir.

Then we had the fact that there were five top artists [on stage to consider] – Dave, Giggs, Ghetts, Meekz and Fredo. All of their verses are separate and we were really excited to have them all start on stage and all finish on stage. Normally with a rap feature, that doesn't happen. We were also really conscious of the lyric: ​"Have you been tried in that fire?" This track is so cemented around that big social aspect of how they've been brought up and born in the fire, so we felt they should all be together the whole time.
One thing we knew we had to have was fire to go with it – that was key. We ended up having three layers of fire, right across the front of the stage, really high up and behind the set as well, for added depth.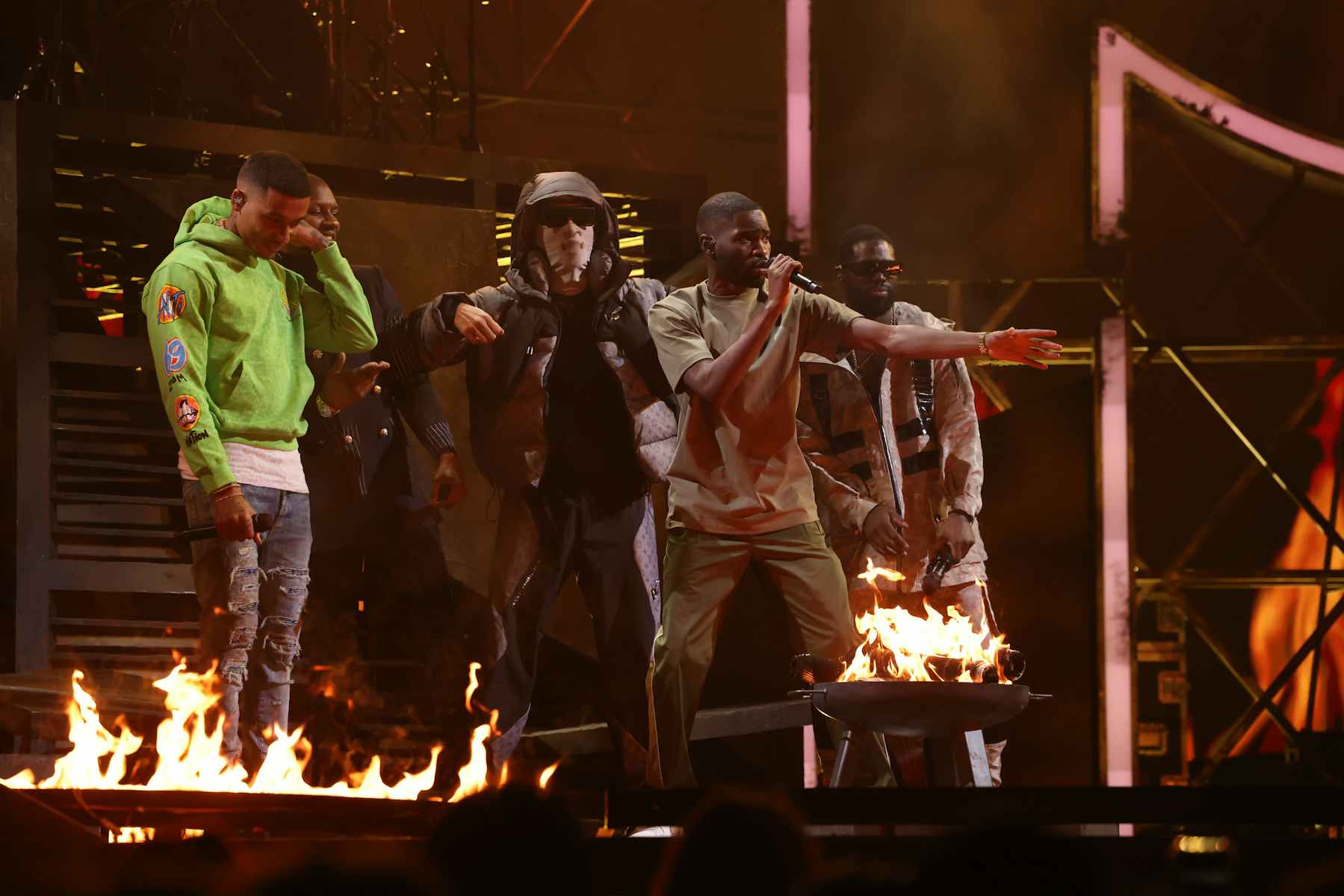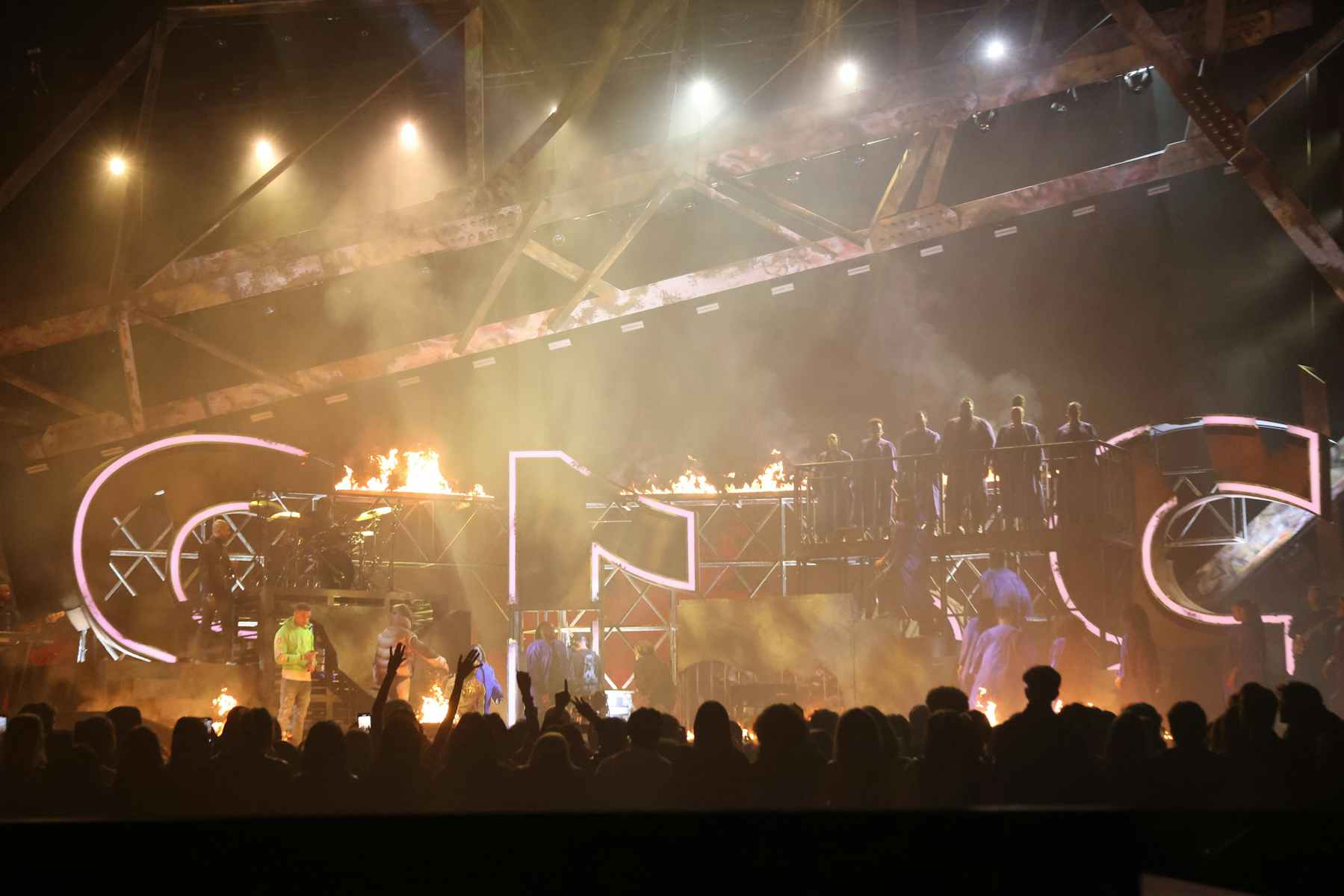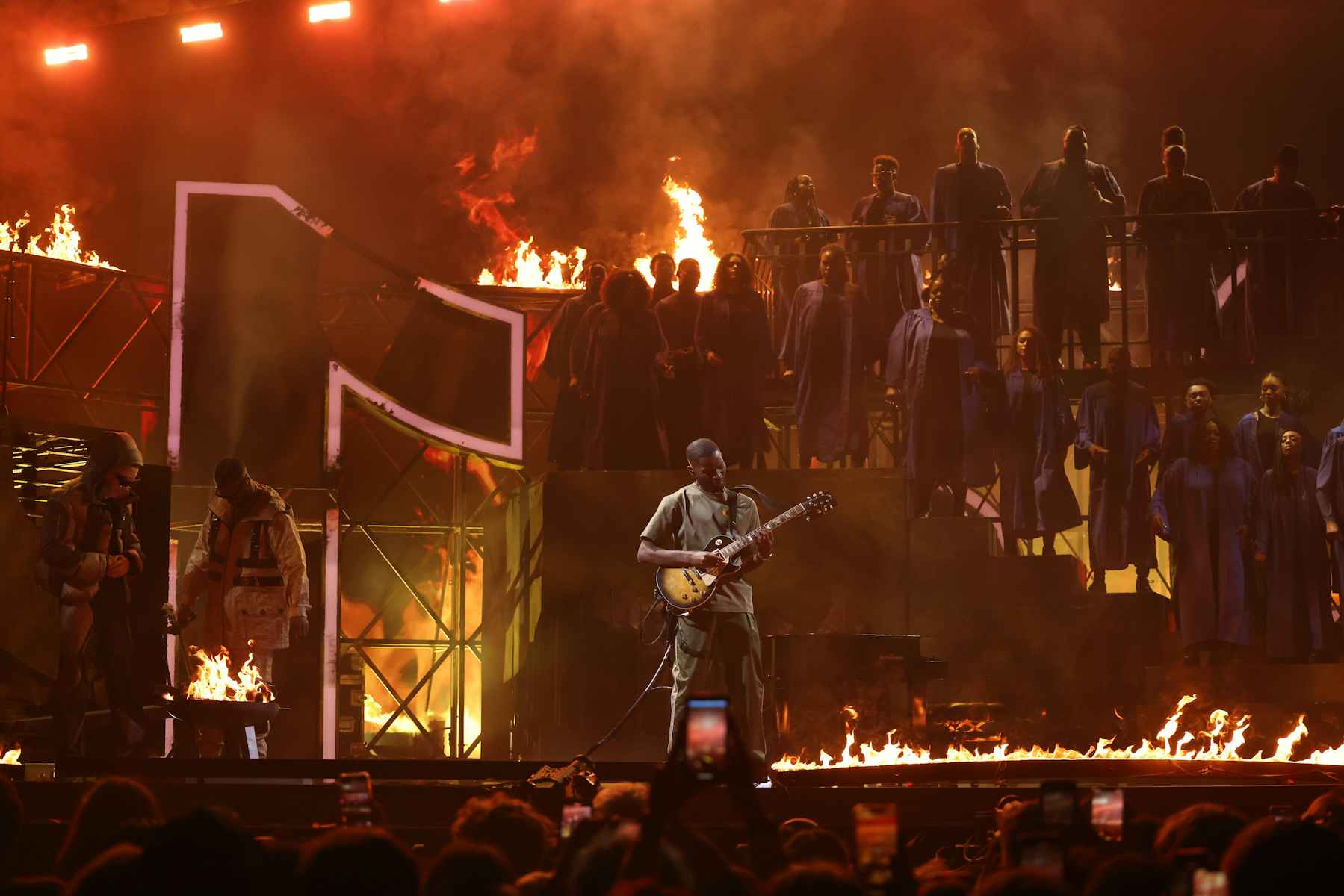 How much input did Dave have in the process?

Bronski: Dave really wanted everyone to have their own moment, so even though they're all together on stage, everyone had their thing. Dave started off by a little bonfire; Fredo started off in the middle with all the fire turning on; Meekz started off sitting on one of the set-pieces; Ghetts started at the back of the fire with the choir, and Giggs started on a platform full of lights. Each person had their own cool opening position, which is something Dave definitely wanted.

Amber: With our set design, we both go away and live in an artist's music for as long as we possibly can, listening to all of their lyrics and the stories that they're telling. One of Dave's key lyrics in the song is: ​"It's kinda different when the fire's what you start from."

We definitely took that and put that in our set, with ​"313" put backwards built in our set. It's not meant to be obvious. It's something that maybe a really intricate Dave fan would go away and Google ​"313" to find out what that is. It's referencing Corinthians 313 [from the Bible]: "…Each one's work will become clear; for the Day will declare it, because it will be revealed by fire; and the fire will test each one's work, of what sort it is."
Dave really liked that idea. For all three of us, if someone takes that away and goes, ​"oooh, that's what it means" that's incredible. If they don't, that's also cool. But it's something that's there for any avid Dave fan.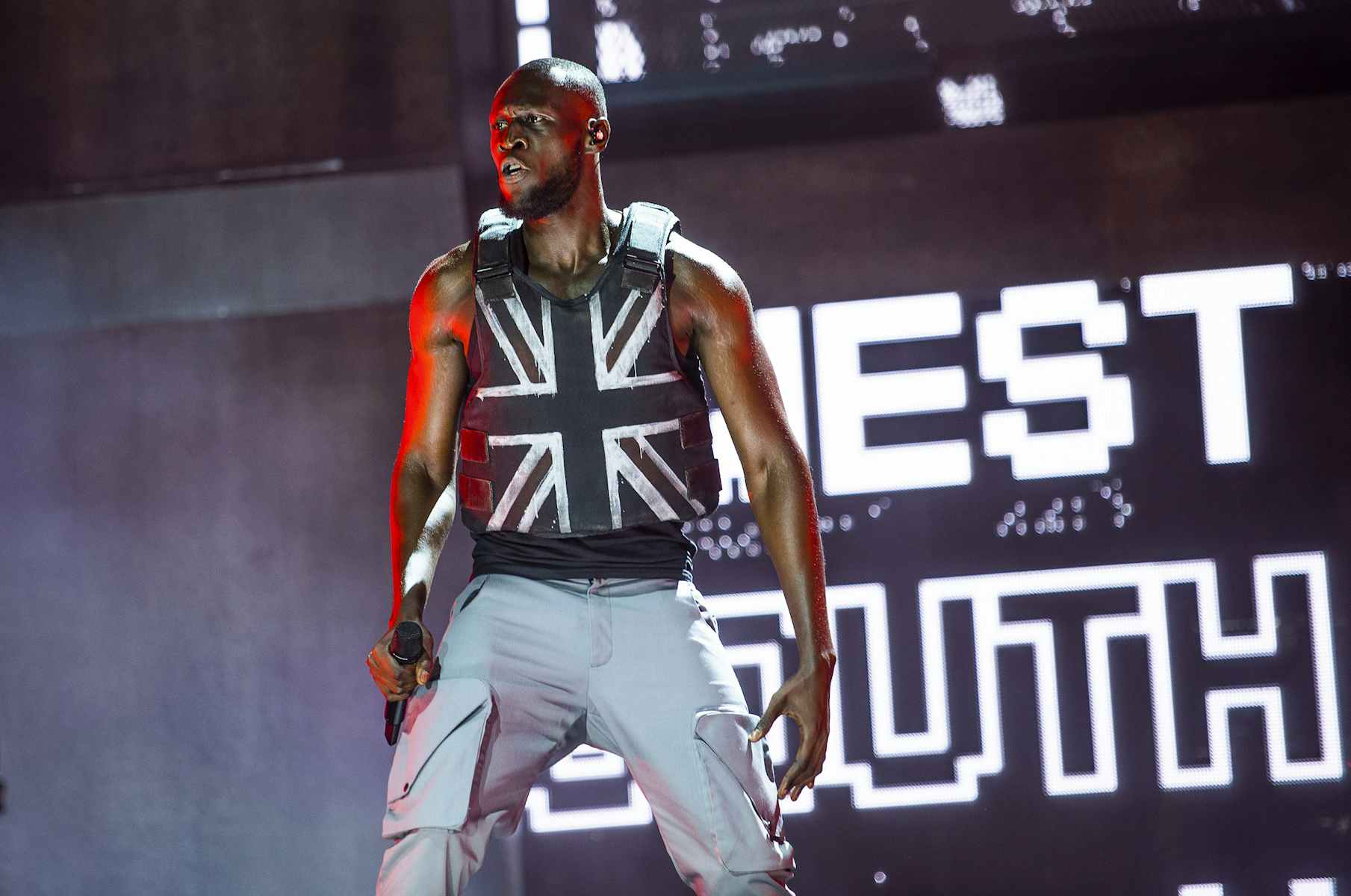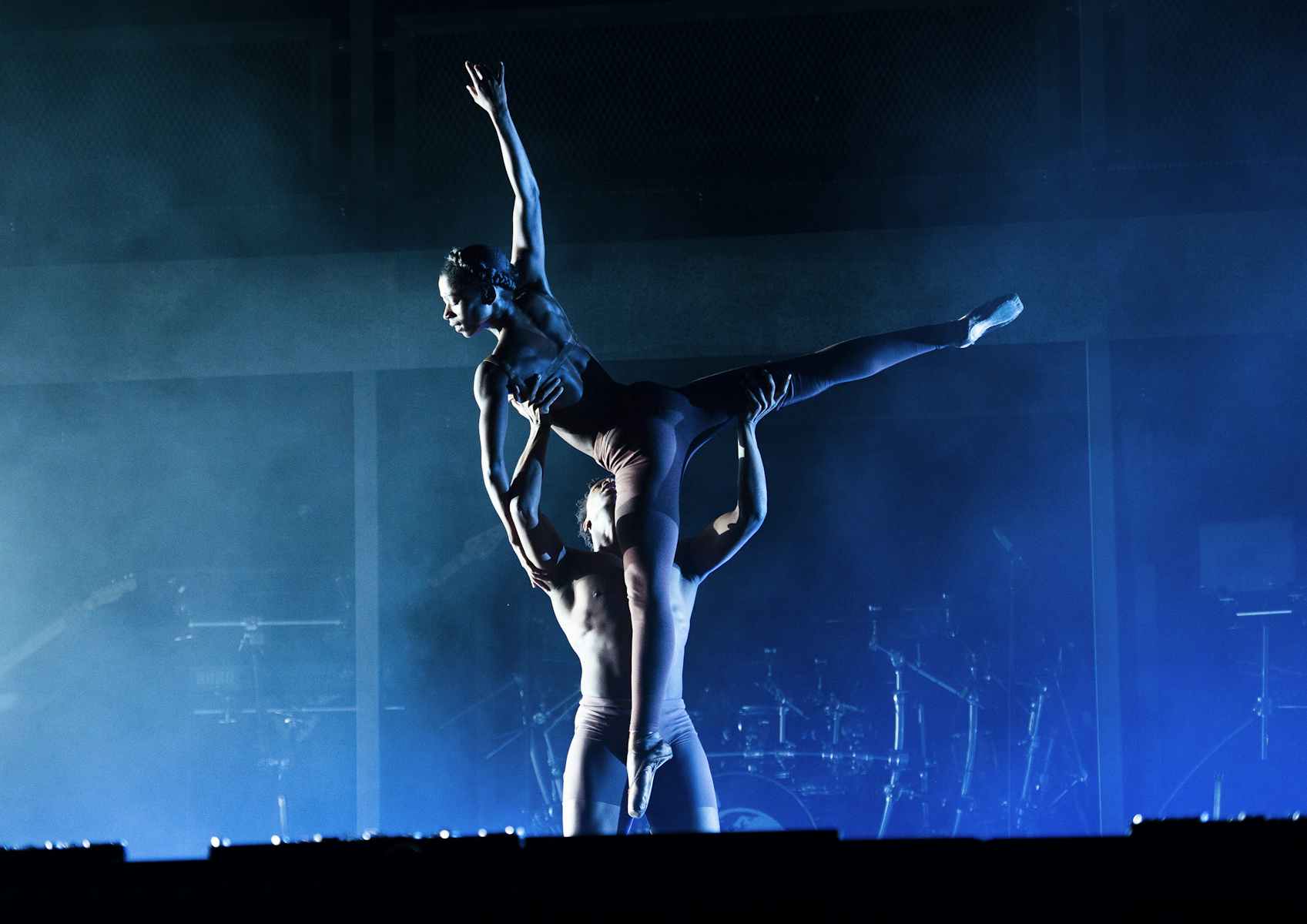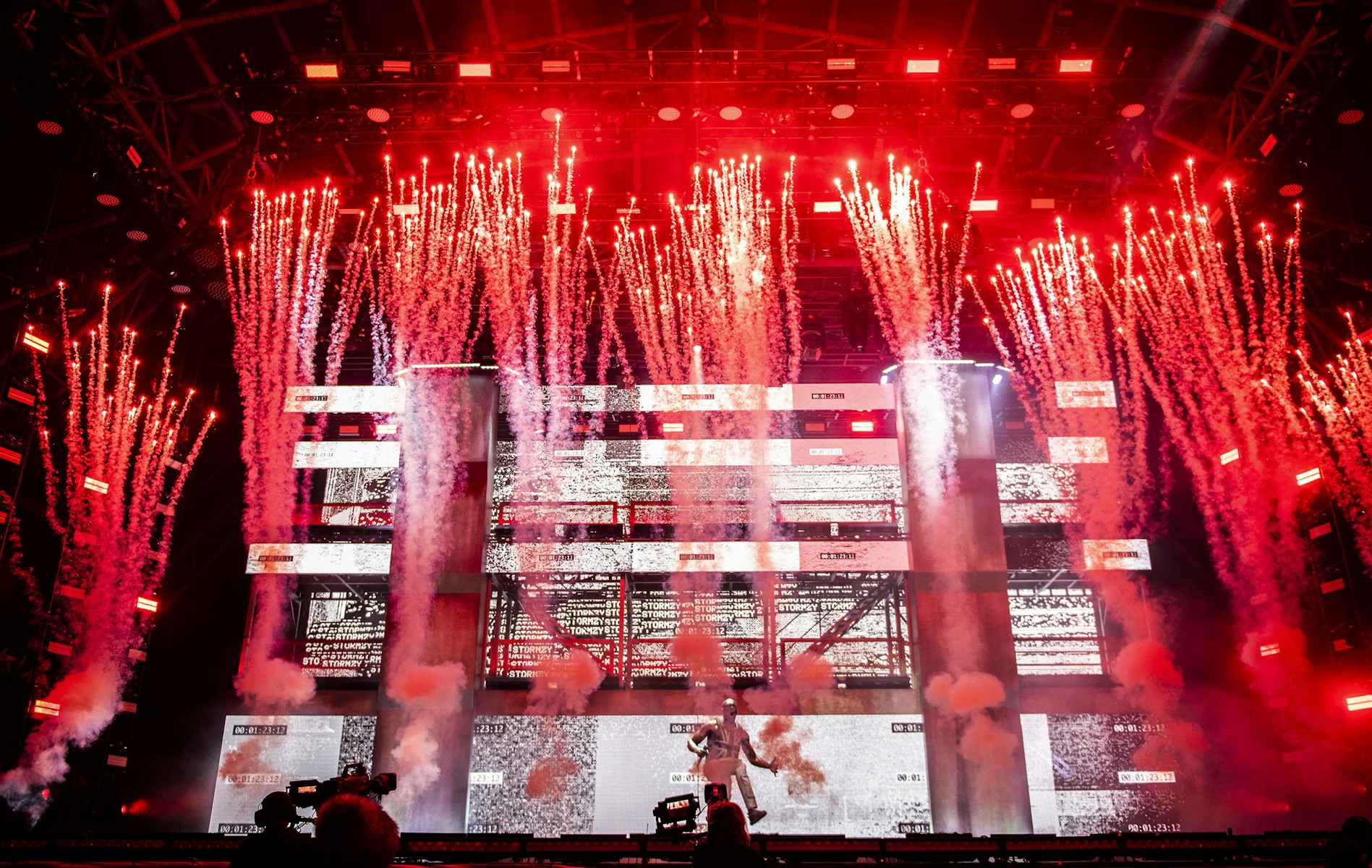 Are there any other Easter eggs in your sets of which you're particularly proud?

Amber: We love an Easter egg! When we did Stormzy at Glasto there were quite a few. We would never ask or expect an artist to preach words on a stage, but putting in Ballet Black and the speech about how, in the last couple of years, the ballet shoe company Freed have been able to create pointe shoes in different skin tones [was special]. It's something that, in 2019, people wouldn't think twice about, but the way we presented that, [it made you think]: ​"Well, actually, why hasn't that been done before?"

Bronski: The previous performance with Dave at the BRITs was very much all about the lyrics, but there was an Easter egg in there that unfortunately got missed by the camera. We were projecting content on his piano and, at one point, there was an avocado. That was referencing his line about Kate Middleton and Meghan Markle [​"how the news treats Kate versus how they treat Meghan"], and the way the press reacted differently to them eating avocados.

Let's talk about Dave's already-iconic flamethrowing guitar. How do you make something like that happen?

Bronski: Quite often award shows pick one company to do the special effects for all the artists, for health and safety reasons. The BRITs use a German company called FFP. They're heavily associated with Rammstein, who do a huge amount of fire gags. It was perfect for us to see what kind of guitar technology they had. We were in safe hands.

Finally, the big question: how hot do you reckon Dave was while he was doing his guitar solo?
Bronski: Oh, crazy hot! In rehearsals, I remember trying to sneak up behind him to get a video and yeah… it was crazy hot. Everyone on stage will have definitely felt it the whole way through. For eight minutes. Fair play!

More like this