Gia Ford: Dirty Hit's digi-soul trailblazer

With her new, nine-track EP and accompanying visuals, the singer explores "a lot sexier, darker lezzy fantasi" (spelling and ambition, artist's own).
Earlier this year, Gia Ford was excitedly preparing for her first summer on the festival circuit. Good times undoubtedly lay ahead. And then…
"I get more time to practice so it's fine," the richly-voiced singer says with a smile and a shrug over FaceTime from lockdown in her London flat. ​"My plans haven't changed at all. They're just on pause."
In any case Murder in the Dark, with its theatrical beats and sweeping ​'80s production, is more suited to dimly lit rooms than sprawling open fields. Her second EP, she explains, ​"stems from this obsession I've always had with dark things, dark corners of stories that seem bright".
Still, as it must for all of us, the show must go on. So instead of playing gigs Ford – who's signed to The 1975's label Dirty Hit and collaborated with Dev Hynes on her debut EP – will be performing acoustic versions of songs from her Murder In The Dark​'s nine tracks on Instagram Live to her 11,000 followers.
"I'm so unsure of how releasing music in this climate works, and whether it's more or less well-received, whether more or less people will listen to it," the 23-year-old muses. ​"I don't know, exposure-wise, how this pandemic is affecting the release of new art."
Murder in the Dark marks a shift in tone from the dreamworld of her 2019 debut, Poster Boy. There's still an extensive visual universe, dreamed up between Ford and her creative director girlfriend Melony Lemon, but this time it's darker. If the seven-track Poster Boy was about embodying ​'90s heartthrobs like Johnny Depp and Leonardo DiCaprio, Murder in the Dark is more American Psycho than American icon.
The EP's title is taken from the children's game where a ​"murderer" taps players on the shoulder to kill them and tries not to get caught.
"I was having a conversation with [co-writer] Fred [Macpherson, of Spector] about the general world of the EP and I said [the phrase] murder in the dark," Ford explains. Macpherson told her about the kids' game. ​"I didn't even know that, but that elevated the idea of darkness being behind things that seem innocent – when you don't know that there's danger or that something's coming for you."
In the title track's stylish, Tarantino-esque music video, Ford sips from a personalised hip flask in a seedy motel. What at first seems like a love story escalates into a killing. Yet while the EP's world, from which Ford has teased images on Instagram, may be all fake blood and stormy nights, lyrically Murder in the Dark is yearningly romantic.
The love described is dizzying, bursting, imploding. There's a sizzling passion that's almost too much to take. Back in October the singer took to her socials to describe the work-in-progress songs as expressing ​"a lot sexier, darker lezzy fantasi [sic]".
Unsurprisingly the Londoner is fast becoming a queer icon, albeit a reluctant one.
"I'm gonna do what I do, and I just happen to be a lesbian. Now there's so much more lesbian representation in the media and I'd love to be part of it, obviously. But I am who I am. I've had some jokey messages like: ​'Oh my God, you made me realise I'm gay!' Some of them might be real. I don't know."
It wouldn't be surprising if Ford has had a positive influence on young queer womxn figuring out their sexuality. The music video for debut single Turbo Dreams is a lesbian love story with a happy ending, and anyone who's mined their way through queer cinema will know that those are few and far between.

"I've had a lot of nice messages about the Turbo Dreams music video," says Ford, "[people saying that] it just is what it is. It's not trying to have this political stance or anything. It's just a video with two women. Maybe it did make some people realise they're queer. I hope it did."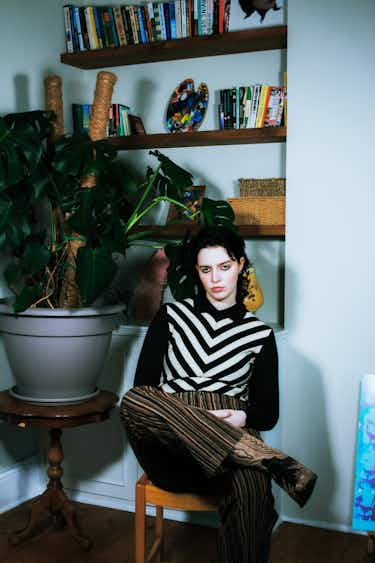 Representation has been improving incrementally but most of Ford's cinematic references are pulled from stories centred on heterosexual relationships, even if she finds them wanting.
"There's much more representation now, but there's still not a lot. We all watch the same movies over and over again. They're a bit shit."
Like her visuals, Ford's songwriting is as much about other characters and perspectives as it is about herself. Even the name ​"Gia Ford" allows her step into a persona, an elevated version of herself (her legal name is Molly McCormick.) Plus, Ford has noted, the GF initials also denote ​"girlfriend". She likes the abstraction, and the distance.

"It feels quite self-obsessed to always write about yourself and I don't really enjoy doing it because it means you have to over-analyse your feelings constantly," she explains. ​"It's heavy. It weighs on you. It's a lot of work. Thinking about how other people might be reacting to situations in their life, putting myself in someone else's shoes, that's the way I enjoy writing most."
Being a pop star for the Instagram age, Ford is better placed than most older musicians to perform in a time of lockdown. She's been playing songs from Poster Boy and Harry Styles' covers in weekly IG Lives.
"In terms of recognition and painting a clear picture for your audience, the way we've built my personal brand has really benefited the music. So the music doesn't just stand on its own but is held up by that."
As lockdown looks set to eat a chunk out of summer 2020, Ford and her girlfriend will continue to work side by side – literally, their desks in their flat are next to each other – dreaming up new projects and images. It's an immersive technique she learnt from Dev Hynes.
The perennially and eclectically busy Blood Orange man would ​"throw himself into the writing process of a song, instead of overly questioning himself all the time. I want to take myself into that zone where I actually believe that what I'm doing is the shit."
With its conceptual sophistication and catchy hooks, Murder in the Dark proves Gia Ford is already there.
Murder In The Dark (Record label: Dirty Hit) is out now.

More like this