100% iZNiiK: the faceless producer making face-melting songs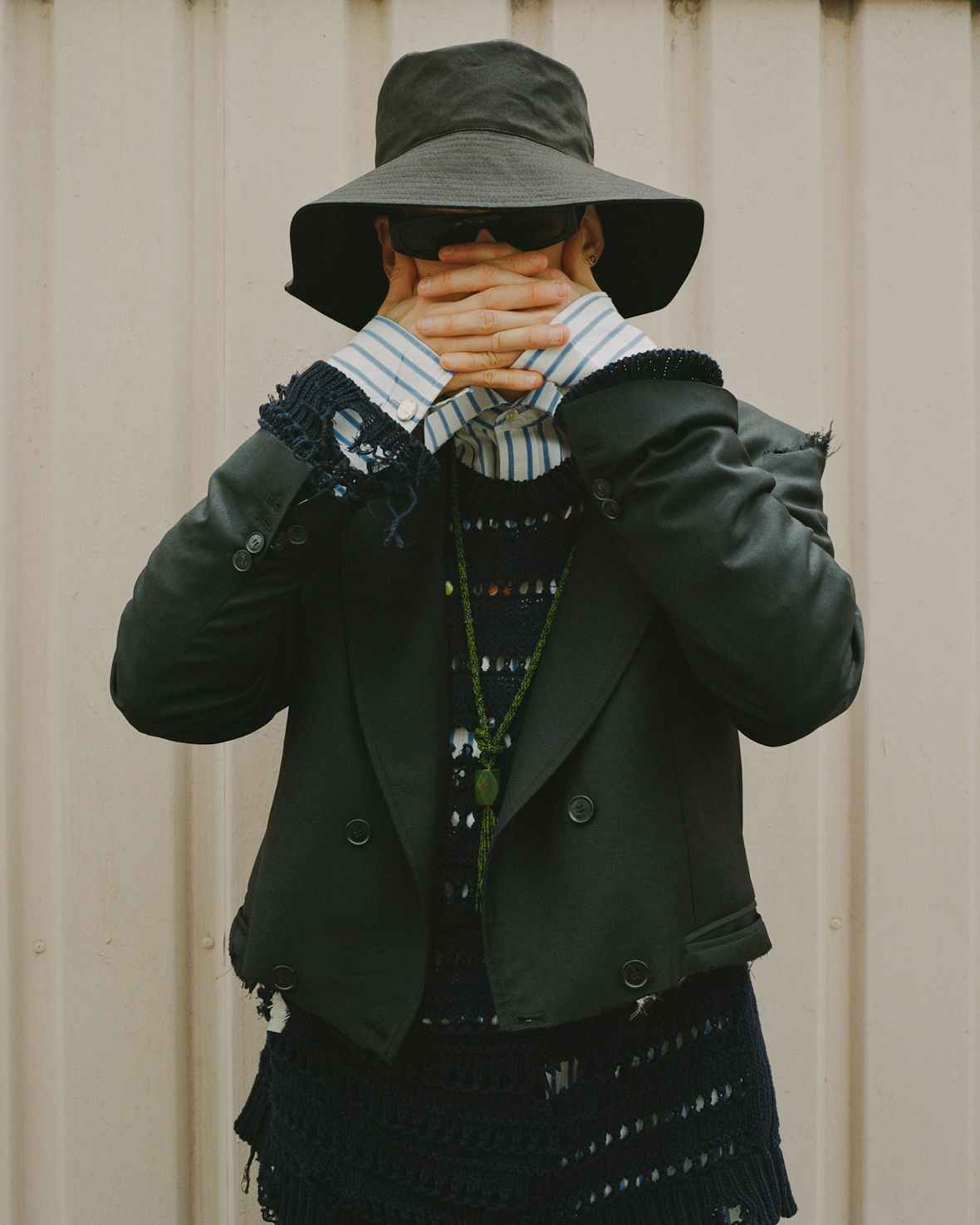 He spent two years living in the woods, away from society, and has emerged fully intact with an explosive sound. But exactly who is iZNiiK?
Out of nowhere, a contender for song of the summer emerged from a virtually unheard of mystery producer. iZNiiK's dancefloor elbow-tosser perdóname dropped in mid-July and was immediately better than anything currently plaguing the Billboard charts. Latino pop from a nameless English hermit sounds strange, but his eclectic magpie collecting of different sounds and spliced vocal bits make for some unlikely earworms. So who is this guy?
iZNiiK, who wears a bucket hat to obscure his face, left society – south London, I guess – to spend a monastic period off-grid. ​"I moved to the woods and it was supposed to be a couple of months, and now it's two years," he recently explained to Zane Lowe of his misanthropic jaunt.
"I wanted to be with people but not in the flesh, so I've been observing people and I want that interaction but it's all been through the laptop," he continued. ​"I deleted my cookies of life. I didn't have people to work with, and I wanted to find sincerity in people and in the voices and sounds that I'm using."
For those who have been following iZNiiK since his early releases – a handful of songs posted mostly to SoundCloud – those sounds range from strange sources: chatroom livestreams, electronic instruments, and vocals from other mysterious origins. As he releases a new track, alone, and gears up for the release of his debut EP, iZNiiK flirts with lifting the veil.
10%: Where were you born, where were you raised and where are you now based?
South London.
South London.
I moved away to the woods needing an escape from the city for a while; it was only meant to be for a few weeks.
It's been two years.
Now I need to not be isolated out here… I think it's time to come back to the city… just not sure entirely where yet.
20%: At what point did you realise you'd be able to do what you love for a living?
I have been lucky to do many different things within music since an early age, but I have, and will, never take it for granted that I can do what I love for a living. This belief is what terrifies and inspires me daily.
30%: What's a piece of advice that changed your life?
Two quotations really changed my perception on all things:
"If people knew how hard I worked to get my mastery, it wouldn't seem so wonderful at all" – Michelangelo
"If it's not good, it's sh$t" – LM
40%: What kind of emotions and experiences are influencing your work?
The music and visuals are 100% influenced by where and how I have been living the past two years.
Being surrounded only by nature made me want to seek out sounds and voices from the internet that felt completely natural in the sense that they felt unforced, lacked self-consciousness and were overwhelmingly sincere.
50%: What can you tell us about your new project?
Following from above: I guess I developed this idea of being a hunter-gatherer, kinda foraging for sounds and melodies from the far corners of the web.
I wanted to sample and patch them together into songs like a collage.
It felt like a nice collision of nature and digital, which was what my existence has been made up of.
60%: Break down your typical day at work…
I wake up before sunrise then work until I can't.
Then exercise until I can't.
Then work until I can't.
I try to sleep before sunset.
70%: What can artists do to help save the world?
Artists are people. Only people can save the world.
We should try to listen to each other, not just say what we think.
We need to listen to those we disagree with as much as those we agree with.
Also turn the tap off when brushing your teeth.
80%: Who would you most like to see on the cover of The Face?
I'd like to see iZNiiK on the front cover.
It's not about me or my face… I don't want to show my face, in fact. I just want to be the face of a type of music that doesn't have to be defined by your appearance.
90%: You rule the world for a day. What went down?
Everyone has to do something for their mind and their body. Reconnecting with the only things we have a modicum of control over is incredibly invigorating.
100%: Love, Like, Hate?
Harmony.
Semi-colons;
Silence.

More like this