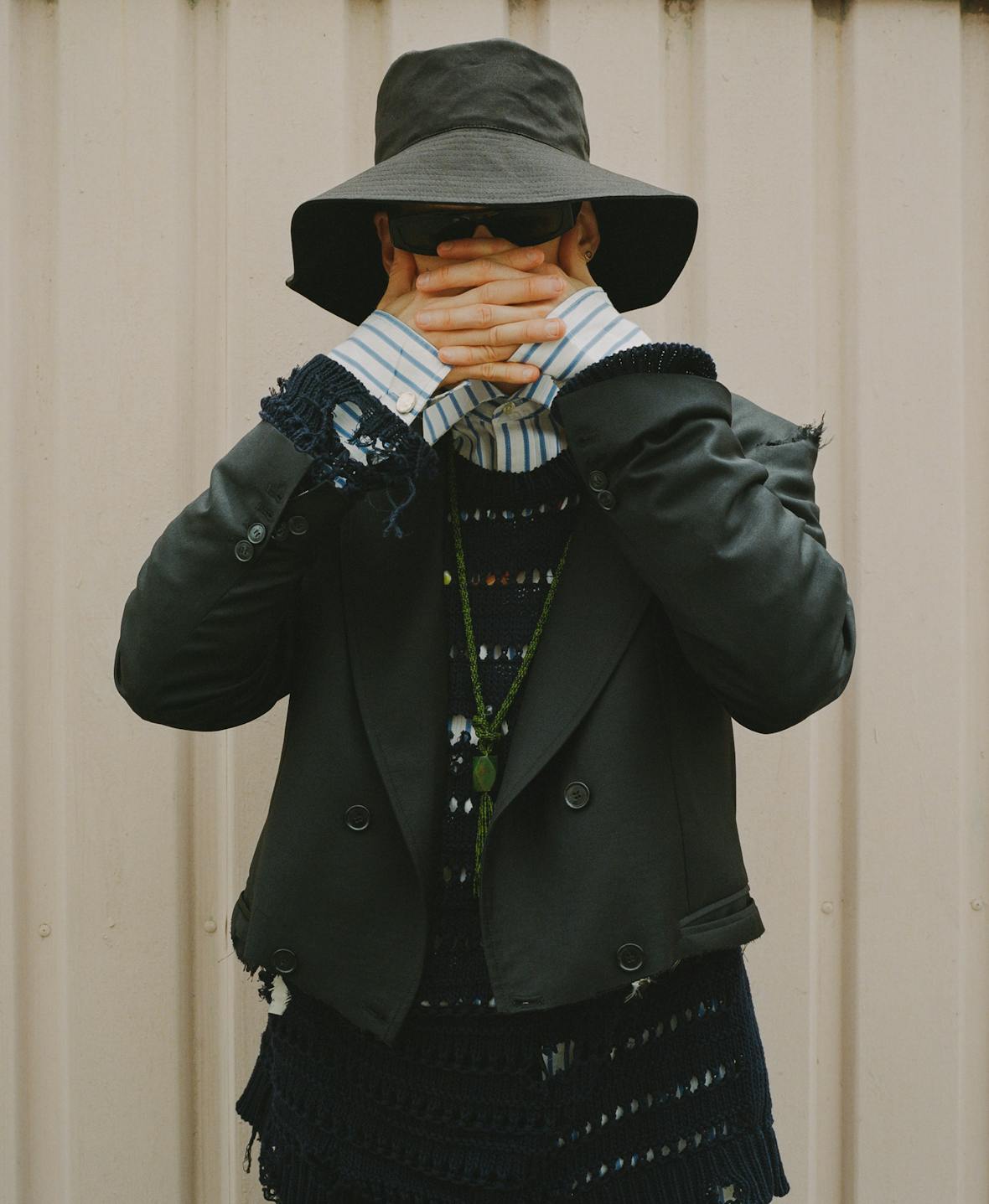 100

% iZNi­iK: the face­less pro­duc­er mak­ing face-melt­ing songs
Out of nowhere, a con­tender for song of the sum­mer emerged from a vir­tu­al­ly unheard of mys­tery pro­duc­er. iZNiiK's dance­floor elbow-toss­er perdó­name dropped in mid-July and was imme­di­ate­ly bet­ter than any­thing cur­rent­ly plagu­ing the Bill­board charts. Lati­no pop from a name­less Eng­lish her­mit sounds strange, but his eclec­tic mag­pie col­lect­ing of dif­fer­ent sounds and spliced vocal bits make for some unlike­ly ear­worms. So who is this guy?
iZNi­iK, who wears a buck­et hat to obscure his face, left soci­ety – south Lon­don, I guess – to spend a monas­tic peri­od off-grid. ​"I moved to the woods and it was sup­posed to be a cou­ple of months, and now it's two years," he recent­ly explained to Zane Lowe of his mis­an­throp­ic jaunt.
"I want­ed to be with peo­ple but not in the flesh, so I've been observ­ing peo­ple and I want that inter­ac­tion but it's all been through the lap­top," he con­tin­ued. ​"I delet­ed my cook­ies of life. I didn't have peo­ple to work with, and I want­ed to find sin­cer­i­ty in peo­ple and in the voic­es and sounds that I'm using."
For those who have been fol­low­ing iZNi­iK since his ear­ly releas­es – a hand­ful of songs post­ed most­ly to Sound­Cloud – those sounds range from strange sources: cha­t­room livestreams, elec­tron­ic instru­ments, and vocals from oth­er mys­te­ri­ous ori­gins. As he releas­es a new track, alone, and gears up for the release of his debut EP, iZNi­iK flirts with lift­ing the veil.
10%: Where were you born, where were you raised and where are you now based?
South Lon­don.
South Lon­don.
I moved away to the woods need­ing an escape from the city for a while; it was only meant to be for a few weeks.
It's been two years.
Now I need to not be iso­lat­ed out here… I think it's time to come back to the city… just not sure entire­ly where yet.
20%: At what point did you realise you'd be able to do what you love for a living?
I have been lucky to do many dif­fer­ent things with­in music since an ear­ly age, but I have, and will, nev­er take it for grant­ed that I can do what I love for a liv­ing. This belief is what ter­ri­fies and inspires me daily.
30%: What's a piece of advice that changed your life?
Two quo­ta­tions real­ly changed my per­cep­tion on all things:
"If peo­ple knew how hard I worked to get my mas­tery, it wouldn't seem so won­der­ful at all" – Michelangelo
"If it's not good, it's sh$t" – LM
40%: What kind of emo­tions and expe­ri­ences are influ­enc­ing your work?
The music and visu­als are 100% influ­enced by where and how I have been liv­ing the past two years.
Being sur­round­ed only by nature made me want to seek out sounds and voic­es from the inter­net that felt com­plete­ly nat­ur­al in the sense that they felt unforced, lacked self-con­scious­ness and were over­whelm­ing­ly sincere.
50%: What can you tell us about your new project?
Fol­low­ing from above: I guess I devel­oped this idea of being a hunter-gath­er­er, kin­da for­ag­ing for sounds and melodies from the far cor­ners of the web.
I want­ed to sam­ple and patch them togeth­er into songs like a collage.
It felt like a nice col­li­sion of nature and dig­i­tal, which was what my exis­tence has been made up of.
60%: Break down your typ­i­cal day at work…
I wake up before sun­rise then work until I can't.
Then exer­cise until I can't.
Then work until I can't.
I try to sleep before sunset.
70%: What can artists do to help save the world?
Artists are peo­ple. Only peo­ple can save the world.
We should try to lis­ten to each oth­er, not just say what we think.
We need to lis­ten to those we dis­agree with as much as those we agree with.
Also turn the tap off when brush­ing your teeth.
80%: Who would you most like to see on the cov­er of The Face?
I'd like to see iZNi­iK on the front cover.
It's not about me or my face… I don't want to show my face, in fact. I just want to be the face of a type of music that doesn't have to be defined by your appearance.
90%: You rule the world for a day. What went down?
Every­one has to do some­thing for their mind and their body. Recon­nect­ing with the only things we have a mod­icum of con­trol over is incred­i­bly invigorating.
100%: Love, Like, Hate?
Har­mo­ny.
Semi-colons;
Silence.
---