TikTok has inspired a new generation of Jersey club fans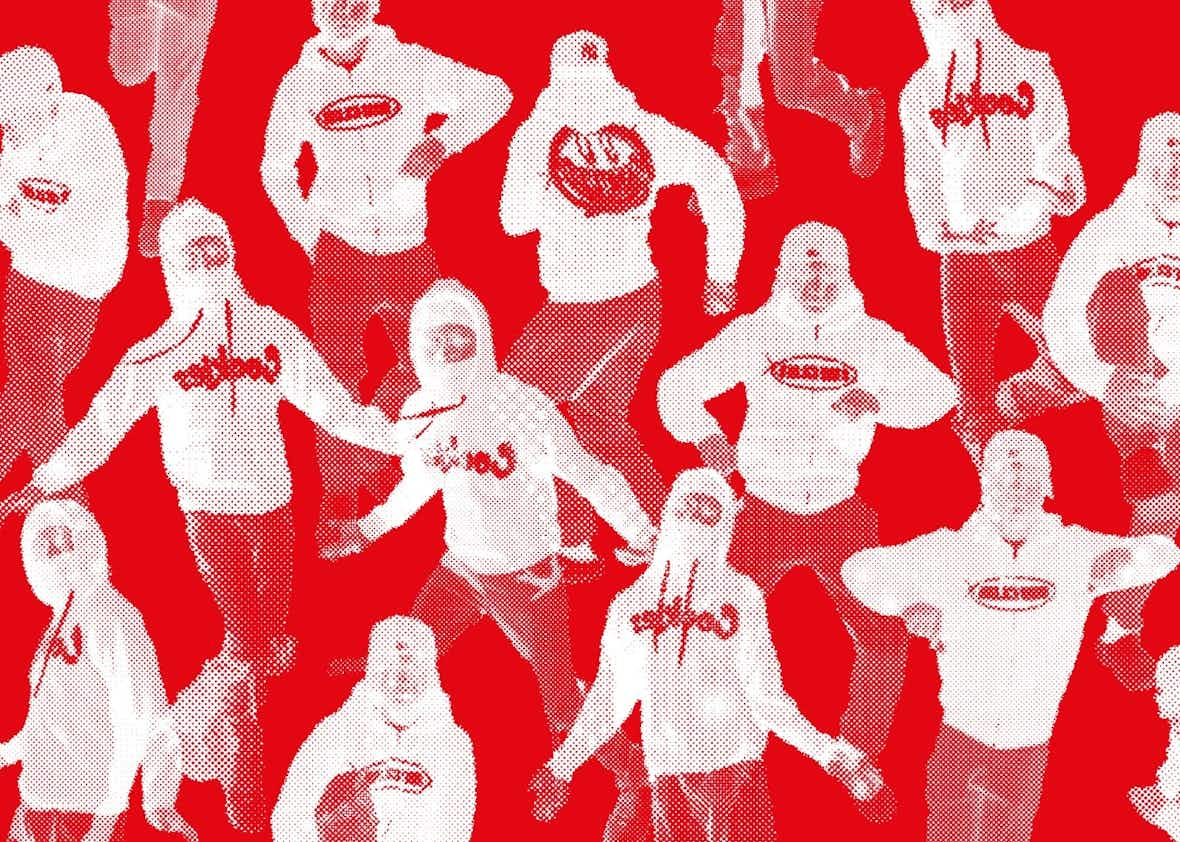 With rapid beats and head-turning dance moves, the Newark genre has found a natural home on the app. Its influence is spreading far and wide.
If you search ​"Jersey club" on TikTok, you'll find hundreds of thousands of clips bursting with explosive energy.

There are people dancing in bedrooms and at battles, and they're breaking down their moves with step-by-step tutorials. There are beginner DJs going viral overnight with bootlegs and Jersey club re-fixes of popular tracks. As a genre built on fast-paced rhythms and eye-catching dance moves, it's no wonder Jersey club is thriving in the dizzying world of TikTok.

But does its new audience respect the heritage of a genre which began as a parallel development to the not-dissimilar-sounding Baltimore and Philly club sounds, and which has been kept alive by locals for more than two decades, regardless of international hype?

Jersey club was pioneered in Newark, New Jersey, in the early 2000s by artists such as DJ Tameil, DJ Jayhood and DJ Tim Dolla. Right now, the genre is enjoying a new buzz.

Last year, Philadelphia superstar Lil Uzi Vert fused his melodic rap sound with a club beat cooked up by New Jersey producer McVertt and paired it with a dance that was destined for virality. Newark rapper Bandmanrill, who works closely with McVertt, blends Jersey club and Brooklyn-style drill. His track Heartbroken – itself inspired by an old Jersey club rework of UK group T2's bassline track of the same name – has racked up almost 70 million views on TikTok.
When Drake dropped his dance-oriented album Honestly, Nevermind last year, clued-up listeners were quick to notice the Jersey club influences on the record (most notably, perhaps, the suggestive bed-squeaking noises on the track Currents – a marker of many of its tracks).

A Jersey club beat is usually between 130 and 140BPM, and can be defined by triple-kick drum patterns and choppy vocal samples. The genre's punchy, high-energy nature is perfect for TikTok, where a video has less than two seconds to grab a user's attention. Producer and remixer DJ Smallz 732 has years of experience in Jersey club. He enjoyed his first taste of virality in 2015 when his remix of We Are Young, by Jack Antonoff's old band Fun, blew up on Vine. But he admits that, at first, he underestimated the power of TikTok.

"There has been Dubsmash and then Musical​.ly, so I just saw [TikTok] as another app," he says. But his recent remix of Coi Leray's track Players has 1.8 million videos attached to it. Smallz now scrolls through TikTok in search of popular samples or trending songs that he can work into his own tracks. ​"The vibrations of the drums in Jersey beats make your body feel so good, you just want to move it," he says of the genre's appeal to TikTok shape-throwers. ​"Even remixes, the way they're chopped up means that you can sing along to the lyrics of the original song that you like and still move around with the Jersey club beat."

Jersey DJ and producer Uniiqu3 argues that the ​"freshness" of the sound is what's appealing to the new generation. ​"People like how energetic, raw and free-sounding it is," she says. ​"So many genres are serious and rigid, like techno or house, [where] people are really into defining everything by rules."
Considering the fact that Jersey club remixes tend to accelerate the tempo of the original tracks, Bandmanrill's proficiency at rapping over frenetic beats is particularly impressive. In 2021, he dropped a comic TikTok clip of him shocking a club producer with his verbal dexterity (it's now had almost half a million likes).

And his influence has now reached this side of the Atlantic. Nottingham-raised experimentalist skaiwater has incorporated Jersey club into their sound and collaborated with Bandmanrill, while rising Manchester rapper Nemzzz is also rising to the challenge of spitting over the hectic beats inspired by the genre.

Back in the genre's home turf RichGotti, a Newark-based dancer, is another of Jersey club's new-gen proponents, and he's enjoying the international recognition.

"I knew it was coming, I always saw Jersey club as going global," he says. On TikTok, the 21-year-old teaches popular Jersey moves such as Patty Cake in The Circle and the Jafi Rock. He believes that the relative easiness of these dances is helping the genre surge in popularity and that social media is creating a sense of community that mirrors the nature of the IRL scene in Newark, which has long held a tradition of all-age dance battles.
In fact, RichGotti suggests that artists with ambitions to score hits need to create bespoke dance moves for each track. ​"This creates interactivity between the music played on the app and the person using it. For example, you have Just Wanna Rock by Lil Uzi Vert and you have the dance move [the] Top Rock. That's consistent with the concept created by the music itself. You can emulate the story or the lyrics through dance, too. If something says ​'cooking', you can make a cooking gesture, and that's the dance move."

Having learnt to DJ in the early 2010s as part of a ​"second wave" of Newark artists that also includes DJ Sliink, Uniiqu3's role as a flagbearer for Jersey club pre-dates the TikTok era, and she's spent years pushing the sound at open-minded club nights across the world. While she's happy about Jersey club having another moment in the sun, she's frustrated by the idea that the pioneers of the scene might get overlooked by those who've just come across it. ​"We love that it's gotten so popular, but give credit to the originals!" she says.

This isn't the first time Jersey club has gone viral – it's previously surged online in spikes thanks to platforms such as MySpace, Musical​.ly and Vine. But regardless of the genre's previous entanglements with other social media platforms, TikTok's scale of virality is taking it to a whole new level.

"Right now, everyone is copying us," says Uniiqu3. ​"We seem to be what everyone wants to be. I both love it and hate it. They say that imitation is flattery, but I would like to see some credit and respect. Call it Jersey club, not just TikTok music."

More like this