Jorja Smith: the path worth taking
Liv Little finds the 23-year-old Walsall-born singer-songwriter on the cusp of an extraordinary second act – and offering up her full self for the first time.

Arti­cle tak­en from The Face Vol­ume 4 Issue 005. Order your copy here.
Jorja Smith is bouncing around the kitchen. A couple of days before our interview, she slid into my DMs to ask if I like Caribbean food (an instant win), and when I arrive at her West London flat there's a welcoming Trinidadian spread waiting, doubles included. Before getting settled, she attentively ensures that I have everything I need (cutlery, drink, Grenadian hot sauce of choice). And, between food-serving, she speaks fast, barely breathing between sentences as her mind darts around memories of her dizzying rise over the last four years.
Despite having racked up big-name collaborations with the likes of Kendrick Lamar, Stormzy and Drake, the 23-year-old ­singer songwriter remains, this evening, reassuringly lowkey. She's comfortable at home in grey trackies, her newly dyed orange hair tied into a loose bun. In fact the only hint at her ever increasing celebrity comes when she admits that her fame – which you could measure in either her two Brit Awards (Critics' Choice Award, 2018, Best British Female Artist, 2019), her Grammy nomination for Best New Artist (2019), or her some 9.5m monthly Spotify listeners – has meant she hasn't gotten on the tube since 2017.
When the UK's lockdown restrictions were implemented in March, one of the first things Smith did was spend time in her local shop. ​"I went to the supermarket for two hours, going down every aisle, making the most of it, spending the most time in there because I can't usually go shopping," she says.
With her mask on, Jorja Smith could do something she hasn't been able to do since she was a teenager: be her actual self in public.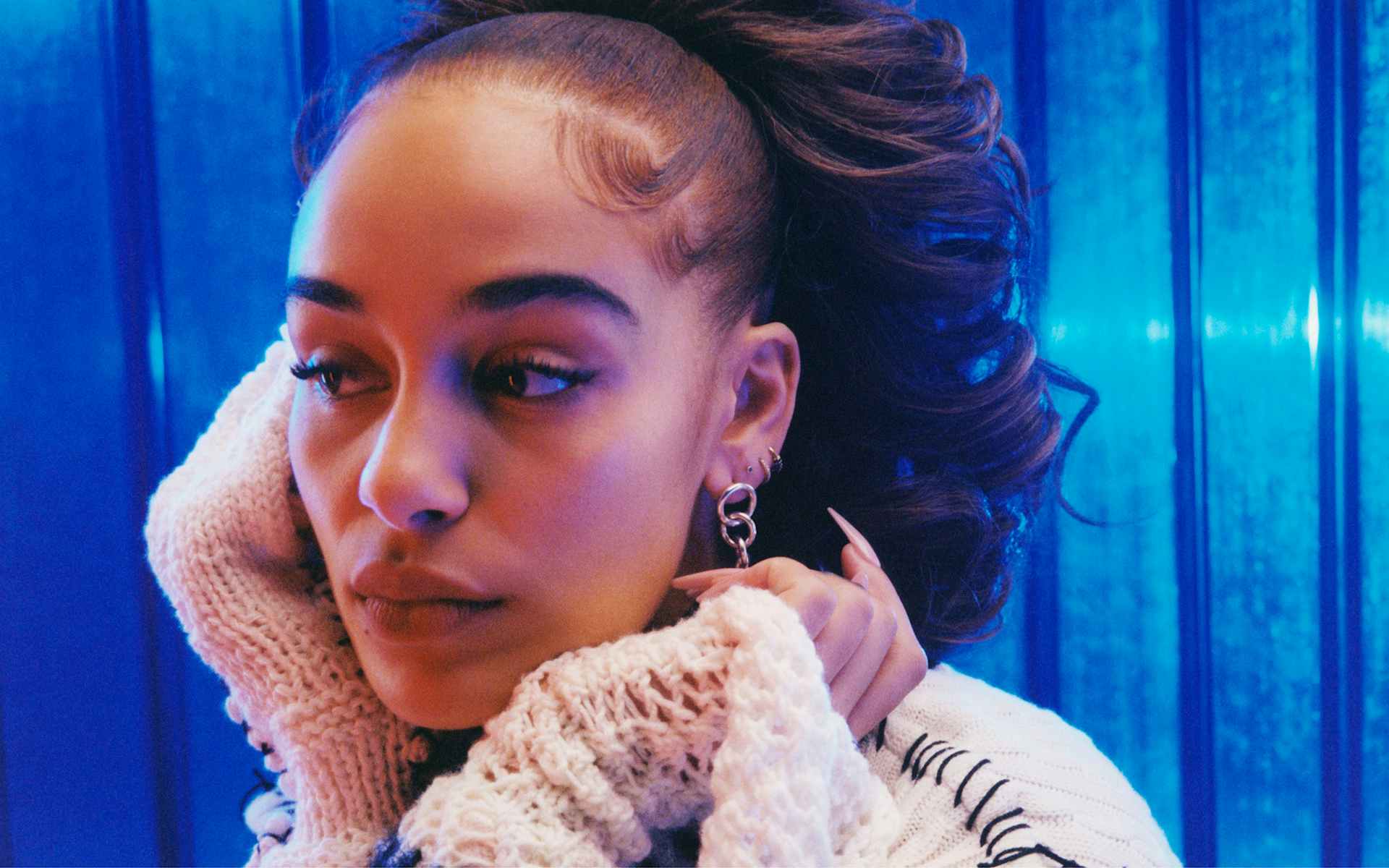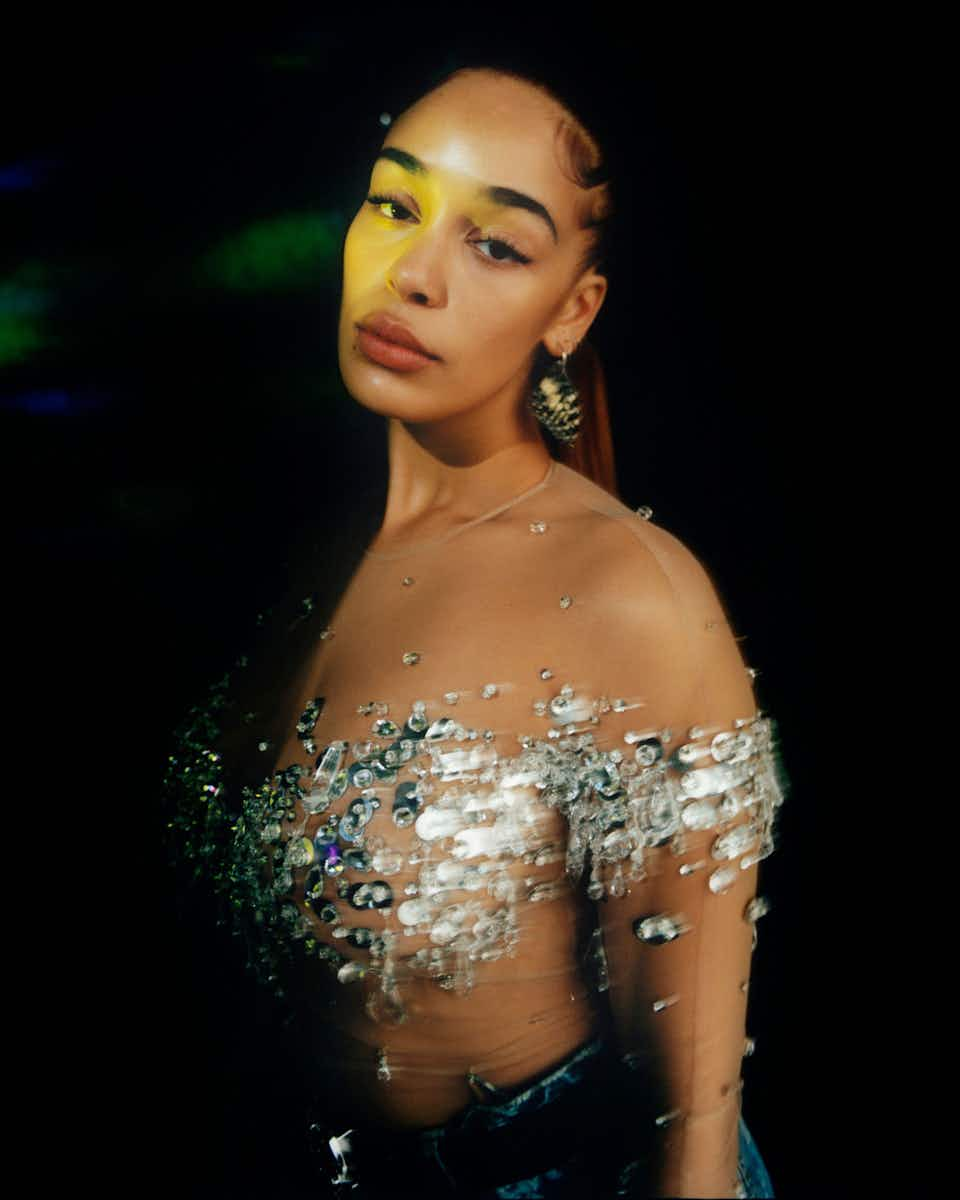 A lot's happened for Smith since debut single Blue Lights – a Dizzee Rascal-sampling song about hostility and brutality directed towards the Black community – dropped on Soundcloud in 2016 and racked up almost half a million plays in one month.
The track was nominated for Best Song at that year's MOBO Awards. Its follow-up, Where Did I Go?, was selected by Drake as his favourite new track in Entertainment Weekly that summer. The Canadian megastar then doubled-down on the love by inviting Smith to appear as special guest on the European leg of his 2017 Boy Meets World tour, and to guest on that year's More Life mixtape. His co-sign catapulted the then-19-year-old's career on both sides of the Atlantic, with her jazzily soulful vocals earning comparisons to Sade, Amy Winehouse and Adele.
An American tour with Bruno Mars followed, as did collab­orations with Stormzy (Let Me Down) and Kendrick Lamar (I Am, for the Black Panther soundtrack album, curated by the rapper). In February 2018, she performed at the Brit Awards; in April, she made her American TV debut with a slot on top-rating US chat show Jimmy Kimmel Live!, singing Blue Lights.
By the time Smith released her critically acclaimed debut album, Lost & Found, that summer she was, in no uncertain terms, a star. And she didn't let up: last year's Be Honest, her collab­oration with Burna Boy, reached No.3 in the UK charts, her biggest hit to date. And it's still burning up the streams: at the time of writing, Be Honest sits at 160 million Spotify plays, 35 million or so more than Blue Lights.
She's been busy during lockdown, too. In June, Smith released a cover of St. Germain's Rose Rouge as part of legendary jazz label Blue Note Records' Re:imagined project. She followed it the next month with By Any Means, a Roc Nation-released charity single inspired by her attendance at a Black Lives Matter protest. The video, shot in Smith's hometown of Walsall in the West Midlands, featured Black-led radio station No Signal, on which she appeared during a Wray & Nephew-indebted clash with Burna Boy in September (the pair going up against each other to select their favourite songs).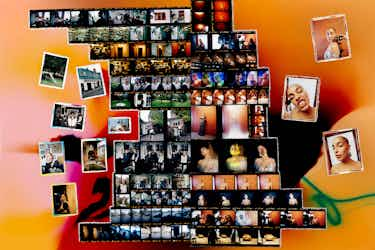 In early October, she rounded off the end of summer by ­dropping the visuals for her brilliant, carnival-ready single Come Over, featuring Popcaan. Inspired by a guy who was longing her off, the video sees the singer situated in her own anime-inspired comic book world, soaring through the streets on a motorbike as she sings about waiting for that call, both she and the guy unsure as to what the other is really feeling. The track spent almost the entirety of October in the UK charts and the video had racked up almost four million views by the end of the month. It's one of the pieces of work that she views as signalling the growth of Jorja Smith.
"I feel like from Rose Rouge, to By Any Means, to Come Over, that I'm on a shift," she says. ​"A real shift."
That shift will be there for all to hear on her second album – and, before that, an EP, due for release early next year. My portion of doubles demolished, Smith says she'll treat me to a sneak preview. There are limited drinks in the fridge so she grabs a bottle of flat Champagne, mixes it with apple juice (sounds weird, actually alright), hands me a glass and presses play on her phone.
"The EP's changed so many times, but now I've finally got it," she says as the never-before-heard-by-outsiders music fills her flat. Whatever the changes behind the scenes, you can tell that she's feeling it: singing along, flitting between tracks, turning up the volume, struggling to tell me which she loves the most.
From the tracks I hear, it's clear that Smith's next project is an amalgamation of the people and topics she really cares about. Each song sounds entirely different: there's a house‑y tune in there, a little jazz, a little of the slower-paced sound for which she was, before Be Honest, best known. One that particularly stands out is a remix of Peng Black Girls by south-east London rapper ENNY, which is essentially a love letter to Black women. Another was inspired by one of Smith's younger fans, whose mum passed out at one of her shows. Oh, and there's a song which apparently started off much more X‑rated than the version I hear (it's since been toned down for those younger ears).
On record Smith's voice is warm and inviting, her tone both smooth and soothing. Judging by her intonations and some of her collaborations, you'd probably peg her for a South London girl rather than the West Midlands town she grew up in.
"That's the thing!" she exclaims when I mention this. ​"I know I'm destined to be back in south because as soon as I moved to London, I moved there. And the jazz scene is quite south, isn't it?" she adds in reference to the vibey, freewheeling musical community to which her sound is partly indebted (Femi Koleoso, from London jazz figureheads Ezra Collective, is her drummer).
That said, Smith's tastes have always been eclectic. Her mum, a fan of punk and rock, favoured the likes of The Slits and Black Sabbath, but ​"also liked D'Angelo, Erykah Badu and Sade because my dad used to make her CDs". It was her mum who pushed a then-mortified Smith to sing, starting out at Sunday School. ​"I remember she would tell people I could sing, and I would hate her! I used to fall out with her so much. But she was the one who encouraged me."
But once Smith started she found it impossible to stop, her adolescent creativity bursting in multiple directions. ​"I used to write books," she says. ​"Well, not books but I'd make the front cover and the blurb and chapter one, and then I wouldn't finish. I didn't do poems, but songs would be the only things that I'd finish."
When she was 11 years old, she wrote a song called Life is a Path Worth Taking. ​"I don't know what I was going through at 11!" she laughs today. ​"The lyrics were: ​'Life is a path worth taking, you need to find steps to make it clear and faithful to you, life is a path worth taking.'"
Family and community are two hugely important forces in Jorja Smith's life. Last year, she went on a trip with THE FACE as part of a music retreat to GeeJam Studios in Port Antonio, Jamaica. A ­residential hub at which Björk, Goldie, Beyoncé and Harry Styles have all recorded, the project saw artists including Aminé, Protoje, Miraa May and Smith collaborator DJ Cadenza visit the island in search of sun, sea and divine inspiration. It was the first time she'd ever visited her home country – Smith is Jamaican on her father's side – and she used the trip as a chance to take her grandfather back for the first time in 67 years.
"My dad didn't [ever] go back," she says. ​"I mean, when we were growing up I didn't go on holiday. It was too expensive. We only went to Devon and never went abroad. You know when people go to Spain? I was like: ​'That's so cool!'"
Nonetheless, Smith has remained firmly connected to her heritage through both music and her father. When we speak about navigating her identity as a Black woman of mixed Jamaican and English heritage, she tells me: ​"It's confusing as fuck. I grew up being Black. My dad told me I'm Black. It wasn't until I did music that I was told I'm not Black. People comment that you're not Black and it's like… wow,'" she exhales. ​"When you're mixed race, you get told what you are."
We discuss By Any Means, released as the lead single from Roc Nation's ​"social justice" project Reprise, and the pressure to showcase your activism online. ​"I saw people posting that people with big platforms should be saying something," Smith notes of the period directly following summer's Black Lives Matter protests. ​"In my head, I was like, I don't know what to say – but I swear I write about this."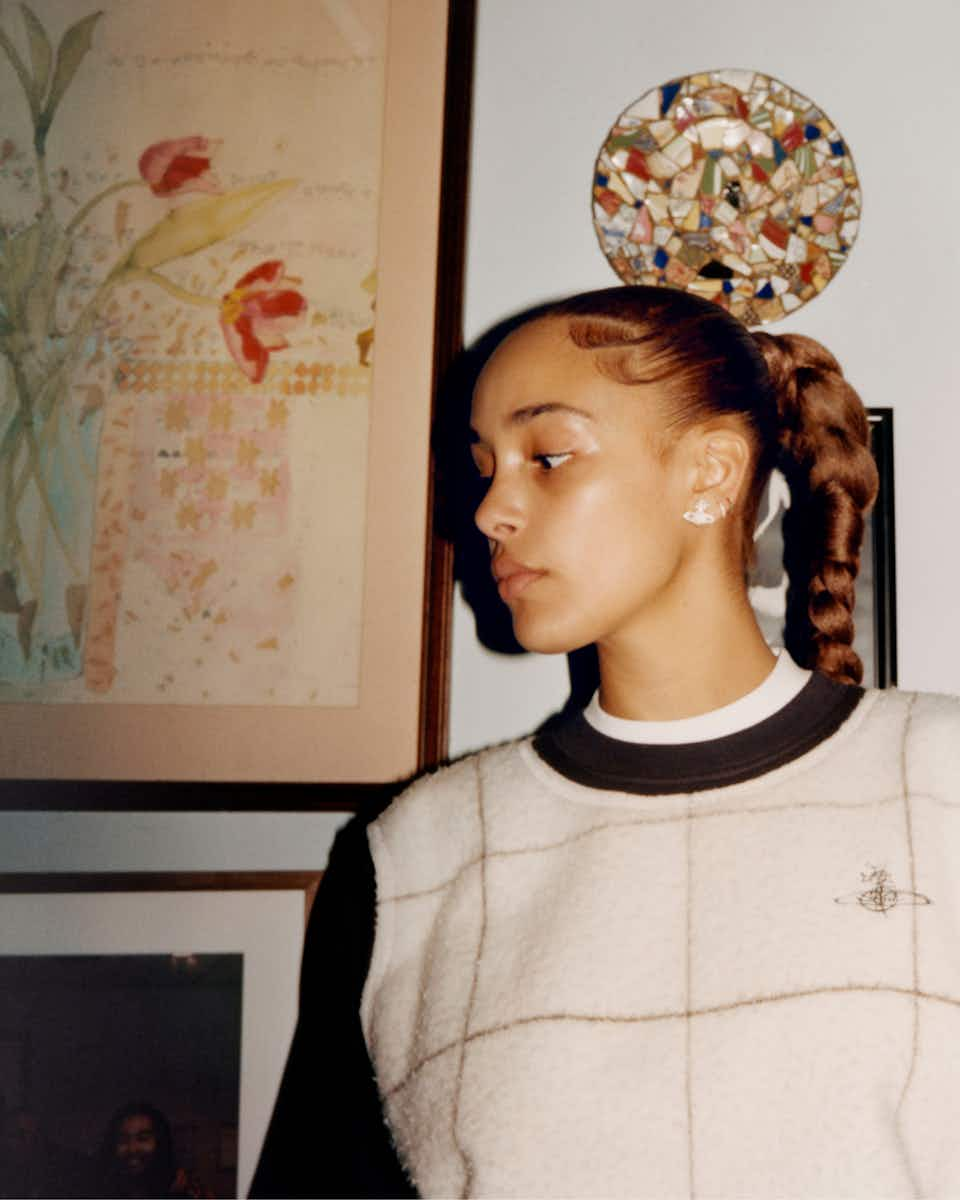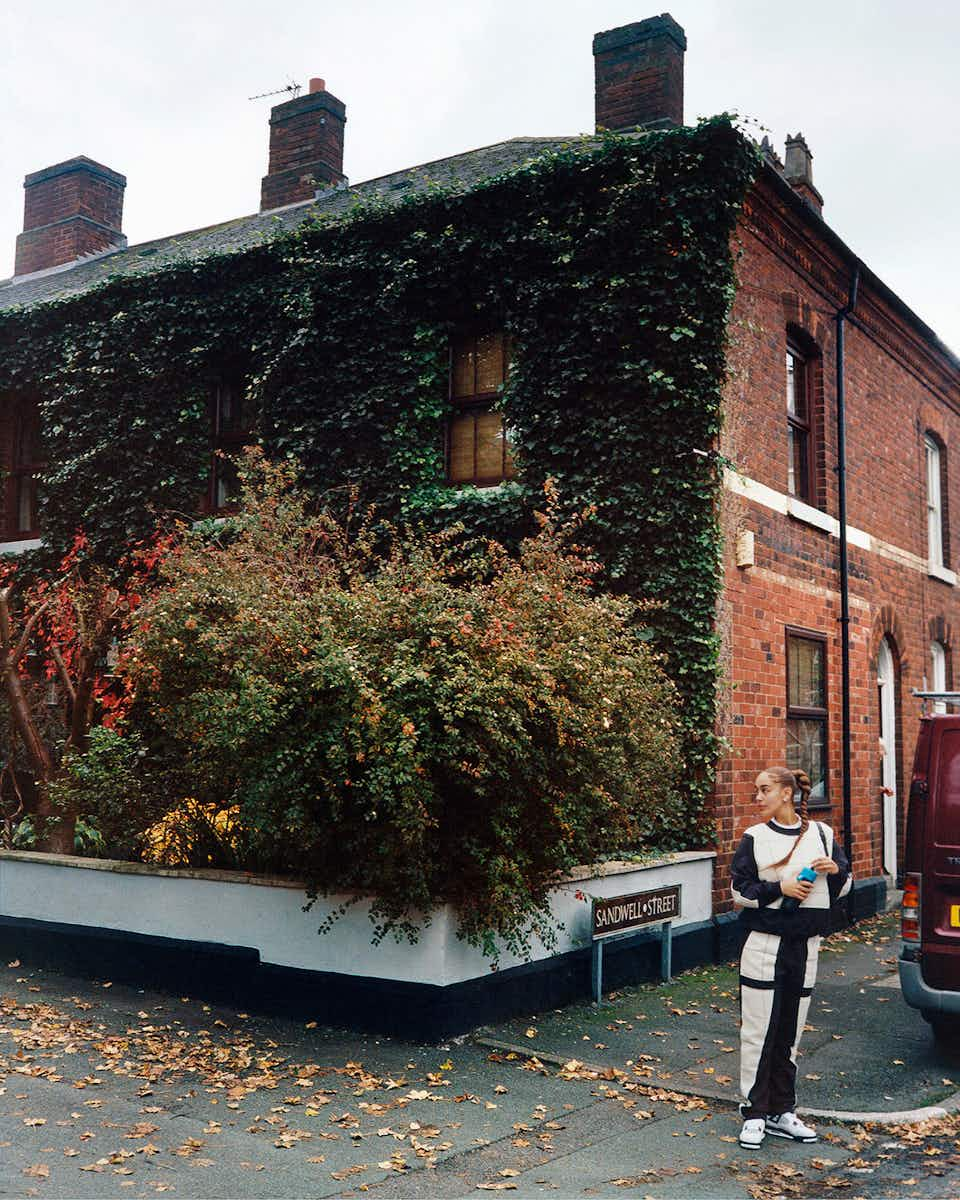 In the song, Smith sings: ​"Won't stay silent for things that I love/'Cause we know dem nuh care about us." It was her way to vocalise the anger she was feeling about the systemic violence enacted against Black people. ​"What happened to George Floyd has been happening forever and now it's happened again – as it always does. Another Black man getting killed by the police, again."
As we discuss the video shoot, she describes the final scene, in which friends form a supportive circle around her, as ​"so ­overwhelming. I literally broke down afterwards. Seeing everyone who had come out for me and this song and looking at everyone and being like: ​'I'm not shit. I'm actually not shit. And these people are here for me and I'm doing a good thing.'
"Because I doubt what I'm doing," she admits, ​"not thinking I'm doing enough."
The walls of Smith's flat are dressed with framed images of Amy Winehouse and Nina Simone, artists she cites as musical inspirations. Her bookshelves are filled with the works of Black women authors, including Queenie by Candice Carty Williams and Slay in Your Lane by Yomi Adegoke and Elizabeth Uviebinené. In the corner of the living room, next to a cosy pink settee and a papier-mâché dog, are several awards alongside a photograph of the night she won the Brit Critics' Choice Award in 2018.
She was the first independent artist to even be nominated for the award – and yet, she tells me now, ​"I wasn't happy there. ​"I was stressed because my ex- didn't text me," Smith explains. ​"With guys I've liked in the past, I've been a bit obsessed with them and then everything they say is right. I've put myself down. And I'm really hard on myself anyway."
I get the impression that Smith is not naturally at ease in the spotlight.
"I don't like anything outside my house," she agrees. ​"I like being on stage but that's all I like. I don't like anything else. I love everyone, but I just like being by myself. That's why I used to go home quickly after school." She even considered whether it was wise for her stage and real names to be the same. ​"I thought, why the fuck didn't I change my name? Why did I give myself my actual government name?" she asks herself now. Because that means ​"I can't switch off. There's nothing to differentiate. But I don't know what the difference would be? Maybe I wouldn't be Jorja Smith?"
Maybe she wouldn't. But maybe Jorja Smith isn't the same Jorja Smith she was a year ago. Maybe she isn't the same Jorja Smith she was even eight month ago – when the world changed all of us one way or another.
She tells me about a farm she recently bought near Walsall, ​"a massive field, with horses, where I'm going to build a studio. Because I'm not going to be there all the time, I'll invite loads of kids – kids I used to babysit, and these twins I went to school with that sing, and be like: ​'Look, on a Thursday you can go here.'" She plans to enlist her dad as studio manager.
"In this whole lockdown, I realised who I was and who I am," she states firmly, interview and Trinidadian meal over. ​"I feel like you're going to see growth, a lot of growth," she concludes, beaming. ​"The evolution of Jorja Smith."
Hair Issac Poleon, Make-up Carol Lopez, Nails Pria B, Set designer Patience Harding, Producer Rosanna Gouldman, Junior producer Katherine Bampton, Photographer's assistants Florence Omotoyo and Evie Shandilya, Stylist's assistants Georgia Pellegrino and Georgia Illingworth, Hair assistant Muriel Cole, Set assistants Emily Beatty and Alice Jacobs. Thanks to Art Post Retouchers.

More like this