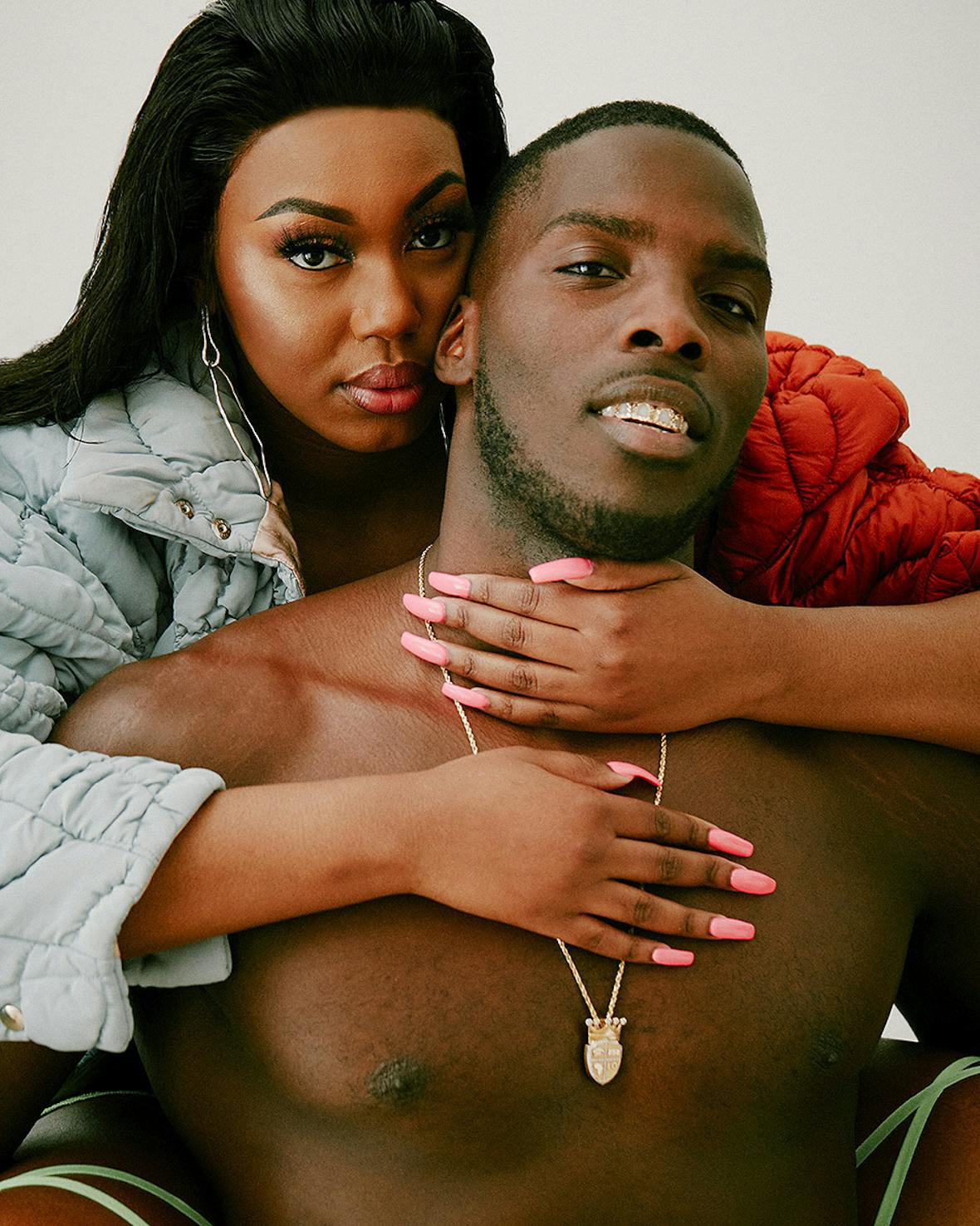 Lawrence Okolie

&

Ms Banks: Britain's new pow­er couple
When a North Lon­don box­er met a South Lon­don rap­per after-hours at a restau­rant in 2017, the pair had no idea that two years lat­er they would have fall­en in love and be sat in an East Lon­don stu­dio, eat­ing piz­za and doing their first ever pho­to­shoot together.
The rap­per is Ms Banks, the fero­cious­ly tal­ent­ed MC, and the box­er is 26-year-old British cruis­er­weight box­ing cham­pi­on Lawrence Okolie. Banks' sharp word­play and con­ta­gious con­fi­dence are fuelling her rapid rise. Already approved by Nic­ki Minaj, Ms Banks has an arse­nal of bangers to prove she's a force to be reck­oned with, like the club-ready Hood Bitch and Afrobeat-fused Snack. But it's in the more intro­spec­tive moments on her debut album The Cold­est Win­ter Ever, where she tru­ly reveals her dex­ter­i­ty as a rap­per, con­fronting every­thing from Black Girl Mag­ic (Come Thru) to the sit­u­a­tion in Syr­ia (Know U Know).

As a teenag­er, Okolie was over­weight, and took up box­ing to keep fit and trim down. His fierce tal­ent and relent­less deter­mi­na­tion meant that by 2016, he found him­self com­pet­ing in the Rio Olympics for Great Britain and by 2017, he'd turned pro. One of Antho­ny Joshua's pro­tégés, Okolie has nev­er lost a fight in his pro­fes­sion­al career.
Togeth­er, Ms Banks and Lawrence Okolie pack one hell of a punch. Self-con­fessed ​"under­dogs" turned nat­ur­al lead­ers, pre­pare to fall in love with The Face's favourite lovers…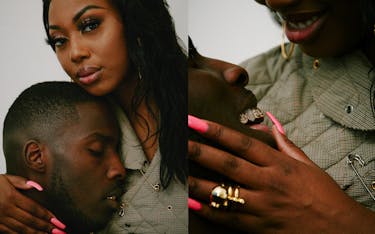 Shan­non Mahan­ty: Where did you meet?
Ms Banks: At Sha­ka Zulu, it's a restau­rant, but it was after-hours so it was the rav­ing time…
SM: Did you have any mutu­al friends?
Lawrence Okolie: No. Obvi­ous­ly I knew she was a very good-look­ing woman so I had to go over. Some of her friends were telling her not to chat to me.
MB: Haha
SM: Why?!
LO: They almost ruined her life.
MB: Wow.
LO: Thank­ful­ly she had some sense and didn't lis­ten to them.
MB: My friends are just very pro­tec­tive of me.
LO: Is that what you wan­na call it?
MB: They prob­a­bly thought, ​"This guy is just here to chat up girls", but I got good vibes from him. When he first approached me he said, ​"Sor­ry, I haven't had a hair­cut." I thought he was fun­ny. He looked good, hand­some, he was real­ly tall. He had this shirt on from Zara which I thought was kind of cute…
LO: She was the only per­son I spoke to that night, despite her friends crazy accusations.
MB: Wow!
LO: I hadn't planned on going out, but you know what? It end­ed up being one of the best deci­sions I ever made.
MB: Are you fake cry­ing right now?
LO: I was inter­est­ed in her from the start, I pur­sued her for a while but I think she was on her own jour­ney and I was on my mine. I don't think I've said this to you Thyra: you actu­al­ly helped shape my box­ing career. Ear­ly on when we were just talk­ing I start­ed to hear you on the radio, so every time we'd meet up, I'd tell you my own aspi­ra­tions: ​"I'm going to go pro, I'm going to go to the Olympics," to the point where she thought I was chat­ting rub­bish. A bit of it was chat­ting rub­bish, but a bit of it was me believ­ing in myself…and then…sorry [starts fake crying].
MB: Shut up!
LO: I made all those dreams a reality…
MB: Can I swear?
SM: Yeah
MB: I did think he talked a lot of shit, but actu­al­ly, he real­ly spoke things into exis­tence. He mes­saged me straight after we met, but we didn't go on a date till a cou­ple of months after. We were both busy.
LO: She wasn't inter­est­ed in me.
MB: It's because I was tip­sy that night, so I was sec­ond guess­ing my judge­ment! I saw pic­tures and I was like, ​"Is he as nice as I thought he was?" Then when I saw him I thought, ​"He's beau­ti­ful!" I knew it.
LO: Wow…
MB: You are pho­to­genic though babe, you know you are. So any­way, we went on our first date and he talked a lot, but when he start­ed achiev­ing all these things, I realised this boy isn't just talk­ing, he's real­ly work­ing towards some­thing. He's the oppo­site from me in that way. When I have goals, I don't speak about it until I've achieved them, but he says it. I think that's so much braver. He proved me wrong, I'm proud of him for that.

SM: Let's talk about the first time you saw each oth­er per­form and fight.
LO: I first saw Thyra at her head­line show at Omeara in Lon­don Bridge, and I said to myself, ​"I'm done for." See­ing her on stage just height­ened every­thing I already thought of her. It was so mov­ing and pow­er­ful to see some­one in the flesh doing what they real­ly love. The truest ver­sion of her­self. She's very authen­tic, very con­fi­dent, ener­getic. I thought to myself, ​"I'm the lucky guy that gets to see her later."
MB: You are ridicu­lous. He makes me blush. The first time I saw him fight, I was so ner­vous. We were stay­ing at a hotel near­by. It was his fifth pro­fes­sion­al fight against Rus­sell Hen­shaw. I was sweat­ing. It was a lot. Peo­ple expect me to suck it up because my partner's a box­er, but you don't see peo­ple fight­ing every day and it's scary. I don't want to see him get hurt, but as time goes on I've realised that Lawrence is a cham­pi­on and he's good, he's very strong. He's got this.
SM: Do you enjoy it more now?
B: Yeah for sure. I walked him out the oth­er day. I still get ner­vous, but I felt more con­fi­dent. I knew he had it in the bag.
LO: Before we walked out I was meant to be focus­ing on the fight but all I could think about was how beau­ti­ful she looked.
MB: I don't know if you're act­ing or not
LO: Did I not say that to you, ​"You look so beau­ti­ful right now. I'm gonna do this for you"?
MB: You did not. This guy!
SM: Does she keep you humble?
MB: To be fair, there's noth­ing about Lawrence that's humble.
LO: I actu­al­ly don't like the world humble.
MB: Exact­ly, the def­i­n­i­tion of hum­ble is about mak­ing your­self small.
LO: She couldn't go on stage with Nic­ki Minaj if she was being humble.
B: Yeah, when I'm per­form­ing it's not my time to be hum­ble; that's my time to be my most expressive.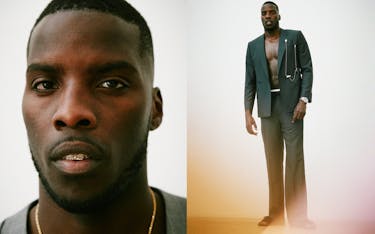 SM: Speak­ing of Nic­ki Minaj, what were you doing when she first reached out to you on Twitter?
MB: I had a show the night before in Leeds, and when we got back to the hotel, I was watch­ing this film she's in with Cameron Diaz called Anoth­er Man. Then the next morn­ing I woke up to a tweet from her! I've been a fan since I was 14 and now I've shared a stage with her! I was with her dur­ing the peak of the con­cert when she was in her absolute ele­ment. Orig­i­nal­ly I was just sup­posed to open up for her, and she said, ​"Banks, come on stage with me, it's going to be a big­ger moment."
Did she give you any advice?
MB: When we first start­ed talk­ing and swap­ping ideas, she basi­cal­ly told me on some vers­es I need to go hard­er. That's some­thing I always tried to keep in mind. Be stronger. Lawrence says the same kind of thing: ​"Make sure when you say things you sound sure. It's not if or maybe, it's cer­tain. It's you being who you are". I make sure my deliv­ery is tight and what I'm say­ing is spot on. Rap is about being bois­ter­ous and brag­gado­cious — is that a word?
LO: You're meant to be humble.
MB: Shut up. I feel like as women we should try and stick togeth­er because there's only 16% of us in the music indus­try. If we real­ly want to talk about female empow­er­ment and broad­en­ing oppor­tu­ni­ties for women, then we need to work togeth­er. We can't beef at each oth­er, that's not what it's about.
SM: Lawrence, it feels like an excit­ing time for women in box­ing too.
LO: Def­i­nite­ly. In the same way you see Thyra has lyri­cal con­tent that can match any guy, there are female box­ers who can com­pete skill for skill with any man. You have peo­ple like Katie Tay­lor, Nico­la Adams and Shan­non Court­ney fly­ing the flag, which is going to inspire younger women. When you see some­one else do it, you know that you can do it too. If you're encour­aged to do it from a young age then it makes female box­ing even bet­ter, even more com­pet­i­tive. It's becom­ing a force to be reck­oned with.
MB: It's hard being a woman in a male-dom­i­nat­ed indus­try, but I feel like I do it not only for myself but for a lot of black girls from South Lon­don, and for girls all over the world.
SM: What are the hall­marks of a good relationship?
MB: It's impor­tant to give each oth­er space. I believe in hon­esty, and com­mu­ni­ca­tion is so impor­tant to keep a rela­tion­ship alive. And sex.
SM: What about when you're apart?
MB: Face­Time.
LO: Yeah, Face­Time real­ly goes a real­ly long way.
SM: Do you guys argue?
LO: Yeah. Most of the time it's about…
Both: …food.
MB: Why did your eat my food?
LO: Where shall we eat?
MB: I only had one Capri Sun, why did you drink it?
LO: She's very hot-head­ed and some­times she talks to me in a way that I don't think is acceptable.
MB: Do you know what, yeah, he's a big bad box­er — it's like no one in his world ever dis­re­spects him and I just get right up under his skin.
LO: Yeah
MB: And I like it. Real­ly and tru­ly, he's got the pow­er a lot of the time because women have been mould­ed in a way where women sub­mit to men, so I'm always try­ing to make sure that he's happy.
LO: For peo­ple who can't see my facial expres­sion, it's one of absolute shock and horror.
MB: I always stand my ground. Espe­cial­ly com­ing from an African back­ground, it's like you're expect­ed to bow down at the guy's feet and bring out the red car­pet. I like to make you feel good, but I'm not gonna lose myself try­ing to be a house­wife. I've also got a career.
LO: For­tu­nate­ly I'm the type of guy who enjoys your ambi­tion. I'm proud of you going out there and get­ting yours. If I wasn't, I wouldn't be dat­ing a rap­per. I'm so glad we did this shoot, but at the start I was real­ly 50/50 about it. I was quite ner­vous. She slapped me on the back of the head and told me we have to do it. What that tells you in terms of our rela­tion­ship is that she finds a way of win­ning every sin­gle time. Is it cos she's right all the time? I don't know, but I find a way to com­pro­mise, and some­times she does too, but there's always a way we can both win, and both be happy.
---