Luka Sabbat talks Coachella tips, Chief Keef and Aphex Twin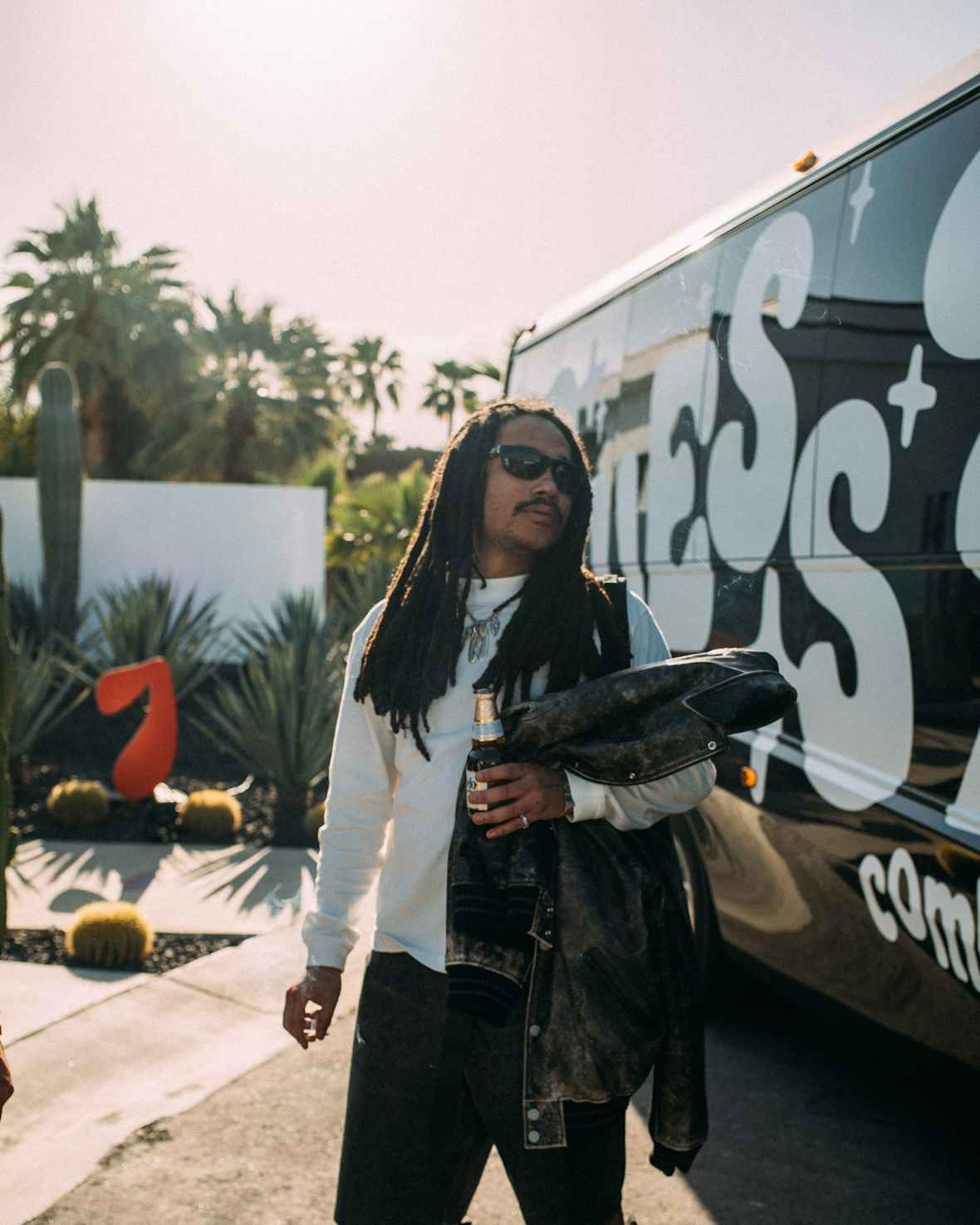 THE FACE met with the fashion figure and GUESS USA ambassador at the California festival to chat about all things music.
At first, you might think of Luka Sabbat as a fashion guy. Sometime in the mid-2010s, the creative entrepreneur started making a name for himself as a model and influencer walking down coveted runways, starring in glossy mag shoots and sparking endless outfit inspo with his ever-growing Instagram page.
But Sabbat has always been a hardcore music nerd, hence his tight friendships with the likes of Tyler, the Creator, A$AP Rocky and the late Virgil Abloh, who always took pride in keeping his finger firmly on the pulse.
I recently met up with Sabbat during a trip to Coachella organised by GUESS Originals at the GUESS Compound – an oasis of calm near the festival's mountainous Palm Springs site, where the denim brand's ambassadors could chill by the pool and get a massage to recover from the previous night's partying.
Before heading back out to the desert decked in GUESS USA attire, Sabbat sat down with me on the Saturday afternoon to discuss Coachella's fashion dilemmas, his club soundtrack preferences and the eccentric genius of Chicago drill pioneer Chief Keef.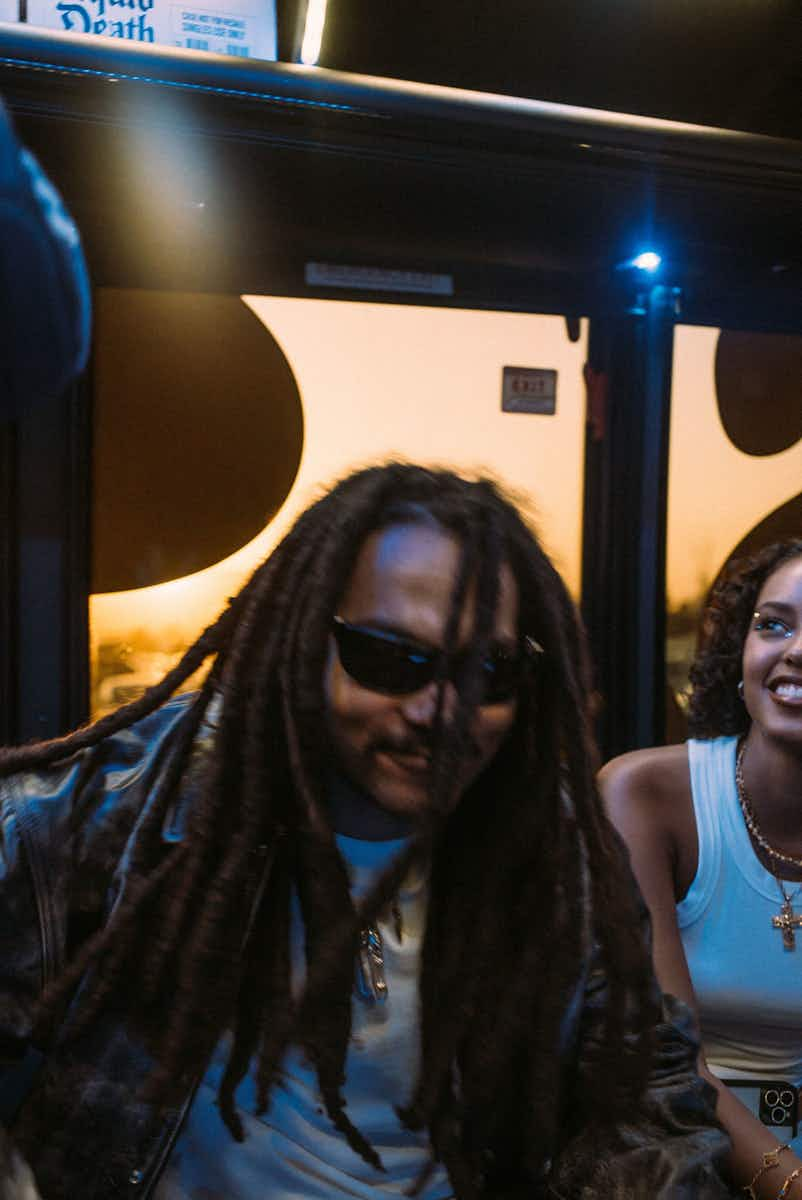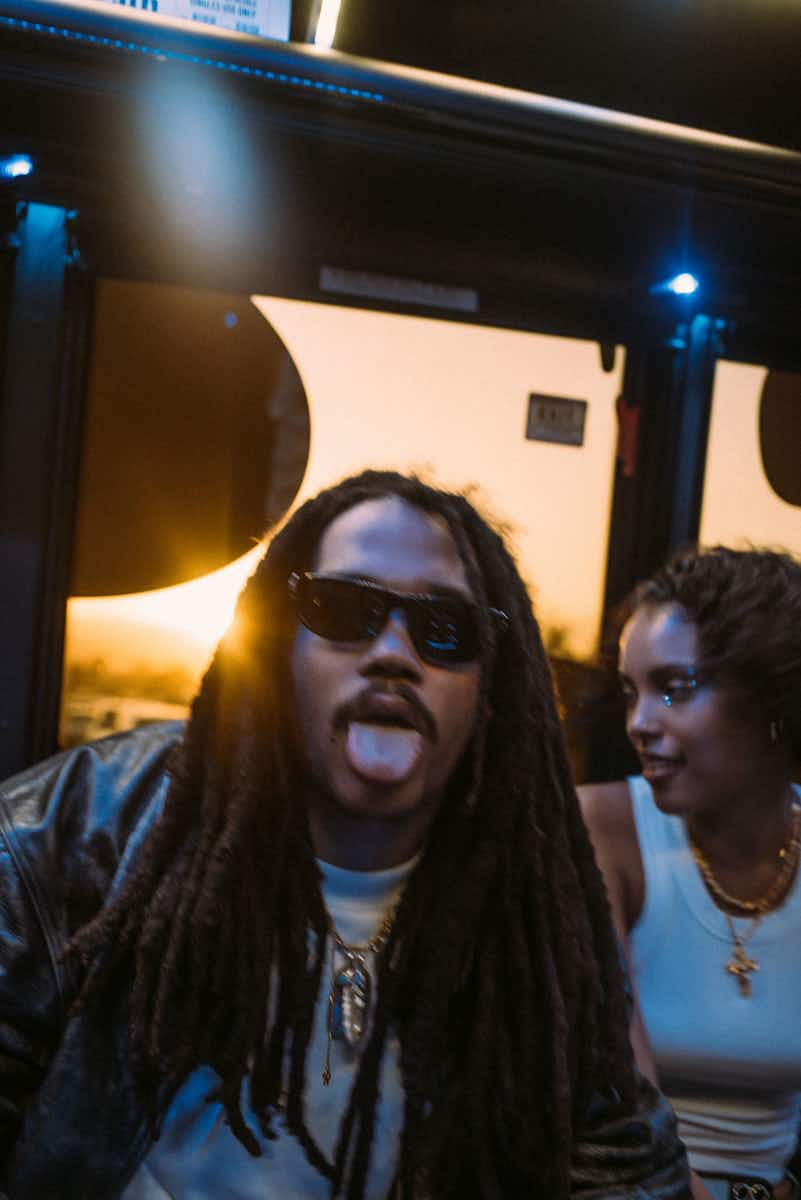 I thought we could chat about music, because you must talk about fashion a lot.
Great. I'd rather talk about music. Dude, all people ask me about is clothes!
So this is my first time at Coachella…
Who did you see yesterday?
Metro Boomin. Which was obviously very, very exciting
That was awesome. I ran into him after [his set]. He obviously is much bigger than a producer now. But he started off as just a guy making beats. We were talking about how he does what he does to inspire the next generation. It's crazy how many kids now make beats and want to be producers, because he showed the world how big you can make it off of producing fucking tracks.
What's your advice to someone going to Coachella for the first time?
It's really hard to dress for Coachella. Because during the day, it's like 90 degrees [Fahrenheit] and at night it's fucking freezing. I have asthma, so I have to bring my inhaler, because it's the desert and it's so dusty and shit. Some people show up wearing boots or platforms. You're gonna walk for 12 hours! You can save the cute shit for later. This ain't that. My girlfriend didn't bring any, like, cute shoes this year. She only brought sneakers.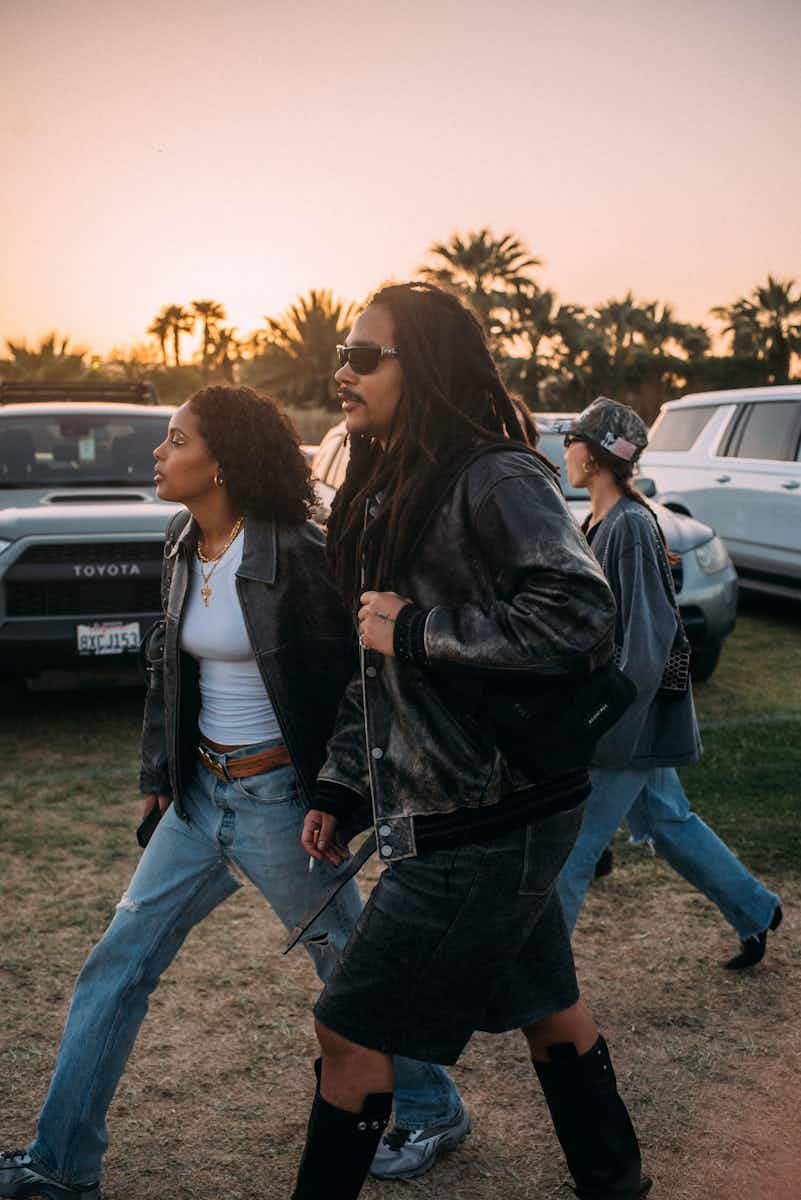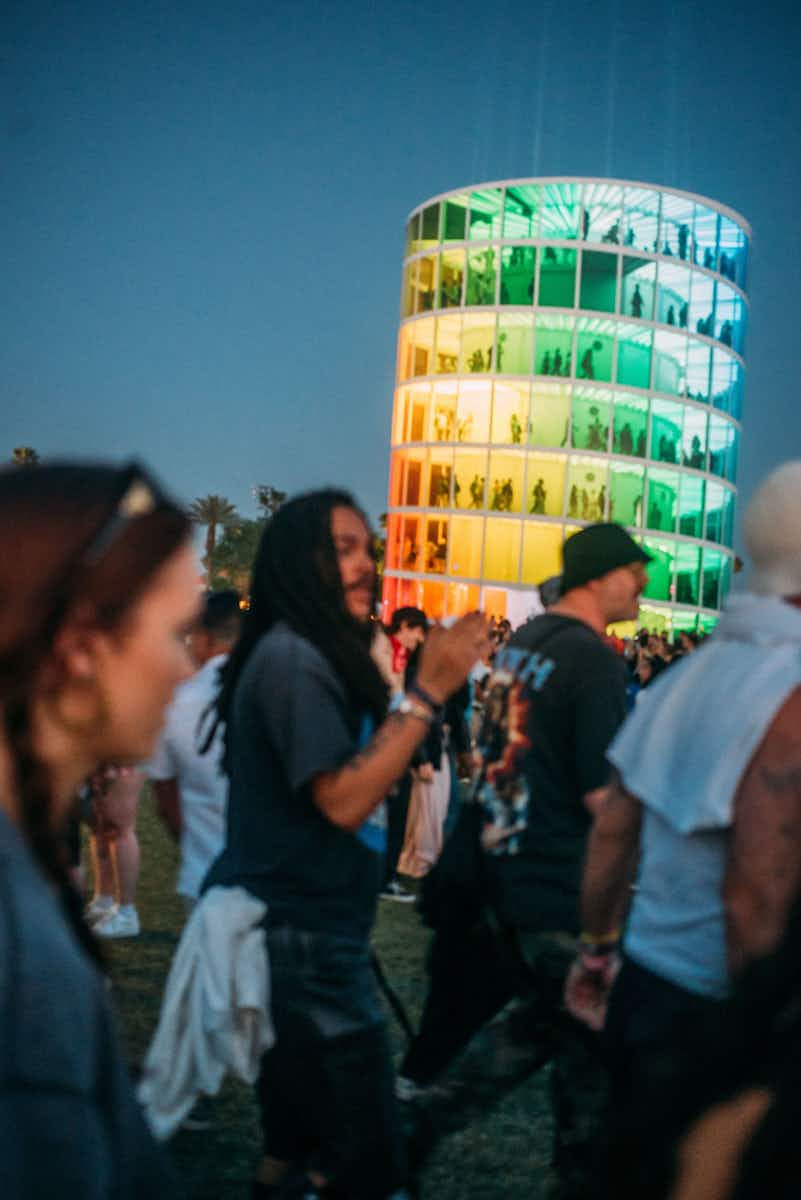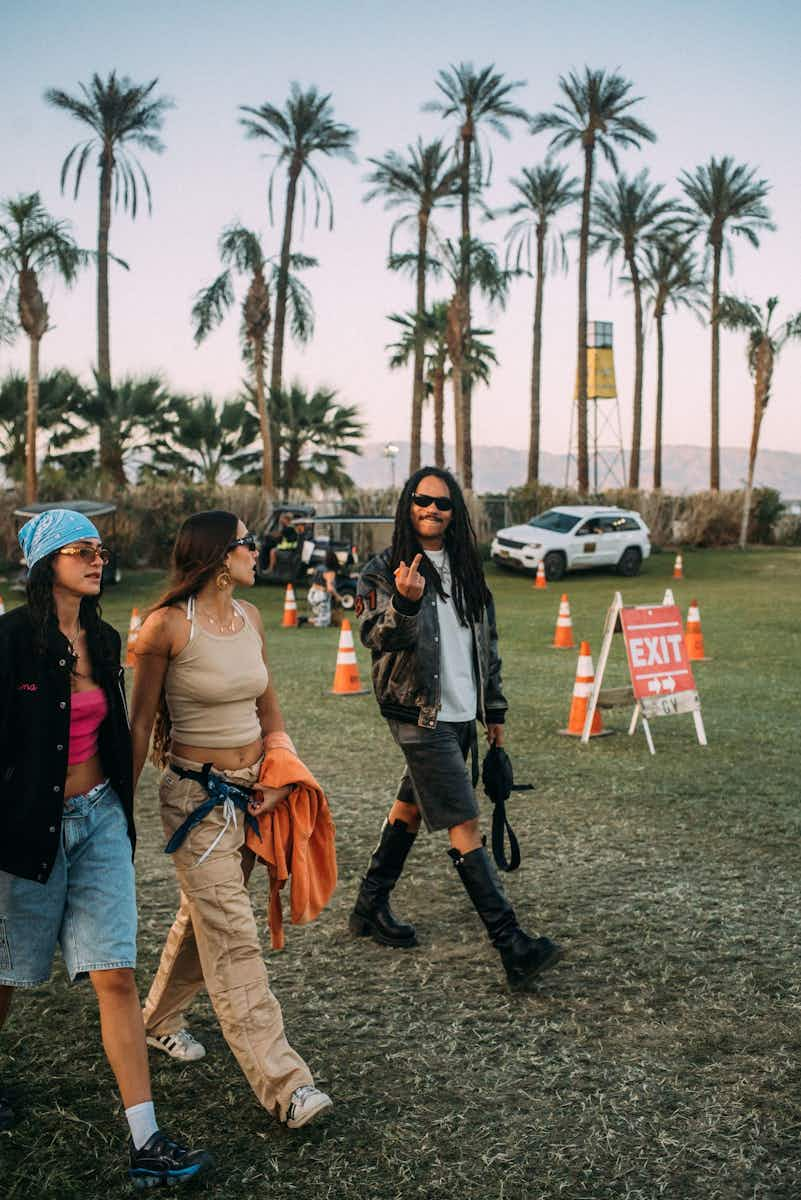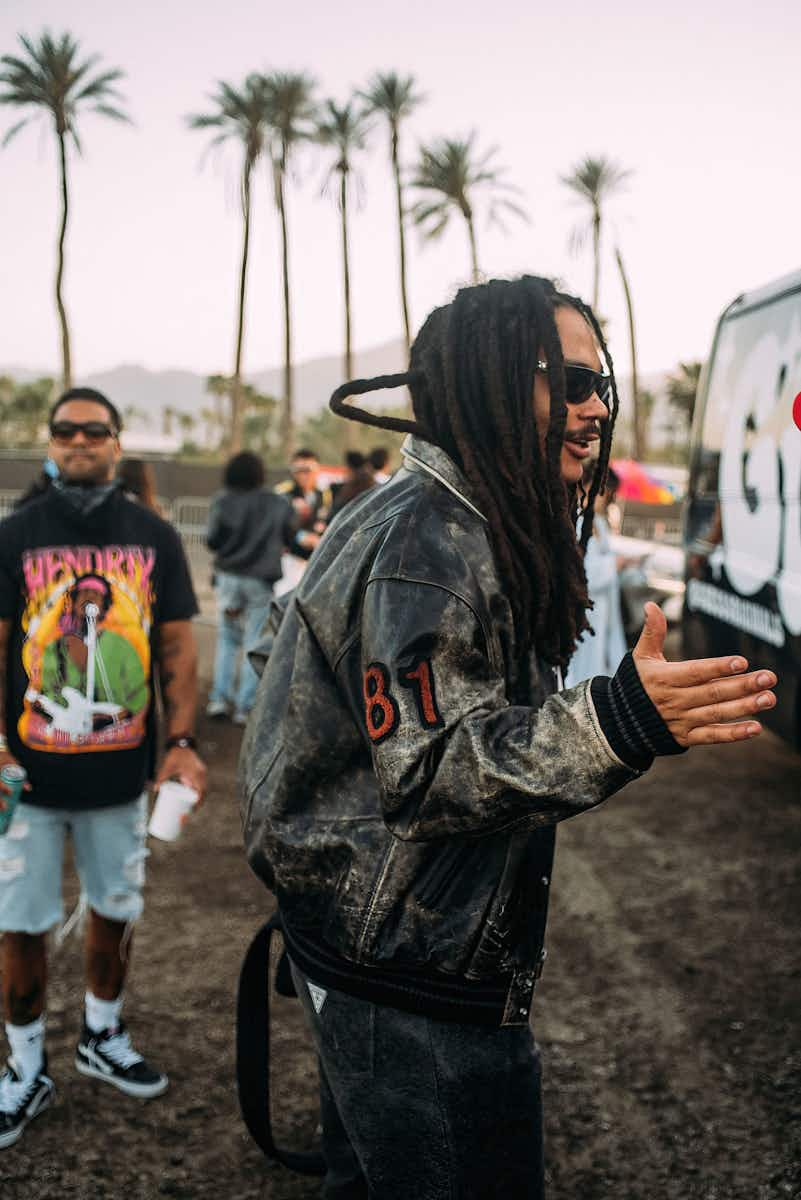 I have to ask you about the time you met Aphex Twin here in 2019.
Oh my god, that was sick. I'm a huge fan of Aphex and he's like a unicorn. I went to both weekends to see him. I influenced a lot of the people that I was with to come see him, who didn't know shit about Aphex Twin. Some of them were so spooked. The cameras were pointing at the crowd, and then like, replacing the [audience member's] faces with his face. Some of the homies were ​'shrooming and having meltdowns. And I was like, ​'yeahhhhh fuck!' But I knew what I was getting myself into, and no one else did.
The first weekend, I met Aphex after the show. Virgil's trailer was directly across from his. [Aphex] does the most captivating show ever and then, like 20 minutes later, he's just like, having a Heineken and eating a bag of crisps. Virgil gave me the courage, he's like ​'just go, here's right there.' So, I went up to him and just told him I thought he was sick. I was like, ​'do you mind if I talk to you for a few minutes?' He's like, ​'no, for sure.' And he asked me to take a seat. There was another person on stage with him when he was performing. I asked him if it was another DJ and he's like ​'Oh, that's my wife.' He was saying that she knows him best, so she's kind of the only person that can make decisions for him. Because there were so many CDJs and there's so many machines. And she obviously gets it.
Who have you been particularly excited about on this Coachella line-up?
I was excited for Maceo Plex – by the way, he was a fucking wizard yesterday, spinning heavy, heavy tunes. I was excited for Metro. I like the Blackpink girls. I kind of know ​'em. I saw them perform in New York a few months ago. It's crazy how big of a fan base they have in the States.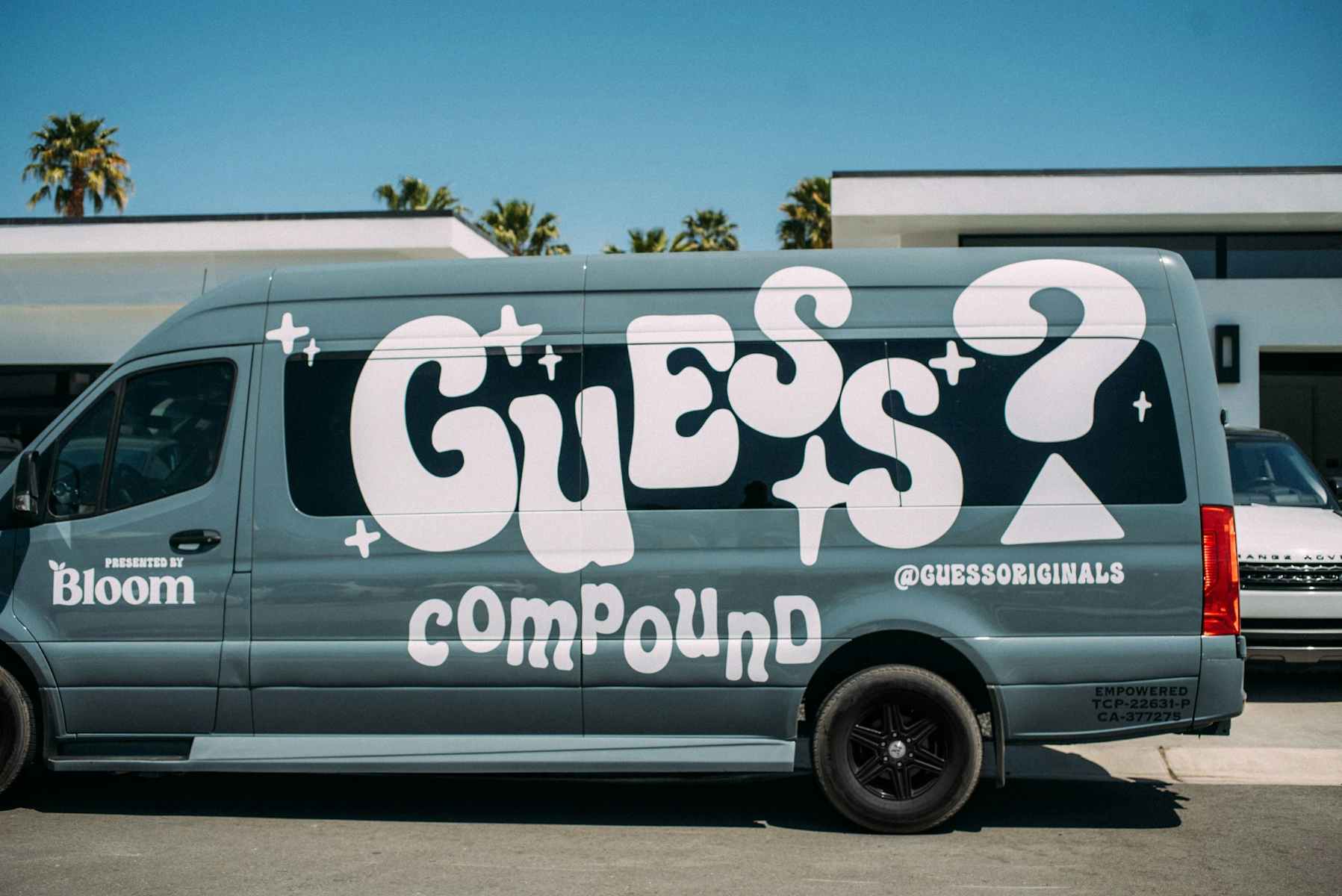 I think all the three headliners – Bad Bunny, Black Pink and Frank Ocean – are all really interesting.
Yeah, it's like three completely different cultures, and they're all headlining an American music festival. I think it's pretty awesome.
I'm excited to see Bad Bunny here. He's obviously huge but I don't think he's that big in the UK. He hasn't played London since 2018 and not much of his music has charted there.
I mean here, there's obviously a massive, massive Spanish [speaking] community. So he's huge. I saw some videos of him selling out stadiums, and it's insane. You can see the [venue] is, like, vibrating from people singing his songs.
Are you excited for Jai Paul?

Yeah, I'm excited. I saw Jamie Jones yesterday, too. And then we left Jamie Jones to go see Gorillaz. And I was really excited for the Gorillaz. Big, big fan. But unfortunately, I was quite disappointed in their performance.
My opinion is that when Gorillaz are great, they're great. But they've got a lot of mid songs.
Yeah, and they played a lot of those songs. I mean, I get it, whatever they can, obviously, they can do whatever they want. But, I don't know. I mean, they didn't play Stylo…

Are you still DJing?
Every now and then. I only really just DJ for the homies you know? And I'm not [really] a DJ. I just have a USB and I'm okay at transitioning songs. But yeah, I like to [play] when the time is right. Like me and the homies, we all have parties and sometimes I'll do a b2b. I DJ mainly house and techno and cyberpop and stuff like that.
So has rap never been a big thing for you, in terms of DJing?
She knows [points to manager] that all I do is play fucking rap all day. But when I go out and party, that's not necessarily what I want to hear – maybe every now and then if I'm at an American club or a strip club. But if I really want to rave and last a long time, I need techno or house because it's easier to listen to for a longer amount of time. But I love rap, it's one of my favourite genres… Chief Keef is literally my favourite artist in the entire world!
When someone says they like Chief Keef, I feel like I'm gonna get along with them. Because his music is so full of imperfections, which turns off a lot of people, but then some people recognise there's beauty in those imperfections.
It's so experimental. Chief Keef to this day still drops amazing tracks, because he's just weird. The first time you listen to it you're like [frowns] hmmmm. When you listen to it again, you're like, ​'oh, I can kind of see how his brain works.'
He's like the drill Aphex Twin.

He really is, though! Like, he'll just do things that are sonically so interesting, but it's still drill or rap. There's a song called Sosa Style where the beat basically doesn't drop within three minutes. It sounds like it's in a submarine. And like, the beat is actually backwards the whole time.
Have you ever met him?
Yeah, I only met him once or twice, but he's really cool. He's very quiet. I've never been to his house or anything but we have a lot of mutual friends. In his crib, there's like an arcade, games everywhere. He's just like a grown kid, which makes sense, because he really started this shit at [the age of] 16. Like, Chief Keef sometimes seems like such an OG, but he's only like two years older than me. It's crazy that at his age, he's already cemented himself as one of the most important, relevant and influential artists in the world.
So taking it back to Coachella, are you excited about Frank's set?
I know him a bit. And I've been lucky enough to see him perform a lot in my lifetime. You know, obviously, he's been on a hiatus and taking his time. But I think he's an amazing performer. I think he's very, very special. He [approaches] performances like art, and I'm excited to see what he brings. He's not just gonna get on a stage and sing, do you know what I mean?
Apparently Frank asked Björk to perform before him.
I'm very excited for Björk, too. I hope she plays Pagan Poetry.
And finally, what projects are you most focused on right now?

I've been working with this guy, James Pierce. We've just finished designing our first ready-to-wear/couture collection, but [we've] set a really, really high level. And I'm working on my first solo show for all my sculptures and furniture. I'm gonna probably do my first presentation for Marking Distance sometime this year – off calendar, not fashion week-related. Yeah, I've got some things coming.

More like this