"

One, two, three, bad bitches!": on the road with Meet Me @ The Altar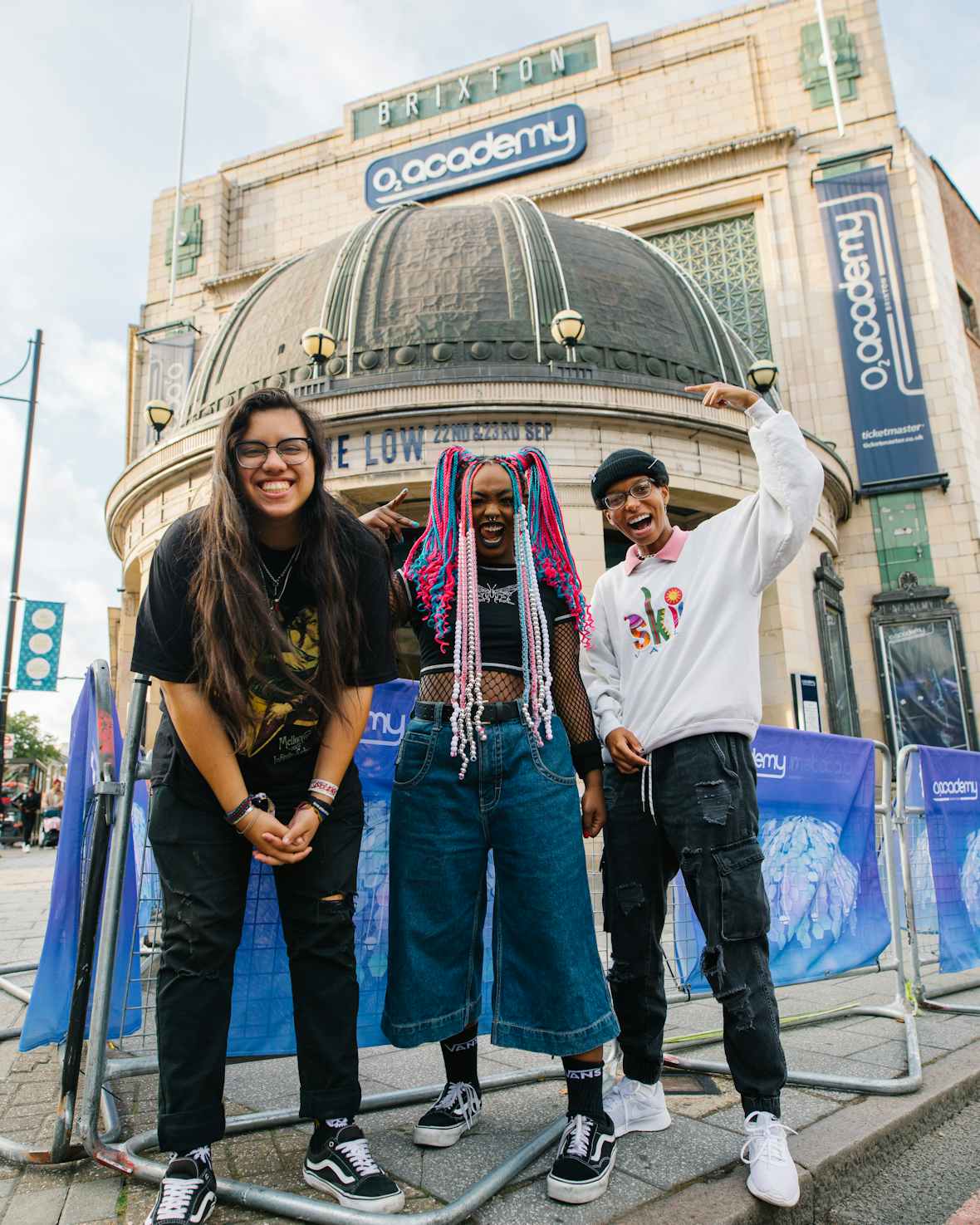 The mainstream pop-punk renaissance is upon us and Meet Me @ The Altar are blazing the trail for the next generation. We join the American trio as they tour the UK for the first time.
"One band…" rumbles the kind of voice that used to narrate ​'90s action film trailers. The crowd pooled at the front of London's O2 Brixton Academy's stage crane their necks in anticipation, some rolling onto tiptoes to see above the waves of technicolour-dyed hair in front of them.

"Five girls…"

The women in the crowd are now cheering and whooping, whether they know what's about to happen or not.

"Get ready to have your effing socks knocked off by… MEET ME @ THE ALTAAAR!"

The said five girls skip, gallop and run onto the stage, punching the air, waving to the crowd and brandishing their weapons of pop-punk destruction. For 20-year-old vocalist Edith Johnson, it's a hot pink microphone, while Téa Campbell, 20, takes guitar and Ada Juarez, 22, settles on a stool behind her drum kit. El Xiques (bass) and Kaylie Sang (guitar) are not permanent members of the band, there as backup to ensure Meet Me @ The Altar's set is as riotous as possible, but you'd never know it. Each woman on stage is pumped with adrenaline and ready to headbang like hell.

Straightaway, they launch into their 2021 feminist anthem Hit Like A Girl, its playful pop-punk riffs tempting even the most reluctant dancers to nod to the beat in approval. Some men in the crowd look visibly impressed. Surprised, even. Most of the women are smiling.

"Ladies and Ladies, no gentlemen," yells Edith during the bridge, turning those smiles into grins. ​"Show me what you got!"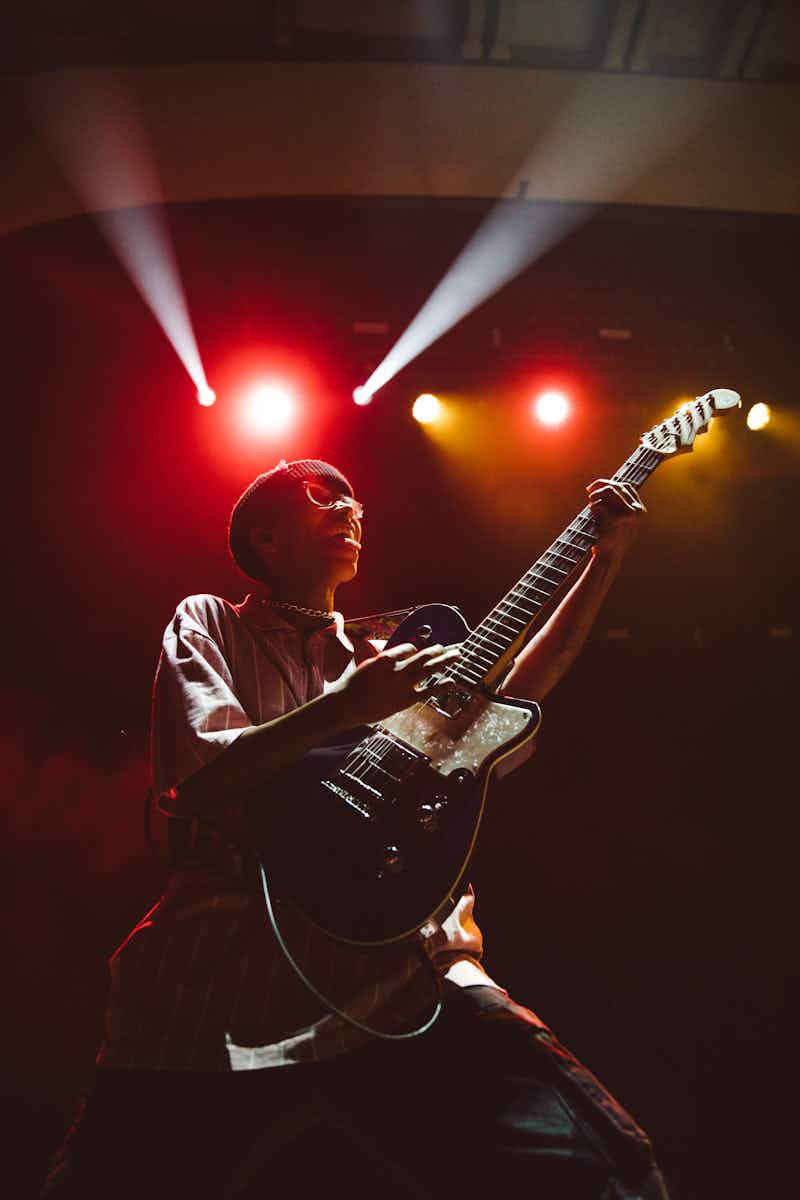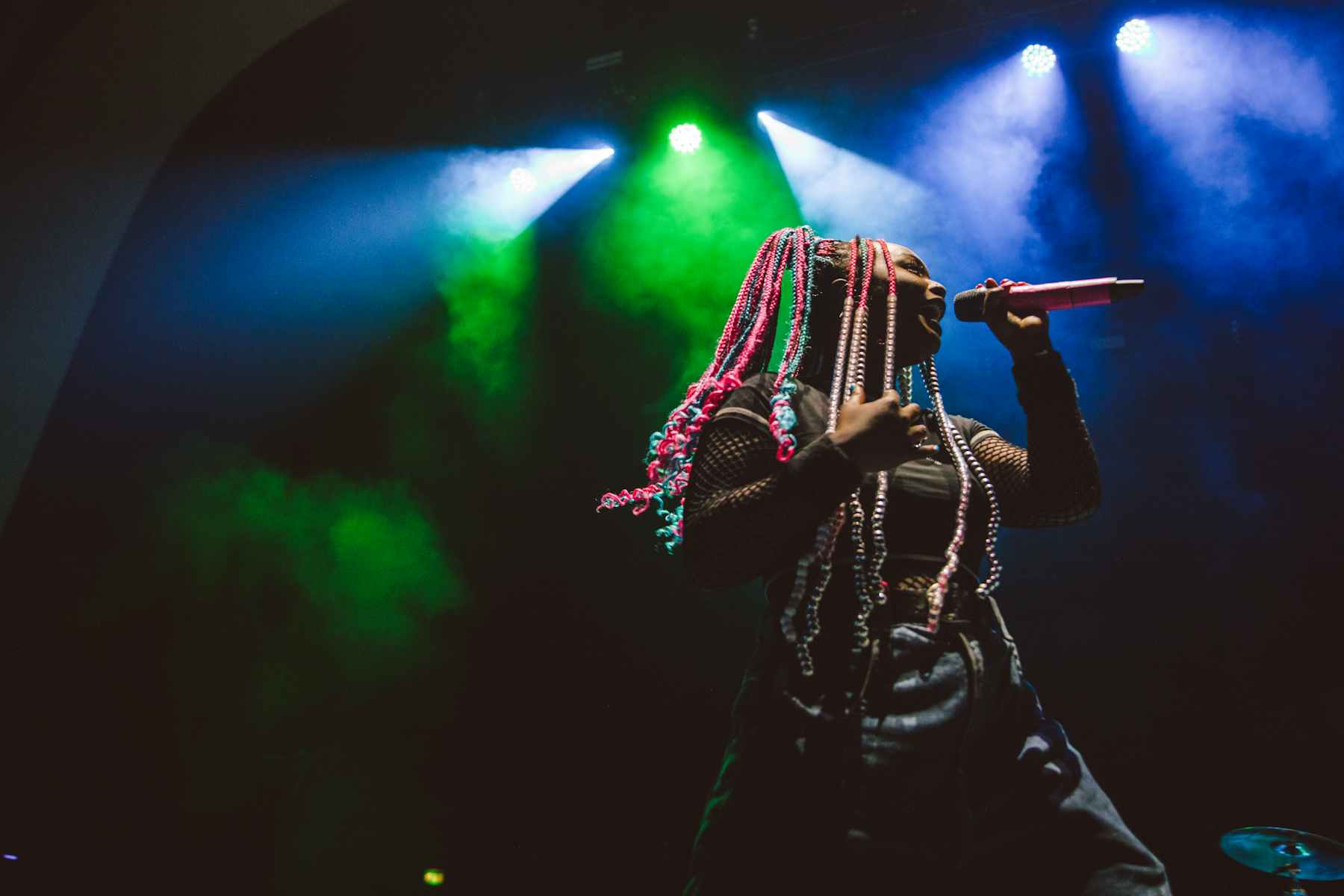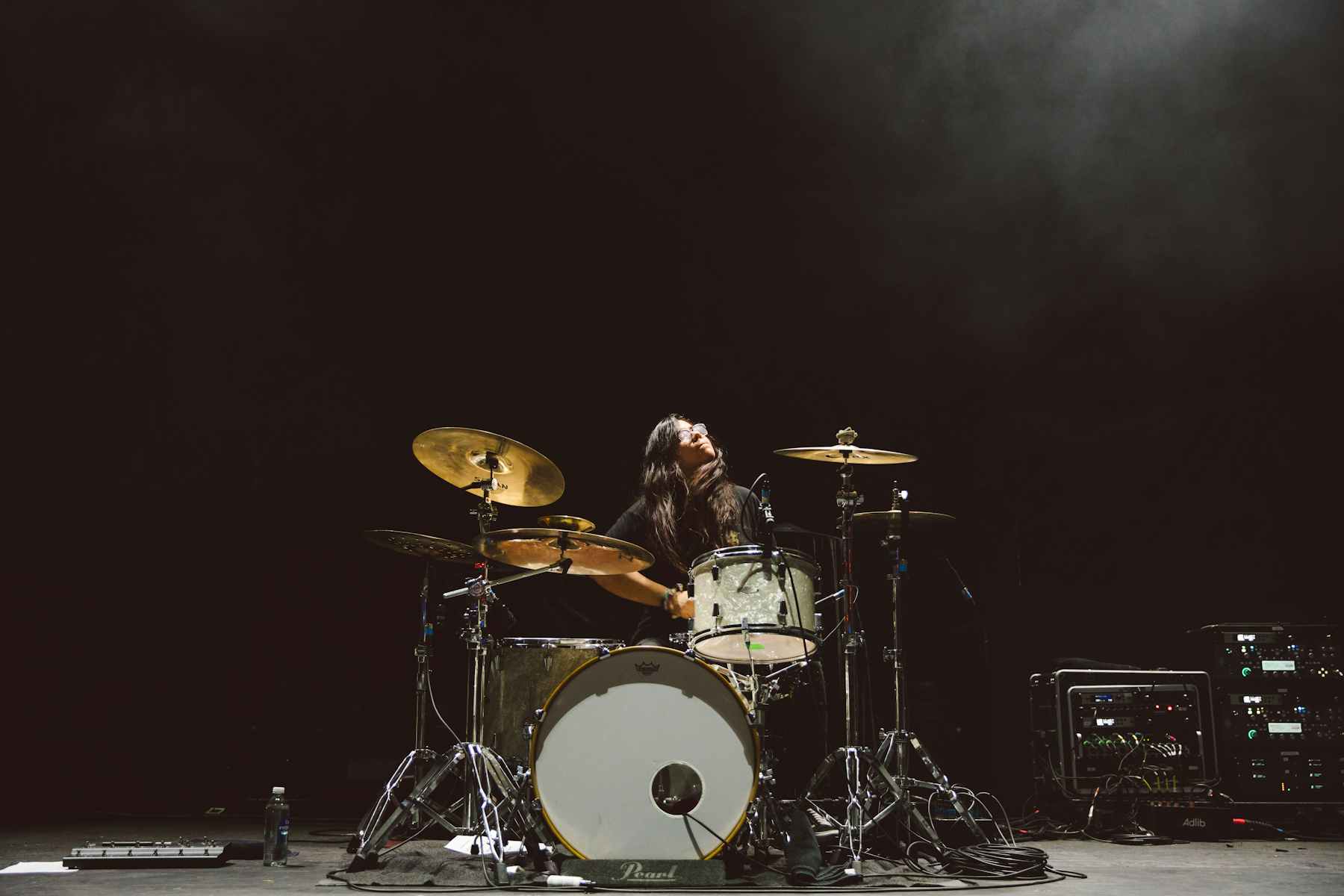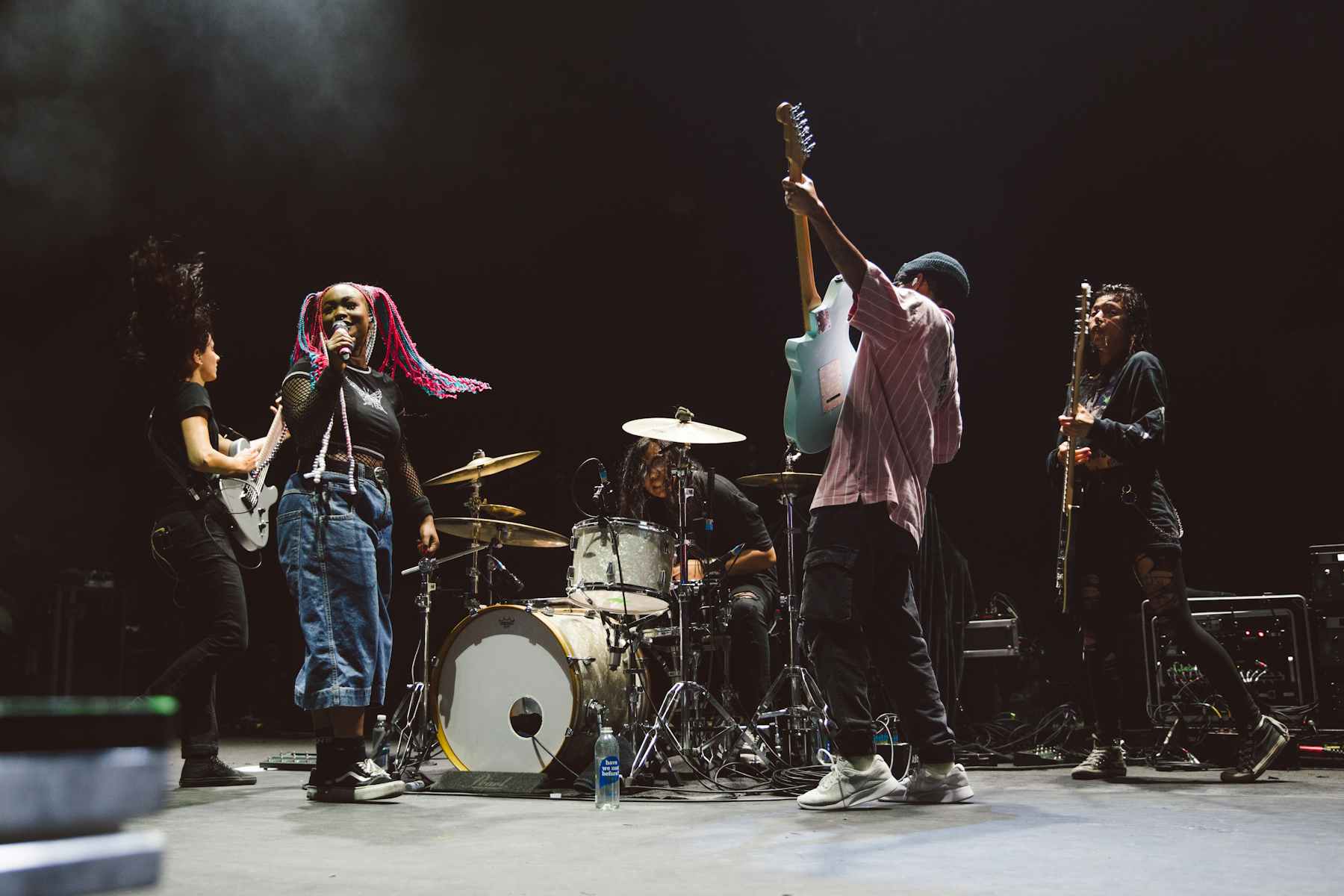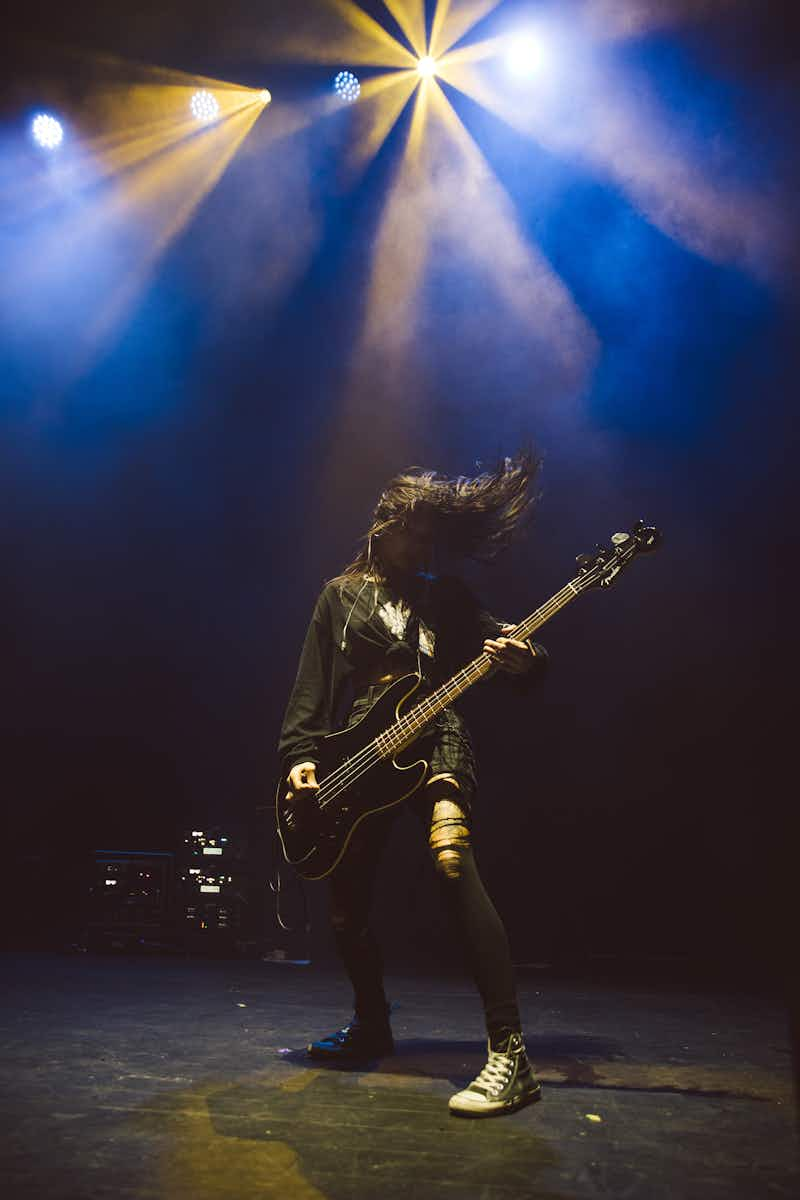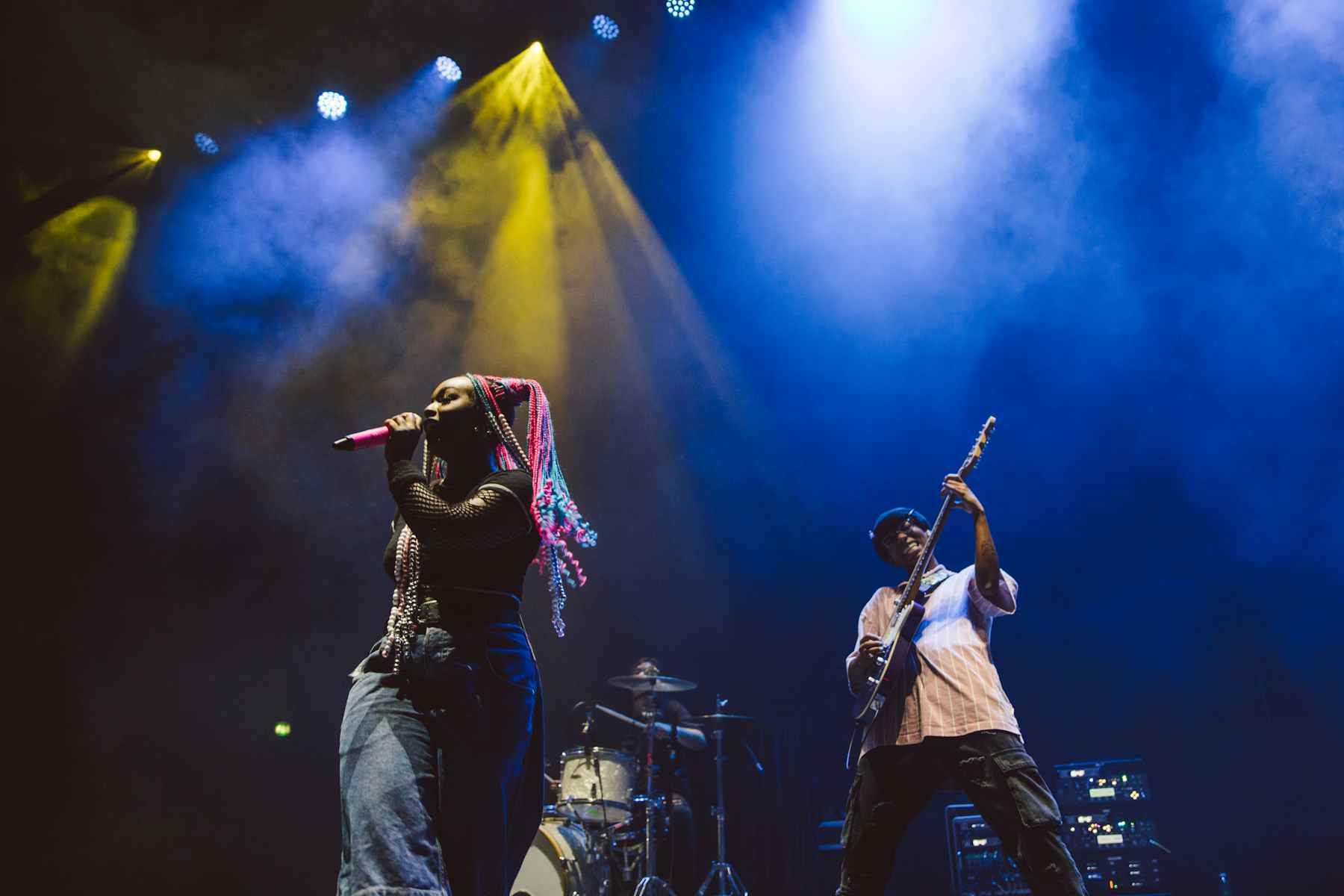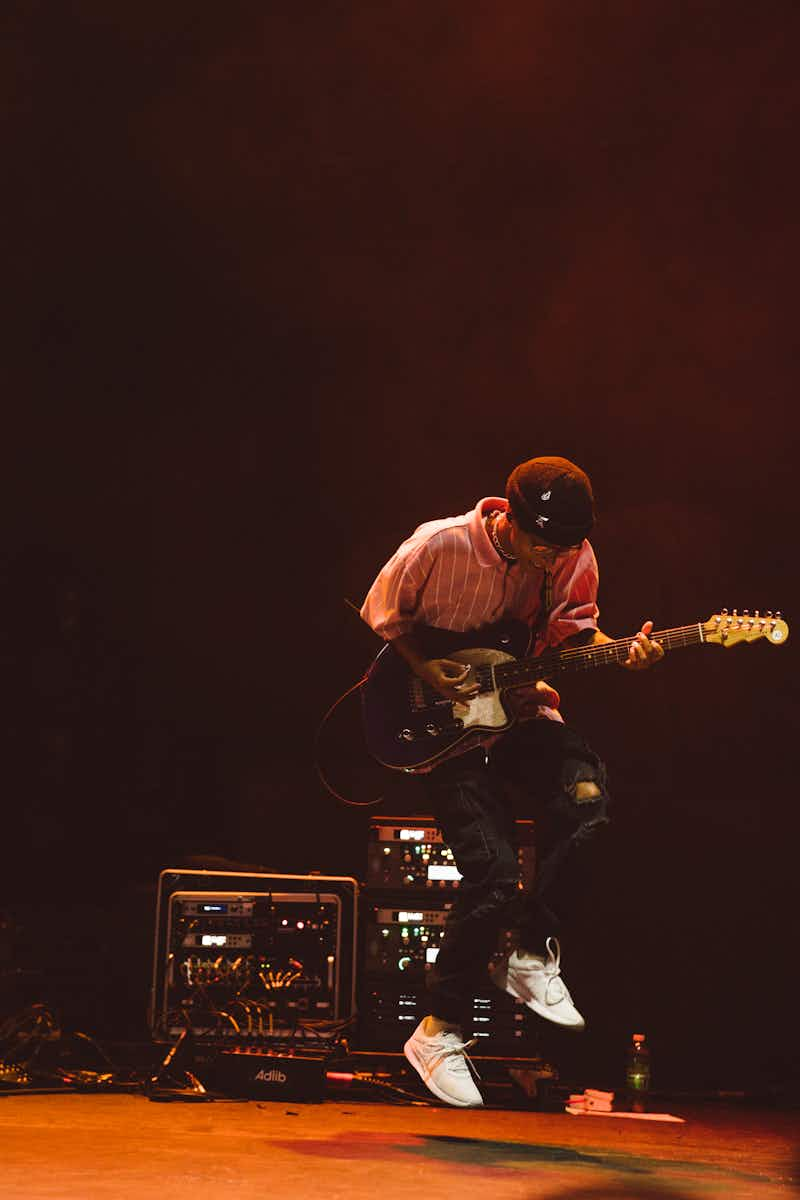 Having flown in from a summer touring America with Coheed and Cambria, and The Used earlier in the week, it's MM@TA's second night supporting All Time Low on their UK tour, which is also the Florida-based band's first taste of playing to audiences across the pond.

Since landing in London two days ago, the trio had just enough time to sleep off the jetlag and refuel on Nando's (medium heat across the board, in case you were wondering) before taking the stage for opening night. ​"We weren't happy with the show," says Edith backstage, a few hours before their second shot. ​"It wasn't anything to do with us, it was more the sound."

So tonight, they're playing with a vengeance. Ada furiously thrashes on the drums, hair whipping around her face as she slams out the beat. Téa rocks back and forth to the rhythm, guitar slung low and stance spread wide. And Edith relentlessly hops around the stage, her pink and blue braids trailing behind in a candy-coloured blur.

Midway through the set, they play their ace card: a medley of tracks by Jimmy Eat World, New Found Glory, Limp Bizkit and Lit. Hands are thrown into the air and everyone who knows the words is compelled to sing along. Opening a gig as a lesser-known support act is never an easy job, but MM@TA have the crowd right under their thumbs.

The show is a mighty step up from the gigs they were playing pre-pandemic. Back then, they'd play to crowds of 30 around the south and east of America, a small fraction of Brixton Academy's near-5000 person capacity.

"It's been a little surreal because for a bit it was almost like, are we going to tour ever again? Are things ever going to come back?" says Ada, who has The Smashing Pumpkins emblazoned across her T‑shirt and a NASA lanyard permanently hanging out her back pocket. ​"We're a lot bigger than we were before, so touring is a lot different to how it used to be."

Are they phased by the rapidly growing crowd sizes?

"I mean, yeah, it can be very overwhelming at times. But looking back at it, I know I'll be like: ​'Wow, that was a lot of fun.'"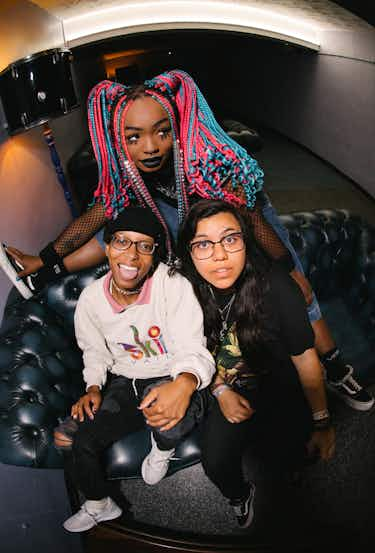 The story of MM@TA began back in 2015, when a teenage Téa went scouring YouTube for TwentyOne Pilots drum covers during the summer holidays. The algorithm brought her to Ada's channel, where the drummer's dad had been uploading videos of her playing for family and friends to watch for years. He used to play the drums himself, but having immigrated to the US from El Salvador at 18, never had the opportunity to pursue music professionally.

"When I got to about five years old, I started being really interested in it," says Ada. ​"I'm sure he saw that and ran with it because then he bought me a drum kit. Well, he would probably say that he bought us a drum kit."

At the time, Ada lived in New Jersey while Téa was in Florida. Nevertheless, Téa reached out and they began collaborating on covers remotely. By Halloween, Ada was flying out to meet her.

"It took a lot of convincing for my parents, because they were dead set on her being, like, a 60-year-old man," says Téa, who was 14 at the time. She also comes from a musical family – her parents met when her producer father fell in love with a recording of her mother's voice – but they were still wary of online stranger danger. ​"They did not want me in a band with her," she says, laughing.

"Meanwhile, my dad was like: ​'You wanna go to Florida? Why not? It's a vacation!'" remembers Ada. ​"He flew with me and we rented a car."

When they first met, serious band duties were off the agenda. Instead, they went to a Halloween party dressed as TwentyOne Pilots and performed a cover of Tear In My Heart to an audience of four.

"It was so awkward," says Téa, smiling at the memory.

Ada chips in with the most important detail: ​"We felt like rock stars."

A year later, when the pair uploaded a video titled ​"I'm in a Band, and We Need a Singer" on Ada's YouTube channel, Georgia-based Edith entered the plot. She responded with a video of her singing Paramore's All I Wanted, but didn't initially make the cut. It wasn't until September 2017, when things didn't work out with the band's original singer, that she officially joined the band. Four months later, she flew to New Jersey to meet her new bandmates. And this time, it was for an actual, real-life, all-band-members-in-the-same-room show.

"I'm very private with things until I actually [achieve them], so my parents had no idea. One day I walked in and was like: ​'I'm in a band now,'" says Edith. ​"I explained to them what was going on and how we were all separated in different states. Then I was like: ​'So I want to go to New Jersey to play a show with these two girls I met on the internet that I don't know.'"

Like Ada, Edith's parents were relatively unphased. Almost everyone on her father's side of the family sang ("At family functions, we would just sit there and sing all day") and her mother was already accustomed to chaperoning Edith's solo trips to Vans Warped Tours.

In January 2018, she flew out for the gig with her dad and arrived just in time for one IRL practice before their very first performance as a trio, at a small venue in New Jersey. For all three of them, the memory of that day is a blur of excitement and adrenaline, the first taste of a future that would one day see them heralded as pop-punk's next great hope.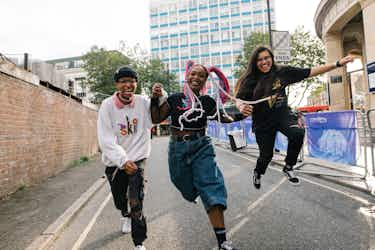 "They're one of the best opening bands I've ever seen," says 17-year-old Sinead before the Brixton Academy show. The doors don't open for another two hours, but a queue of hardcore All Time Low fans have already wrapped around the circumference of the venue and is now snaking down the rest of the street.

Sinead and her friend Alex, 20, were also here last night for the opening show. They didn't notice MM@TA's sound problems. They only saw five women with indomitable stage presence taking up a space that's usually occupied by white men.

"I'm obsessed," gushes Alex. ​"Their performance was so good last night. If they're going to be like that every night on tour, they're going to gain so many fans. We need more women in alt music to be successful. They deserve it."

It's a sentiment that's echoed by most MM@TA fans in the queue, many of whom also discovered the band for the first time at All Time Low's opening night. Twenty-one-year-old Anya was so impressed by their performance that she immediately went home and added all their tracks to her Spotify playlists. ​"I thought they were phenomenal," she says, clutching a pride flag at the very front of the queue. ​"They give queer energy a bit, so I really like that." (Last year, Téa and Ada revealed that they're gay.)

"I've never seen an all-female band before and I think that's really, really cool, especially having a female drummer," Anya continues. ​"They're in a scene that's really hard to get into for women, which is surprising because most of the fans are women. What they're doing is incredible and so inspiring."

For 22-year-old Tehreem, it's simply refreshing to go to an alternative gig and not be the only person of colour in the room, let alone seeing them on stage. ​"You hardly ever see POC at all, regardless of them being women – that's even rarer," she says.

Both Tehreem and her gig buddy Claudia, 23, started listening to MM@TA when it was announced that they'd be supporting All Time Low on tour.

"Twenty years ago, they would probably not be getting on the tours that they're getting on now and it's really amazing to see how far we've come within the punk scene," says Claudia. ​"Finally, we're getting some representation."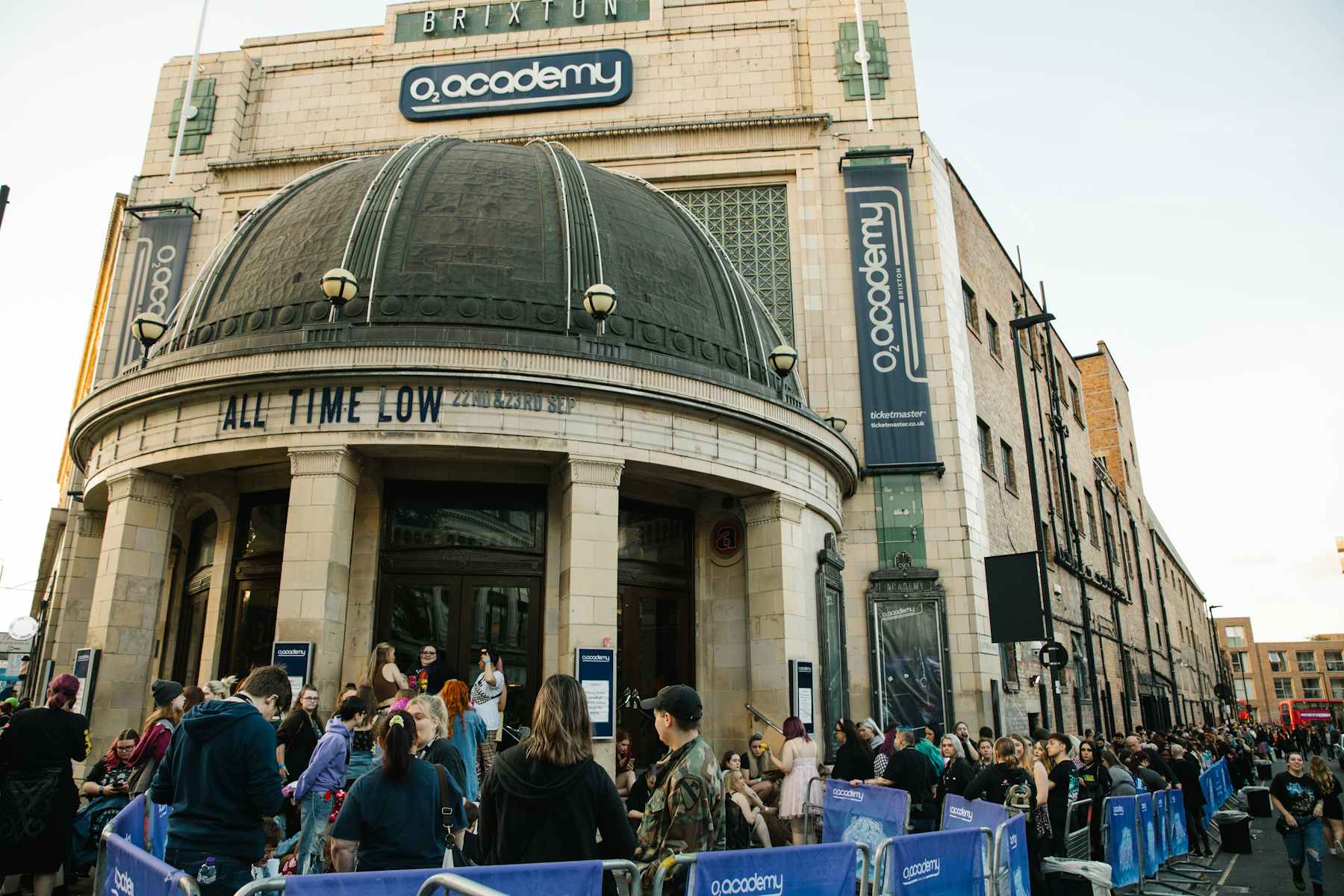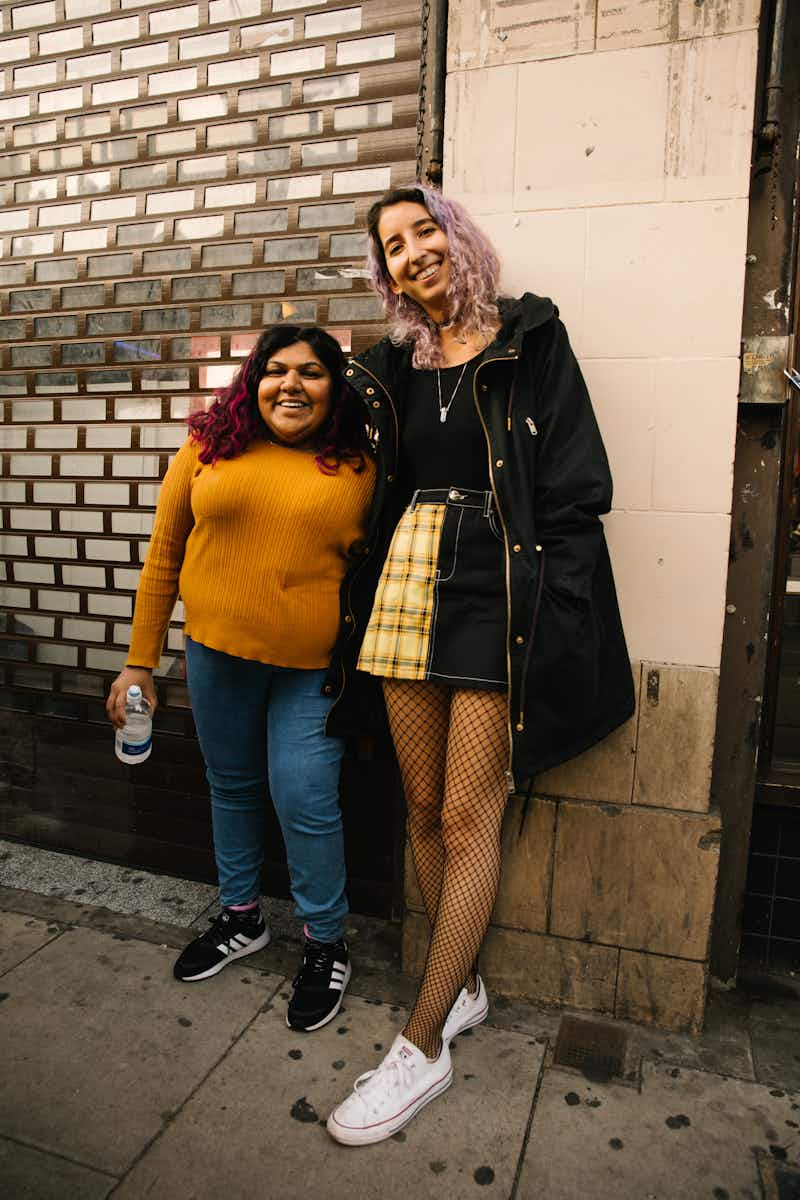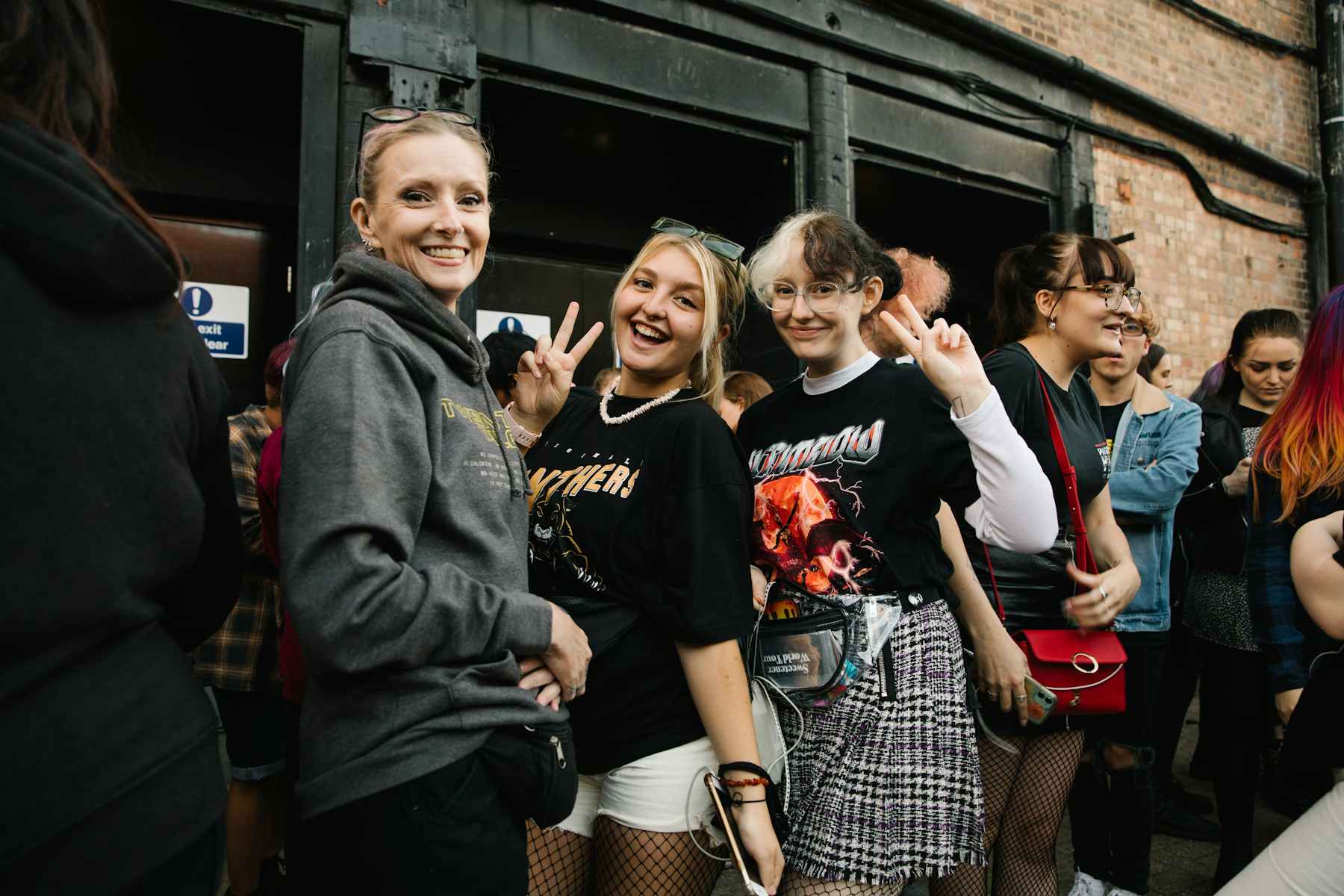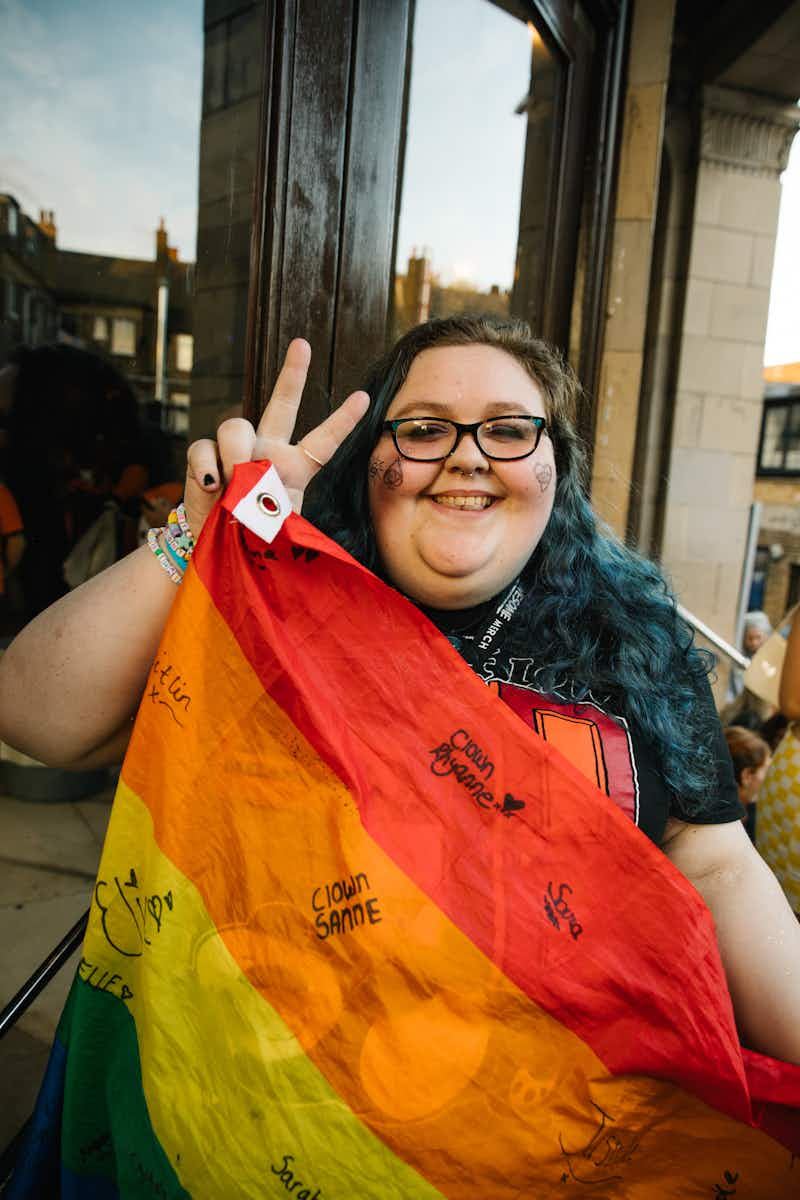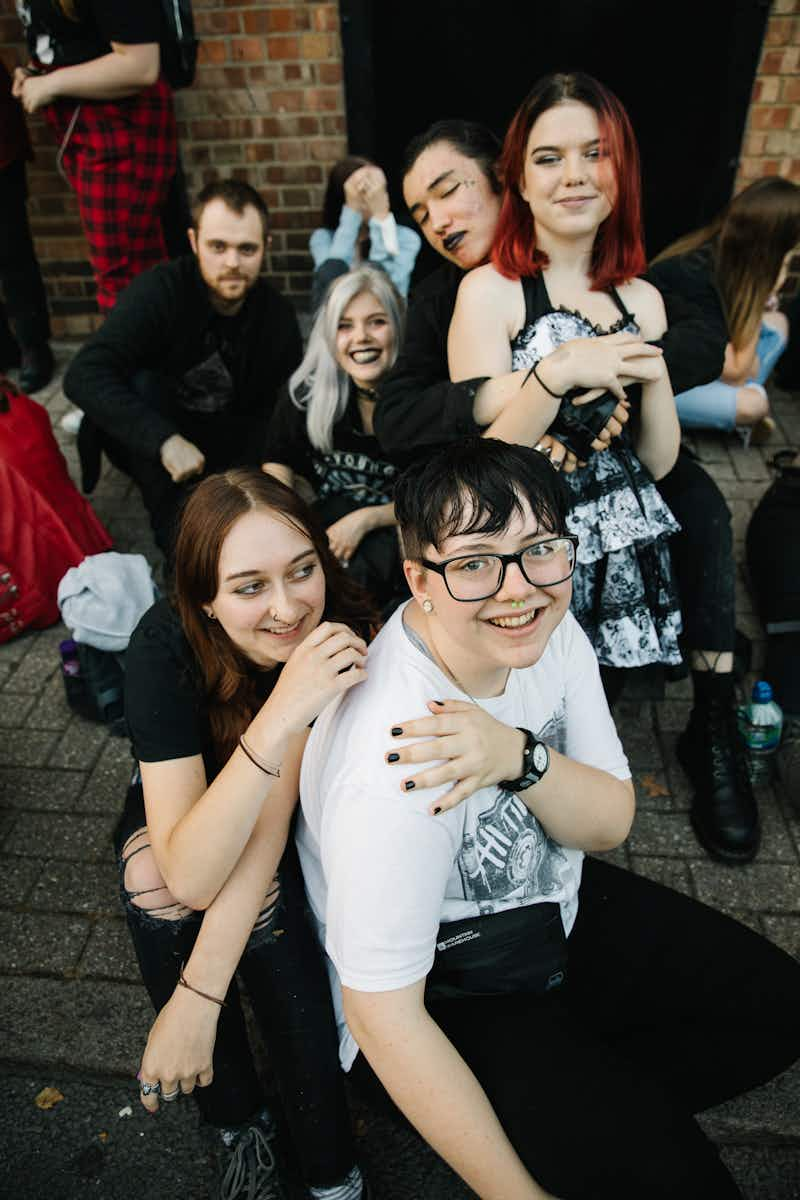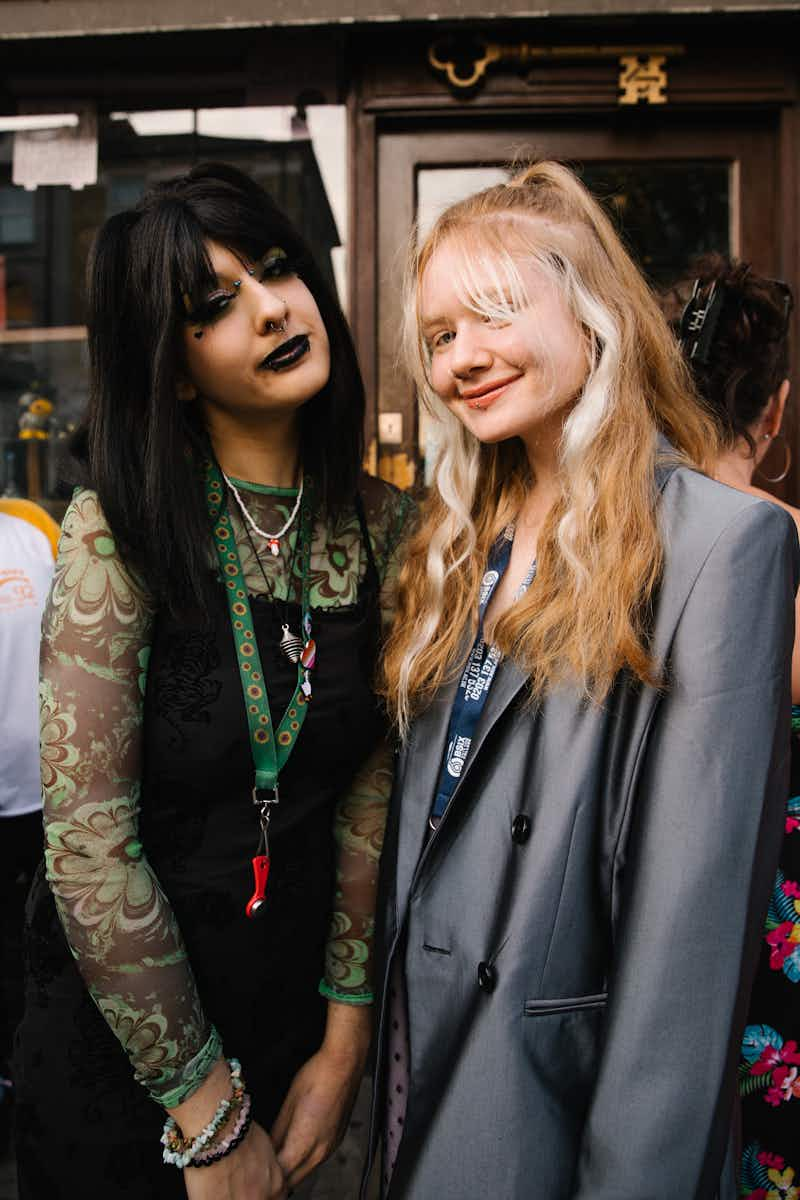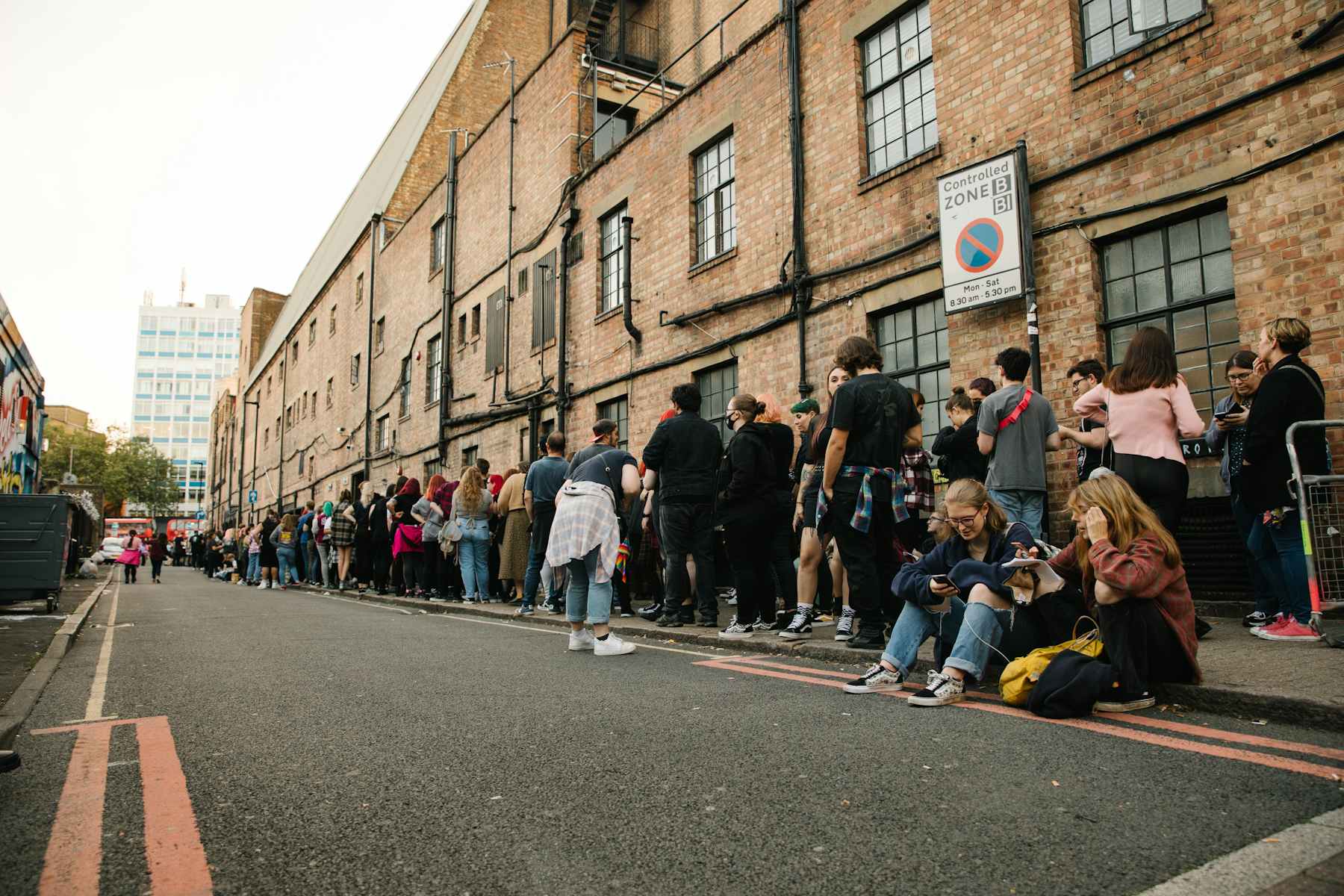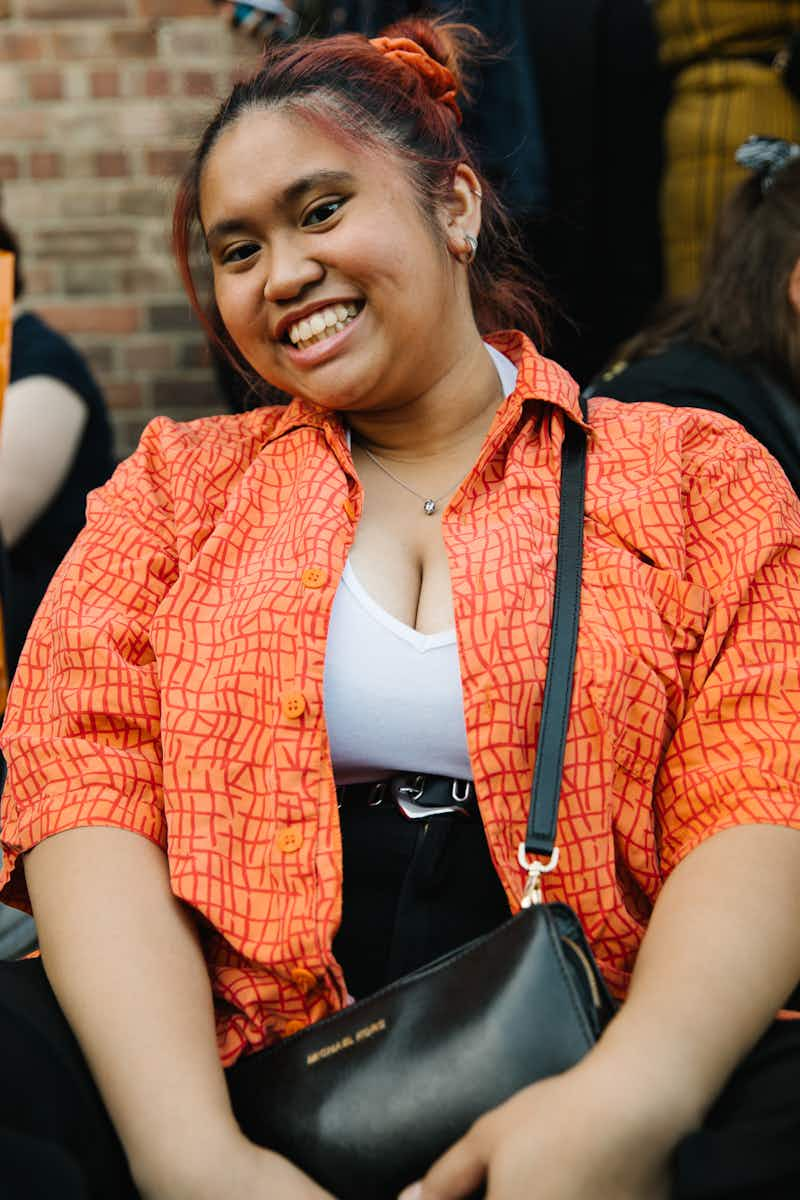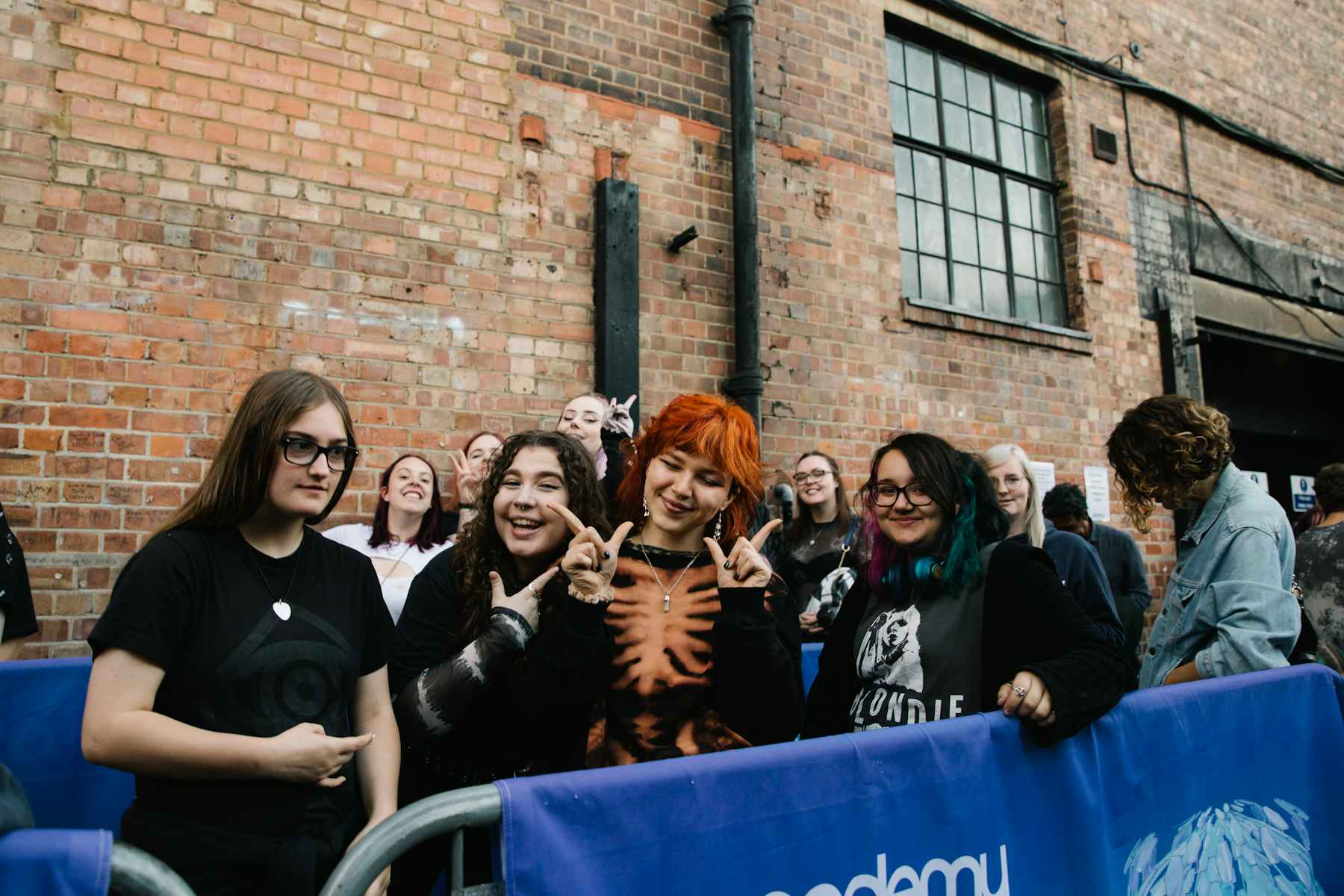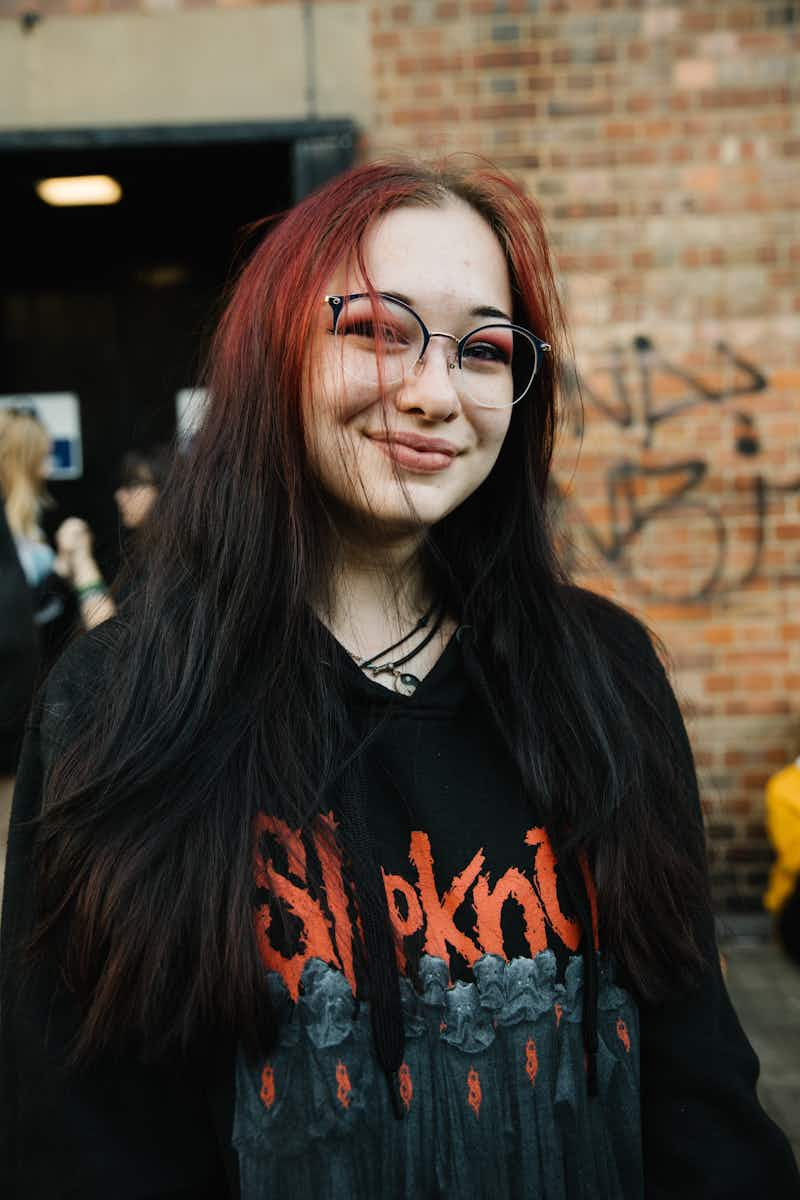 Three days later, the band are up north for their show at Manchester's O2 Apollo, having travelled in a Volkswagen nine-seater – to their chagrin. ​"These buses are so nice," says Edith as they walk past All Time Low's slick, blacked-out tour buses lined up outside the venue. ​"I wanna be on a bus like that this time next year."

"Do you think it would hurt to jump from the top?" wonders Téa, pointing to a bus roof that is, at the very least, double the height of her petite frame.

"Um, I don't know," says Ada dryly. ​"It's pretty high."

They haven't had any shows since Brixton, so instead have been kept occupied by press interviews and exploring London.

"We rode on boats," grins Edith, referring to a sightseeing cruise they caught from Greenwich. The group are excited, talking over each other as they try to remember the specifics of their day off. A conclusion isn't nailed down. They simply did ​"a lot of stuff" and all of it has been ​"a lot of fun".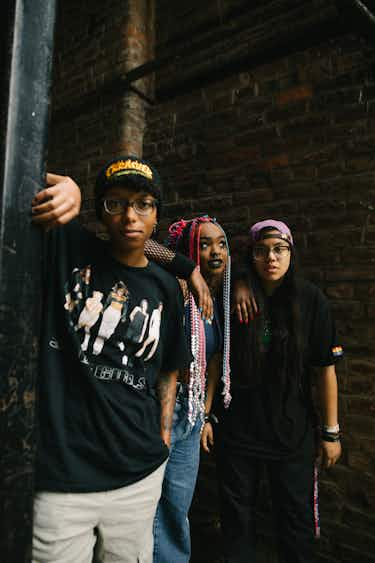 There has been one low point since they waved goodbye to the audience at Brixton, though. After their set, they briefly left the venue for some air, but when they tried to get back in, the security guard they'd dealt with previously wasn't there and they were denied entry.

"[The new guard] was like: ​'I've never seen this pass before,'" says Téa, waving a yellow and pink card in the air that's identical to the passes that hang from the necks of every person on tour. ​"That's not our problem!"

Kicking up a fuss didn't work, so eventually, they had to call their tour manager to diffuse the situation. It was an uncomfortable experience, one of those infuriating occasions when nothing explicitly racist or sexist has been said, but context speaks for itself.

"As women of colour, it's sad that we understand that that's going to happen, so we have to stand our ground," says Edith. ​"As a woman of colour, everything in life is going to be hard. That's just the truth. Growing up, you know that and you become stronger.

"Just us being women of colour, I think, prepped us for being musicians in this genre, because we know that we're going to have to fight for everything we want and will have to work harder than any white man has ever had to work to get it."

Did the uphill battle of being a woman of colour in a predominantly white, male genre ever put them off pursuing their dreams?

"I don't give a fuck about any of that," replies Edith, shaking her head with a defiant smirk. ​"I was just upset and annoyed [by the lack of representation], which fueled my ambition more."

Ada concurs. ​"Personally, I was like, if we need more women in the scene, then let's be the women we need more of."

Téa comes to a concise conclusion: ​"Women should never be intimidated by men!"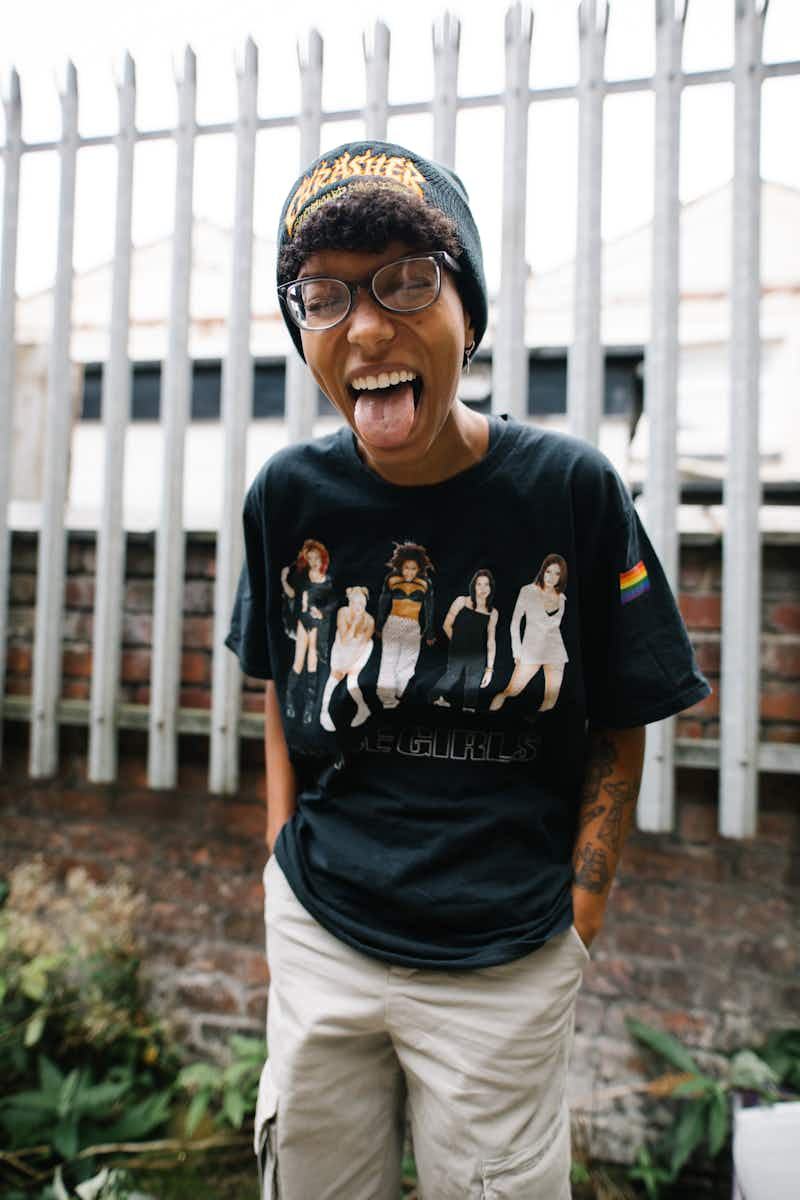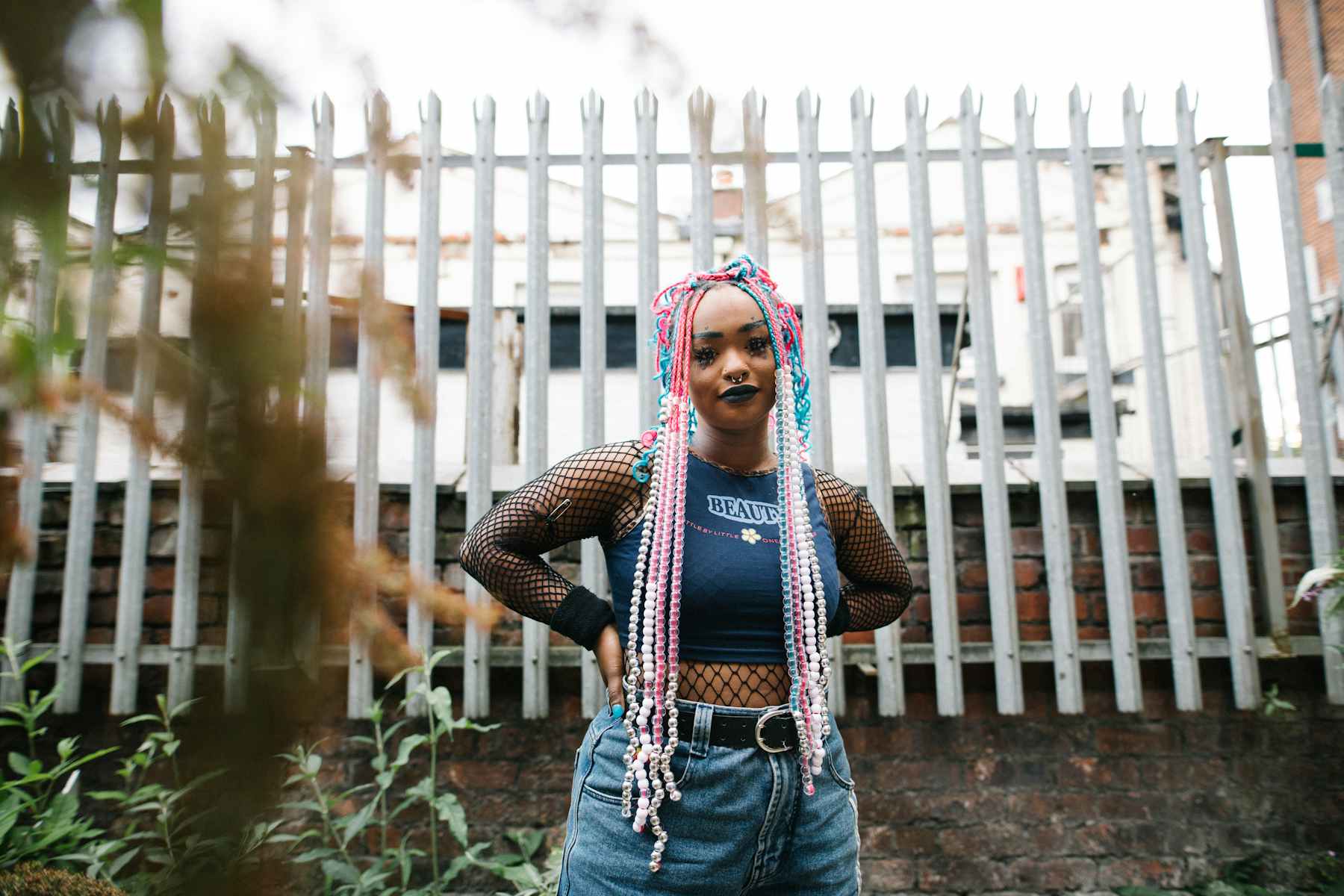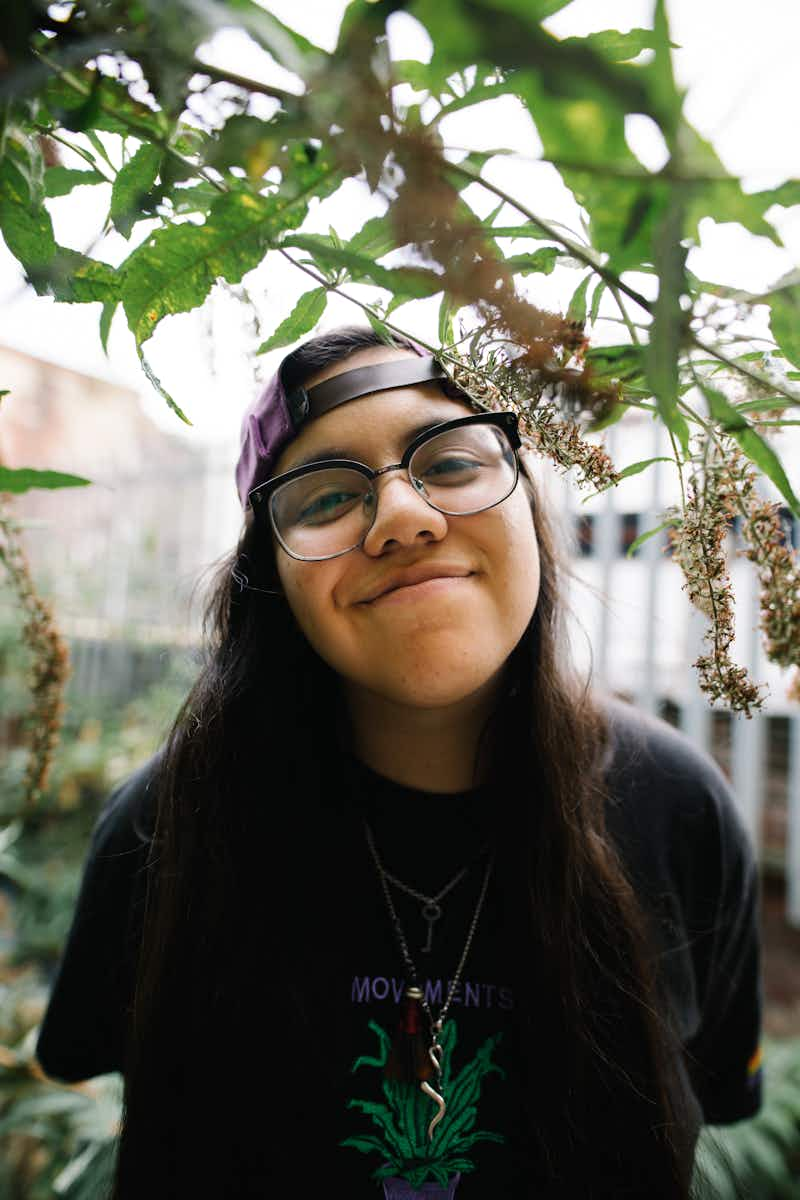 Besides, nothing beats the sweet satisfaction of seeing their music dismantle prejudice in real-time.

"When we were 17, we were playing to bars full of old, white men. It was awkward because we knew what they were thinking and could just feel the energy in the room," says Téa. ​"But as soon as we got on the stage, they shut up because we're good. You could see on some of their faces that they'd realised that they were wrong about their preconceived notions about us."

Still, the topic of MM@TA's groundbreaking – albeit overdue – representation of marginalised communities in pop-punk is a double-edged sword for the band. On the one hand, they know how significant their success in a scene that has long excluded people who look like them is, particularly when it has the potential to inspire the next generation of artists. On the other, they wish that those in the industry and media could recognise their talents without bringing up their identities.

"It depends on the context. Obviously, it's super important for us to talk about as there is this huge gap of people of colour in the genre because of gatekeeping and stuff," says Téa, now sitting on the floor and slouched against a wall in their dressing room at the Apollo. ​"Like, even just last year, before the George Floyd murder, no one was talking about it. But then it was like: ​'Oh, now it's a trend. Let's talk about it.' It felt kind of weird."

Edith agrees. ​"Yeah, the one thing that really does bother me is that BLM turned into a trend. Then, when people are looking for Black art, or businesses and whatever, we get grouped in with a lot of people of colour bands just because we're people of colour. We should be grouped by genre, just like any other white artists would be."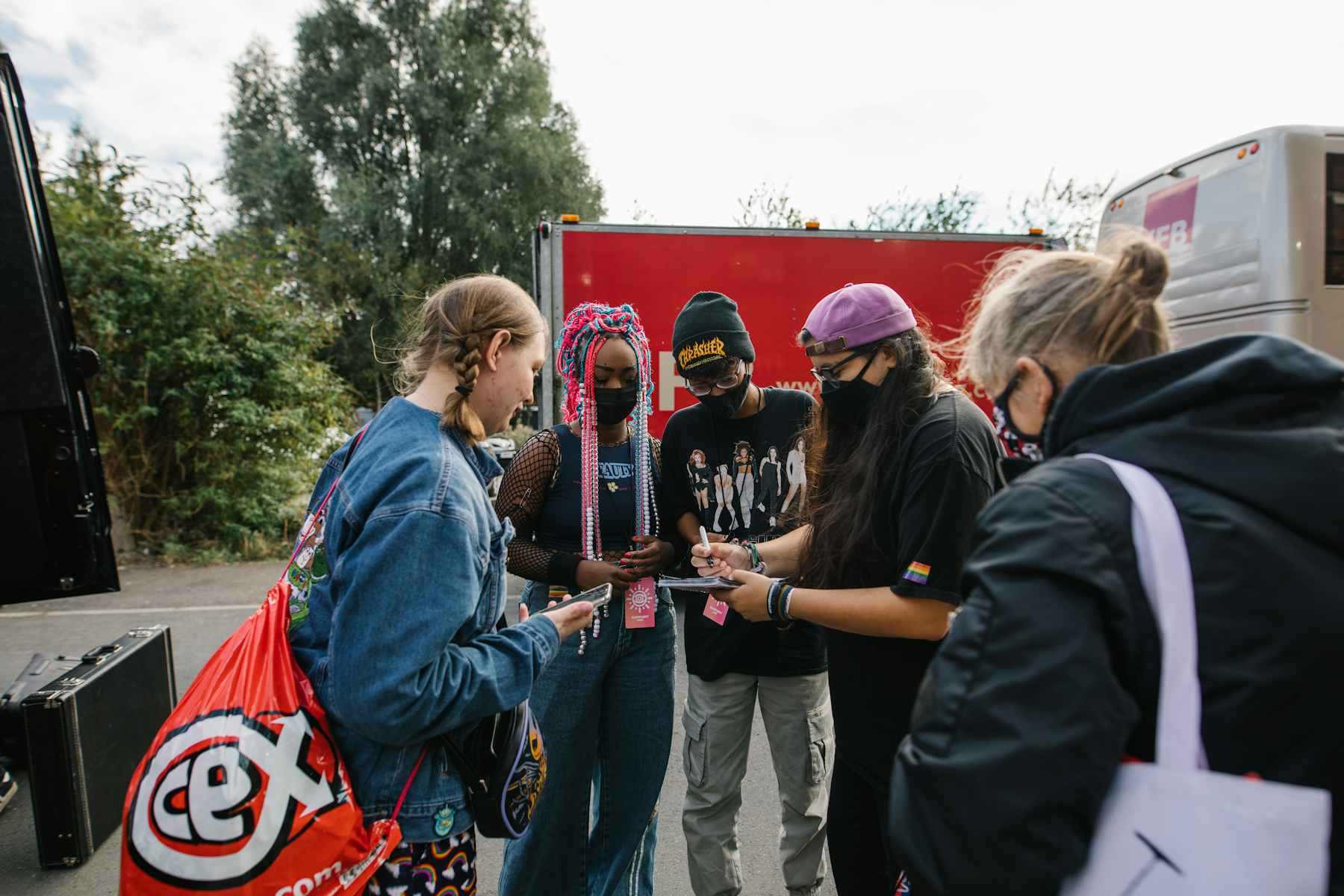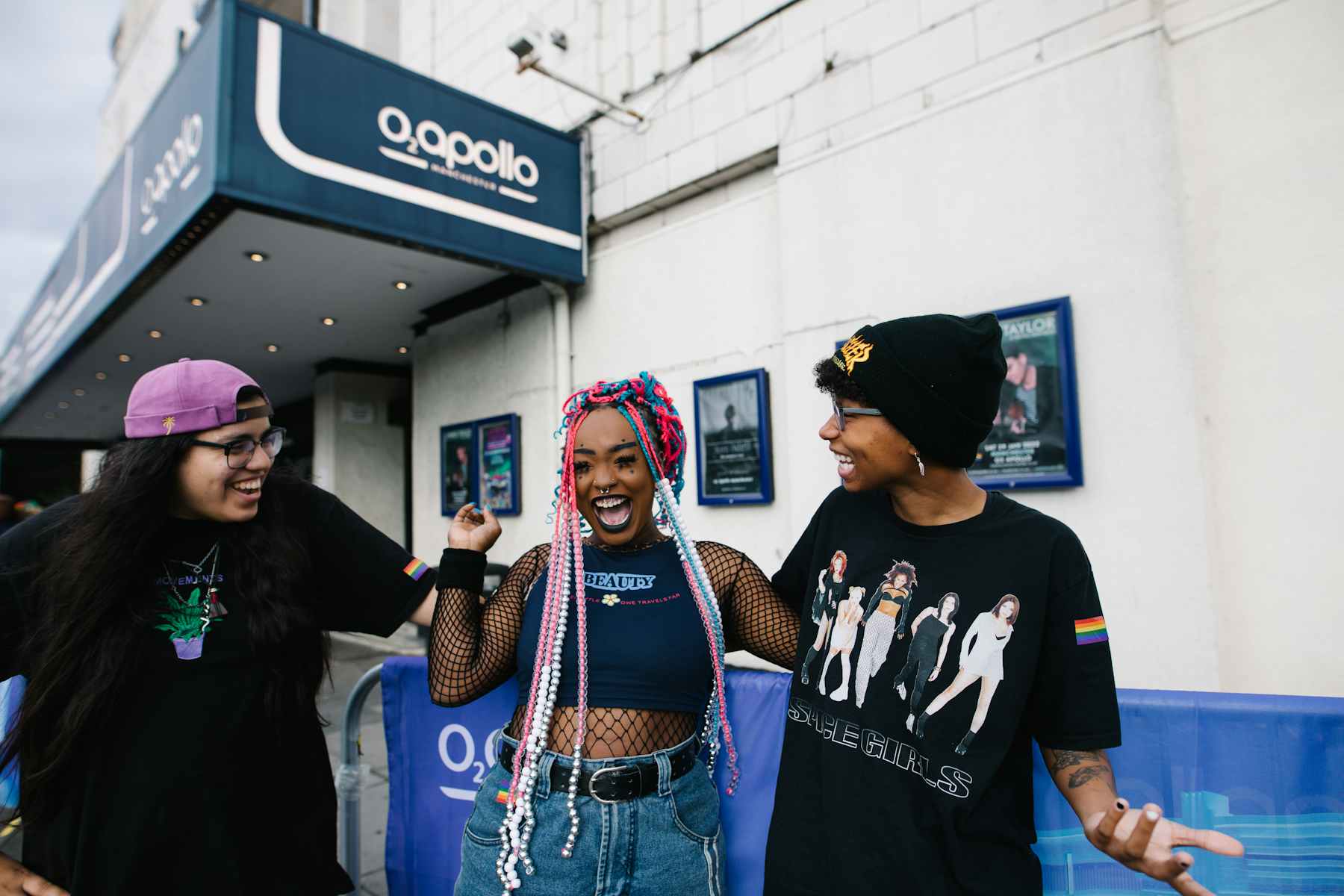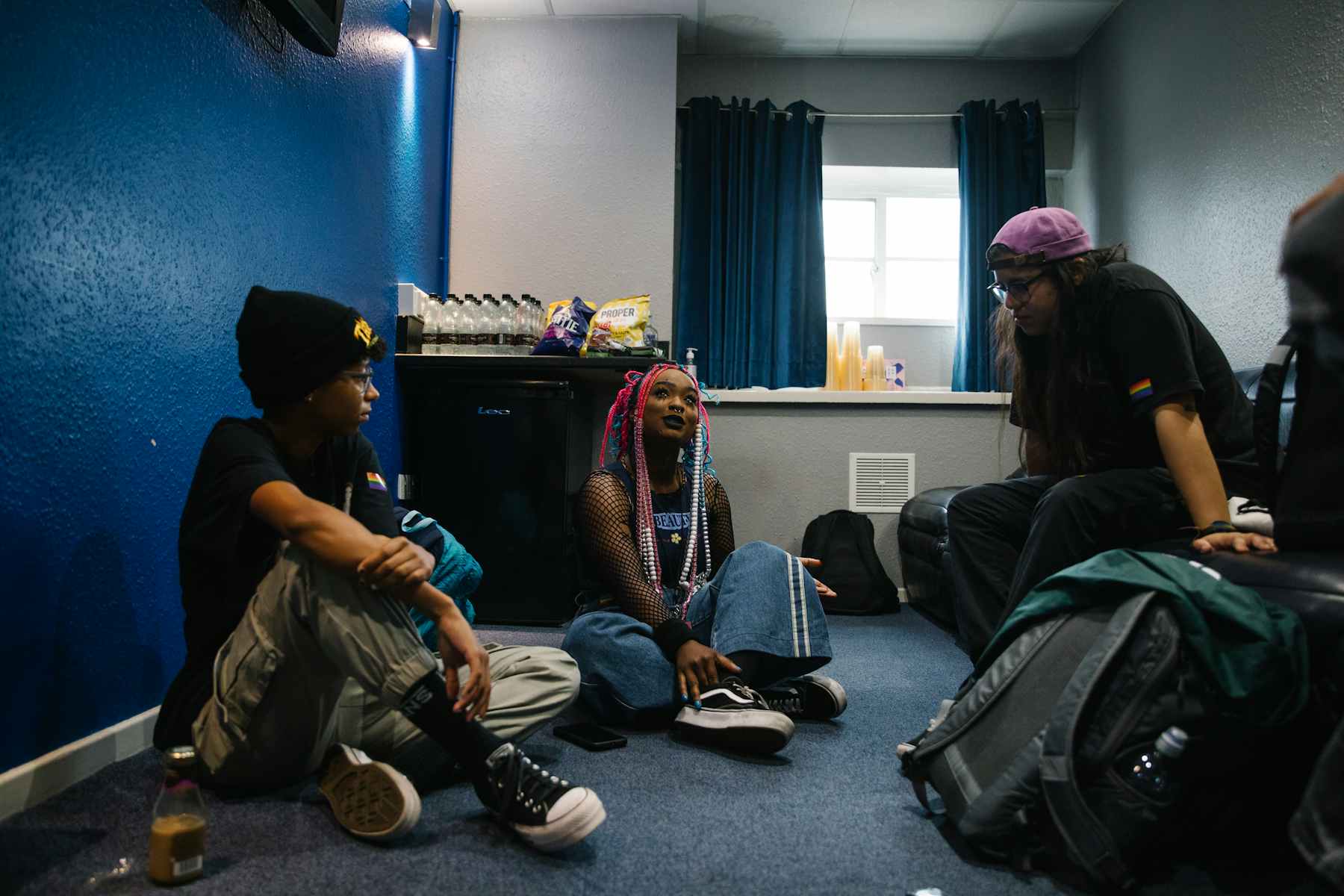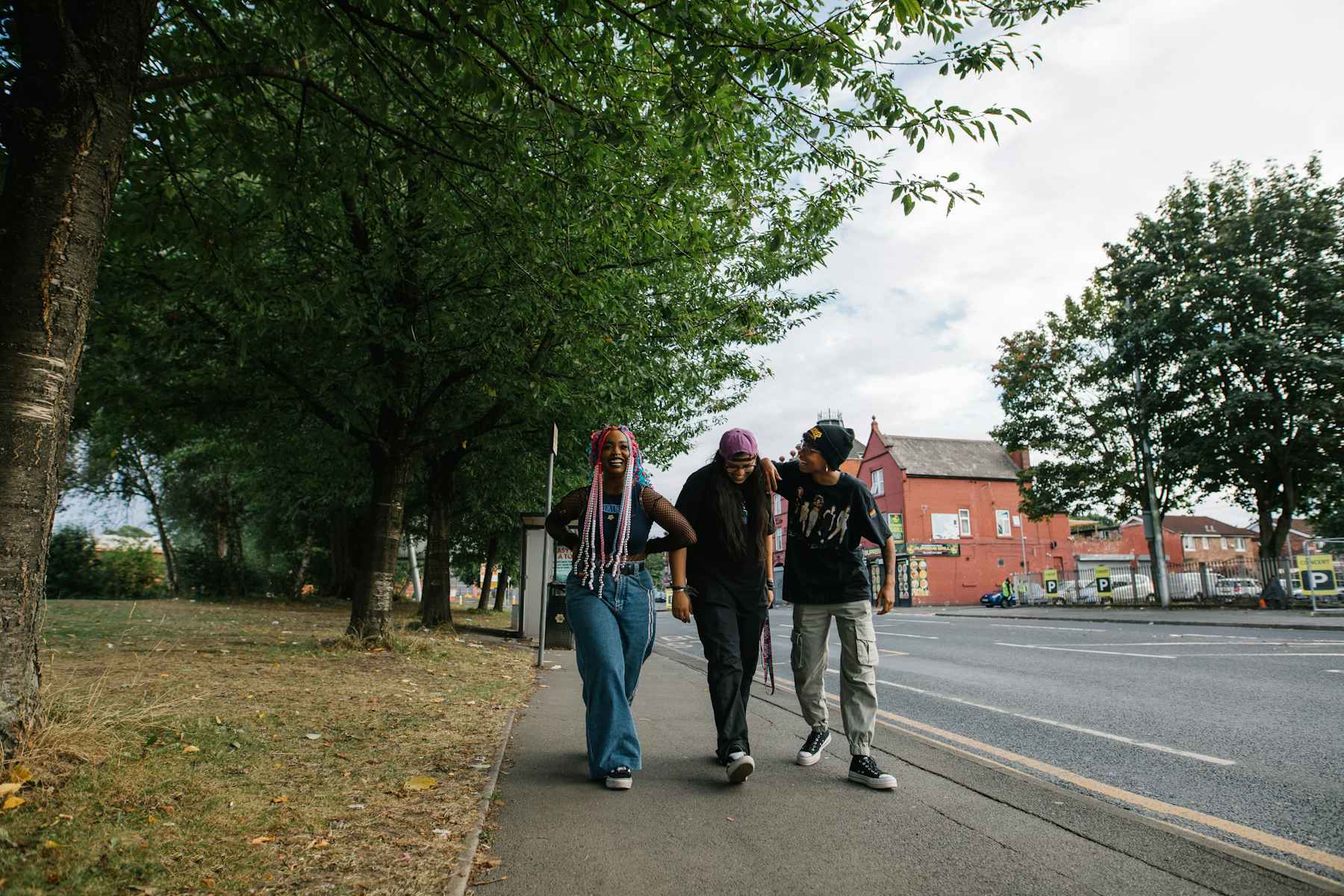 Indeed, there's a lot more to celebrate about MM@TA than their identities and the band's fast-won laurels should speak for themselves.
Just before the pandemic, the trio moved into a house in Davenport, Florida together, signing a lease that ended just as they began touring in summer 2021. Within that time, they've crept up the Spotify ranks to bring in nearly 200,000 monthly listeners, received co-signs from the likes of Wonder Years' Dan Campbell, All Time Low's Alex Gaskarth and Halsey, and written and released their latest EP, Model Citizen.

And last year, they signed to their dream label, Fueled By Ramen, home to the greats of pop-punk's early 2000s era, from Paramore to the band they're supporting, All Time Low.

"Apparently Alex [Gaskarth, lead singer and guitarist in All Time Low] wouldn't shut up about us to [label A&R executive] Johnny Minardi. He was texting everybody like: ​'Have you started to sign them yet?'" says Edith.

After they finish their stint in the UK, the band will spend the rest of autumn supporting All Time Low on the US leg of their tour and, next spring, they'll join State Champs for a tour across Europe and the UK. In case you were in any doubt, MM@TA have well and truly entered the big leagues.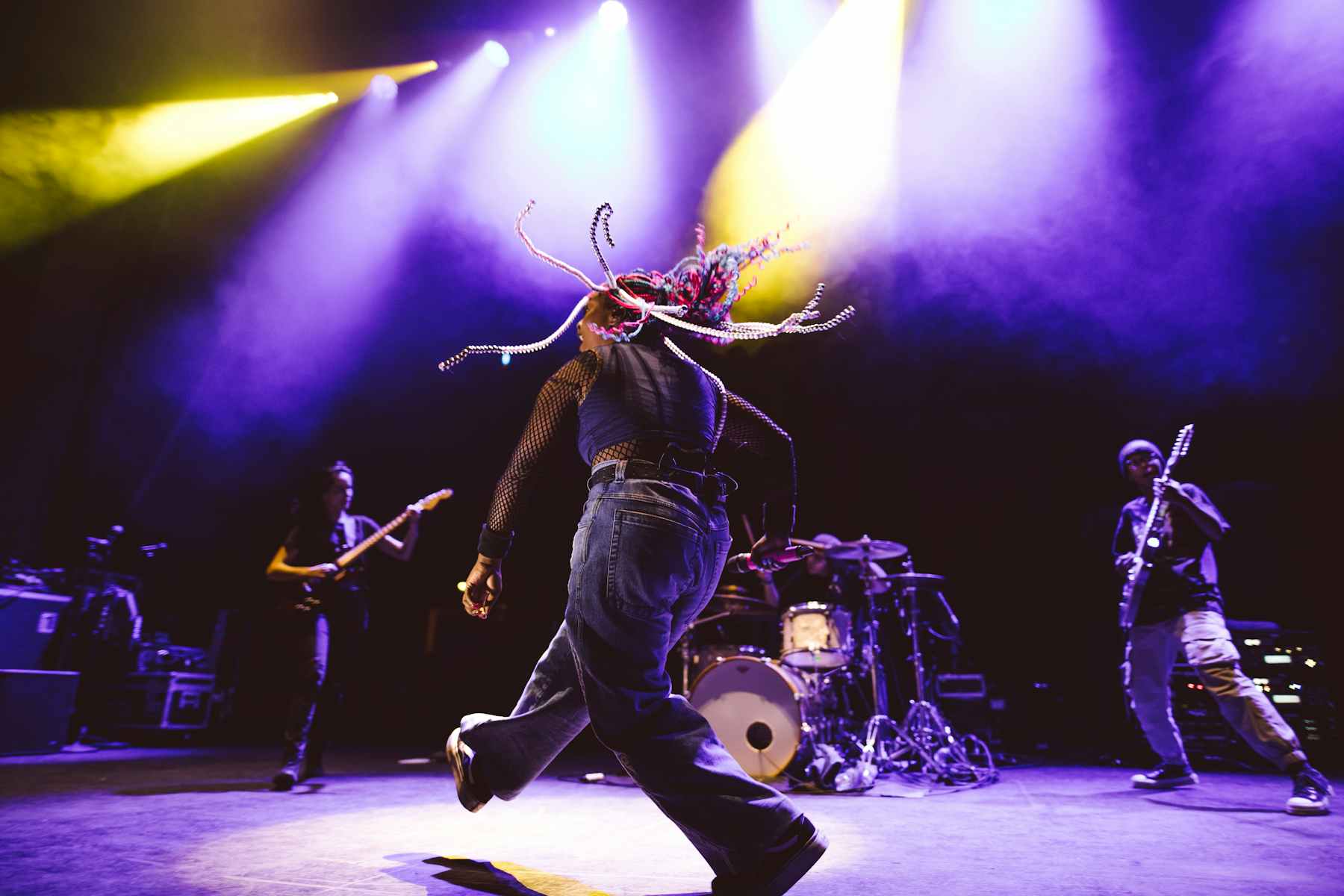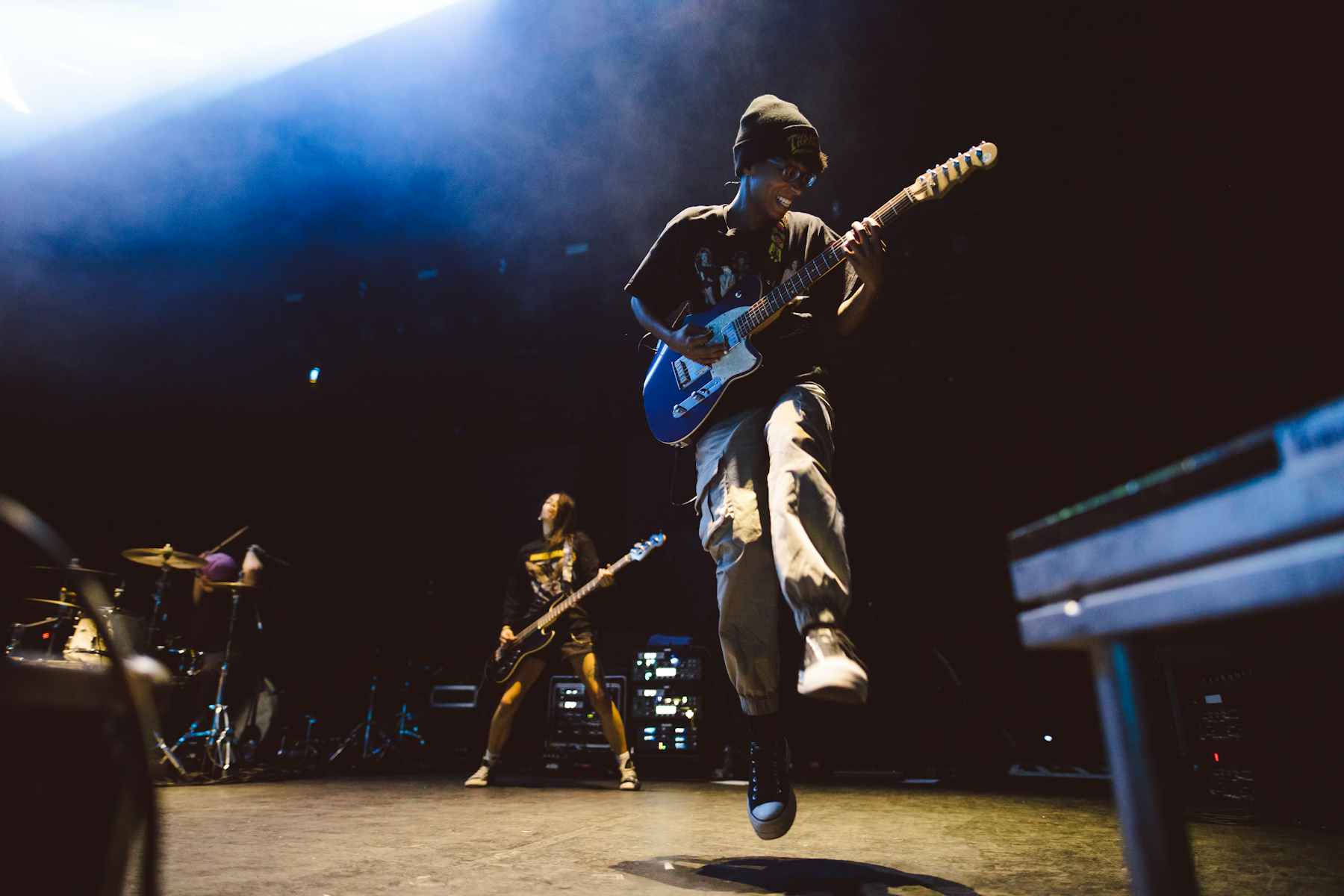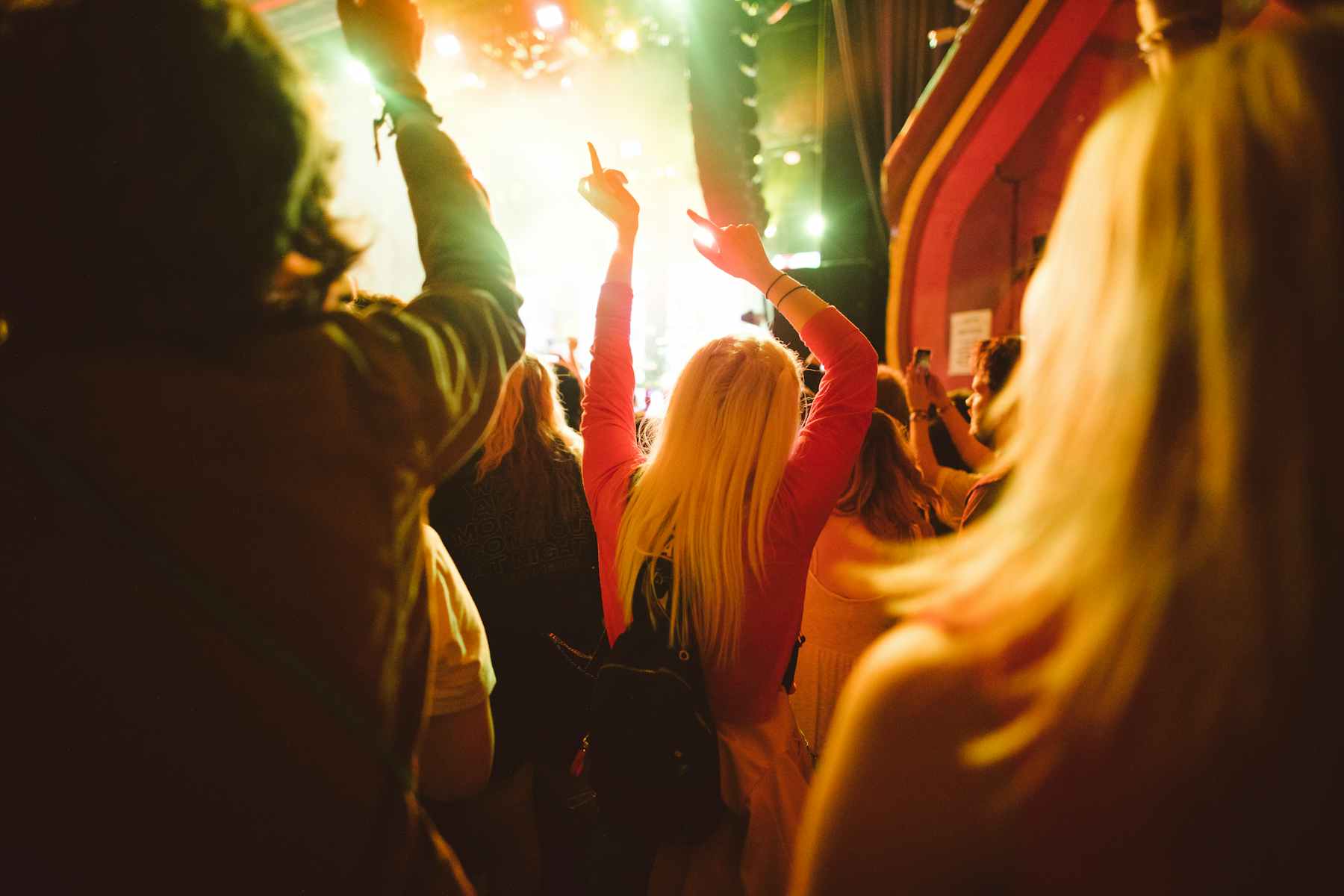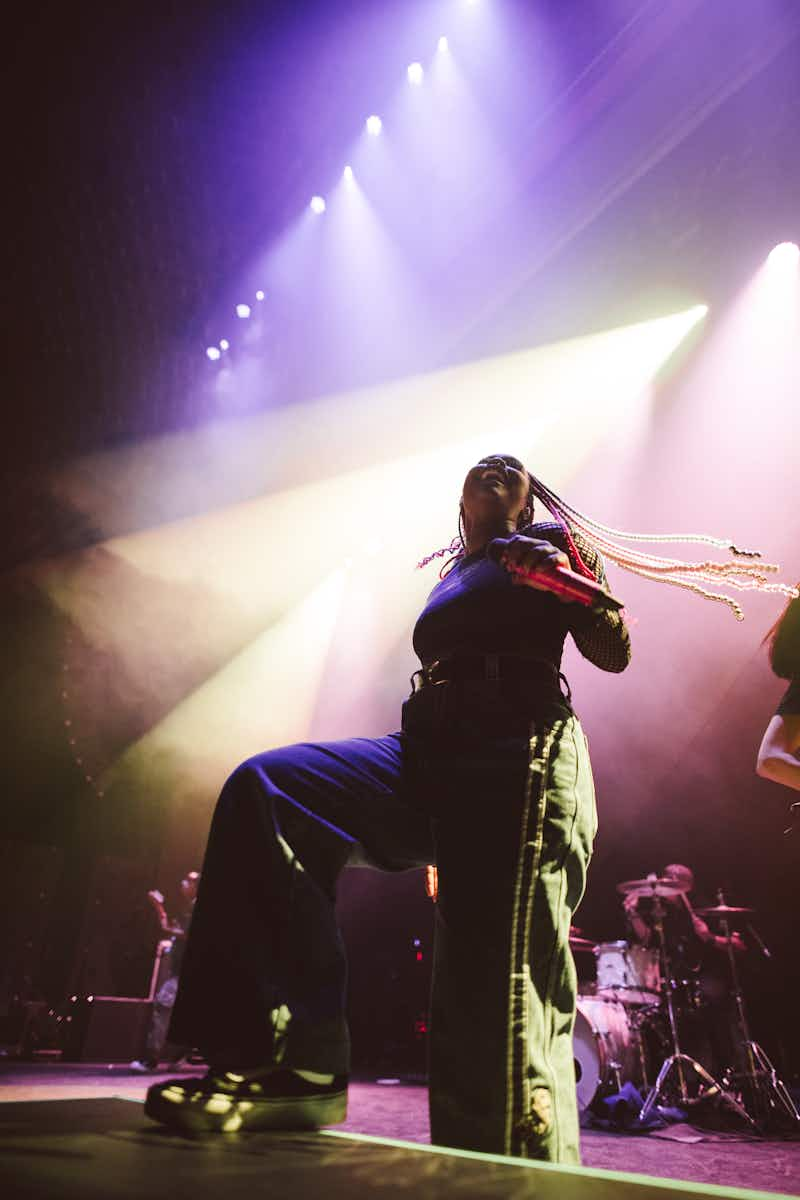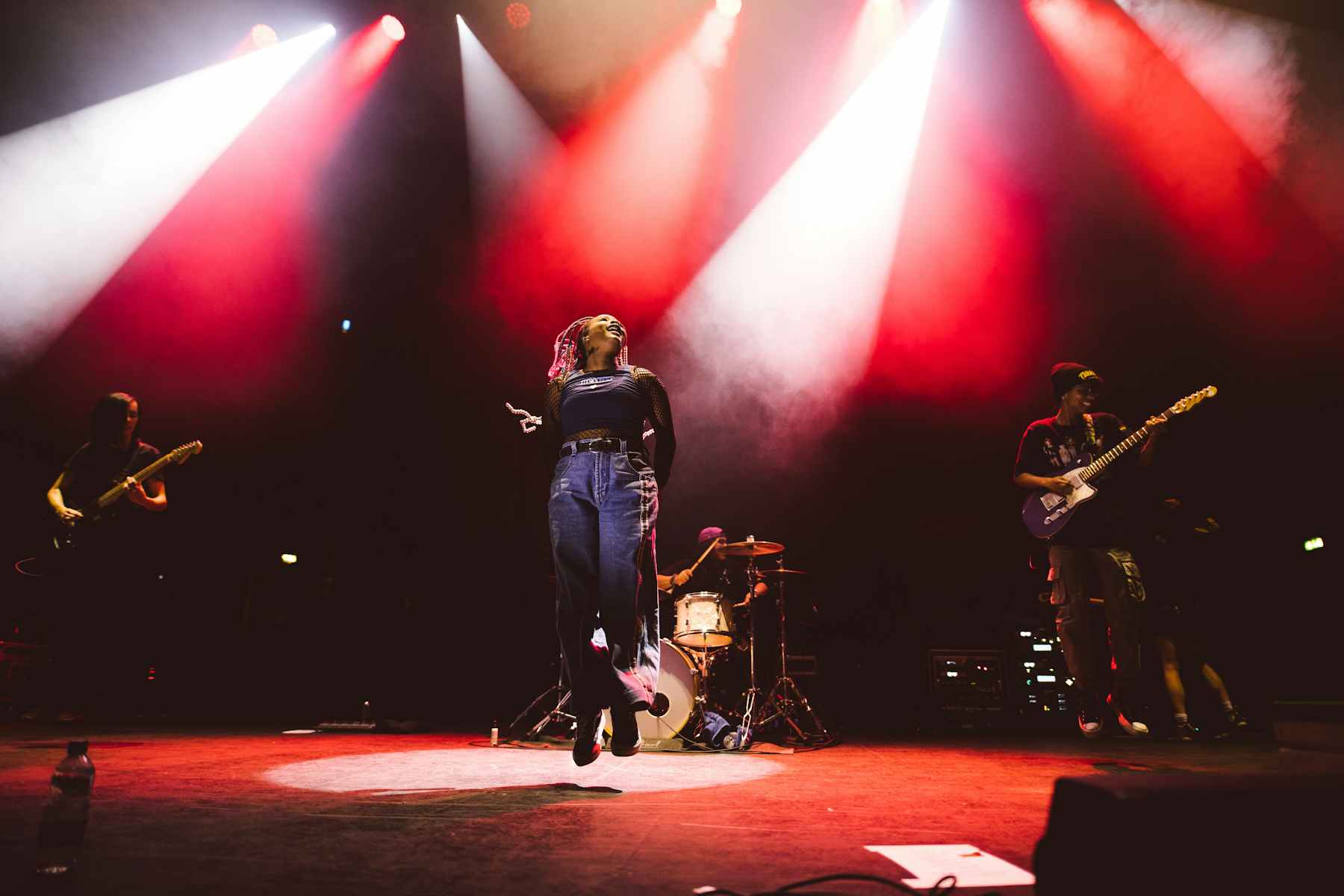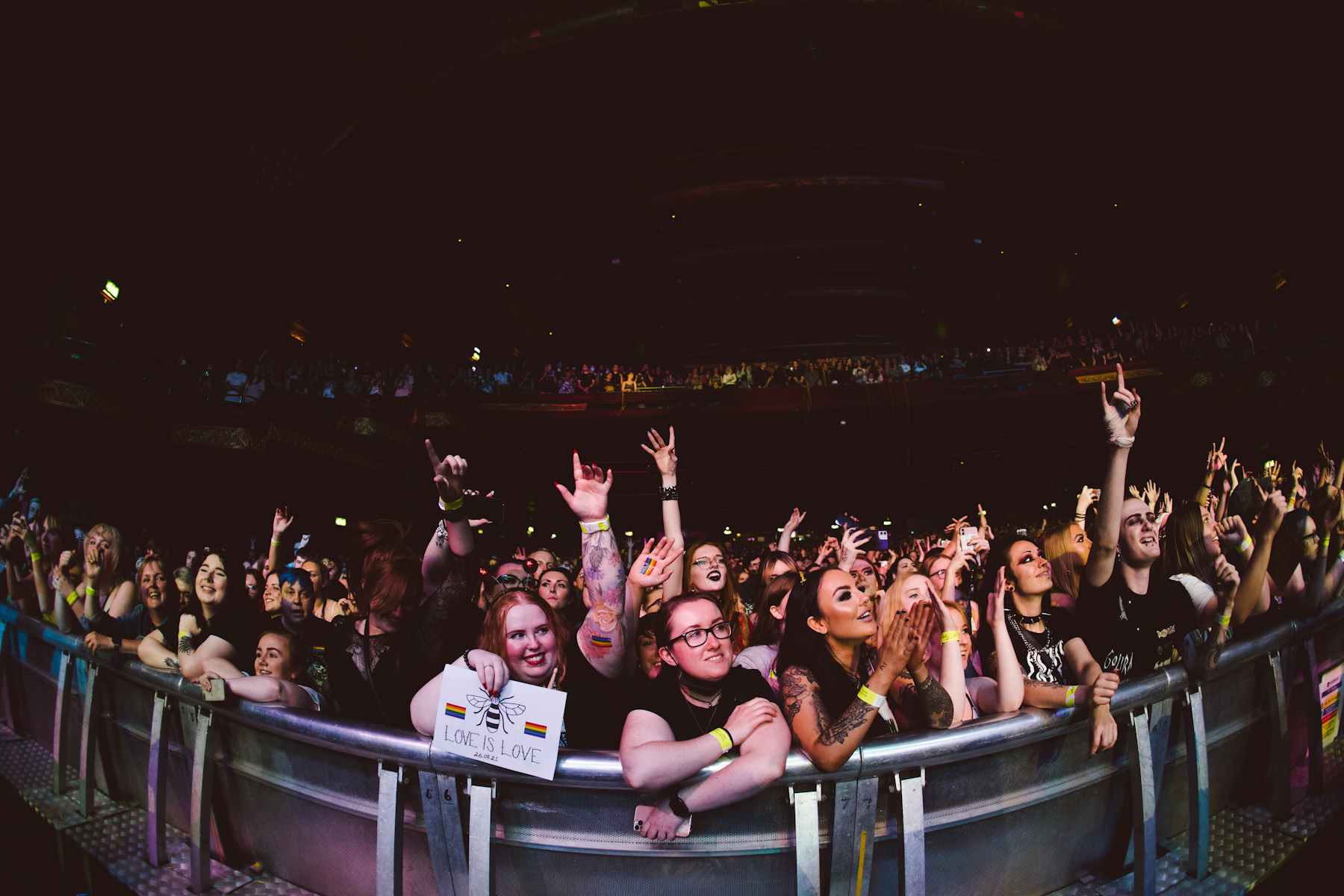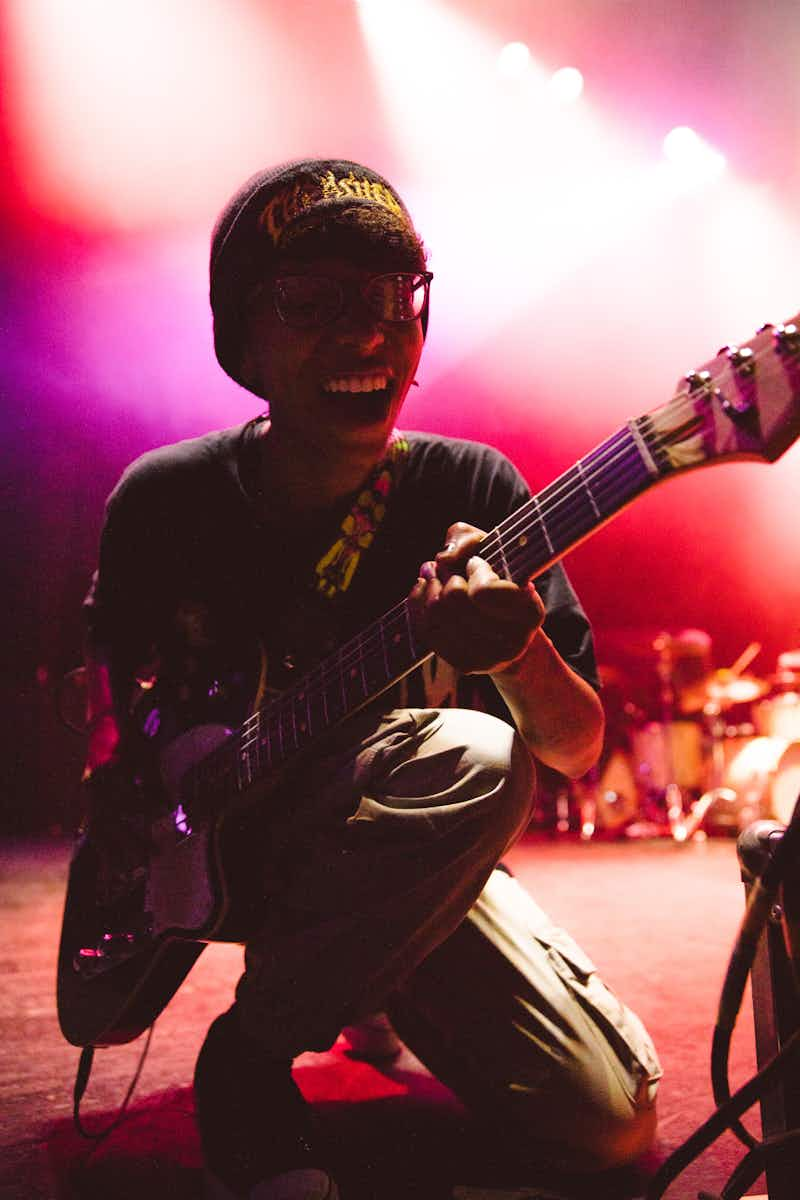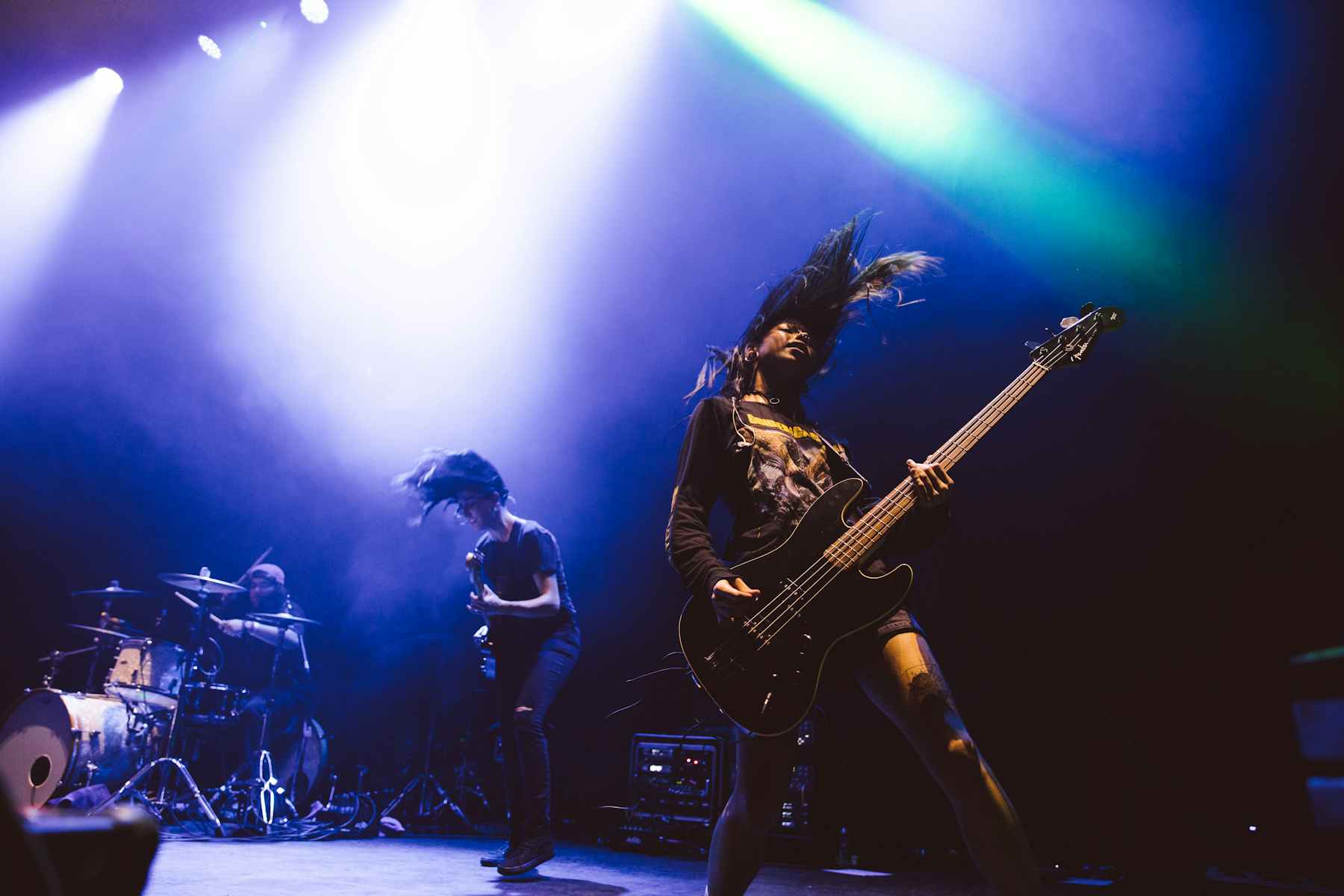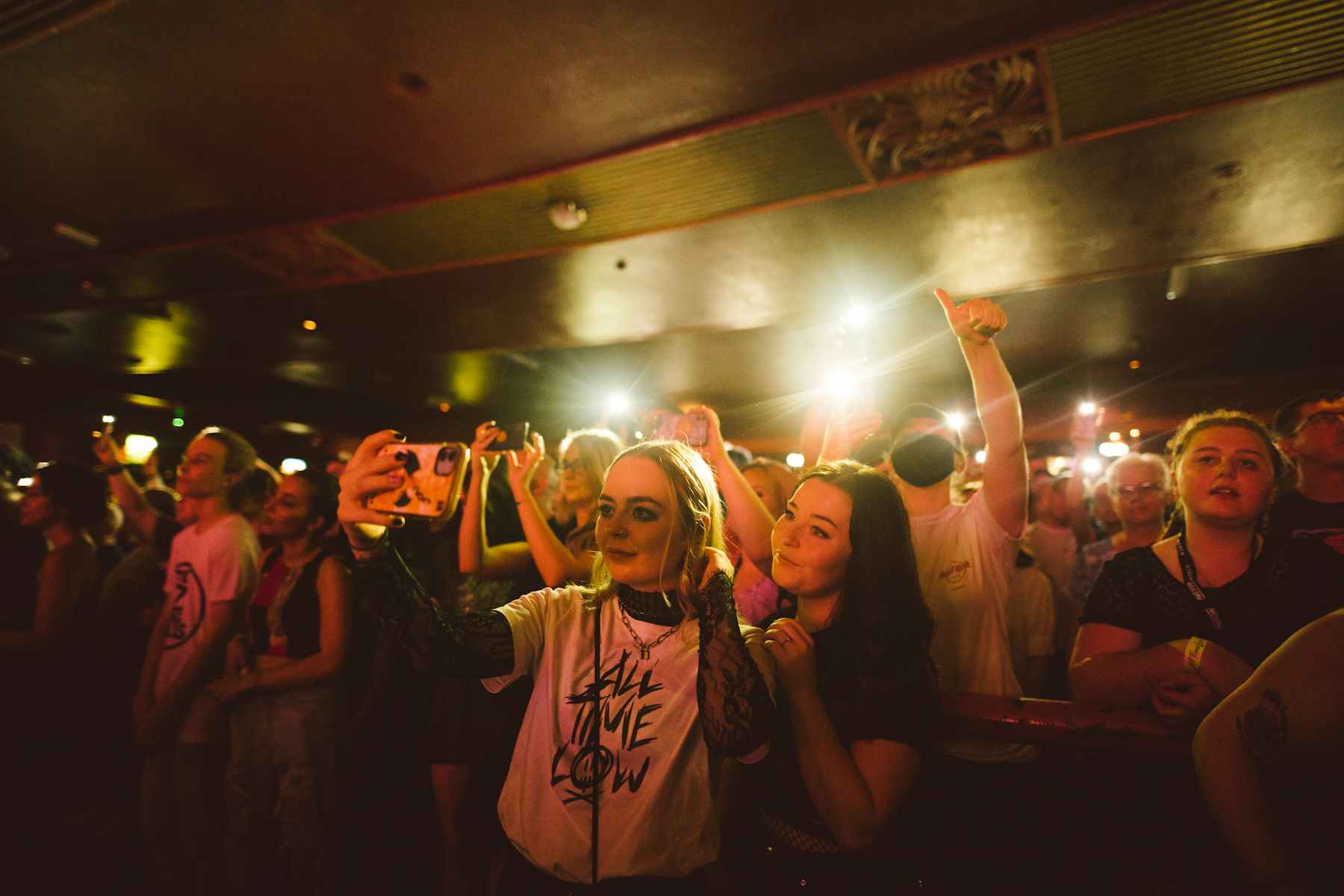 With just a few hours to go until their Manchester Apollo set, it's time for MM@TA to get in the zone. Their stage outfits are the same as their hanging out clothes. Edith Johnson's in an iteration of her signature cropped-tee-over-fishnet-top look, Ada Juarez's in a black baggy tee embroidered with a plant, NASA lanyard still hanging out her back pocket, while Téa Campbell's repping the Spice Girls with an oversized band T‑shirt.

"I love the Spice Girls," she says, stretching the top's print out proudly. ​"It's from Amazon. I mean, fuck Jeff Bezos, but…"

Each band member is also sporting a pride sticker today, gifted to them by Anya from the Brixton show, who's attending every date of the tour and met the band when they arrived at the venue earlier in the day.

Before they take to the stage, the band will form a huddle as they do every night, put their hands in the middle and shout: ​"One, two, three, bad bitches!"

But first, they're reflecting on everything they'd like to achieve in the next few years. No dream is too big for Meet Met @ The Altar. They want Grammys, headline shows at New York's Madison Square Garden, a Glastonbury moment, songs on blockbuster soundtracks, the lot.

"I want to be on the radio so much that you're just annoyed at the song being on all the time," says Edith. The whole band nod in agreement.

"I want to see grandparents humming our song, who are like: ​'Oh yeah, I just heard this on the radio yesterday,'" laughs Ada.

"It's not even for our own gain," says Téa. ​"It's more for people to discover us and realise that they can do it, too. Some people aren't able to not have any representation in the genre and just do it anyway like us."

Basically, as Edith puts it: ​"If we're not the biggest band in the world in five years' time, then we didn't do something right."

We'll meet them at Madison Square Garden.

Watch the music video for Meet Me @ The Altar's latest single Now or Never here and get tickets for their 2022 UK shows with State Champs here.

More like this