How NFTs are liberating music fandom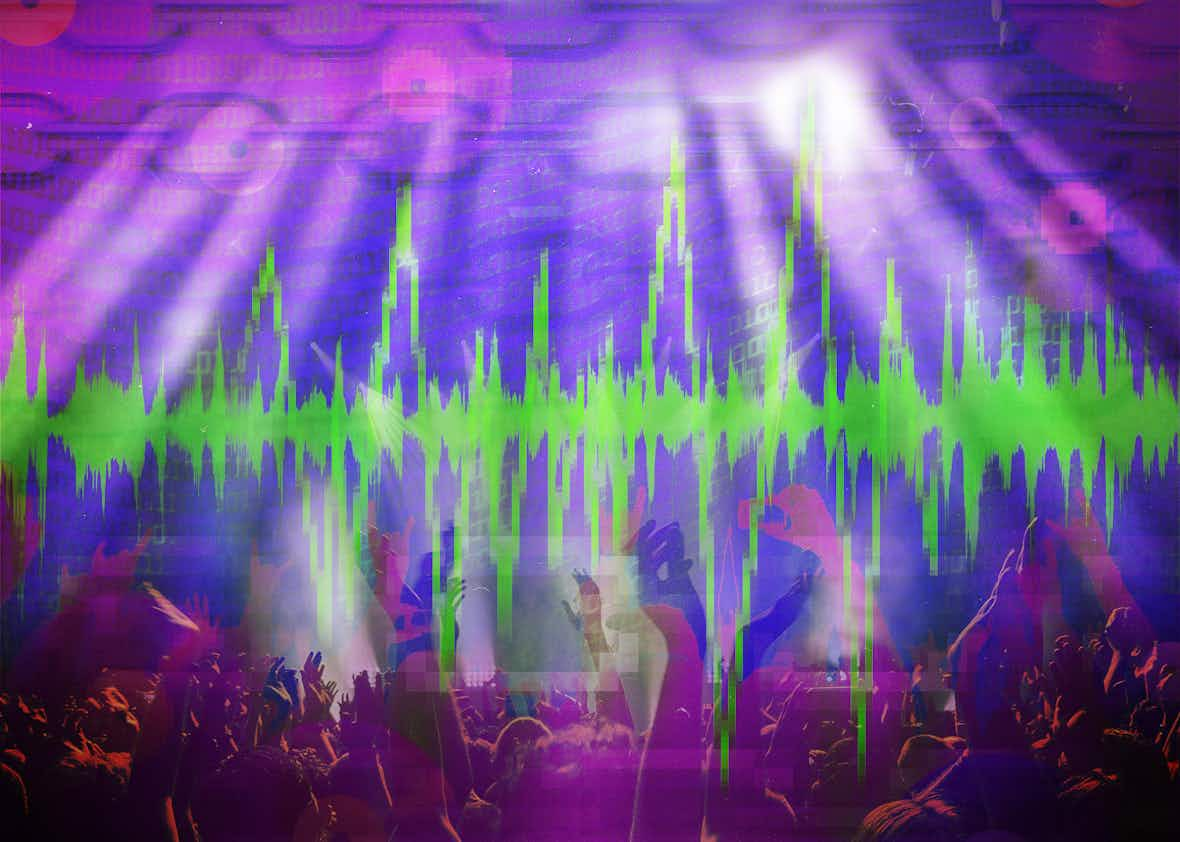 TokenTraxx and other new platforms are giving artists ownership and fans a closer connection to their idols, all thanks to NFTs. No seriously.

By now, you'll know all about non-fungible tokens (NFTs). You might think they're just those shoddy ape drawings that people who made too much money on a meme-coin have decided to buy for far too much money. Admittedly, that is an element of the NFT space, but there's a lot more NFTs can offer people. Stuff that's super useful. Whether you're a​"crypto native", you don't know your Axie Infinity from your Animal Crossing, or you're just so fucking bored of seeing the three letter acronym, allow us a few minutes of your time here. See, naff JPEGs aside, the technology could actually revolutionise a lot of industries. Nowhere is this more pertinent than the music industry.
In short, an NFT is a type of token made on the blockchain, like a cryptocoin, except it's non-fungible, meaning it holds value like a piece of art as opposed to say a £50 note. You can swap a fifty for a fifty, or two twenties and a tenner; a piece of art for a piece of art is a little more hazy: how many Peter Doyle​'s is a Basquiat worth? Hard to say.
When it comes to the NFT itself, it functions a little like a zip file with some nice artwork on the front. Inside the folder, you can have one or many assets (images, music, tickets, videos, private URLs, you name it) and you also have a piece of code. When you own an NFT, you actually own the code, not the assets. Which means that the person who made the assets can change them or update them. Nifty.
The technology is still pretty new, so it needs improving. Luke Kovic, Head of NFT Advisory at TokenTraxx says​"we're probably the equivalent of the Commodore 64 compared to the technological heights of things like a PS5, Xbox Series X, or Nintendo Switch." Mila Lolli, founder of NFTUK, a community aiming to​"unify, grow, connect and educate" people on NFTs and Web3, agrees that NFTs are primitive.​"There is still some solid work to be done. UX [user experience] is still not developed as it is in Web2 which has proven to create issues in various use cases," she says.

Just in case you're not sure, Web2 is the internet as we know it today. Web3 is a decentralised reimagining of the internet which, the people in the space hope, will allow people to own all of their outputs and not have to provide businesses with data, among other features. Web1 is when people basically just had digital text and hyperlinks, like this.
Lolli is also keen to point out that, though it is early days for NFTs, the potential is starting to come through.​"We already have some good examples of artists that have adopted NFTs, such as Linkin Park's Mike Shinoda and Kings of Leon." Back in March 2021, Grimes launched a NFT campaign, selling NFTs which contained artwork and videos set to original music. She earned $6 million, which is the equivalent to a couple billion Spotify streams.
That amount of money is at least competitive with record labels, and allows the artist to retain all of the masters and ownership of their work. If the artist added a royalties structure to the smart contracts, they could keep earning a percentage each time the NFT is sold onwards.
A smart contract is perhaps the most exciting part of the NFT technology. It's an untamperable contract that you can attach to your NFTs. Within these, you can do various things like set a price and a re-sell price, fans can be given a percentage of royalties when they sell it, the creator can choose to give themselves royalties, or donate money to a charity, and more. It gives complete control for the artist to do whatever the hell they want with their work. And because it's decentralised, there's no need for middle-men, ie. record labels.
Simon Hudson, founder of photography NFT marketplace Cheeze and big fan of Apple explains: ​"The NFT is generally stored in a crypto-wallet of some sort. A bit like Apple's wallet feature, but decentralised and very secure."

This wallet allows a lot of potential. For example, for gig tickets to be issued (or minted) as NFTs. The smart contract could make it impossible to re-sell them for more money (or it could cap the maximum price). Given the security aspects, it's also almost impossible to make a fake that would be accepted, too. Though of course crypto (and gig ticket) scams are everywhere, so no doubt the usual suspects will try their luck.

Ticketing applies to sports and other events too, while the art world can also provide fans with unique designs as NFTs. But music benefits from the combination of all of these things. Just as someone might seek out a rare vinyl pressing of a record, or make a point of buying a deluxe version of an album for the extra demo versions of a favourite song, NFTs allow artists to drop more intimate creations to dedicated fans. In a live context, the highly-secure and digital wallets mean that touting tickets could actually make touting a thing of the past.
Like any product, though, you have to be able to buy and sell these NFTs from somewhere. A trusted shop window is needed. The solution seems to be a marketplace. Enter: TokenTraxx, a NFT marketplace which is currently in Open Beta mode, which means you can use it, but it's still being heavily tested and updated. They plan to launch fully later in 2022, and will focus on the music and NFT intersection.
As TokenTraxx's Kovic explains:​"Sound.xyz is probably the most dominant music NFT marketplace right now, and we respect what they do. We want to be more flexible with the creative nature of the artists, and the changing appetites of consumers in the music NFT space." What Kovic is alluding to is that on TokenTraxx, artists will be able to​"drop songs, but really anything the artist wants to create."

Rat Boy, who you might remember came onto the indie music scene in 2015 is onboard with TokenTraxx already. He's also a multimedia artist, and has designed and visualised Dystopia World, a metaworld of sorts where​"four gangs battle it out in everlasting turf wars". It will feature​"drops" that include NFT cars, weapons, hide-outs and more, along with soundtracks written by Rat Boy and friends.
Other recent drops include TraxxStemz, a unique format of NFTs which is set to challenge the perceptions of creation, ownership, rarity and value of music and art. The project is launching with an NFT collection named ​"Revolution" in partnership with the band, Graffiti6 later this summer. The collection has 3,030 distinctive pieces of combined music and art, with each NFT formed from the layers of an original Graffiti6 recording and its remixes, randomly combined to create unique versions – each is augmented by randomly generated artwork.

Meanwhile, OpenLab, an innovative music and arts platform based in Ibiza famed for discovering new artists, announced that on 29th July, a highly limited number of OpenLab Future Passes will be made available through TokenTraxx. The OpenLab Future Pass will offer holders a benefits like VIP access to events and exclusive online content.OpenLab will also be delivering regular drops of collaborative audio-visual collectibles with leading artists as the first of TokenTraxx's curatorial partners.

According to Kovic,​"improving the connectivity and the experience between the artist and fan" is one of the areas where NFTs can be a very instrumental force – a key focus for TokenTraxx. The NFT collectibles in Rat Boy's Dystopia World will be purchasable with cryptocurrency MATIC, which is the native cryptocoin of Polygon. If crypto wallets and all of that sound like a confusing intricate headache, well Kovic (and Lolli, and Hudson) agree. Kovic says they're looking to simplify how wallets are accessed.​"We're very close to launching Visa, and MasterCard payments for these NFT experiences too," says Kovic.
But whoa, hang on a minute, didn't crypto crash and burn into a million digital pixels recently? Rare things like records tend to keep value (if they haven't been played and the artist doesn't become a shit person), so why would we invest in something so volatile? ​"It's a good question", says Cheeze's Hudson.
"We decided to use USDC as a stable coin, because USDC is fast becoming the kind of Visa brand of the blockchain world. As a stablecoin, its value is pegged to real currency, too. As a photographer. If you want to sell a photograph for £1,000 today, using a crypto like Ethereum might mean that tomorrow, it's suddenly worth £200. With USDC you know what you're going to get."
Kovic says that TokenTraxx will allow the artist to mint on different blockchains, which have their own native cryptocurrency. ​"We're purists," he asserts. For Lolli,​"Crypto goes into cycles, volatility can have positive and negative impacts but if a project is built the right way it should be able to continue independently of the cycles that present." Kovic also reassures that​"at TokenTraxx we've got personal relationships with the artists. There are phone numbers that people can call if there's concerns about what's happening in crypto. We have a deep understanding of the industry, and we can talk it through."
As of April,
EarthWeb
estimated that around 360,000 people own NFTs. Roughly the same number of people live in Coventry. Which shows just how new and emerging the industry is. But undeniably, artists, businesses, and fans are increasingly flocking to NFT marketplaces like TokenTraxx and Cheeze. As creatives do, they're looking at the new, the next. They'd also like to own their art and make better money from it. And who can blame them? Chances are, where the art goes, fans are likely to follow.

More like this