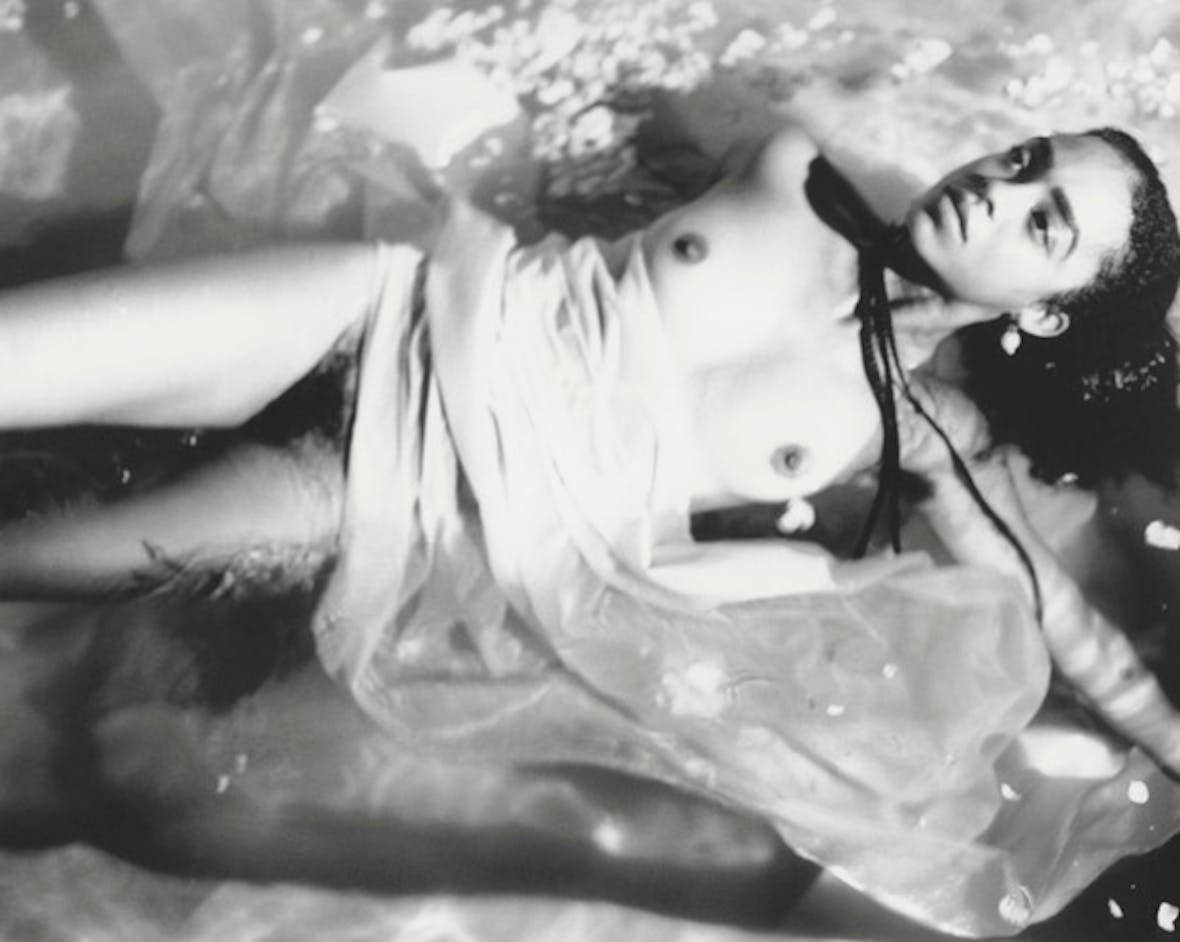 Kelsey Lu curates: NYC's avant-garde
Kelsey Lu started playing cello at nine and advanced her music skills at the University of North Carolina School of the Arts, but it wasn't until she started partying and jamming with underground rap crew United Minds Conglomerate that she discovered her singing voice. Her 2016 debut EP Church – recorded in a Catholic church in Brooklyn – saw Lu provoke powerful emotions with minimal instrumentation and she's gone on to develop a free-spirited stage presence (looping her cello to free up her limbs to dance) and her good-natured humour raises smiles in the crowd.
Since Church, she's collaborated with Solange, Lady Gaga, Blood Orange, Kelela and Oneothrix Point Never. On 19 April, she releases her debut LP Blood, featuring production by Jamie xx, Skrillex and Adrian Younge and cover art shot by Tyler Mitchell. She's now based in Los Angeles, but New York City has been key to her artistic development. The musician weighs in on the NYC collectives, musicians, artists and activists who've inspired her.




"Years ago, within my second year of living in NYC, I met a collective of artists known as HowDoYouSayYamInAfrican. I joined the collective working on a few projects together that brought me all over the world and also led me to meet some extremely talented artists. One of those artists was Dachi Cole. I first saw her work when it featured in a film I was a part of that brought me into the collective in the first place called Good Stock on the Dimension Floor: An Opera. In it were images of her drawings and watercolours of cowboy characters. I distinctly remembered that part of the film because it stood out from the myriads of stories happening throughout the film. It was almost as though the characters started to pop out of the screen and dance in front of it. It was Jazz.
I've seen her make some doll sculptures that felt like they were living within the realm of the here and now and the past and the future. There are artists that are led by some spiritual earth guides and I feel like Dachi is one of those. She's a style icon both fashionably and artistically because she's in her own lane. Also, we both have a bunny thing going on. We recently collaborated on a short film for a song of mine that she both illustrated and animated called Blood, make sure you go to it."
"I first met Kelly through Oneohtrix Point Never because of her being in his band. Kelly's energy was kind, full and pure. We bonded over being 'orchdorks' and I sensed there was much more behind those gestural piano moves. The first time I saw her play with Daniel [Lopatin, aka OPN], I was like, 'Oh yeah she shreds, I can tell', then she sent me her music. I was jolted into another world - one that seemed familiar but fresh. Familiar in a way that was triggering to the Baroque sounds of claviers and harpsichords, but with a modernity of electronica. I myself love visual music, and hers is full of colours and movement. It's a bit of an acid trip – the part where your eyes feel like they are opening wider than your face and you can stare at the sun for longer than you should be allotted, and then when you close them, the world melts into the back on your skull and drips down your throat. I'm very much looking forward to the day that we create something together and I highly suggest checking out her latest album, Ultraviolet."
"From the moment I met Diamond, I knew I'd never forget her name or her voice and that we'd be friends. The first time I saw her was when she was doing a reading at the opening of her show in New York at QT Gallery in Chinatown back in 2016. Since then we collaborated on the cover of my first EP, for which she took my photo inside one of my favourite places in New York, Brooklyn Botanical Gardens.
I've since had the pleasure and pride of seeing her work featured in the Triennial at New Museum in 2018. On the ground floor accompanying the entry to the elevator was one of her Kanekalon braid sculptures that ascended up into the ceiling seamlessly through the grounds above one another, eventually making its way to its start at the top floor. When coming out the elevator, you were then met by her larger-than-life scaled sculpture of a childhood swing set made out of aluminium. It gave me the feeling of nostalgic happiness for my childhood, but also an uneasiness of possible fates and outcomes. Since then she's been soaring and shining. Make sure to check out her latest book, Life In My Pocket."
"I met Sean through Diamond Stingily. I started following them on Instagram and their handle – @niggawitagrape – was enough to reel my ass in. Then when I found out they were also a Taurus, well, it was really on. One of their performance pieces was when they made a video of themselves putting on white face. The dialogue was freely flowing, confident and aware. It emoted real tears. There was humour within the chaos of the darkness of whiteness. They had an installation during BLK History Month in NYC at Picture Room called Moon Cricket – derived from antebellum colloquial slurs for slaves who were weary and working through the night.

Unfortunately I didn't get a chance to see it in person, but the photos I saw made me feel similar emotions to when watching their videos. There was a whole scene of characters having a great time, flowers with faces, clouds with red lips and bright eyes smiling sweetly. At first sight, one of happiness and a childlike sense of joy, but then as the observation deepens there's also an unnerving twitch in the corner of my mind based on the reality of the depth of racism when it comes to imagery specifically in children's cartoons and animations that were attempting to use imagery as a source of degrading humiliation. That weight is then lifted because there's a reclaiming of power in this historical dynamic. If you're in NYC over the summer, make sure to check out their show MMHHHMMM at Larrie."
"There are some people you never forget meeting, and there's some art you can never unsee. I first met Janiva in LA when we both moved there from New York. Her smile and energy was bombastically intoxicating and just straight up fun. She got me into Massive Attack deeper than I had been.
I hadn't seen her paintings and then one day I went over to her house that was also her studio and got a glimpse of something that was a work in progress. The layers of imagery within the layers of colours seemed larger than life and like they were referencing things I either knew through a feeling, a visual reference or an experience. I then went to see one of her shows in New York, and being able to see all of the finished works together brought on the melange of characters that made me laugh, cry, feel confusion, anger, joy – all of the feelings. The conclusions were endless. She will be showing at The Whitney Biennial this year so make sure to go check out her show if you're in NYC."
"'Taking up space I'm not meant to be in. Creating and collaborating with people who look like me and forcing others to do so as well.' When I read this in Shaniqwa Jarvis's interview with the New York Times I felt kindred to her sentiment on my end, specifically when it came to an observation of personal existence within the classical music world. After my first year at arts college, I left behind an uncertainty of what capacity my return would be, especially after listening to people talking of their Black experiences while existing and maneuvering within the world of classical music."

When I received her book, it immediately emoted joy. Between the colouring of the book, the feel of the binding, the font and most obviously the cover image of the little girl (who happens to be Shaniqwa's niece, dressed up in clothing noticeably larger than her body, wig and dialling who knows who on her Blackberry) therein lies a beautiful capturing of raw beauty and trust, mixed with observations and experiences that we can all relate to – whether we are lucky enough to be aware of them or not."
---