Why are rap lyrics being used in courts?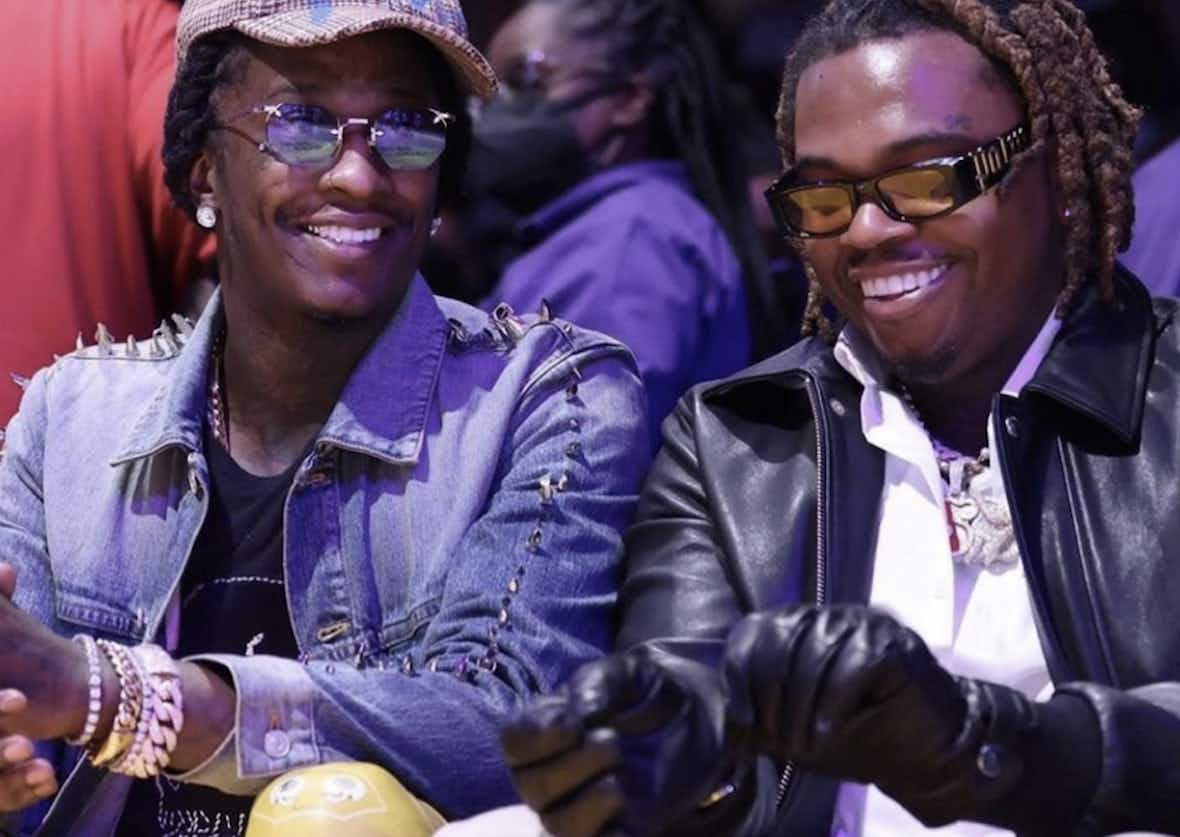 Young Thug and Gunna are facing heavy gang-related charges and prosecutors are citing lyrical content as evidence. Yet the use of rap lyrics in court has been shown to be overwhelmingly prejudicial – and to reinforce racist stereotypes. So why is it still happening and what is being done to stop it?
On Tuesday, Young Thug joined a list that includes ​"Big Paul" Castellano, ​"Fat Tony" Salerno, ​"Tony Ducks" Corallo and ​"Rusty" Rastelli, as well as an array of other, fictional mobsters like Tony Soprano and Tony Montana, who've all been fingered by the US government under the RICO Act.
RICO stands for Racketeer Influenced and Corrupt Organisations. The Act was introduced in the US in 1970 in an attempt to combat the Mafia and other organised crime groups. In the years since, its use has expanded to target corrupt FIFA officials, Major League Baseball commissioners, and professional tax avoiders.
Thugger, named in the Fulton County DA's indictment as Jeffrey Williams, was arrested in a raid on his home on Tuesday morning. He appeared in court on Wednesday to be read the charges for his alleged crimes, which include possession of marijuana, hydrocodone, and methamphetamine with intent to supply, as well making ​"terroristic threats" after he threatened to shoot a mall cop in 2015. ("If you continue to approach, I'll shoot you in the face with a gun," he is recorded as saying.) The allegations date back to 2013, around the time Thug was transitioning from underground Atlanta artist to global rap star.
He was named alongside 26 other associates of his Young Stoner Life label (also known as Young Slime Life or YSL). Included among them was fellow chart-topping rapper Gunna.
The District Attorney leading the case, Fani T. Willis, told the press that she'll be pursuing the ​"maximum penalties", meaning that many of those mentioned in the indictment, if convicted, could face stretches of up to 20 years in prison.
Young Thug's lawyer, however, has vowed to clear his name entirely, saying that Thug has ​"committed no crime whatsoever, and we will fight to my last drop of blood to clear him."

Has anything happened like this happened to rap artists before?
Thugger isn't the first hip-hop artist to be arrested on RICO charges. Street mixtape pioneer DJ Drama was prosecuted under RICO laws (in the same county as Young Thug) for bootlegging CDs in 2007, while Bobby Shmurda was found guilty under the Act in 2014.
More recently, in 2018, rainbow-haired provocateur Tekashi69, now known as 6ix9ine, was charged with violating the RICO Act and became a star witness for the government when he testified against his alleged Nine Trey Gangsters associates.
What is different about Young Thug's case?
One significant way in which the indictment against YSL differs from the paperwork that put down Fat Tony et al. is the inclusion, on at least 10 occasions, of lyrics from the rap songs that have helped make Thugger and Gunna famous (including one confusing instance in which a Juice WRLD bar is attributed to Thugger).
The selection of lyrics ranges widely, from lines like ​"YSL, wipe a n**** nose" from Eww and ​"I get all type of cash, I'm a general" from Anybody, to ​"I never killed anybody but I got something to do with that body" (also from Anybody) and ​"gave the lawyer close to two mil, he handles all the killings" from Just How It Is. In the indictment, these lines lifted from songs sit alongside accusations of drug dealing, murder and illegal firearm possession.
As well as lyrics, the indictment repeatedly points to social media posts, jewellery, tattoos, and even emojis (green snakes, vomit, nose-blowing) that reference YSL. There is little mention of YSL being involved in releasing records, despite it being ultimately owned by Warner Music Group, a record label.

Why have lyrics been included in the Young Thug indictment?
In the full indictment – a lengthy, 88-page document stuffed with legal jargon – Young Thug's lyrics are described by the prosecutors as ​"overt act[s] in furtherance of the conspiracy".
In RICO cases, separate incidents and acts – apparently anything from shootings to posts on Instagram – can all be rolled together by prosecutors into the same narrative.
So Young Thug's lyrics aren't attached to specific charges in this instance. They're being used to add colour to the picture that prosecutors are trying to paint – specifically, of Young Thug as the leader of a serious and dangerous organised criminal enterprise.
In the UK, prosecutors have used rap lyrics in a similar way. They commonly appear in what are known as ​"Bad Character Applications", which lawyers use to argue that a person has a ​"disposition towards misconduct." Put more simply, it's a way of saying ​"this person has written violent rap lyrics, so they have a tendency towards violence themselves".
It's then up to judges and juries to decide whether there's a link between enjoying a particular kind of Black music and committing crimes. It's a debate that's been had over music, films and video games for decades. And it almost never ends well. The racial bias in cases involving music is especially pronounced.
Andrea L. Dennis and Erik Nielson, authors of Rap on Trial: Race, Lyrics, and Guilt in America, cite a psychological study from the late 1990s that found that people were more likely to believe a hypothetical 18-year-old Black male was capable of murder if they had been shown examples of his violent and sexually explicit rap lyrics.

Is Young Thug the first rapper to have his lyrics used against him?
The short answer is no. Not by a long stretch. And the issue is only becoming more prominent.
As far back as 2008, during the trial of rapper Vonte Skinner over a shooting that occurred in 2005, prosecutors read out 13 pages of Skinner's violent lyrics to the jury. All of these lyrics had been written long before the shooting had occurred and none of them mentioned details of the crime or victim involved in the case being tried.
Skinner was found guilty of attempted murder and sentenced to 30 years in prison. Four years later, his conviction was overturned. When overturning the conviction, the New Jersey Supreme Court was clear in stating that the lyrics should never have been allowed to be presented as evidence in the trial.
Despite the controversy that Skinner's case caused – and the clear ruling from the Supreme Court – the practice of using rap lyrics as evidence in court has only increased.
Prior to Young Thug's arrest, one of the most high-profile examples of lyrics being used against a rapper as evidence of gang activity was during the trial of late LA rapper Drakeo the Ruler.
In 2018, Drakeo was arrested and charged with murder, attempted murder and numerous accounts of conspiracy to commit murder, following the death of Davion Gregory. He'd been charged with unlawful possession of a firearm by a felon a year earlier, but never convicted, and maintained throughout his legal troubles that the district attorney leading the case, Jackie Lacey, had a vendetta against him as a result.
Drakeo was acquitted of the murder and attempted murder charges in 2019, but remained in prison after Lacey decided to use Drakeo's lyrics and musical output to try and prove new charges that he was operating under a ​"criminal gang conspiracy."
Drakeo's Stinc Team crew, like Thug and his YSL label associates, were branded as a ​"gang" by prosecutors. In an interview with The Fader, Drakeo described his treatment as ​"outright racism".
This has happened in the UK too: ground-breaking south London drill crews 67 and Harlem Spartans have both been characterised as gangs. This kind of sweeping, dangerous categorisation is often propped up by lazy or superficial media reporting. In 2017, Buzzfeed News rode along with the Met Police and parroted descriptions of both 67 and Harlem Spartans as ​"gangs" – before later publishing a correction, after the music groups got in touch.
A loose lyric from 67 crew member Monkey on 2015's Today has since become both a rallying cry and a defence of sorts: ​"67 ain't a gang it's a family."
Defence lawyers frequently argue against the use of such sweeping prejudicial language. They say that it creates a dangerous catch-all that can be used to sweep innocent defendants into a wider criminal net.

Human rights lawyers in the UK have fought specifically against the Metropolitan Police's use of its Gangs Violence Matrix – an opaque database that uses vague criteria to designate predominantly young Black boys and men as ​"gang nominals" – calling it ​"part of the problem" and arguing that it ​"is fuelled heavily by racist stereotypes."

Where else is this happening?
Pretty much everywhere and anywhere you can think.
Rappers in Cuba, Cambodia, Russia and Brazil have all faced similar treatment. In Spain, Catalan rappers have been arrested under anti-terror legislation for criticising the government.
Increasingly, and concerningly, lyrics are cropping up in UK courtrooms, too.
When Homerton rapper Unknown T was on trial for murder and violent disorder in 2019, prosecutors attempted to introduce examples of his writing as evidence against him.
However, these attempts were blocked by the judge presiding over the case. The court had warned against referring to Unknown T specifically in relation to drill music because of the ​"substantial prejudice" that the genre attracts. Unknown T was acquitted in 2020.
This intervention from the judge was and remains an unusual occurrence for a UK court.
In an analysis of 30 appeal judgements between 2005 and 2020, Abenaa Owusu-Bempah, a law professor at the London School of Economics, found that prosecutors consistently use rap lyrics and music videos to bolster harmful stereotypes of Black men and boys as criminals.
High profile UK rappers including Digga D and Skengdo & AM have been penalised under oppressive anti-terror laws and slapped with suffocating license terms and Criminal Behaviour Orders which continue to limit when, where, and how they can record, release and perform their music.

What is being done about the problem?
As high profile cases like that of Young Thug and Gunna continue to draw attention to the issue, more pressure is being placed on courts to form stricter guidelines on whether lyrics should ever be used as evidence.
Rap fans, experts, academics and concerned defence lawyers on both sides of the Atlantic (and elsewhere) are fighting for lyrics to be excluded entirely.
An argument commonly made is that lyrics should be interpreted in their context and viewed through an artistic lens, as opposed to one that's purely criminological.
A prosecutor plainly reading out rap lyrics and then asking a police officer to interpret them for a jury clearly doesn't meet this standard. Bob Marley didn't shoot the sheriff or the deputy. Nor did Johnny Cash commit murder in Reno.
In January, Jay‑Z, Meek Mill, Kelly Rowland, Fat Joe, Killer Mike and more signed a letter urging New York lawmakers to back new legislation that would prevent rap lyrics appearing as evidence in criminal trials in all but the most egregious cases, in which there's ​"clear and convincing proof" of a link between the lyrics and the crime at hand.
In 2019, Krept & Konan launched a petition in the hope of generating similar traction to stop police from using the Serious Crime Act to prosecute musicians like Skengdo & AM. It cites curbs on freedom of speech (something right-wing politicians in particular love to bang on about when it suits them) and depriving the young and disenfranchised of a voice.
However, these remain uphill struggles.
Defence teams are still faced with judges and prosecutors who are less amenable to the idea that rap music, however charged with machismo and braggadocio and coloured with violent streaks, can be a form of artistic expression – and not simply a confession.


More like this