Review: Elton John in Vienna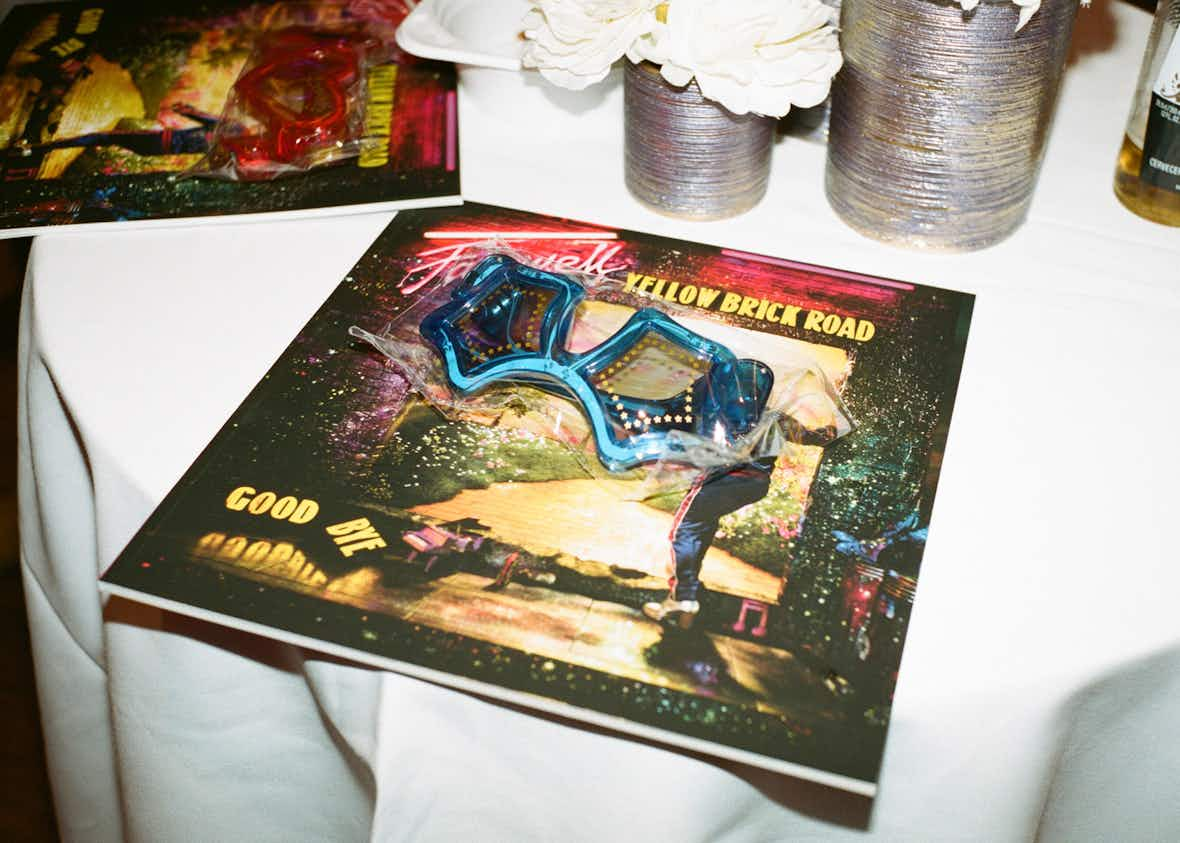 Sir Elton Hercules John, the great entertainer, rolls into Vienna to start his Herculean final outing.
Rating: 4/​5
And so the last, great tour of one of the last, great entertainers rolls into Vienna for the first European date of the long goodbye: a Herculean final outing for Sir Elton Hercules John, more than 300 shows across five continents, the fitting end to half a century on the road.
The retirement comes with the former Captain Fantastic's stock, if not at an all-time high, then at the very least a latter day one: a Gucci SS18 show paying tribute to the musician's once maligned form of sartorial expression; an upcoming silver screen biopic, Rocketman, ​"based on a true fantasy" and set to see Taron Egerton follow in the prosthetic teeth marks of Rami Malek's box-office chomping Freddie Mercury. He's going out with a bang, Sir Elton, with a show that eclipses even his Starship-jetting, mid-70s heyday: 6 tour buses, 25 lorries, over 100 crew members, and a 100,000lb stage set (replete with 71,000 square inches of gold-leaf and a whopping great 66ft LED telly).
Which is why it's funny when he sneaks on stage in such an anonymous way, the lights low enough to not quite make him out. Once the cameras do find him, as they do throughout the evening, he's found to still be, at 72-years old, a brilliantly game performer: an opening rendition of Bennie and the Jets followed by a slam of the piano lid, a roar at the crowd and a stomp of feet like some outsized toddler dressed in Gucci. His fingers hang out of frilled sleeves like beautiful sausages wrapped in curtains, and a mere close up of them on the keys elicits a roar from the crowd like a reply of Messi at Camp Nou. Even his socks look expensive.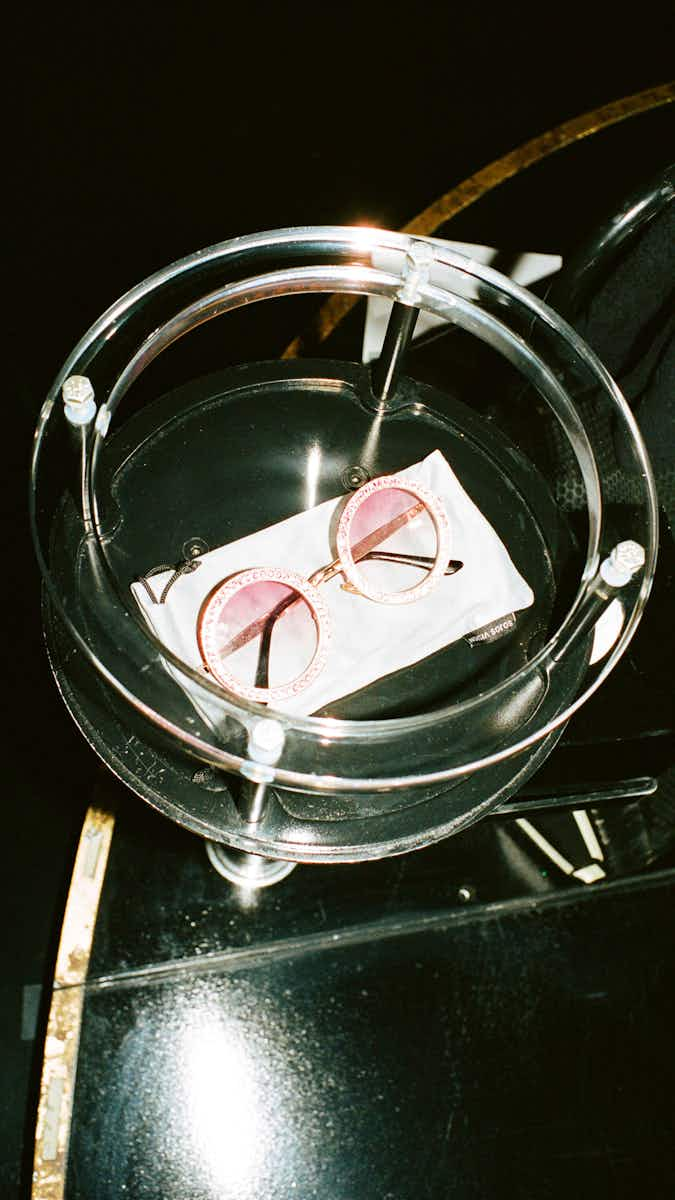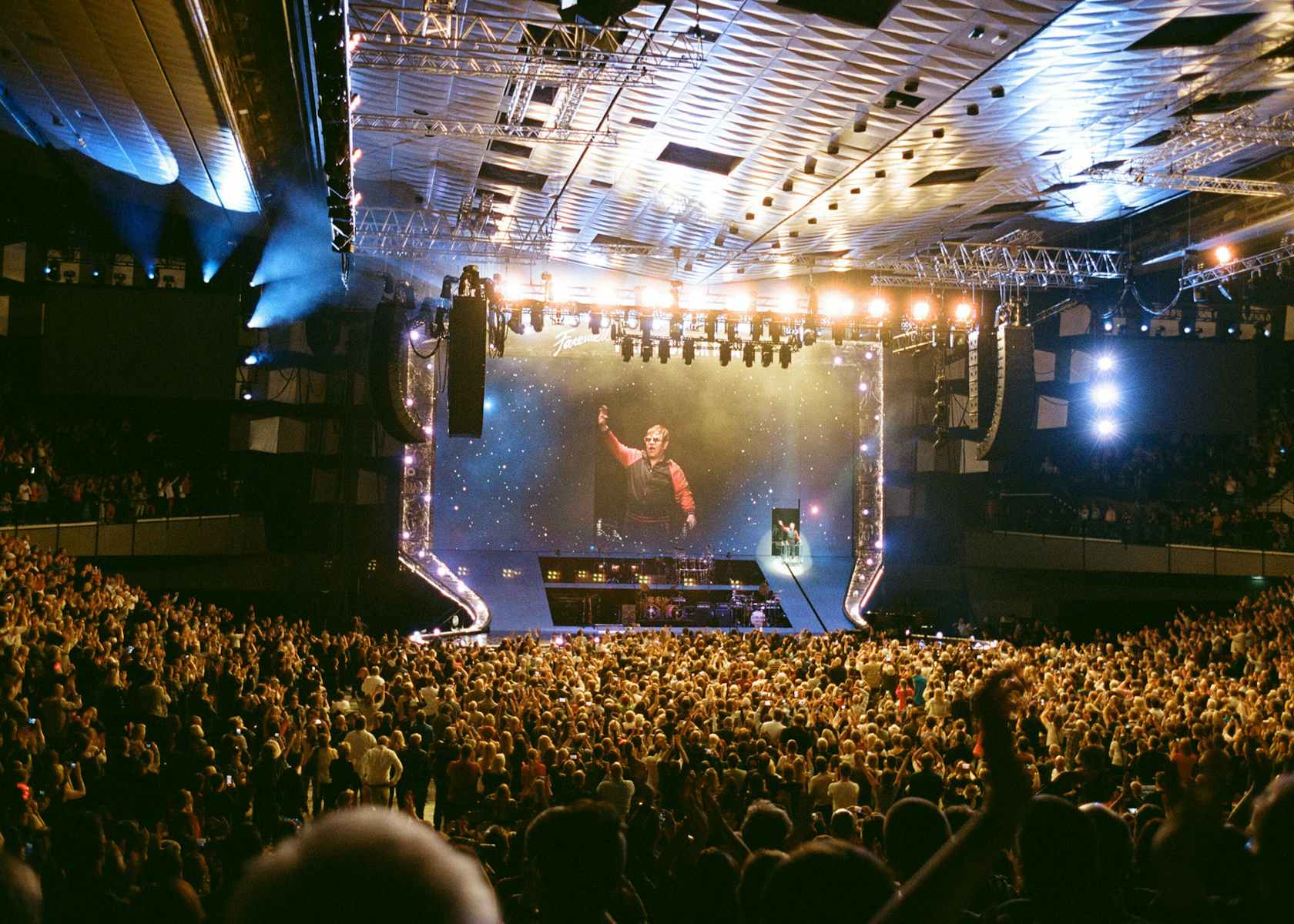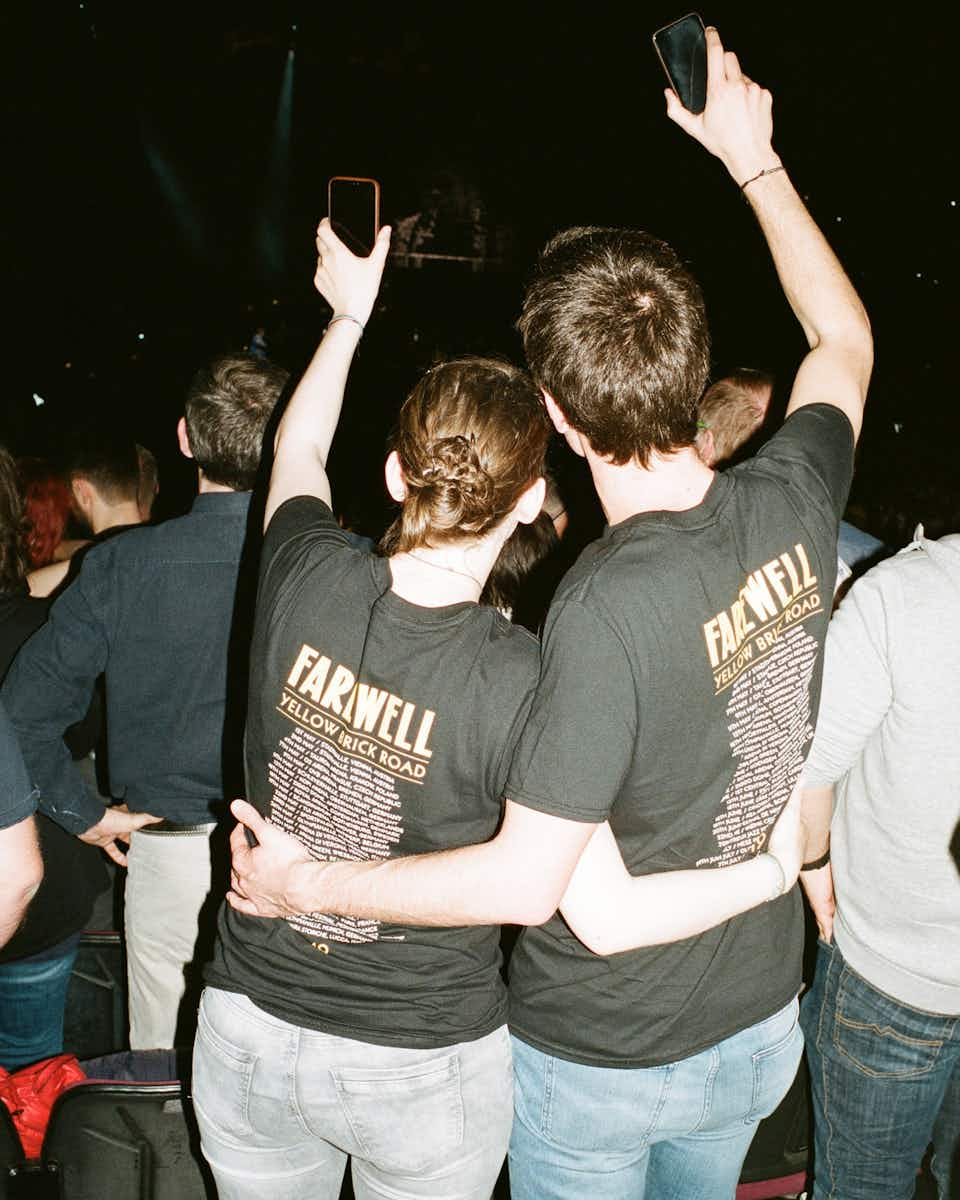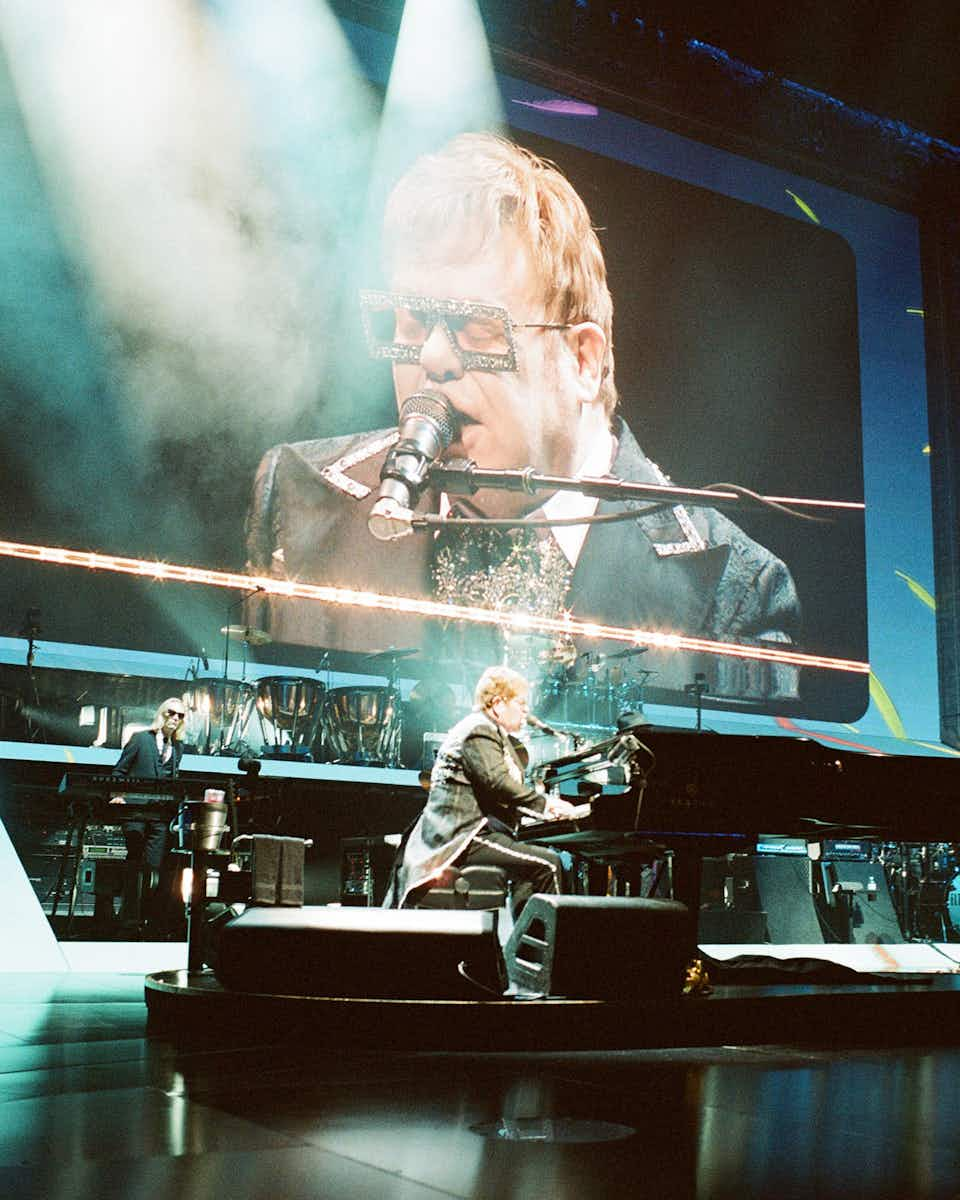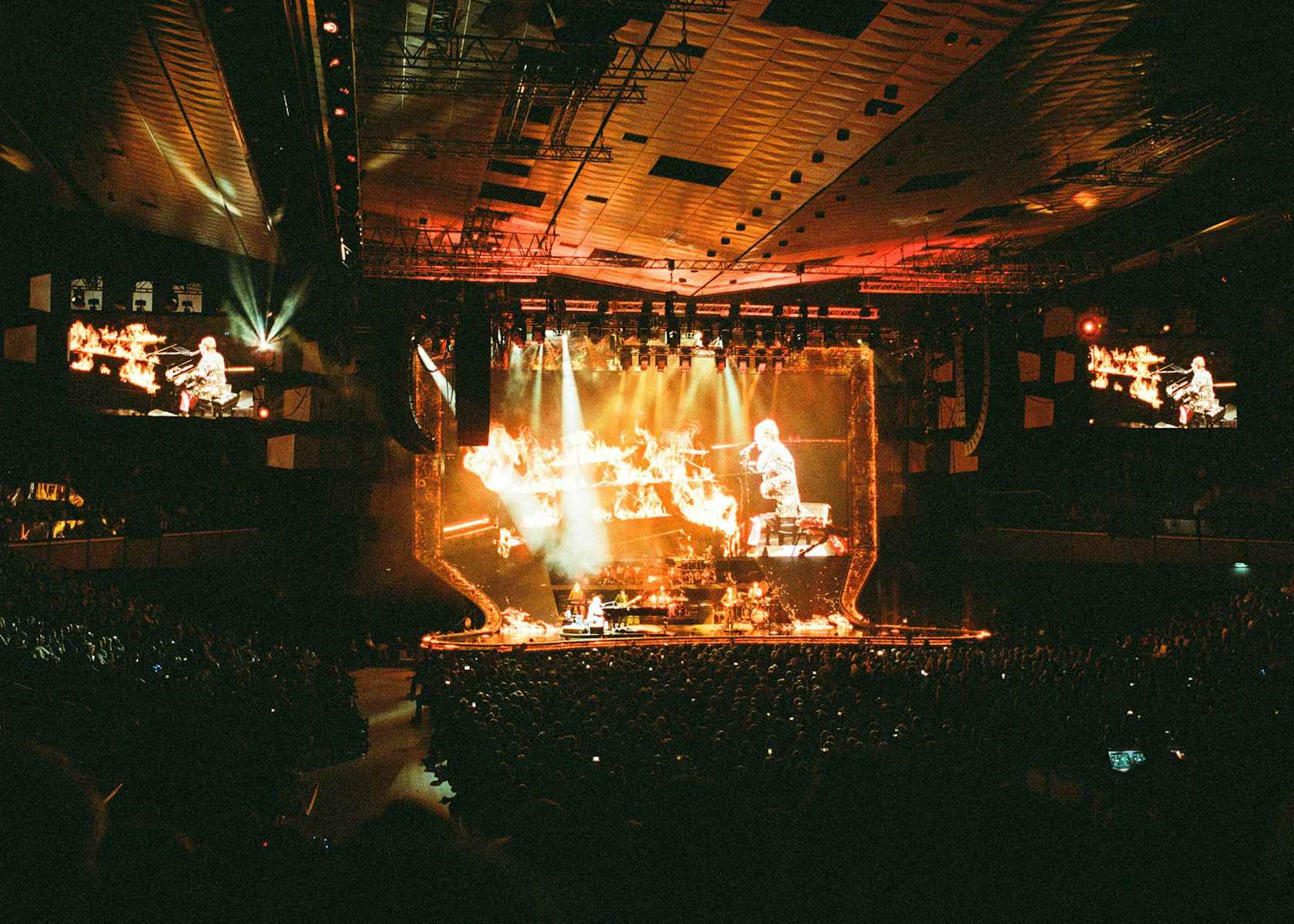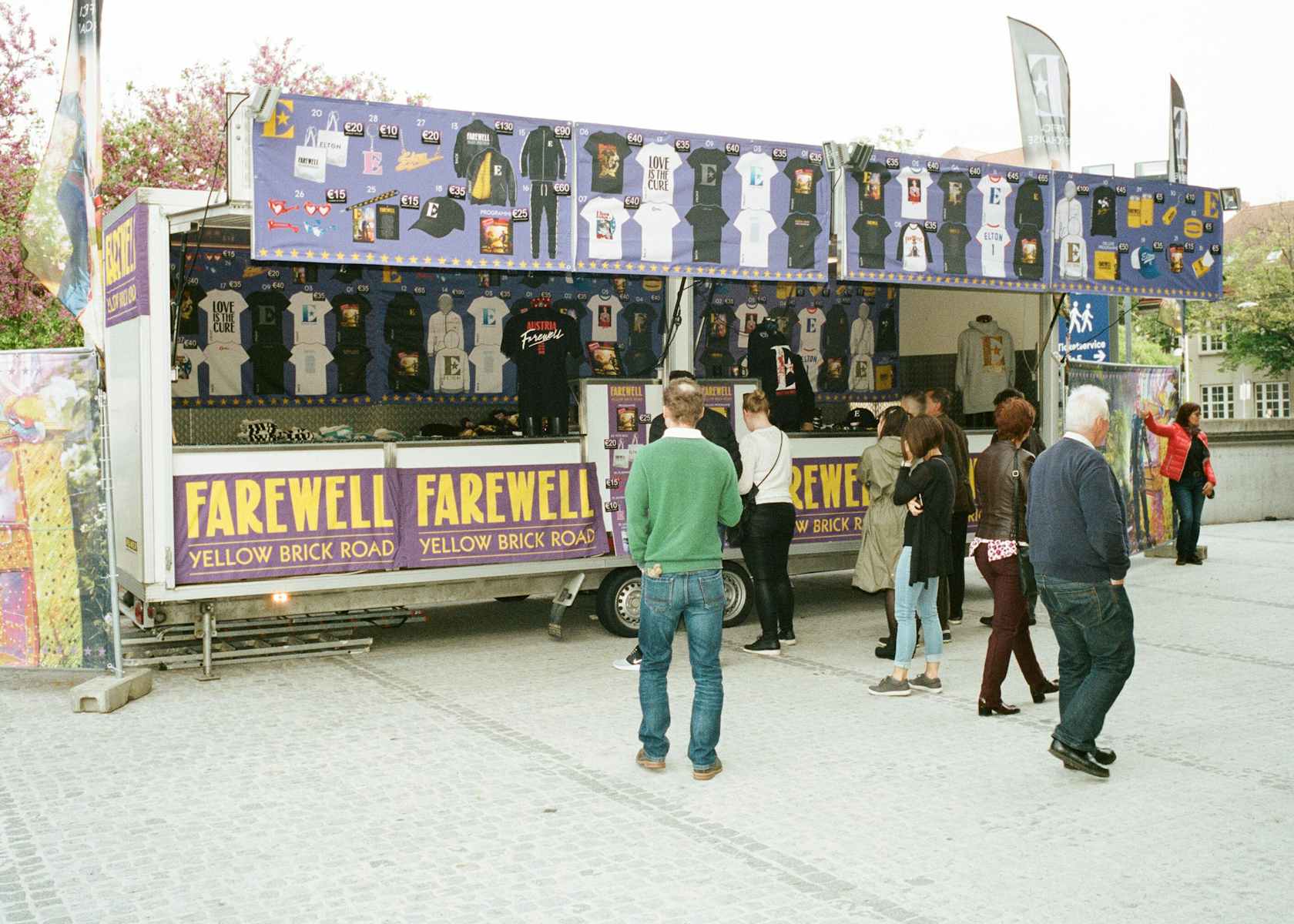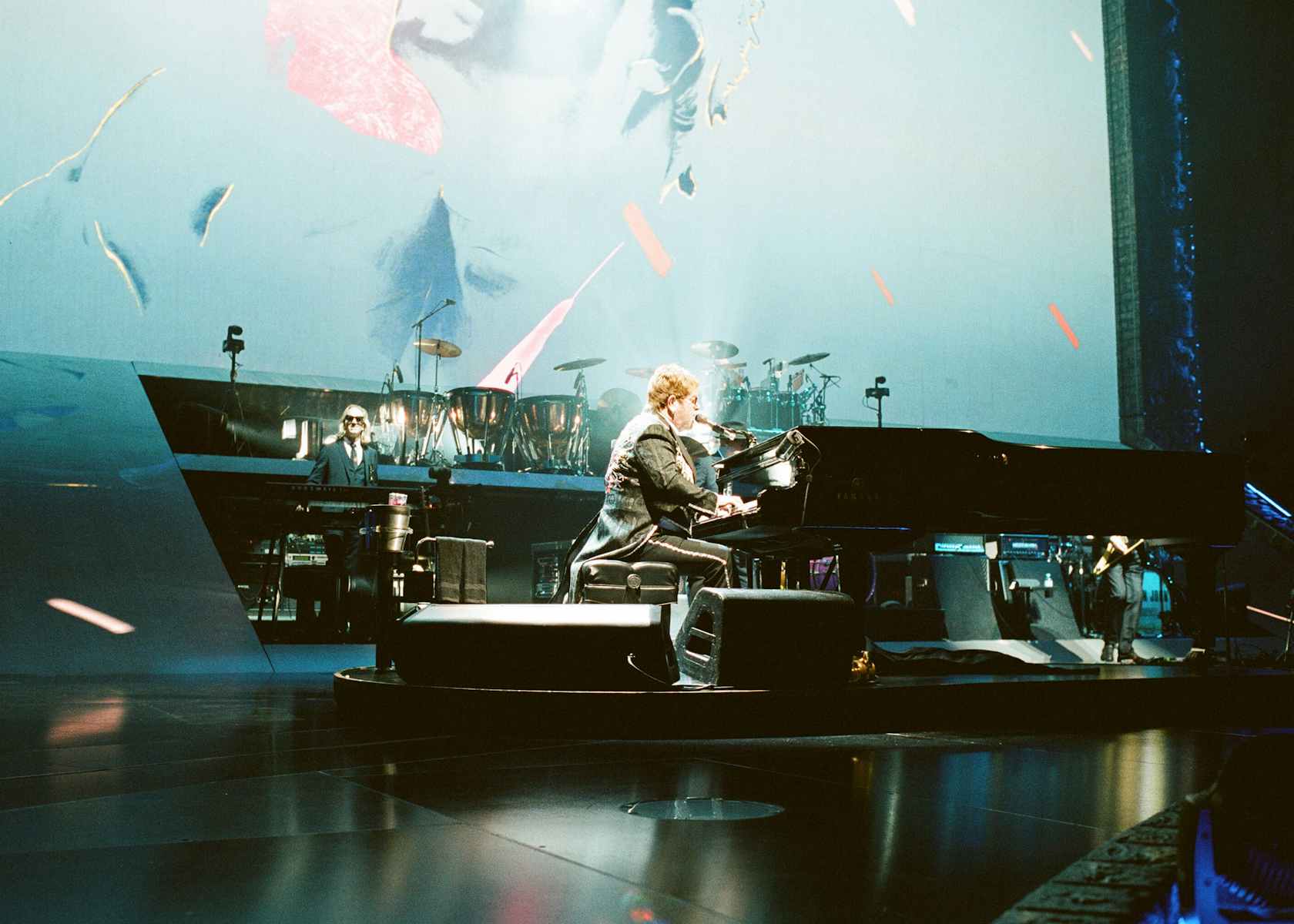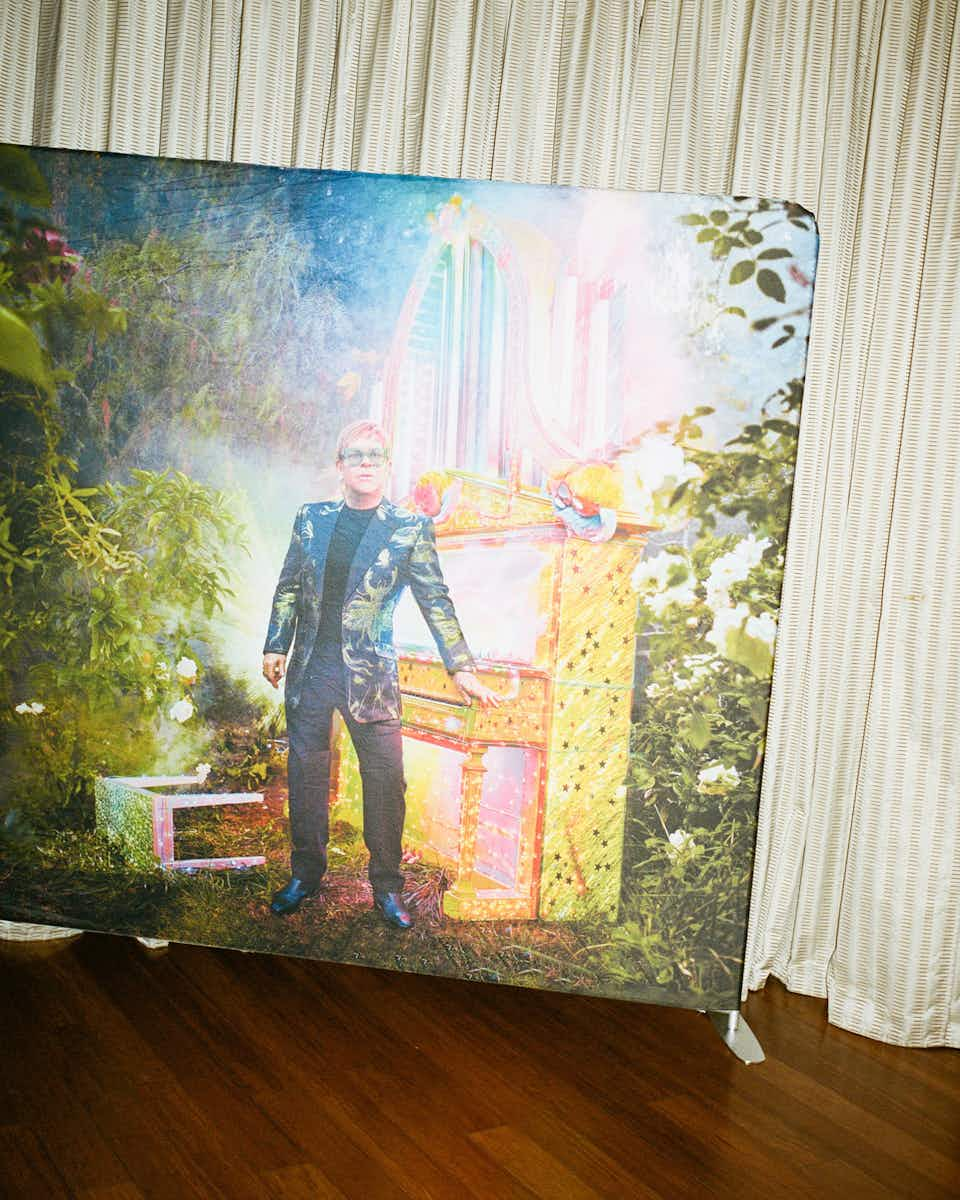 The early potential mawkishness of I Guess That's Why They Call It the Blues is elevated by a slideshow of Martin Parr's bored seaside day-trippers, taken from Elton's personal collection, and serving to highlight one of longtime partner Bernie Taupin's best and most bittersweet lines: ​"Between you and me, I could honestly say that things can only get better". Two first half highlights, meanwhile, come in the form of Indian Sunset and Levon, a pair of tracks from the unfairly overlooked 1971 album Madman Across the Water (a record that holds the unfortunate distinction of being the lowest charting album of his 60 year career). Challenging and fragmented, it's the first time that Elton seems fully engaged; guilty, perhaps, of relatively low energy versions of big hitters, Tiny Dancer and Rocket Man (the latter stripped of its more interesting reading – the terrifying isolation of celebrity – with an accompanying video of, uh, space).
Bizarrely, the audience only truly gets going with the post-costume change balladeering of Don't Let the Sun Go Down on Me; although any temporary sickliness is dispersed by neat run throughs of The Bitch Is Back and I'm Still Standing. Performed alongside self-deprecating video clips – including a South Park cameo, as well as that one of him falling off his chair at The Statoil Masters in 2014 – it's brilliant fun, as is the roof-raising rendition of Crocodile Rock that follows. If you had to play an alien being just one example of an exuberant, joyous, generous pop music, you could make a great case for it being this one.
With the show drawing to a close, Elton describes how ​"the most important thing in [his] life is playing music to other people". And as the opening notes of Your Song – the track that first brought the man born Reginald Kenneth Dwight to public consciousness almost 50 years ago – play out, a couple in front of me lovingly embrace and I find myself quite moved, really. Maybe I do like the soppy ones. And you can tell everybody.

More like this