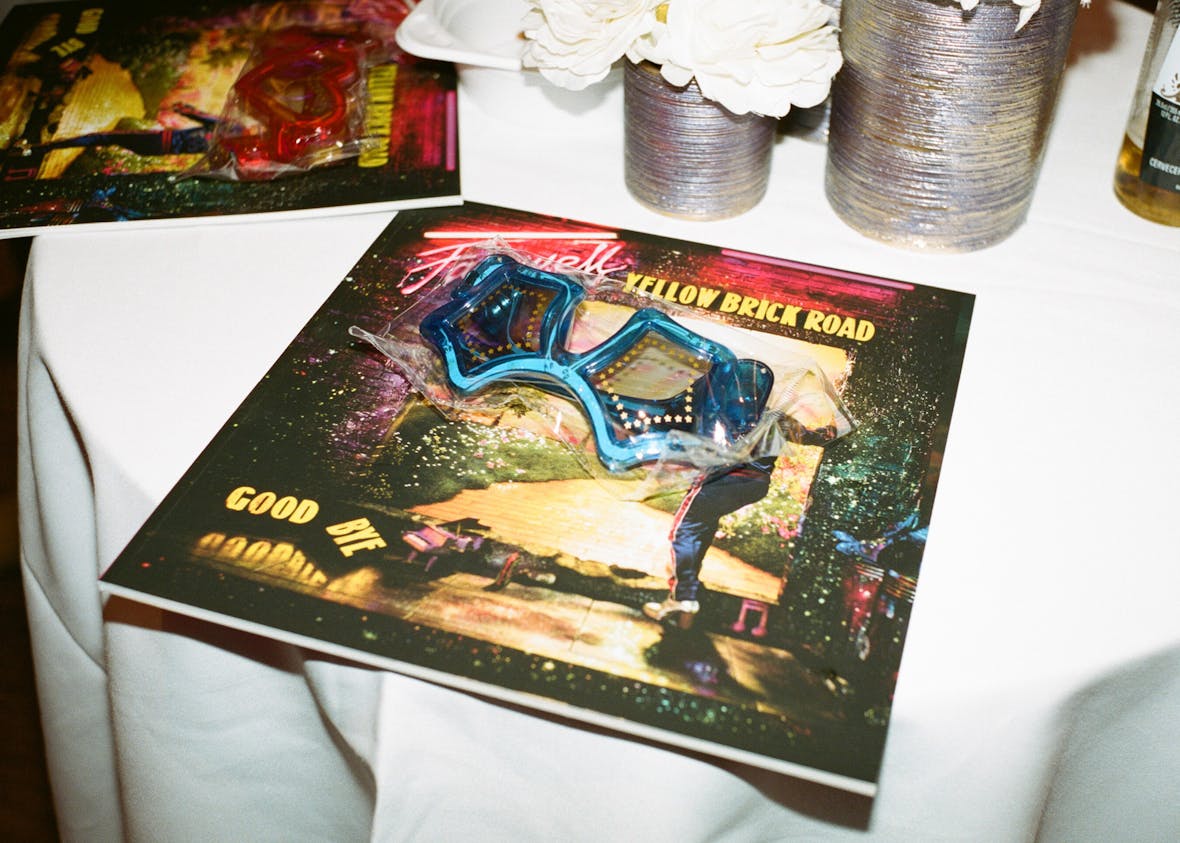 Review: Elton John in Vienna
Rat­ing: 4⁄5
And so the last, great tour of one of the last, great enter­tain­ers rolls into Vien­na for the first Euro­pean date of the long good­bye: a Her­culean final out­ing for Sir Elton Her­cules John, more than 300 shows across five con­ti­nents, the fit­ting end to half a cen­tu­ry on the road.
The retire­ment comes with the for­mer Cap­tain Fantastic's stock, if not at an all-time high, then at the very least a lat­ter day one: a Guc­ci SS18 show pay­ing trib­ute to the musician's once maligned form of sar­to­r­i­al expres­sion; an upcom­ing sil­ver screen biopic, Rock­et­man, ​"based on a true fan­ta­sy" and set to see Taron Egerton fol­low in the pros­thet­ic teeth marks of Rami Malek's box-office chomp­ing Fred­die Mer­cury. He's going out with a bang, Sir Elton, with a show that eclipses even his Star­ship-jet­ting, mid-70s hey­day: 6 tour bus­es, 25 lor­ries, over 100 crew mem­bers, and a 100,000lb stage set (replete with 71,000 square inch­es of gold-leaf and a whop­ping great 66ft LED telly).
Which is why it's fun­ny when he sneaks on stage in such an anony­mous way, the lights low enough to not quite make him out. Once the cam­eras do find him, as they do through­out the evening, he's found to still be, at 72-years old, a bril­liant­ly game per­former: an open­ing ren­di­tion of Ben­nie and the Jets fol­lowed by a slam of the piano lid, a roar at the crowd and a stomp of feet like some out­sized tod­dler dressed in Guc­ci. His fin­gers hang out of frilled sleeves like beau­ti­ful sausages wrapped in cur­tains, and a mere close up of them on the keys elic­its a roar from the crowd like a reply of Mes­si at Camp Nou. Even his socks look expensive.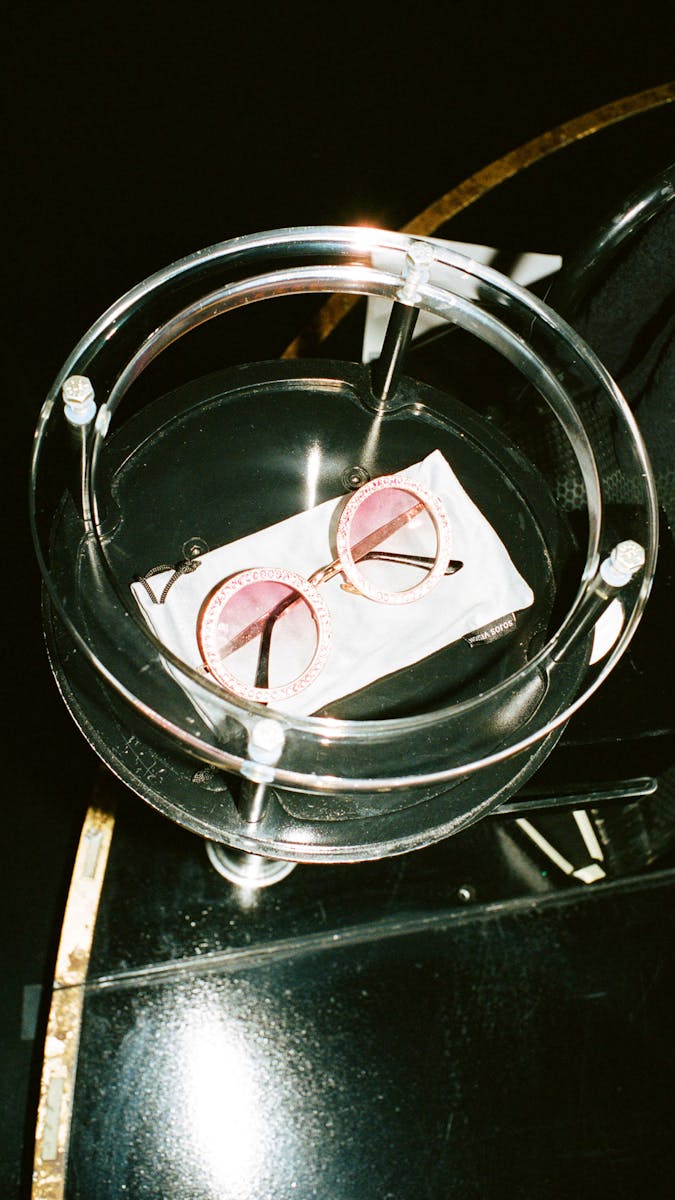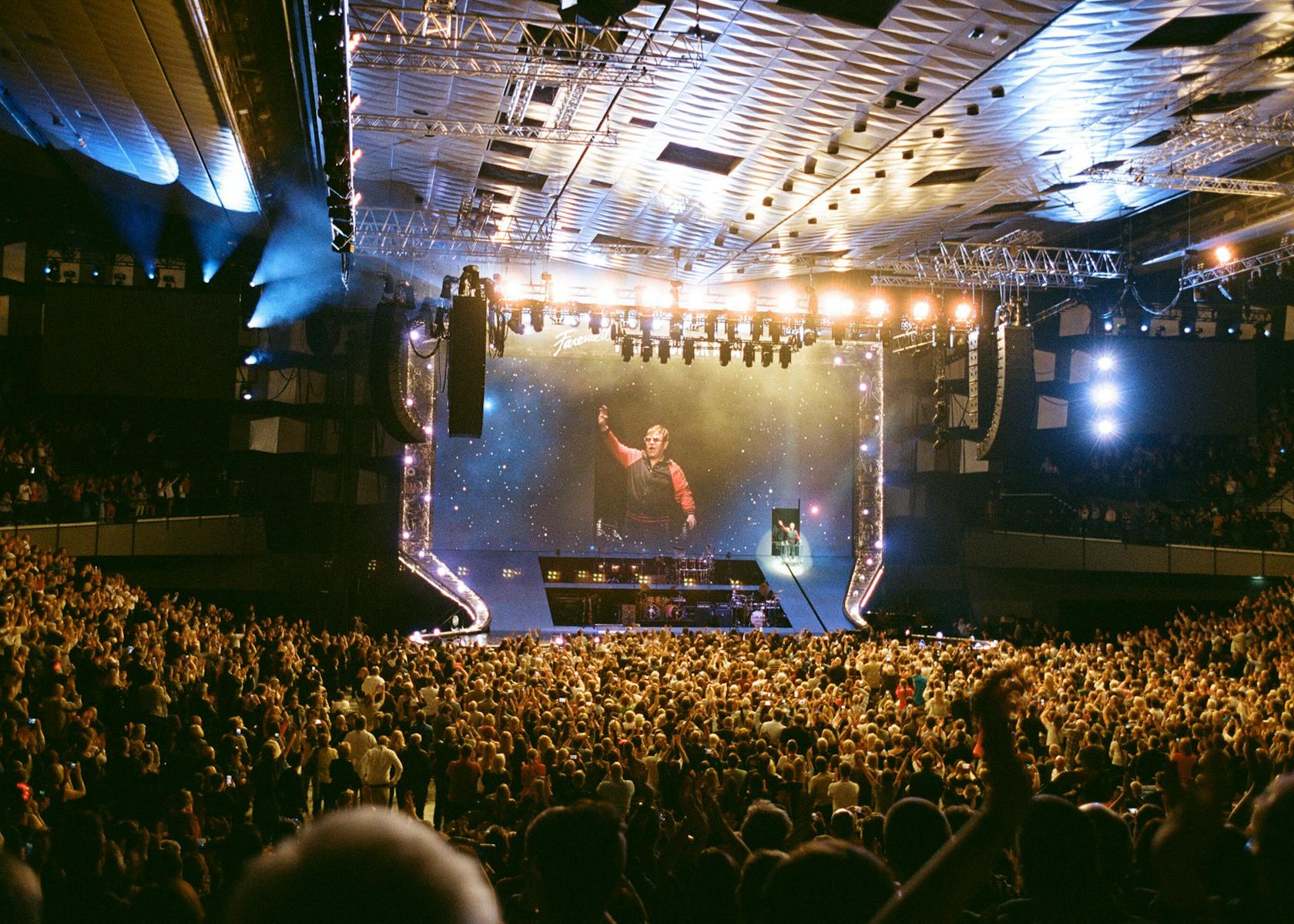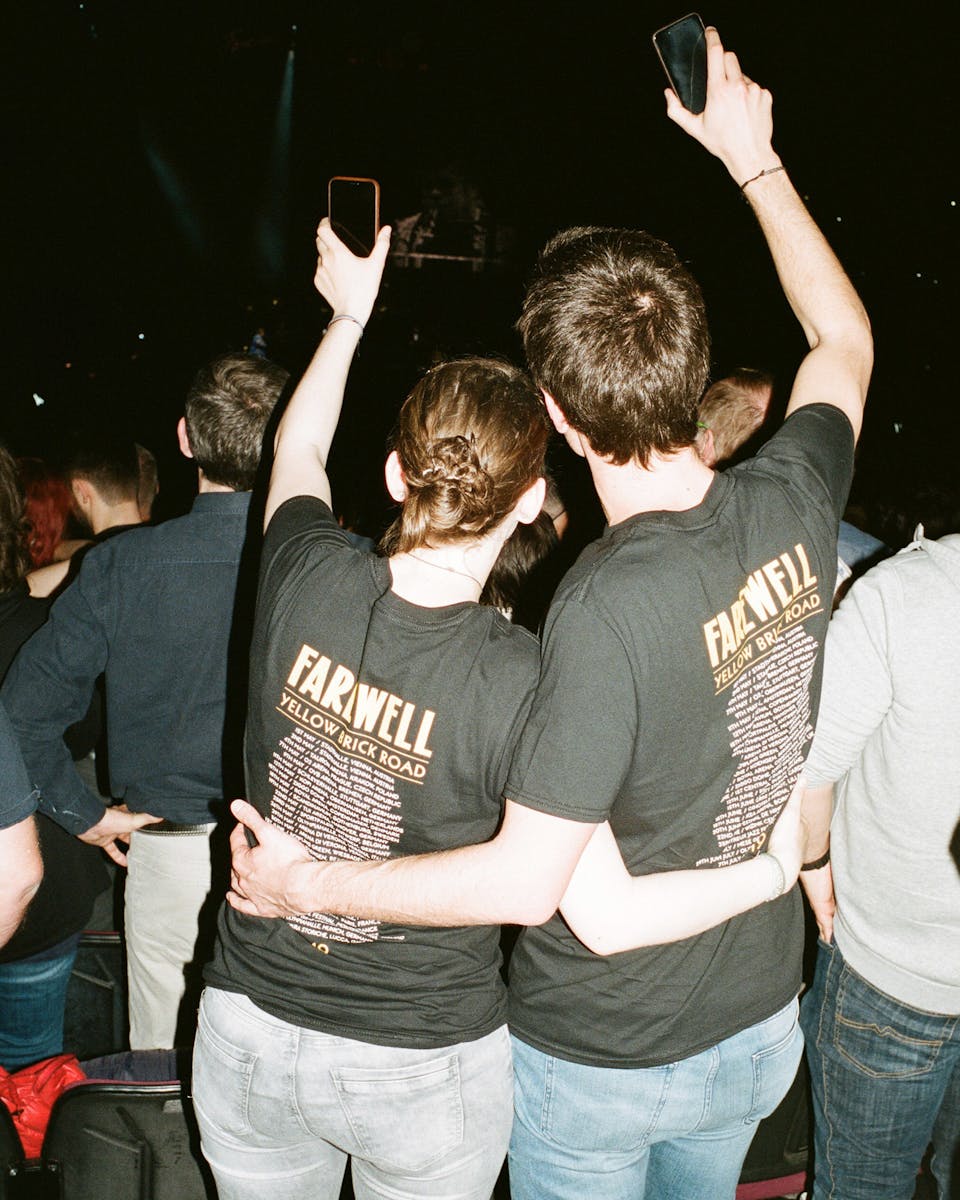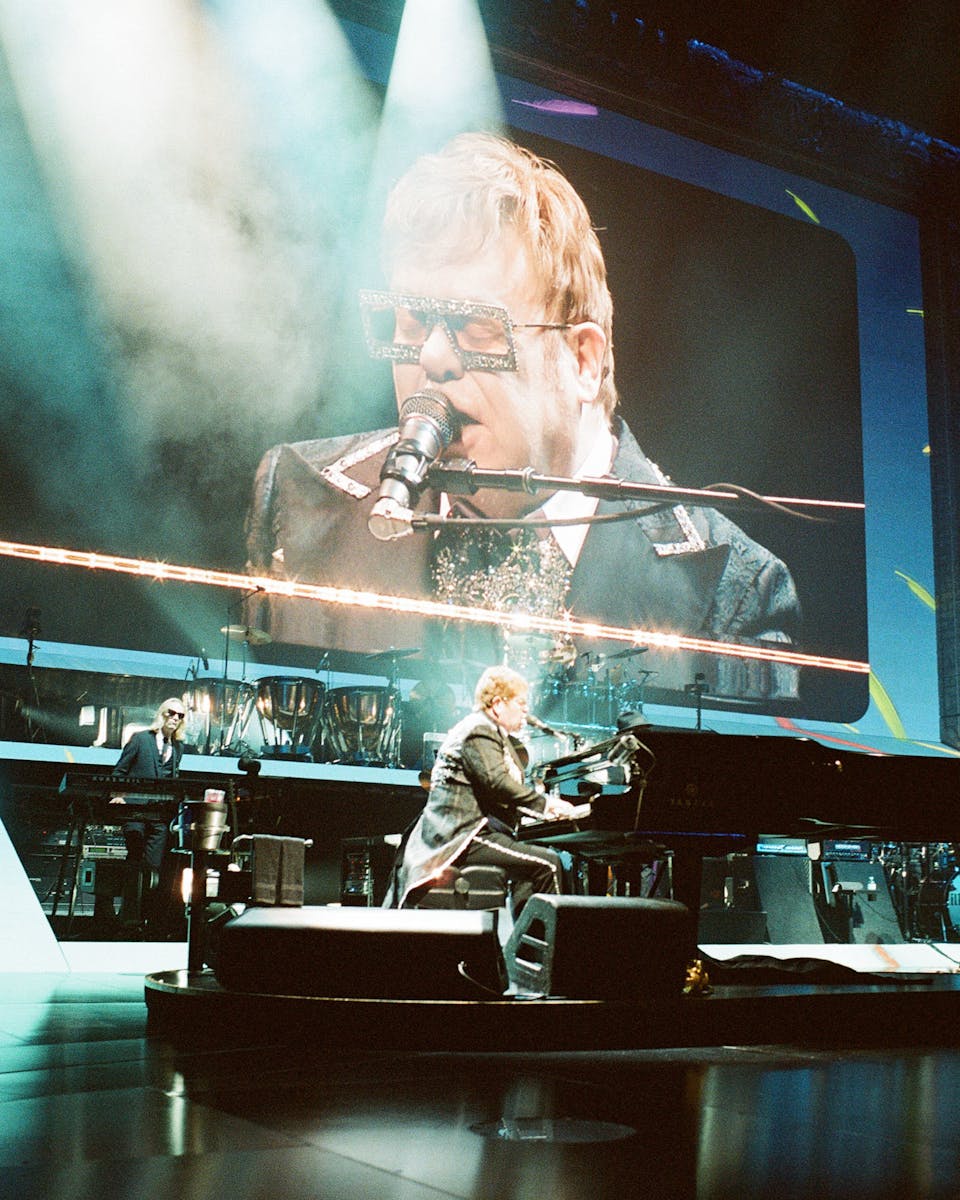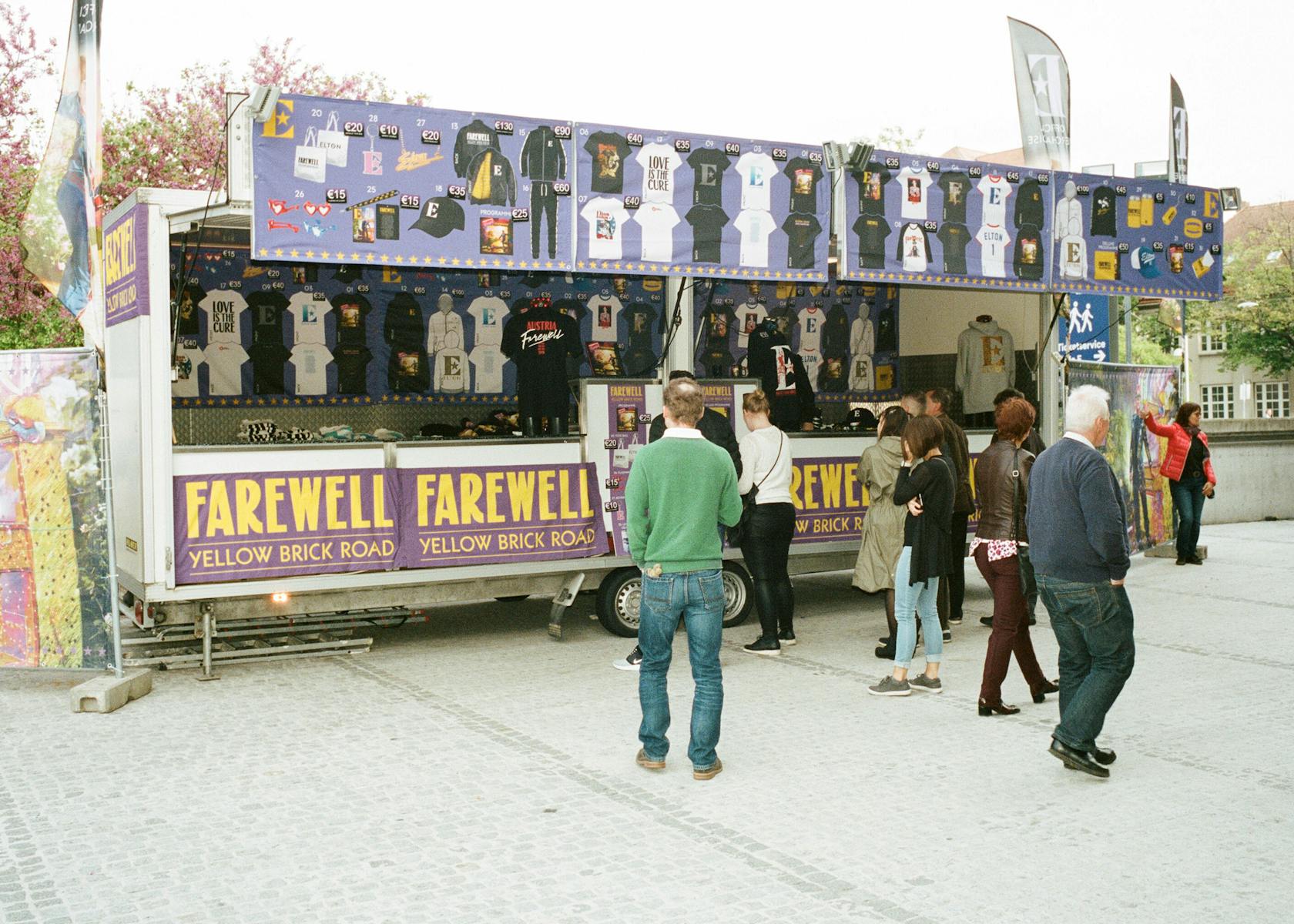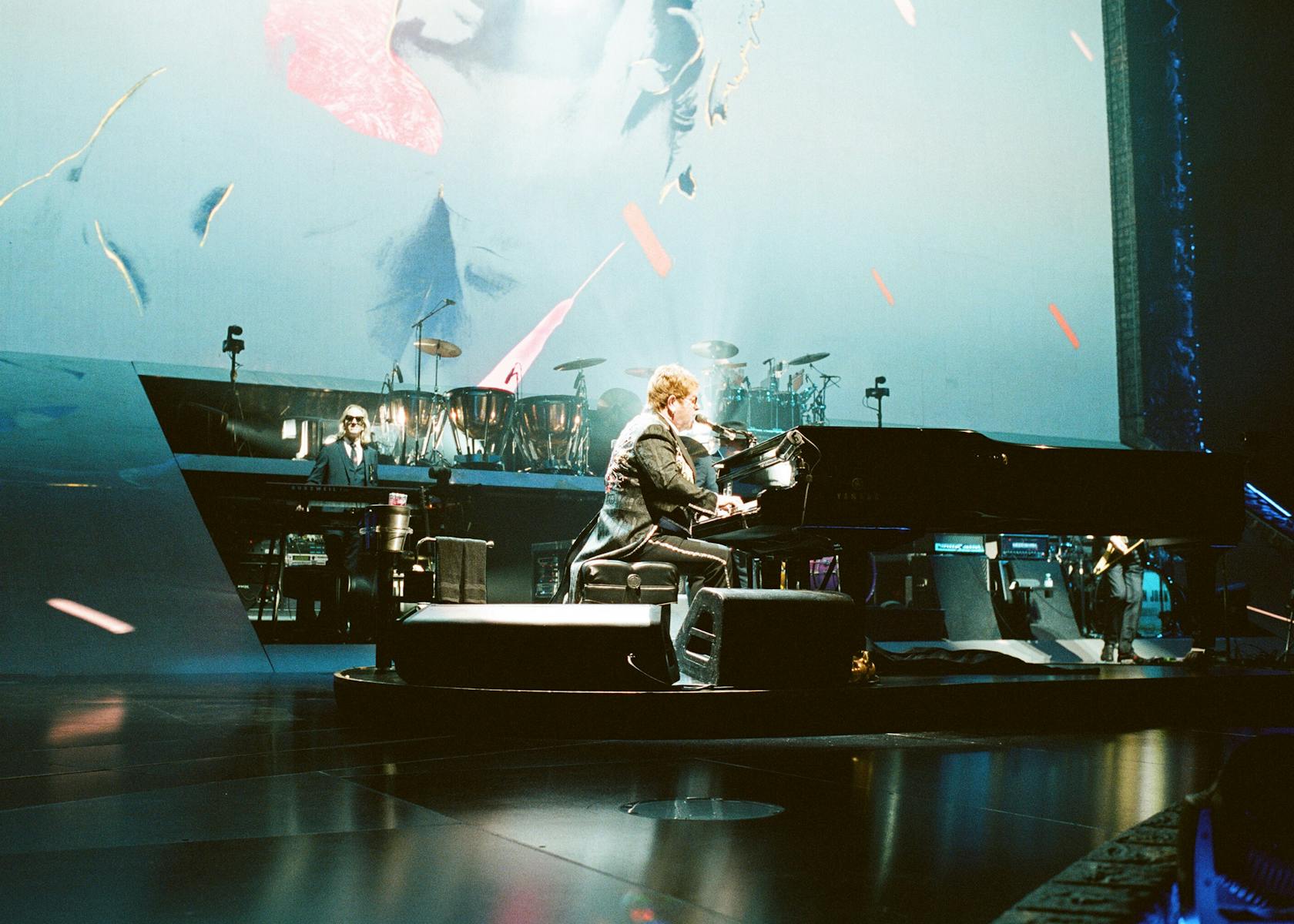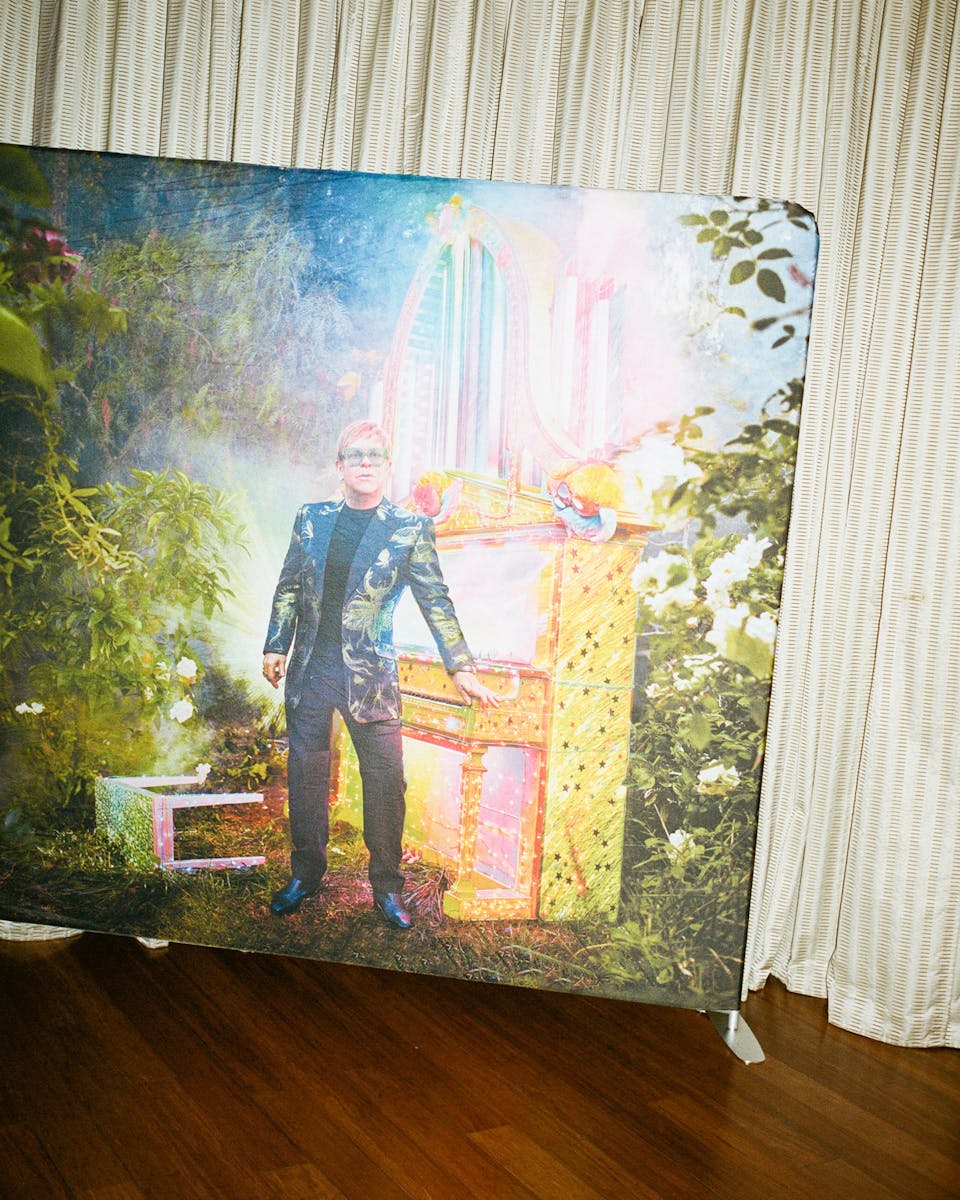 The ear­ly poten­tial mawk­ish­ness of I Guess That's Why They Call It the Blues is ele­vat­ed by a slideshow of Mar­tin Parr's bored sea­side day-trip­pers, tak­en from Elton's per­son­al col­lec­tion, and serv­ing to high­light one of long­time part­ner Bernie Taupin's best and most bit­ter­sweet lines: ​"Between you and me, I could hon­est­ly say that things can only get bet­ter". Two first half high­lights, mean­while, come in the form of Indi­an Sun­set and Lev­on, a pair of tracks from the unfair­ly over­looked 1971 album Mad­man Across the Water (a record that holds the unfor­tu­nate dis­tinc­tion of being the low­est chart­ing album of his 60 year career). Chal­leng­ing and frag­ment­ed, it's the first time that Elton seems ful­ly engaged; guilty, per­haps, of rel­a­tive­ly low ener­gy ver­sions of big hit­ters, Tiny Dancer and Rock­et Man (the lat­ter stripped of its more inter­est­ing read­ing – the ter­ri­fy­ing iso­la­tion of celebri­ty – with an accom­pa­ny­ing video of, uh, space).
Bizarrely, the audi­ence only tru­ly gets going with the post-cos­tume change bal­ladeer­ing of Don't Let the Sun Go Down on Me; although any tem­po­rary sick­li­ness is dis­persed by neat run throughs of The Bitch Is Back and I'm Still Stand­ing. Per­formed along­side self-dep­re­cat­ing video clips – includ­ing a South Park cameo, as well as that one of him falling off his chair at The Sta­toil Mas­ters in 2014 – it's bril­liant fun, as is the roof-rais­ing ren­di­tion of Croc­o­dile Rock that fol­lows. If you had to play an alien being just one exam­ple of an exu­ber­ant, joy­ous, gen­er­ous pop music, you could make a great case for it being this one.
With the show draw­ing to a close, Elton describes how ​"the most impor­tant thing in [his] life is play­ing music to oth­er peo­ple". And as the open­ing notes of Your Song – the track that first brought the man born Regi­nald Ken­neth Dwight to pub­lic con­scious­ness almost 50 years ago – play out, a cou­ple in front of me lov­ing­ly embrace and I find myself quite moved, real­ly. Maybe I do like the sop­py ones. And you can tell everybody.
---