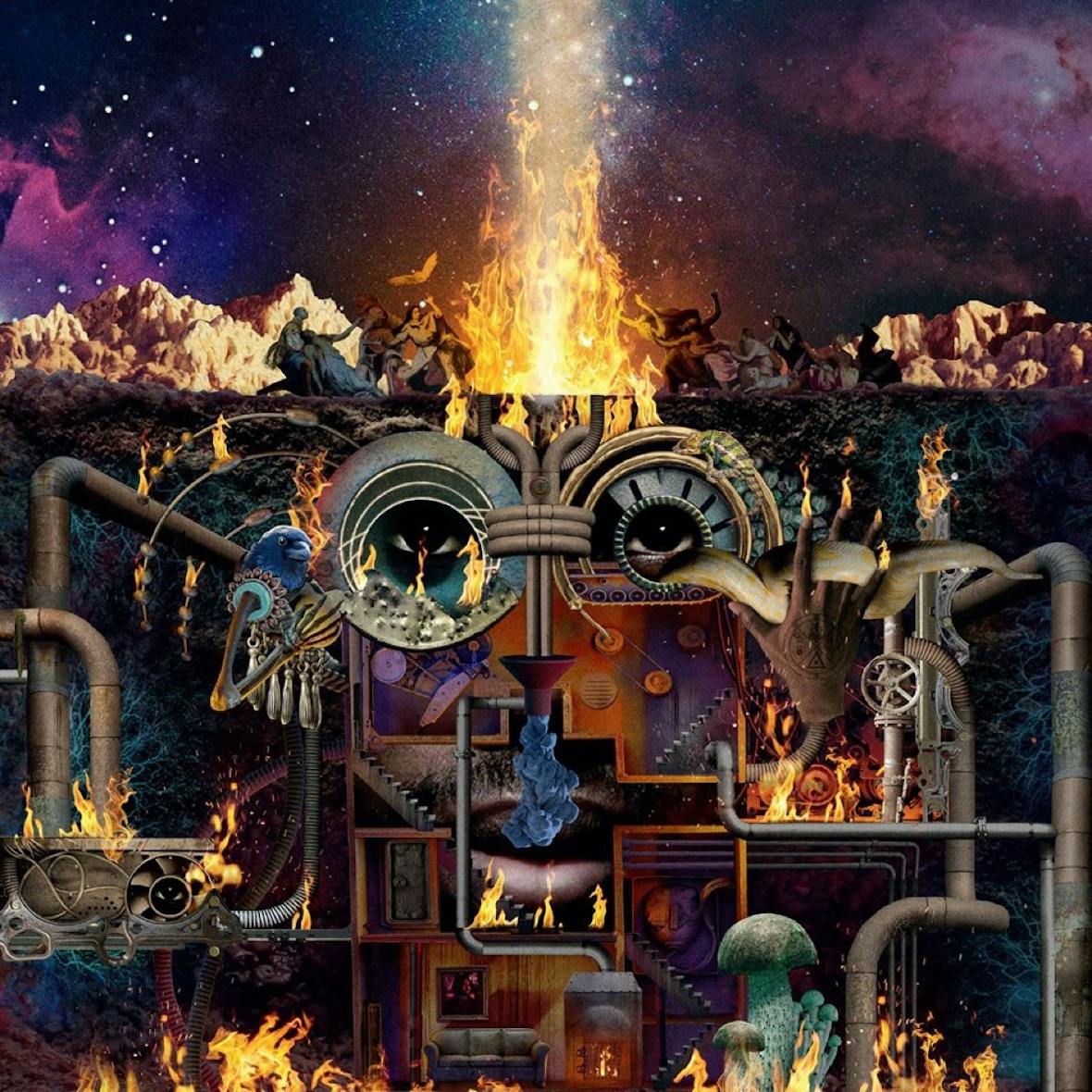 Fly­ing Lotus' Fla­m­a­gra: an aur­al explo­ration of the afterlife
RAT­ING: 3.5÷5
Steven Elli­son has nev­er stopped rep­ping for Los Ange­les. From the sopho­more Fly­ing Lotus album that bears the city's name to his con­tin­u­ing patron­age of its incred­i­ble local jazz scene via the Brain­feed­er record label, his musi­cal arc trav­els and tra­vails through his home in phys­i­cal and vir­tu­al ways, bring­ing its spir­it and its soul to lis­ten­ers world­wide. Though hip-hop played no small role in his come up, he sub­se­quent­ly tapped into his lit­er­al Coltrane fam­i­ly lin­eage and ele­vat­ed him­self from J Dilla's earth­ly heir appar­ent to a near-celes­tial Afro­fu­tur­ist force.
Some five years since drop­ping You're Dead!, an exem­plary if con­cise aur­al explo­ration of the after­life, Elli­son returns now with the sig­nif­i­cant­ly longer and more the­mat­i­cal­ly abstract Fla­m­a­gra. The inter­lude-length Cap­il­lar­ies calls back not-so-sub­tly to Ellison's Los Ange­les beat scene roots, a nar­ra­tive con­text that, at this point in his for­mi­da­ble discog­ra­phy, no longer suits. Still, as most of these 27 tracks come in tidi­ly under the three-minute mark, his knack for work­ing lit­tle mir­a­cles with­in tight time con­straints proves ubiq­ui­tous­ly evi­dent amid the syn­the­sis­er scram­ble of Inside Your Home and the clas­sic video game put­ter of All Spies. That said, when he does stretch things fur­ther, as on the euphor­ic and fre­net­ic Takashi, out springs an open-end­ed cos­mic jazz sen­si­bil­i­ty. This is tem­pered else­where with the more acces­si­ble tenure of fusion's foun­da­tion­al funk, with George Clin­ton him­self emot­ing over the rub­bery din on Burn­ing Down The House.
As was the case with You're Dead! and its 2012 pre­de­ces­sor Until The Qui­et Comes, Elli­son isn't here alone. An inter­gen­er­a­tional set of play­ers and guests grace Fla­m­a­gra, includ­ing Her­bie Han­cock, Solange Knowles, David Lynch, and Tier­ra Whack. A Fly­Lo ses­sion vet dat­ing back to the ambi­tious Cos­mo­gram­ma, Stephen Thun­der­cat Bruner appears on near­ly all these songs, his volu­mi­nous bass mis­chief show­cased promi­nent­ly in the mix. After the imp­ish Drunk project, there's some­thing refresh­ing about hear­ing his sig­na­ture fret­work in the rel­a­tive­ly more sober con­text of Post Req­ui­site and Pygmy as well as play­ful R&B groovers Deb­bie Is Depressed and The Climb.
Though Brain­feed­er-sup­port­ed jazz phe­nom Kamasi Wash­ing­ton is absent from the cred­its, sev­er­al L.A. affil­i­ates join in to lend their like-mind­ed musi­cal per­spec­tives. Stand­out West Coast Get Down key­boardist Bran­don Cole­man gives spaced-out rap enti­ty Shabazz Palaces room to freak out the normies on Actu­al­ly Vir­tu­al, while the vir­tu­osic Miguel Atwood-Fer­gu­son goes half­sies with Elli­son on the sup­per club hip-hop of FF4.
Even with the con­sid­er­able dis­tance between it and You're Dead!, the tech­no-organ­ic hybrid Fla­m­a­gra can't help but sound like its delayed sequel. Its more approach­able moments like the Ander­son Paak fea­ture More draw obvi­ous son­ic par­al­lels, to their detri­ment, to old­er num­bers like the Kendrick Lamar brain ben­der Nev­er Catch Me. Still, at this stage in Ellison's refined approach to com­po­si­tion and cre­ation, a slight­ly self-deriv­a­tive work stands in supe­ri­or­i­ty to the over­all field. As such, it makes for one glo­ri­ous lit­tle stop­gap that will hope­ful­ly guide the Fly­ing Lotus project towards an even brighter future.
---