Roy Blair: ​

"

I was completely lost from reality"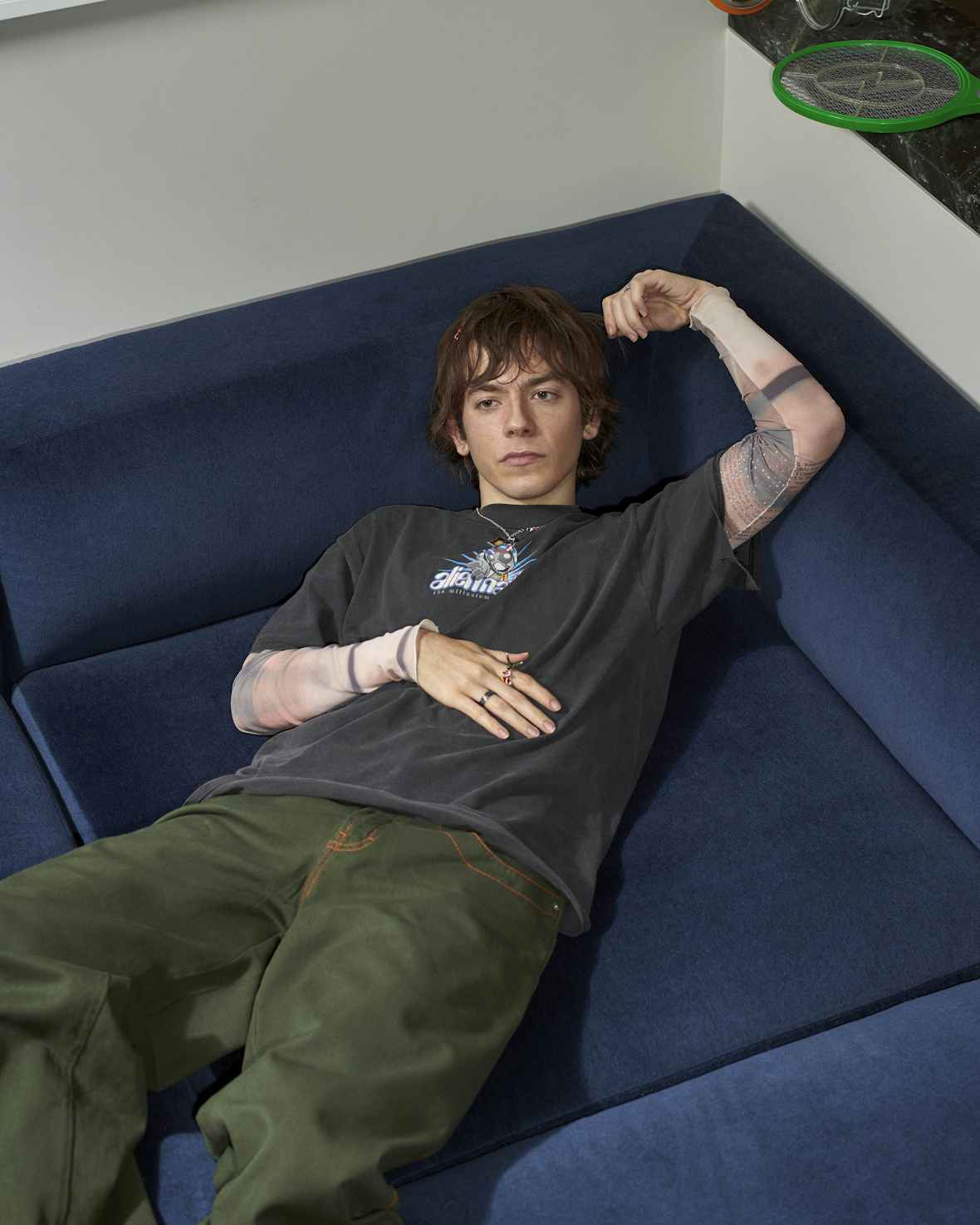 He's been up, he's been down. Now the 24-year-old singer-songwriter is ready to return brimming with confidence – and a house-inspired second album.
Roy Blair is sitting on a couch in a rented Airbnb in Brooklyn, bobbing his head – which is mostly obscured by a black mask bearing the word ​"Lover" – to the pitch-bent strings of Amberwood, a new song he is playing over the speakers that came with the rental. He's wearing an ankle-length black skirt and a green Champion T‑shirt with a kitty printed on it. Underneath his skirt, white socks are hiked up to his knees and smushed into a pair of Suicoke sandals. His hair is usually pink or bleach white or chartreuse, like on the cover of his 2019 release GRAFFITI, but today it's back to its natural tortilla brown.
Behind him, there is a moodboard made up of images tacked onto the wall. It spans the width of the couch, and includes stills from the 2001 coming-of-age film All About Lily Chou-Chou, old promo shots of Radiohead, and other photos whose colours only exist in a palette I'd describe as ​"nightscape".

I first discovered Roy Blair's music one year ago, when the pitch-shifted vocals and acoustic guitar strums of his track FANTAZIA caught my ear while it played on Frank Ocean's Blonded Radio. He wants to exist outside of genre, but his music lands somewhere between the poles of 100 Gecs' frenetic hyperpop and the bouncy suburban throb of Ocean's Super Rich Kids.
"Do they notice when you're broken? /​Do they feel it when you're hopeless?" Blair's rappy vocal, distorted beyond reason and sated with emotion, ekes out of the speakers. In another song he plays me, Strawberry, Mario Bros. arcade lasers puncture synth chords. He knows how to brilliantly manipulate sound, and at the end of Amberwood, I ask who else the track features.
"It was just me," he says. I tell him it's full of arcs and twists, not to mention longer than the usual two-minute Spotify sweet spot. ​"I don't make Spotify music," he adds with a smirk.
Blair grew up in Highland Park, Los Angeles and was numb to the angular light and waving palms of a city that is tirelessly inspiring to other musicians. So he left. He plans to move to New York permanently. He worked on Kevin Abstract's American Boyfriend in 2016, released his debut album Cat Heaven in 2017, toured that album in 2018, added mixtape GRAFFITI and opened for The 1975 then dropped out of Lollapalooza in 2019, and had what he calls a mental breakdown at the top of the year.
It's a lot for anyone, let alone someone who has only just turned 24. He tells me his sophomore album is 80 per cent complete and the album will arrive sometime in the spring. He runs through his rigorous daily routine of working out and hitting the studio, and might release a song just to keep his vulturous fans fed. Some of these songs still need hooks, he says, but other than that, he is ready to get back at it.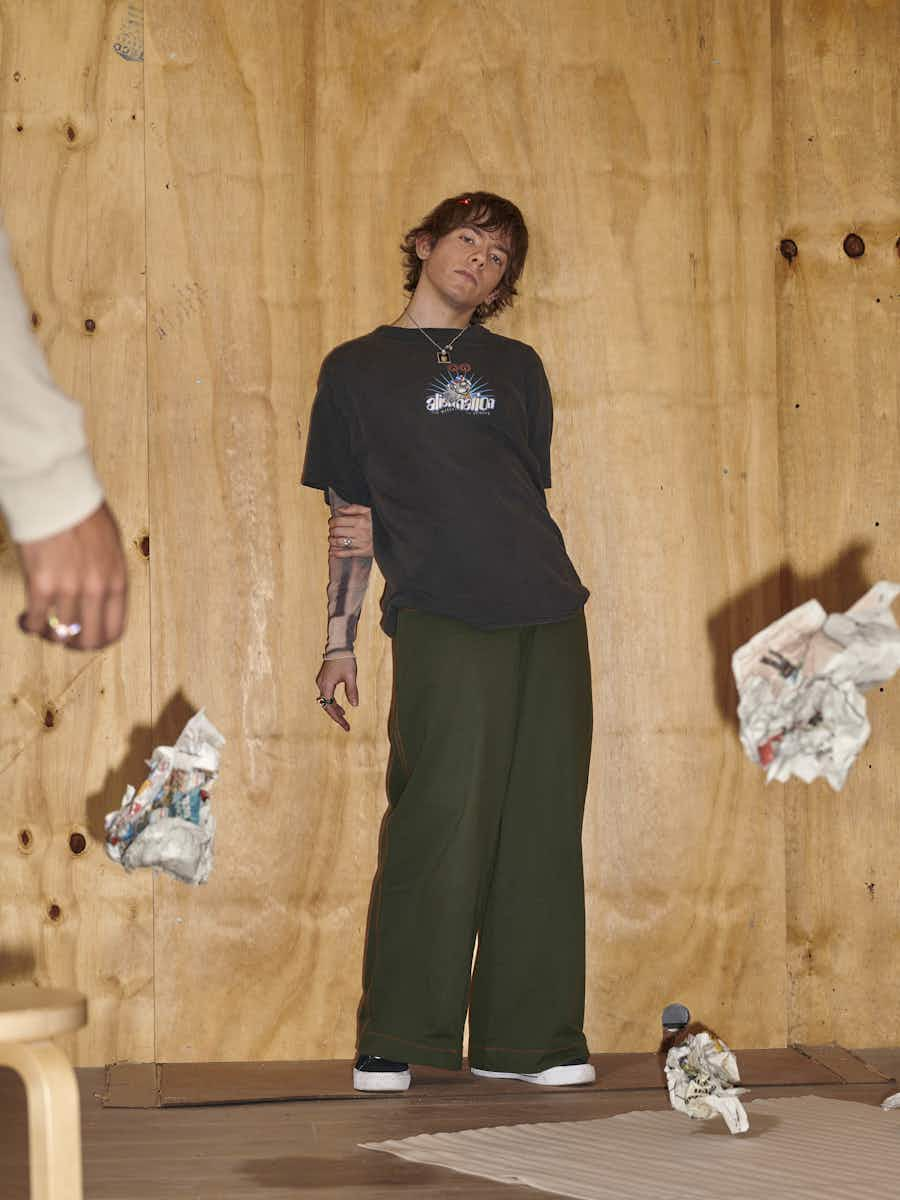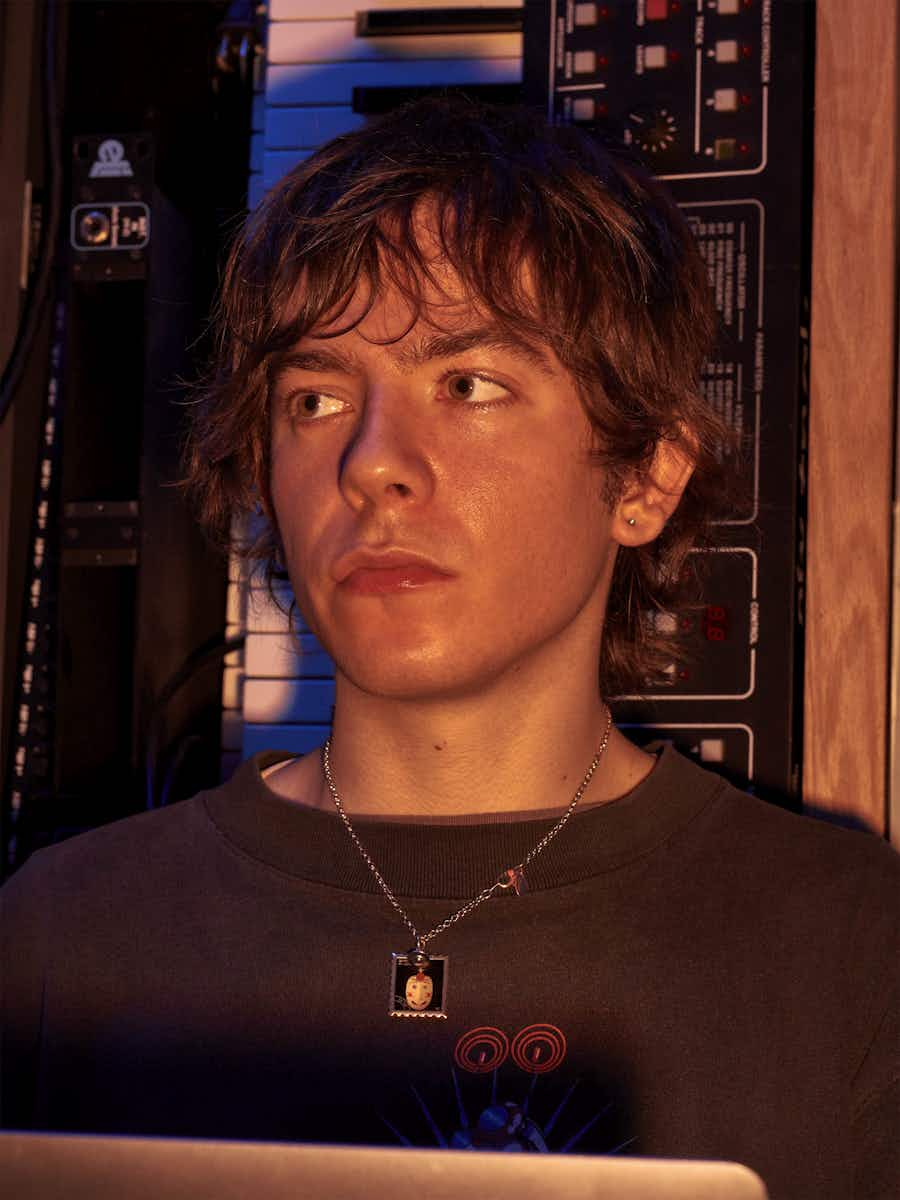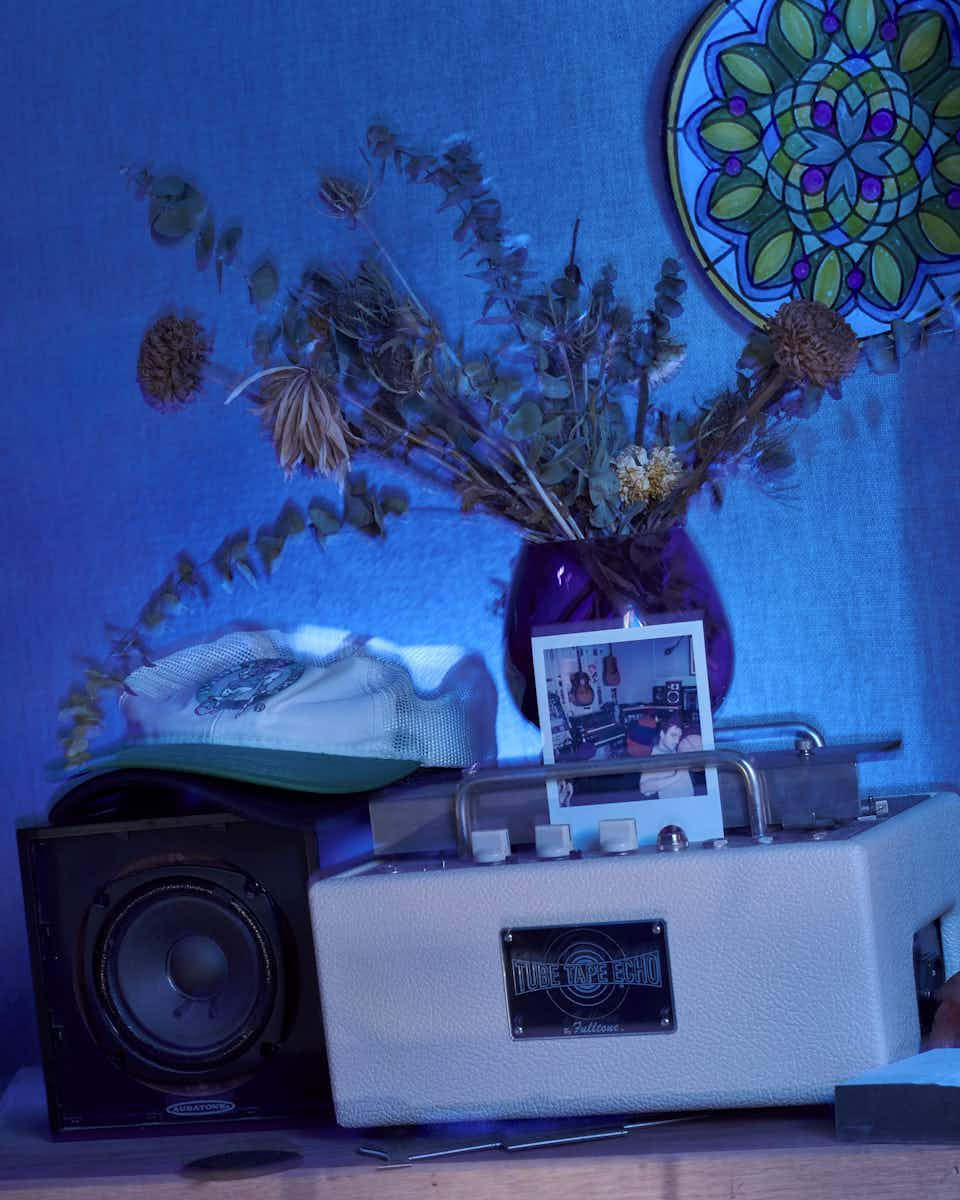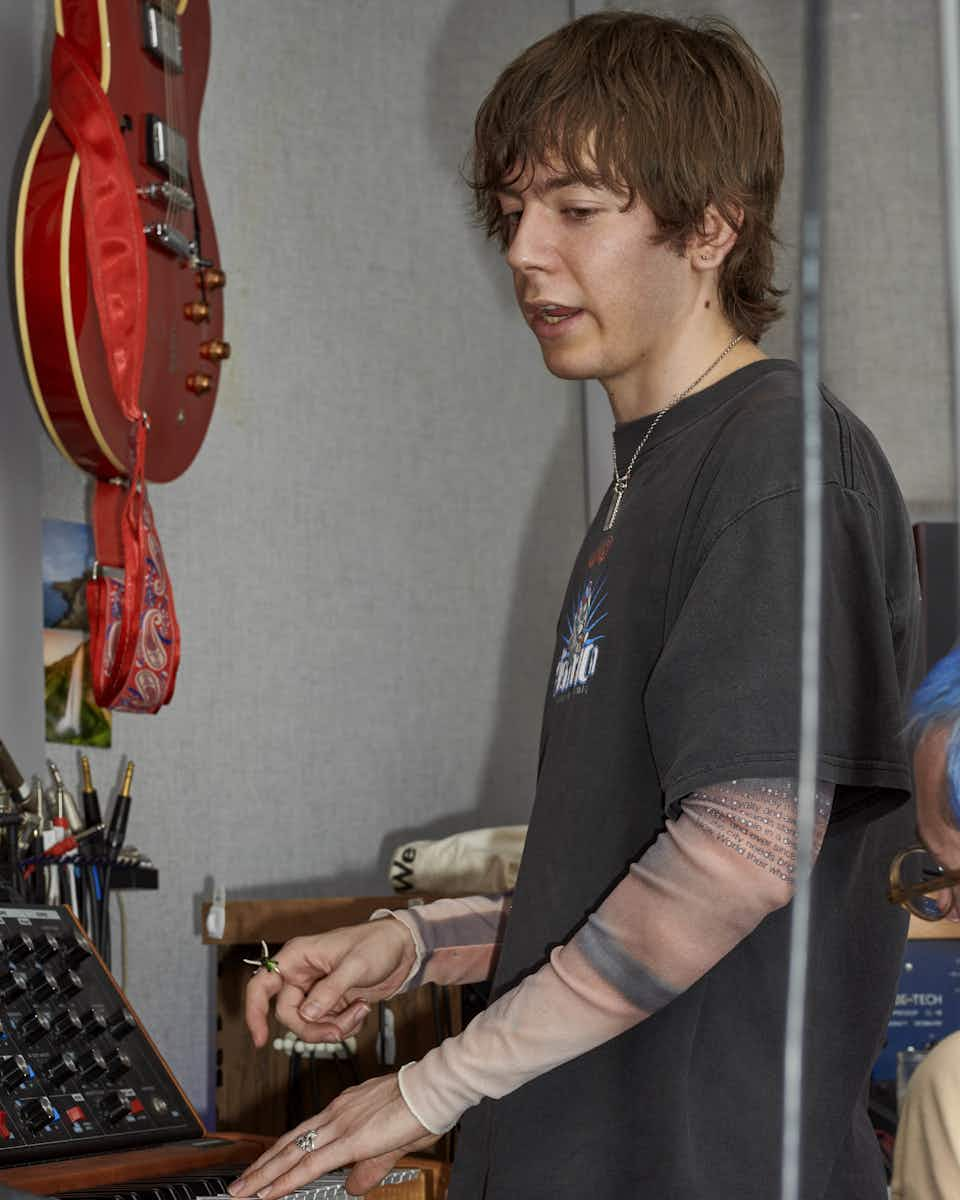 From your perspective, what point are you at in your career?
That's a good question. We're in this unprecedented time of being artists. A few years ago, I could compare it to peers or to one of my favourite artists [who] dropped this record and this is where they were at afterwards. Right now, it's so crazy [how] music is digested and how fast everything is recycled. The biggest artists today could literally have no following tomorrow. The path to getting really big is a lot more arbitrary now. It used to be more formulaic.
When I think about where I'm at in my career, I think I'm right before a big point, I wanna believe. I would say I'm a contender, post-GRAFFITI. I feel like I'm gonna be the biggest name out of my age group or I'm gonna be in that upper league of people. We'll find out, but I guess that's where I'm at in terms of where I'm trying to be, the biggest in terms of quality and popularity.
Who would you say is a part of your generation?

You have Brockhampton, Clairo and Dijon and Omar Apollo, Dominic Fike, Rex Orange County, and beabadoobee. That's the circle in terms of kids my age who are up there in terms of popularity.
So you've been going to the studio fairly regularly?
Yeah. It's where the record started, like last January in 2019. We did like ten days in January and then another ten days in February, and that's really where we made the bulk of the songs for GRAFFITI. There are some songs that are kept for the record, I wanted these to go on there.
How did you know they belonged on a separate project?
These songs are cool. They're a lot of fun. I haven't dropped music in a while. Before I dropped GRAFFITI, everyone had me pinned in as this playlist, Indie guy who was maybe akin to 21 Pilots or something, and it drove me fucking insane. It depressed me all the time. How do I get across that inherently, I come from hip-hop, I'm a hip-hop artist or an R&B artist who picked up a guitar and made a guitar record? I think it's because I'm a straight white dude who hopped on the scene, and it's easy to go, hey, he's rock. More kids are doing this rock thing, whatever. I really wanted to change the context around what Roy Blair is for the first person to hop on my Spotify, to be like, oh, OK – I get it now.
So there was some pressure to solidify a persona.
I don't know if I'd call it pressure or if it was more like, this sucks and I wanna explain this better. I don't think I fucked up with my first record. I'm very happy with what I did. It was hard for people to understand at the time, and now I feel like it's a lot more easy to understand. Me and other kids in 2016, 2017, laid the groundwork for a whole generation of kids rapping or doing spoken word over hip-hop drums and singing about the suburbs or whatever. It's a whole genre now.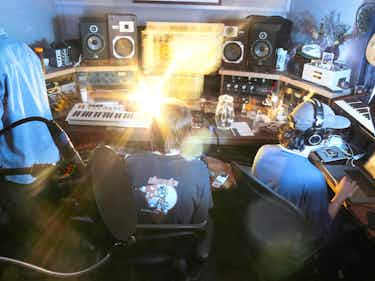 How would you categorise the music you make?
Probably like every other artist to ever live, I hate [being categorised]. I don't like being compared to these artists I don't fucking like at all and that I don't look up to. I'm listening to fucking Slowdive and My Bloody Valentine, Spiritualized, that whole section of music, and I'm getting compared to 21 Pilots.
Why do you hate them?
Because they're garbage! They [make] bad music. We're on two different planes and I guess [the comparison] bummed me out. I guess I felt I was perceived very wrong coming out. I see a lot of artist's careers, at least ones I love or pay attention to the most, they shift around perception a lot.
When you say before you were perceived incorrectly, has that happened outside of making music?
Yeah. It's like a thing where I know what I wanna be perceived as but I don't know how to translate it. Fashion is something and image is something that I'm learning about myself right now, how I wanna look externally. As a teenager, I felt the same way for sure, like I wasn't really understood.
In school, or how do you mean?

Definitely in school. I always wanted to be an artist, but I don't think people really saw it in me. I don't think I had figured out how to show people. I knew who I was but I think most people were like, whatever.
Is there a pressure there for you to have a presence online?

From the general public, I think it's expected today. It's dark and sad. I don't believe in consistently being on social media and being an artist. I think they clash in nature. If I think of [myself] doing something, social media is the one thing where I'm not technically doing anything.
It's really toxic to be a musician, spend time on a record and try to exist inside the world of a record and also hop on [social media] and be like, ​"What's up everyone! I'm here for you!" I'm probably gonna be a very on-and-off artist, even though I don't wanna be.
Are you a control freak?

Yeah. I'm a micro-manager, it drives everyone crazy. It's how I make great stuff, you know! You have to be.
Can you give me an example?
There are songs on my record that I've produced mostly or that I've done a lot of the work for. In the studio I've had to learn Pro Tools because sometimes I'm like, I need to do it myself. Or when it comes down to design, I have such a hand in it. I'm going to get as close to my vision as I possibly can.
How would you describe the sound of the new record?
I thought it'd be really cool if I made an electronic record. Some part of me has always wanted to make, in theory, a house record. When I was first starting, my only reference was Daft Punk… In 2018, I tried making a house record and it wasn't good, everything I made that year was trash. I liked two things out of the entire year that I made. I had writers block. Then it wasn't until the end of the year, like in October 2018, when I really started to dig into albums and house music and really getting into things.
I remember Charli XCX released her album in May during quarantine, then a few days after tweeted, I'm ​"lost and purposeless". How will you feel once this comes out?
I'll probably feel like a weight has been lifted off my shoulders. I'll probably cry. It's been a really hard record to make.
What do you mean by that?
I went through a lot making it. There's this Jay‑Z quote that I think about all the time. It's like, up until you put out your first record, you spent your entire life making that record. Which is very true. And then you have two years to make your second record and it's sort of like, cool, now what? Me wanting to be the great artist that I am, trying to be as consistent, topical, trying to say something more than ​"I'm a sad young man" because that's not really the case anymore, but still trying to make a record that's better than the first one, more impactful, was really hard. It's still hard. I also went through a lot of shit through the process of it.

Personally?

Yeah. I was really paranoid. I guess I had a little bit of a breakdown mentally in January. So there was a lot of pressure on me, 2018 – 2019, touring, travelling, and I'm a micromanaging person so I was trying to control everything and trying to make sure everything was good, and so many things didn't work. It was really tough on me, because sometimes you can work as hard as you can but you have no control over a situation and you can feel really helpless.
I got on this flight last year and it all caught up with me. The flight emergency landed and I was really scared, and it actually fucked me up. I have to drug myself to get on planes, and it actually made me go crazy.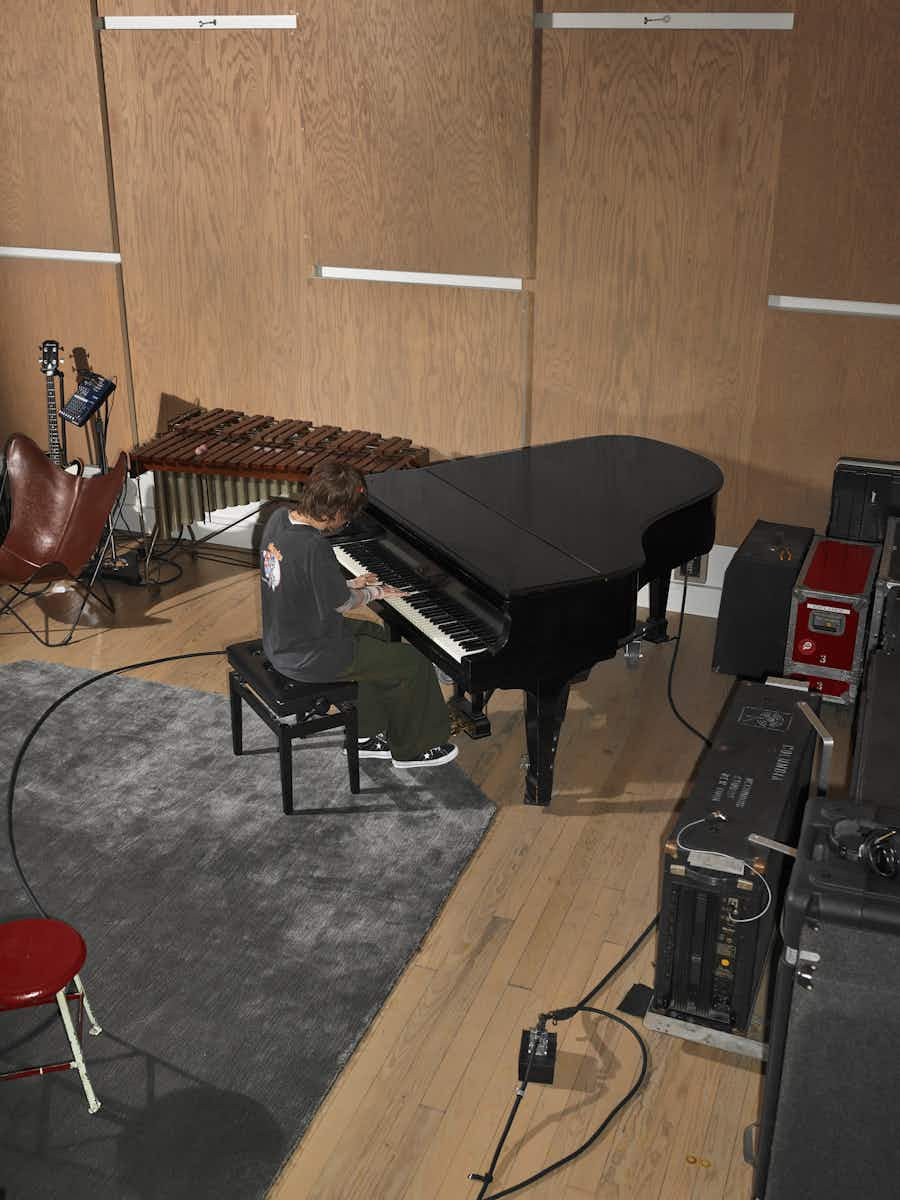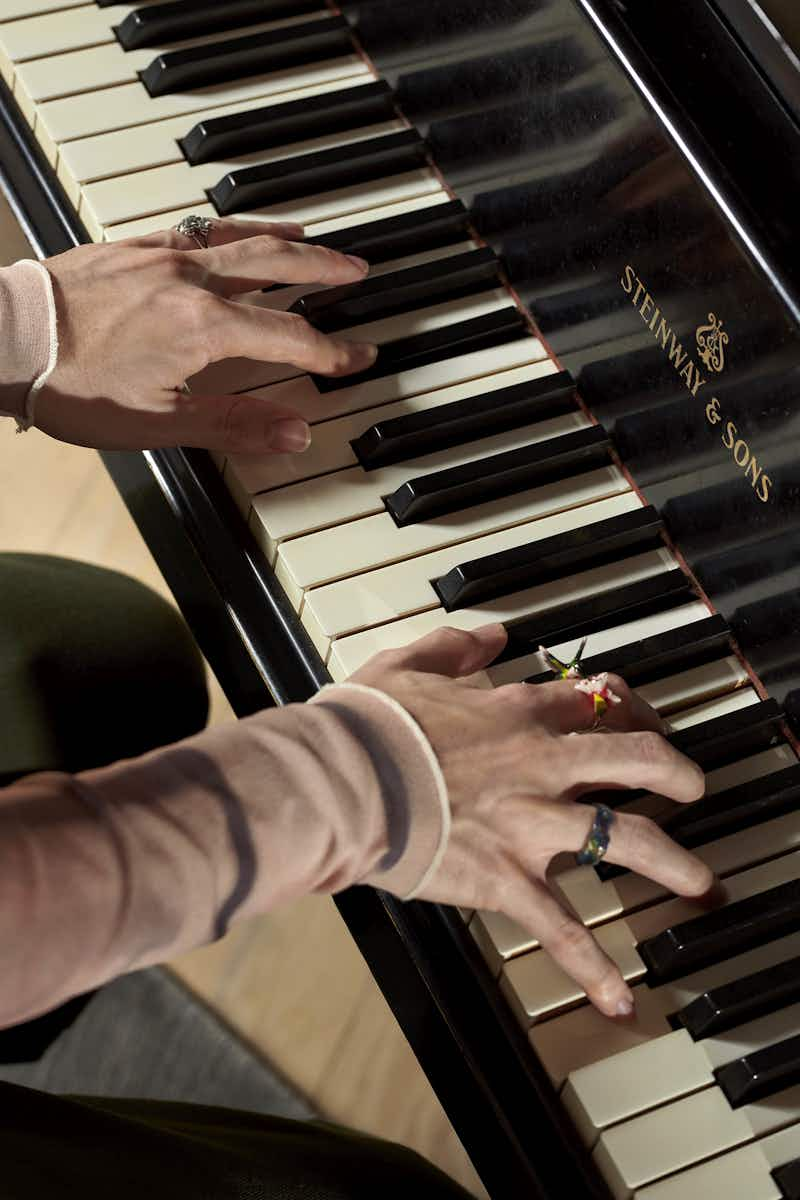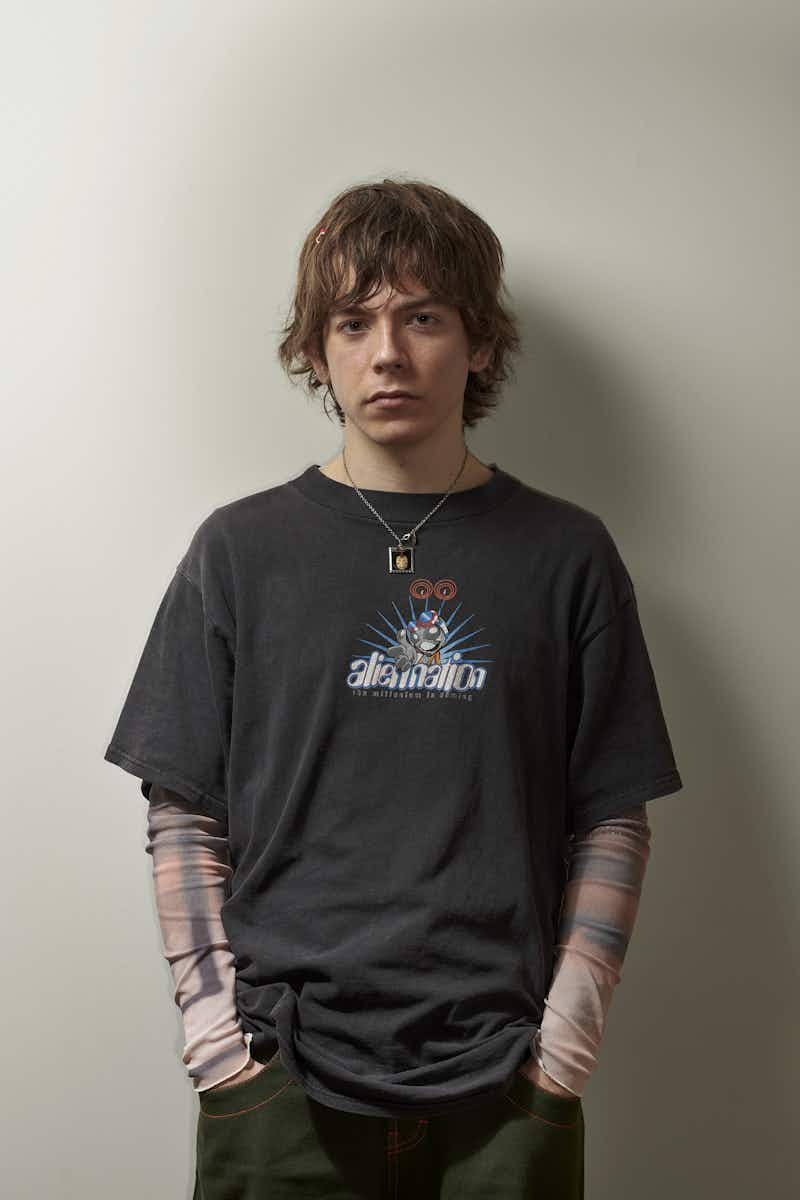 What was the emergency?
The plane was leaking fuel, so it was real, but they didn't tell us anything up in the sky. They were like, we have to go back to LA.
So where did you land?
In Vegas. Then I cancelled my shows and took a bus back to LA.
That's a very real thing to be upset about.
I felt like a lot of people didn't think so, and it bummed me out. It made me feel dumb. It all crescendoed in this moment where I was convinced that I was gonna die on a plane. I was in New York and I was like, this plane taking me back to LA, it's gonna crash. You couldn't convince me otherwise, it was fucked. It was like paranoid schizophrenia. I was completely lost from reality, a little detached. Everyone was like, ​"Dude, you need to calm down." So honestly, quarantine saved me in a fucked up way.

Is this record as emotionally charged as the last?
I think so. This record has been a lot harder to make and really pin down what the sentiments to get across are, because I'm living it in real time. This record is really about being a 20-something-year-old and feeling existential, and being like, where do I go from here. And also self-exploration, going into the world and learning more about yourself because you're not just in this bubble in the city you grew up in. The emotions are more complex. It's not just, I'm sad, I'm angry. It's existentialism and things like that, they're not easy to tackle. It's harder to put on paper and be nuanced about it and say it in a way that a lot of people haven't heard before. It's a bigger challenge for sure.
Do you think people are ready for your new sound?
People are gonna get it a little bit more 10 years from now, 20 years from now. I tend to think that once in a lifetime, the fans are ready for it and you didn't know it and everything just clicked in a moment, that's so intangible. You want that, of course, that perfect moment. Even someone like 100 Gecs had that moment where it was the right record to put out at the right time. You want everyone to be really excited about the thing you just put out, but if I tried to chase that, I don't know if I'd be being me. I'd be sacrificing something that makes me happy.

More like this