Shaun Ross: ​

"

I want you to care about how I'm making you feel"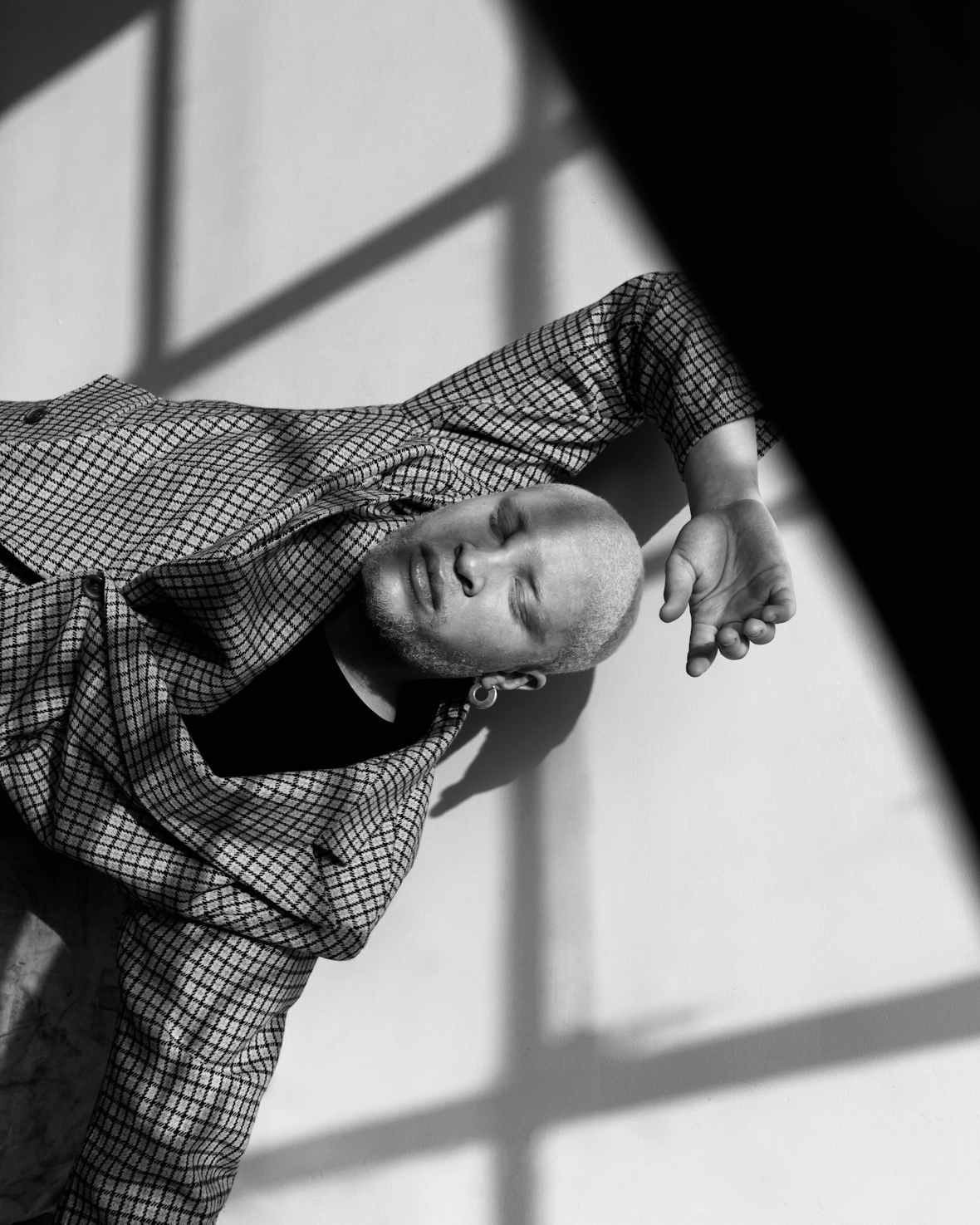 With a new single, Livin, out today, Shaun Ross talks exclusively to THE FACE about making the move from modelling to music ('cos he's on a shift, geddit?).
It's the ultimate compliment to be considered the ​"textbook definition" of anything. But to actually be in a textbook during your lifetime – that's on a different level altogether.
"It's always the question: ​'Which has albinism?'" Shaun Ross explains over Zoom from his Los Angeles home, keeping indoors on a very un-LA cold and rainy day. ​"Then it'll show a picture: ​'Male model Shaun Ross.'"
As the textbooks ensure, Ross' name will forever be tied to the fashion world for his distinction as the first professional male model with albinism. He's fronted campaigns for Fendi and Alexander McQueen and appeared in magazines such as GQ and Vogue (other publications, such as THE FACE, are available – Ed). But above all else, fashion has taught the 29-year-old New York native that he can do just about anything he puts his mind to.
"I've already done something that hasn't been done. Everything else is extra," he says, firmly.
This spring Ross releases his debut album, Shift, via his label Jex Records. For those who know him only for his runway success, it'll be the first introduction to a stunning voice; one that lifts and soars on dreamlike new single Livin – out today – and flits across 10 tracks of future R&B, club-ready disco and atmospheric ballads.

It's something that Ross attributes partly to growing up in the Bronx. Both his mother, who worked at the World Trade Centre, and father, a computer engineer, would bombard him with music, and Ross remembers playing outside as they flooded the neighbourhood with the sounds of Kool & The Gang and Björk from the window of their home.
"Where I come from, no one told you to turn your music down because it was good music. They wanted to hear it," he says.
Ross found an early calling for tap at the Bronx Dance Theatre and later enrolled in the Alvin Ailey School, a prestigious dance company in the city. He'd use his parents' VHS tapes to record hours and hours of Michael Jackson performances, studying the tapes and memorising the choreography.
What's more, it paid off. Magazine shoots and runway appearances followed, as did an appearance in the video for Katy Perry's E.T. – a precursor to cameos he'd make in Beyoncé's Pretty Hurts and Lana Del Rey's short film Tropico.
"There's a difference between being a model and ending up in this world where you are with the Lana Del Rey's, Beyoncé's, the Katy Perry's," Ross says. ​"I'm just a teenager, and I'm seeing this stuff. Not only am I a teenager – I'm a teenager kissing Katy Perry."

In 2017, a friend, Rush Davis, finally pushed Ross into making music of his own, setting up a studio session with DJ and producer Kingdom, and later landing him another with artist Brook D'Leau. Together they created Symmetry, Ross' 2017 debut single, featuring a pre-crossover Lizzo on backing vocals and setting up what would finally emerge this year: a full-length album, one that fully articulates the, well, shift, that he's currently on.
"I don't know where I want it to live," he says of a sound that is equal parts sparkling and ethereal, crafted under the watchful eye of producers Michael Tritter and Carlos Chairez. ​"I think it's also very ignorant to put a cap over where you think you're going to exist. You should want to exist as far as you could possibly be, as big as you want to be."
For now, Ross is starting to rewrite his own page in the textbooks.
"In this world, you are told: ​'This is what success looks like. It's that type of pretty. It's that type of beautiful'. And that's not accurate," he says. ​"For me, I want to be this person who may be a social anomaly to a lot of people and I want to step into a space and they're like: ​'This is my jam. And I love him because it's good. But also, did you see his dope style? Did you see his visuals? He has great visuals.'
"I just want you to care about that," Shaun Ross continues. ​"I don't want you to care about what I look like. I want you to care about how I'm making you feel."

Livin by Shuan Ross is out now

More like this