The Spice Girls: Fox Force Five

November 1996: The Spice Girls. You may very well laugh when they say they're on a mission to empower the women of the world, but more than a million people in Britain appear to believe them. Just who exactly do they think they are?

The little girls are quite overcome. ​"I can't believe it, I can't believe it," they gasp, and, ​"Look! Look!" and, ​"What are they doing in Shoreditch?" They huddle in groups, the little girls, and they pluck at each other's skinny arms, they fidget together in shared, panicky intimacy. But they don't look at one another. They can't. The little girls can't tear their eyes away from what's going on right in front of them, in their manor, next door to their estate, in a deserted playground after tea-time on a Monday. For the truly unimaginable is taking place. The Spice Girls are having their picture taken.
"Oh my God!! I like the one in the blue."
"I like the one in blue and the one in the tracksuit."

​"And the one in the leather coat."
"Oh, they're all pretty! They're like models."
A bloke in his mid-forties passing by on a bicycle stops and leans up against a gate. ​"Who's this lot, then?" he asks. The little girls are indignant. ​"They were number one for ages!" they reproach him, and, gravely, they sing him the song: ​"liiii'll TELL you what I want waddlrillyrillywant". ​"Oh, that shit," sniffs the bloke, but he doesn't move. ​"Why are you here then, if you think they're shit?" snaps one little girl, prickly, offended, defensive in her Arsenal top. The bloke shrugs: ​"Fit women."
When the Spice Girls – Emma, Geri, Victoria, Melanie B and Melanie C: fit women that girls like too – first high-kicked and hurtled themselves to the forefront of the nation's consciousness, the nation was taken aback. Where did this lot come from? it thought, slumping back into the sofa cushions. Then it thought: Good idea, Mr Marketing Man – a female Take That.
Then it thought: Clever, the video's shot in one long take. Then the nation settled back to try to pick its favourite Spice Girl. Which one? Little Emma, the baby-faced blonde? Melanie C, the scally gymnast? Outrageous, mixed-race Melanie B? Geri: cheeky redhead, keeps banging into things? Or dark Victoria, smouldering for Britain? Actually, the nation didn't even get that far: it hadn't the faintest what each one was called. But it will have. Because while the nation was lazily cataloguing them into aesthetic disorder, the Spice Girls have wasted no time in taking over Pop.
Wannabe was their first single, a thumb-to-the-nose nursery rhyme, a schoolgirl skipping chant with a plonky bass that started with a giggle and a ziggazigg-ah! and ended by going to number one in 21 countries. It bumped Gary Barlow off the summit of the British charts and then stayed there for seven weeks, holding back such surefire in-at-the-tops as Robbie Williams and George Michael. When Wannabe finally wannawent, conceding its pole position to the oozy charms of Peter Andre, it still hung around the top ten like a too-friendly party guest, refusing to go home and leave us with Phil Collins and Jamiroquai.
Wannabe has sold over one million copies in the UK alone. But… why? Really? What was it about these particular girls, these Top Shop poppets, this female Village People of checkouts and council estates? It certainly wasn't their groundbreaking fashion sense; they looked like a hen-night in hell. It wasn't their smooth and supple-limbed choreography, as the one-shot video all too painfully revealed. These girls weren't rough exactly, but they certainly weren't smooth. They made Shampoo look like Timotei princesses.
And that song. That sodding song. So irritatingly catchy, so all-pervading, so oddly worded. So regularly and vocally worshipped by teeny kids on the bus. You found yourself analysing the lyrics: if friendships last forever and I've gotta get with your friends, does that mean you're after a long-term relationship? Or are you offering your mates up as part of the package? And what is a ziggazigg-ah anyway?

Unfortunately for anyone's peace of mind, the Spice Girls have plenty more where Wannabe came from. The second single, the slicker but still memorable Say You'll Be There, is out now and there are several other singalongs to choose from a signed, sealed and already-delivered LP that bristles with Spice-penned pop-soul tunes. Harmonies to dress up to; lyrics that dress you down ("sort it out, get a grip"). You might like to hope otherwise ("if you really bug me then I'll say good-bye"), but, honestly, there'll be no getting away from this lot.
"AAAAAAAAAAAAARGGGGGGGGHHHH!!" bellows Melanie B, striding towards the camera like she's about to swallow it whole. ​"A little quieter, please," suggests the photographer, nervously. ​"NOOOOOO! I REFUSE!!! I DON'T DO QUIET!" The Spice Girls are proving hard to snap. Not only does every move they make attract cross-Shoreditch crowd comment (admiring from the girls, frankly pornographic from the handful of boys: there are now more than a hundred six-to-16-year-olds straggled across the playground), but, despite the audience, despite the chilly wind, the Girls themselves refuse to calm down. The photographer would like them to relax, stop doing their Spicey thing, but they won't. They can't. This is what they – in particular Geri and Melanie B – are like.
Melanie B keeps growling, laughing her enormous laugh, sticking her tongue out to show her piercing. Geri waggles her pinky finger at the boys to say ​"little dick", pretending she can't hear their obscenities so they have to repeat them ("Do you wanna come over here, darlin', and tell me while I smack your bottom?"). She's posing with a borrowed Boxer dog called Boyce. Eventually, to shut the boys up ("We've got one here who'd slam you and the dog as well"), Geri lets Boyce off his leash. He frolics off towards her harassers, who scramble up a 15-foot fence in two seconds flat.
"We got Em in the place who likes it in your face/​We got G like MC who tikes it on a…/Easy B doesn't come for free/​She's a real lady/​And as for me… ha you'll C"
Ladies and not-quite-ladies, meet the Spice Girls.
Emma Lee Bunton (born 21/​1/​78 in Barnet) is the one the little girls and the old men like, the sugar of the Spices. She only wears baby pink, baby blue, black or white; shiny or lacy or furry or fluff. She's into garage and house and goes clubbing at The Cross or Bagley's. She lives with her mum ("We're like flatmates; she's got a picture of a Chippendale on her wall") and goes out with a dental technician called Mark.
Geri Estelle Halliwell (6/​8/​72 in Watford) is half Spanish, quarter Swedish, a husky hussy liked by older girls and gay men. She sometimes lies about her age. Previous jobs include: club dancer in Majorca; office worker; game show hostess for Turkish TV; unqualified aerobics teacher; bargirl; hairdresser; Katharine Hamnett model; topless model; video checker (she had to spot swear words). She wears second-hand Seventies gear and hot pants. She's currently single: ​"But apply within. I'll be taking CVs."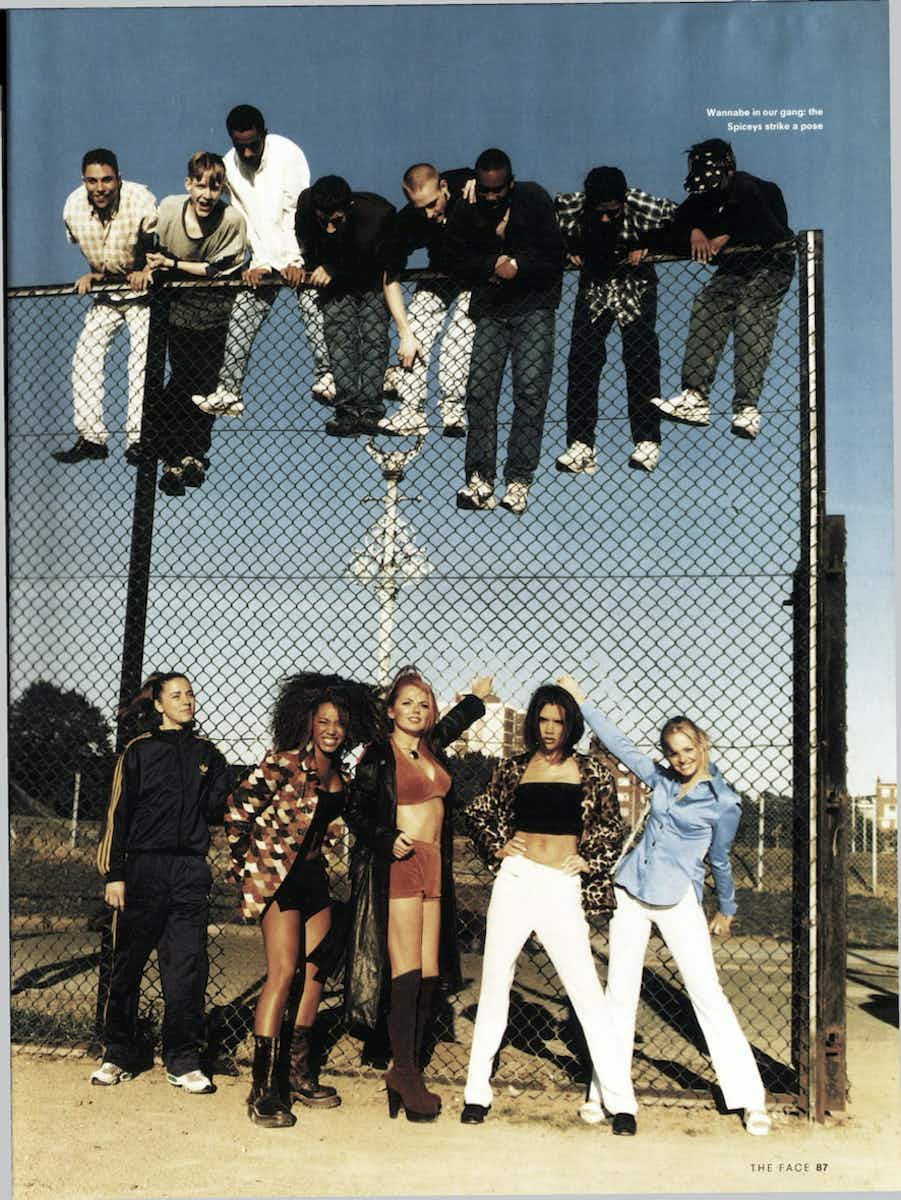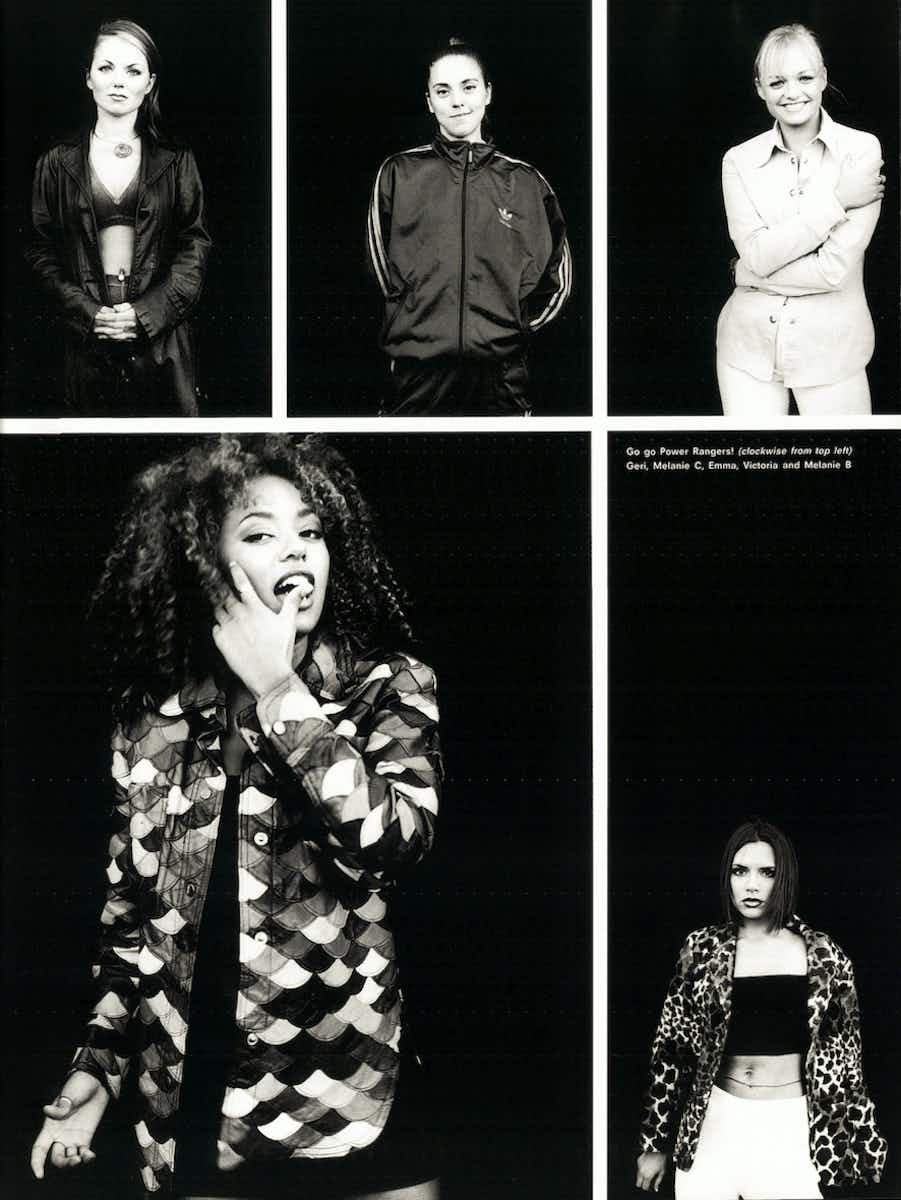 Melanie Janine Brown (29/​5/​75 in Leeds) – big boots, big hair, big gob – is stunning and impossible to dislike, though she frightens men. She's going out with an engraver called Richard. ​"I went up to him in a nightclub and said, ​'I really fancy you. Will you take me out on Wednesday at 7.30, please?'" She stomps and she shouts and she can play the drums. She tested her tongue-piercing out by snogging all the other Spiceys, though they didn't want to.
Victoria Adams (7/​4/​75 in Hertfordshire) is a Miss Sophisticated who still lives with her self-made parents in a big converted schoolhouse in the country. She wears a lot of make-up and short skirts and ​"all the men want to screw her", according to Geri. She likes Gucci. She has three Yorkshire Terriers and doesn't usually drink.
Finally, Melanie Jayne Chisholm (12/​1/​76 in Liverpool), who's disciplined, diplomatic, very healthy, the only Spice that doesn't smoke, the one that holds back a little when she doesn't know you. She's mad about Liverpool FC. Kids like her for her Celtic armband tattoo, her tracksuíts and her backflips. When Geri signs autographs, she talks to the fans. She says little slogans to them, like ​"Girl Power!" and ​"Be who you wanna be!" and ​"Express yourself!"
Geri has an agenda. ​"I'm a rebel with a cause," she laughs, Millie Tant meets Minnie The Minx. ​"I want to stand up and shout. I don't want to put men down but it's time for some strong females." She's heading the Spice attack: ​"Feminism has become a dirty word. Girl Power is just a Nineties way of saying it. We can strike a chord, give feminism a kick up the arse. Women can be so powerful when they show solidarity."
Once the photo session is over, she carries on dishing it out in the playground, to the cluster of little girls that clutch and clamour and hop: ​"You make sure the boys don't tell you what to do, alright?" Geri glances over. ​"Mind you, I always bang on about Girl Power and half the time I wonder if they know what I mean."
Ah, but they do. Little girls love Girl Power: it's just that lately, since Madonna grew her hair and grew up, they haven't been offered any. When Take That split up, several groups flexed and sexed and rushed to fill the vacuum. Boy bands to an almost-man: Boyzone, Let Loose, Upside Down; silky-faced, velcro-voiced lads whose first names were, well, who knows? Designed for the market, they proved wide off the mark. It was the Spice Girls, the daughters of the common people, that truly plugged the gap, captured the little girls' hearts and – more significantly, for the music industry – their pocket money.
No one expected this: right until the release of Wannabe, the record 44 Company were nervous. They preferred other, smoother, tracks from the LP; songs with more of an R&B production, a silky, swingbeat sex appeal. They worried about the nowhere-to-hide video, about the naff- as-you-like newness of their high street low life. And when the track first came out, it looked like they might be right. The press proved sniffy: one pop mag editor didn't even leave her room when the Spiceys arrived in person to singalong their number Wannabe. Girls don't want girls, was the argument; they want boys. But those arguments were wrong.

What do you think when people call you the female Take That?
Melanie C: I find it really frustrating. But I understand it, we look like we're a manufactured pop act. People change when they meet us. Robbie was my favourite.
Emma: I don't care. I wasn't a huge fan of Take That. I thought Mark Owen was nice.
Melanie B: I think, well you don't get it. You can't put an identity stamp on us. I was never into Take That. None of ​'em.
Geri: I loved Take That! It doesn't bother me, it's just lazy journalism. We're hardly in bed by eleven o'clock. I hope Mark Owen does well, because everyone thinks he's a brainless bimbo with a nice smile. I'd eat him for breakfast.
Victoria: The difference is that we all write the material. We don't all dress the same. We're not afraid to sound controversial. We're just the way we are. They were very management-led but we said from the start that we're gonna do what we're gonna do. I used to like Jason Orange, but now I like Gary Barlow.
Little girls like pop boys, because to swoon about them is an escape, a fantasy. But little girls are realistic. They might dream of having Robbie's baby, but they know that it's a dream. And they like pop totty – Kylie and ex-Eternal Louise – because they're pretty. But they're not witty. They don't provide the ammo that little girls need.
What little girls want – what they really really want – is to be sussed but sweet and to be able to wear short skirts without feeling as though they're wearing them wrong and, especially, to know just what to say when boys make them embarrassed. And they would love to be in a girl gang where everyone was a proper friend, where no one laughed at your market-bought trainers behind your back or changed their mind about liking you.
So when the little girls saw the big girls on the small screen, they were hooked. And the small screen was the key: the secret weapon in the Spice Girls' armoury. It explains how they exploded – fully formed and twice as popular – into grown-up consciousness. It explains Peter Andre. It explains a lot. Remember whose fault it is. The Box. The Box is a kind of cable television MTV, except that the viewers phone in to vote for the videos they like.
There's a choice that appears on screen; you dial the one that you want to see. Wannabe was The Box's top clip for weeks before the single's release: plus The Box put together a little video introduction to the Spiceys, a sassy-nation assassination that sold the characters behind the hair-dos, and their Girl Power notions. And – look mum! – it worked.
The Spice Girls story: five dance and drama school drop-outs keep bumping into each other at auditions, never getting proper jobs (Mel C almost made Cats; Mel B was in Coronation Street once; Emma, The Bill). Victoria: ​"We were always the crap ones left behind." Victoria knows Emma from a musical they did when they were little. Geri talks to Victoria at a Tank Girl audition. The Mels meet in a dancing corps. They're all friends, but they're hardly the Girl Power Rangers. Not yet.

Someone takes out an advert for a young female group and all five pre-Madonnas apply separately. When they're picked they're ecstatic, not least because they know they all get along. But within two months, they're out. They quit. ​"The bloke wanted us to sing someone else's songs," remembers Mel C. ​"About love, and all that shit." Geri: ​"We knew that we are our own market."
The Spice Girls decide to take things into their own chipped-nailed hands – and move in Monkees! like a proper group! – into a three-bedroom house in Maidstone. The Mels share a bedroom; so do Victoria and Emma; Geri, as the oldest, gets her own. The Unfamous Five practise their singing, work out tunes and daft dance routines, share makeup, argue like Oprah guests. They last nine months before moving out.
And then, the Spice Girls just upped and at ​'em. They'd play their demo tape to anyone who'd listen; turn up like clockwork, like dolls, at music industry parties and sing a cappella to the bosses; march into TV stations and record companies, put their tape on and perform; grab journalists, runners, cleaners – anyone vaguely to do with the pop business – and hijack them on to their side.
When they finally signed their record deal in 1995, they already knew how they worked best. They wrote the LP Spice in the studio with two different production teams. ("I fancied working 24 hours a day with five women, I suppose": Matt Rowe, one half of the writing and production duo Stannard and Rowe, who co-wrote Wannabe.) The Spiceys, clearly, had no formal songwriting skills: instead they sat on each other's knees, shouting tunes at one another until everyone was happy.
Matt Rowe: ​"You have to subtly produce them without them really noticing." Oh, and another thing. When they finally signed their record deal with Virgin, Geri, Emma and the two Melanies insisted that Victoria drink champagne to celebrate. She got so paralytic that Geri had to lean her against the wall in the toilets to try to repair her make-up. The evening ended with the other Spice Girls ripping Victoria's knickers off and throwing them out of a taxi window.
It's the next day. The Spice Girls are doing a special interview for The Big Breakfast, in a girls' school in Camden. Eleven o'clock in the morning and everywhere's in chaos. It's like a Munchkins disaster movie. Hundreds of little girls swarm and screech and gaggle and giggle and as you try to push your way through, they pull back and scrutinise to see if you're a Spice. They pause to fill their lungs, ready for a scream… but no. False alarm. The real Spiceys are having their makeup done in the staffroom.
Melanie B is laughing her GRATE BIG LAFF as she tells me about the last time she and Melanie C had a fight. It was in a hotel in Germany. ​"Geri always gets in the middle, right, to try and sort things out, and this time she nearly got knocked out by Mel's fist. So we both just pushed her in the bedroom cupboard and slammed the door and then finished the fight! HA HA!" Melanie B likes things out in the open – she thinks it's a compliment when people shout, because at least it means they're bothered. She is entertainingly, enthusiastically, extraordinarily candid. She hides nothing.

"What you see is what you get," she trumpets, in her fruity Yorkshire tones. ​"Ask me anything, I don't care." What about all those tabloid stories that you'd slept with both of your neighbours? ​"That was a load of bollocks. I saw them and I laughed. He gave me six out of ten. Well, he obviously hadn't slept with me ​'cause he would have given it 11 out of ten! I'll try anything, me. Porn or dominatrix or anything. I'm a good dominatrix. I've done private dancer too. I feel alive," she says, ​"when I do mad things."
The interview takes place in a classroom with the presenter Rick Adams dressed in a schoolboy outfit. ​"I love a man in uniform," comments Victoria. ​"Are we a bit much for you?" asks Geri. The Spiceys sit three behind two, and fiddle with each other's hair as little girls do. ​"What's a ziggazigg-ah?" asks the presenter. Coyly Emma whispers to him. He repeats it out loud. ​"Rudies? What's rudies?"
Covered in their lipstick kisses like a picture-postcard buffoon, he doesn't look like he could cope with whatever it is. Ever polite, Mel C helps him out. ​"It's whatever you want it to be." At the windows, the little girls tap and press their noses, and pull grisly faces when the teachers tell them to go back to class. ​"In the video for Say You'll Be There, I had to snog Tony Ward," explains Melanie B. ​"You know, Madonna's ex. And he was ​'orrible. Really fancied himself. He had Mr Ward written across his chest."
"In case he forgot his name," says Geri. It's time to leave. The Spice Girls have to record interviews for The Box and The Chart Show, do a radio face-to-face, a cover story for Live And Kicking magazine plus three photo shoots. As Emma, Geri, Victoria, Melanie B and Melanie C make their way out through the school yard to the waiting cars ("Everyone ready? One, two, three. OK, out we go!" Then NOISE) the little girls surge forwards, arms outstretched, breathless.
They don't grab though, not seriously; they just scream. And scream. And then they stop, look at one another and collapse into hysterics. There's a thing about little girls. They know how they're meant to behave: scream at pop stars, cry about boys, obsess about girl-stuff, worry about fashion. And they know how they want to behave. Cool about girl-stuff. Laughing at boys. Wearing what they want, what they really really want. Like pop stars.


More like this