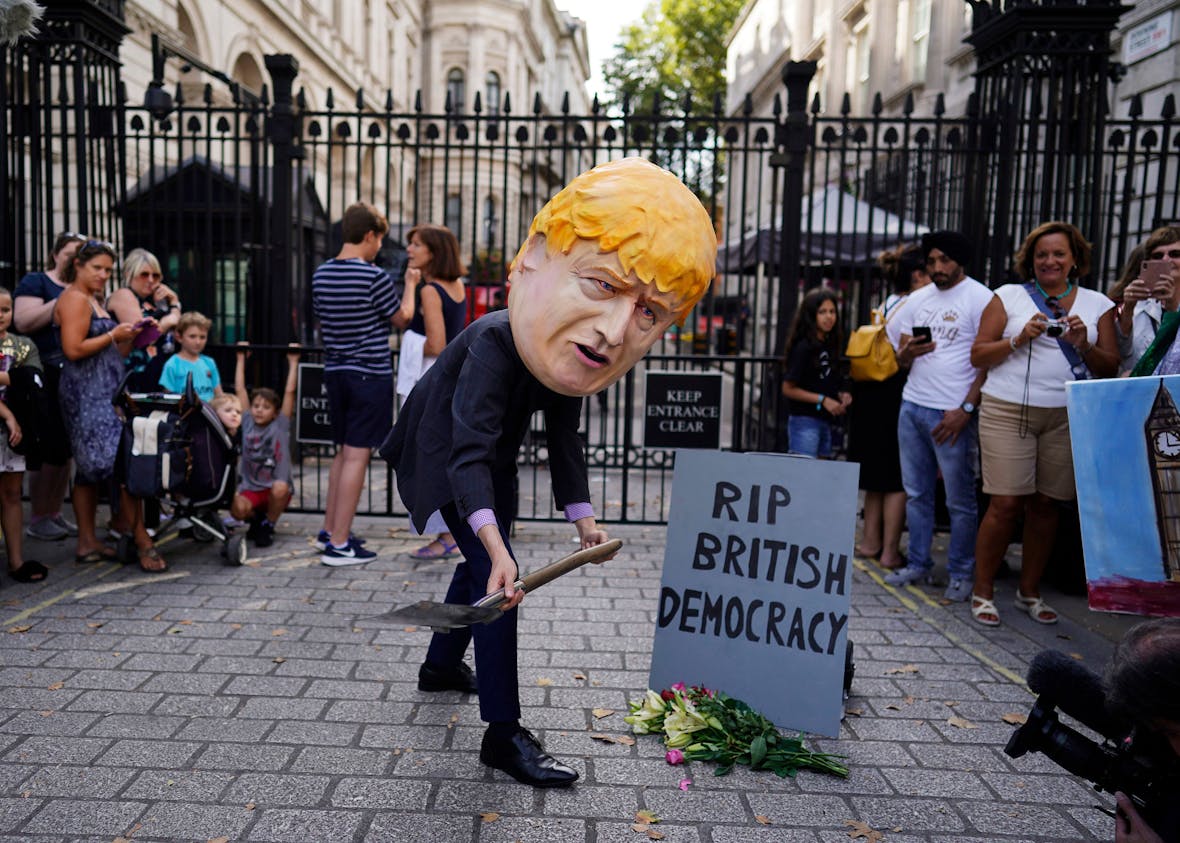 Boris Johnson's pro­rogu­ing of Par­lia­ment: a cheat sheet
What has Boris done now?
This week Boris John­son, the British Prime Min­is­ter, announced plans to sus­pend – or pro­rogue – par­lia­ment for a month, and hold a Queen's Speech to open a new ses­sion on 14th Octo­ber. The deci­sion was approved by the Queen, who has the final say on big deci­sions like this, yesterday.
So, from any­time between 9th and 12th Sep­tem­ber, Par­lia­ment will be suspended.
Is that normal?
Yes and no. It's very nor­mal for Par­lia­ment to be sus­pend­ed for a peri­od each year, espe­cial­ly around this sea­son when the polit­i­cal par­ty con­fer­ences take place. Noth­ing new there. Pro­rogu­ing is basi­cal­ly just putting the brakes on with­out com­plete­ly dis­solv­ing par­lia­ment, and the cur­rent ses­sion (which began June 2017) is actu­al­ly the longest in 400 years. But the length of the sus­pen­sion – more than a month, which is the longest sus­pen­sion since 1945 – as well as the tim­ing, just ahead of the UK's depar­ture from the EU on 31st Octo­ber, is pret­ty fucked up.
Why would Boris do it then?
Good ques­tion. Boris claims that he is shut­ting down Par­lia­ment because he wants an oppor­tu­ni­ty to set-up new bills which will ​"lev­el up" his pro­posed spend­ing on his polit­i­cal agen­da (basi­cal­ly things he's been mak­ing big claims about, like the NHS and polic­ing crime). He says it's got noth­ing to do with Brex­it – it's just about him hav­ing his moment to shine.
Does any­one believe him?
Er, yeah, Jacob Rees-Mogg does. He, along with some oth­er Con­ser­v­a­tive MPs who are loy­al to Boris, main­tain that this is sim­ply ​"nor­mal" gov­ern­ment pro­ce­dure. And he says that any­one oppos­ing Boris' deci­sion is a ​"phoney" who just wants to stay in the EU. Zing!
But I thought Boris said it's not about Brexit.
Quite.
What does every­one else think?
Don­ald Trump thinks it's a great idea, by all accounts. But the deci­sion has pro­voked a lot of fury among both politi­cians and the pub­lic. Scot­land First Min­is­ter Nico­la Stur­geon, for exam­ple, said that sus­pend­ing par­lia­ment would go down in his­to­ry ​"as the day UK democ­ra­cy died".
John Bercow, the Com­mons, speak­er, called it a ​"con­sti­tu­tion­al out­rage", along with senior Con­ser­v­a­tive MP and for­mer Chan­cel­lor Philip Ham­mond, while many MPs say it is a ​"full-frontal assault" on democracy.
The Guardian said that Boris' behav­iour is ​"an act of wan­ton con­sti­tu­tion­al van­dal­ism", and that he is ​"exhibit­ing the irre­spon­si­ble arro­gance of which he has long been known capa­ble" while ​"also oper­at­ing with­in the tech­ni­cal para­me­ters of what the British polit­i­cal sys­tem allows in all its archa­ic pecu­liar­i­ty." Basi­cal­ly, a lot of peo­ple have been point­ing out that we have an unwrit­ten con­sti­tu­tion – we don't have one for­mal doc­u­ment set­ting out how gov­ern­ment is run, but rather many acts of par­lia­ment – which is unusu­al and means stuff like this can hap­pen. Pol­ly Toyn­bee, a polit­i­cal com­men­ta­tor, said a ​"civ­il war state of mind now threat­ens our democ­ra­cy".
Depend­ing on your pol­i­tics bub­ble, you might see a lot of peo­ple tweet­ing #StopThe­Coup as a result. How­ev­er, very gen­er­al­ly speak­ing, those who are pro-Brex­it are sup­port­ing Boris' deci­sion – for instance The Sun claim that the PM is mere­ly ​"defend­ing democ­ra­cy from the Remoan­ers" in a prick­ly edi­to­r­i­al that clawed at the left and accused pro-EU MPs of plot­ting their own coup ​"in which Boris is replaced by a stooge PM and a Remain­er Gov­ern­ment lit­er­al­ly no one vot­ed for". (Inter­est­ing to remem­ber ​"lit­er­al­ly no one" vot­ed for Boris while read­ing this.) ​"These char­la­tans will lie, cheat and scream blue mur­der to reverse Brex­it," The Sun said, hysterically.
Char­la­tans, pre­sum­ably, like Labour Par­ty leader Jere­my Cor­byn, who said that ​"Sus­pend­ing Par­lia­ment is not accept­able. What the prime min­is­ter is doing is a smash and grab on our democ­ra­cy to force through a no deal." He said pre­vi­ous­ly, ​"I am appalled at the reck­less­ness of Johnson's gov­ern­ment, which talks about sov­er­eign­ty and yet is seek­ing to sus­pend par­lia­ment to avoid scruti­ny of its plans for a reck­less no-deal Brexit."
The Shad­ow Chan­cel­lor, John McDon­nell, said, ​"Make no mis­take, this is a very British coup."
So it is about Brex­it?
Well. Despite Boris' alleged rea­son­ing, sus­pend­ing Par­lia­ment has the biggest effect on how we deal with the 31st Octo­ber dead­line for us to leave the EU. It dra­mat­i­cal­ly reduces the time MPs have to attempt to stop a No Deal Brex­it. Many peo­ple think that Johnson's deci­sion to make him­self unavail­able to elect­ed rep­re­sen­ta­tives of the pub­lic for five weeks is act­ing in a way to silence the pub­lic – despite the deci­sion to leave the EU being placed in their hands back in 2016.
No won­der peo­ple are protesting.
Exact­ly. Peace­ful protests began last night out­side Num­ber 10 and across the coun­try. The pub­lic are decry­ing Boris' deci­sion because, as The Guardian jour­nal­ist Owen Jones explained, it's not right for an unelect­ed Prime Min­is­ter to shut down the elect­ed gov­ern­ment (after all, the lead­er­ship bat­tle between Boris and Jere­my Hunt, back in July, came down to the votes of just 160,000 Con­ser­v­a­tive Par­ty mem­bers – Boris won 66.4% of that vote but it nev­er went to the people).
Last night, peo­ple gath­ered in Lon­don, Man­ches­ter and Bris­tol among oth­er cities, shout­ing ​"Stop the Coup", a sen­ti­ment that has been echoed in today's news­pa­per headlines.
Not only is it a grave exam­ple of how pow­er can be abused (so says Sha­mi Chakra­bati) but some believe it sets a dan­ger­ous prece­dent – that ​"shut-downs" and silenc­ing of elect­ed rep­re­sen­ta­tives can take place just because one man says so. It severe­ly under­mines the demo­c­ra­t­ic process. And gov­er­nance must flow from the pub­lic – which is why lots of peo­ple are so angry.
A swift YouGov poll found that 47 per cent of the pub­lic said Johnson's move was unac­cept­able, and just 27 per cent approved it. At the time of writ­ing, 1.3 mil­lion peo­ple have signed a peti­tion to stop the pro­rogu­ing of parliament.
What about the MPs?
Many are protest­ing; Ruth David­son, leader of the Scot­tish Con­ser­v­a­tives has quit, cit­ing the con­flict she has felt over Brex­it. George Young – the for­mer leader of the House of Com­mons who was a cab­i­net min­is­ter with David Cameron – also quit this morn­ing. Lord Young said that Boris' actions ​"risk under­min­ing the role of par­lia­ment".
Some peo­ple are say­ing Boris puts the ​"rogue" in ​"pro­rogue". That's clever isn't it?
So cute, yes. But let's remem­ber how Boris has man­aged to get away with so much in the past, by posi­tion­ing him­self as a love­able rogue, a bit of an odd­ball, a sim­ple weirdo. He's not just the scruffy dude with the bikes now, per­form­ing a per­sona – he's pow­er­ful, and it's impor­tant that he is prop­er­ly held account­able for the uses (and abus­es) of his pow­er, espe­cial­ly at times like this. Call­ing him a bit of a rogue under­mines that.
What about call­ing him a ​"tin-pot dic­ta­tor"?
If the shoe fits…
Can any­thing be done legal­ly to stop him? Couldn't the Queen have blocked it?
Yes, tech­ni­cal­ly. She has the pow­er to do so but she is sup­posed to be apo­lit­i­cal, mean­ing she can't real­ly take sides or have a say, and so it was always very, very unlike­ly that she would say no.
Where's Gina Miller when you need her?
She's right here! The woman who legal­ly chal­lenged how Arti­cle 50 would be invoked (and won) has already instruct­ed her lawyers to make an urgent appli­ca­tion to the high court for a judi­cial review of Johnson's sus­pen­sion. Miller said that ​"this is a brazen attempt, of tru­ly his­tor­i­cal mag­ni­tude, to pre­vent the exec­u­tive being held account­able for its con­duct before parliament."
What hap­pens next, then?
Par­lia­ment is still cur­rent­ly in recess and will return on 3rd Sep­tem­ber. At that point, Jere­my Cor­byn, as leader of the oppo­si­tion, could call for a vote of no con­fi­dence in an attempt to oust Boris. If he is suc­cess­ful, he'll then have 14 days to put togeth­er an alter­na­tive major­i­ty gov­ern­ment. His so-called ​"care­tak­er gov­ern­ment" would then ask for an exten­sion to Arti­cle 50 from the EU, before call­ing a gen­er­al elec­tion. MPs could also attach amend­ments to the Queen's speech in an attempt to block No Deal. Some say that MPs must now choose between ​"loy­al­ty to democ­ra­cy or to Boris John­son".
Alter­na­tive­ly, MPs could attempt to force Boris into extend­ing Arti­cle 50 by push­ing leg­is­la­tion through if he doesn't get a new Brex­it deal. Ulti­mate­ly this could end in a ​"peo­ple vs par­lia­ment" gen­er­al election.
If Boris is unchal­lenged on his lat­est deci­sion, a new ses­sion of par­lia­ment will begin on 14th Octo­ber, and he will try to con­firm a rene­go­ti­at­ed Brex­it deal with the Euro­pean coun­cil on 17th Octo­ber. That might work – in which case MPs would have to vote on the deal one week before we leave the EU and if they don't approve it, we crash out on default with No Deal – and the same goes for if Boris can't con­firm a rene­go­ti­at­ed deal in the first place.
So… we're fucked?
Yeah… pret­ty much.

---