A guide to Bristol activism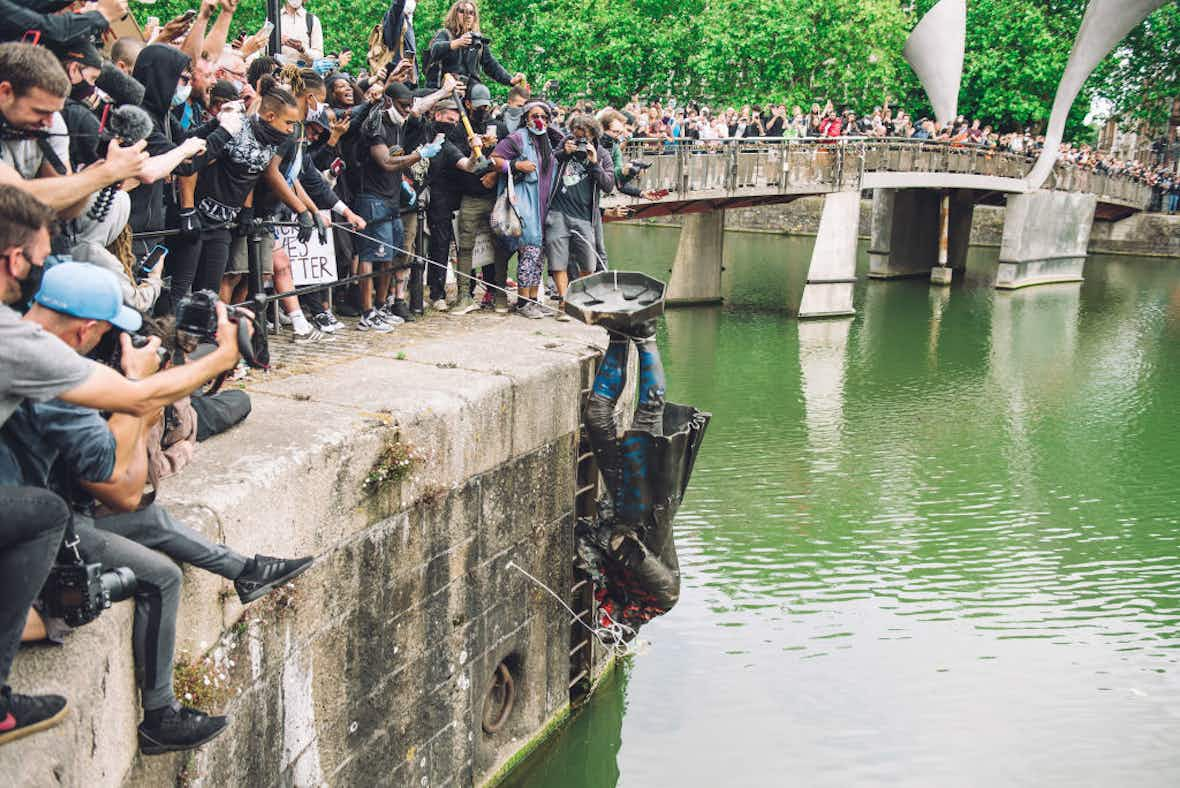 Loved watching Colston's statue being thrown in the harbour? Here's what to watch, listen to, read and who to follow to understand Bristol's fight against racism.
Yesterday, during the Black Lives Matter protests in Bristol, activists tore down the city centre's controversial bronze statue of Edward Colston – an infamous 1600s slave trader whose presence is felt strongly throughout the city. There's a road, a school and a major venue all named after Colston because of Bristol's mercantile history.
Calls to remove Colston's statue (erected in 1895) and erase the celebration of slavery in Bristol have been ongoing, but have had limited success (after initially announcing plans to change it in 2017, Colston Hall have now confirmed the venue will have a new name by autumn). In light of the widespread protests about police brutality and racism, protesters at Bristol's Black Lives Matter demonstration took direct action to remove a representation of the city's dark past. While politicians, from Priti Patel to Keir Starmer, have criticised taking down the statue by force, most of those supporting the Black Lives Matter movement felt elated to see Colston's statue was pulled down, rolled down the road and dunked into the harbour.
Protests and activist movements such as yesterday's aren't new to Bristol. The 1963 Bristol Bus Boycott forced racist bus companies to lift their ban on hiring ​"coloured people", which contributed to the formation of the Race Relations Act. This year is the 40th anniversary of the St Pauls uprising, which saw racial and policing tensions reach a historic peak with 130 arrests and 90 charges.
In celebration of yesterday's small victory, here's a guide to Bristol's activism.
WATCH
Broadcasted in 1980, six months after the uprising.

In this short seven-part series, former Bristol Poet Laureate Miles Chambers celebrates the seven founders of the St Pauls Carnival.
A House Through Time (Series Three)
David Olusoga follows the lives of the residents of an 18th-century house in Bristol.
READ
A Brief History of Protests in Bristol
This blog post gives a brief overview of protests and civil disobedience in Bristol, from 1812 to the present day.
Memoires of a Black Englishman

Paul Stephenson OBE – a leading Black Bristolian civil rights activist – tells his story.

This blog post details the long and fraught history between Bristol's black and white populations.
Secret Bristol

An illustrative journey through the inhuman aspects of early trade, slavery, piracy and struggles for social justice.
Daniel runs Milk For Tea – a social enterprise supported by The Prince's Trust which serves the wellbeing and personal development of Bristol's Black male community.
Nasra Ayub
Nasra is a civil servant, freelance writer and women's rights campaigner at Integrate UK.
Jasmine Ketibuah-Foley
Jasmine is a broadcaster, an ambassador for Green and Black – a race and environment initiative – and a producer at Ujima Radio.
Sharifa Whitney James
Sharifa is the co-founder of Kiki – a social safe space for LGBTQ PoC to meet, greet, eat, discuss and party.

More like this