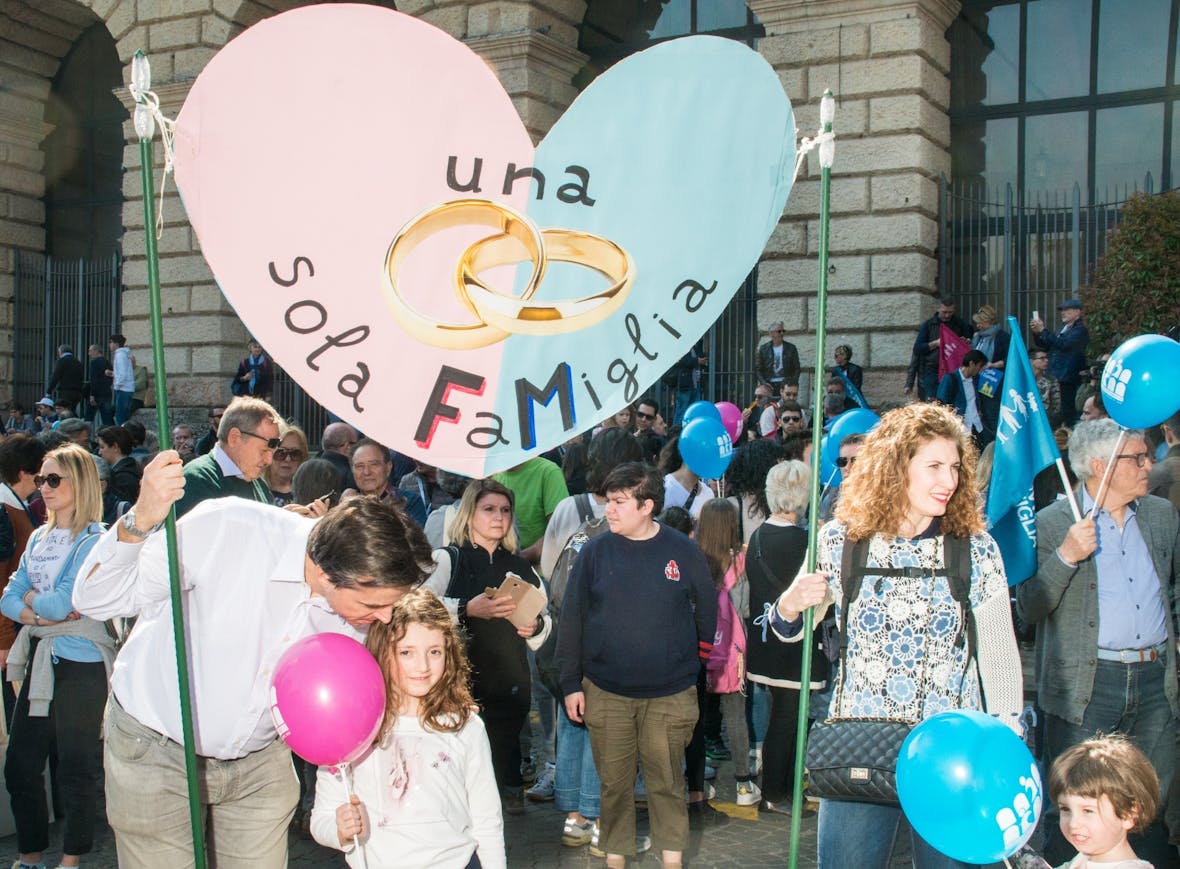 How the far right is weapon­is­ing ​

"

the family"
A colour­ful ban­ner streams down the elab­o­rate facade of The Gran Guardia palace in cen­tral Verona, Italy. A winged child, his fist raised in the air, hov­ers beneath the words: ​"The Wind of Change: Europe and the Glob­al Pro-Fam­i­ly Movement".
Secu­ri­ty is tight: body­guards in black suits hov­er in door­ways, press­ing their ear­pieces while Ital­ian riot police and cara­binieri (para­mil­i­tary offi­cers) encir­cle the build­ing. Princess Glo­ria of Thurn and Taxis, Ger­many is late, I'm told, but the Ital­ian VIPs (includ­ing Mat­teo Salvi­ni, the country's deputy prime min­is­ter, from the far-right Lega par­ty) are still expect­ed to speak on sched­ule.

I am at the 13th World Con­gress of Fam­i­lies (WCF) – a now annu­al con­fer­ence of ultra-con­ser­v­a­tive activists and their grow­ing list of polit­i­cal allies. Each year they come togeth­er to strate­gise fights against abor­tion, con­tra­cep­tion, sex edu­ca­tion, and the rights of LGBTQ+ peo­ple – and to pro­mote what Chris­t­ian right activists call ​"the nat­ur­al fam­i­ly": a mar­ried man and woman and their (ide­al­ly many) children.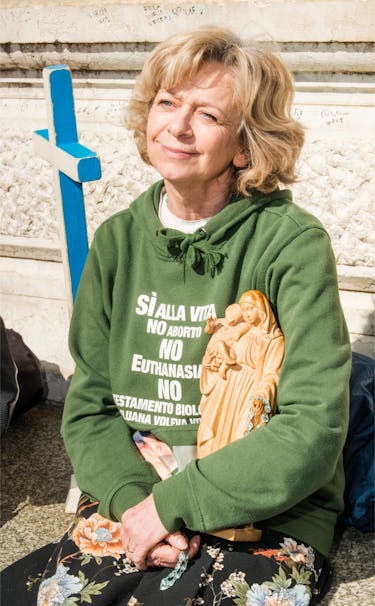 At these events, the jet-set­ting reli­gious and polit­i­cal elite – includ­ing priests, bish­ops, gov­ern­ment min­is­ters, ambas­sadors, and aris­to­crats like Prince Louis Alphonse of Bour­bon, duke of Anjou, who is also a great-grand­son of Gen­er­al Fran­co – dis­cuss how to spread ​"tra­di­tion­al val­ues" and resist or roll back demands for repro­duc­tive and sex­u­al rights.
They argue that the ​"nat­ur­al fam­i­ly" has been under attack and that this has brought the world to the precipice of a ​"demo­graph­ic win­ter" where not enough babies are being born. Who has lead these ​"attacks"? In their view: fem­i­nists and LGBTQ+ rights activists who have been lead­ing fights for gen­der equal­i­ty and social jus­tice around the world.
Some speak in mil­i­taris­tic lan­guage, of ​"cul­ture wars". Oth­ers empha­sise ​"love" and sim­ply remove from the frame same-sex par­ents, sin­gle moth­ers, women who end unwant­ed preg­nan­cies – and the unthink­able: teens who have sex.

The WCF was found­ed in 1997 after meet­ings between right-wing Chris­t­ian lead­ers in the US and ultra-con­ser­v­a­tive Russ­ian writ­ers. It has host­ed sev­en inter­na­tion­al meet­ings in Europe over the last decade – though it has large­ly escaped press atten­tion and pub­lic scruti­ny, until now.
From the US to Italy to Brazil far-right move­ments have put ​"the fam­i­ly" – and con­trol over women's bod­ies and lives – at the cen­tre of their pop­ulist pol­i­tics. The polit­i­cal vision nur­tured by this WCF net­work over the years is now fright­en­ing­ly mainstream.
I came across these meet­ings years ago, but attend­ed my first in Budapest, Hun­gary in 2017. I had just start­ed a new job at the inde­pen­dent media plat­form open­Democ­ra­cy, edit­ing the website's gen­der and sex­u­al­i­ty sec­tion. As an inves­tiga­tive jour­nal­ist, I want­ed to see what was going on with­in the organ­ised move­ments oppos­ing women's and LGBTQ+ rights around the world.
Vic­tor Orban, Hungary's prime min­is­ter, from its far-right Fidesz par­ty, spoke at that 2017 meet­ing along with a num­ber of his min­is­ters. Anoth­er speak­er was Jack Han­ick, a for­mer Fox News pro­duc­er who described the hit sit­com Mod­ern Fam­i­ly – with its divorced and remar­ried char­ac­ters, and a same-sex cou­ple who adopt a child – as the lat­est chap­ter in ​"TV's role in the destruc­tion of the tra­di­tion­al family."

This year more jour­nal­ists tried to get inside to cov­er the dis­cus­sions – but many were denied. I have reg­is­tered as a par­tic­i­pant and am under­cov­er, and it seems more cru­cial than ever that I report what I find. At the Euro­pean elec­tions in May, far-right par­ties will seek to cap­ture the world's largest demo­c­ra­t­i­cal­ly-elect­ed body with poli­cies and cam­paigns which threat­en the rights of mil­lions. And many of the key cam­paign­ers are gath­ered in Verona this weekend.


Listen now:

The sound of The World Congress of Families in Verona, 2019
Day 1: 'Out-breed the left'
I arrive at the palace short­ly after 8am, walk­ing along pic­turesque streets lined with restau­rants. The sky over­head is cloud­less and a bright, light blue. The area around the venue is calm, though par­tic­i­pants – and a few press – are milling on the stairs.
I col­lect my par­tic­i­pants pass and a tote bag of ultra-con­ser­v­a­tive good­ies, includ­ing a gold­en pin in the shape of tiny feet – a gift from the ProVi­ta Ital­ian anti-abor­tion group that is a key organ­is­er of the event and that has well-doc­u­ment­ed links to the neo-fas­cist par­ty Forza Nuo­va, includ­ing through the fam­i­ly of the party's leader, Rober­to Fiore.

I'm struck by some of the stalls inside the build­ing. While most are from Chris­t­ian right groups there is also one from a com­pa­ny called Braz­za­le. Lat­er, I look them up: they claim to be the old­est Ital­ian dairy com­pa­ny, oper­at­ing con­tin­u­ous­ly since 1784. And they're not the only busi­ness list­ed as a spon­sor of this ultra-con­ser­v­a­tive jamboree.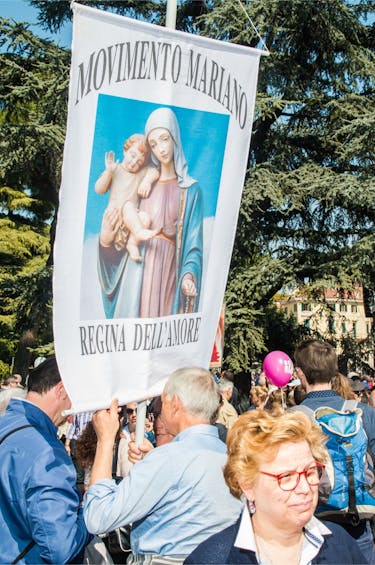 On the con­gress mate­ri­als, there is also the logo of Vil­la San­di, a win­ery that says it's ​"one of the lead­ing pro­duc­ers of Pros­ec­co" – and is part of the busi­ness empire con­trolled by the bil­lion­aire Moret­ti Pole­ga­to fam­i­ly. These strike me as stark reminders that, far from being a niche event, the WCF is an elite net­work involv­ing a grow­ing num­ber of pow­er­ful people.
At one stand I get a copy of a newslet­ter from an Aus­tralian group with the head­line: ​"Abor­tion debate: What can we learn from the US." It shares news from Amer­i­ca where abor­tion rights are under attack in numer­ous states and from the Trump admin­is­tra­tion – reflect­ing how these move­ments learn from and root for each oth­er across borders.
The Con­gress is spread over four floors in the grand build­ing. Signs mark the way to an audi­to­ri­um, a VIP Lounge, and rooms for work­shops with titles like ​"Cyber­ac­tivism Con­fronting the Rad­i­cal Left" and ​"The Beau­ty of Mar­riage." This is a high-pro­duc­tion event, with simul­ta­ne­ous trans­la­tion via head­sets in Eng­lish, Ital­ian, Russ­ian, and French.
A stream of anti-abor­tion activists, and local Ital­ian politi­cians, take the podi­um. The seats around me have filled up with del­e­gates – many in suits. I'm struck by the num­ber of men on stage, talk­ing about the babies that oth­er peo­ple must bear. Each one intro­duces him­self by stat­ing how many chil­dren they've fathered – three, four, five or more – to grow­ing applause.

An Amer­i­can con­ser­v­a­tive YouTube star, Steve Tur­ley, elec­tri­fies the crowd. ​"It's great to be among such a group of far right rad­i­cals," he chuck­les, mock­ing ​"50 dif­fer­ent gen­der options on Face­book" and cel­e­brat­ing ​"re-awak­ened tra­di­tion­al­ist nation­al­ism" around the world.
From the US to India there is a ​"mas­sive reli­gious renew­al" sweep­ing the globe, he says, adding that ​"the sec­u­lar pop­u­la­tion will begin a steady decline" [as reli­gious con­ser­v­a­tives have more chil­dren]. He pro­claims: ​"Amer­i­ca is basi­cal­ly going to be Evan­gel­i­cal, Mor­mon and Amish."
Final­ly, a woman takes the stage – only to read a state­ment from her boss. This is Cristi­na Buga, advi­sor to Igor Dodon, pres­i­dent of Moldo­va – where last year's WCF was host­ed. The state­ment she reads warns of the ​"cri­sis" of demo­graph­ic decline and migra­tion threat­en­ing ​"a nor­mal, nat­ur­al soci­ety" while the fam­i­ly ​"rep­re­sents the strength of our nation."
"This cul­ture war is a glob­al war", an ultra-con­ser­v­a­tive Span­ish activist says, in one of the day's more mil­i­taris­tic speech­es. ​"Ene­mies," he explains, have ​"infil­trat­ed all insti­tu­tions" from polit­i­cal par­ties to the Unit­ed Nations. But, he offers encour­ag­ing­ly, the tide is turn­ing. Now, we must launch glob­al cam­paigns in the ultra-con­ser­v­a­tive fight-back, col­lab­o­rat­ing across bor­ders. We must also seize pow­er: direct­ly or indi­rect­ly, by ​"con­trol­ling the envi­ron­ment" in which politi­cians operate.
I devour this speech – it's incred­i­ble. Pow­er­ful, ener­gis­ing – and fright­en­ing. The man on stage is talk­ing about me, and the amaz­ing, empow­er­ing women I've met who are work­ing tire­less­ly to build real-life alter­na­tives to patri­archy and gen­der injus­tice. I sink into my chair, in case any­one notices the ​"ene­my" among them.
Some of the speak­ers open­ly mix anti-immi­grant and ​"pro-fam­i­ly" pro­pa­gan­da. For exam­ple, politi­cians from both Italy and Hun­gary promise to address their coun­tries' ​"demo­graph­ic declines" by get­ting more (white) women to have babies rather than let­ting more (not-white) peo­ple in. At times, it feels to me as if they're wrap­ping racism in a ​"fam­i­ly-friend­ly" blan­ket.

By the end of the day, I'm exhaust­ed. When I arrive at the hotel I've booked – still in the char­ac­ter of a gung-ho WCF del­e­gate – the recep­tion­ist, a woman about my age, says: ​"There are many peo­ple here who do not like what you're doing in there". I want to tell her. ​"Thank you. I'm with you," but instead I avert my eyes and shuf­fle to the lift. Day two, I know already, is going to be harder.

Most of the VIPs are speak­ing today, includ­ing Princess Glo­ria. As they arrive at the Gran Guardia, tens of thou­sands of peo­ple are gath­er­ing in the city's streets to oppose the con­gress and march for women's and LGBTQ+ rights. Walk­ing to the palace, I pass posters out­side shops with the day's local news­pa­per head­lines, includ­ing: ​"Today the counter protests: Fam­i­ly Con­gress, in Verona divides Italy."
So many events have been organ­ised in the city, includ­ing fem­i­nist book pre­sen­ta­tions, talks with schol­ars from dif­fer­ent coun­tries, the pro­jec­tion of a doc­u­men­tary about the strug­gle for LGBTQ+ rights in Ugan­da, the­atre plays, a fem­i­nist assem­bly and the street demon­stra­tion. Peo­ple have trav­elled from across Italy and fur­ther afield in Europe to stand up to the WCF and fas­cisms and fun­da­men­talisms of all stripes
I want to wit­ness this his­toric mobil­i­sa­tion, but am stuck inside the palace. In the morn­ing, I step out­side as riot police assem­ble around the venue's entrance, where on its grand steps a neo-fas­cist par­ty, Forza Nuo­va, is hold­ing a press con­fer­ence. Ital­ian jour­nal­ists swarm the par­ty offi­cial – giv­ing him, it seems, pre­cise­ly the atten­tion he wants – as he announces a cam­paign for a ref­er­en­dum on the country's abor­tion law.

Princess Glo­ria arrives. One of the event's most glam­orous speak­ers – though not its only aris­to­crat – she joins a promi­nent Amer­i­can anti-LGBTQ+ rights activist on stage: Bri­an Brown, who leads the US Nation­al Orga­ni­za­tion for Mar­riage, a group found­ed in 2007 to oppose the legal­i­sa­tion of same-sex mar­riage in that country.
Brown (who now also runs the Inter­na­tion­al Orga­ni­za­tion for the Fam­i­ly, which coor­di­nates the WCF net­work) tells us the Verona event was called ​"The Winds of Change" because ​"we're see­ing a lot of good indi­ca­tions" from coun­tries like Hun­gary ​"stand­ing up for the fam­i­ly." He intro­duces Glo­ria as a for­mer ​"punk rock princess" and 1980s cul­tur­al icon who was friends with Michael Jack­son, Elton John, Andy Warhol, but leaves out her more recent biog­ra­phy: the princess's trans­for­ma­tion into a con­ser­v­a­tive Catholic activist who's now friends with Steve Bannon.
On stage, she crit­i­cis­es the Church for ​"going along with the mainstream…abandoning the gospel", and con­nects her cur­rent, hard­line Catholic con­ser­v­a­tive views with her rebel­lious past, say­ing: ​"It is always more inter­est­ing to be away from the mainstream."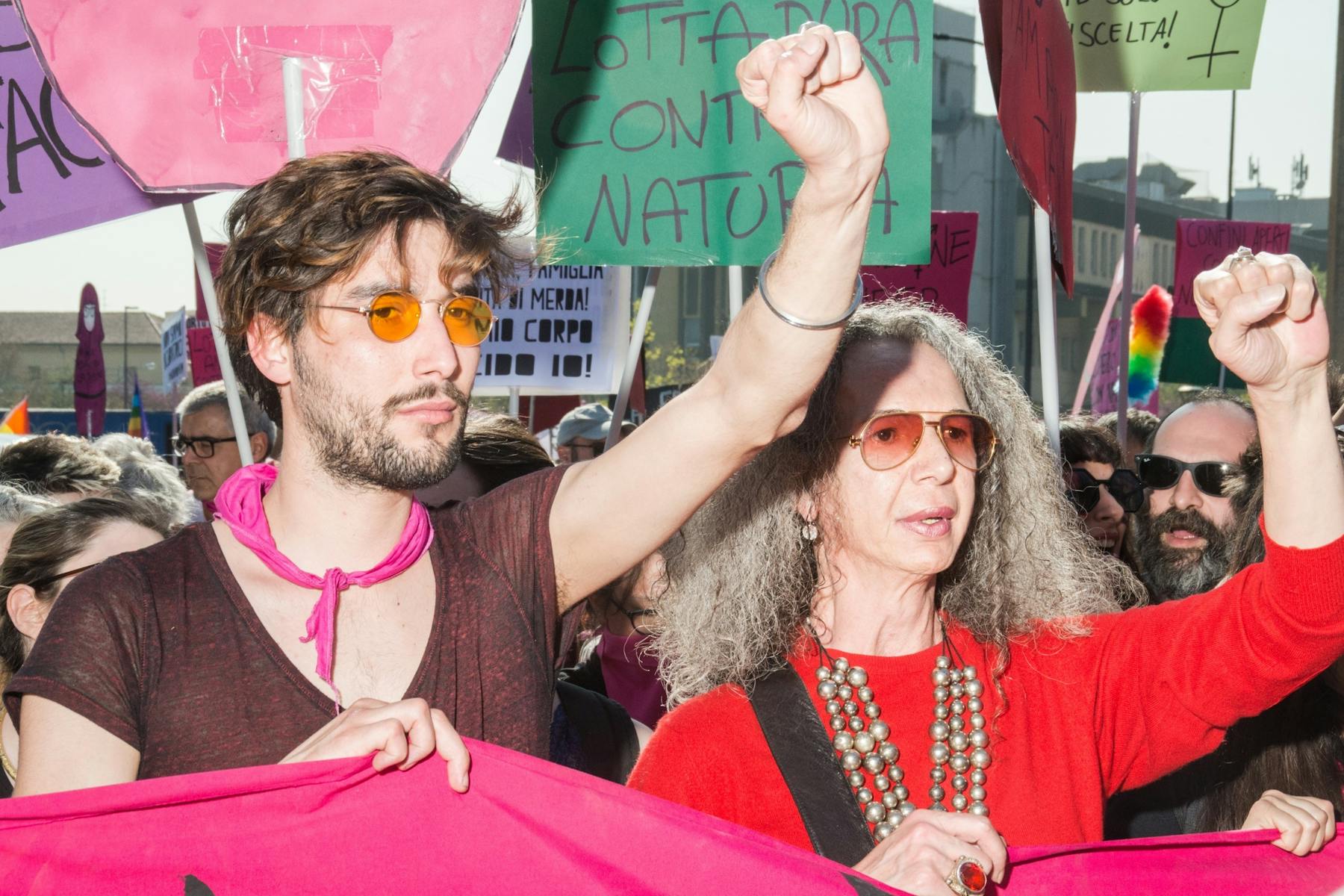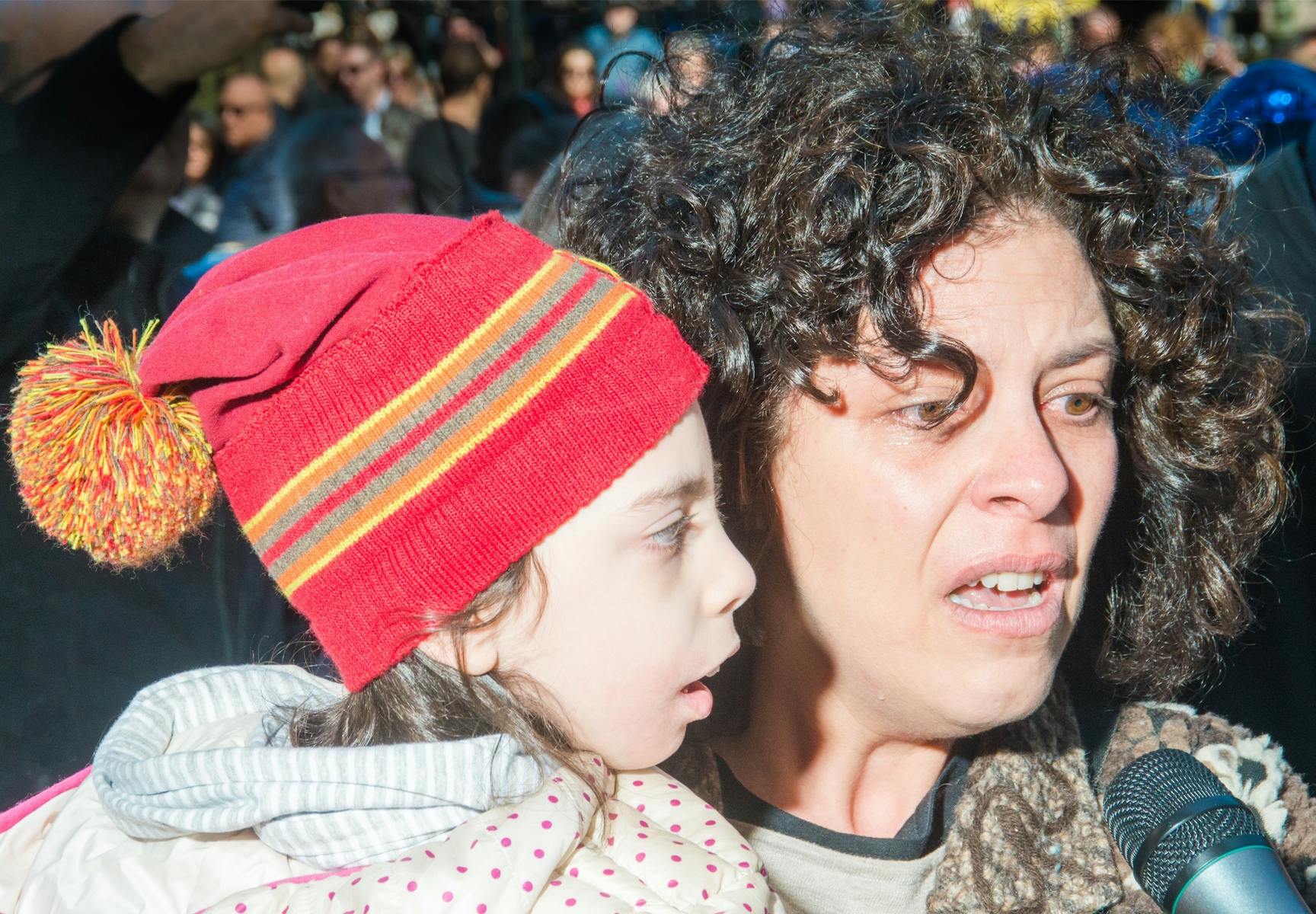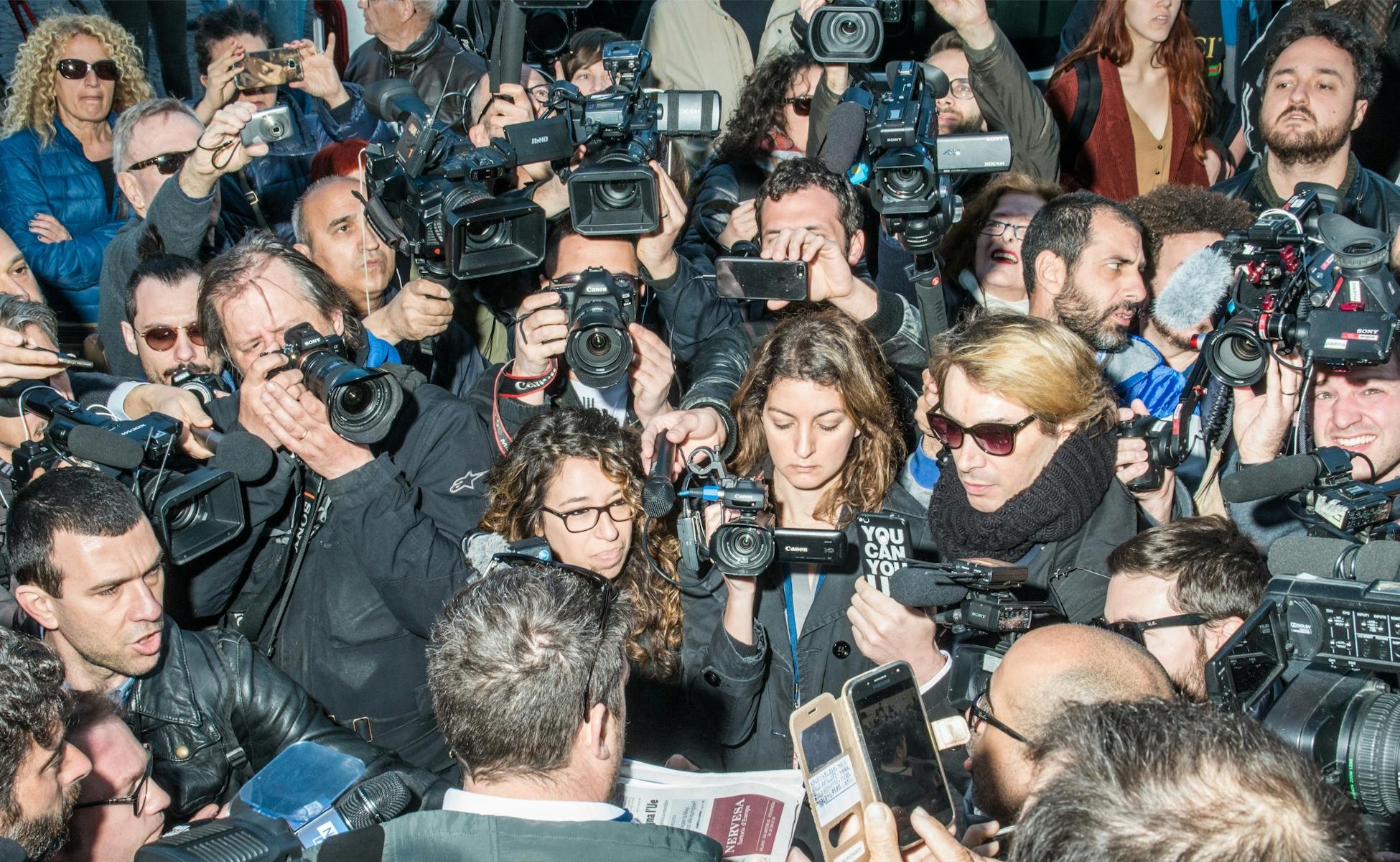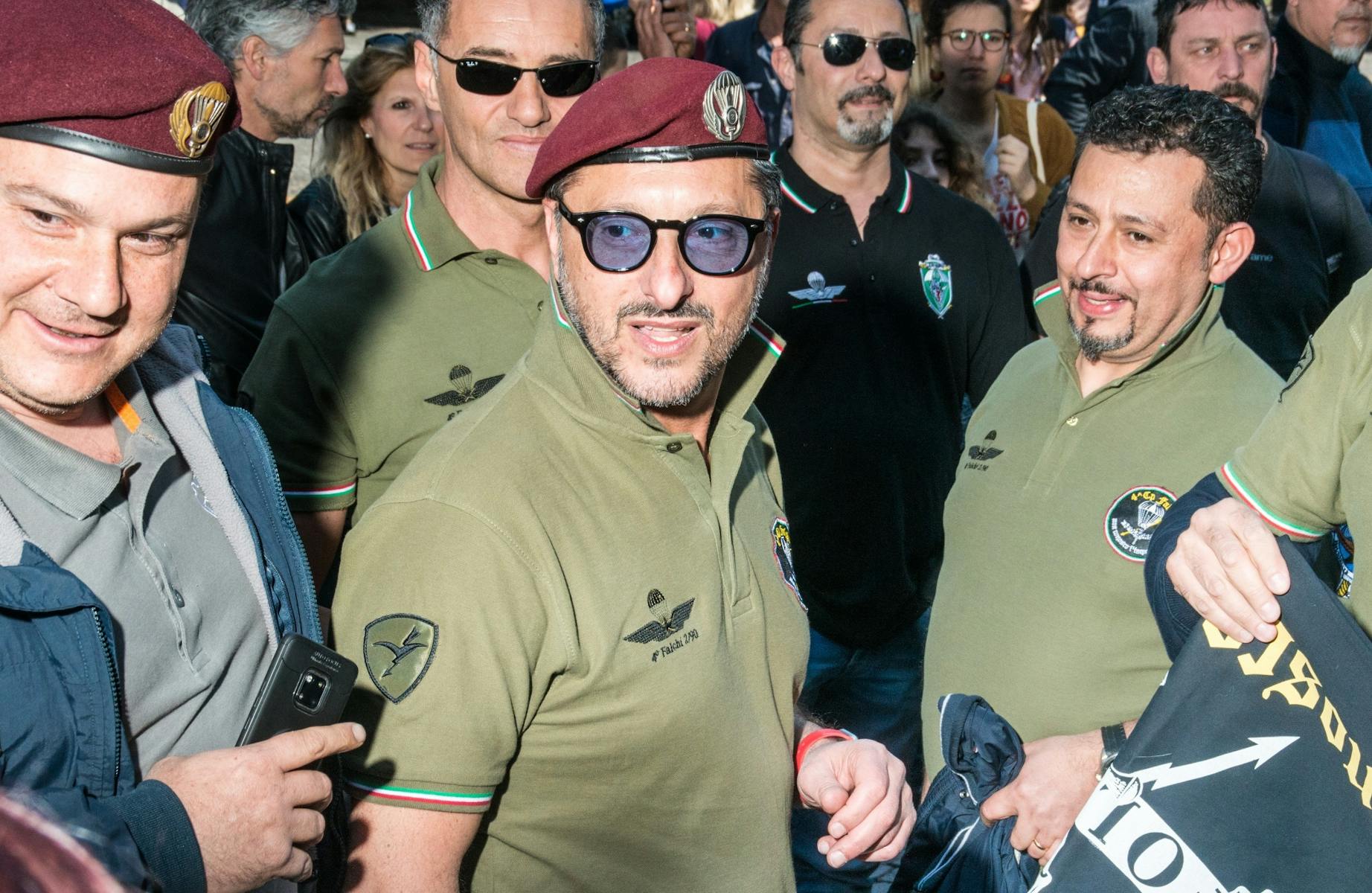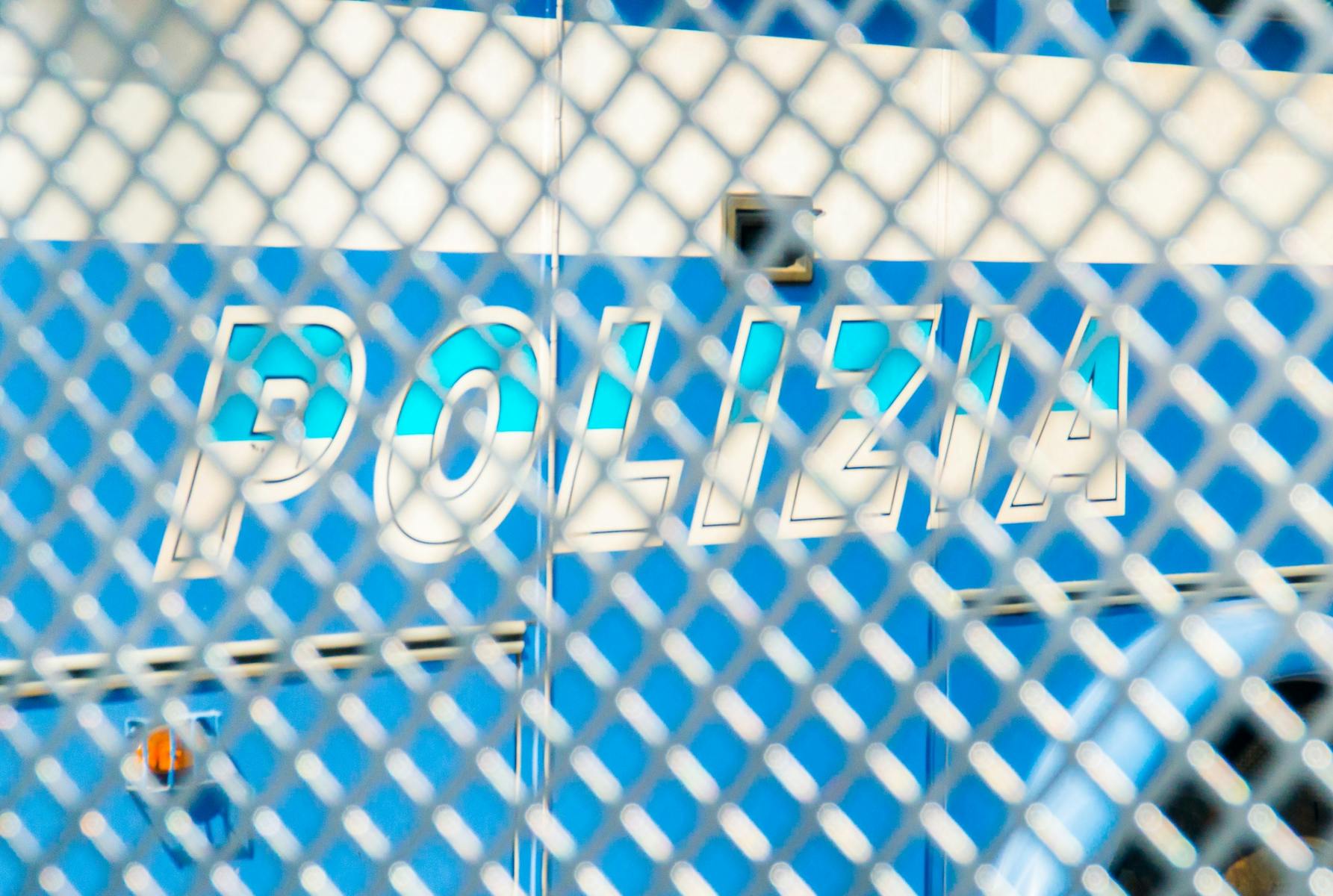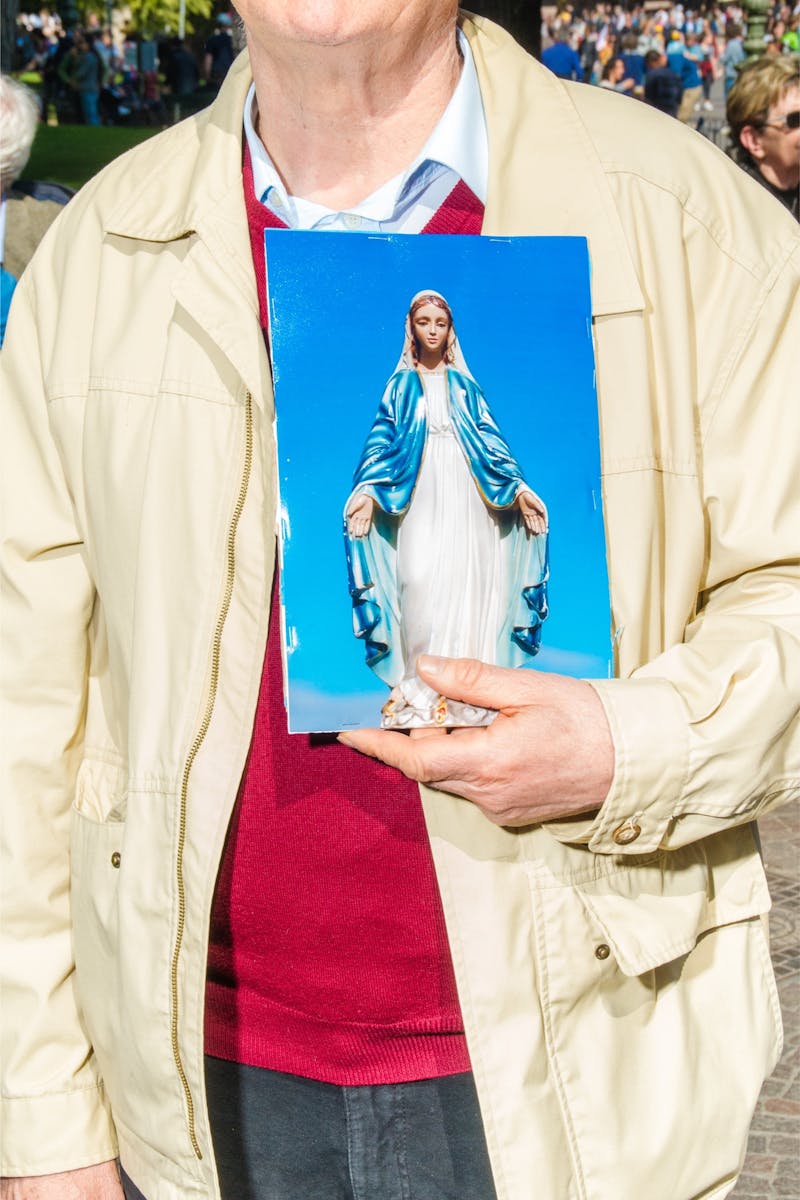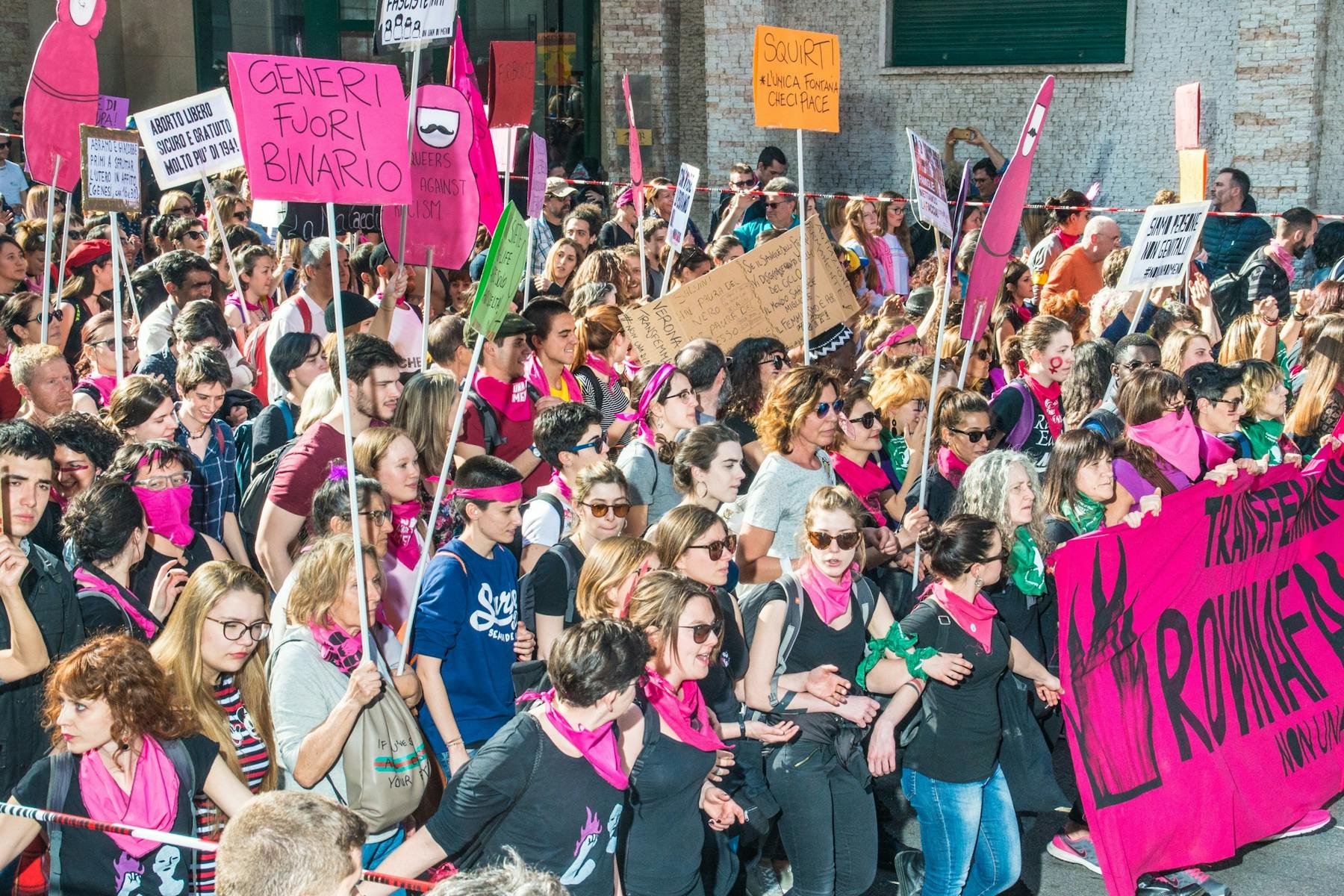 Dis­tin­guish­ing her­self from some of the more bla­tant­ly white nation­al­ist del­e­gates in the room, Glo­ria also declares that increased migra­tion into Europe, from Africa, is a good thing because Africans, by her esti­ma­tion, are more con­ser­v­a­tive and could influ­ence soci­eties in the region which have, in her com­par­i­son, lost their way.
"We work very hard…to unite peo­ple that are very dif­fer­ent around this sim­ple idea of the nat­ur­al fam­i­ly," Brown stress­es, nod­ding specif­i­cal­ly to the pres­ence of par­tic­i­pants from both Rus­sia and Ukraine, despite Europe's ongo­ing ​"for­got­ten war" in east­ern Ukraine. ​"We might dis­agree on geopol­i­tics, but unite togeth­er for the fam­i­ly," he says.
In oth­er words: this is a broad church of anti-fem­i­nist, anti-LGBTQ+ hate, with room for dis­agree­ment on many issues as long as we're clear on one thing: the ​"nat­ur­al fam­i­ly" and the need to defend it against its many enemies.
When he takes to the stage, the Lega's Mat­teo Salvi­ni (cur­rent­ly deputy prime min­is­ter) receives a hero's wel­come and per­forms rhetor­i­cal acro­bat­ics in a bid to cast the pro­tes­tors out­side as author­i­tar­i­ans who want to impose their views on oth­ers. The true cri­sis today is that of ​"emp­ty cribs", he says, telling us: ​"You are the vanguard…that keeps the flame alive for what 99.9% of peo­ple want."
Day 3: 'Make Europe Great Again'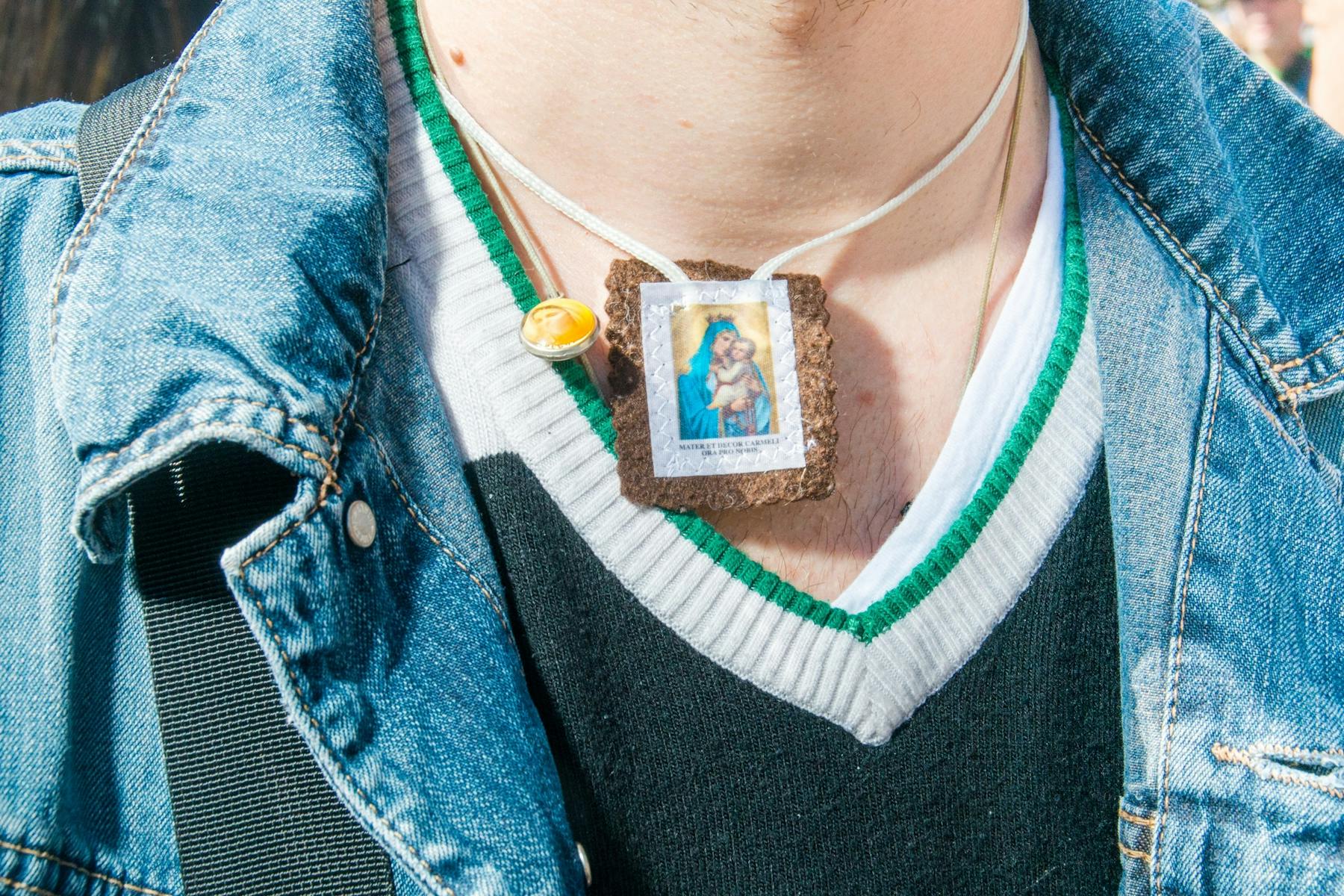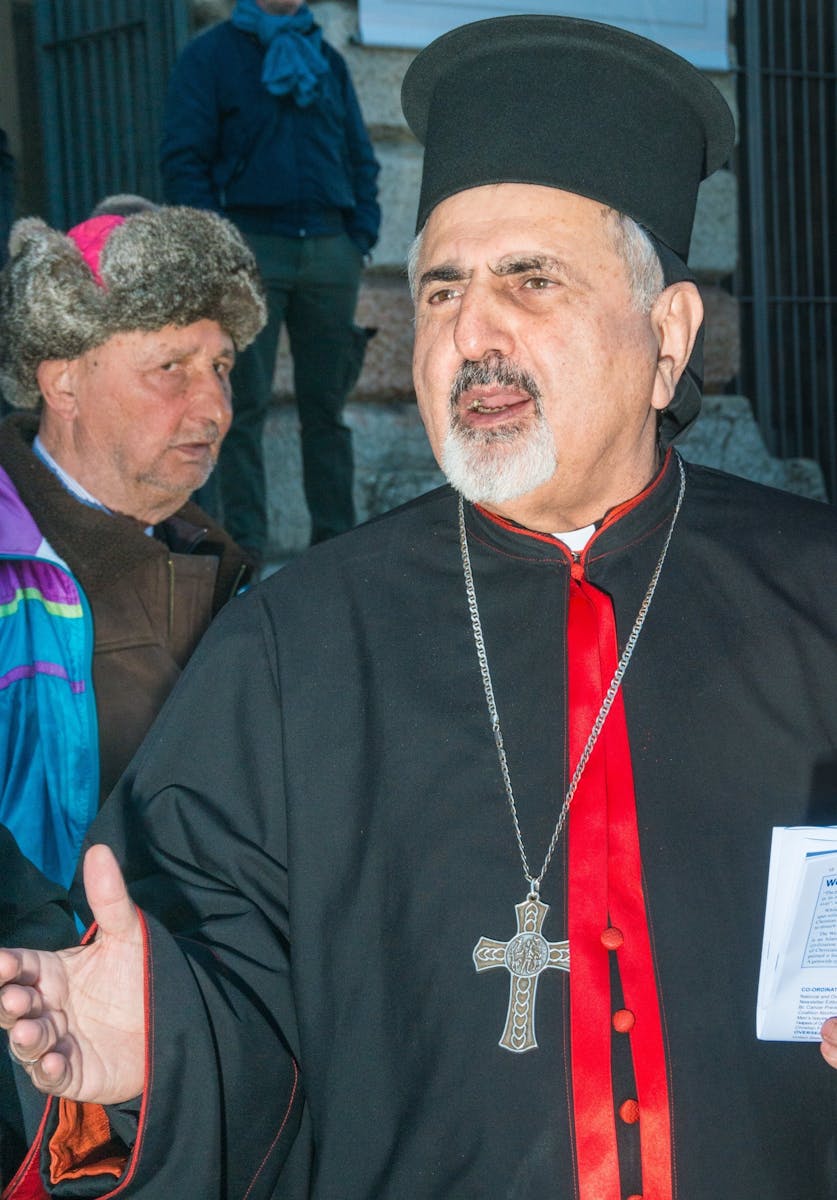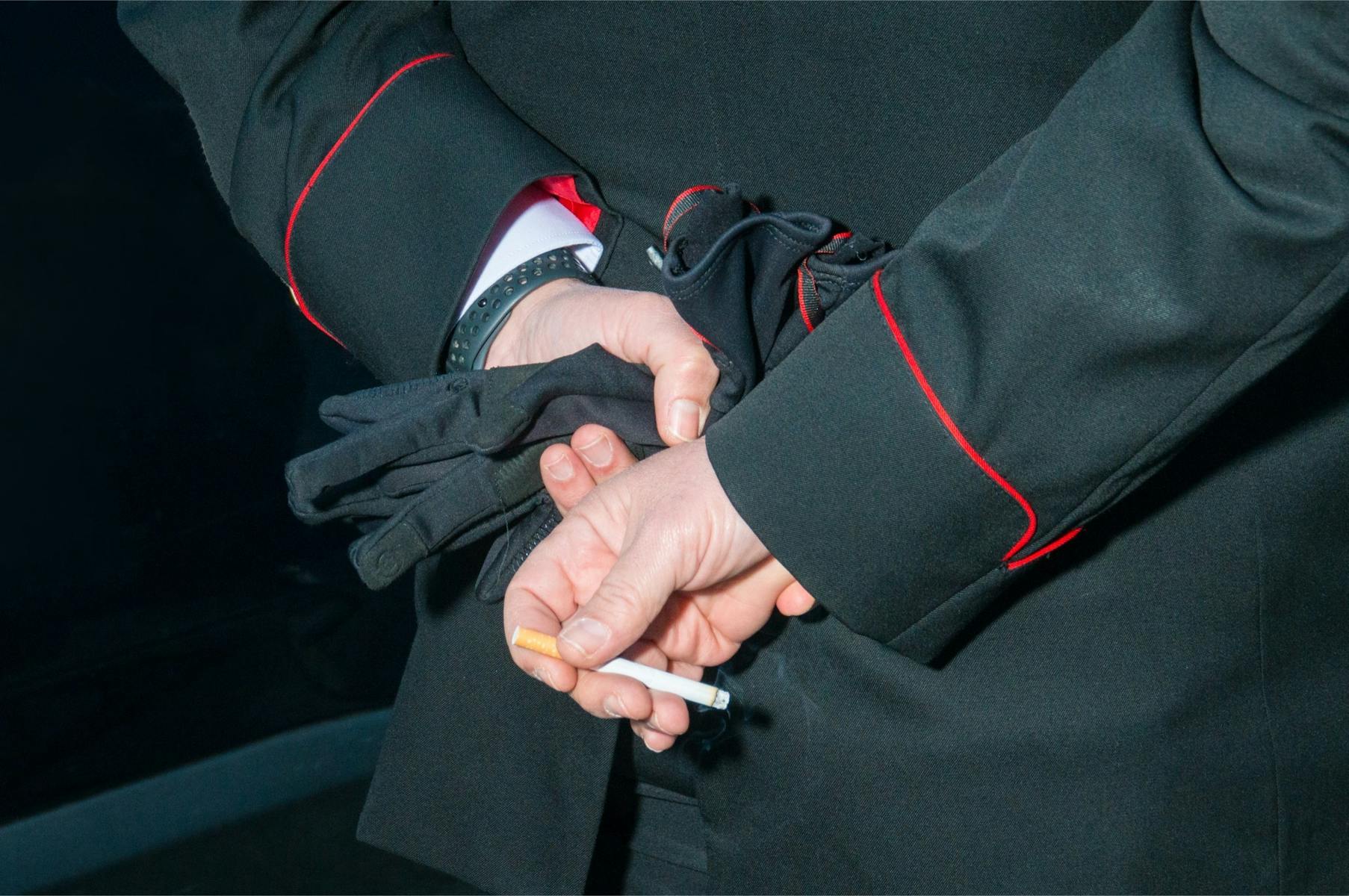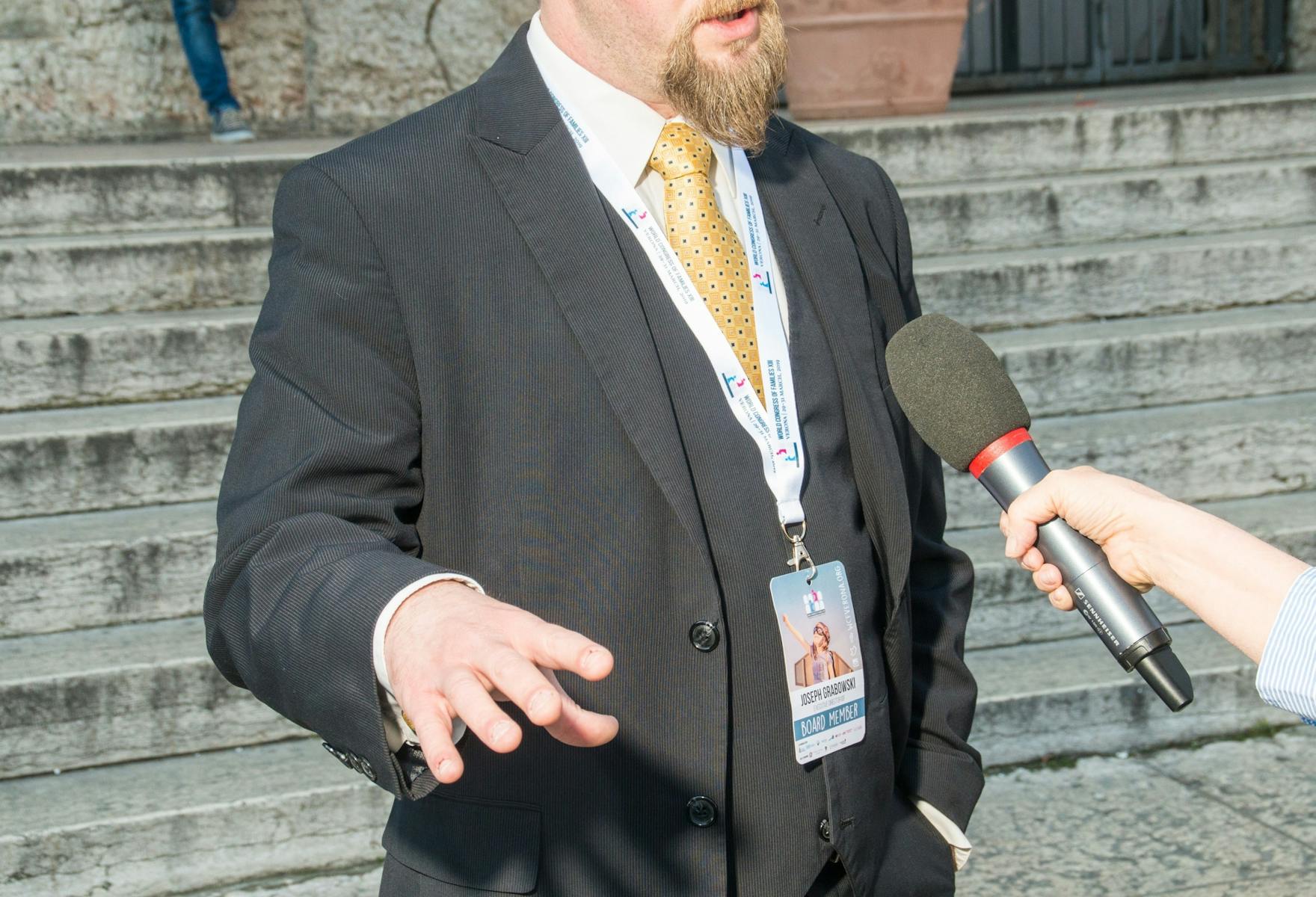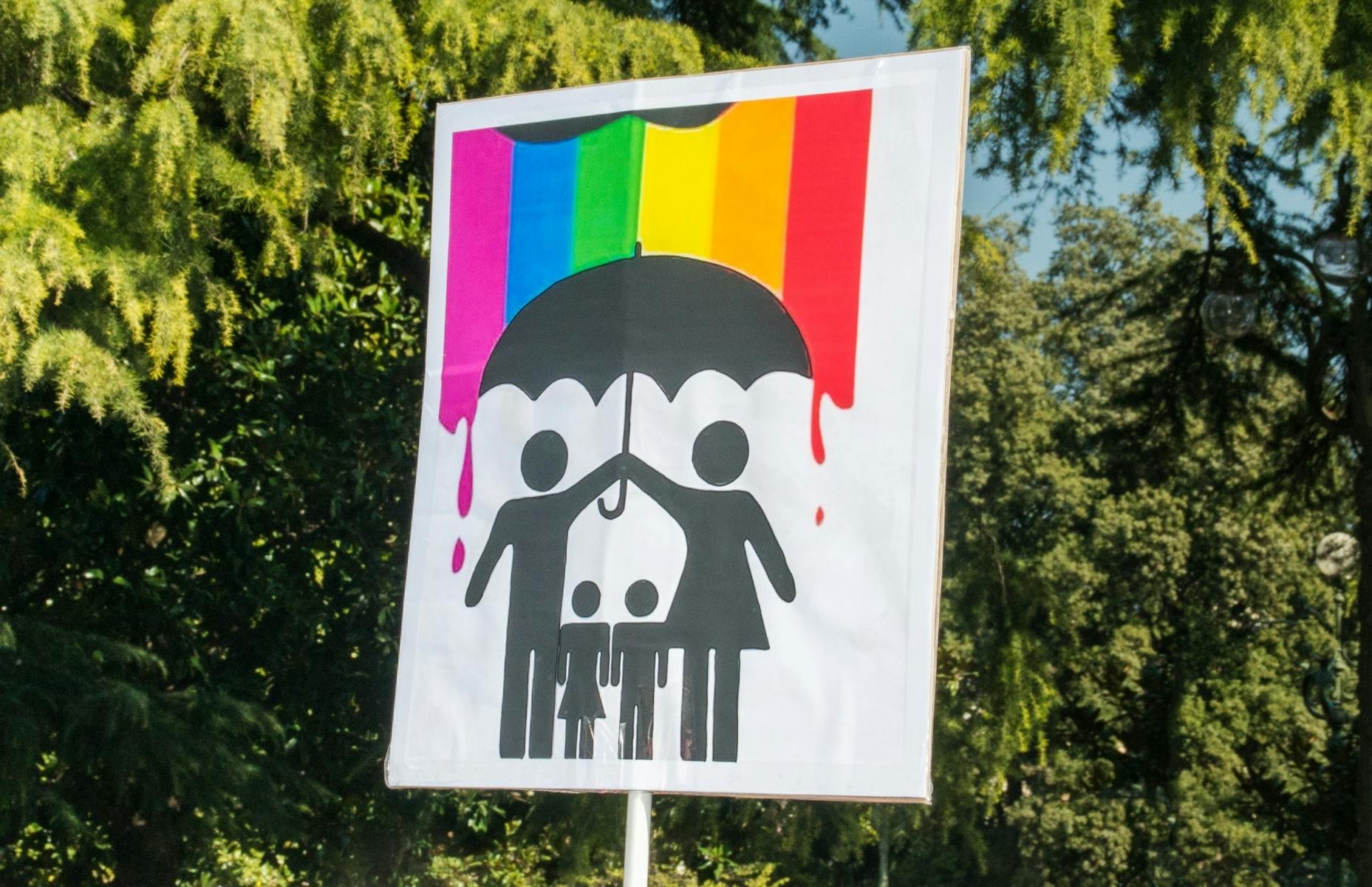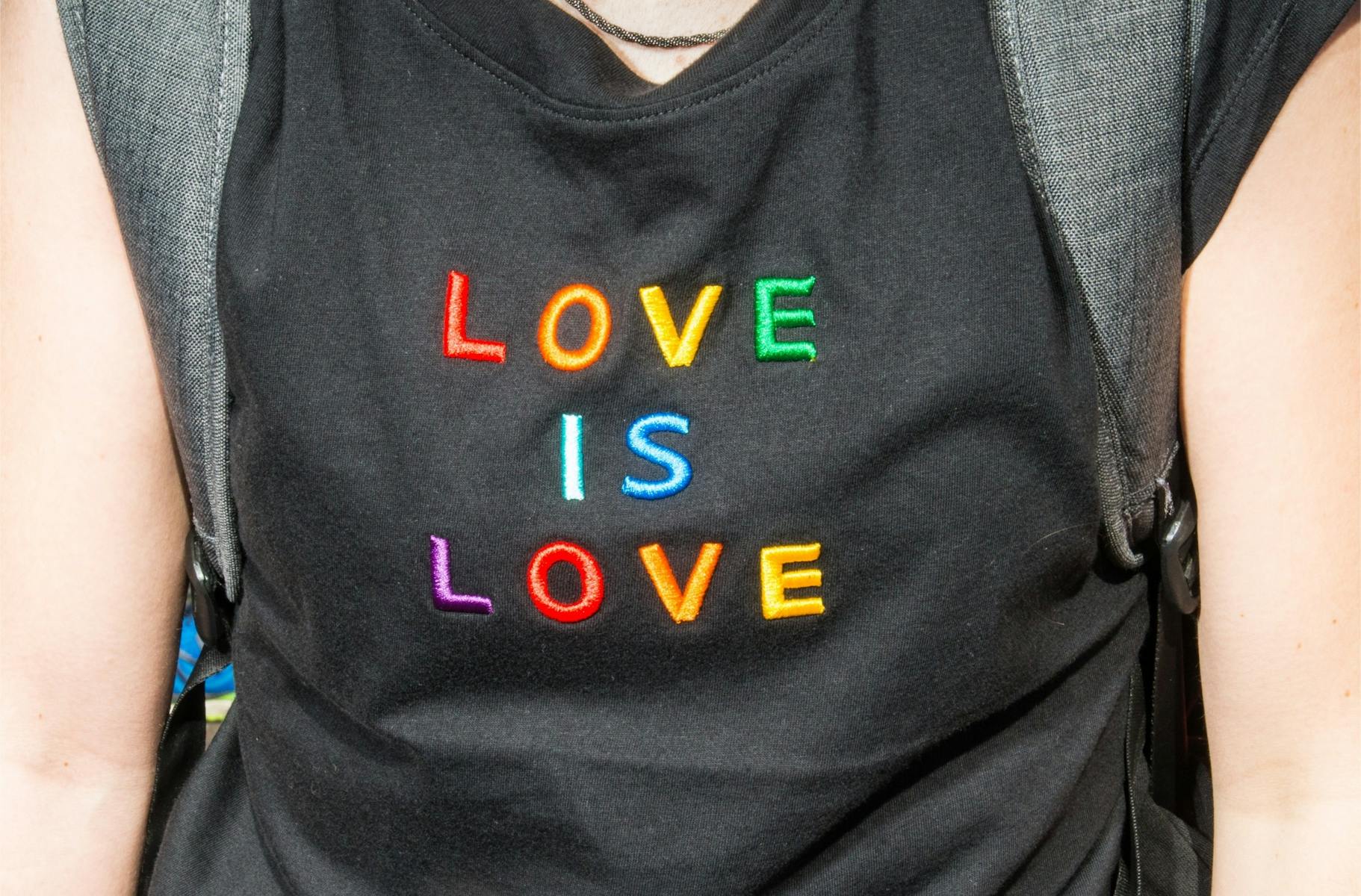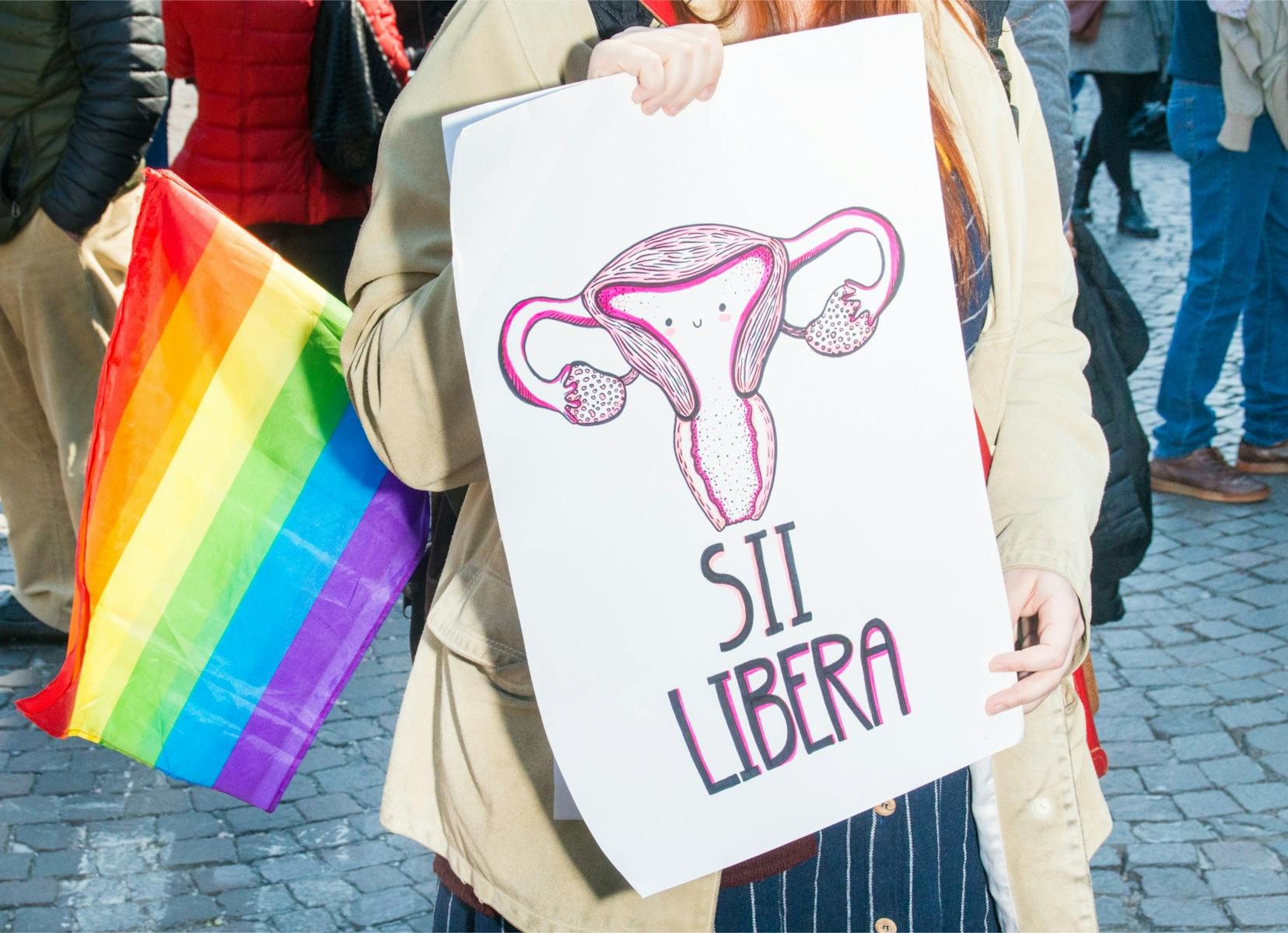 Ahead of the Verona event, we pub­lished a new inves­ti­ga­tion at open­Democ­ra­cy reveal­ing that a group of US Chris­t­ian right organ­i­sa­tions – sev­er­al of which have been con­nect­ed to the WCF before – spent at least $50 mil­lion push­ing their agen­das in Europe over the last decade. This is like­ly an under­es­ti­mate of their influ­ence, however.
There is a big Amer­i­can del­e­ga­tion at the meet­ing, includ­ing sev­er­al out­spo­ken US Chris­t­ian right sup­port­ers of Don­ald Trump. It's now Sun­day, day three, and one speak­er takes to the stage in the MAGA hat. ​"The West will nev­er, ever be bro­ken", he says, adding that ​"Brex­it, the bible and bor­ders" can help ​"make Europe great again" too.
It's 11am but when I over­hear that some par­tic­i­pants are going to the Latin mass list­ed in the con­gress pro­gramme, at a church in the old part of town, I decide it's time to cut out of the con­gress. After two full days, I feel exhaust­ed and overwhelmed.
I gath­er my things and stuff them back into the WCF can­vas tote bag and head to the most tourist-trav­elled part of Verona, not far from the sup­posed hous­es of the famous star-crossed lovers, Juli­et and Romeo. The San­ta Maria Anti­ca church dates back to the 12th-cen­tu­ry when it was used as a pri­vate chapel for one of Verona's most pow­er­ful fam­i­lies. From the nar­row street out­side, it doesn't look big – and I'm not able to get in. What appears to be a line at the door is actu­al­ly over­flow. Peo­ple are strain­ing to lis­ten, even if they can­not see. At 5'2", I give up.
Yes, there are a range of extrem­ists in this ultra-con­ser­v­a­tive, transna­tion­al move­ment. No, they are no joke. Where they inter­sect in the Venn dia­gram of fun­da­men­talisms is a scary place for many peo­ple: one where women don't have con­trol over their bod­ies, LGBTQ+ peo­ple don't have equal rights and there is only one accept­able type of family.
I think back to day one when Clau­dio D'Amico, a Lega par­ty offi­cial, referred direct­ly to the upcom­ing and much-antic­i­pat­ed Euro­pean Par­lia­ment elec­tions. ​"When we go to vote…look for can­di­dates that sup­port the fam­i­ly. We must do this all over Europe," he told us, adding: ​"We will win!"
I start to walk back to my hotel feel­ing dispir­it­ed when I see them: nine women, in the unmis­tak­able red cloaks and winged, white bon­nets of char­ac­ters from Mar­garet Atwood's nov­el The Handmaid's Tale. These cloaks and bon­nets have been donned by women around the world protest­ing restric­tions on repro­duc­tive rights, from Ire­land to Argenti­na. In Verona, women wore them last year to observe a vote in the city coun­cil direct­ing pub­lic fund­ing to anti-abor­tion groups that try to per­suade women to con­tin­ue unwant­ed pregnancies.
I missed yesterday's protests, but today they've found me. The women shuf­fle silent­ly down the nar­row street, lin­ing up against the wall direct­ly oppo­site the church. They're wait­ing, it seems, for the WCF par­tic­i­pants and VIPs to exit, to con­front them with this pow­er­ful sym­bol. As peo­ple exit the church, some stop to taunt them: ​"Why don't you show your faces? Car­ni­val is over!" But they remain unmoved and I feel a flut­ter­ing of hope in my chest.
---