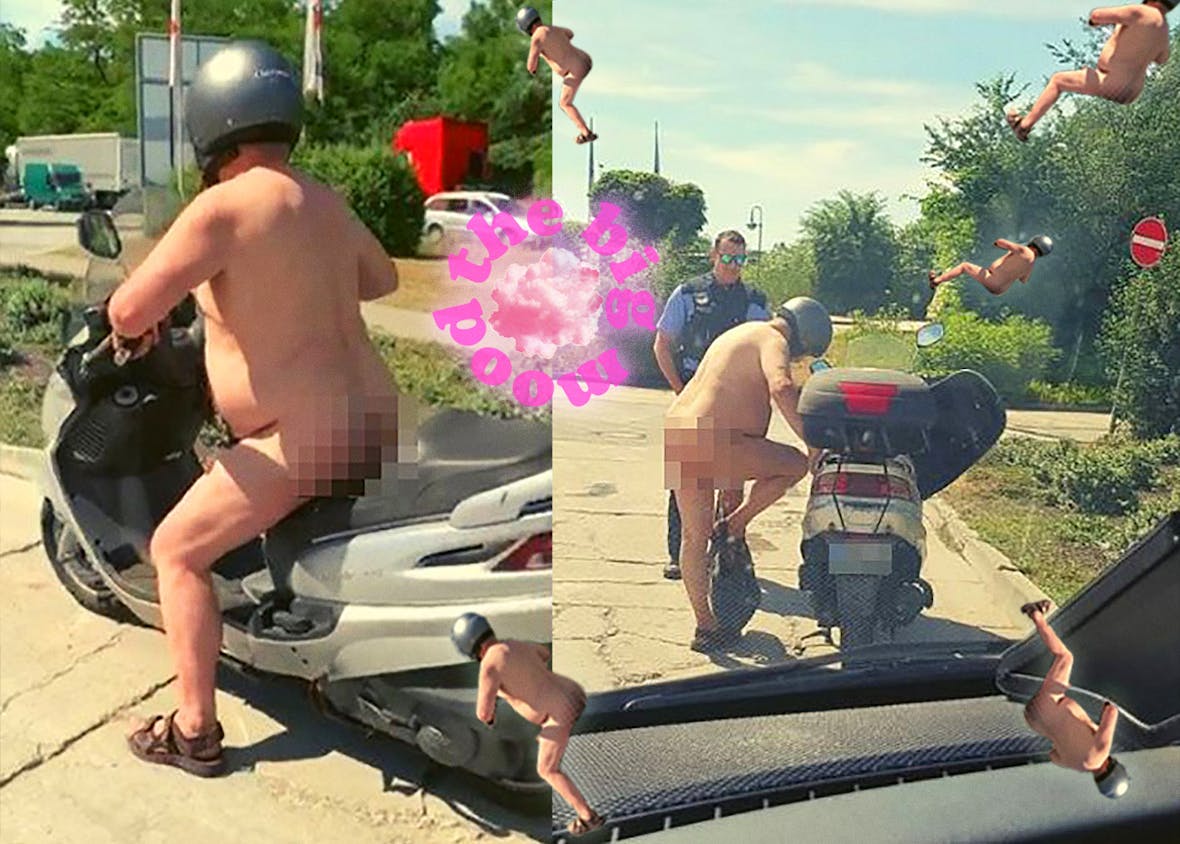 The Big Mood: this naked man rid­ing a scoot­er in the heatwave
Hard to real­ly care about cli­mate change, isn't it? Of course, in a super­fi­cial and – at times – per­for­ma­tive way, you do your bit: recy­cle, only take almond milk in your Pret lat­te, make a big show of refus­ing a straw when your Hinge date slides your G&T over to you. Fol­low Gre­ta Thunberg.
Beyond that though, the whole she­bang ter­ri­fies you. Cli­mate change is a beast far beyond the realms your nar­row lit­tle imag­i­na­tion is capa­ble of trav­el­ling to. Cli­mate change is the Demogor­gon, lurk­ing in the shad­ows, wait­ing to swal­low your entire way of life into its gap­ing maw. So no, to be hon­est, you don't want to think about it! It's sim­ply too hard. So straws it is for now, and dodg­ing all head­lines about warm­ing Earth cores until fur­ther notice.
In com­plete­ly unre­lat­ed news, Europe is the midst of a heat­wave so scorch­ing that in Ger­many, the pop­u­lace is resort­ing to rid­ing scoot­ers in the nuddy.
As with oth­er ani­mals, extreme tem­per­a­ture sends humans off their rock­ers. In uni­ver­si­ty, a pro­fes­sor once informed me about a paper a for­mer stu­dent had writ­ten, study­ing the effects of ris­ing tem­per­a­tures on ​"loos­er" behav­iour. I will nev­er for­get it, in most part because of its inspired title: Fast Times in Ris­ing Climes.
The point it made, though, was turn up the heat on the flesh bags we call bod­ies and we're dri­ven to behave in an unusu­al man­ner. Like rid­ing a scoot­er through Bran­den­burg in noth­ing but a bike hel­met and some Josef Seibels. Safe­ty first!
"It is too hot," the man (myth? leg­end?) said in his defence when pulled over.
Heed these words, read­ers. Right now, this is a fun­ny sto­ry. We're going into a ban­ner week­end that com­bines pay­day with pre­dict­ed tem­per­a­tures of up to 31°C in the UK. A Ger­man guy has got his wang out because he's over­heat­ed. L o l.
But it's going to get hot­ter. And hot­ter. There will come a point when we stop sun­bathing, stop reach­ing for the tin­nies and the Ambre Solaire, and start des­per­ate­ly try­ing to seek the near­est source of water and maybe a gun, so no one else can get their paws on our stash. The cli­mate wars will start, the inhab­it­able land mass will shrink, our eco-sys­tems will be for­ev­er thrown off kil­ter. All we know will turn to sand and ice and mud. We will all be naked, naked and mewl­ing for the world that went before.
This Bran­den­burg Nos­tradamus is mere­ly ahead of the game. He has seen the future. And it is too hot.
---