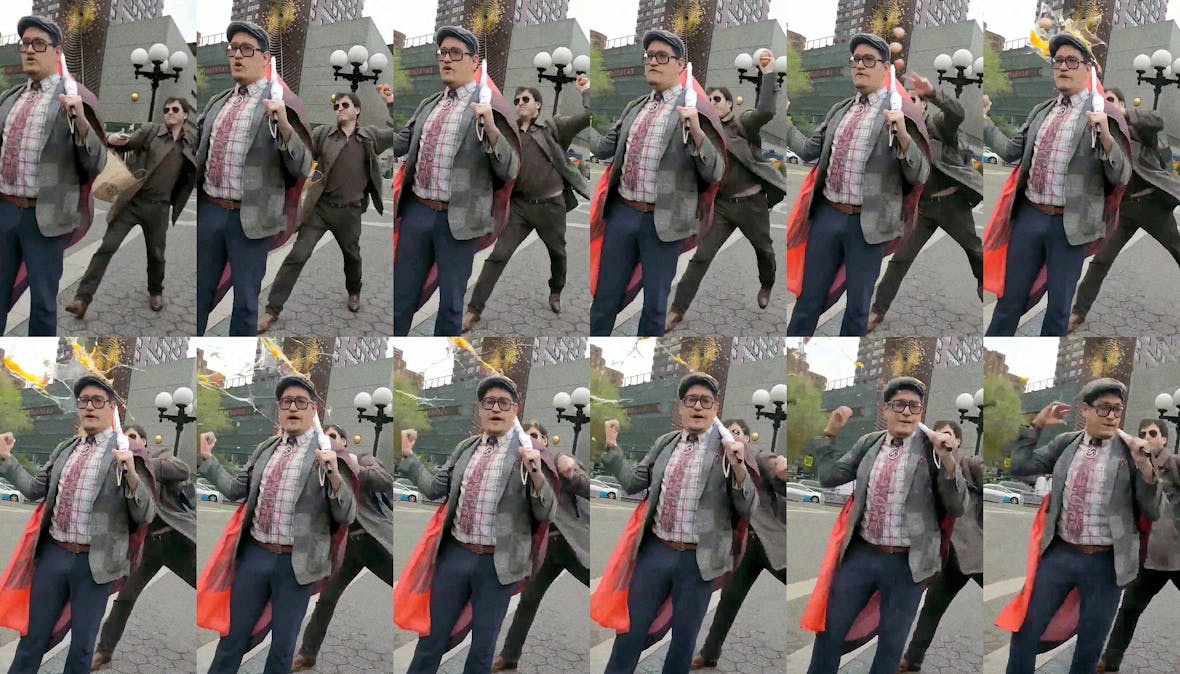 The divine jus­tice of the far-right get­ting egged
A good many men on the far-right are being pelt­ed with eggs at the moment. We go first to Mel­bourne, 16th March, where Aus­tralian sen­a­tor Fras­er Anning decid­ed it was a good idea to blame Mus­lim immi­gra­tion for the Christchurch ter­ror attack, and got splat­ted with an egg at point-blank range. Next to Coven­try, 20th April, where UKIP can­di­dates Ian Rogers and Mar­cus Fog­den said they were ​"hit by eggs which were ​'thrown with force' by two women in a pass­ing car in Wals­grave". And let us con­tin­ue our jour­ney by trav­el­ling across the pond to Man­hat­tan, 2nd May, where swasti­ka-wear­ing Jovan­ni Valle was pelt­ed with an egg by a vig­i­lante in sun­glass­es. Add to this the fact that Tom­my Robin­son has just been milk­shaked (milk­shook?) in Cheshire, and some­thing of a pat­tern emerges. With the excep­tion of the UKIP-bound eggs – thrown, let's not for­get, from a mov­ing vehi­cle ​"with force" (empha­sis mine) – all of these inci­dents have been caught on cam­era for the annals of his­to­ry. And yes, its accept­able to admit it – they were all very, very funny.
Con­sid­er the egg. An inher­ent­ly absurd object, the deli­cious com­e­dy of the egg lies not just in its amus­ing shape but, cru­cial­ly, its pre­car­i­ous mix­ture of strength and fragili­ty. Some would argue that the age-old com­e­dy sta­ple the banana peel pips the egg to the post as the world's most com­i­cal food­stuff. Not I. The egg is the king of food-based com­e­dy. You nev­er quite know where you are with the egg, do you? I love it. The egg is a cra­dle of life, impres­sive in both phys­i­cal and sym­bol­ic terms. But, let's not for­get, it is also del­i­cate and liable to irrev­o­ca­bly break at any time, ooz­ing its essence onto your car­pet. There is a rea­son that the cre­ators of the world-record-break­ing Insta­gram pho­to chose the egg as their pub­lic face: the egg is incred­i­ble but the egg is ridicu­lous. The egg, in a very real sense, is like life itself.
On the sub­ject of the far-right being slapped with eggs, peo­ple have diver­gent opin­ions. Unsur­pris­ing­ly, when the top­ics of eggs and per­ceived racial intol­er­ance are com­bined, things get steamy. One school of thought posits that you must nev­er argue with an ide­o­logue, because it lends cred­i­bil­i­ty and a plat­form to his atro­cious opin­ions: his views get aired, his opin­ions ampli­fied. An ide­o­logue, this argu­ment goes, is beyond the reach of dis­cus­sion, imper­vi­ous to debate. The only ratio­nal response to an ide­o­logue is ridicule. If this ridicule is via the medi­um of the time­less egg, then so be it.
But the come­di­an Adam Hills belongs to the oth­er school of thought – that if vio­lence is wrong on one side of the polit­i­cal spec­trum, it has to be wrong on the oth­er. It's easy to see the log­ic here; an egg for an egg makes the world cov­ered in eggs. But is throw­ing an egg at some­one a mean­ing­ful act of vio­lence or is it a valid, sub­ver­sive expres­sion of defi­ance? Vio­lence is ​"behav­iour involv­ing phys­i­cal force intend­ed to hurt, dam­age or kill some­one or some­thing". The express inten­tion of the egg launch­er is sure­ly not to com­mit phys­i­cal harm but to com­mit rep­u­ta­tion­al harm. Unless you seri­ous­ly over­es­ti­mate the phys­i­cal dimen­sions of an egg, you'd be mad to think that it would hurt, dam­age or kill your oppo­nent. Some­one throw­ing an egg is not the same as some­one run­ning up to Richard Spencer and punch­ing him in the face (though this does not mean there is not wide­spread sup­port for the latter).
Peo­ple are fick­le on this point. Now there seems to be noth­ing but praise for Danu­ta Daniels­son, the Pol­ish woman – an Auschwitz sur­vivor – who in 1985, hand­bagged the Nordic Reich Par­ty sup­port­ers demon­strat­ing in her neigh­bour­hood. Her action – des­per­ate but brave – is con­sid­ered minor against the scale of the vio­lence we know that history's Nazis real­ly did inflict. Despite the fact that the Nordic Reich were demon­strat­ing ​'peace­ful­ly', it would be churl­ish to con­demn her for vio­lence. (It is rel­e­vant to note that Daniels­son com­mit­ted sui­cide because of the media atten­tion the pho­to attracted.)

I'm not imply­ing that those who've recent­ly been egged (or milk­shook) are Nazi sym­pa­this­ers (well, apart from the guy wear­ing the swasti­ka) but com­ments like Anning's real­ly do look like acts of ver­bal vio­lence; so it seems dis­pro­por­tion­ate to denounce a teenag­er for plop­ping an egg on his shiny bald head. Peo­ple the world over saw the inci­dent as a form of divine jus­tice. Because the truth is that crack­ing eggs and fling­ing hand­bags are the kinds of action most peo­ple would con­done when com­mit­ted by some­one they like, and con­demn when com­mit­ted by some­one they hate. The rate at which the eggs are pil­ing up cer­tain­ly implies that the throw­ers realise they will be per­ceived as mod­ern heroes of the resistance.
But, while momen­tar­i­ly tri­umphant, the egg pelt may be an admis­sion of some­thing approach­ing defeat: we don't know what to do in a world whose pock­ets are increas­ing­ly fill­ing with nation­al­ists. But maybe you can't fight the far-right with­out break­ing a few eggs.
---