The life and after­life of The Spec­trum, New York
Click on The Face logo through­out to reveal mem­o­ries from vis­it­ing The Spectrum
Brook­lyn sur­vived Four Loko and the trap rave. The explo­sion of mol­ly coin­cid­ed with a spate of DIY shut­downs in 2011 (alter­na­tive dance des­ti­na­tions Steel Drums and 285 Kent). From the ash­es of an extreme­ly wild and incred­i­bly impact­ful peri­od of under­ground nightlife, when it was thought near­ly dead, a new space called The Spec­trum at 59 Mon­trose Avenue emerged to take up the mantle.
I lived across the street from The Spec­trum – past the flower shop and just beyond Amaz­ing Sav­ings – at Moon 2, a ware­house palace. Two Sat­ur­days a month, The Spec­trum had an all-night rager in East Williams­burg and the dis­tant tech­no beats of DJ Volvox would bleed through my loft bed­room walls. It was a clar­i­on call to par­ty. I would crack an ice cold Ban­quet Coors Light to drink in the show­er, smoke a base­ball bat spliff and hit the streets in a body­con top and some type of cheap syn­thet­ic miniskirt, arriv­ing at The Spec­trum in eight min­utes flat.
"[The Spec­trum] hadn't quite gained a rep­u­ta­tion yet; at this point it was still like someone's liv­ing room. My first expe­ri­ence was of total con­fu­sion; it was such a dif­fer­ent thing to any­thing I'd known in Europe. It wasn't a squat nor a squat par­ty, it was an off-the-grid com­mu­ni­ty play­house. It was very Amer­i­can in that way that it was under the radar but it was also com­plete­ly New York in that under the table kind of way" — The Spec­trum co-founder, Dan­ny Taylor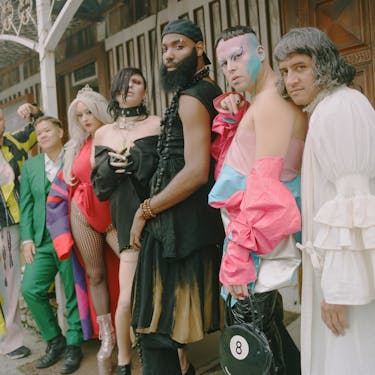 Listen now:

Fischerspooner's Casey Spooner: "I couldn't believe I hadn't been sooner."



The long hall­way that led to the orig­i­nal space was always lit­tered with bod­ies. Alis­sa Bri­ana, a fierce glama­zon diva who played no games, act­ed as gate­keep­er. When the door flew open, you were imme­di­ate­ly trapped in a thick haze of cig­a­rette, fog machine, and weed smoke – eyes strug­gling to peer through the dark­ness. From the moment you entered, it became appar­ent that this was a world cre­at­ed by and cen­ter­ing trans, queer, and uncon­ven­tion­al beau­ties in the mid­dle of a rapid­ly gen­tri­fy­ing Brook­lyn. The Spec­trum oper­at­ed as a 24-hour cre­ative com­mune and com­mu­ni­ty space that served as a meet­ing ground for the girls and the cul­ture. It was both the name of a club night and the club it was host­ed in.
Once every few gen­er­a­tions, a moment comes along that cre­ates a space where trans, queer, and oth­er bod­ies are free to spi­ral deep into queer anar­chy. The Spec­trum was that moment from 2011 until its clo­sure in 2018, an enchant­ed for­est in the Brook­lyn queer com­mu­ni­ty. It was a space where one could go to con­tract and release through work or play, cre­at­ing a larg­er move­ment that shook the foun­da­tions of queer art and culture.
"I was born and raised in Brook­lyn, New York, and I first vis­it­ed The Spec­trum when the dancers for my Jes­si­ca 6 project (Geor­gia San­ford and Viva Soudan) sug­gest­ed it as an afford­able rehearsal space for us to work in. I remem­ber being con­fused as to why some­one would allow us to rehearse in their space with­out the pres­sure of high hourly rates and time restraints.
It's sad that as a trans woman I hadn't expe­ri­enced being sup­port­ed so freely with­out an agen­da up until that moment. Dis­cov­er­ing The Spec­trum was real­ly one of the first times I saw queer artists tak­ing a ​"for us by us" approach in order to give back and build on that rec­i­p­ro­cal state of mind" — singer, pro­duc­er and actress Nomi Ruiz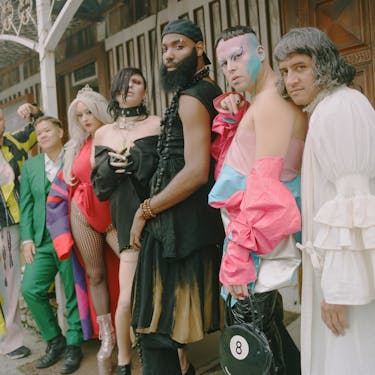 Listen now:

Light Asylum's Shannon Funchess: "There was a lot of over the top moments."
Start­ed by mul­ti­dis­ci­pli­nary artist Gage Boone and man­aged in col­lab­o­ra­tion with DJ/​composer Dan­ny Tay­lor, The Spec­trum cham­pi­oned a new gen­er­a­tion of artists work­ing in mul­ti­ple fields of cre­ativ­i­ty, extend­ing its reach far beyond Brook­lyn and into the glob­al zeit­geist. Artists like Quay Dash, Rose Boo­gie, Shy­boi, and Mar­tine Gutier­rez have all per­formed or DJ'ed there. Mega Brook­lyn par­ty The Car­ry Nation start­ed in the orig­i­nal one-room space. You nev­er knew who would drop by: Tel­far, Wolf­gang Till­mans, Björk, Bruce LaBruce, Luar, Myk­ki Blan­co, Princess Nokia or Dosha have all elbowed through the throngs of partygoers.
The Spec­trum spanned two phys­i­cal loca­tions, first at 59 Mon­trose and even­tu­al­ly mov­ing to a dilap­i­dat­ed, mul­ti-room haunt in Ridge­wood, Queens. The name changed to The Dream­house when the sec­ond loca­tion opened in 2016, and from the street looked like a crum­bling ranch style doll­house. Inside it was a labyrinth, a mod­u­lar run­way with a rotat­ing assort­ment of eclec­tic found objects like child-sized toy cars and kitschy Craigslist couch­es that gave way to a back room with a makeshift bar.
"Imme­di­ate­ly when you walked in you were hit by a wall of fuck­ing heat. It went down your throat, you had to swal­low and suc­cumb to it or leave. Thick air as full of sweat as it was sex and smoke and tears…
It was a safe space for the unin­hib­it­ed, unhinged beau­ti­ful bod­ies explor­ing a shared free­dom to push bound­aries in the com­fort and chaos of a lit ass par­ty – until the sky­light makes room for 9am and you catch a glimpse of your messy ass in the mir­rored walls. That first Spec­trum was the one. I feel lucky I was around to know it because I haven't expe­ri­enced any­thing like it since" — musi­cian Zsela Thomp­son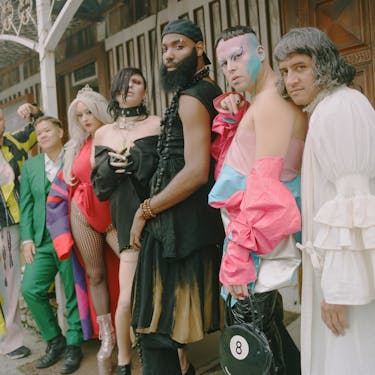 Listen now:

Director Stephen Winter: "I witnessed my people going full beast."
The Dream­house fam­i­ly – Gage, Dan­ny, who­ev­er was DJing – always stood gath­ered behind the DJ booth, while a room full of beau­ti­ful bod­ies mixed on the dance­floors and wres­tled on the couch­es. There could be a casu­al fist­ing going on just feet away from the mix­er at night, but the space was used for oth­er cre­ative prac­tices dur­ing the day, such as music series ​"Xper­i­men­tal," curat­ed by artist Raúl de Nieves or the ​"Revolt­ing Grace" dance series, high­light­ing artists like Whit­ney Van­grin, Azu­mi Oe and Tyler Ashley.

"To me, Spec­trum was a place that fos­tered inter­sec­tion­al­i­ty in a pret­ty flu­id way. There were a lot of events where a live noise set would appear right before a club­by DJ set, fol­lowed by some poet­ry for exam­ple – and then back to danc­ing. I real­ly enjoyed this amal­gam of taste. It was nev­er about pleas­ing a cer­tain crowd, and more about show­cas­ing talent.
There was also this real spir­it of curios­i­ty that I also real­ly relate to in my own work. Instead of fol­low­ing a genre or defin­ing myself as a DJ, an artist or a musi­cian, I enjoy explor­ing these medi­ums side by side. The Spec­trum is one of the only places that I think real­ly under­stood that spir­it of the mul­ti­dis­ci­pli­nary and worked that into their cura­tion unapolo­get­i­cal­ly. For that rea­son, none of the events seemed out of place, but a con­tin­u­a­tion of an expres­sion of com­mu­ni­ty" — pro­duc­er and mul­ti-media artist Sadaf H. Nava
The Dream­house closed in Feb­ru­ary 2019 due to issues with the build­ing. Whether work­ing, per­form­ing, host­ing, or bar man­ag­ing The Spec­trum, I was always able to find a new expe­ri­ence and learn to believe in new pos­si­bil­i­ties. The Spec­trum may have come to an end, but the ener­gy present at this for­mer queer utopia has sim­ply relo­cat­ed. Now, Boone and Tay­lor are work­ing on solo art projects and plan­ning events with Team Dream to con­tin­ue bring­ing an immer­sive sense of fan­ta­sy to New York. In the absence of a phys­i­cal space, queer Brook­lyn rages on with The Spectrum's spir­i­tu­al sequels run by friends of the founders: par­ties like Dis­c­Cakes, Fight Club, Mari­con, and Papi-Juice, prov­ing that once a fire is set, the night will burn forever.
---