Utopia or dystopia? Toyota City is an extraordinary glimpse into how we may eventually live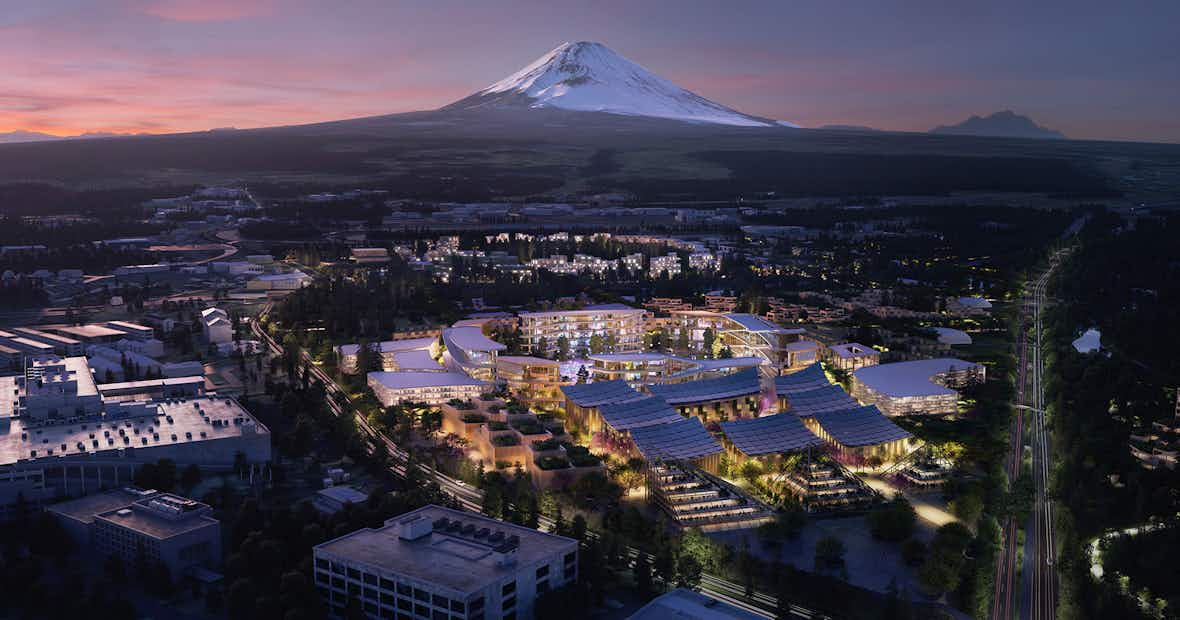 Working as a gigantic urban laboratory, the forthcoming proto-town at the foot of Mount Fuji provides a place where artificial intelligence rubs shoulders with humanity.
You wake up to an automated voice. ​"Ohayo gozaimasu!," it trills, echoing throughout the neighbourhood as the sun rises, beaming out from behind Mount Fuji. People begin to filter out of their smart homes, zipping around the urban promenades on mobility scooters to the various parks and courtyards to start their morning calisthenics. Roomba-style robotic mowers shimmy around the lawns, avoiding the automated water sprinklers and citizens as they go. It's Stepford Wives meets Blade Runner via a Florida retirement home, and in 2021 it's set to become a reality.
At the start of the year, Toyota's CEO and President Akio Toyoda took to the stage at the Consumer Electronics Show in Las Vegas to announce that his company was beginning work on a new project. You'd be forgiven for expecting it to be a new type of biodegradable car door handle or something. However, Toyoda announced they were building something much more pioneering: a robotic city. Situated at a former factory site in Susono, just to the east of Mount Fuji, it's set to be the first of its kind – a place where artificial intelligence rubs shoulders with humanity.
"You may be thinking, ​'Has this guy lost his mind? Is he a Japanese version of Willy Wonka?'" Toyoda said: ​"I truly believe this is a project that can benefit everyone."
Named Woven City, a nod to Toyota's beginnings as a loom manufacturer before its expansion into cars in the 1930s, it has been conceived as a kind of AI petri dish, to road-test what human lives may look like decades from now. It will be a whole town, of 175 acres, populated by 2,000 people, with thousands of robots to assist them, deliver to them and, of course, monitor them
Toyota has invested heavily in automated vehicles in recent years. In 2017 it raised $100 million through its AI Ventures fund to develop concepts such as the ​"e‑Pallette" – a sort of driverless bus that can deliver everything from pizza to people. Woven City, it appears, is a place for them to test out and develop these ventures into AI. And Japan, it turns out, is the perfect place to build it.
"Japan has a strong national robotics strategy which includes the roboticisation of social life – it reflects a longer history of technological openness but also the challenges of managing its ageing population," explains Dr Aidan While, a senior lecturer at the University of Sheffield who specialises in smart cities and the governance of new economic spaces.
Dr While says that while a growing number of governments, including that of the US, have expressed interest in housing these kinds of experiments (see the driverless car-testing in Arizona and street-robot delivery systems in San Francisco), Japan is particularly well placed to accommodate trials on this scale. ​"There is less resistance in Japan to top-down government and also more openness to robots culturally," he adds.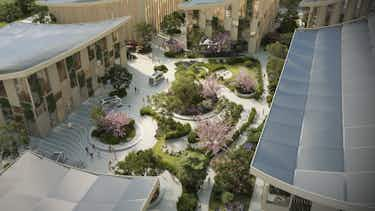 Working as a gigantic urban laboratory with real-life human test subjects (who will safely trial the technology and give the company feedback), it is the first project of its kind and will be what the company calls a ​"fully connected ecosystem" powered entirely by hydrogen fuel cells. The smart homes will use sensor-based AI and in-home robotics systems to address basic needs such as restocking the fridge or disposing of rubbish. And the city aims to have an underground network of delivery drones that will be directly connected to the buildings above. Postmen need not apply.
Dr While believes that although the city is a prototype, it could provide a valuable insight into what the future looks like for many of us and help scientists and urban planners answer important questions such as how do autonomous and automated robots and other things interact with human life? Do we need to design cities differently or live differently? ​"These experimental living labs should be really valuable in de-risking, demonstrating and developing new urban robotic technologies," Dr While says. Of course, there will be risks – it's worth noting that last year the chief executive of Toyota's Research Institute, Gill Pratt, bluntly stated that autonomous vehicles will inevitably be involved in accidents that kill people, but that their benefits will eventually outweigh these risks by reducing deaths on the road overall.
Woven City is being designed by the Danish architect Bjarke Ingels, the mind behind Bjarke Ingels Group, which recently built Google's Mountain View headquarters (a huge, glassy, pod-like complex full of vegetation) and has drawn up plans for an Eden Project-esque structure on Mars (currently testing at a prototype facility in Dubai). The streets in Woven City will be split into three types, with one for automated vehicles only, one for small personal vehicles and pedestrians, and one ​"linear park" street that is entirely green and just for pedestrians, allowing people to move from one side of town to the other just by walking through it.
Whether Toyota's Woven City will prove to be a paradisal success remains to be seen, but Dr While foresees risks and implications that paint a rather dystopian vision of life in a robotic city. ​"The price we'll pay is that there will be more surveillance, more control and more data gathered on the minutiae of our lives," he says, noting that technological advancements aren't always good for everyone. ​"It's likely to be more corporate, more managed, and cities will be more segregated, with robots used to control and manage poorer areas of the city and protect the affluent areas from climate refugees – the future looks pretty bleak when climate change is thrown into the mix."
There's no word yet on whether applications to live in Woven City will be open to the public. Toyota has said that the city will be populated by Toyota employees and their families, visiting scientists, and even retirees. Until then, however, it seems corporations will continue to invest in artificial intelligence on larger and larger scales. Woven City, nestled in the shadow of Mount Fuji, could indeed turn out to house a pivotal experiment in human history.
The future's nearly here; you're just not living in it yet.

More like this