Why politi­cians fuck­ing love karaoke
West­min­ster is a fun­da­men­tal­ly odd place, in so many ways that it would be use­less try­ing to list them all. The place is odd, the con­ven­tions are odd, and if the peo­ple weren't odd before join­ing it, they cer­tain­ly will be by the time they leave.
Westminster's odd­ness is rarely pos­i­tive; most of the time, its out­dat­ed struc­tures, unspo­ken truths and alien­at­ing atmos­phere do not make it the most wel­com­ing or func­tion­al of places.
Still, it some­times goes weird in unex­pect­ed and delight­ful ways – take the karaoke.
If you are going to start a career in or around pol­i­tics, you will be sub­ject­ed to a some­times over­whelm­ing amount of it. Peo­ple go singing at Labour con­fer­ence; they sing at Tory con­fer­ence, Lib Dem con­fer­ence, the SNP con­fer­ence, the Greens con­fer­ence, the bars of Par­lia­ment, restau­rants in Lon­don, and in any oth­er place that has cheap micro­phones and strong alco­hol. If you ask politi­cians what they like to do to let their hair down, most of them will say they like singing.

Karaoke is the great uni­fi­er in pol­i­tics; MPs like it, their staff like it, jour­nal­ists like it and every­one who has found them­selves work­ing along­side these peo­ple will be sub­ject to it on a reg­u­lar basis, whether they like it or not.
"I don't know why it became ​'A Thing'; you'd go on a trip with the Prime Min­is­ter and then some­how you end­ed up in a bar in some for­eign city with drunk­en hacks and drunk­en Down­ing Street staffers, and it was always a karaoke", says Jason Beat­tie, the Dai­ly Mirror's Head of Politics.

"I wit­nessed car­nage in Shang­hai, Delhi…It's a very odd phe­nom­e­non. It's almost become an insti­tu­tion now."
(The Dai­ly Mir­ror holds a year­ly par­ty at Labour con­fer­ence, where, among oth­ers, shad­ow cab­i­net min­is­ters Jon Ash­worth and Angela Rayn­er usu­al­ly enjoy doing Don't Look Back In Anger together.)

It is unclear when the trend start­ed, though Beat­tie and oth­er vet­er­an West­min­ster bub­ble dwellers placed the ear­ly days of the mania in the late New Labour years.
As for­mer advis­er Lord Wood (go-to song: ​"Scenes from an Ital­ian Restau­rant – Bil­ly Joel") recalls, ​"The Spel­lar­ites [the ​"old right" of the Labour par­ty] had a reg­u­lar Lucky Voice evening in the ear­ly noughties; by the time I was at the Trea­sury as an out­er Brown­ite, they were quite impor­tant cal­en­dar moments". At a time when the Labour par­ty was clear­ly split into fac­tions that either had all the pow­er or none of it, social­is­ing through tip­sy karaoke became an impor­tant way to ensure that you were still in the loop.
For oth­ers, it was about cap­i­tal­is­ing on some­thing peo­ple would want to do when sloshed any­way, and using it to bring every­one together.
Pop­u­lar West­min­ster PR out­fit InHouse Comms, for exam­ple, organ­is­es a ​"Toryoke" every year at the con­fer­ence of…well, you can prob­a­bly guess, where senior par­ty fig­ures, spe­cial advis­ers and hacks can belt out the song of their choice in front of a live back­ing band.
"We've had a long and proud inter­est in karaoke, from just creep­ing off to find some­where late at night after par­tic­u­lar soirees in West­min­ster with fair­ly warm white wine and mediocre con­ver­sa­tion", explains their chief exec­u­tive Jo Tan­ner, ​"and then that turned into an annu­al thing".
"Matt Han­cock [now the Sec­re­tary of State for Health and Social Care] is prob­a­bly the big one that every­one remem­bers. It was the first year that we had a live band at con­fer­ence and he arrived and it was his 39th birth­day, and we knew it was his birth­day, so we said we'd sing hap­py birth­day to him". What they hadn't planned for, how­ev­er, was that a well-refreshed Han­cock would take mat­ters into his own hands: ​"He sang hap­py birth­day to him­self on stage, while we all sang hap­py birth­day to him".
(Sources close to Matt Han­cock insist that it was also the birth­day of broad­cast­er John Pien­aar and the Cab­i­net Min­is­ter was in fact singing hap­py birth­day to him, but peo­ple present on the night say that Pien­aar wasn't ​"any­where near the stage" at that point).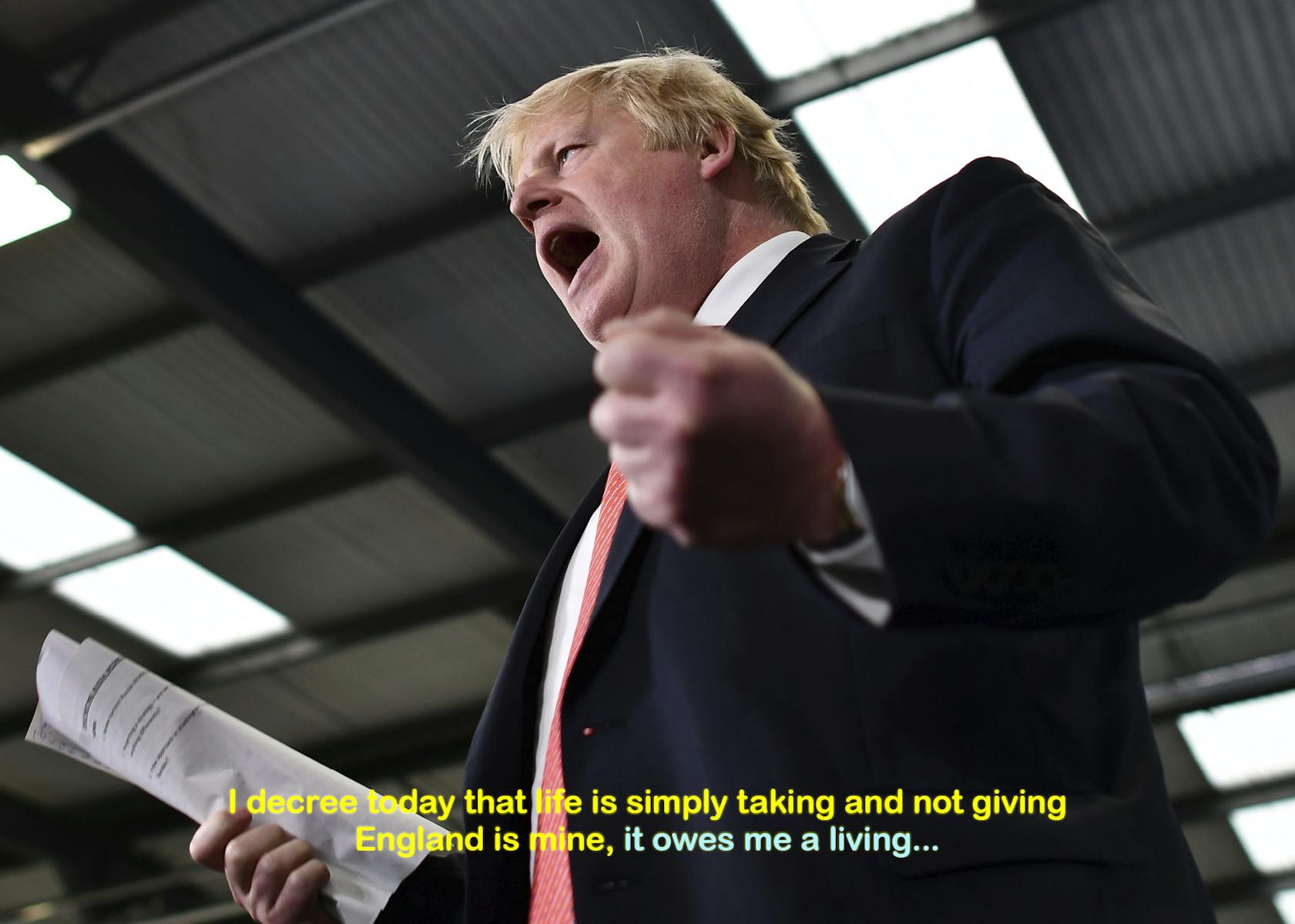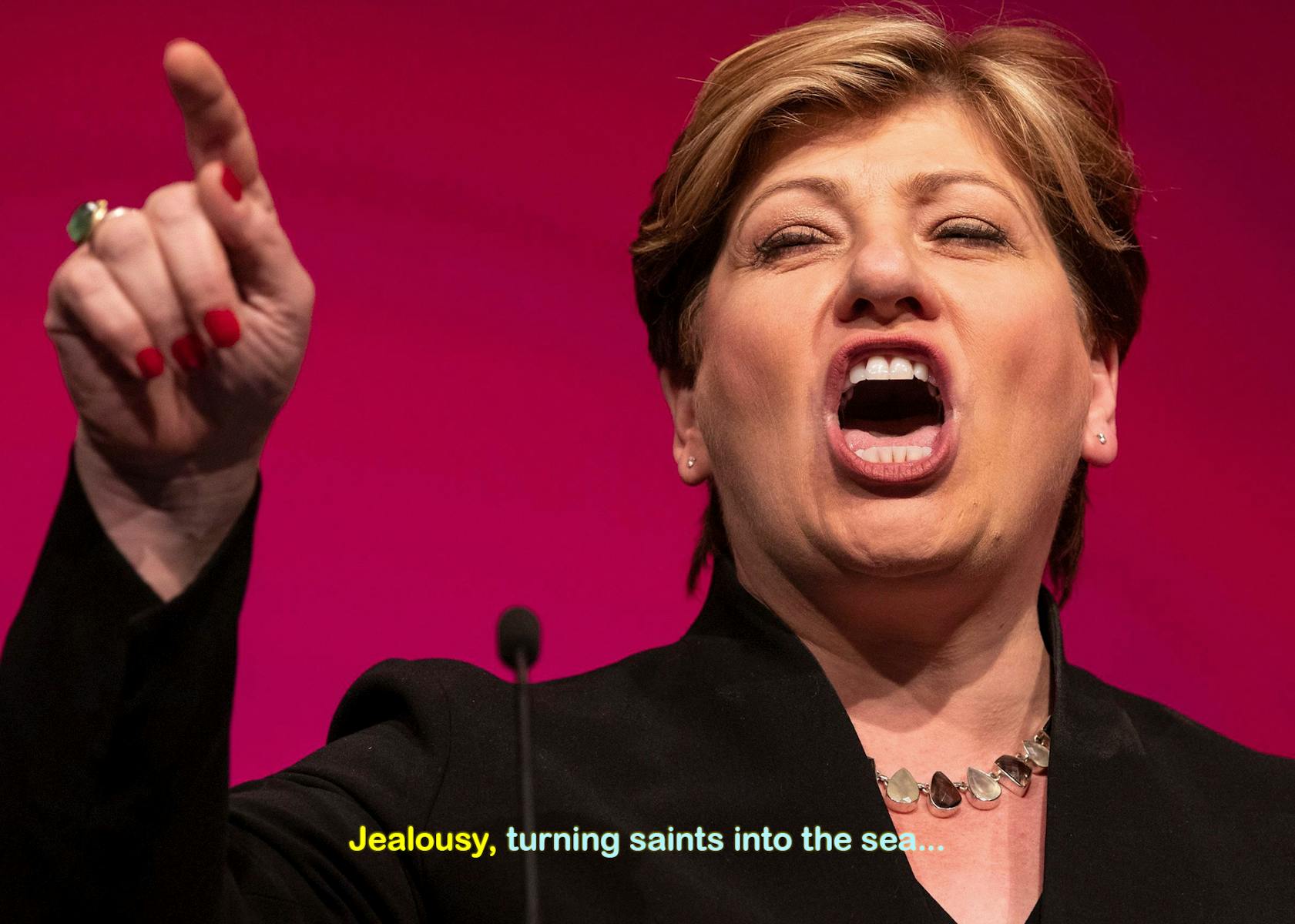 Con­fer­ences aren't the only place where this hap­pens, of course. An espe­cial­ly mem­o­rable edi­tion of the Par­lia­men­tary Labour Party's Christ­mas bash involved a num­ber of MPs scream­ing along to Total Eclipse of the Heart, as well as Cor­byn-scep­tics Mary Creagh and Yvette Coop­er get­ting togeth­er to belt out I Will Sur­vive (make your own jokes).
Else­where, polit­i­cal hacks gath­ered at anoth­er InHouse bash where Dai­ly Mail deputy polit­i­cal edi­tor John Stevens and Tele­graph chief polit­i­cal cor­re­spon­dent Christo­pher Hope joined forces for Islands In The Streams, Sky's West­min­ster team did a group ren­di­tion of Go Your Own Way, and many more.
This should all lead to an obvi­ous ques­tion, name­ly: why on earth do politi­cians and those around them like karaoke so god­damn much? Well, it depends on who you ask.
For Tory min­is­ter James Clev­er­ly ("Nat­ur­al Woman – Aretha Franklin / We Are Nev­er Get­ting Back Togeth­er – Tay­lor Swift"), ​"there is def­i­nite­ly a bond­ing ele­ment to it, at times when ten­sions have been very high it has been a use­ful safe­ty valve".

Labour MP Kevin Bren­nan ("Tox­ic – Brit­ney Spears"), it's more straight­for­ward: ​"I'm Welsh so I love singing and karaoke is bet­ter for your soul than Brex­it wrangling".
Shad­ow for­eign sec­re­tary Emi­ly Thorn­ber­ry ("My prob­lem is I don't have a karaoke song; I think I can sing every­thing, and that real­ly is a prob­lem"), mean­while, went for the obvi­ous answer: ​"Because we're all show offs".
There is cer­tain­ly some truth to this, but it is worth dig­ging a bit deep­er; after all, most peo­ple will enjoy the occa­sion­al evening slaugh­ter­ing cheesy hits in the pri­va­cy of a booth, but it says some­thing that in pol­i­tics, the only two forms of enter­tain­ment one encoun­ters are ​"drink­ing" and ​"drink­ing then singing".
Accord­ing to Tan­ner, ​"If you think of the per­son­al­i­ties of most politi­cians, they're gen­er­al­ly quite extro­vert, and prob­a­bly […] exhi­bi­tion­ist in some way. And I don't know whether there's some­thing around let­ting loose? It's some­thing they don't feel they can do, because they're all in their straight suits. It's a very for­mal envi­ron­ment with­in Par­lia­ment, even in how you refer to each oth­er ("The Hon­ourable Mem­ber for…" is not the friend­liest of greet­ings), and you sit in a par­tic­u­lar place based on when you were elect­ed […] So to some extent, it is a bit of, ​'actu­al­ly, I can just be free and let go.'"
After all, being a politi­cian means hav­ing to con­stant­ly walk a thin line. On the one hand, the pub­lic often says it wants MPs who are are real humans and not flaw­less polit­i­cal bots; on the oth­er, any MP show­cas­ing basic human behav­iour puts them­selves at risk of being hanged, drawn and quar­tered by the press.
With stress­ful jobs and long hours, it is nor­mal for them to want to unwind, but there are not many ways in which they can do it safe­ly. On top of this, West­min­ster is a place fraught with con­stant con­flict, where MPs have to argue and plot against each oth­er, mind what they say around reporters, and make sure their advis­ers do as they're told. Add a lay­er of Brex­it chaos to it and you've got your­self a per­fect recipe for nerds on the verge of a ner­vous breakdown.
By virtue of being non-con­fronta­tion­al, uncon­tro­ver­sial and pret­ty fun, karaoke has become a way for every­one to tem­porar­i­ly drop their sword, low­er their shield and get some well-deserved breath­ing space.
Or per­haps this is over­think­ing it, and, in the words of one Tory activist, ​"Is it because every­one in pol­i­tics was slight­ly uncool at school and so this is the sad way they get to act out their 1990s mem­o­ries with friends? Ask­ing for a friend."
---