How Stone Island and New Balance Paired up for the Fuel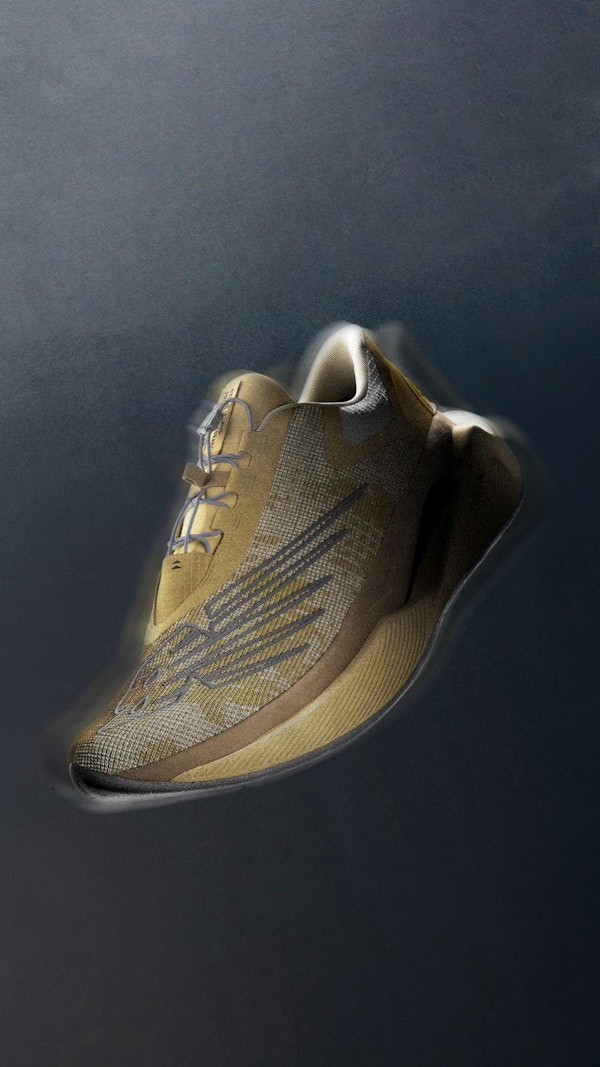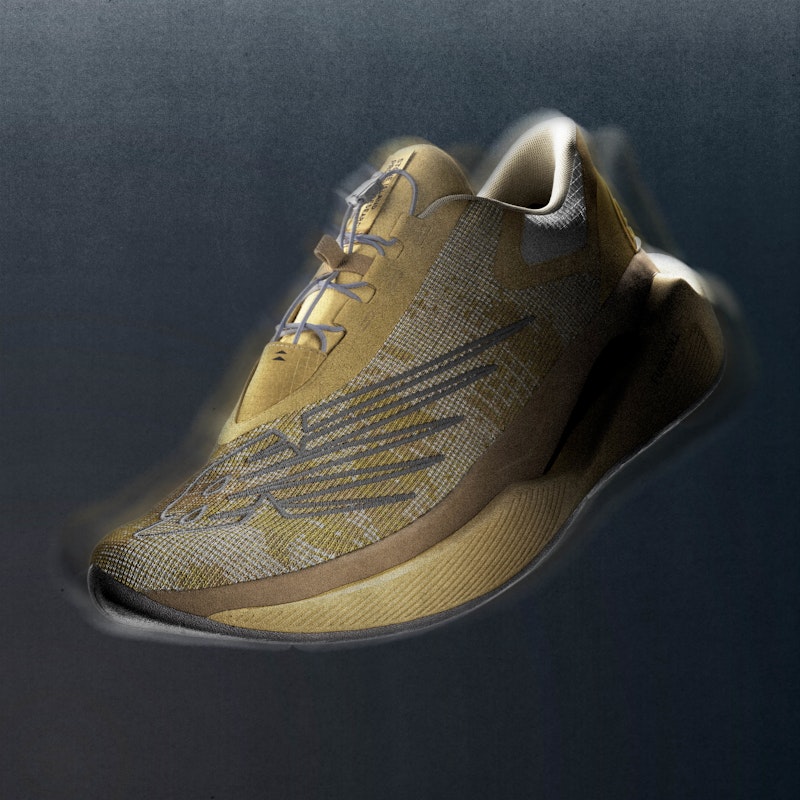 In partnership with Stone Island
How Stone Island and New Balance paired up for the FuelCell C_1
As part of their ongoing link-up, New Balance and Stone Island have interlaced expertises for the FuelCell C_1, a meticulously engineered piece of footwear. We spoke to both teams to retrace the creative process.
There's a duality to shoes: they exist as a pair, two mirrored soles. The greatest two-way collaborations are equally symmetrical. Stone Island and New Balance's collaborative relationship – kickstarted in 2021 – has reflected this meeting of minds and exchange of expertise, seeing both brands work on a string of new footwear including reimagined versions of the 574 Legacy and FuelCell RC Elite.
Now, they're breaking new ground with the FuelCell C_1, a shoe produced by New Balance and informed by Stone Island that fuses together two polar opposites. First, the traditional, realised through the shoe's use of cotton yarns, knitted fabrication and original craft; second, the technical, shown through its sculptural design and performance-enhancing features. Its use of camouflage, a man-made take on nature, blends both of these together at once and is presented in two colourways.
Weaving together Stone Island's relentless research and New Balance's footwear prowess, the FuelCell C_1 underscores an enduring desire to go further than before. To discover the process, THE FACE spoke to creatives and designers from both teams.
Stone Island
For Silvio Rivetti, Stone Island's design director, the brand encompasses several ethoses: state-of-the-art fabrics, original design and exacting engineering. "We approach every collection and every piece we design with the knowledge and the respect of where we come from," he says, highlighting the brand's laboratory facilities and rich archive of past pieces. "Everything is considered, thought through, checked and validated; if it looks and feels Stone Island, it receives christening and sees life," he adds.
This meticulous approach means that Stone Island's collaborative process is seen as a true exchange of expertise. "We consider what we are doing with New Balance a lot more than a collaboration," he says. "Both brands have uncompromised standards when it comes to quality of the product. We are both strongly interconnected with our iconic materials and historical models," he continues.
As well as the synergy, there was also serendipity. "We brainstormed with the lifestyle team at New Balance to work on a running shoe aesthetic without expecting it to perform, but it actually tested great at running. It's a manifesto for lateral thinking," Rivetti says, drawing attention to the carbon plate that wraps around the literal, lateral side, engineered by New Balance's Tokyo Design Studio.
Gabriela Angelova, a senior designer at Stone Island, agrees with this sentiment. "Curiosity and experimentation are the common ground," she says, adding that both brands work to break boundaries. While similarity is key, some asymmetry ensures newness. "Our knowledge comes from different sides of the industry, respecting distinctive innovative practices. This merges together in an exciting product," she explains.
The result is the FuelCell_C1, formed from a process of material development and splicing together design and performance. "The bespoke engineered knitted upper allows breathability and protection through its zonal knit construction," Angelova explains, highlighting Stone Island's commitment to detail. The knit is both natural through fuzzy cotton yarn and man-made through polyester yarn, emblazoned with a mixture of screen printing and embroidery.
Although the shoe's motif is camouflage, its unique take on Stone Island's past means it's destined to never blend in. "It echoes the Spring Summer '90 collection with its military green hues," she says, combining these with a rusty, dusty red-and-purple and a sandier, warmer tone for each of the shoe's two colourways.
This dialogue between archive and prototype is archetypal of the brand's double vision. "We are recognised as originals and valuable by people of different ages and cultures. We generate talks and exchanges between them constantly," Rivetti says. "This is to me a true wonder."
"Development took longer than an average shoe. Threading that needle was always going to be tricky, but both brands were aligned on not making compromises."
"Both brands have uncompromised standards when it comes to quality of the product. We are both strongly interconnected with our iconic materials and historical models."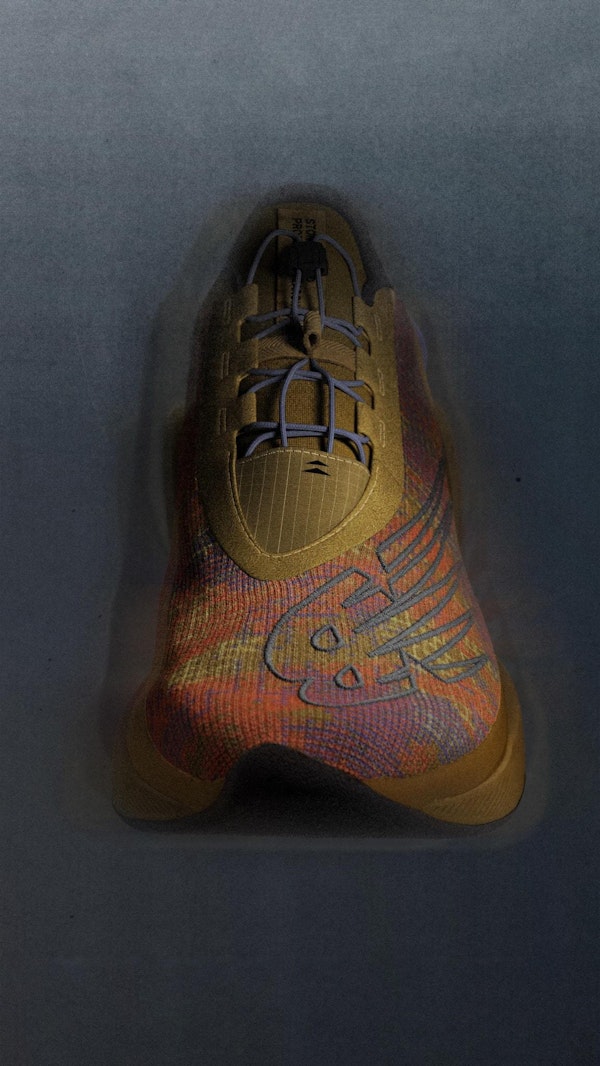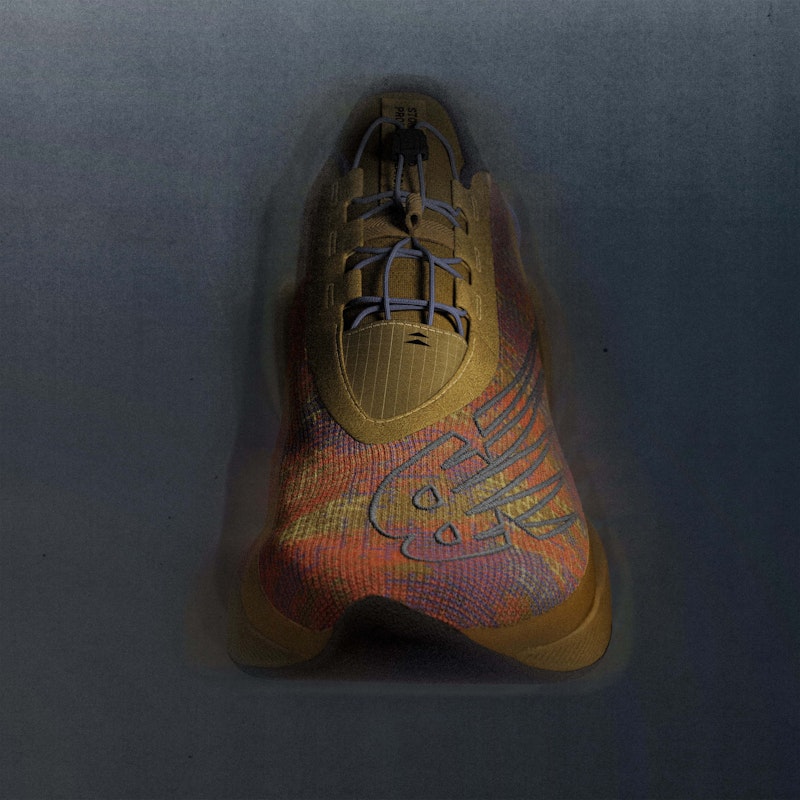 For New Balance, balancing both visions was central to the creative process. "The project was positioned to showcase both brands' dedication to innovation, craftsmanship and functionality through a running platform that New Balance is known for," says James Lee, the brand's lead designer for its lifestyle division. "These shared values between Stone Island and New Balance's Tokyo Design Studio helped make this process feel very organic," he continues, emphasising the perfect cadence of the process.
Brian Lynn, the general manager for lifestyle, affirms this. "Unlike the first Fuel Cell project we launched with Stone Island, the new FuelCell C_1 model was a true dual process," he says. "Stone Island is known for their ground-breaking material innovation and we are known for creating some of the most technical footwear in the industry with a heartland in running, so combining these elements from both brands was always going to be the primary objective."
Using the cushioned sole of New Balance's FuelCell Supercomp Trainer V1 as a springboard, the updated design elevated it further. "We took a more sculptural approach by adding exaggerated movement and speed in the design lines," Lee says, honing in on the three-dimensional Stone Island logo which joins the dots between lifestyle and performance. "It brings visibility and energy to some of the great running products that New Balance already has that lifestyle or fashion consumers might not be currently aware of," he says.
The shoe, though, is in no way superficial. "The DNA of the shoe is rooted in running. It was built and performance tested following New Balance's running standards," he says. Form and function are kept in equilibrium by centering the aesthetics themselves on the performance features of the shoe, extending the carbon-fibre plate and creating magnetically secured laces to prevent movement while running. The midsole also pays homage to New Balance's heritage RollBar technology, helping to stabilise the FuelCell C_1.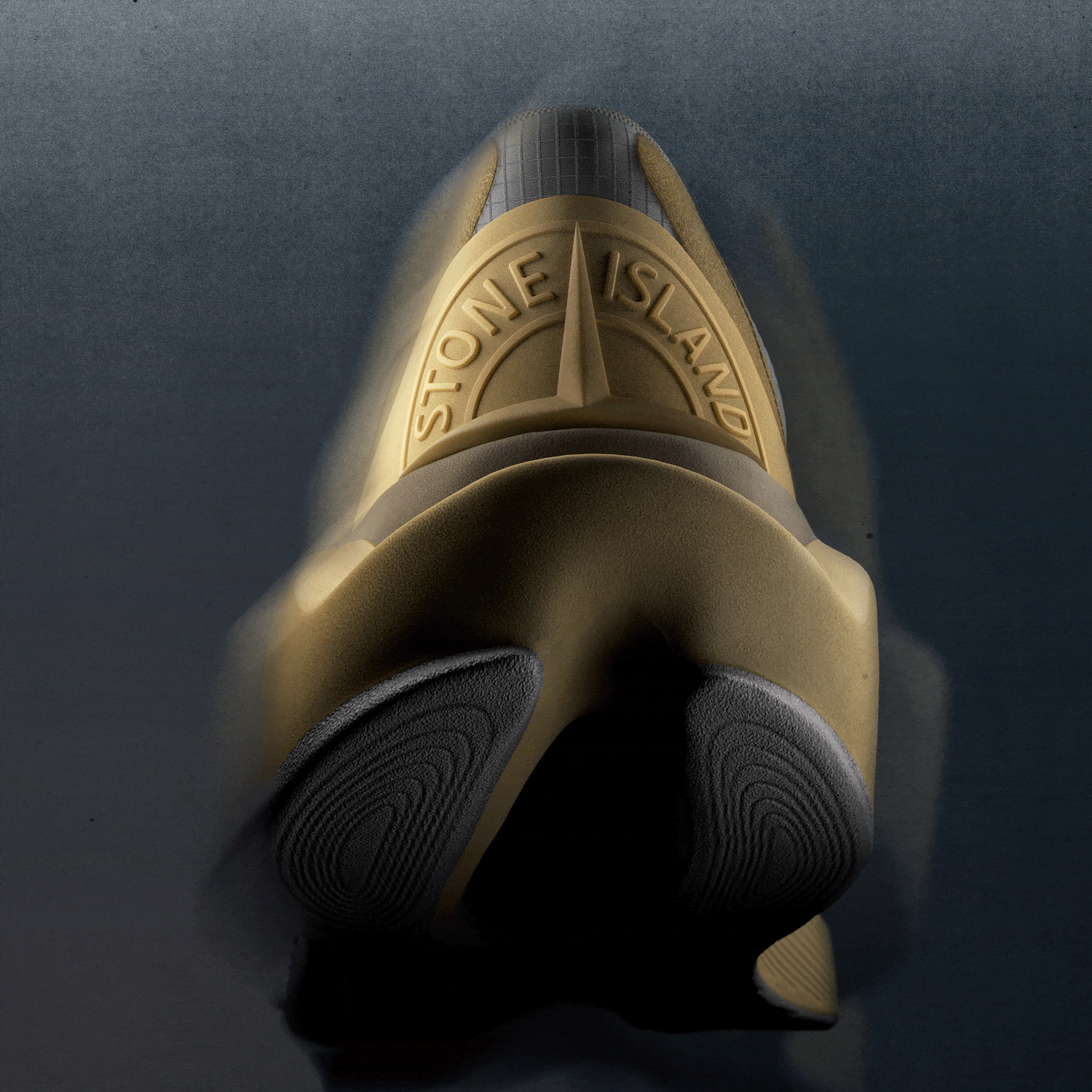 No corners were cut; the process took a considerable amount of time. "Development took longer than an average shoe. Threading that needle was always going to be tricky, but both brands were aligned on not making compromises," Lynn says. This disciplined, interdisciplinary approach didn't just create a perfectly weighted outcome, but also created a back-and-forth dialogue between New Balance and Stone Island, one that's far from the finish line. "Neither brand wanted to take the easy option. We've learnt a lot from each other and it's a thrill (and a relief) to see a lot of hard work and commitment finally make it to market," Lynn says. "This is just the start."