Croc nation: the divisive shoe is here to stay
2020 in review: In October, it was confirmed that Crocs had made $117.2m in retail sales in spite of the Covid-19 pandemic. Here's why the foamy footwear that seems to fit our "unprecedented times" has seen a palpable shift towards acceptance in 2020 – whether you like it or not.
From torturous patent lace-up stilettos to metallic Tabi boots that would immediately notify anyone in the office of my arrival with a satisfying ​"clack clack" across the floor, once upon a time I wouldn't be seen anywhere without a pair of high heels. Needless to say that the pre-pandemic, heel-wearing me couldn't have possibly imagined that in 2020 I would be putting on a pair of Crocs and enjoying every minute of it. But then again, these are, as we know, ​"unprecedented times" – and unprecedented times call for an unprecedented shoe.
Originally designed for boating, the first pair of Crocs debuted in 2001 made from Croslite™, an injection moulded lightweight foam material, in a unique and eerily amphibious shape. In the years that followed, Crocs became notorious for their association with everything that was deeply unchic, and were usually favoured by those who prioritised function over form. An article on the history of ​"ugly footwear", published in NY Mag in the mid-00s, described 2006's ​"Croco-philia" as an ​"assault on our fashion sense": ​"The garishly [coloured] slip-resistant shoes beloved by shift workers and chefs spread like a virus, engulfing entire families at a time," it proclaimed.
If only the author could have known how such a statement would read in 2020. Yet, with its cartoonish aesthetic and unparalleled spongy comfort, there is still nothing else quite like a Croc. Over the past 12 months, the classic clog style – in both flat and platform iterations – has defined our lockdown wardrobes, and become a mainstay on the feet of celebrities – including Justin Bieber and Post Malone, who both collaborated with the brand – the fashion crowd, and the general public alike.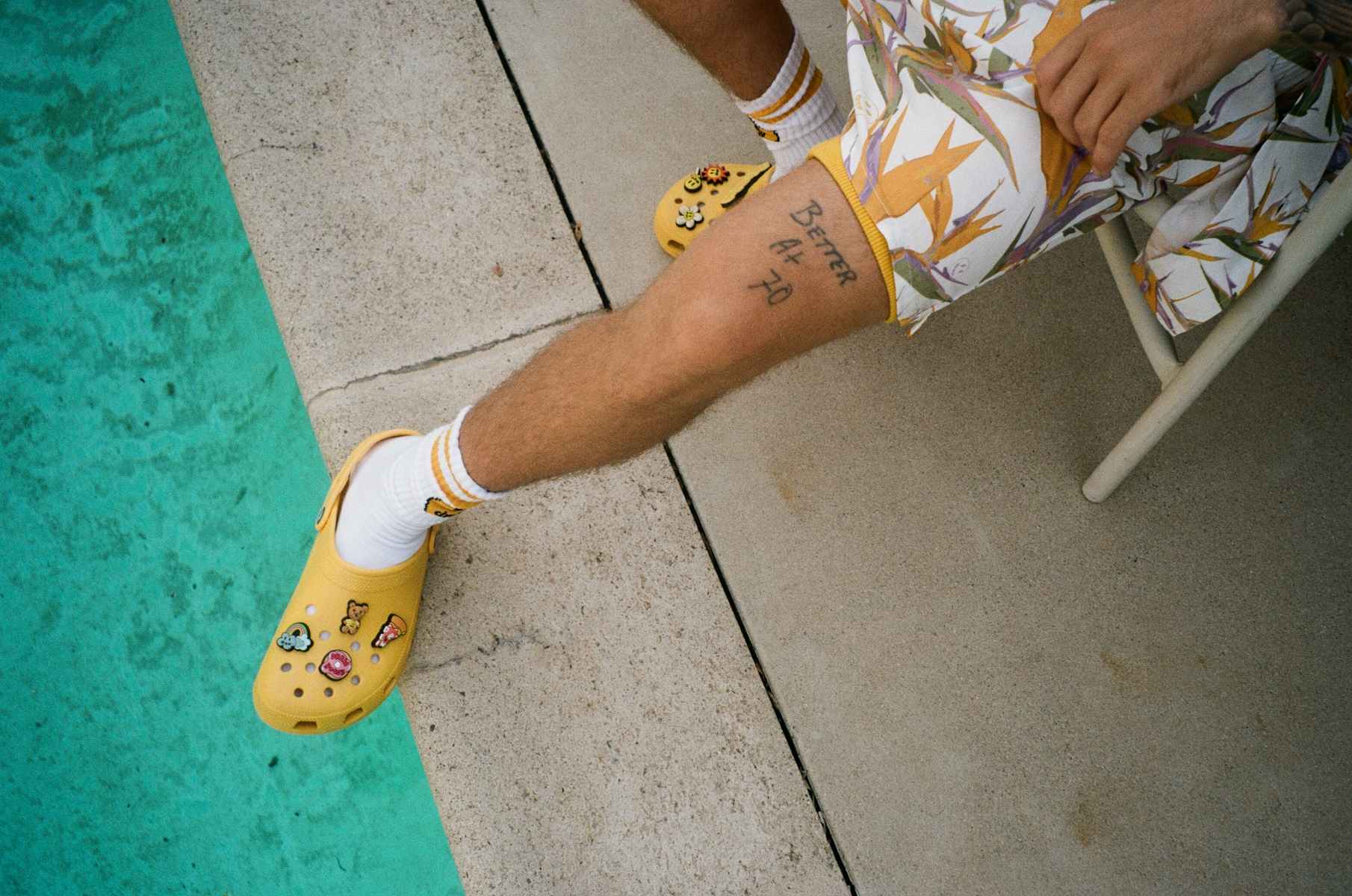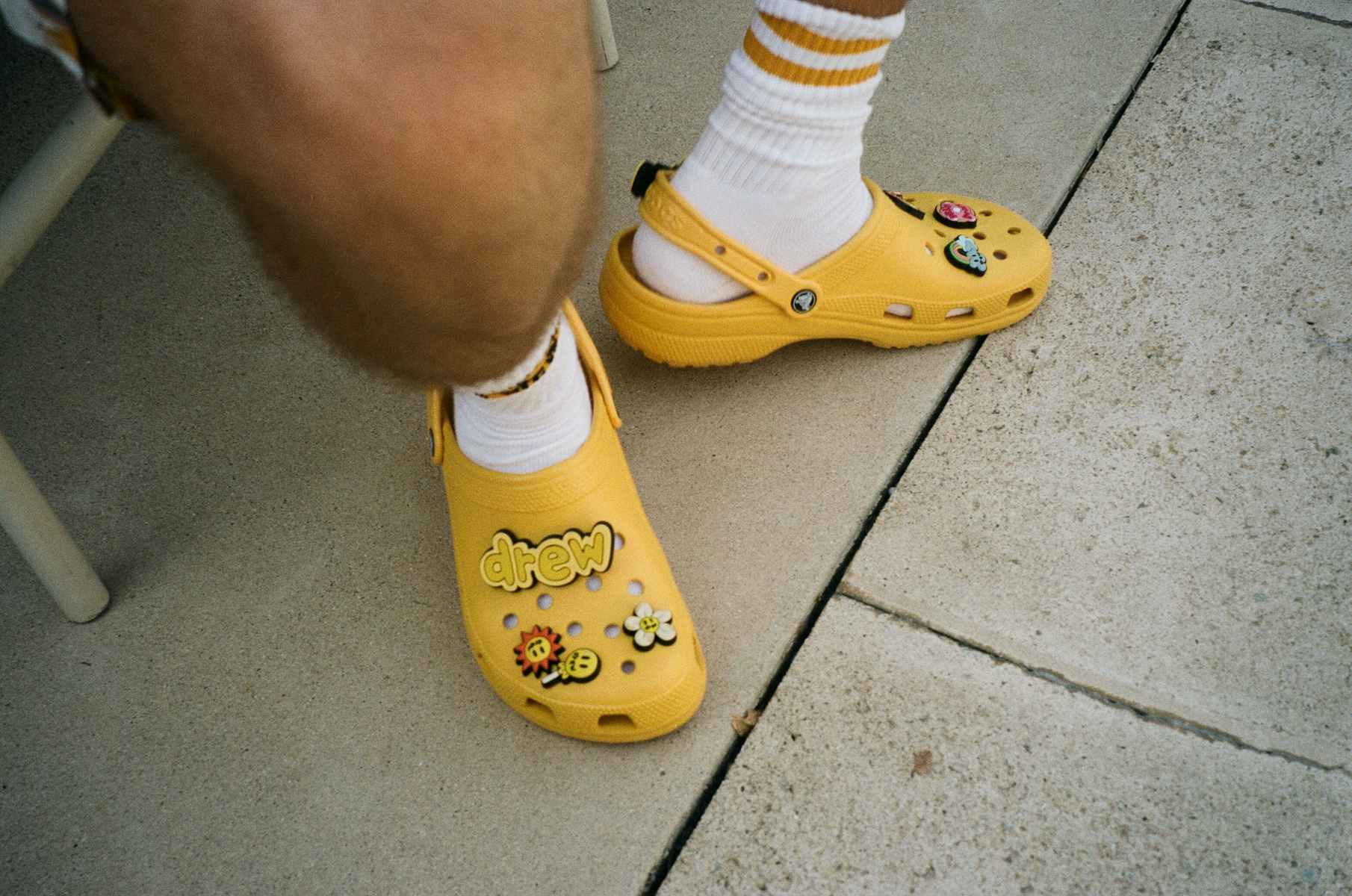 The process of Crocs becoming accepted as a ​"fashion shoe" began a few years back, when Christopher Kane first put them down the runway in 2016 as part of his SS17 collection, adorned with rock and mineral Jibbitz. (For those who might be unfamiliar with Crocs terminology, Jibbitz are decorative studs that can be bought seperately and placed in the holes at the front of the shoes to personalise your clogs.) ​"I always work with unexpected items and combinations, transforming the everyday into desirable luxury," Kane said at the time. ​"Crocs are arguably the most comfortable shoe, I love that they are slightly awkward and might be perceived by some as ​'ugly'. They have a very naïve and childlike shape which I especially like when they look extra clunky on the foot."
A couple of seasons later, Balenciaga's Demna Gvasalia – a designer known for pioneering ​"ironic" and ​"normcore" fashion, whether that's a DHL T‑shirt at his former label Vetements, or dressing real families in anoraks for a campaign at Balenciaga – presented the world with a bubblegum pink super-stacked platform version of the Croc for SS18. ​"It's a very innovative shoe. It's light, it's a one-piece foam mould and to me these [kinds] of techniques and working with these [kinds] of materials is very Balenciaga," he noted to Vogue.
At the time, this seemed like a shocking move from both designers – one which spawned a thousand memes and ​"Would You Wear This New Shoe Trend?" articles from the fashion media. Whilst Crocs still remain polarising, there has been a palpable shift towards acceptance in 2020. ​"Crocs are now cool and exactly what the world needs during a pandemic," declared The Independent, while a Wall Street Journal headline stated that ​"Crocs Are Back In Style. And Not Just Because of Coronavirus," backing up its claim with impressive figures and stats. Indeed, in October it was confirmed that Crocs had made $117.2m in retail sales in spite of the Covid-19 pandemic, and monthly online searches had reached 135,000 hits on average. To date, a spokesperson from the brand confirms it has sold ​"600 million pairs of shoes since Crocs began in 2001".
This year, with no one leaving the house as much during nationwide lockdowns, or getting trussed up to go to work as they used to, comfort and practicality is now a central consideration when deciding what to put on in the morning. As London-based stylist Ben Schofield says of his new found love affair with Crocs, ​"I just feel really silly in them and I like it. They have a main function for me which is walking from my living room to my terrace to have a cigarette. There is no comfier shoe to go for a fag in than a Croc. I haven't got to the point that I'm wearing them out of the house for a whole day, but I'm building up to it." Schofield adds that the Croc has become a staple in his styling toolkit of late, featuring on shoots alongside higher-end brands and favoured as a shoe for wearing on set. ​"There was a time when I would have really noticed if someone was wearing Crocs, but now I just don't really think about it," he continues.
For another stylist and fashion designer, Harry Freegard, Crocs form a central part of his wardrobe. He particularly enjoys pairing them with dresses, hoodies, and shorts. ​"My first pair of Crocs were knock offs from a carboot sale in Devon," he says. ​"That's where the obsession first began for me. Now I have two pairs that I've spray painted gold. For me they are the wonder shoe of the moment. It's reminiscent of the Birkenstock effect," he continues, referring to Phoebe Philo's tenure at Céline, where the designer transformed the orthopaedic-inspired footwear into an ​"it sandal" thanks to a fur-lined iteration for SS13. ​"I think that Crocs are post-ironic now too," Freegard concludes. ​"You have to embrace them for what they are, which is just a really fab shoe."
Although the popularity of Crocs is comparable to the Birkenstock mania of 2013, this time around internet culture and the rise of TikTok has played a role in securing their status as a millennial and Gen Z favourite. With both demographics broadcasting their isolated lives to the world during house arrest, Crocs have been seen all over social media, whether on socially distanced walks to the park or in mirror selfies showcasing ​"work from home fits". Official collabs with the likes of streetwear brand Anwar Carrots and Instagram upcycling star Nicole McLaughlin have further cemented Crocs as the last word in ​"ugly footwear". Depop sellers are even flogging Croc backpacks alongside hashtags such as #bratz and #Y2K, and bootleg ​"Jibbitz" are popping up all over stores on Etsy.

Croco Minerale is one such shop, founded by Hackney-based artist Kate Morrell. Reminiscent of the Christopher Kane's Crocs from 2016, Morrell sources crystals and minerals from an ethical rock supplier before turning them into charms to wear on the front of your clogs. ​"I started Croco Minerale as a lockdown project," she says. ​"I use geology in my work and I was drawn to Crocs as a display system for it. I've worn Crocs usually as more of a ​'private shoe', as in, I wouldn't usually leave the house in them. But now I find myself wearing them out more and more. I'm a really minimal dresser and wear lots of monochrome shades, so a black pair really fit in with that look."

Morrell notes that the customisable and striking nature of Crocs make for Instagram-ready footwear, which is something she hopes to see more of from her customer base (mostly artists and creatives) as her project grows. India Jarvis, a brand consultant in her mid-20s and also living in London agrees with Morrell: ​"I think the beauty of the Croc is that you can really make it your own," she says. ​"It just melts into an outfit, but is also a great twist. I've worn them with my chicest clothes and good tailoring, for day and for night. It's like an ​'open for a surprise' on Twitter – you look down, and hey! I'm in a Croc."

Crocs' former CMO Terence Reilly spoke about the customisability of the shoes in an interview earlier this year. ​"We needed to turn this from a meme to a dream," he says. Arguably, the Crocs team – namely head of global marketing Heidi Cooley and president Michelle Poole – have achieved this by sticking closely to the brand's DNA and highlighting the democratic ​"blank canvas" potential of the classic clog.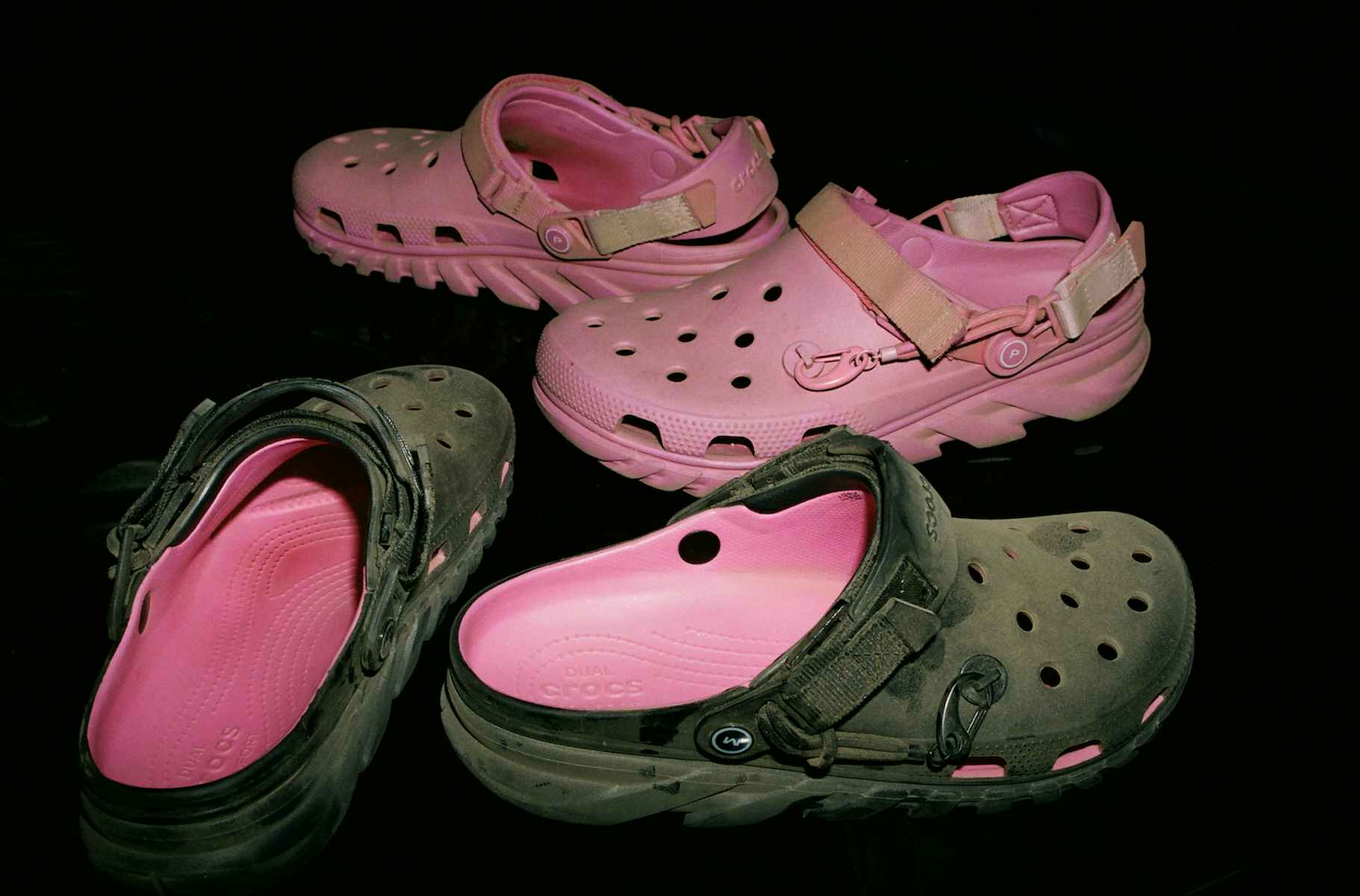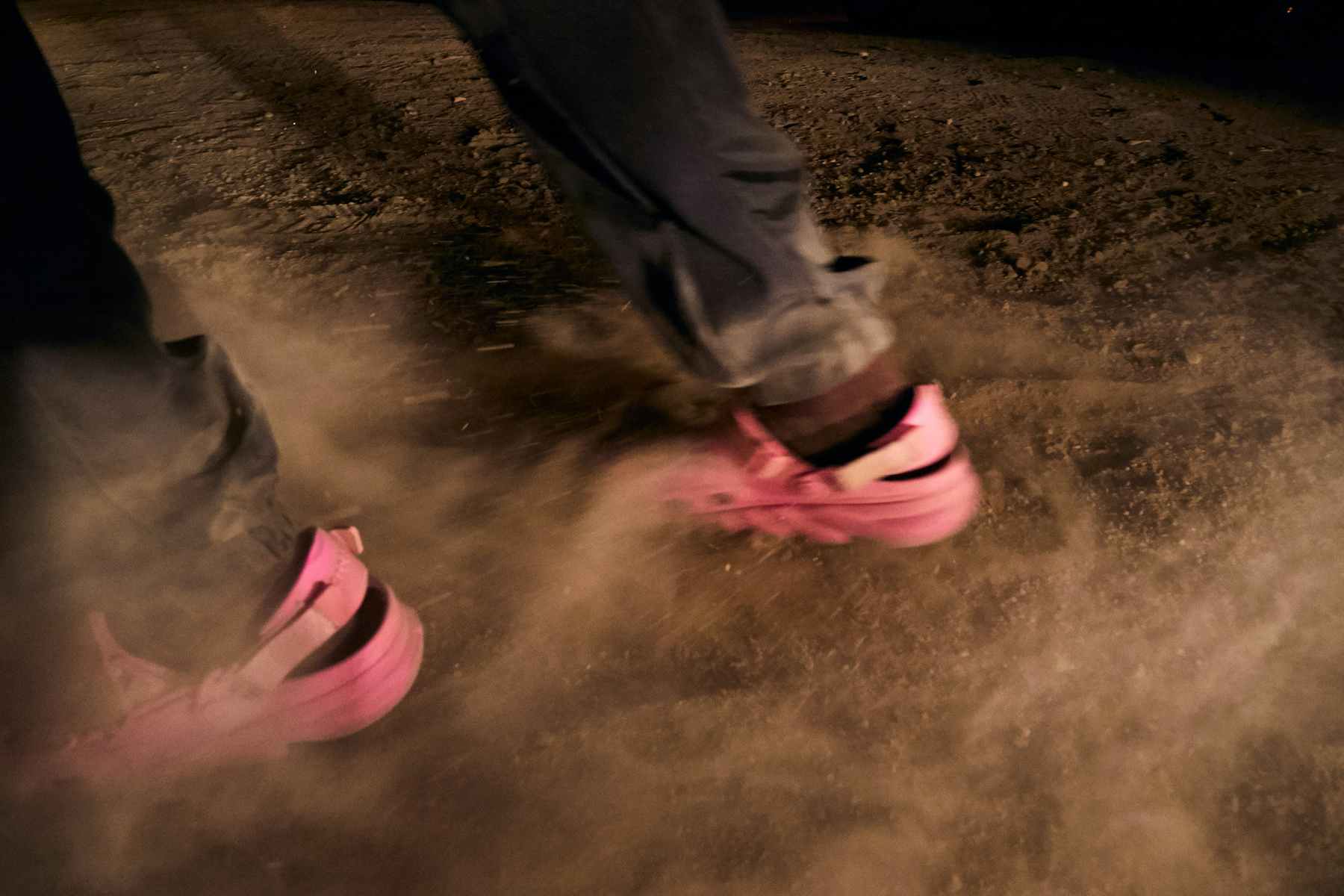 Natty Kasambala, a writer and strategist and a self-confessed fan of ​"a Croc and a sock", bought her first pair two years ago. She also thinks there's something about the authenticity of Crocs that's helped the shoe soar to peak popularity in 2020. ​"What this year has taught us is that there are more important things to be caring about – and the Croc feels sort of emblematic of that. It feels like they represent this year in a practical sense, but also in a metaphorical sense," she says. ​"They go with everything, but also go with nothing. And I don't want to make it overly political, but I've always been drawn to ​'ugly' shoes as it felt like [I was] rebelling against beauty standards. When I saw all the pieces about them becoming ​'cool' I found it quite jarring because I just don't think they should stand for anything. Calling them ​'cool' kind of defeats the purpose of the Croc."
Cool or otherwise, the people have spoken – and it looks like Crocs are here to stay, even after this strange year is finally through. A survey conducted earlier this year by Farfetch ranked Crocs as one of the most iconic fashion items of all time, placing them beside the likes of Levi's 501s, Converse Chuck Taylors and RayBan Wayfarers, indicating that Crocs are, whether we like it or not, a new wardrobe essential. Luxury brands are also embracing ​"Croc-esque" footwear. Take Bottega Veneta's rubber Puddle boots as an example. Sesigned by Daniel Lee (a protégé of Phoebe Philo) for the label's AW19 collection, the boots are now on sale in shades of lime green, pink, orange, and black. Surely, then, it is only a matter of time before fast fashion giants such as Zara – well known for its ability to quickly emulate the latest trends – begin to sell footwear influenced by the Puddle boot and the Croc, further pushing this aesthetic into ubiquity.
As 2021 fast approaches, Crocs are going nowhere fast. Harry Freegard agrees: ​"If you're going out to a party but don't want to wear a heel, would you wear a trainer? No! It's all about a statement Croc now." I'm still in two minds as to whether I would personally wear them to a party, once my social life begins to regain some semblance of normality. After months of staying indoors, I don't think I could possibly pass up a chance to wear my painful patent heels in a very public setting once more. But, you'll still catch me in my bright pink Crocs now and again, whether I'm popping out to the local shops or commuting into an office, all the way into next year and beyond.


More like this