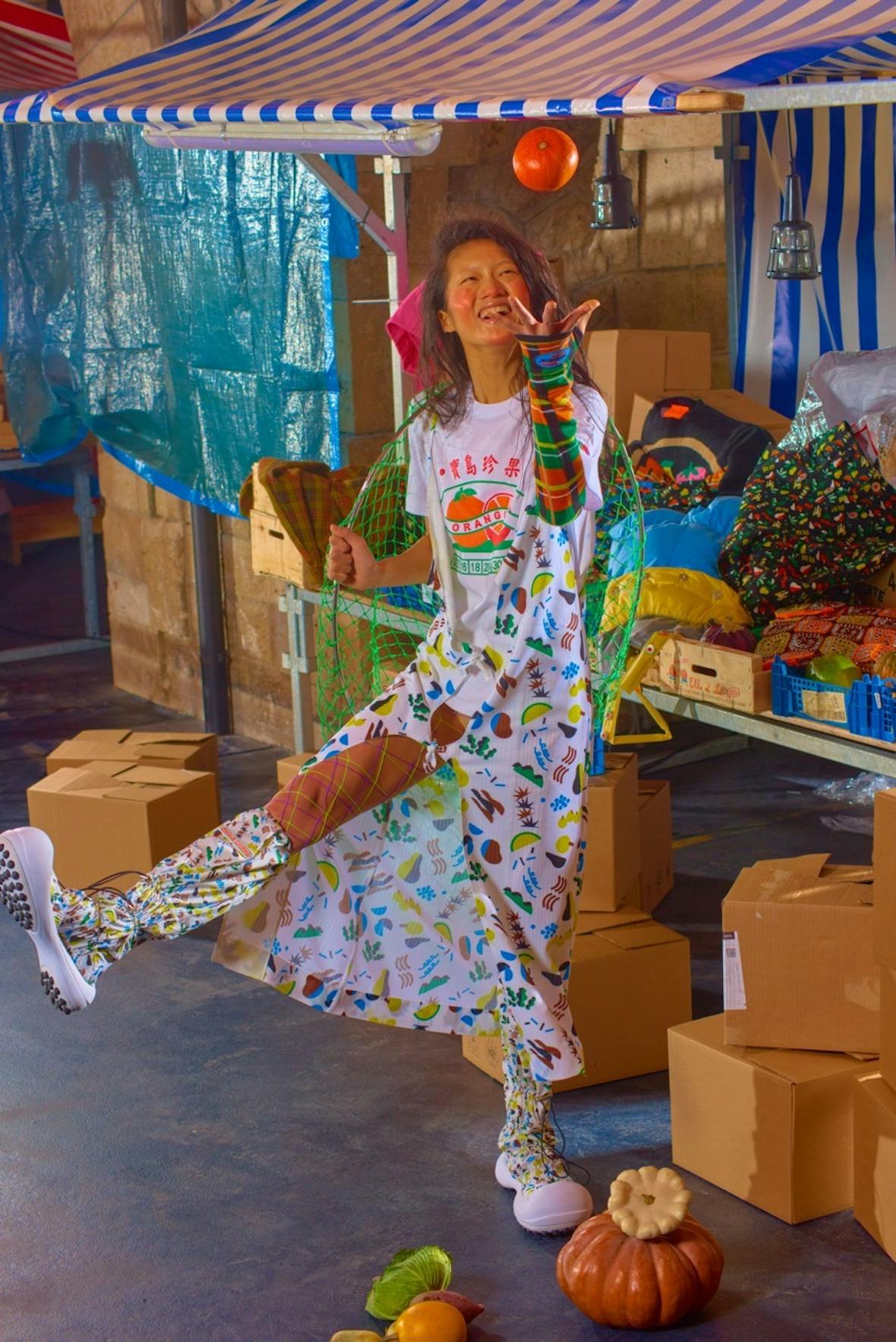 Angus Chiang's Guide to Taipei
The world is far from black and white. Well, it is accord­ing to Angus Chi­ang. Flaunt­ing an AW19 col­lec­tion to rival Joseph and his tech­ni­colour dream­coat, the Tai­wanese design­er has a pen­chant for all things bright, dar­ing and a lit­tle bit ​"naughty". His show at Paris Fash­ion Week in Jan­u­ary was a kalei­do­scope of colours, intri­cate­ly woven into curi­ous net­ted fab­rics, loose-fit­ting knitwear and a glint of plaid. And lots and lots of fruit. Not only plas­tered across the clothes, but stocked in his tra­di­tion­al Tai­wanese mar­ket stall set, which appre­cia­tive local fash­ion­istas dog­gy-bagged up at the end of show.
A love let­ter to his home city Taipei, this season's colour­ful cloth­ing took inspi­ra­tion from the pri­ma­ry sec­tor in Tai­wan. Why? Because indus­tries asso­ci­at­ed with raw mate­ri­als ​"play an indis­pens­able role [in] the coun­try and the lives of Tai­wanese peo­ple," answers Chi­ang. ​"Through our AW19 col­lec­tion, we want to express the dif­fer­ent con­cepts of the Tai­wan pri­ma­ry sec­tor and how this influ­ences people's lives." So, sil­hou­ettes resem­bling the dai­ly work­wear worn in agri­cul­ture dom­i­nat­ed the cat­walk, whilst Bil­lie Wang – a dynam­ic Tai­wanese musi­cian who rose to fame in the Eight­ies – pumped out nos­tal­gia-induc­ing bangers that trans­port­ed onlook­ers back to the island's peri­od of boom­ing eco­nom­ic growth. Enlist­ing the help of vet­er­an Tai­wanese fish­ing-net mak­er Ms. Mei-Nu Tu Chen, the design­er also man­aged to cre­ate inter­est­ing tex­tures that paid homage to Taipei's fish mar­kets. Think: upcy­cled soda cans woven togeth­er by fish­ing net threads and a dress with a stitched tar­pau­lin top.
His collection's nod to an intrin­sic part of the city's cul­ture is no sur­prise: Chi­ang is Taipei to his core. He was born and bred in this ​"cozy and mod­ern" cap­i­tal, whose his­to­ry as a colo­nial city means that ​"it is full of dif­fer­ent cul­tures from num­ber coun­tries". For the design­er, this means always being able to find ​"some­thing that seems exot­ic and dif­fer­ent". Or, at the very least, ​"some­one with a smile on his or her face".
It is this ener­gy that Chi­ang strives to emu­late, and he does so through his zingy colour palette. ​"I just find that bright colours have such a great pos­i­tive ener­gy to them," he says. ​"I want to give peo­ple a sense of pow­er and hap­pi­ness through my cloth­ing – and I find my hap­pi­ness through colour."
Watch­ing the male and female mod­els at PFW in their vibrant dis­plays of rich blues, zesty yel­lows and eye-catch­ing oranges, it's easy to see how the fast-ris­ing Chi­ang made this link. The col­lec­tion is fun, styl­ish and just a lit­tle bit zany, car­ry­ing with it a pep­pery, dev­il-may-care atti­tude that's total­ly gen­der blind.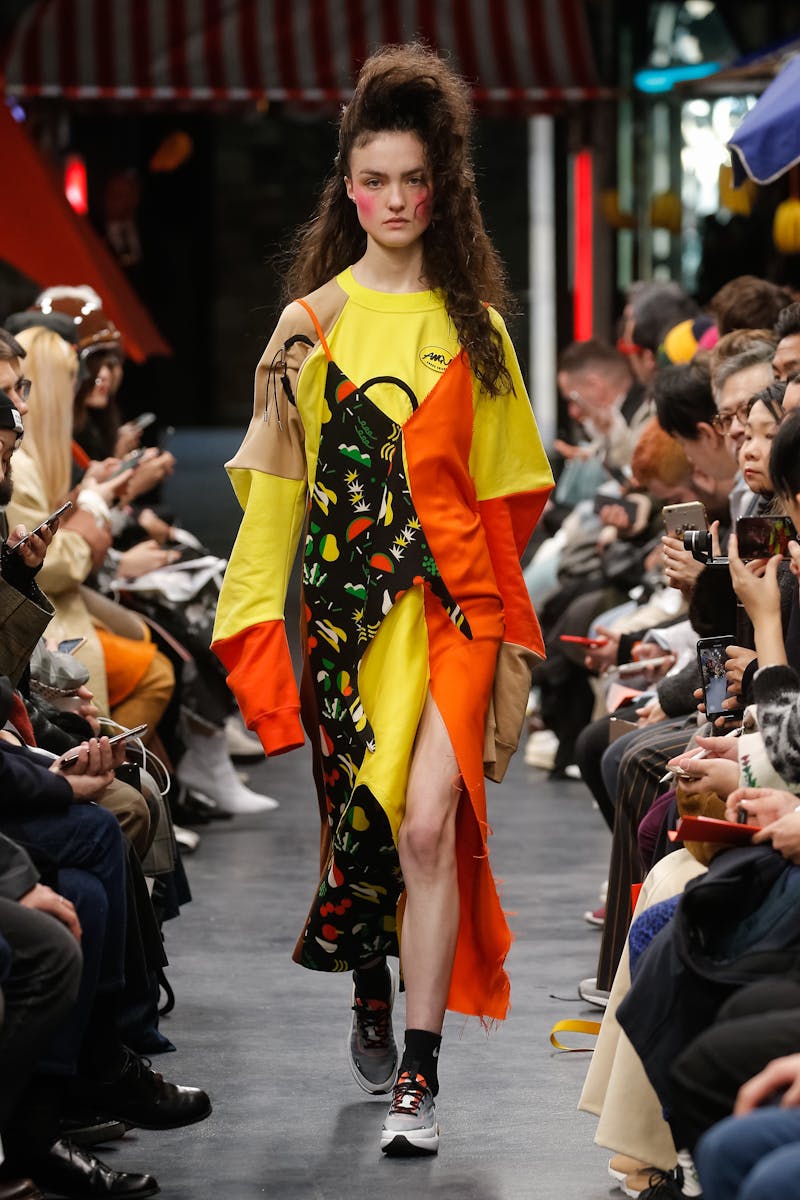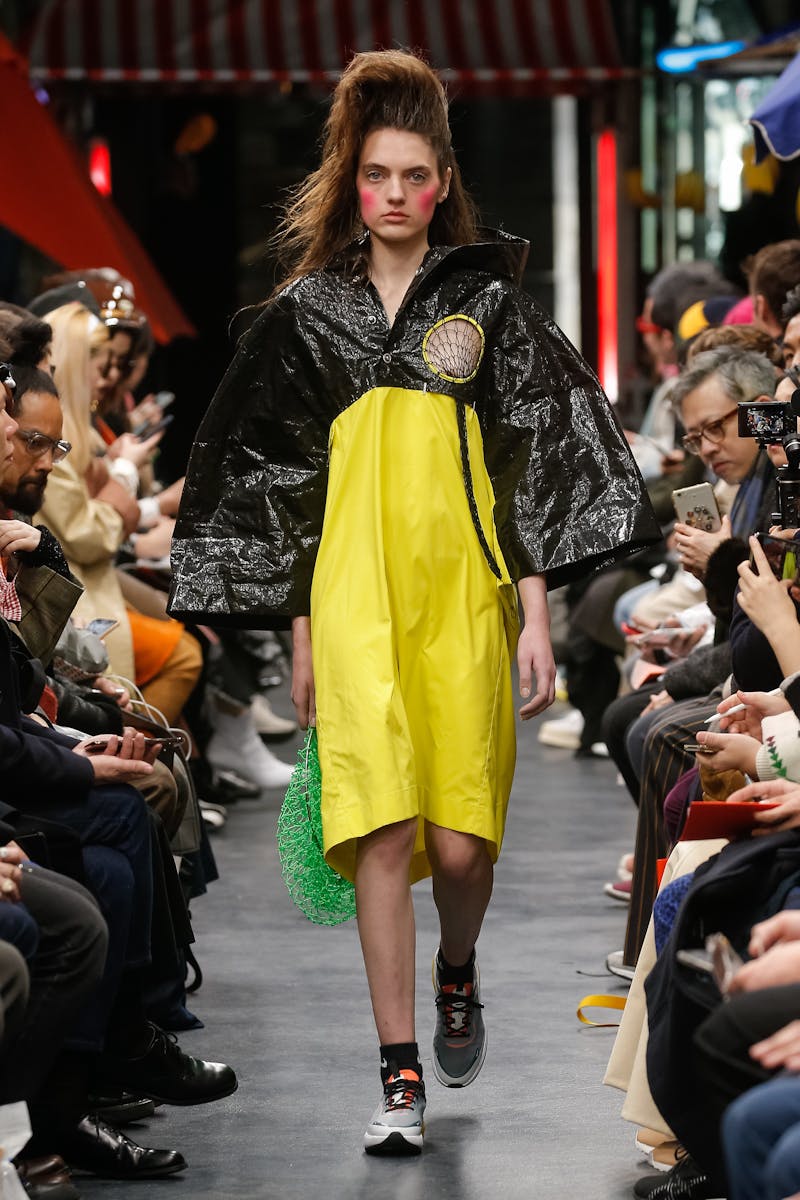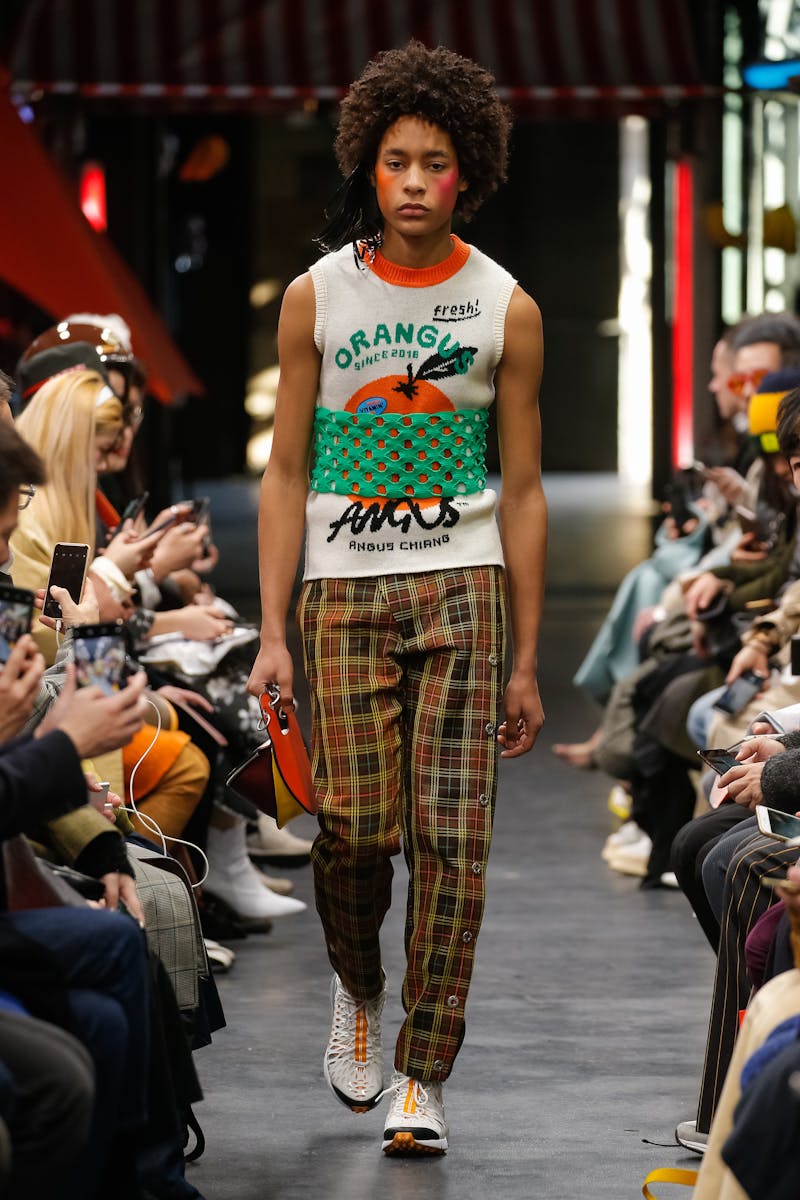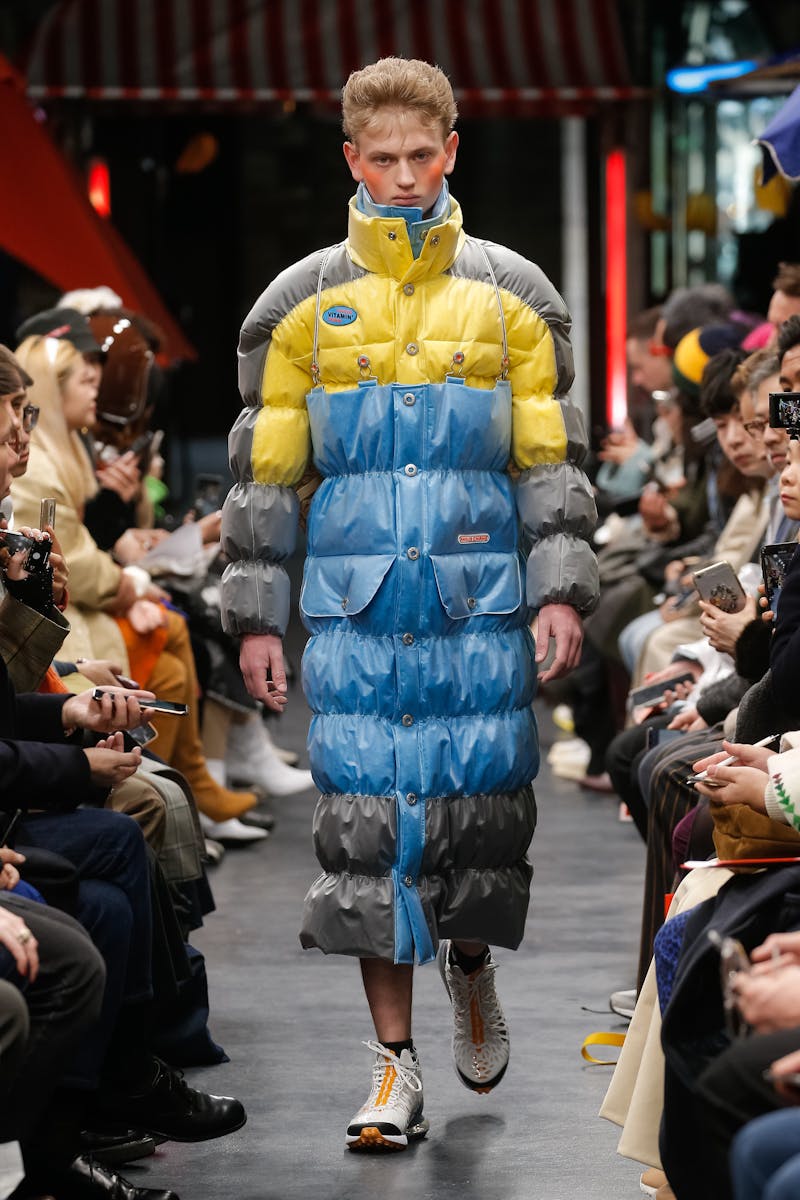 This love for his home­town runs deep, not only through­out his col­lec­tion but also its off­shoots. Invit­ing Tai­wanese artist Hsian-Jung Chen to col­lab­o­rate on a range of ceram­ics, Chi­ang is also com­mit­ted to using his plat­form to spot­light the incred­i­ble tal­ent lurk­ing in Taiwan's nooks and cran­nies. ​"It's not a fash­ion cap­i­tal such as Paris, Lon­don or New York, but there are some real­ly excit­ing things that are com­ing from the city," the design­er enthus­es, all too hum­ble over his part in this flour­ish­ing cre­ative scene.
As for his next col­lec­tion, Chi­ang is under­stand­ably ret­i­cent to detail which ele­ments in his coun­try and cul­ture he'll draw from next. But we're bet­ting it'll be fierce­ly and loud­ly colourful.

The Club:
"ALL Shang­hai is a club show­ing cool atti­tude and they're so many dif­fer­ent and indi­vid­ual events and exhibitions."
The Design­ers
"Yui Taka­da – love his tal­ent and art­works show­ing through sim­ple and geom­e­try ways and approaches."
The Book­stores
"Pon Ding is an adorable book­store in Taipei which is not that com­mon and easy to be found in Taipei city. I like and enjoy this small cor­ner in Taipei, which brings qui­et and relaxed."
The Gallery
"Poly­mer is the space for the dif­fer­ent types of art per­for­mance. You can always find the exhi­bi­tions for the pho­tographs, paint­ings or art books here."
---