Art School takes us on a spir­i­tu­al journey
WHEN DID IT HAPPEN?
The show took place at 9am on Sat­ur­day morn­ing at BFC's show space, Tru­man Brew­ery – the first show to do so dur­ing LFWM. Hun­gover faces aside, there was cer­tain­ly a buzz in the room.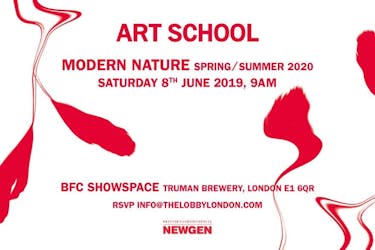 WHAT DID IT SOUND LIKE?
Anna Calvi played a haunt­ing live set, as she stood in the cen­tre of an eerie stone cir­cle at the front of the runway.
HOW DID THEY WALK?
The show had morn­ing-after-the-night-before feels, as mod­els drunk­en­ly walked down the run­way with a spaced out stare.
WHAT WERE THE CLOTHES LIKE?
There were numer­ous nods to ​'70s dis­co at the begin­ning, with sil­ver embell­ished two-pieces and shim­mery black corsets worn over tight­ly fit­ted jack­ets. As the music changed to a harsh­er sound, so did the clothes – a witchy black cape, a black ​'50s-style but­ton down dress and angu­lar sling-back kit­ten heels were all paired with either all-white or all-black con­tact lens­es, adding to the feel­ing that some­thing was creep­ing up behind us…

NOTE:
#TheFaceCommunity's Hélène Selam Kleih walked!







HOW DID IT END?
All in all, it was a pret­ty spooky affair. The show end­ed with the mod­els strid­ing slow­ly togeth­er down the run­way as Calvi's set turned soft­er, sig­nalling the end of a promis­ing start to LFWM.

---