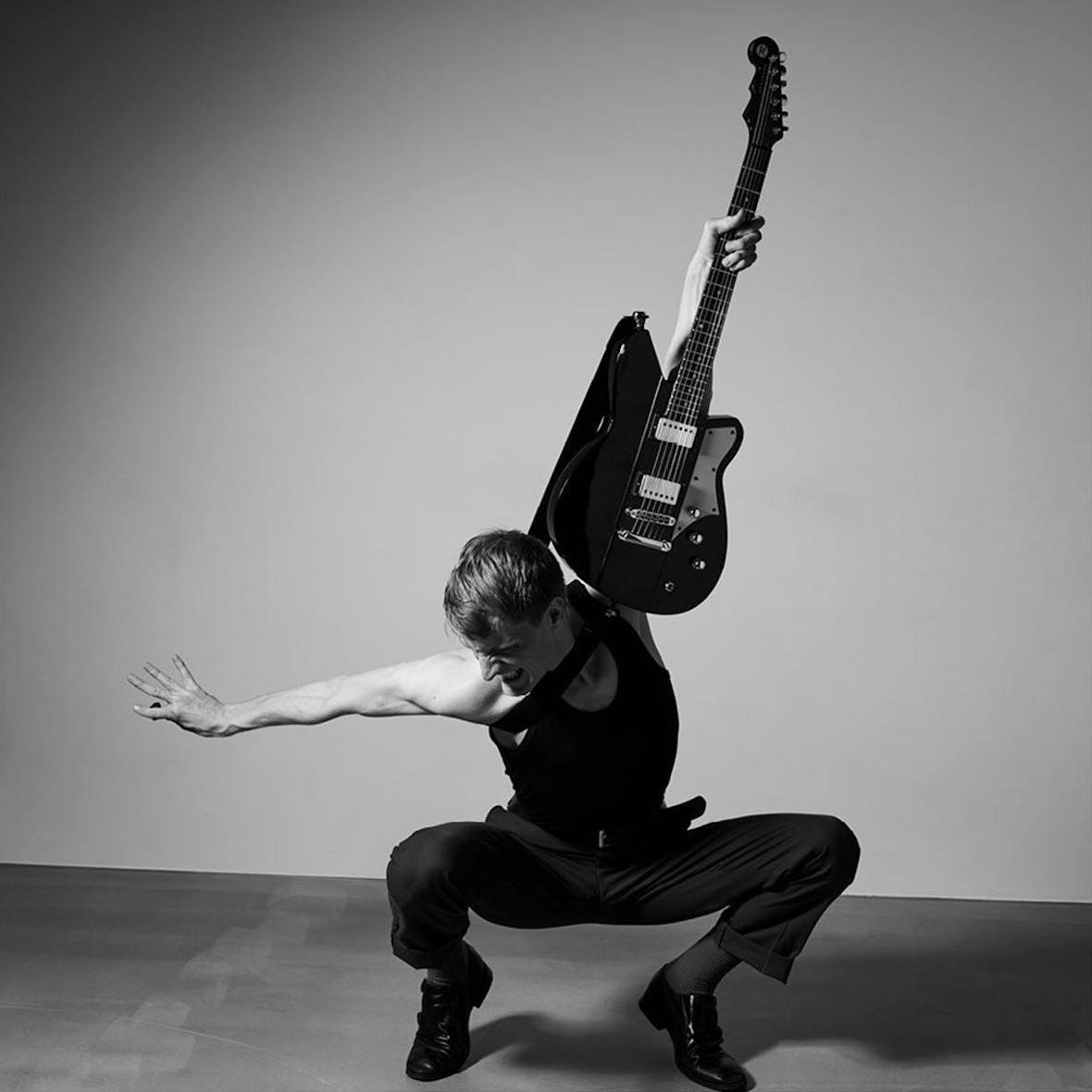 Bode­ga, the Brook­lyn four piece that sound­tracked Celine
It was telling that Hedi Slimane's SS20 Celine col­lec­tion fea­tured one lin­ers from artist David Kramer, includ­ing: ​"I have nos­tal­gia for things I prob­a­bly have nev­er known." His col­lec­tion, pre­sent­ed in Paris last week, nod­ded to the ​'70s: shrunk­en jack­ets, leather trousers and stone-washed den­im that wouldn't look out of place in Mick Jagger's old tour wardrobe, worn by a troop of long-haired boys who marched the run­way in time to a hyp­not­ic beat.

Music is inte­gral to the design­er and photographer's cre­ative process. Hav­ing embraced musi­cians as the face of many of his col­lec­tions at Saint Lau­rent – from Court­ney Love, Joni Mitchell, and Kim Gor­don, to Daft Punk and BB King – Hedi is con­tin­u­ing to cham­pi­on rock ​'n' roll rebels while in his role as the cre­ative, artis­tic and image direc­tor at Celine.

This time around Hedi enlist­ed Bode­ga, a four-piece Brook­lynite art-rock band, to sound­track the show. Writ­ten, com­posed, record­ed and mixed by the band them­selves, Name Escape – a track tak­en from their debut album End­less Scroll, released in 2018 – ran the entire length of the show.

It's a post-punk anthem laced with sar­casm. While the album is an account of the area they hail from – a com­men­tary on the gen­tri­fi­ca­tion of Bush­wick, zoom­ing in on the sea of white beard­ed clones that pop­u­late the area, each set­ting out to look indi­vid­ual, but ulti­mate­ly all look­ing the same – Name Escape sees lead singer Ben pseu­do-rap about a fic­tion­al char­ac­ter: ​"I've seen him at Pal­isades clos­ing out tabs. I've seen him out­side of met­ros flag­ging down cabs" / ​"His pants are much tighter than the last time we met" / ​"He's got a piz­za-core badge which he bought on the Inter­net." We caught up with the band after the show to talk Brook­lyn, leather, den­im and, err, Bruce Springsteen's butt.
What's the sto­ry behind Name Escape…
Bode­ga Ben: The song details obser­va­tions from a night at the now defunct Bush­wick DIY venue Pal­isades. The Smiths blare out of the P.A. as I chat with peo­ple I've seen hun­dreds of times but will nev­er real­ly know. The arche­type is you and me and every­one we know.
Why did it feel like the right song for Celine SS20?

BB: Maybe Hedi was wry­ly sug­gest­ing that since the clothes make the man, with the right look, lan­guage is unnec­es­sary to denote a subject.
Madi­son Veld­ing-Van­Dam: Hedi felt we had the right com­mod­i­ty for his tar­get market.
How is Name Escape rep­re­sen­ta­tive of Brooklyn?

BB: The cur­rent brand of Brook­lyn is a music venue where every­one is an artist too busy hus­tling to be a mem­ber of an audience.
MVV: The escaped names are a loose col­lec­tion of Brook­lynite hob­by­ists and addicts who keep refer­ring to them­selves as ​"The Scene" for some reason.
What does it mean to be indi­vid­ual in 2019?

BB: A mas­ter of your curat­ed dig­i­tal island but a slave to the cul­tur­al, tech­no­log­i­cal, and finan­cial con­di­tions that make your island hab­it­able. Today, when think­ing of his island, Polo­nius would say to the prince: ​"To thine own shelf be true".

Nik E Ikki: Tim­o­thy Leary's ​"Turn on, tune in, drop out" ​'60s phrase has become an echo of our cur­rent ide­al­is­tic prison. Every morn­ing we reach for our phone and every bath­room break is a chance to check your noti­fi­ca­tions – you got­ta catch them all.
MVV: An indi­vid­ual is one whose per­son­al brand is scal­able enough to cut through the sat­u­rat­ed marketplace.
What did you think of the show?

N: I'm impressed they staged the show in front of Napoleon's tomb.
MVV: Hedi's done it again.
Which were your favourite pieces?
BB: The black suit with the red rose. It remind­ed me of Eisenstein's trick in Bat­tle­ship Potemkin to paint the flag red in an oth­er­wise all black and white movie.
Where would you wear the collection?

BB: On my body.
MVV: A wine bar, per­haps a cock­tail lounge, nev­er a dive.

N: I would wear the clothes after an acci­den­tal crash land­ing into the quar­an­tined waste­land of Man­hat­tan 20 years from now. Fight­ing off the ris­ing tides on 14th street I will cling to my Celine suit­case, the last com­fort of the for­mer world before my immi­nent death by radiation.
Leather or den­im? Discuss.
BB: The veg­e­tar­i­an in me wants to say den­im but I pre­fer leather on a man. Ethics and aes­thet­ics have always butted heads.
MVV: Leather. Den­im only ever looked good on Springsteen's buttocks.
---