Dress­ing for the apoc­a­lypse: London's reac­tion to an uncer­tain future
Last week, a new report by the Break­through Nation­al Cen­tre for Cli­mate Restora­tion warned that ​"plan­e­tary and human sys­tems are reach­ing a ​'point of no return' by 2050". If this pre­dic­tion is cor­rect, we will be able to see the begin­nings of human extinc­tion in just 30 years. It's a ter­ri­fy­ing thought. How­ev­er, when envi­ron­men­tal destruc­tion, the rise of the far right and the ever loom­ing threat of Brex­it con­tin­ues to cat­a­pult the UK into polit­i­cal dis­ar­ray, an apoc­a­lyp­tic future some­how seems less far­fetched. Amidst all of this chaos, though, fash­ion has proved a place for us to work through our fears and look towards the future – as seen in this year's SS20 men's col­lec­tions, which pre­viewed in Lon­don last week­end. Indeed, if fash­ion ever had the priv­i­lege of exist­ing with­in a vac­u­um, it is not now, with design­ers look­ing towards the future like nev­er before.

From last sea­son onwards, design­ers seemed to engage more close­ly with the theme of pro­tec­tion. From Craig Green's mili­tia style col­lec­tions to A-COLD-WALL*'s walk­ing dead, AW19 had an eerie, polit­i­cal­ly charged and com­bat­ive feel. At A-COLD-WALL*, per­for­mance artists strug­gled to keep afloat in tanks of water which flanked the run­way while an iso­lat­ed Rot­tweil­er barked on a lead. The clothes were util­i­tar­i­an, tech­ni­cal, and gave a sense of intense safe­ty while inevitably falling apart, with inten­tion­al cut outs and port­holes. It was a depic­tion of a nihilis­tic future – scary, rit­u­al­is­tic and pes­simistic. This was not exclu­sive to the stal­warts either, with small­er brands like the avant-garde streetwear of Cot­tweil­er and the direc­tion­al Feng Chen Wang all exhibit­ing the increas­ing use of tech­ni­cal fab­rics, pro­por­tion­al exag­ger­a­tion, uni­form, bold­er colour block­ing and sus­tain­ably sourced mate­ri­als. It was wide­ly read as a need for refuge – design­ers pro­vid­ed notes on pro­tec­tion, to shield wear­ers from the world around them for exam­ple Craig Green said ​"I love the idea of a tal­is­man, believ­ing that an object can pro­tect you" when describ­ing the inspi­ra­tion for his last SS show.

Xan­der Zhou, the first Chi­nese design­er to be part of Lon­don Fash­ion Week, was one of the design­ers to exca­vate these fears last sea­son, via a sur­re­al and fan­ta­sy depic­tion of what a post-apoc­a­lyp­tic future could entail. Preg­nant men, yetis and clones were sent down the run­way, it was tongue in cheek but hor­ri­fy­ing. Yet for a design­er that claims that ​"pol­i­tics does not play any role in my designs what­so­ev­er" he cer­tain­ly has a lot to say. ​"If fear of the future was last season's theme, then this sea­son is about how to cope with that fear" Zhou says. ​"Some­how I can't man­age to think of an apoc­a­lypse as some­thing fright­ful, that is why in my recent col­lec­tions I tried to express equal­i­ty and love." This sea­son, he pro­vid­ed a sanc­tu­ary from chaos, where the spir­i­tu­al and tech­no­log­i­cal aligned. Mod­els walked around a room, entire­ly cov­ered by screens. It was a dig­i­talised par­adise, where a hybrid­i­ty of cul­tures coex­ist­ed – the shaman­ic and the street, the gen­der­less (skirts total­ly replaced trousers) and the post-human (Zhou show­cased two dig­i­tal gar­ments). In its neu­tral colour palette, wide fits and almost reli­gious iconog­ra­phy, Zhou's mod­els felt like futur­is­tic healers.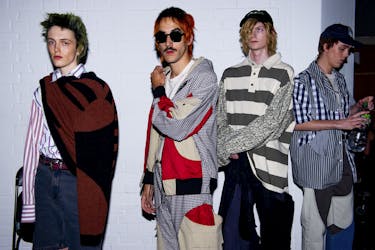 In fact, rather than despair, opti­mism has start­ed to peak through this sea­son. Accord­ing to C2H4 design­er Yixi Chen ​"I don't take the changes in the world right now as a sole­ly neg­a­tive thing". For Chen, we are enter­ing a new era ​"dri­ven by tech­nol­o­gy, espe­cial­ly the inter­net, [which] is chang­ing not only the ways we do things, but also poten­tial­ly chang­ing who we are as a species." This sense of us chang­ing irrev­o­ca­bly sounds spook­i­ly sim­i­lar to ​'The Sin­gu­lar­i­ty', a pop­u­lar the­o­ry describ­ing a point in time when tech­no­log­i­cal pro­gres­sion becomes irre­versible – cre­at­ing per­ma­nent changes to human civil­i­sa­tion. The looks this sea­son cer­tain­ly echoed this sen­ti­ment in just how futur­is­tic they felt – face masks, padded scarves, pro­tec­tive bibs, pan­elled boil­er suits and reflec­tive pip­ing on tailoring.
Sim­i­lar­ly, Liam Hodges man­aged to bal­ance his techno­pho­bia with a lighter touch. His over­sized, cut and paste knitwear and mod­u­lar track pants, all spoke to the Y2K era, when human­i­ty feared impend­ing apoc­a­lypse at the turn of the cen­tu­ry. But although his ref­er­ences felt much dark­er than before – David Cro­nen­berg, Fifth Gen­er­a­tion, cyber­punk – they were set amongst bul­bous, rudi­men­ta­ry sculp­tures in an array of pri­ma­ry colours. It coun­ter­bal­anced the angst on the run­way, bring­ing forth some­thing more basic, more pri­mor­dial, more human. This respite from chaos was a theme which fol­lowed through­out the col­lec­tions – par­ty boy Charles Jef­frey held an unusu­al­ly stripped back show at the British Library, Mar­tine Rose let clown­ish opti­mism loose and Per Gotte­son relaxed into a makeshift inno­cence with exposed zip­pers, pinned prints and bare foot­ed models.

In the eye of the storm, it seems as though many of the most pro­lif­ic design­ers of today are embrac­ing the dystopi­an and the post-human as some­thing which is inevitable and even pos­i­tive. In this way, the future becomes more about accep­tance than fear, com­bat­ing destruc­tion with hybrid­i­ty, the ener­gy of youth and cre­ativ­i­ty. Per­haps, there is life after death after all. It's a sen­ti­ment shared by Zhou. ​"I hope it is clear that my col­lec­tions do not breathe despair," he says. ​"But are a beam of light in the dark".
---