Celebrating 25 years of Dean and Dan Caten's Dsquared2
The twin design duo behind the distinctive label talk us through their new collection, designed to commemorate this major, quarter-of-a-century milestone.
"We want our clothes to be spotted a mile off!" agree Dean and Dan Caten, the Canada-born, Itay-based twin design duo behind Dsquared2.
Twenty-five years in and it is mission accomplished. Since starting their luxury menswear label in 1995, before adding womenswear in 2003, the creative powerhouse has become renowned for their eye-catching designs and they've dressed some of the biggest names in the business. The likes of Madonna (denim pieces for 2001's Drowned World Tour), Britney (costumes for her 2009's iconic Circus tour) and Beyonce (a leather ​"warrior jacket" for 2015's Super Bowl performance), to name just a few, have all afforded Dsquared2 their seal of approval.
Their theatrical fashion shows, on the other hand, have starred the likes of Christina Aguilera (who undressed male models on the runway in 2005), Rihanna (who emerged from a car on the runway in 2007) and a laundry-list of the industry's top models.
"Twenty-five years is not a short time and we're so thankful for what we have built," remark Dean and Dan, before explaining that ​"Canadian wit, Italian tailoring and personal taste" are the ingredients that determine Dsquared2's strong identity.
Dsquared2 collections – print-laden and characterised by dynamic, bricolage styling – distil Dean and Dan's shared, ambitious vision without compromising where they've come from. ​"We work hard today to stay as close to our origins and roots as possible," they say; cognisant that authenticity and consistency are key Dsquared2 USPs.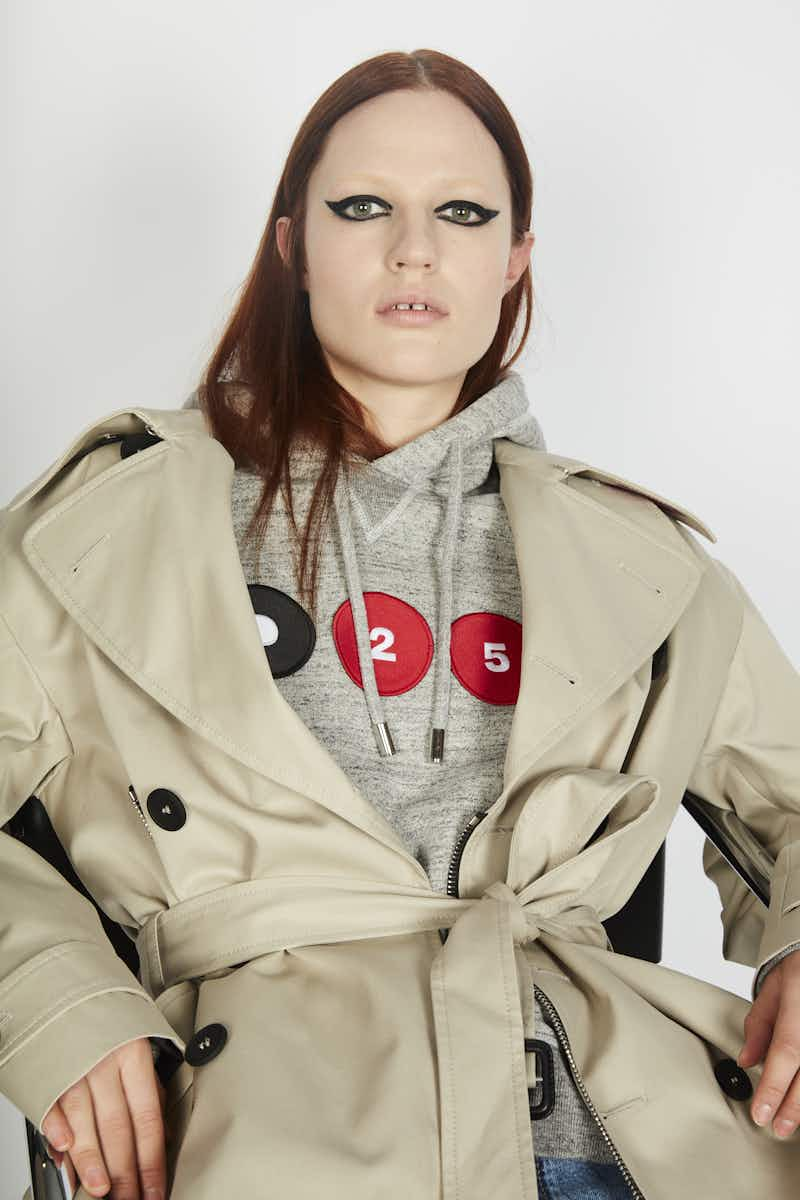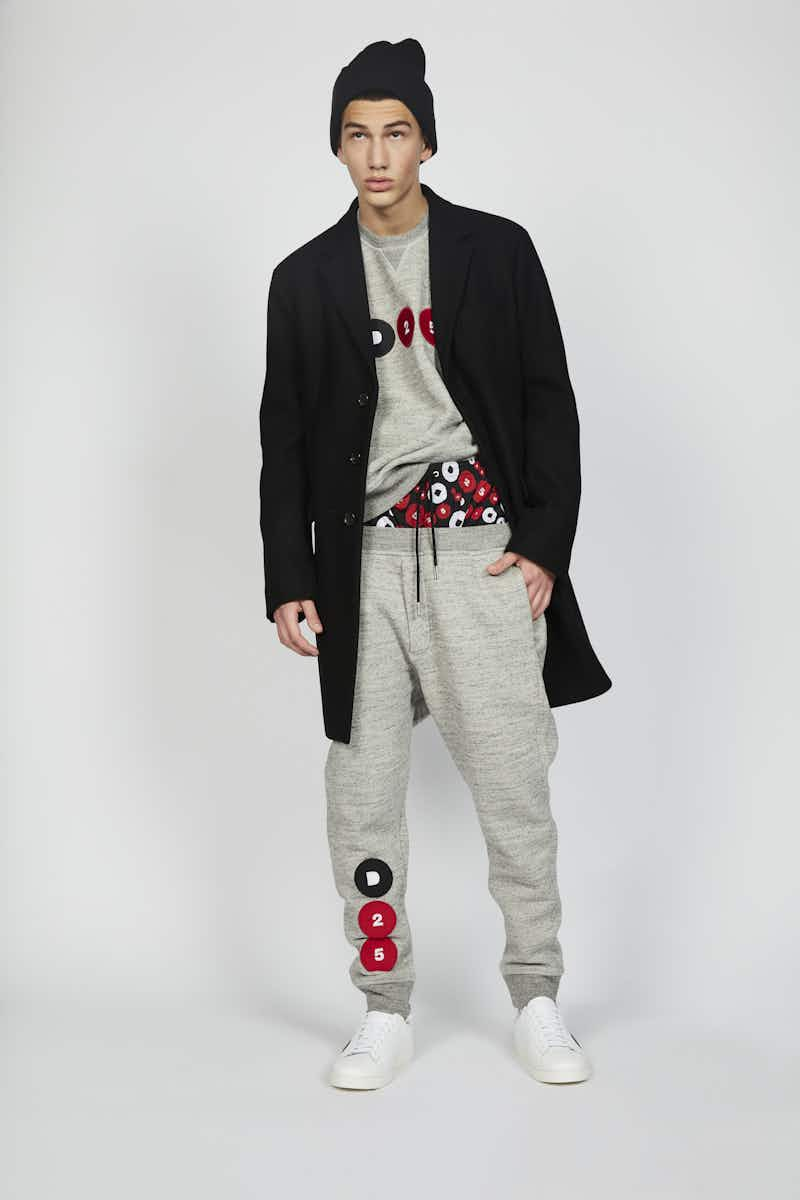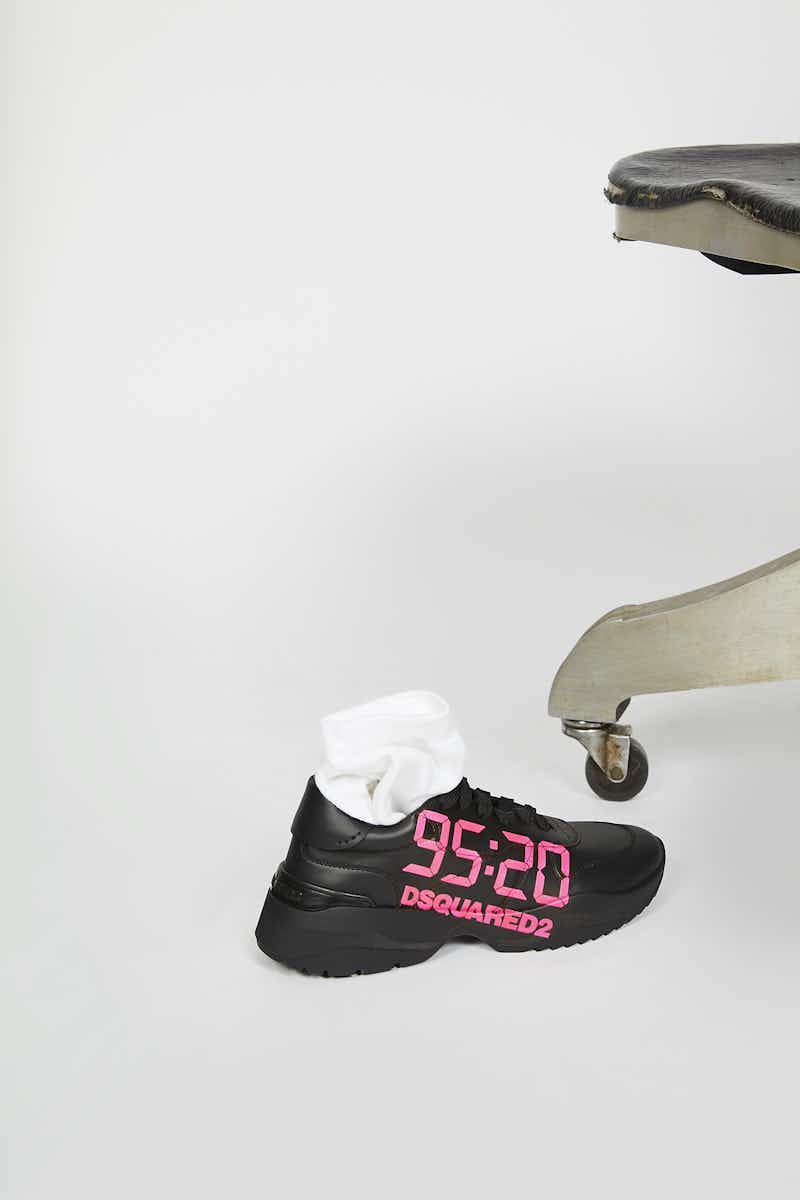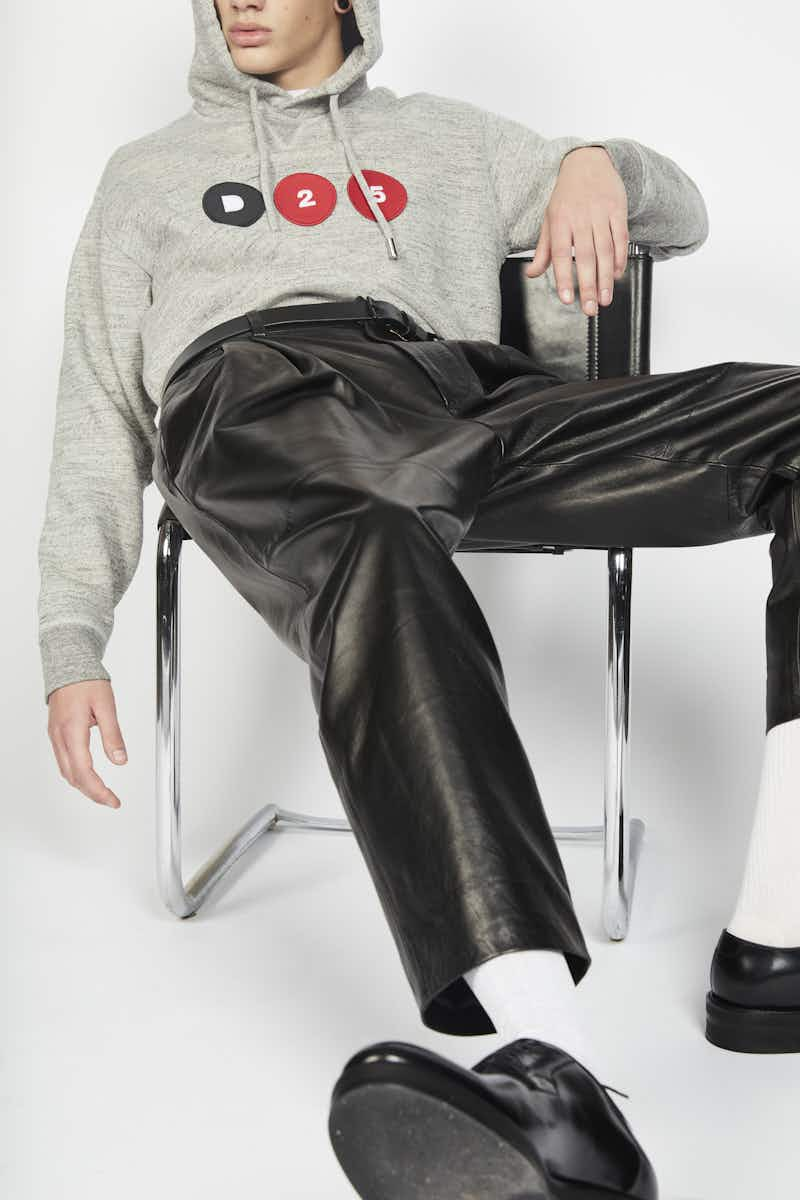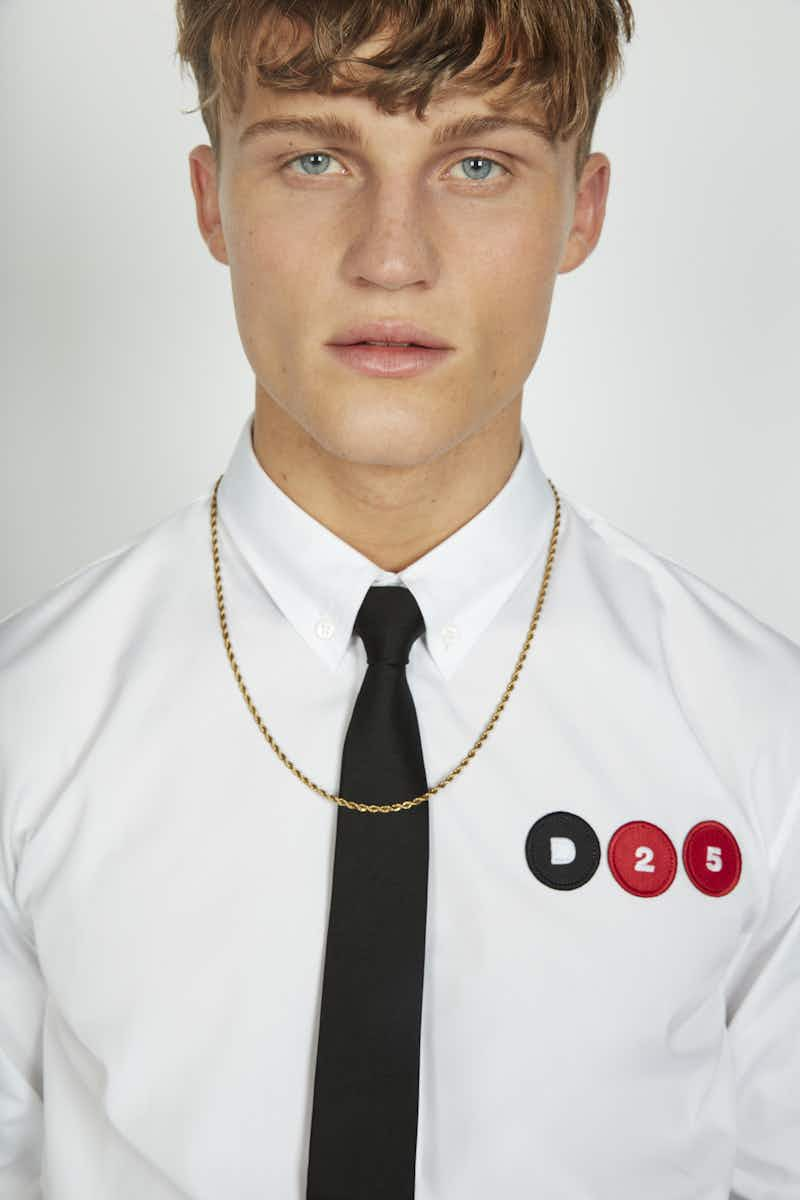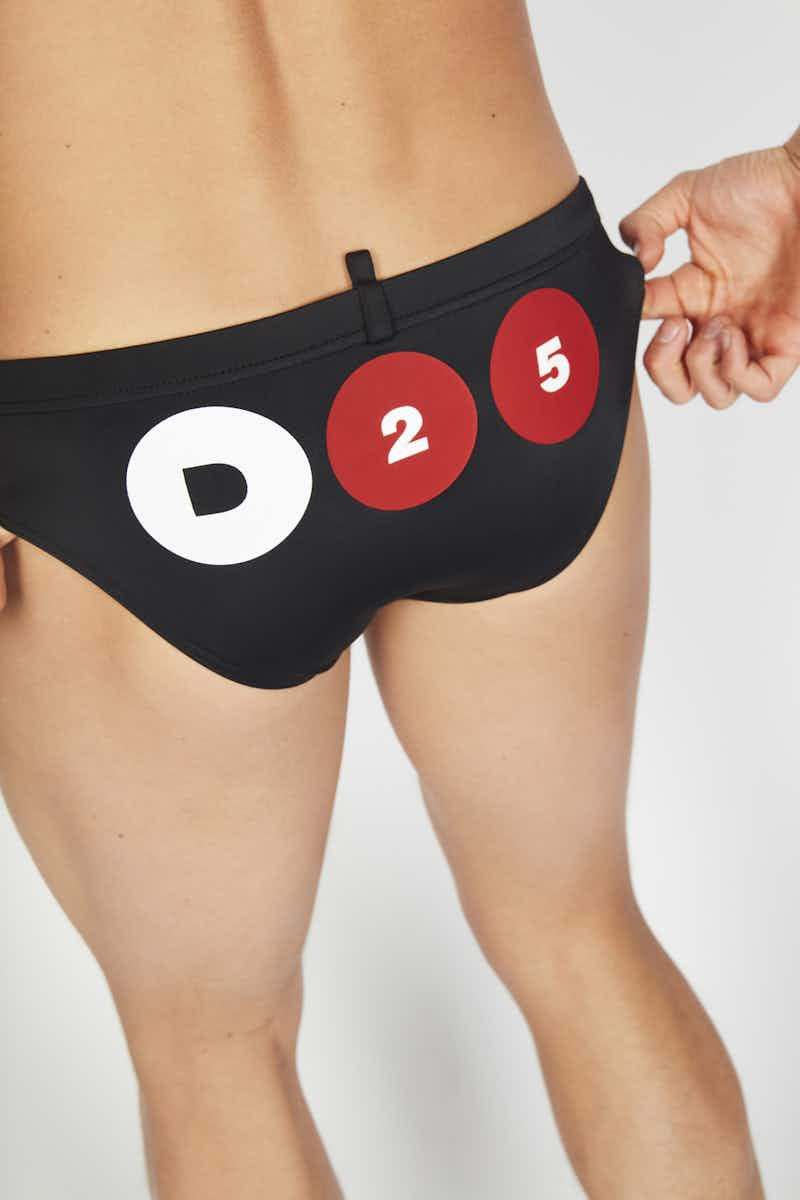 To mark its 25 year anniversary, the fashion house is now releasing a celebratory capsule collection, complete with options for men, women and kids. Comprising seasonless, utilitarian essentials and athletic pieces, as well as tailoring-inspired silhouettes and denim – the latter of which Dean and Dan consider a wardrobe mainstay and ​"timeless source of inspiration" because it ​"goes with everything" – the offering emphasises the versatility of the brand.
And true to Dsquared2's signature, distinctive style, each item is emblazoned with one of two brand-spanking-new alphanumeric prints, designed to commemorate this major, quarter-of-a-century milestone.
The first new print, rendered in red and black, harks memories of pool balls and spells out ​"D25". Within the collection, it can be found imprinted on tank tops, repeat-printed onto shirts and coats, and appliqué stitched onto hoodies, beanies and the aforementioned denim hero pieces.
The second print, retro-sports inspired and formatted in the style of a digital alarm clock, reads, ​"95:20 Dsquared2" – numbers that reference the year of the brand's inception and that of the present day. Further to the ​'90s sportswear theme, this insignia appears across bumbags, shell suit jackets and baseball caps in full, Day-Glo glory.
There's a way for everyone to wear this collection – whether pared down on a piece-by-piece basis; or mixed, layered and accessorised to the hilt (see: models in sky-high stilettos and sunglasses, flanked by Bauhaus style chairs in the look book). One is sure to look suited, booted and ready for business, pleasure or play no matter the approach.
So, besides designing and releasing this collection, how else have Dean and Dan celebrated such a behemoth tenure?
"Our motto is always ​'work hard and play hard!' The party for our 25th anniversary held in January was fantastic, full of energy and good vibes," they recall. ​"It's important for us to combine these two aspects – we take inspiration from everything, even from a party. Why not! It's a great reminder, how true passion for something and a good heart are keys to handle all of life's experiences."