Off-White™ at FLANNELS taps Bawo and Sharkkana

A new Off-White™ capsule available exclusively at FLANNELS celebrates both brands' focus on culture and creativity. To mark the launch, the alt-rapper and designer share how their limitless mindsets power them.

When it comes to making it as a creative, audacity is king. Having a bold state of mind and tapping into self-confidence is powerful when it comes to achieving your aims, whatever you're shooting for.
Inspired by this attitude, FLANNELS is featuring a new Off-White™ capsule celebrating both brands' focus on culture, with interests spanning fashion, music, art and architecture. The collection, which is available exclusively at FLANNELS, sees the Off-White™ arrow motif emblazoned onto the back of crisp workwear shirts and clean, chic sneakers, with hoodies and cut-out tops engineered with asymmetric, graffiti-inspired details.

It's backed by a new campaign shot by THE FACE, introducing two on-the-rise creatives – alt rapper Bawo and streetwear and swimwear designer Sharkkana. We spoke to them below to hear their views on creativity, individuality and audacity.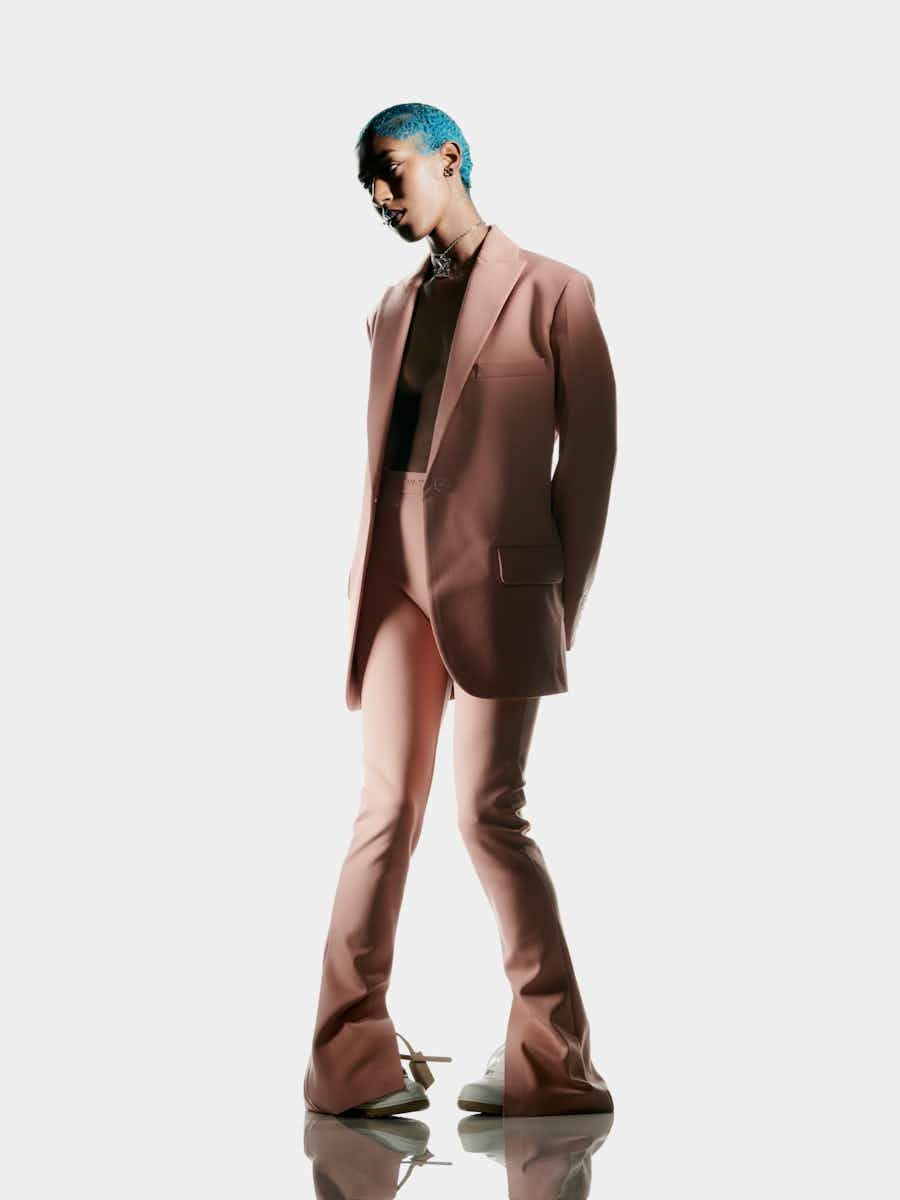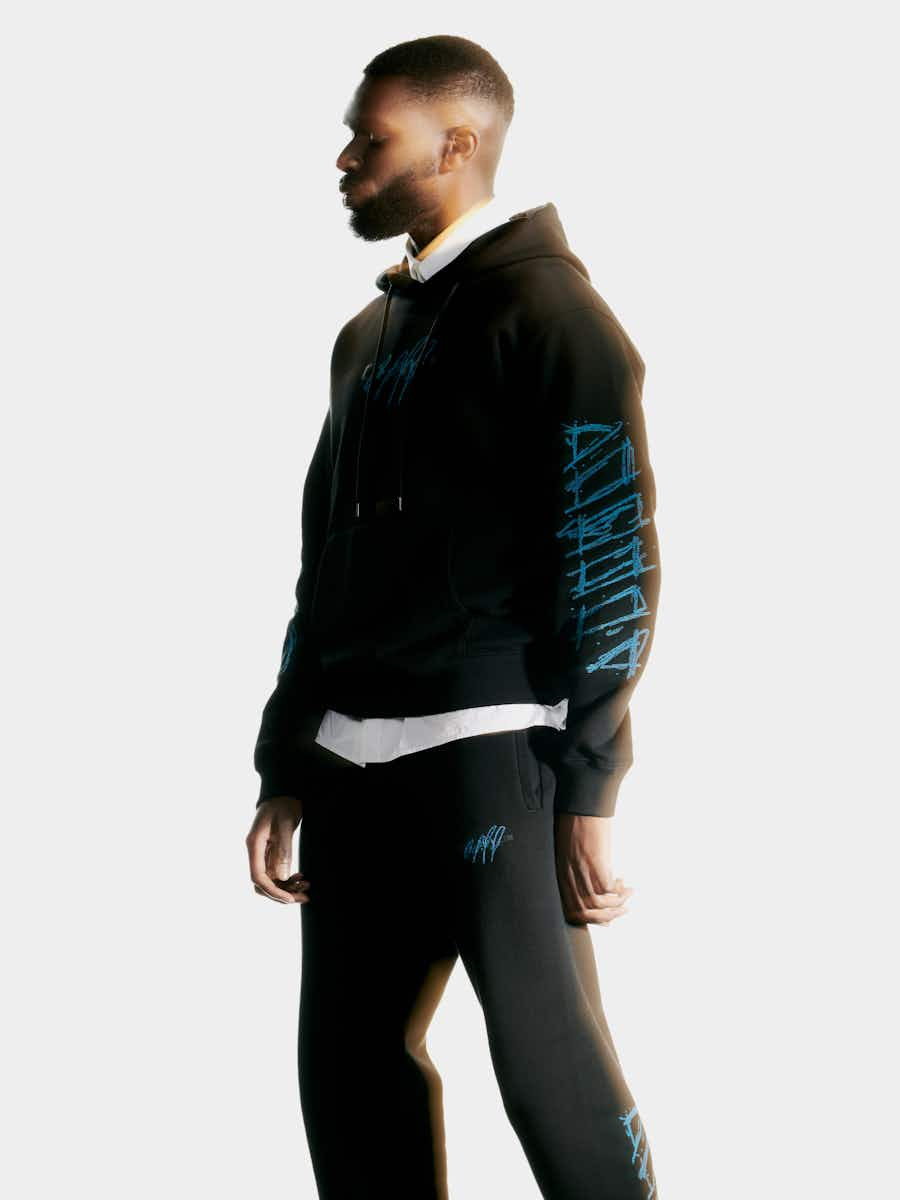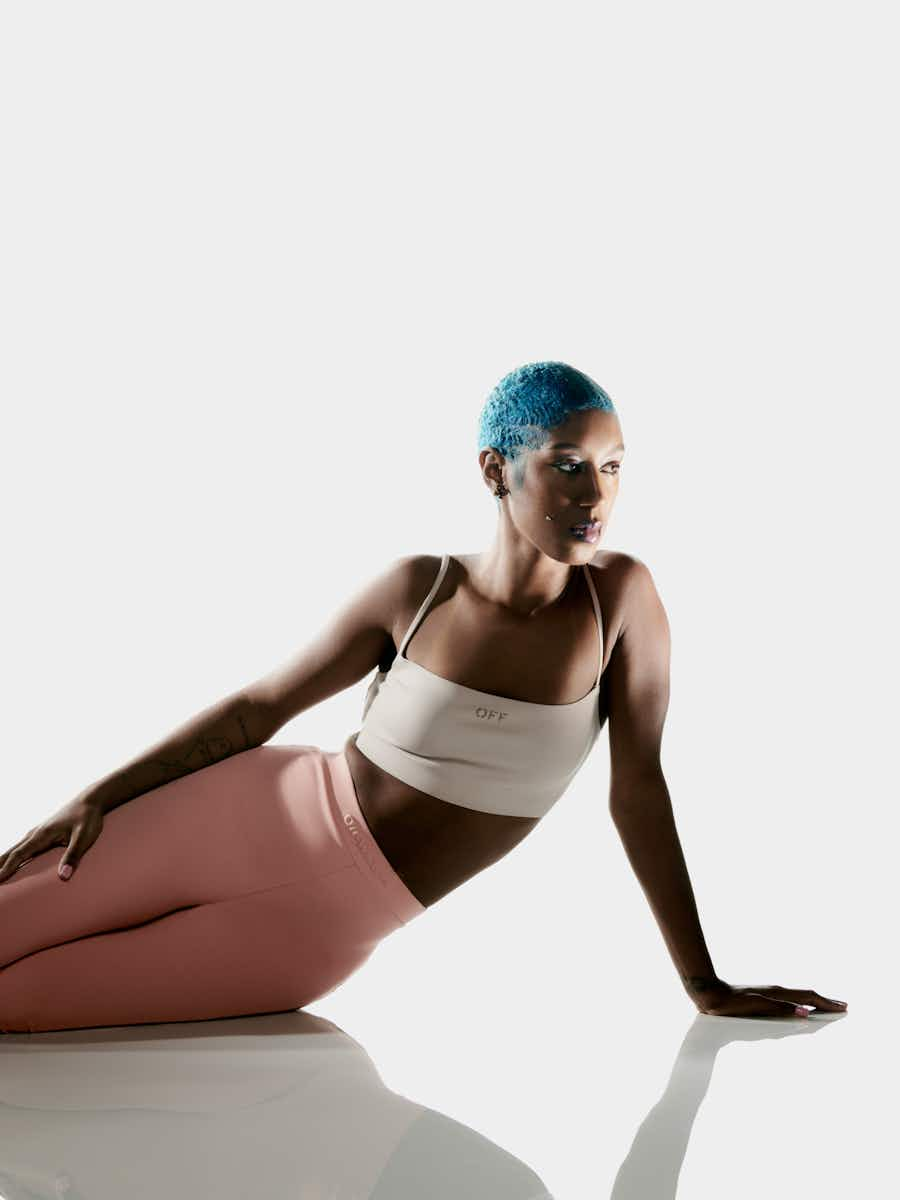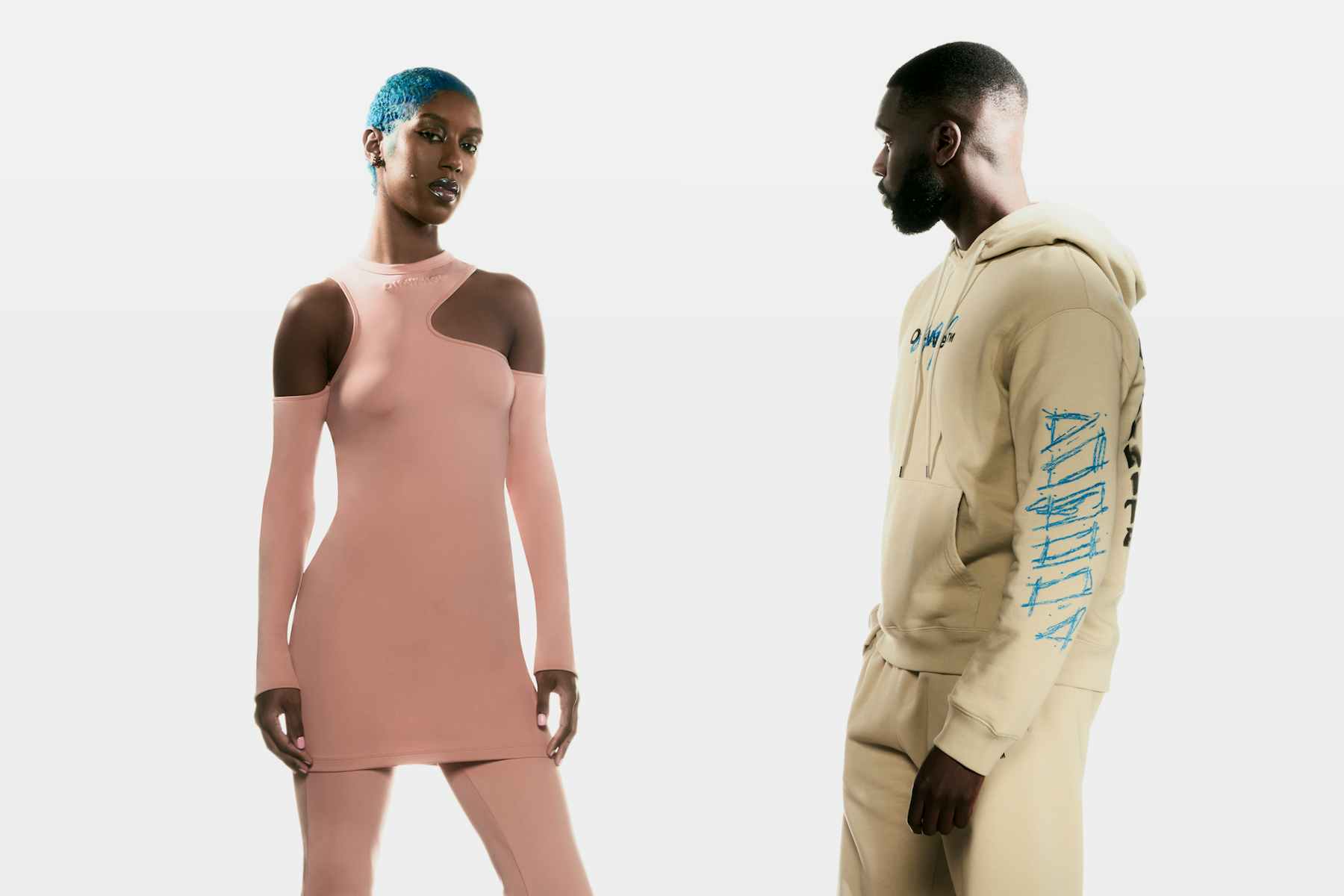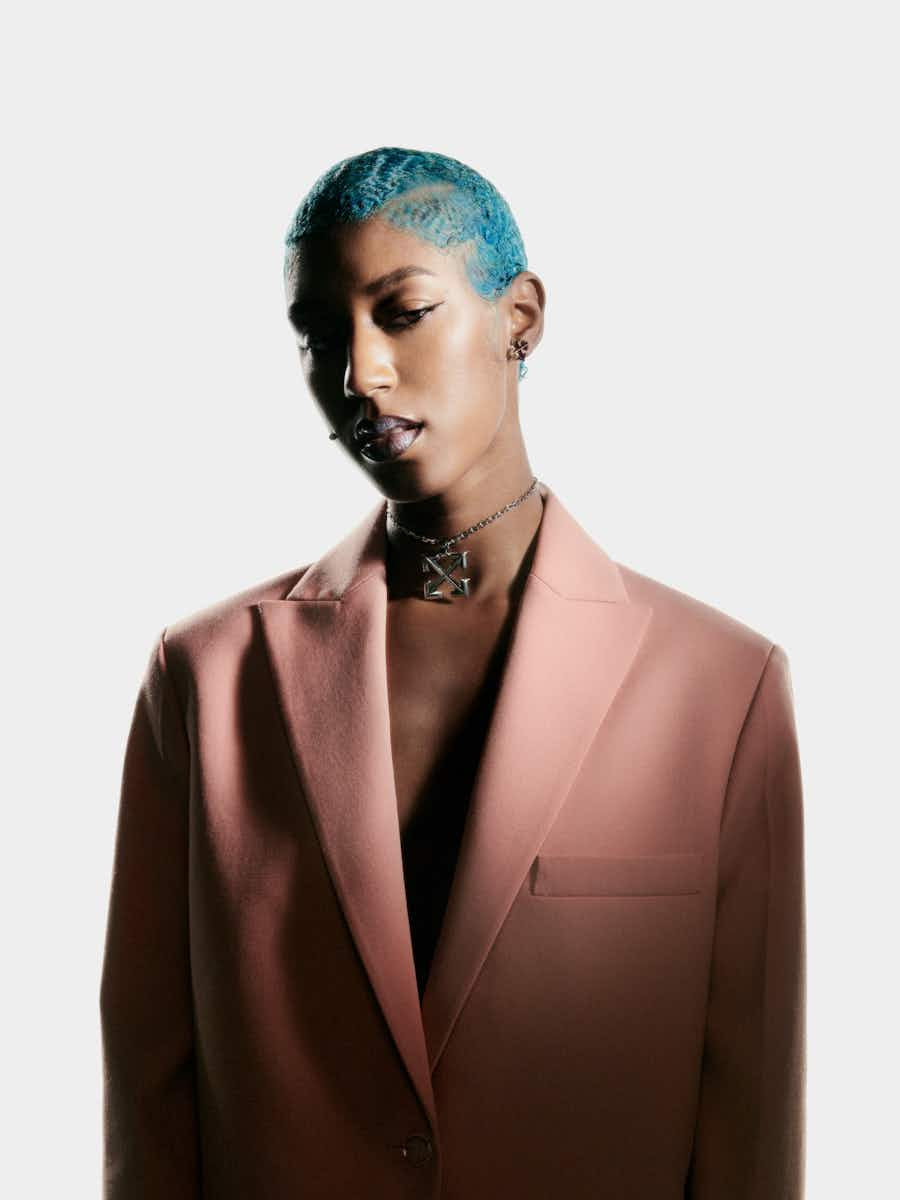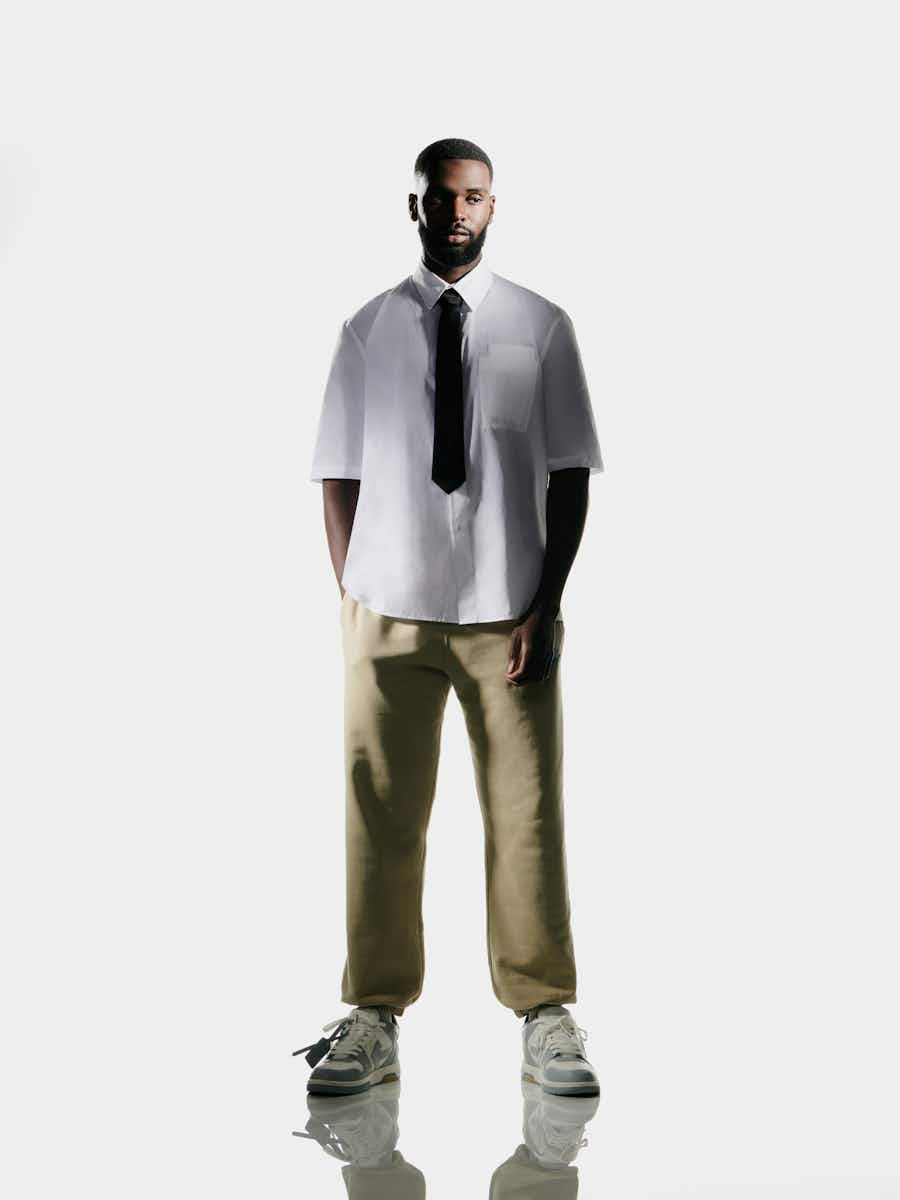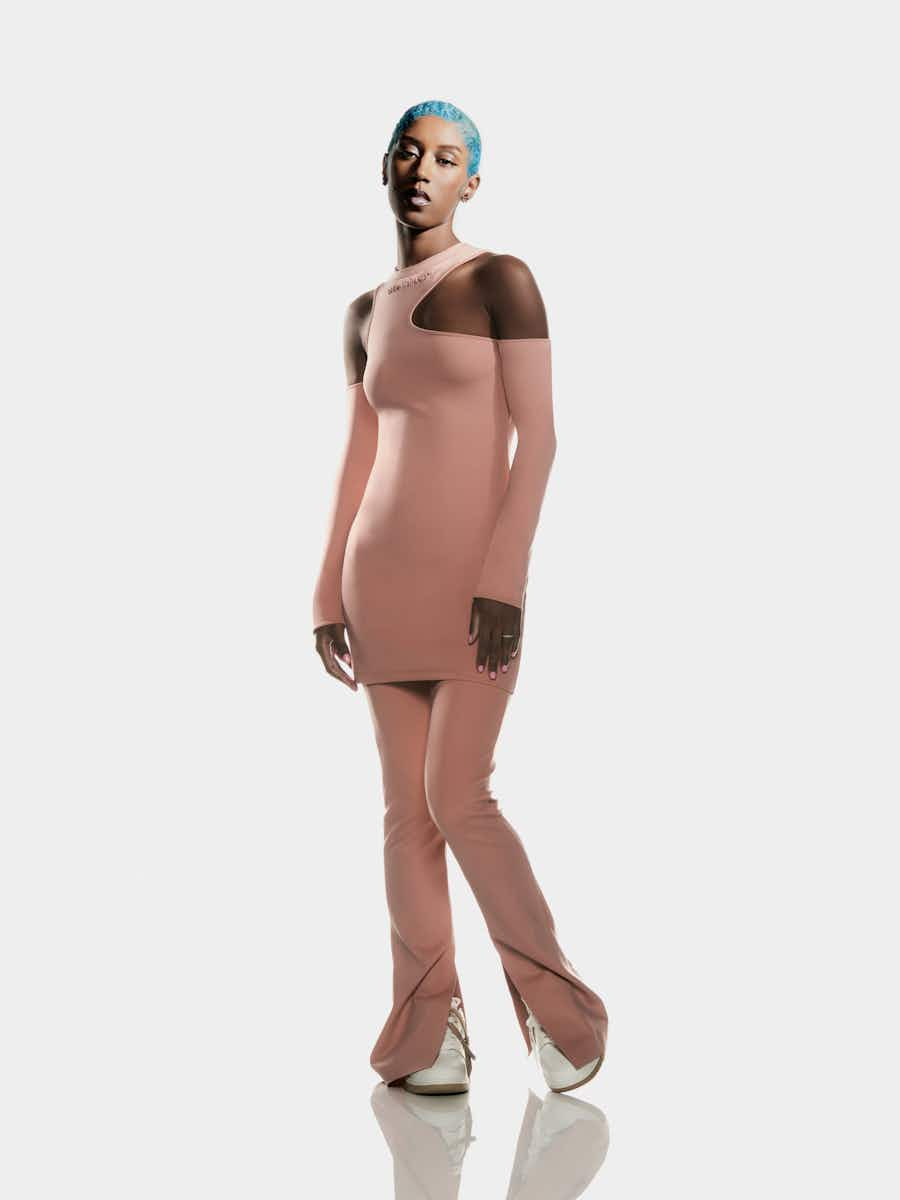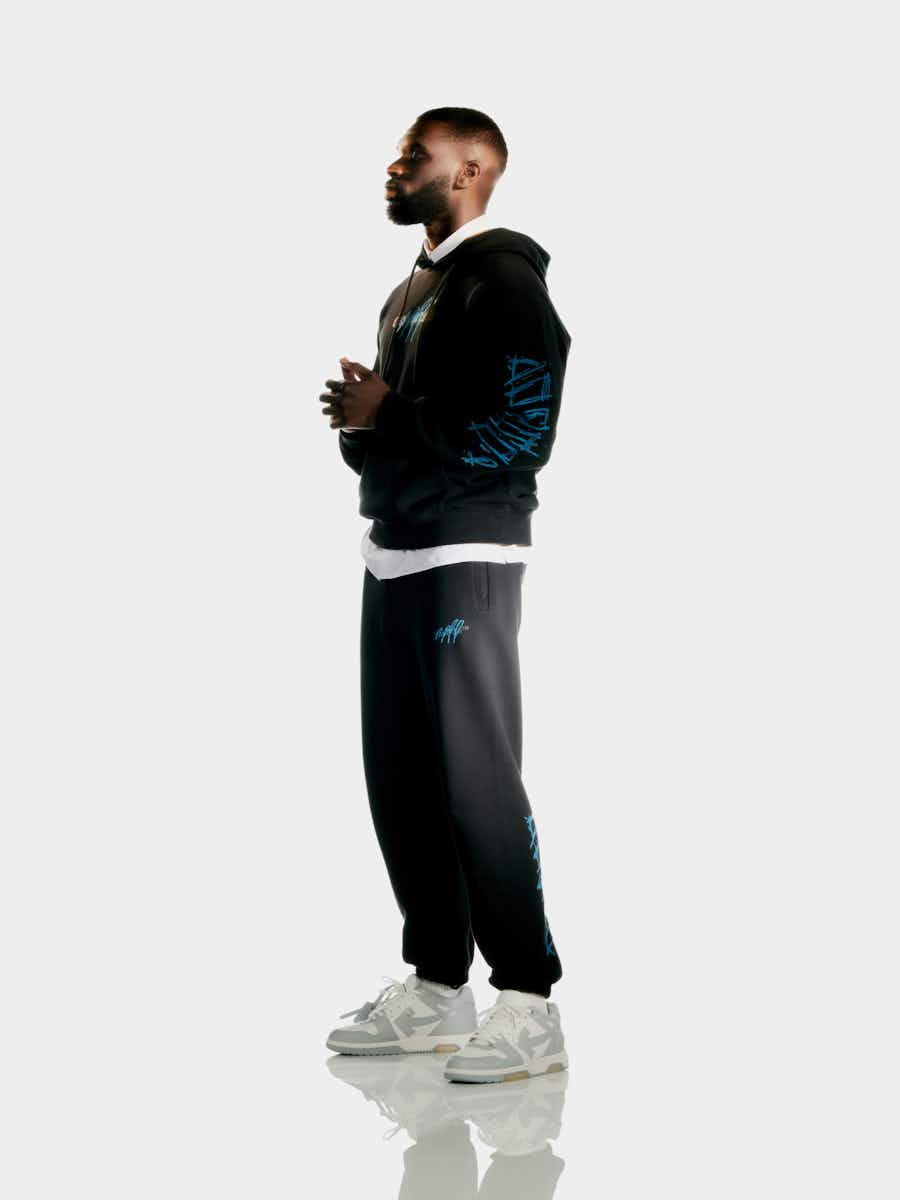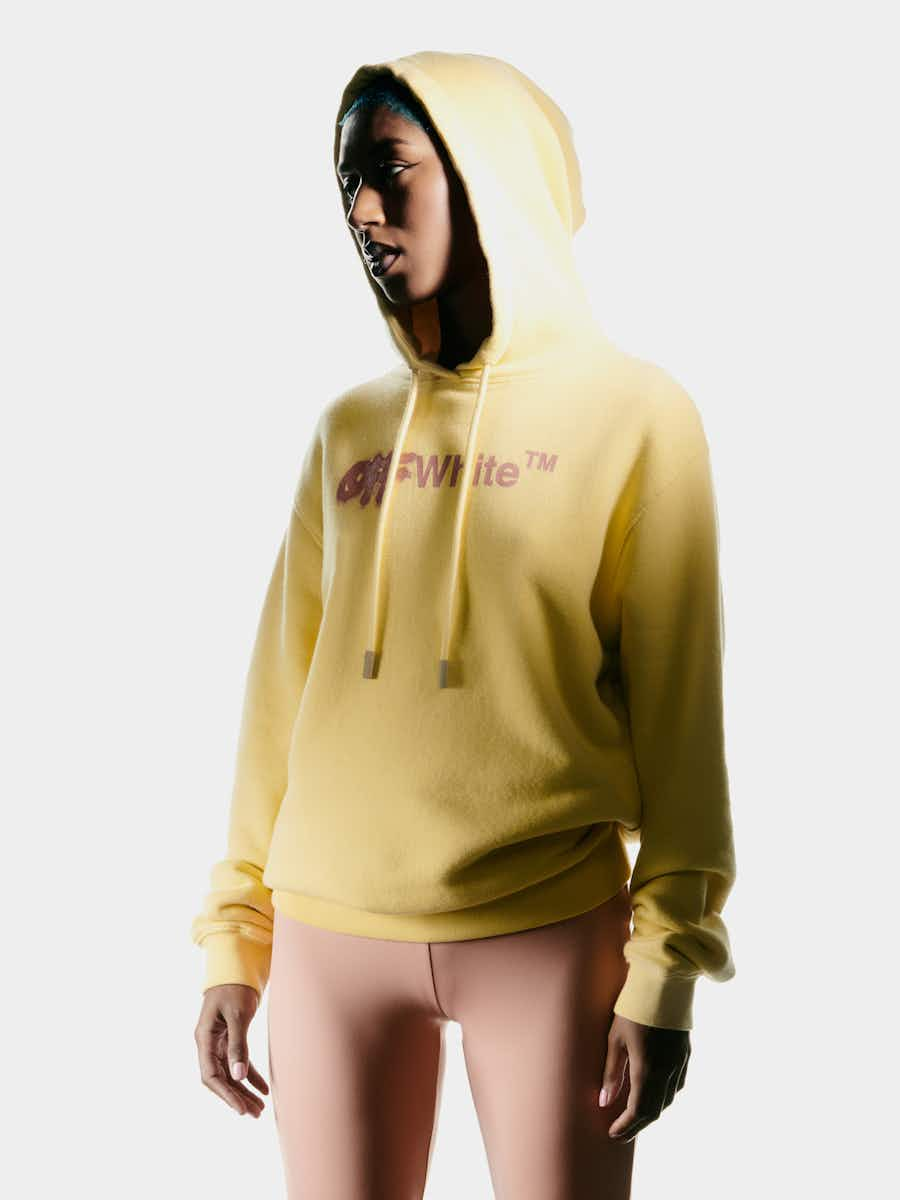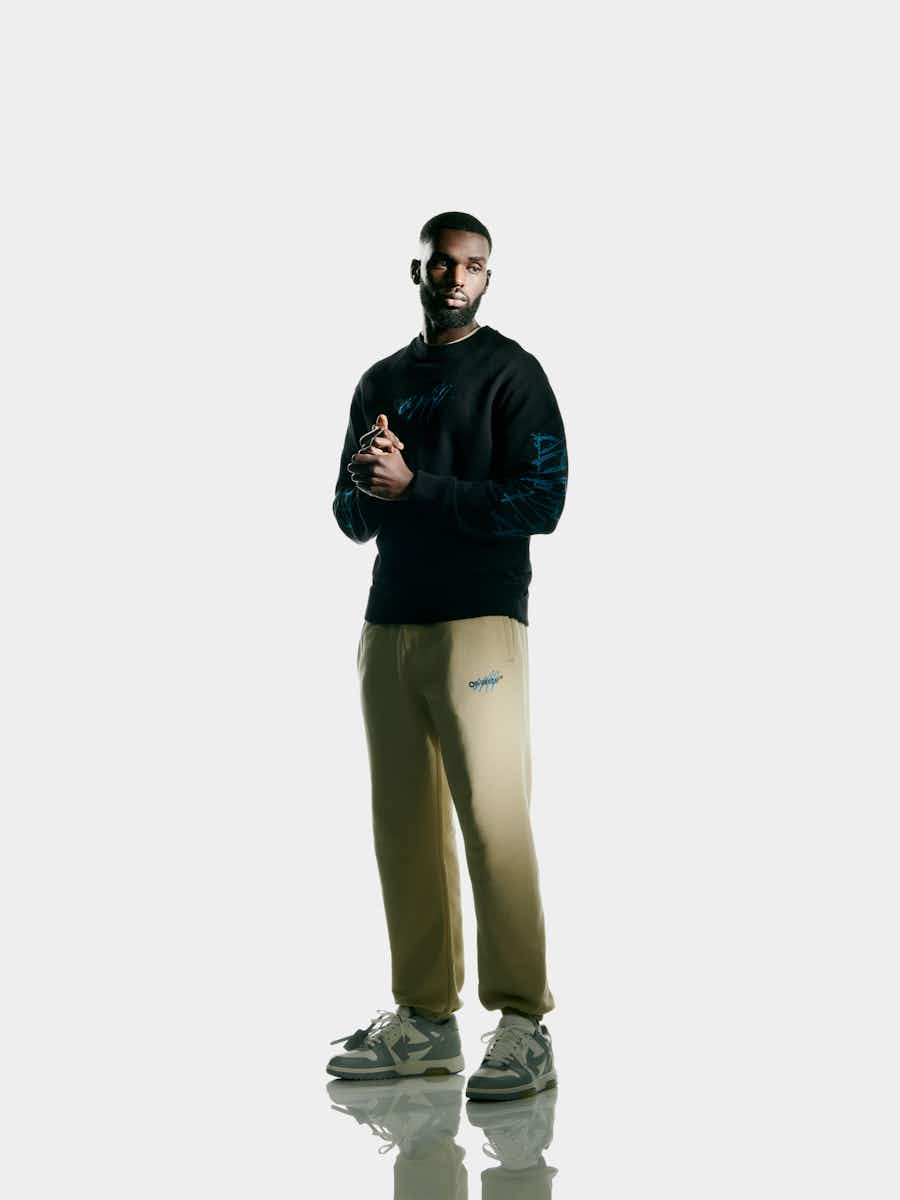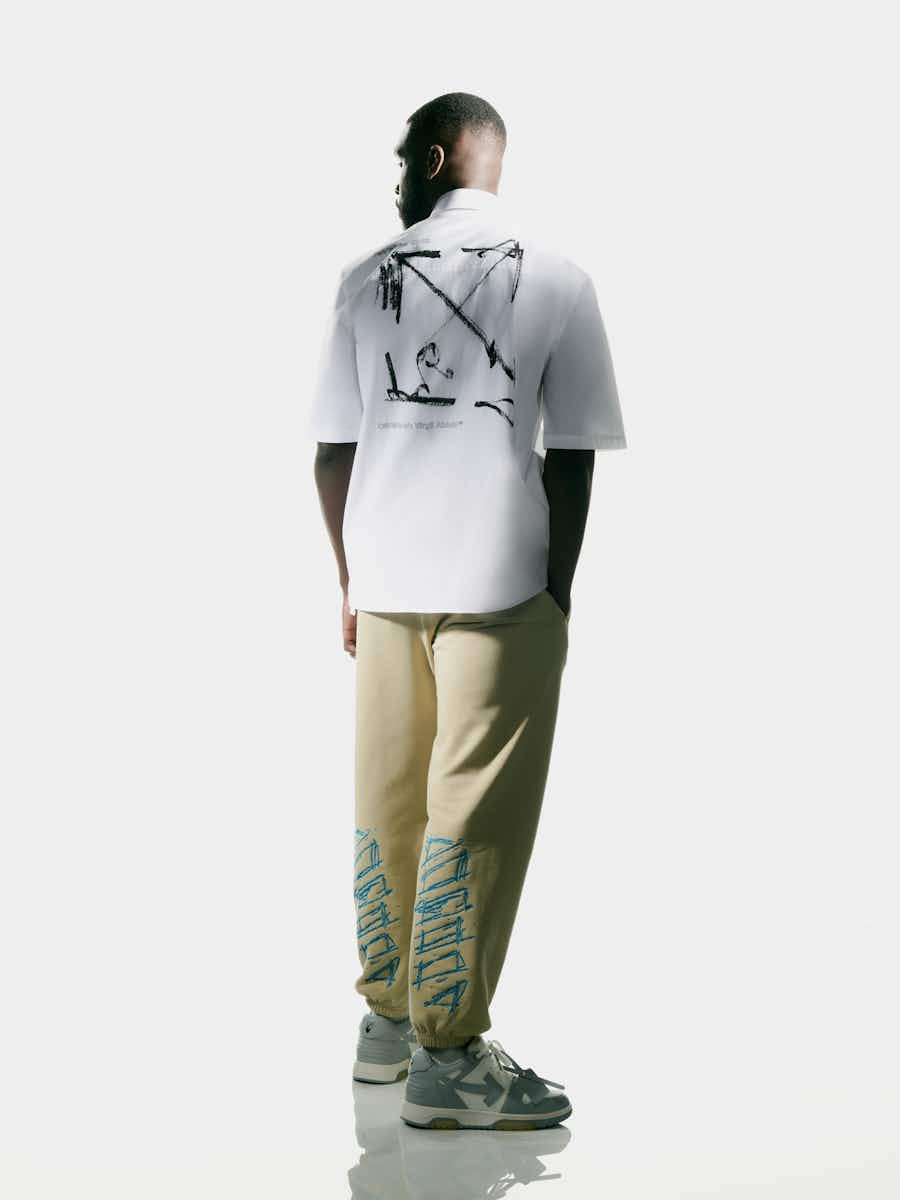 When she's not managing emerging musician LOLA, designing as part of the Chamu creative duo or sharing styling tips on TikTok, Sharkkana is defying the fourth dimension and somehow finding time to run Sharkkini. A streetwear and swimwear business designed for the​"grown & sexy", it sees her turn her unlimited talents to limited runs of micro-skirts, bikini sets and cropped hoodies. If you're at the vanguard of fashion and music or like to scout the next it-girl, you'll have seen her blue-dyed hair and cut-out looks on your feed. Or will do very soon, trust us.
From swimwear to talent management to styling – you're a proper polymath. What's the power of multi-creativity?
For so long I was made to think I should only focus on one thing, but there's so much to gain from tapping into different creative skills. They all work hand-in-hand and give me a better understanding overall. It also allows me to pivot and explore my different interests, which keeps me feeling inspired.

When did you dye your hair blue? What was the spark for that and how does it represent your creative psyche?
I dyed it on my birthday in July last year and I've been blue since. Honestly, I just felt like it. I've always been quite experimental with my hair. Whether it's different colours, shaving it, braids – so it really wasn't a big deal. It feels like me at this moment in time.

What would we find on your TikTok? What creative part of you are we getting a glimpse of?
My TikTok's my safe space. It's unfiltered and carefree. I share a lot of my creative process for my brand Sharkkini on there, which has been super fun. As well as fashion, food, work, BTS – my life basically!

How do you smash through a creative block?
If this happens, it's usually a sign that I need to take some space away from everything. So, that's when I focus on self-care and fun.

How important is your state of mind in realising creative goals or feeling confident with your own style?
It's the most important! It's tough to stay confident, especially if you're doing something outside of the norm or what's celebrated in the mainstream; you have to constantly remind yourself that you are enough. You have to believe that anything is possible and move with that energy.

What does audacity/​boldness look like to you?
Being unapologetically yourself.
What object or outfit feels like a true representation of your personality?
A cup of Yorkshire tea. A hug in a mug!

You Already Know goes Bawo's IG bio; if you don't, fix it quick. The West London artist is on the cusp of something exciting, ready to go major with his own distinctive style of mellow, dreamy rap and meticulously-created productions. He's recently been touring the country with Knucks and linked up with Louis Culture on anew track, titled​7am.
What does the relationship between your music and your style look like? Do they complement each other? Do you approach them differently?
By default, I would say yes, they do complement each other. The first things I think about with clothes are whether they are practical and whether will I feel comfortable in them – that's before I think about how it looks. I like my music to be chilled, so flexibility comes across in the clothes I wear and the music that I make. I also like to go for unique but simple pieces and I like my music to be as simple as possible, not too elaborate. The most important thing is practicality.

How does the theme of boldness and audacity play out in your music – your flow, production or bars?
If anybody is speaking what they know to be their absolute truth then that is boldness to me. This is how boldness comes out in every track that I make. I do my best to be as honest as possible in the moments when I am writing a song. In terms of audacity, this is probably through my flow. I feel like I do sometimes take the mick with the pockets that I pick on tracks. Instead of being serious about it, I like to have fun with the flows and that's where audacity comes in.

How do you smash through a creative block?
I don't smash through. I do my best to let it flow. Creative blocks happen and they can be frustrating. Sometimes, waves need to settle. You might want to write through the wave and feel like you have something to say but nothing comes out: that can be frustrating. I do my best to let it flow. I trust in my ability; being creative isn't a choice for me, so I don't have to worry that I'm losing creativity. It's just about letting things click in their own time and not forcing it.

How important is your state of mind in realising creative goals or feeling confident with your own style?
It's very important. You have to believe in yourself: I did when I started making music, and I still do. It's also important not to be too hard on yourself, too.

TALENT Sharkkana & Bawo PHOTOGRAPHER Karl Felix PHOTO ASSISTANT Ariel Mihály DIGI OP Nina Close STYLIST Borys Korban STYLING ASSISTANT Art O'Niell MAKEUP ARTIST Rebecca Davenport HAIR STYLIST Kreszend Sackey SET DESIGNER Tom Schnieder SET DESIGN ASSISTANTS Rosie Reekie & Felix Reimann CREATIVE Cassandra Joseph SENIOR PROJECT MANAGER Dave Turner HEAD OF TALENT Cal McRae EXEC PRODUCER Rosanna Gouldman PRODUCER May Powell PRODUCTION ASSISTANT Ellis Mistry TIKTOK EDITOR Millie Gray