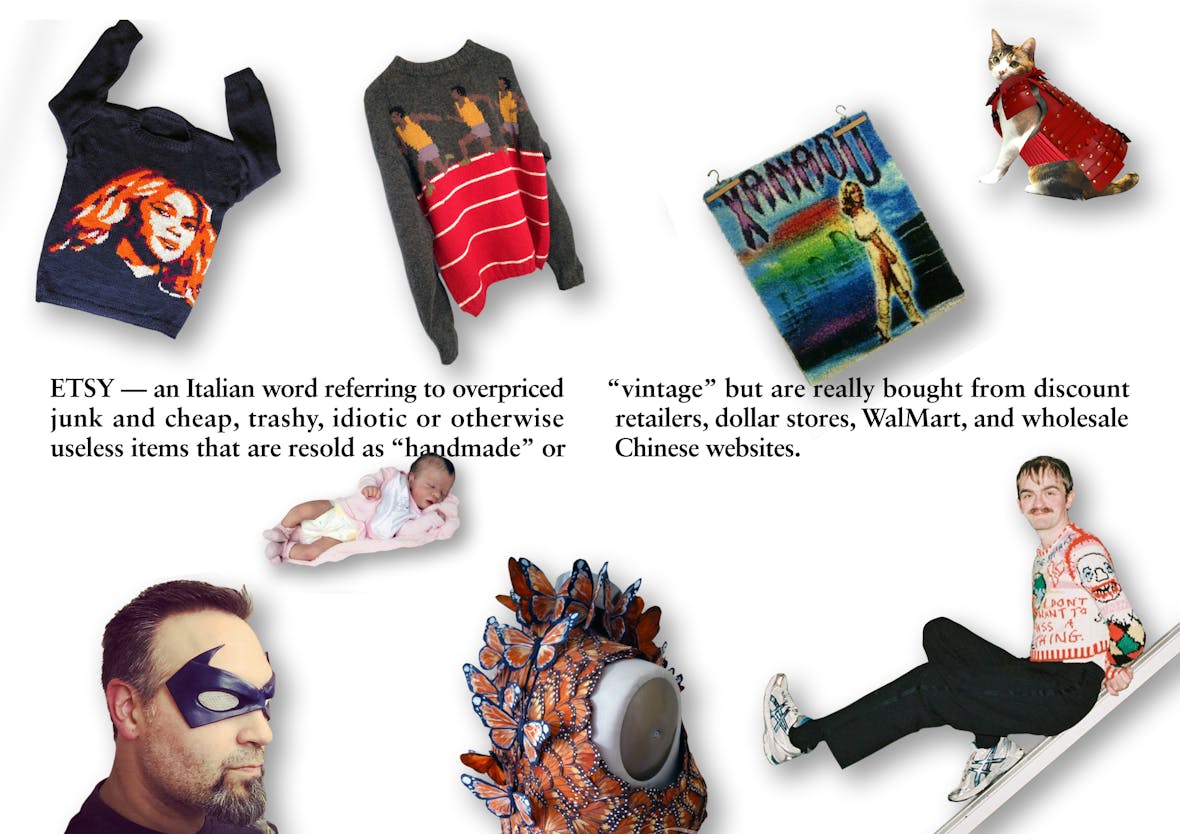 Gareth Wrighton's Etsy wishlist
Gareth Wrighton first found his way onto Etsy when he was in his teens. ​"I just remem­ber it being the go-to place for hip­py jew­ellery," he explains. ​"But when Brad Troemel was sell­ing his pad­locked hard-shell tacos on there around 2012, that was hon­est­ly every­thing to me. I remem­ber find­ing April Winchell's book Regret­sy: Where DIY Meets WTF and that fed a lot into my dis­ser­ta­tion at Cen­tral Saint Mar­tins, which was based on online craft­ing communities".
Wrighton's AW19 col­lec­tion cen­tres around Amer­i­cana ​"after failed free-love, coin­cid­ing with the 50th anniver­sary of the Alta­mont Free Con­cert – hyper­bol­ic and full of con­tra­dic­tions". While the open­ing knit was inspired by a bucol­ic Col­orado land­scape ("it doesn't exist; it is a vir­tu­al ren­der­ing") and a Cal­i­forn­ian for­est ablaze from wild­fire, anoth­er ref­er­ences footage from the Chelsea Man­ning Wik­ileaks case. ​"It was the ​'Col­lat­er­al Mur­der' footage that showed US sol­diers laugh­ing while fir­ing at Iraqi jour­nal­ists and chil­dren," explains Wrighton. ​"Chelsea is the Dis­obe­di­ent Per­sona; an Amer­i­can whistle­blow­er in the age of mass apa­thy and indif­fer­ence. We stan. Anoth­er dis­obe­di­ent per­sona is Bob Dylan, whose elec­tric Stra­to­cast­er I wrapped to the body through anoth­er silk mohair cardi­gan. It is a trib­ute to him going elec­tric at New­port 1965."

"Dis­obe­di­ent Per­sona" is a red thread in Wrighton's work, along­side ​"vir­tu­al unre­al­i­ty", and ​"popped culture".
"Reduce, Reuse, Recy­cle, Rihan­na," he explains. ​"Pop is intrin­si­cal­ly linked to over­con­sump­tion and decay. I look a lot to nation­al dress and mas­quer­ade cos­tumes, how hum­ble detri­tus are ele­vat­ed, by hand, into the most beau­ti­ful one-off cos­tumes. I love clash­ing these tan­gi­ble crafty tech­niques with the intan­gi­bil­i­ty of dig­i­tal medi­ums. For exam­ple, I'll hand-knit a beau­ti­ful jumper, but it can only be worn with­in a video game. All of the warm inti­ma­cy of a knit­ted gar­ment is lost through the cold dis­con­nect of a touchscreen."
It's Wrighton's knack for sub­vert­ing real­i­ty – and his love of banal­i­ty – that makes his work unique. ​"I'm always think­ing about what objects will out­live us after the apoc­a­lypse, what will future civil­i­sa­tions find and wor­ship, what relics will they deem beau­ti­ful and embell­ish into their clothes and wear as jew­ellery," he explains. ​"The ser­vice dog leash­es that lined my smok­ing trousers for AW19 are a banal object that I have no rea­son to have been drawn to oth­er than the fact that it's just a bit extra and sil­ly. But when I wear my Ther­a­py Dog leash trousers I walk to the beat of The Stooges; I Wan­na Be Your Dog."
Here, Wrighton shares the top items book­marked to buy on his Etsy list.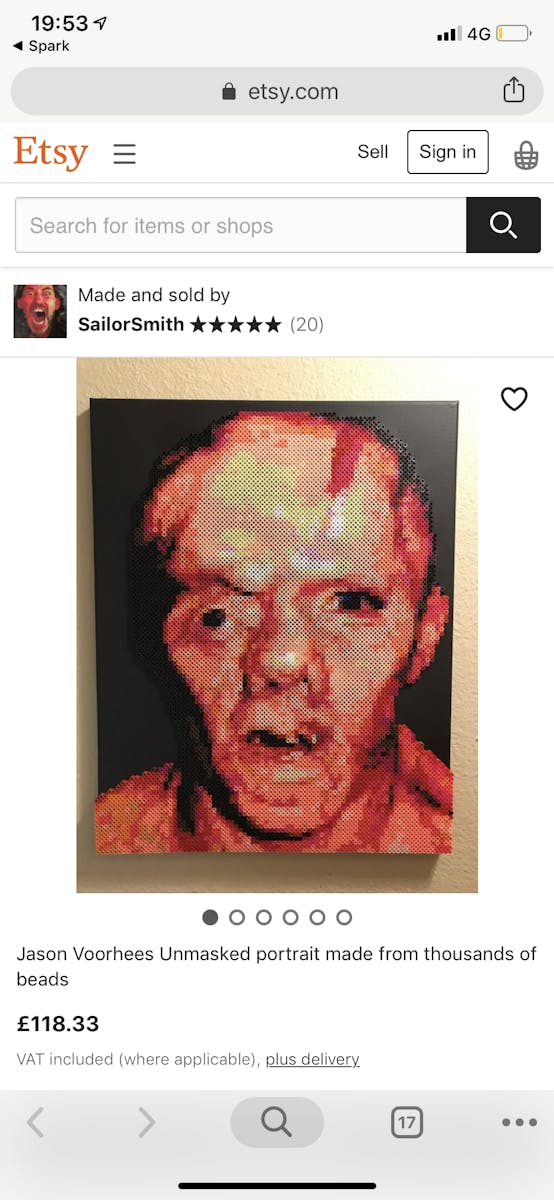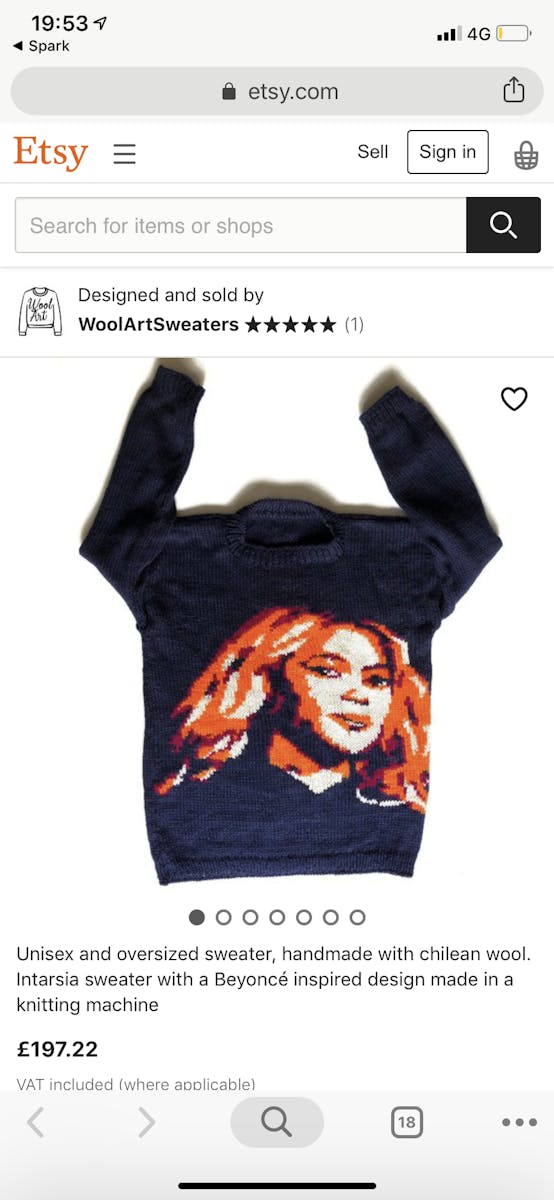 1. Jason Voorhees unmasked portrait

"As a fibre artist I respond so much to vivid imagery cre­at­ed with a restrict­ed colour palette and this is such a heart­felt ren­der­ing of a hor­ror icon. Jason's gaze is real­ly sen­si­tive and it becomes a real­ly sad object and I love it more for that. I'm obsessed with Per­ler art."
2. Bey­on­cé-inspired over­sized sweater

"A knit of Bey­on­cé that belongs in the same con­ver­sa­tion as the Jason bead art. I'd wear this over my ​'Sandy' baby­doll dress with a pair of sec­ond-hand Asics, and a smile."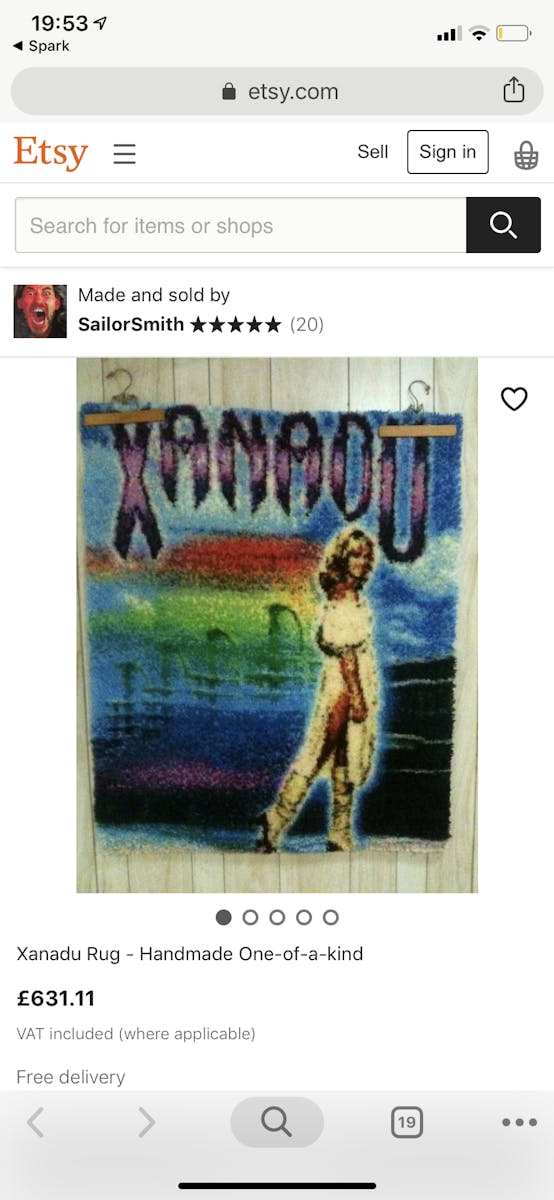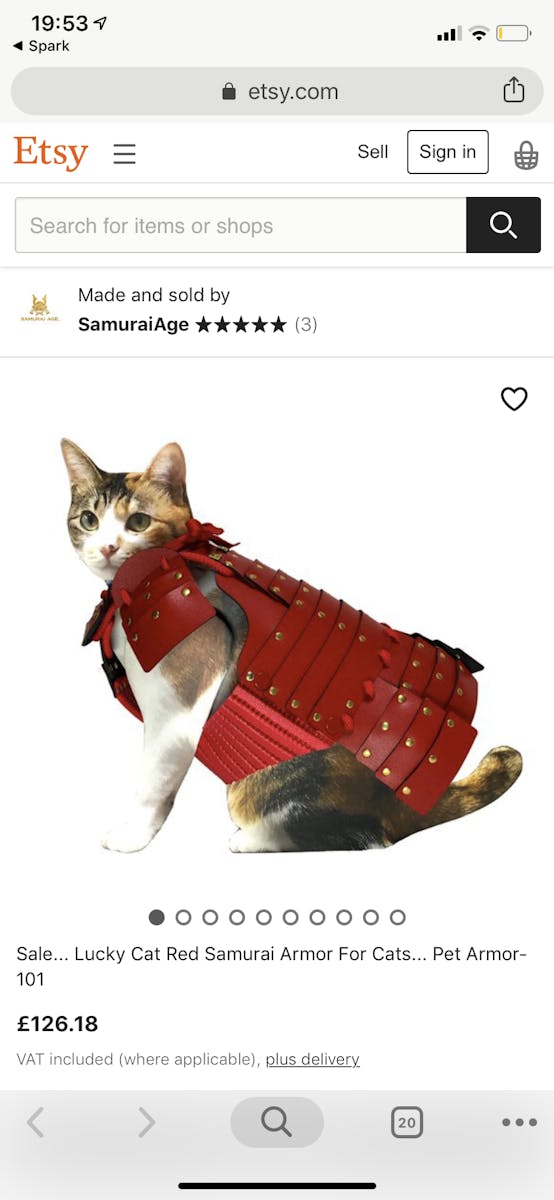 3. Xanadu rug

"A Xanadu-inspired latch hook rug. Look at how they've achieved the rain­bow gra­di­ent! It's just so good! And it's free ship­ping to the UK."
"This is for my cat Elsa so she can assert dom­i­nance over the oth­er cats in our area."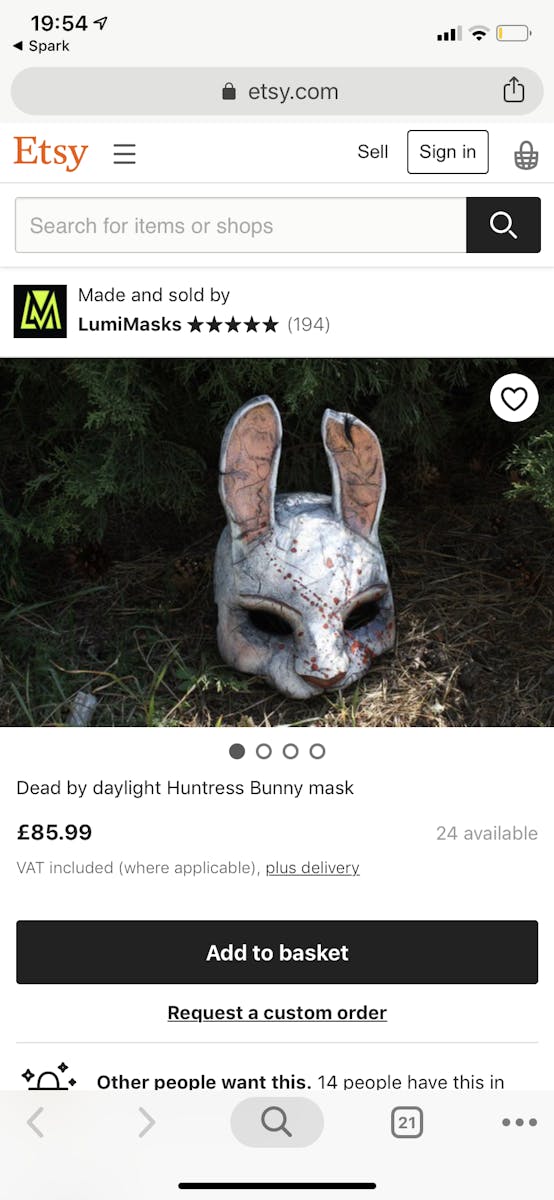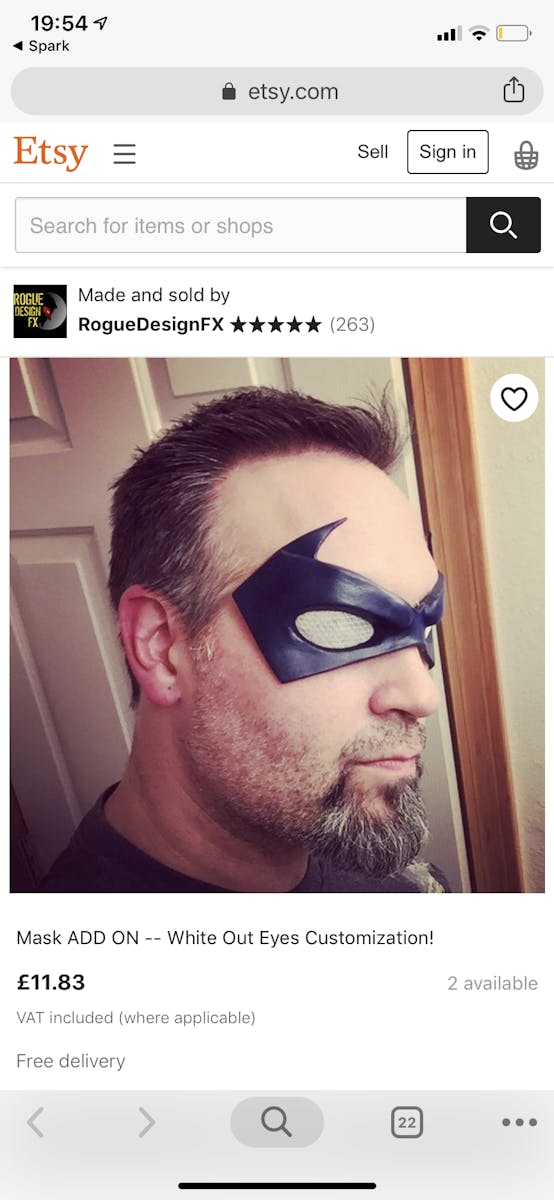 5. Dead by Day­light bun­ny mask

"A faith­ful­ly recre­at­ed piece of video game cos­tum­ing. Worn with a grey suit, tac­ti­cal assault vest and over­sized hold-all (think Val Kilmer in Heat) for a spunky back-to-school moment."
6. Eye mask
"I've always want­ed to pull off a com­plete white-out super­hero eye look. Have a bleached messy up-do and fin­ish with a Stun­na Boss Nude Liq­uid Lip by Fen­ty Beauty."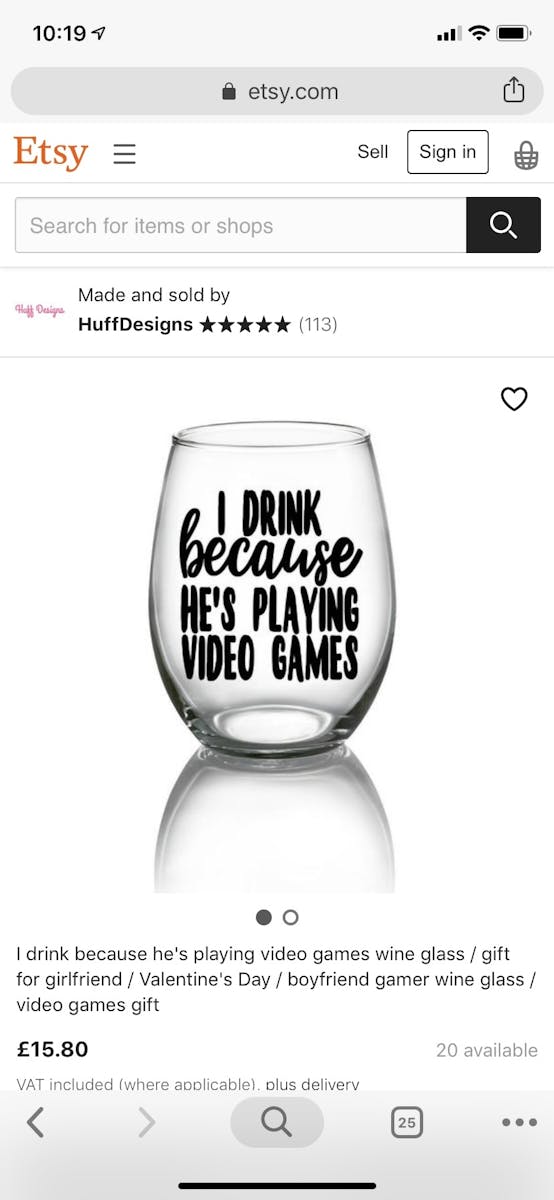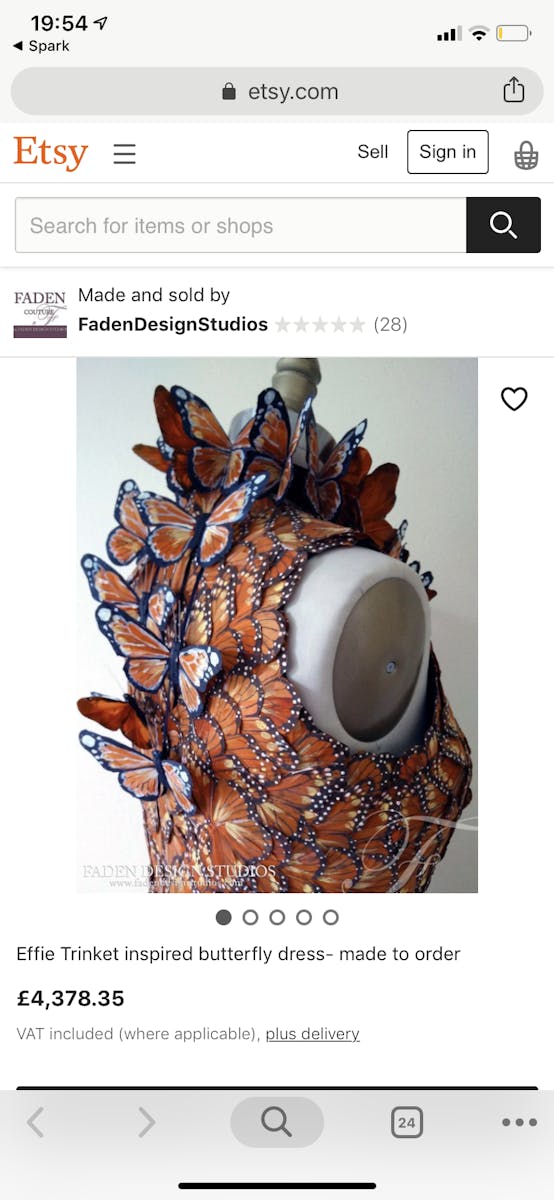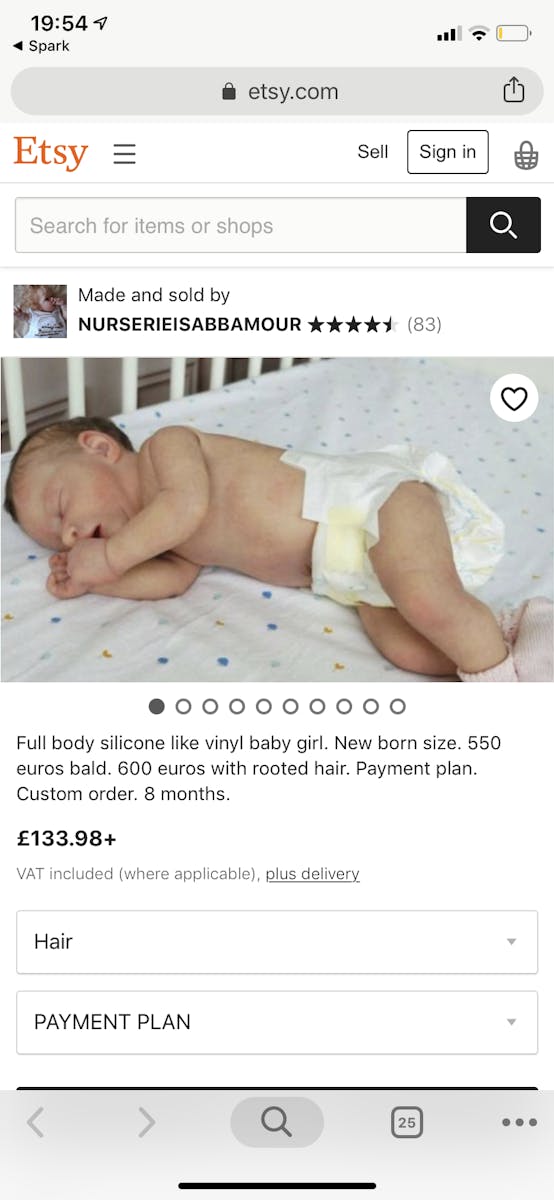 "I love objects that just take me there. It's anoth­er real­ly sad object."

8. Effie Trin­ket-inspired but­ter­fly dress
"For cos­play­ing as if you're in Sarah Burton's first show at McQueen. Or wear with my AW19 GOD-LESS AMER­I­CA base­ball cap, com­plete with Taxi­dermy Par­rot­let and Aimee Mullins' hand-carved wood­en pros­thet­ic heels for a Moth­ra Nature cock­tail occasion.

"This, but mod­ded with a sil­i­cone phone case formed into the back."
---