How to dress a psychopath

Delving into the wardrobes of the season's deadliest on-screen psychopaths. The ones that look just like us.
Despite the fact that psychopaths only make-up an estimated 1% of the population, much like Love Island is set to, they're taking up a lot of screentime.
Next week, Tate Taylor's Ma, in which Octavia Spencer plays a psychopath who befriends a group of local teenagers lands in cinemas. Next month sees the UK return of Killing Eve and Jodie Comer's BAFTA-winning performance as the loveable psychopath-assassin Villanelle. And next year, Jessica Chastain takes on the titular role in Eve, an action thriller about a black ops assassin.
In many cases, a psychopath can be hard to identify at first, and their main kick often comes from toying with others. And their biggest asset? The fact that they look just like us. As costume designer Megan Coates (who is currently dressing Chastain in Eve and who costumed Spencer for Ma), tells me, ​"a psychopath dresses for the character they've convinced themselves to be. Every piece of clothing is a deliberate choice."
Nowhere is this more evident than in the character of Villanelle. Every detail of her look is precise, from the knot tied in a pink oversized silk shirt, to the tuck of her trousers into a pair of utility boots. In comparison, Octavia Spencer's Ma hides her psychopathy behind a mask of banality. ​"She's presenting herself as ​"normal" to the outside world. In this, her dress might be somewhat drab or lacklustre in order to blend in," says Coates. On the surface, Villanelle – she of the very large, gold, 1980s Lacroix earrings; she who put studded Balenciaga boots with a tulle princess dress – seems the absolute opposite. And yet, her outfit choices tap into a new kind of ordinary – the ordinary of the Instagram generation. Like all psychopaths, Villanelle struggles with emotion and antisocial behaviour; she is self-serving and egotistical. Like (almost) all influencers, she is also a collector of beautiful objects with an appetite for luxury and a wardrobe which reflects that.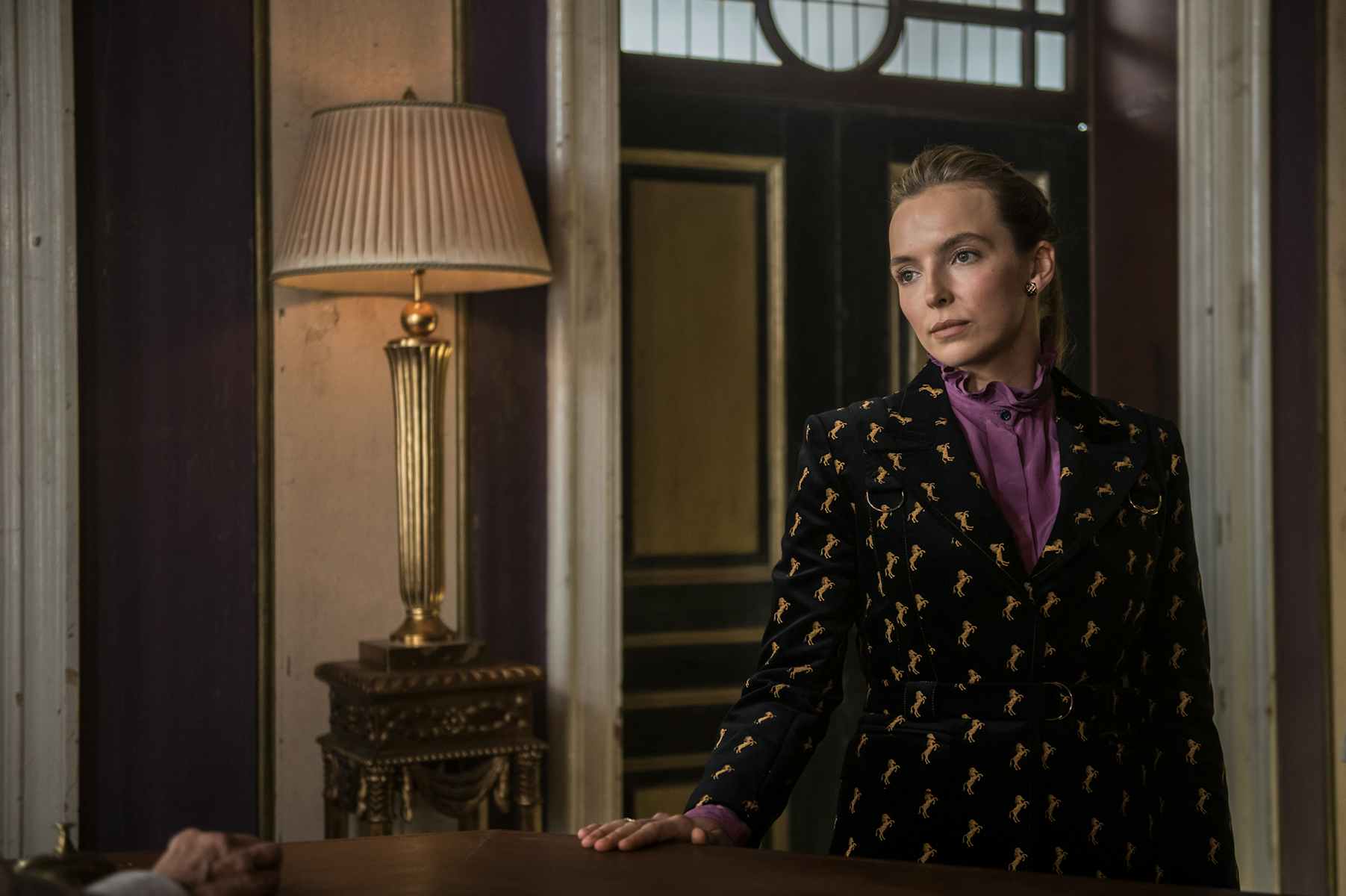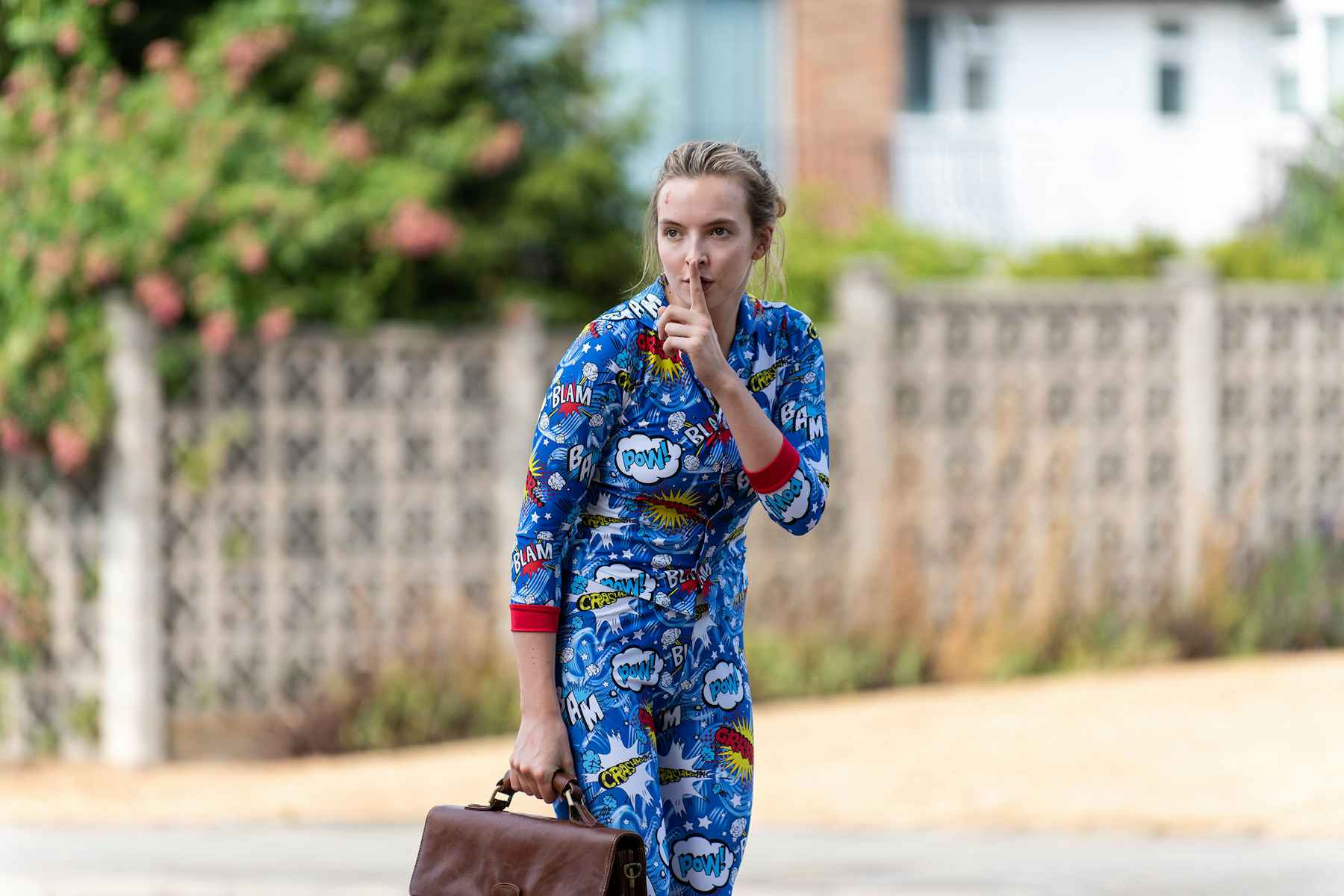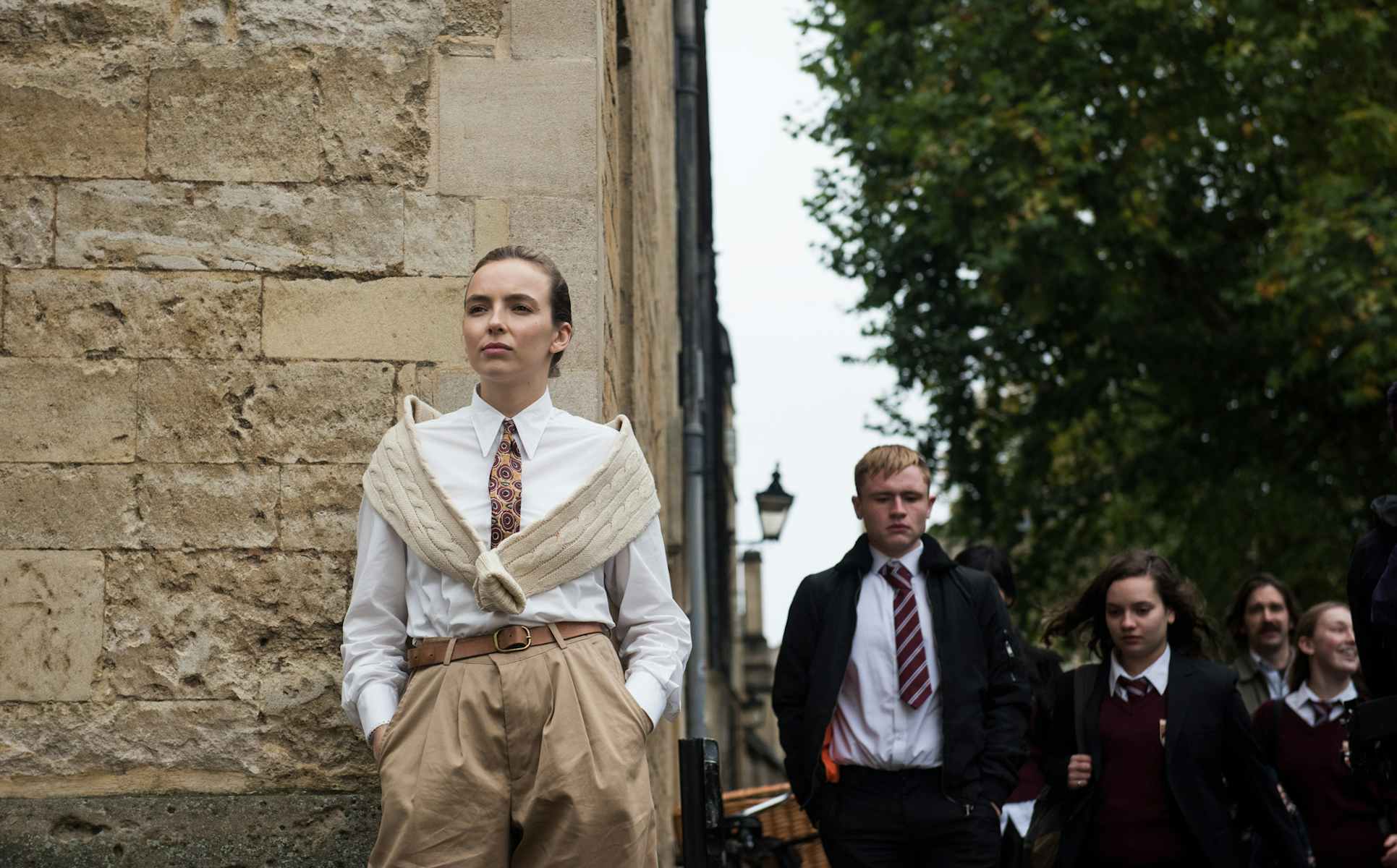 Charlotte Mitchell, the show's costume designer, had the job of hand-picking each item within said wardrobe for the new season of the show. From shopping trips with Jodie to searching the web for vintage pieces, Mitchell spent months planning every look and hunting down clothes across the globe.
"Psychopaths have no consistency in their emotion, their mood, so how do you dress a psychopath? I wouldn't be able to tell you," she laughs. ​"Psychopaths don't play by anybody else's rules, they play by their own rules and are erratic."
The show has already begun airing in the US and one of the most talked about look of the season so far has been a dramatic black confection of a gown worn by Villanelle. Mitchell sourced the dress from McQueen's 2012 archive. ​"Villanelle's version of ​'casual' is a t‑shirt paired with a beautifully cut Alexander McQueen jacket and floral Etro trousers, and that's her playful mood. Whereas when she shows drama she'll wear a floor-length couture dress."
McQueen has been a favourite for Mitchell this season. Although Villanelle's pieces are by Sarah Burton, the spirit of the brand is a fitting match for the character given that Lee McQueen was well known for referencing the art of female evil – including the 1983 vampire film The Hunger and Elizabeth Howe, McQueen's distant relative who was sentenced to death in the Salem witch trials.
"I love testing the fashion press, that's why I loved getting the vintage pieces because it made it more difficult," particularly after last season's pink Molly Goddard moment which the press spotted instantly.

Villanelle is a psychopath, but she is also a curator and collector. She does not buy expensive clothing because of the label attached to it, but for the feeling of owning luxury. ​"We were filming it last year so we were looking at the end of Spring/​Summer and the beginning of Autumn/​Winter collections. Saint Laurent had some amazing pieces, McQueen had some amazing pieces; I looked at Erdem, Ellery, Dries, but Villanelle isn't a ​'label whore', she just loves luxury and beautiful items."
Though their wardrobes reflect very different characters, Ma, Eve and Villanelle all disguise themselves well. Whilst Ma may be hiding behind the ordinary, Villannelle hides in plain sight – and in the process becomes the ultimate assassin for the Instagram generation.
As Megan Coates put it, ​"to present oneself as harmless is a big aid in catching one's prey off guard."

More like this