Inside Róisín Pierce's sartorial tribute to Ireland's ​

'

fallen women'
"I felt a responsibility to tell the story which was driven by anger, really; Irish women have experienced so much misfortune, and I knew I couldn't just ignore it."

Róisín Pierce may have won the first ever Chanel Métiers d'art Prize at last month's Hyères Festival, but she's still coming to terms with the attention her victory has commanded. ​"It is strange – and wonderful – to have so many people getting in touch," she says over the phone with clear disbelief in her voice. But naturally, this attention is well-deserved; her winning collection – ​'Mná ì bhláth, Gaelic for ​'Women in Bloom' – won jurors over with its intricate fabric sculptures and ornate headpieces created in collaboration with Maison Michel, one of Chanel's revered ateliers.
Despite the beauty of the collection, a sinister – and, sadly, ever-relevant – story lies at its heart. Research led Róisín to the Irish Magdalene Laundries, glorified asylums-cum-workhouses reserved for women deemed to be ​'fallen' by the Catholic Church. Mass graves are still being discovered centuries later. Essentially, these women were being harshly, sometimes lethally punished for pregnancy or abortion – a legacy which lives on in the laws of Northern Ireland, and which ended only last year in the Republic.
A mixture of anger and determination to humanise these women fuelled the collection, which fuses symbols of purity with religious iconography and experimental silhouettes. The pieces more closely resemble wearable sculptures than conventional clothing, but Róisín soon realised that she would have to discuss their creation with a panel of jurors – a process which would involve retelling traumatic stories and engaging with difficult conversations.
Ultimately, the collection speaks for itself. The same can be said of Róisín's wider portfolio, which is defined largely by her skill as a sculptor and her uncompromising vision of a new, more experimental approach to design. Now that she has the Chanel seal of approval, we caught up with the talented artist to talk creative freedom, the ongoing policing of women's bodies and the thrill of being backed by one of fashion's most legendary names.

Let​'s start at the beginning – what first attracted you to fashion?
The visuals, but also the fact that you could use it as a medium to send a message. I actually studied fine art textiles at university because sculpture really interested in me – as you can imagine it was really free, they basically let me do what I wanted to! I found my niche in fabric sculptures, which I don't think would have happened if I hadn't been given challenged, but also given that freedom. The college I went to had a fashion course which focussed heavily on tailoring, which I knew wasn't for me. I preferred textiles, because it allowed me to keep sampling and sampling – it made my work a lot better.
When did it first occur to you to make those sculptures wearable?
Through that sampling process. I always aimed to make something I hadn't seen before, so I would test different variations with the fabric. Each piece led to the next – I would try one thing, see how the textiles responded and come up with three others, just like that. I actually don't design by drawing sketches, I really just learn through the making process and have fun with it.
Was that the case with ​'Mná i bhláth', too?
Definitely. I really wanted to show my thought process with every piece and display some kind of variation in technique, so one look would be padded; another would be woven together. I would get new ideas from testing placement of the ruffles, so maybe I would put them into diamonds and see these gaps which would stretch to pull these lines and look like flowers.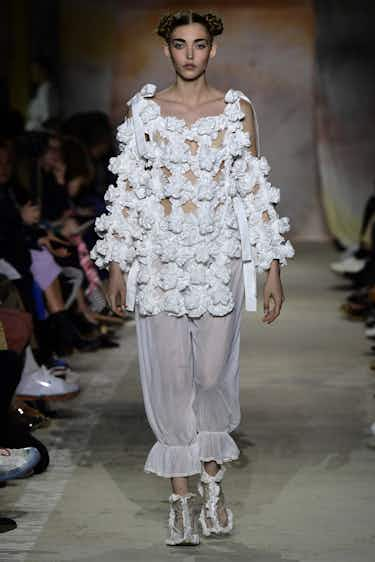 Can you tell me a little about the story behind the collection?
Sure, so the collection is about the Irish Magdalene Laundries. The idea first came to me before the Republic of Ireland even had reproductive rights, but the more I researched the more I saw a link to the present. Women were sent to the laundries for reasons outside their control, for being pregnant – and if you didn't want the baby or couldn't give birth, you would be punished.
Initially, I felt a responsibility to tell the story which was driven by anger, really; Irish women have experienced so much misfortune, and I knew I couldn't just ignore it. But still, I felt a kind of internal conflict. I didn't know if this was my story to tell because it's such a heavy subject, and it's one that affected women who are still alive today.
What was the process of translating those stories into visuals?
The one thing I definitely knew was that I didn't want to do this gruesome collection with smeared blood, you know? I wanted to create something beautiful, meaningful and well-referenced, so I started researching and found that these women made pieces they would sell to the public: baptism dresses, bridal dresses and communion dresses. I looked to my old family photos as reference for that actually, so in a way this collection felt really personal to me.
Then I worked with Maison Michel on these beautiful headpieces inspired by nuns' habits; an early idea was to mix this really puritanical imagery with an archetype of the ​'fallen woman', which is what they were viewed as, but it fizzled out as the techniques came together. As for the floral references, I was thinking of the way that women in Ireland – even when I was growing up – used these delicate euphemisms to cover up things that they thought were shameful. Your period was your ​'flower', and that imagery is in the Bible as well – this idea of sowing the seed – so I wanted to bring the garden imagery in with the soft flower sculptures I mentioned earlier.
This idea of resisting the male gaze and exploring femininity has always been prevalent in your work. In the past you said you design for the ​'non-conventional woman'; in your head, who is she?
In my head, she's someone that isn't afraid of wearing what she wants to wear. I design for women that aren't afraid to be loud; women who seek beauty in rare and abnormal things.

You also work differently to other designers in the sense that you​'re also a sculptor – you craft. How does that fit into the landscape of an industry obsessed with fast fashion?
I think that actually makes people more interested in original pieces, which are hand-crafted and take time to make. I've had positive reactions when people found out each look wasn't churned out in a day. They admire it more; it's almost like a little rebellion against what the industry has become.
One last thing – congratulations on winning the first Chanel Métiers d​'art Prize at the Hyères Festival! As someone whose ethos is so in line with that idea of supporting artisans, what did it mean to you to receive that?
It was honestly pretty amazing just to get through! There isn't really much happening in Ireland because most designers go to London, so to get recognition from a jury that I knew and respected was a big deal to me. I grew up watching Chanel couture shows and really respecting that vision, so for the jury to see that potential in me was incredible – I hope to do something really special with them, especially as the craft focus of Métiers ties in so heavily to my work.
Also, it's Chanel! It's funny – my brother does business and now he thinks what I do is really cool. He used to be like ​'what is it that you do?' Now he's telling everyone: ​"My sister is working with Chanel!"
Credits:
MUA: Tee Elliot
Hair: Angela Doyle
Model: Tara McGonagle

More like this