Juli­ette Lewis and Alex Israel on ​

"

secur­ing the bag"
"Secure the bag," the singer Kim Petras dead­pans at the end of her catchy new song Got My Num­ber. It's become a whole mantra, which can be traced back, per­haps, to the 2016 Lil Uzi Vert and Guc­ci Mane track Secure the Bag, and traced for­ward, I guess, to the sinecure uni­ver­sal min­i­mum wage pro­posed by Sil­i­con Val­ley tech bro-cum-Demo­c­ra­t­ic can­di­date Andrew Yang. (His fol­low­ers, the ​"Yang Gang," have dubbed his idea of giv­ing every cit­i­zen $12,000 for noth­ing in return ​"secur­ing the bag.") To ​"secure the bag" is to get what you want.
Juli­ette Lewis – the actor who deep-throat­ed Robert De Niro's thumb in Cape Fear, the one we put on our April 1994 cov­er with the strapline ​"Ser­i­al Killer" – is now 46 and ​"secur­ing the bag" in a new cam­paign for Rimowa. The lux­u­ry hard­shell suit­cas­es come in a suite of colours by the LA artist Alex Israel, who has all but trade­marked the pas­tel hues of a twilit Hol­ly­wood. His gra­di­ents have become some­thing of a sig­na­ture, and the result­ing cam­paign – star­ring Lewis – depicts its star as a run­away damsel in dis­tress, a Jayne Mans­field for the Real House­wives crowd.
So when Lewis post­ed the images, shot by pho­tog­ra­ph­er Luke Gil­ford, to Insta­gram with the hash­tag #goon­takethe­moneyan­drun, it seemed like the dawn of a new age of spon­con trans­paren­cy. This leg­endary actress, who recent­ly shone in Tate Taylor's under­rat­ed hor­ror Ma, was get­ting her mon­ey and shout­ing about it. (She claims it's a ref­er­ence to The Steve Miller Band.) Either way, it's aspi­ra­tional. And hours before she was due to jet to Van­cou­ver to film a new lim­it­ed series, she caught up with Israel over the phone for a crash course in ​"secur­ing the bag."

Juli­ette Lewis: Hi guys.
Alex Israel: Hey Juli­ette, it's Alex, hi.
Where am I reach­ing you?
Juli­ette: I'm in Los Ange­les. I have three hours to pack and then I'm going to Van­cou­ver for a lim­it­ed series. I'm actu­al­ly look­ing for­ward to sim­pli­fy­ing and being in nature and so I'm hap­pi­er that it's Van­cou­ver rather than Toron­to. I'm into it!
Hap­py belat­ed birth­day, by the way, too. [Ed note: Lewis' birth­day is 21 June. She is 46.]
Juli­ette: Hap­py belat­ed birth­day? Thank you. I appre­ci­ate it.
So how did the two of you first meet?
Juli­ette: Well we have a mutu­al friend, but did we meet then Alex?
Alex: You know, I feel like I met you once at Ethan's Christ­mas party.
Juli­ette: Yeah!
Alex: Not real­ly, just like, ​'Hi, how are you. Nice to meet you.' And then we met offi­cial­ly when we did our project, when we did this pho­to shoot.
Juli­ette: Yeah. So we've been in the same room, OK, yeah go on.
Alex: Yeah, I'm friends with Juliette's brother-in-law.
OK, that sounds very Hollywood.
Juli­ette: And my oth­er good friend, right? But we didn't know that until… What was her thing we went to that was real­ly groovy?
Alex: It was a par­ty for the Jew­ish hol­i­day Purim.
Do you remem­ber when you were in The Face, Juliette?

Juli­ette: I had done an inter­view with The Face. I'm try­ing to think if it was in con­junc­tion with What's Eat­ing Gilbert Grape or Nat­ur­al Born Killers. But I don't know. I think they would have used art­work already exist­ing. I just remem­ber lik­ing the cov­er and stuff like that. Yes! That's The Face! [Laughs] That's cool.
Do you remem­ber that?
Juli­ette: I do. They real­ly embraced me as a lunatic and I think it was nec­es­sary and need­ed to have this kind of pri­mal ener­gy as a young female because females didn't see that show­cased a lot in cin­e­ma. It was fun to be exem­plary. No, I don't know the lan­guage. Of man­i­fest­ing pri­mal, you know, and sociopath—
I think we can say role model.
Juli­ette: [Laughs] Ter­ri­ble word! I'm so into ener­gy, so I was like, ​'Oh I'm unleash­ing this qual­i­ty of ener­gy!' but you know, peo­ple still tell me how that made them hap­py. So that's nice.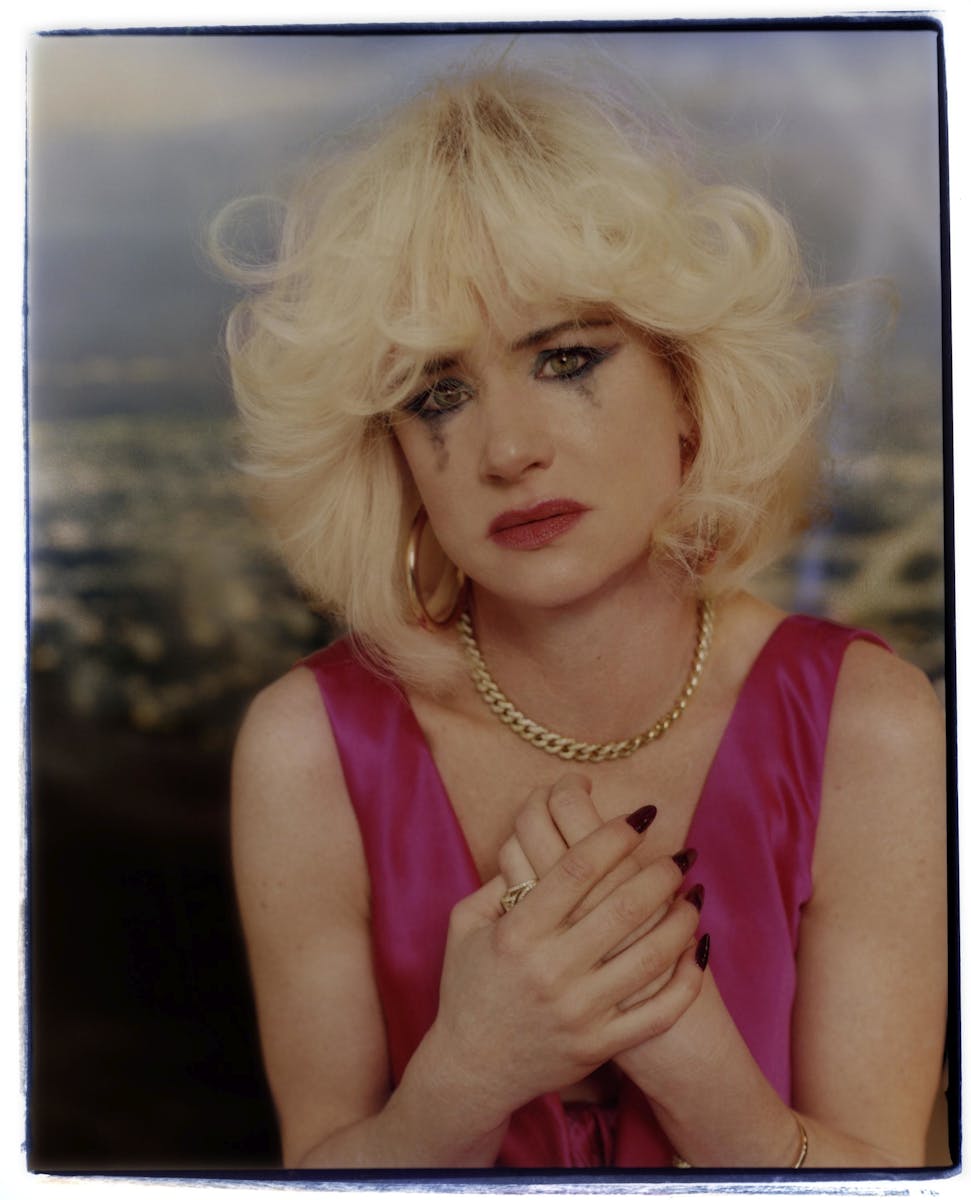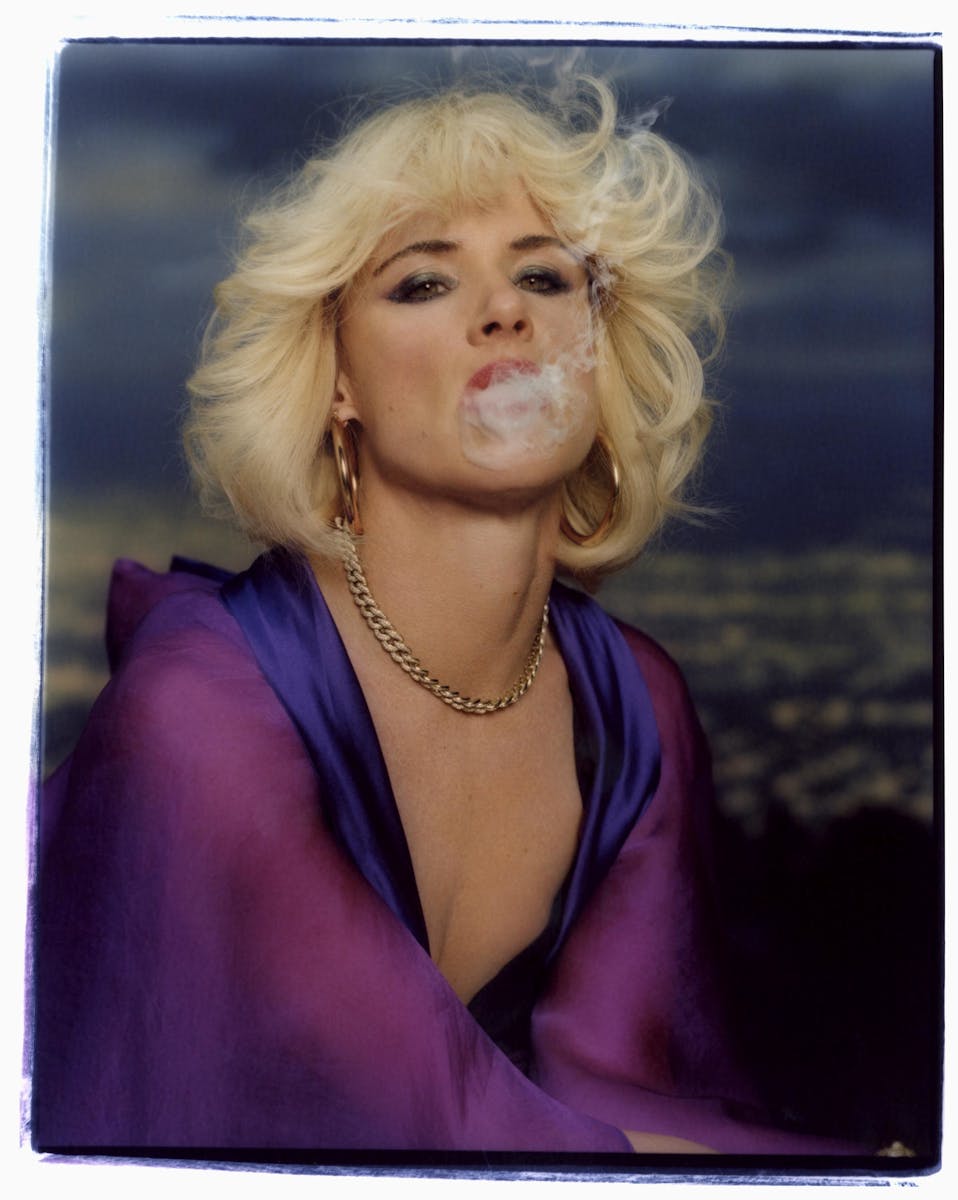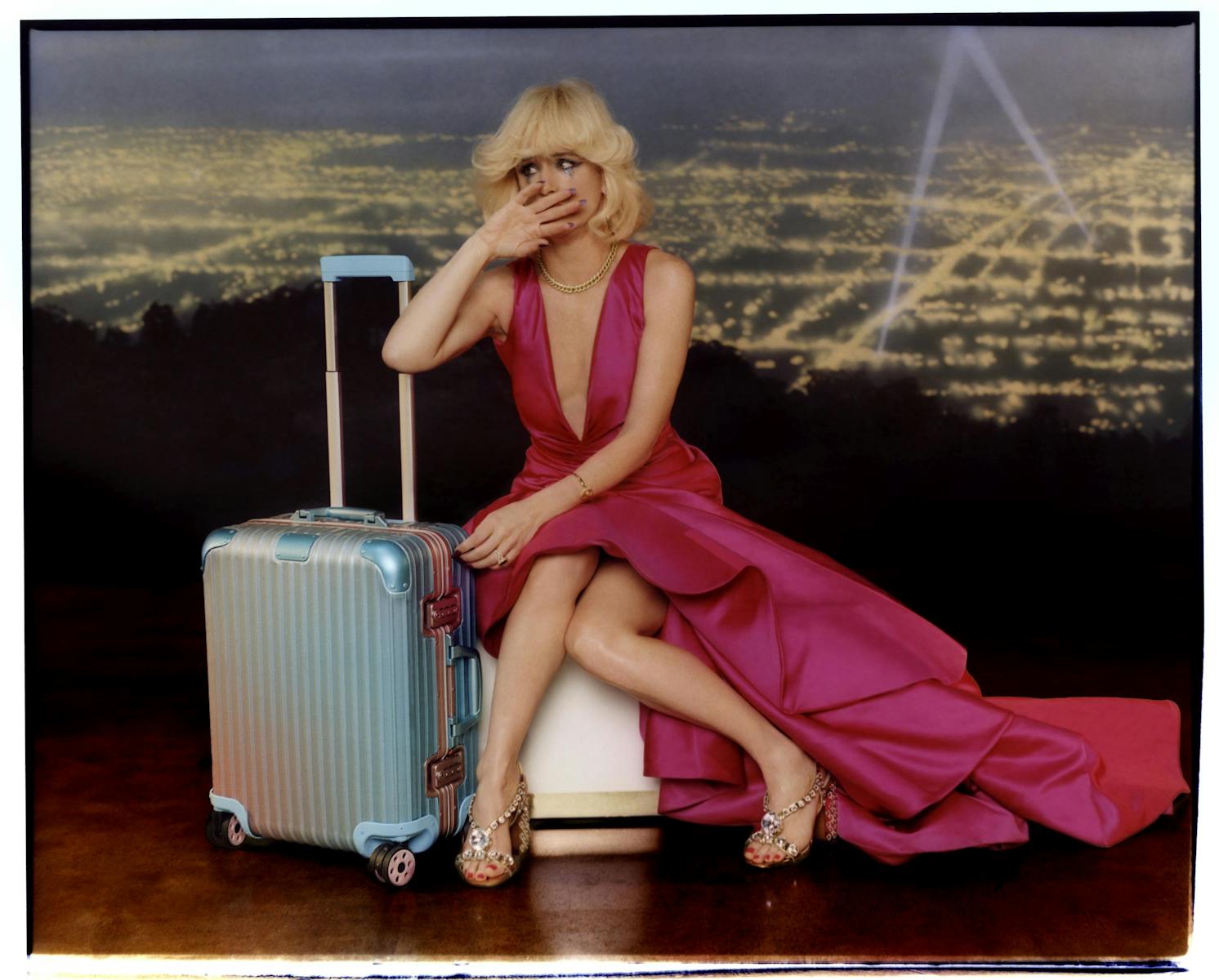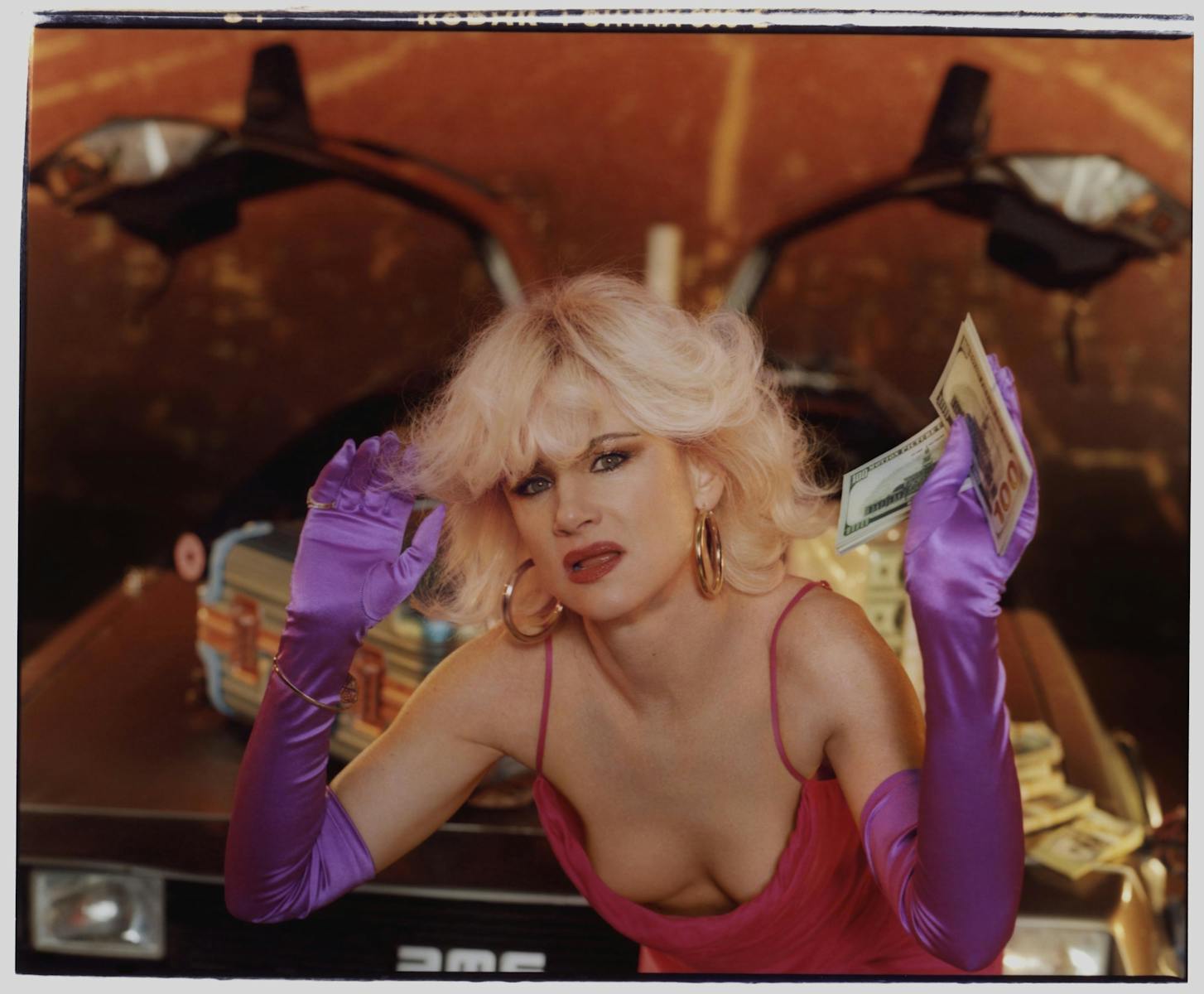 That is a good segue into the new images you and Alex cre­at­ed togeth­er for Rimowa, where you also seem a bit like a lunatic. Can you tell me what the brief was there?
Juli­ette: I know. What do you think Alex? Was this your vision? Or how did it come together?
Alex: So we want­ed to do some­thing that was real­ly very LA, very Hollywood.
Juli­ette: Yeah.
Alex: But, dif­fer­ent. And that had a kind of unique per­spec­tive because real­ly we're—
Juli­ette: And sub­vert it.
Alex: Yeah, we want­ed to sub­vert it. We want­ed to do some­thing that you don't always see every day. And I'm an artist. I don't get to be cre­ative­ly involved in these kinds of projects very often. So I come at it from a dif­fer­ent per­spec­tive and I think we have to give a lot of cred­it to our pho­tog­ra­ph­er Luke Gil­ford, who I had worked with for a long time then, who we reached out to to see if he was inter­est­ed in doing it. And he was super excit­ed and he also had been – you guys had been in touch about oth­er things before right?
Juli­ette: Yeah, love him. It's fun­ny, in our time, the social con­nec­tiv­i­ty. You can be fans of oth­er artists and you con­nect through that medi­um. He was my Insta­gram friend and it's so fun­ny in our cur­rent cul­ture where you meet peo­ple and you're like, ​'Oh my God hi! You're my Insta­gram friend!'

Alex: Right. It hap­pens more fre­quent­ly than you'd imagine.
Juli­ette: Yes. Yes. It total­ly does. So, Luke, I had seen the Pamela Ander­son thing he did or where he does very heart­break­ing but empow­er­ing images. So I'm just a super­fan. And then I just think his range is so diverse and he's so cool.
Alex: He was also my Insta­gram friend! We were in the same boat. We had this con­ver­sa­tion about what we want­ed to do and who we want­ed to do it. And we real­ly want­ed to do it. And we felt like [Juli­ette] rep­re­sent­ed some­thing real­ly spe­cial about Cal­i­for­nia and Hol­ly­wood and the his­to­ry of LA cul­ture – as we both know it from grow­ing up in the ​'80s and ​'90s. And we want­ed to com­bine a num­ber of ref­er­ences. So I decid­ed I want­ed a DeLore­an. I want­ed a sky­line view of Los Ange­les, as if some­one was escap­ing the city; you're above the city look­ing at it from a cer­tain dis­tance or perspective.
Juli­ette: Alex, did you cre­ate all of that? Are you the art direc­tor who said, ​'This is what it should look like'?
Alex: Yeah.
Juli­ette: I didn't realise. That's pret­ty cool.
Alex: I didn't have much to do with your cloth­ing because of the styl­ist, but I picked the back­drops and I picked the car and of course we have these suit­cas­es [that I designed]. And when you added it all up, the equa­tion turned into some­body escap­ing with a suit­case full of mon­ey, on the run. This is a get­away kind of moment. And that's how it happened.
I'm won­der­ing if either of you had heard of the phrase ​"secure the bag".

Juli­ette: Nev­er. I mean, I can guess. It sounds like a good metaphor for many things. But what is it relat­ing to? Well I think high rise, drugs… I'm not sure.
There was a pop­u­lar song from a few years back called Secure the Bag by Guc­ci Mane and it has bub­bled up in pop cul­ture and been reap­pro­pri­at­ed by LGBTQ peo­ple and it's in a new Kim Petras song Got My Num­ber, if you know her.
Alex: Oh, I do know her but I didn't know the phrase. But I have to say, I noticed it in the com­ments on the pho­tos that we posted.
Essen­tial­ly, it means get­ting some­thing that you want. But it's quite fun­ny because recent­ly, Andrew Yang, the Demo­c­ra­t­ic can­di­date that's sort of come out of nowhere, has this loy­al fol­low­ing called the ​"Yang Gang". He is propos­ing this $12,000 annu­al salary for peo­ple. And his fol­low­ers have start­ed refer­ring to that as ​"secur­ing the bag" – as in this uni­ver­sal basic income, which I think is quite funny.
Juli­ette: That is! It's always good to have a catchy phrase.
Can either of you think of a time when you've ​"secured the bag", so to speak, on some­thing you real­ly want­ed? By nature of hard work or whatever.
Juli­ette: Yes. The twist is that here I am, in my for­ties, and I've been get­ting cam­paigns that are quite cool. So when this came my way, I just was over the moon because, at the end of the day, I'm not a sales­per­son. I want to cre­ate art. I want to cre­ate things that are impact­ful, joy­ous, dan­ger­ous – what­ev­er they may be. And so this col­lab­o­ra­tion had all the qual­i­ties of that. And then I love don­ning a blonde wig and being dis­co and adding the ele­ment of dan­ger. Take the mon­ey and run. I kept think­ing of Steve Miller Band's song Take the Mon­ey and Run.
But secur­ing the bag. I would say this union has that feel­ing to me because I got to work with a bril­liant artist who is unique and fresh and I feel like what Alex said makes me hap­py. And then there's Luke, with whom I've been want­i­ng to col­lab­o­rate. So it was just a cool union. That was much more impact­ful or provoca­tive and excit­ing than just being a per­son to sell some­thing. To me, it's much more lay­ered and we're cre­at­ing cre­ative stuff.

Alex: That's so cool. I think that this project was an exam­ple, not just an illus­tra­tion of a char­ac­ter secur­ing the bag, but an embod­i­ment of all of us togeth­er secur­ing the bag to make this thing hap­pen. To make these photos.

What is your wildest trav­el story?
Juli­ette: Oh my God. Alex go. I have so many from tour­ing in a band, but you go first.
Alex: Oh my God. Wildest. I mean I trav­el so much. I don't know that any got wild.
Juli­ette: One of mine, it became one of my biggest mis­sions when I had a band to go to the most unfa­mil­iar places to me, to the places I was so igno­rant about. For exam­ple, Turkey. We showed up in Istan­bul, Turkey. My only lit­tle Amer­i­can brain ref­er­ence was Mid­night Express for Turkey. [The locals] didn't real­ly love this when I men­tioned this point of ref­er­ence. But I fell in love with the place. I fell in love with the bazaars. I fell in love with the food, the flavours, the peo­ple, the streets. And we showed up on a train. I think we had come from Greece. The train had bul­let holes in it. And man, it was just me in the bazaars. I always joke that I have a bulls­eye on my head [say­ing] charge me lots of mon­ey because I'm not a hag­gler. I felt like I was in a Felli­ni movie.
The pope was vis­it­ing Turkey, so all the high­ways or the boat cross­ings were all blocked. So we were zip­ping around all these streets. It became this whole adven­ture. And then we stopped in a lit­tle town to get some sweets. And we were like, OK, we're not going to make it because everything's blocked. We can't make it back to our hotel. And I kid you not. This is why I love this place. The neigh­bour­hood we were in, nobody spoke Eng­lish. And my drum­mer start­ed doing a beat – like a beat­box, and the kids would rap Eminem. And so it was us on a street cor­ner doing Amer­i­can rap. And that's how we communicated.
Alex: I went to Istan­bul for the bien­ni­al. So I was there and there was a muse­um group from Los Ange­les that I end­ed up join­ing because I didn't know any­body else in the entire city. There were all of these fes­tiv­i­ties going on around the bien­ni­al. In the muse­um group, one of the patrons was [Star Trek actor] Leonard Nimoy. And he's no longer with us. He was there and we spent this week­end in Turkey on this tour. This muse­um group absorbed me into their lit­tle group.
Every­where we went with Leonard Nimoy, the Turk­ish were so excit­ed, and they were doing the live long and pros­per [hand ges­ture]. We were walk­ing through the bazaar and every­one held up their hands and did the live long and pros­per thing and it was amaz­ing. And then I remem­ber I also end­ed up con­nect­ing with a friend of a friend from col­lege. And he took me to a rave out some­where in the sub­urbs of Istan­bul and it was this mas­sive rave. And it was so over­whelm­ing and intense. I didn't stay. I had to go, but I saw it. And I was a lit­tle bit out of my com­fort zone.
Juli­ette: Wow. A real live rave in a for­eign land. And you feel like you're in a time warp. That's intense.
Alex: It was very intense. I also was think­ing about that movie that you men­tioned [Mid­night Express]. Didn't want to do any­thing bad or wrong.
What is one place you would like to trav­el that you've nev­er been to?
Alex: I want to go to Egypt and see the pyramids.
Juli­ette: Yep. I could agree with that. Nev­er done that. I want to go to Moroc­co. I guess India – beautiful.
Alex: I want to go to India and I want to go to Egypt. Those are my next two buck­et list spots. Last year I went to Angkor Wat and Machu Pic­chu. So I'm mak­ing good head­way on the buck­et list.
Very Sev­en Wonders.
Alex: Yes. And two weeks ago I was in Spain and I went to Grana­da and I went to the Alham­bra, which was so beautiful.
Juli­ette: I love all parts of Spain. I would do that. I like that. More on what you're say­ing in the small­er places. I've been to Barcelona and Madrid but to go to the oth­er spots in Spain.
---