This Kokoroko jam session is way ahead of its time
We mashed up Axel Arigato's AW22 collection with a new performance from fusion jazz collective Kokoroko, tapping into the time-warping power of live music.
Jazz is cool and it's not too late to hop (doo-bah-wop!) on the bandwagon. Once reserved for chin-stroking types with record shop habits, the genre's seen a renaissance in the UK thanks to dozens of cool cats and collectives, especially in London. One such ensemble is Kokoroko, fusing together Afrobeat and jazz they tap into the history of the genre while giving it a futuristic spin. Their lilting tune Abusey Junction /​/​We Out Here blew up in 2018, and they've just released gorgeous debut LP Could We Be More.
Right, quick cutscene: Swedish lifestyle brand Axel Arigato, which describes itself as ​"percussive" thanks to its weekly drops, follows the cadence of culture and is known to put on some killer music events across the globe. Its new AW22 collection is titled Post Modern, a vintage-inspired wardrobe unpicking staples and reattaching them to the design blueprints of the future, using cutting-edge sustainable approaches.
Well, you don't need a crystal ball to see where this one's going. Mashing up the two, THE FACE enlisted Kokoroko for an exclusive live reimagining of the group's incredible track, War Dance, and kitted them out in Axel Arigato's new monochromatic AW22 collection: effortlessly cool varsity and shearling jackets, fleecy sweats and recycled knits. We also decked them out in Axel's signature footwear – from plant-based shoe The Hooper to dip-dyed trainer The Marathon Runner – helping them keep time in style.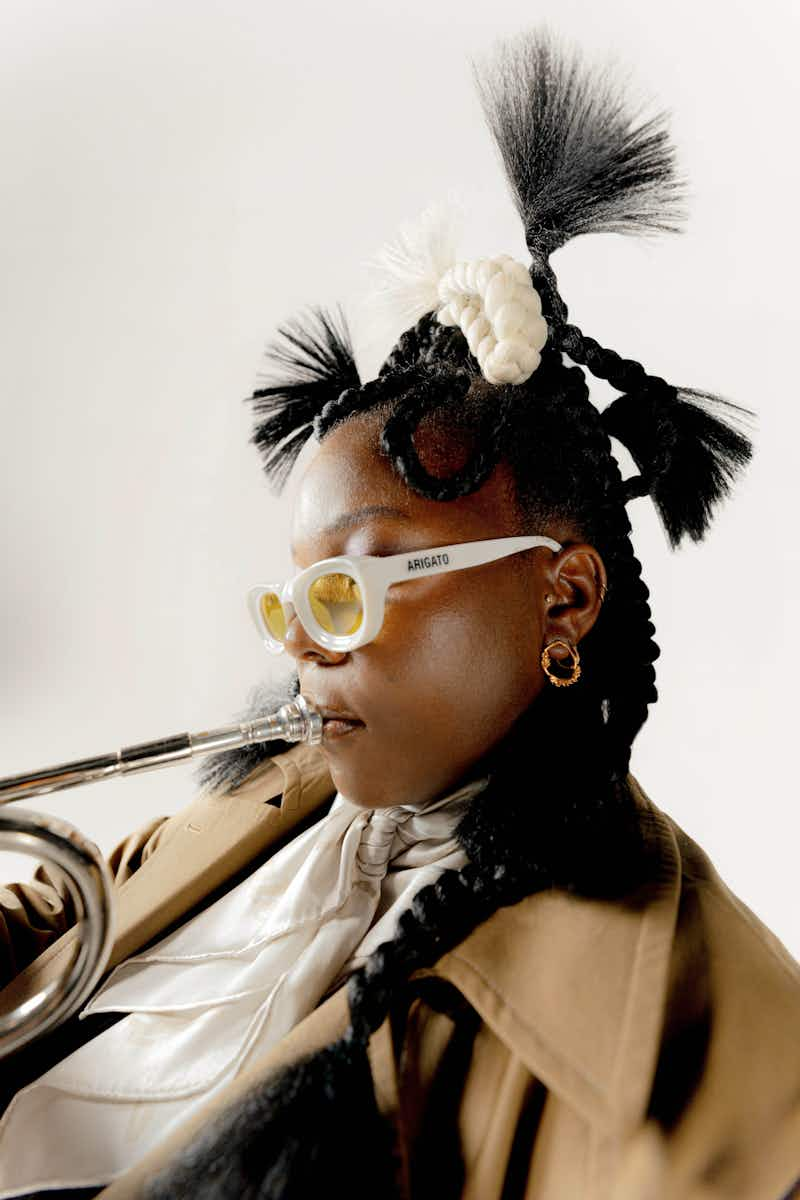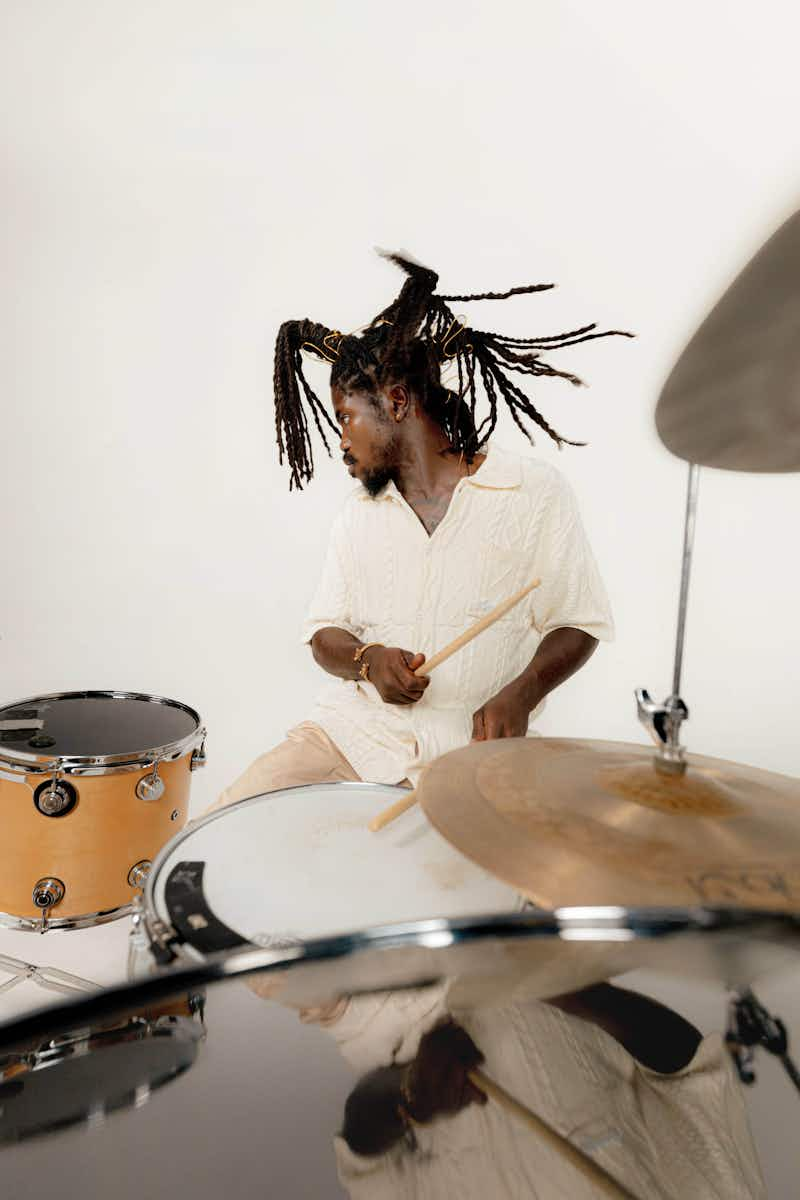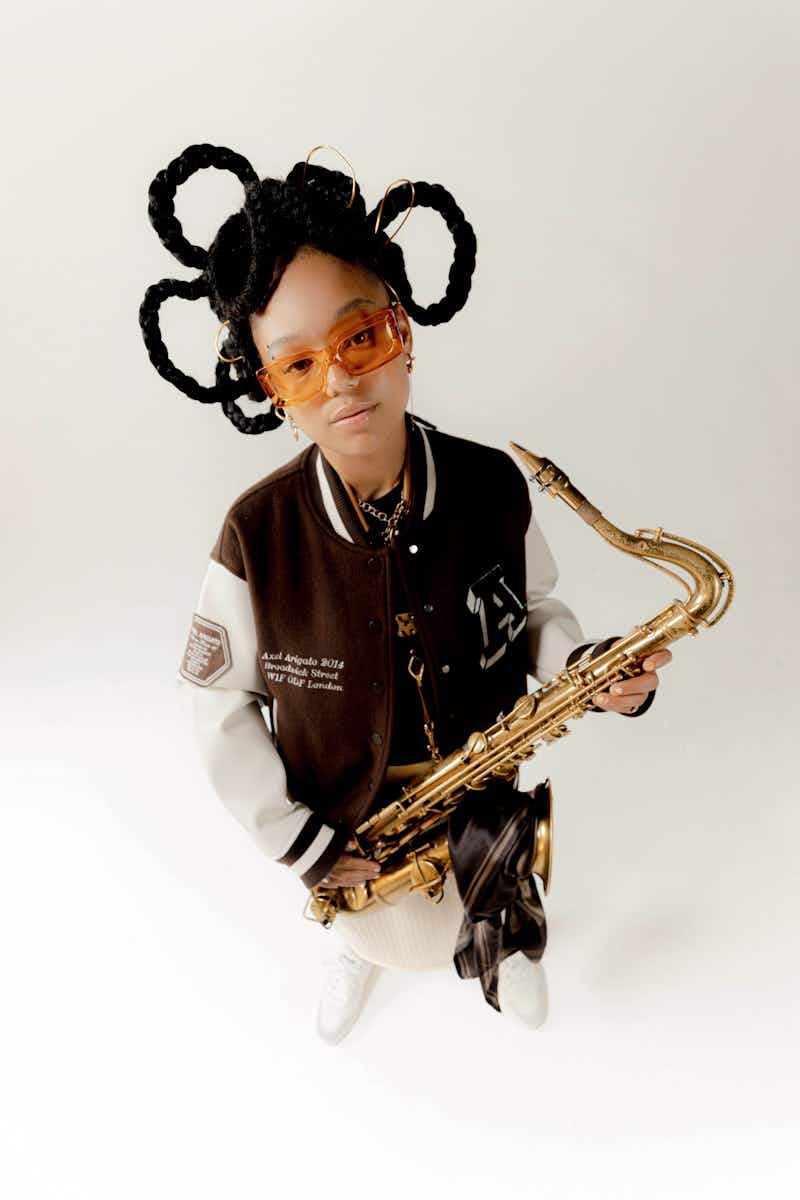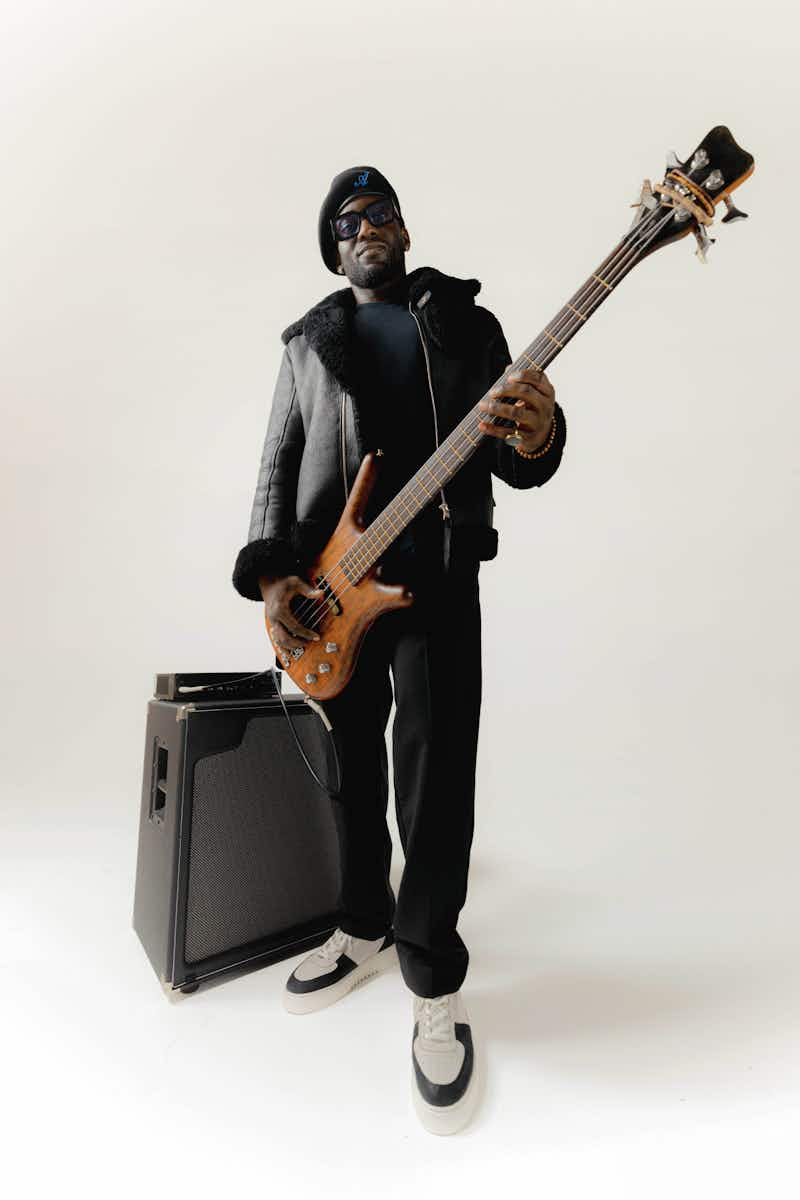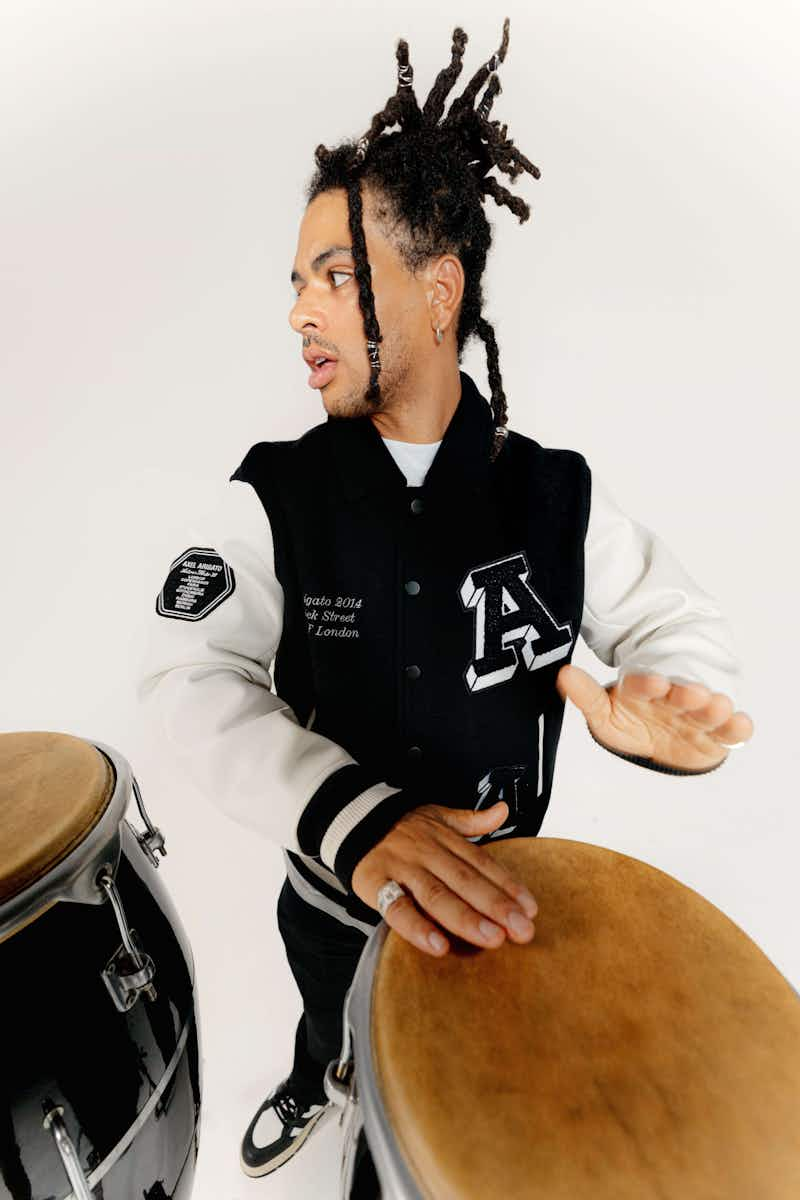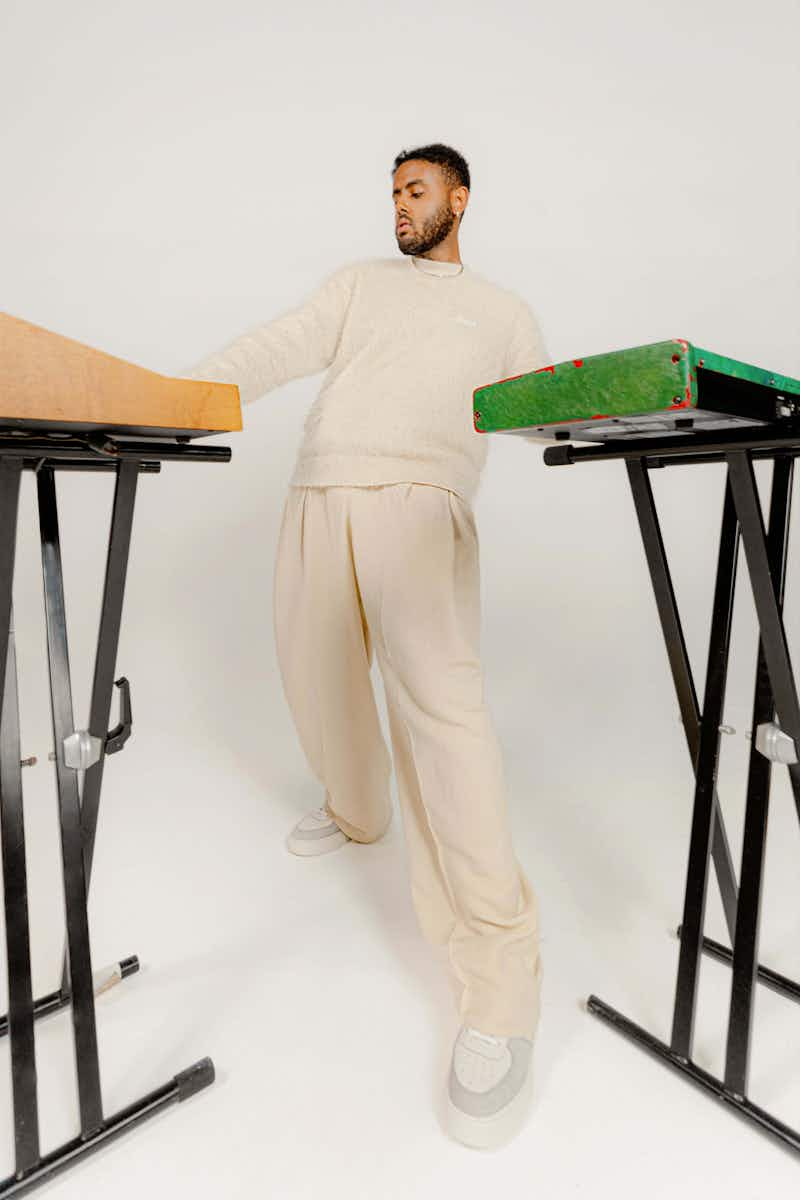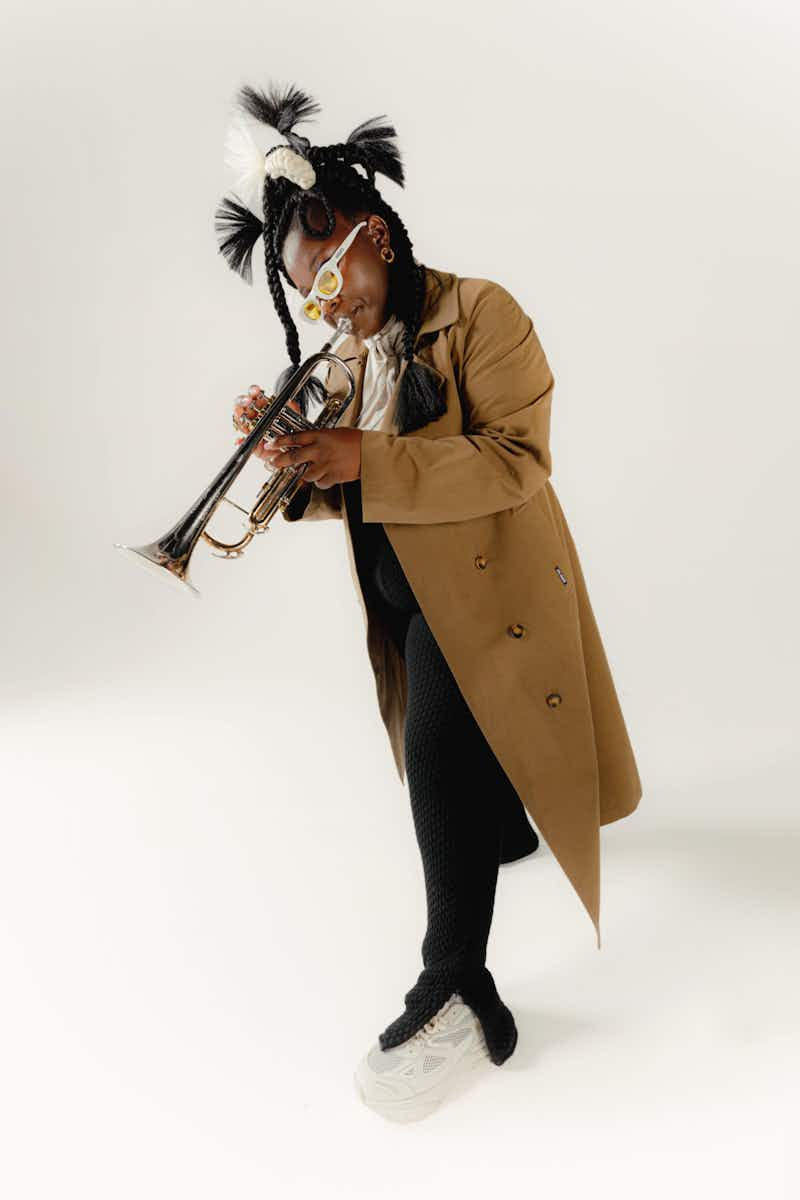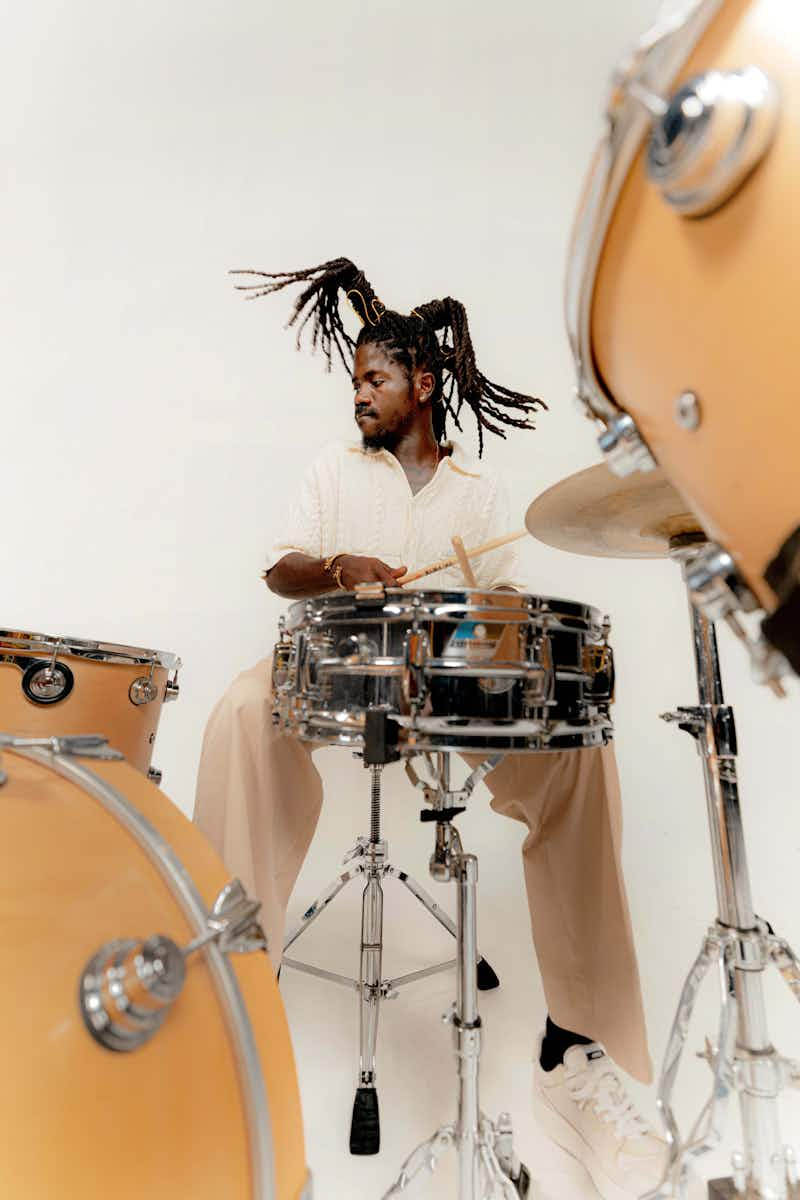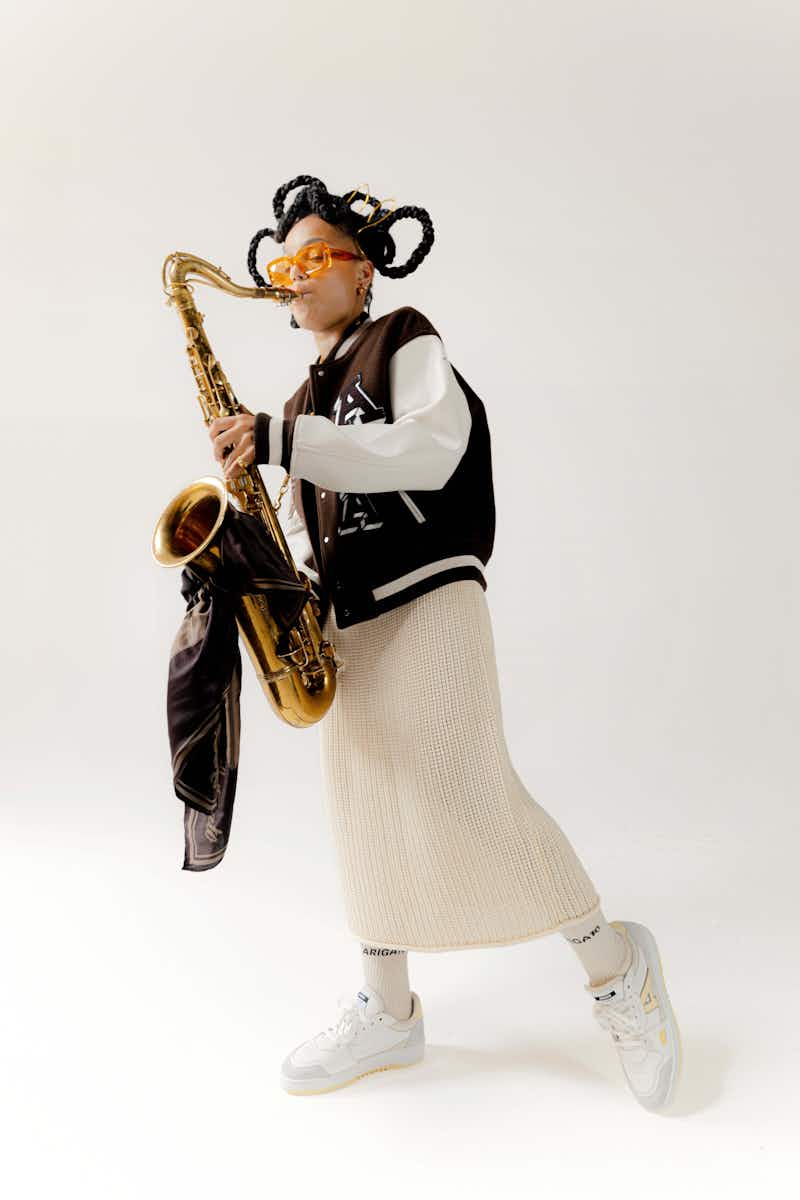 The mash-up worked perfectly, simultaneously retro, new and timelessly slick, making for a delicious fusion celebrating the power of nowness. ​"The stage is definitely a place where time is warped," percussionist Onome told THE FACE. ​"Either it moves super slow or super fast, but those moments where everything clicks are kind of timeless!"

Visuals are also just as vital as sound when it comes to the band's performances: ​"It changes the whole dynamic on stage," Onome continues. ​"When you look good, you feel good." It also helps create a multi-sensory experience: ​"You want to affect as many senses as possible and our aesthetic, when we get it right, is a vessel for our music: it draws people in and pads out the story."

Luckily for Sheila Maurice-Grey, who leads the group, as well as bringing her vocals, skills as a trumpeter and on the flugelhorn to Kokoroko, Axel Arigato came through with some front-person-worthy shades: ​"I don't usually wear sunglasses but I really loved the ones I wore during the shoot," she says. ​"They were so edgy and they made me feel kinda cool!" She's equally enthusiastic about the future of the London music scene. ​"Quite a few of my friends I grew up with and made music with are still making music now," she says. ​"It's crazy and exciting to see everyone's success. I feel so honoured and inspired to witness it and be a part of it too."

To capture the entire band in motion, THE FACE went for an aptly futuristic approach with drone cameras. It's a good job flying robots don't get dizzy; the shoot was enough to give any camera operator Whiplash. As immersive as it is futuristic, the madly frenetic visuals spin you from Ayo Salawu's drumming to Maurice-Grey's mastery of the trumpet and back again.
Watch the full video above, and cast your eye over Axel Arigato's forthcoming events calendar, celebrating music and more, here.

TALENT Kokoroko: Sheila Maurice-Grey, Ayo Salawu, Duane Atherley, Keahnne Whitby, Onome Edgeworth & Yohan Kebede DIRECTOR Loose CREATIVE DIRECTOR Clara Goodger CREATIVE Cassandra Joseph GLOBAL HEAD OF MUSIC Hannah Bellil EXEC PRODUCER Rosanna Gouldman PRODUCERS Romy Jo Waller & Serafima Kutsenko. FIRST AD Sam Barnham DOP Ed Hubert FIRST AC Juan Minotta SECOND AC Patrycja Cyhan DRONE OPERATOR Hurcan Emre Yilmazer STEADI CAM OP Sebastien Joly GAFFER Bill Rae Smith SPARKS Zoe Williams & David Sedgwick RIGGERS Charlie Bryant & Rupert Kentfield DESK OP Alex Girdwood STILLS PHOTOGRAPHER Rashidi Noah PHOTO ASSISTANTS Bradley Walsh & Aaron Walker MAKE-UP ARTIST Fey Carla Adediji MAKE-UP ASSISTANT Ceren Yilmaz HAIR STYLIST Shamara Roper STYLIST ASSISTANTS Donica Campbell & Kreszend Sackey STYLIST Charlotte Moss STYLING ASSISTANT Marta White MANICURIST Jade Ford EDITOR Sam Taylor Edwards TRAILER EDITOR Jerry Dobson COLOURISTS Karol Cybulski & Vlad Barin SENIOR PROJECT MANAGER Dave Turner HEAD OF TALENT Cal McRae PRODUCER May Powell PRODUCTION COMPANY Stink Films