Your guide to London Fashion Week SS23

Bringing you the low-down from this season.
It all starts here, starring: Fashion East, KNWLS, Chopova Lowena, Masha Popova, Dilara Findikoglu, Molly Goddard, Feben, Nensi Dojaka, 16Arlington, JW Anderson, Stefan Cooke, Christopher Kane, Sinéad O'Dwyer, Chet Lo, Ancuta Sarca and Vivienne Westwood.
LONDON

LONDON

LONDON

LONDON

LONDON

LONDON

LONDON

LONDON

LONDON

LONDON

LONDON

LONDON

LONDON

LONDON

LONDON

LONDON

LONDON

LONDON

LONDON

LONDON
Vivienne Westwood's designs have long been infiltrated by a great adoration of Britain's sartorial history, both old and new; her dresses influenced by 19th century bustles, Scottish tartans and the youth that have stomped down London's streets since the ​'70s. Despite being shot in the suburbs of Paris, the house's SS23 collection, titled Born to Rewild and presented as a digital lookbook, looks to very stylish, very British figures: teddy boy and rocker subcultures for a new take on brothel creepers, interpretations of football uniforms in casual, slouchy shouldered tops and traditional English school uniforms in striped suiting. And, being the grand dame of British style, Westwood salutes her storied past, too, reworking the neon summer tartan from her AW93 Anglomania collection, while classic tweeds, kilts and corset skirts make for an eccentrically splendid season. TJ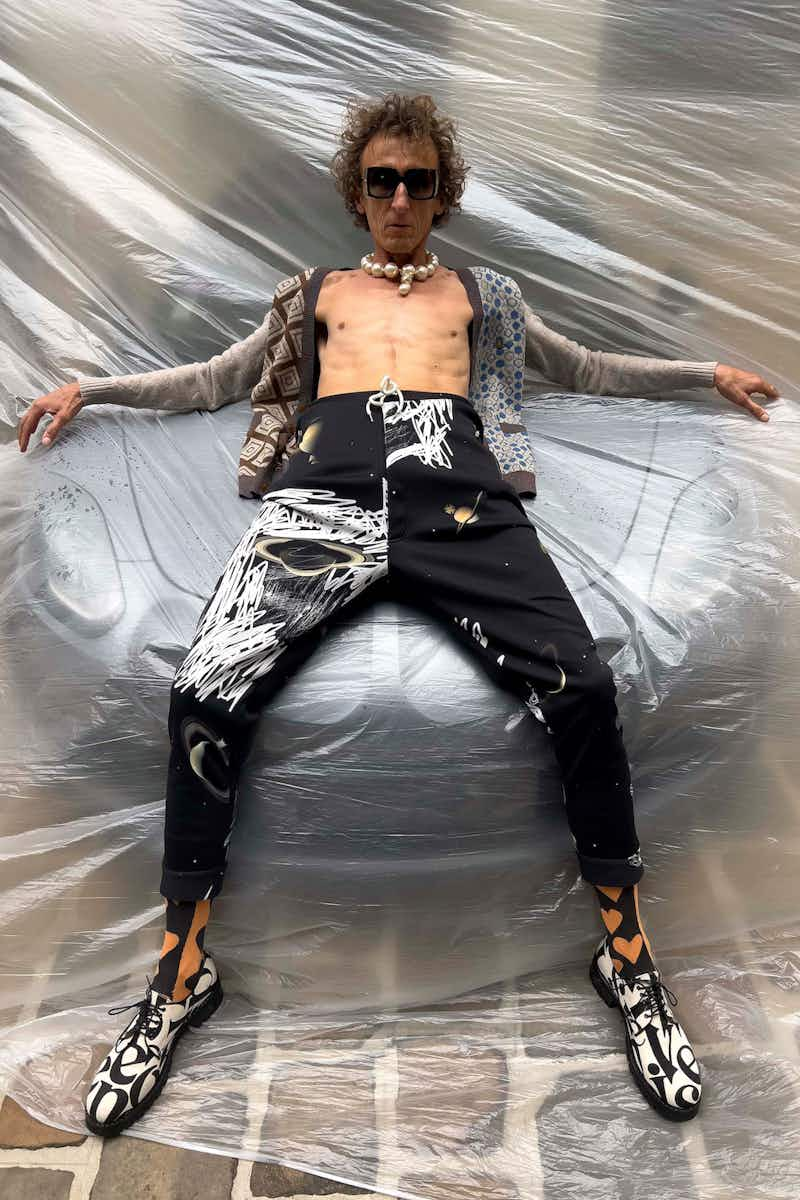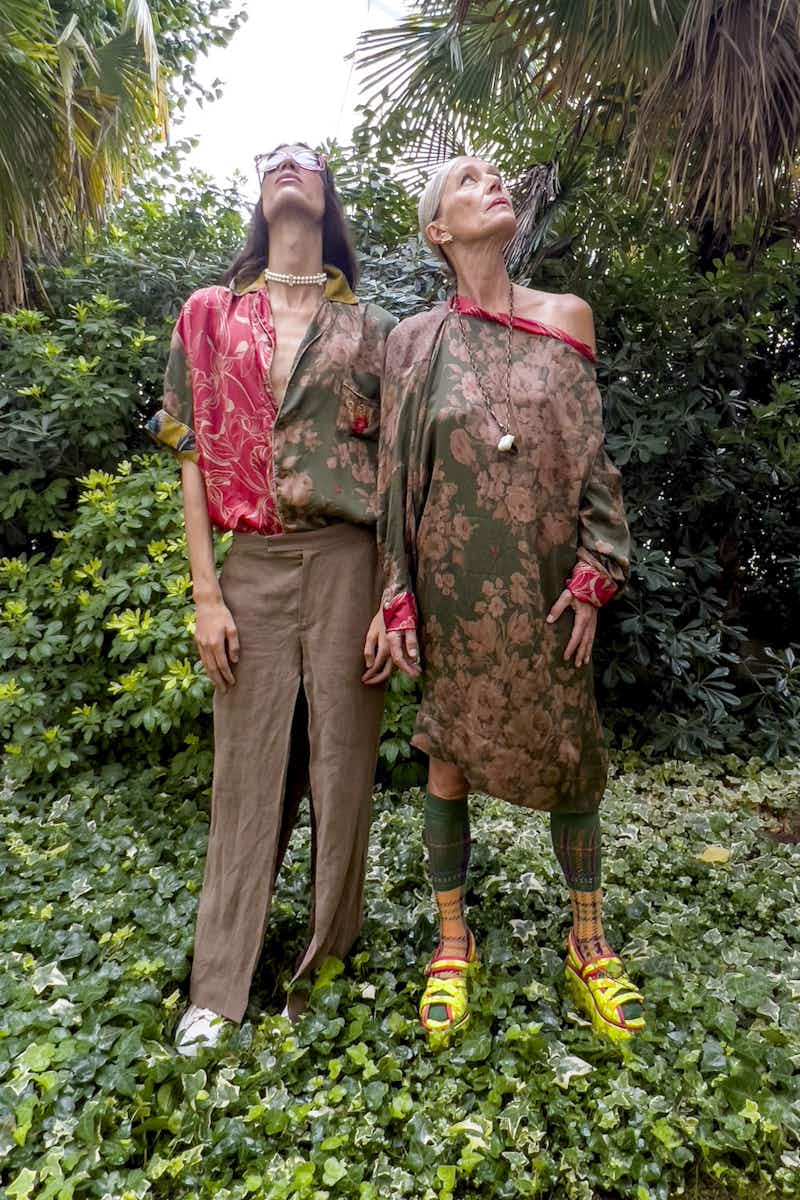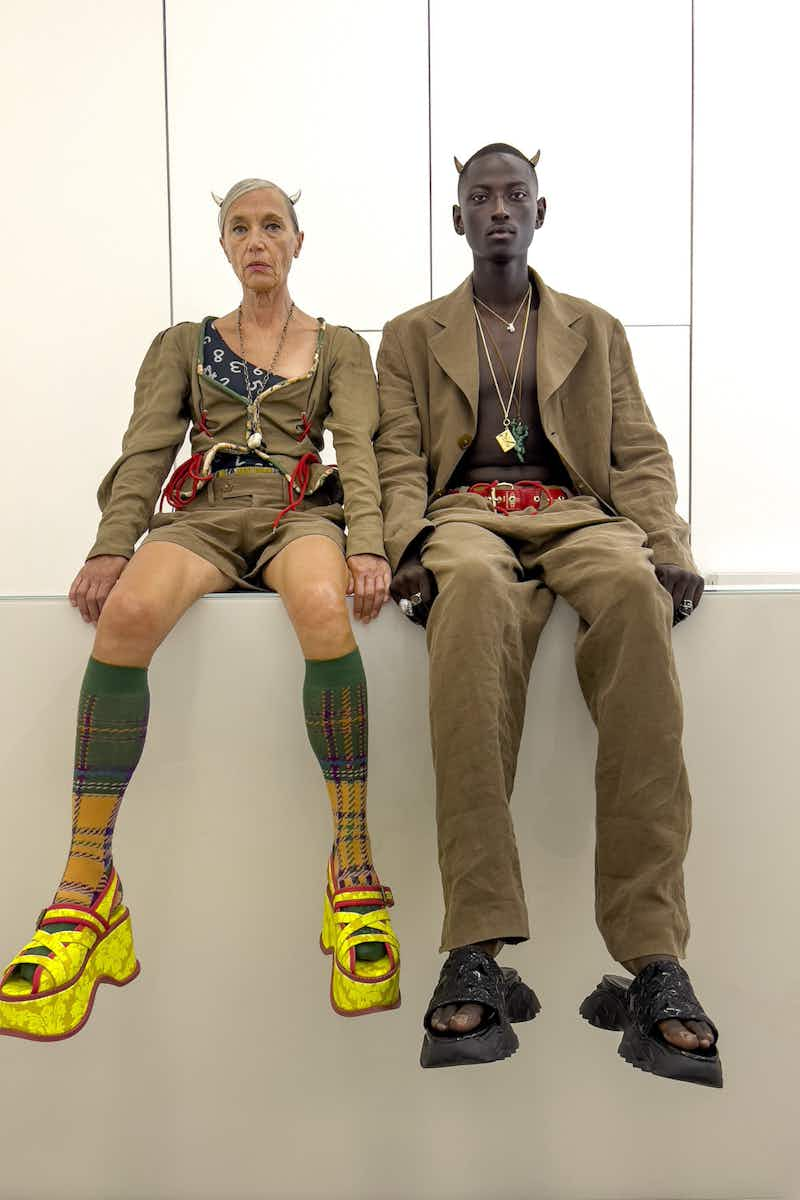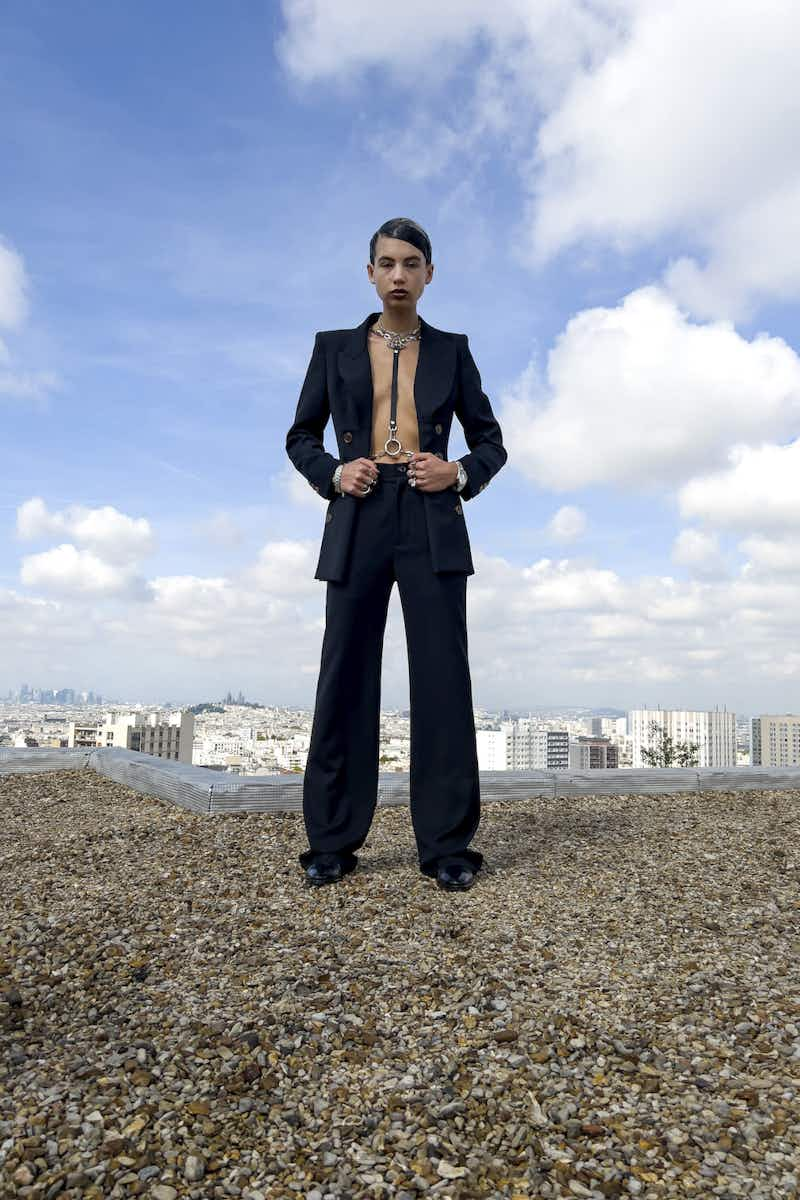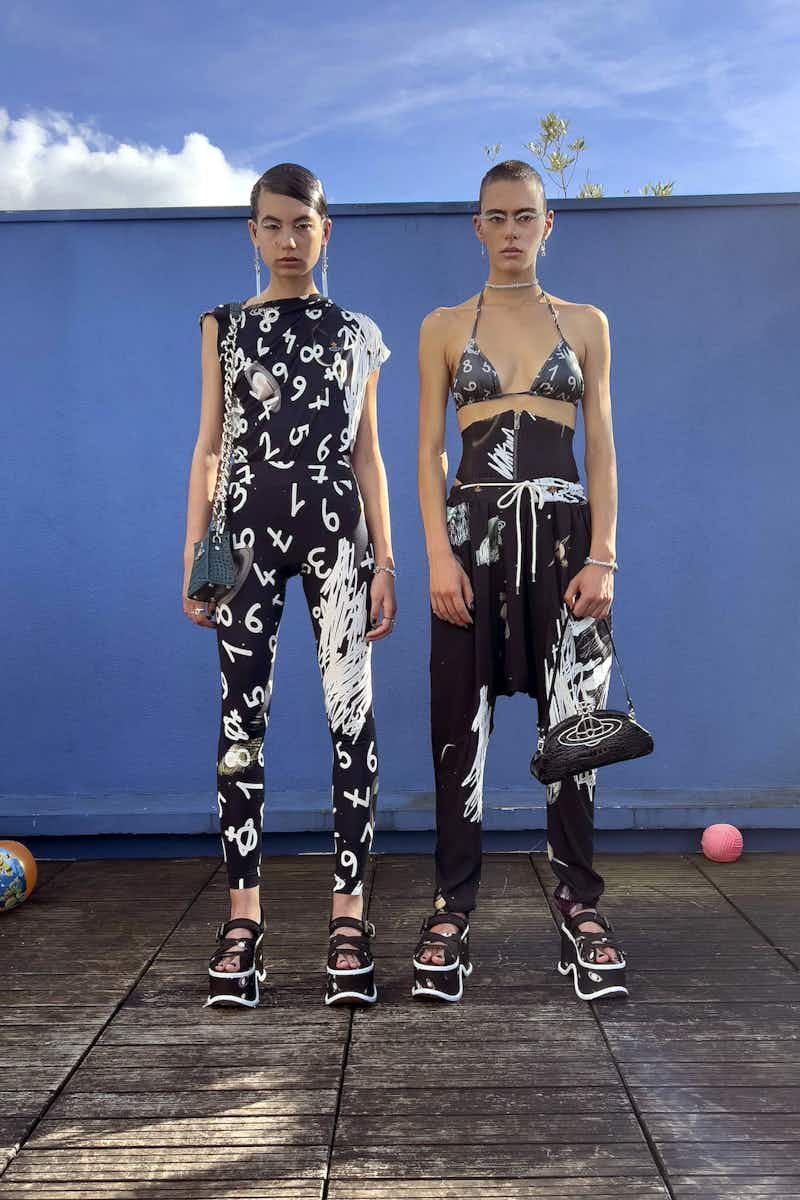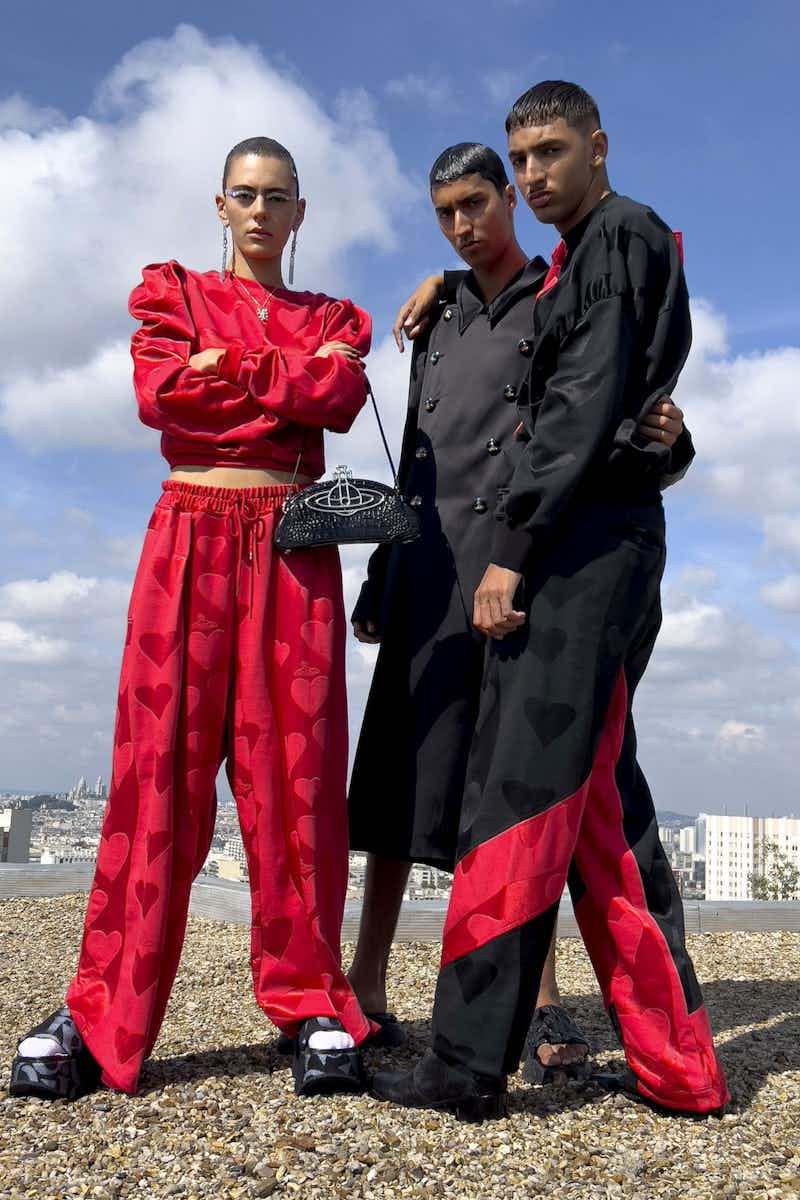 Since her time as part of Fashion East's line-up in 2019, Romanian footwear designer Ancuta Sarca has subverted the way we see sustainability in fashion: it can be sexy, glamorous and, as she's proven, extremely popular. This season, Sarca referenced Formula 1 cars, retaining the athleticism of her past designs (she's often played around with upcycled Nike trainers), but elevating it for designs altogether new: strappy mules, unisex clogs and devilish knee-high black and red ombre boots referencing the smoothness of hosed-down racecar body. As well for SS23, Sarca introduced bags made out of repurposed wigs – a merit to the designer's ingenious take on repurposing. Partnering with both Vans and SKIMS, Sarca's collection feels riotous and, as her F1 influences would suggest, turbo-fuelled. TJ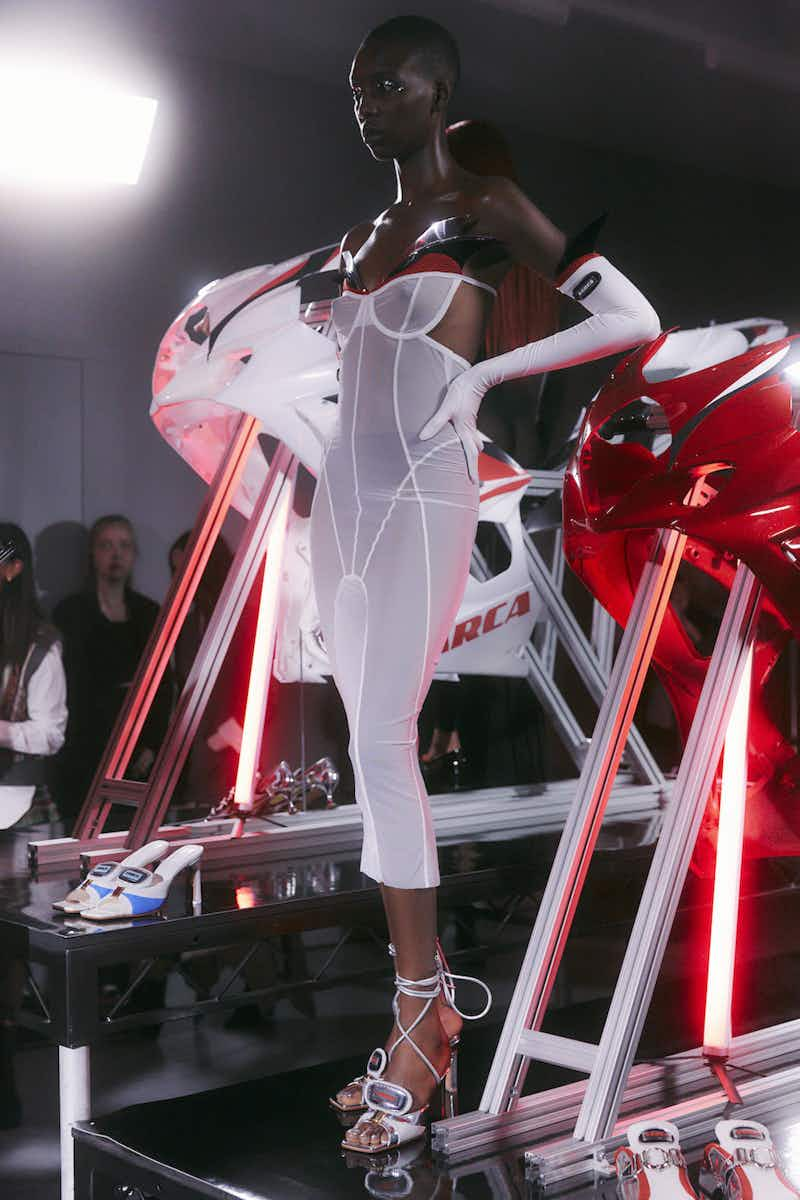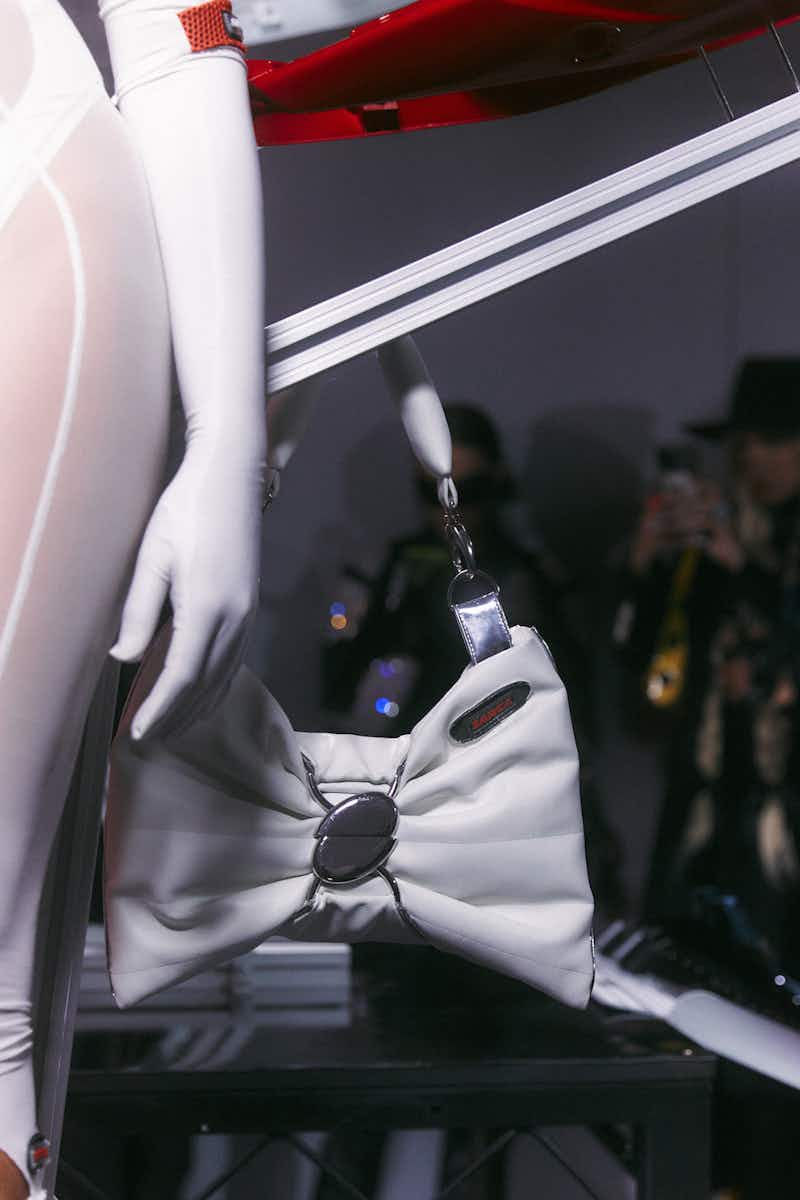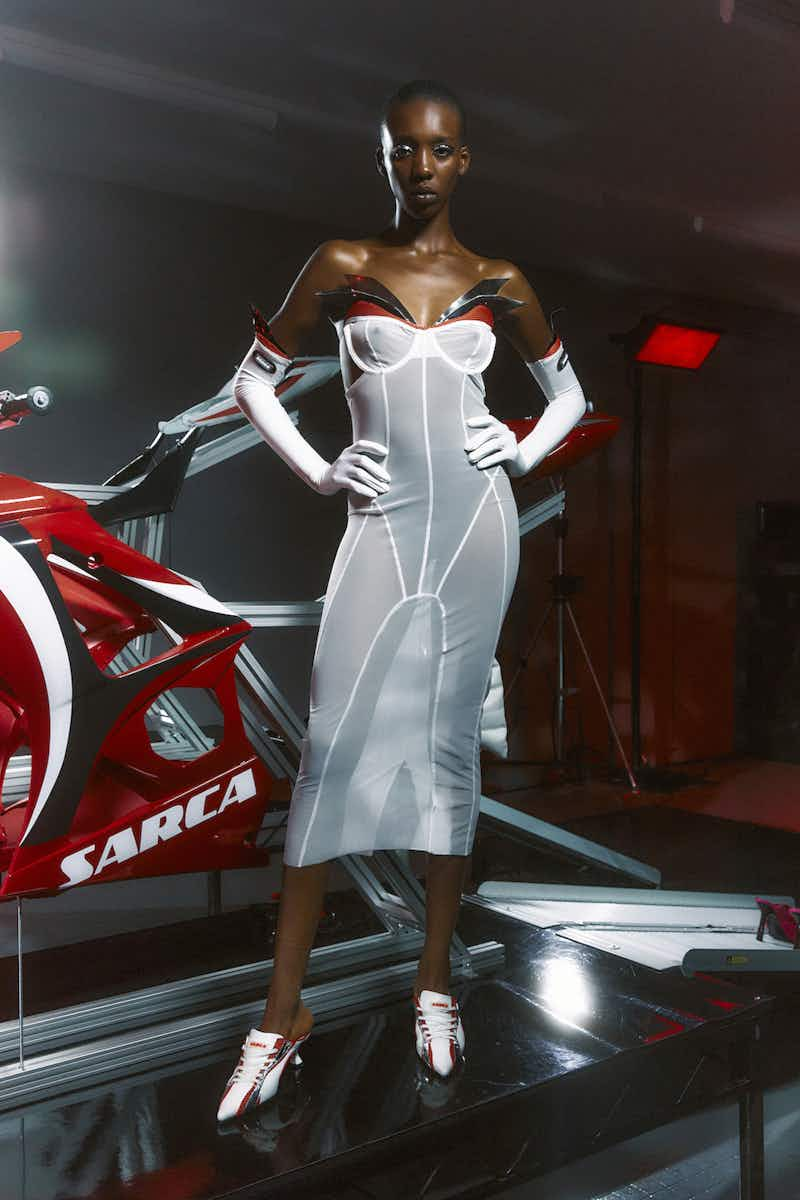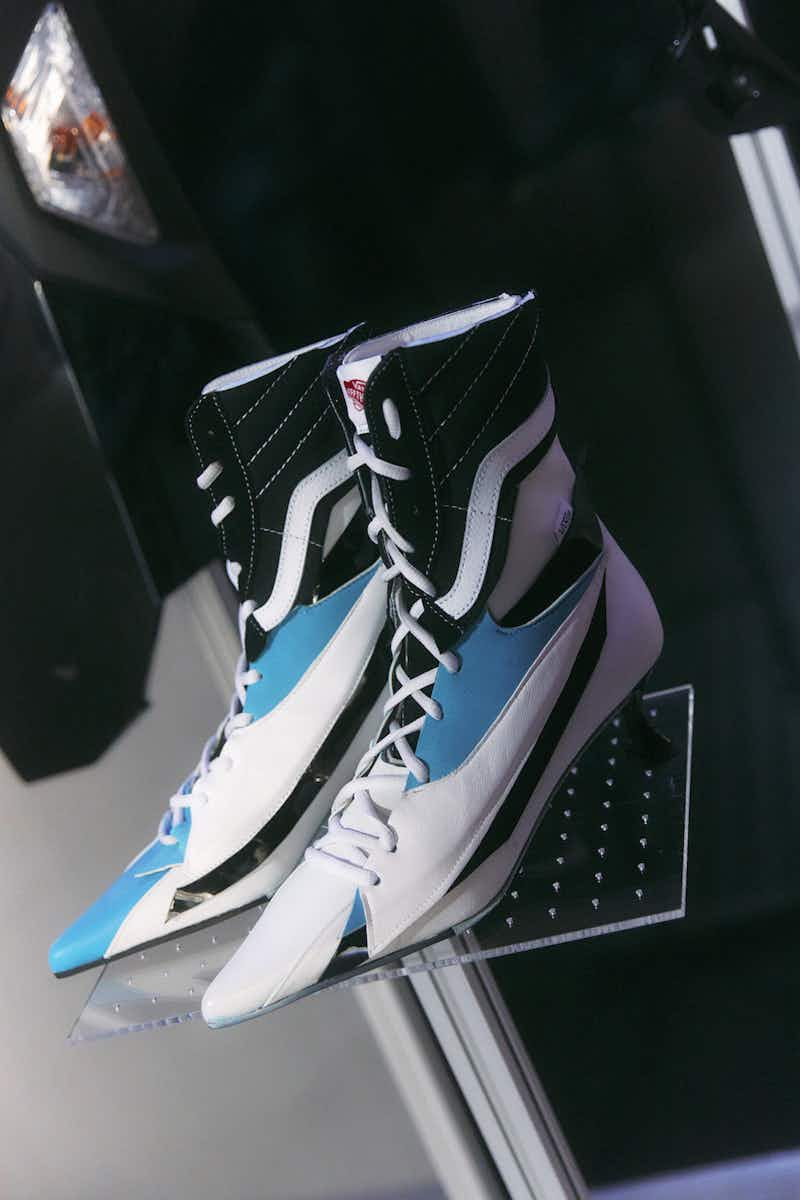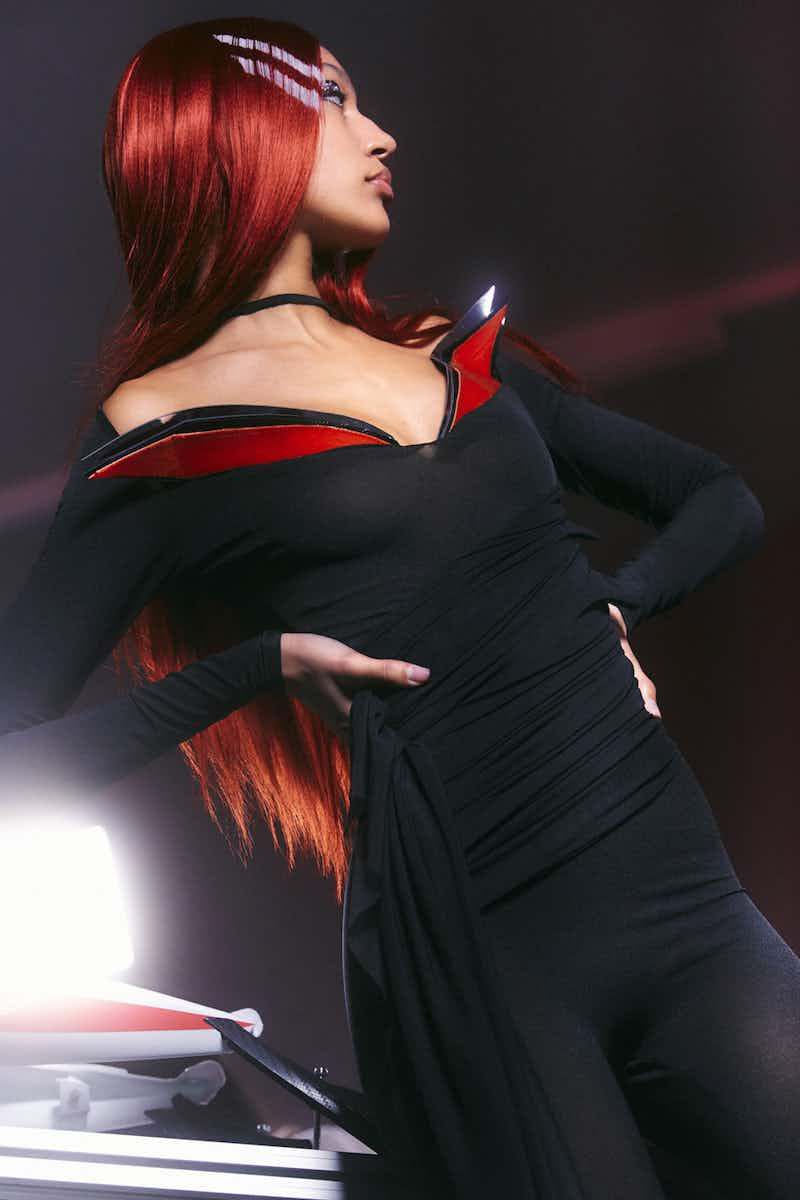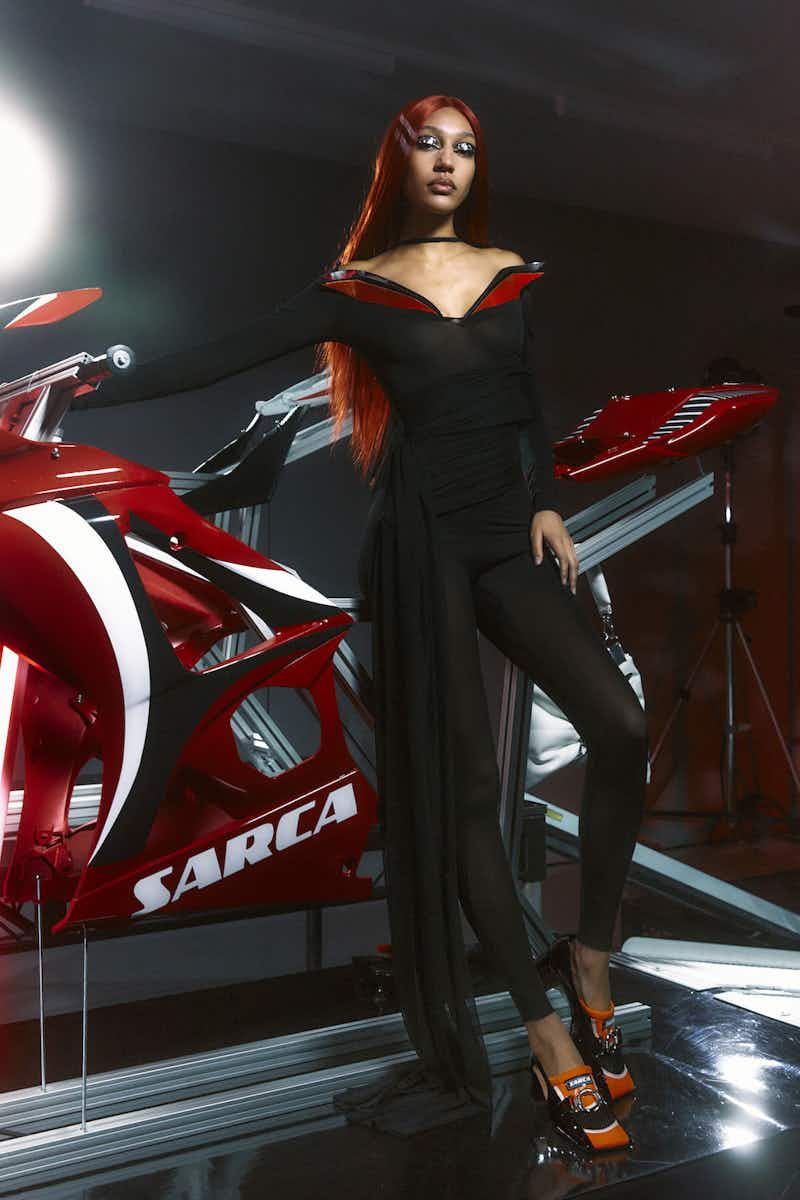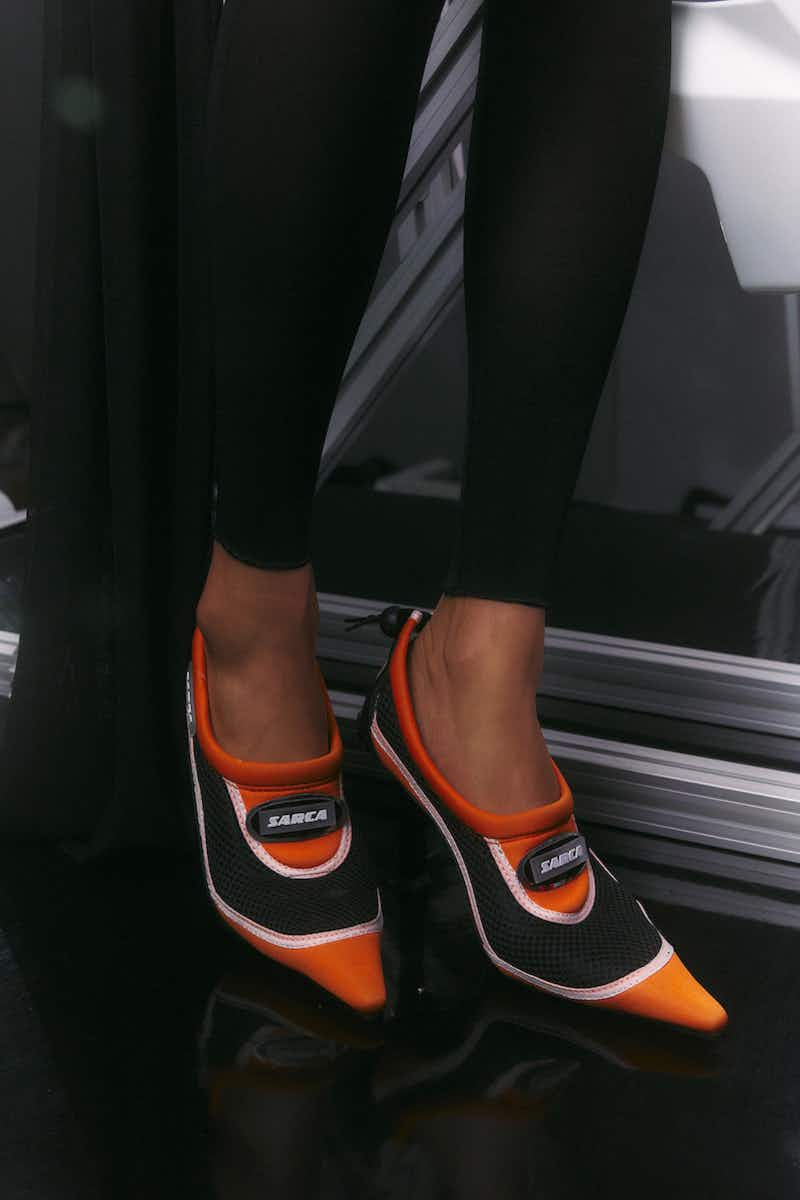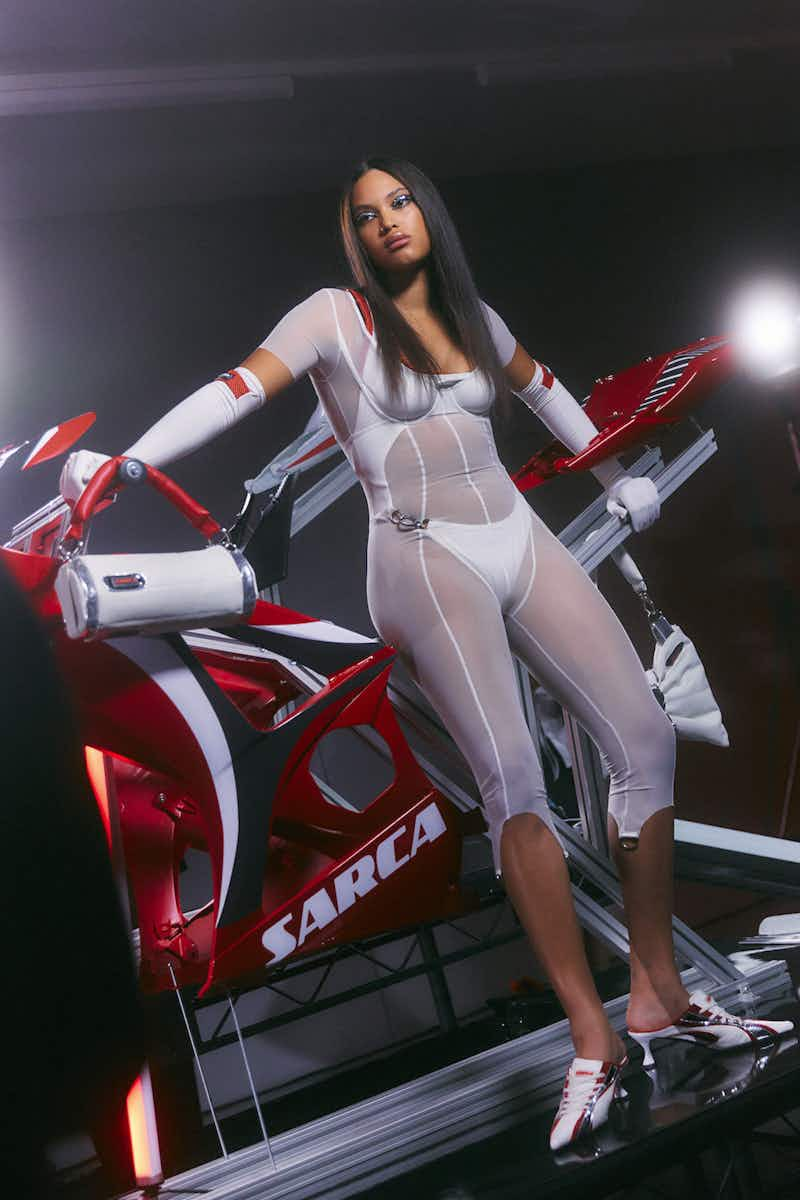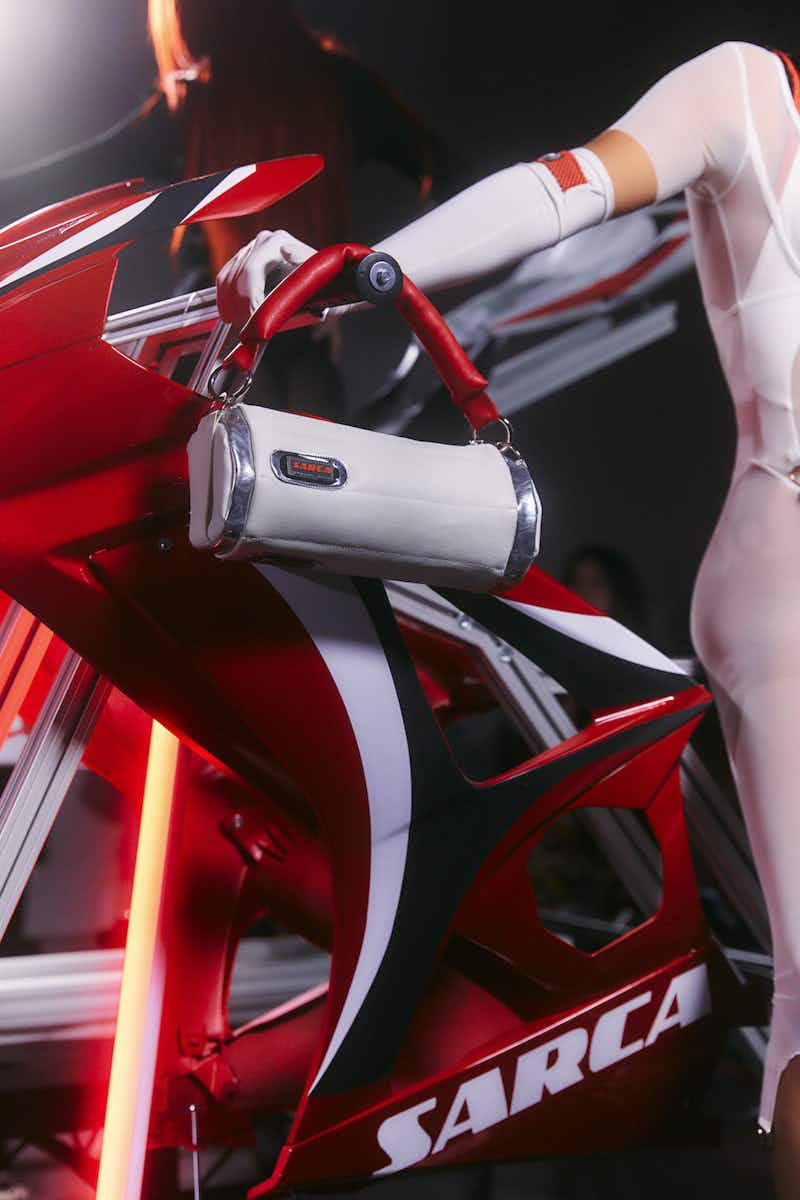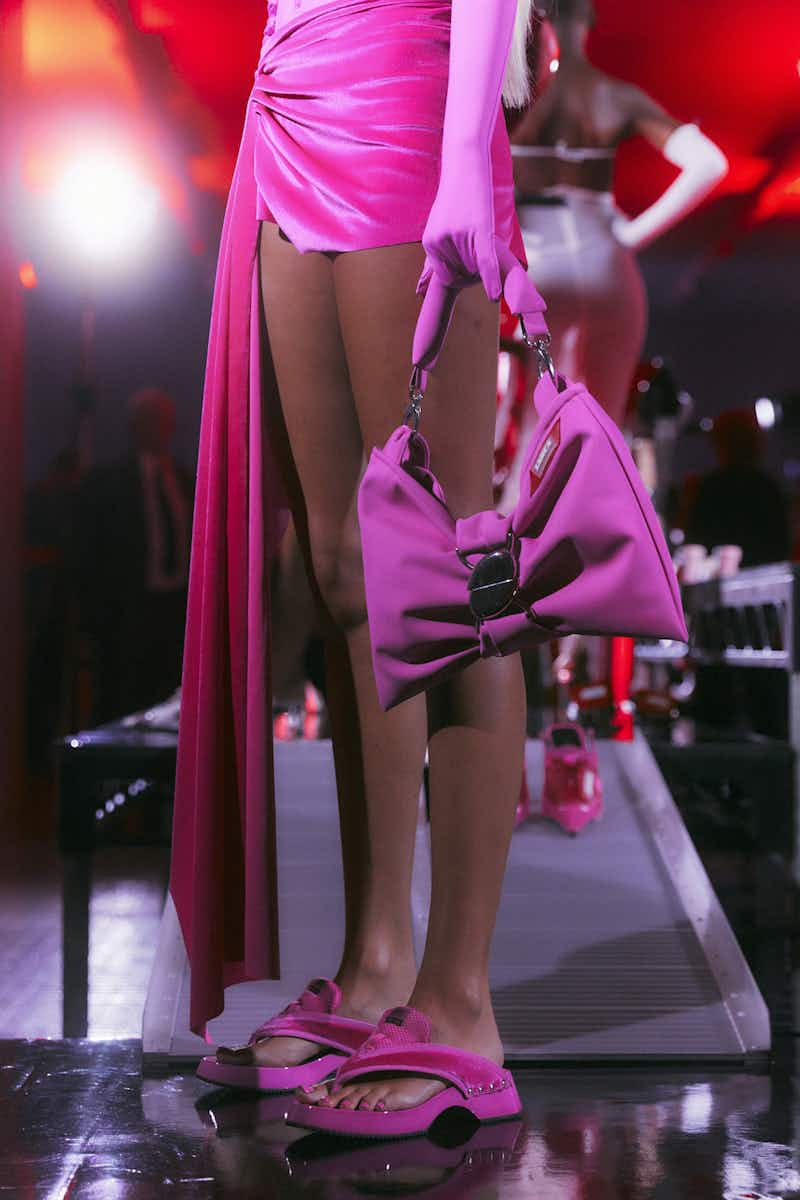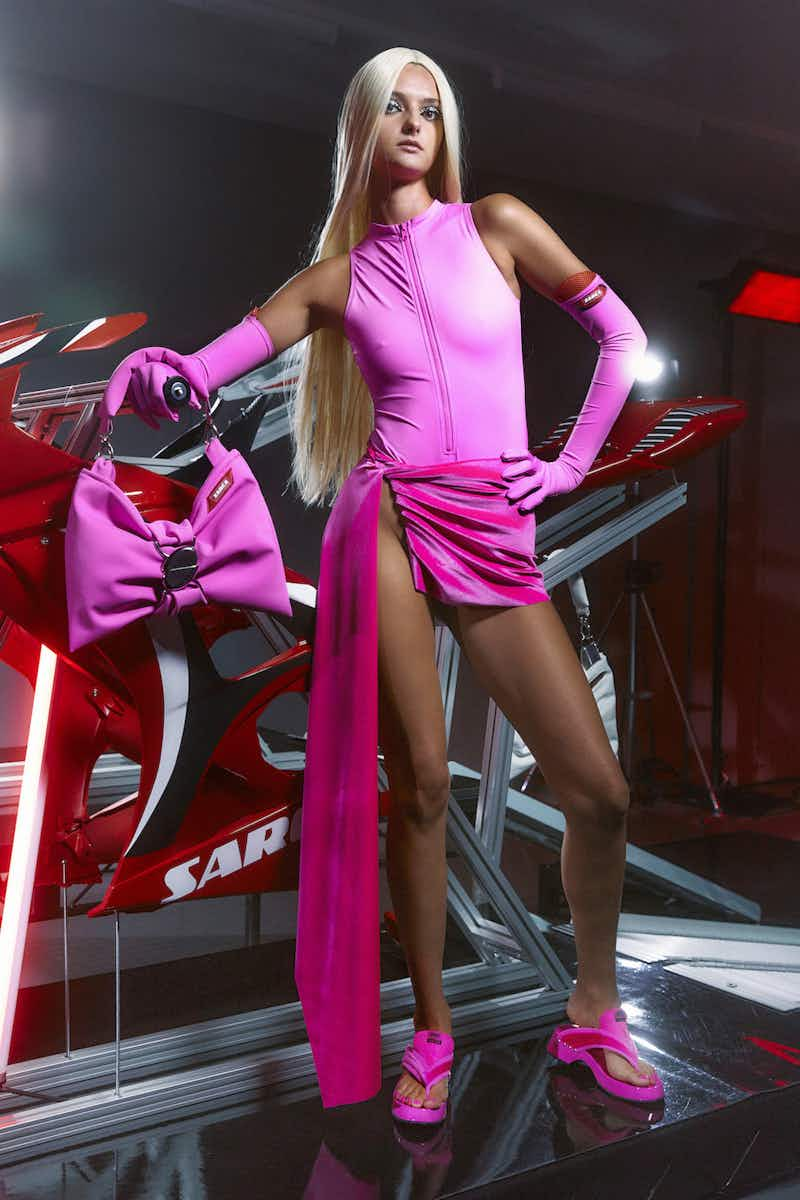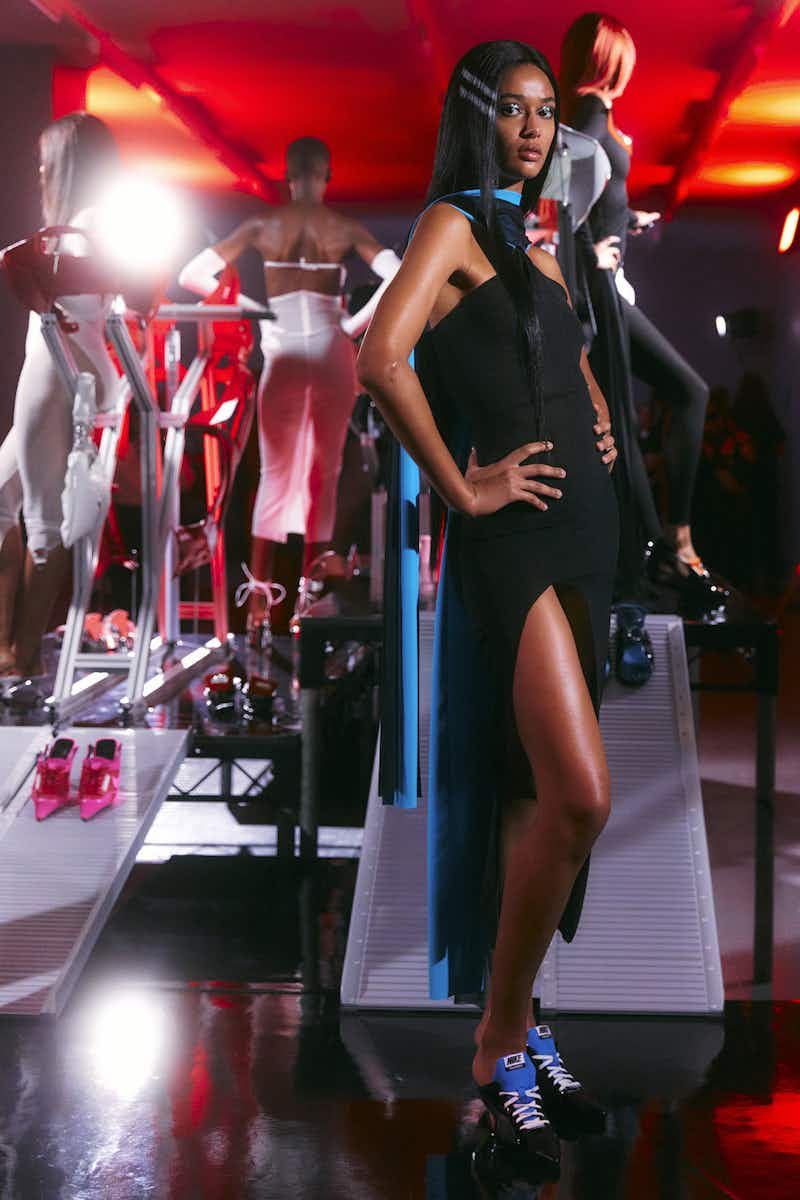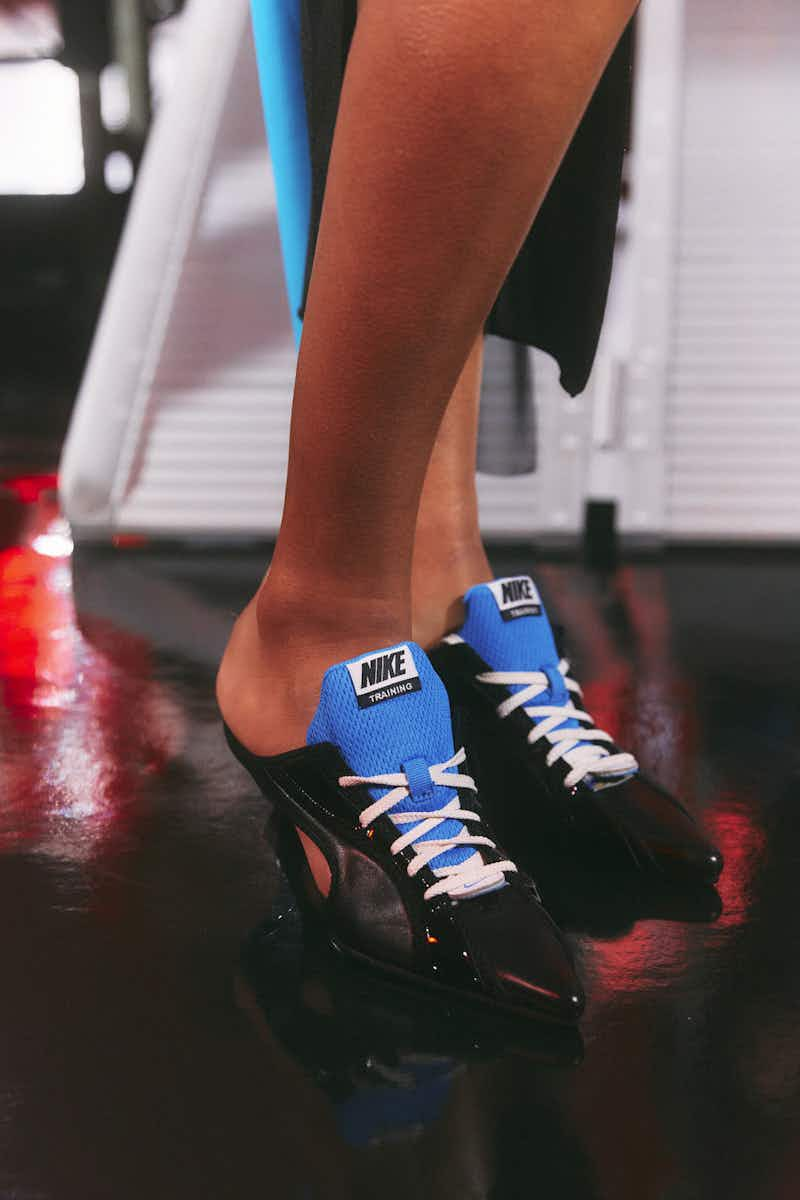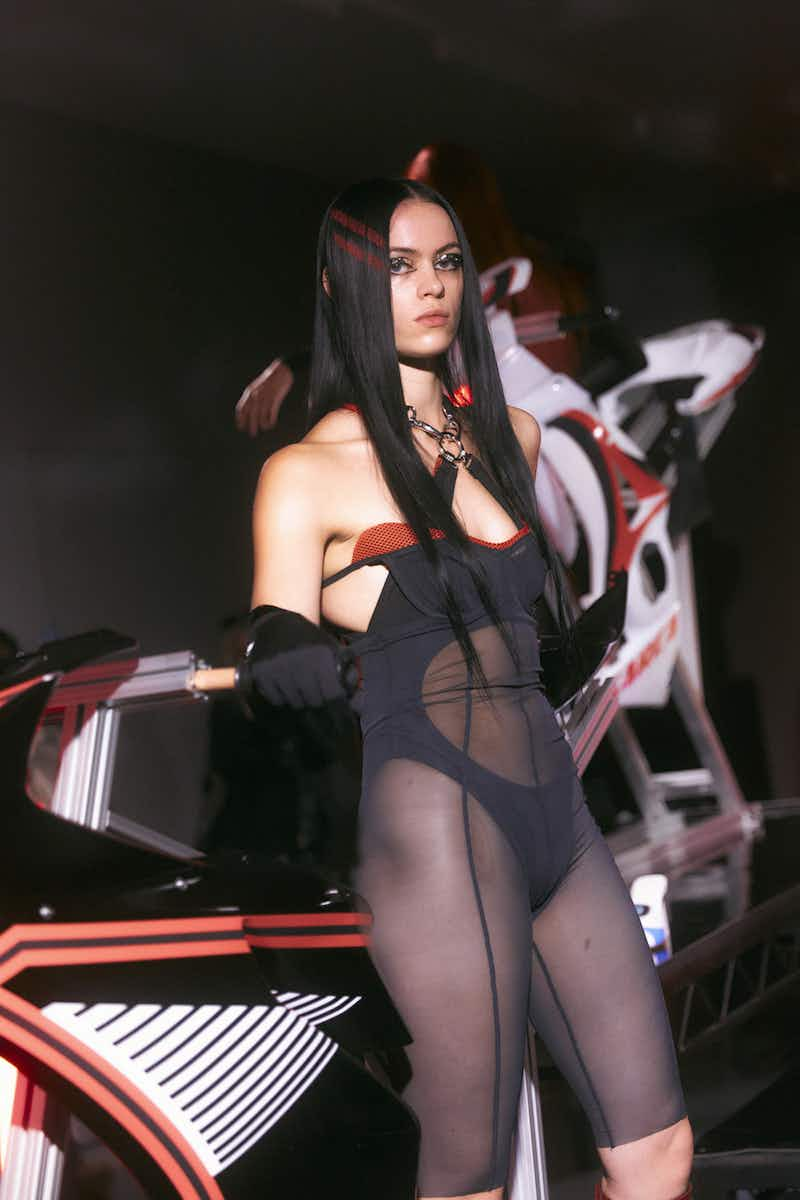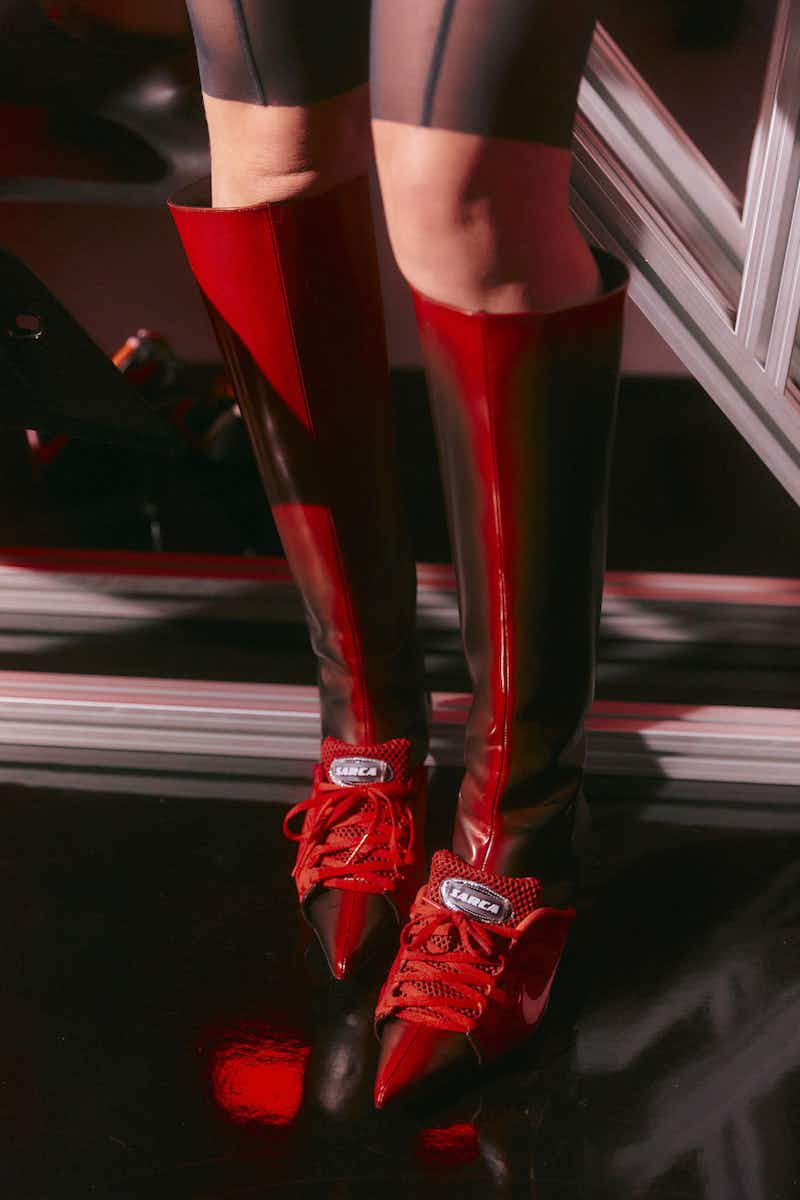 After two seasons with Fashion East, Chet Lo went solo back in February. And last night, at his debut BFC NEWGEN show, he cemented his spot as one of London's most inventive young designers. Although they're rapturous and brilliantly bonkers, the native New Yorker's designs have always retained a calm, meditative state through holistic colour palettes (blues, teals, oranges), otherworldly themes and a signature fishing wire technique which, if you stare for long enough, could just well put you in a trance.

This season, Lo looked to his childhood in a collection titled 拜神 (baai-san or ​"to pray" in Cantonese). ​"When I feel down, my mum always tells me to pray. It helps me to find my centre," he wrote in the show notes. Subsequently, Lo looked at Buddhism and its teachings of a cyclical, never-ending existence. The collection took the reincarnation cycle quite literally, with huge, boned globular hats draped over heads, spherical bags thrown over shoulders, bulbous shapes protruding out of the centre of models' bodies and a tranquil blue print that, when printed on white fabric, could very well translate to follow the light.

In moments of calm came Lo's retelling of a Buddhist tale, in which Mara, the goddess of death, shoots arrows at Buddha, but as they near him, the weapons fall. And so came Lo's warrior-like armour – the spiky knitwear he's become known for was reworked on balaclavas, a blood-red bag doubling as a meteor hammer and screen prints that felt like warning symbols. Don't be fooled by the charming floral motifs. Chet Lo's found his inner badass this season. TJ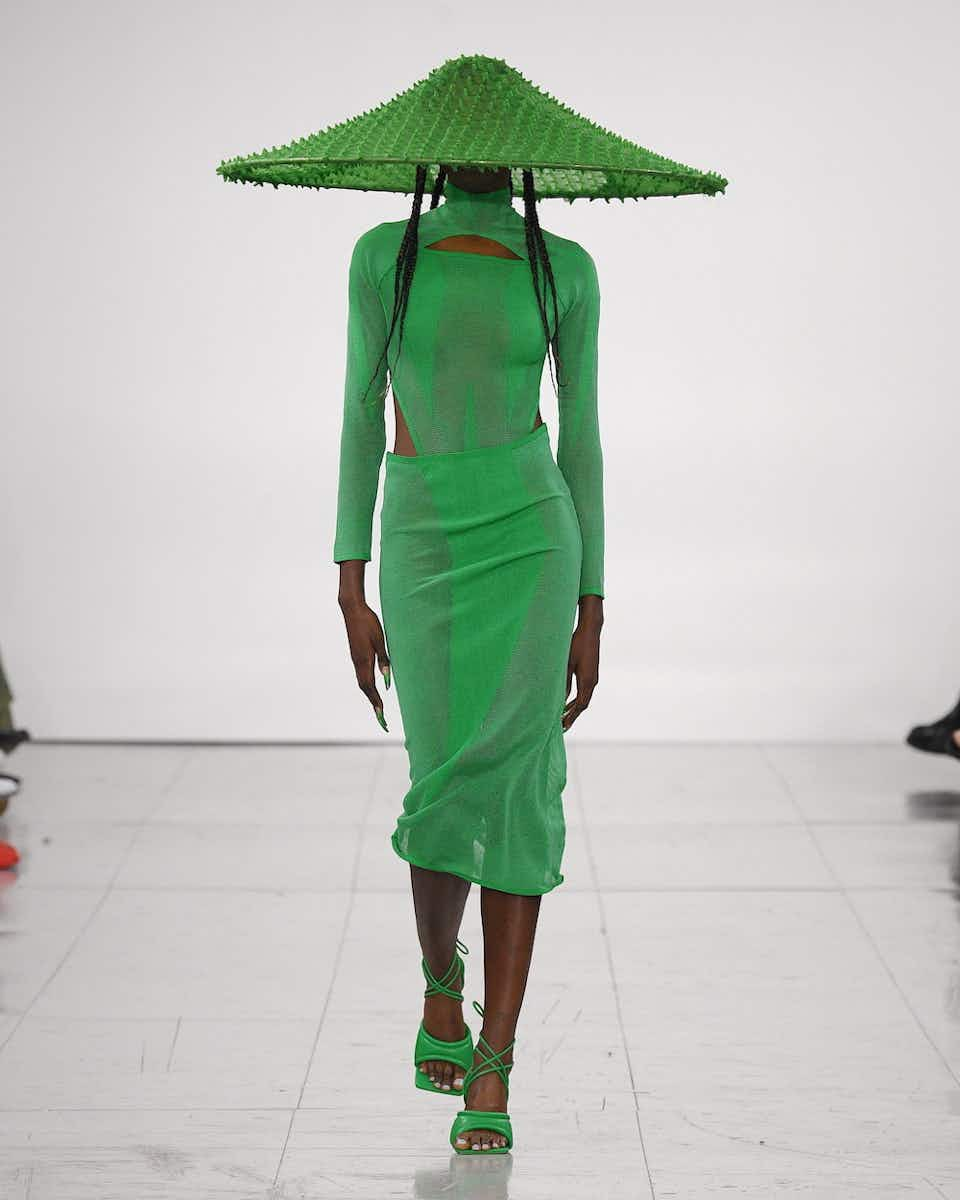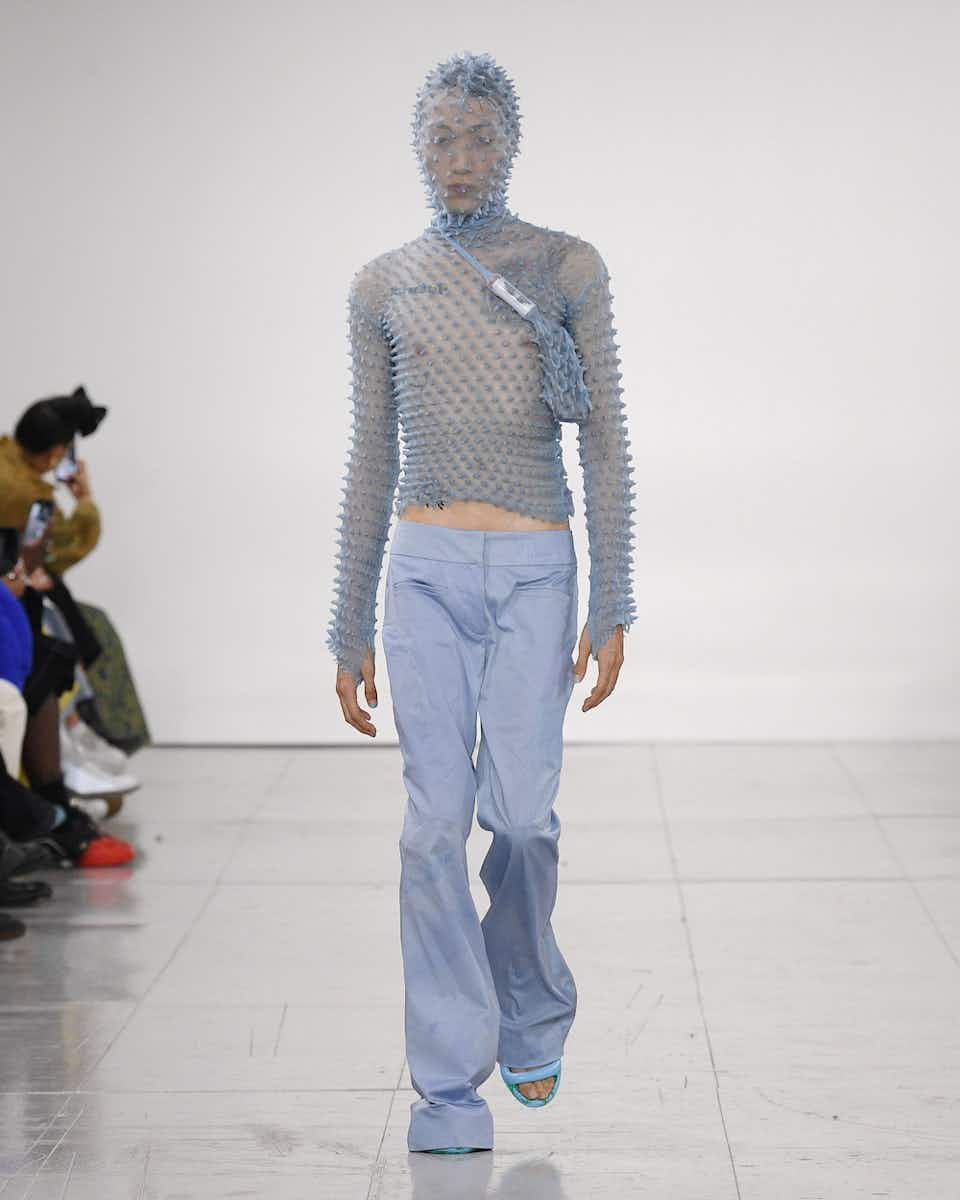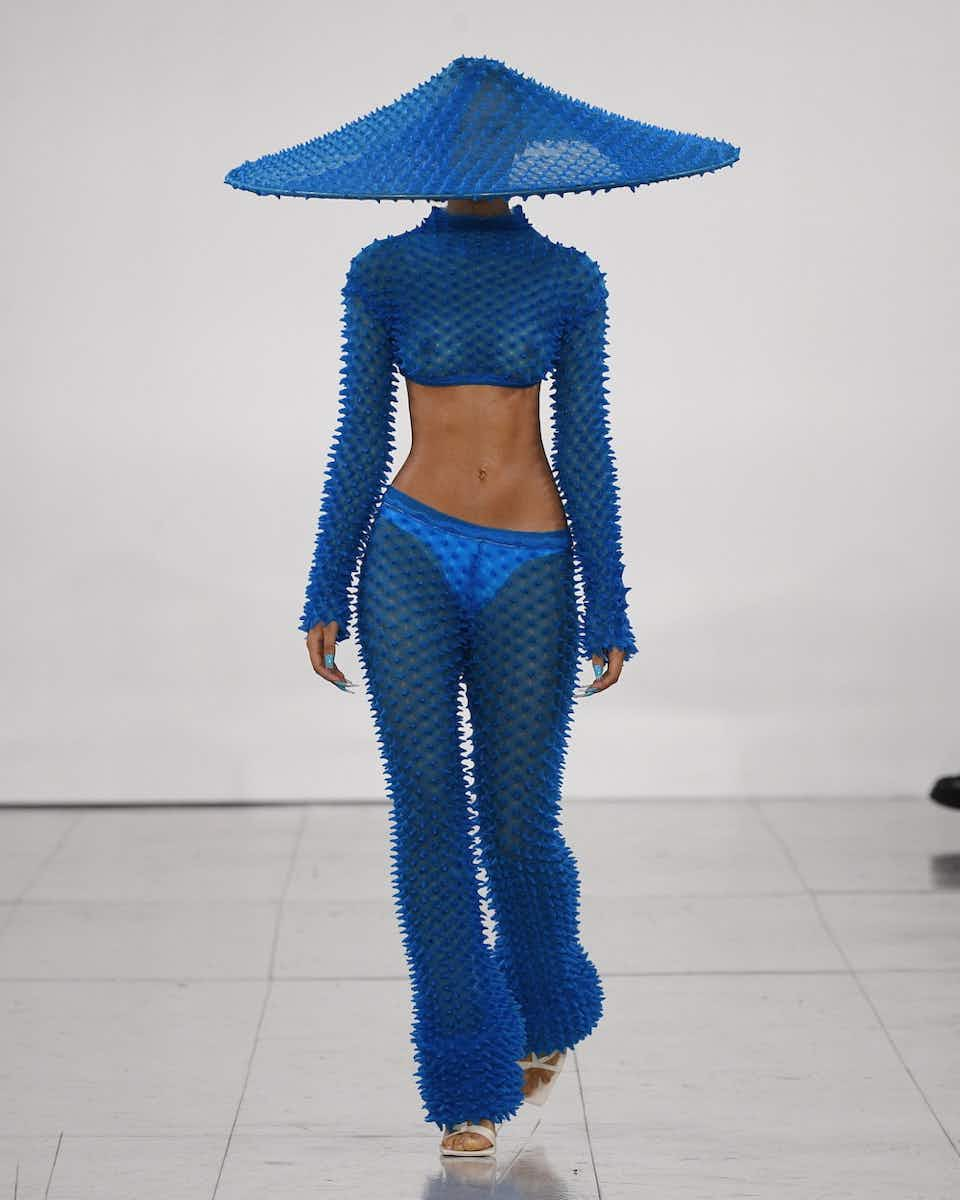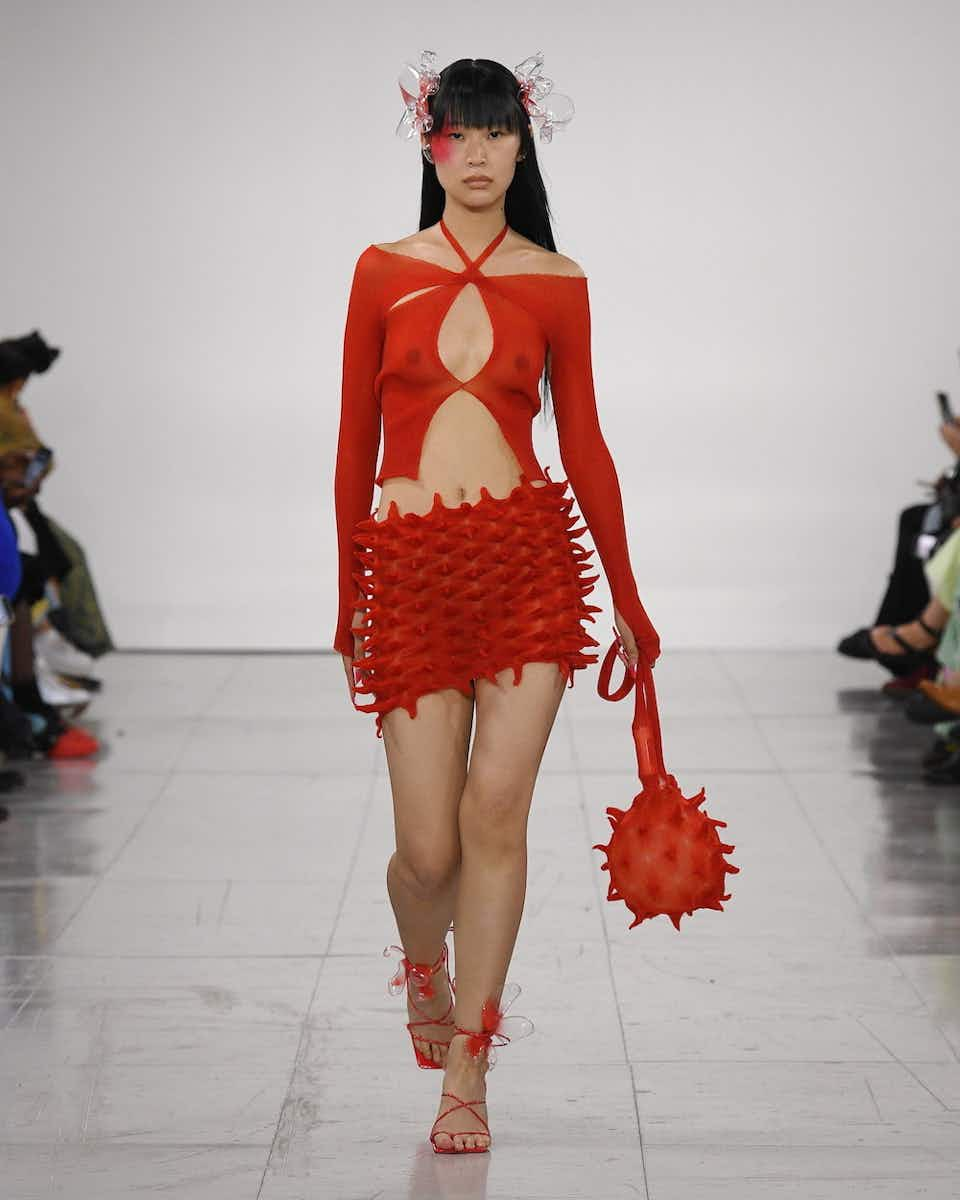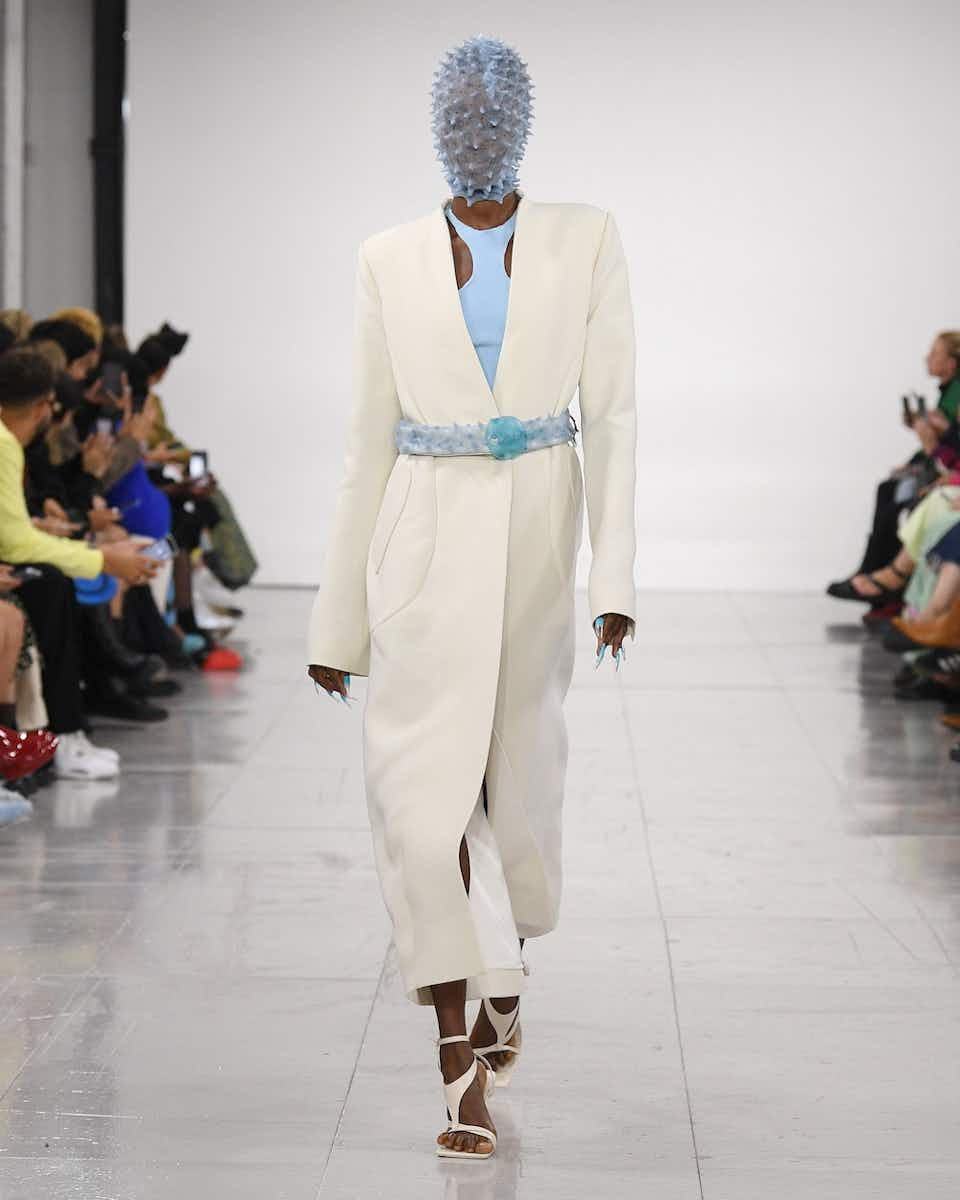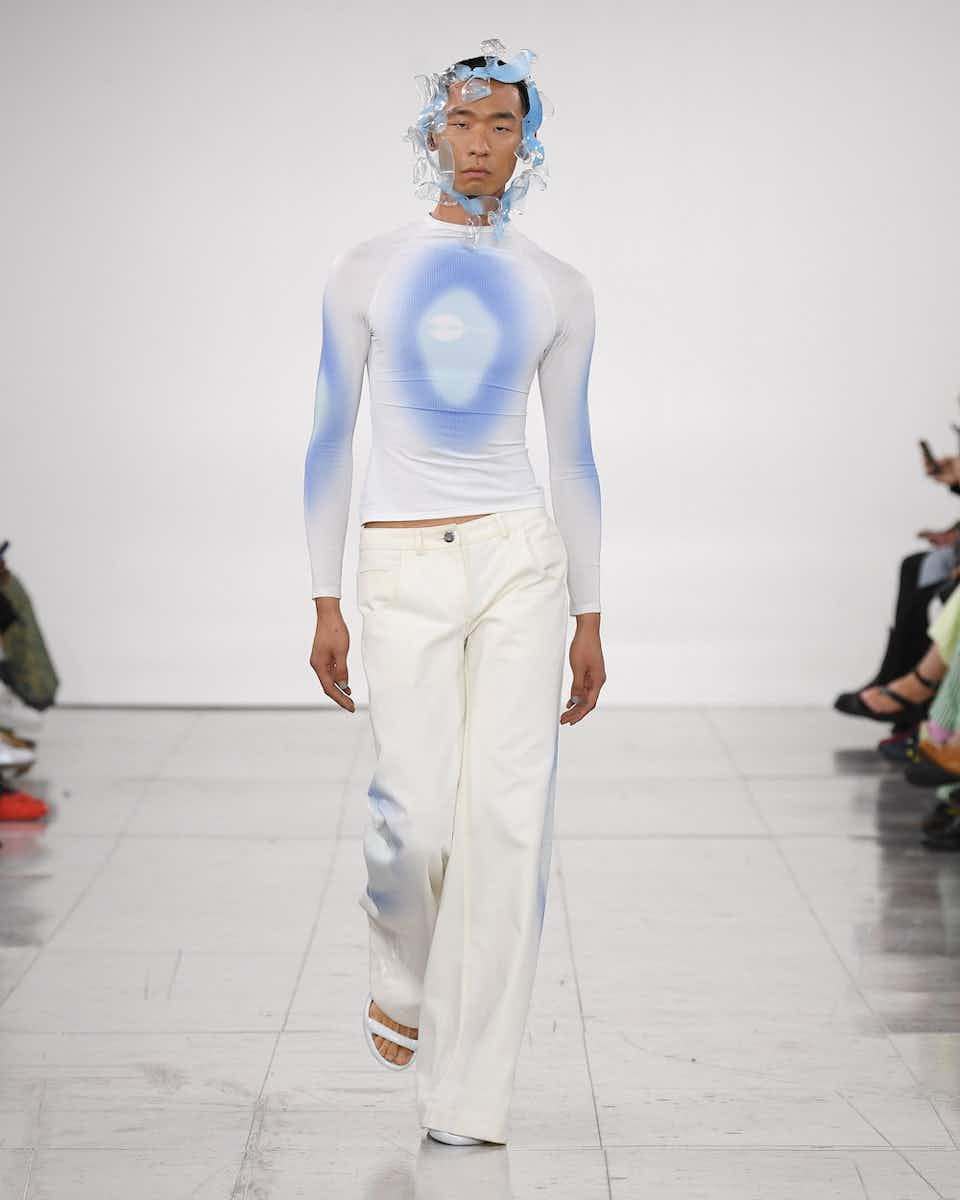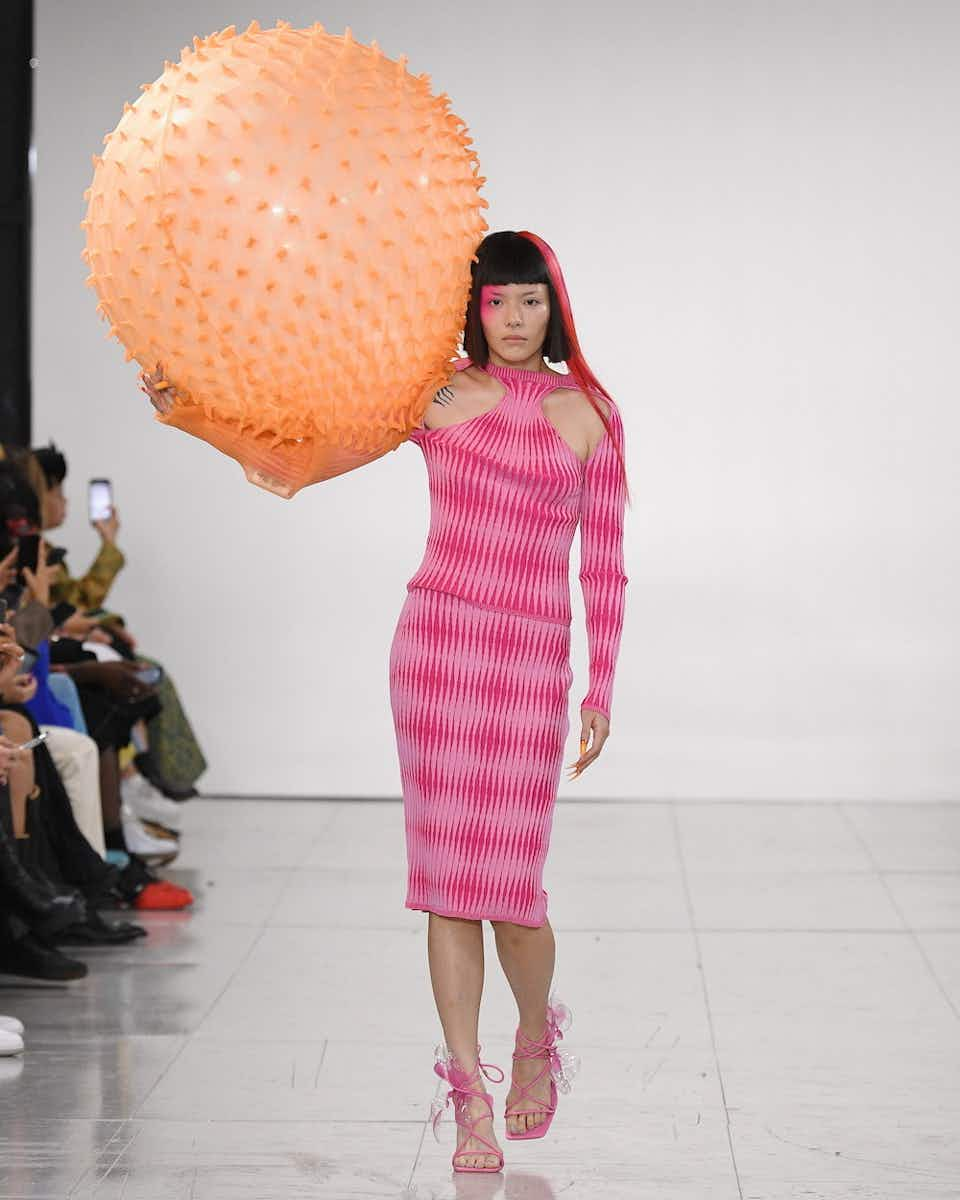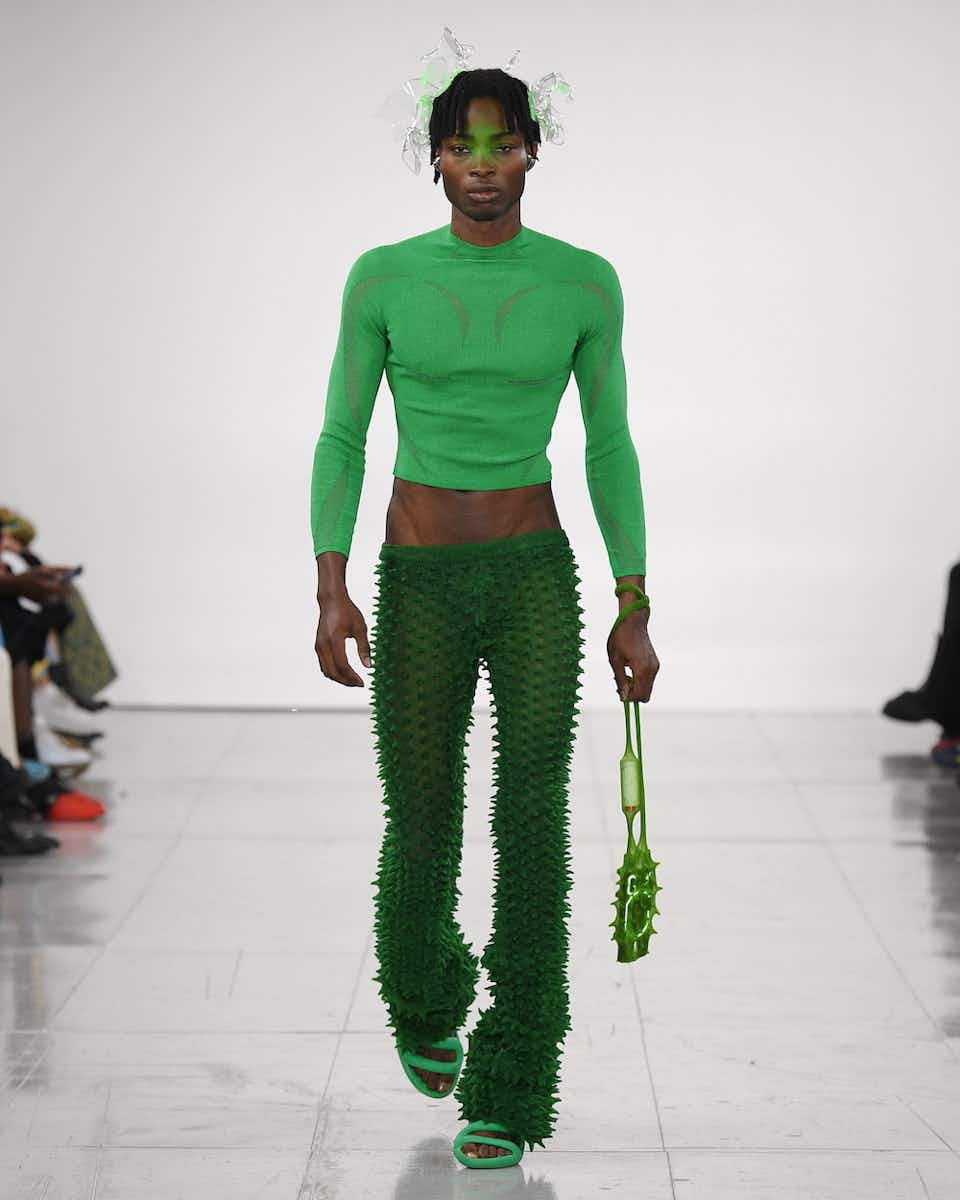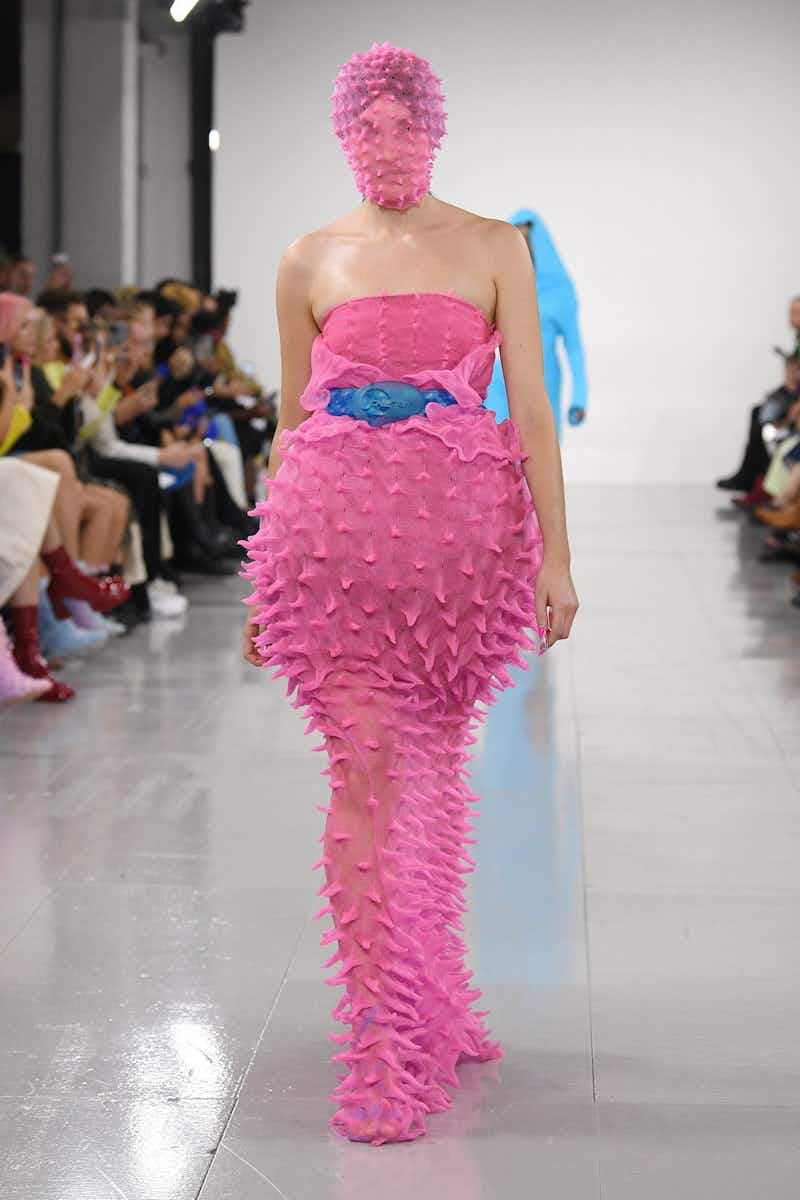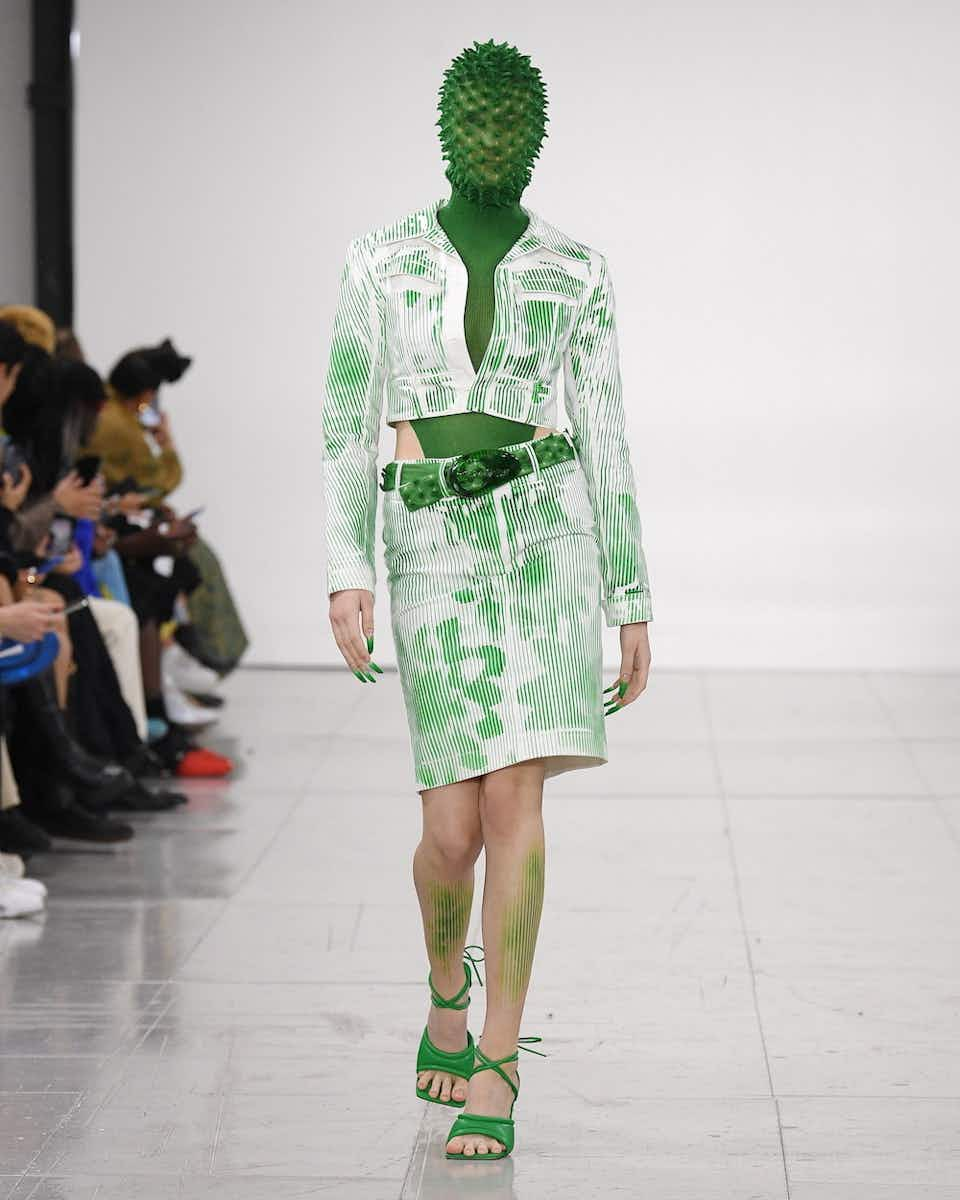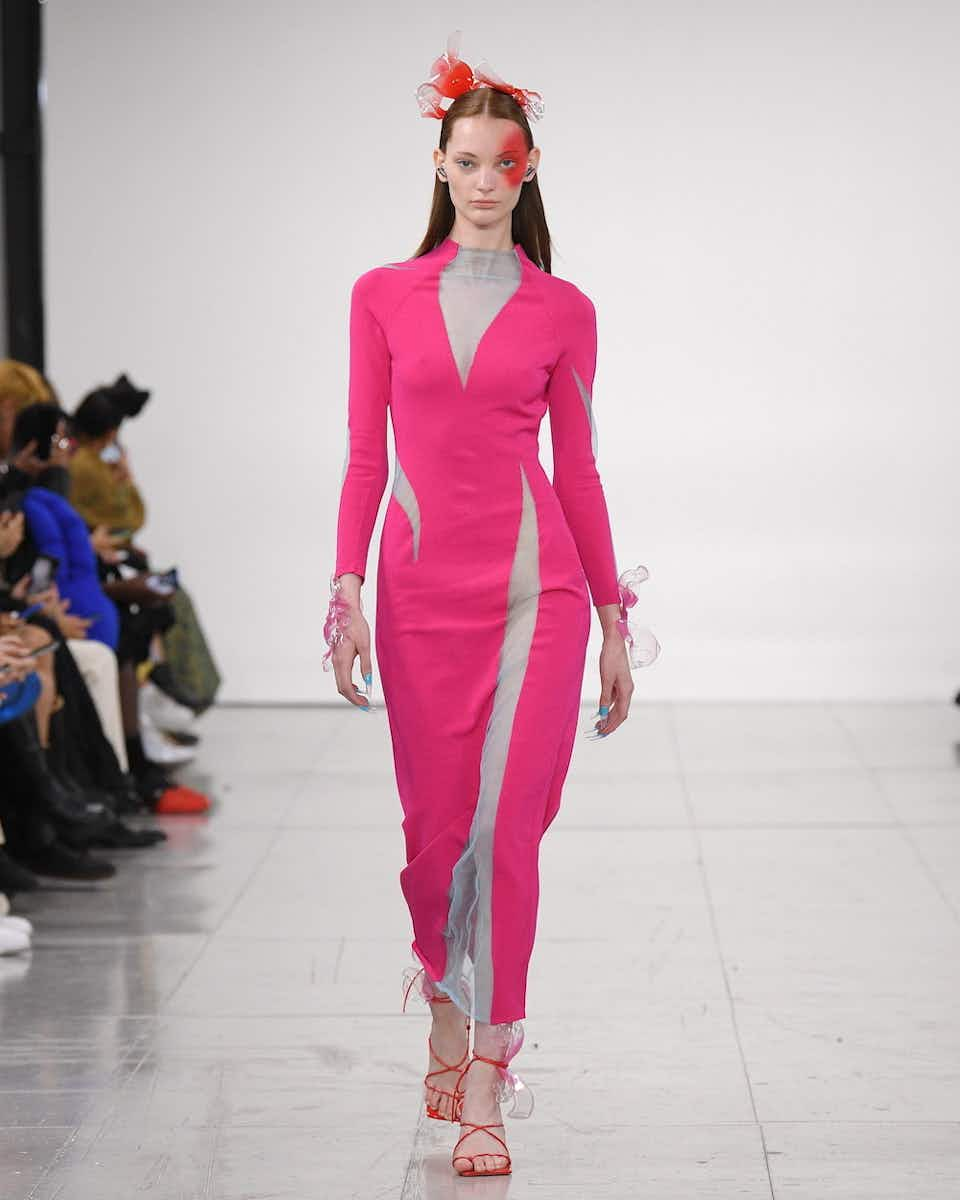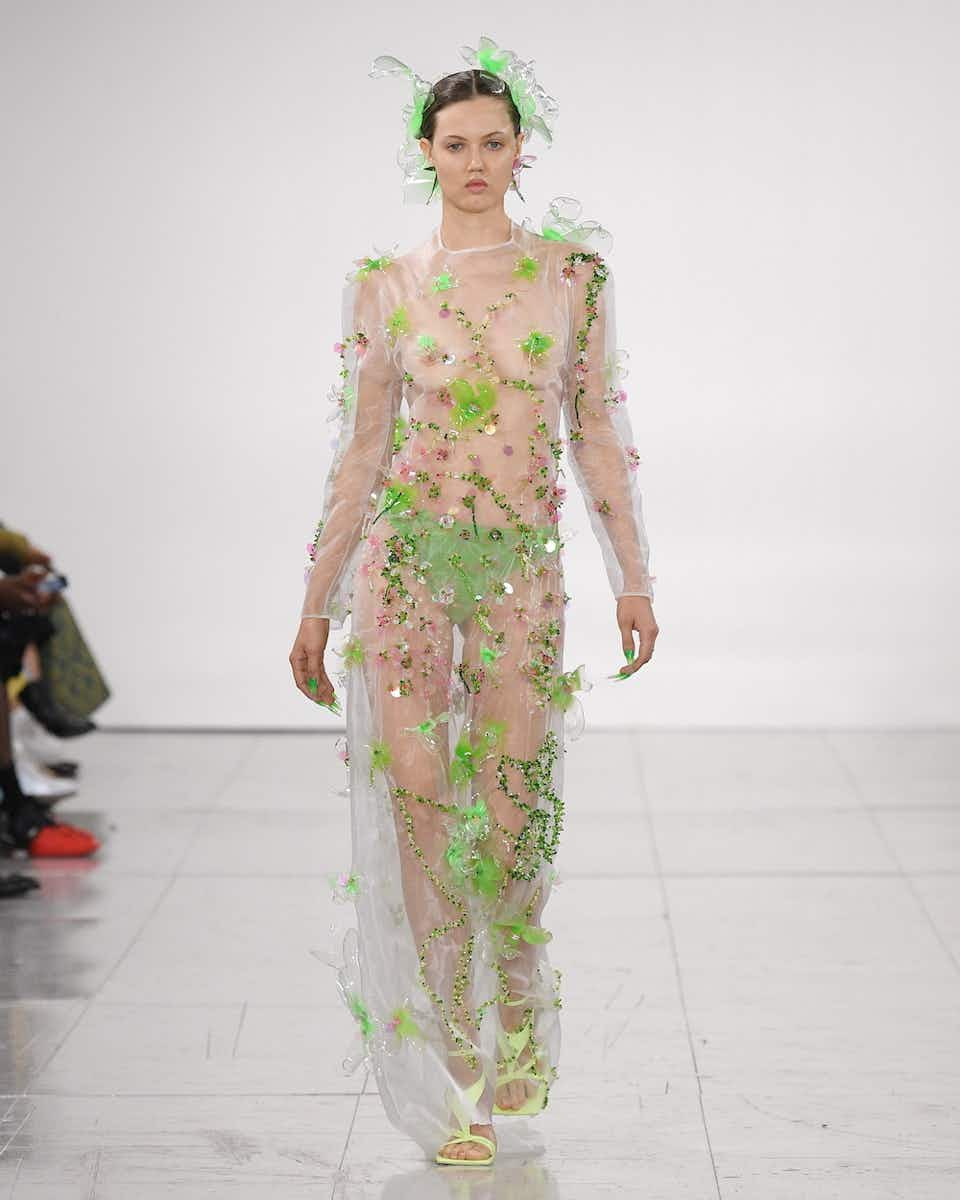 What Dublin-born designer Sinéad O'Dwyer does is radical: a runway collection inclusive of shapes, sizes and disabilities. But with the aid of designers like her, one day it'll be considered the norm – and that is surely the end goal here. As part of her first season as a British Fashion Council Newgen recipient, O'Dwyer's collection looked to school summers she spent at music practice camps in rural Ireland (her mum would often play Elgar's cello concerto); the formality of classical concerts came out in the first few looks with tailored black tuxedo jackets, white poplin shirts and accessorised with bow ties. But the ​"teenage recklessness" she references in her show notes were punctured in around the midpoint of the show, where the high-voltage nylon swimsuits, ​'90s rave-style trousers and electric blue criss-cross detailing felt wickedly rebellious. TJ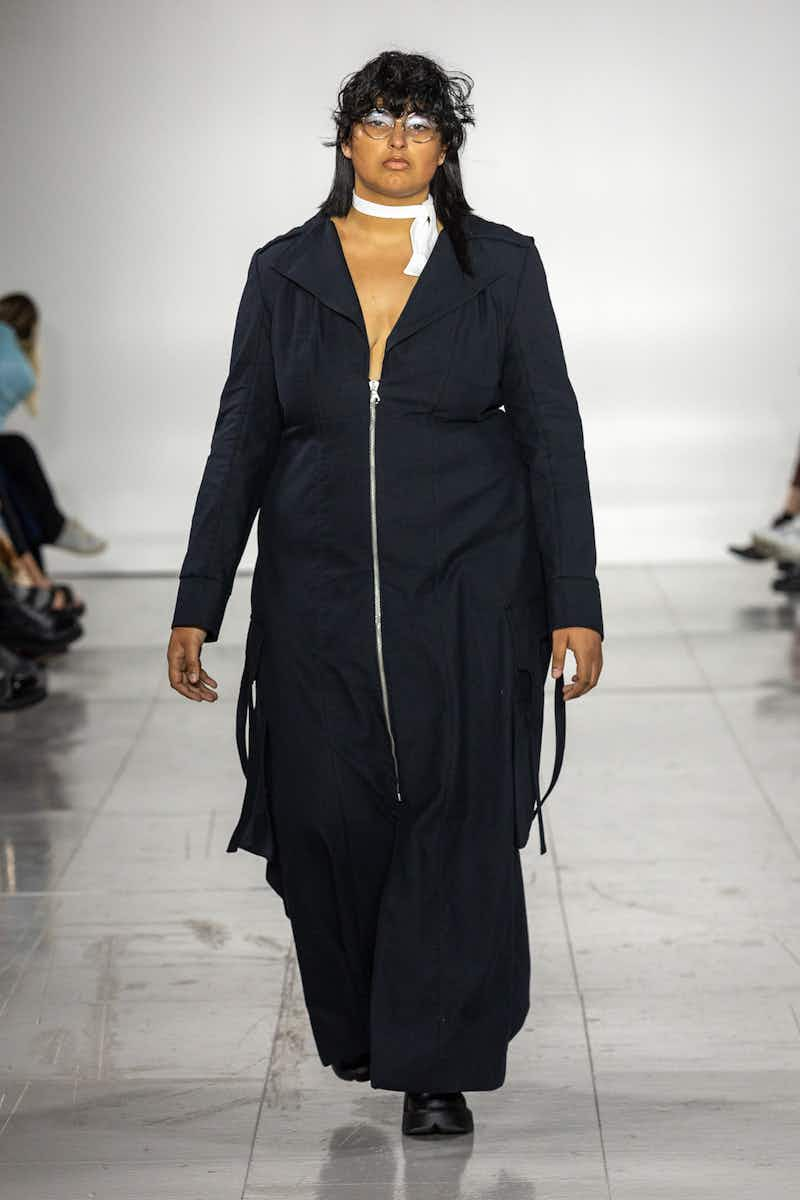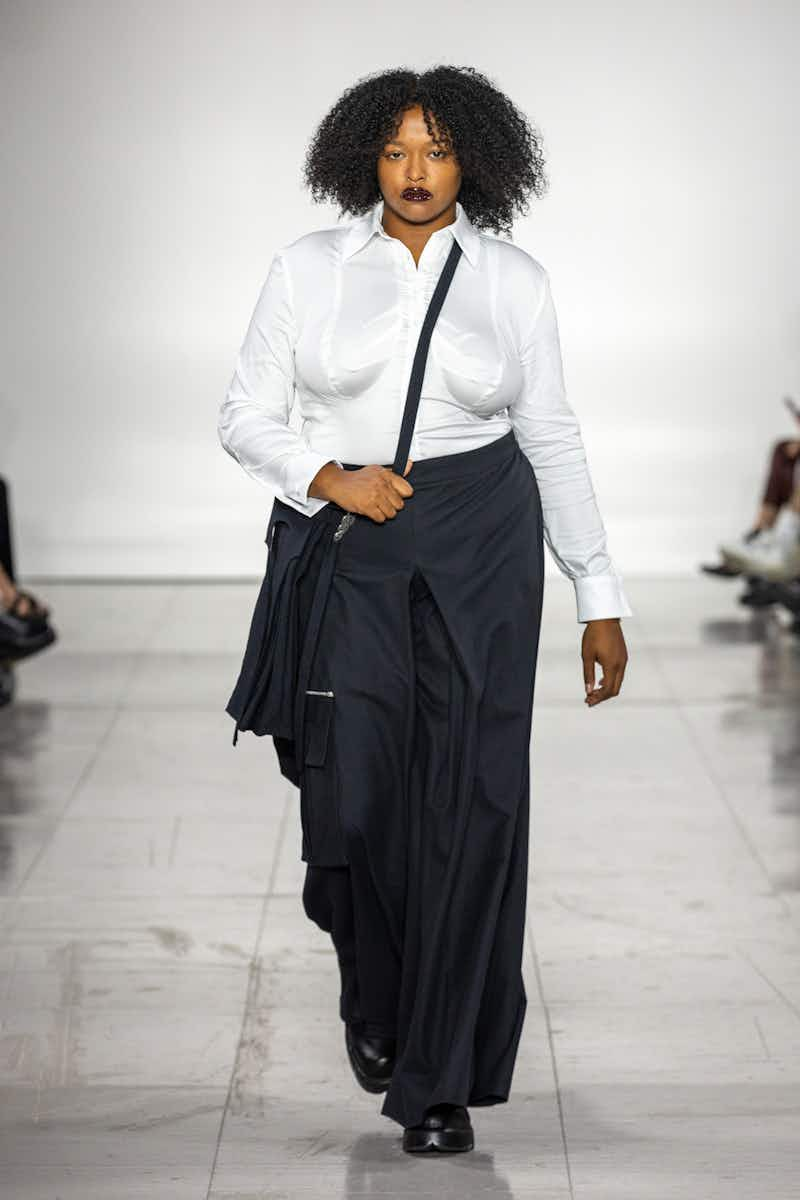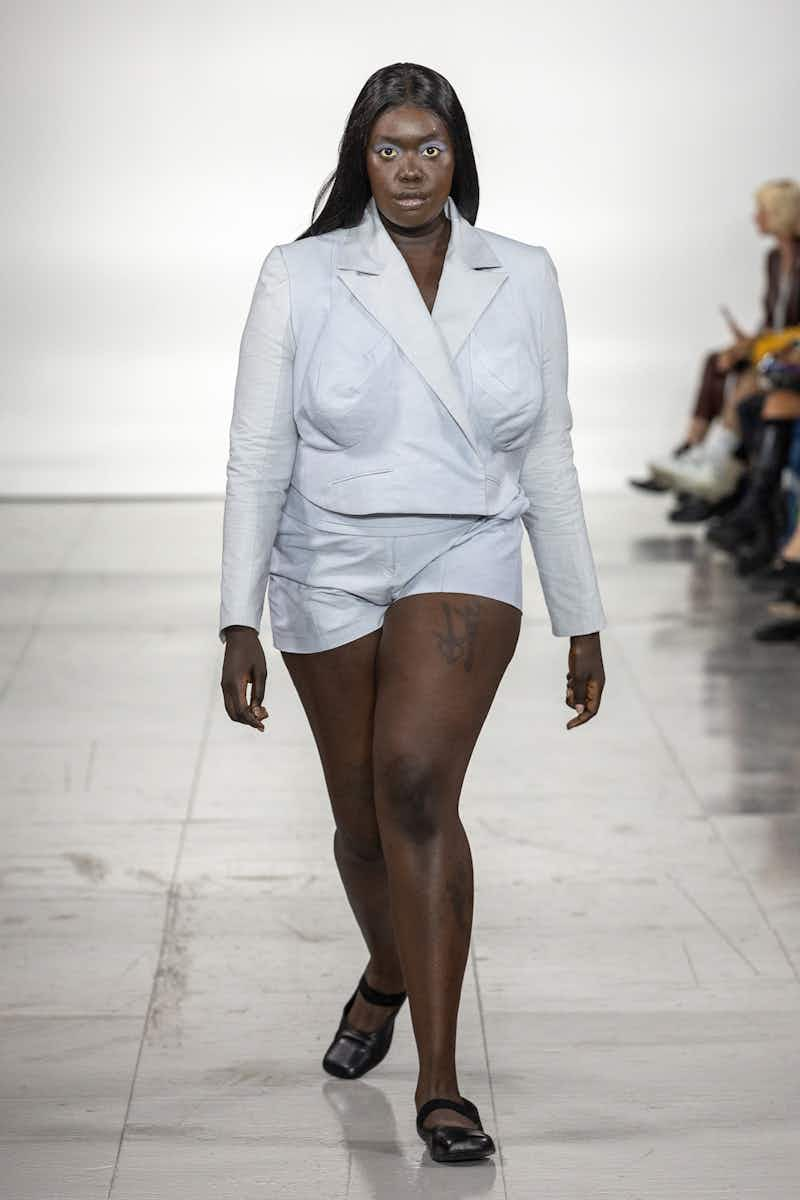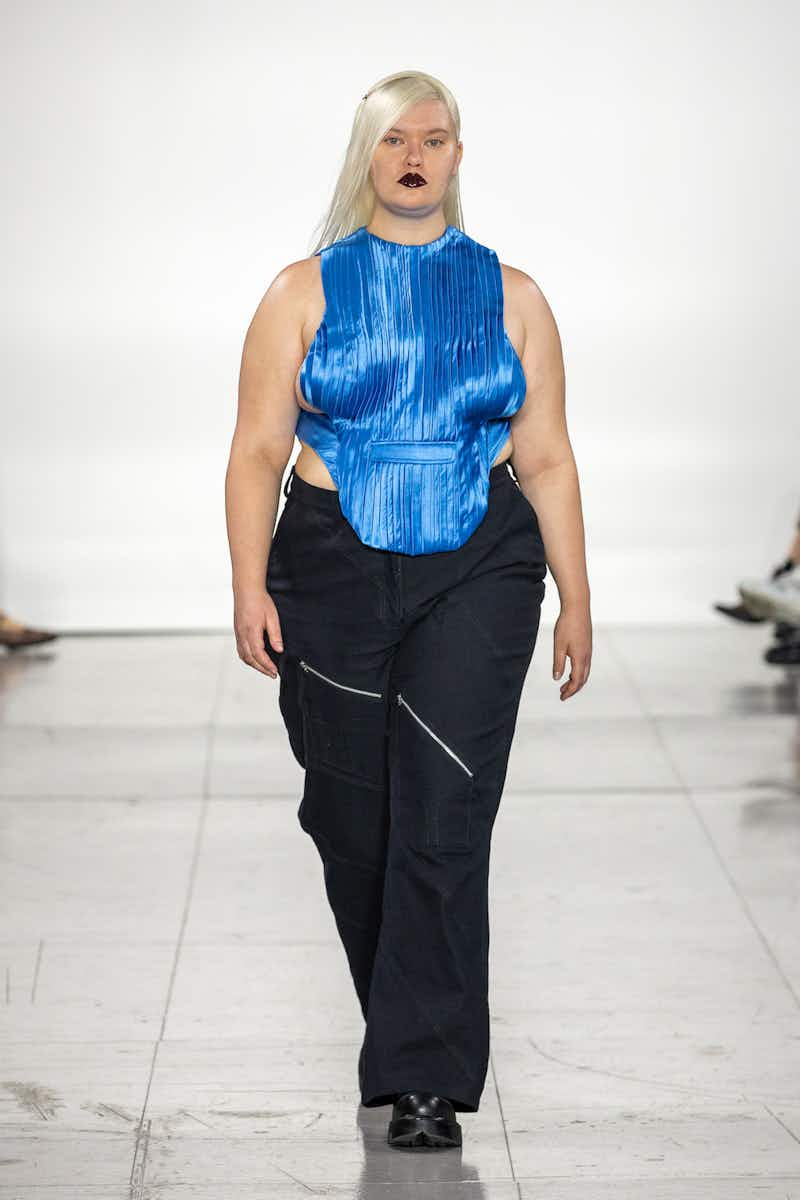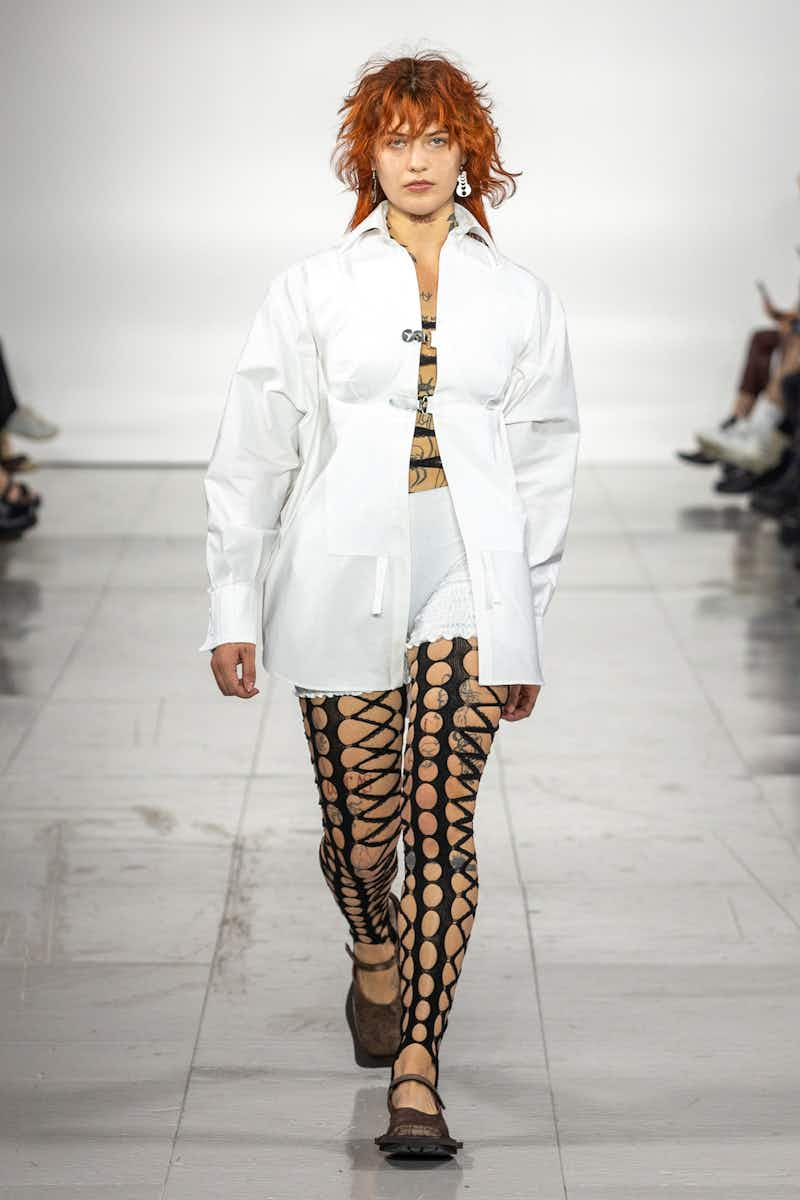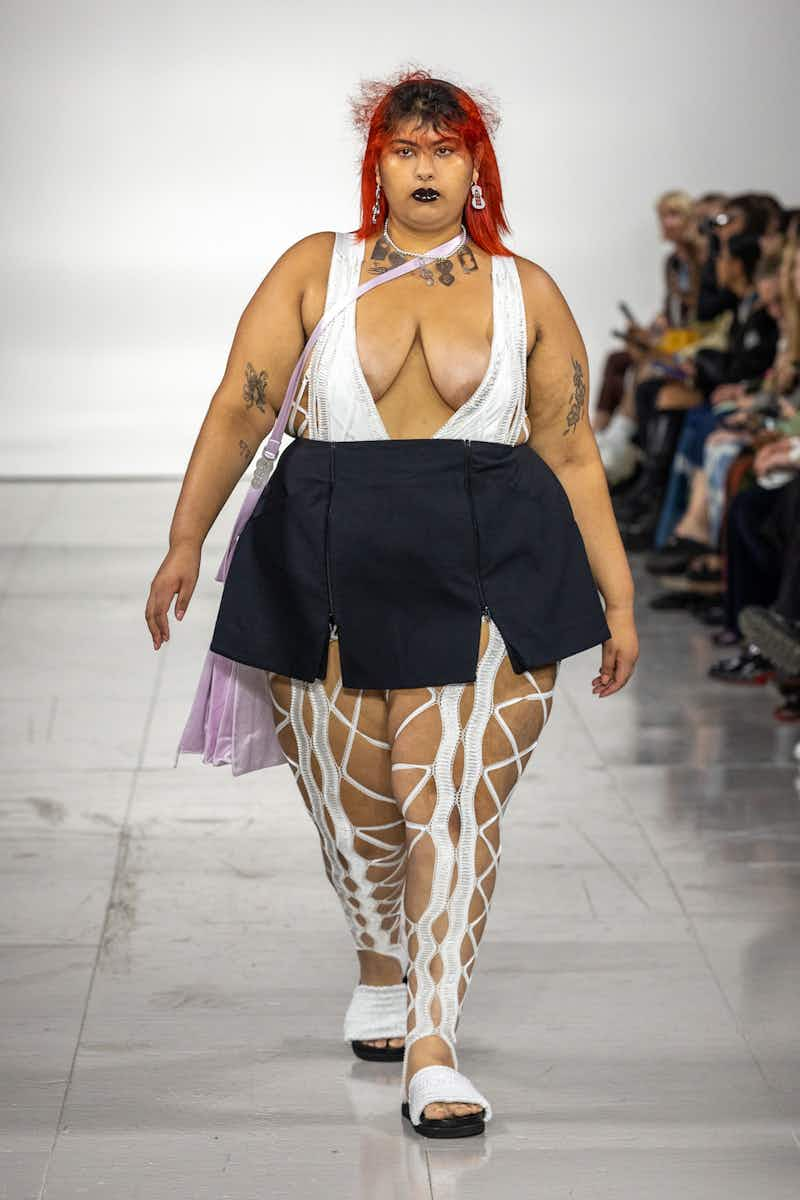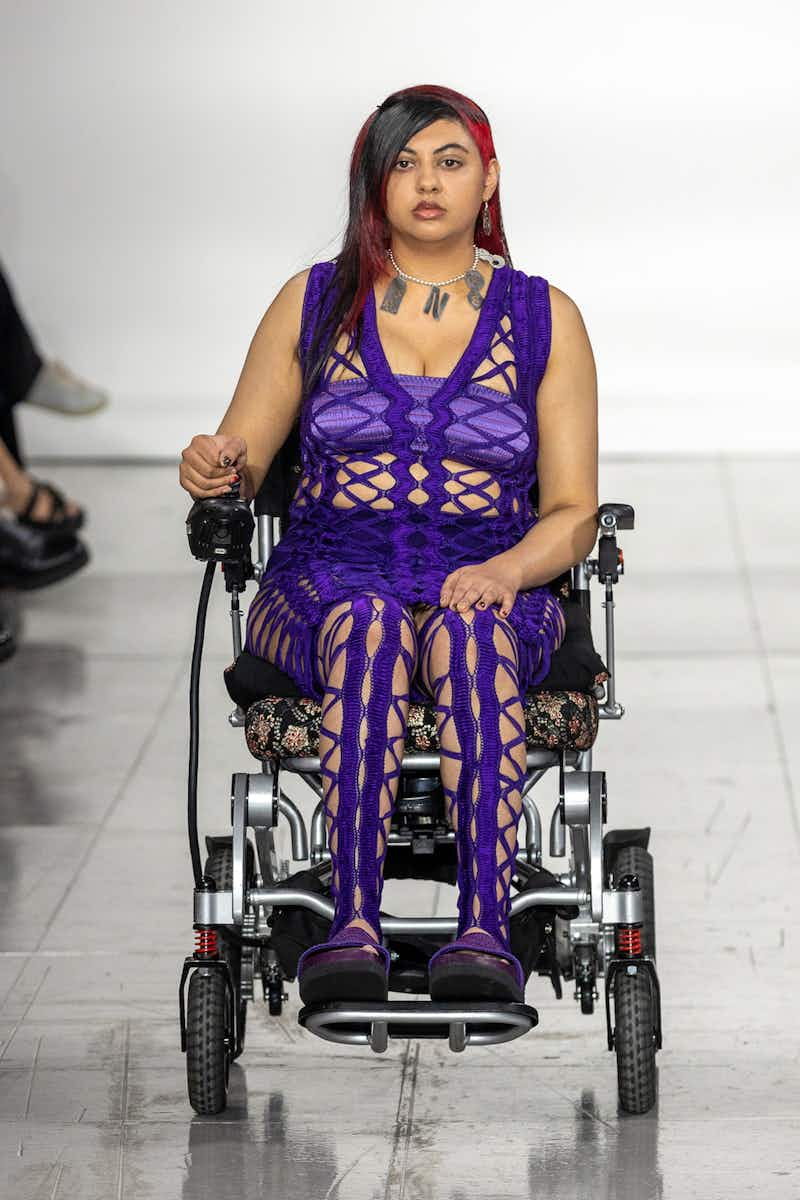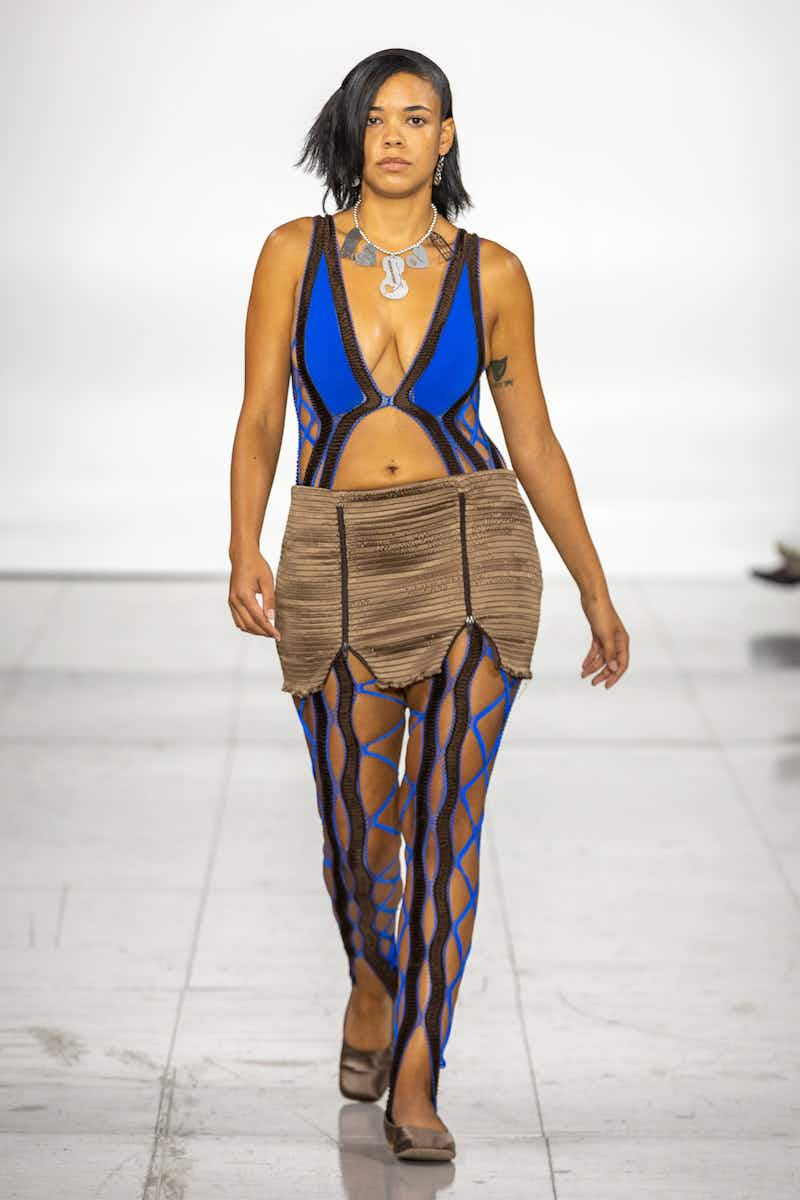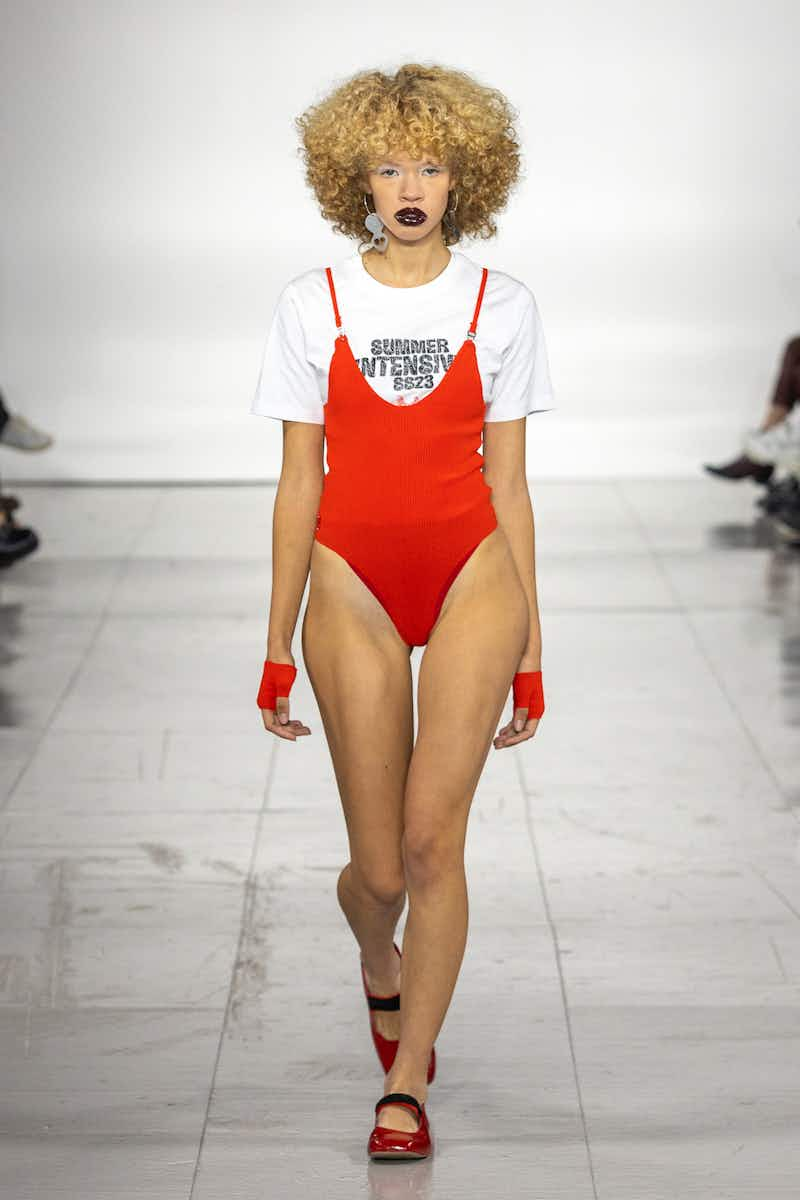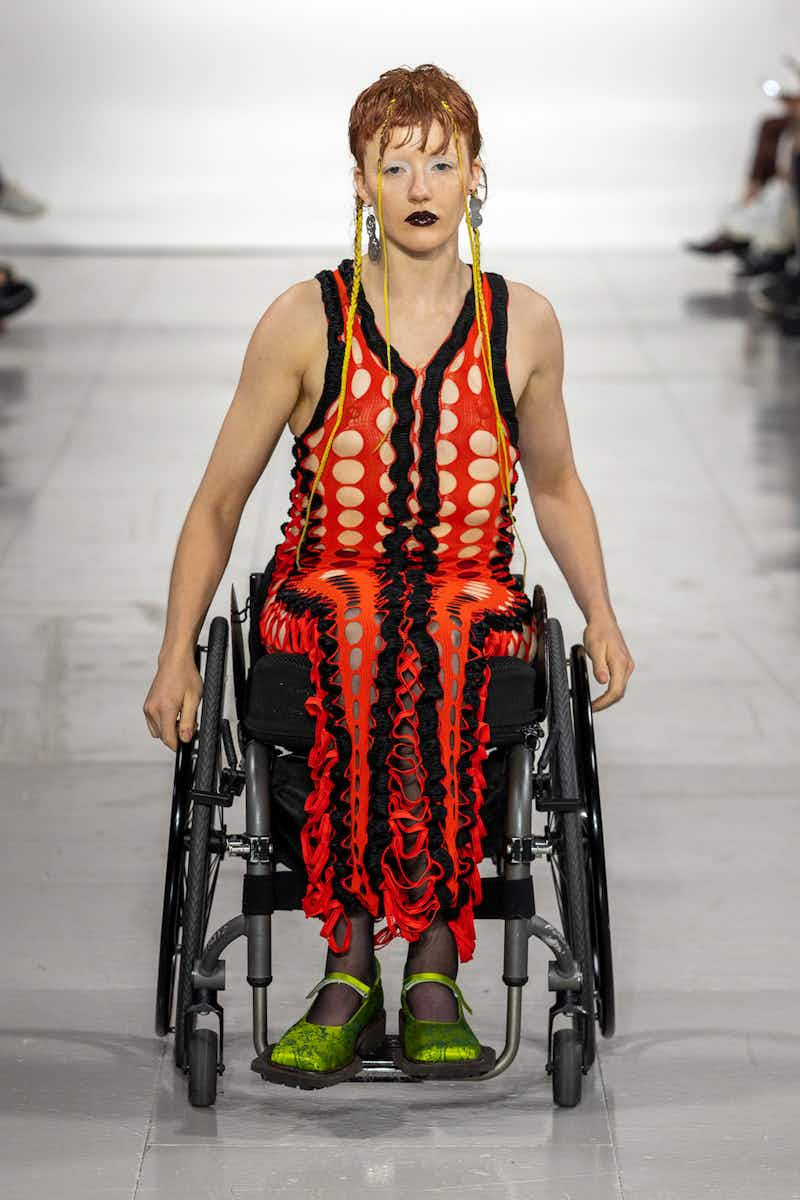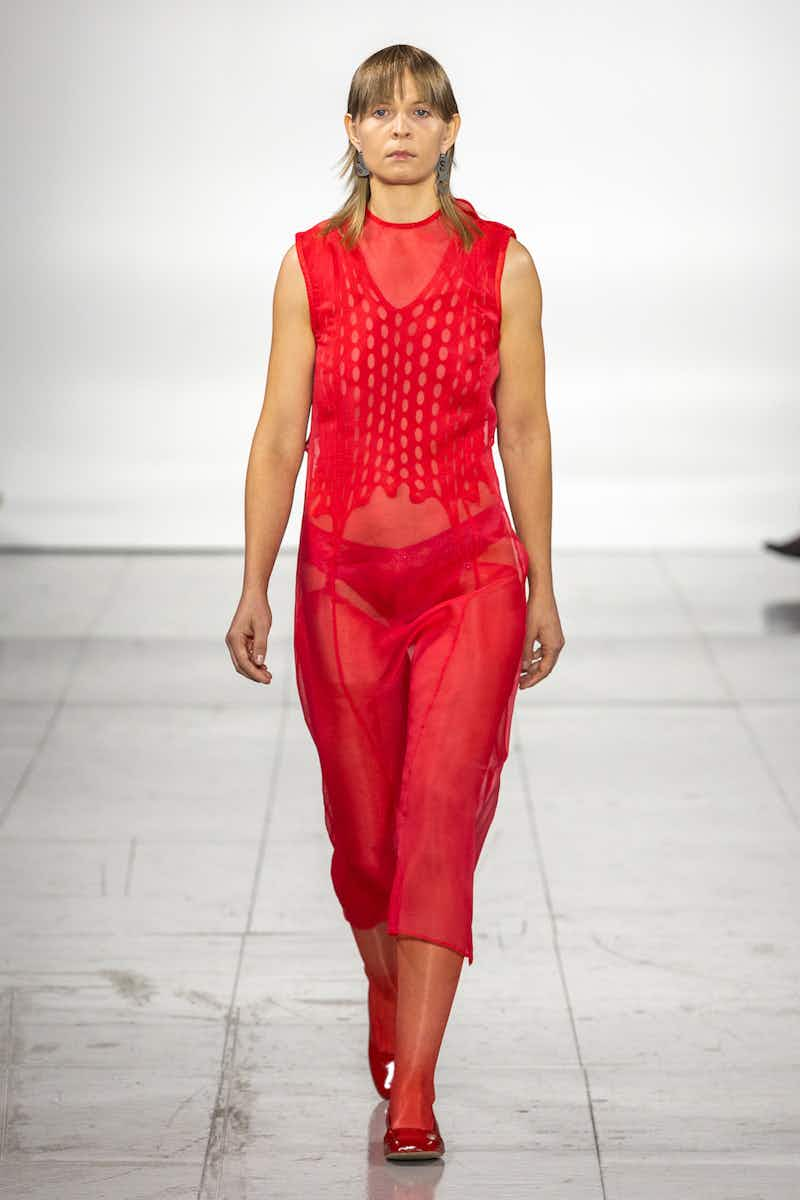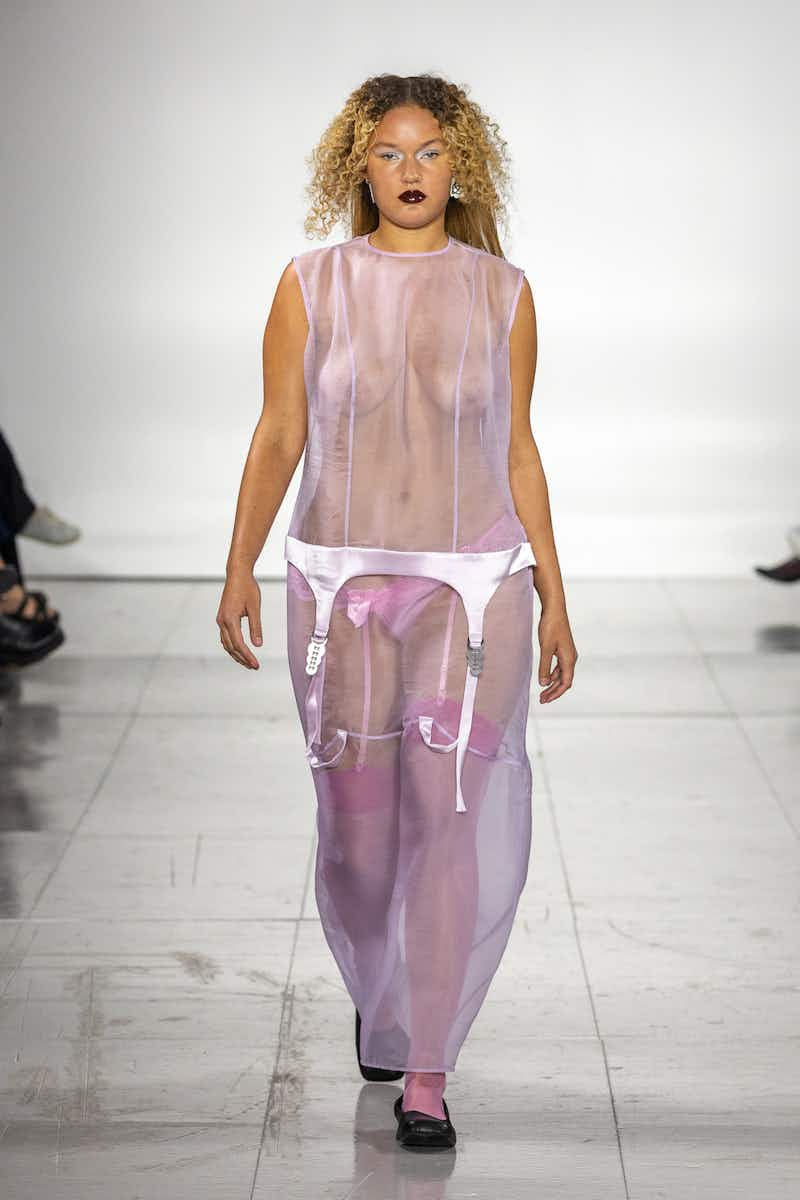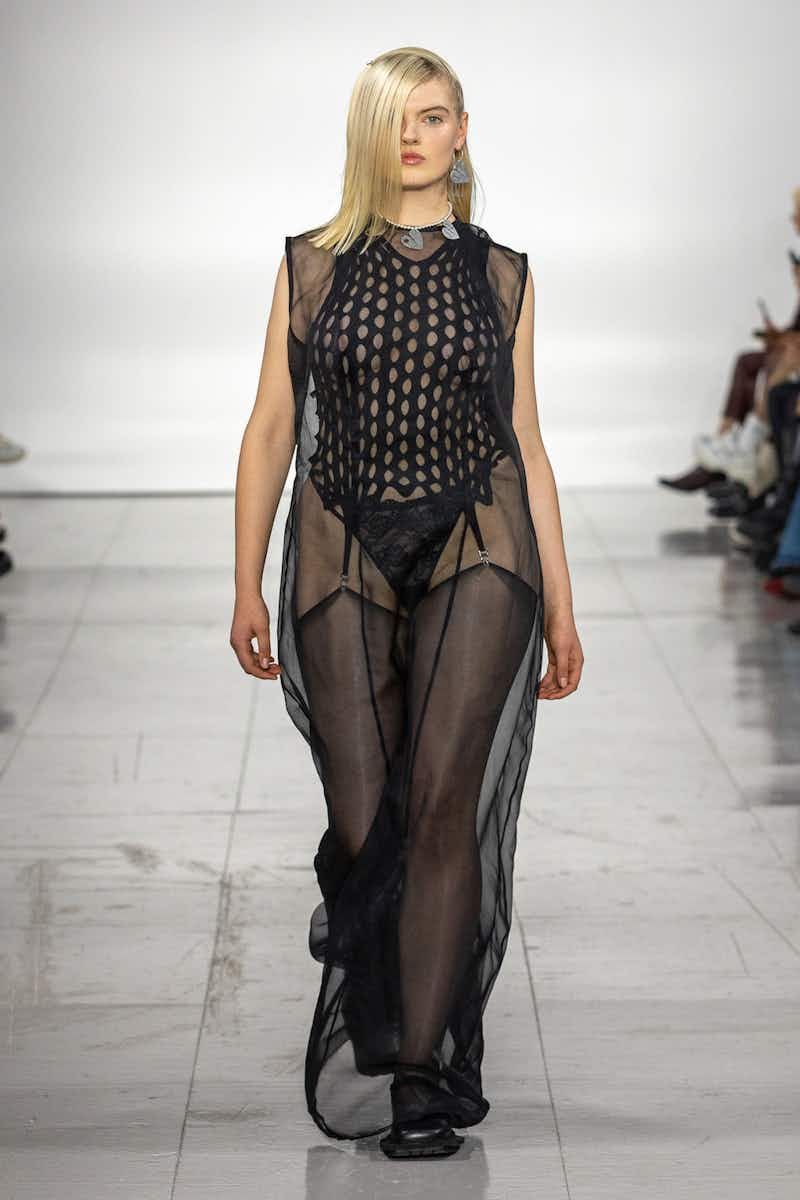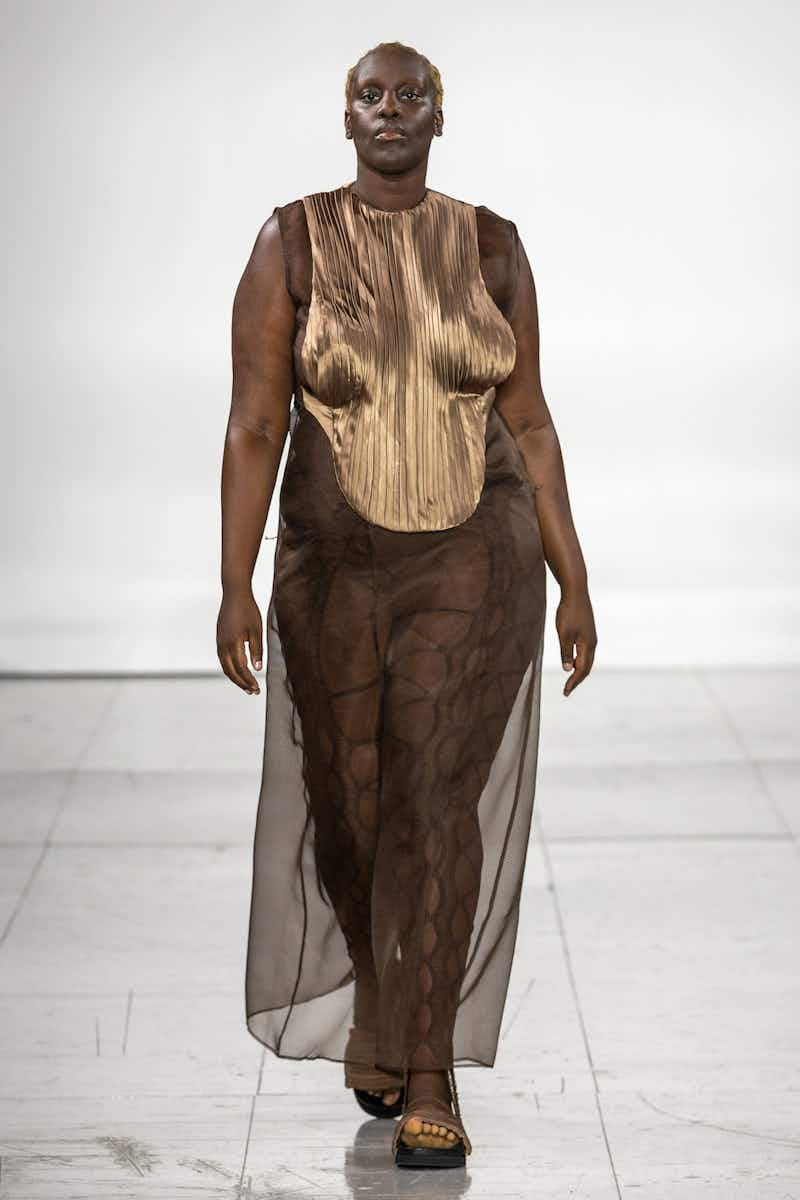 Returning to the runway for the first time since the pandemic, Christopher and Tammy Kane's SS23 collection was something of a whistle stop tour through the brand's archives, from the nods to fetish wear and anatomical references, to the fabrics that spanned tacky-but-not-tacky lace, lashings of clear vinyl and glittering chain mail.
It was in his SS11 collection that Kane sent a series of fluoro lace dresses and vinyl-coated leather pieces down the runway, sparking a debate around good vs bad taste and cementing the designer's ability to subvert womenswear staples into seductive, kinky and off-kilter pieces that women take extreme pleasure in wearing.
This collection did exactly that: lace-trimmed dresses in sugared almond pastel hues were cut with clear vinyl panelling and see-through, skeletal straps that caged the abdominal area; suit trousers were anything but sensible, now spliced at the seams; tops were appliquéd with anatomical drawings of hands, arms and legs; geometric panelled lace dresses were juxtaposed with playful, sculptural peplum skirts.
The details were practical and impractical – yet another beautiful oxymoron that permeates Kane's work – from the magnitude of clear vinyl buckle-up straps and silk pieces pieces detailed with oversized metal trigger clips, to a series of long dresses with their trains held at hip height by way of a metal handle and shoes with blade-like points. BM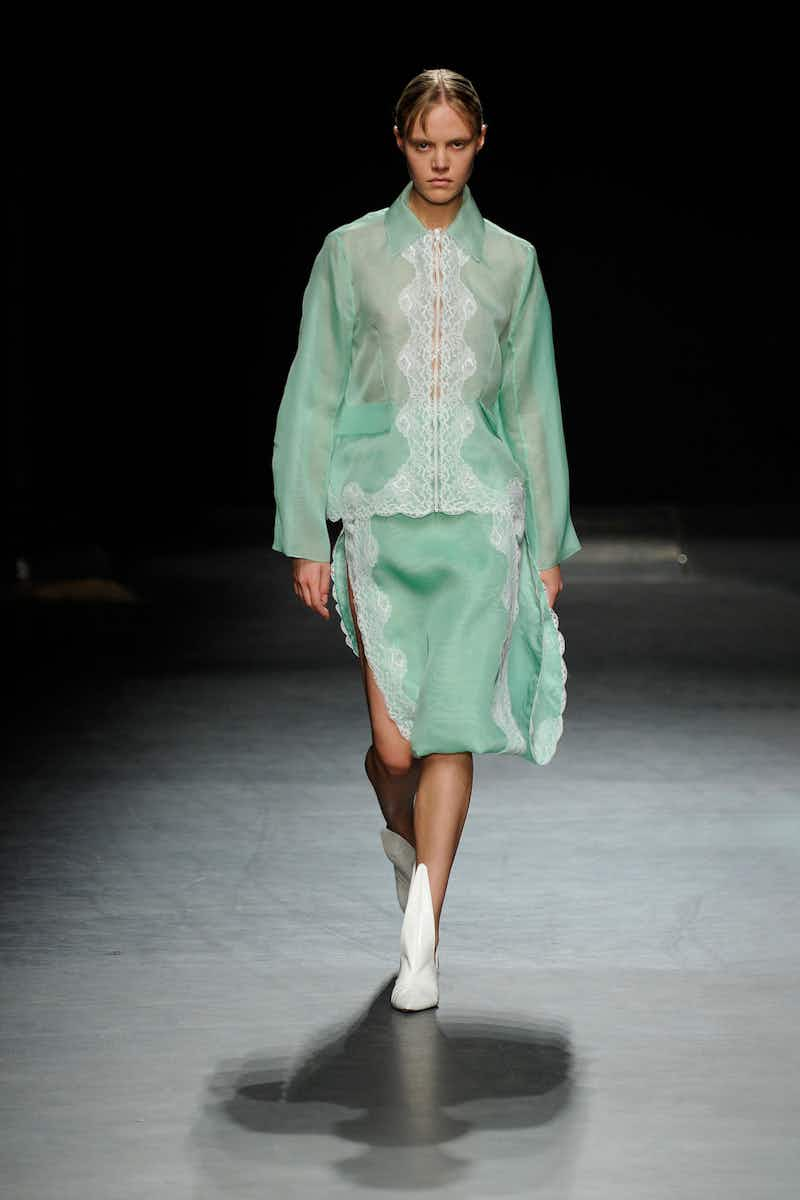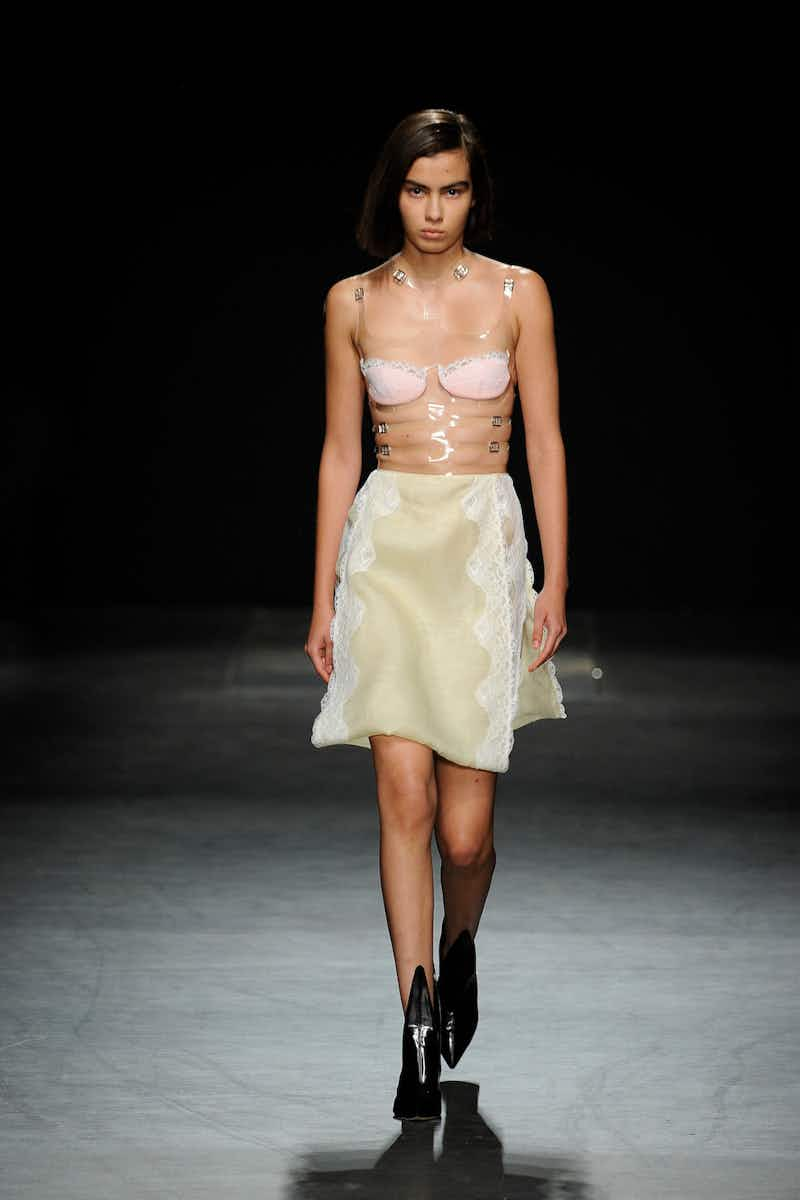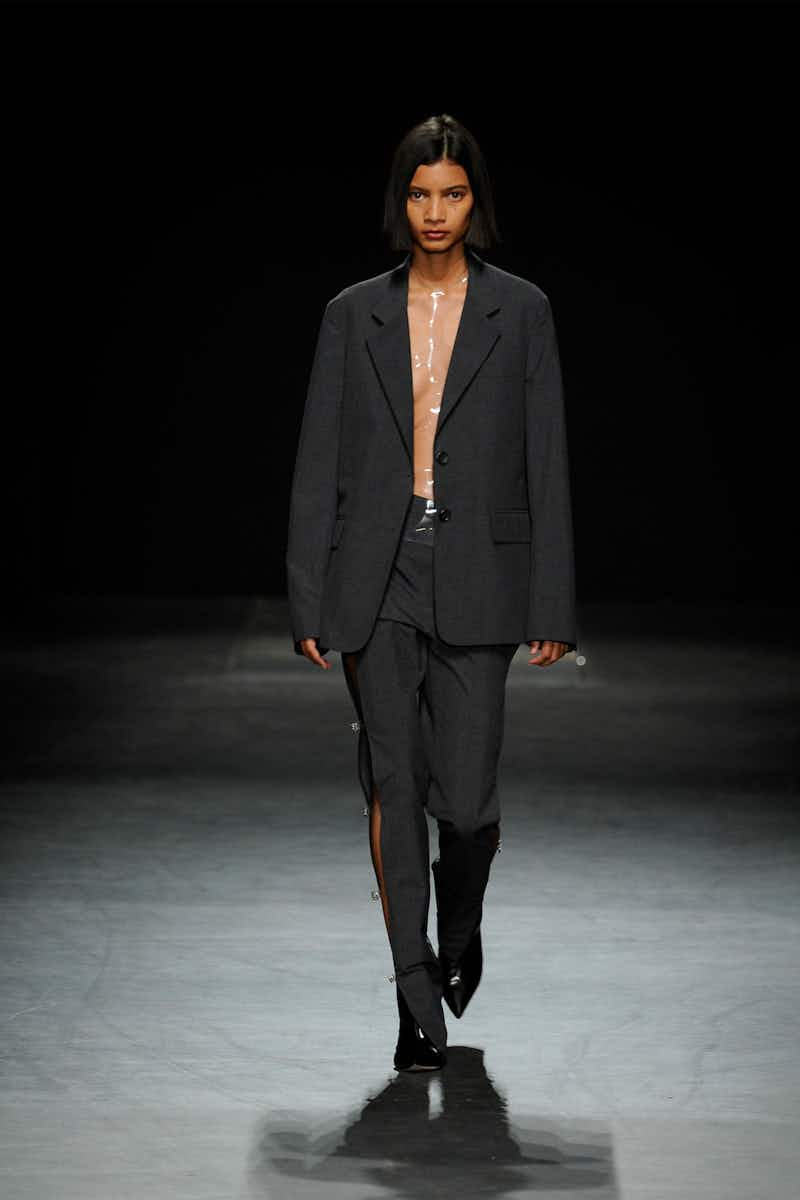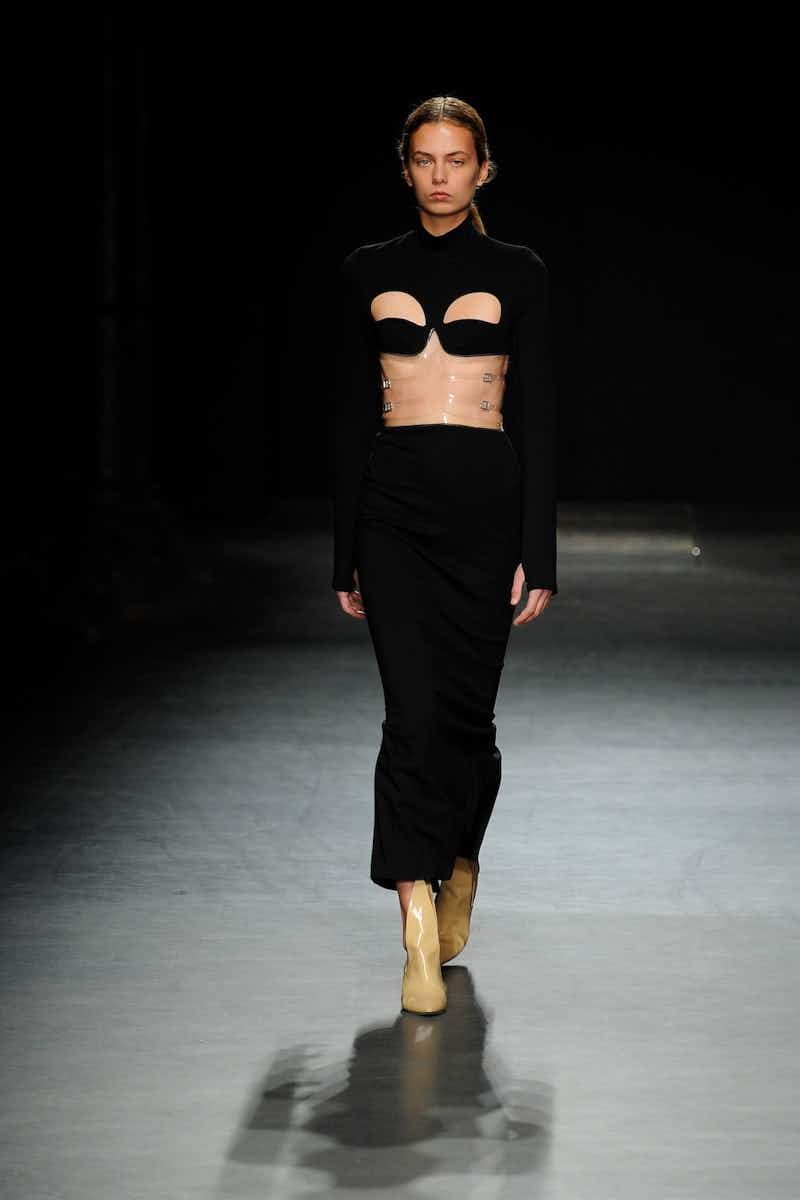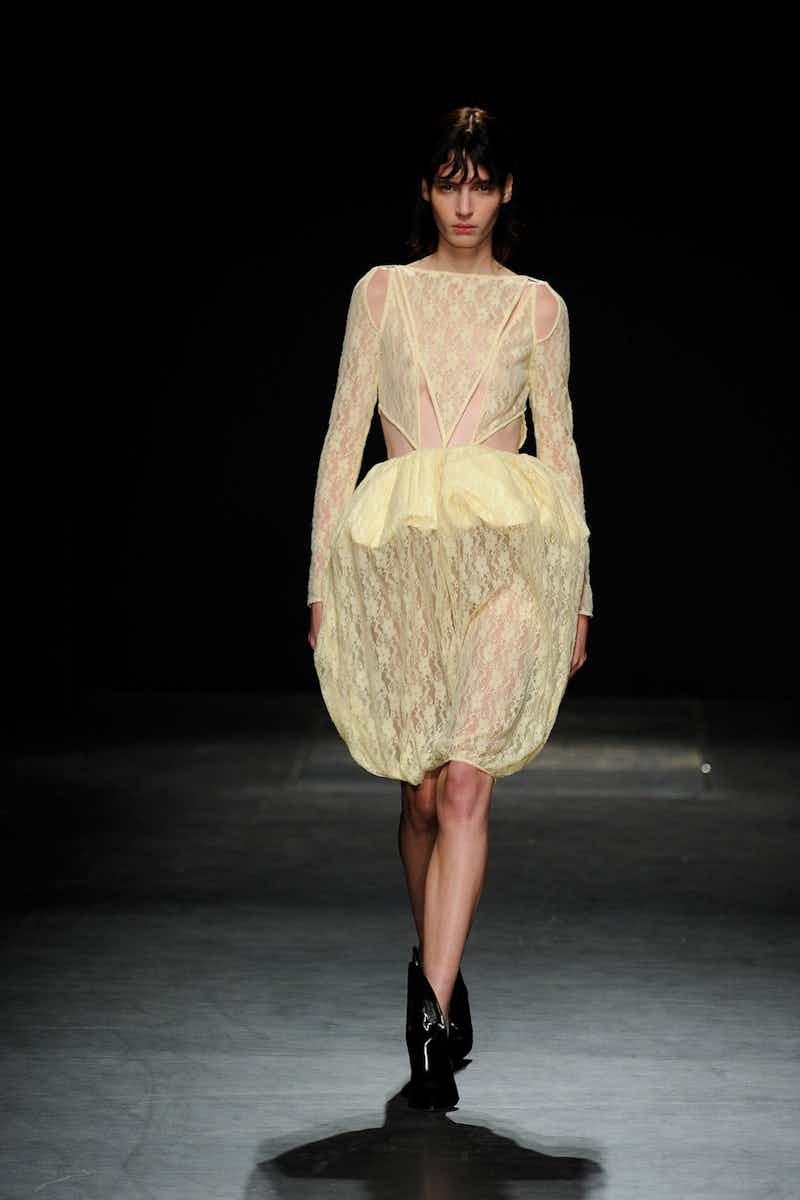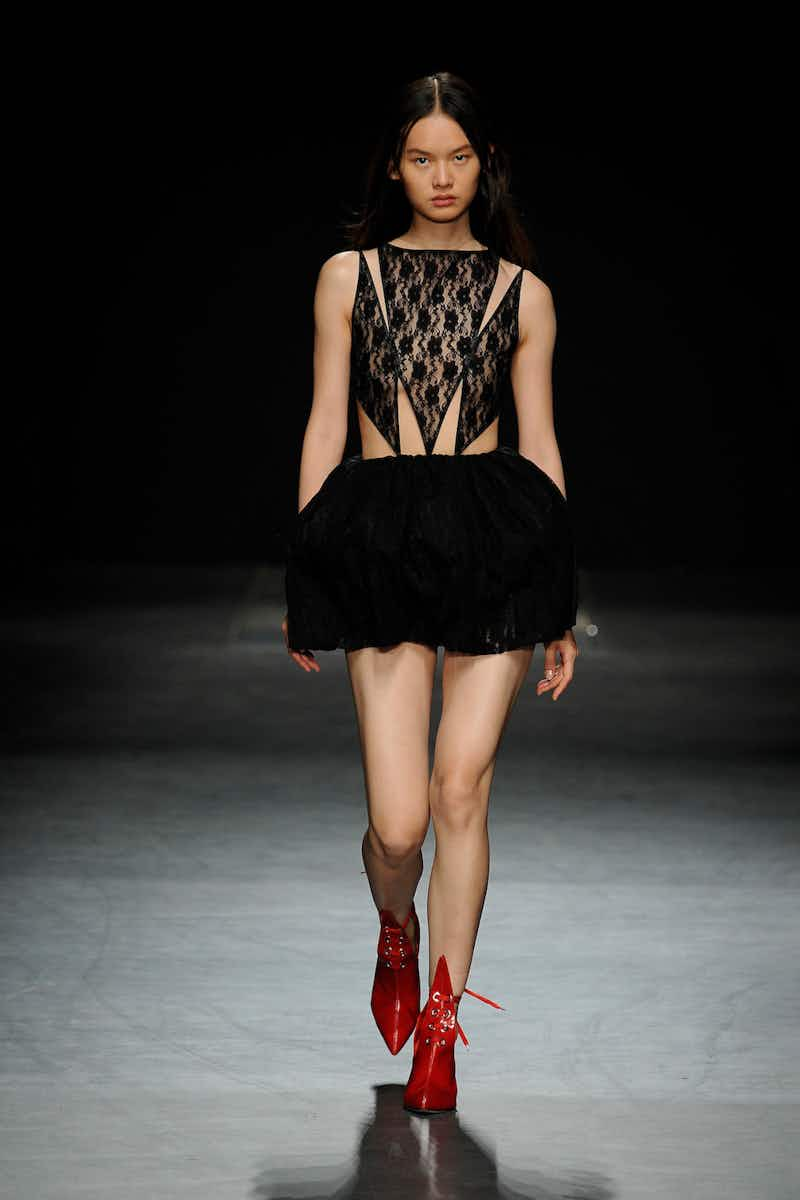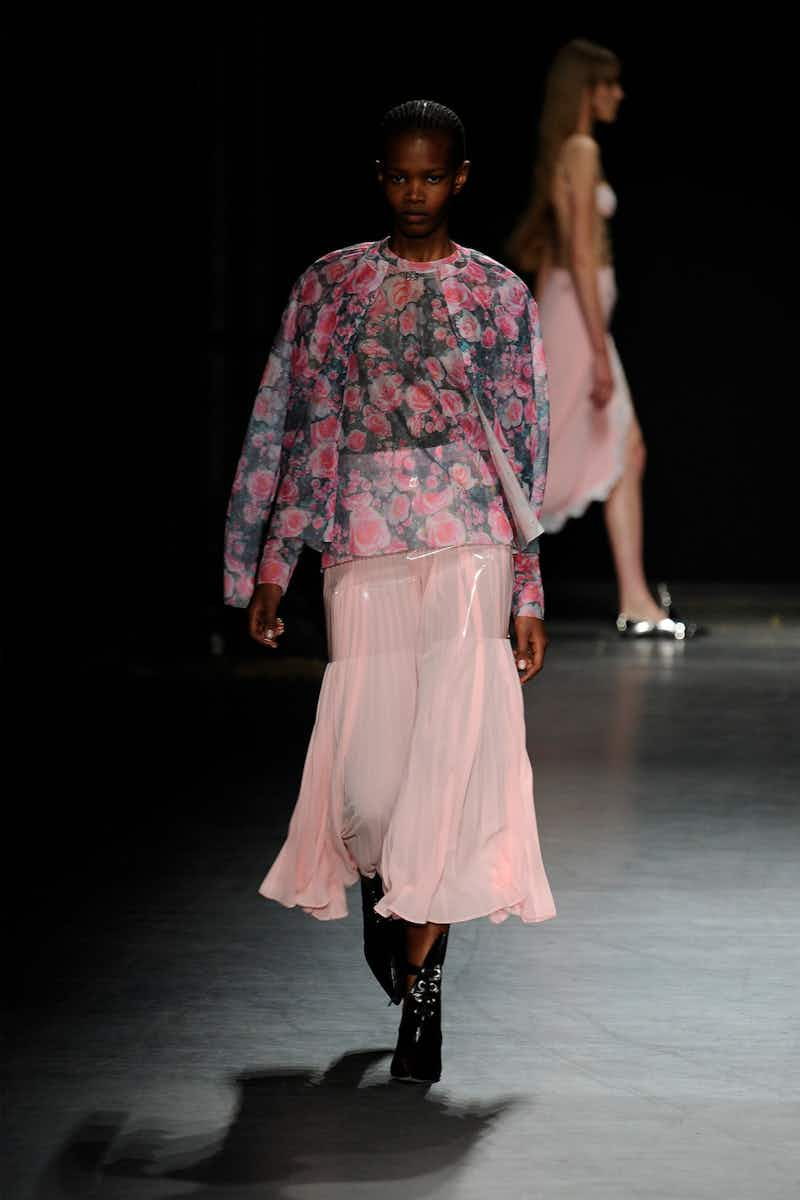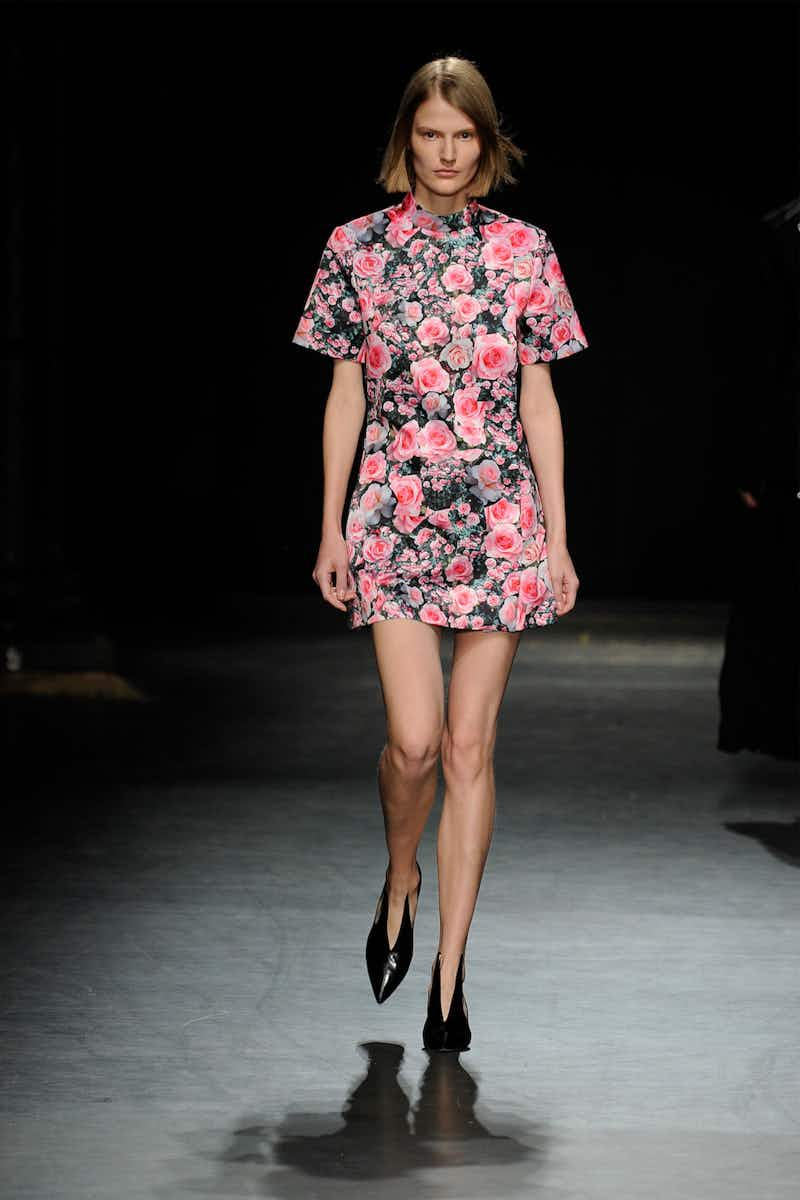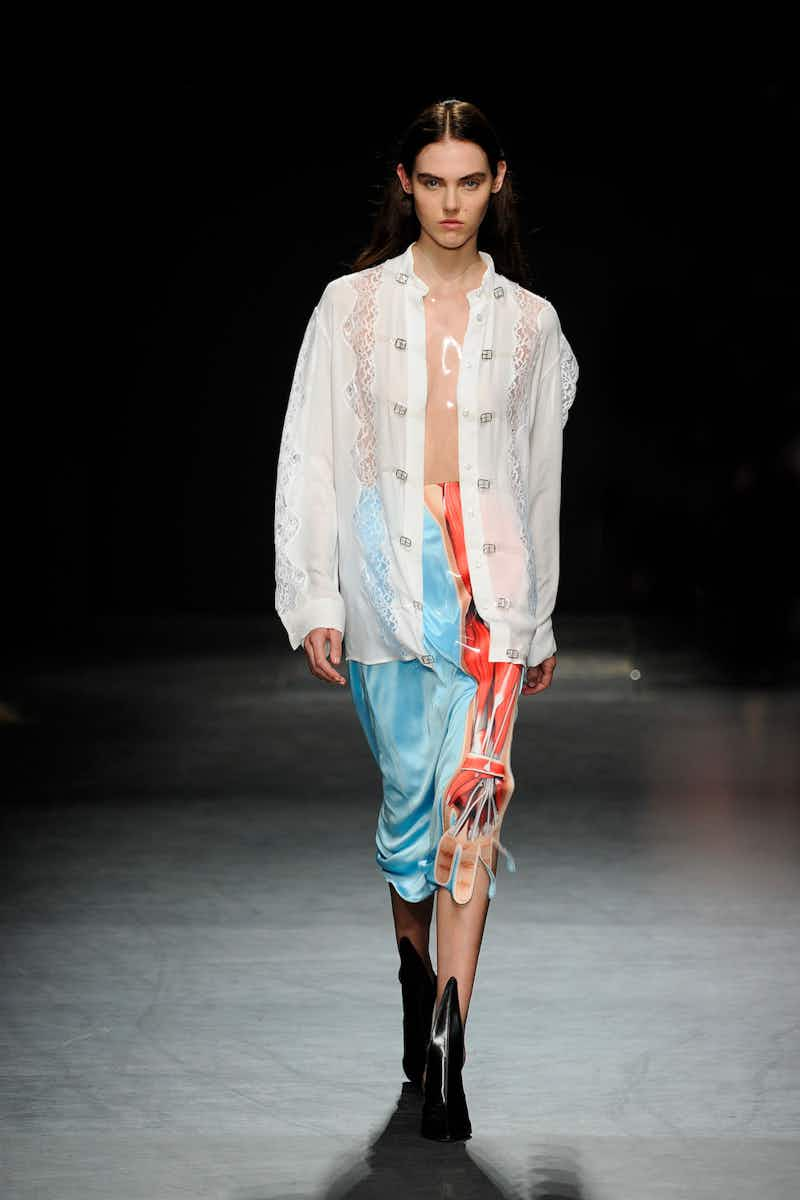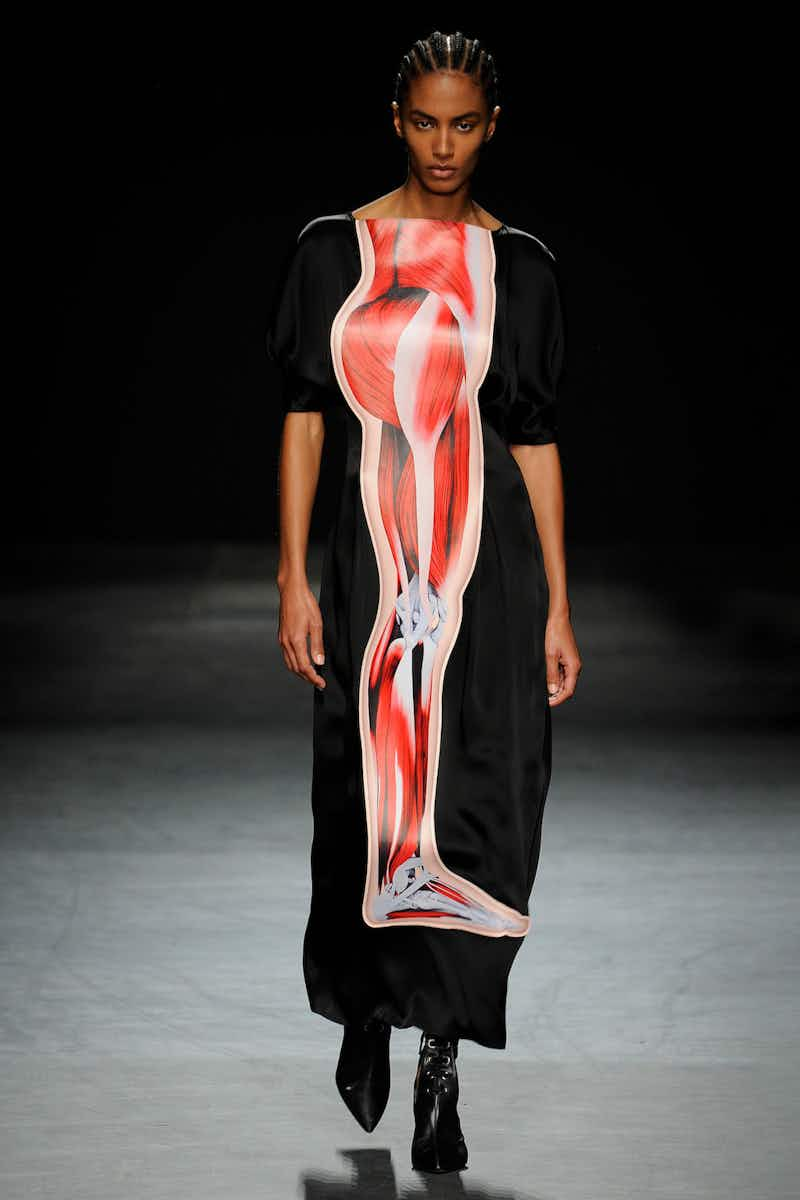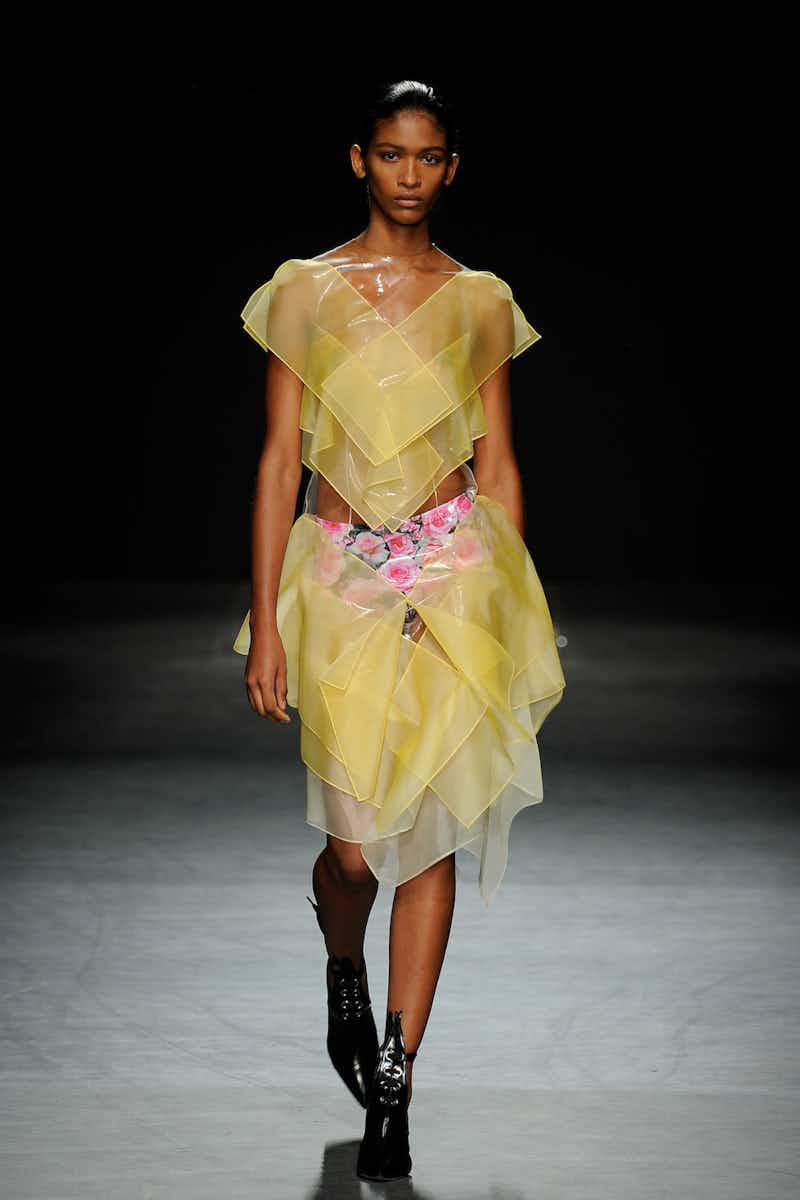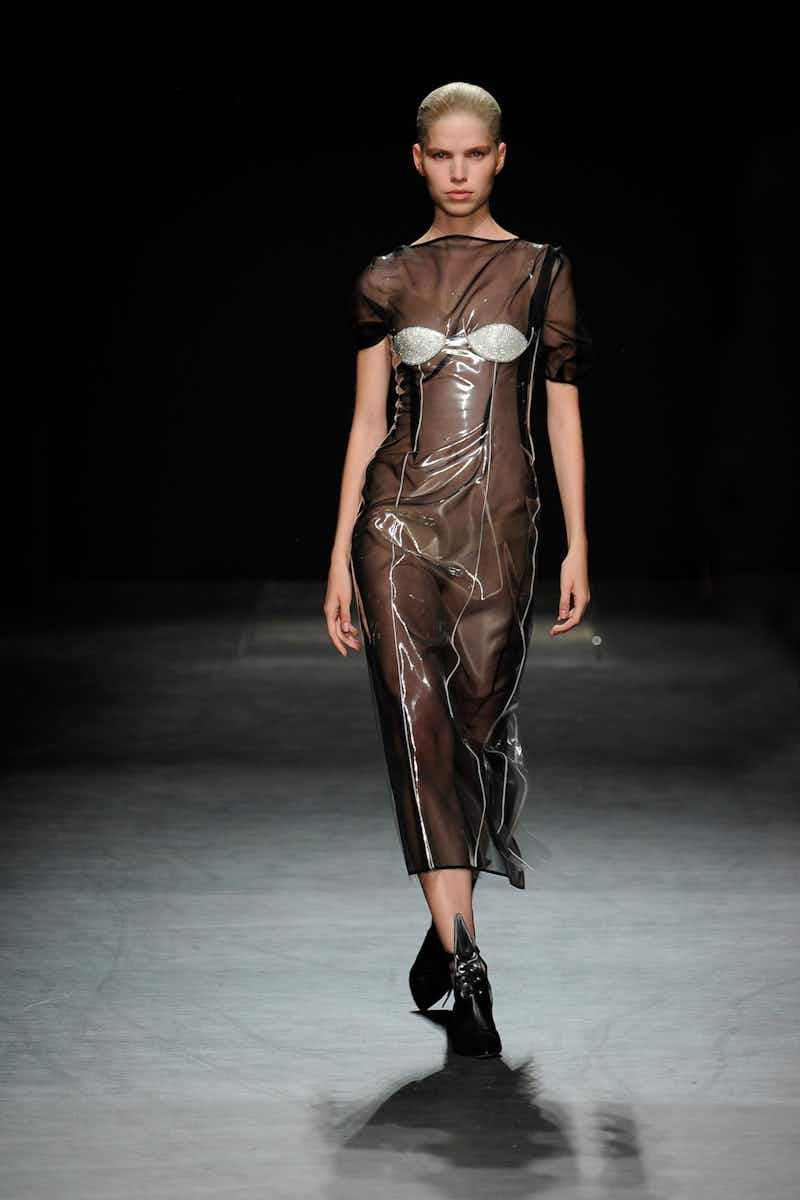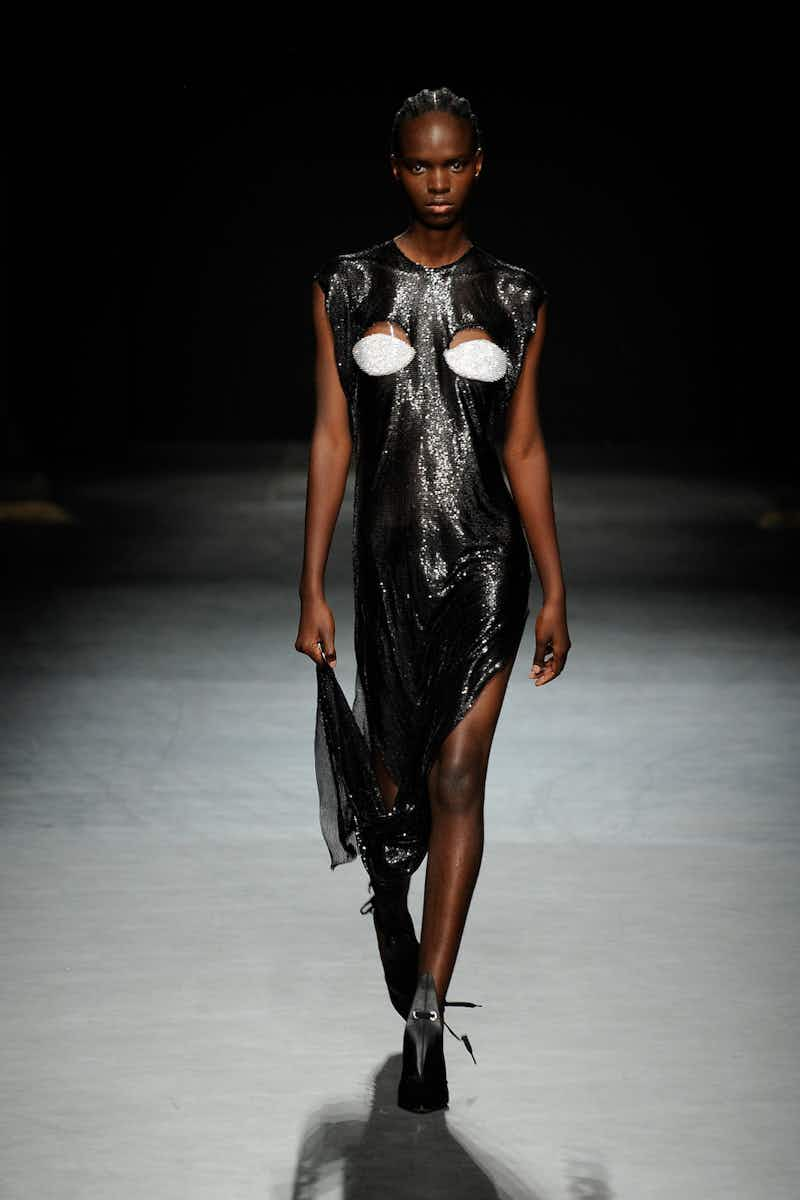 As Stefan Cooke's models entered the show space to the sound of automated train station announcements listing departures to everywhere from Paddington to Bognor Regis, it was clear the designer duo behind the menswear brand – Stefan Cooke and Jake Burt – were about to take us on a journey.
And what a journey it was. Pit stopping in UK destinations that stirred nostalgia, there were looks that conjured memories of dishevelled school uniforms (as seen in the washed out, shrunken knits), first clubbing holidays (see: a ​"Club Ice foam party, every Thursday" T‑shirt covered in iridescent sequins) and the Victorian era (a mood, not a memory, this time, thanks to bodices and a woven, bustle-like mini skirt).
But despite the familiar references, Cooke's SS23 collection was fresh and funky. Heritage scarves were fashioned into bag straps and belts, denim appeared intricately fishtailed and the designer's signature slash technique tackled leather for the first time, all accompanied by a euphoric soundtrack that struck the balance between fantasy and reality – something that Stefan Cooke does best. BM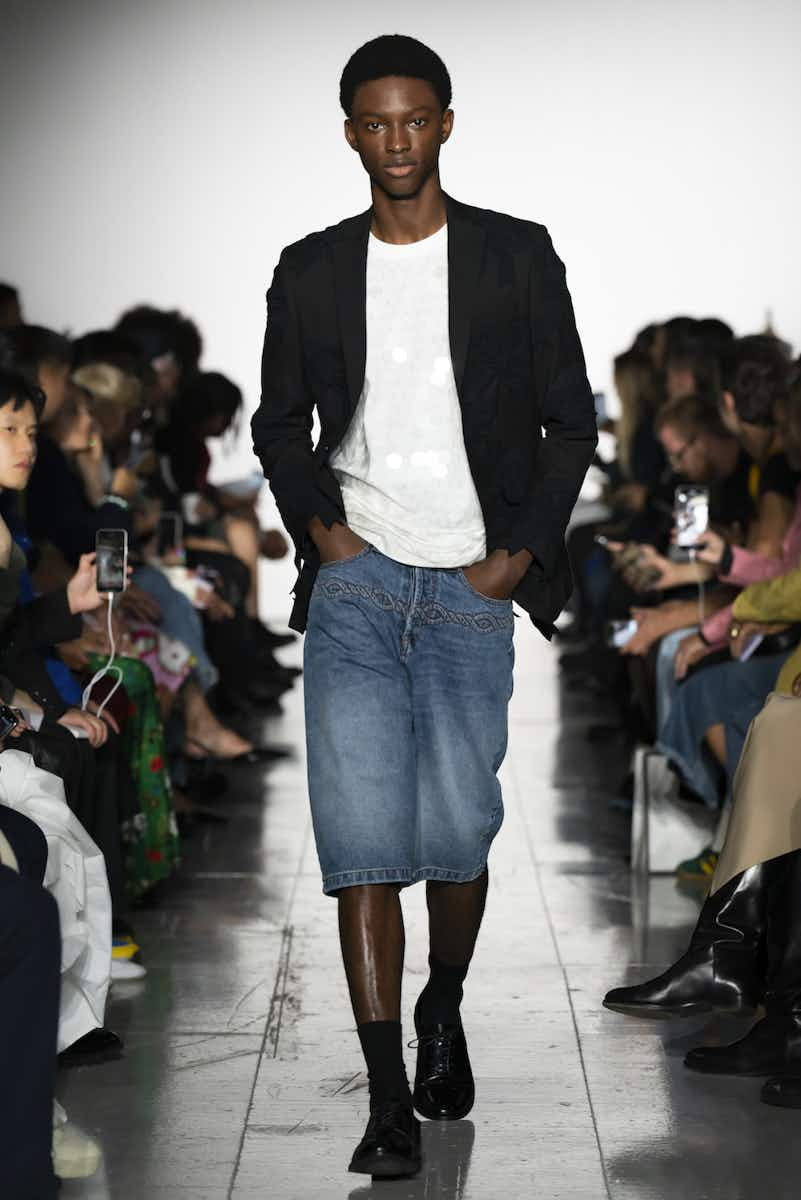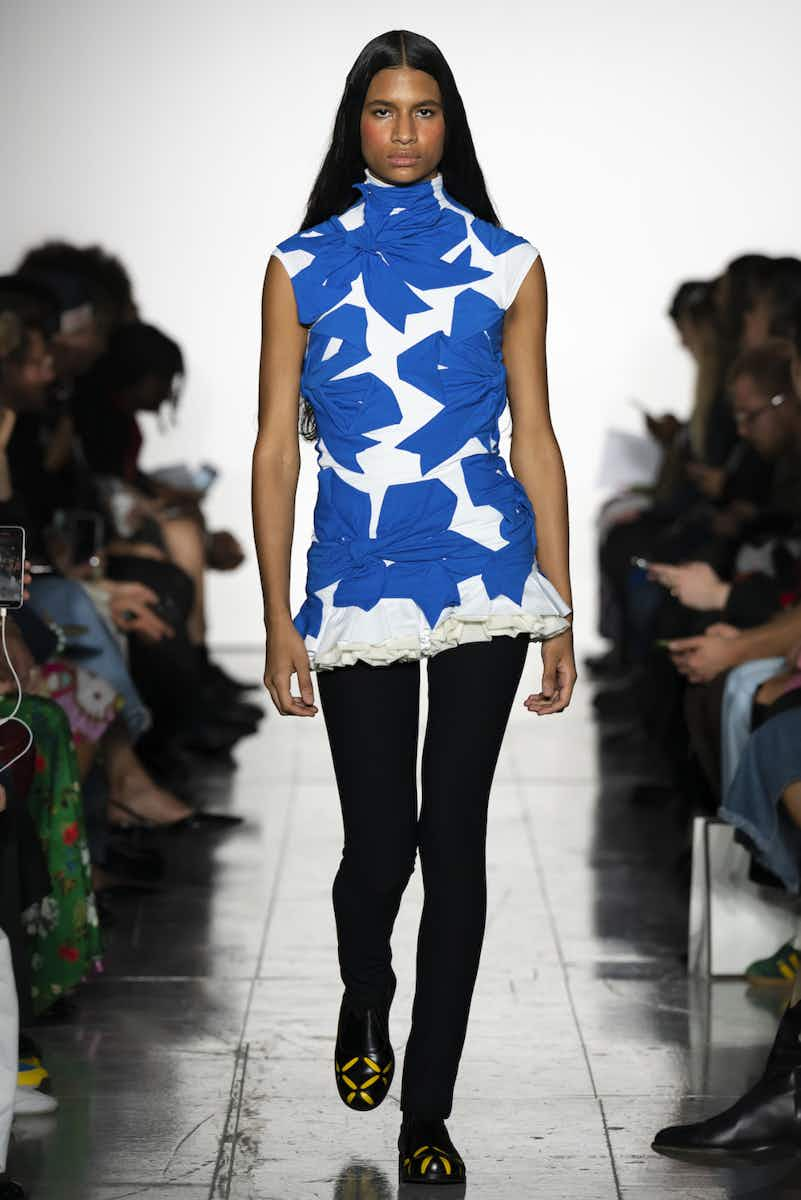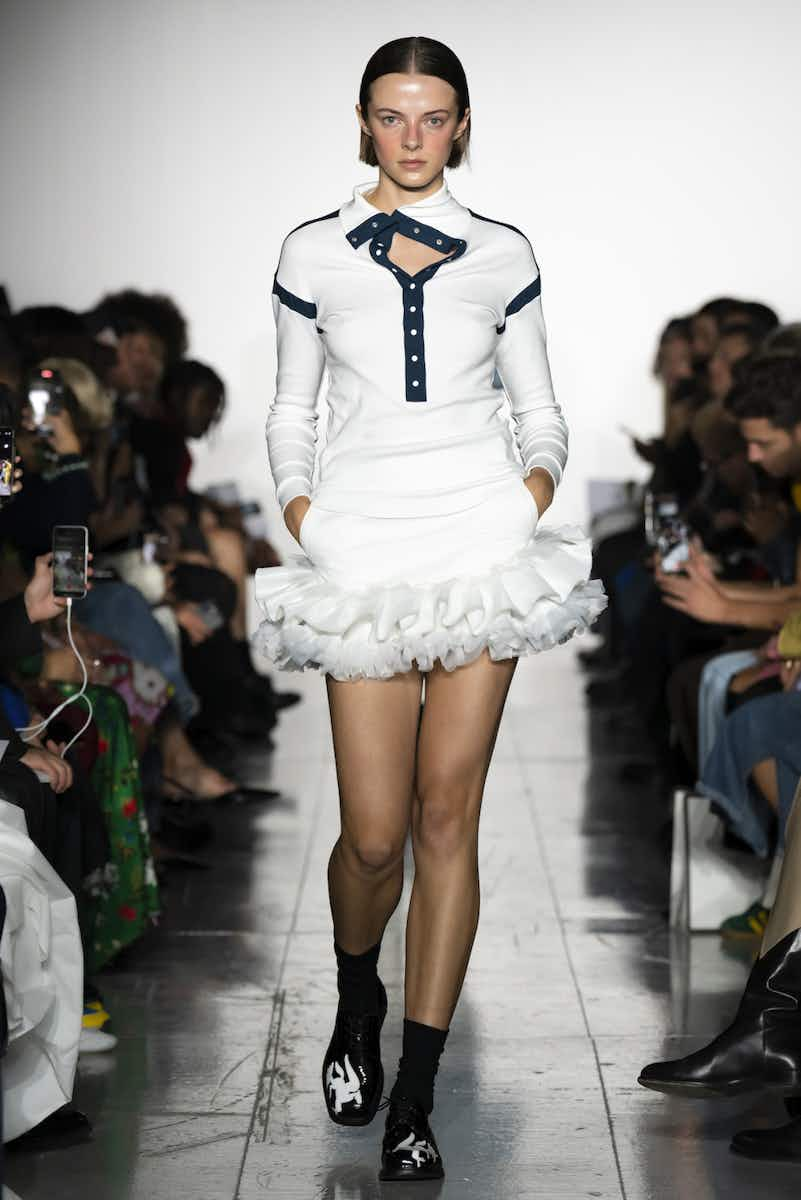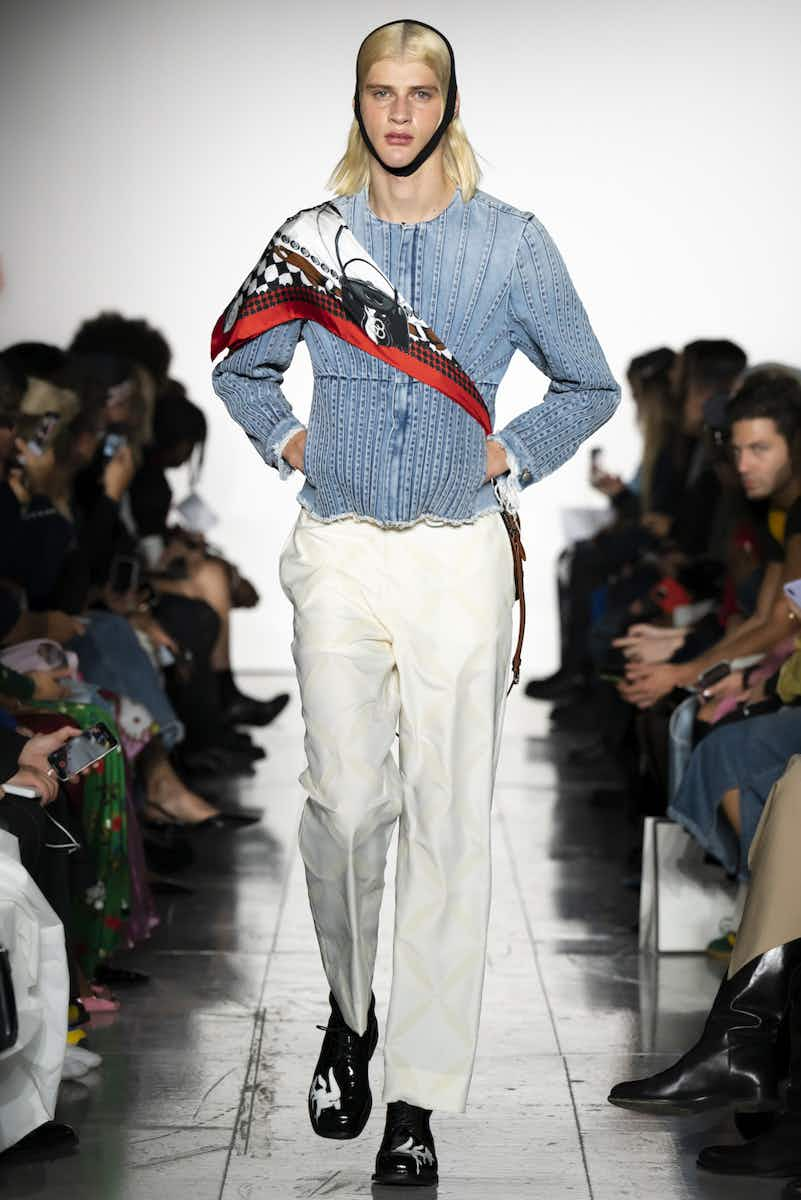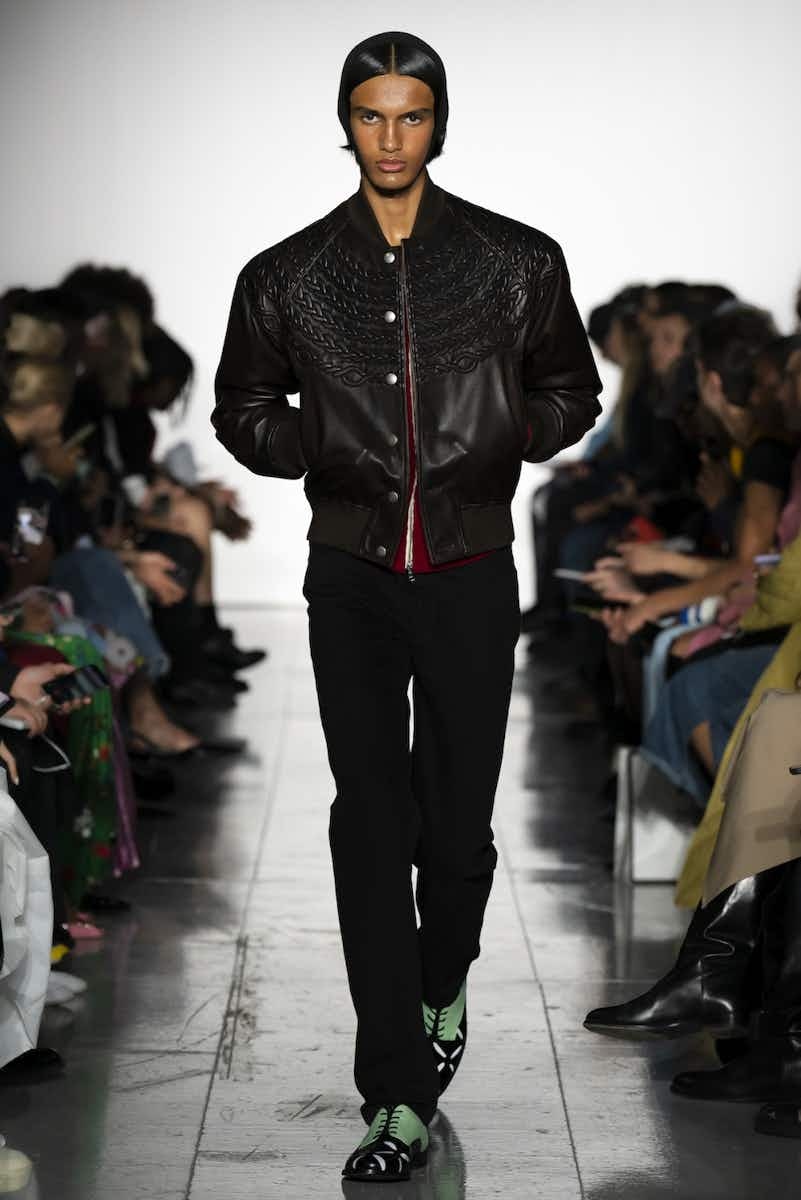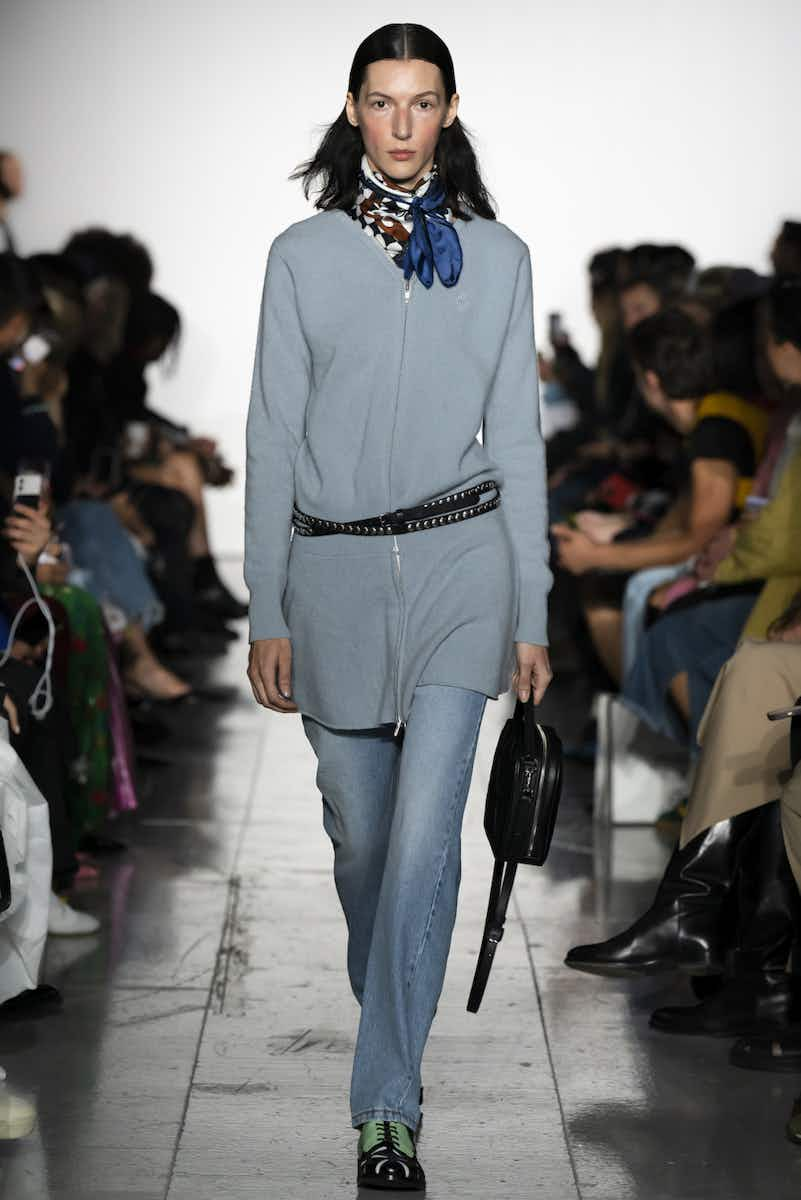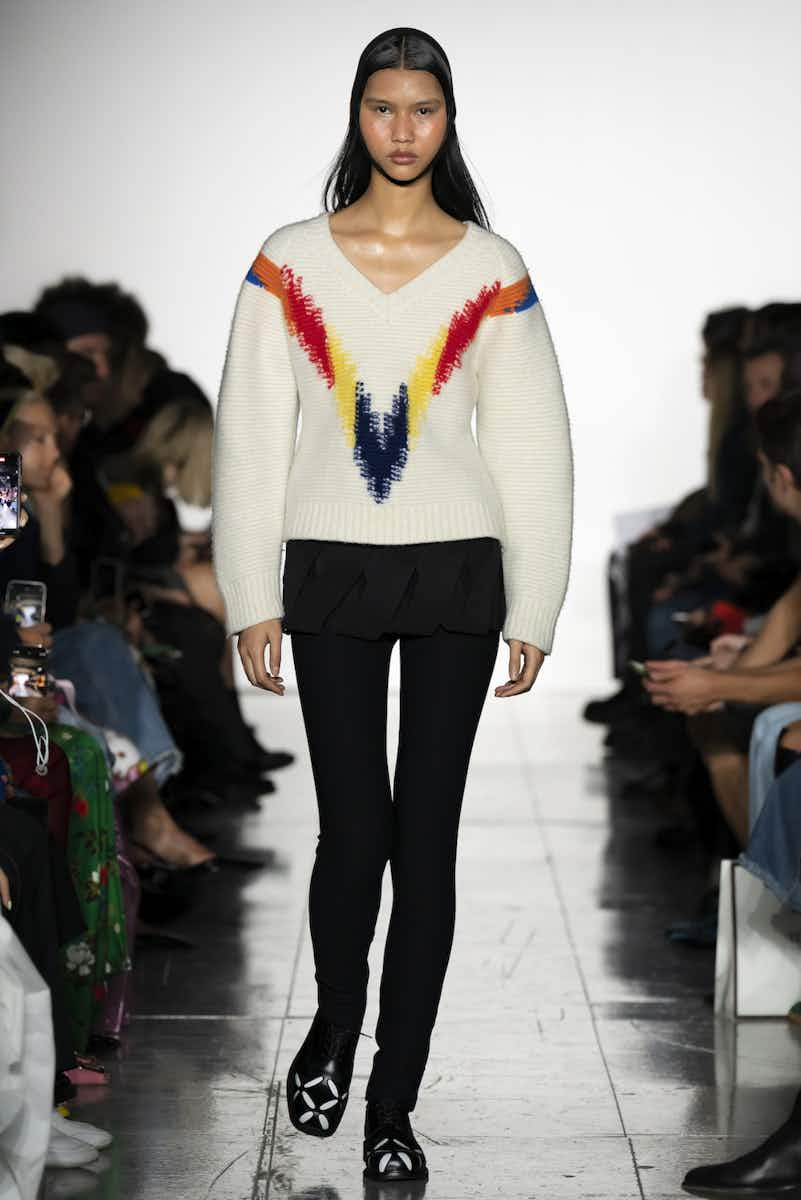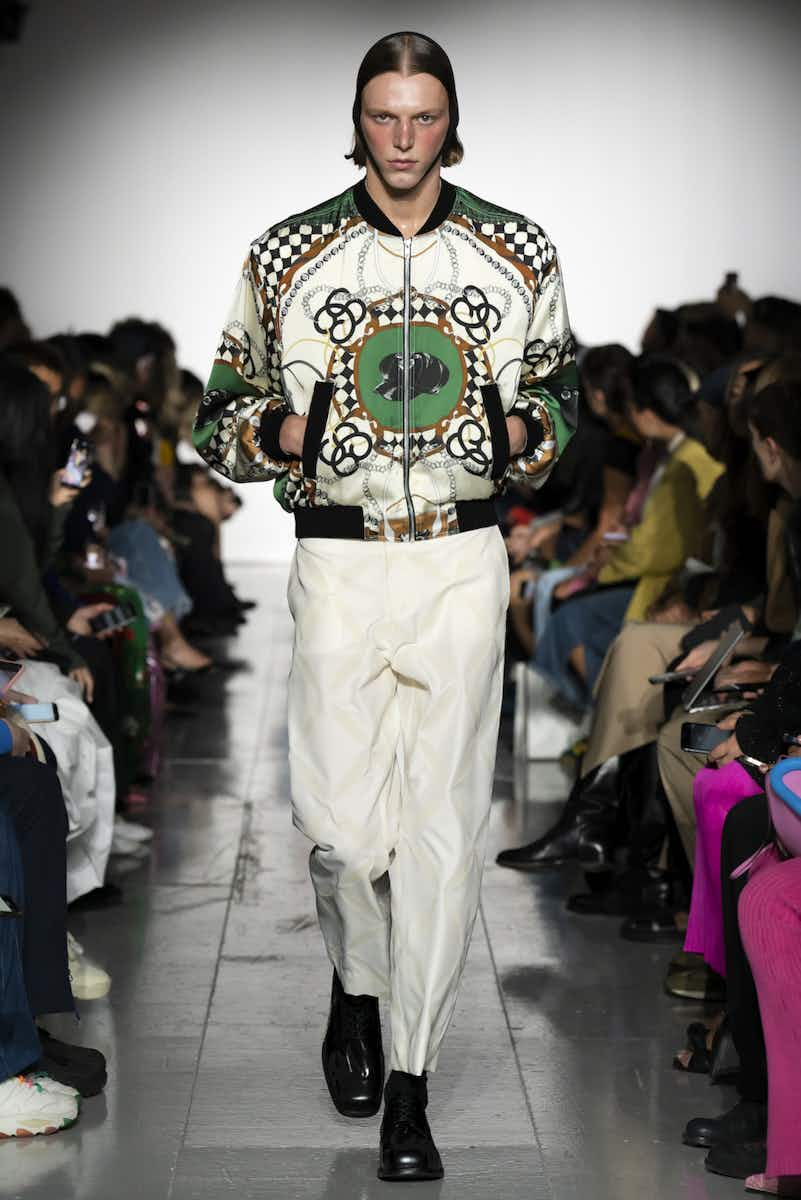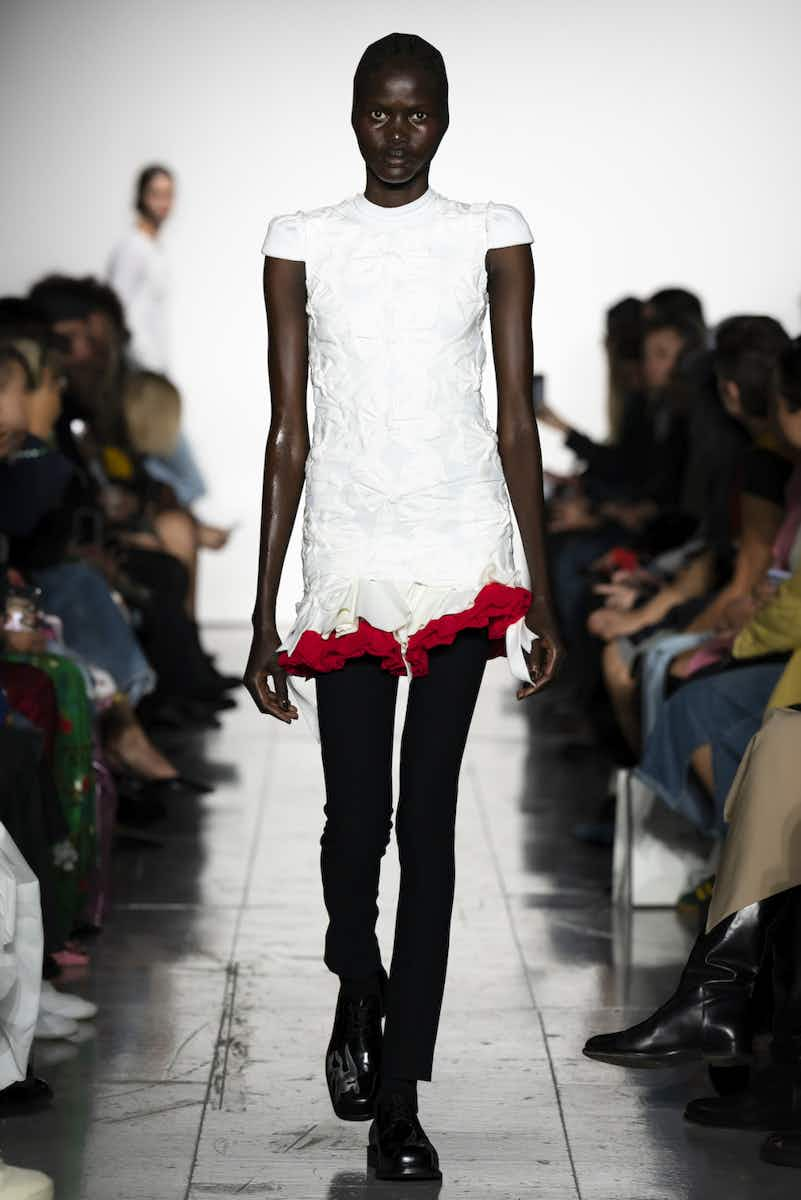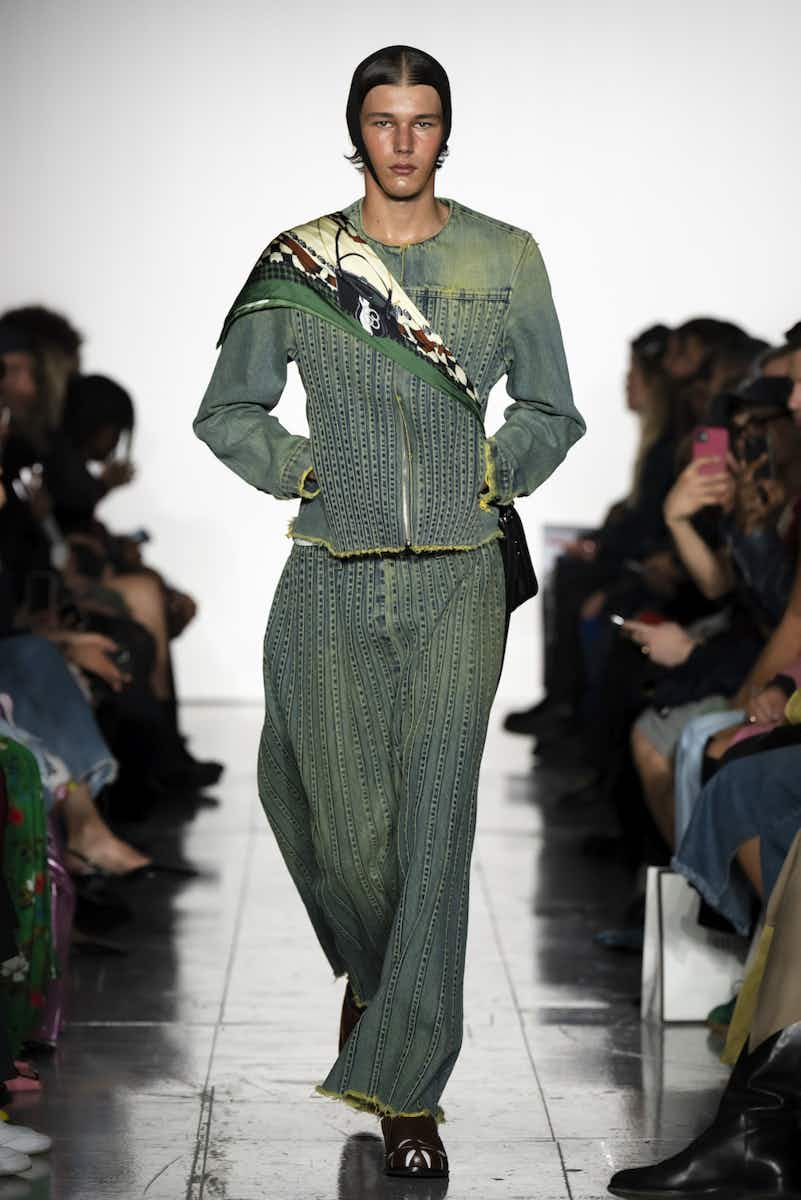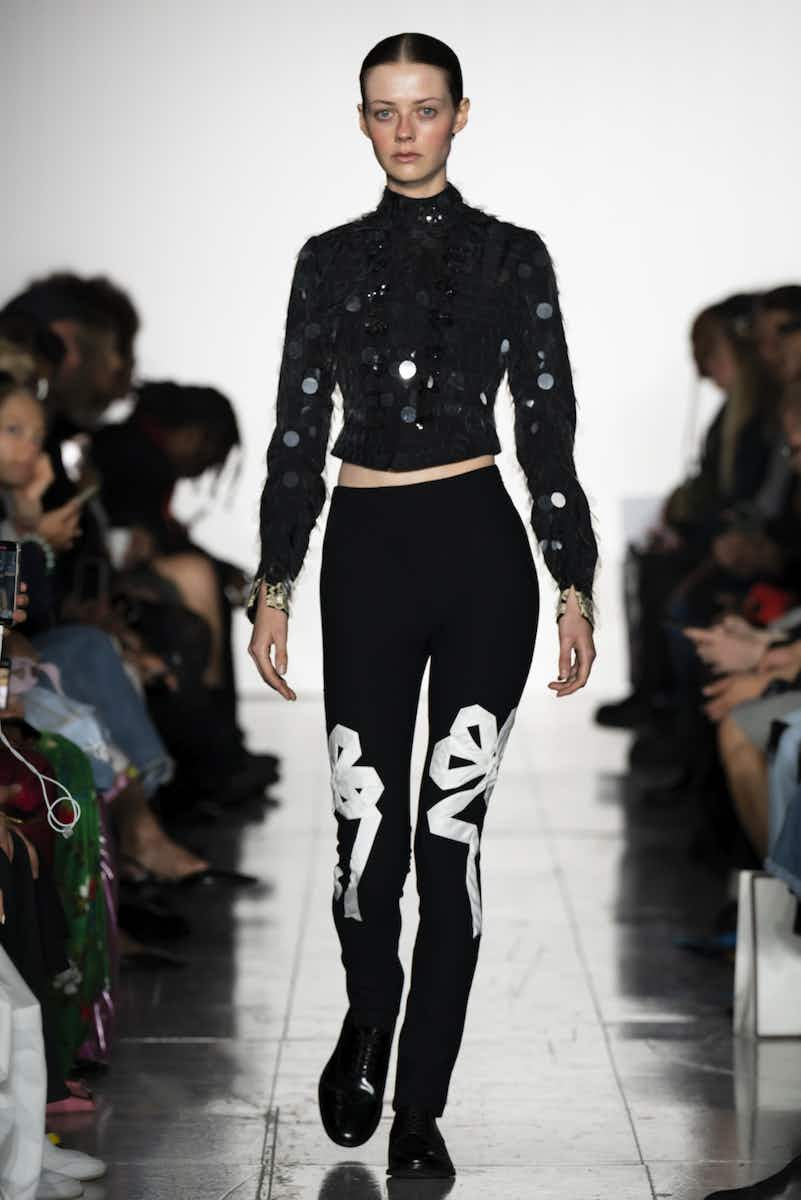 Since 2017, 16Arlington – founded by Marco Capaldo and the late Federica ​"Kikka" Cavenati – has curated a world of mornings after. Clothes that take you from the taxi to the party to the hazy conversations the next day. This season, the London-based brand presented a subversive take on power dressing: sharp shoulders, voluminous marabou coats and tough snakeskin prints on leather. And in its sensual mini dresses, satin coats and sequin embroideries, the brand retains its badge of honour as London's go-to partywear. It's clothes for making noise. The 16Arlington woman is never a wallflower – even with a hangover the next day. TJ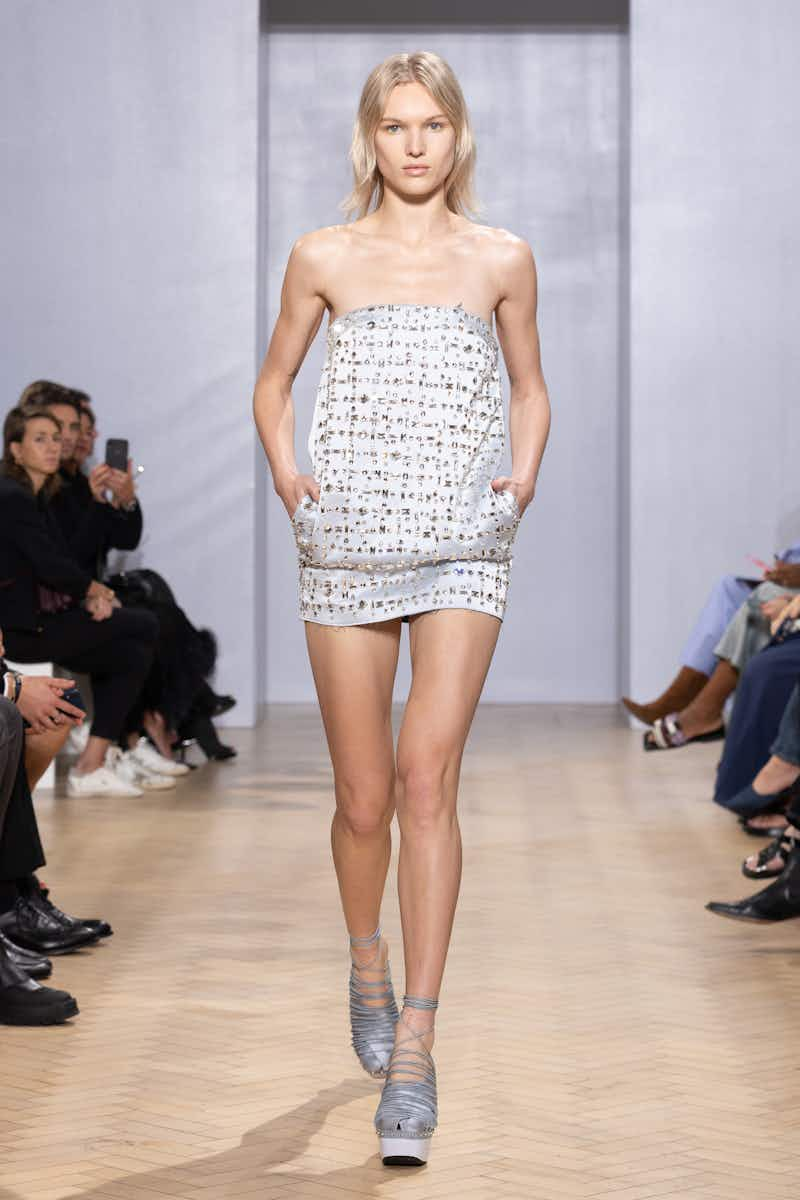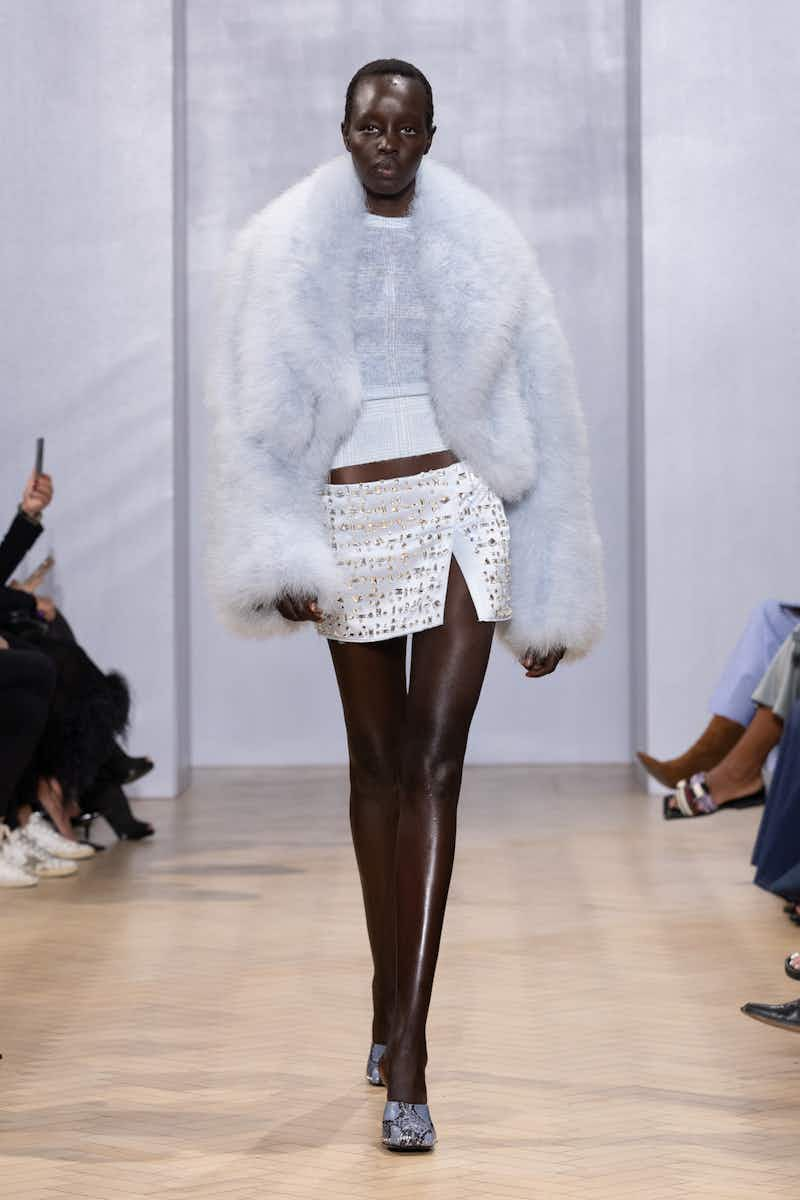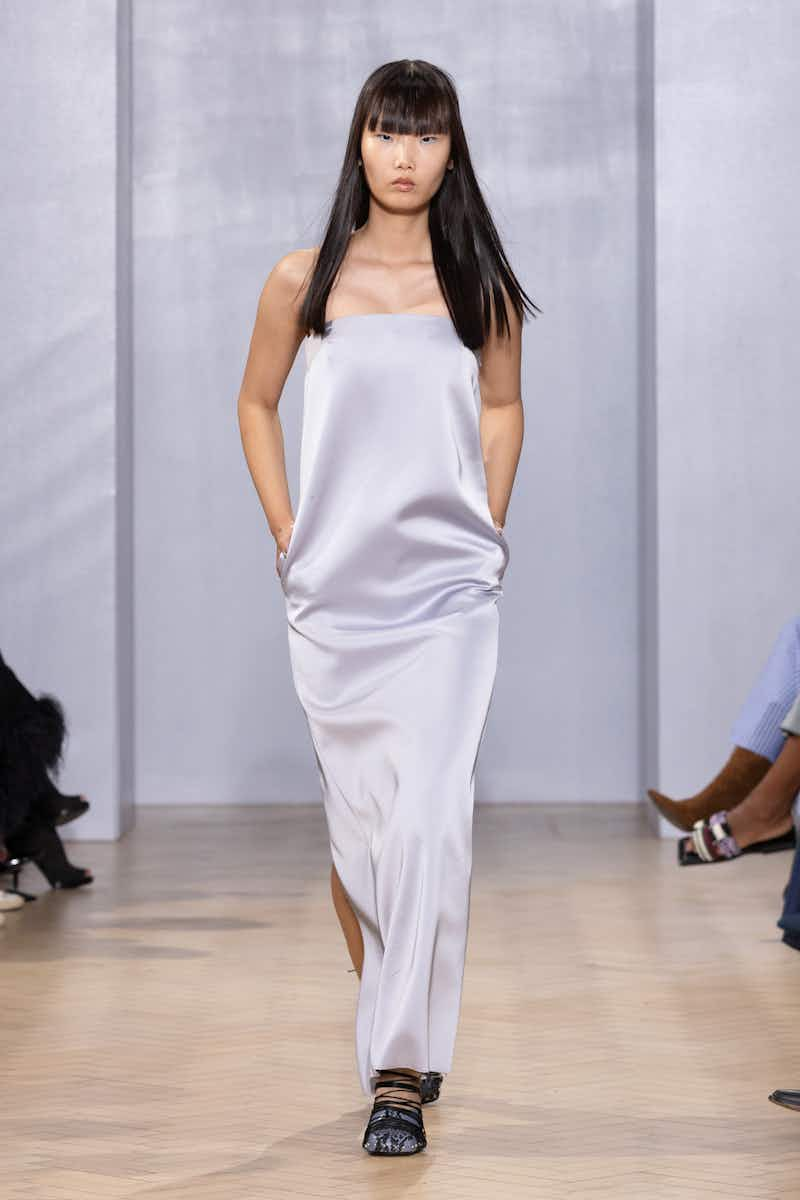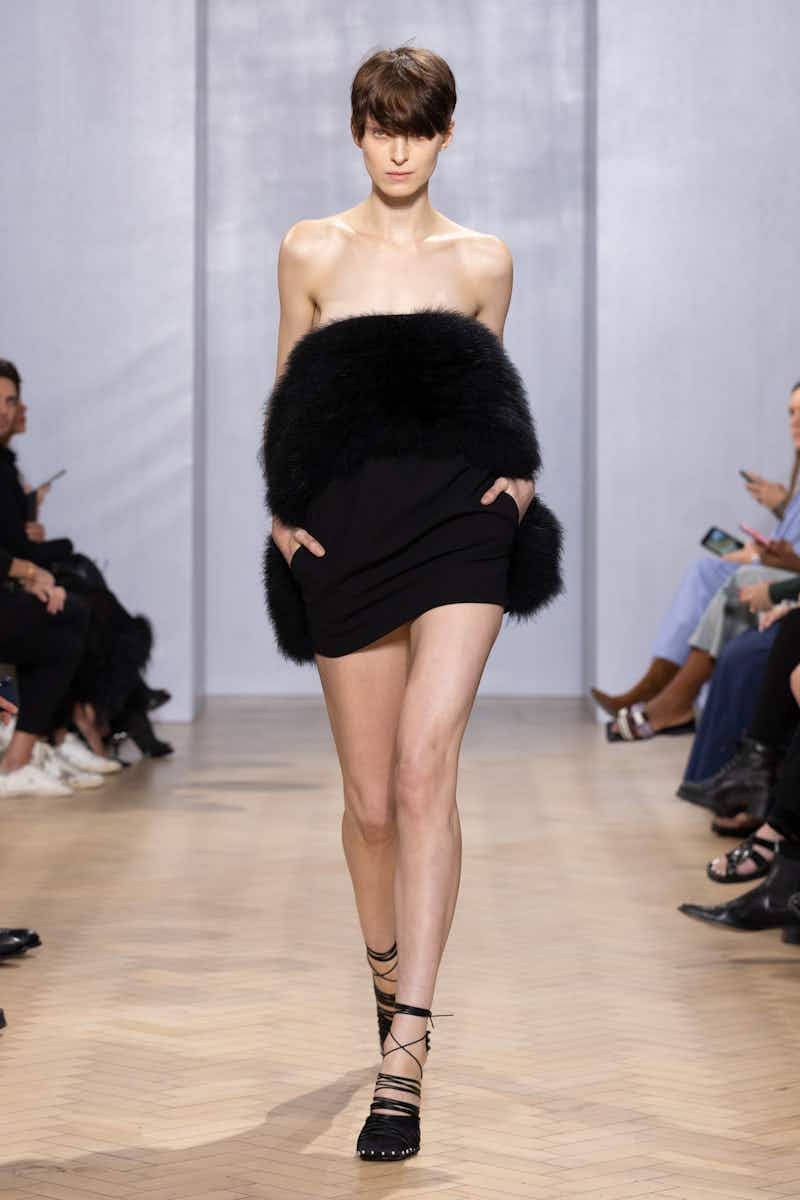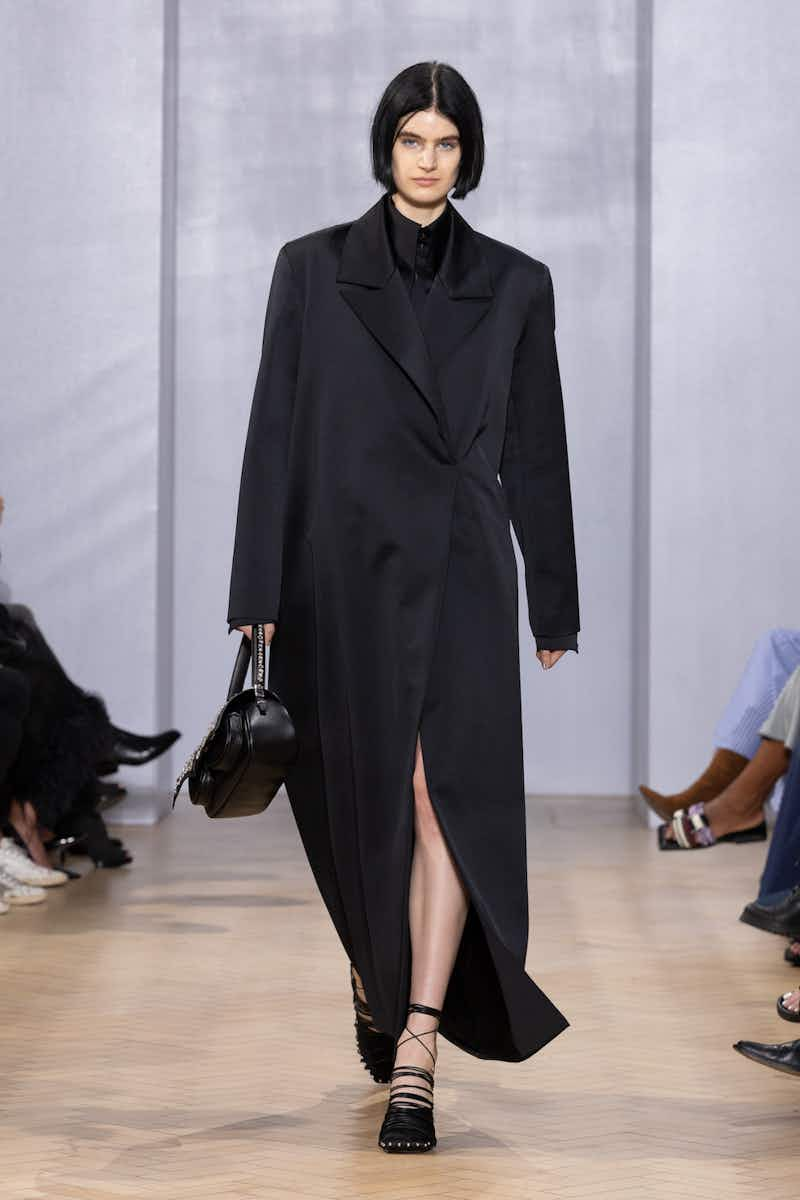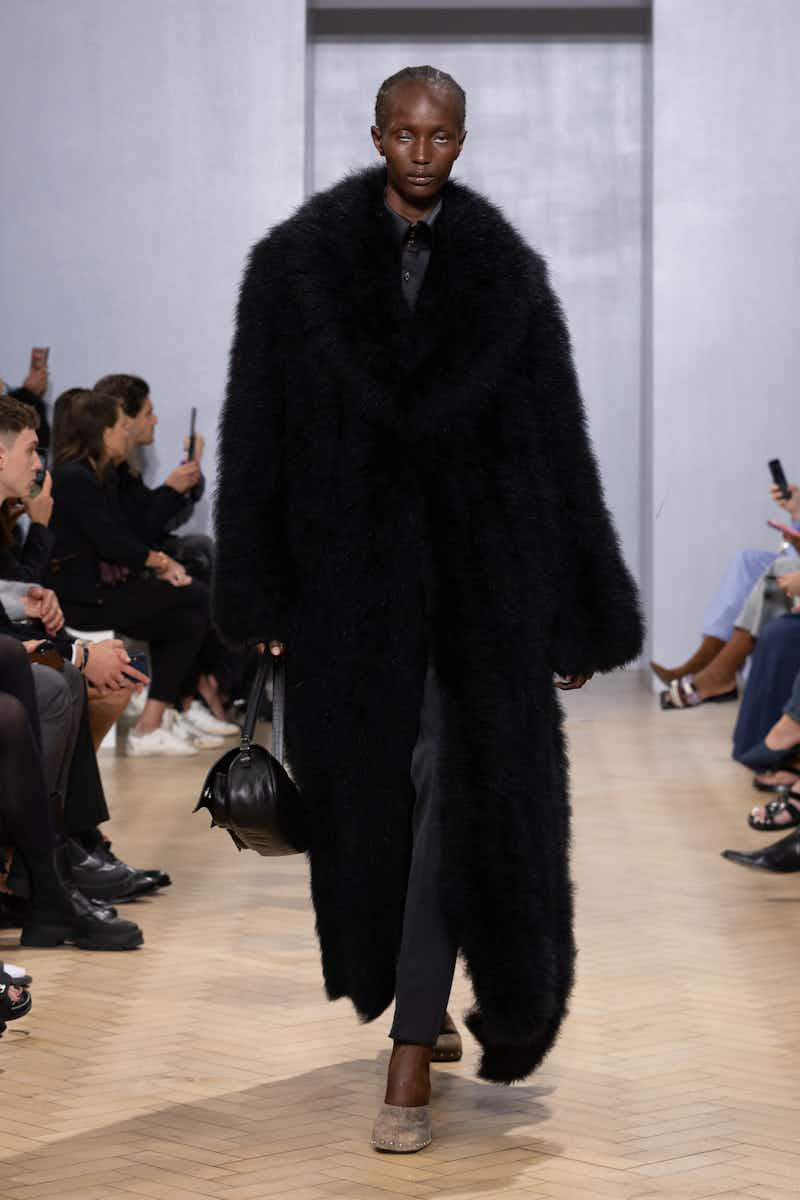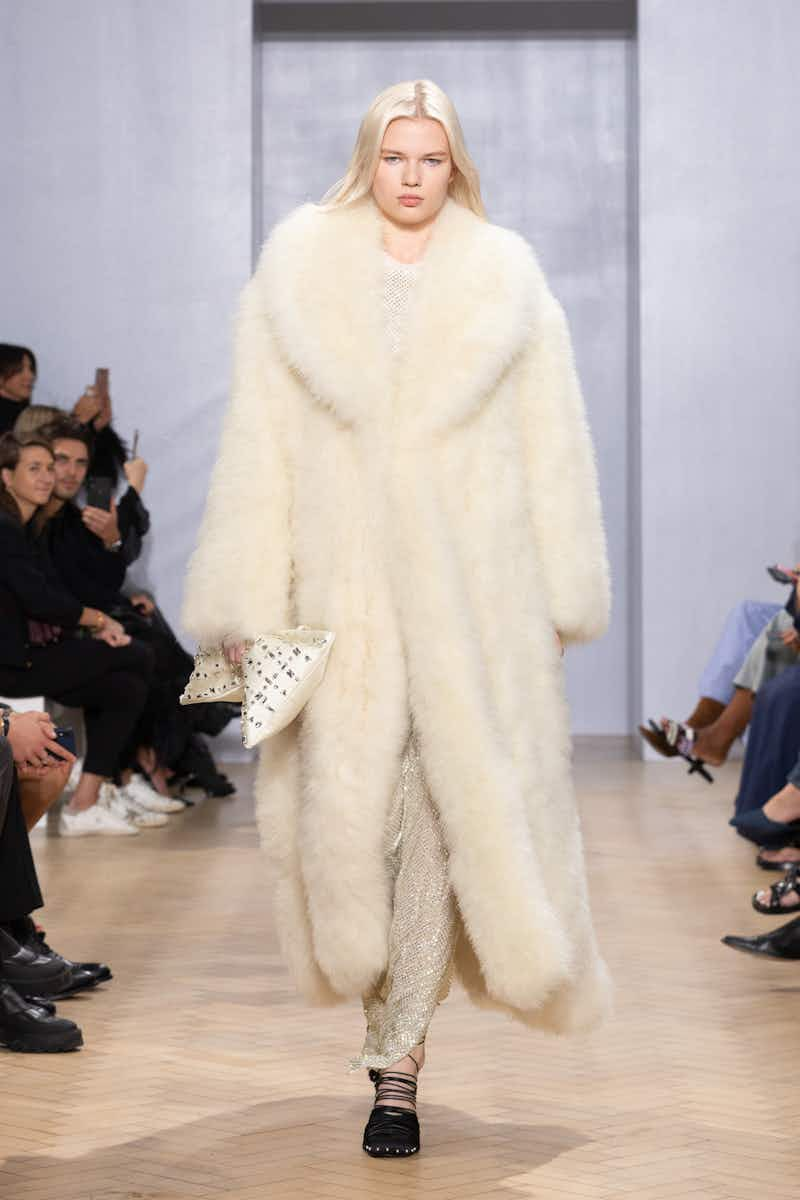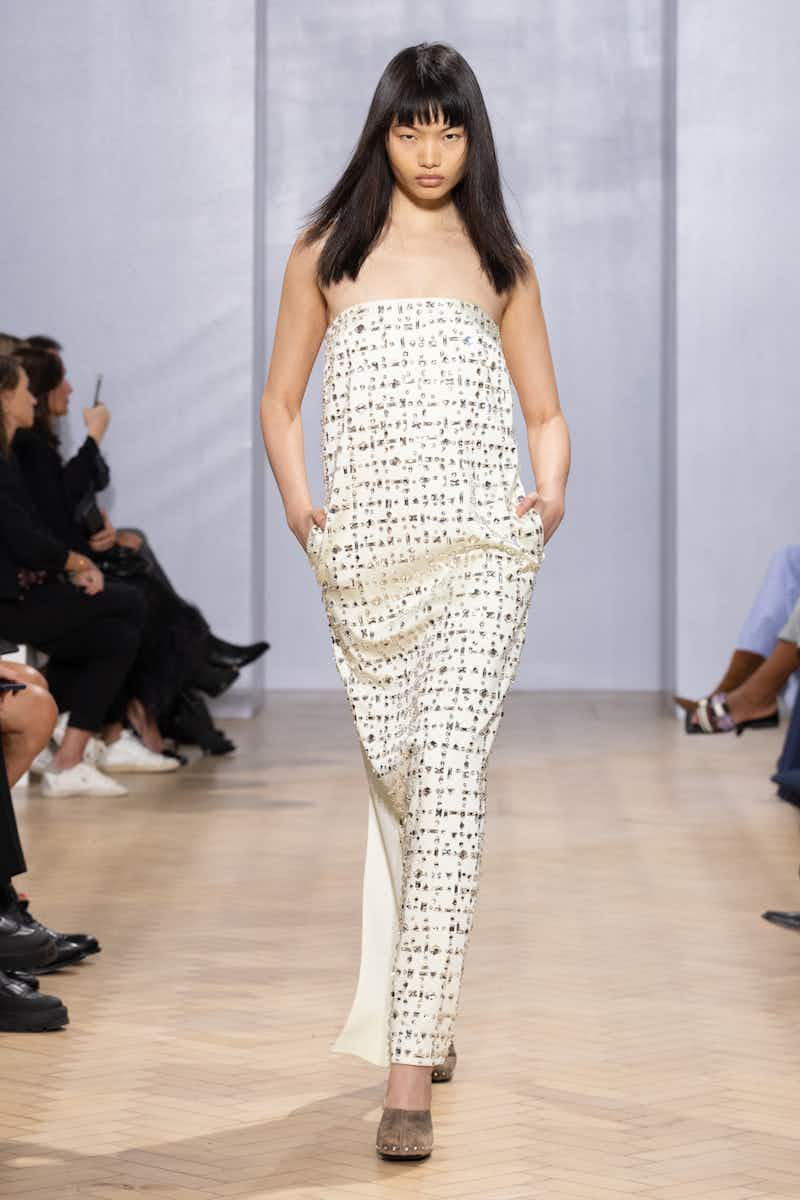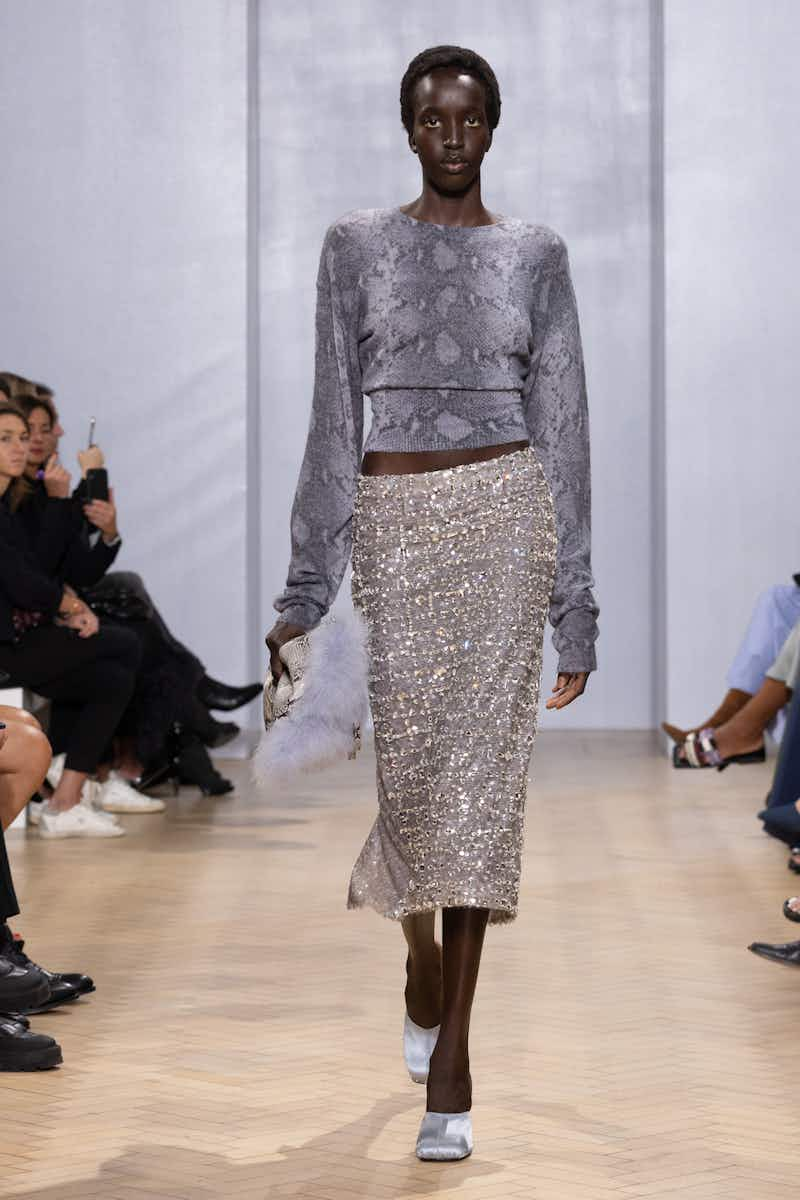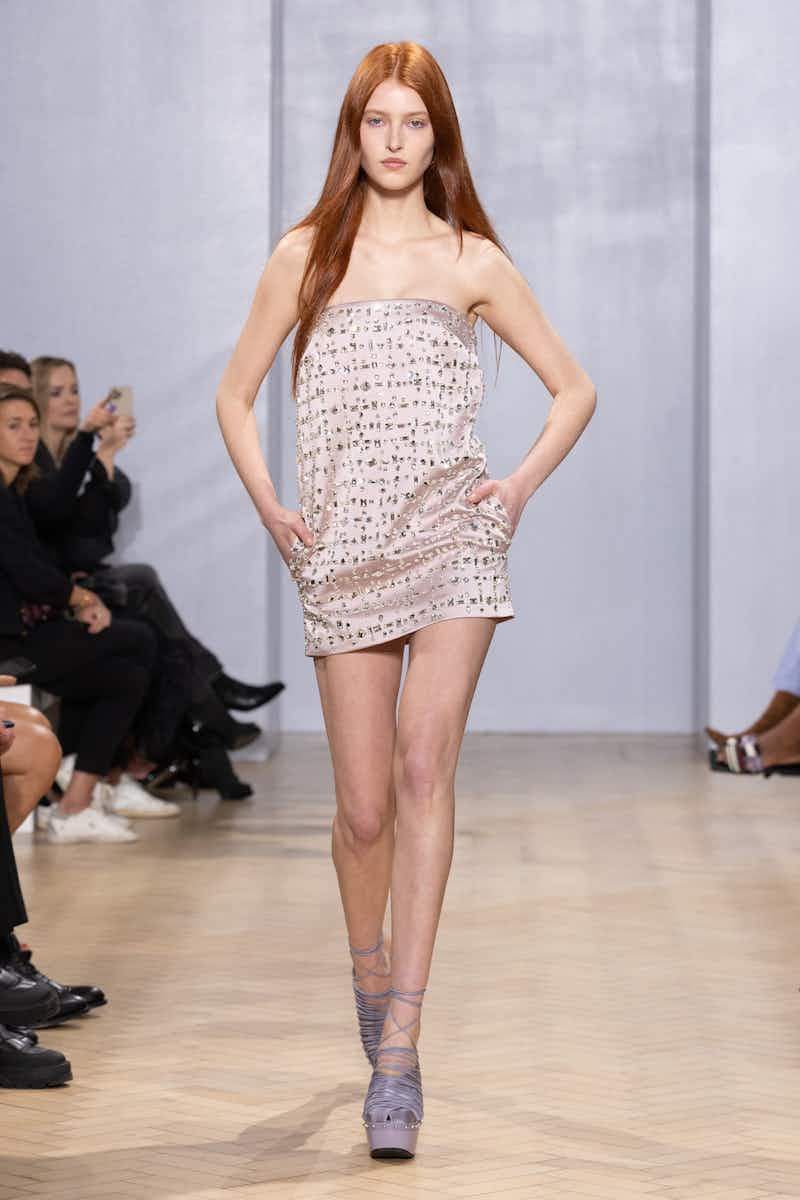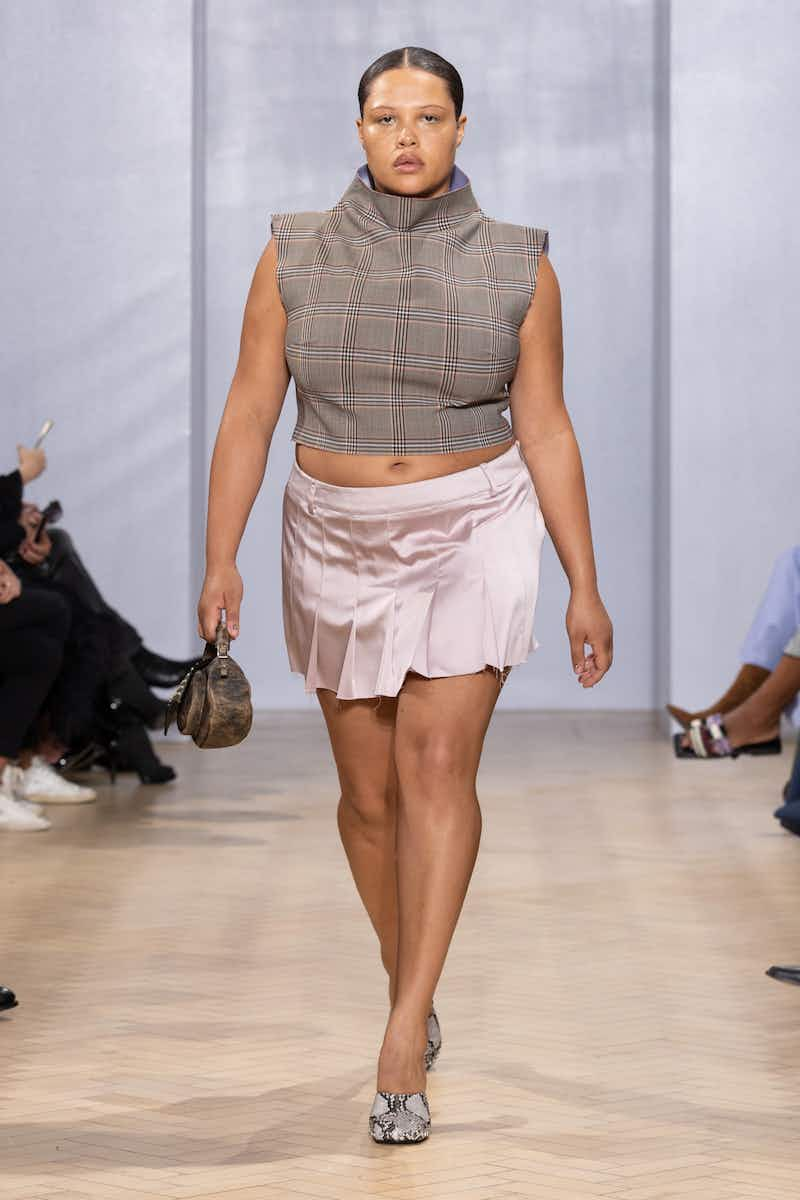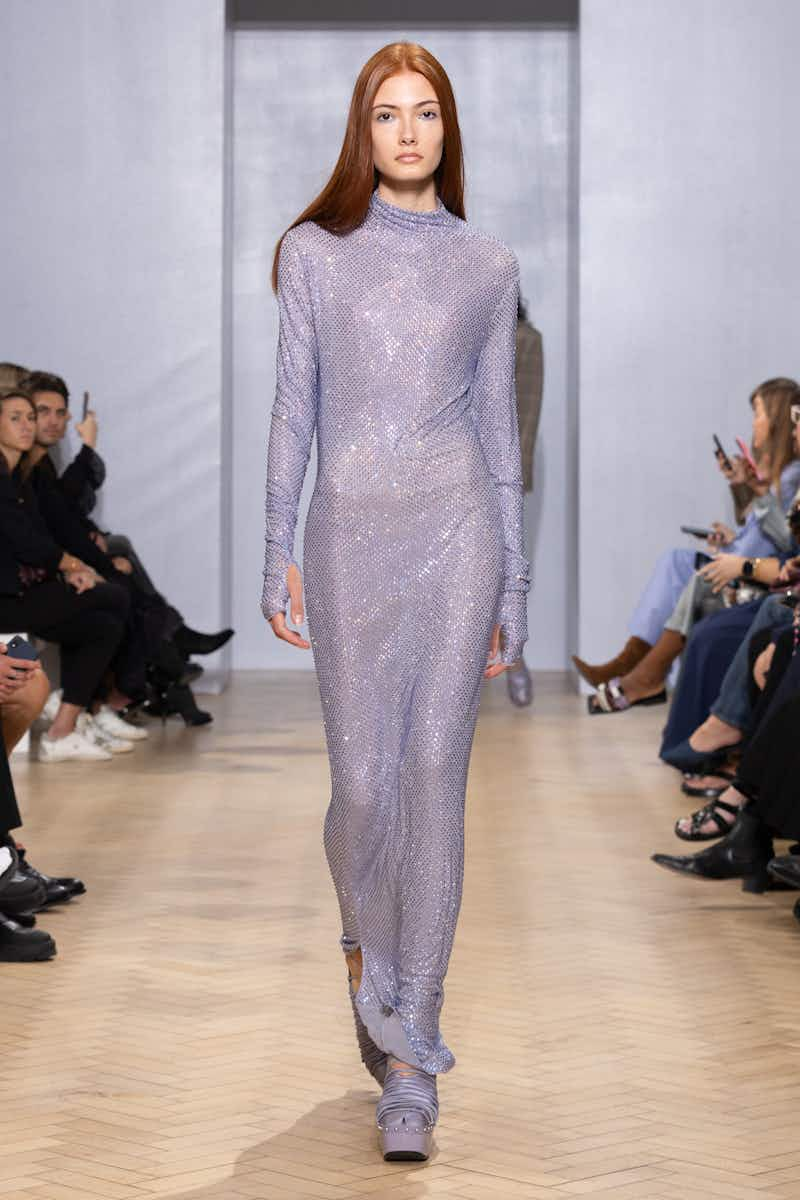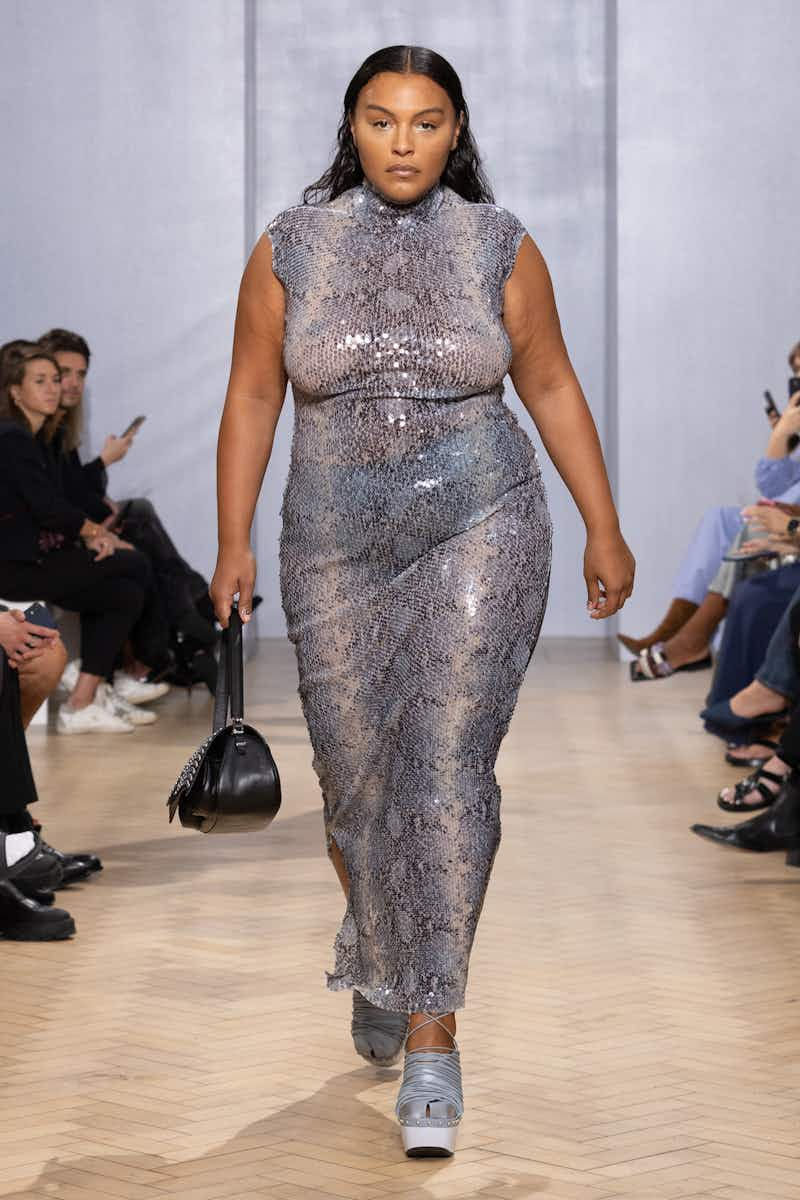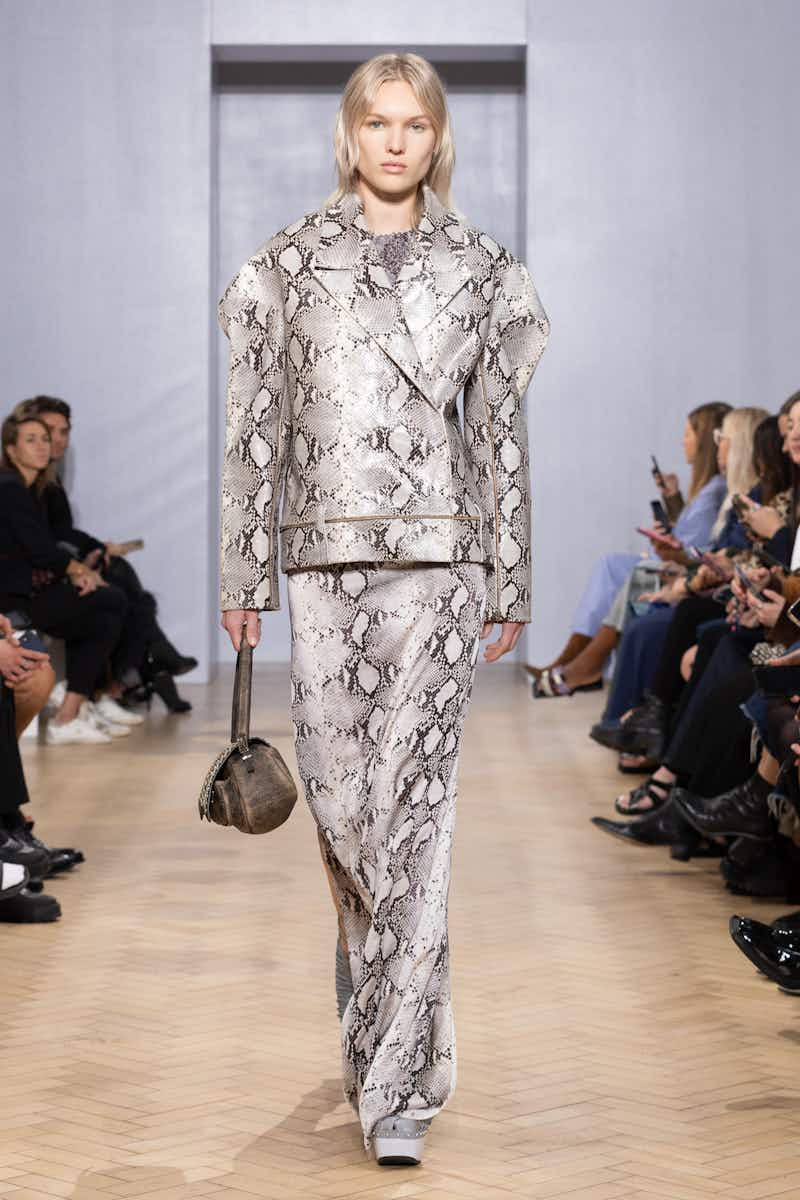 Nensi Dojaka, a previous winner of the LVMH Prize, has produced a winning streak of collections since debuting with Fashion East just two years ago, receiving high praise for the complexity of her designs, subtle sexiness and sophistication. All was full of love this season, with the signature monochrome pieces spiked with romantic pinks, lilacs and reds, and heart-shaped clasps sat on the cleavage. Slick suiting and thigh-high slits felt ultra-modern, retaining the crisp, late-'90s-influenced tailoring that the designer has reworked over her past collections. And the body – a critical component for Nensi Dojaka – was revealed in new ways: a nude dress swept the floor, while frilly skirts with tulle detailing and a cut-out pink sequin gown were a lively addition to yet another big win for the designer. TJ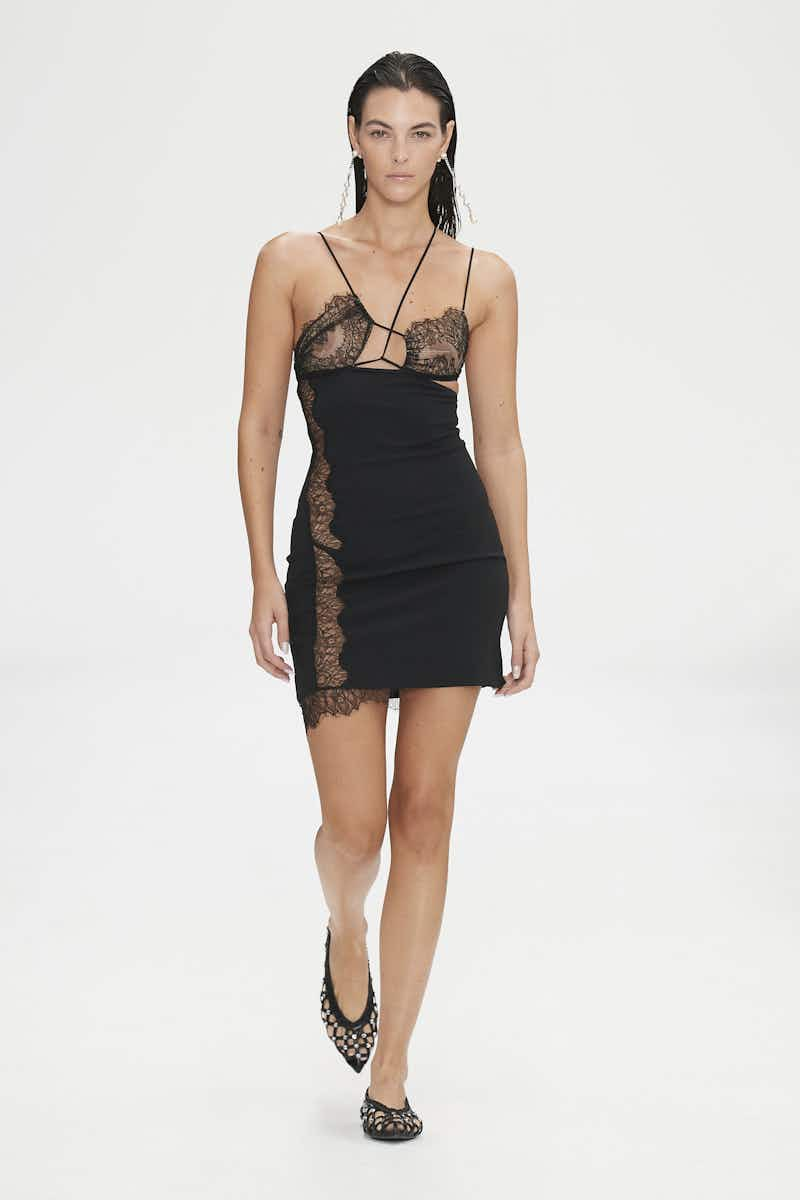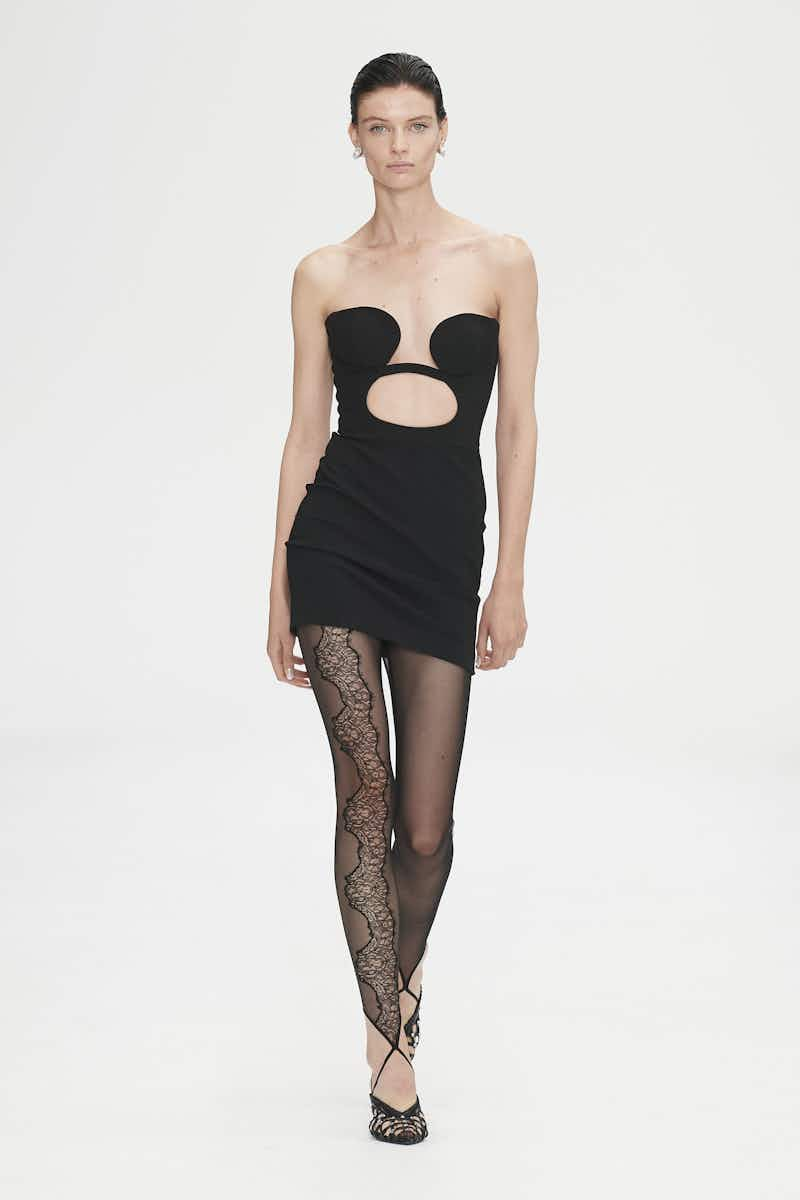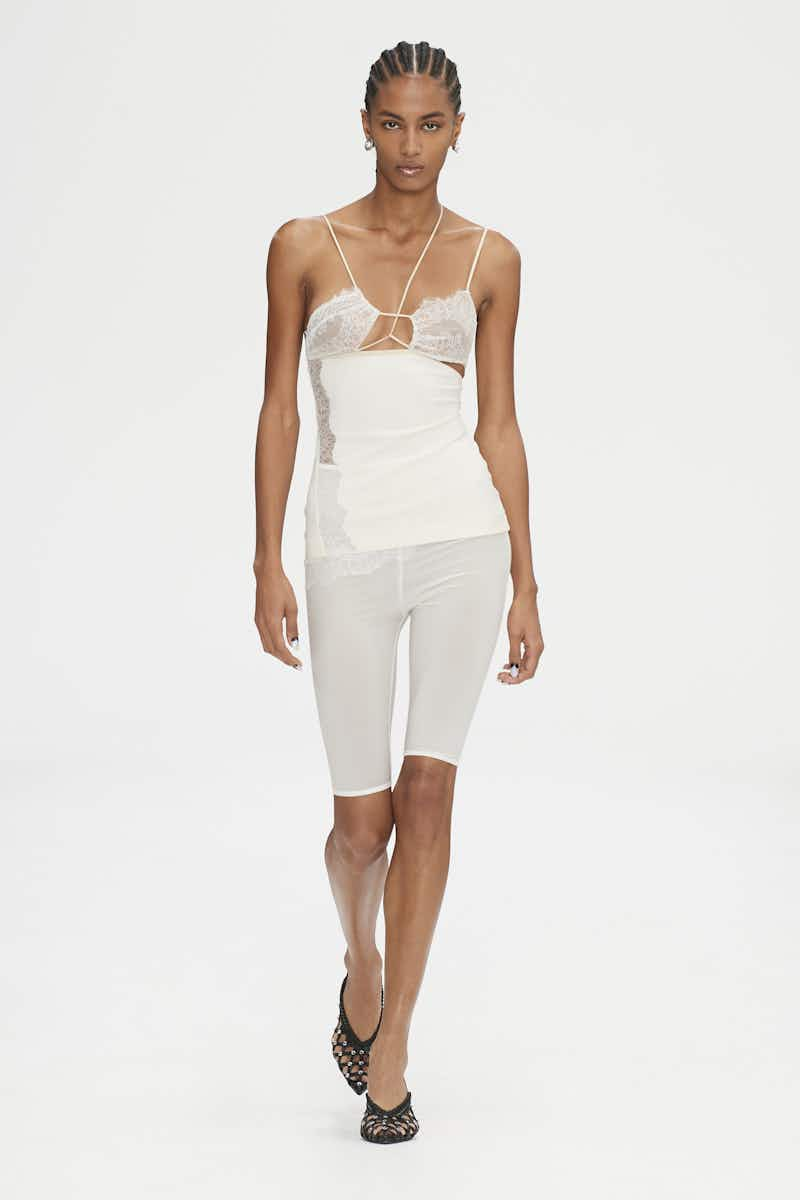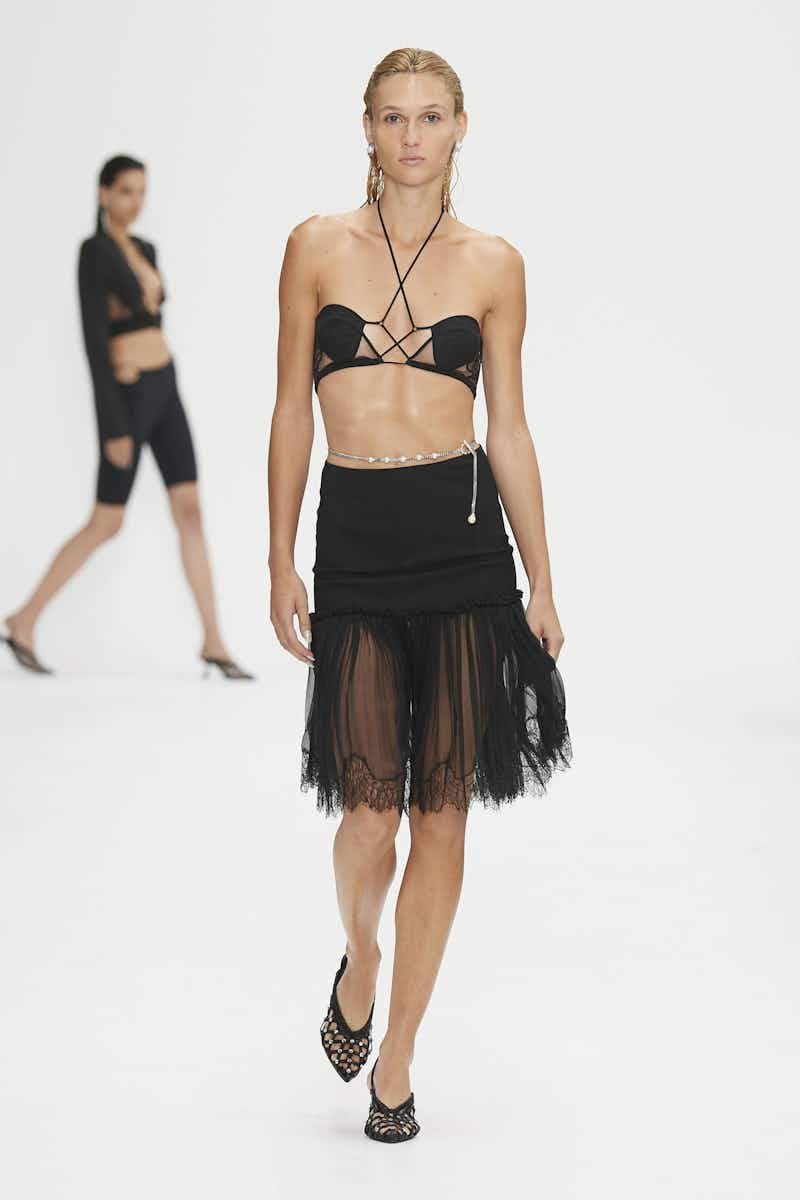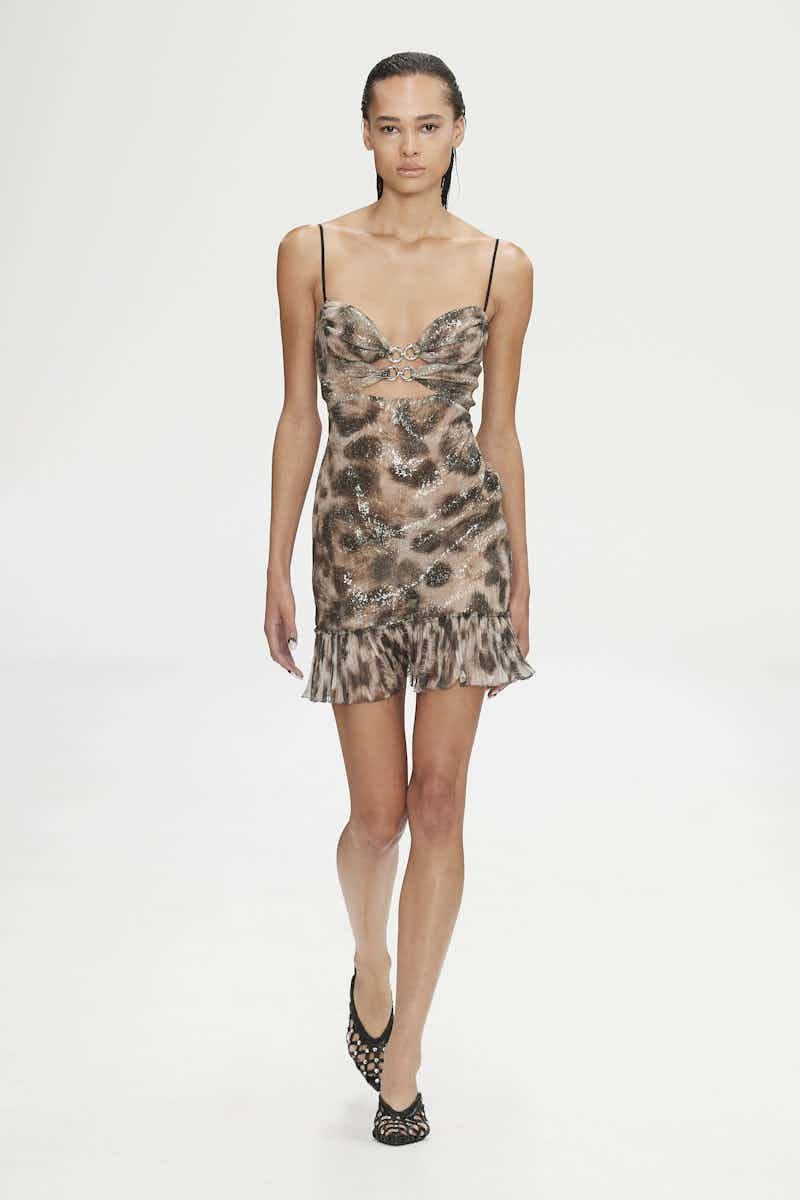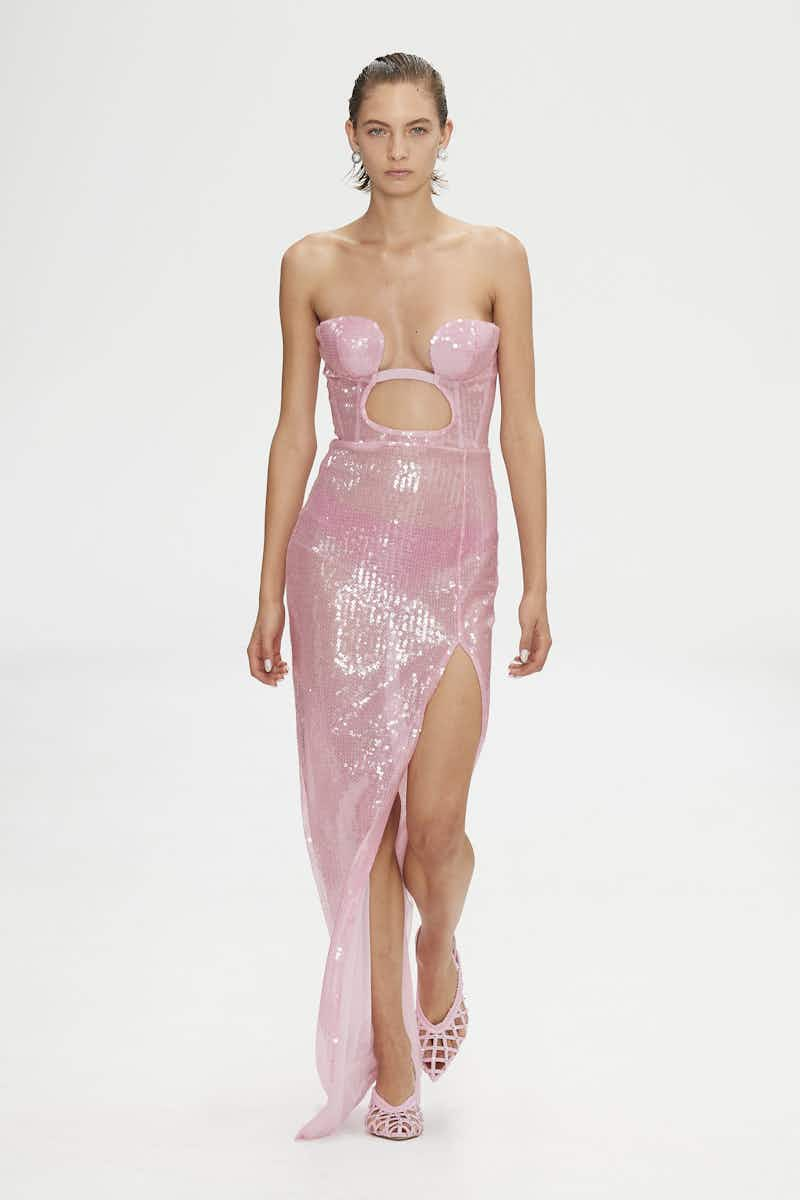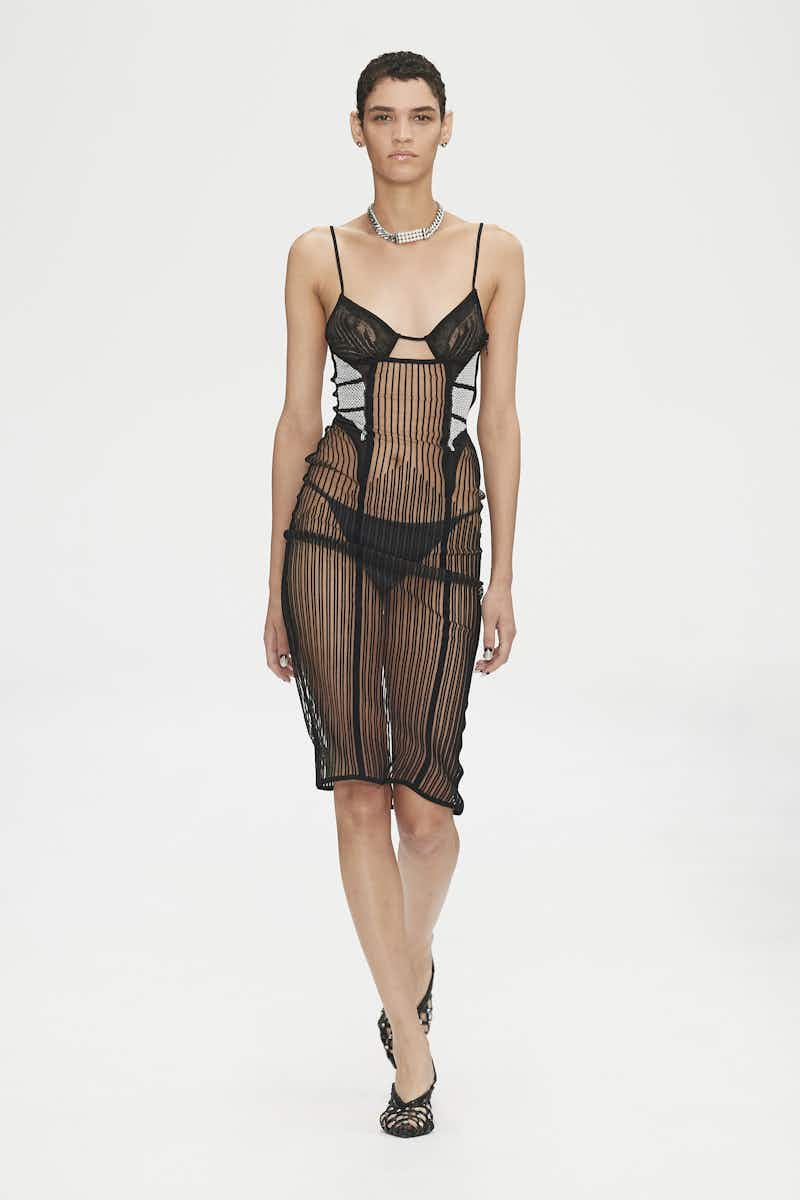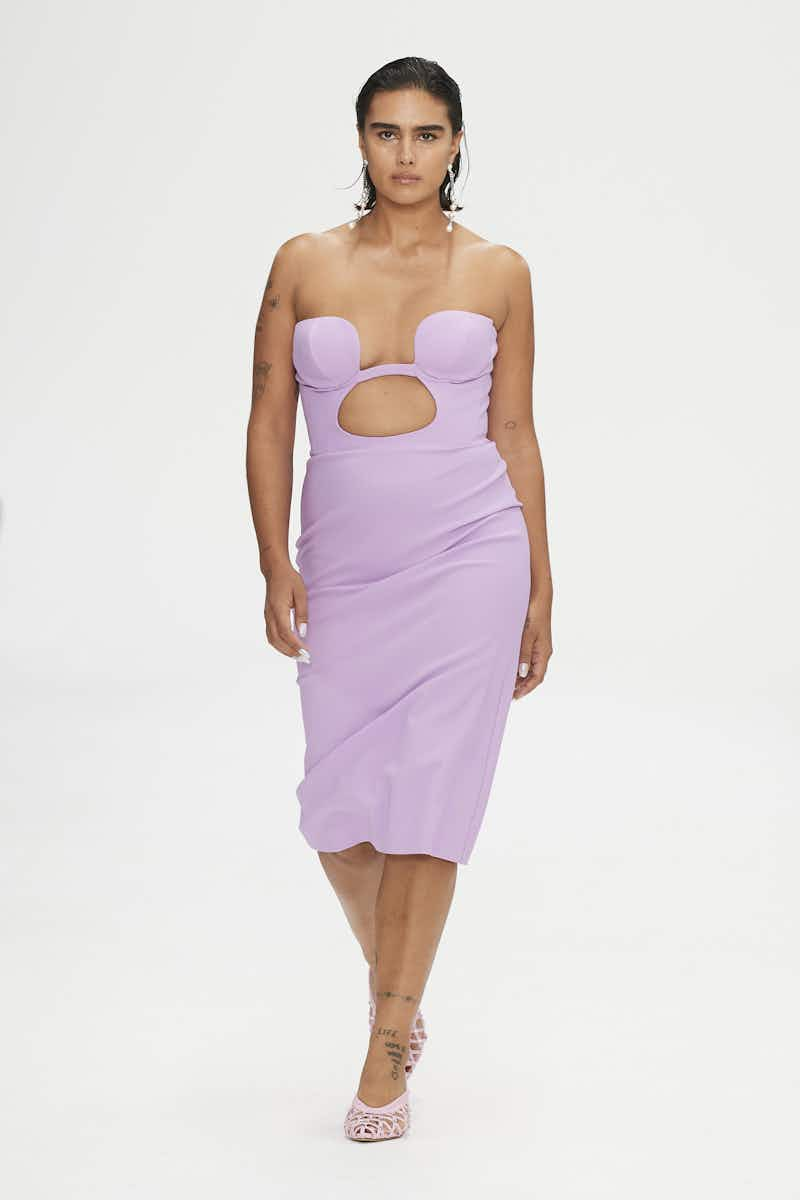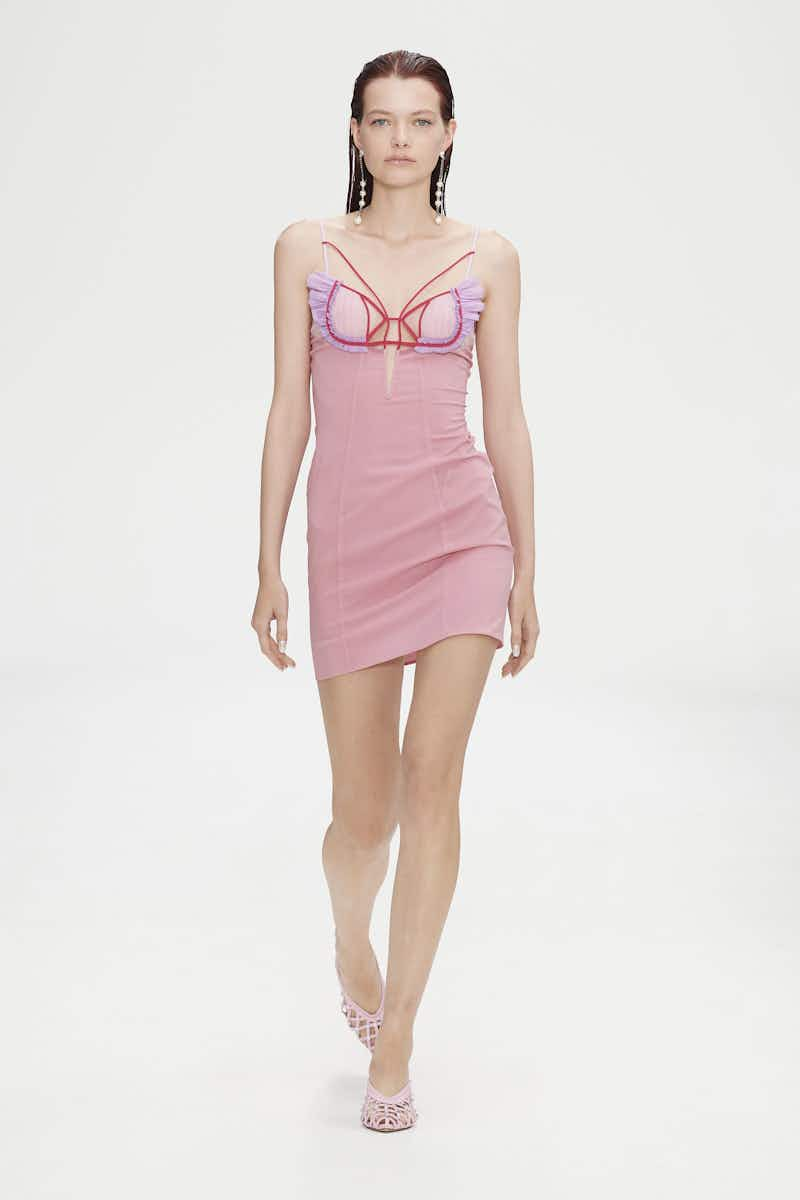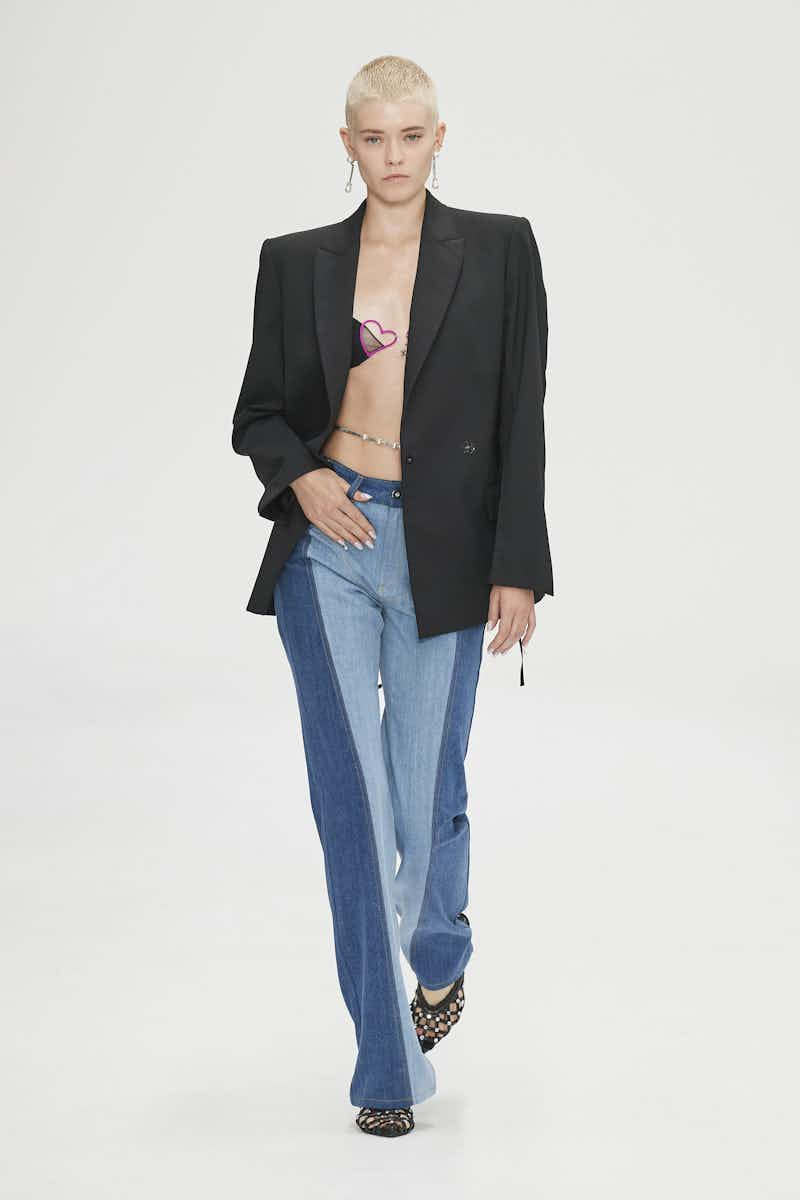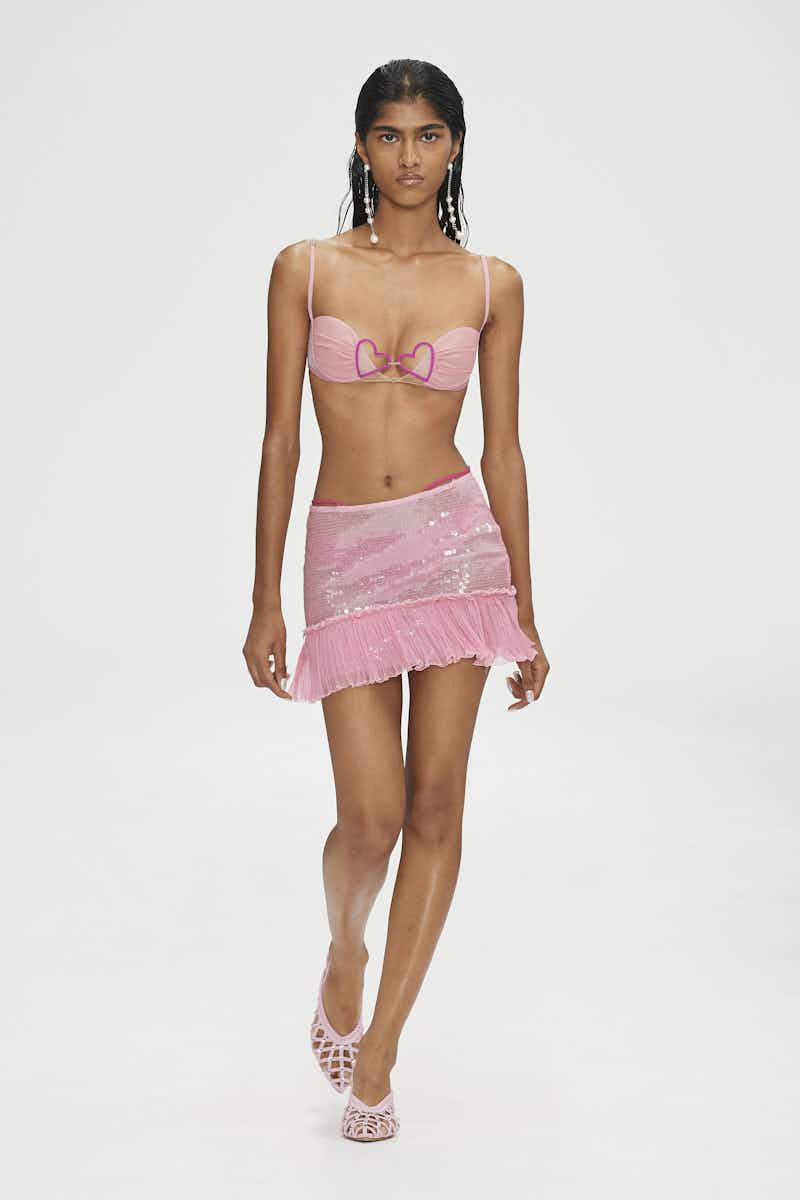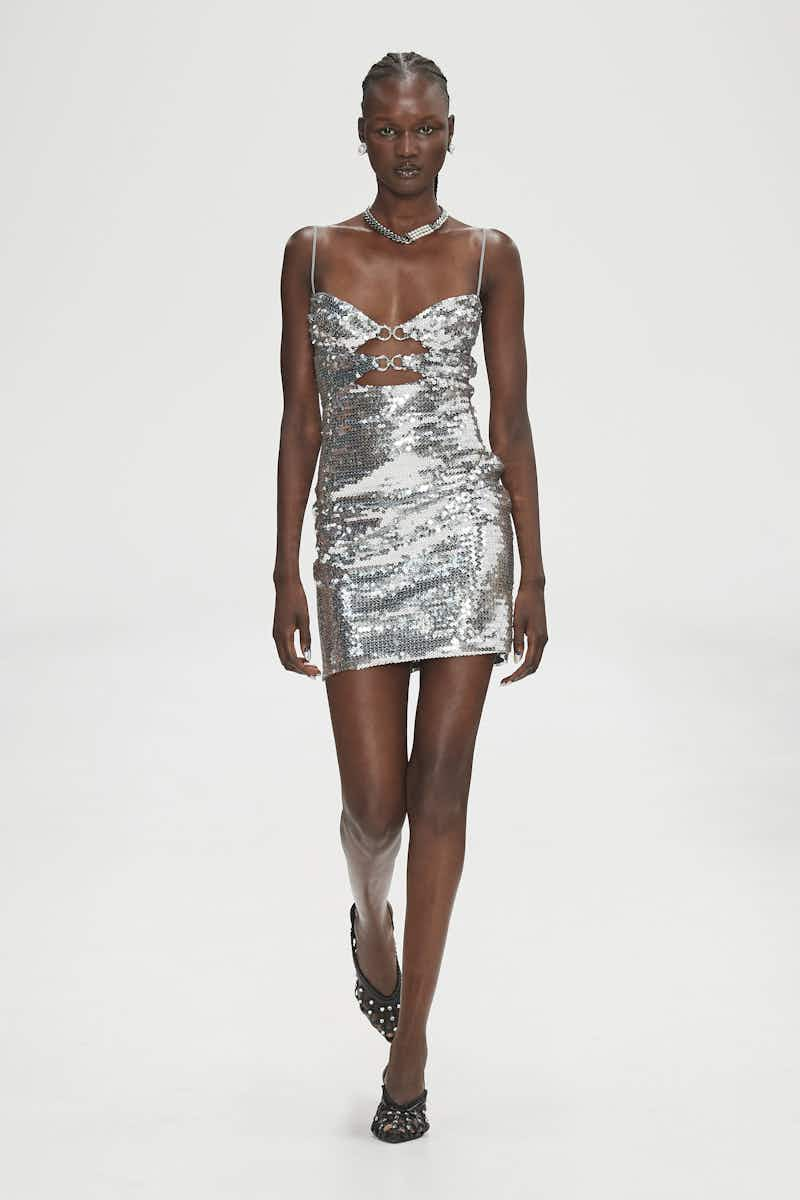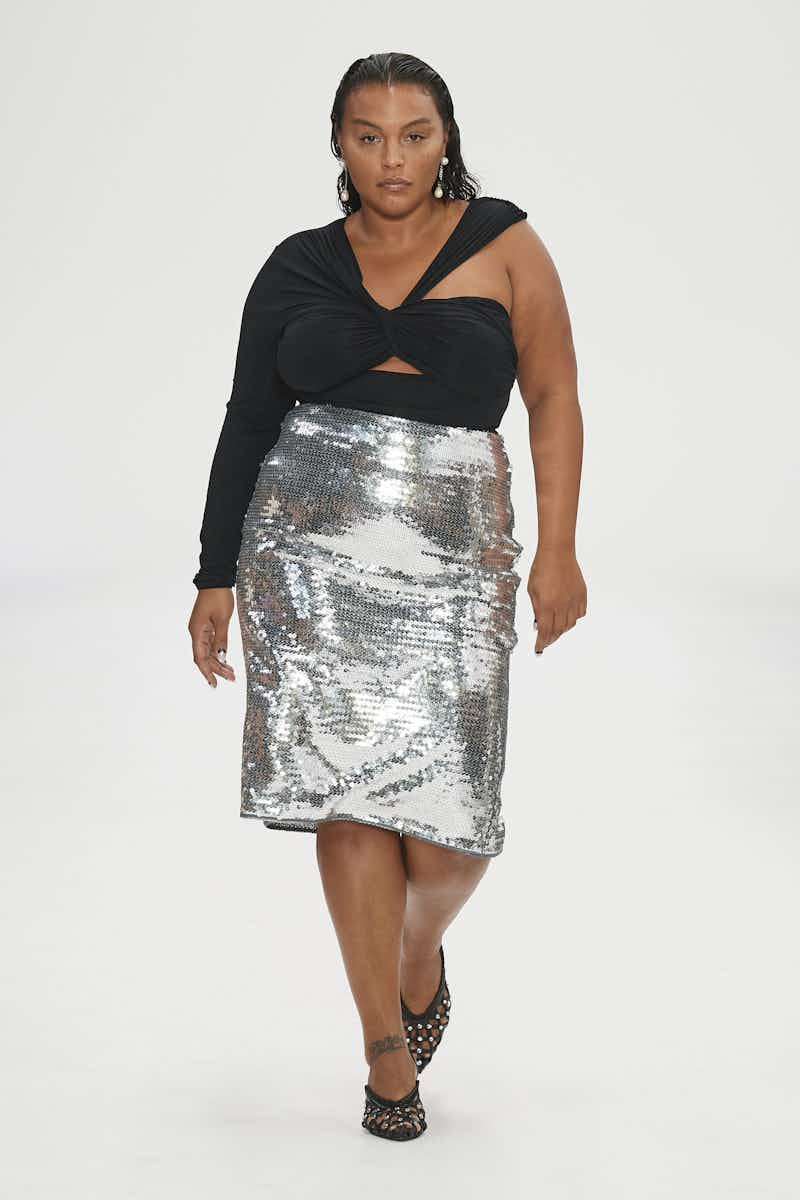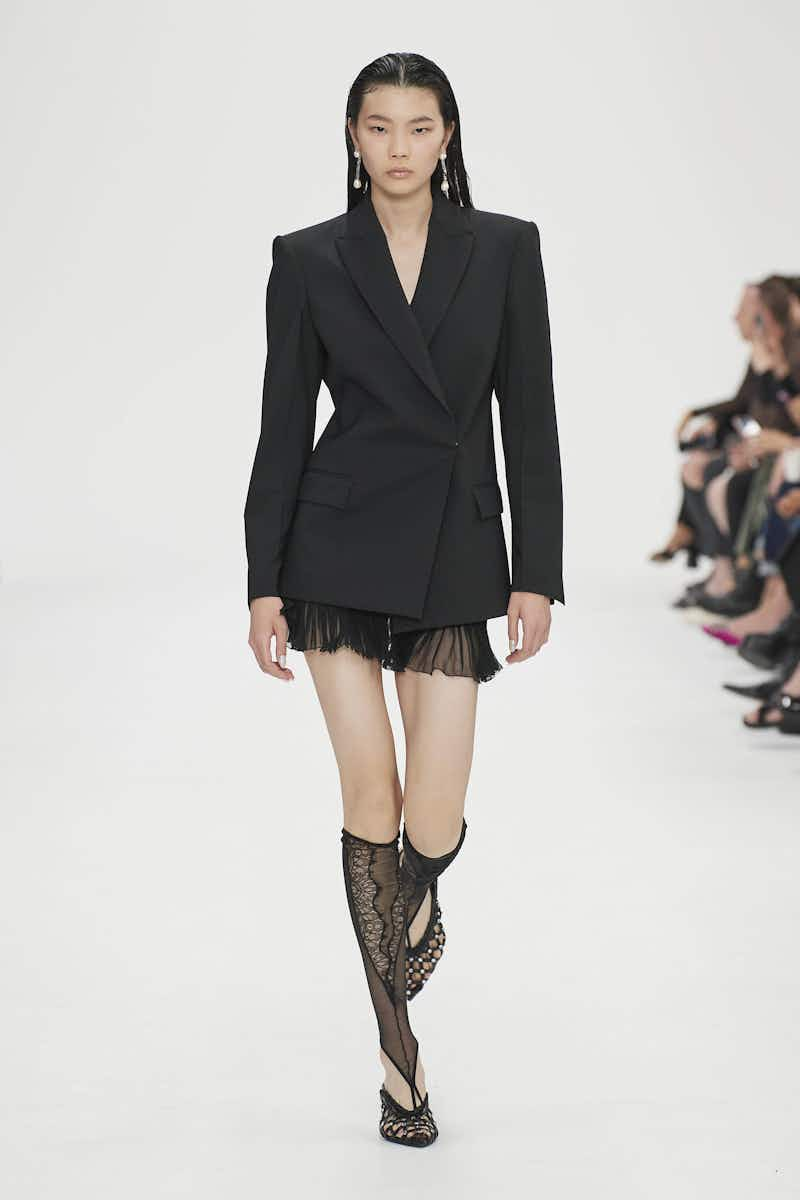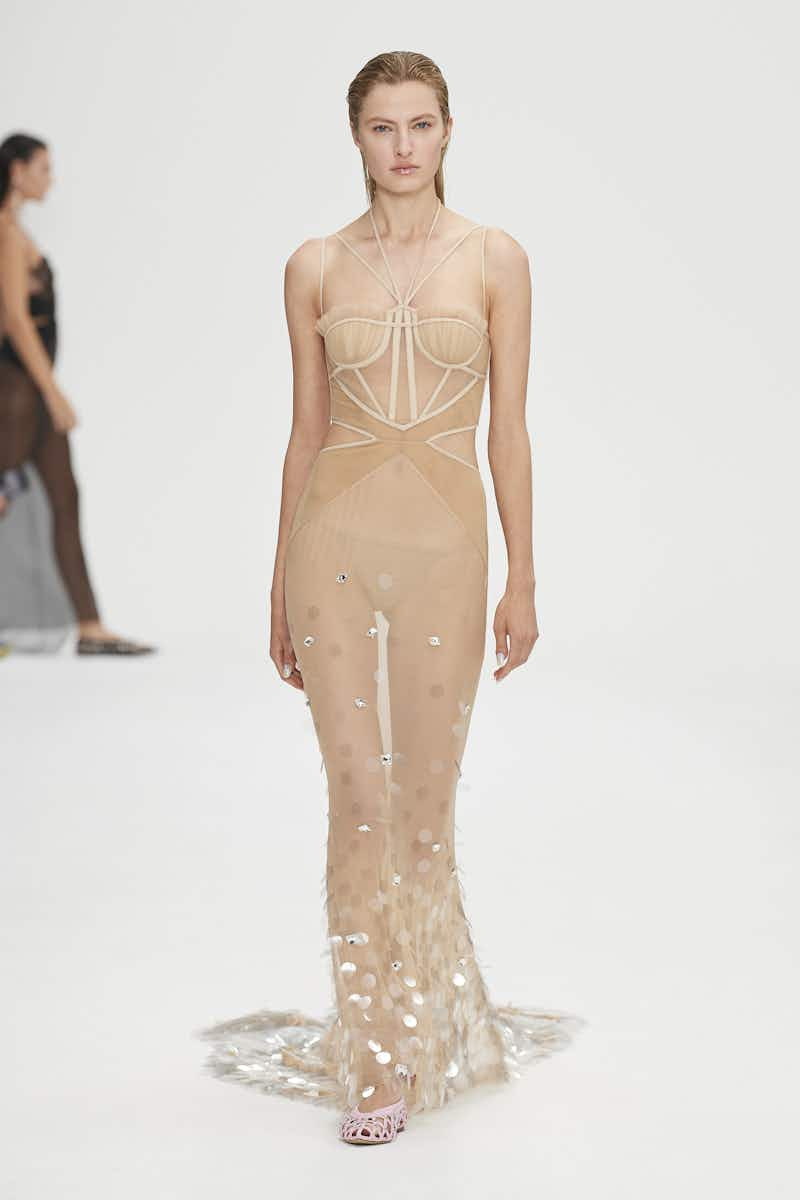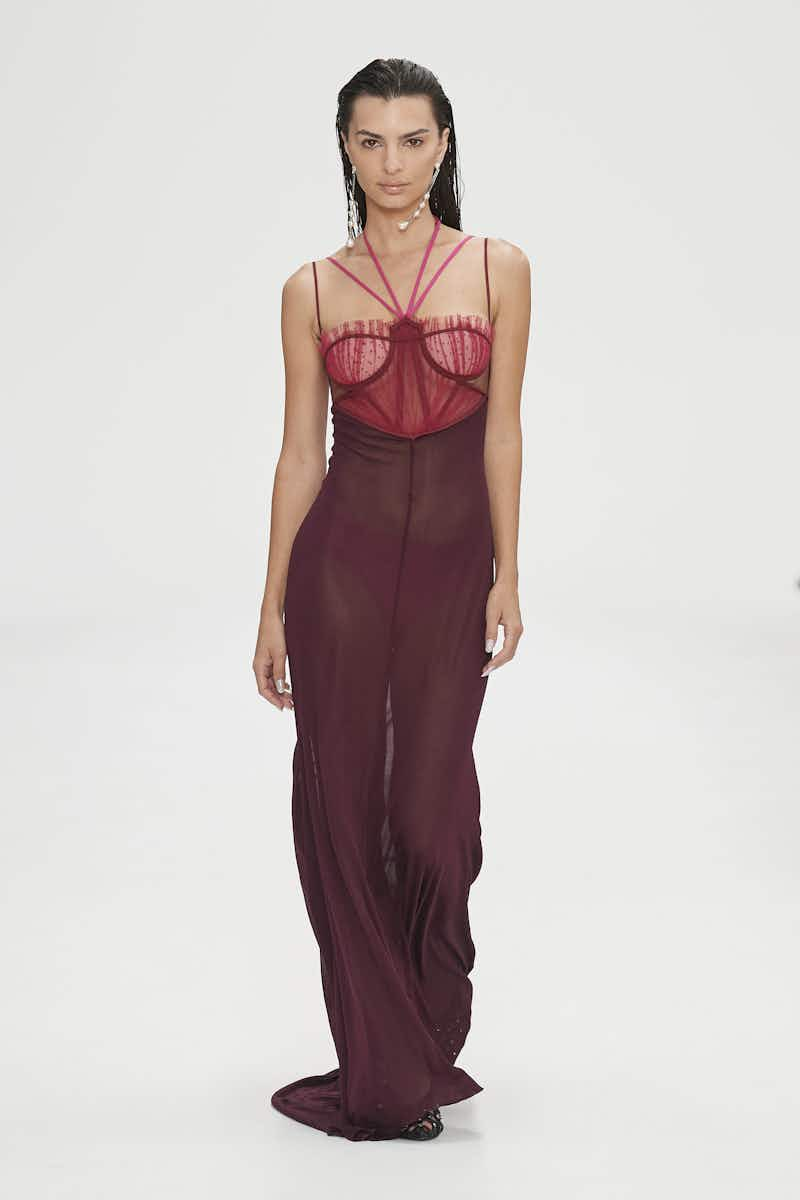 Considering it took place inside a literal arcade, the venue for JW Anderson's SS23 collection wasn't too much of a gamble. It was, after all, next door to the designer's London boutique (a mere 62 metre walk according to Google Maps). Filled with shoot ​'em ups and driving machines, the gaming setting felt fitting for a show that explored ideas of other worlds. ​"Are we falling into the screens? Are we becoming our phones? Is this interesting? Is it art??" asked a fairly existential Jonathan Anderson backstage.

The questioning continued into the clothes, where dresses collided with giant keyboard keys and items were printed with stock, screensaver imagery: palm trees, dolphins and sunsets (noteworthy for being digital interpretations of nature). A shining mirror orb dress reflected, quelle surprise, a room full of phones, while a dress shaped like a plastic bag with a goldfish inside was what? A comment on privacy in an age of digital surveillance? A statement on the fashion industry's goldfish-like memory? Or just a prize won on an arcade slot machine? Anderson needn't worry: his shows are always richly, rewardingly interesting.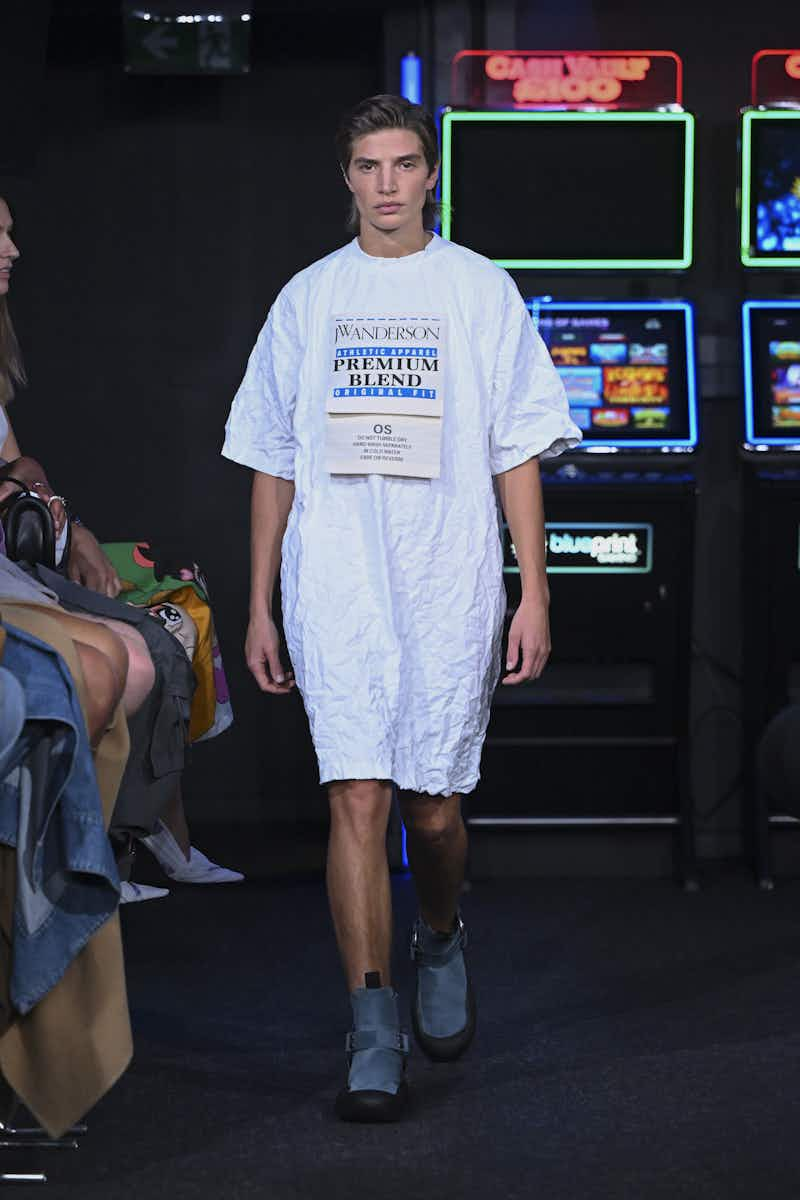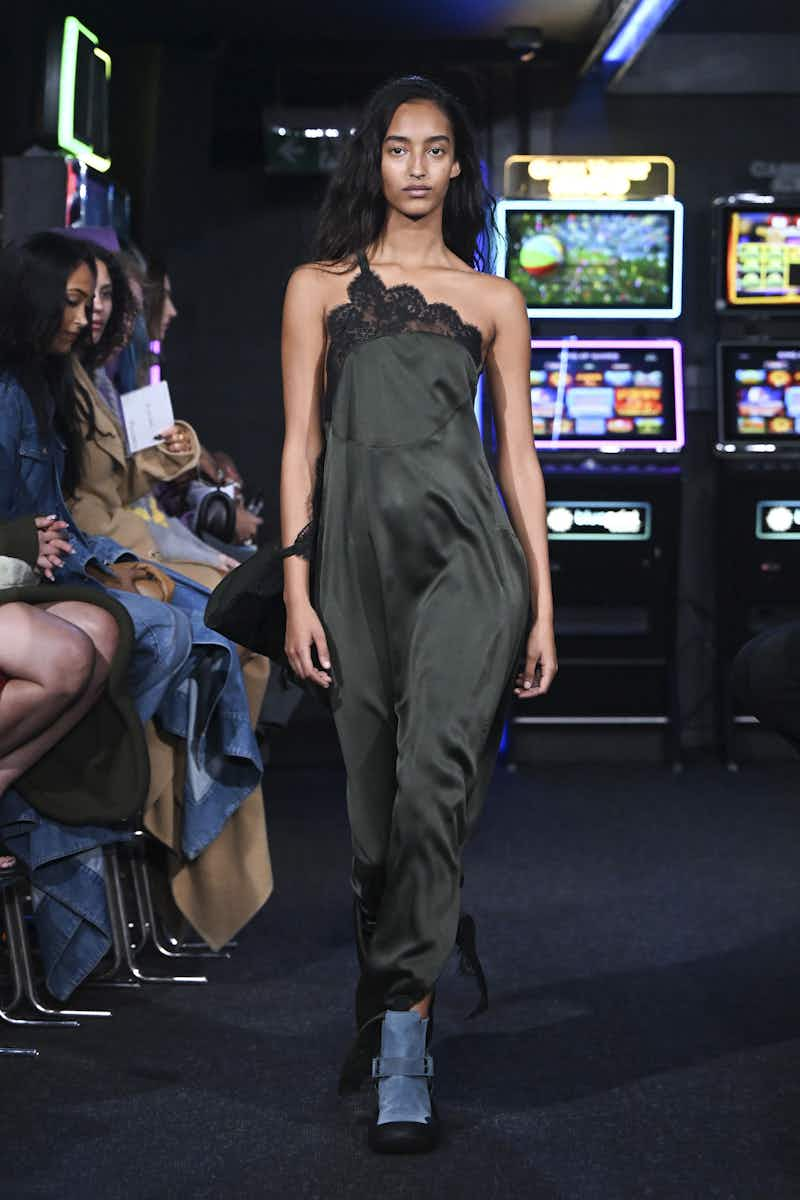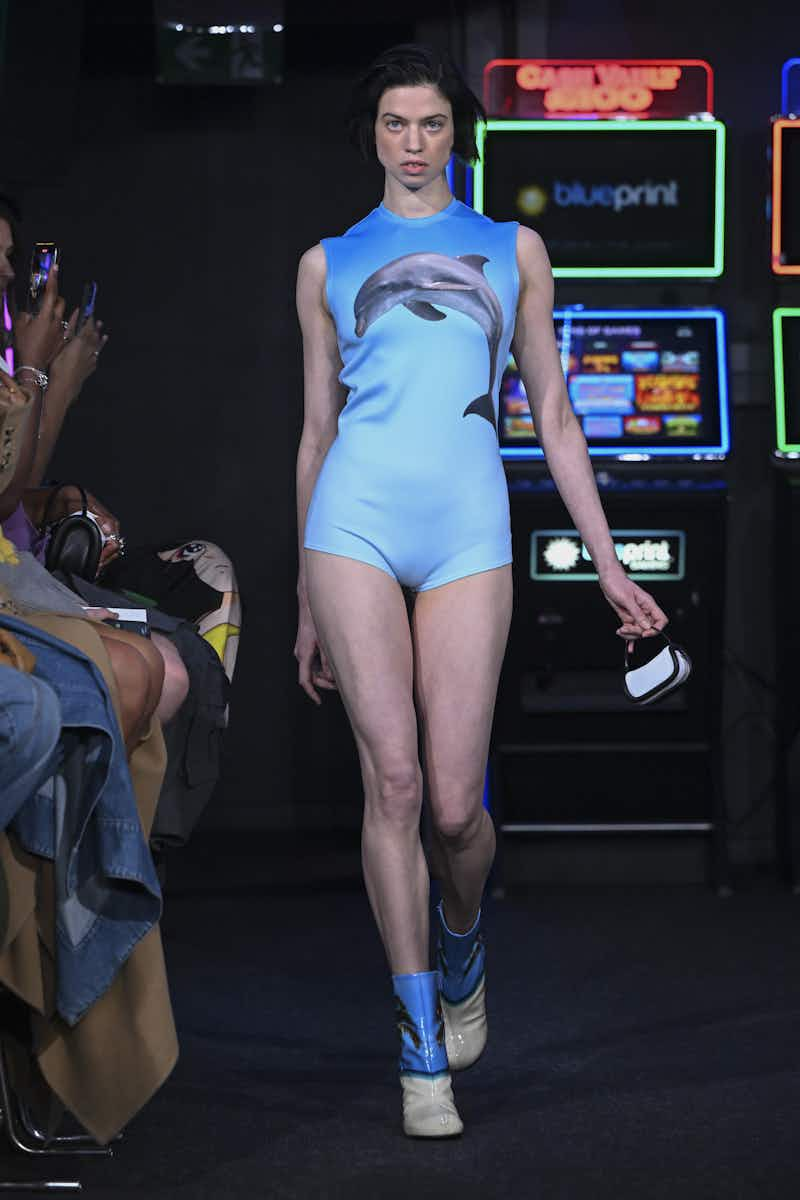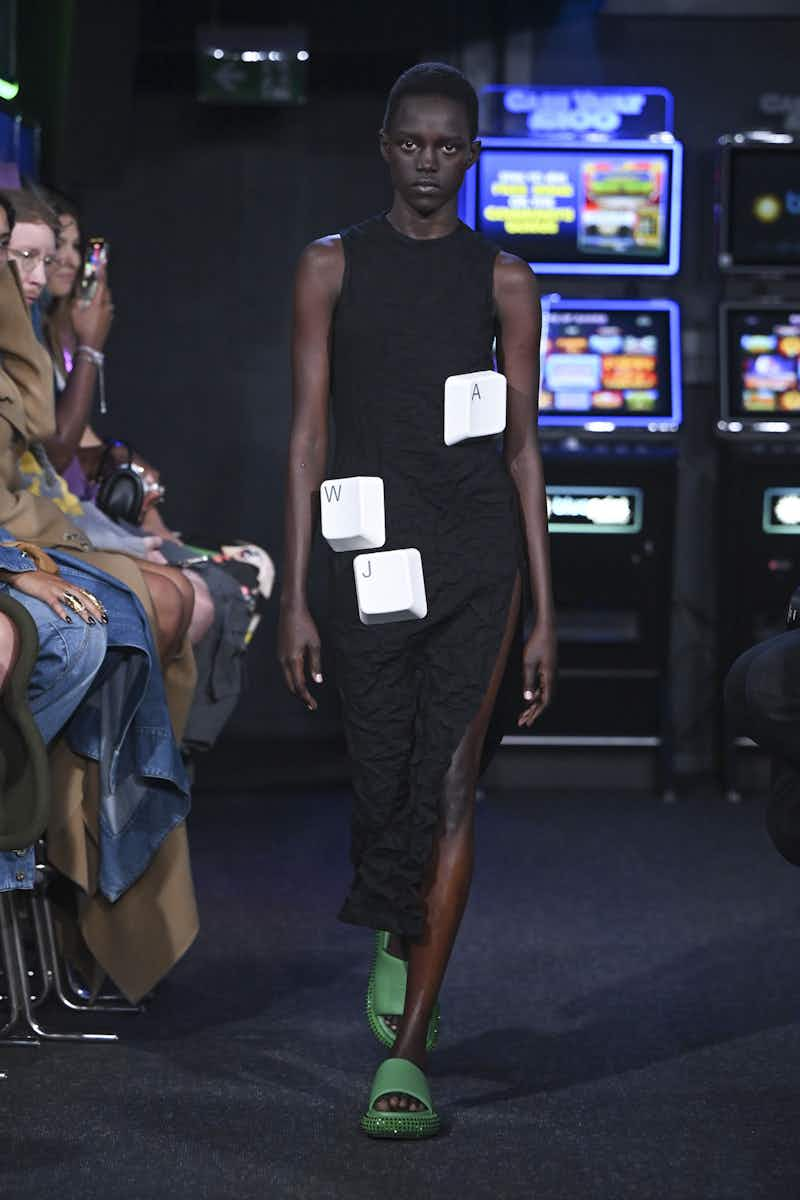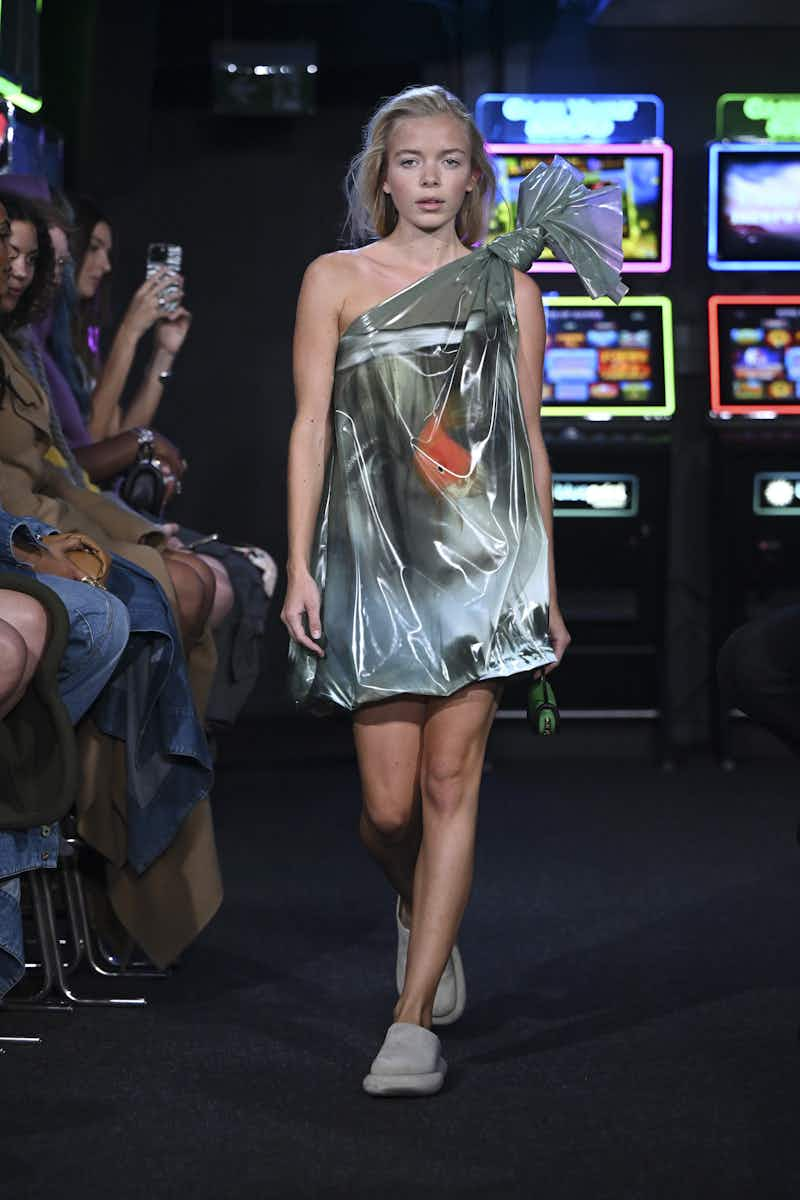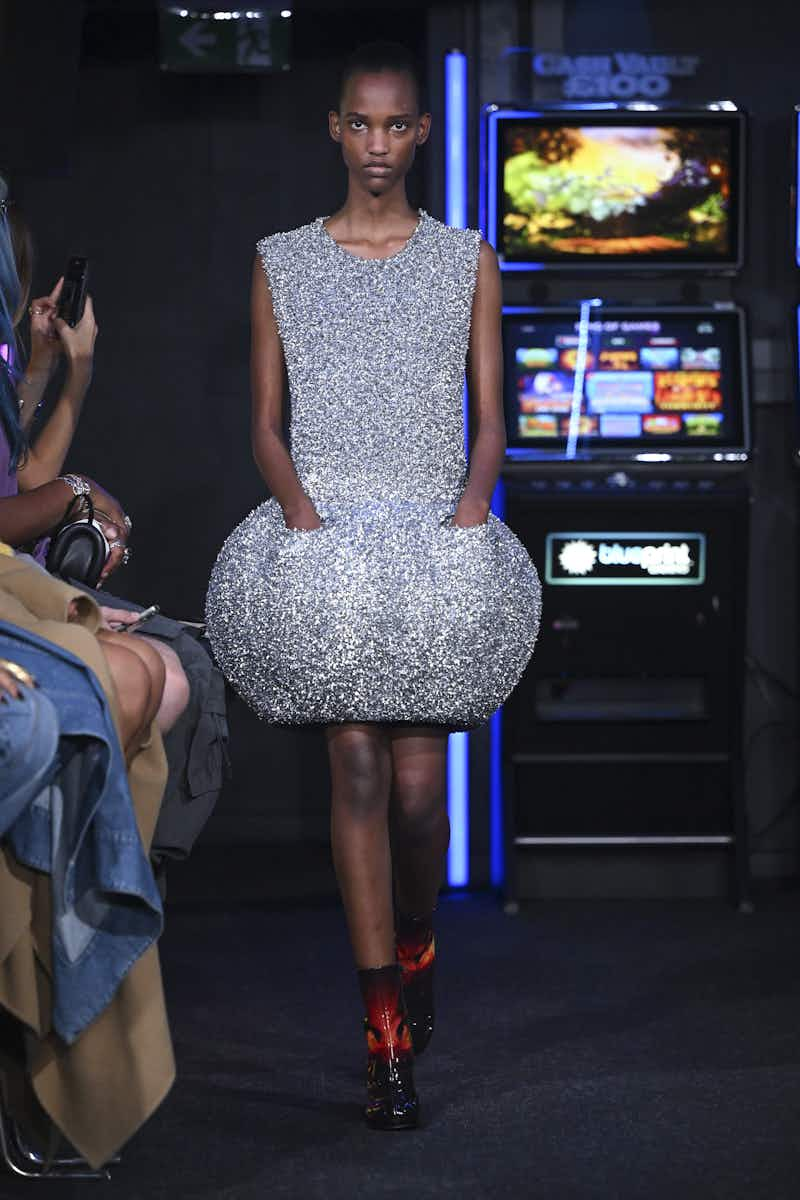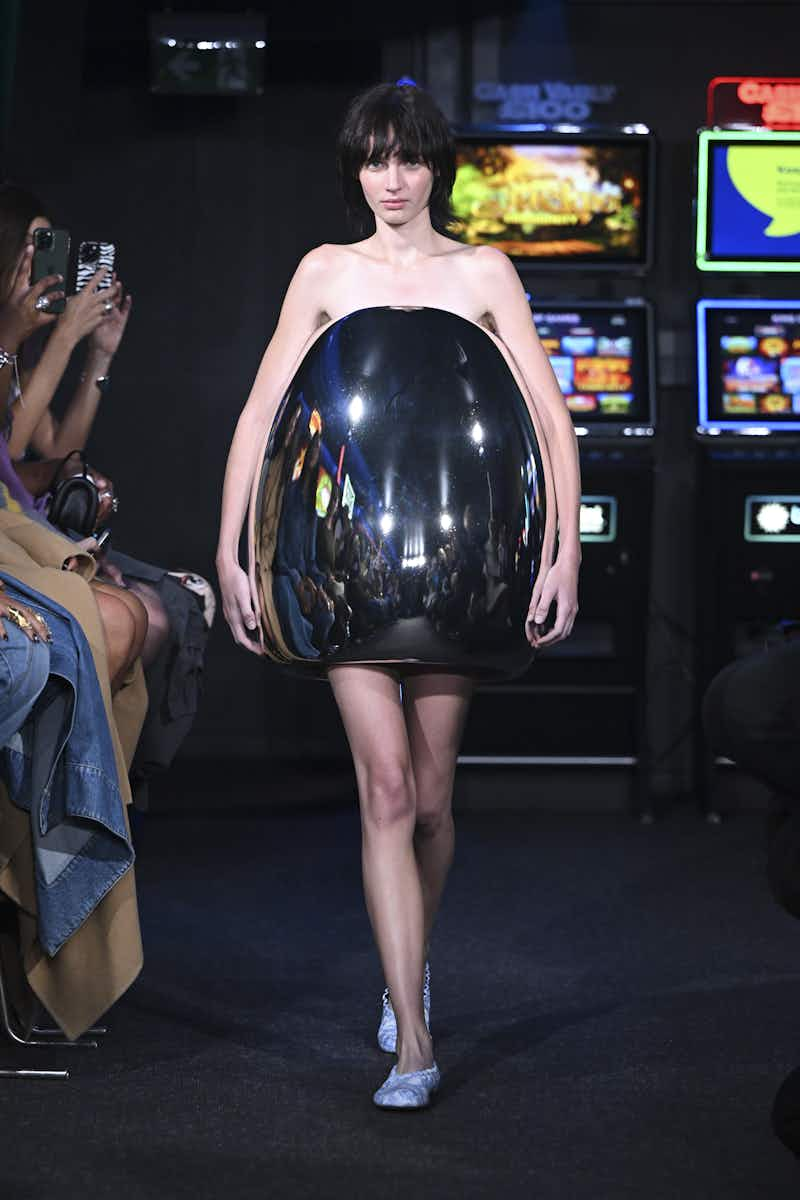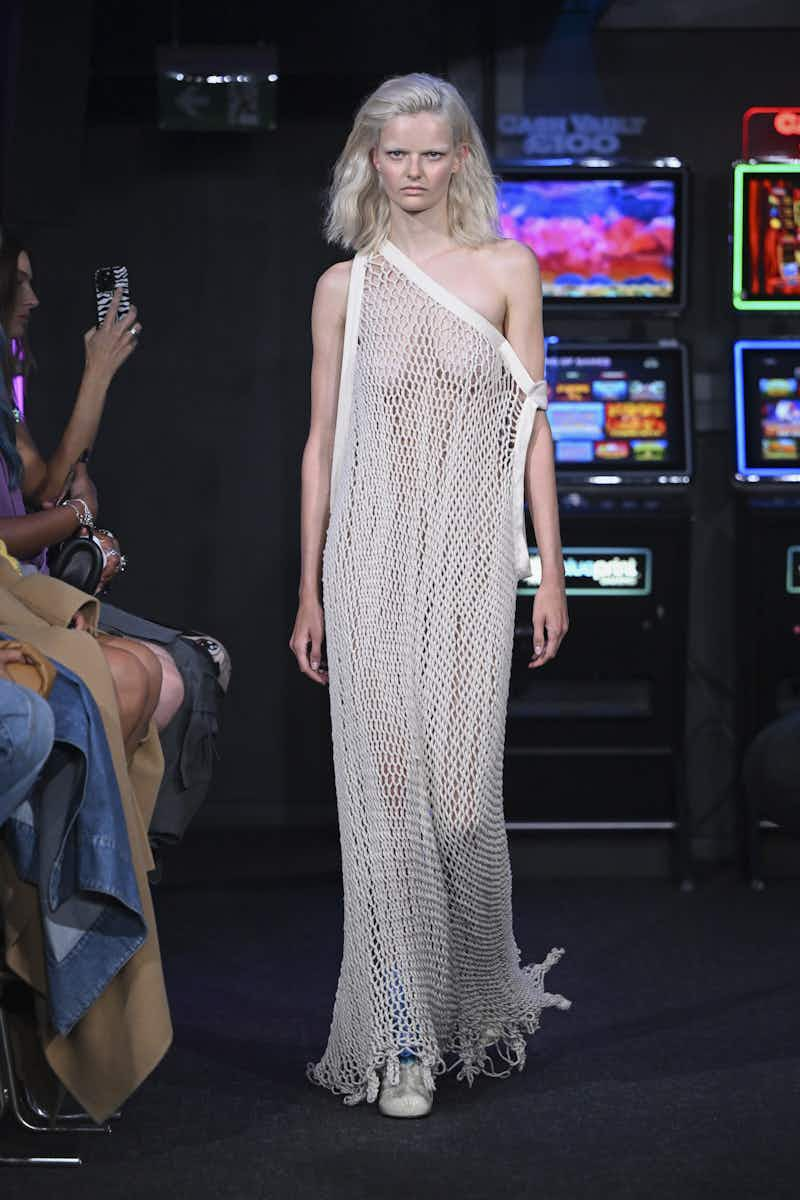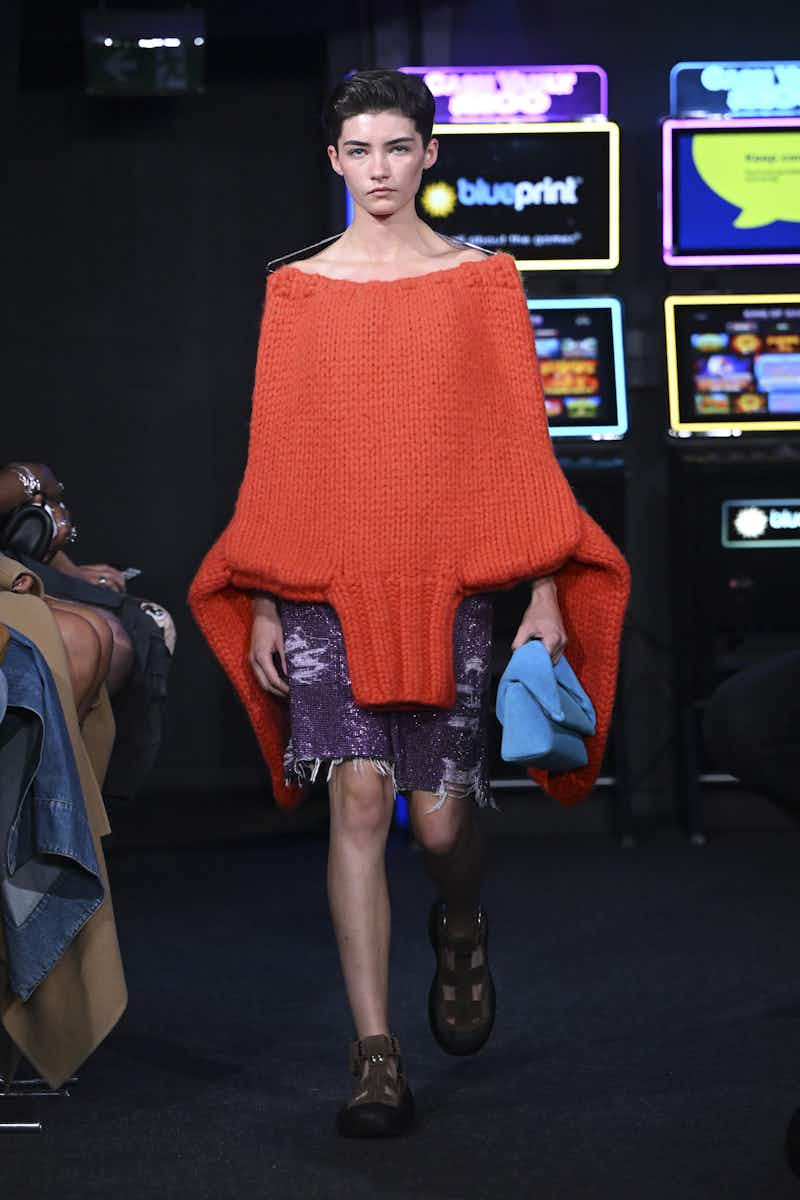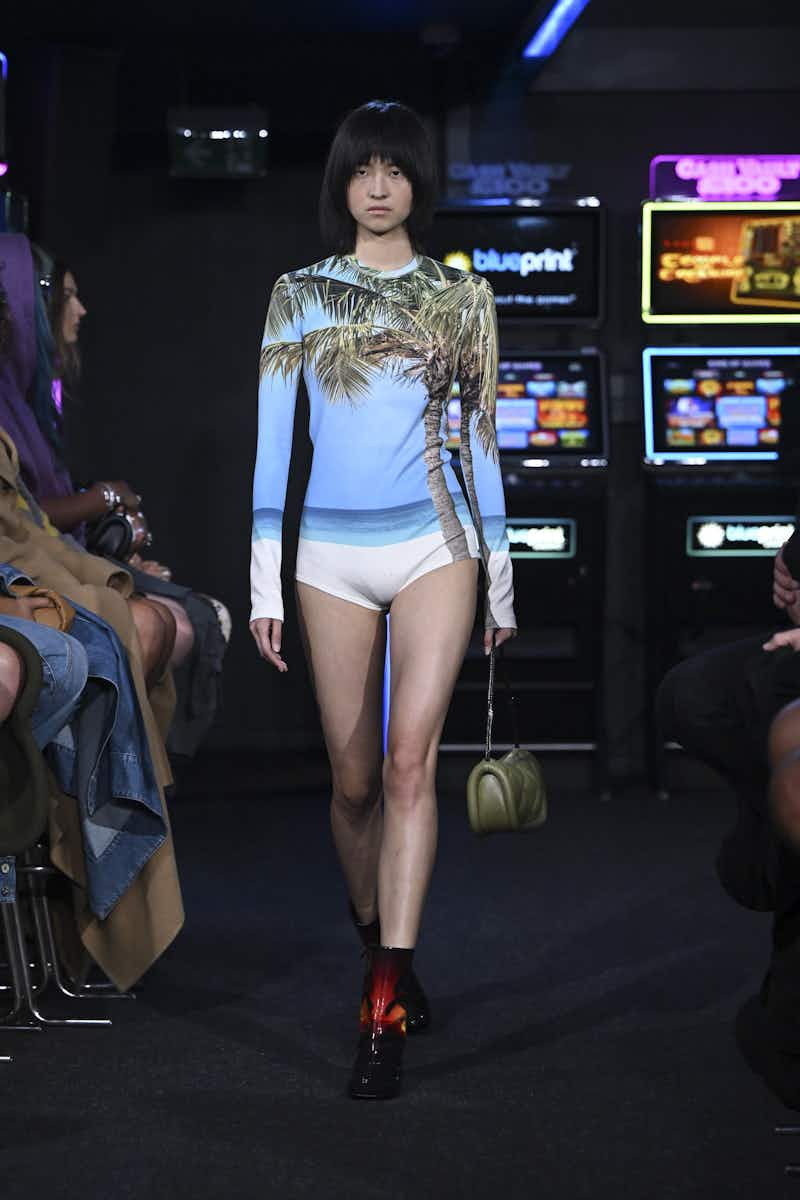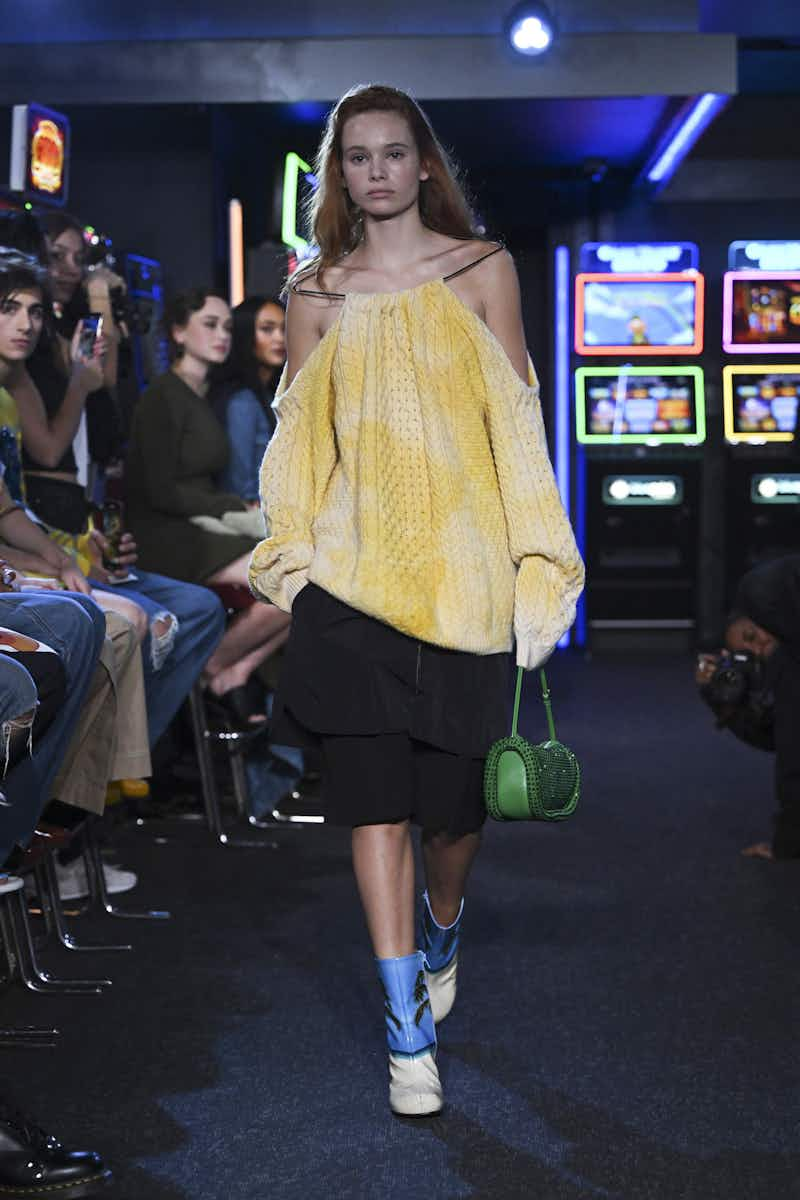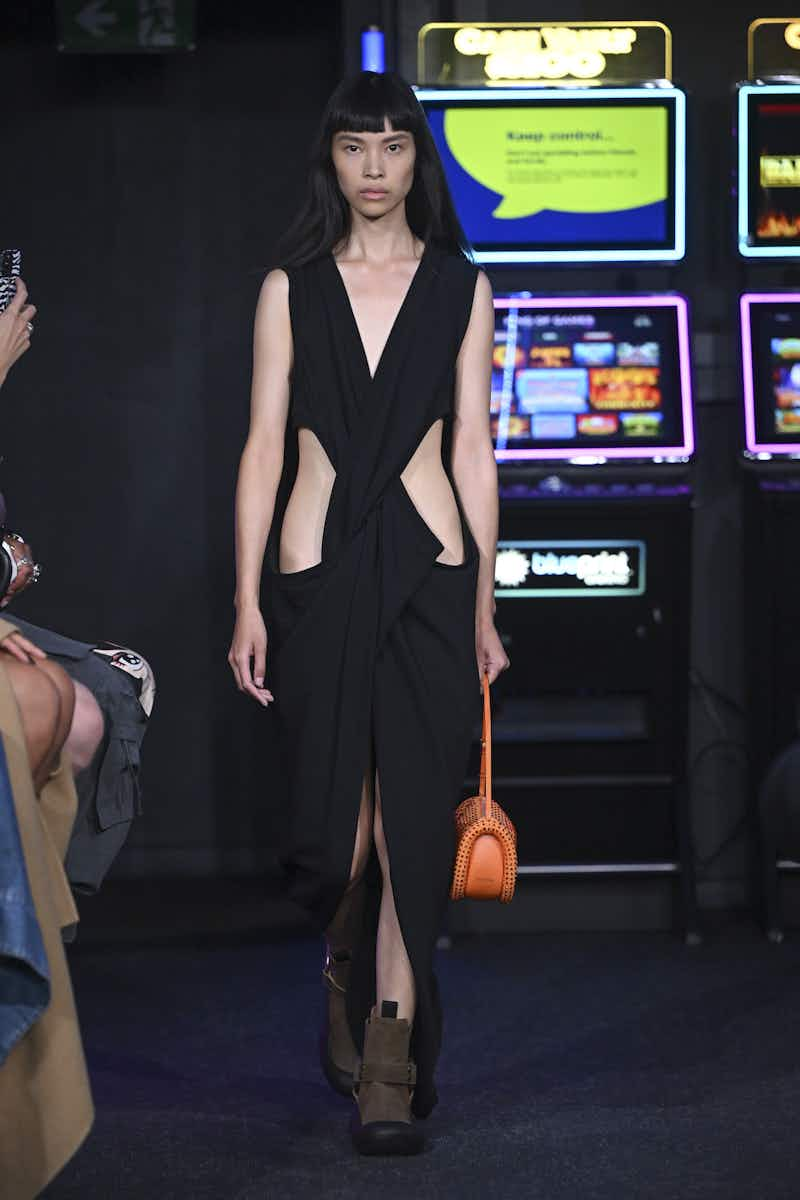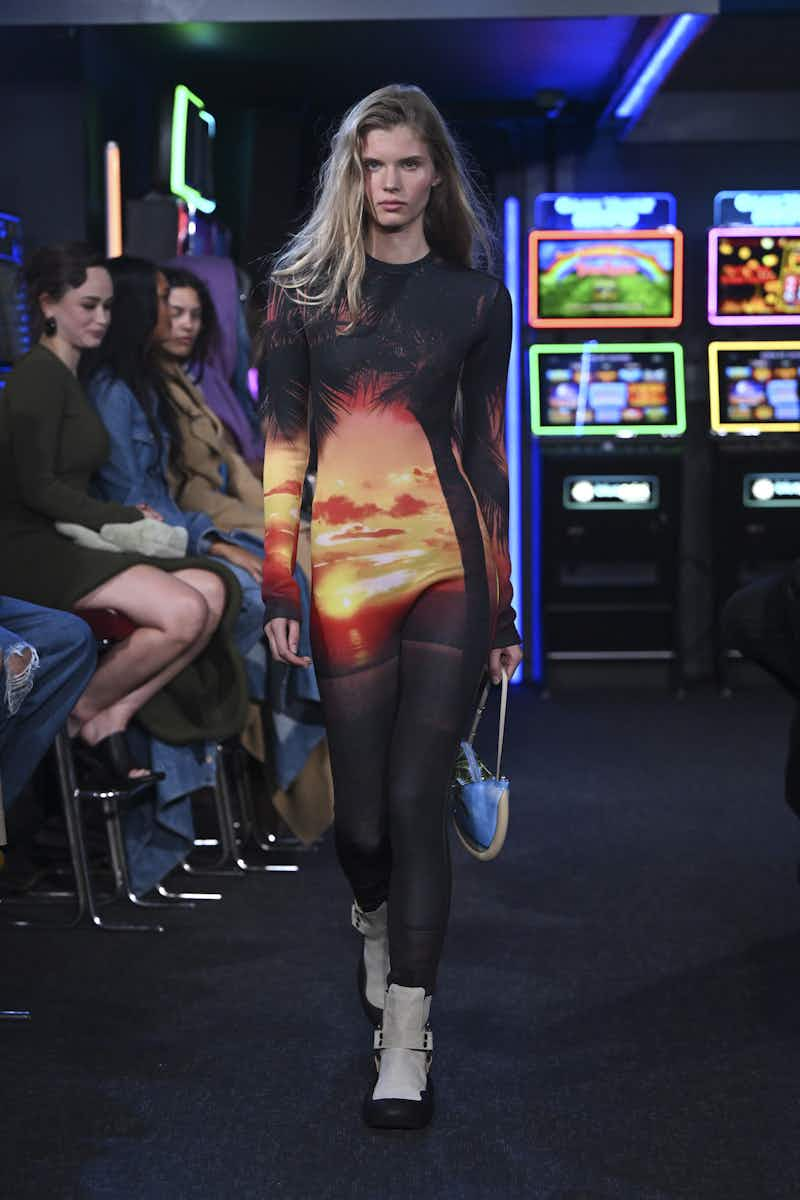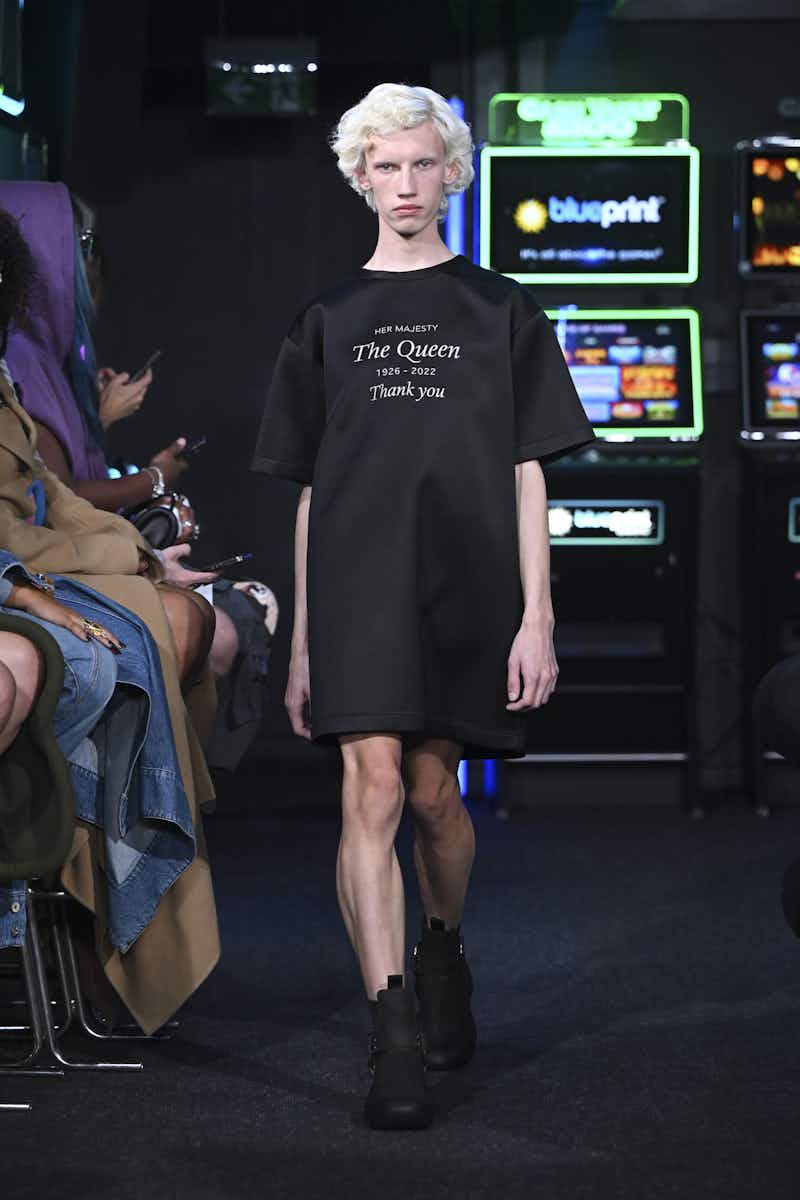 Showing under the British Fashion Council's Newgen umbrella, Feben's SS23 collection certainly played well to the room – her quick bow at the end met with much hooting and hollering. The Central Saint Martins graduate had layered her work with hidden meaning – a post-show press release imploring you to ​"take a moment to read" the prints echoing specific tarot cards and passages of Georges Bataille's very sexy Story of the Eye (it's French). For the short sighted, however, there was still much to take away: from the designer's signature twists to the bums poking out from beaded fringe dresses. Sacré bleu.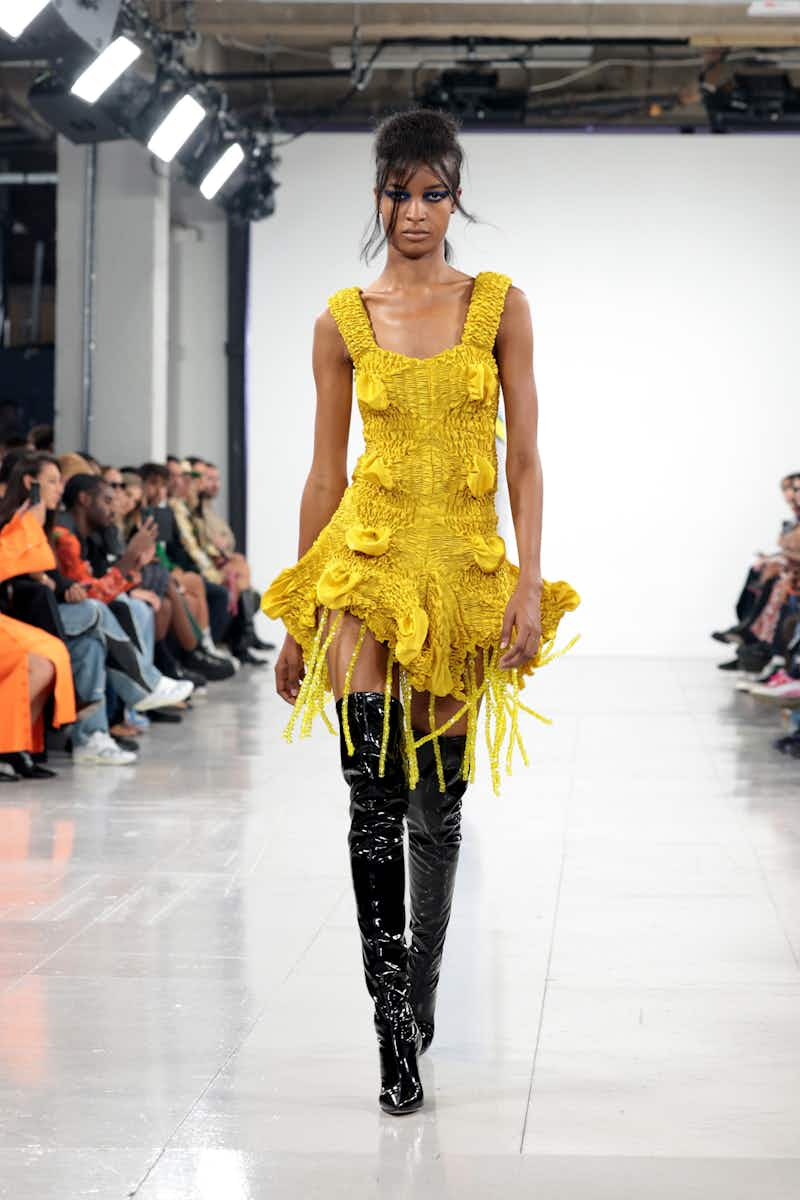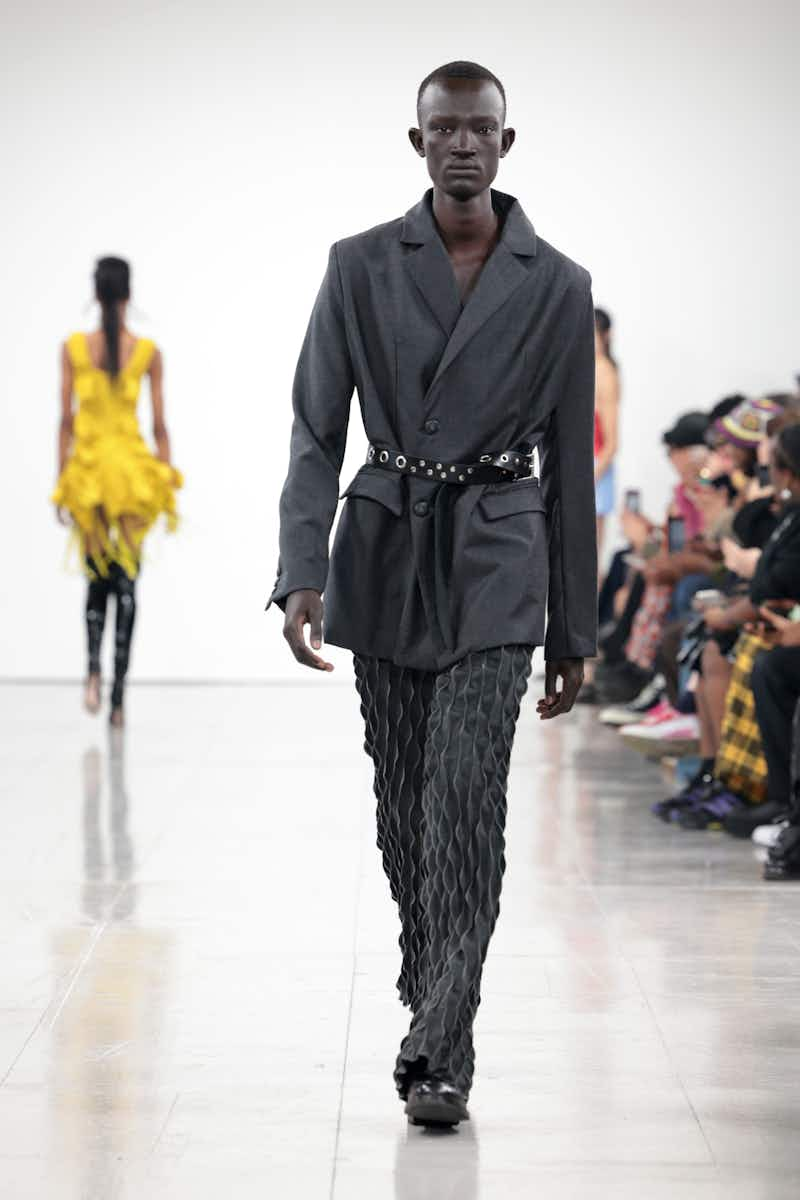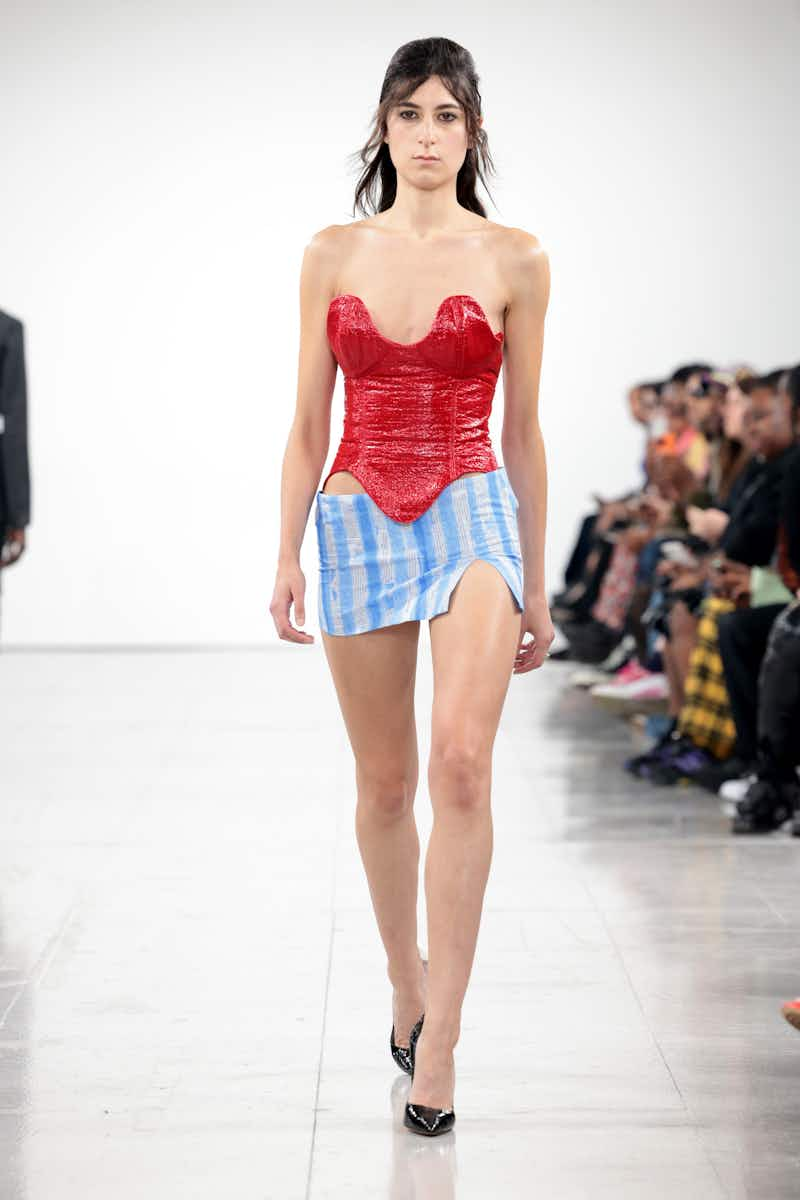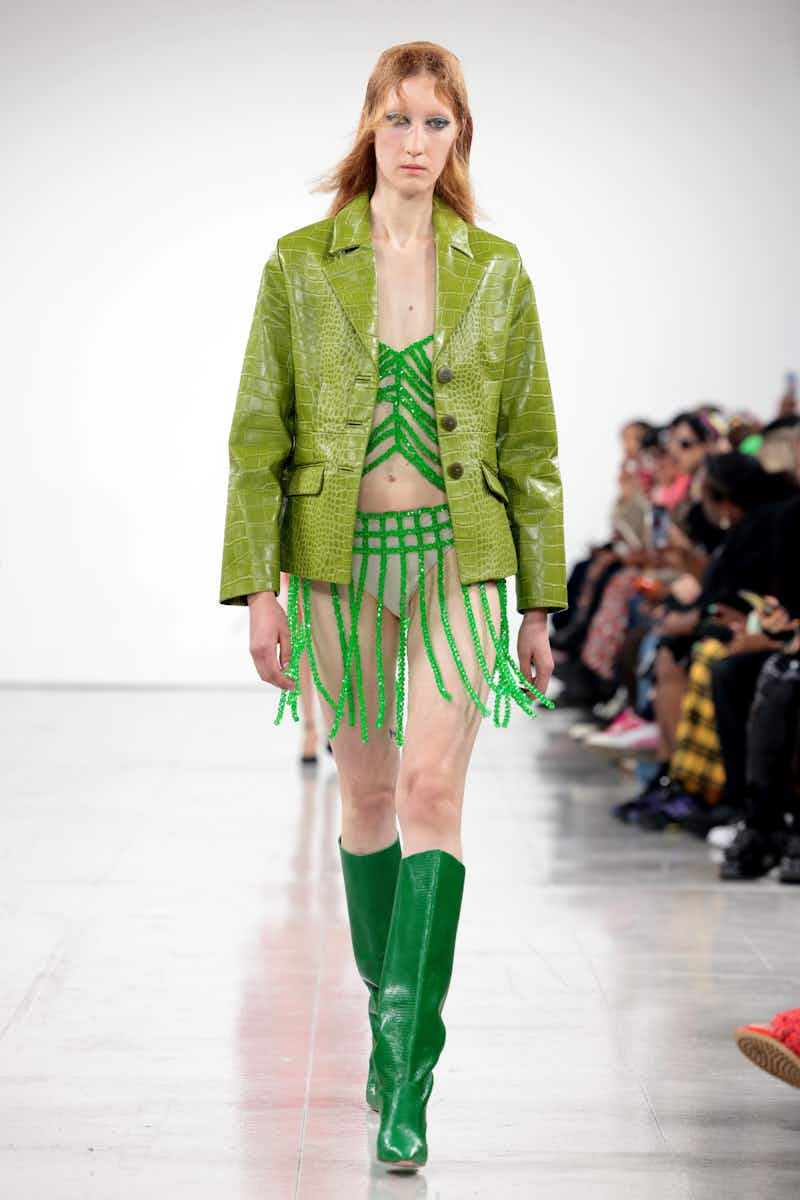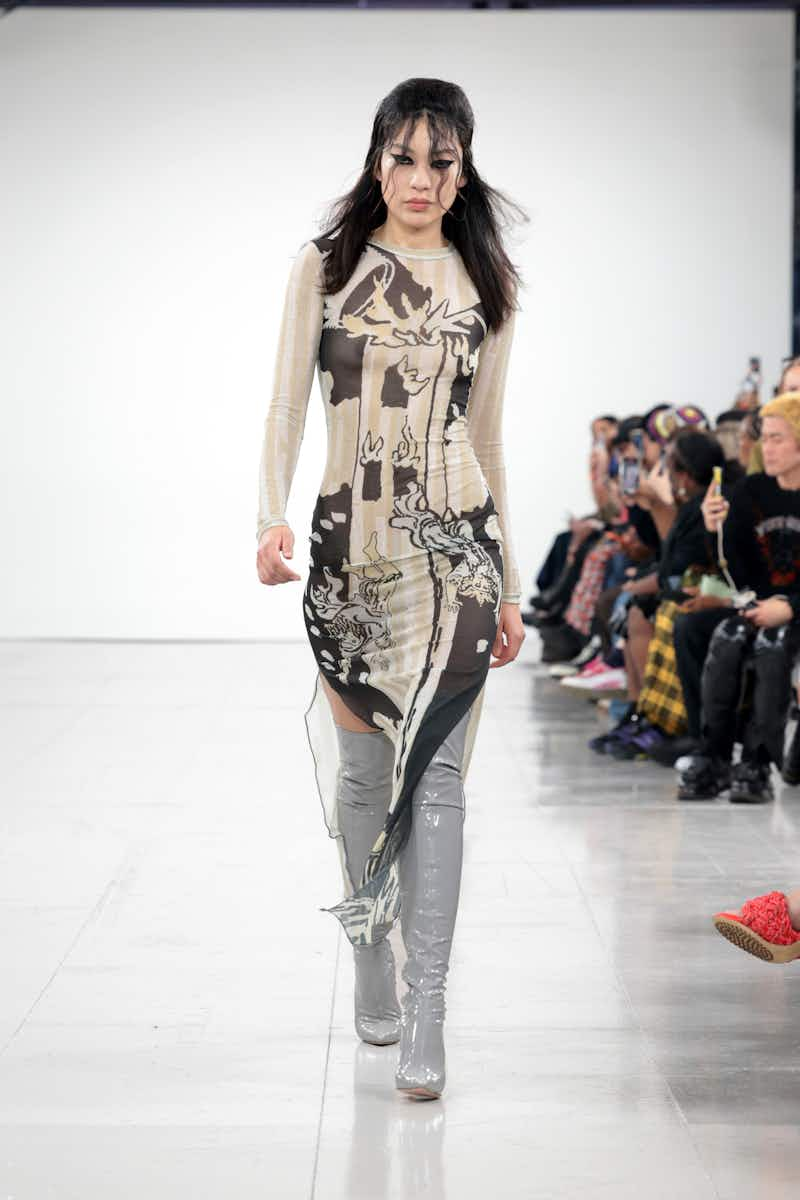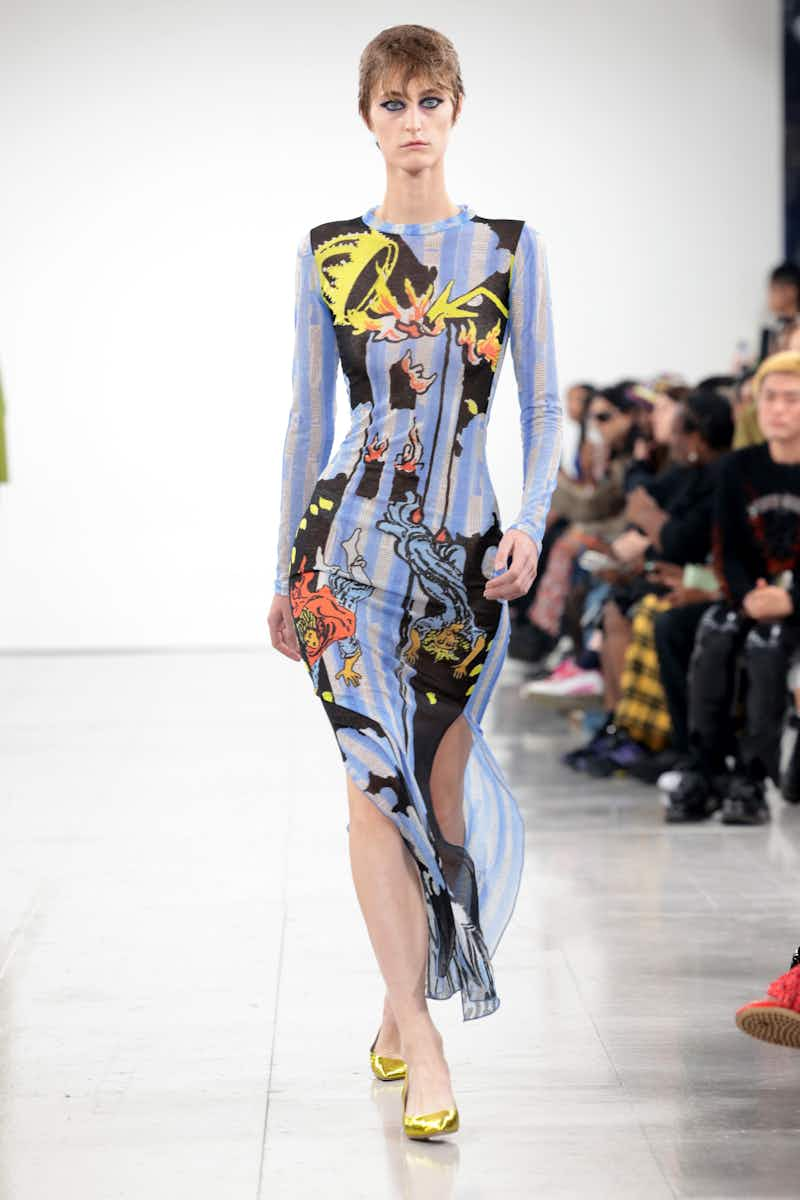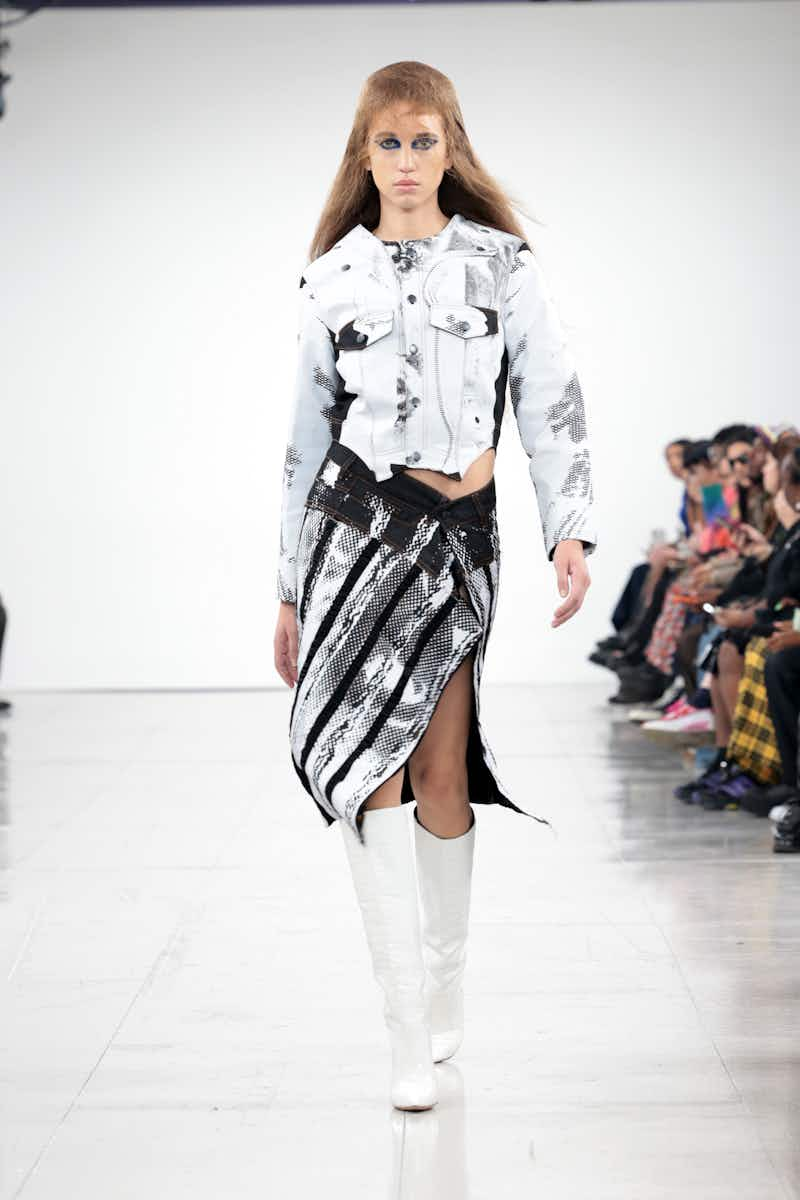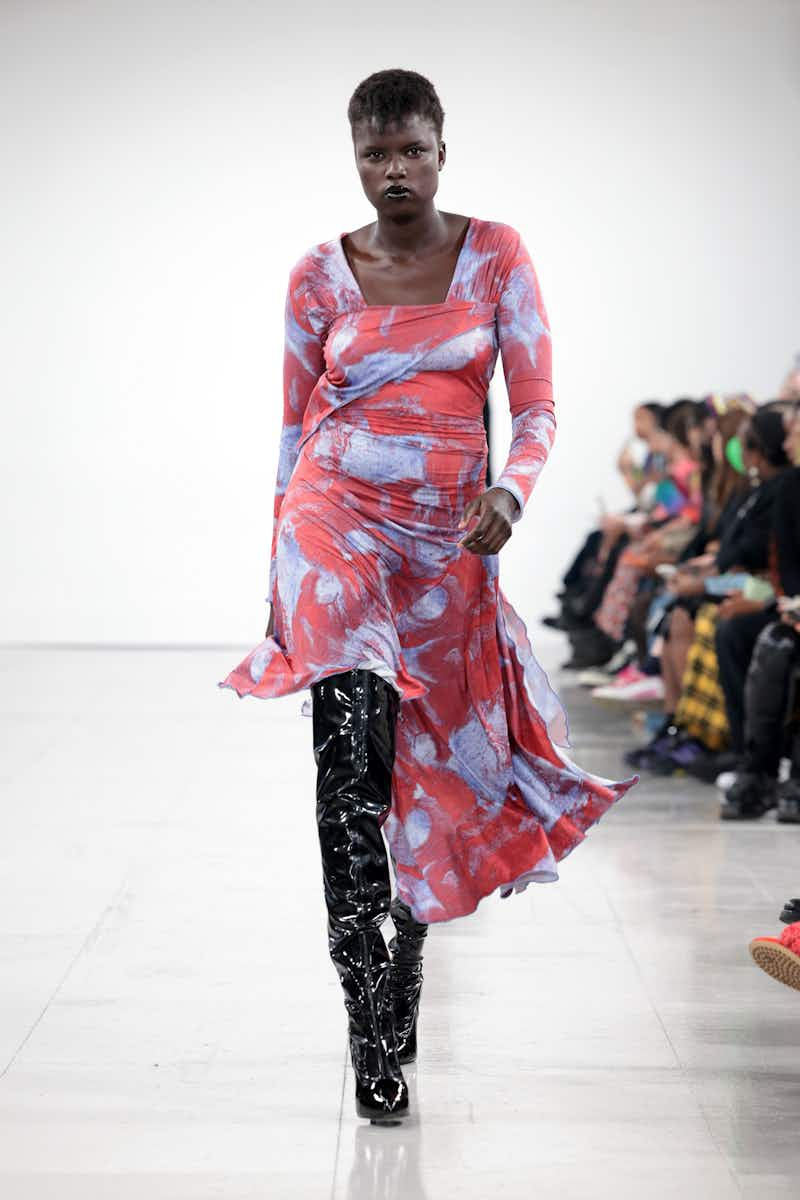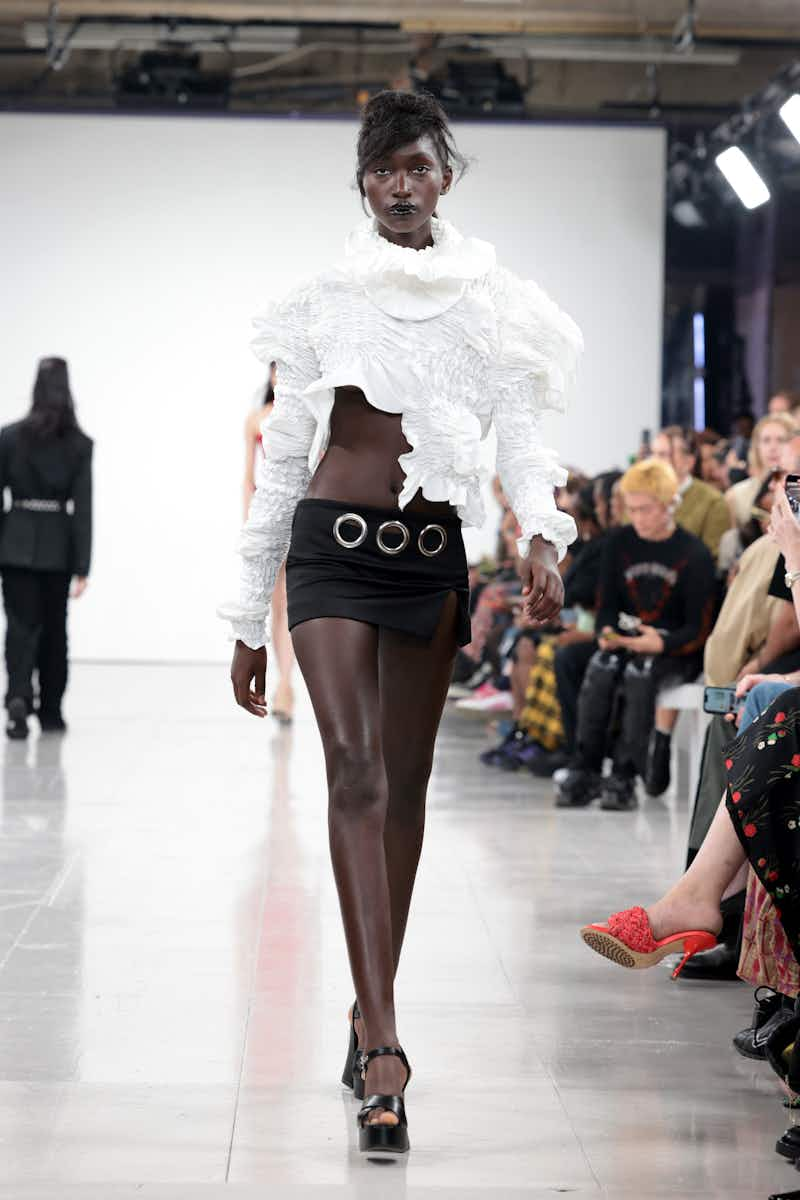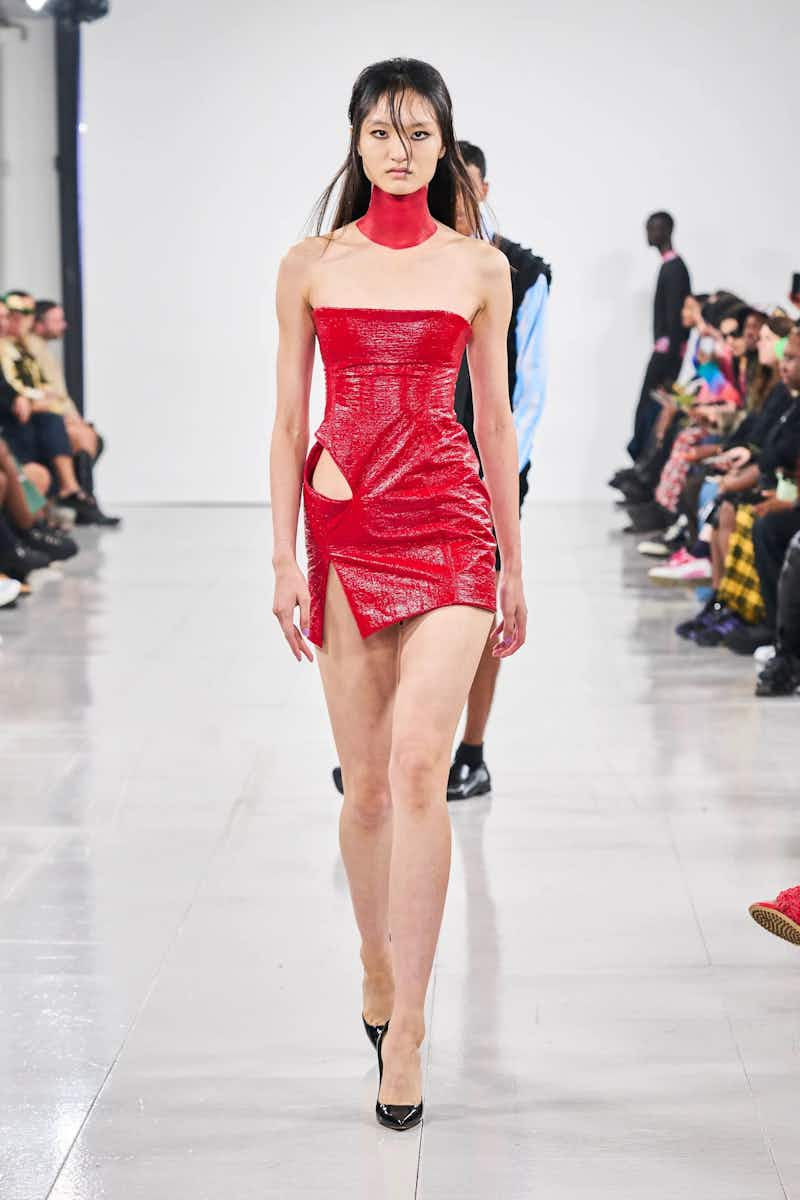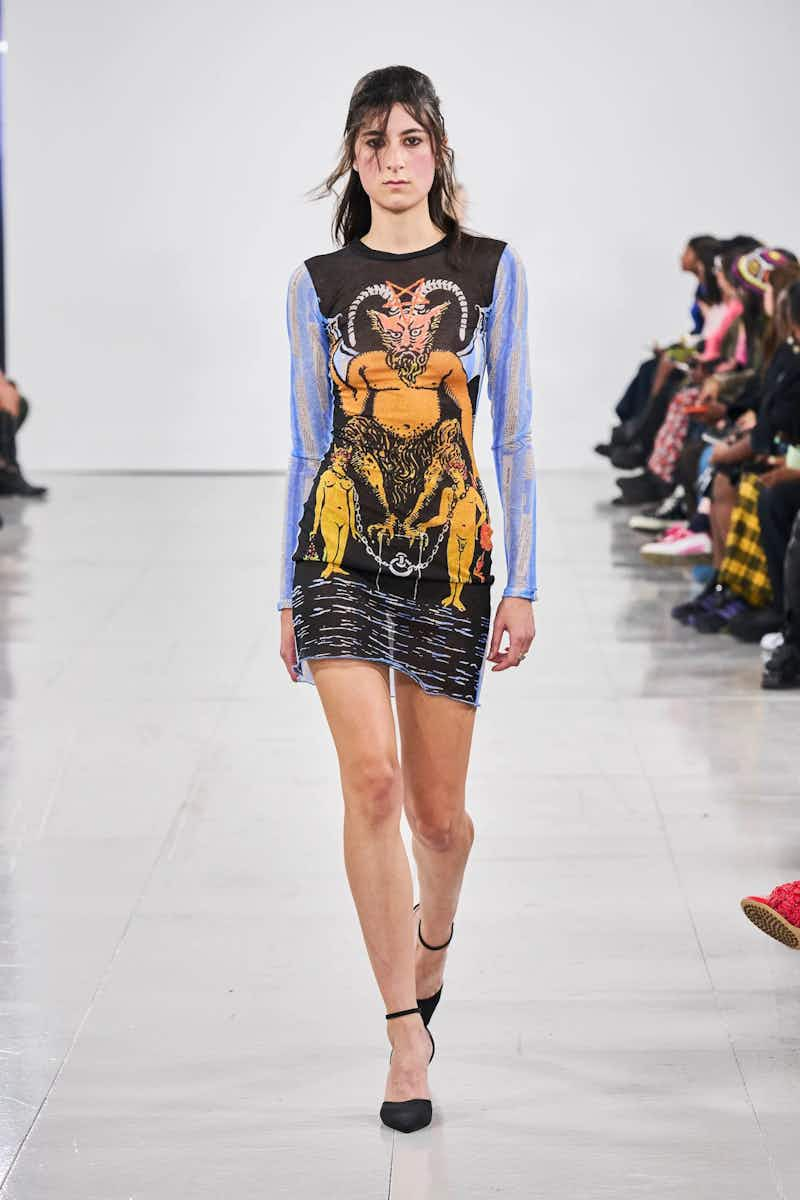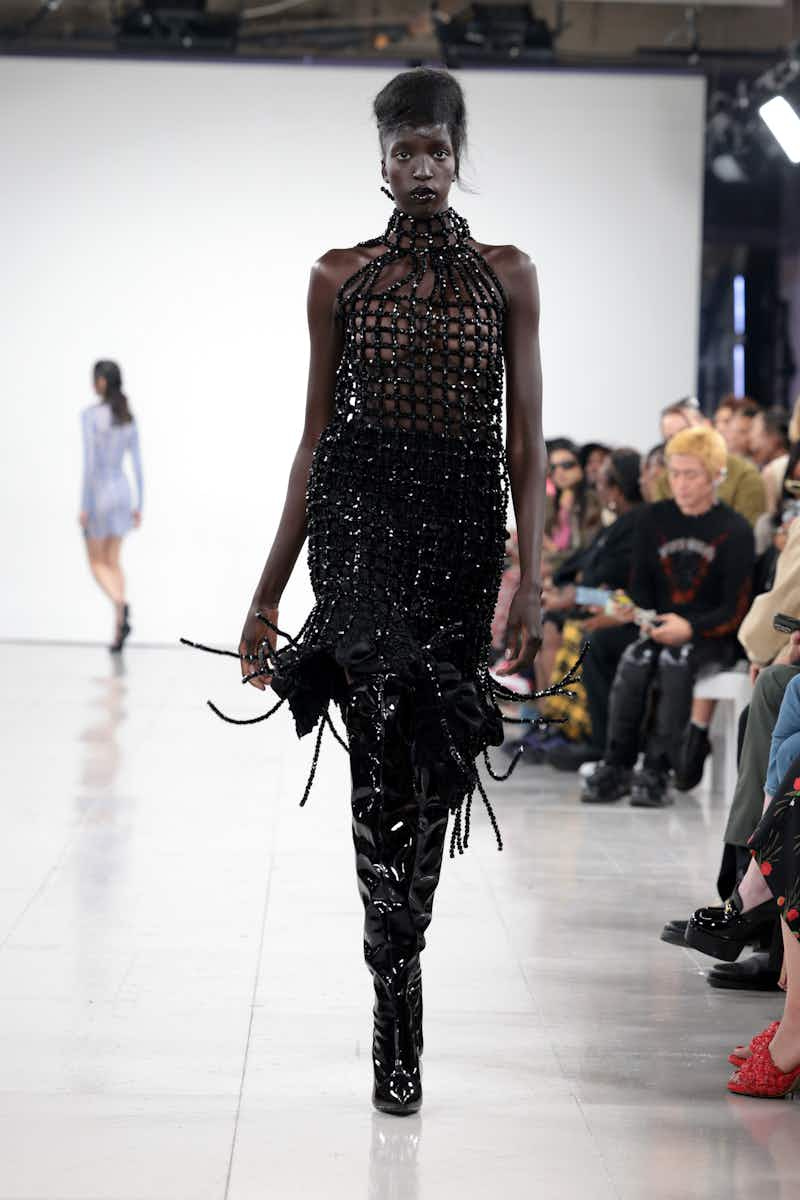 Molly Goddard returned to the Seymour Leisure Centre in West London for her SS23 show, first used in 2019 – a vast space that, for some, could swallow a garment whole. But not for Goddard, whose collection was spiked with feel-good hits of acid yellows, pinks and purples, and a brilliant, nostalgic house soundtrack which, set against the beaming sunshine from the rooftop window, was pure joy. And that's one of the designer's greatest strengths: bringing a sense of community, optimism and lightness. With models wearing cowboy boots and light Western touches on the cuts – as well as her signature maxed-out tulle pieces, this time in cloud-like white iterations – this season felt ecstatically freeing. Once again, Goddard invites us all to the dancefloor for a little light relief. TJ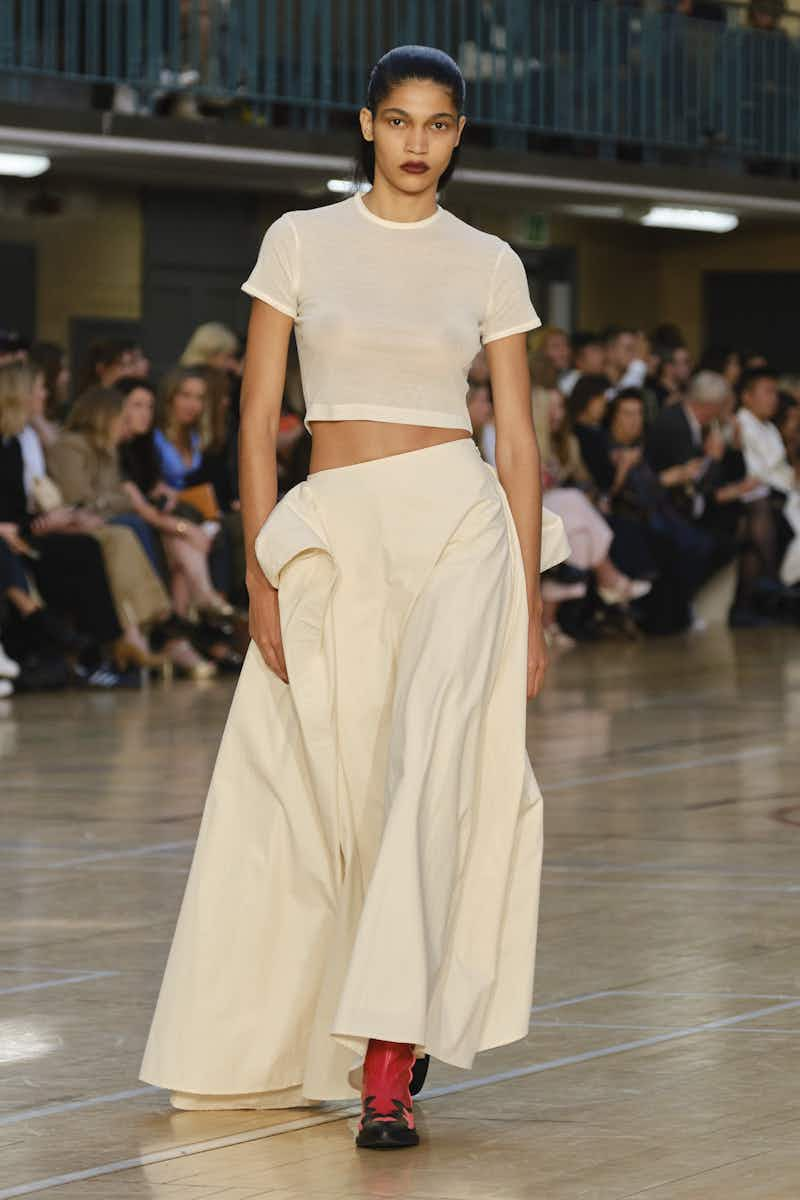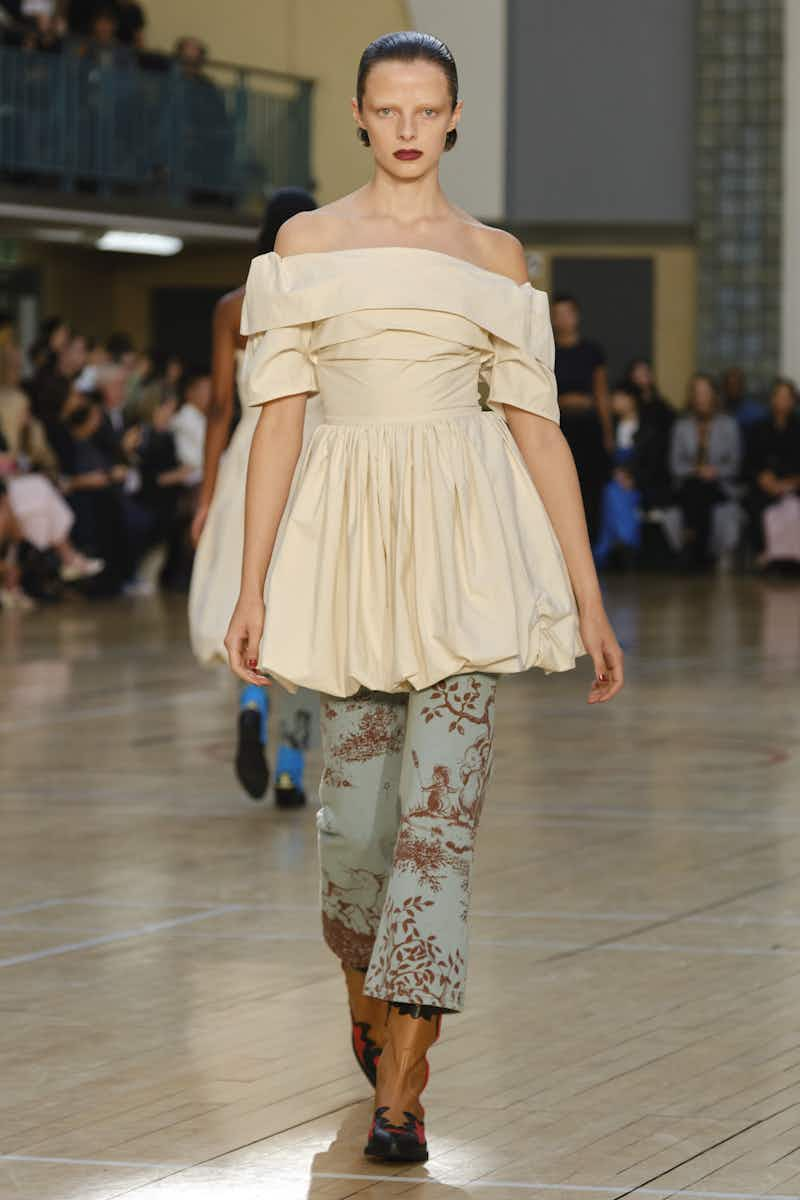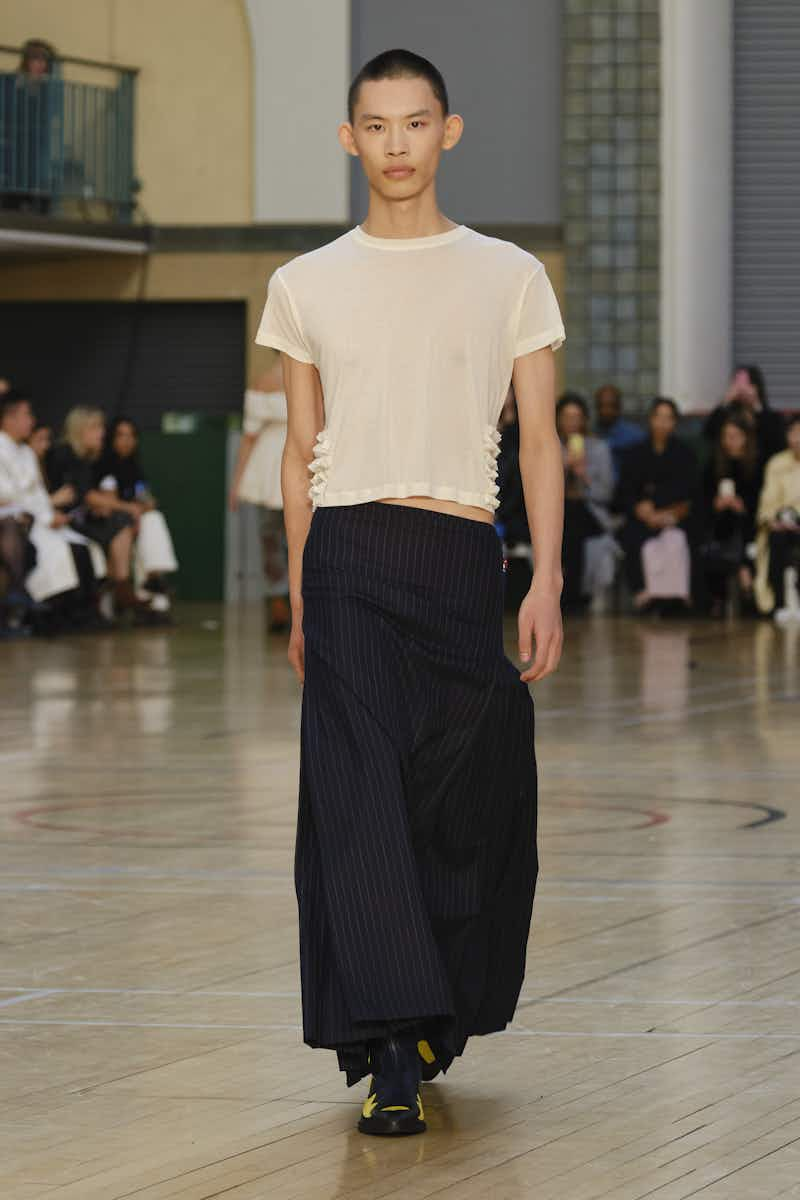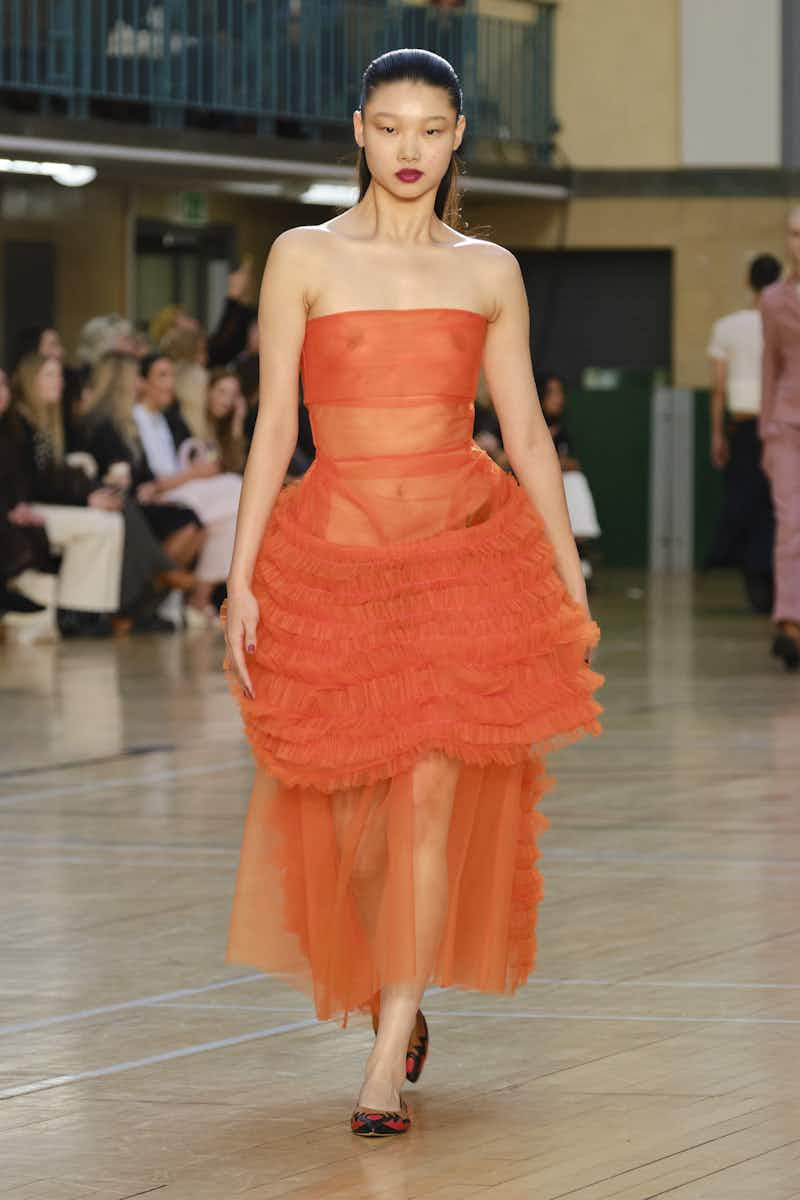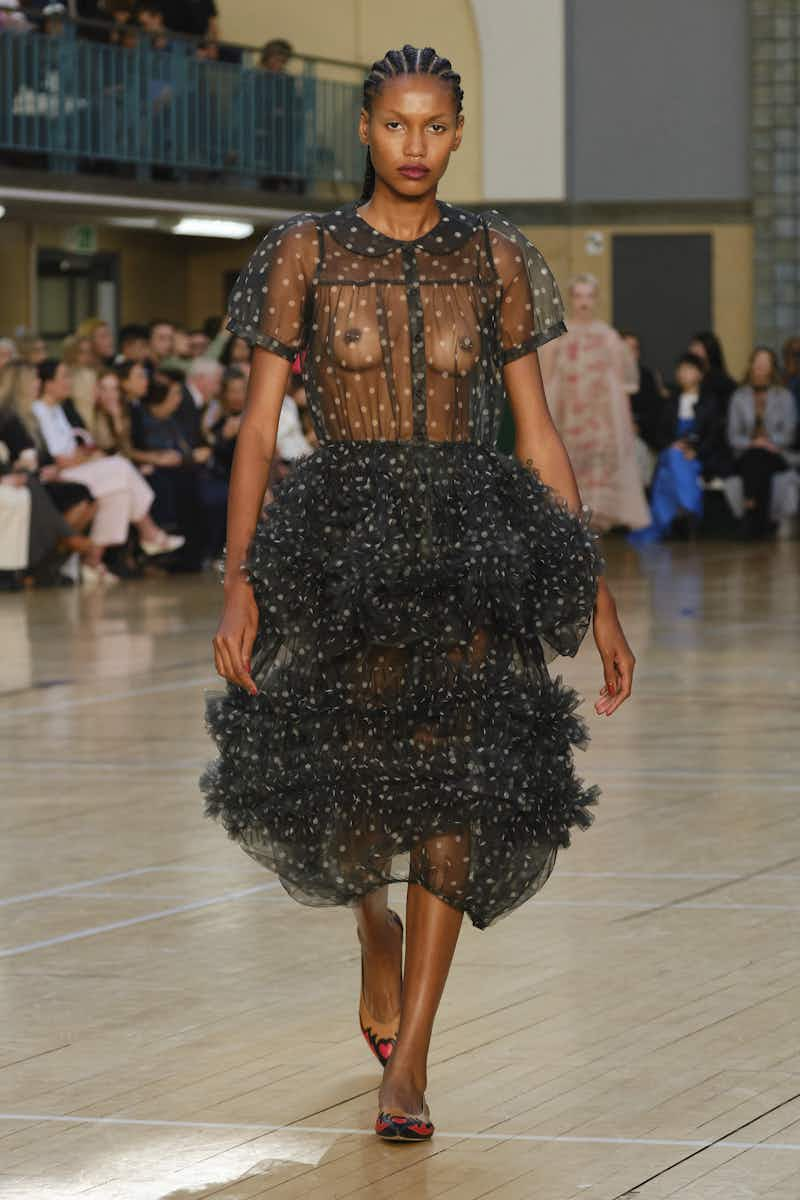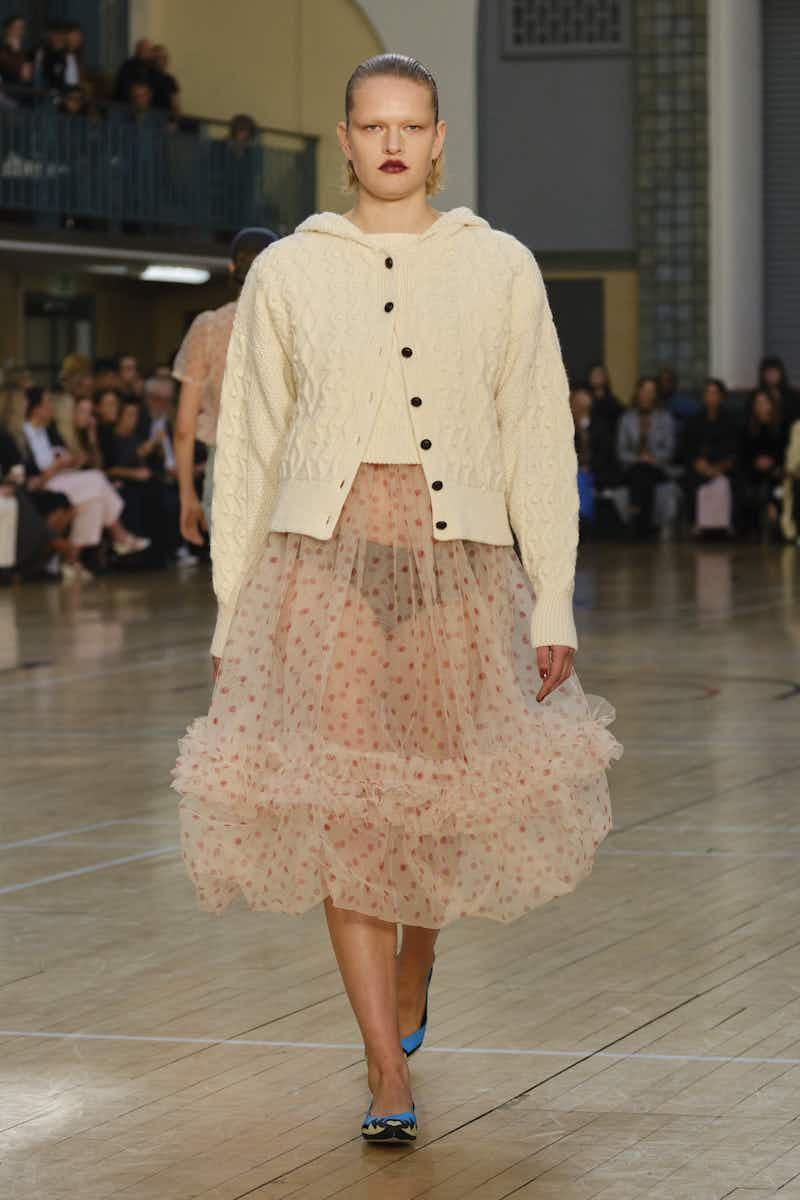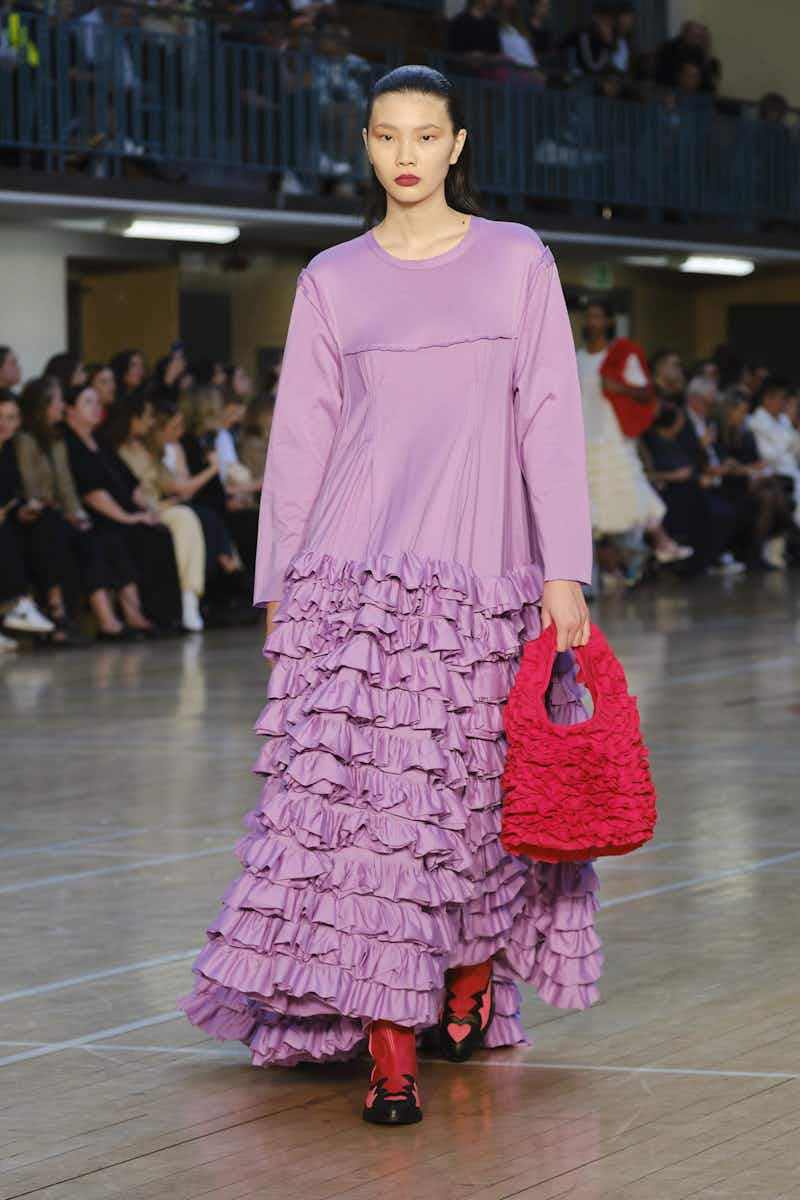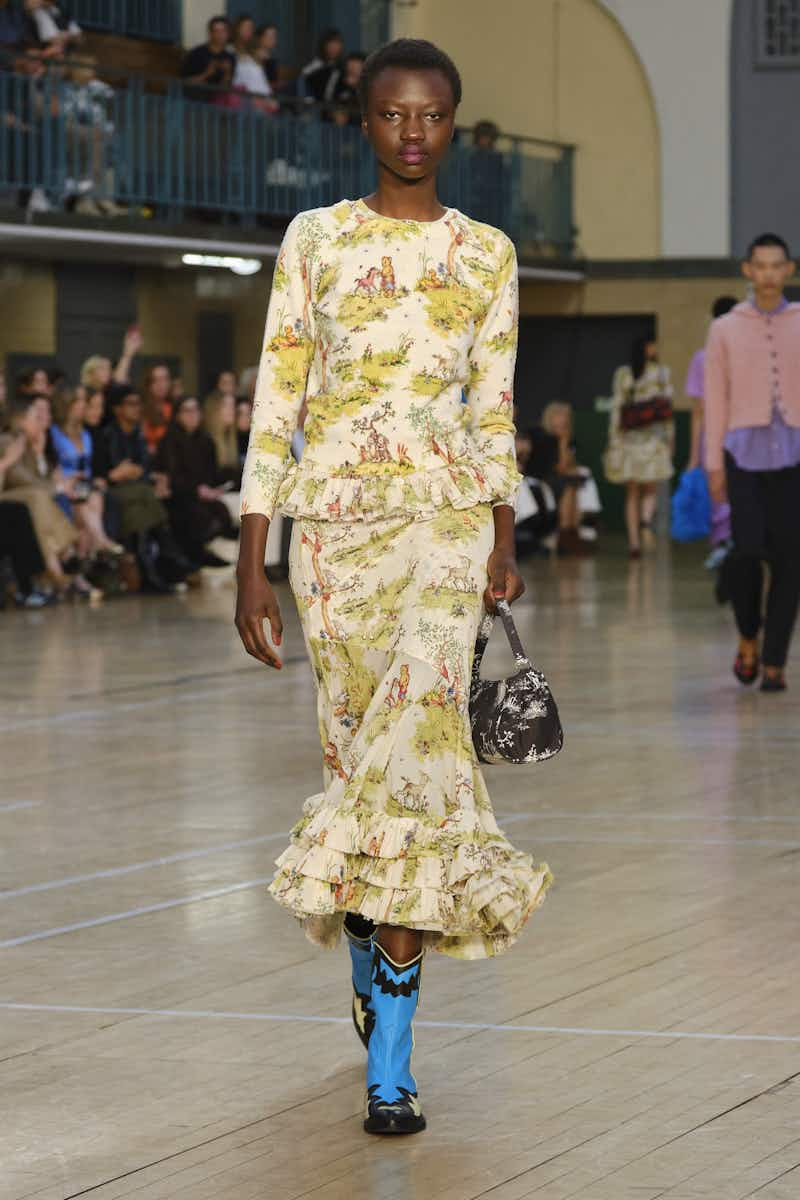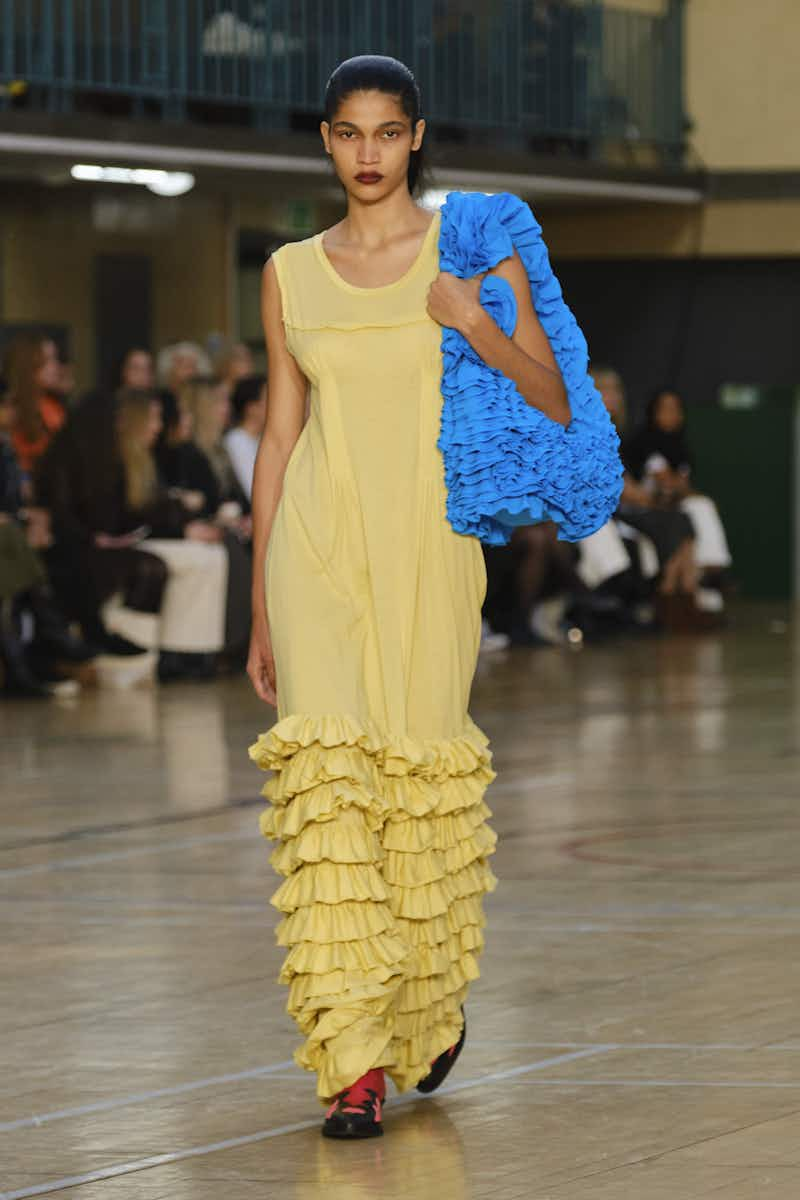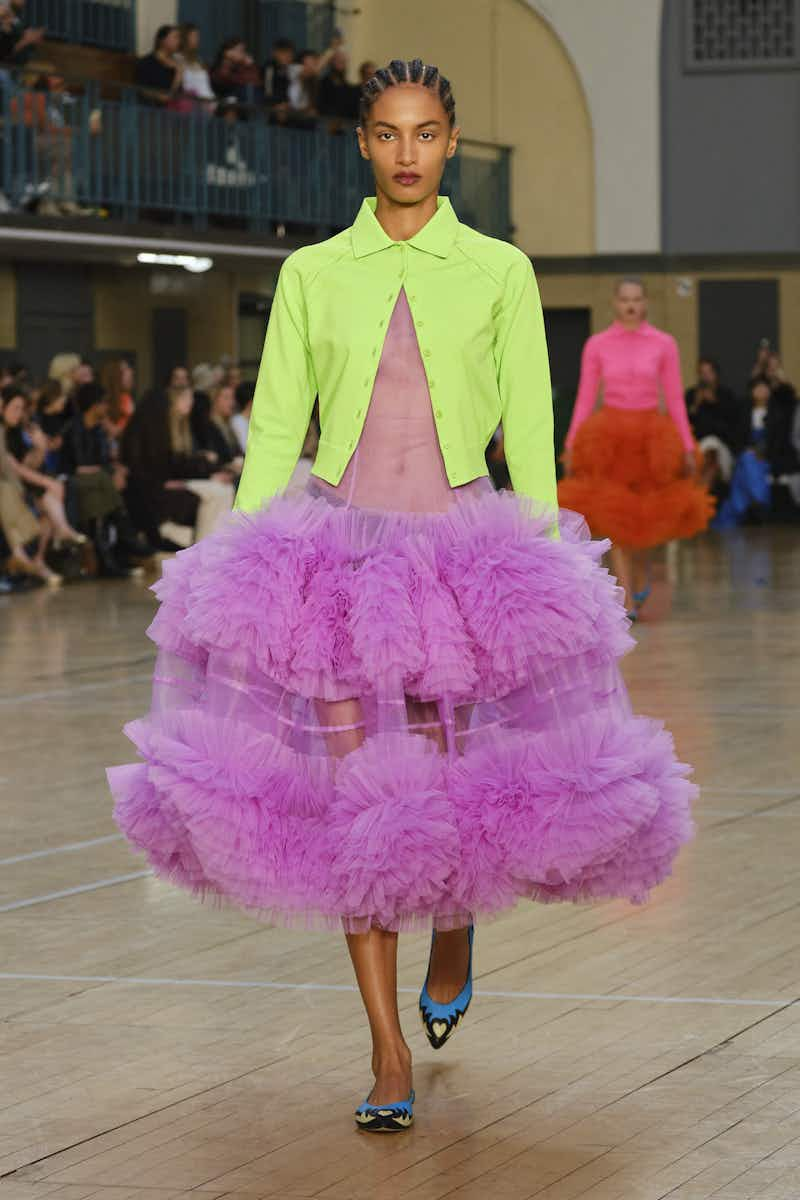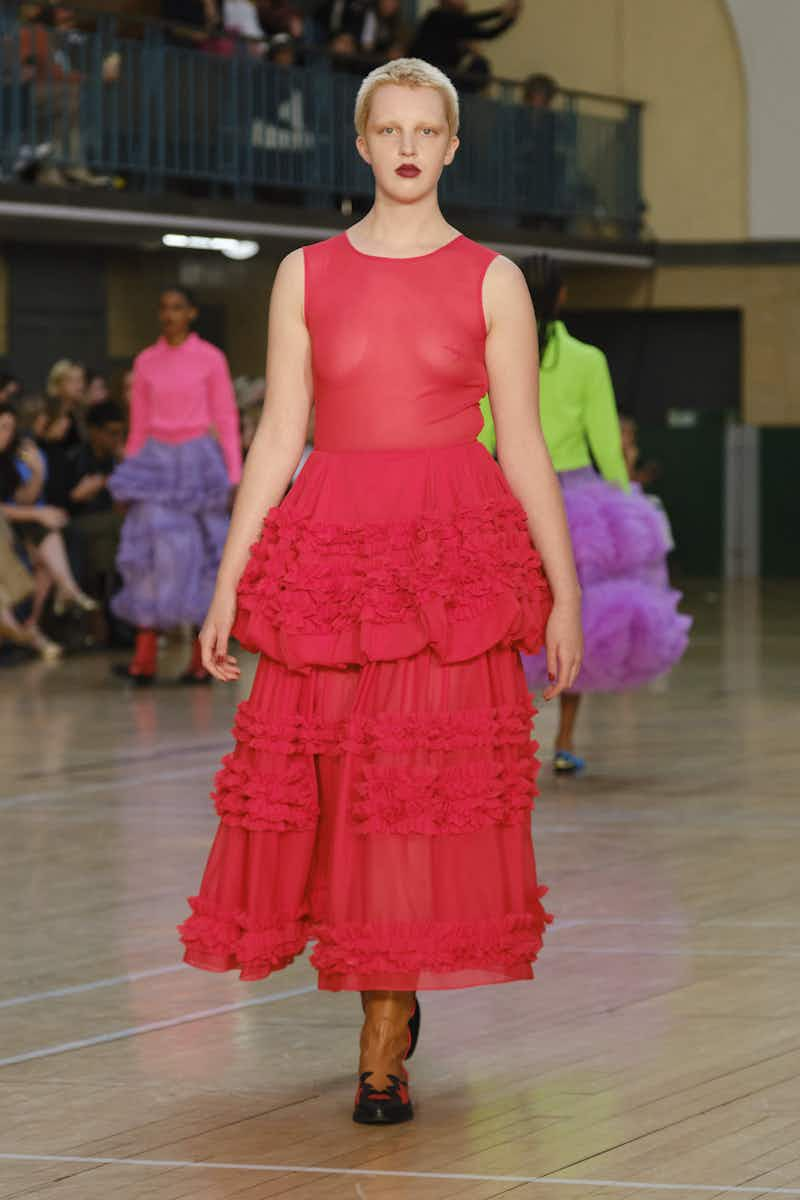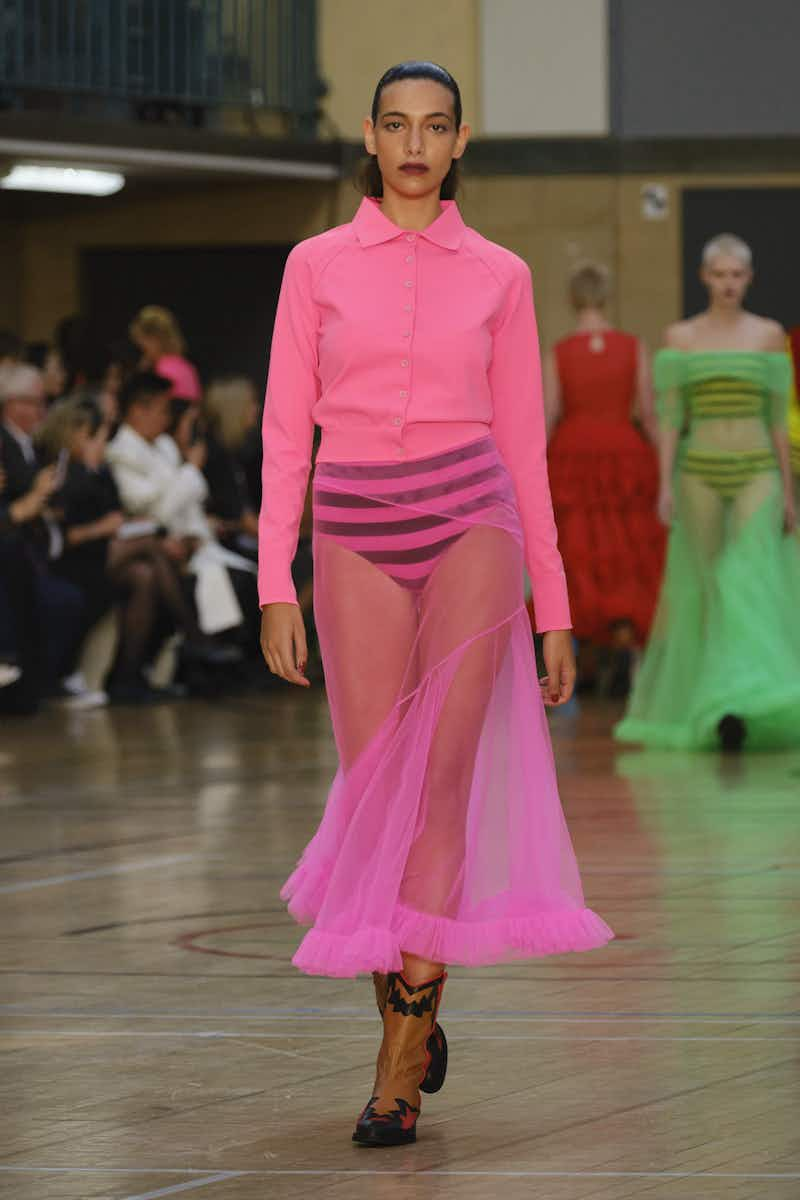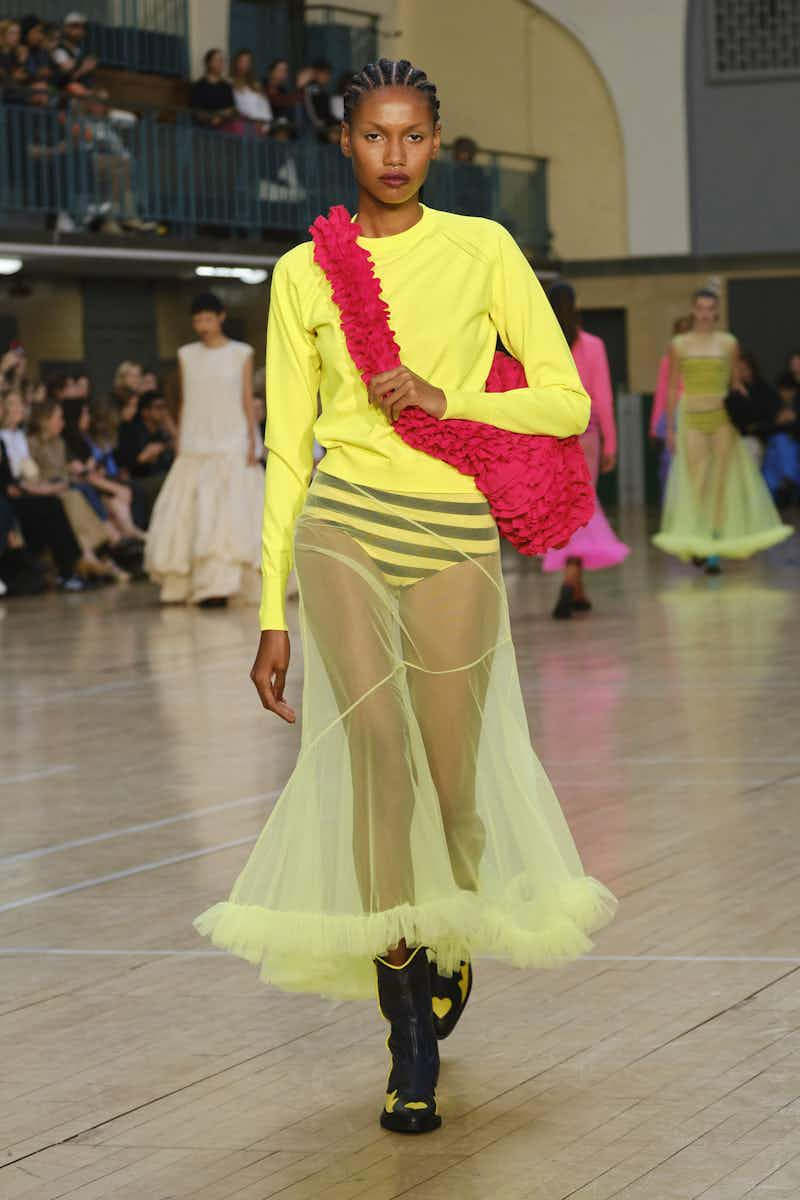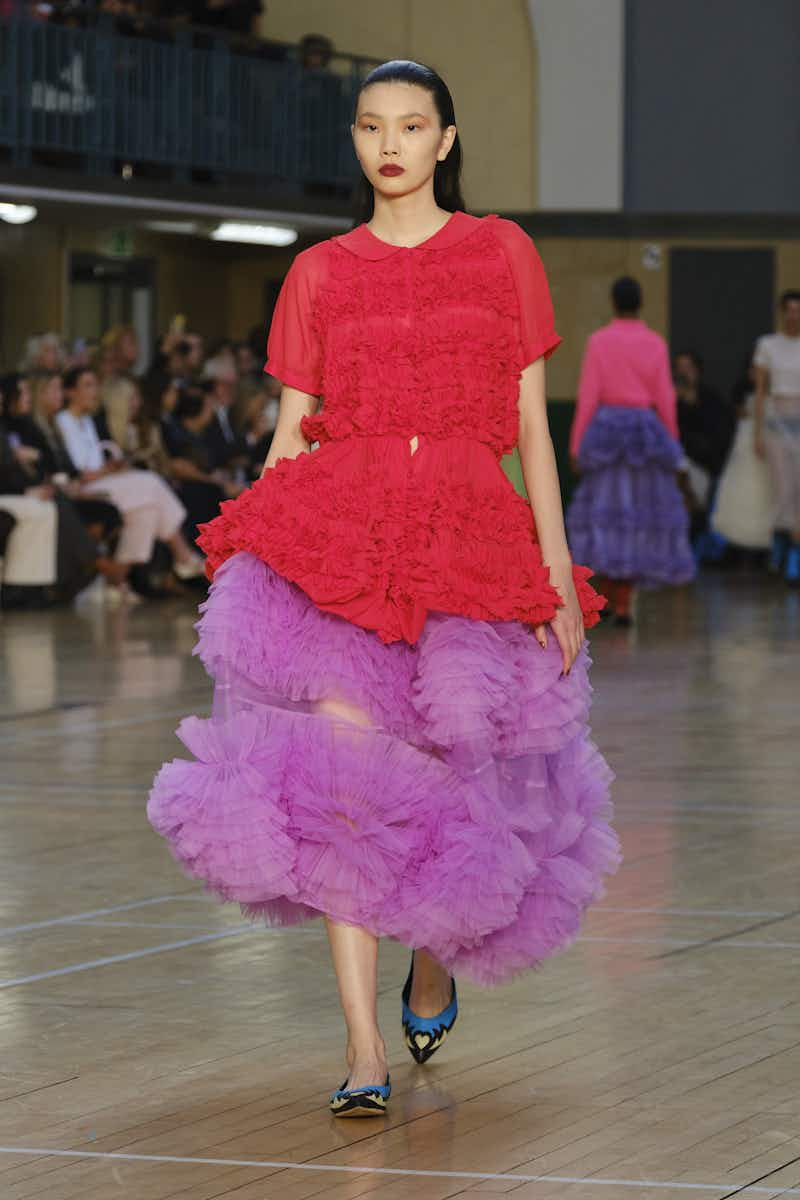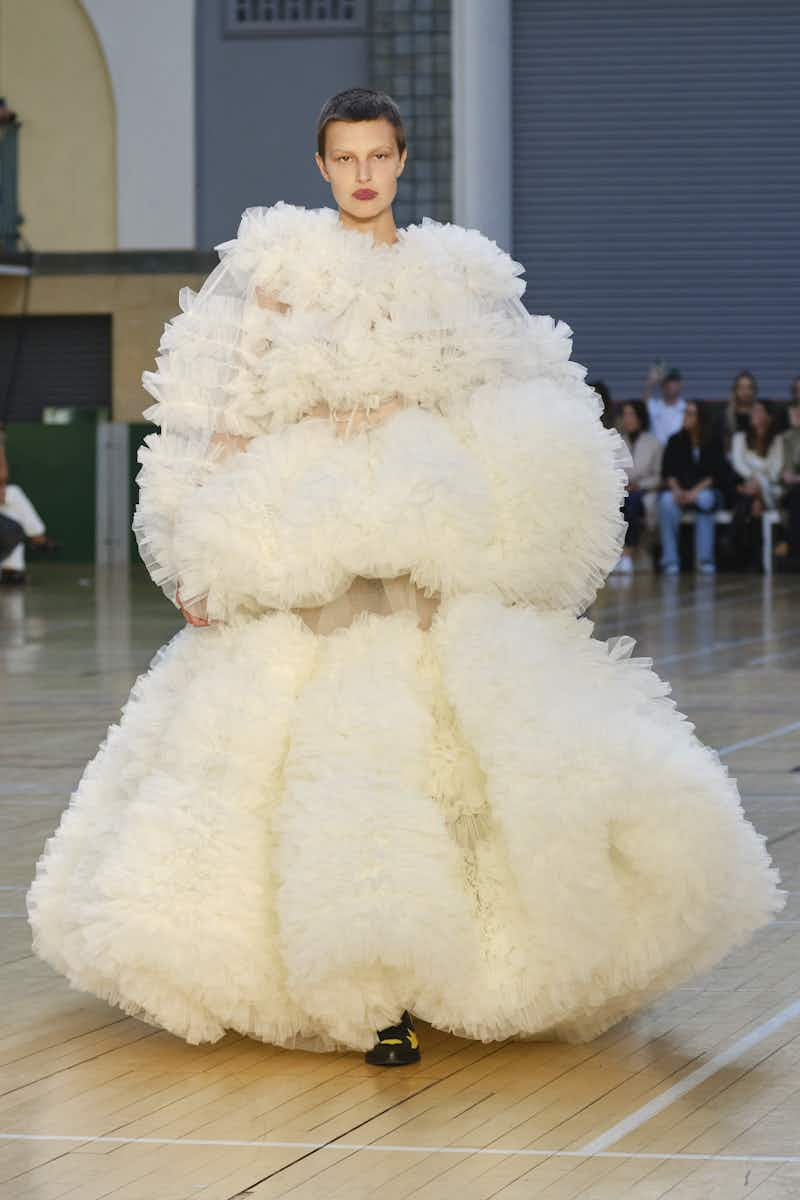 While escapism has been a running theme for London designers the past few seasons – embellished party dresses, thumping techno and XL colour palettes – Dilara Findikoglu's take was, unsurprisingly, different.

In a crumbling building in West London, her show featured no music – a knife-edge backdrop for a collection which delved into the designer's antique treasure chest of subversive references: religion, sex, death and horror – as well as her past and present lives.

Detailed pieces like boned corsets, sweeping gowns and embroidered sheer skirts were beautifully constructed, while more conceptual additions – such as a waistcoat made of peacock feathers and a transparent dress without arm holes – were pure wicked imagination.

For a designer like Findikoglu, escape doesn't have to be warm and welcoming. She's more at home in a mythical world – miles apart from our own. TJ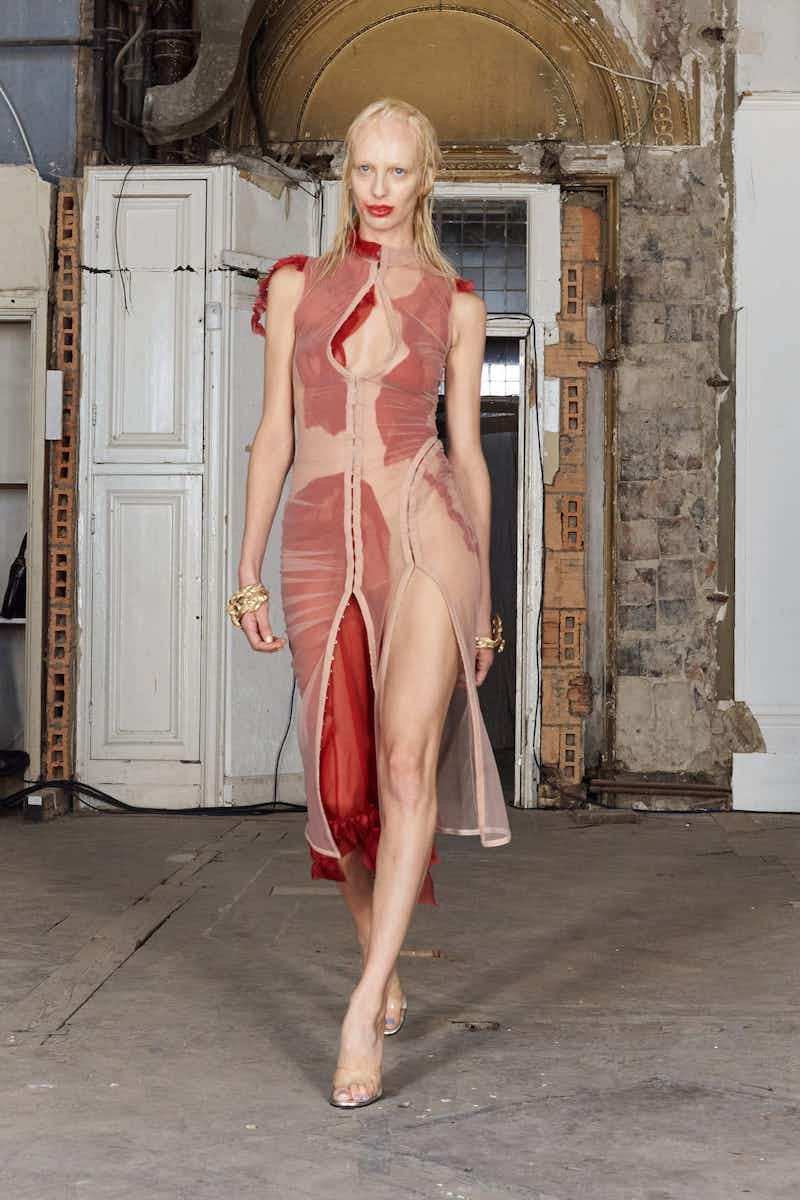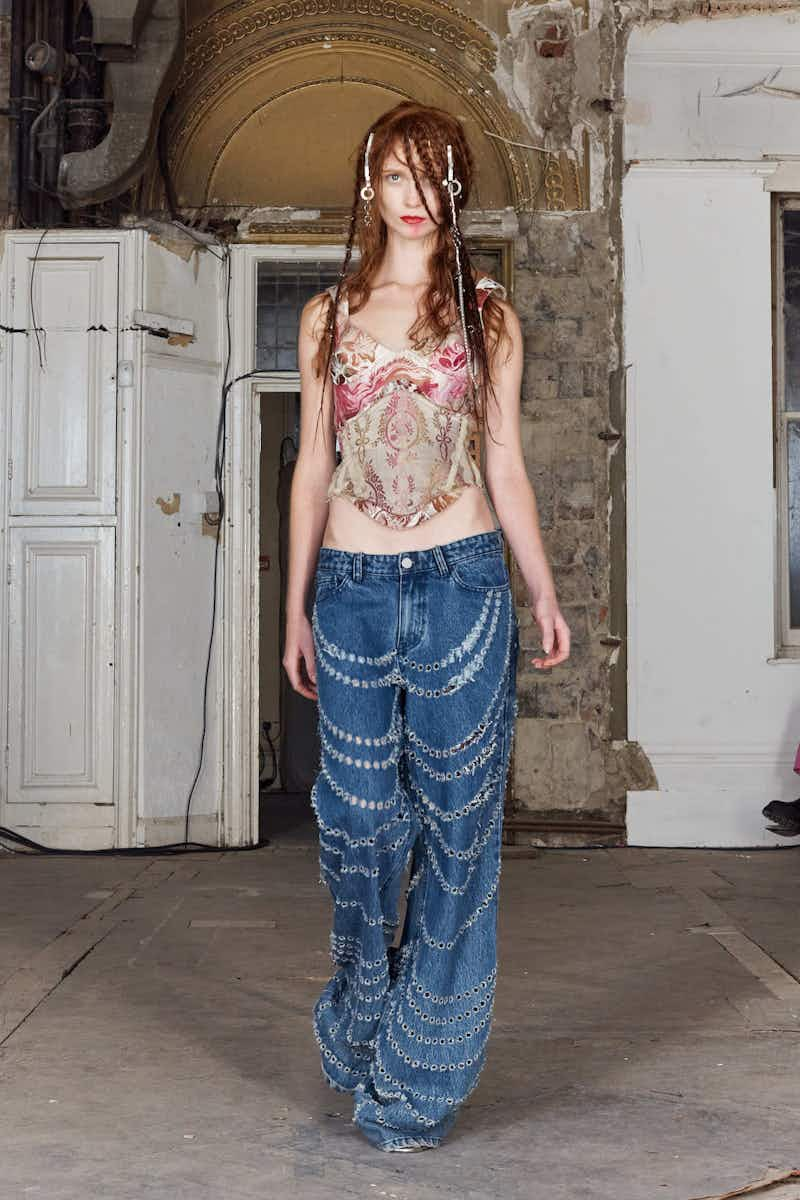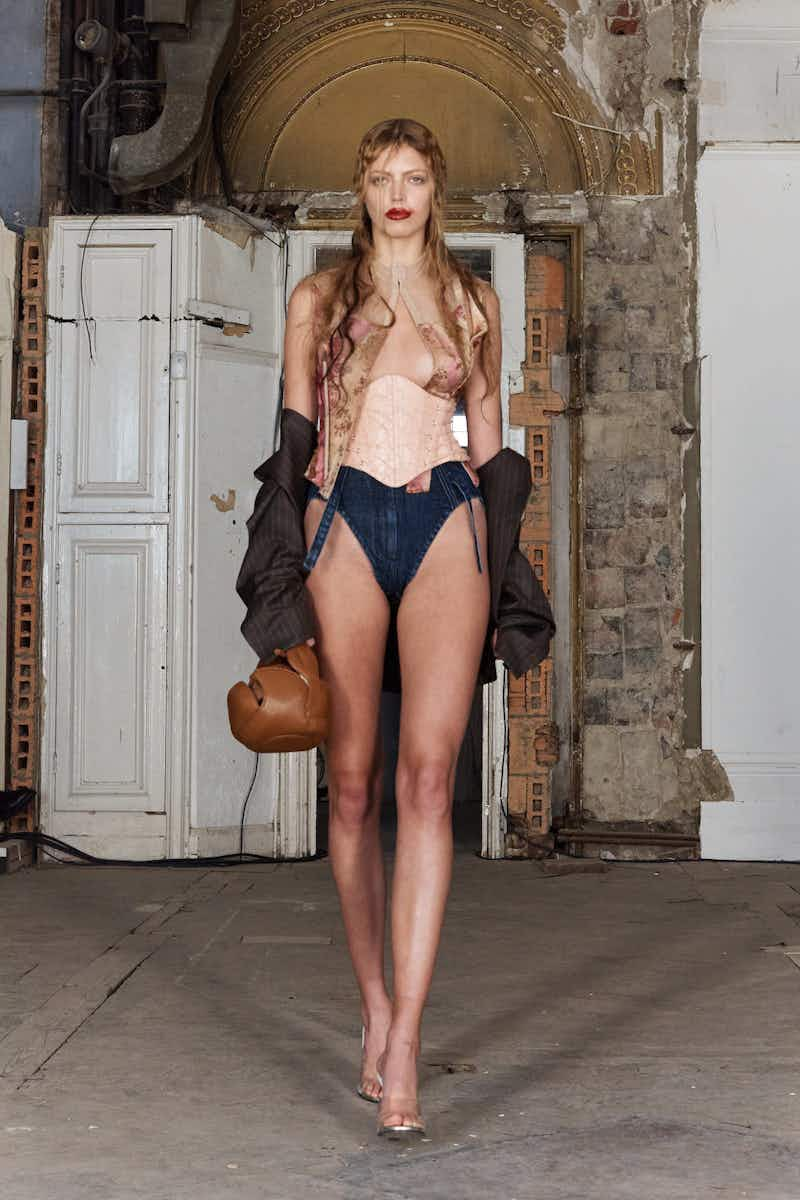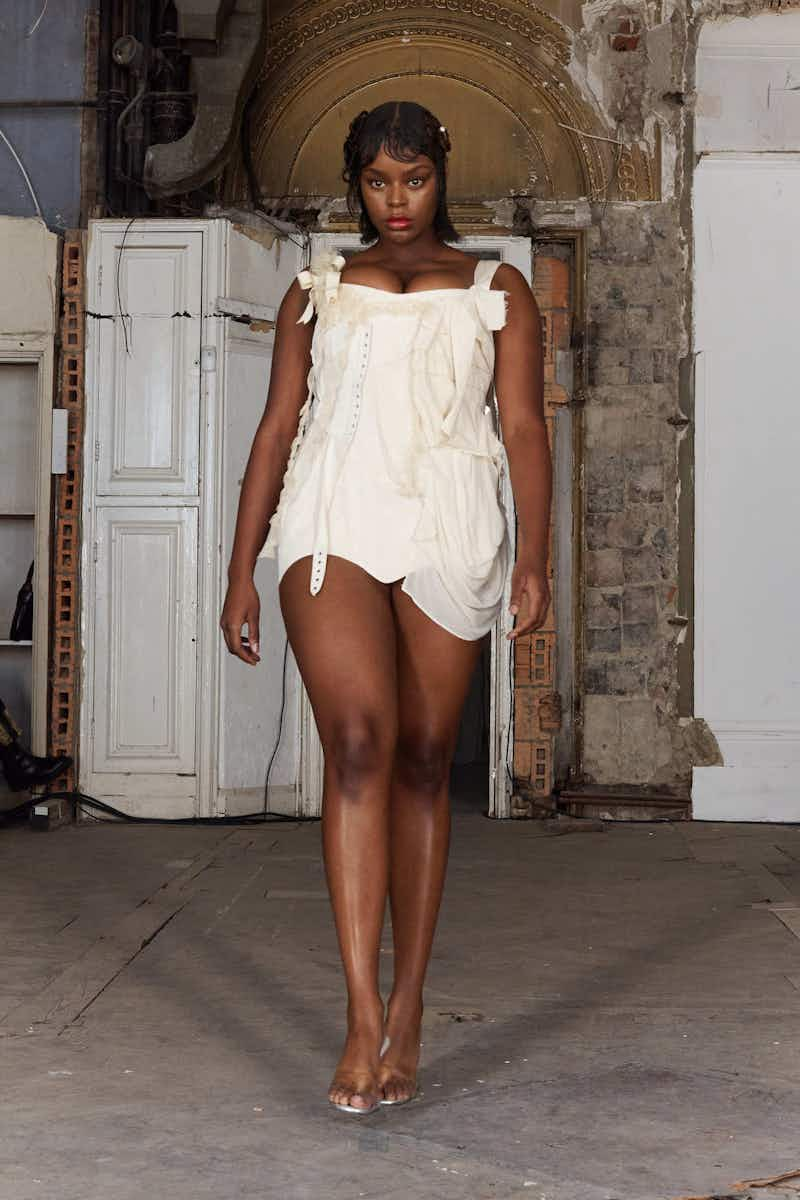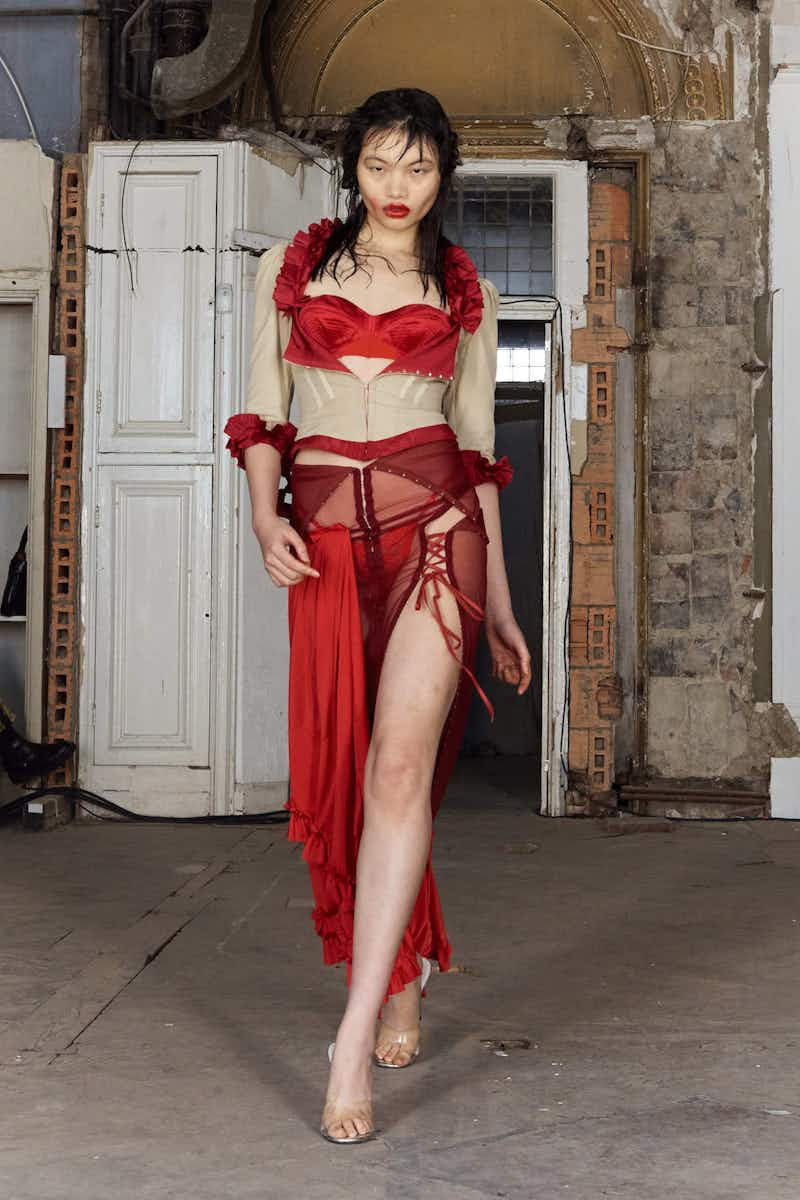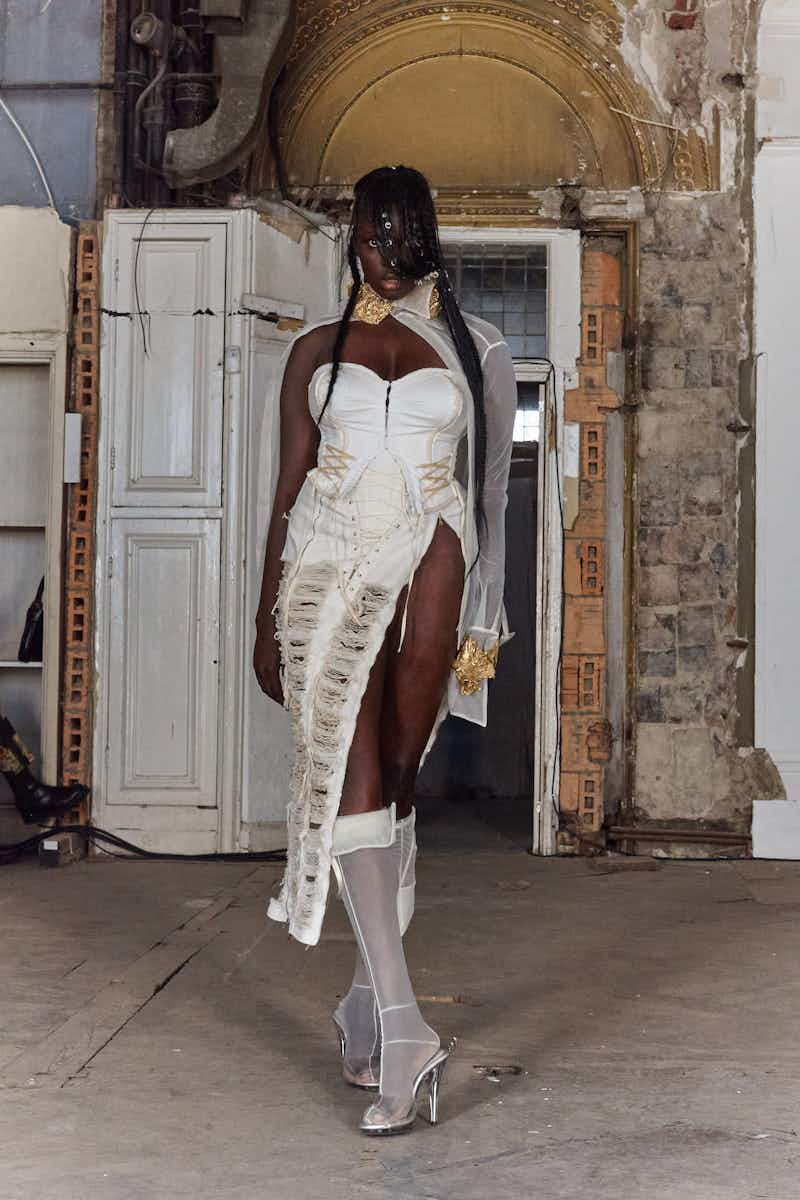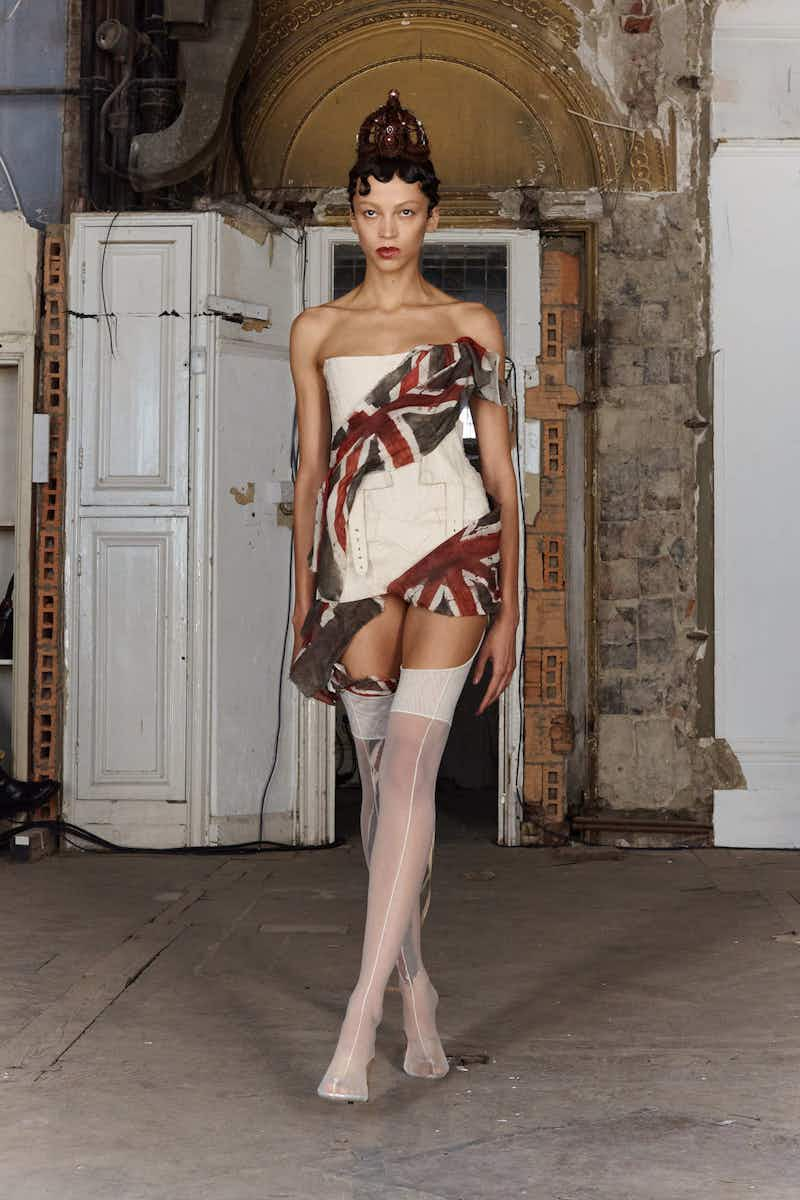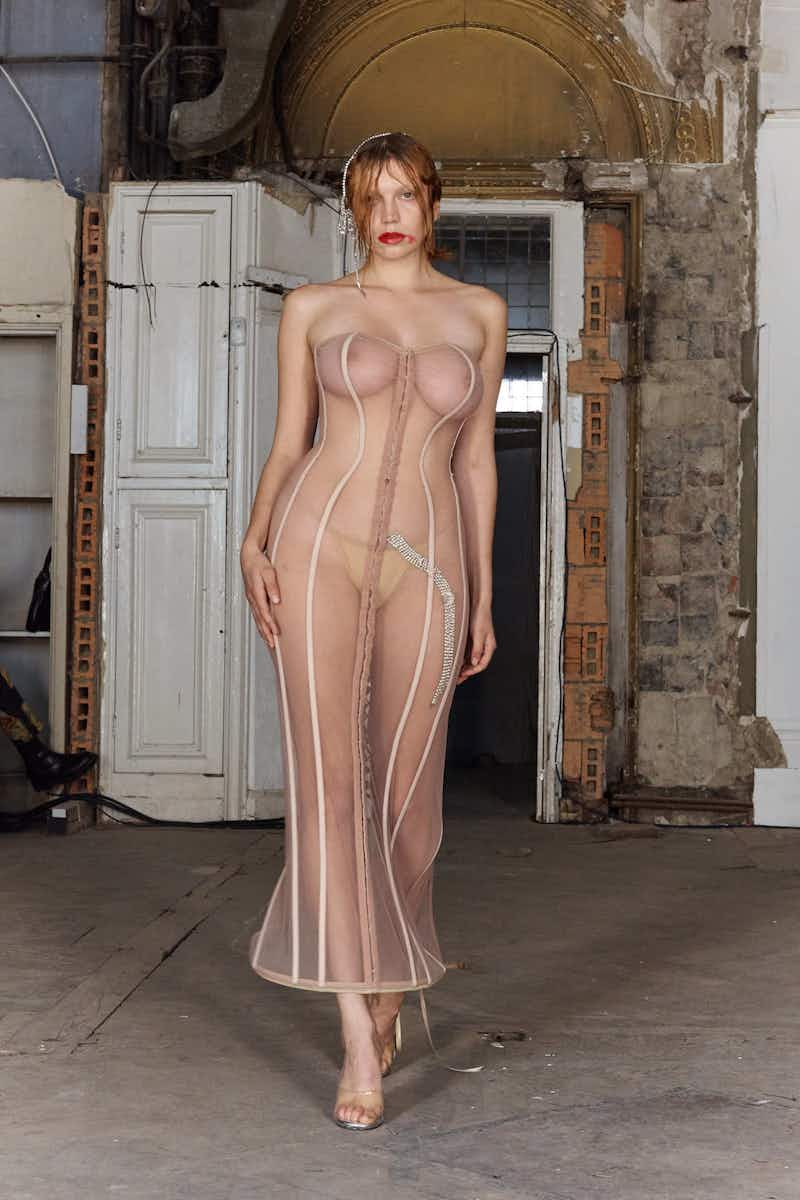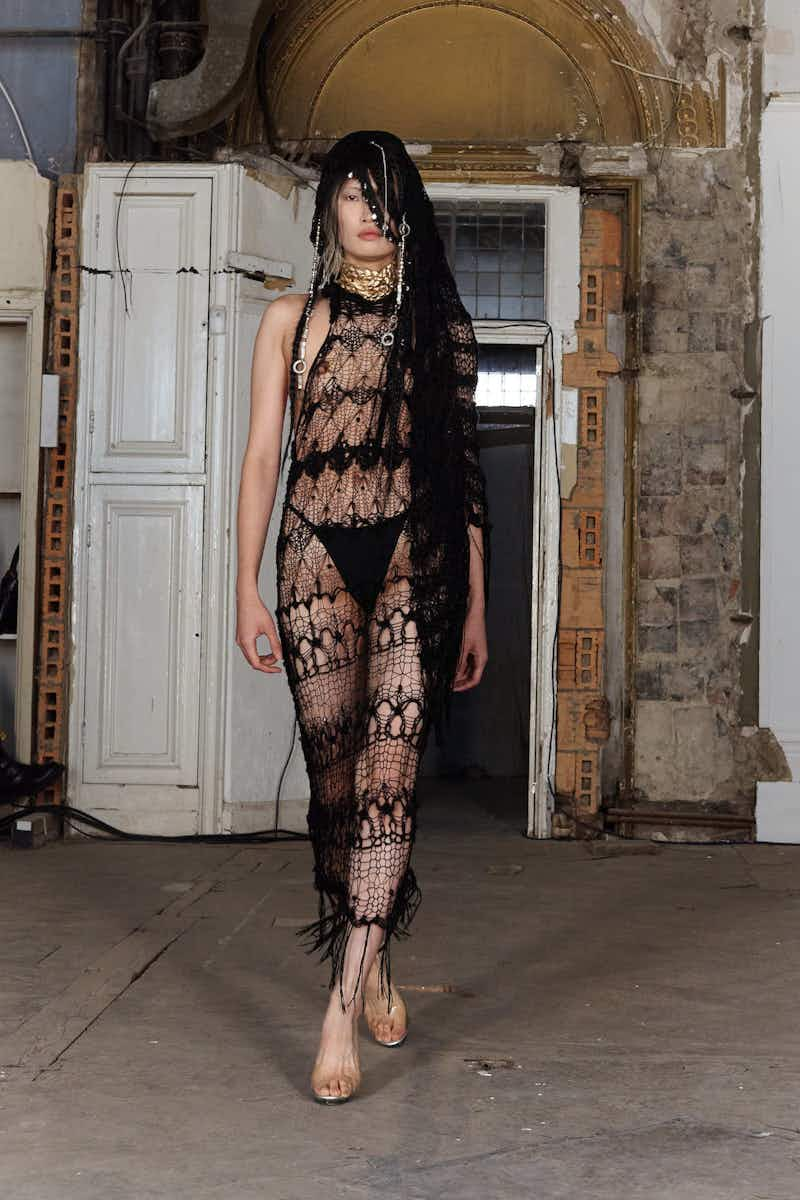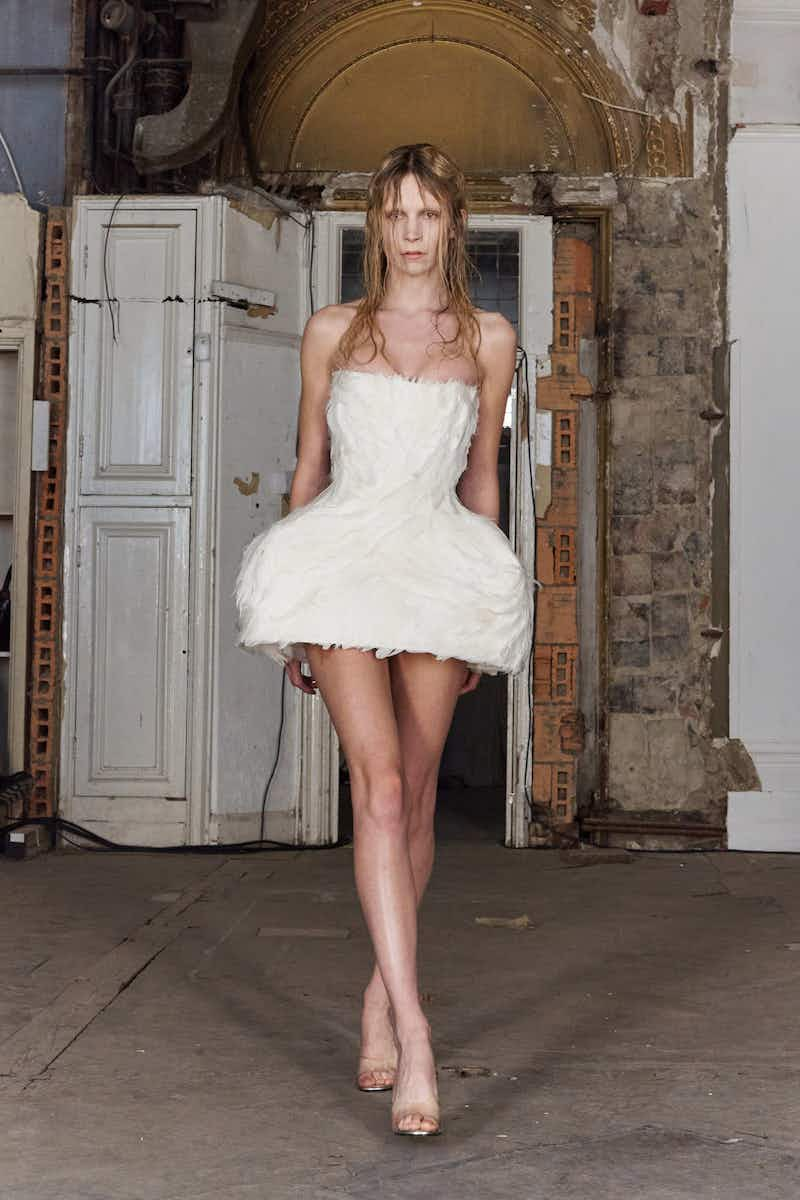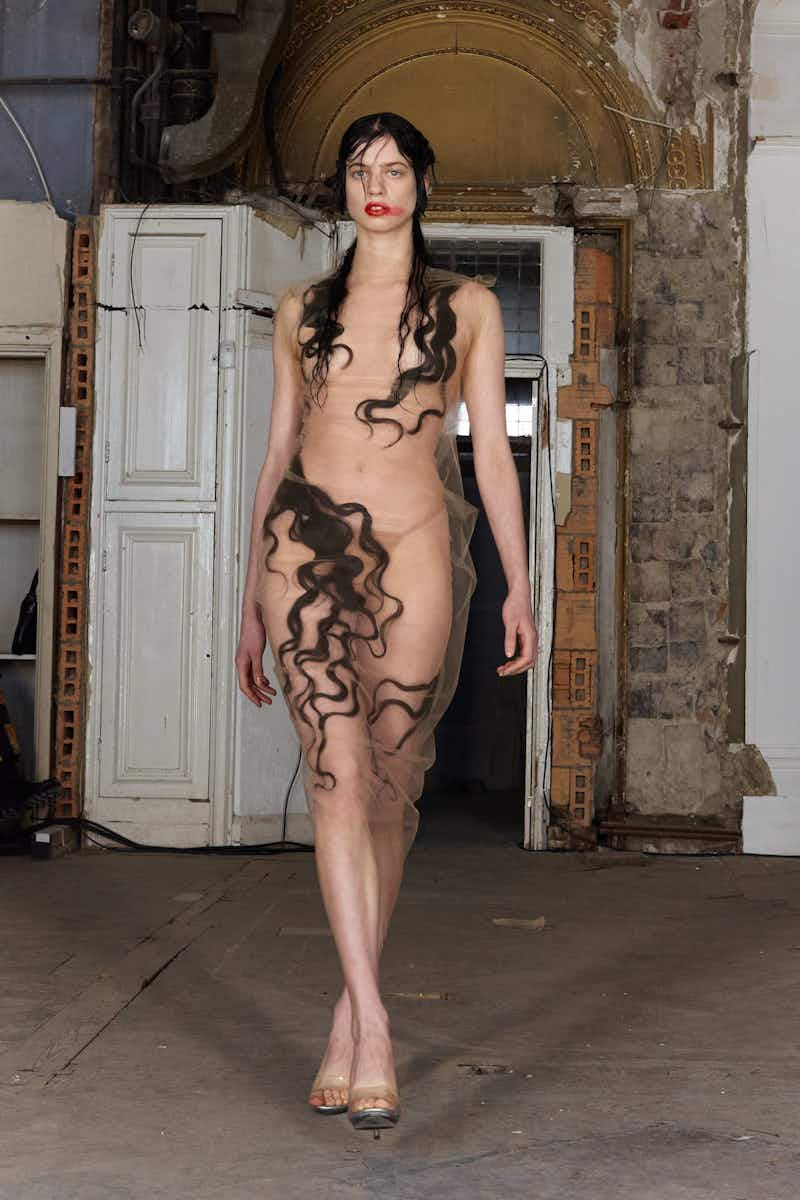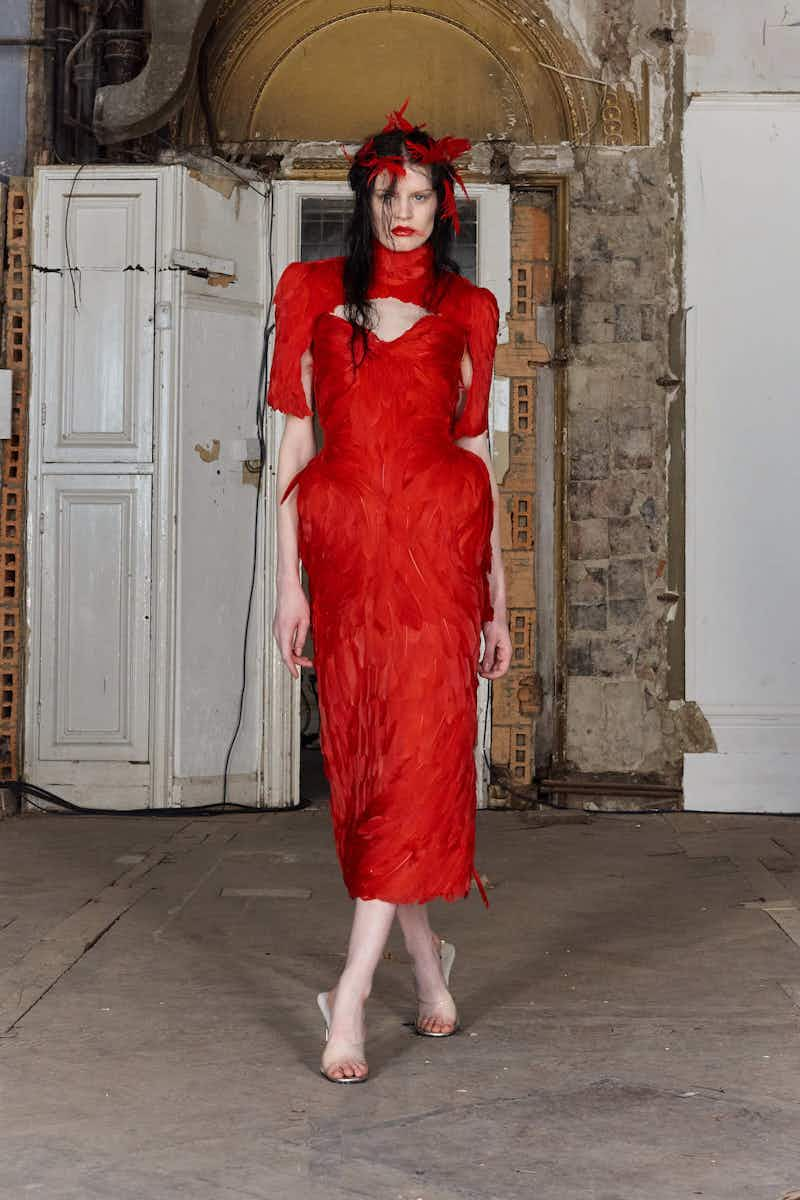 Masha Popova has already formed a cult-like following for her contemporary take on heady, Y2K femininity. Like fellow British womenswear brands KNWLS and Supriya Lele – whose tribal followings are almost devotional – Popova's debut runway show, titled Rush, was lined with fans dressed in her signature appliqué tops and bias cut jeans.

Only a few collections in, the Ukrainian designer, who graduated from Central Saint Martins in 2018 and has interned at Maison Margiela, has become synonymous for her high-octane optimism: flared jeans, thong detailing and denim maxi skirts are like a shot of healthy nostalgia. But she retains a killer attitude in tyre-mark graphics, monster platform boots and care-free low-rise cuts. As resilient as it is sexy. TJ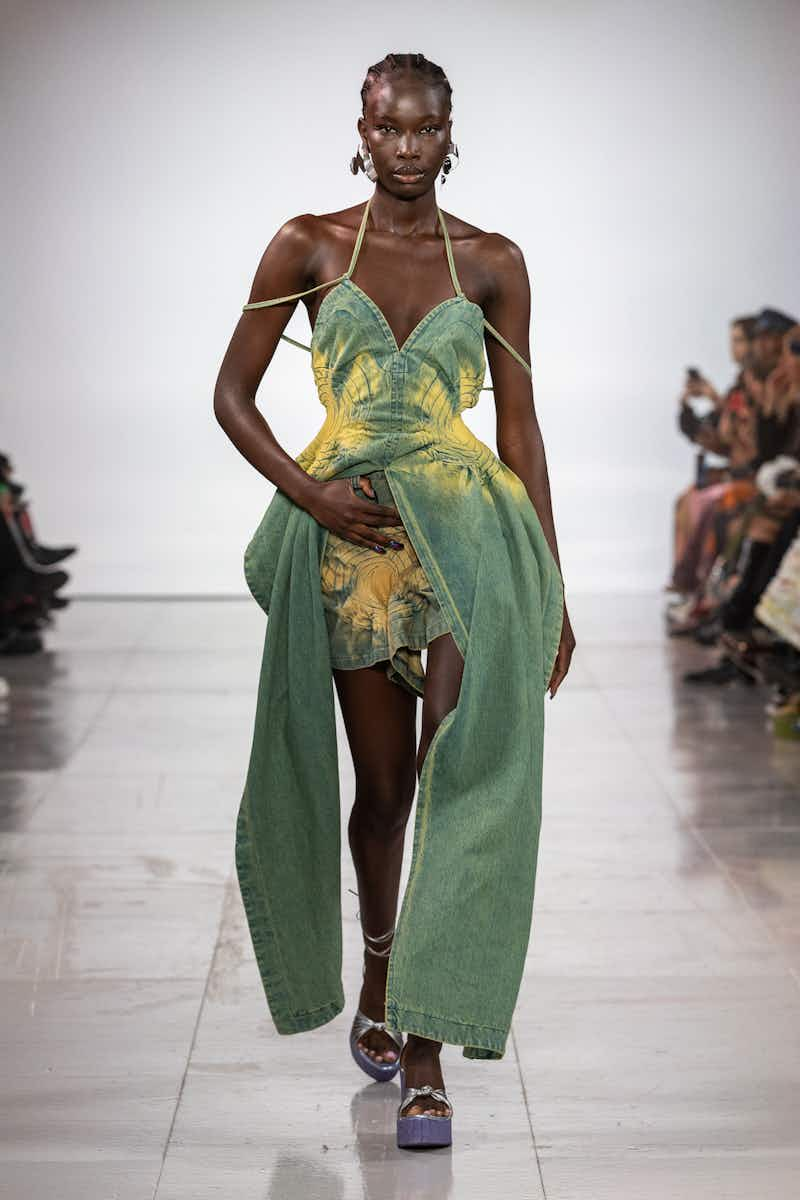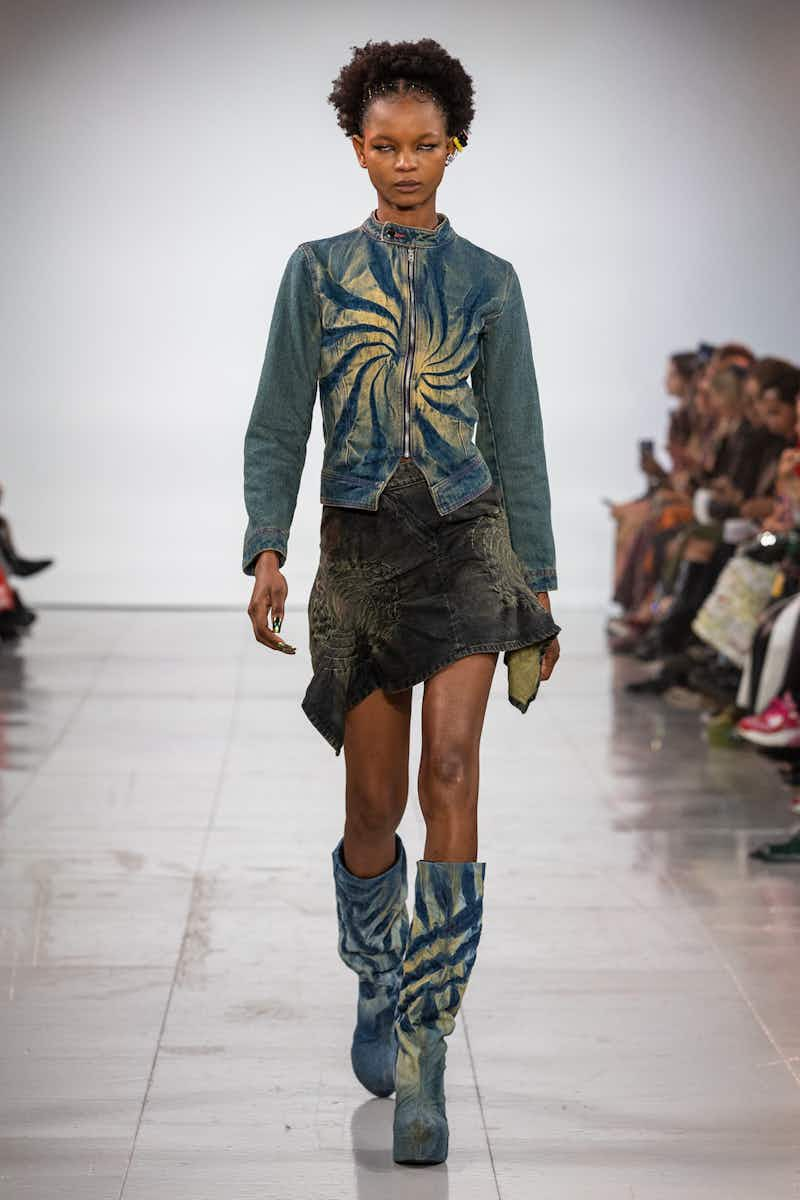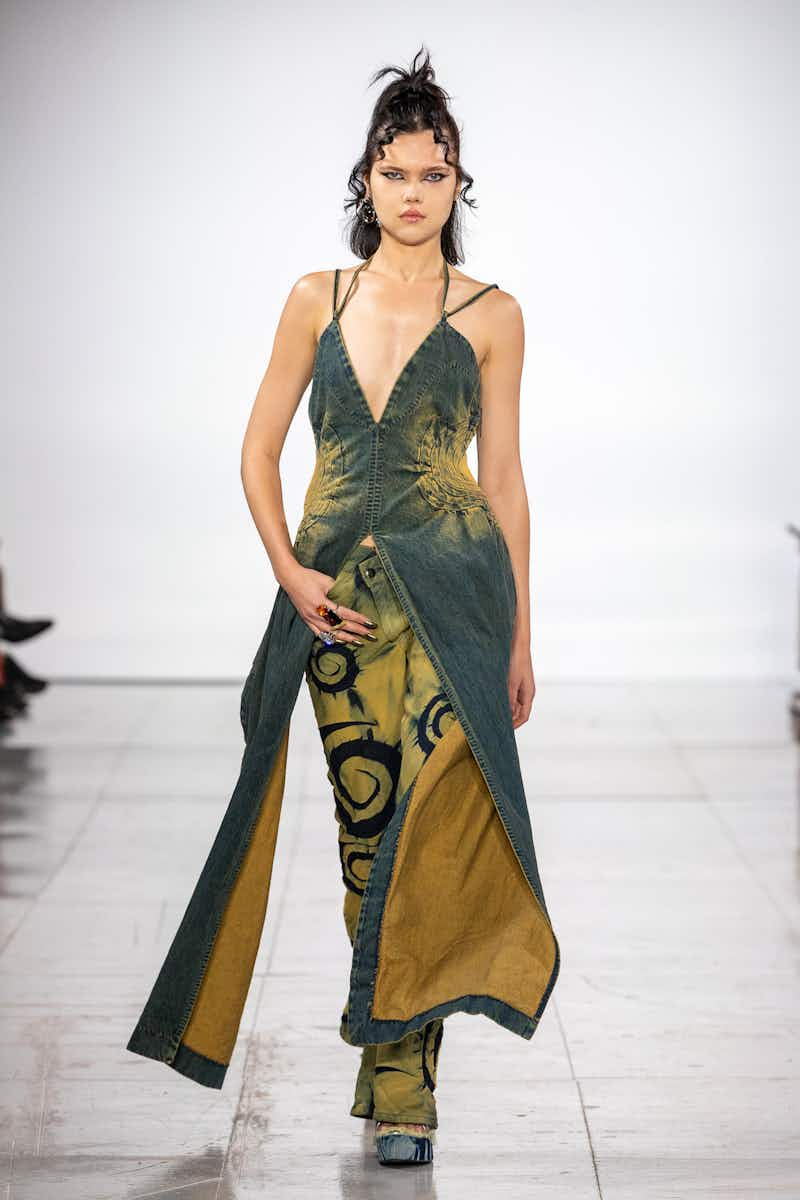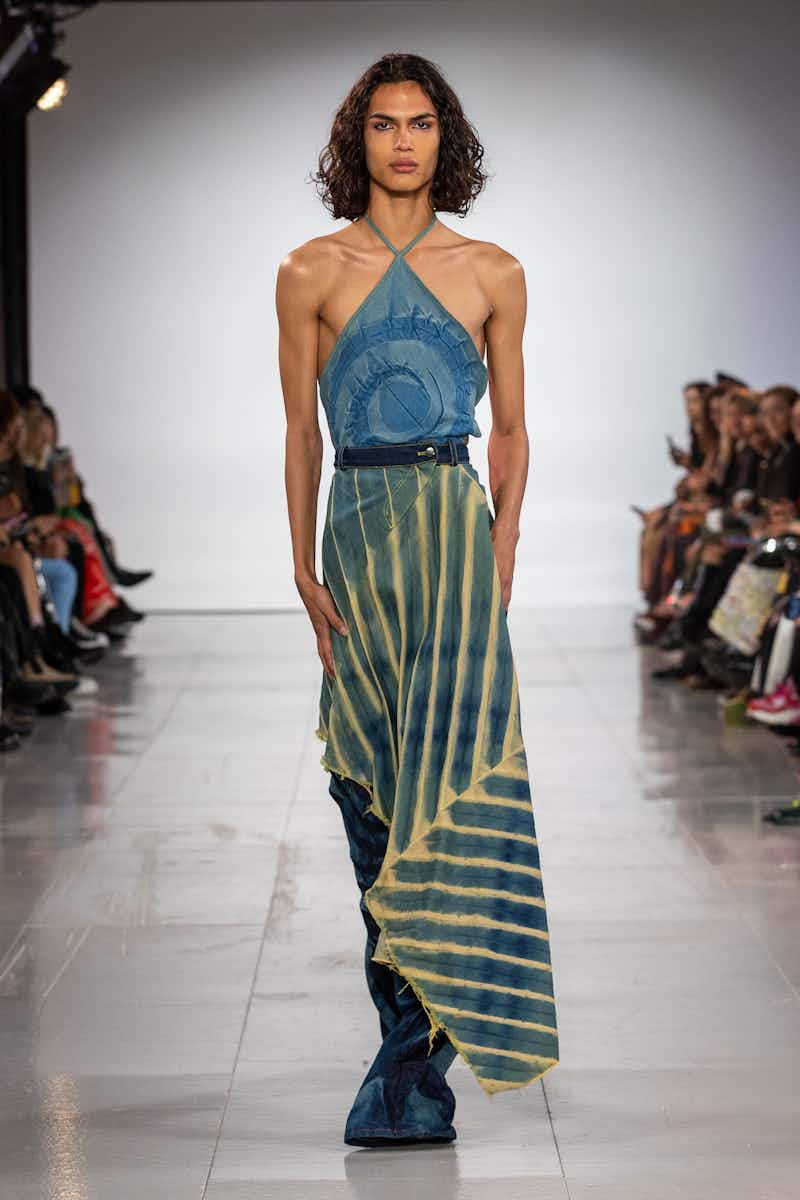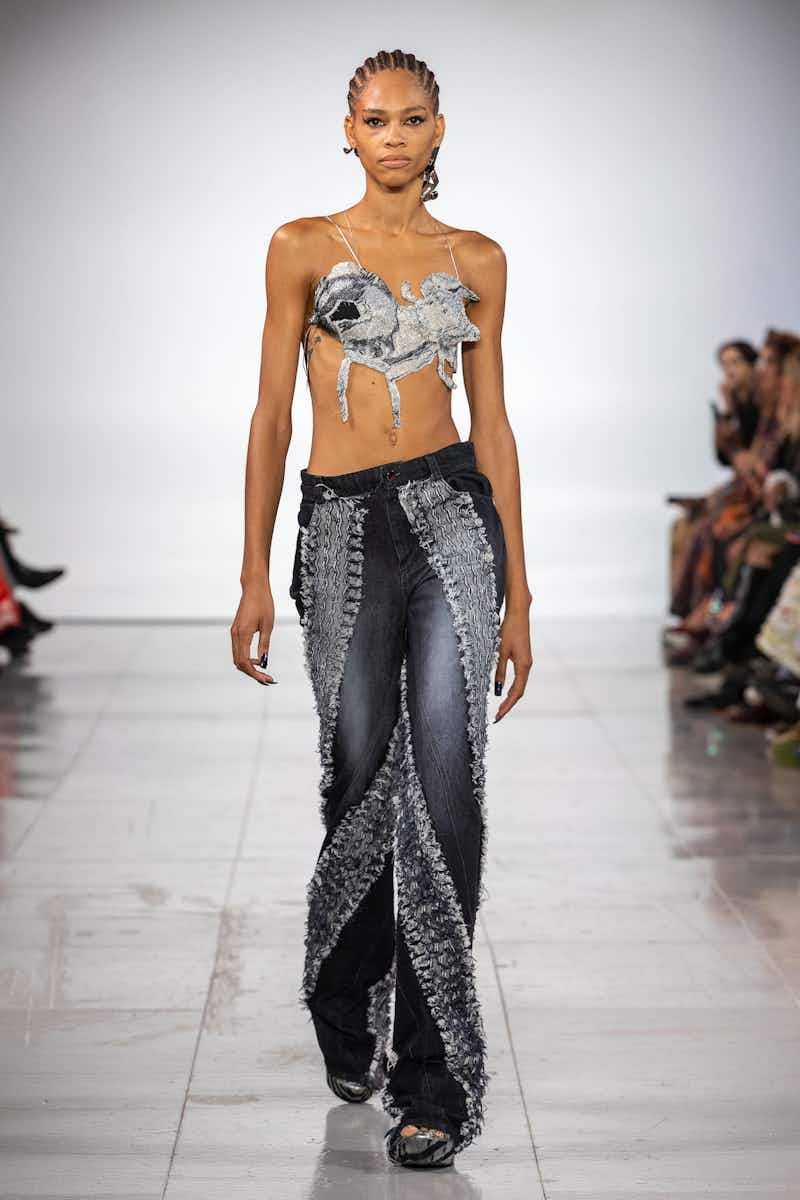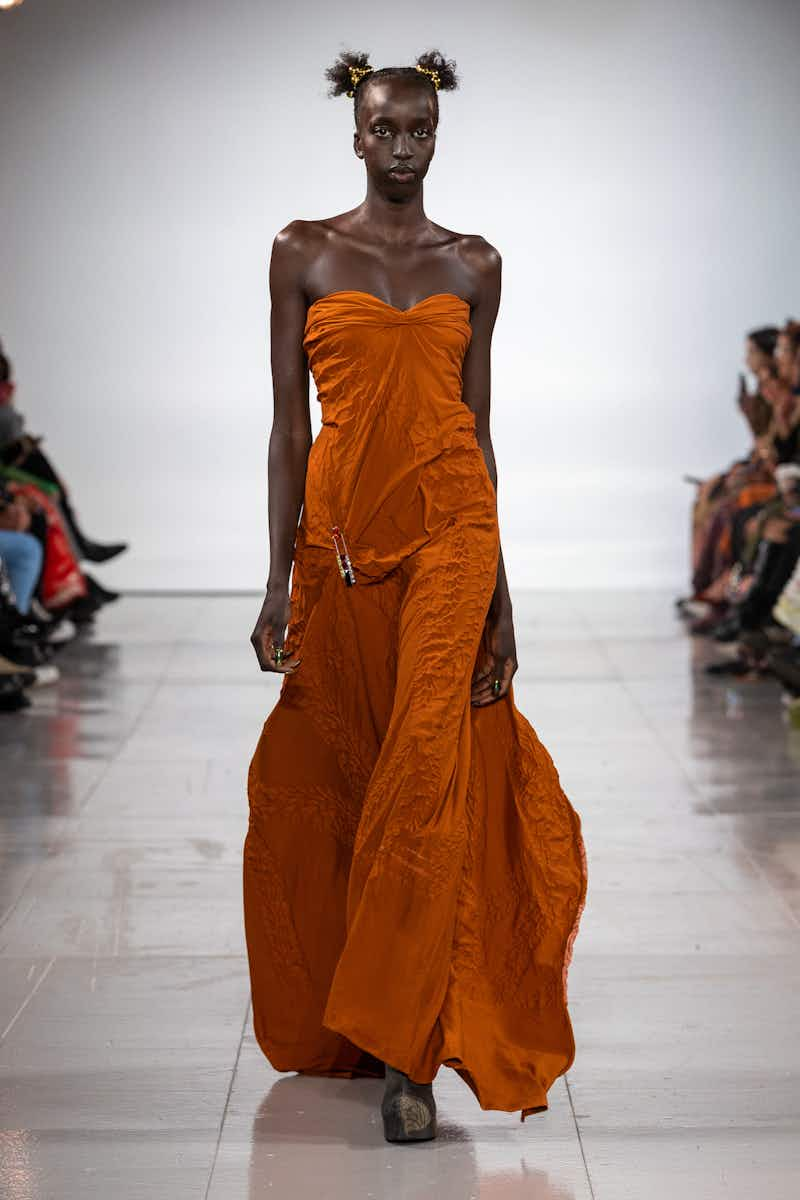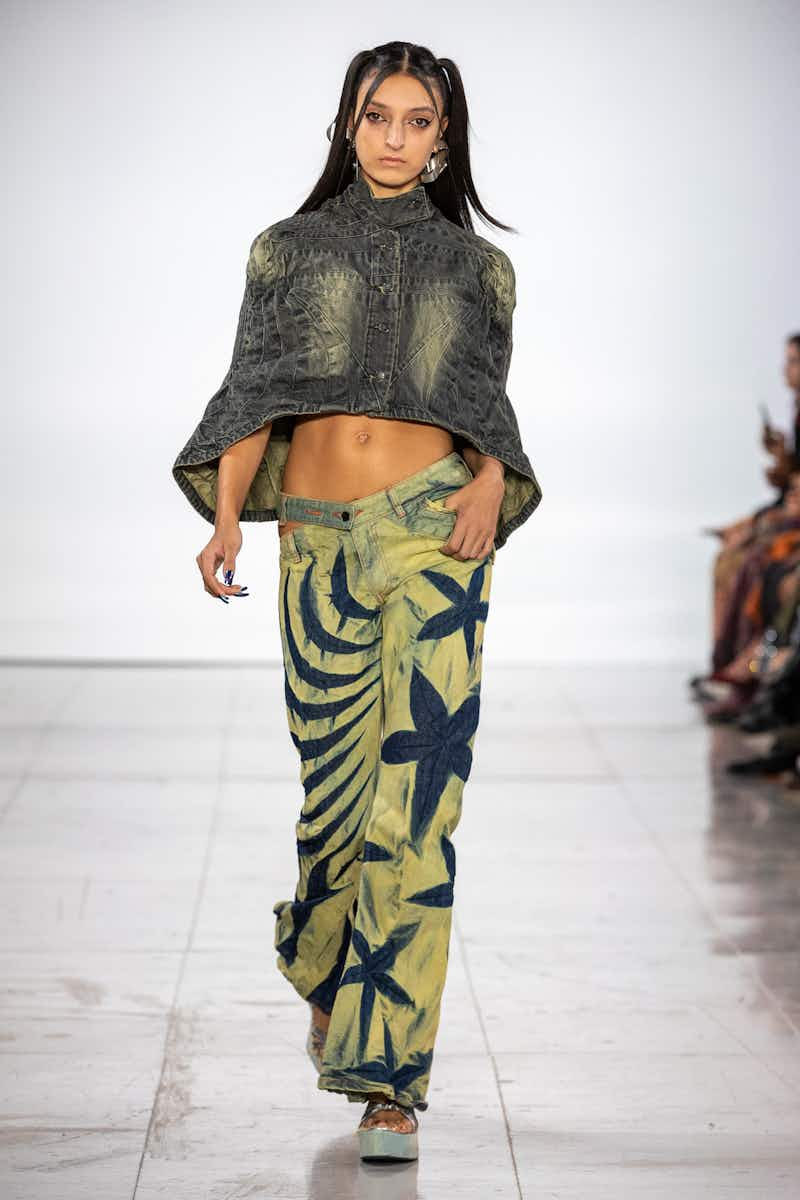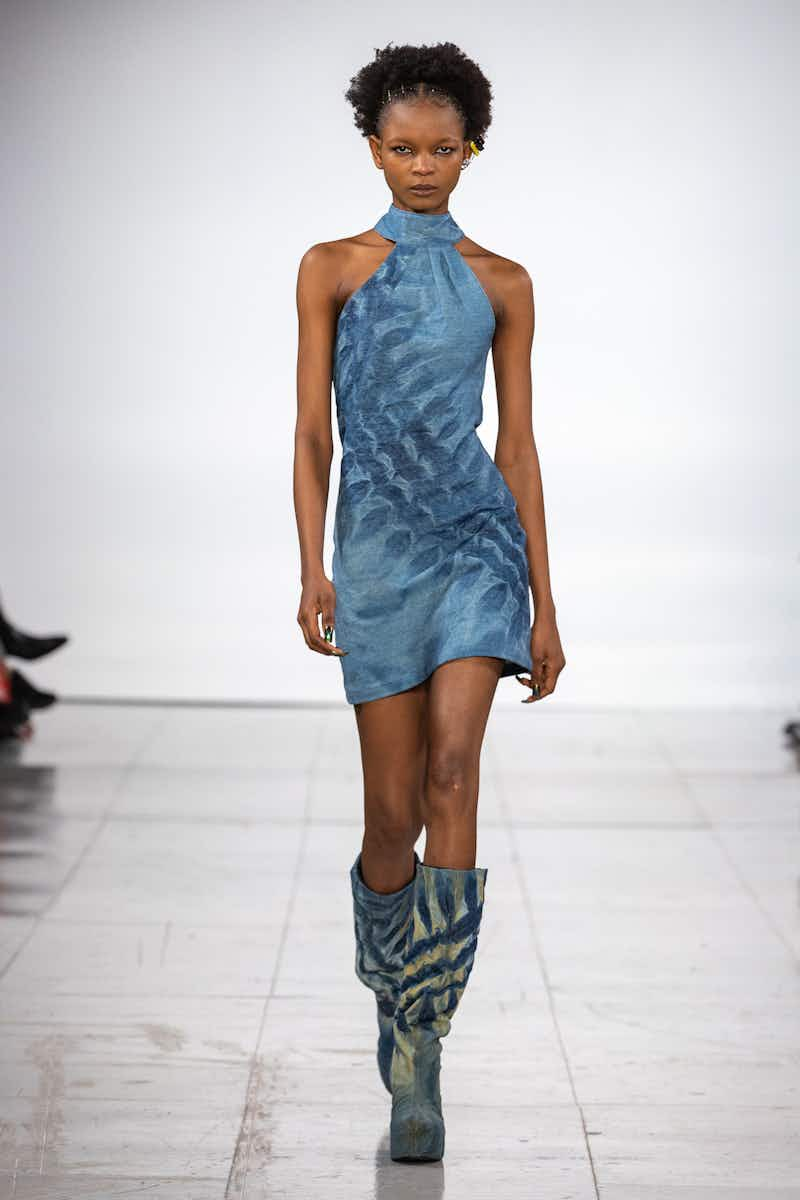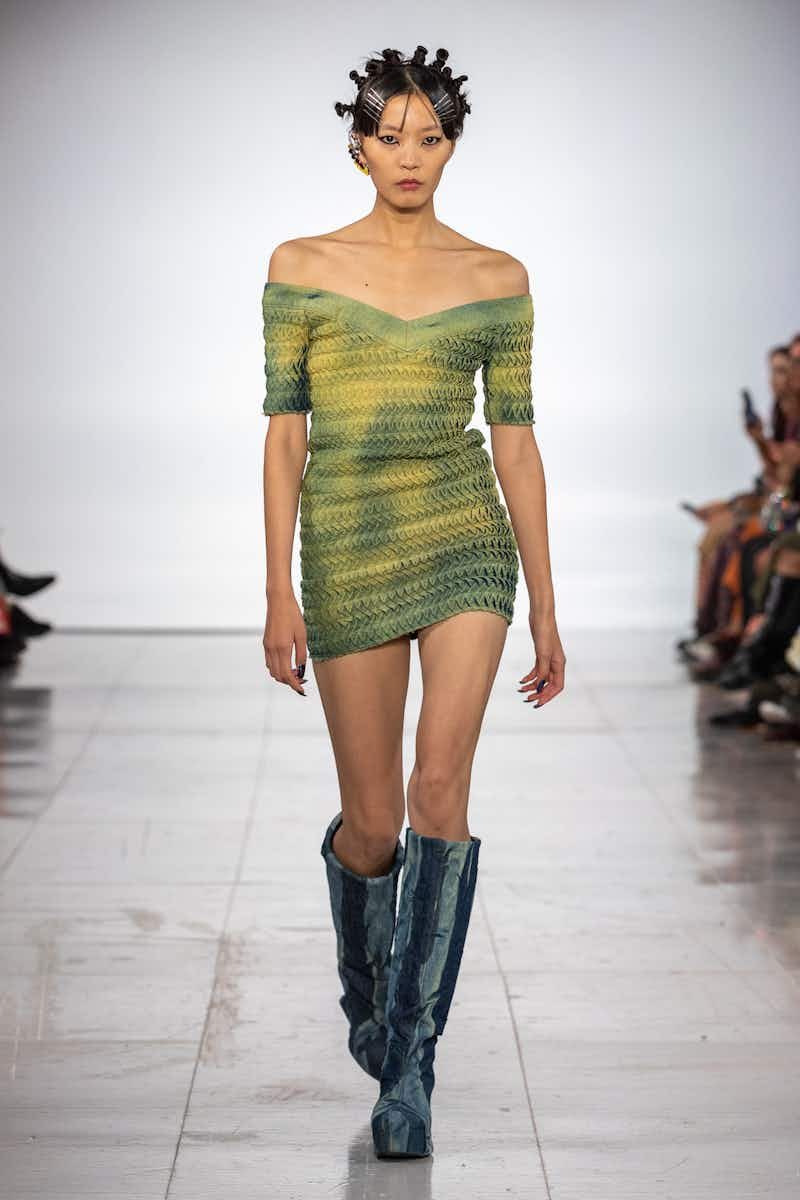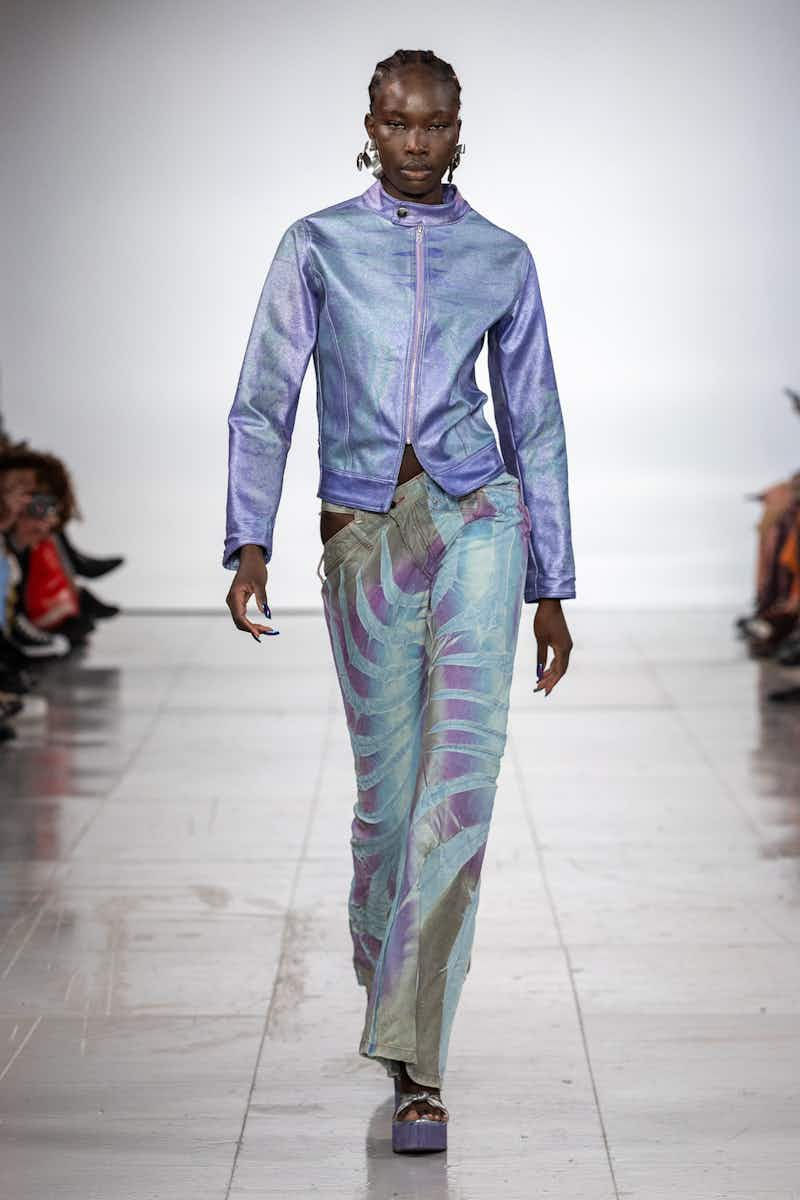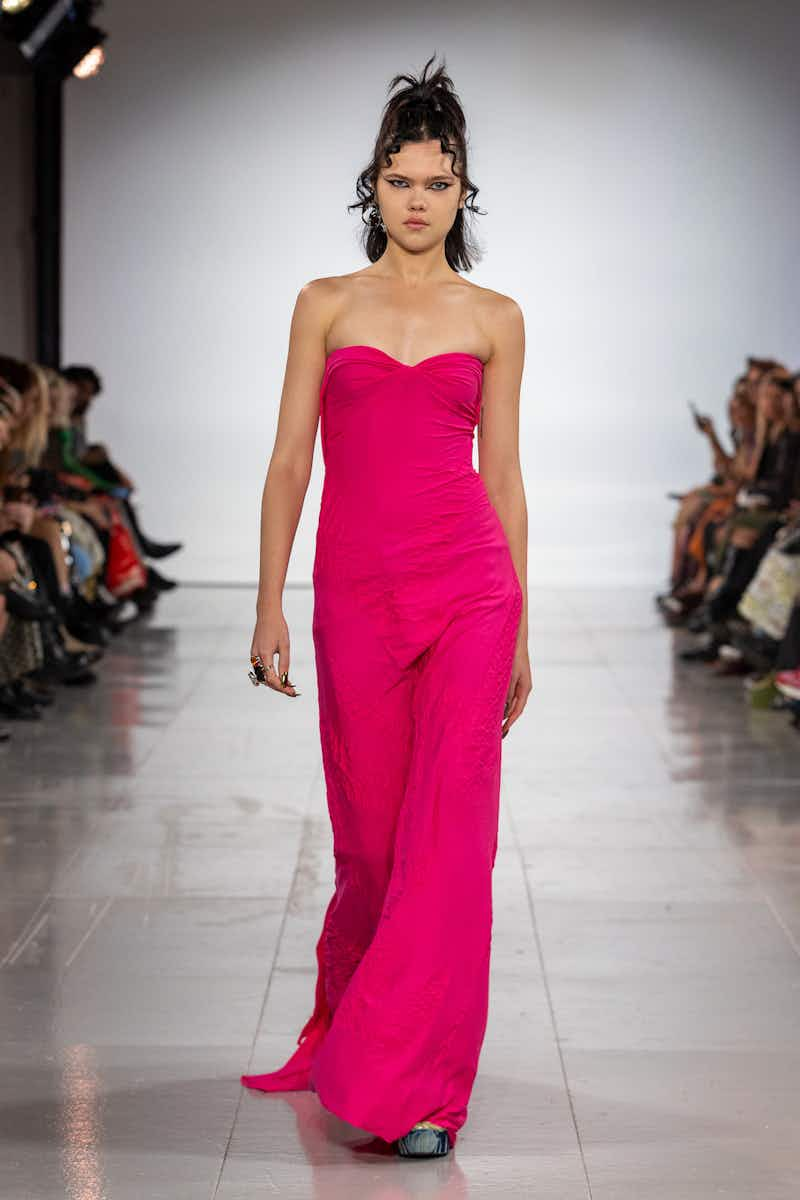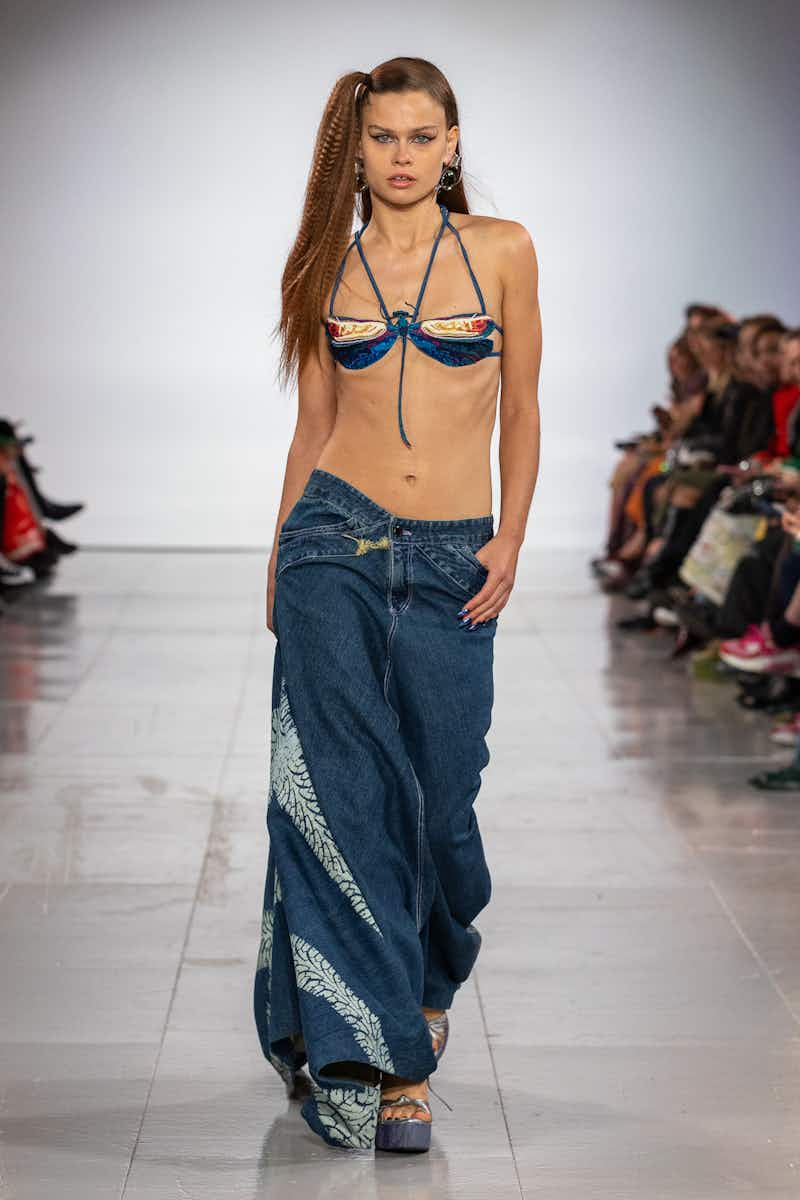 Chopova Lowena's first runway show was one to write home about. Influenced by Emma Chopova's Bulgarian heritage, Chopova and Laura Lowena-Irons' SS23 collection was inspired by a tradition specific to the village of Kazanlak – in Bulgaria's central Rose Valley – which sees the most beautiful girl crowned ​"Queen Of Roses" at the start of the summer season.

The pieces in the collection embraced both the strangeness of pageantry and the tackiness and tenderness of the tradition. There were signature kilts hung from leather belts, corsets crafted from traditional tapestries, screen-printed T‑shirts, floral-printed denim, tinsel cardigans, chunky cartoon charm necklaces, cheerleader pom-pom boots and smock dresses patchworked from mismatched prints.

The mood? Punk, irreverent and upbeat – qualities that exemplify London Fashion Week at its best. The casting was on point, too: size inclusive and starring a number of faces from Chopova Lowena's community, the rest of whom were sat in the audience to celebrate a fashion week debut. BM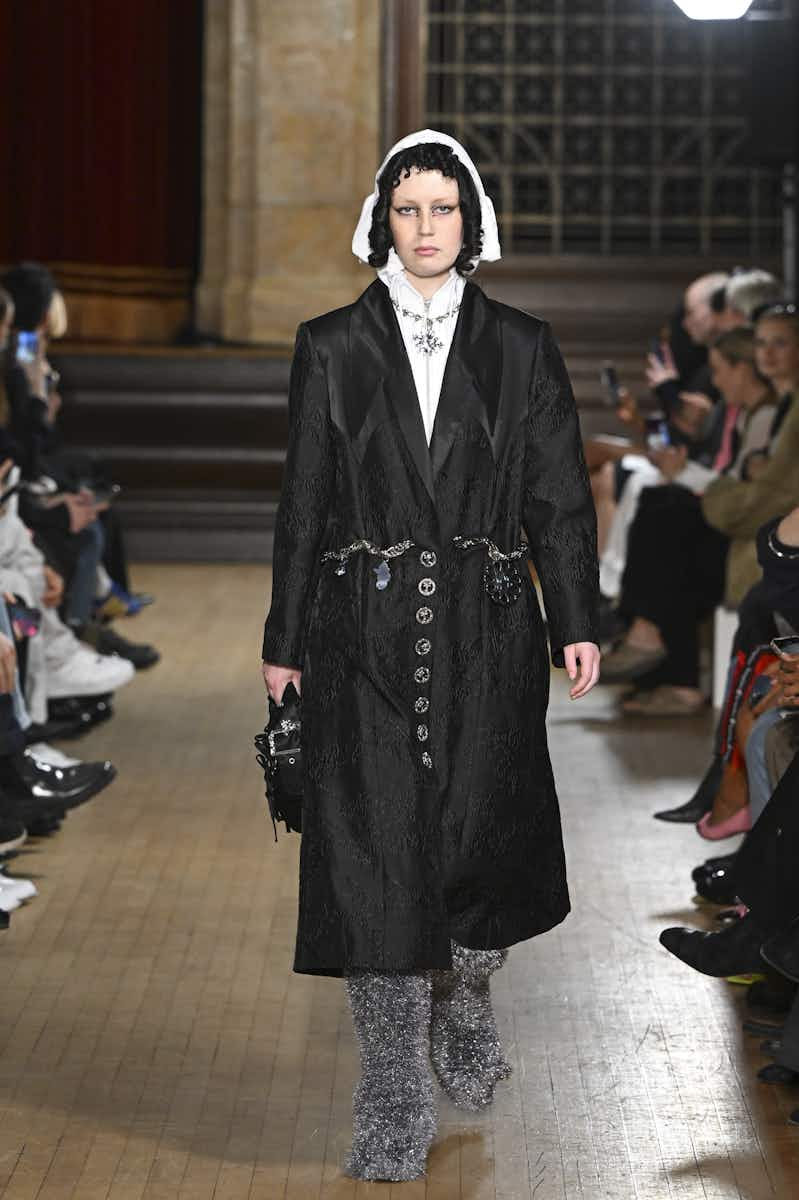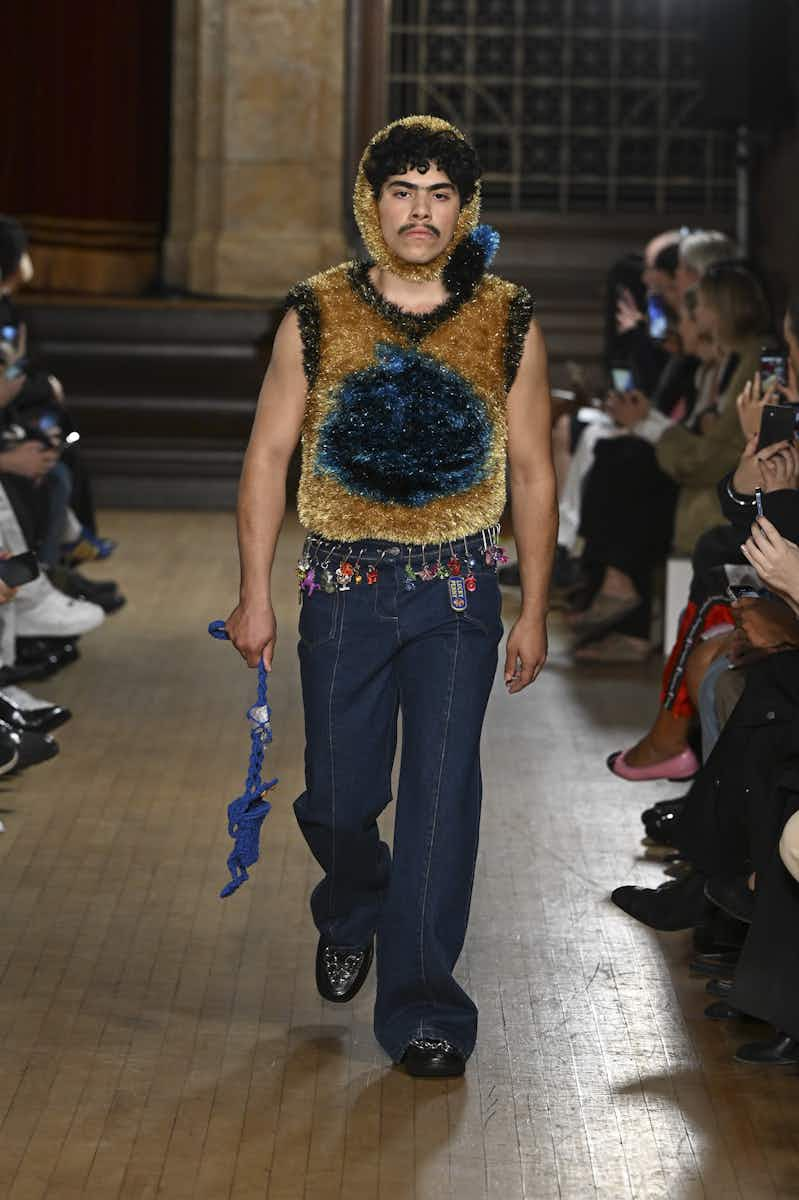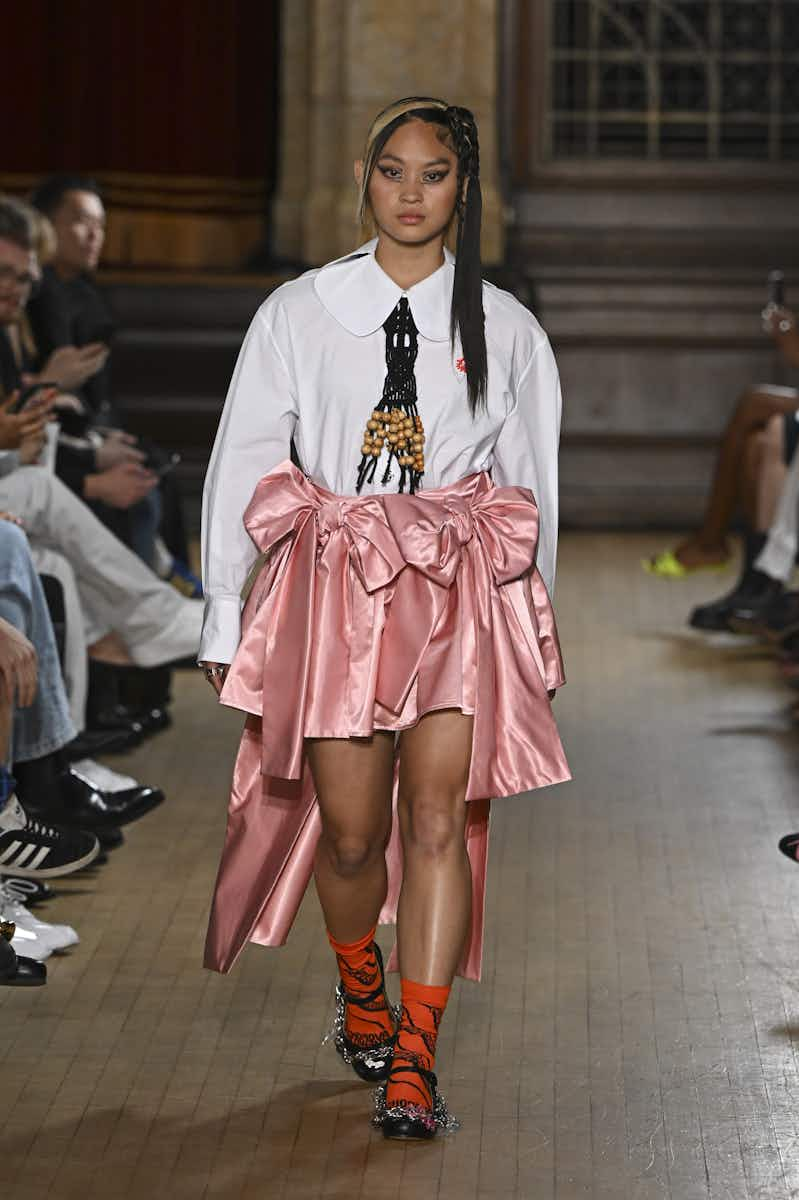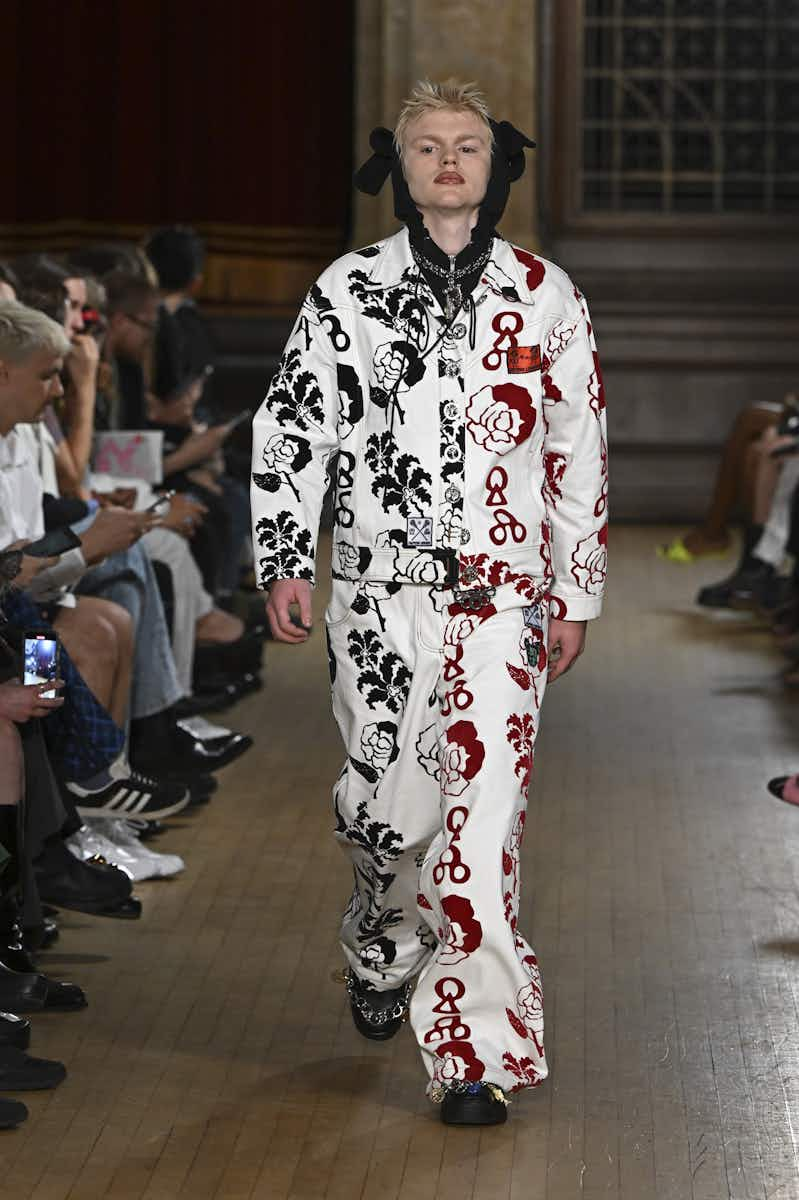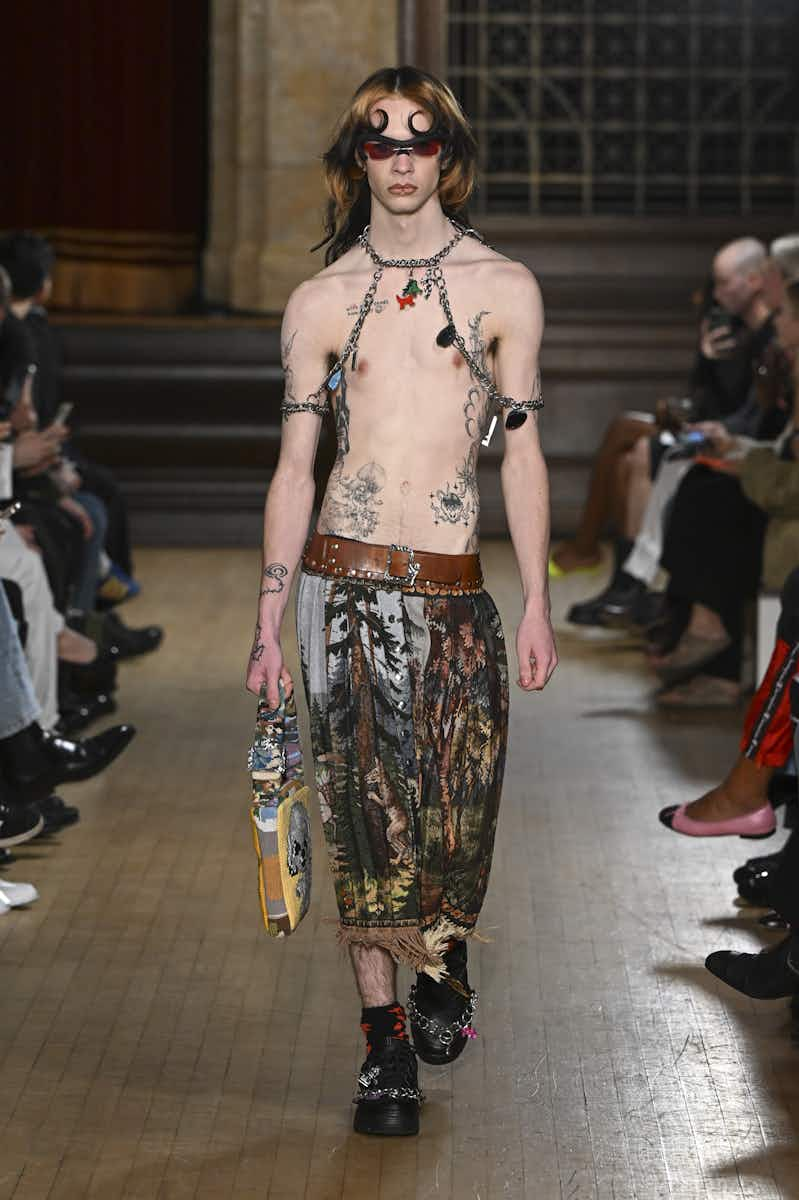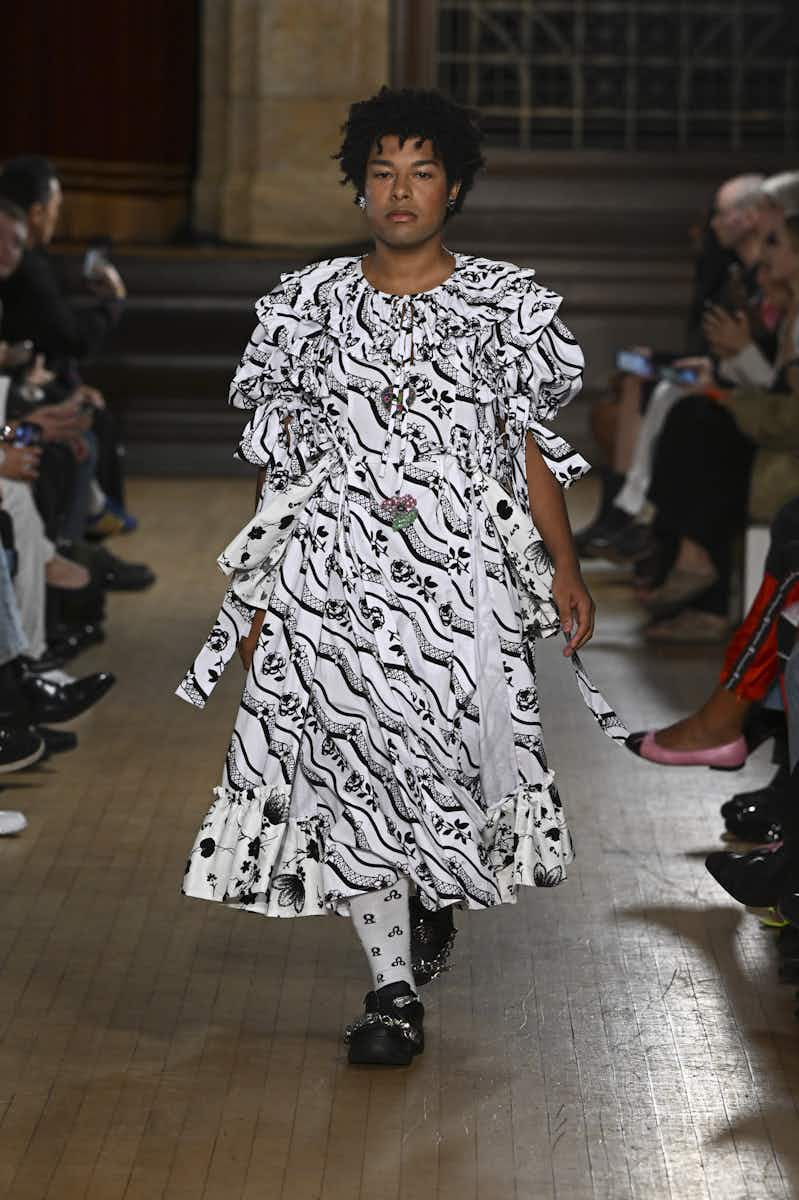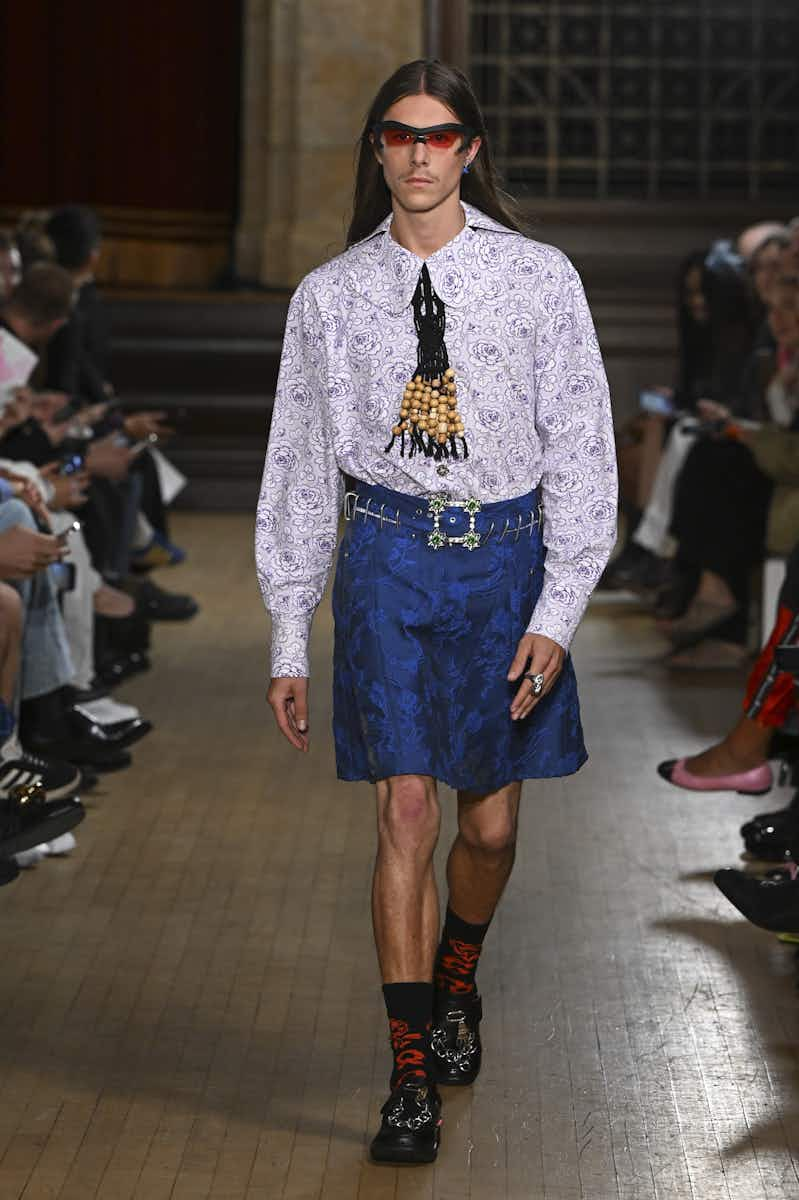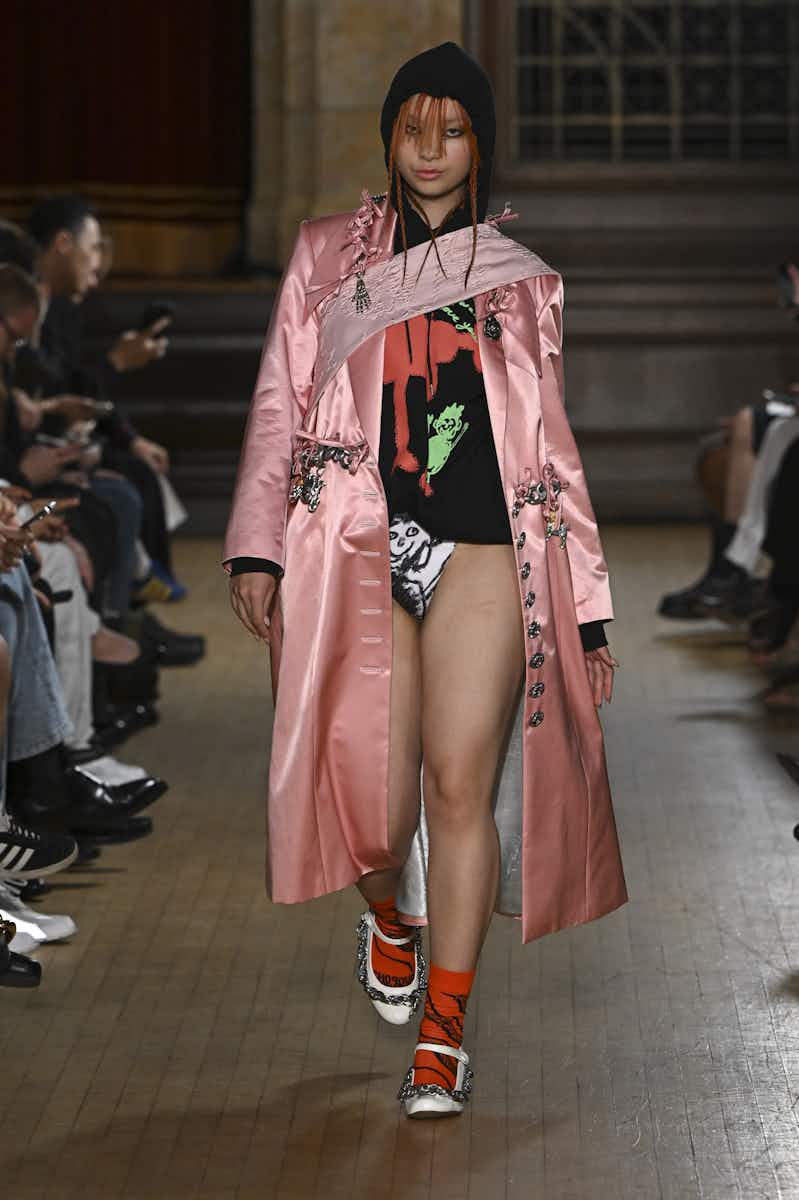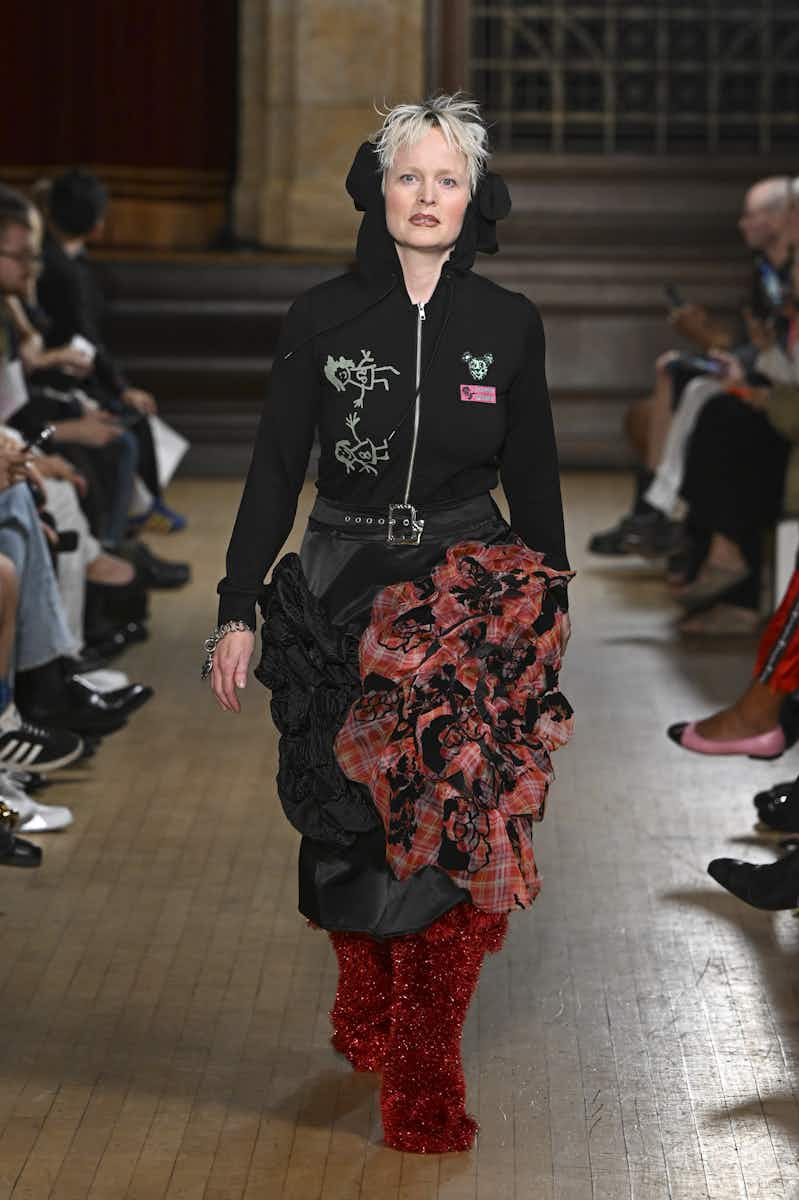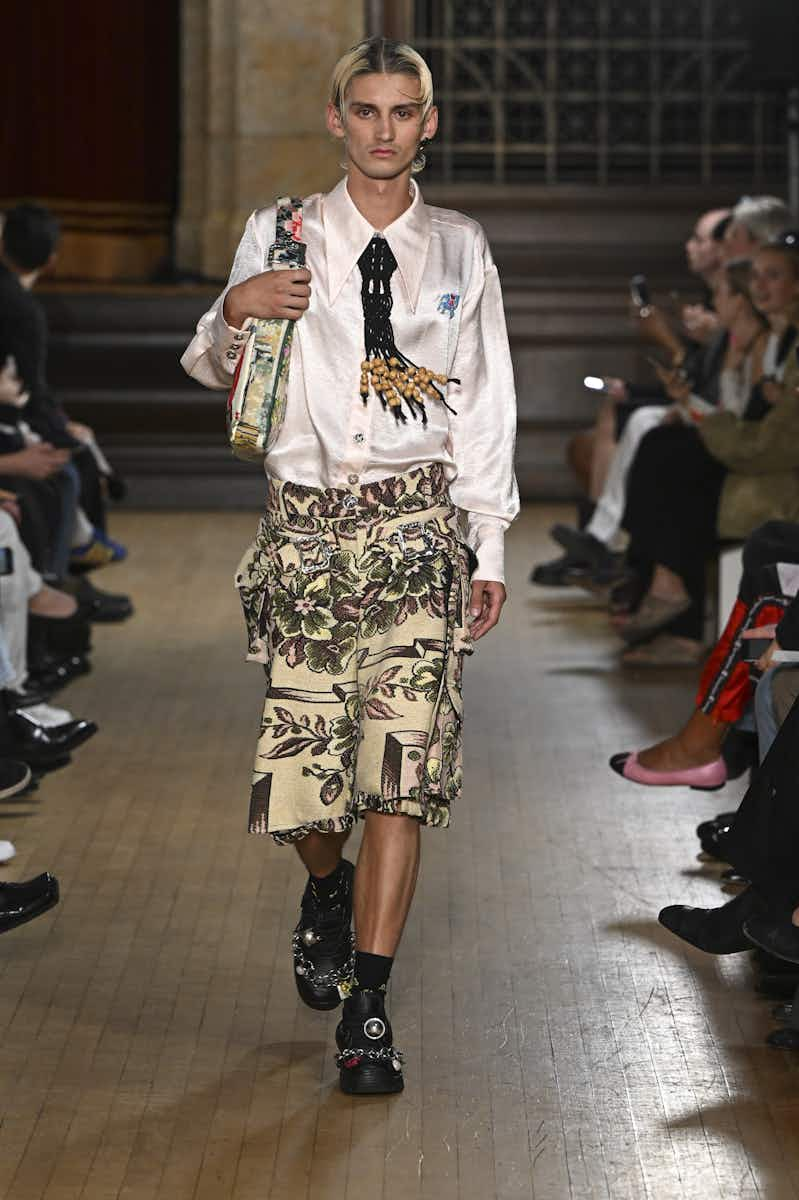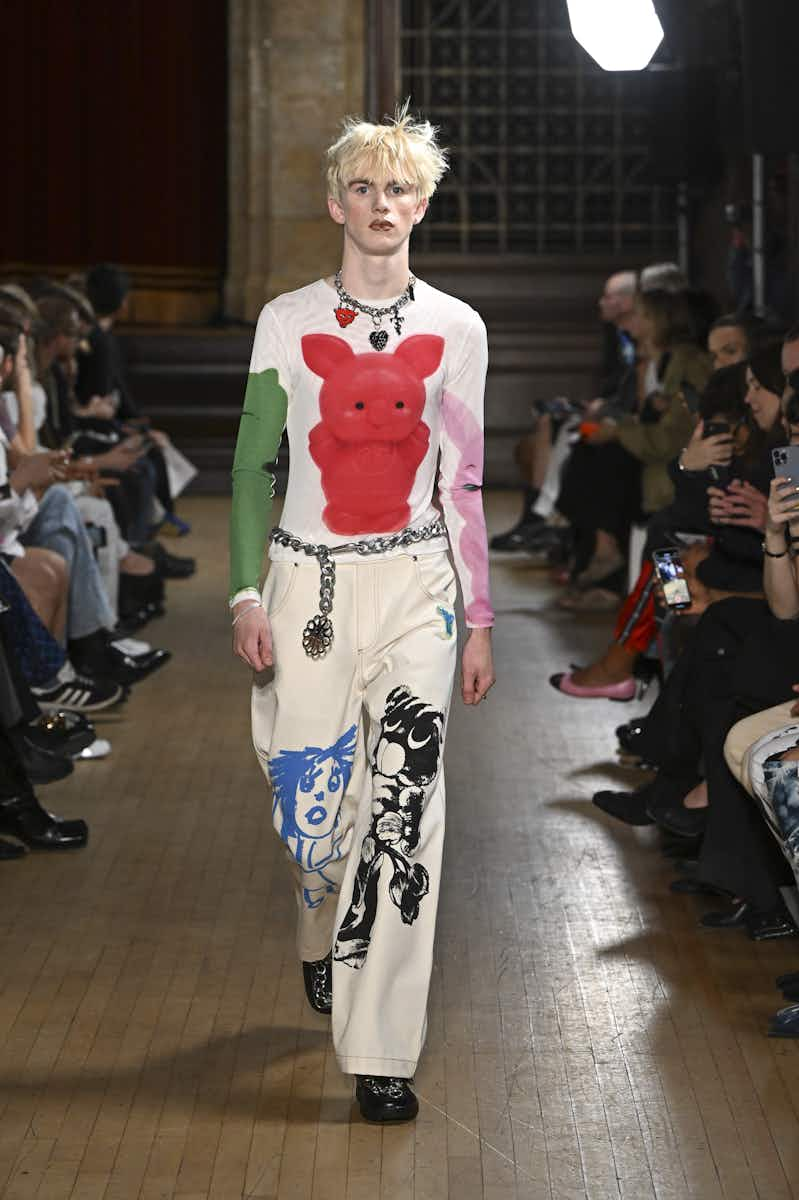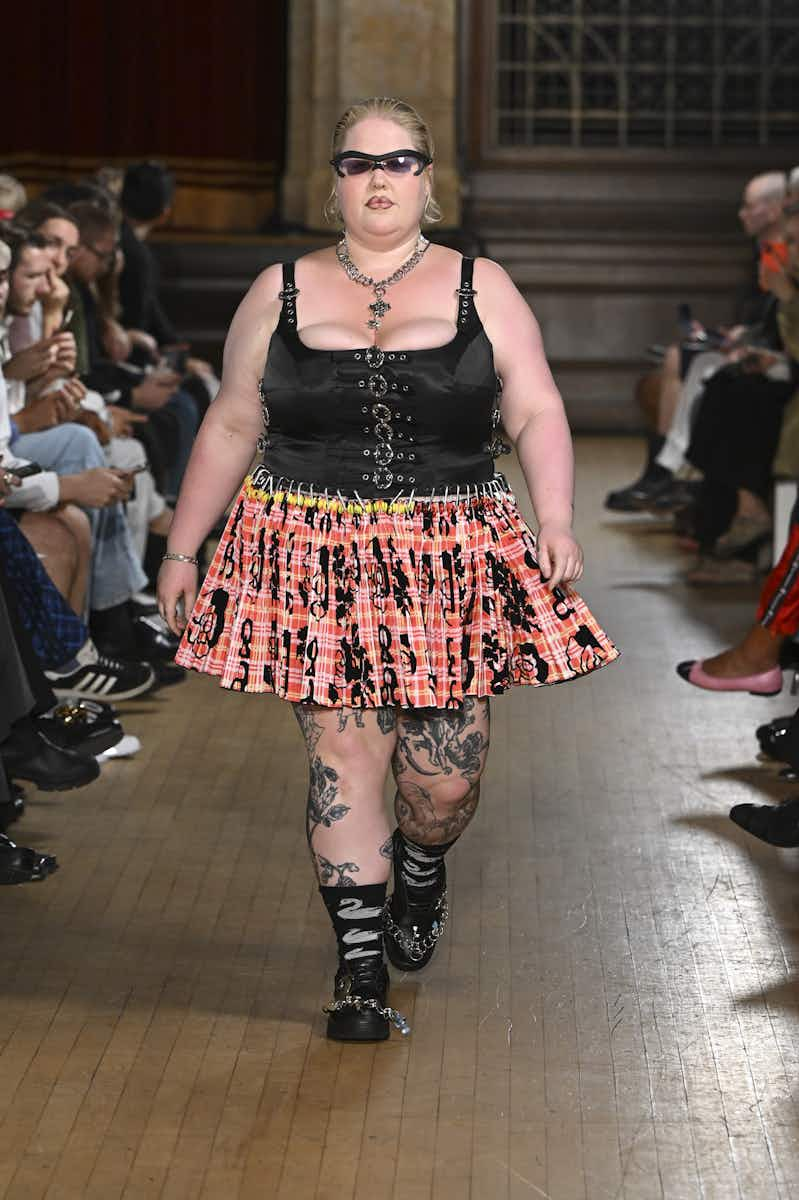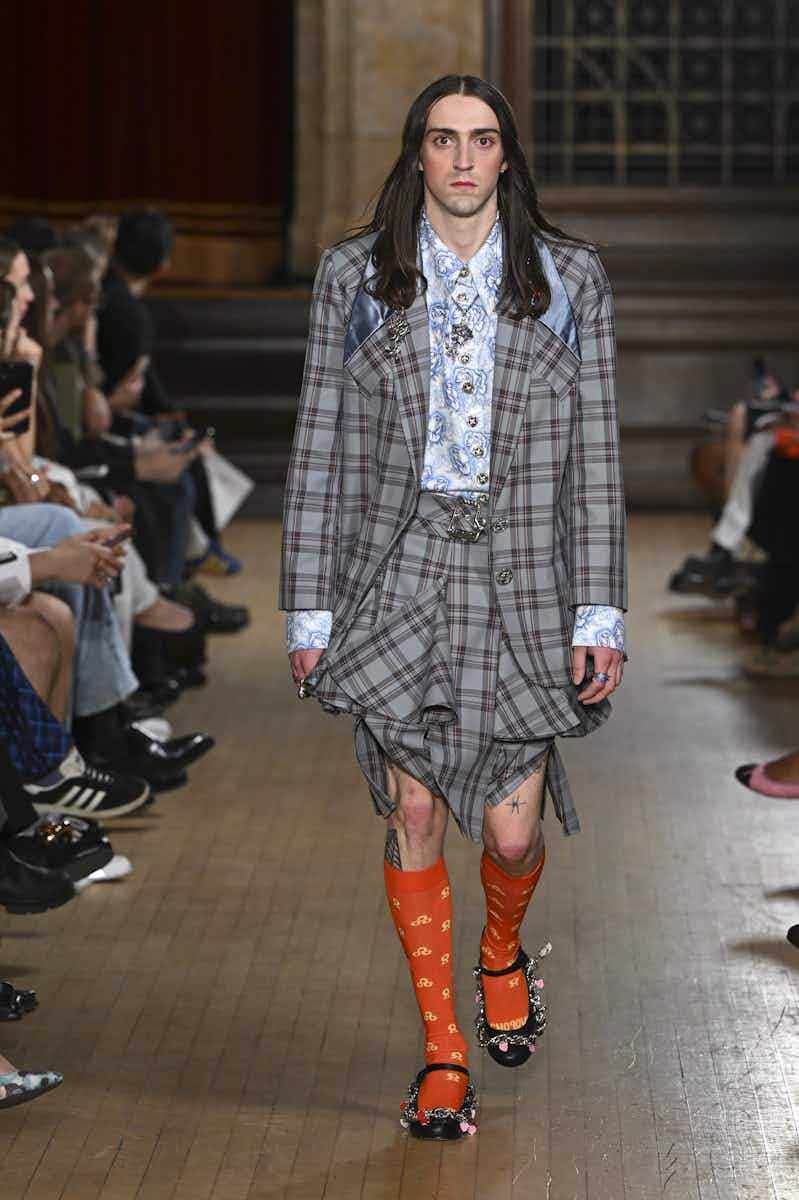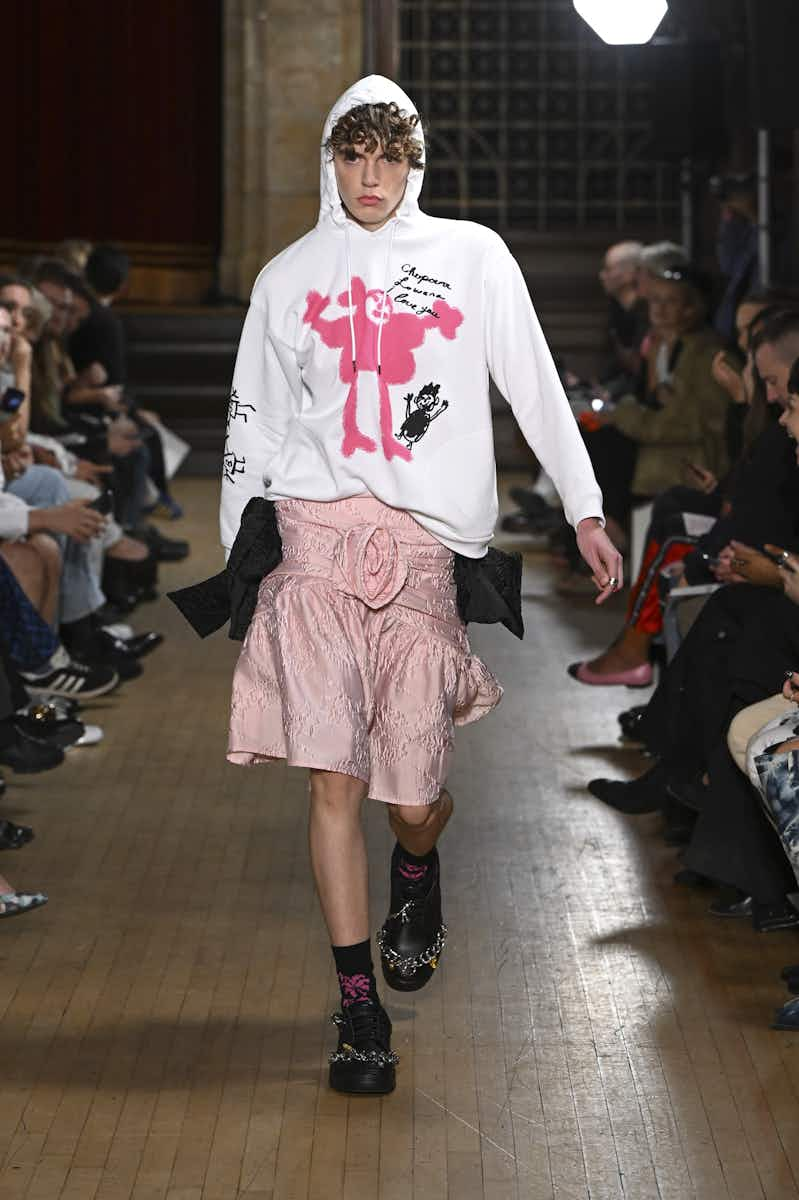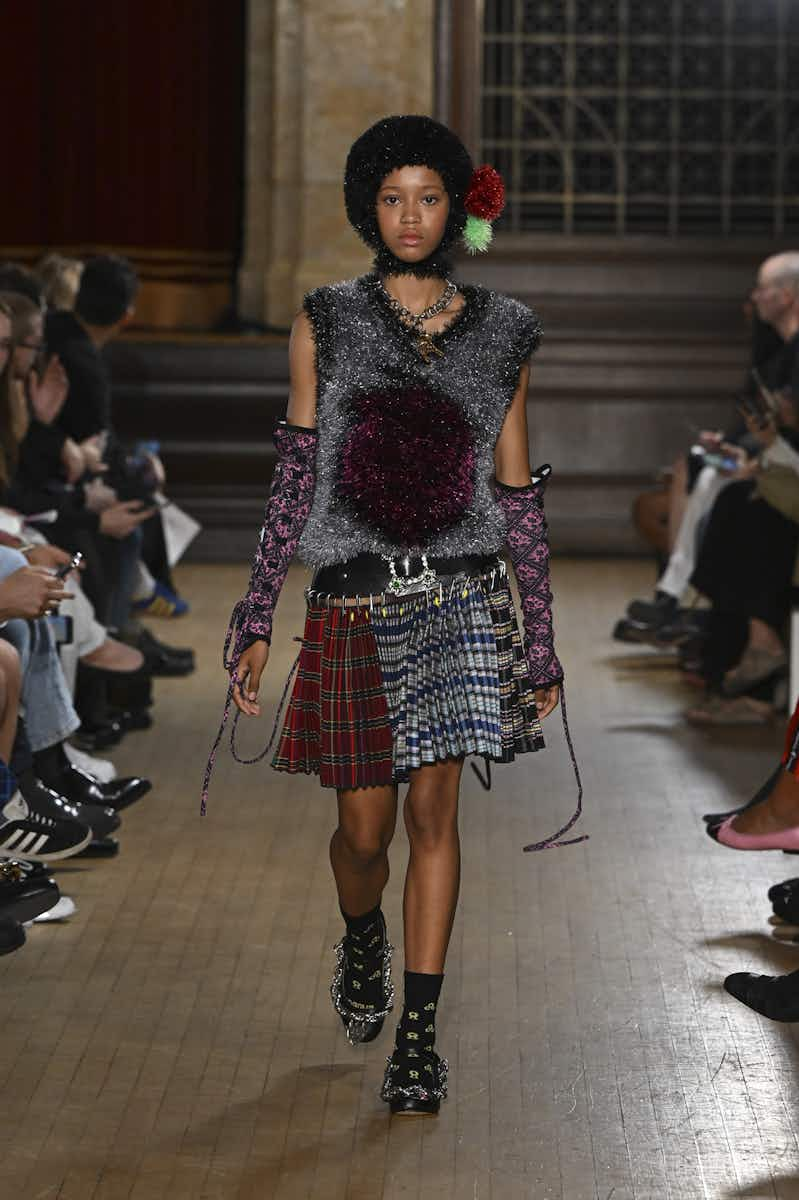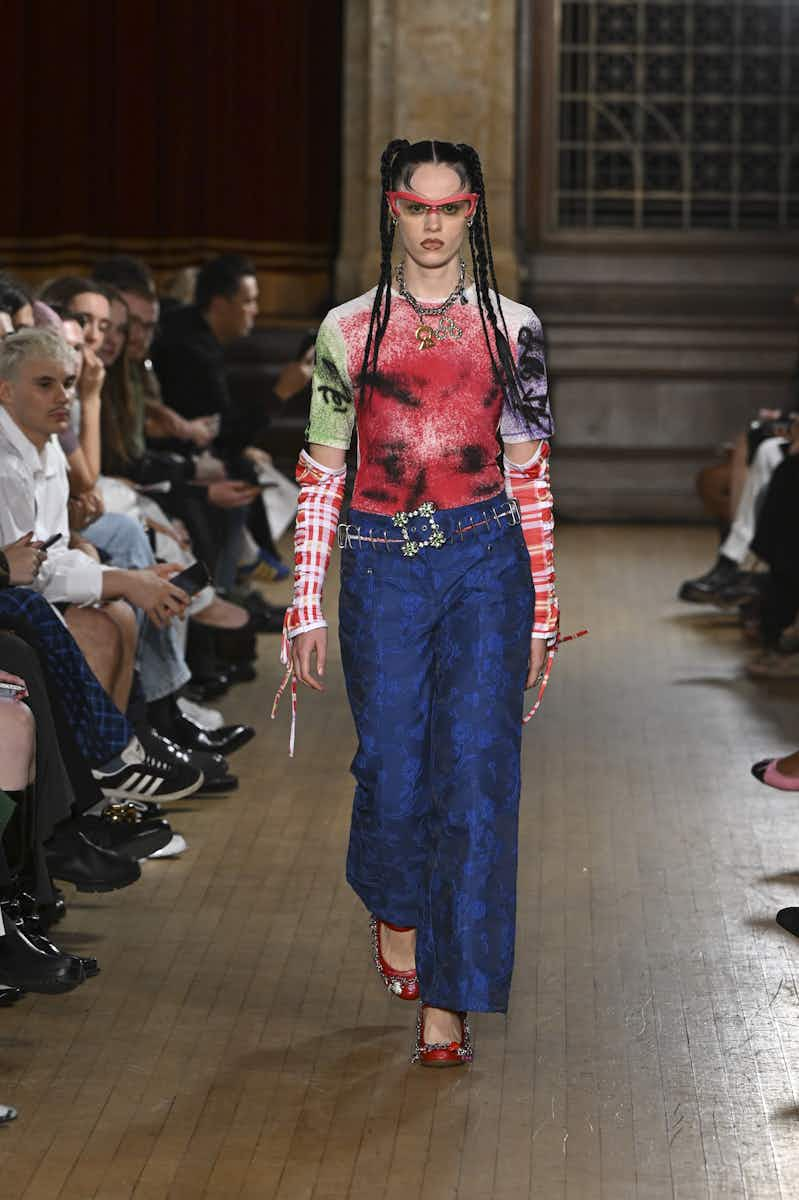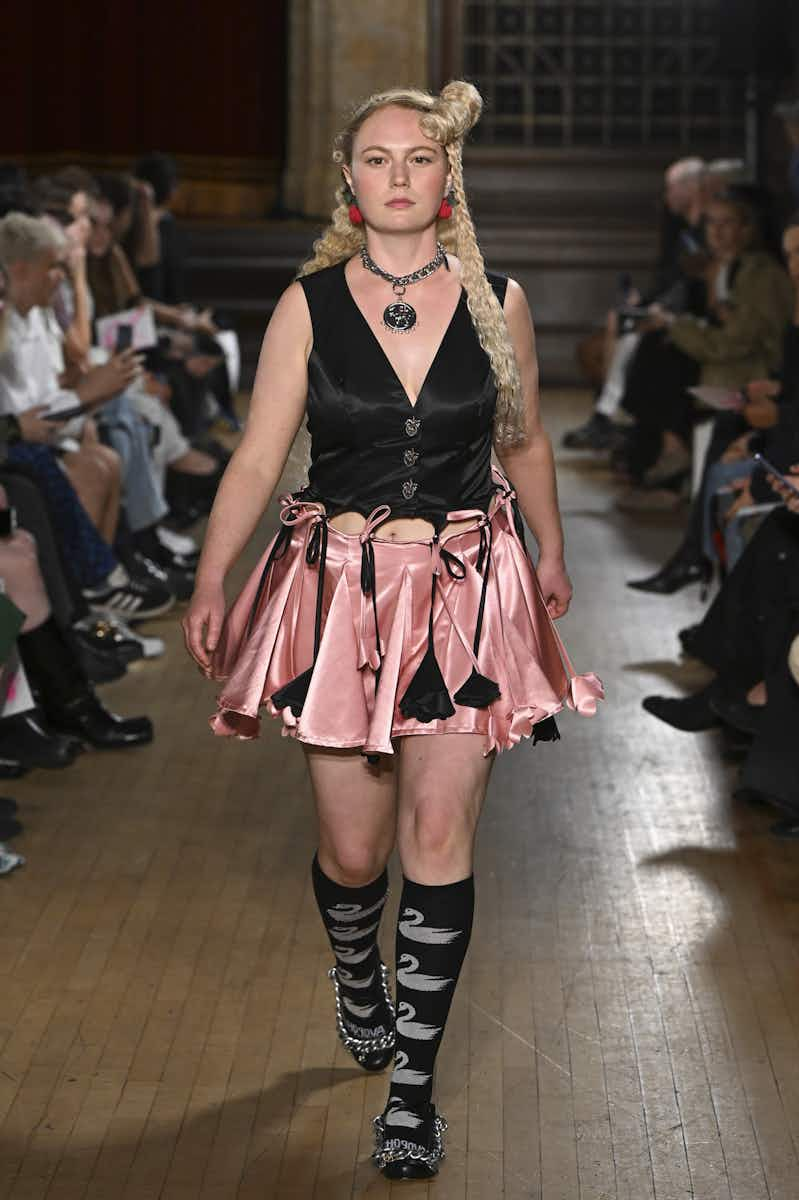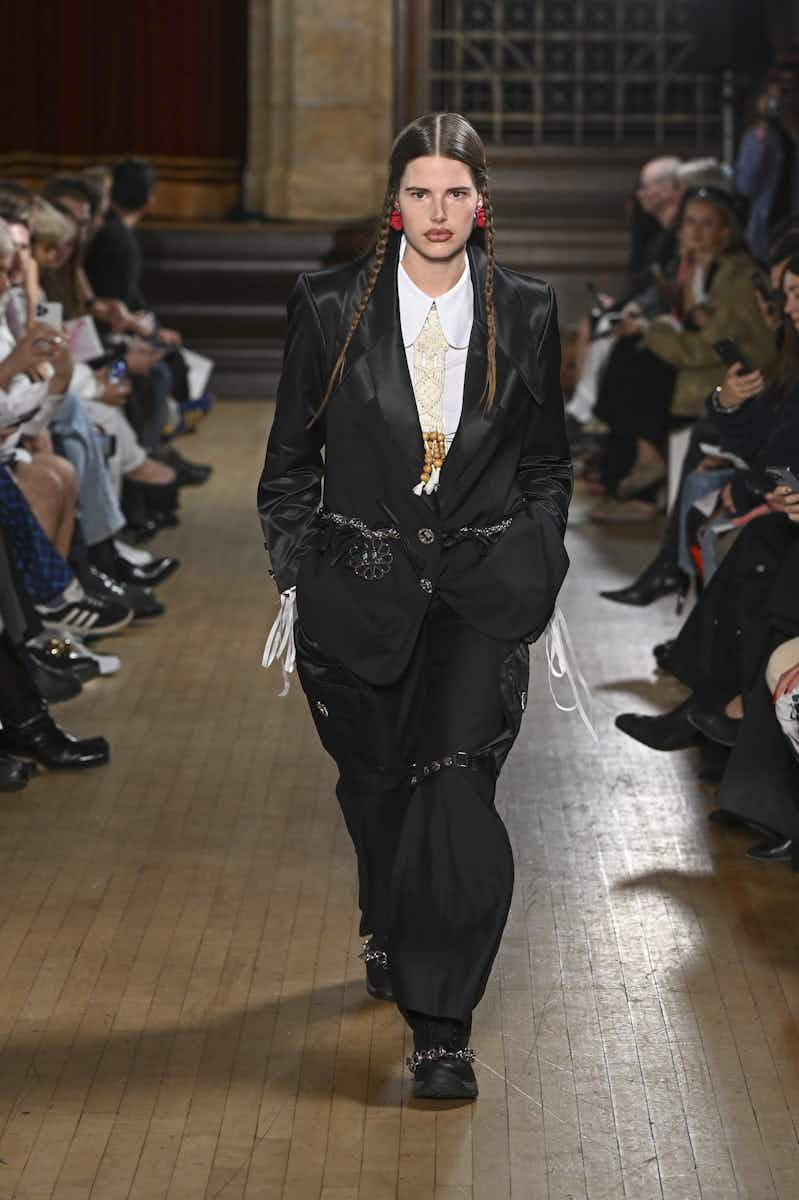 Charlotte Knowles and Alexandre Arsenault's SS23 collection further evolved their raw and rugged brand of sexiness, exploring a softer side to the tough woman we've come to know and love.

The KNWLS staples were all present and correct – a uniform of printed Lycra tops, zig-zag-laced layers and hip-hugging pants – alongside a series of stand-out statement looks crafted from distressed leather and dip-dyed denim.

This season's combative silhouettes and armour-like layers were peppered with seductive details: exposed thongs, corseted leotards, chunky Y2K-leaning belts, oversized twisted metal hoop earrings, embellished shearling boots in collaboration with UGG and a studded iteration of the label's distinctive angular bag.

These heavy duty ensembles were offset with a series of softer looks featuring delicate floral prints and floaty dresses in burnt peach and Pepto-Bismol pink chiffon, satin and buttery leather. The hair and make-up deserves a special mention, too: all intricately woven plaits, super-straight gelled sections and glitter-covered partings. BM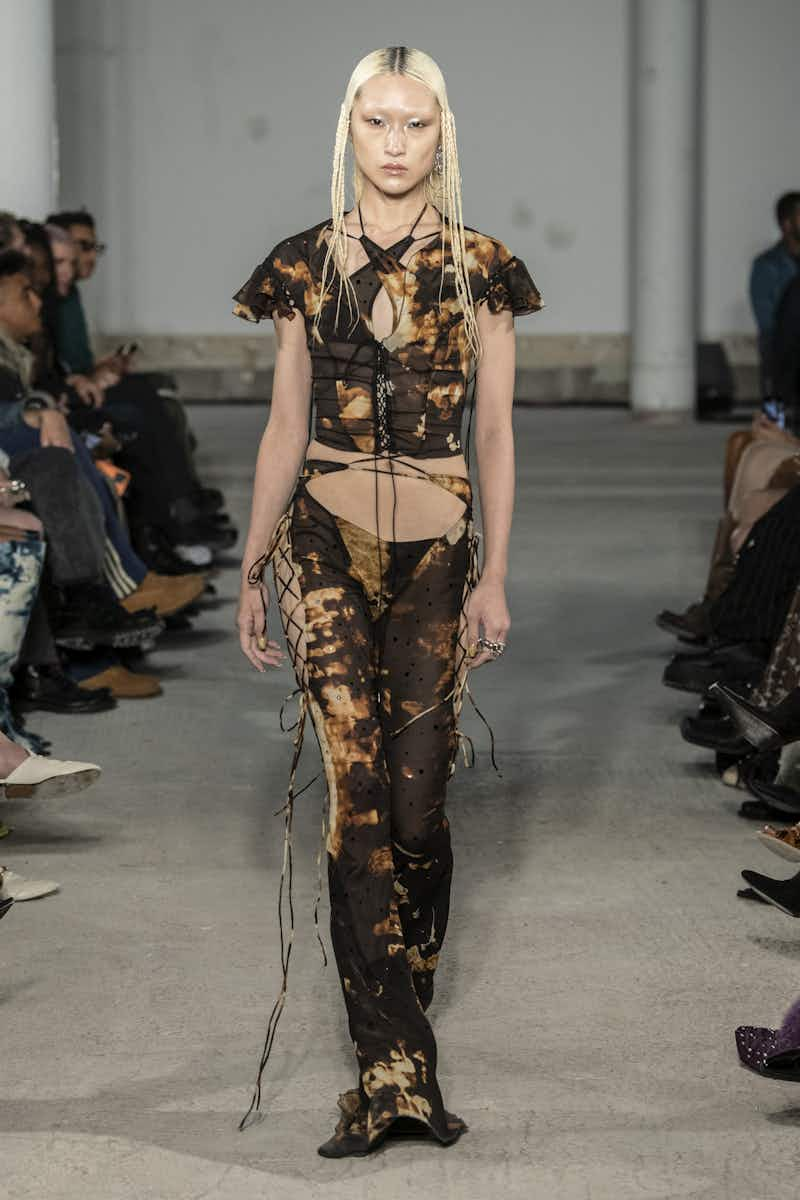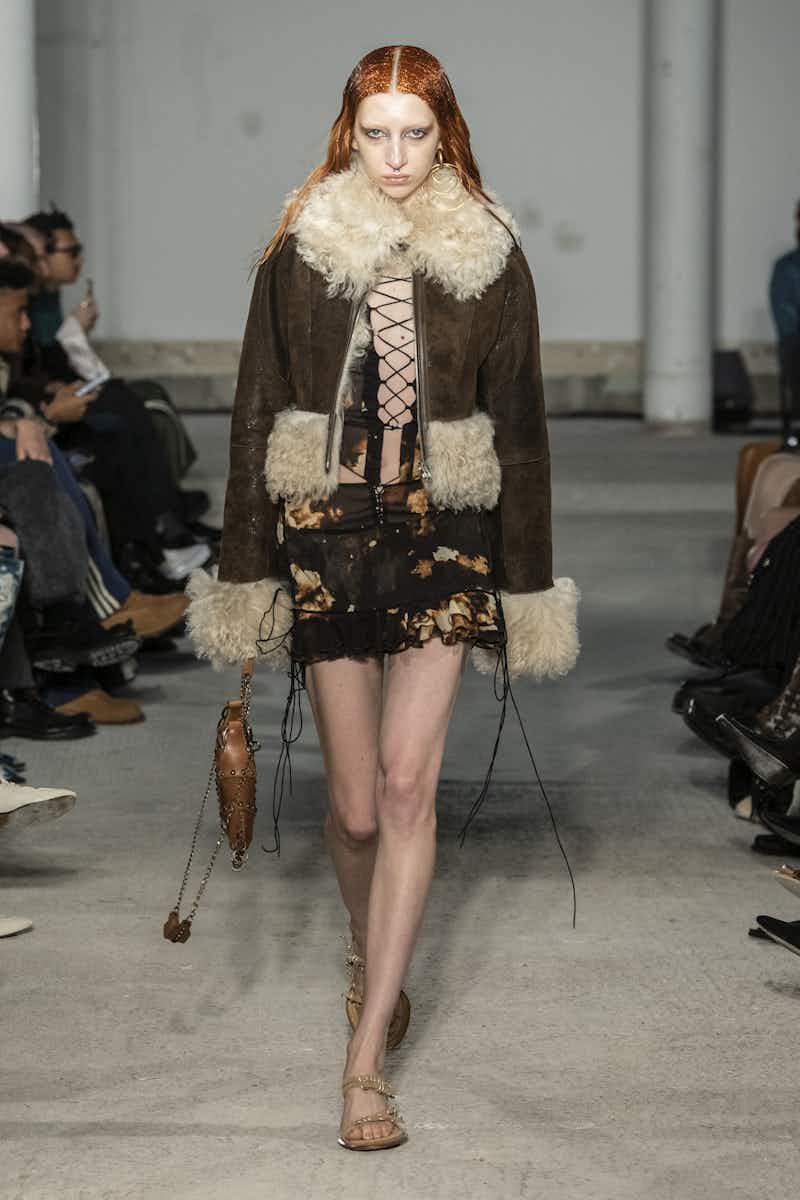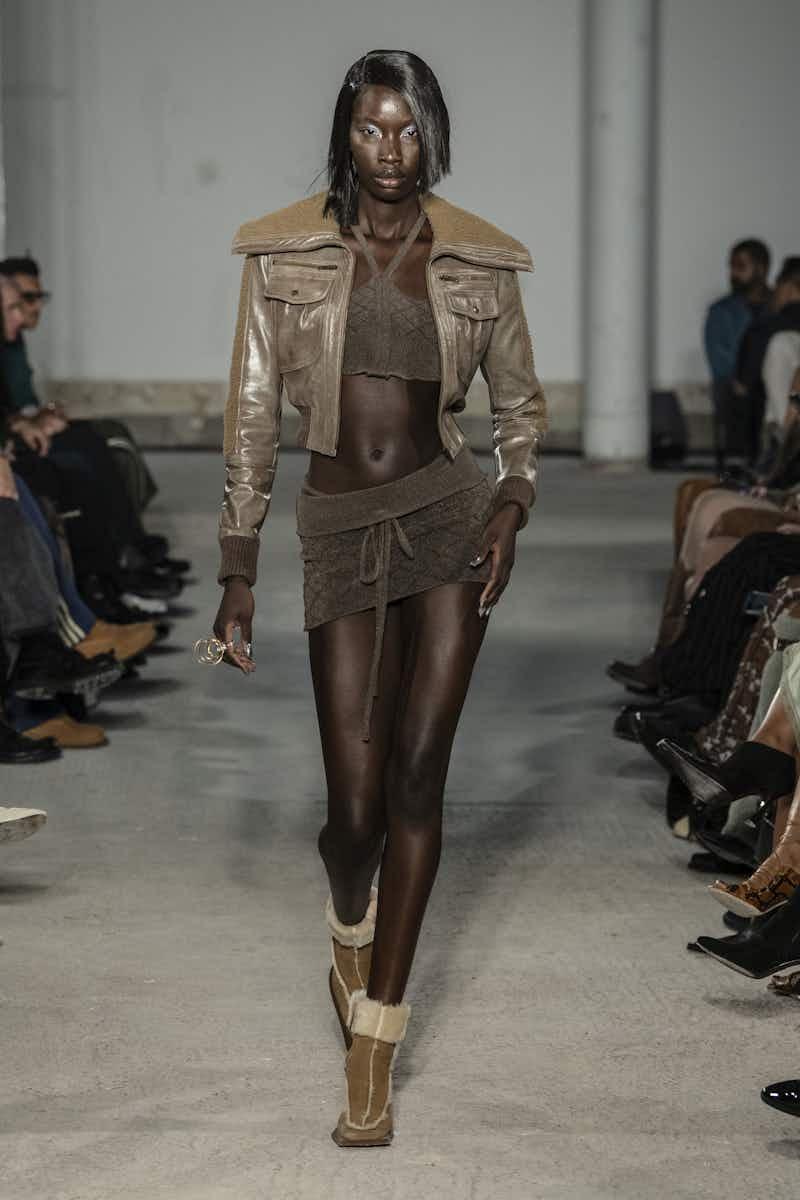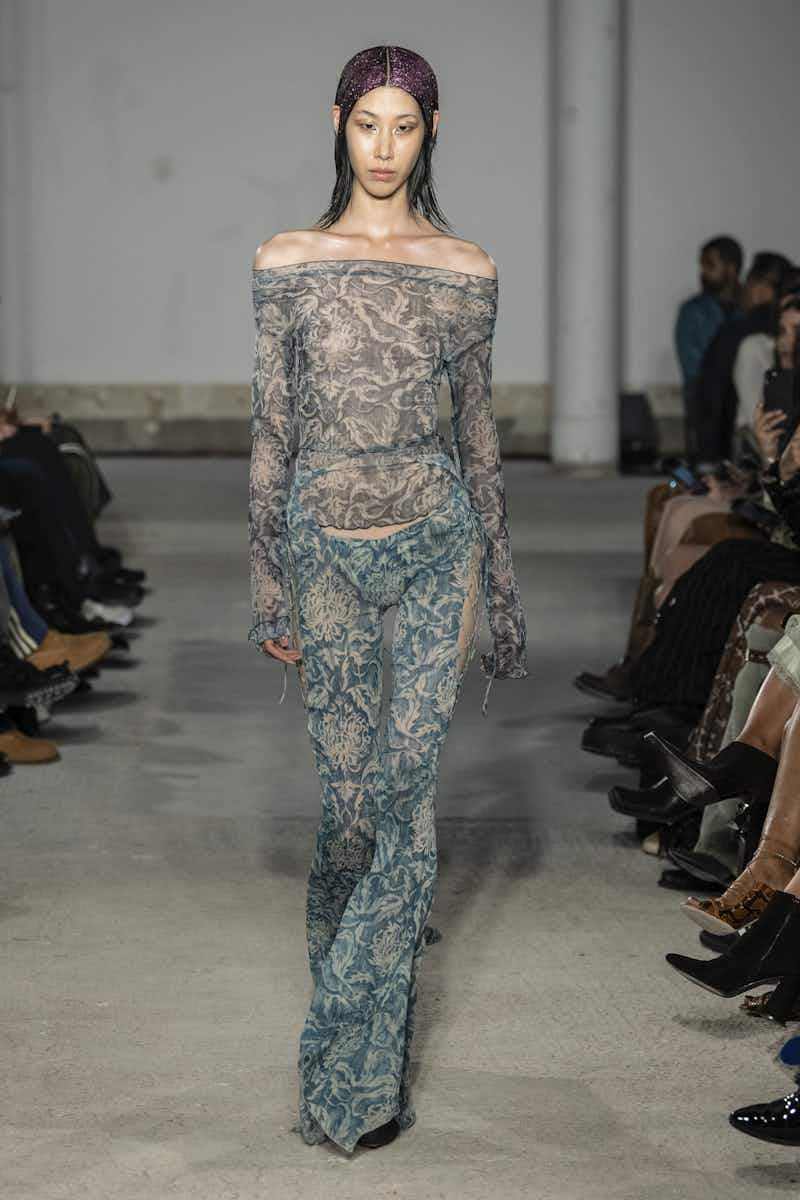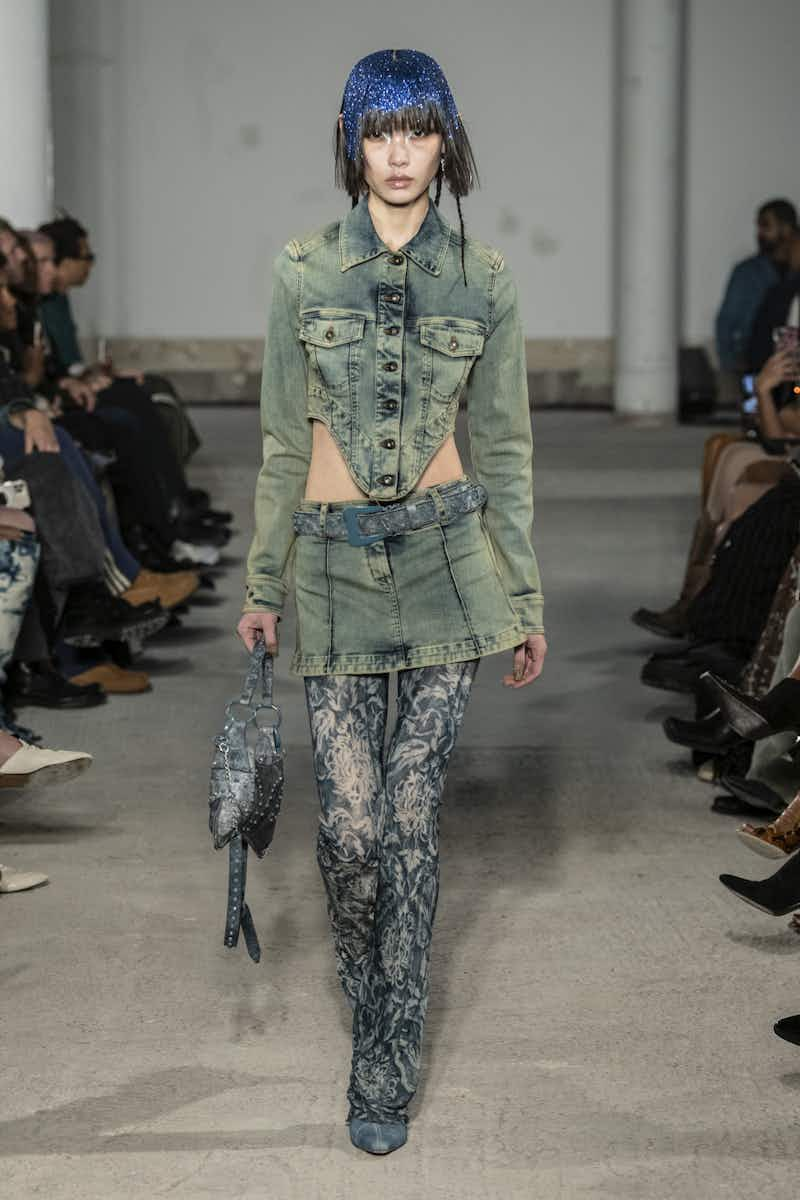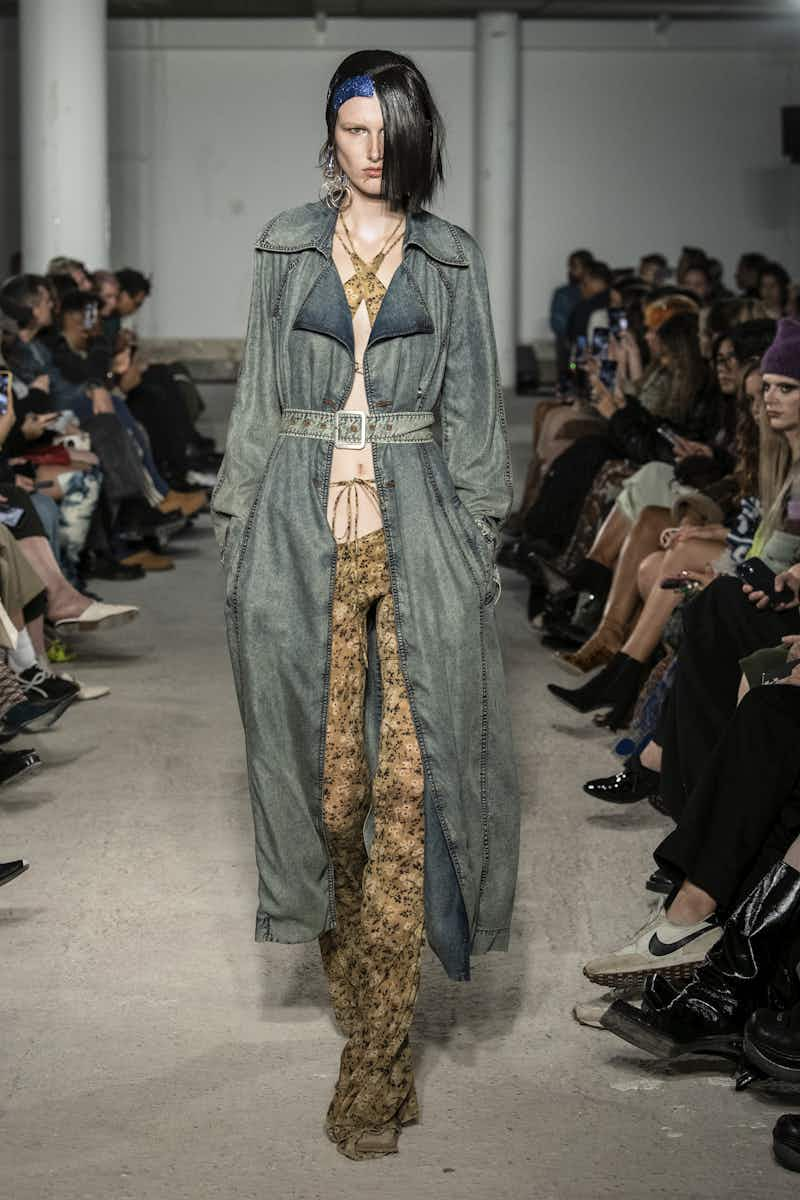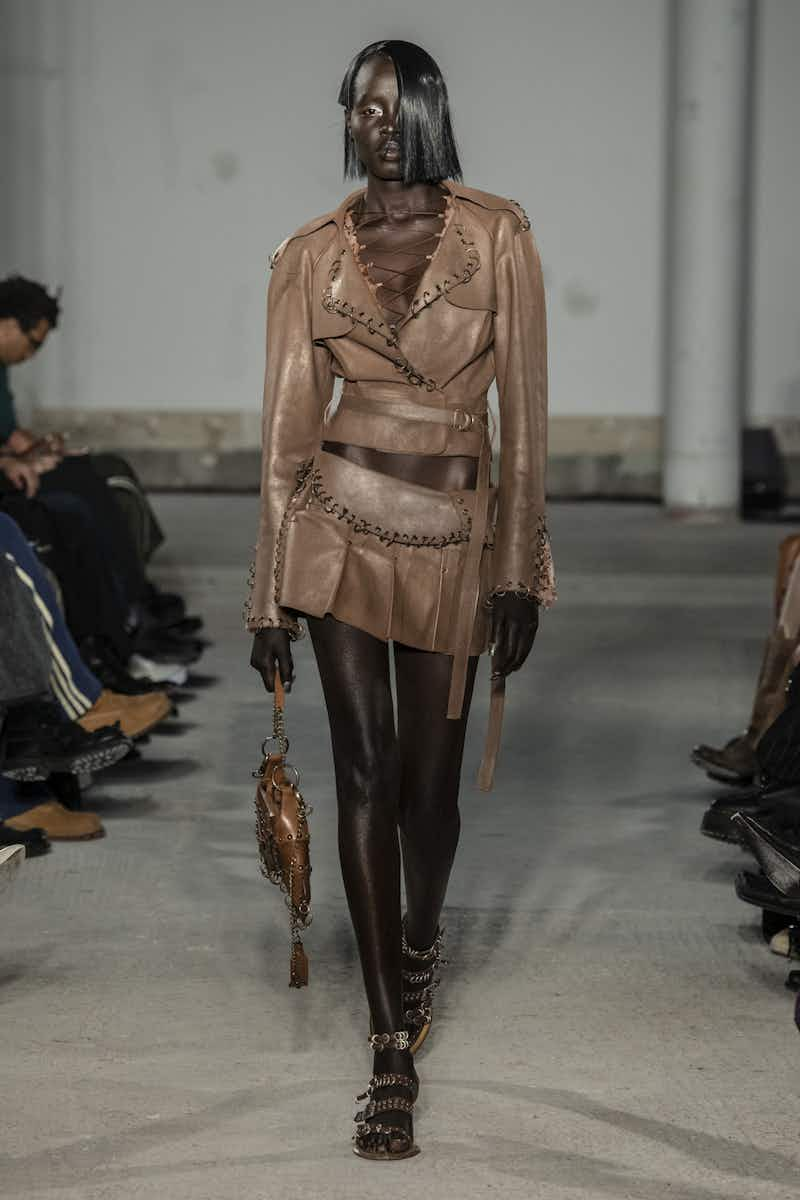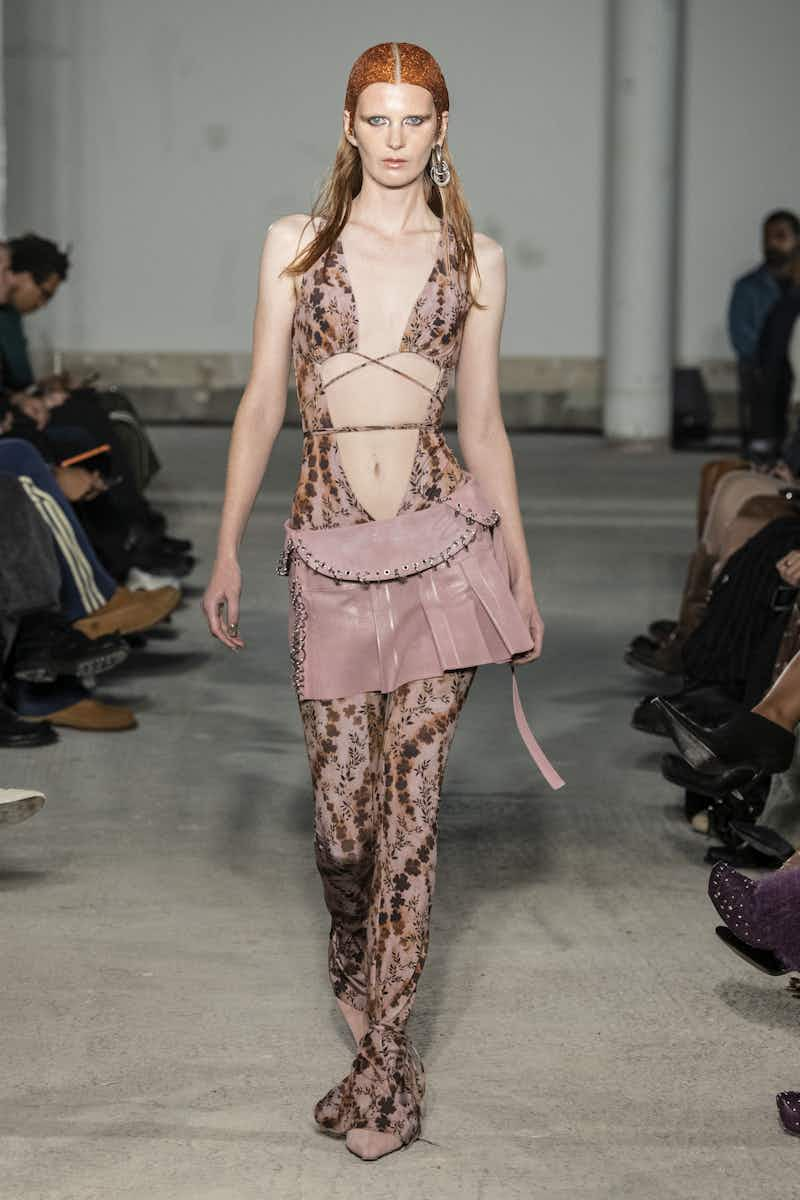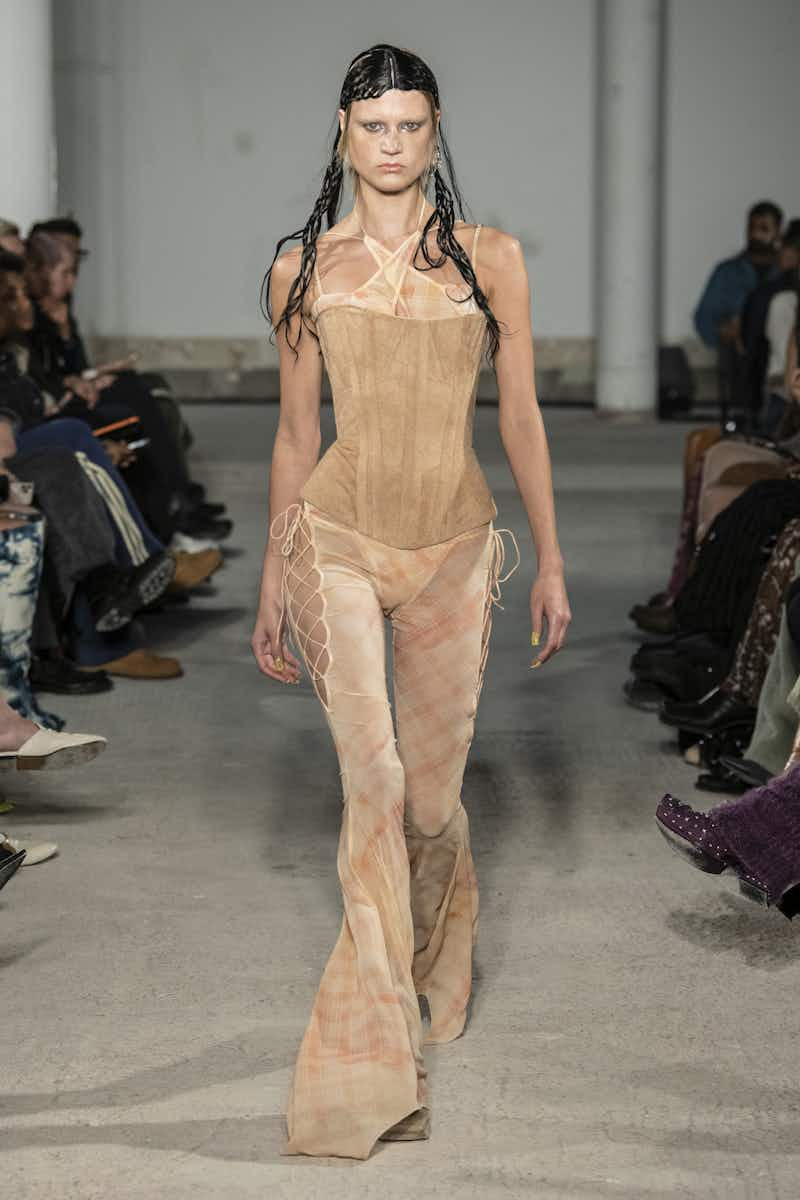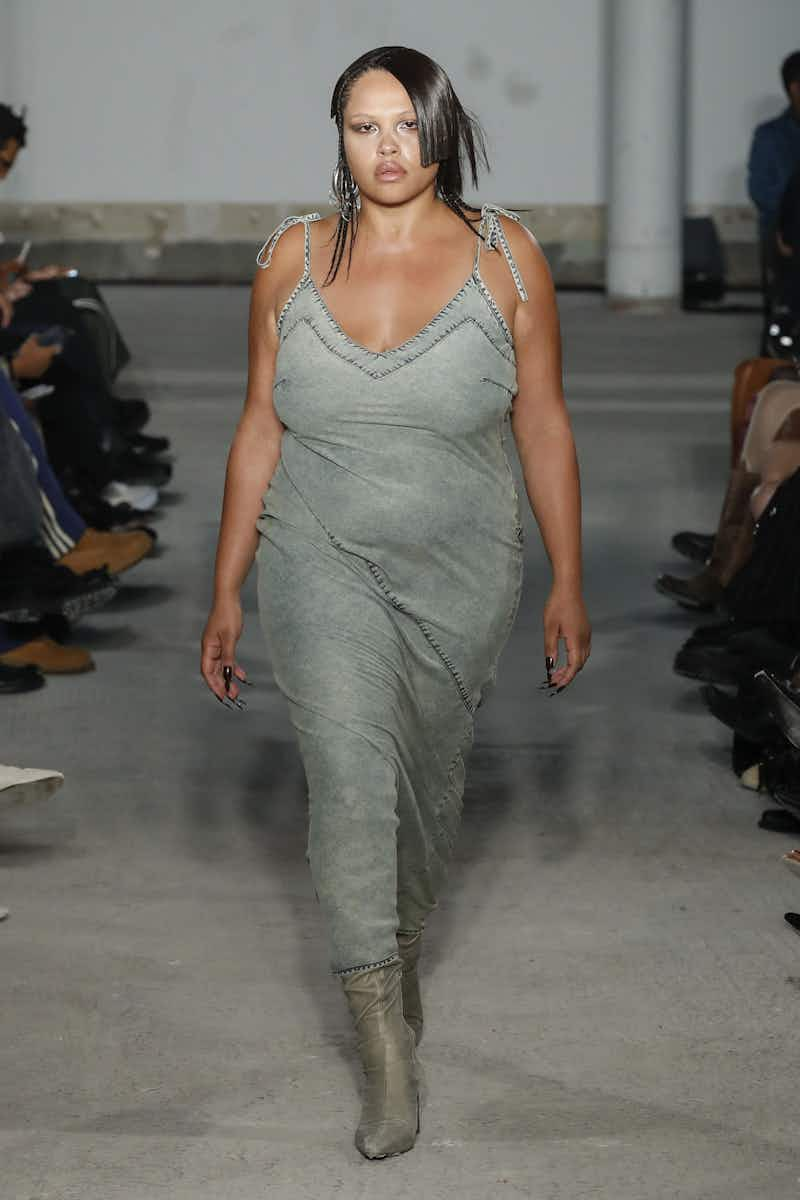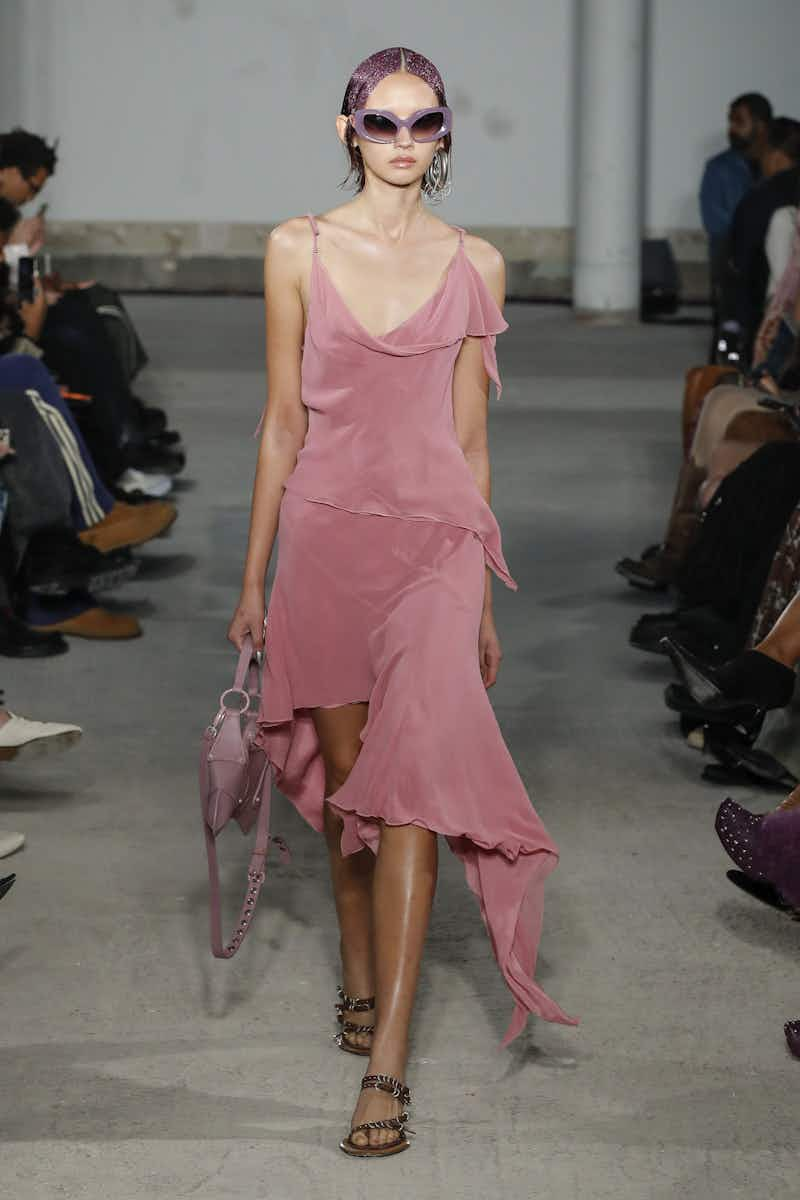 Fashion East welcomed new brands Karoline Vitto and Standing Ground this season, while Jawara Alleyne, celebrated for his anarchic, abstract references and cultural histories, presented his fourth and final collection. The talent incubator's unwavering eye often picks out designers who are not only providing moments of escape (Fashion East's shows have often felt like mini raves) but are also moving with the times.

In a political landscape that can often feel as though it's moving backwards, the three designers who presented today celebrated diversity and unity – as well as womanhood in all its nuances. Karoline Vitto's championing of body shapes in sizes 8 – 28 felt deeply contemporary. There is no rigid one-size policy on the designer's runway, with her deconstructed, sheer dresses strategically revealing portions of the models' bodies, clasped together by metal rings. Meanwhile Standing Ground presented its gowns statically, so the designs were appreciated in their sculptural forms, hanging off bodies like Grecian statues. Yet even while motionless, the designs retained a sensual, romantic fluidity thanks to skilful draping.

And for his last Fashion East collection, Jawara Alleyne provided a high-octane finale for his brilliantly subversive tribe. In a collection titled New World, Alleyne pieced together delicate fabrics while weaving in the punk DIY sensibility he's refined over the years. Put together, Alleyne's designs become wickedly cult-like. As his title would suggest, he's about to embark on a new world order – one that, given the increasingly tough climate, is wholly welcome. TJ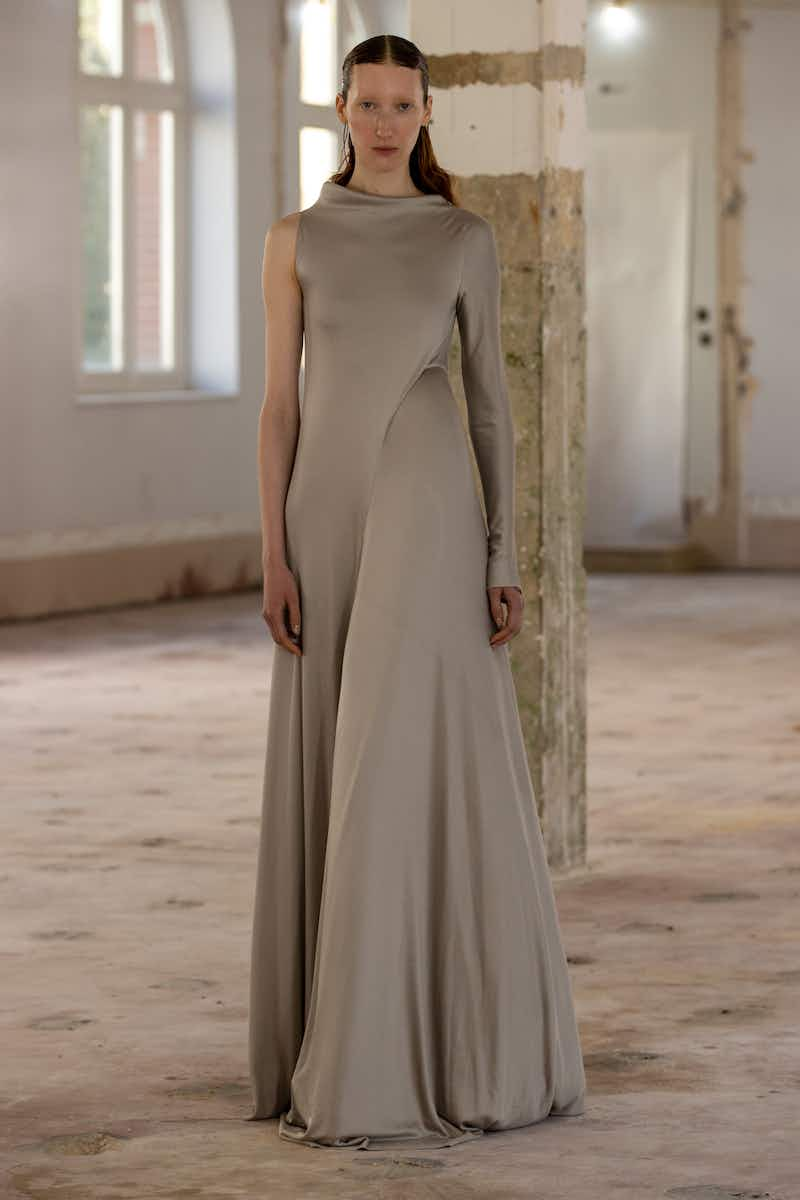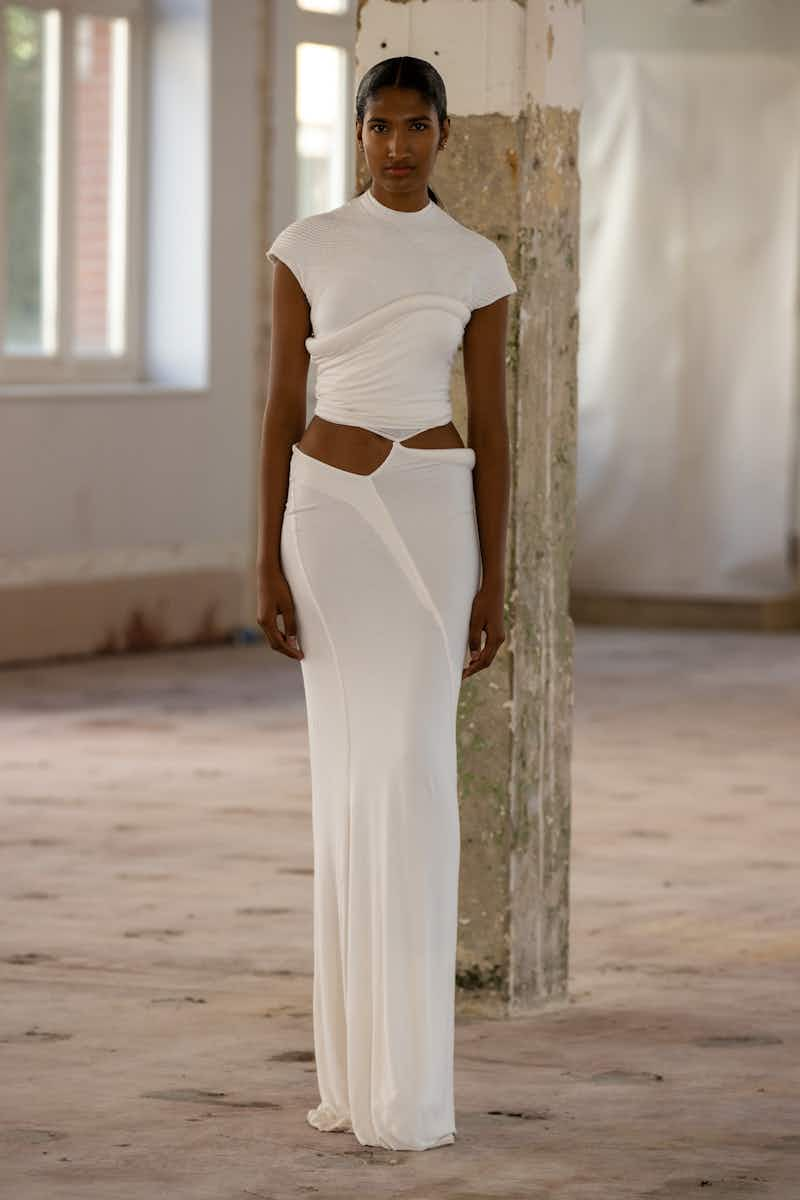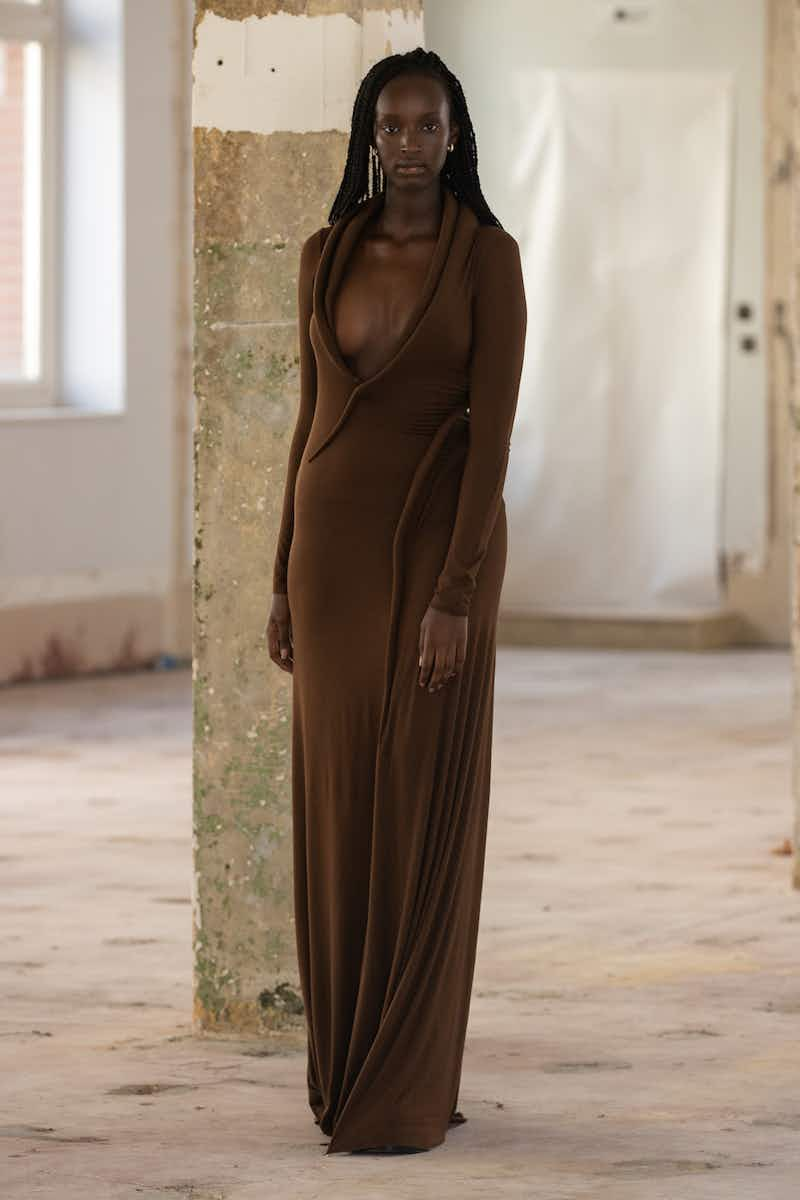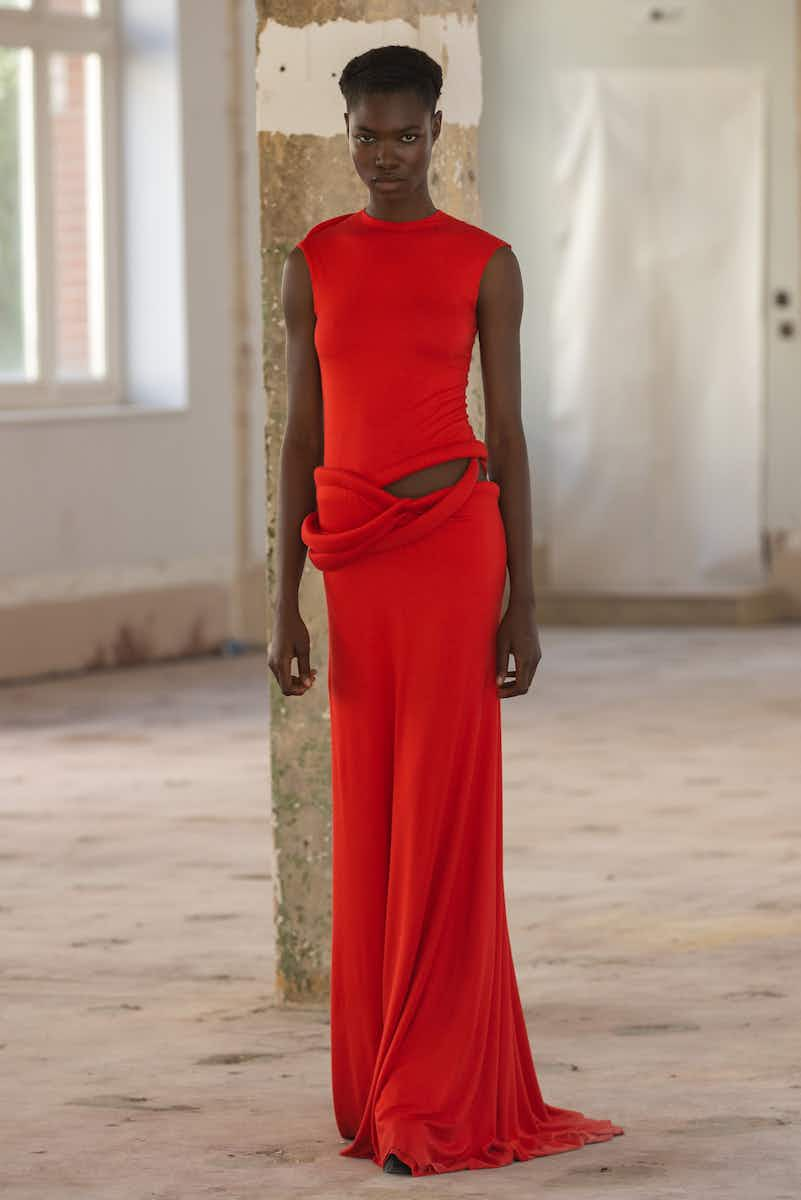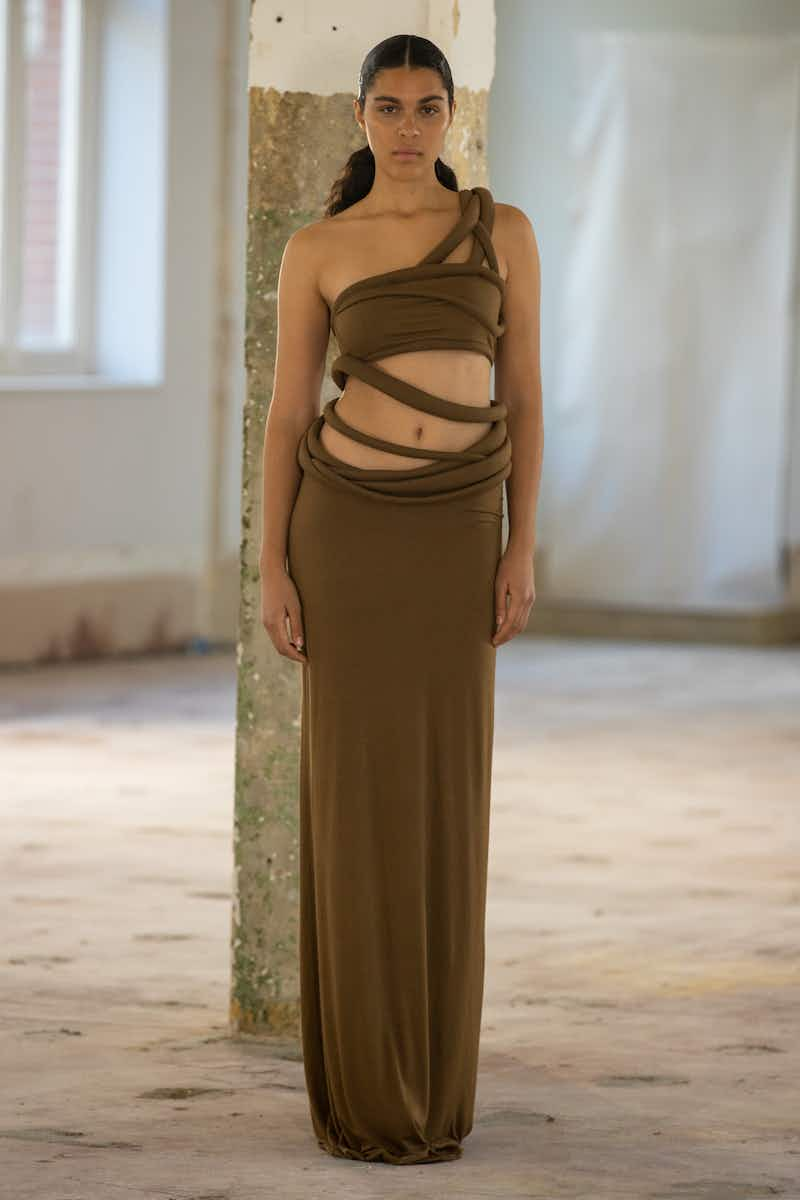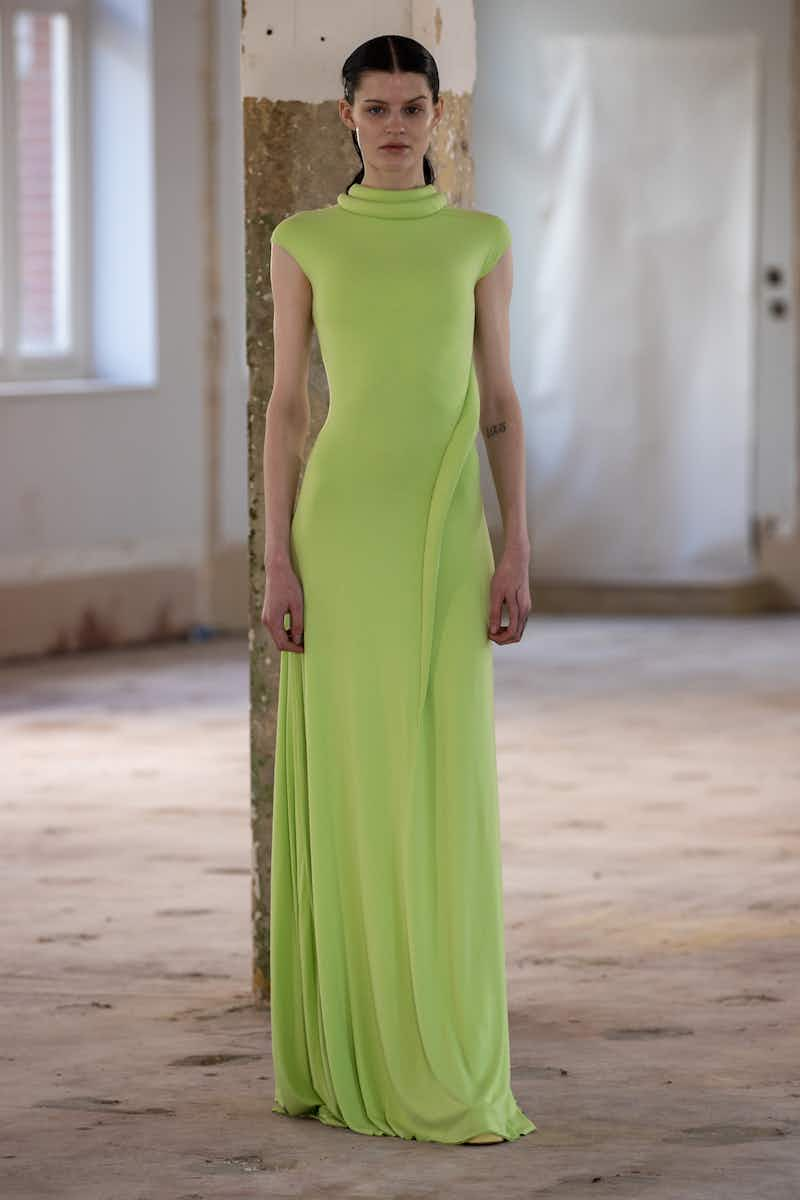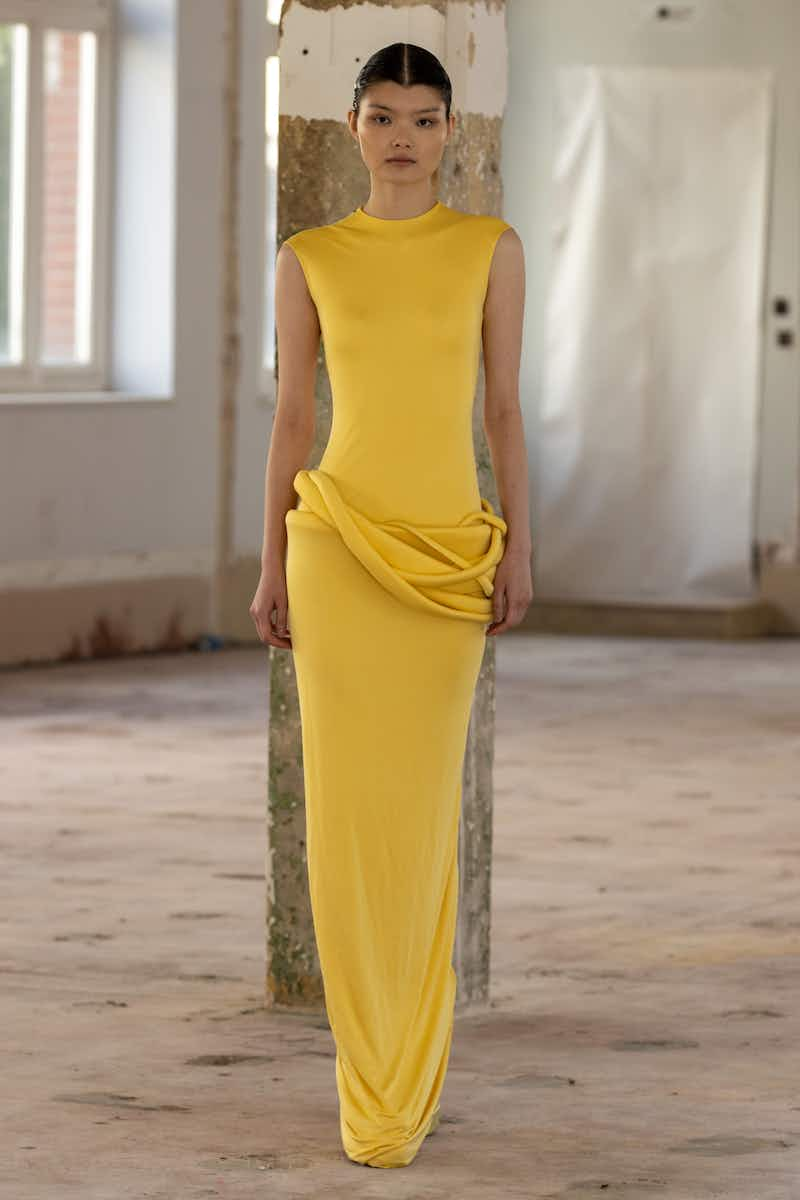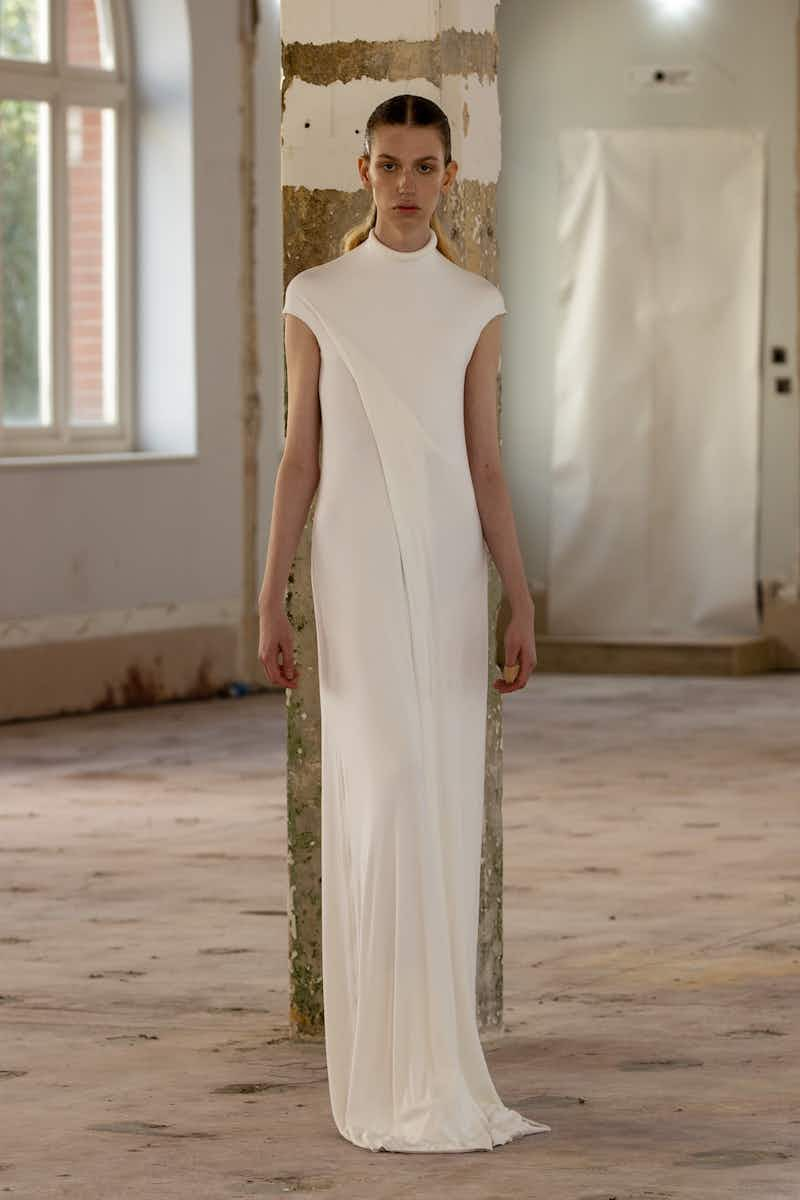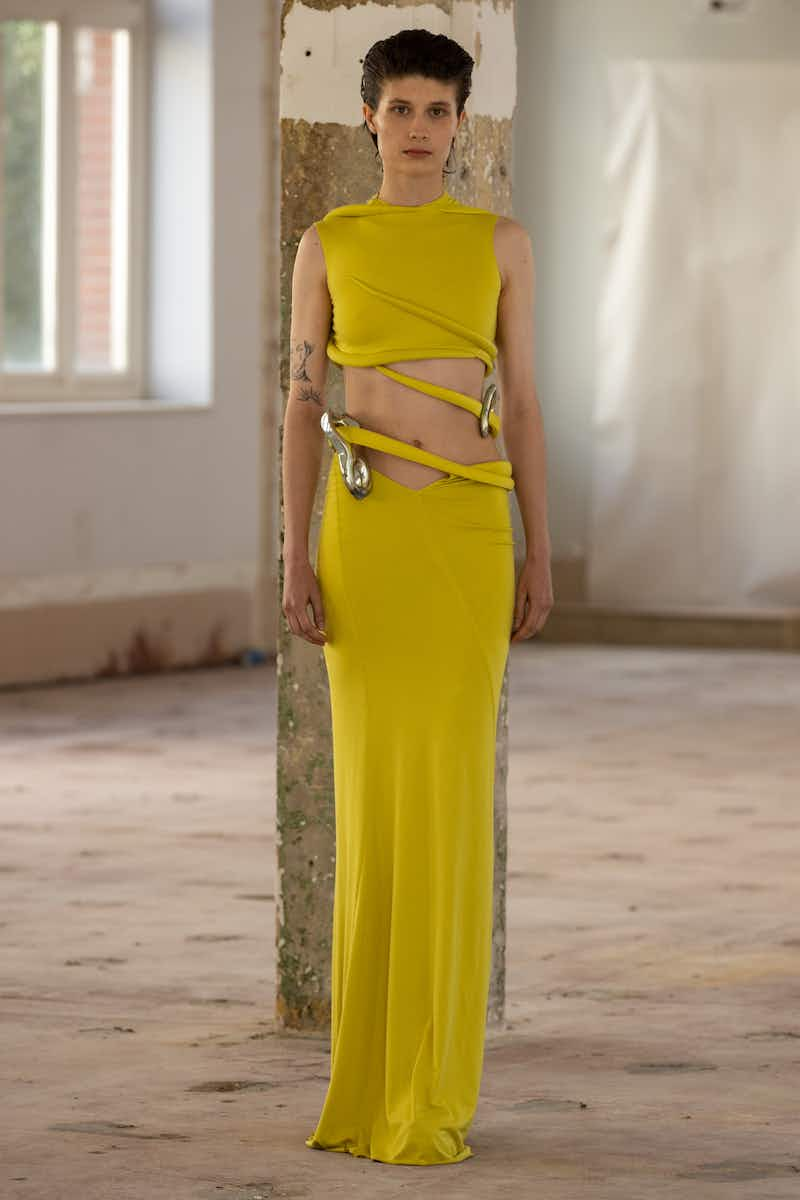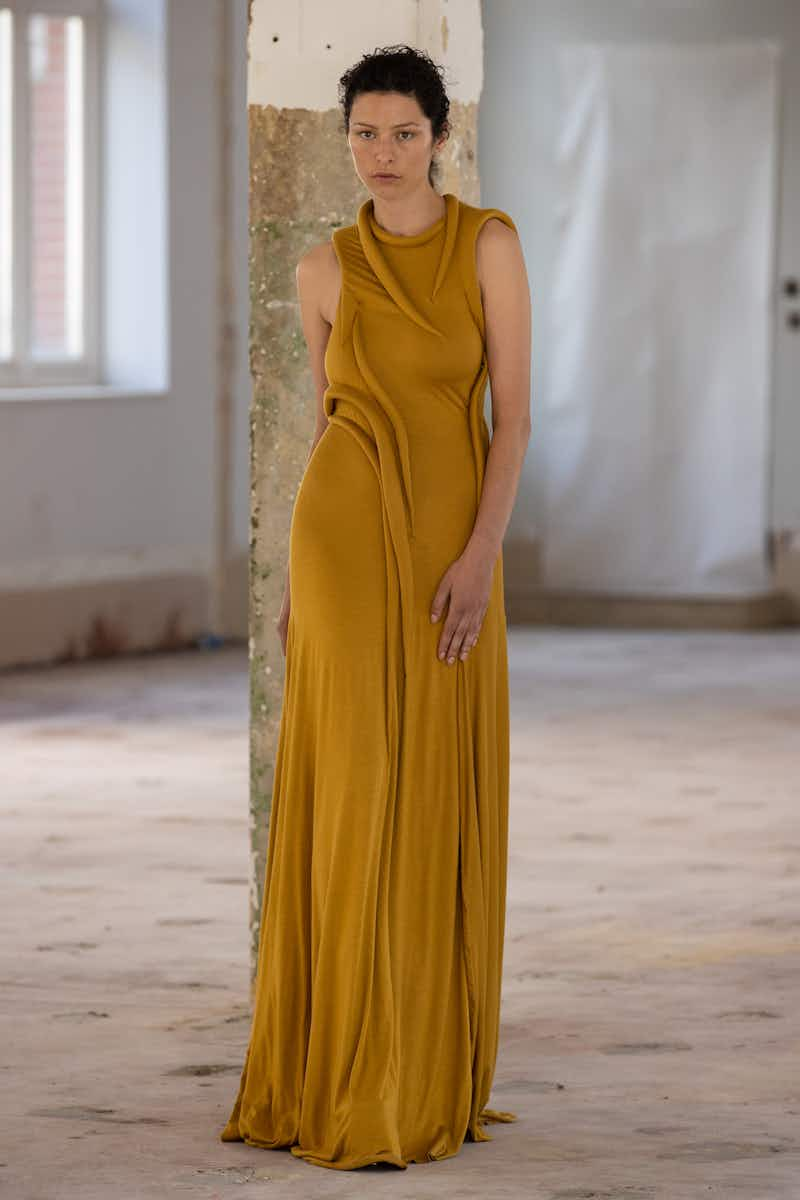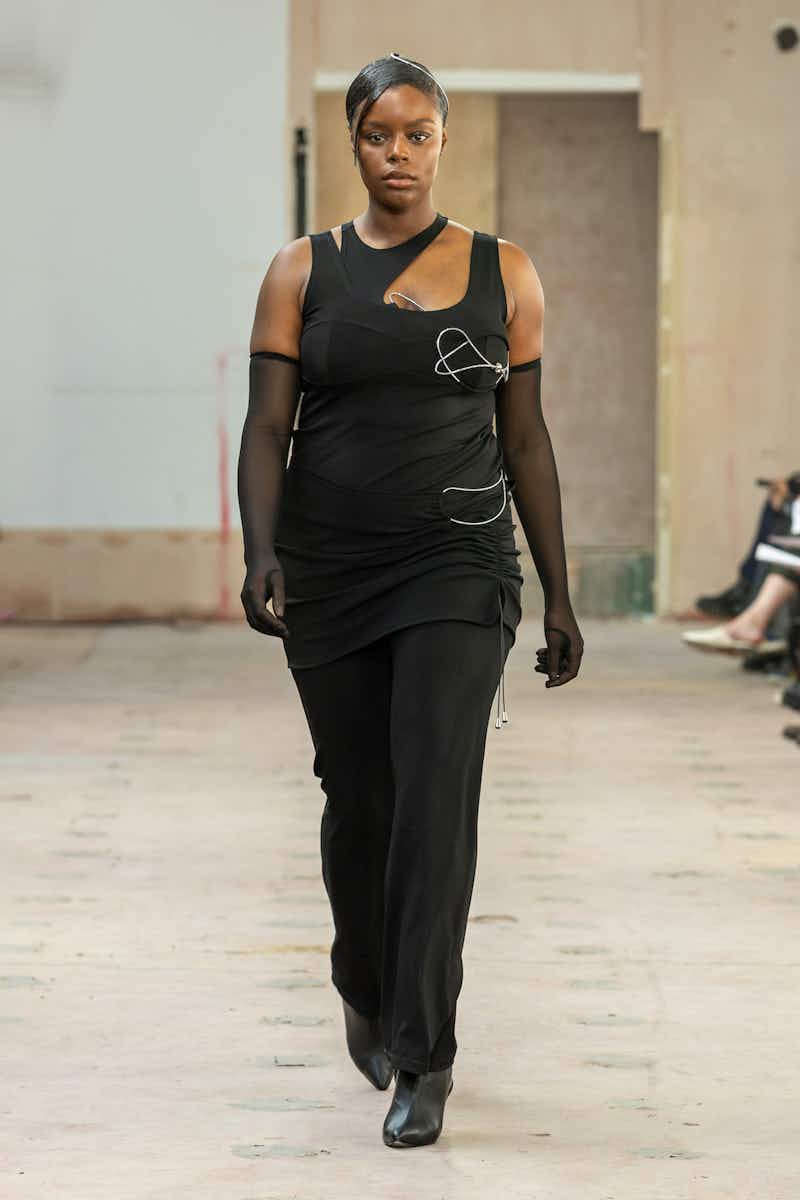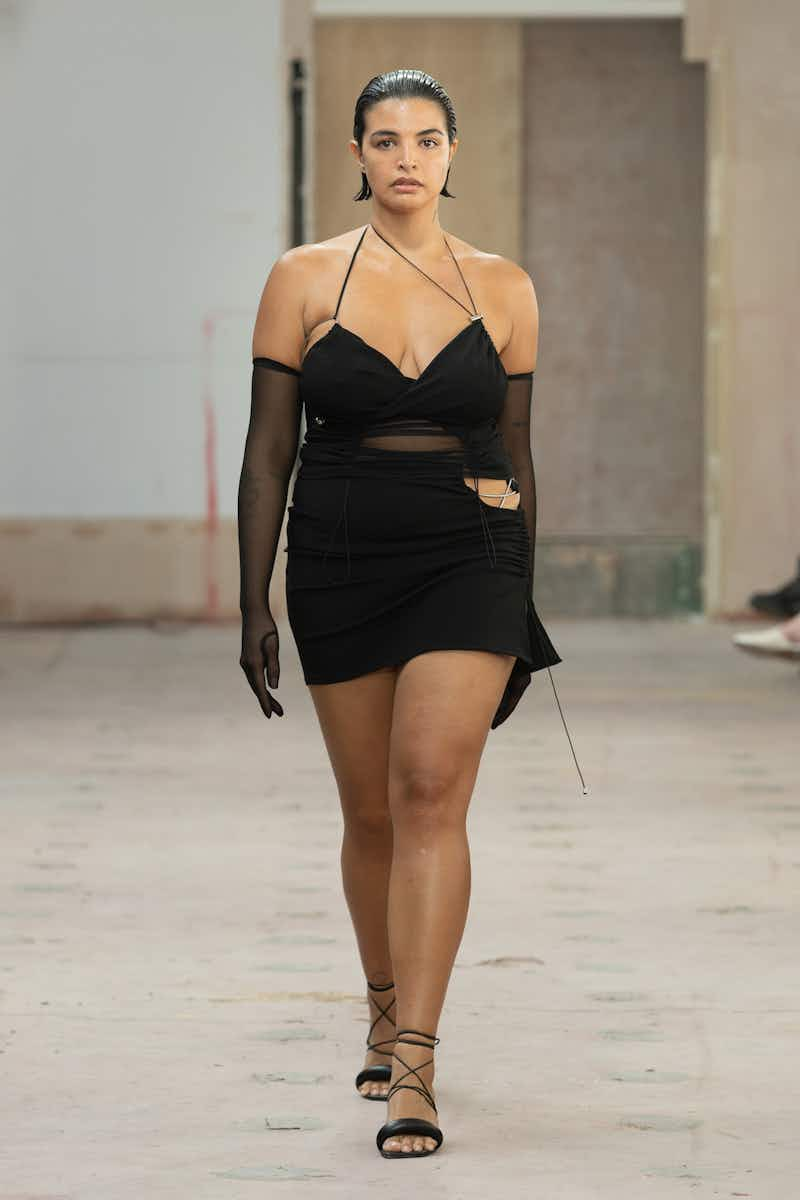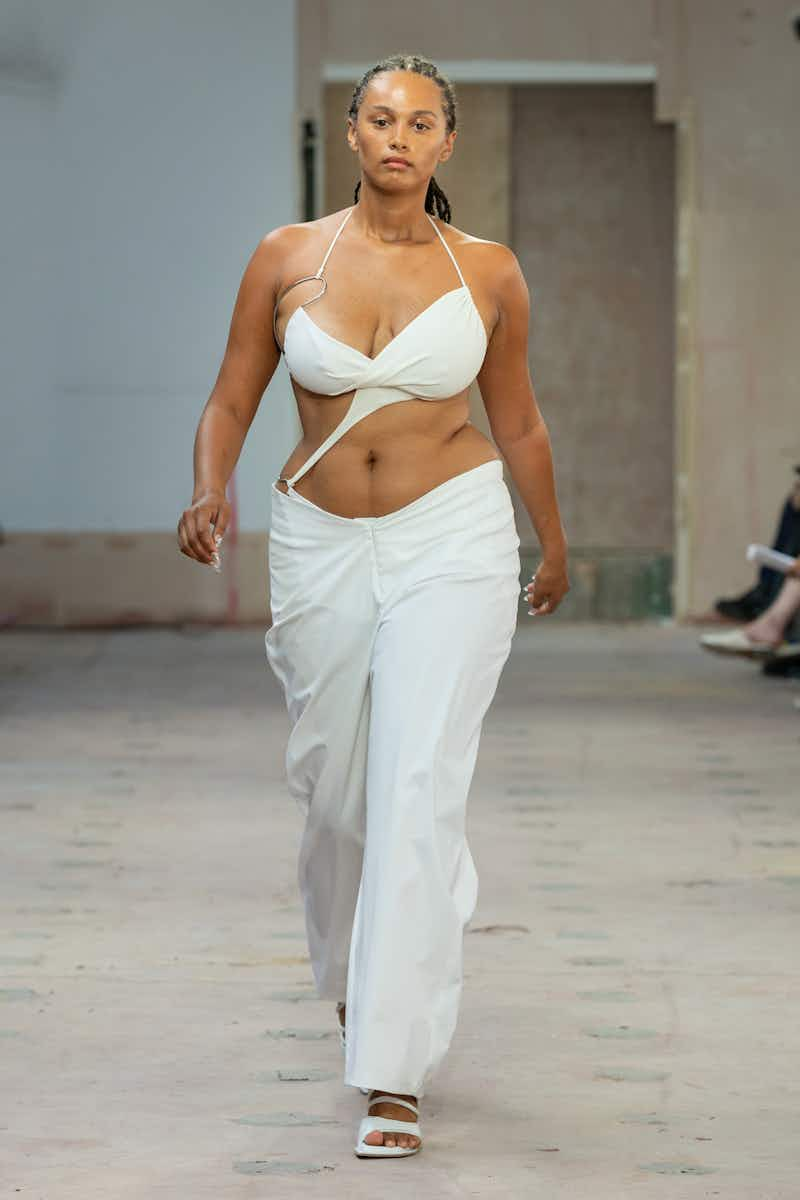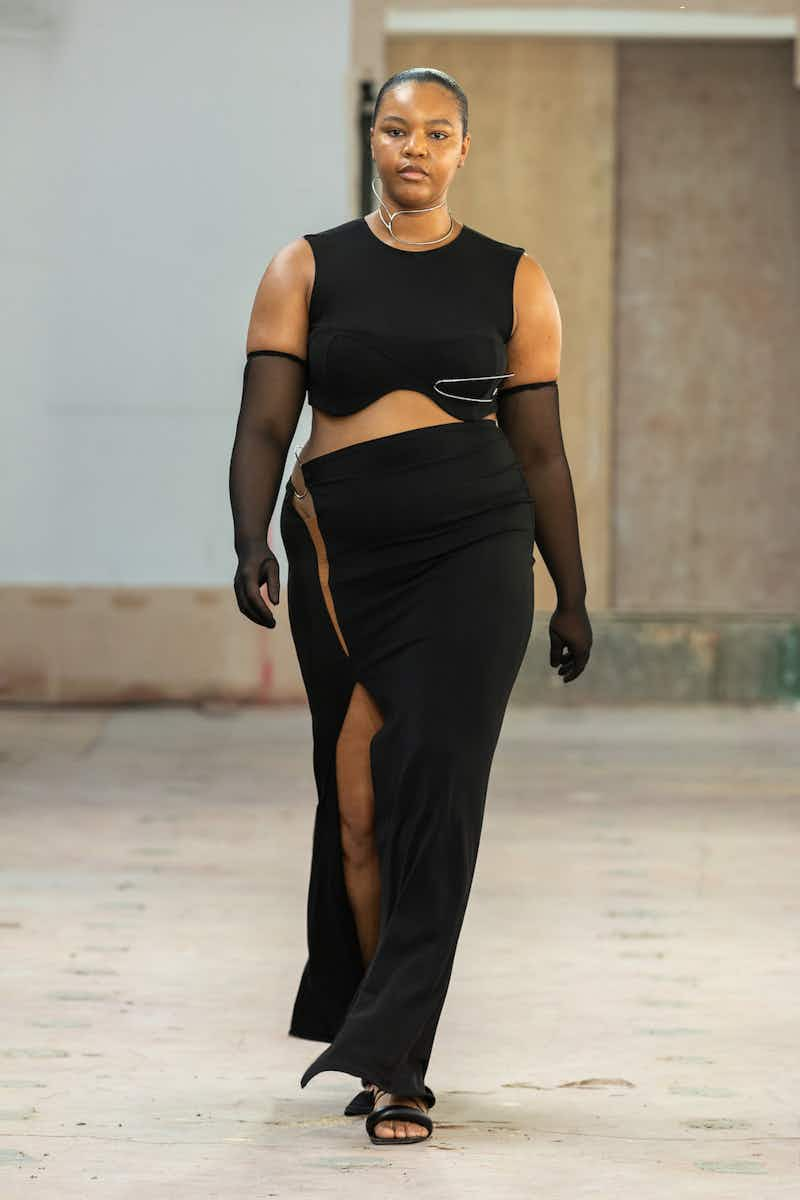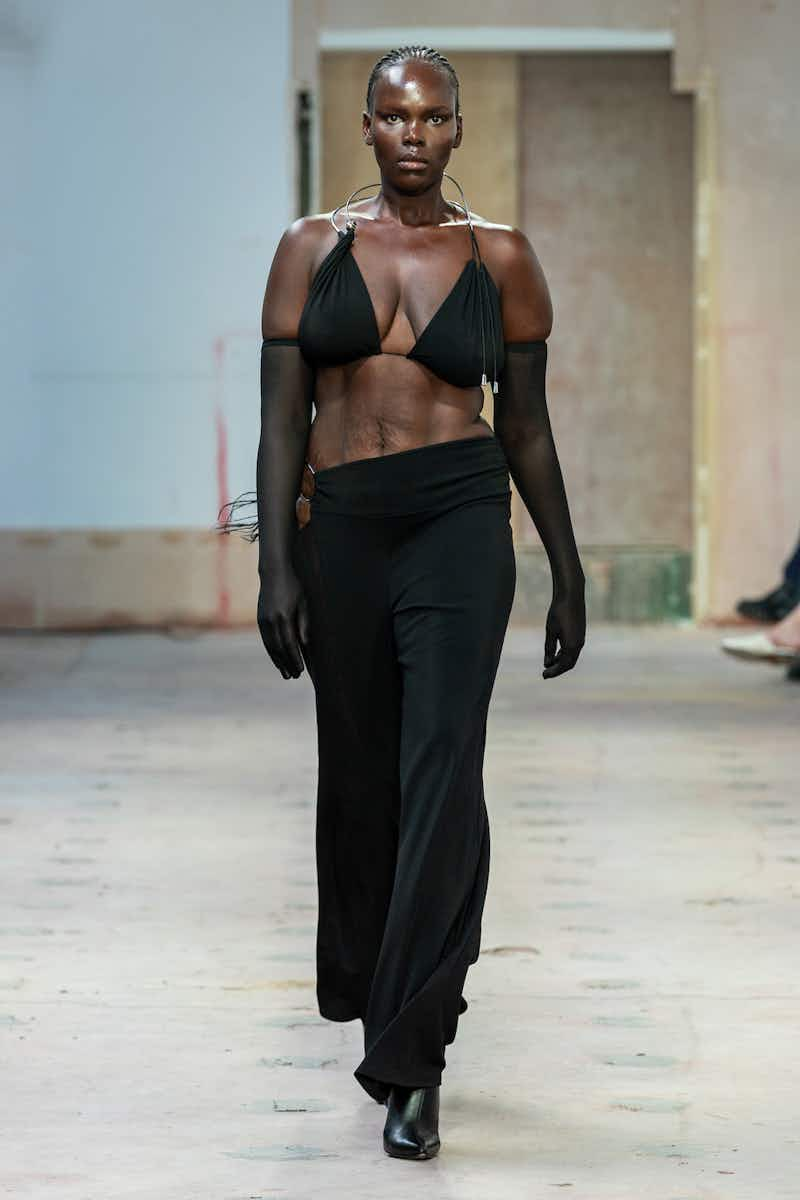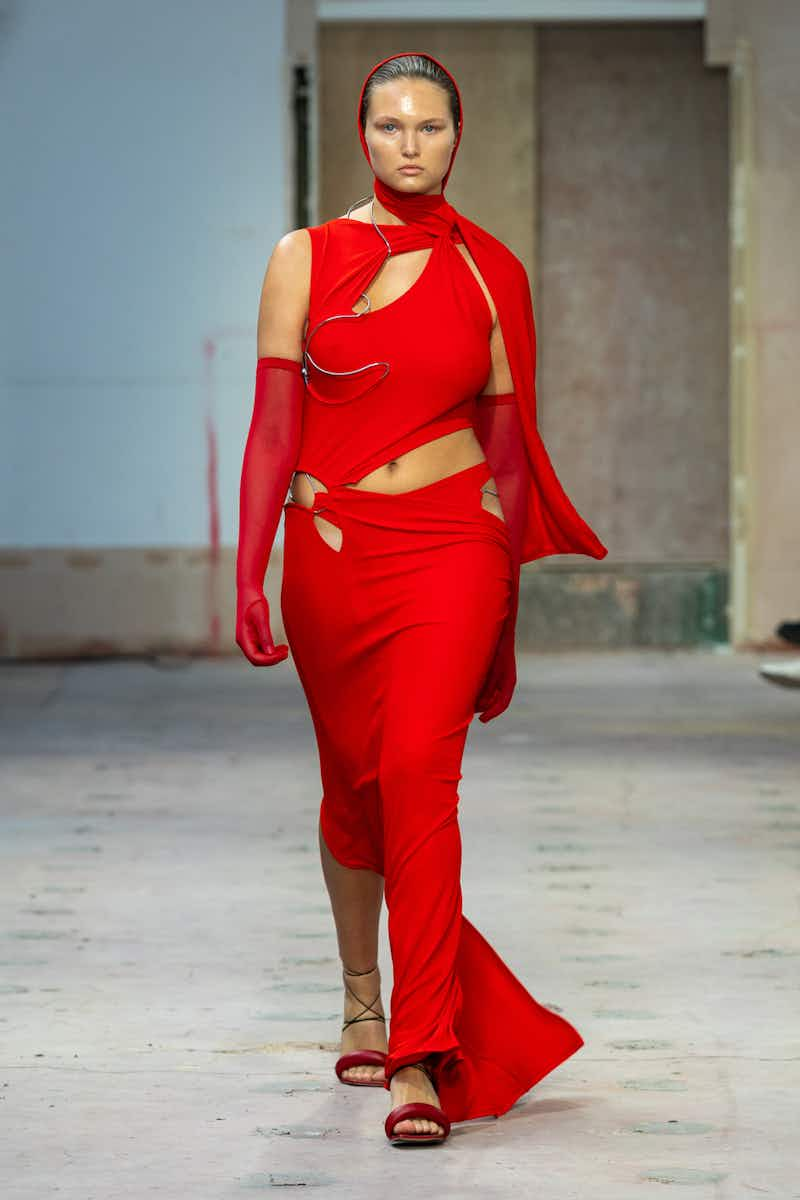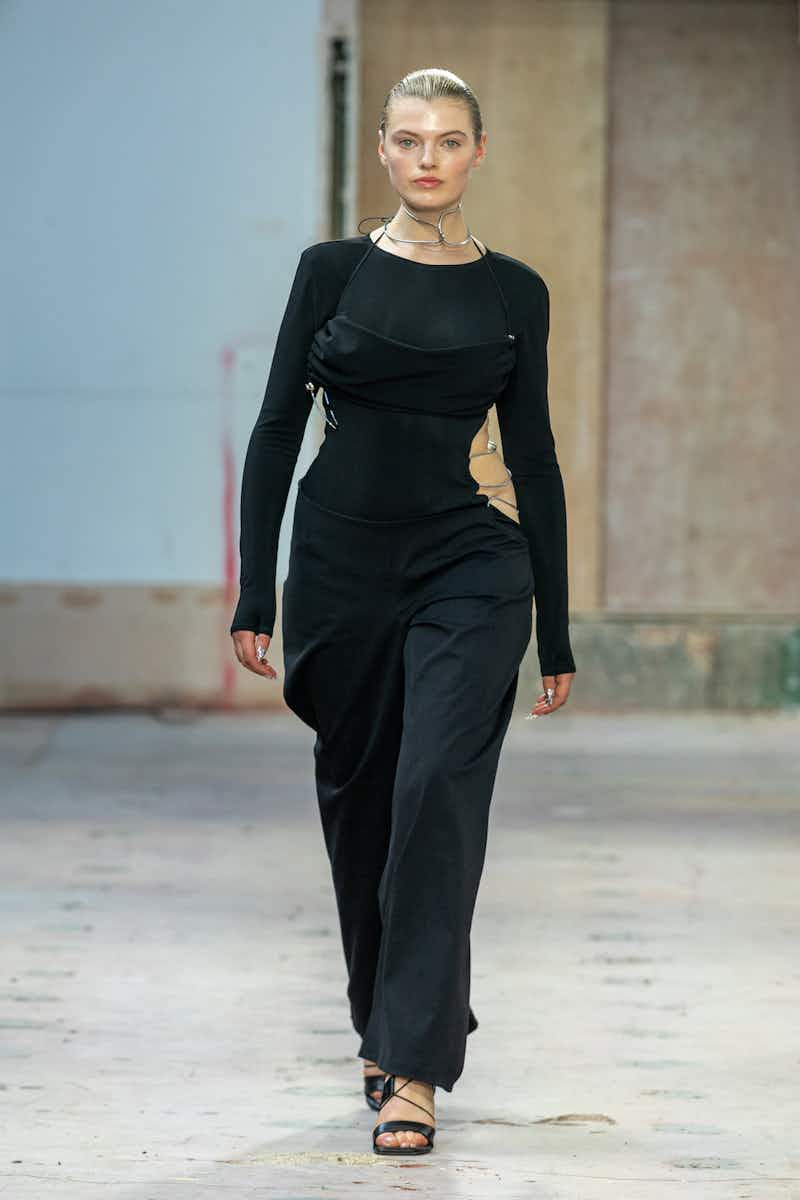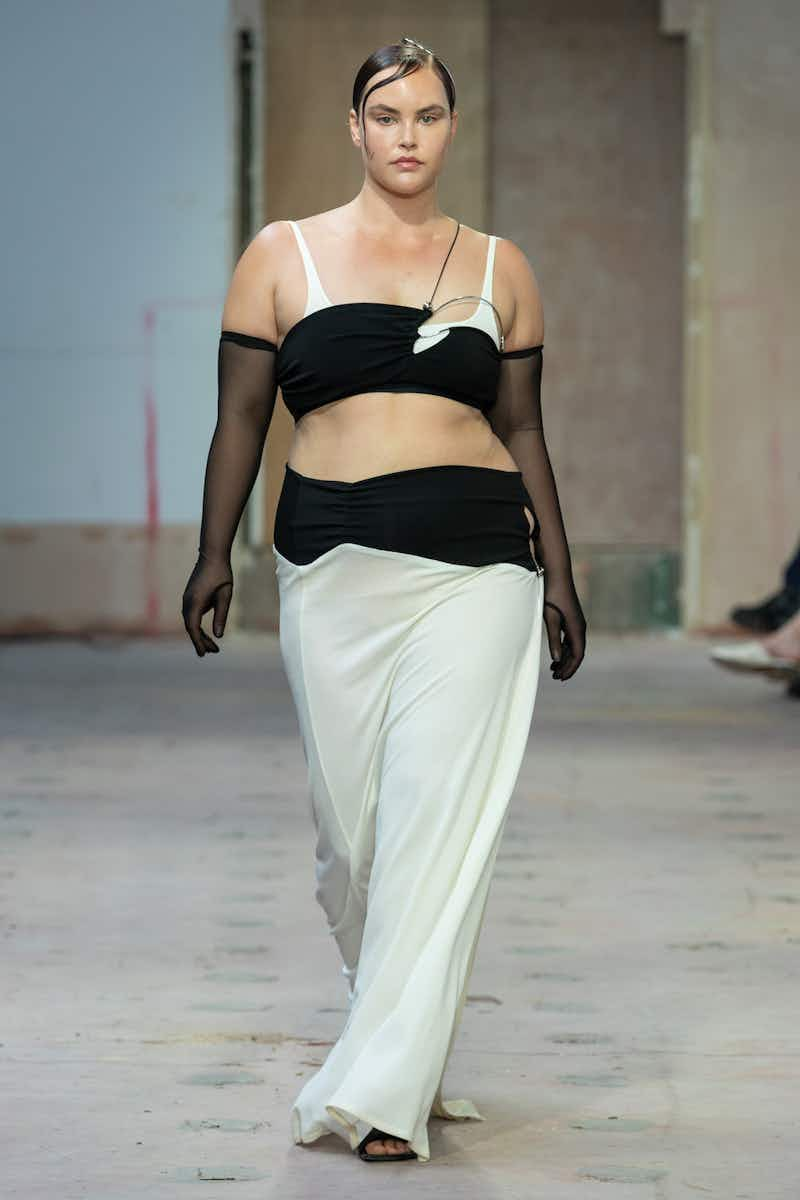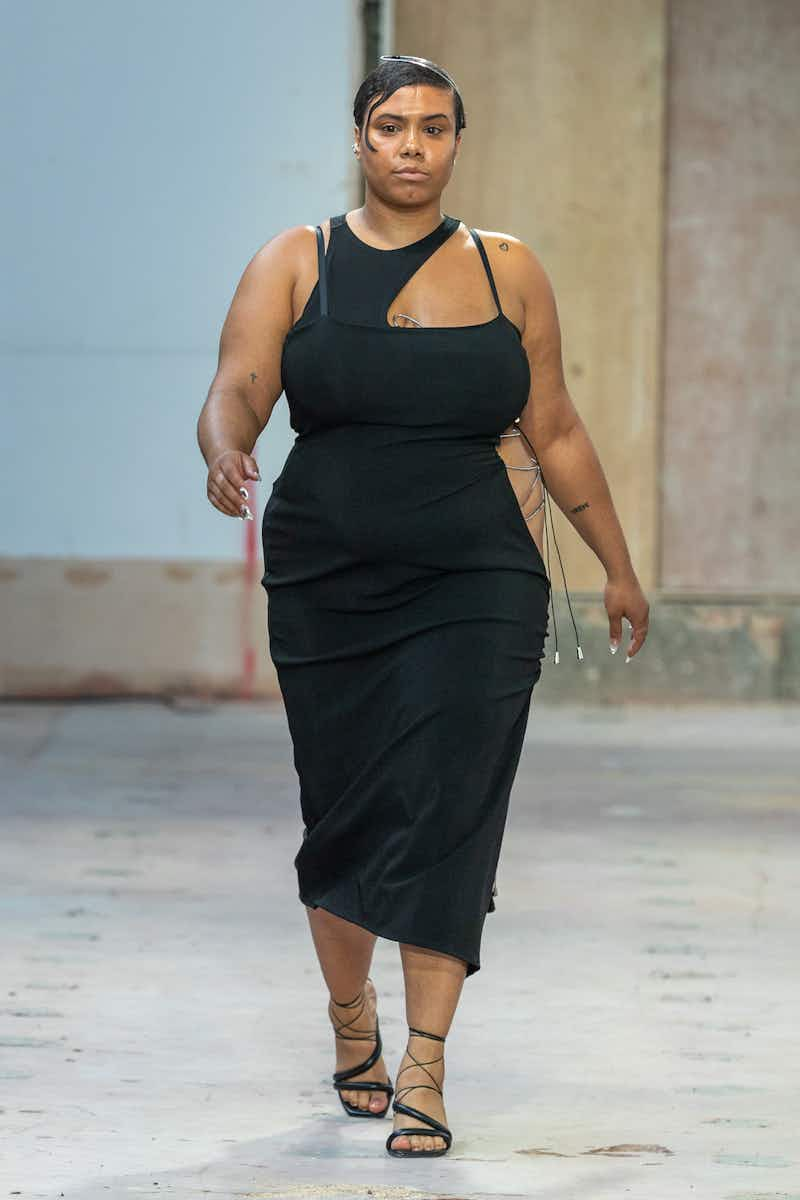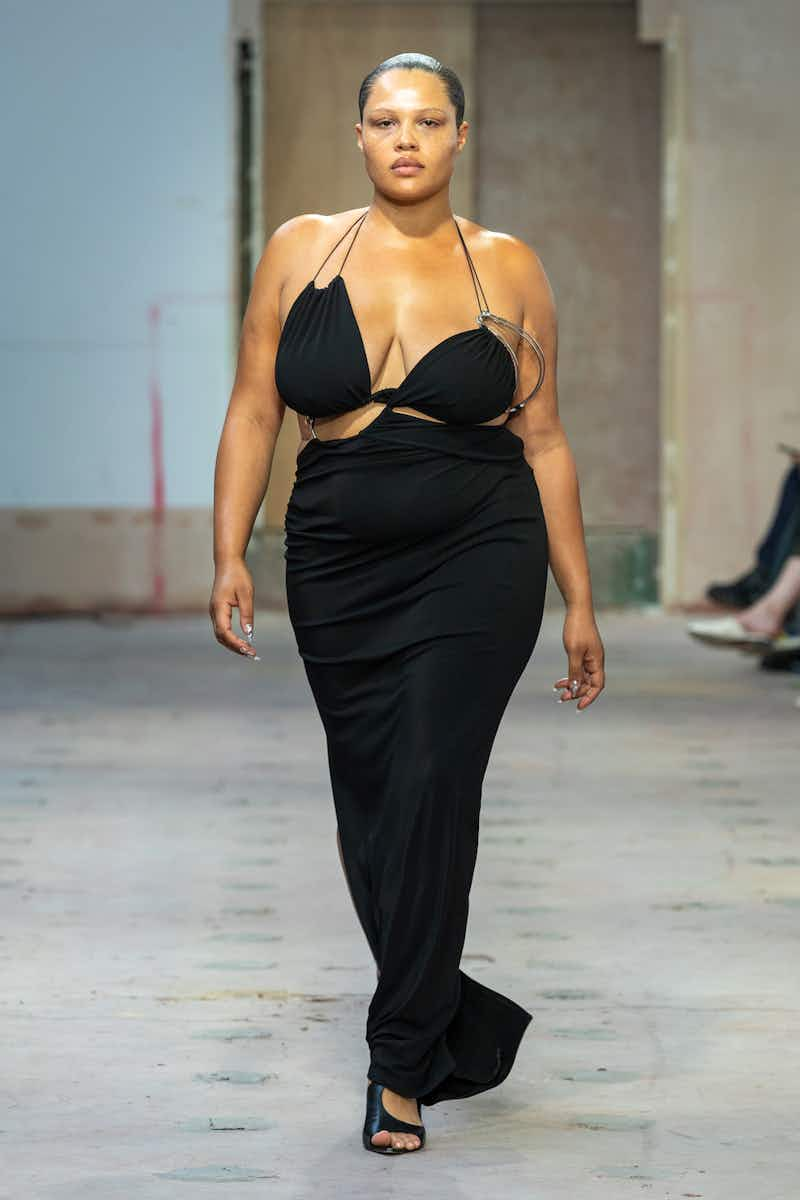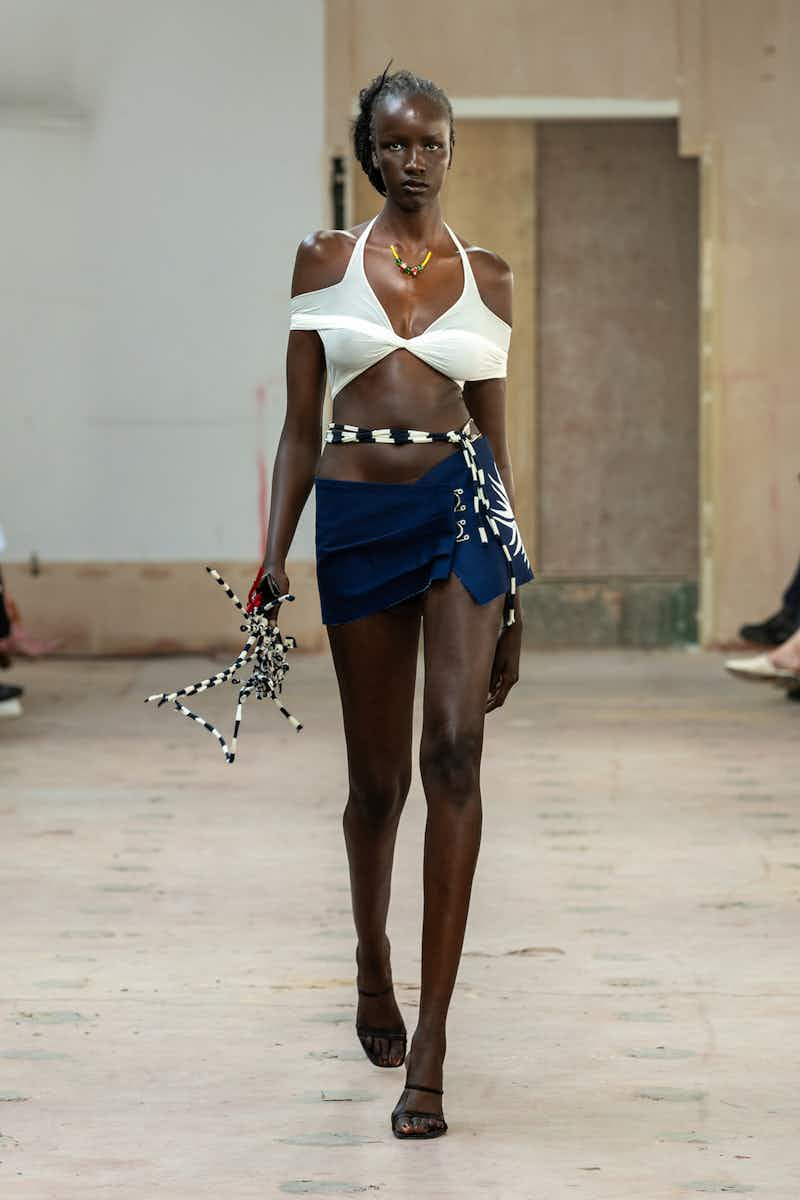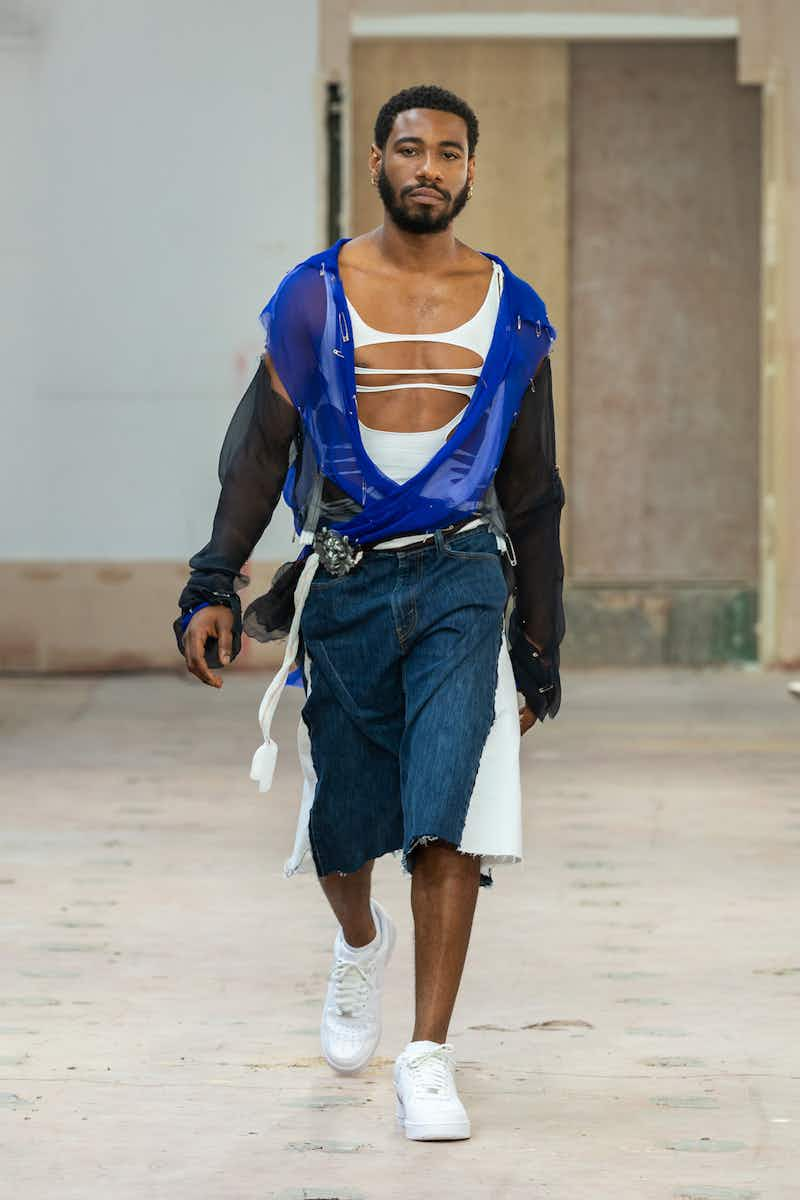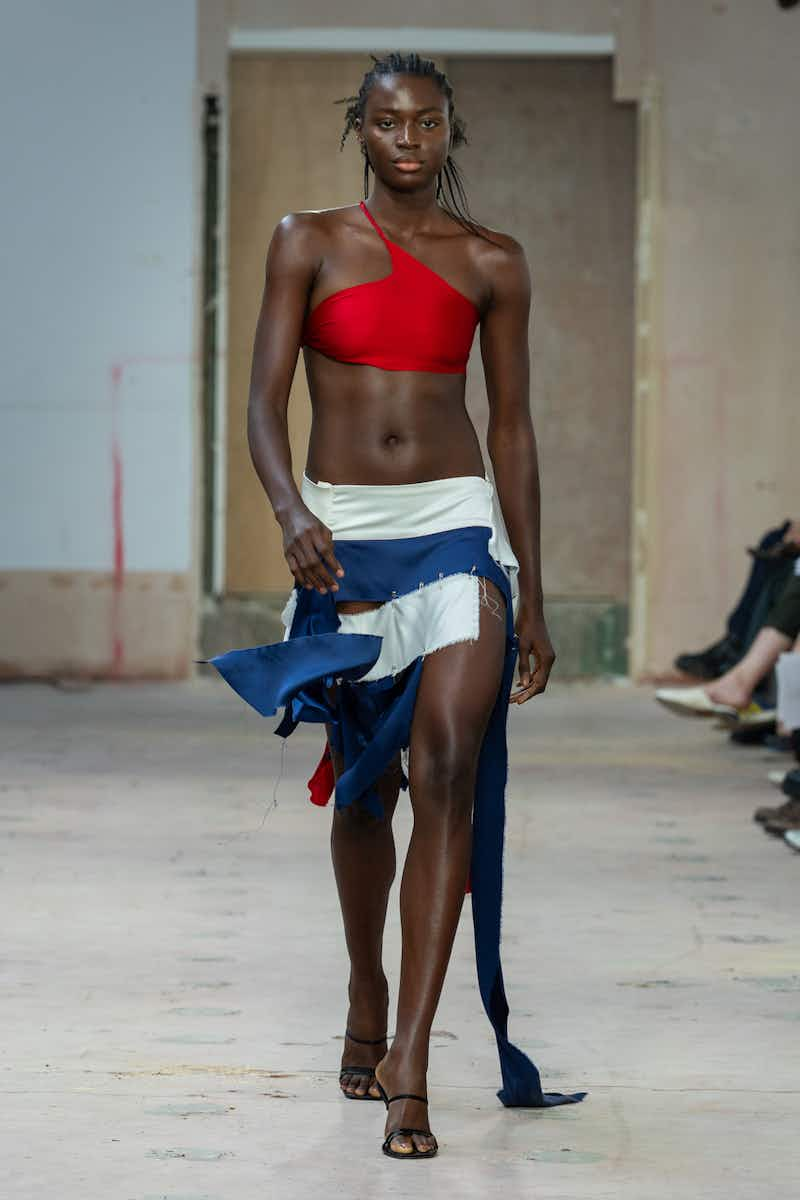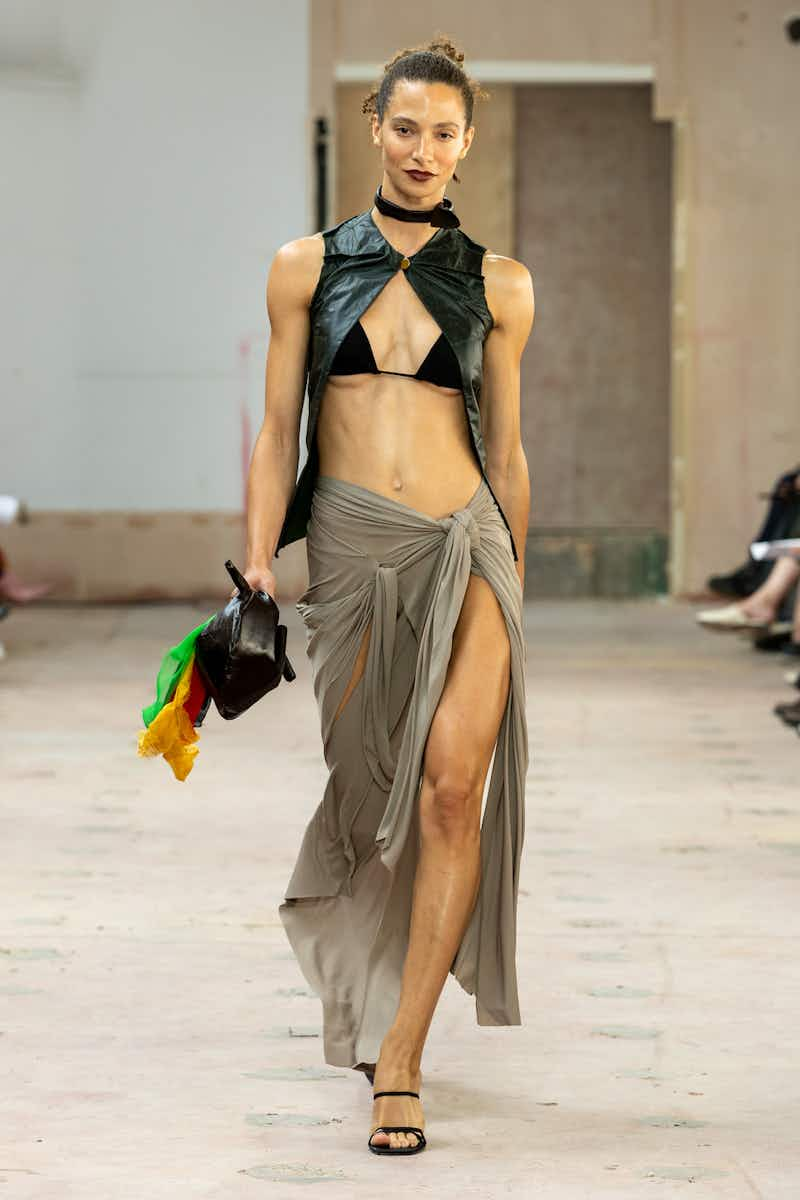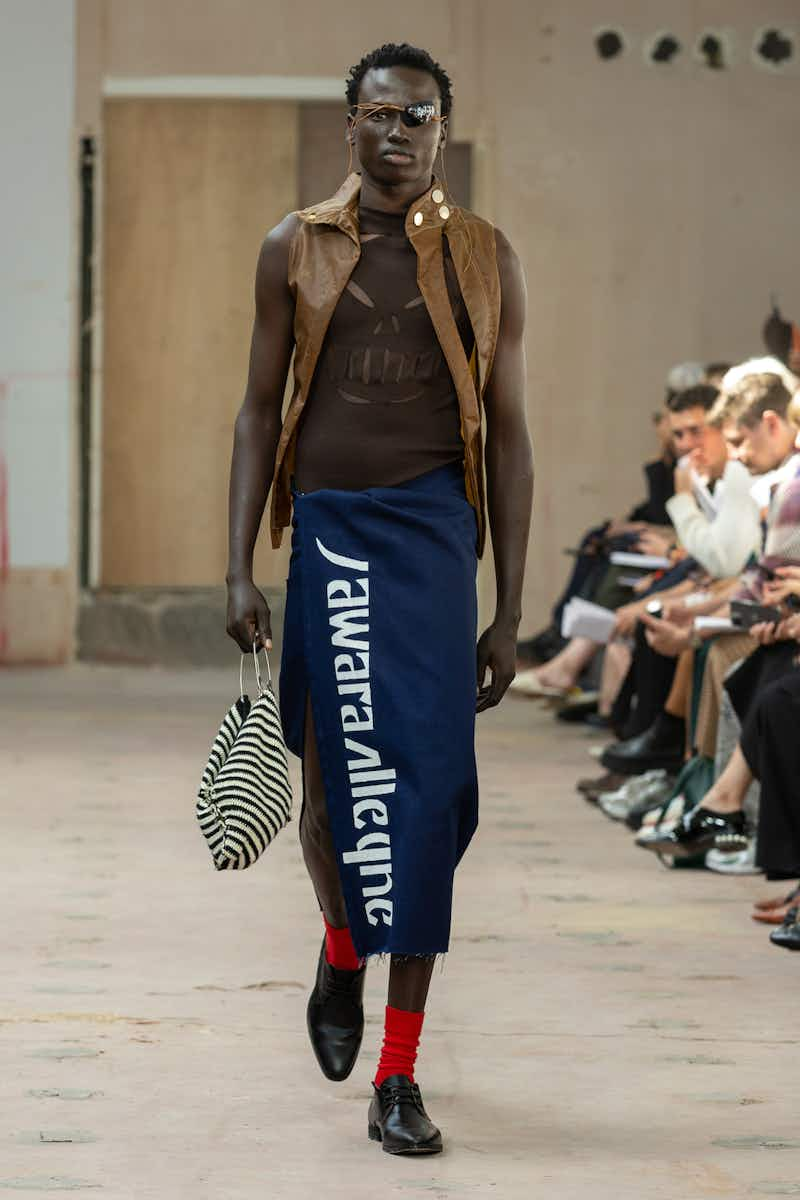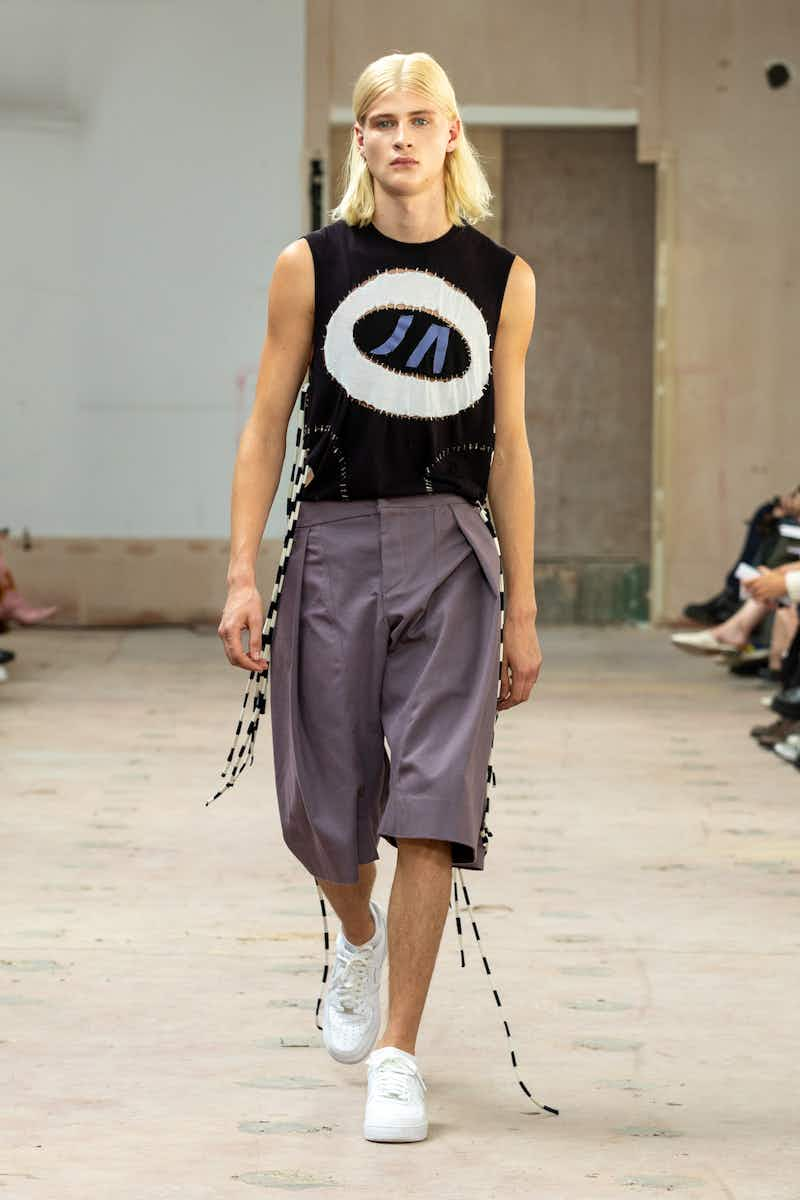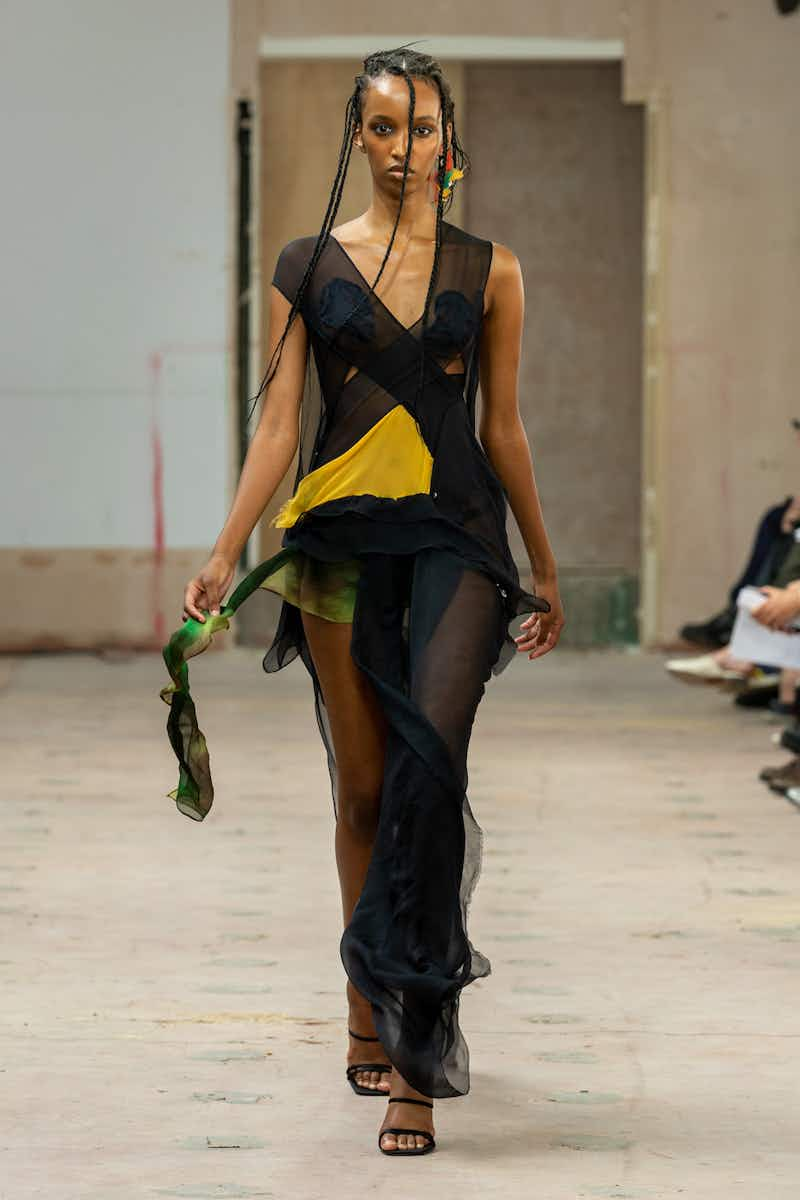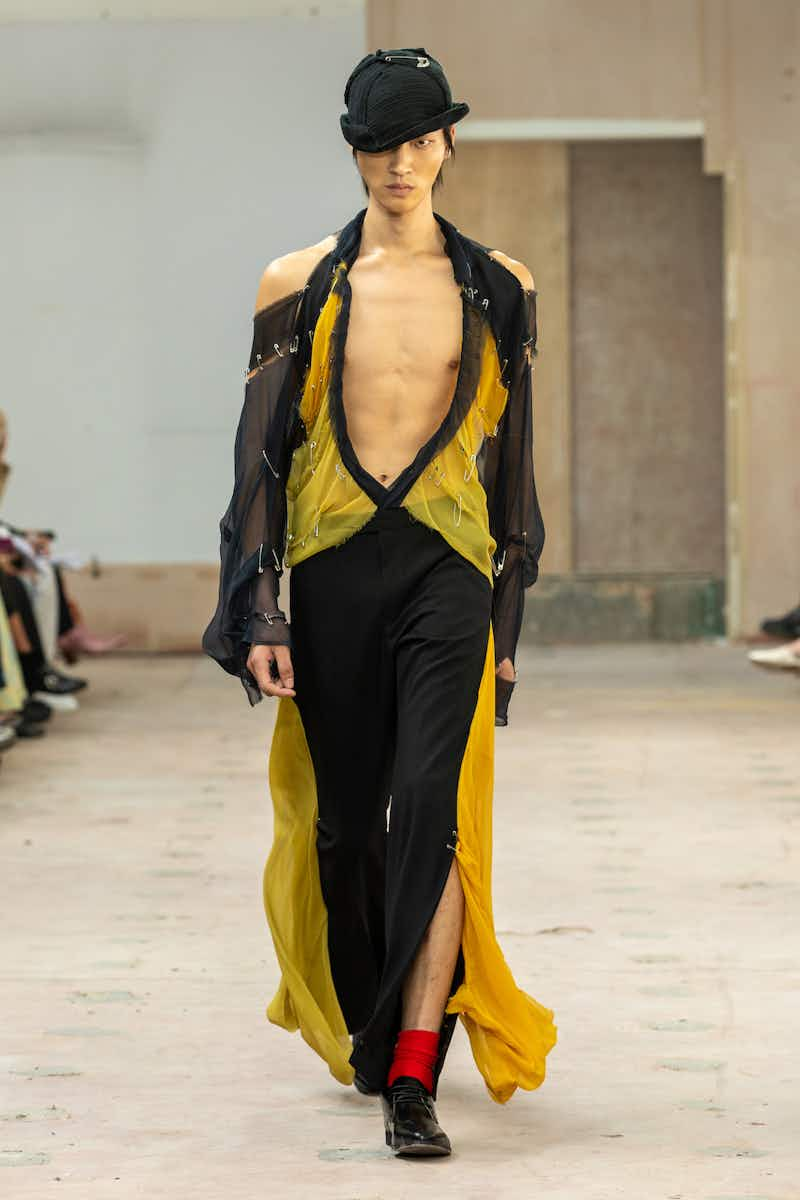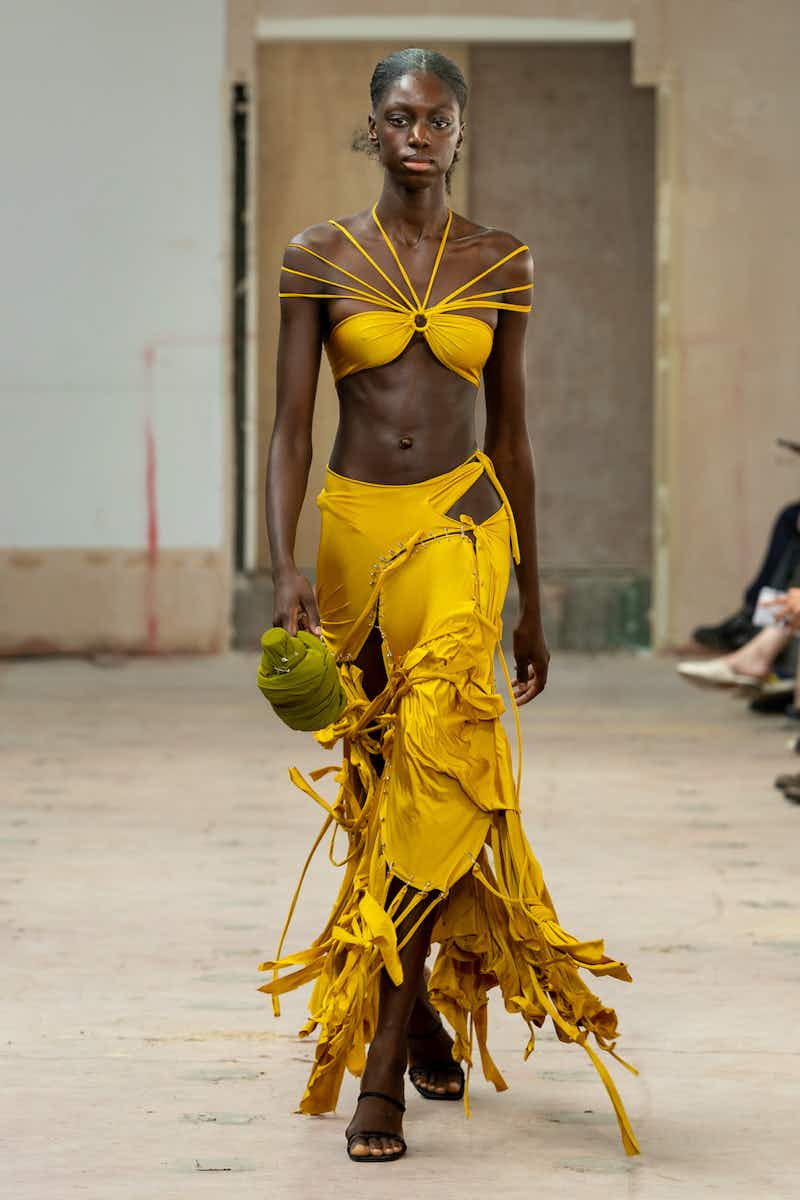 More like this