The London Fashion Week SS24 low-down
All the good stuff from Burberry, Aaron Esh, Supriya Lele, JW Anderson, Fashion East's Olly Shinder, Standing Ground, Johanna Parv and ASAI, KNWLS, Ashley Williams, Molly Goddard, Stefan Cooke and Chopova Lowena.
Born and bred Londoner, Arsenal supporter and menswear's next big thing Aaron Esh made his solo runway debut at the Tate Modern on Monday. Before the show kicked off, the dewy, early evening light shone over London's skyline from across the Thames, beaming in through the gallery's windows. It was a setting fit for a designer indebted to the city's youth culture and romance, its nightlife and the subversive faces who trot down the streets near his home in Hackney.
Esh graduated from London College of Fashion in 2019, followed by two years on Central Saint Martins' MA Fashion course. Since showcasing his final collection as part of the art school's MA show at London Fashion Week in February 2022, he's steadily built his namesake brand by working closely with friends and collaborators on lookbooks and mini campaigns, introducing accessories such as the red ​"AE" cap and releasing a small collection of tailored pieces and ​"the comma shoe" on SSENSE. Where many designers rush at breakneck speed to hit the catwalk fresh out of uni, Esh has taken his time. And with that has come a mighty pay-off: he's built a clear brand identity.

One of Esh's greatest strengths as a designer is his ability to unravel the nuances that influence our style choices: the anxiety of hands buried in a jacket pocket, battling the wind while holding the opening of a blazer together; the hurriedness of sliding into flip-flops to pick up a carton of milk in the morning; the makeshift mask of a pulled-down baseball cap to hide a hangover on the way in to work. But Esh isn't only concerned with concealing sins from the night before; he's about the glamour, too. In his SS24 collection, those hints of everyday reality were contrasted by dark, sumptuous eveningwear pieces that hung off the body like liquid, coming in steely greys, blacks and emerald green, as confident and self-assured as it was properly romantic.
While Esh has always considered himself a fluid designer – neither mens nor womenswear – he did, officially, embrace the latter last night. There was a draped Grecian-style dress hanging off the shoulder, oversized sunglasses that were undeniably influenced by his greatest champion and girlfriend Fiona Hartley, backless, cross-body halternecks that had first been worn by boys in the brand's AW23 campaign earlier this year and, similarly, the puffy skirts from that same collection now in a lighter grey. Where some brands approach gender-blurring as a box-ticking exercise, not always designing for the varying shapes of male and female bodies, in Aaron Esh's world, it's a seamless approach.
Designers have long been inspired by London – there's a lot to be inspired by in the capital, after all. But Aaron Esh's debut runway collection wasn't an obvious ode to the city's bygone subcultures, a salute to hedonistic club culture or the packed out Tubes on a Monday morning. It sought out the fleeting moments in between – the rush, romance, agitation, seduction and unease of living in a city where most days go by in a flash. The real skill comes in taking a step back from the madness and appreciating the allure of it all.

WORDS: TJ Sidhu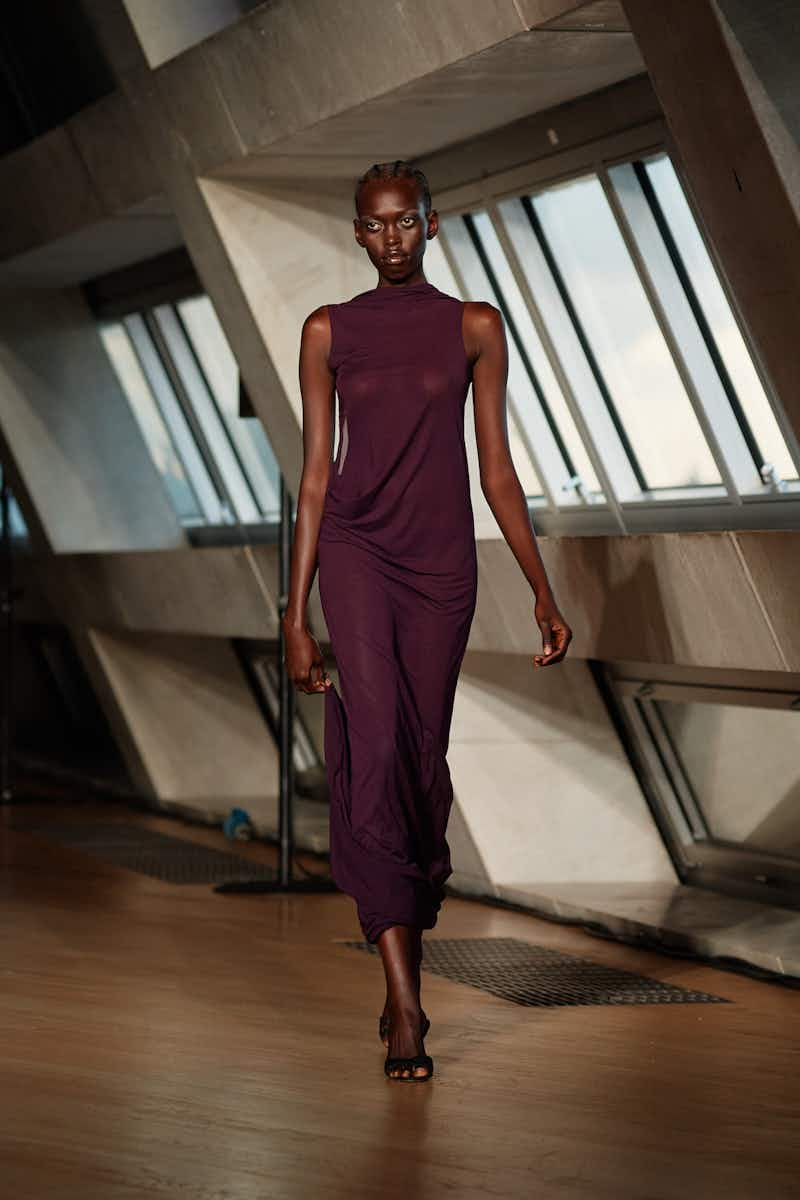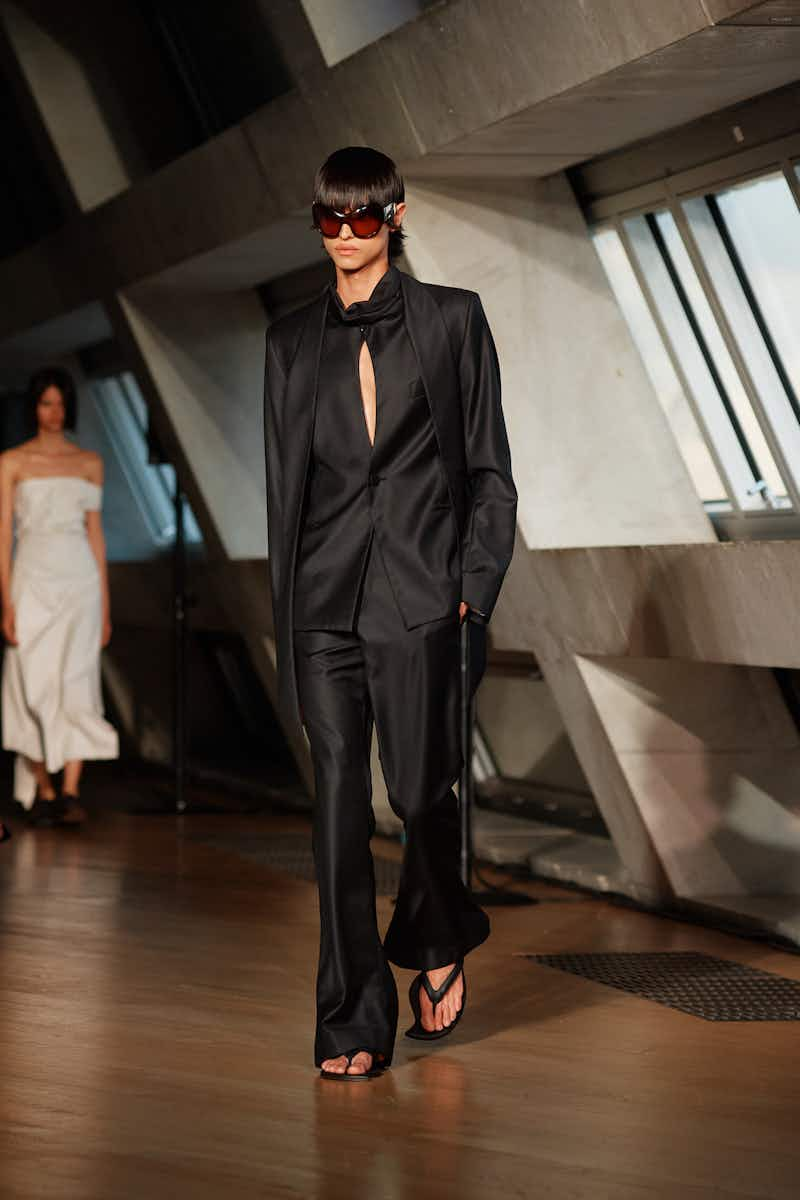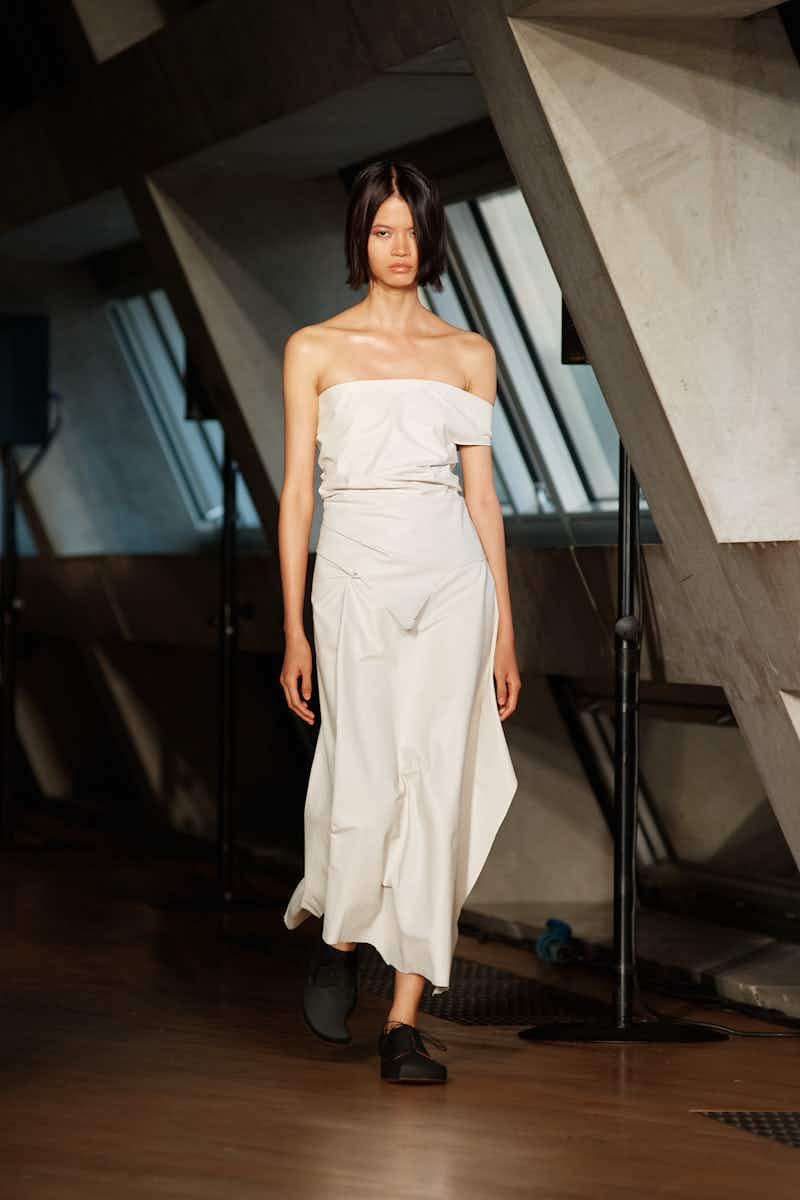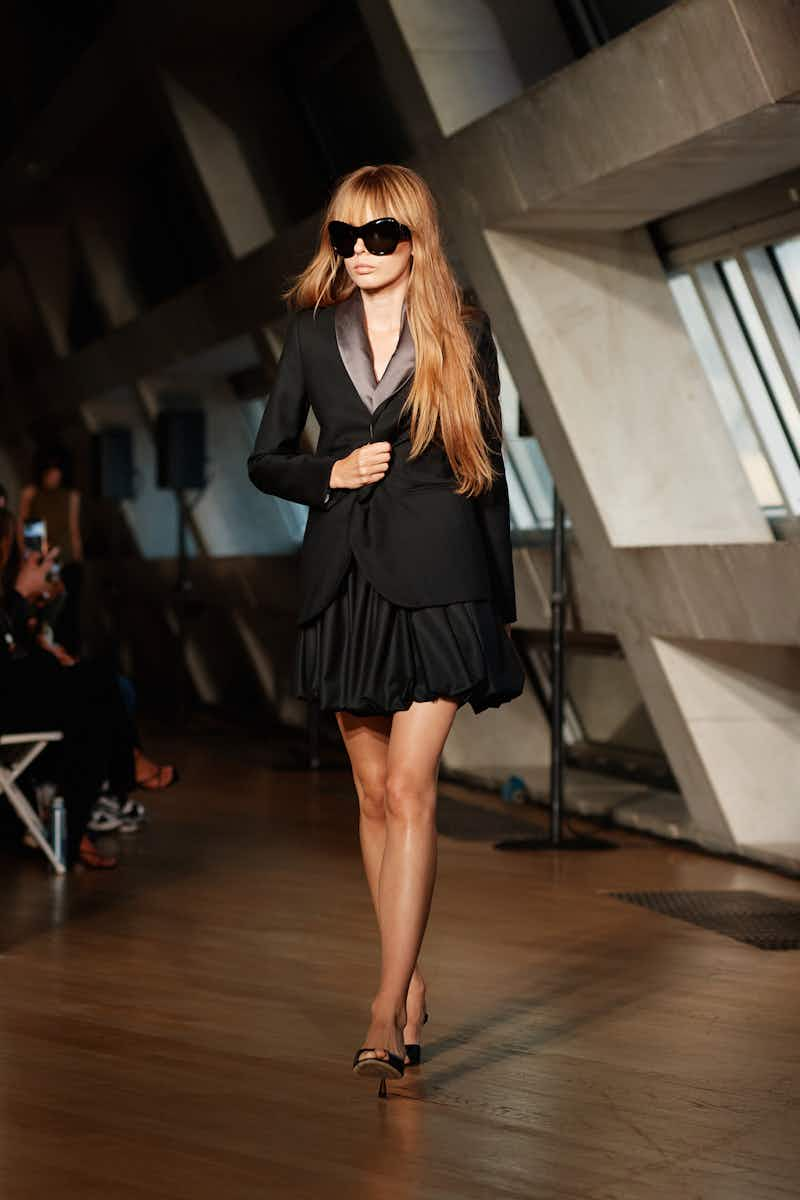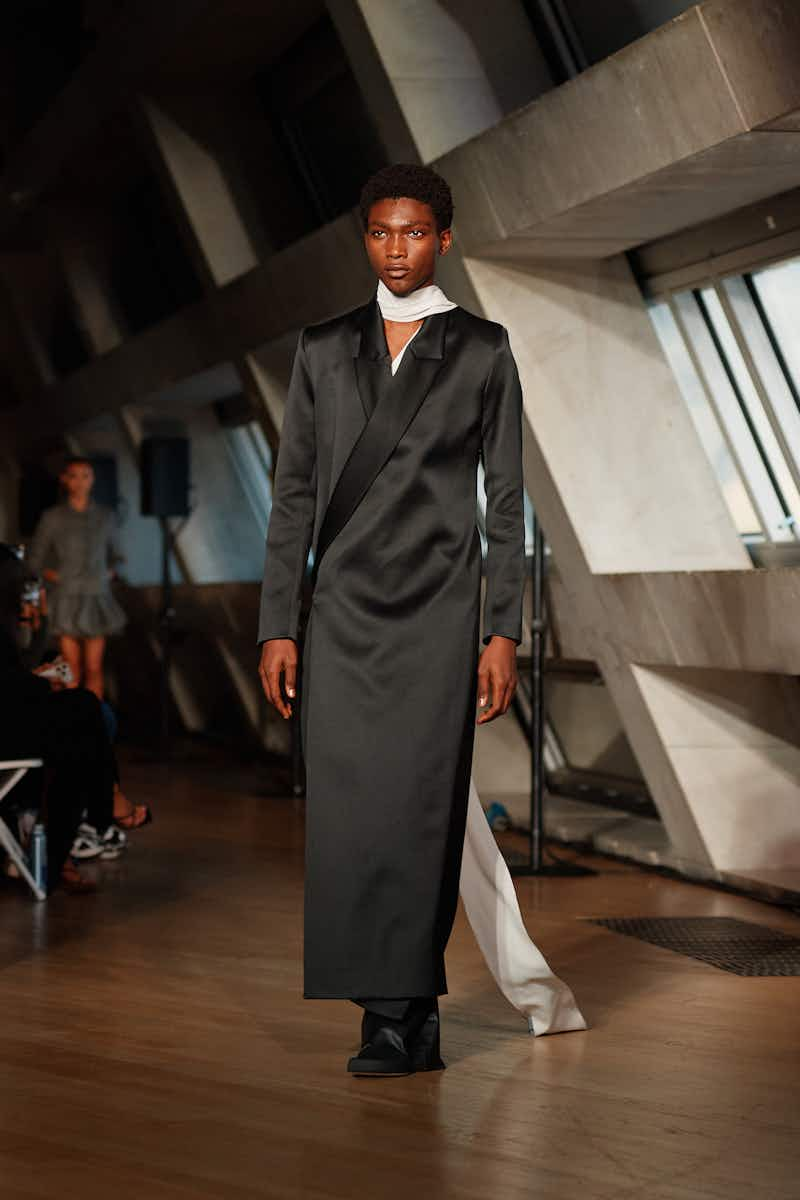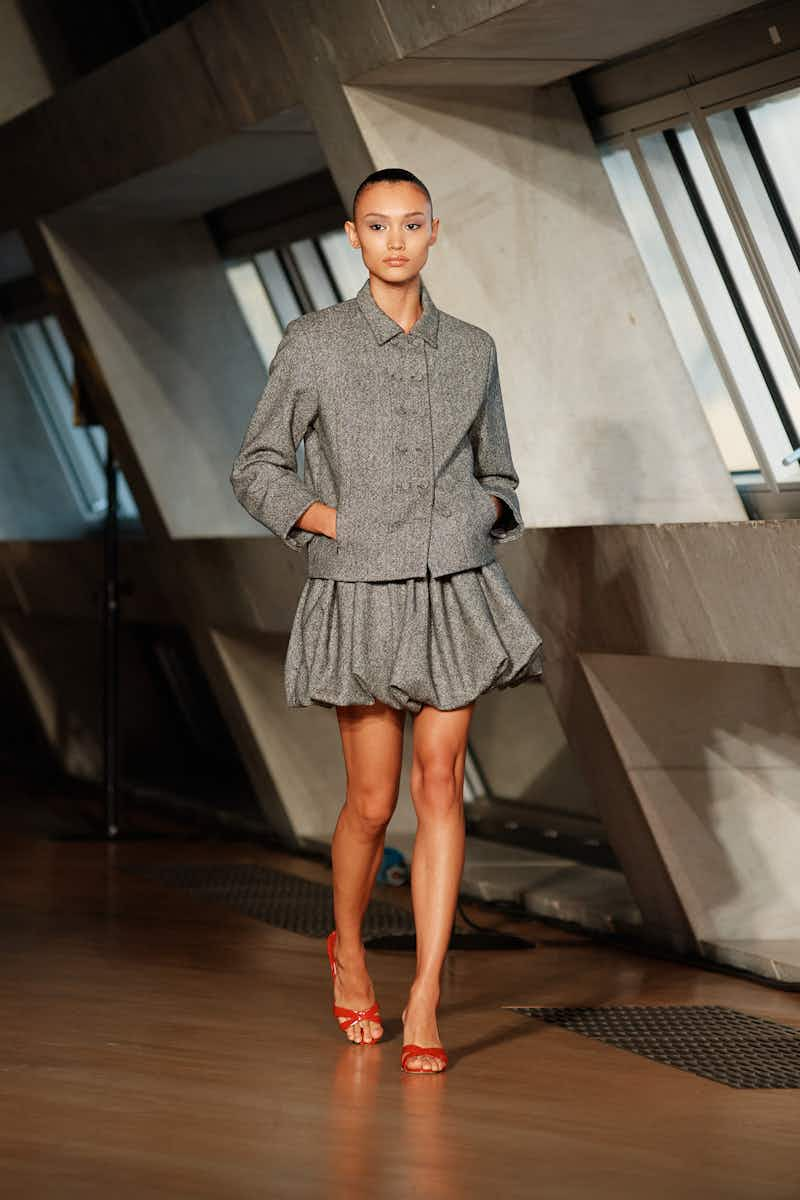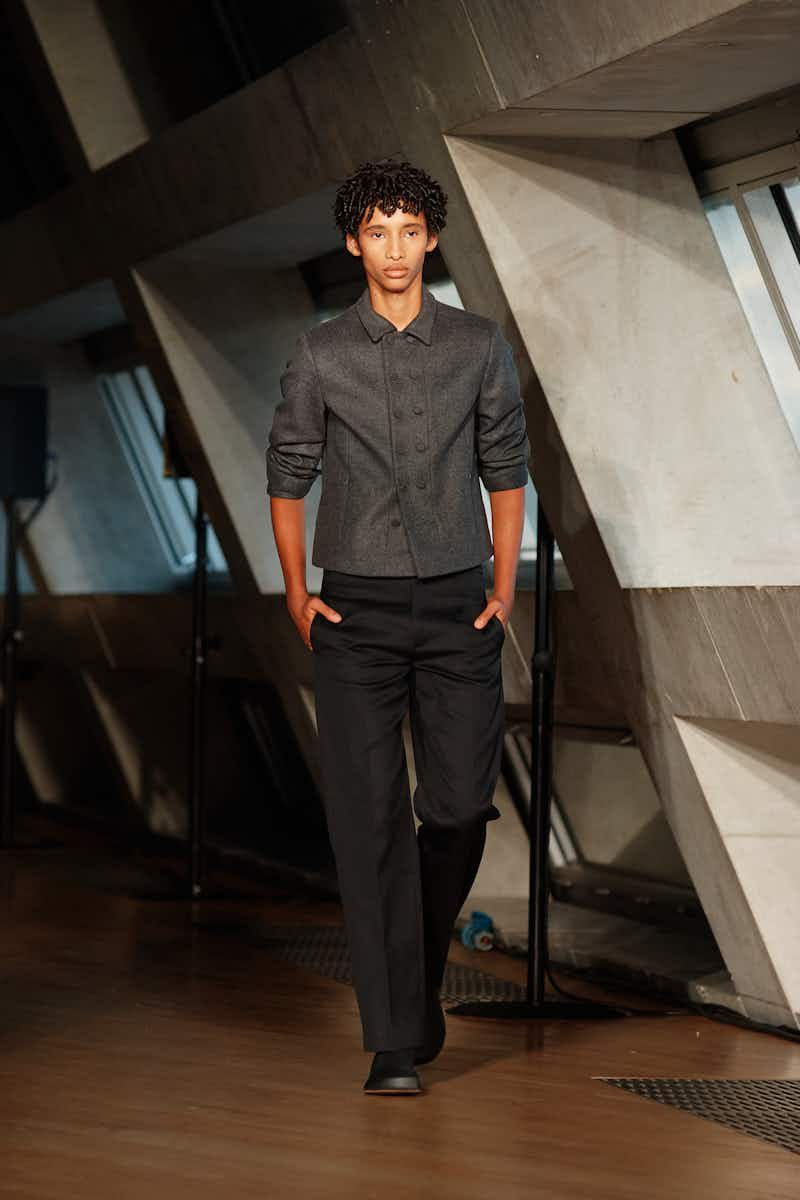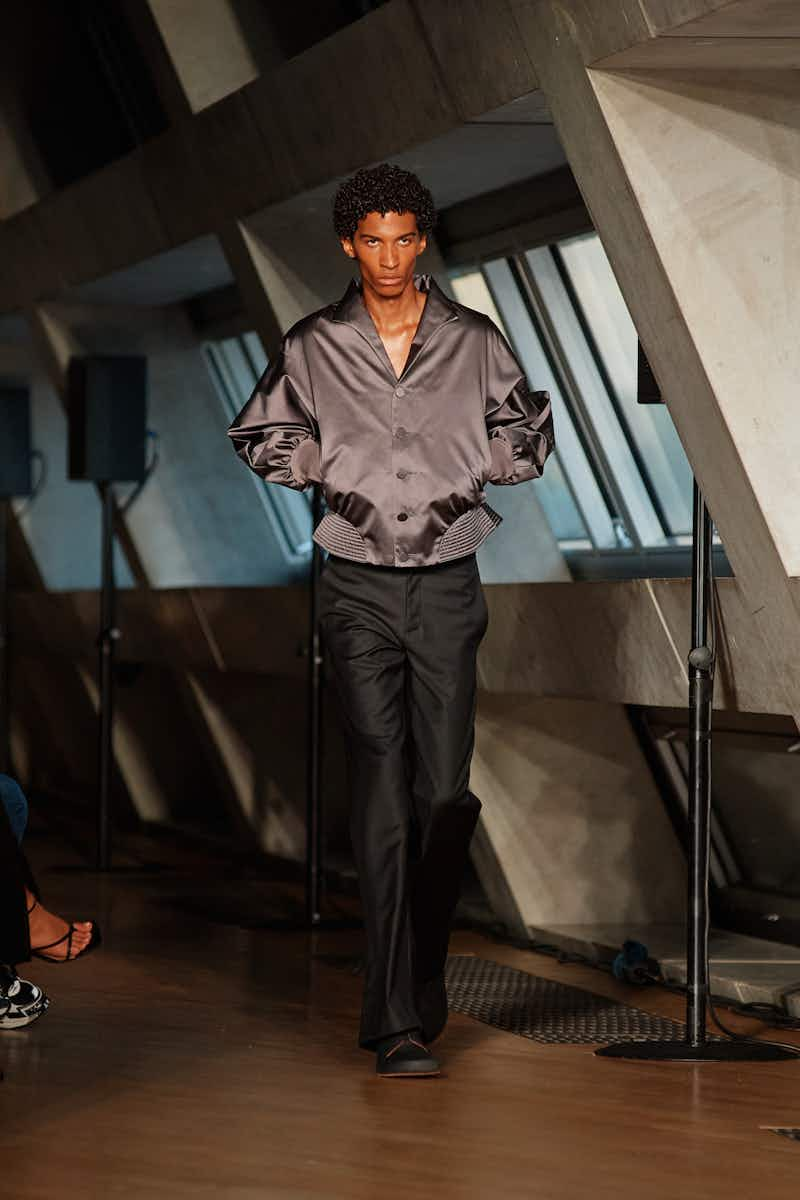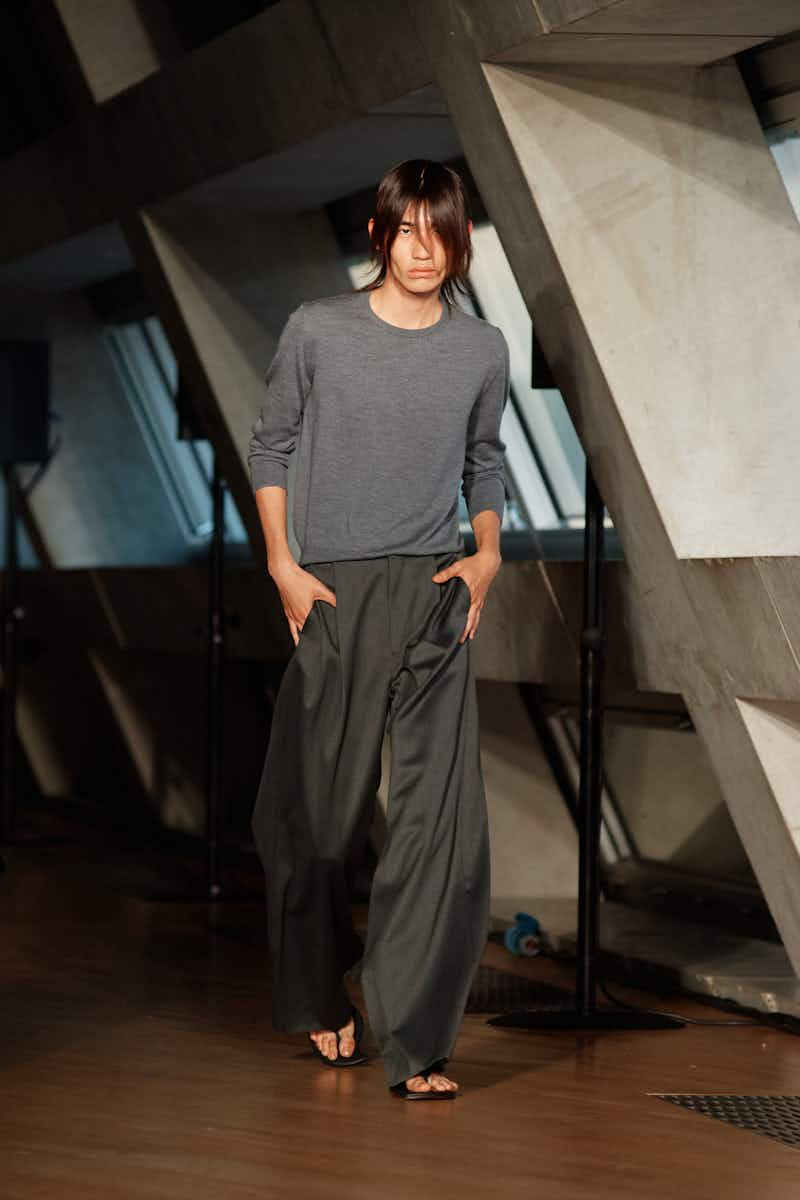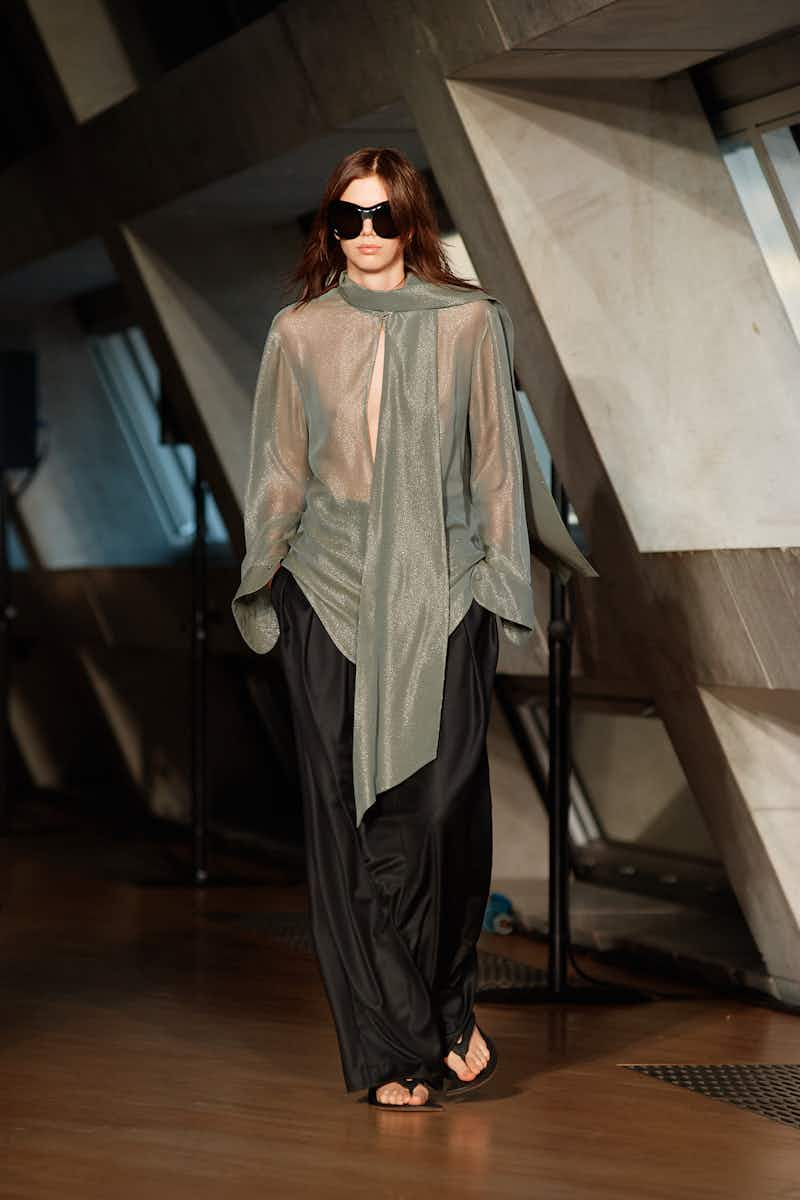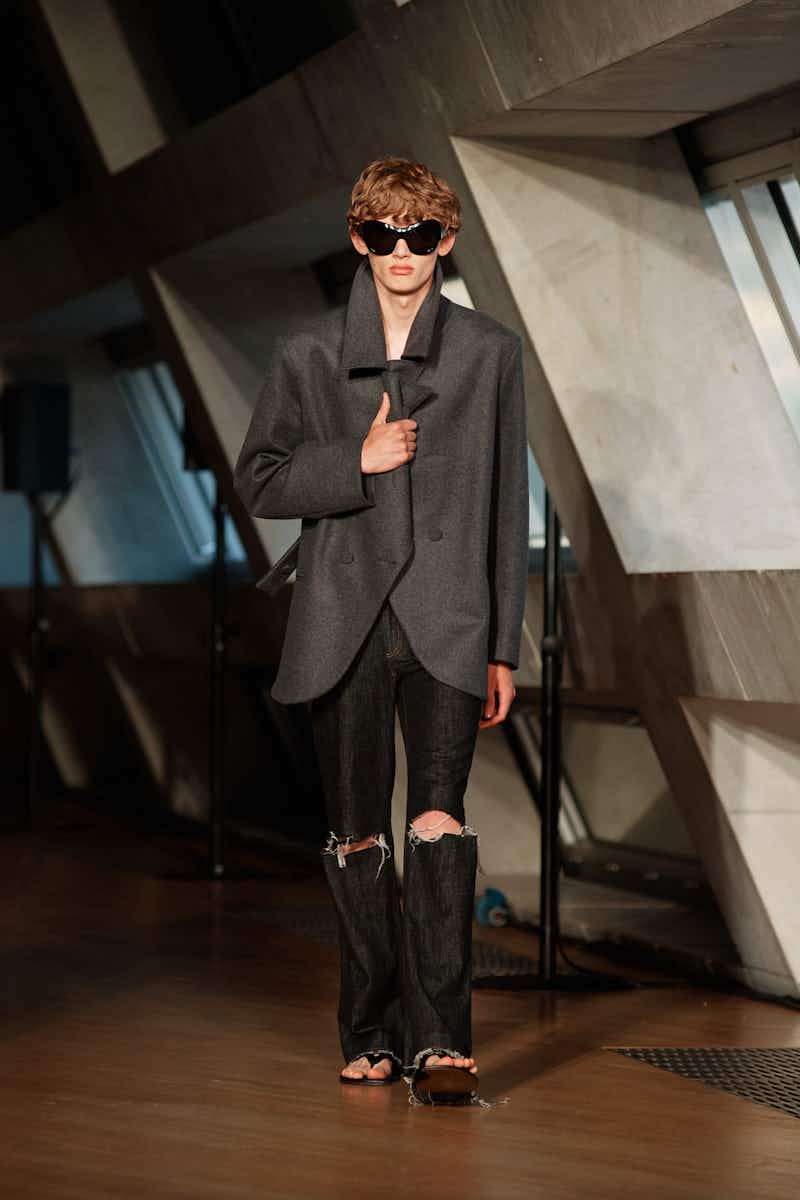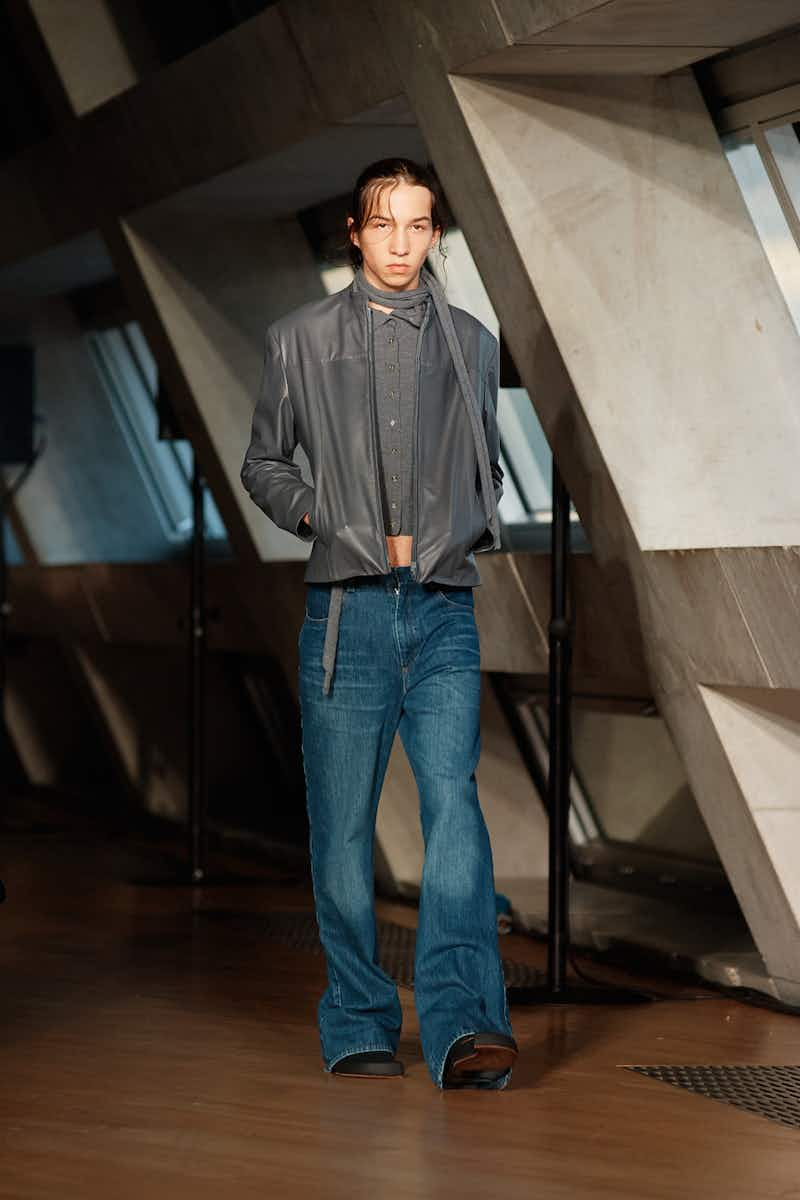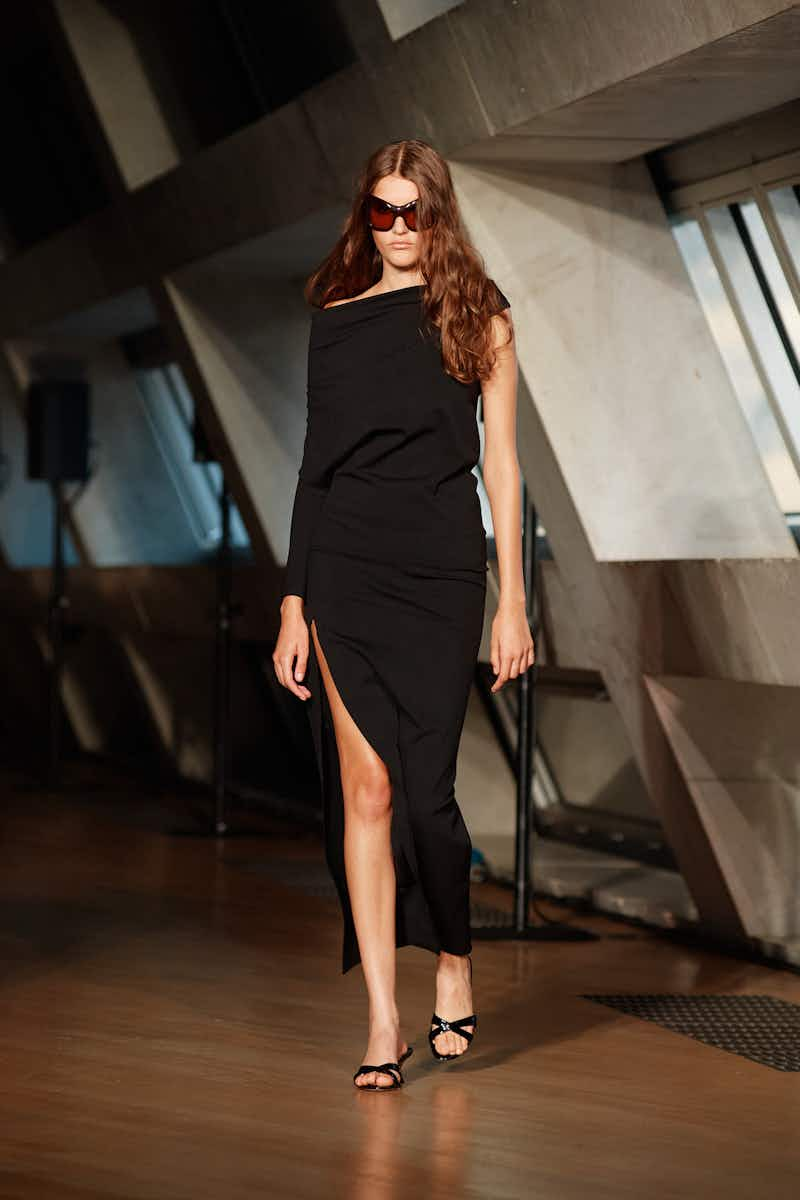 What?
Daniel Lee's hotly-anticipated second show as Burberry's chief creative officer. If Lee's debut felt like an ode to British domesticity, the Bradford-born designer was strolling through a palatial park this time round. There were playful summertime motifs aplenty, from trench coats made for rainy days in July to a pint of the good stuff in a pub garden when the sun comes back out.
Where?
Lee's back garden – kind of. He popped up a mammoth tartan tent in his own neighbourhood of North London's Highbury Fields. And, in the days leading up to the show, Burberry took over cult ​"greasy spoon" Norman's Cafe, which served up Guinness bread, tea and Eccles cakes to hungry punters, as well as turning Bond Street Tube station into ​"Burberry Street" for a few days, and printing the house's equestrian logo on the pavements of everywhere from outside Peckham Rye station to the middle of Soho.
What were the clothes like?
In a return to peak Britishness, Lee opened the show with a house signature – the trenchcoat. Lee modernised the classic, though; some were fitted close to the body, others much more relaxed and low-waisted. Lee was clearly inspired by the great outdoors, taking it back to Burberry's roots planted firmly in the countryside.
The collection notes affirmed that right now he's into the ​"clichés of British fruits and English meadows". So, like a modern-day Thomas Hardy, Lee incorporated the best bits of the country at every turn. There were blue strawberry prints, tailoring dotted with abstract cherries and pears, as well as poppy and forget-me-not motifs.
The streetwear signs and silhouettes of Lee's Burberry debut in February felt worlds apart for his second outing. In its place, we see a version that has combed its hair and put on its Sunday best for a frolic in the meadows.
Who was there?
It was a real knees-up affair, with Britain's finest faces sat front and centre, from Skepta to Blur frontman Damon Albarn, Jodie Comer, Kylie Minogue, Georgia May Jagger, Mo Farah, Rachel Weisz and Top Boy​'s Kano.
In a British conversation starter?
The weather.

WORDS: Sophie Walsh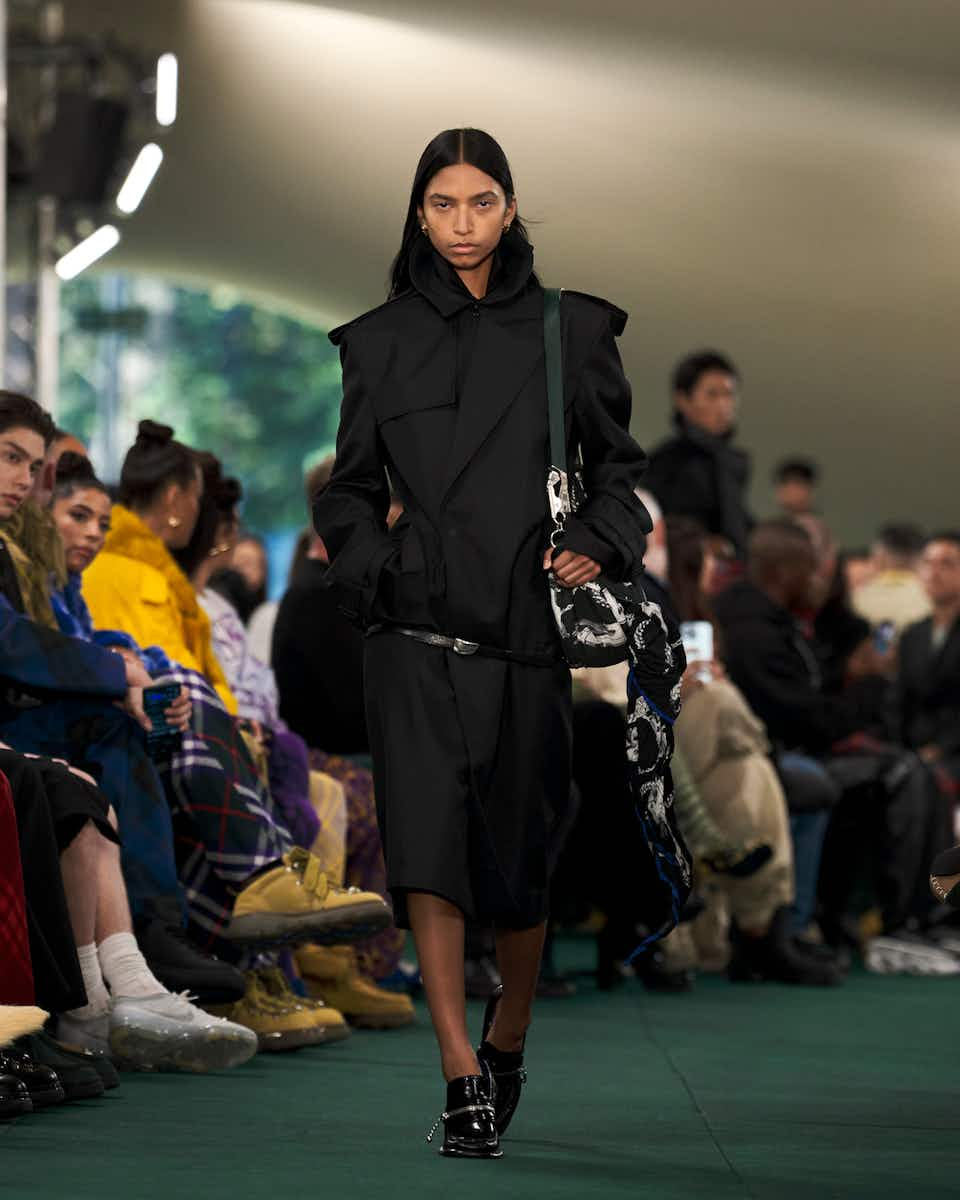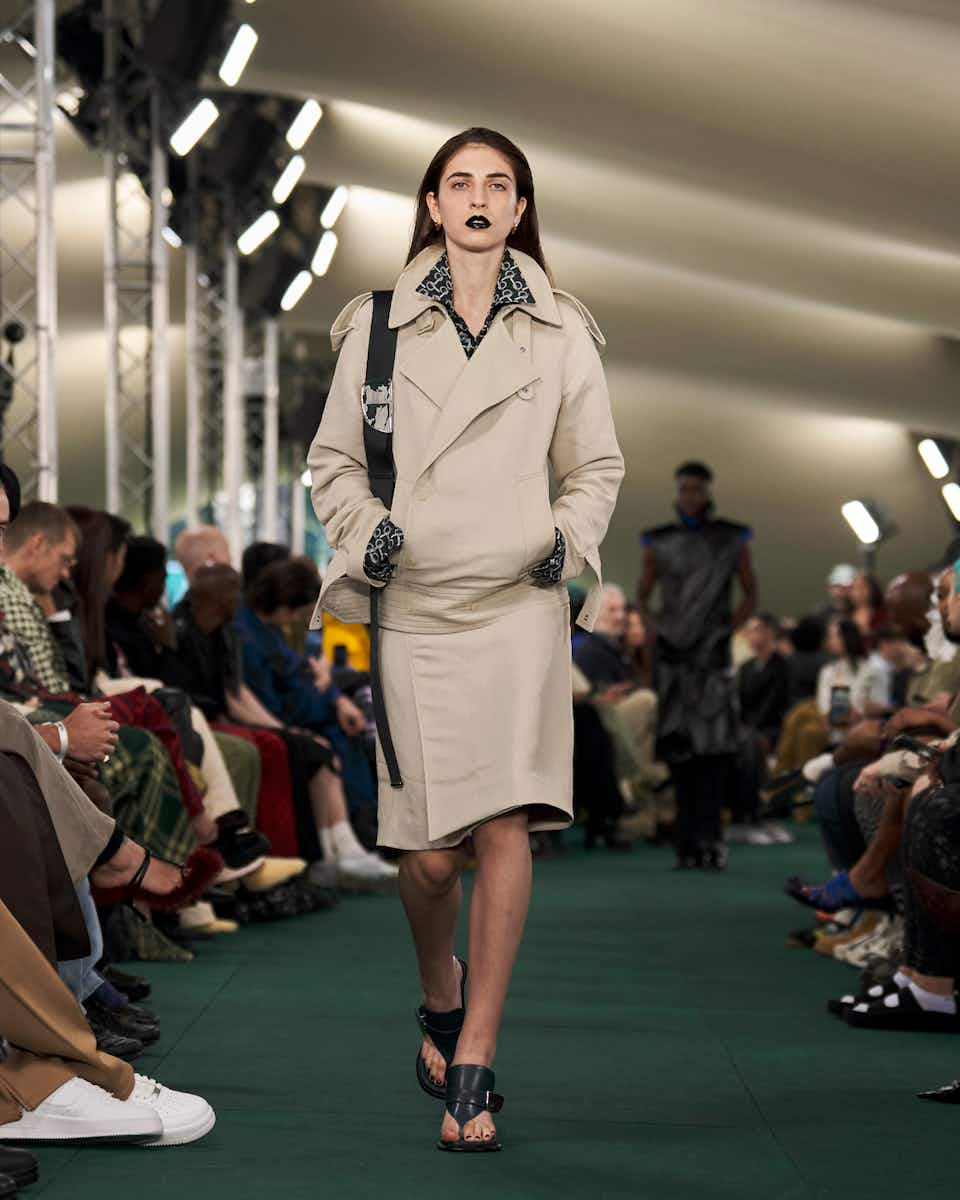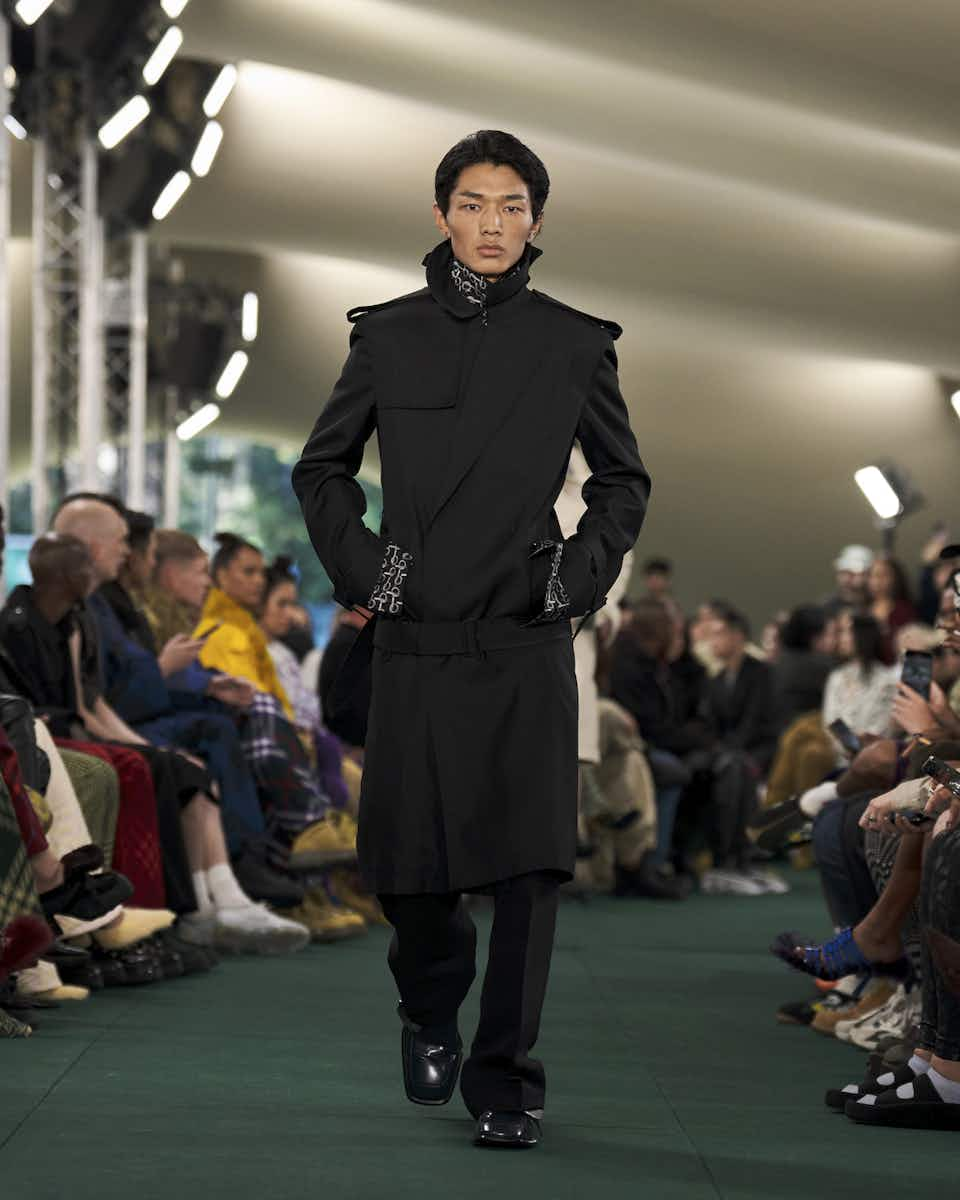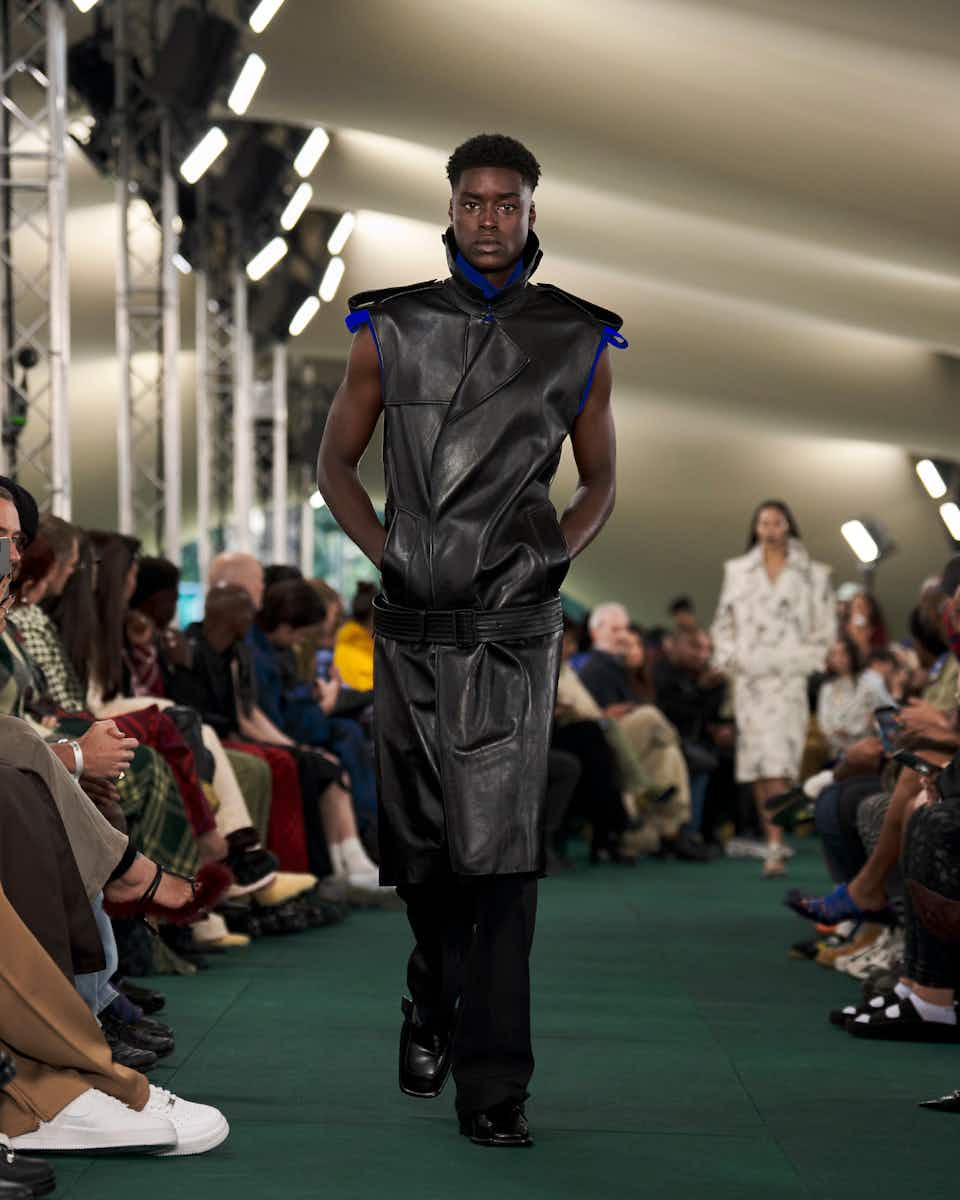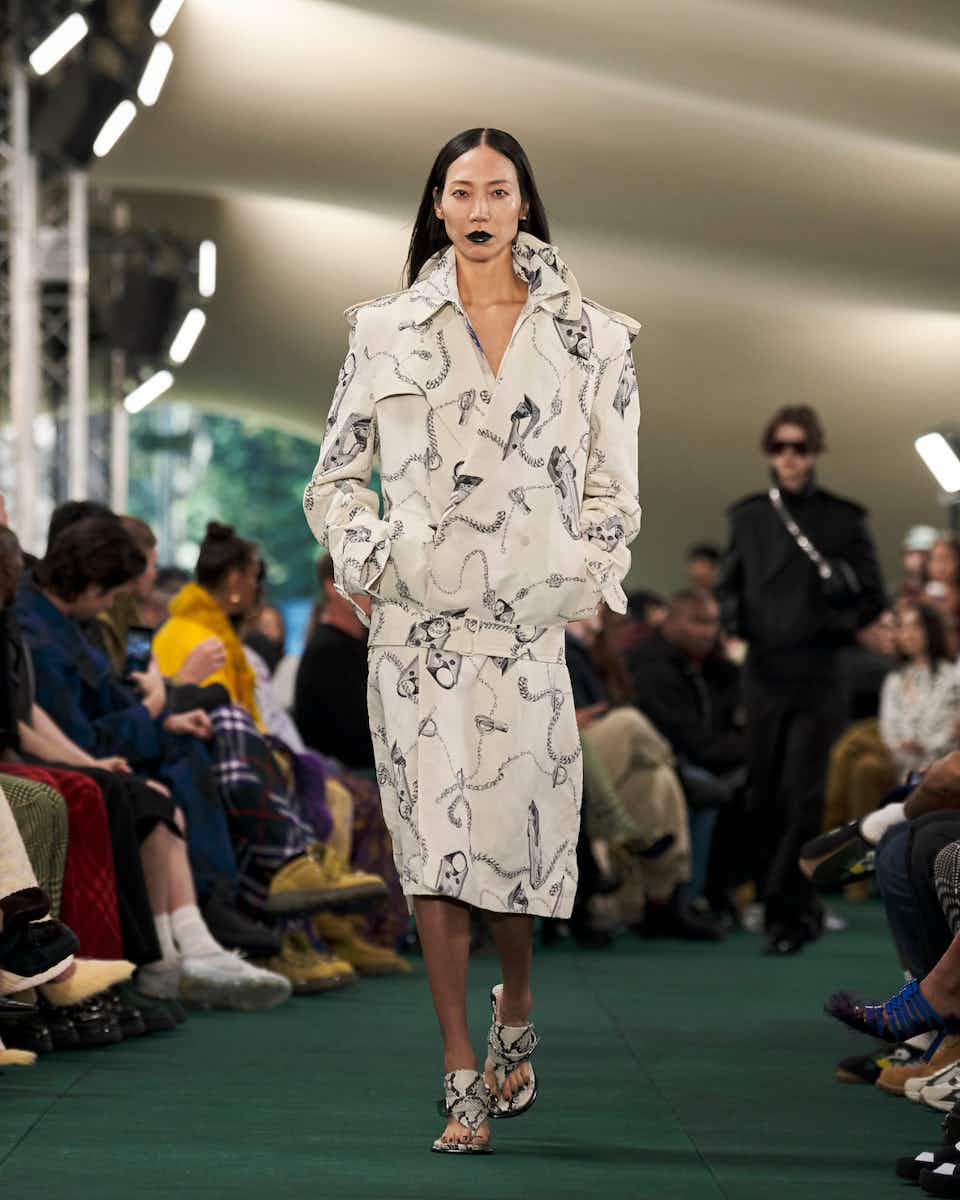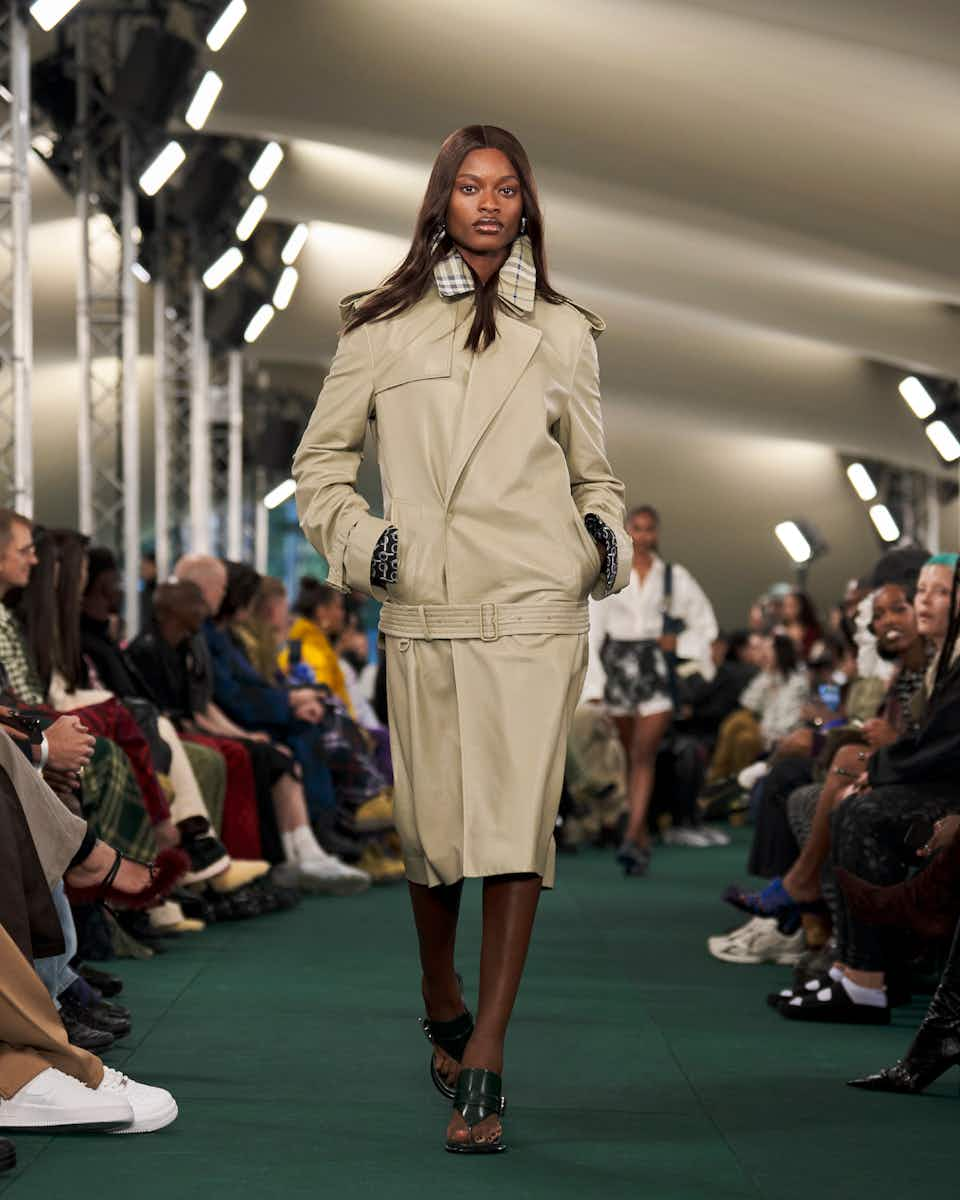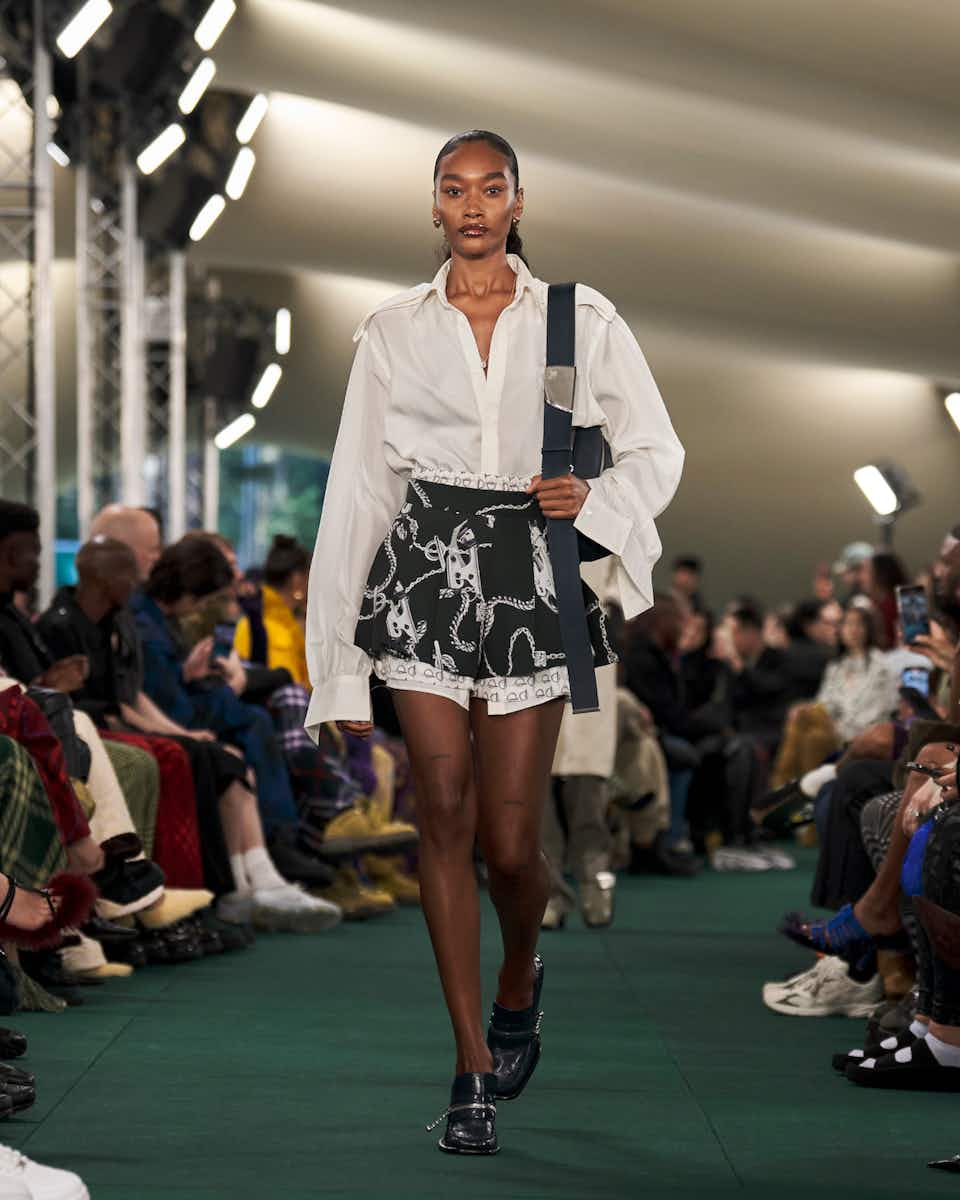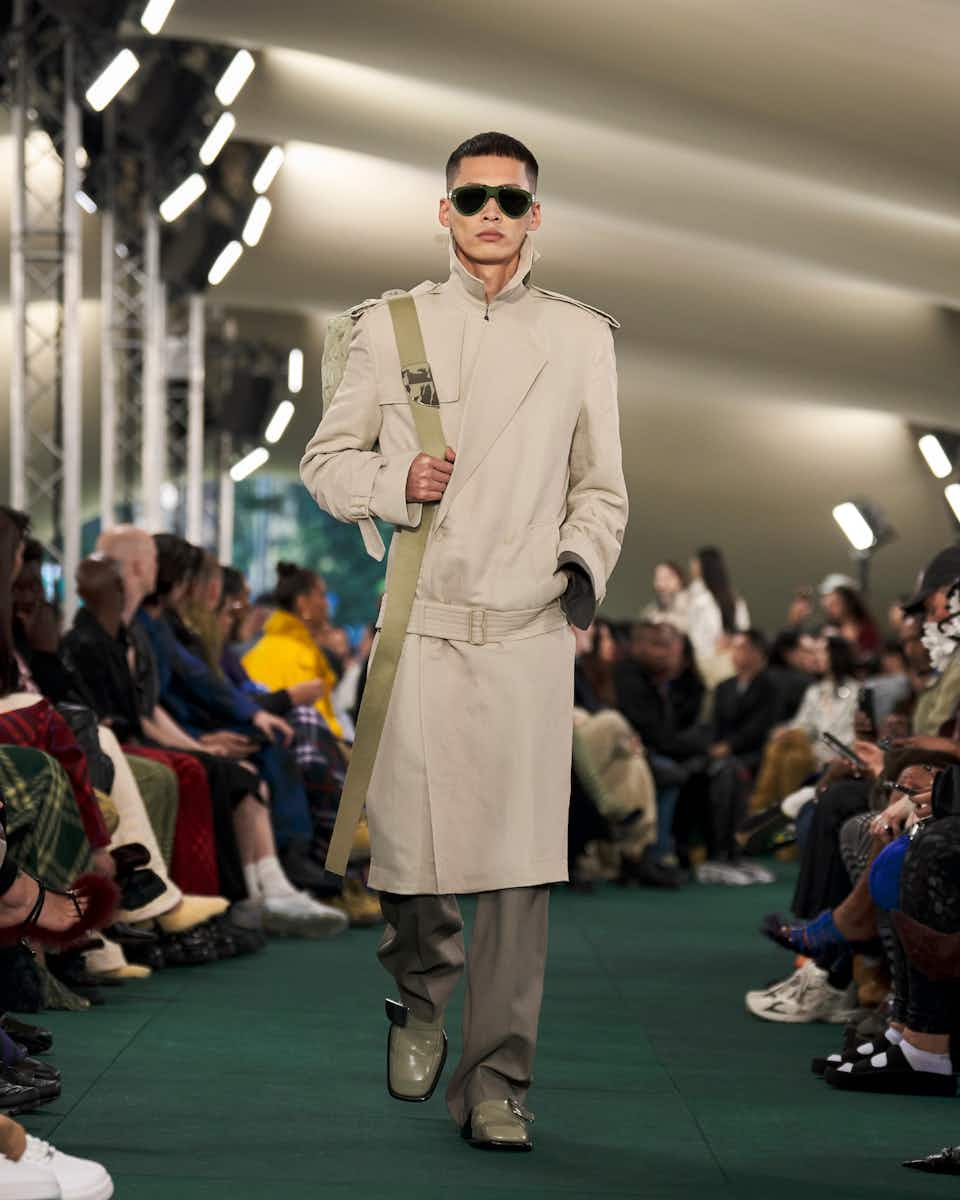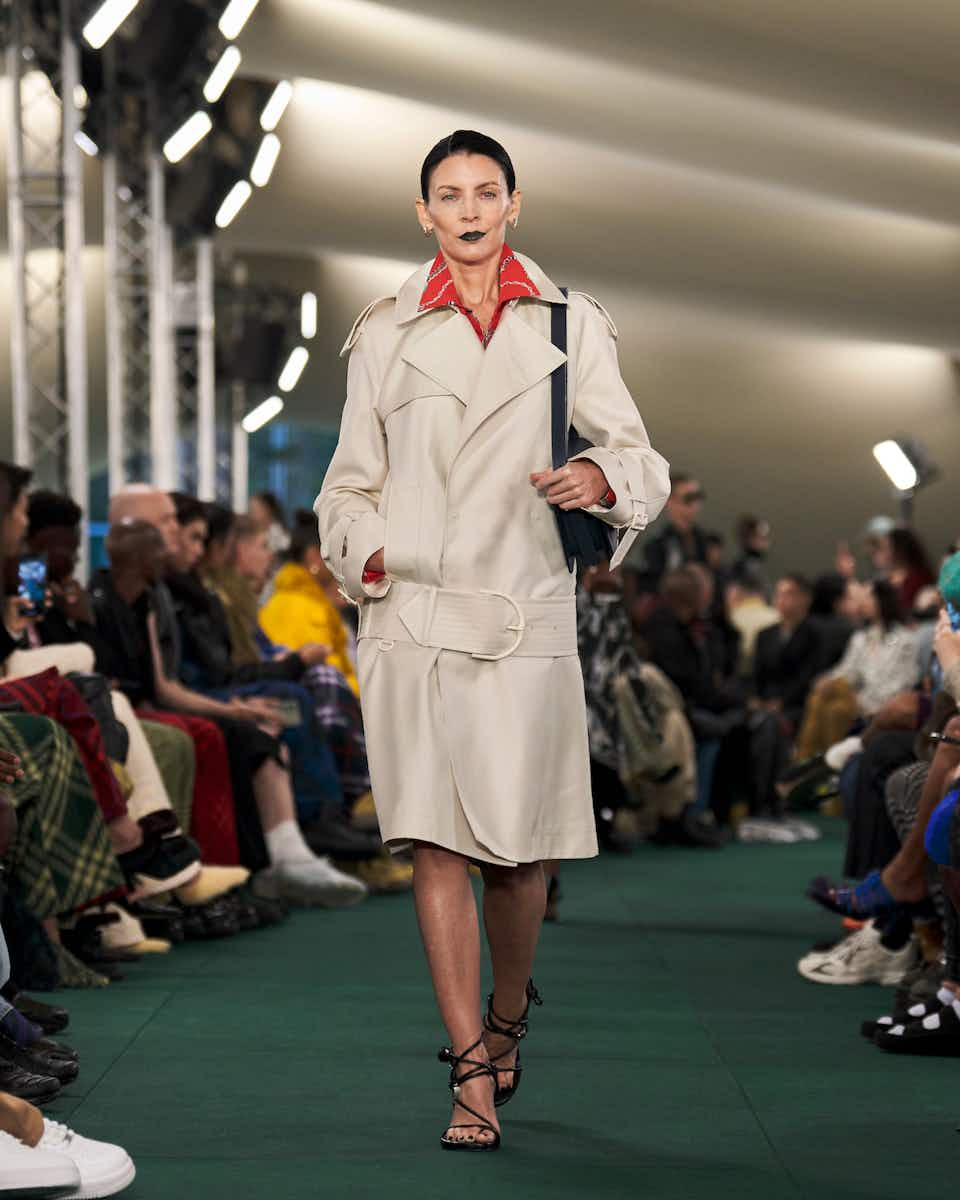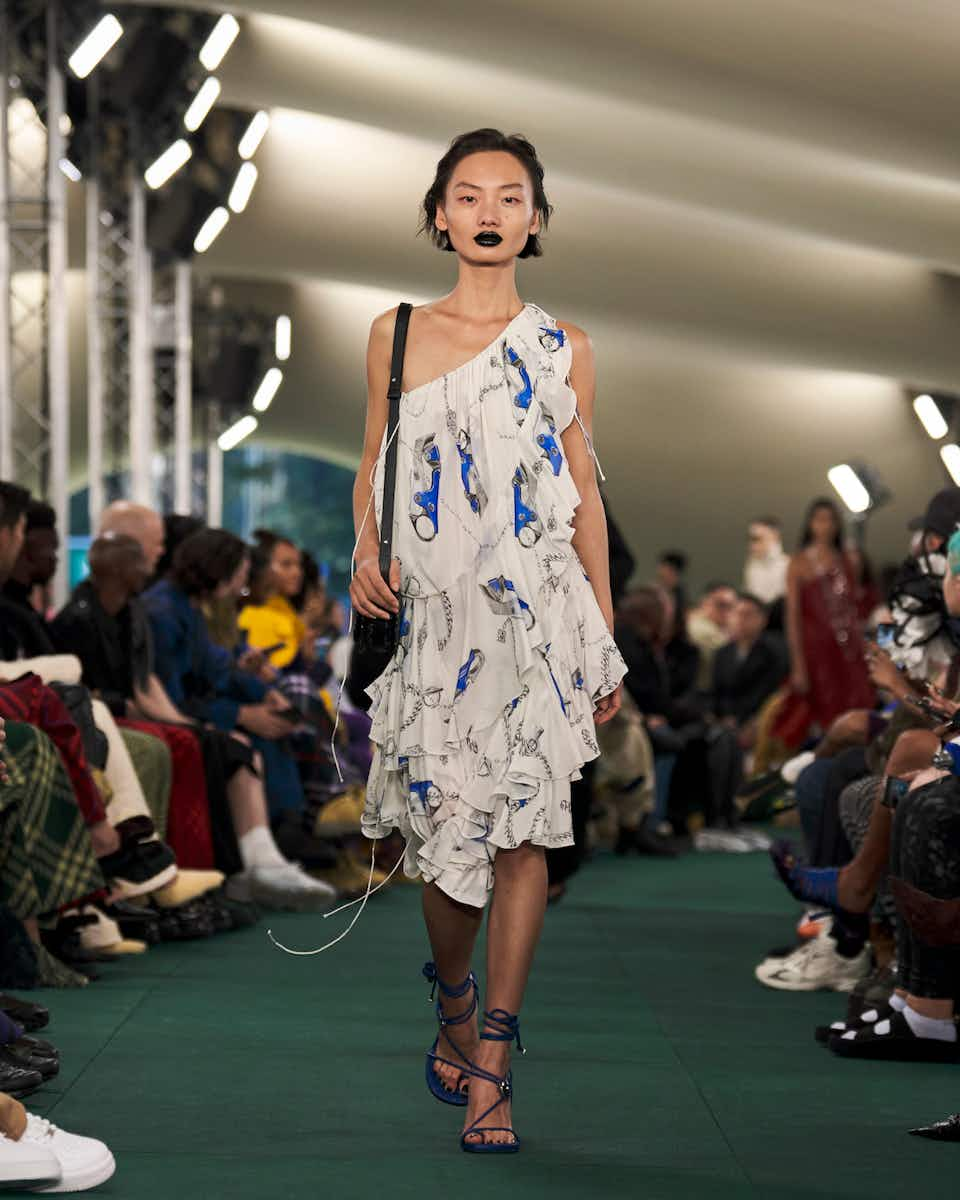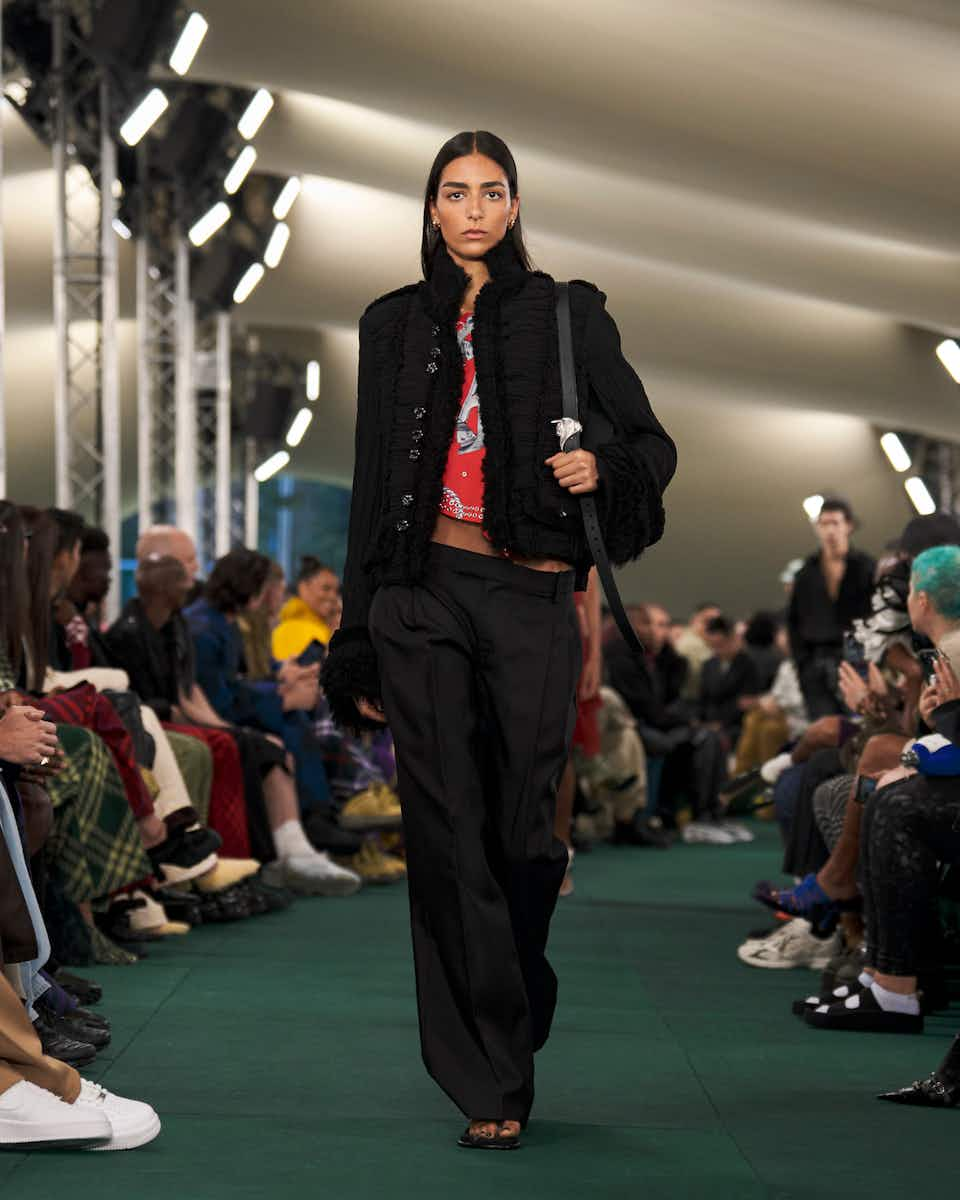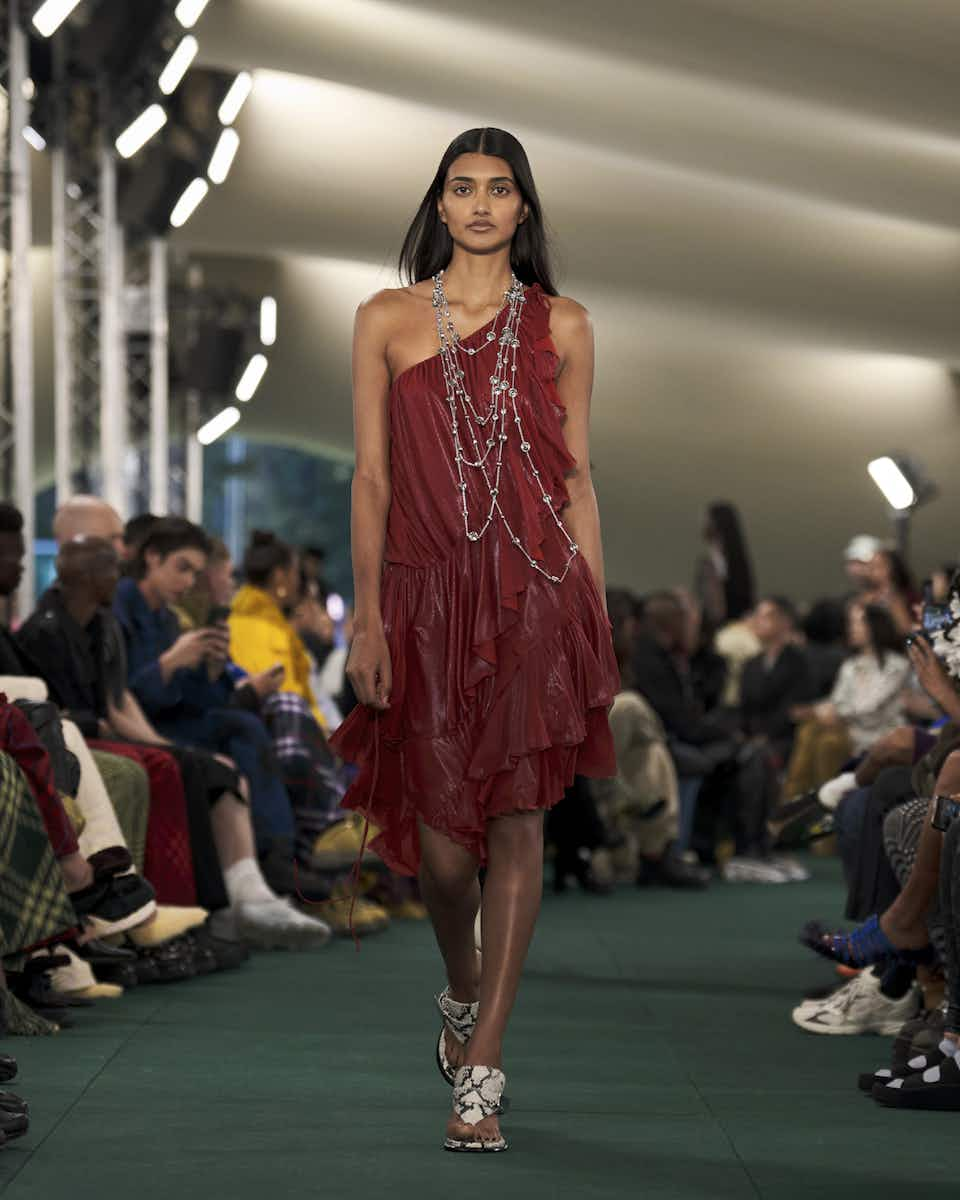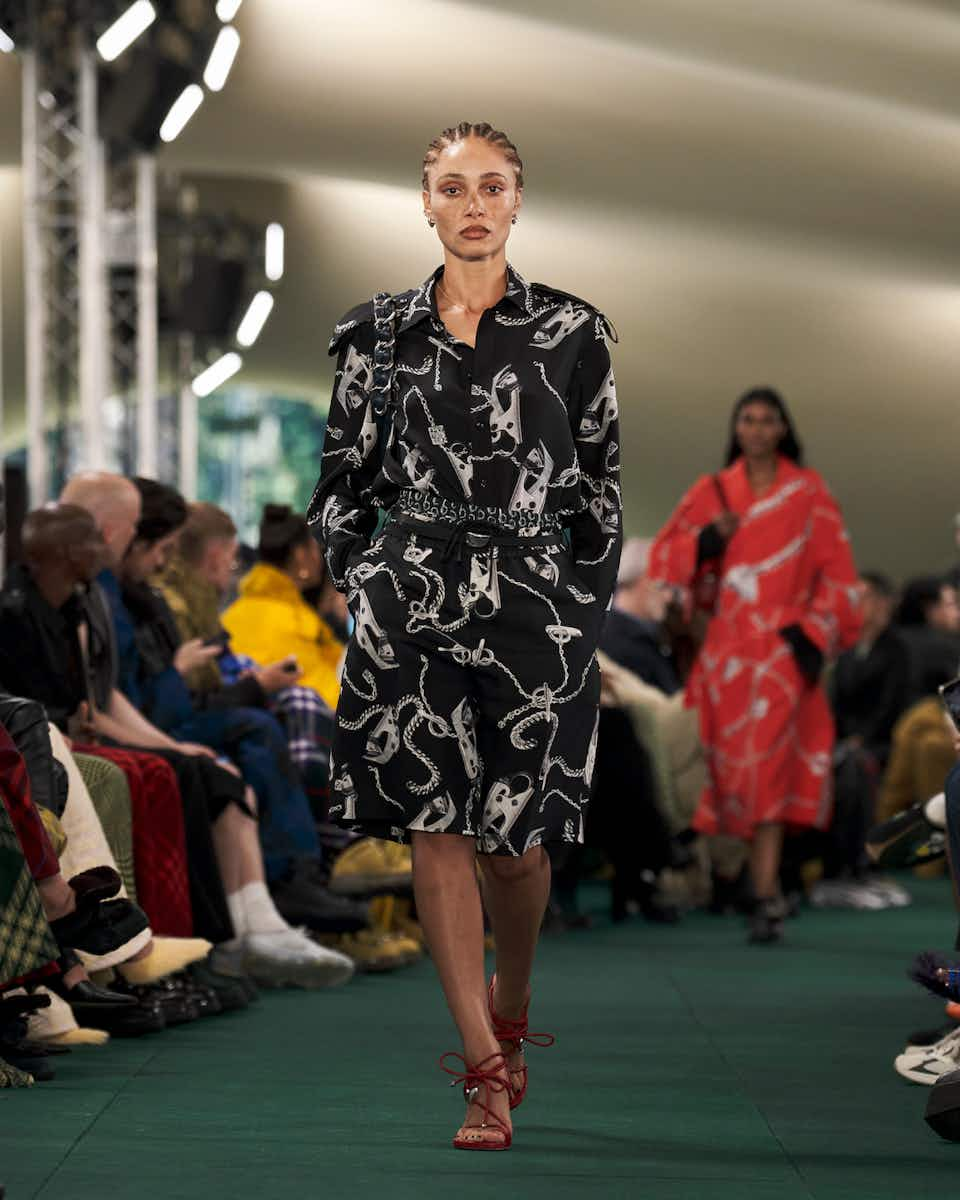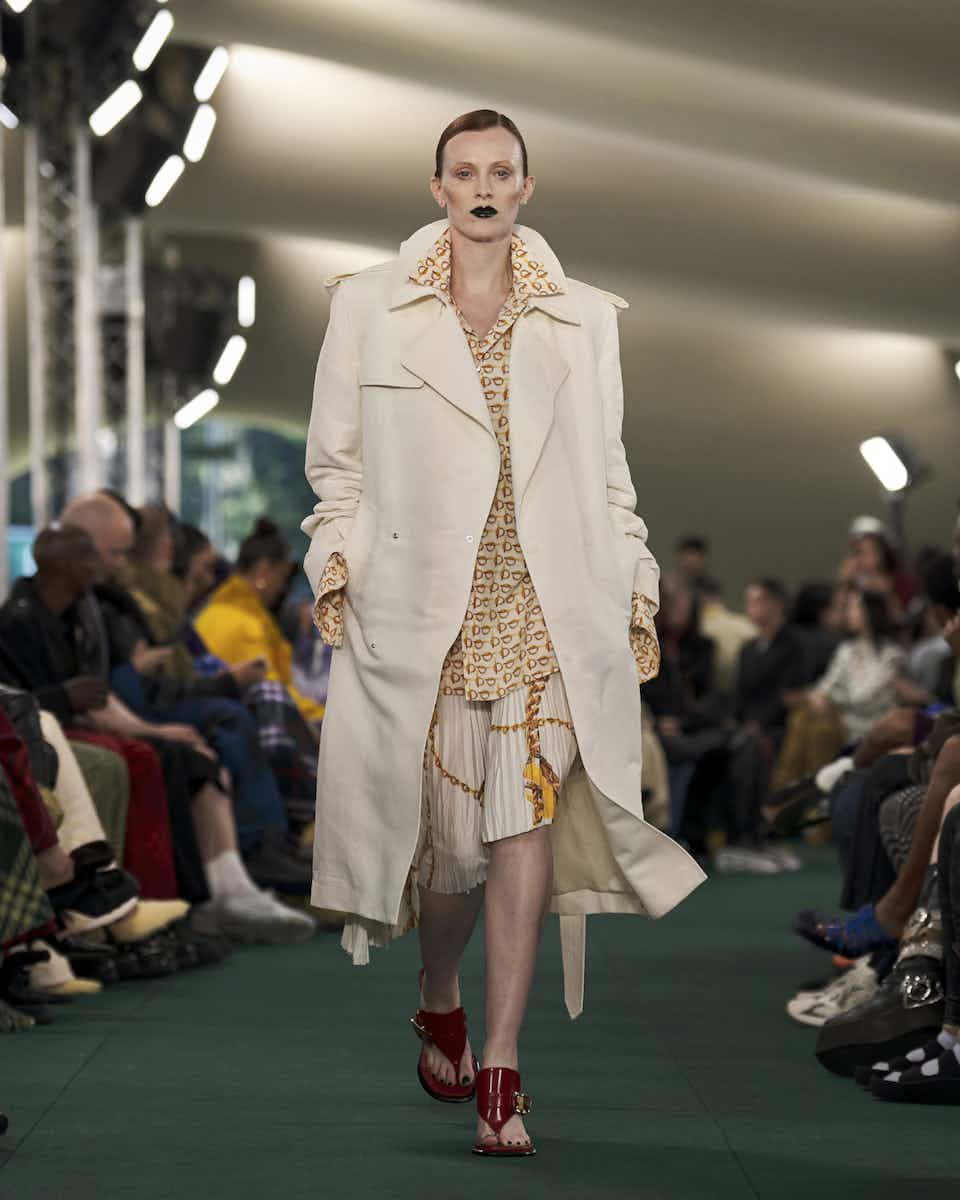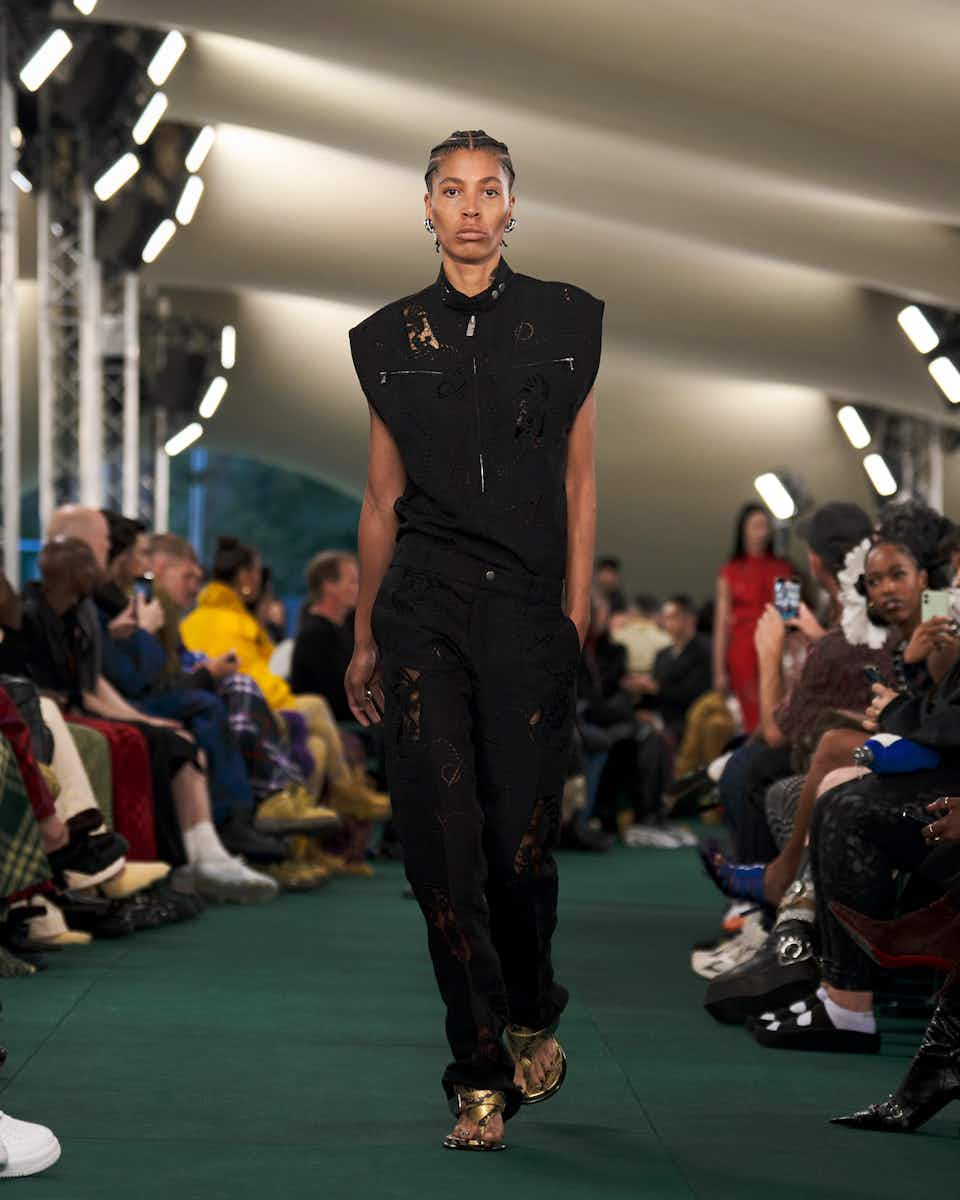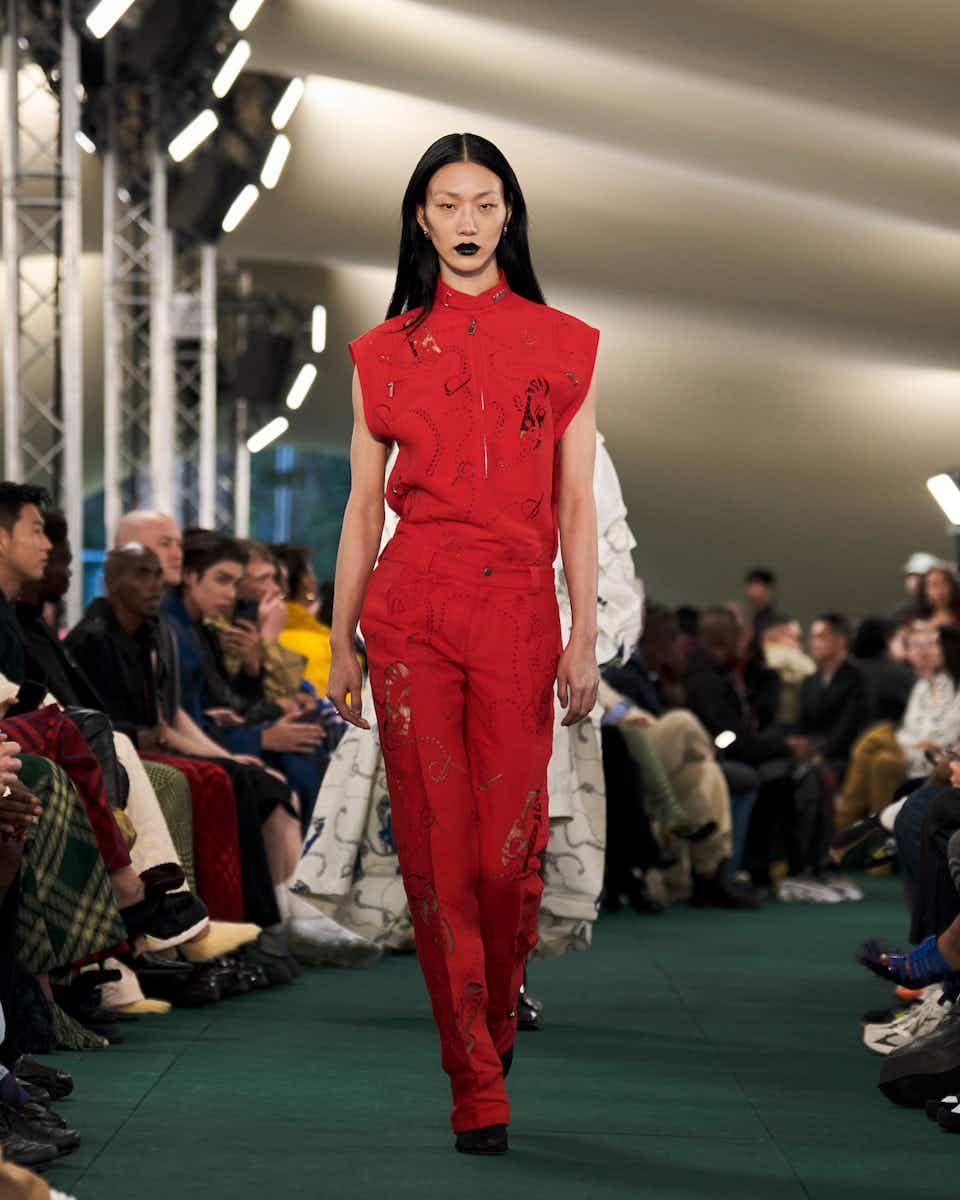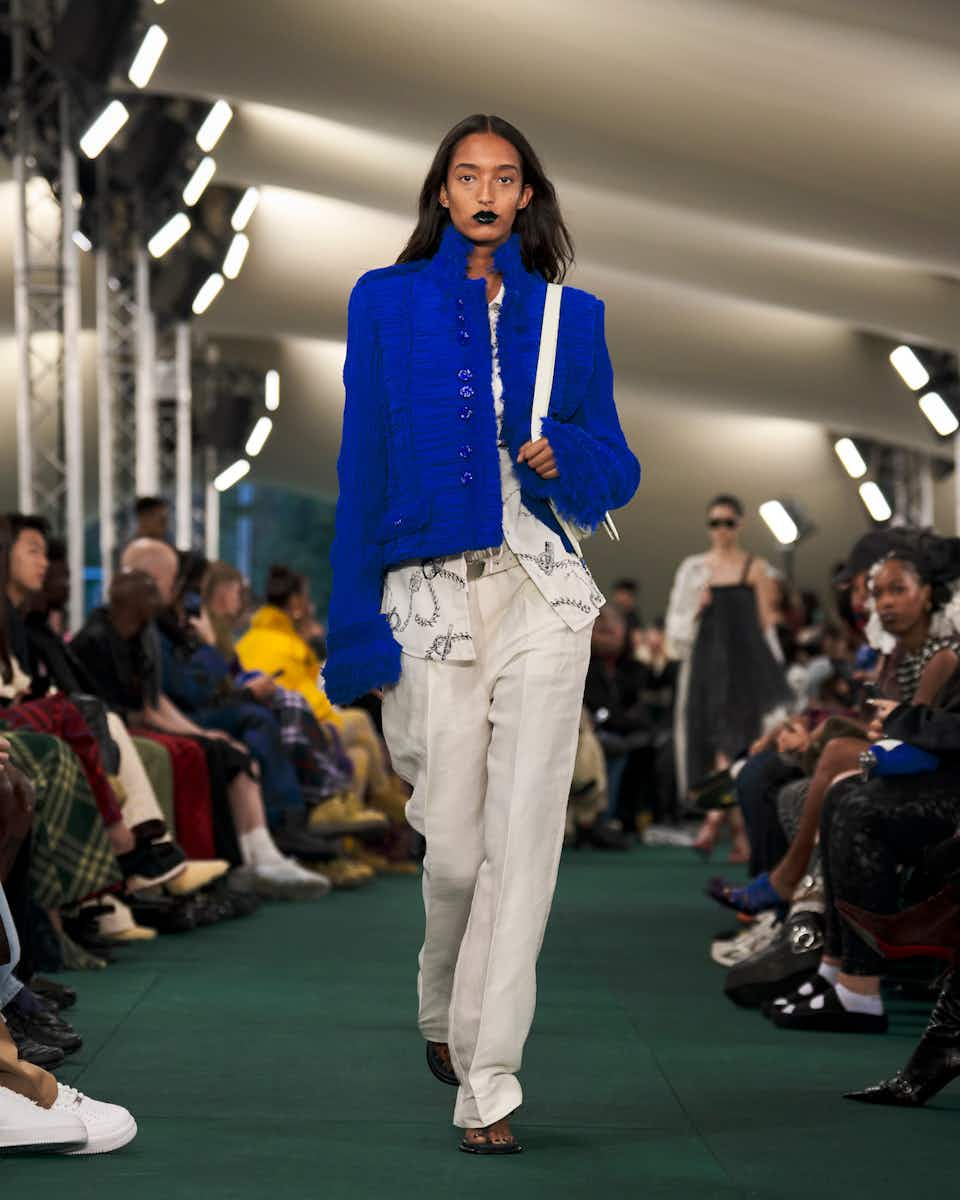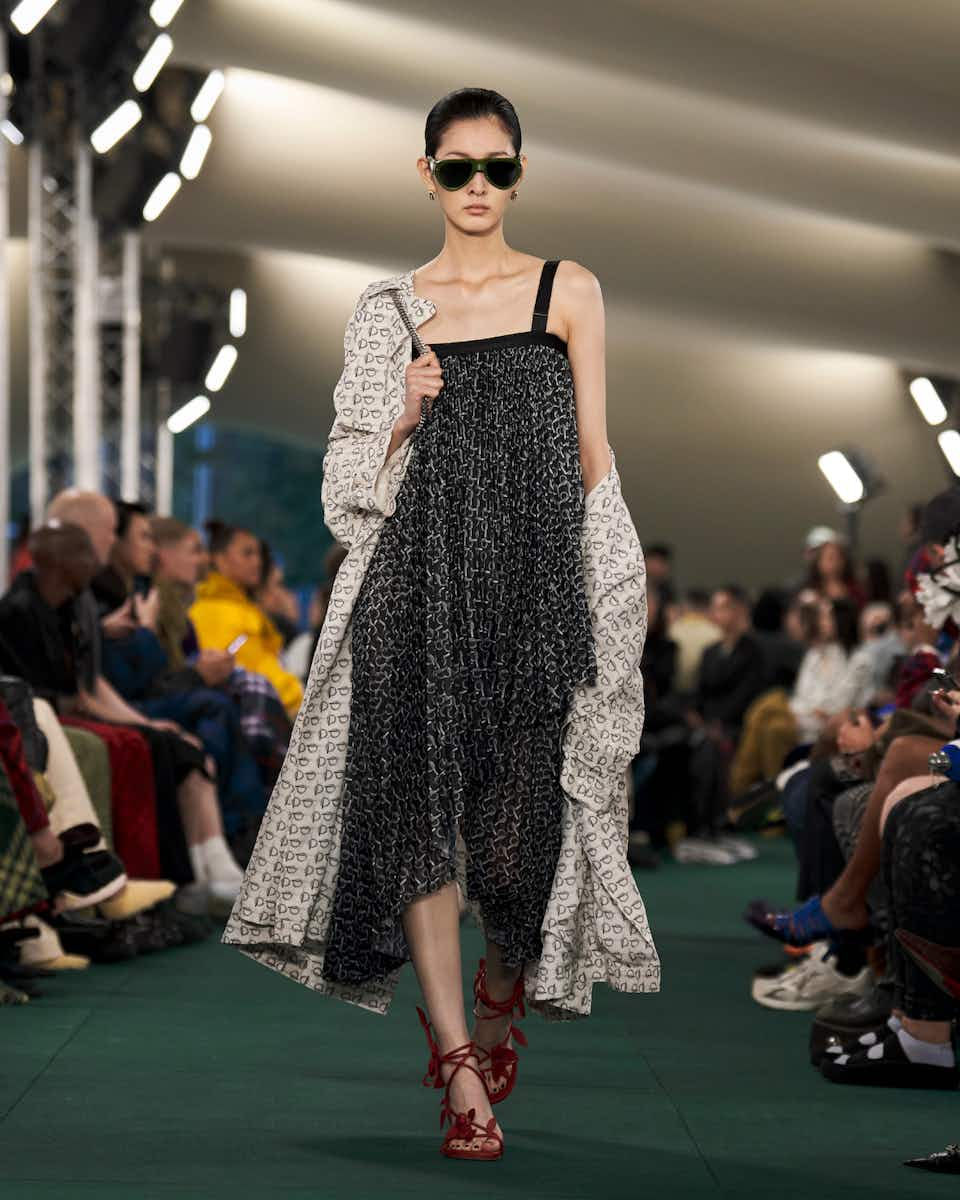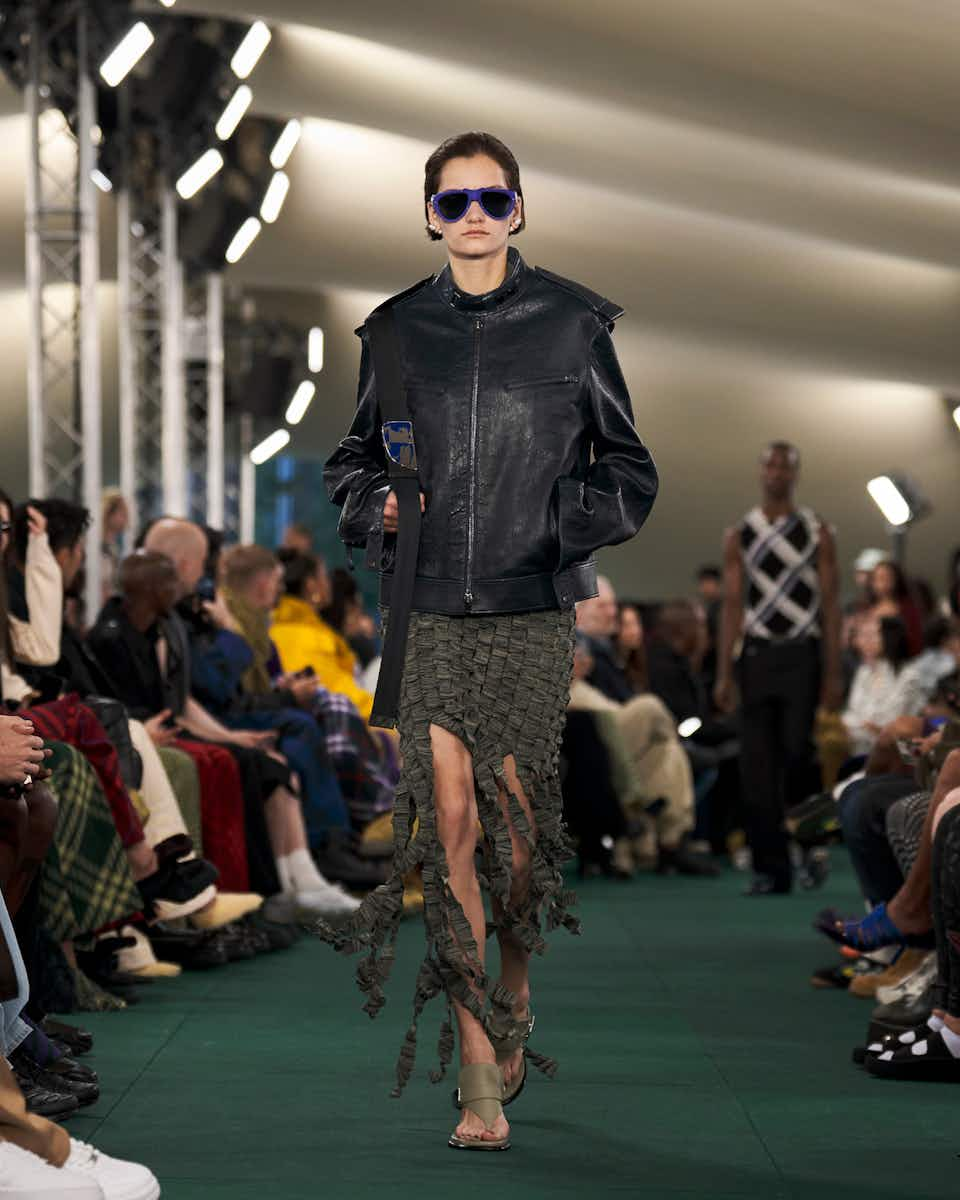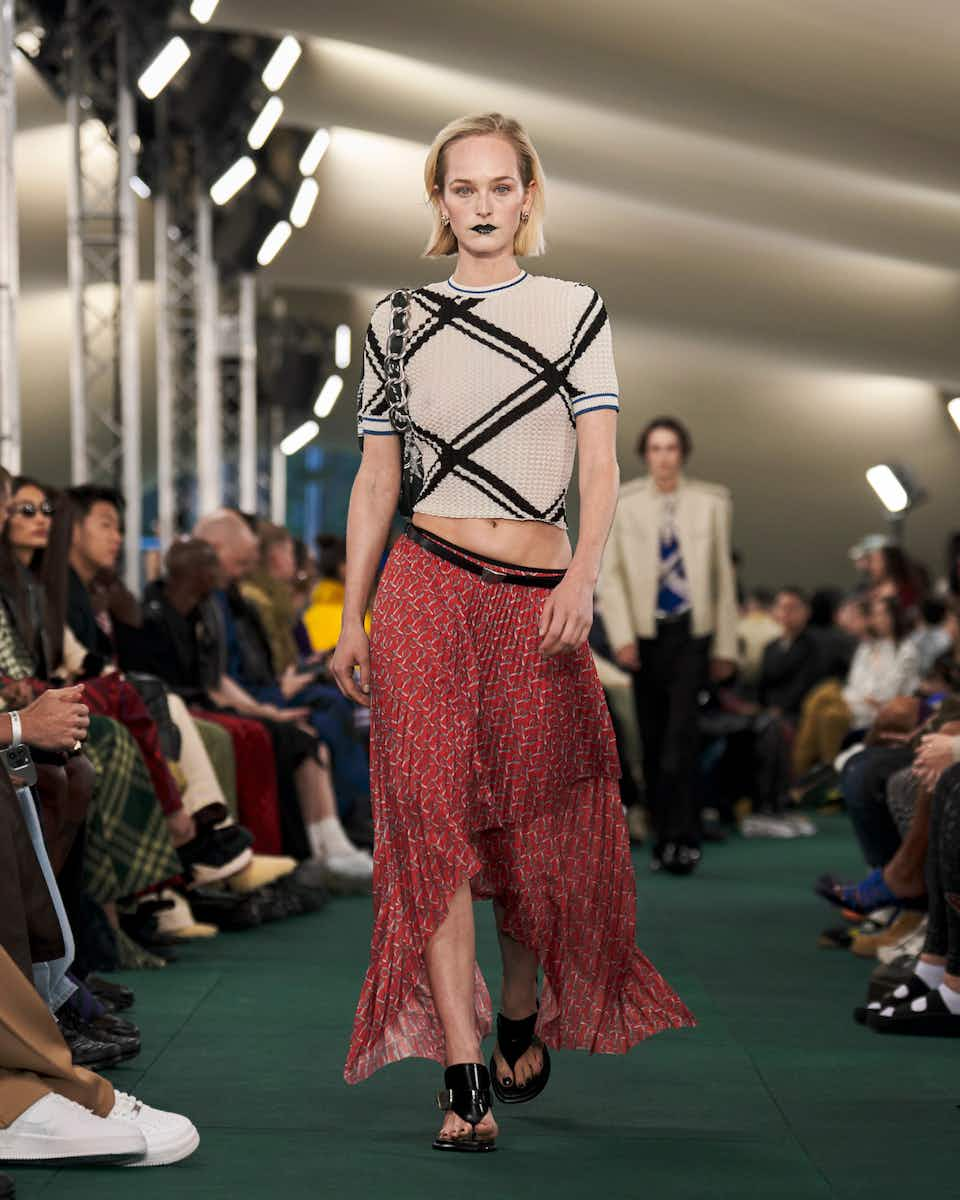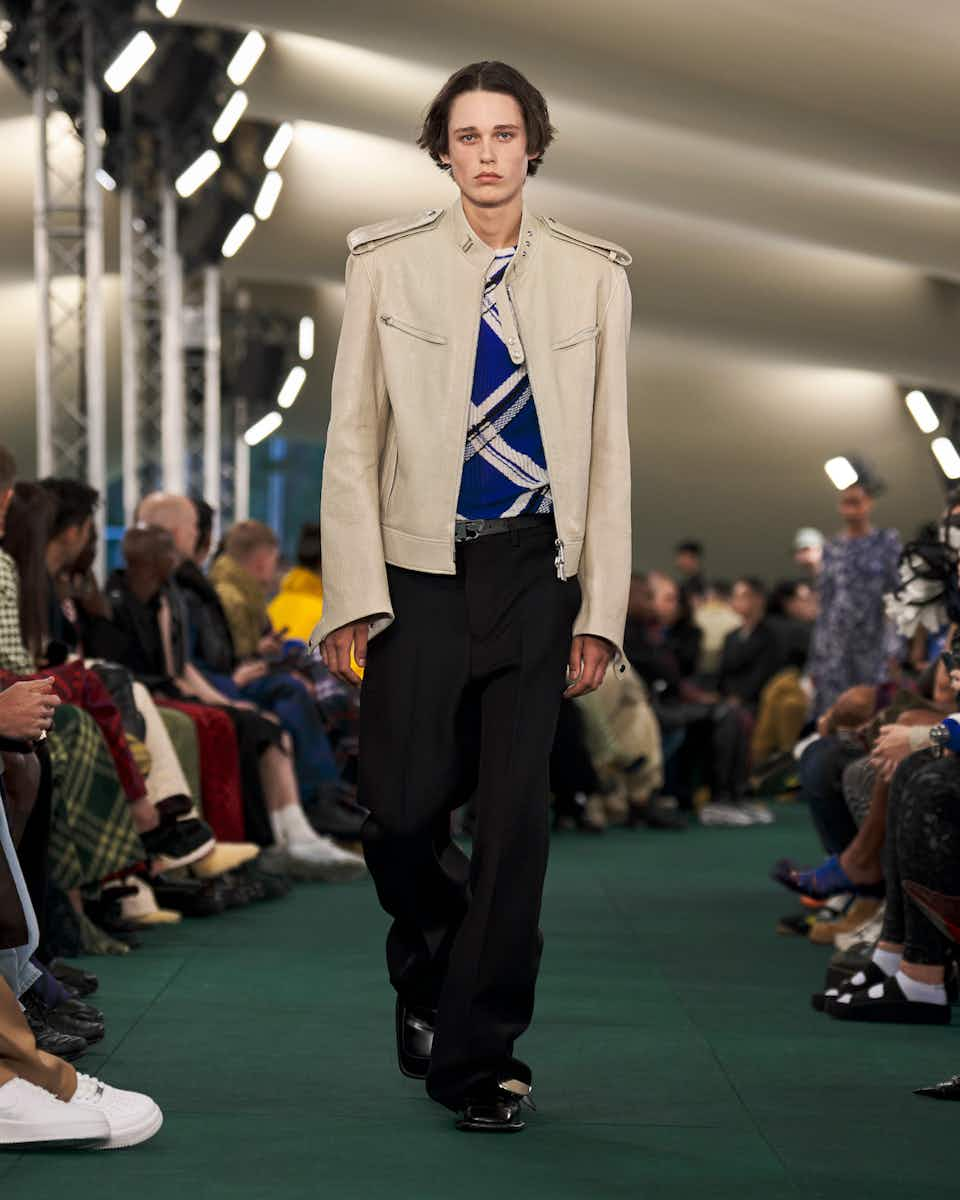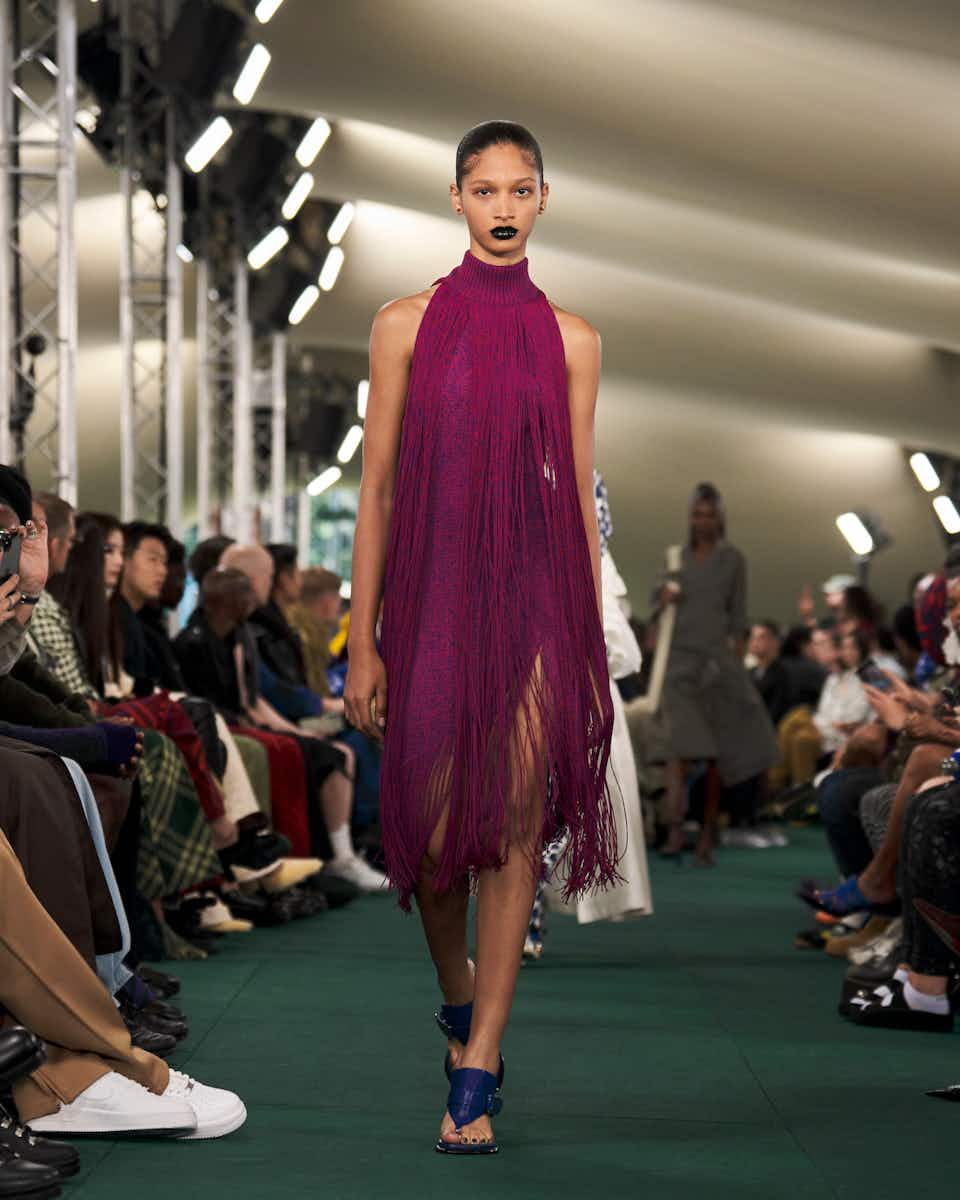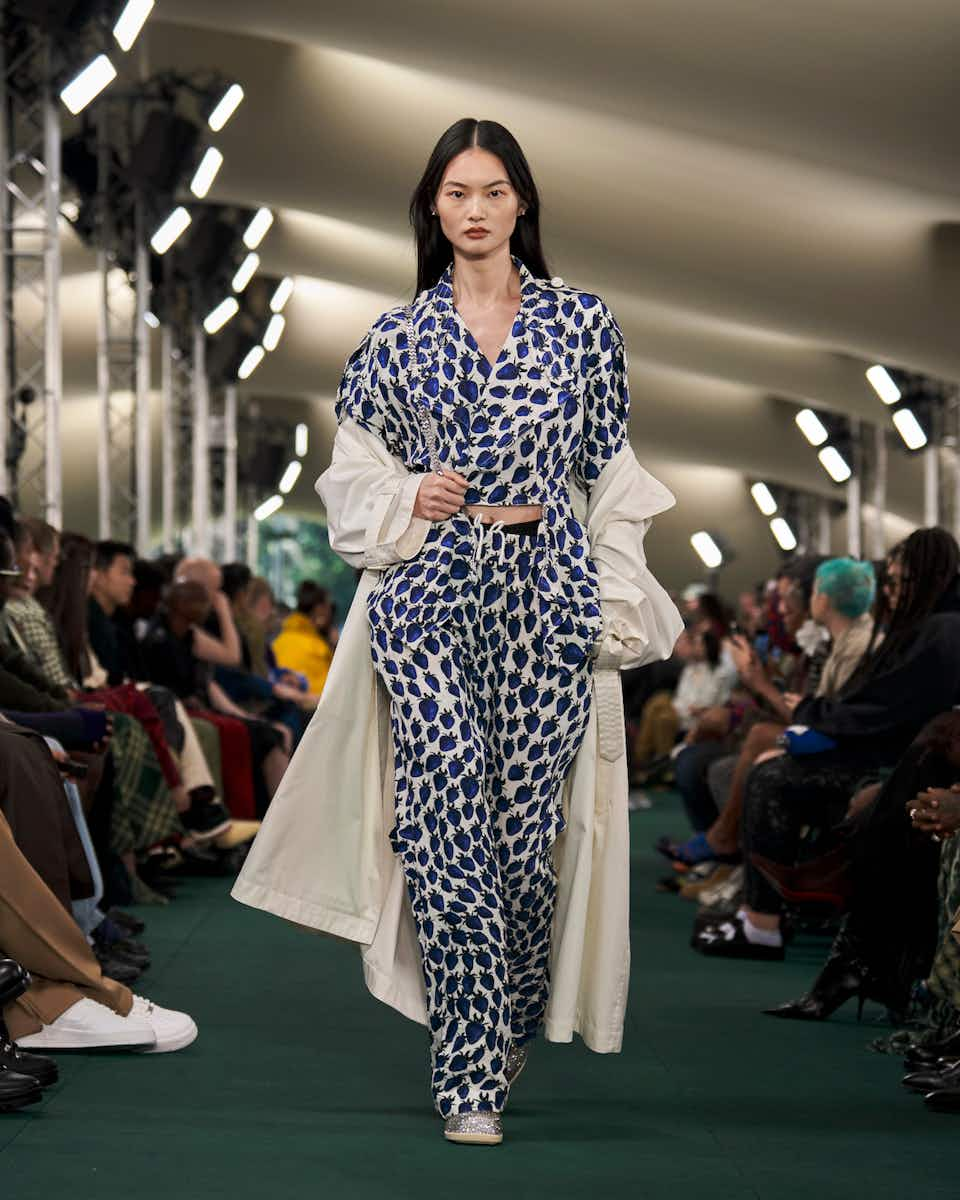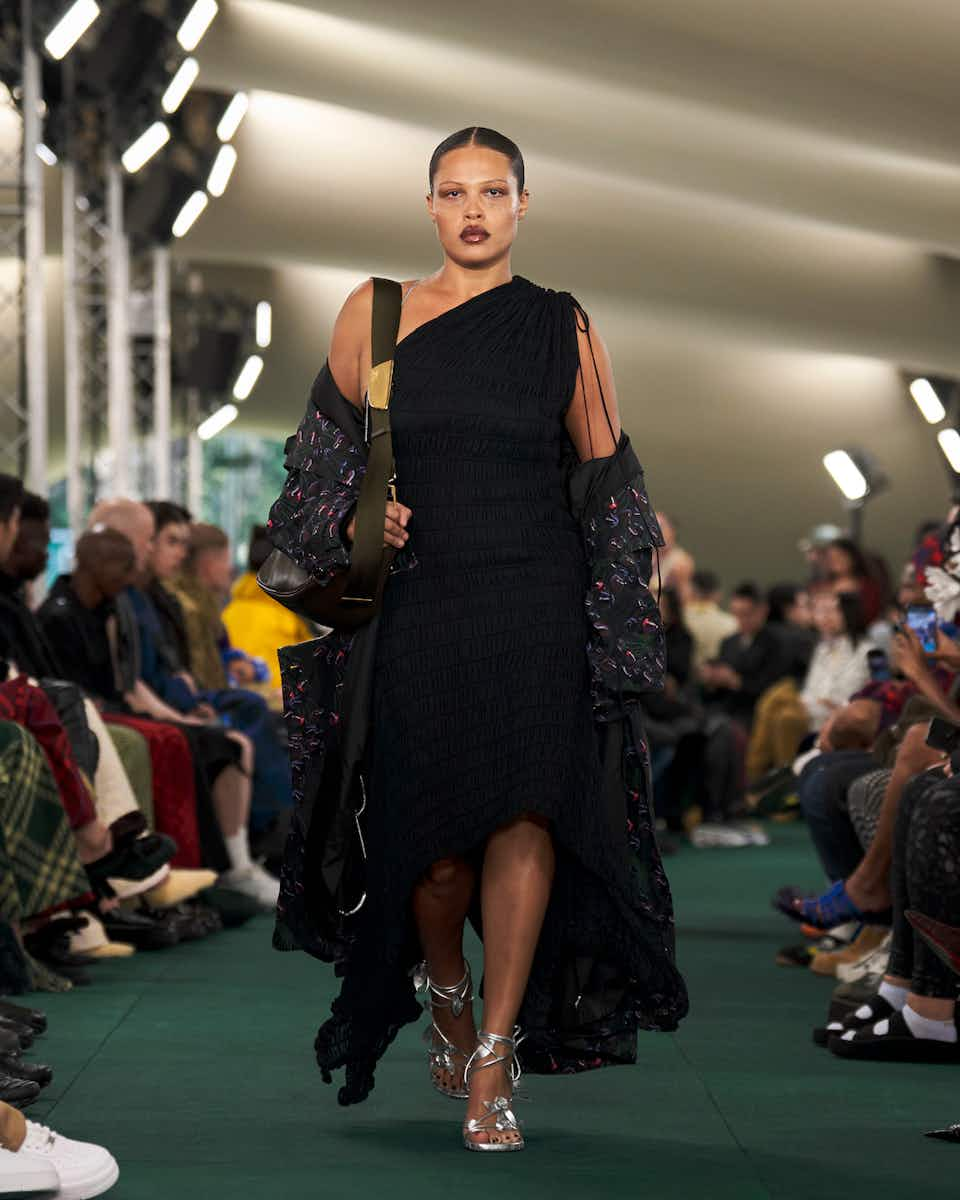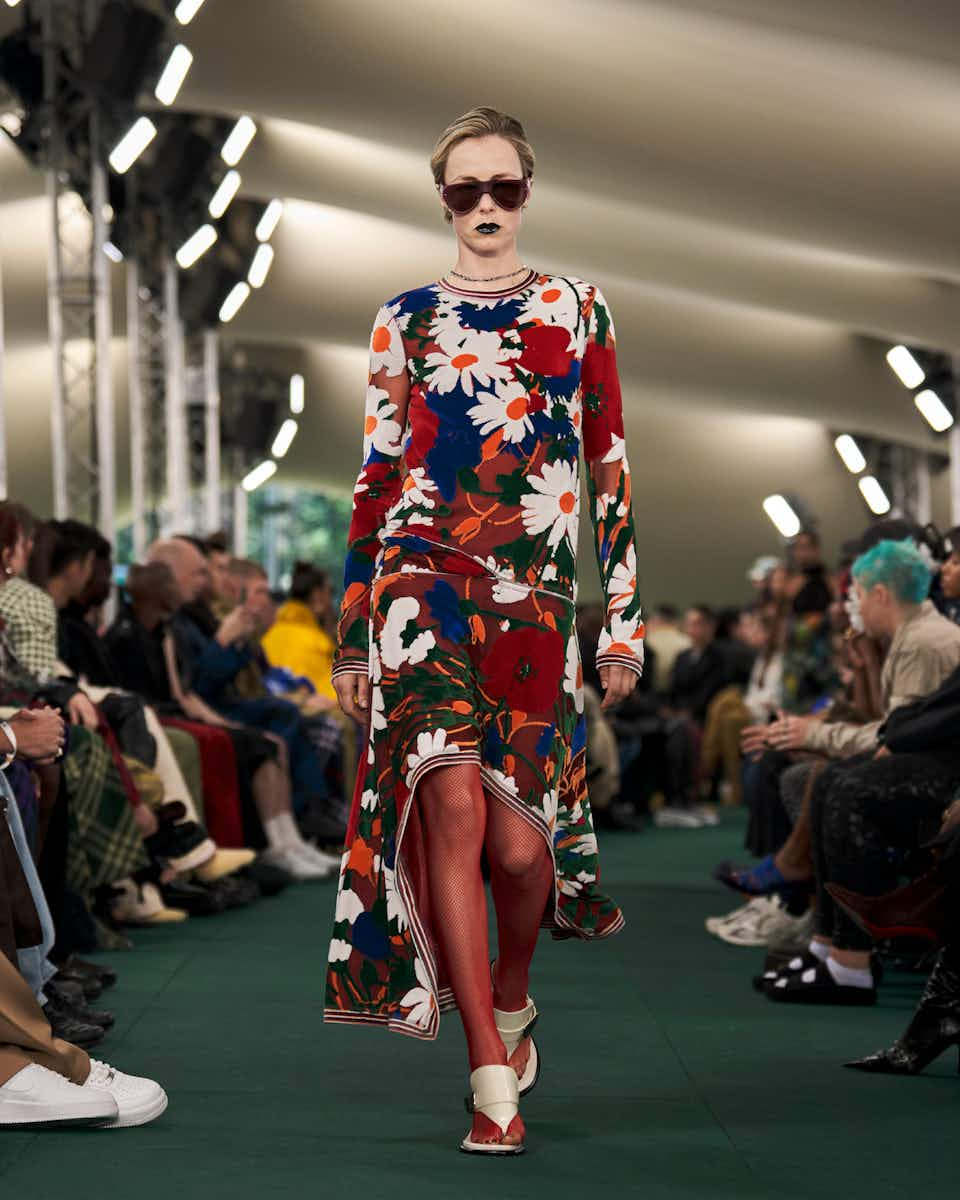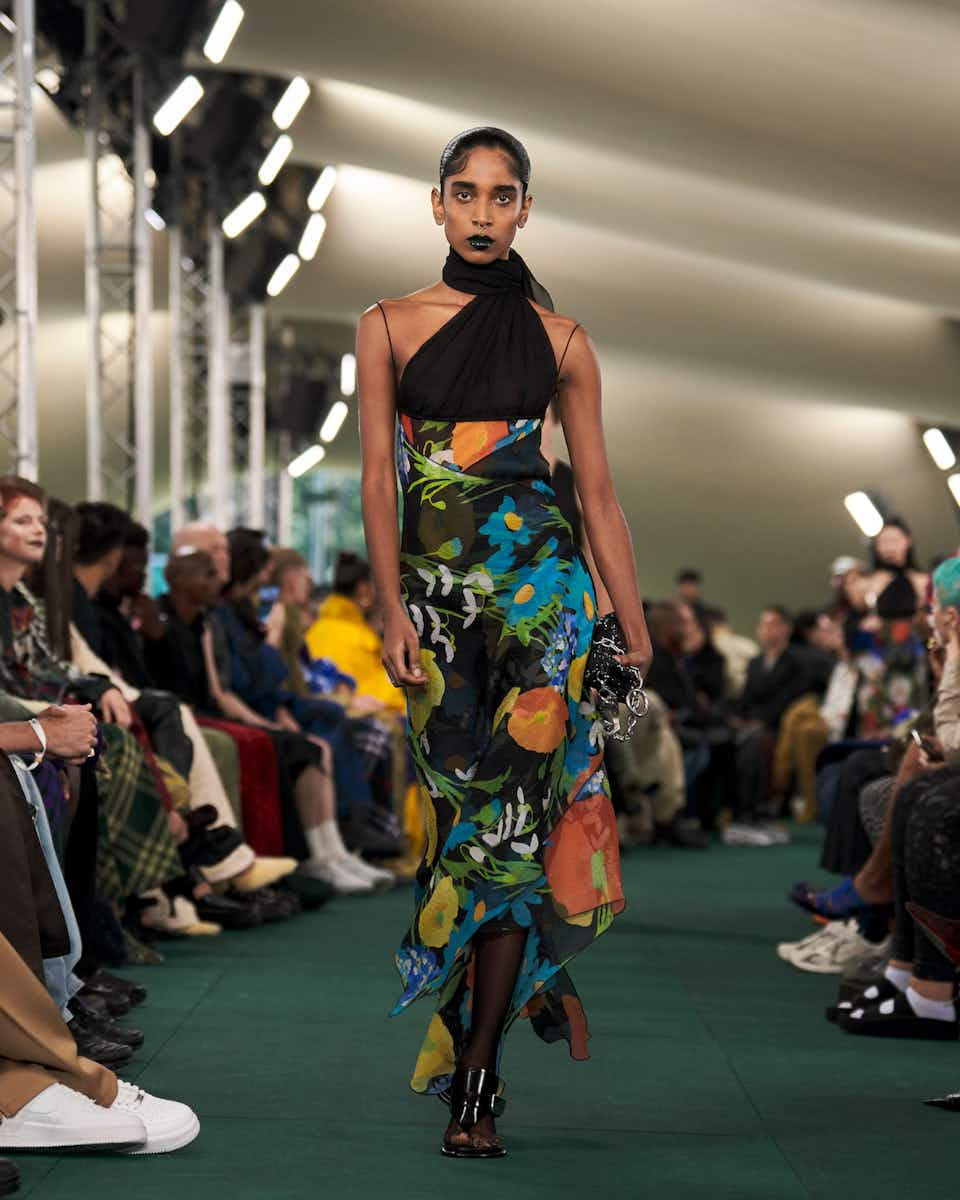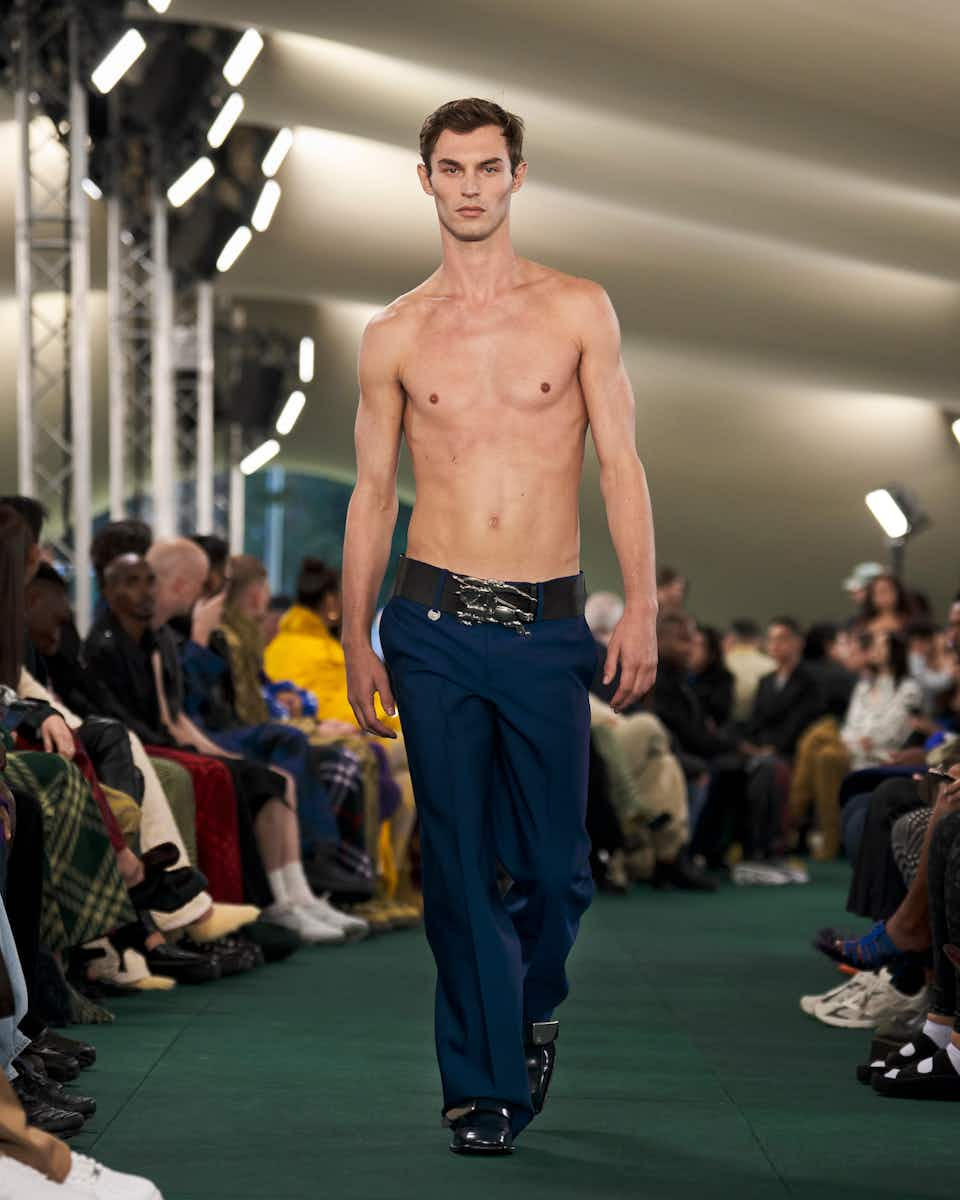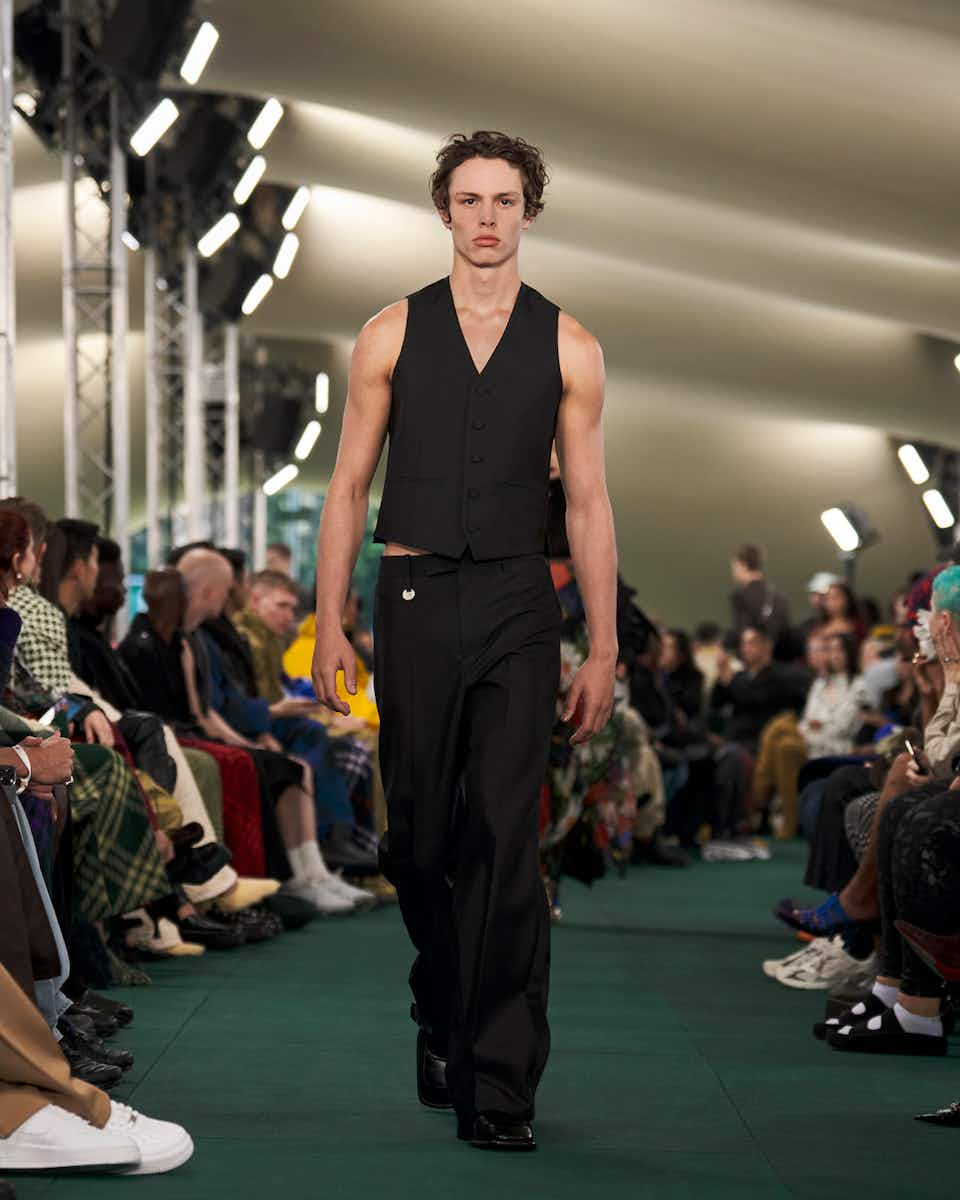 What?
Supriya Lele's welcome return to the London Fashion Week schedule, since her last show in February 2022. An ode to growing up, the nuances of her Indian heritage and being a teen in the Midlands, Lele's comeback was a personal, stripped-back celebration of craftsmanship and coming-of-age.
Where?
In the Barbican Centre's concrete car park, leaving guests without a bar of signal for the show's duration. A welcome break from emails, you might say.
What were the clothes like?
Whilst minimal and, at times, muted, there were signs of youthful rebellion in Lele's subtle references of subculture – namely the illegal car park raves she went to in the Midlands. Forget the tie-dye, though; in Lele's language, it comes out in flashes of skin, durable flat shoes made for dancing in and wraparound tops for letting out a sweat.
Knickers were designed to be seen as they sat high above low-rise waistlines, alongside bandeaus, sheer midi skirts and asymmetric necklines. At its very heart, this collection is Lele's inner-teen fantasy wardrobe.
And yet, any overt Y2K cliches were avoided through clever craftsmanship and elegant drapery. In a nod to her Indian heritage, she referenced the expertly chiseled stone ​"fabrics" found on the statues of goddesses in holy temples, through artfully placed layers of ultra-fine fabric.
While referring back to her youth, the show was by no means nostalgic. Instead, it felt grown-up and elevated. Lele had even been working with the heritage British car brand Bentley on the collection, having recently visited their factory in Crewe to learn more about their meticulous craftsmanship. Her takeaway? Quite literally some off-cut fabric that she's repurposed as a sultry wipe-clean leather mac in the collection. Even us grown-ups are prone to a spill – or three.
In a phrase?
You can absolutely put a bumper sticker on a Bentley.

WORDS: Sophie Walsh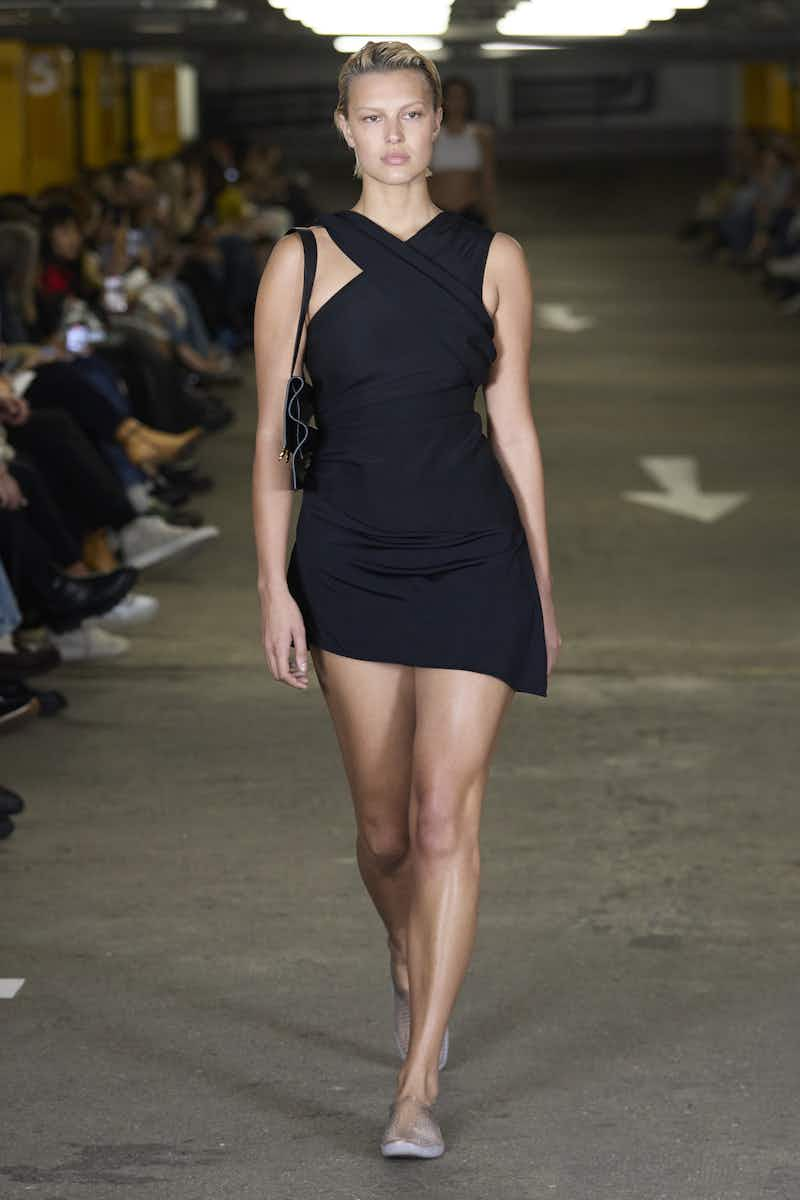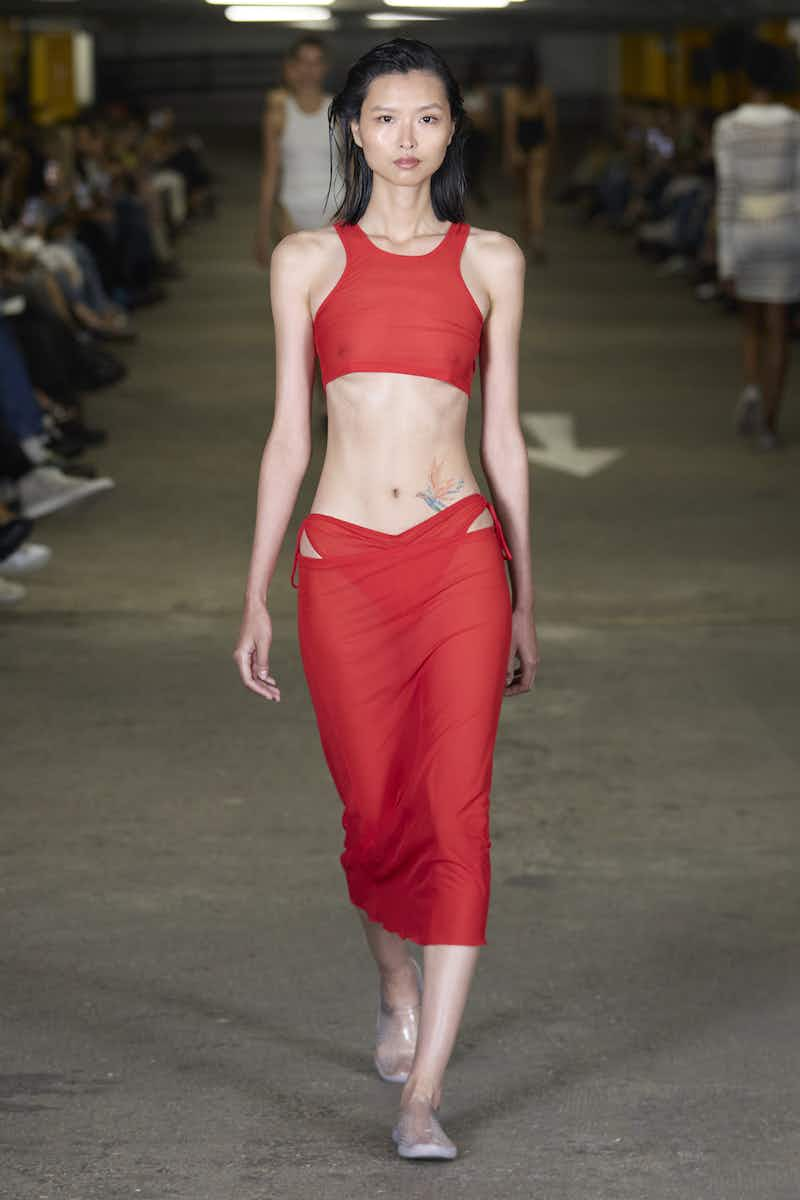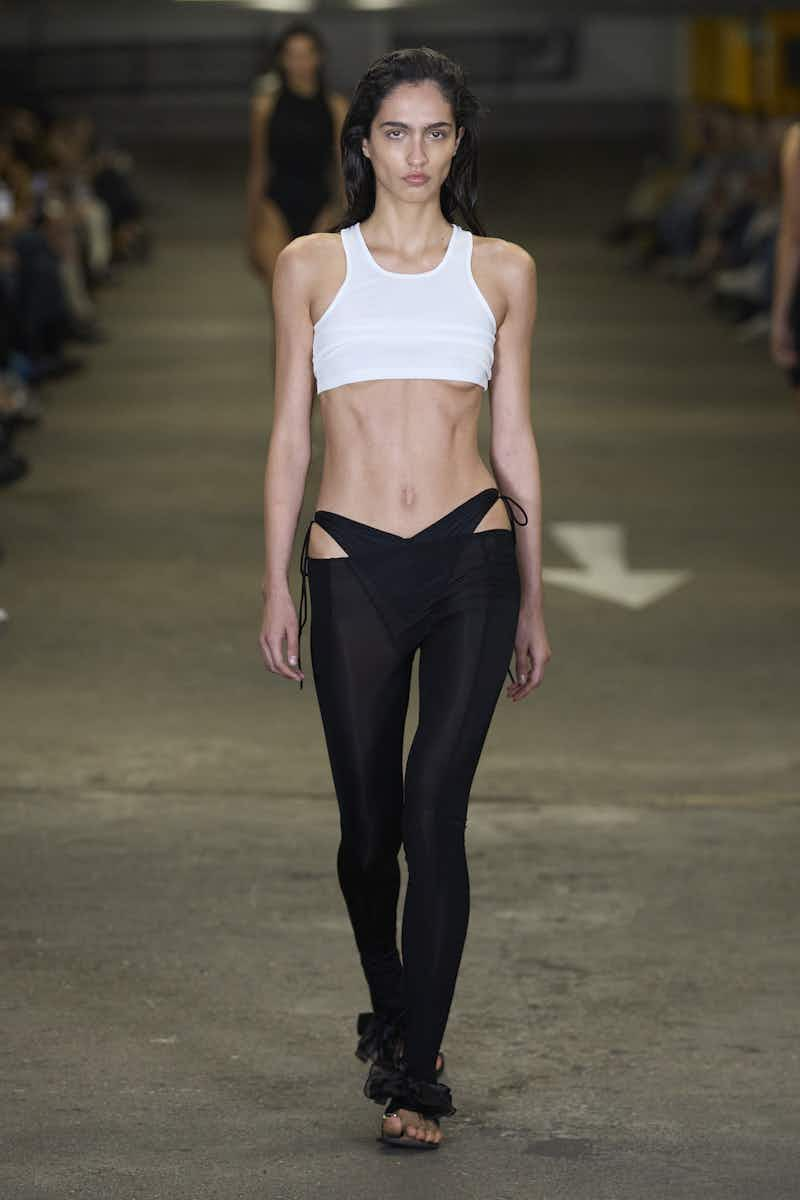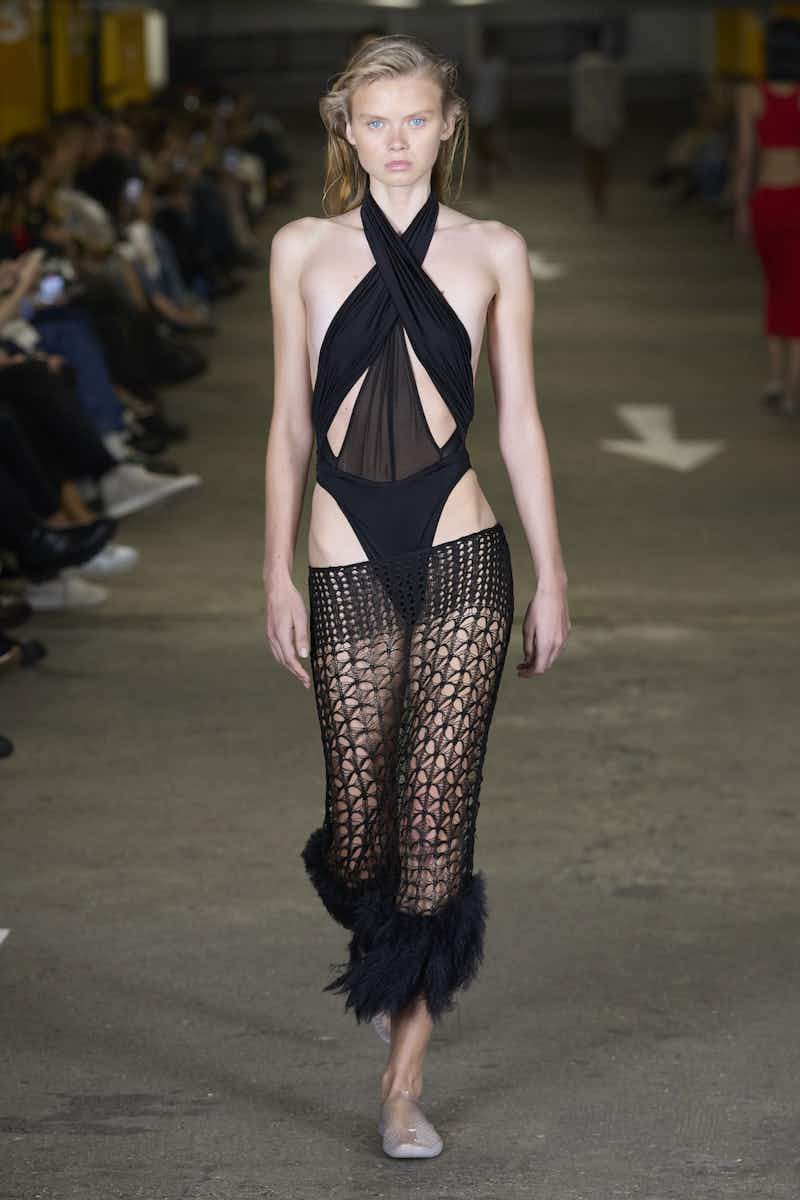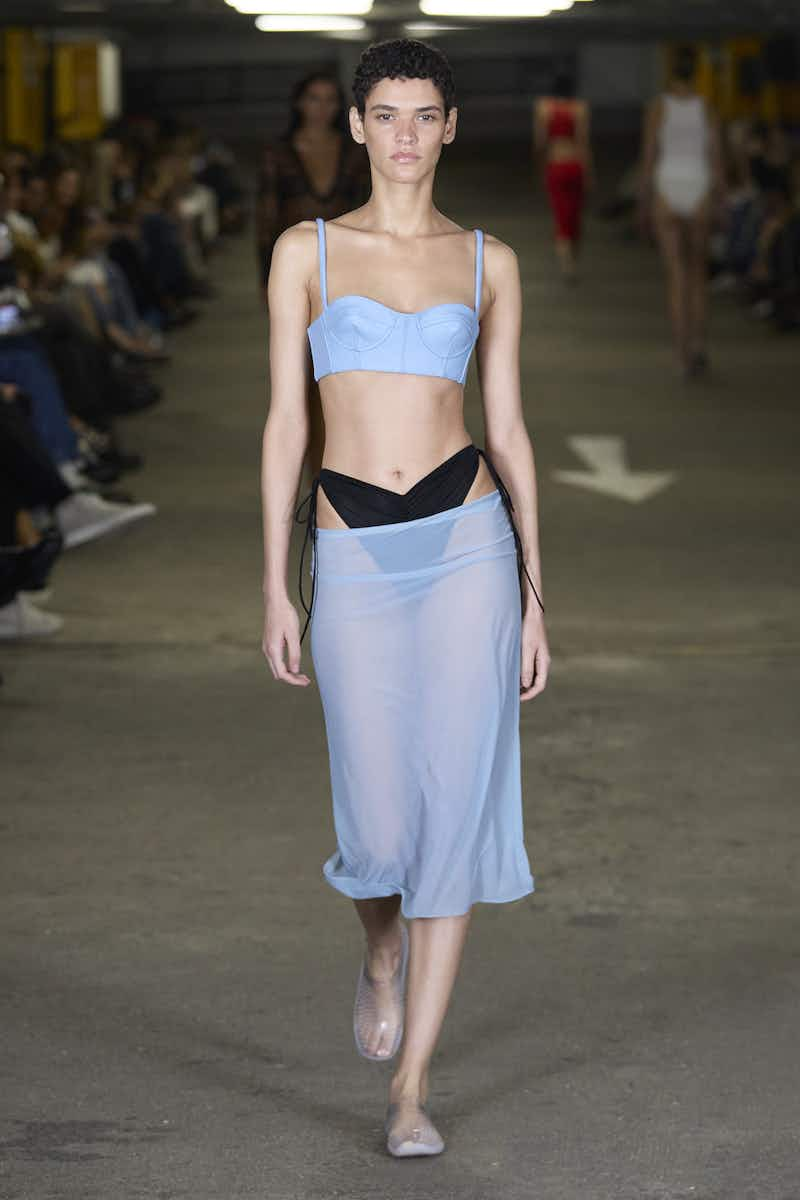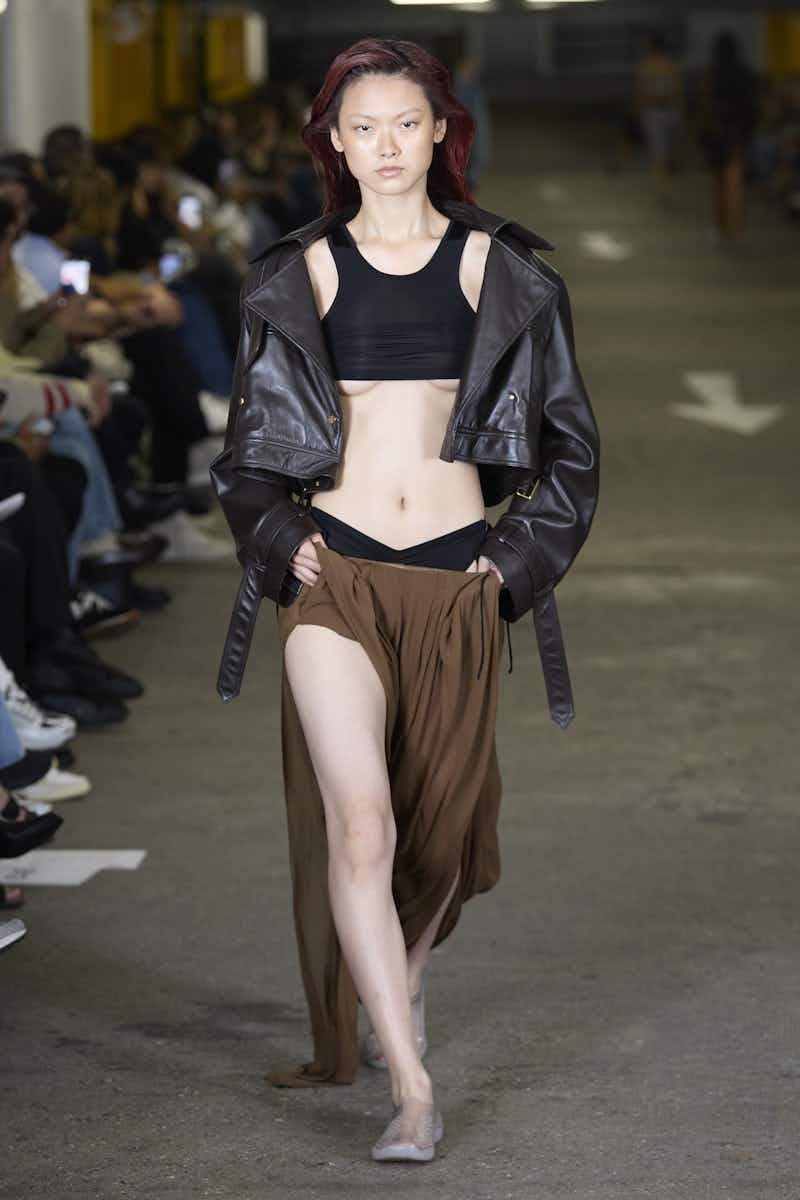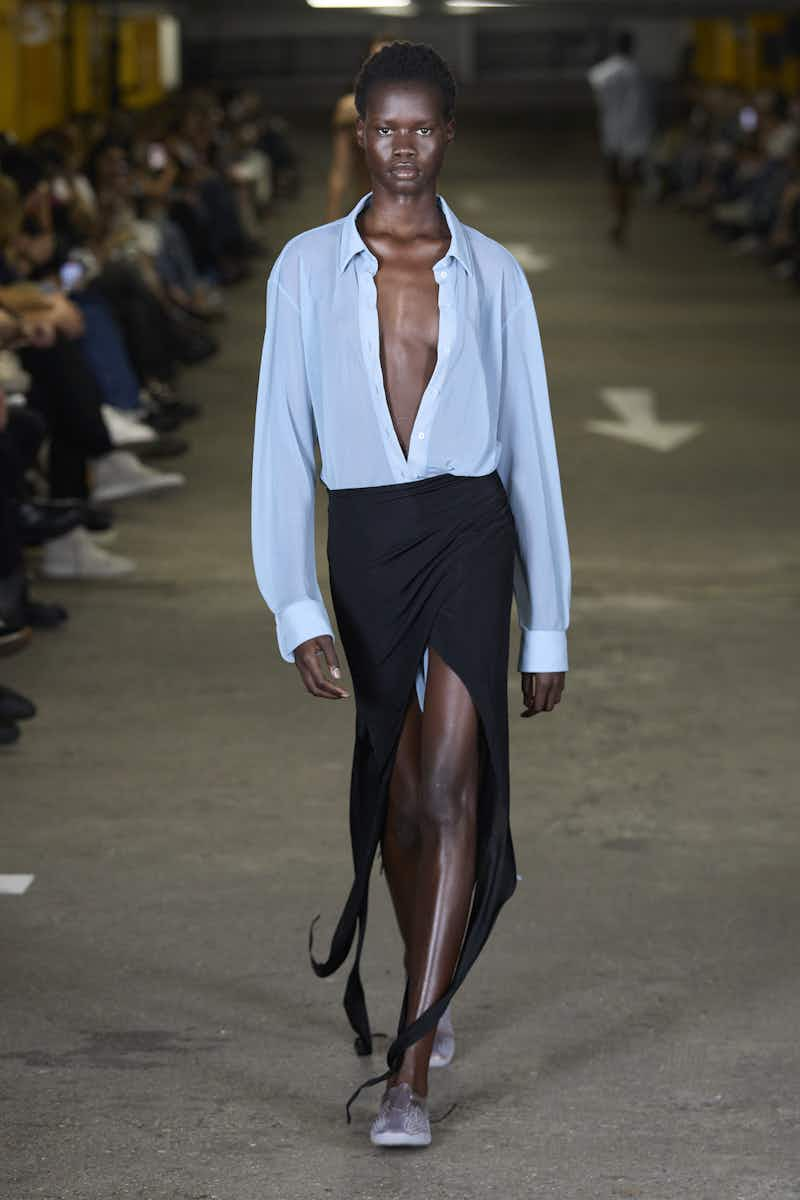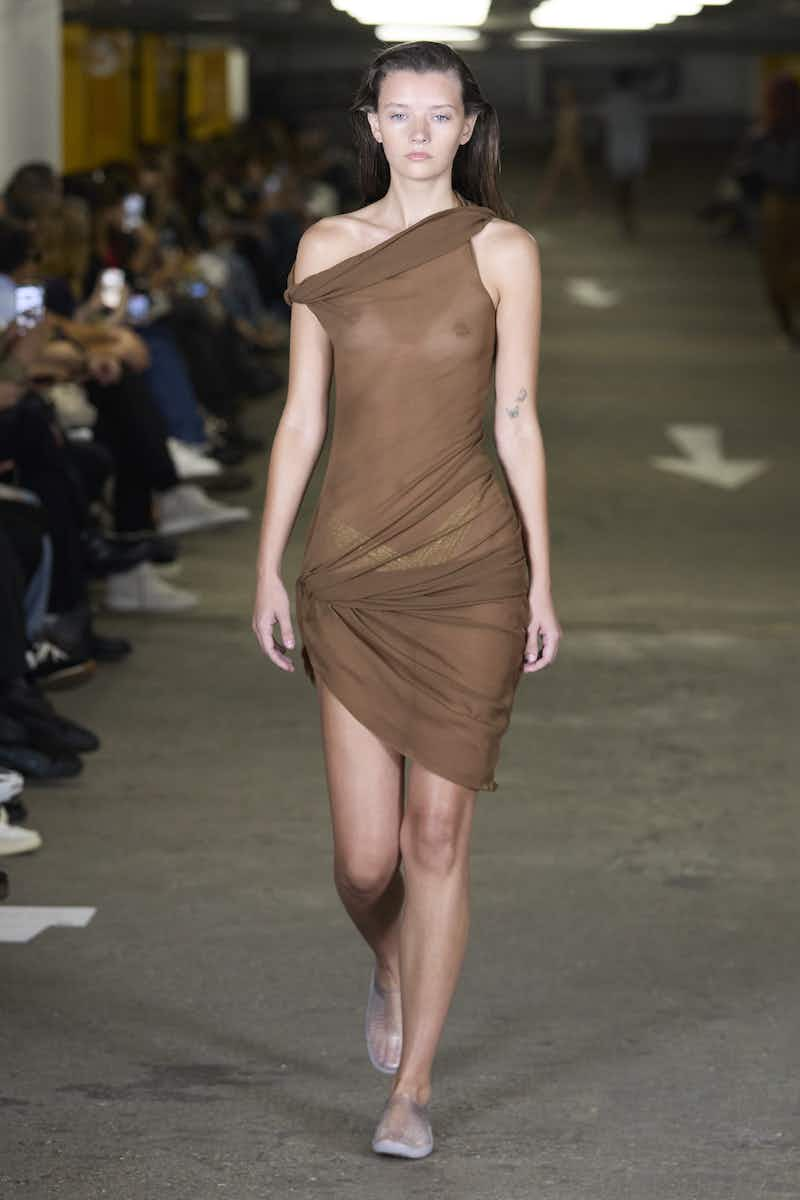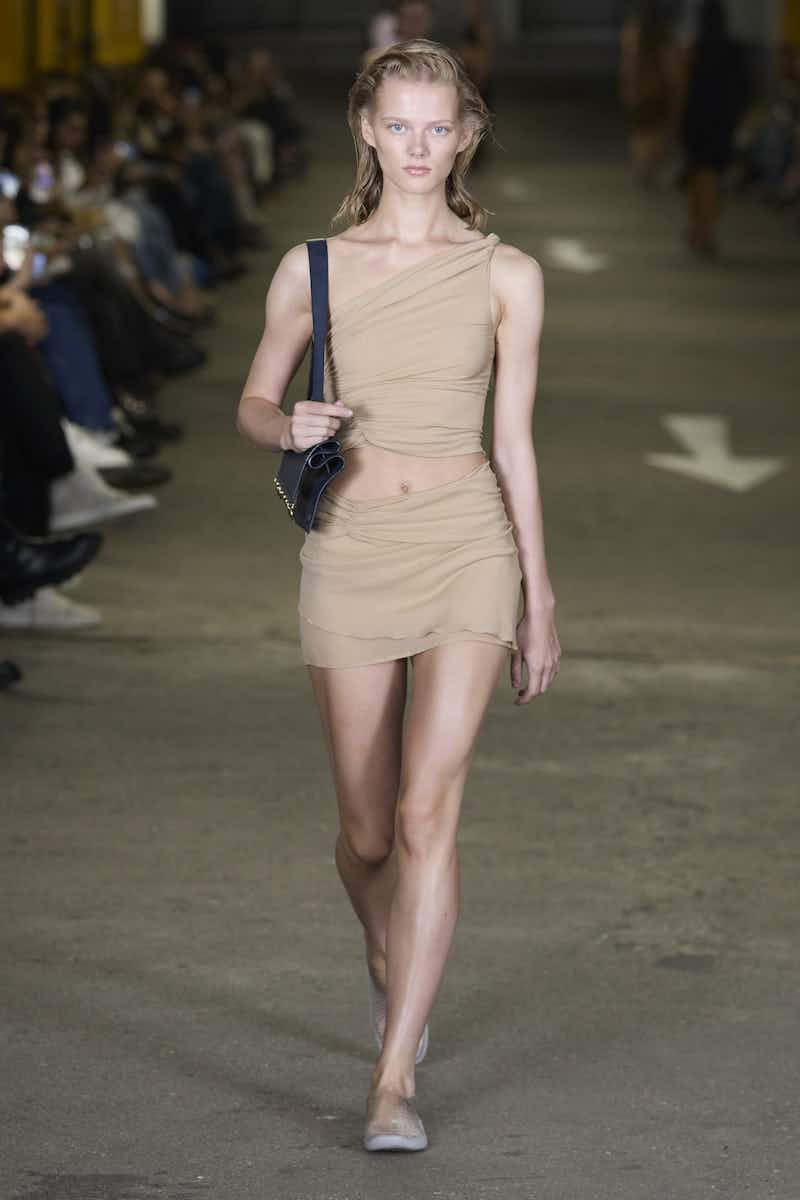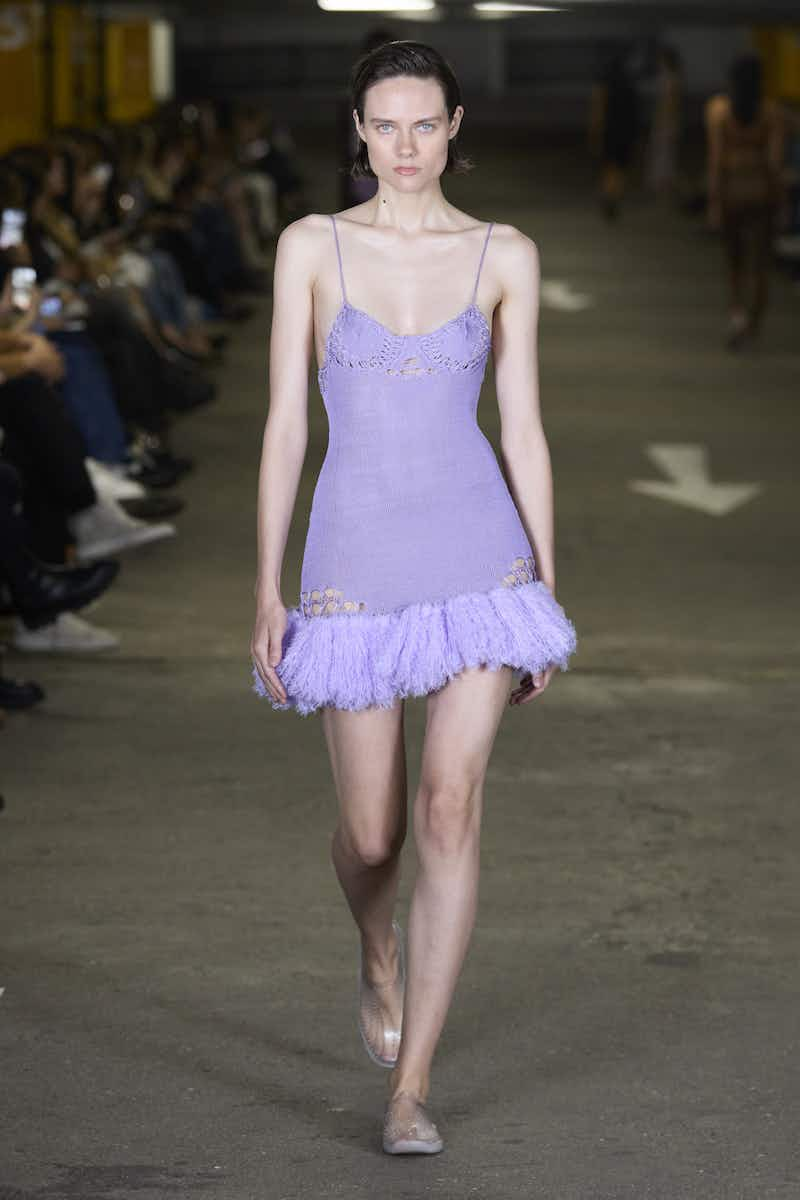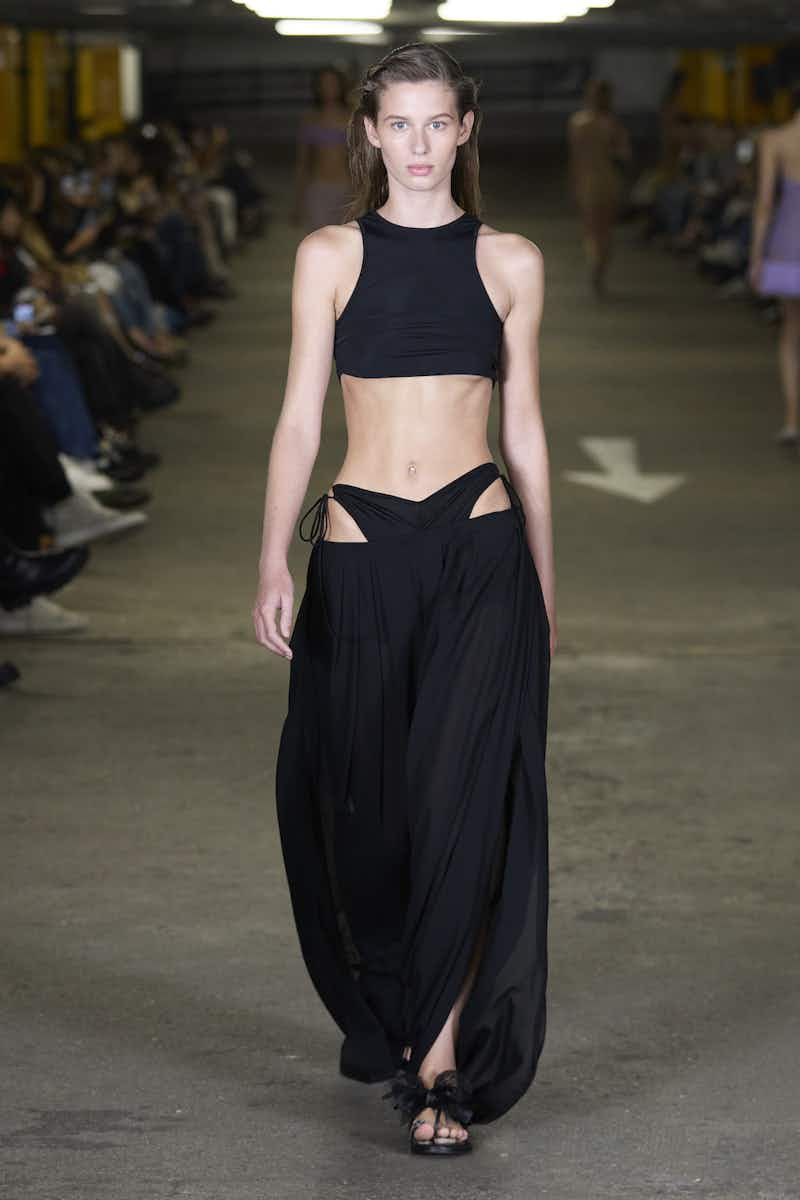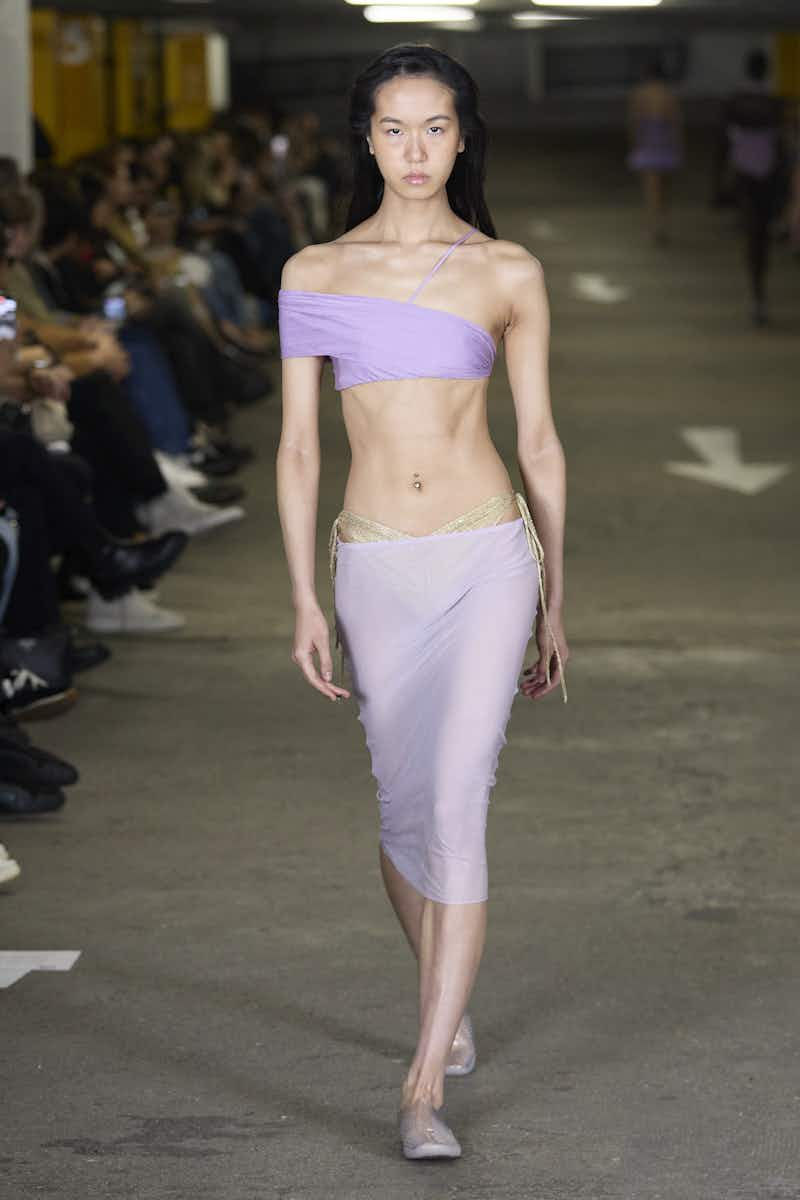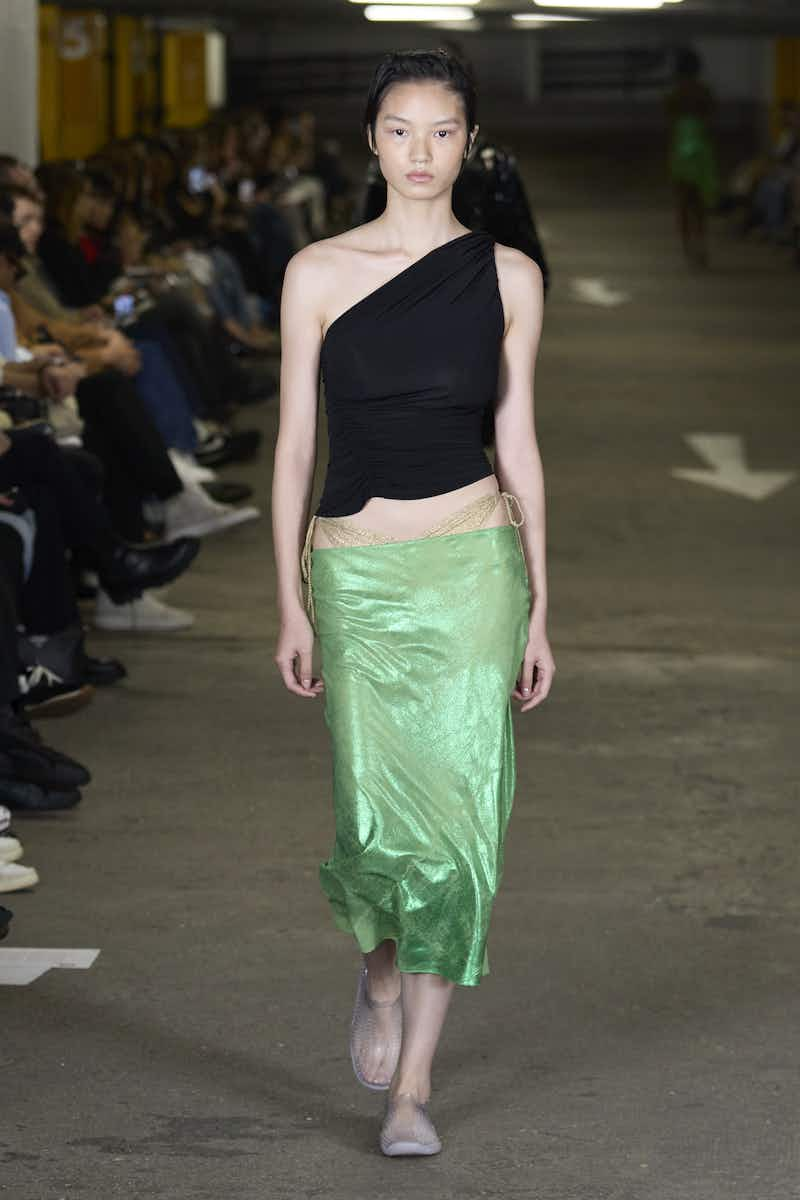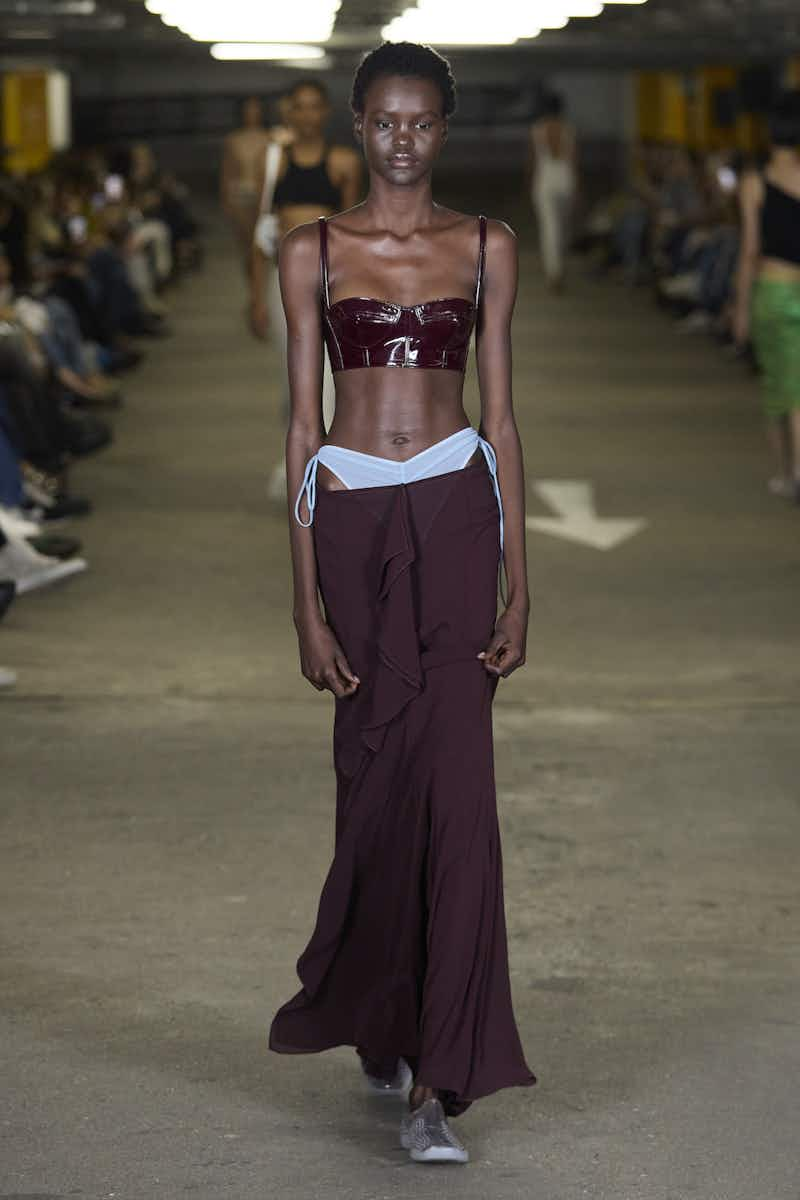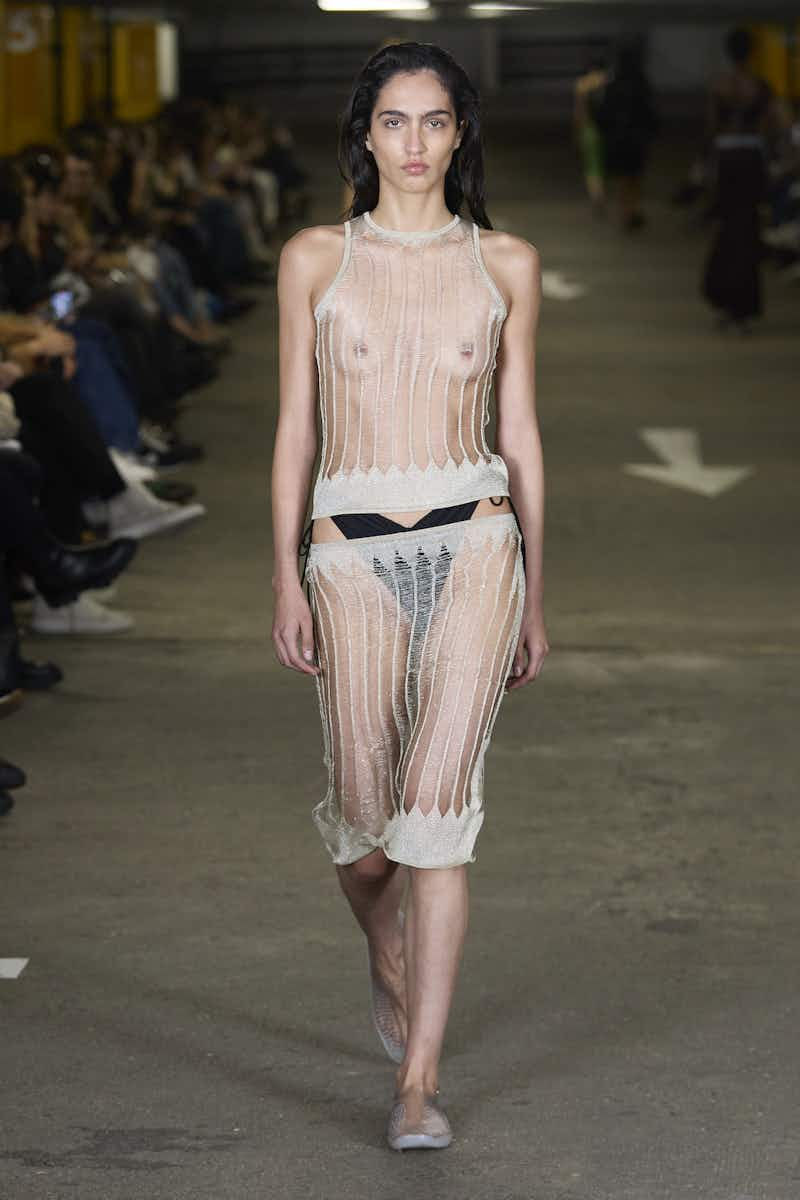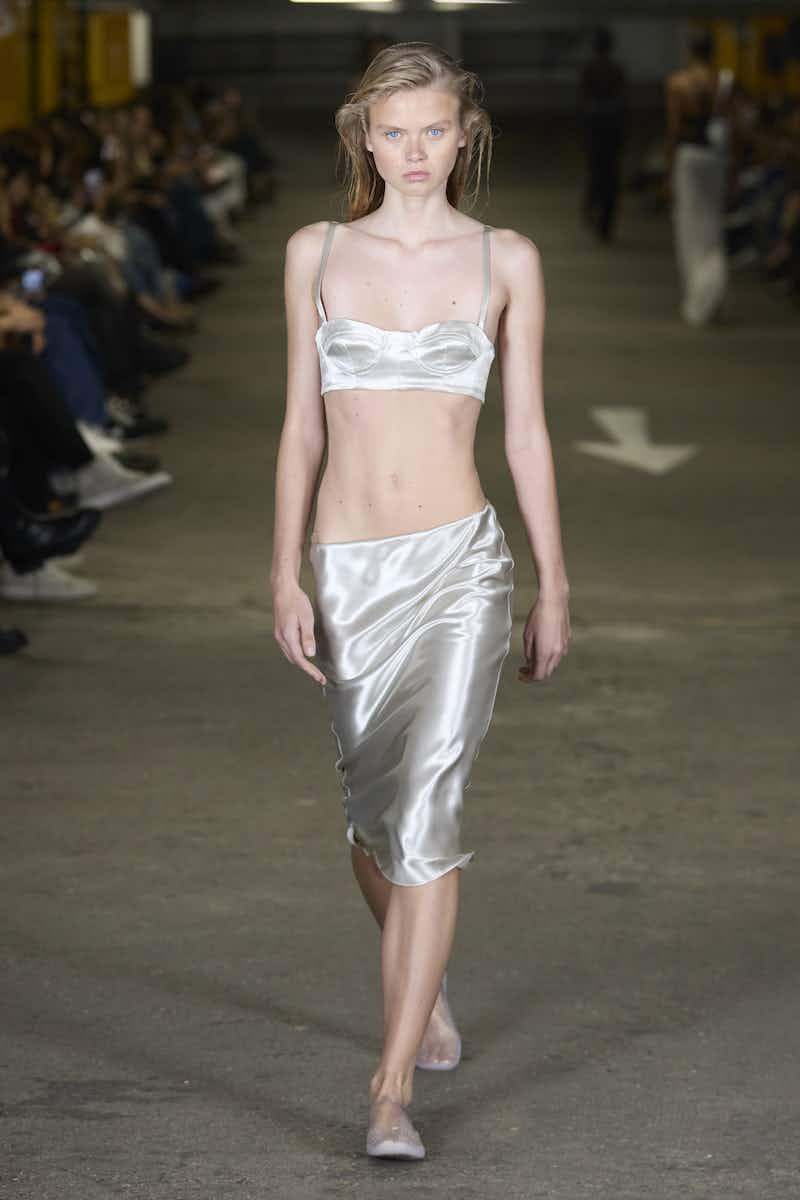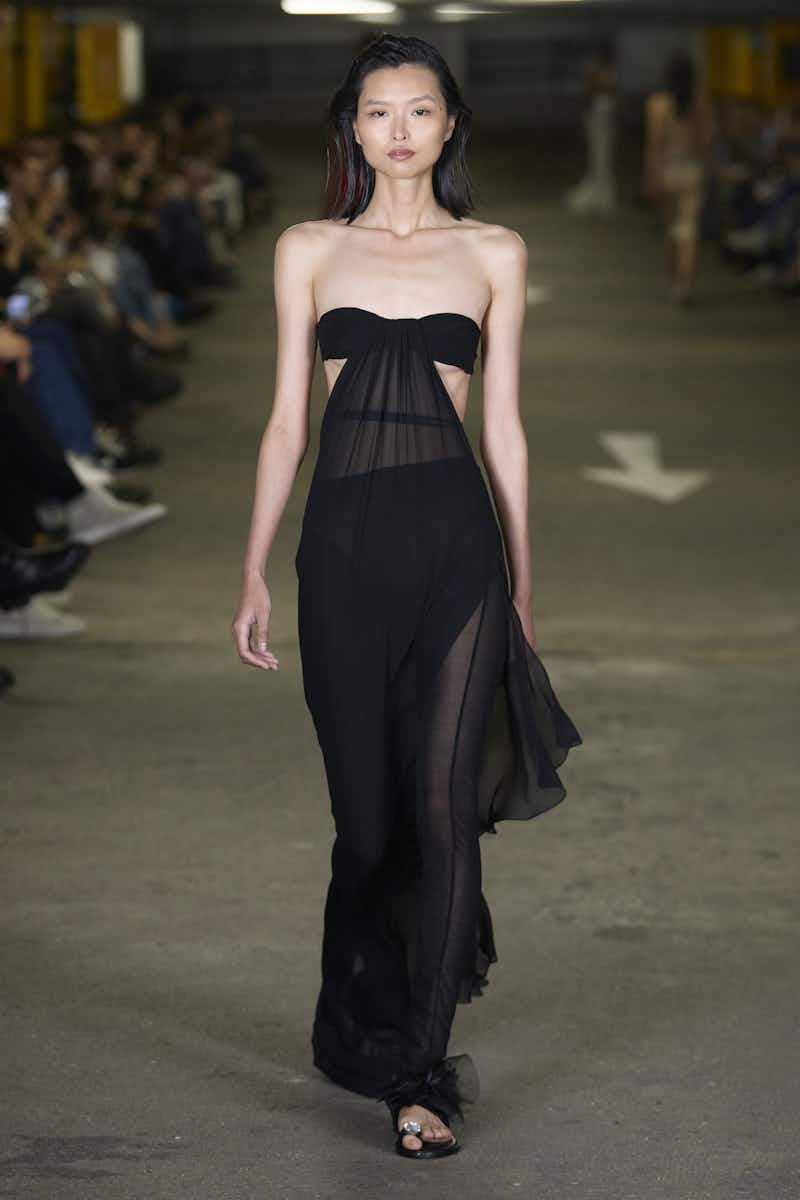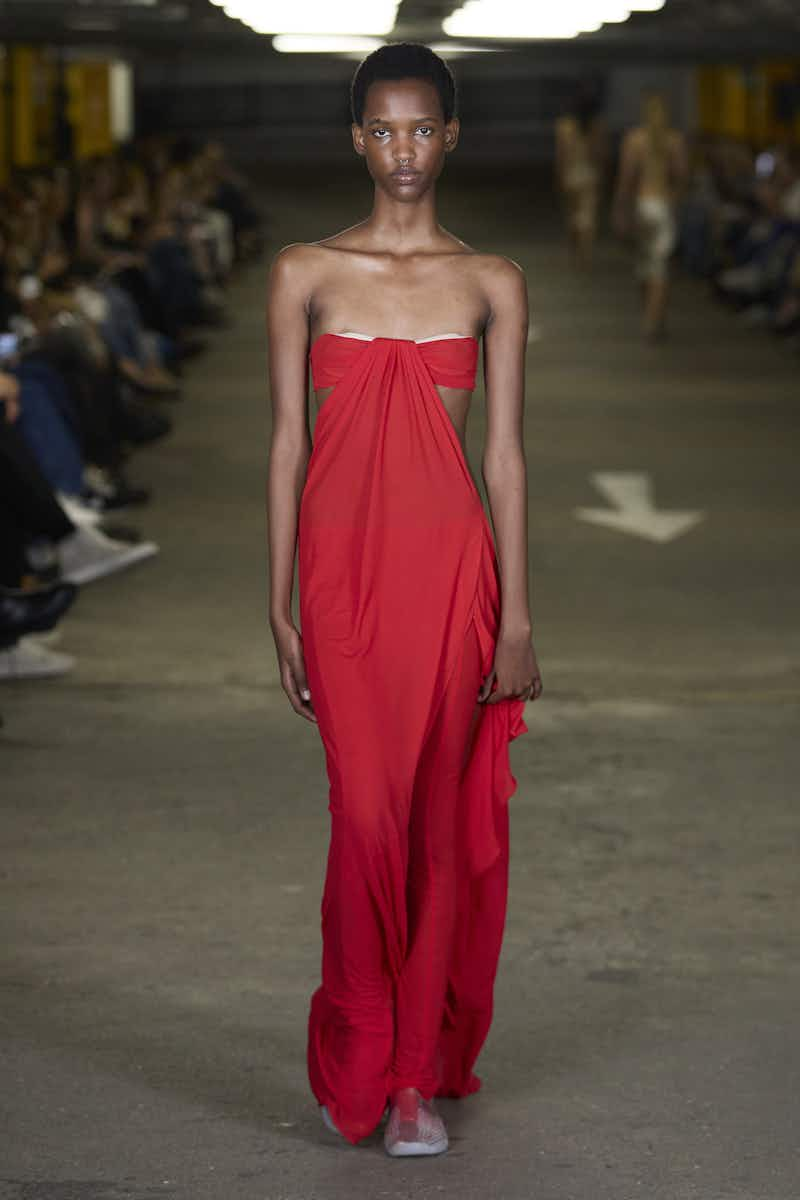 What?
KNWLS' SS24 ​"Petrol" collection, designed for living life on the edge. Buckle up: you're in for a long, hot ride.

Where?
On a gravel runway sprayed with turquoise speed lines. Despite the uneven terrain, KNWLS' models powered down the catwalk at breakneck speed. Attitude essential.

What about the clothes?
Cracked leather bikers, lowrider trousers, seafoam green leather micro-short co-ords, distressed thigh-high stomping boots and armour-like corsets came together to form a collection that felt deliciously dangerous. The now well established KNWLS uniform provides the building blocks for experimentation with new trophy pieces, from all-over beaded dresses that rattled as the models walked, to dramatically slashed maxi skirts.

Standout moment?
None other than Mia Khalifa closing the show in a form-fitting navy-blue, brushed silk two piece, marking her runway debut.

In a song:
Kenny Loggins – Danger Zone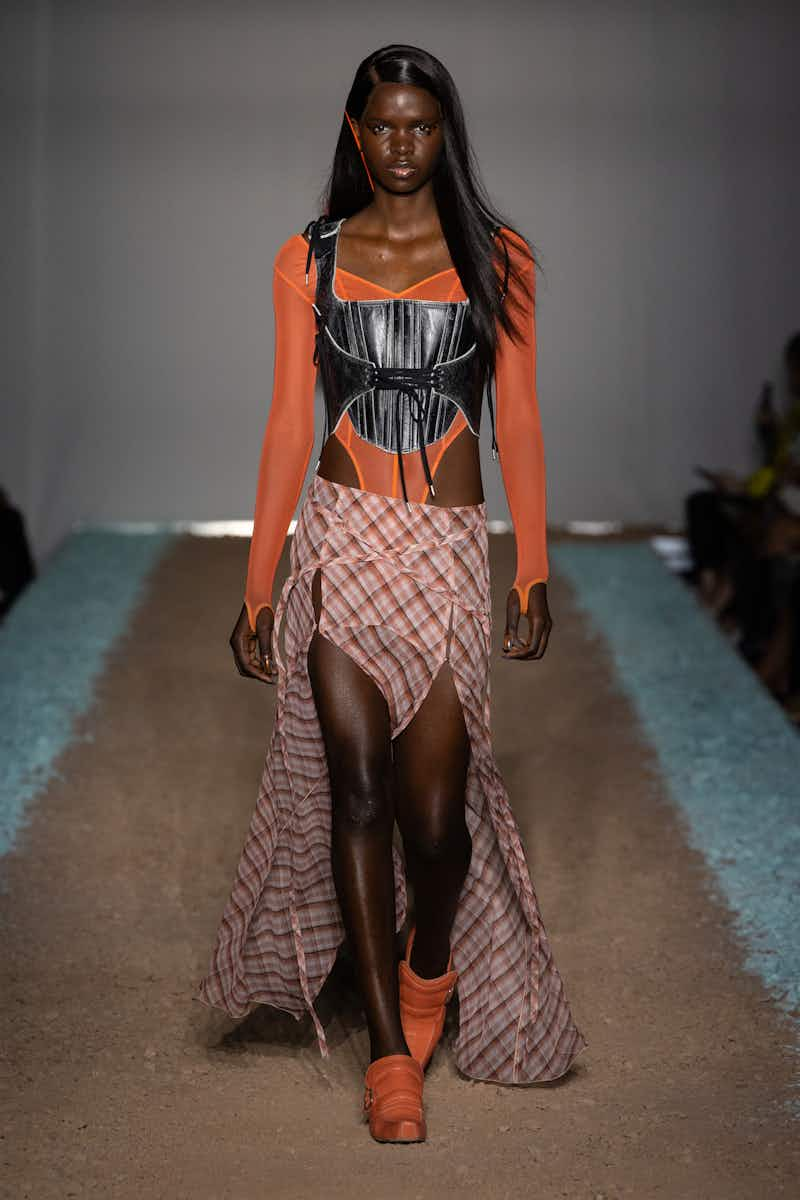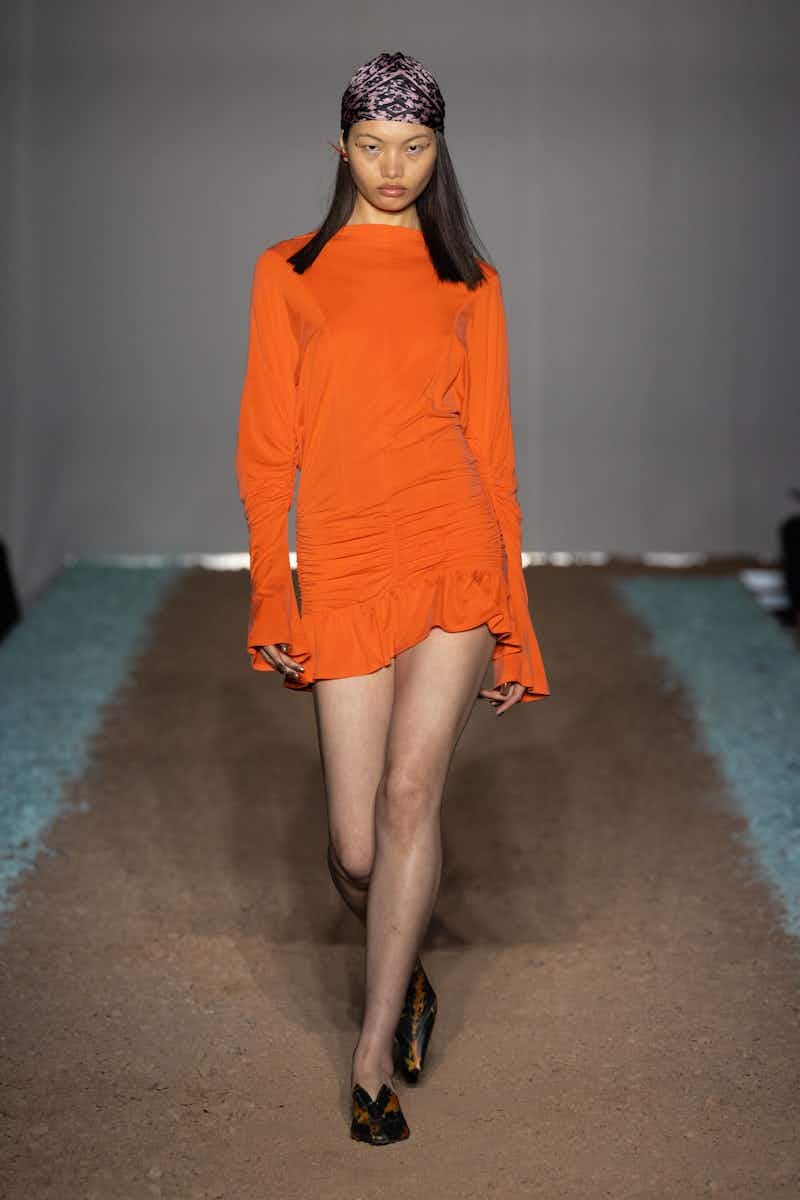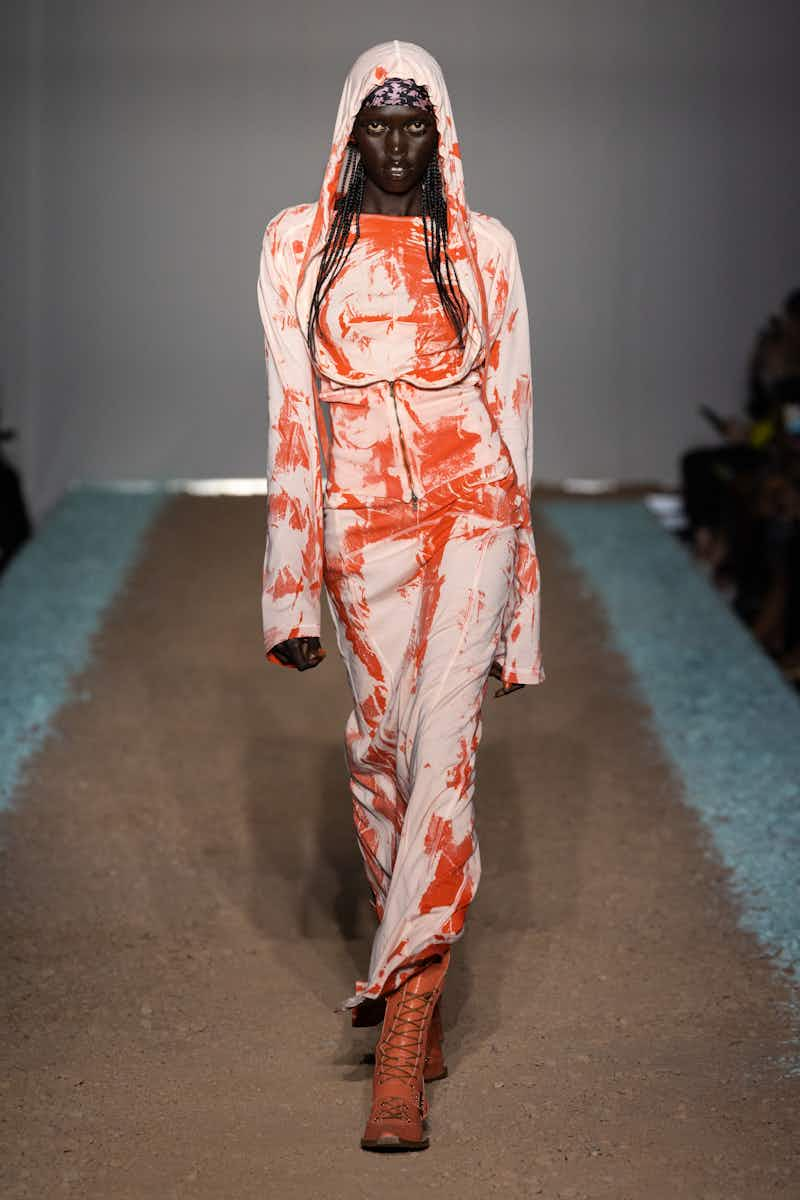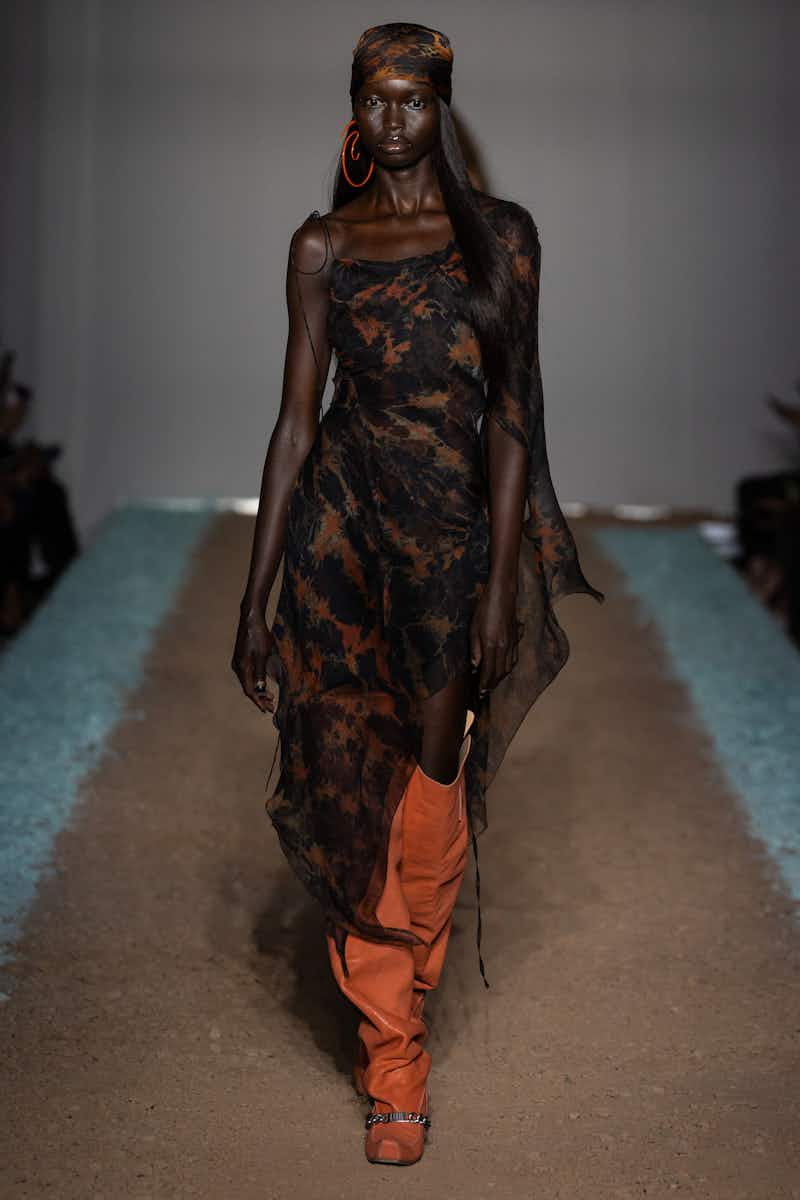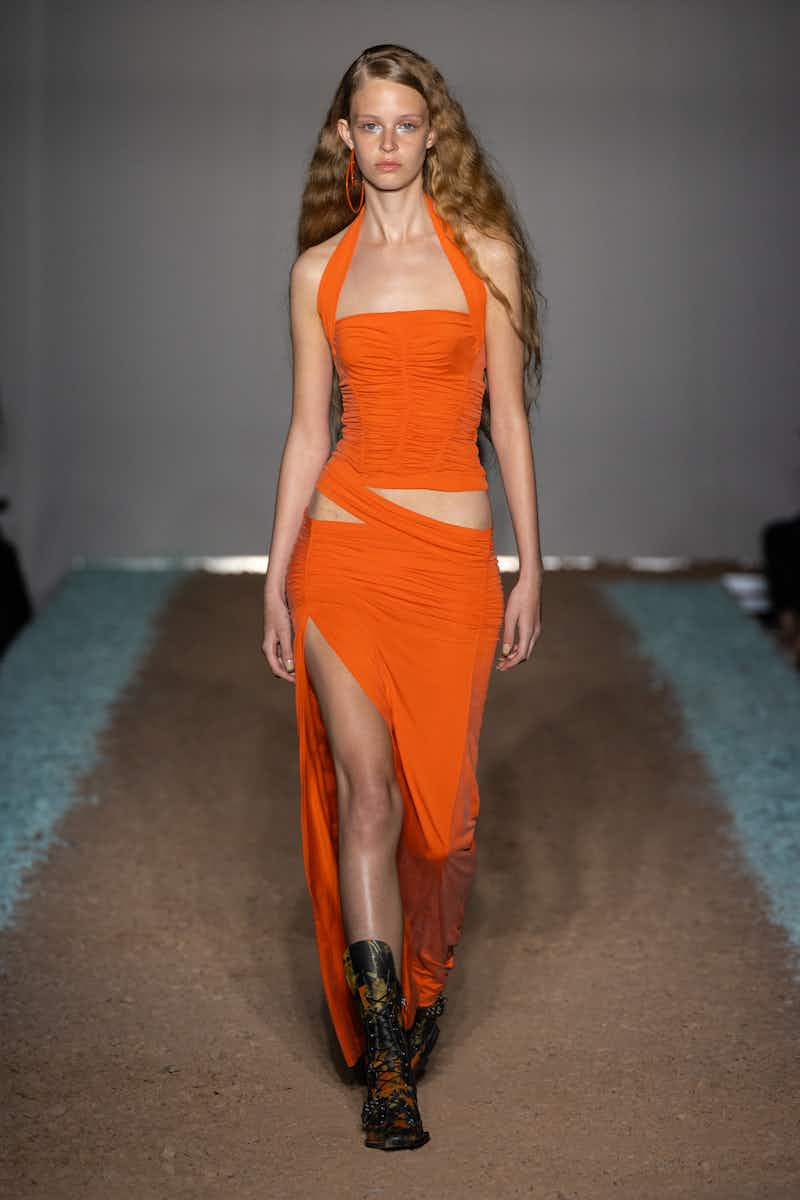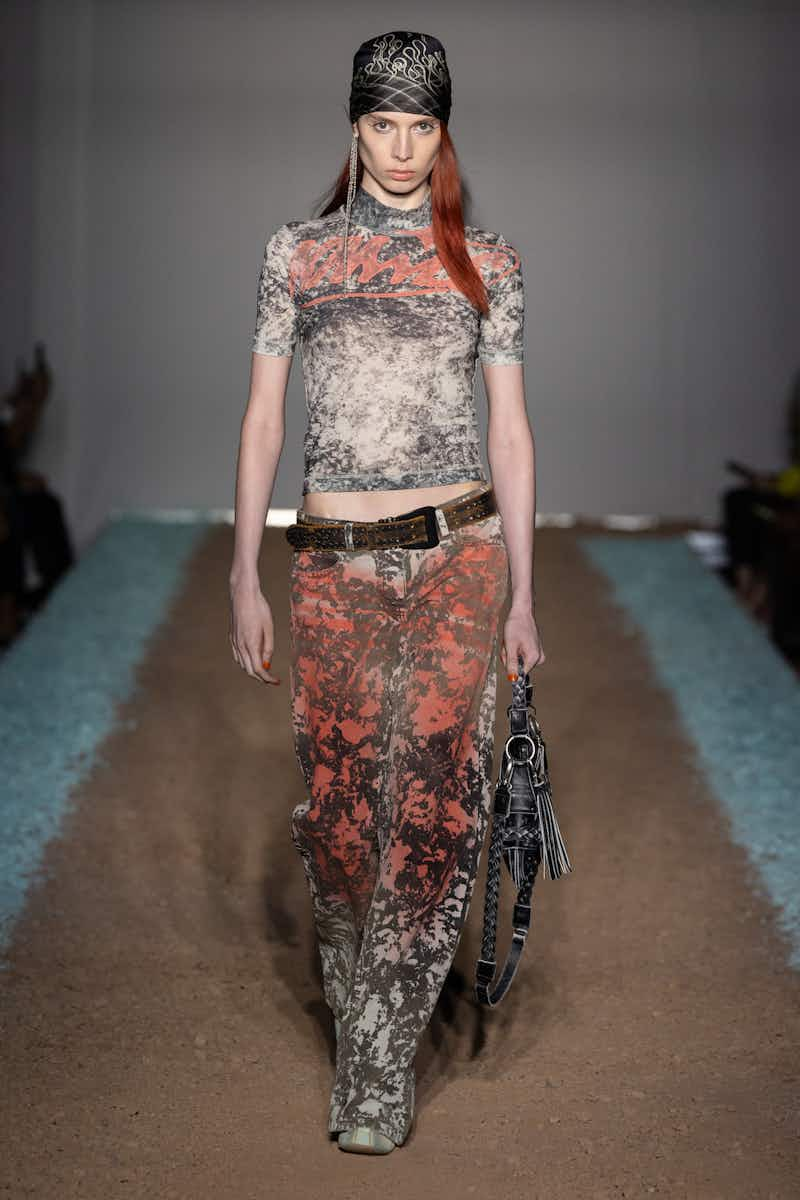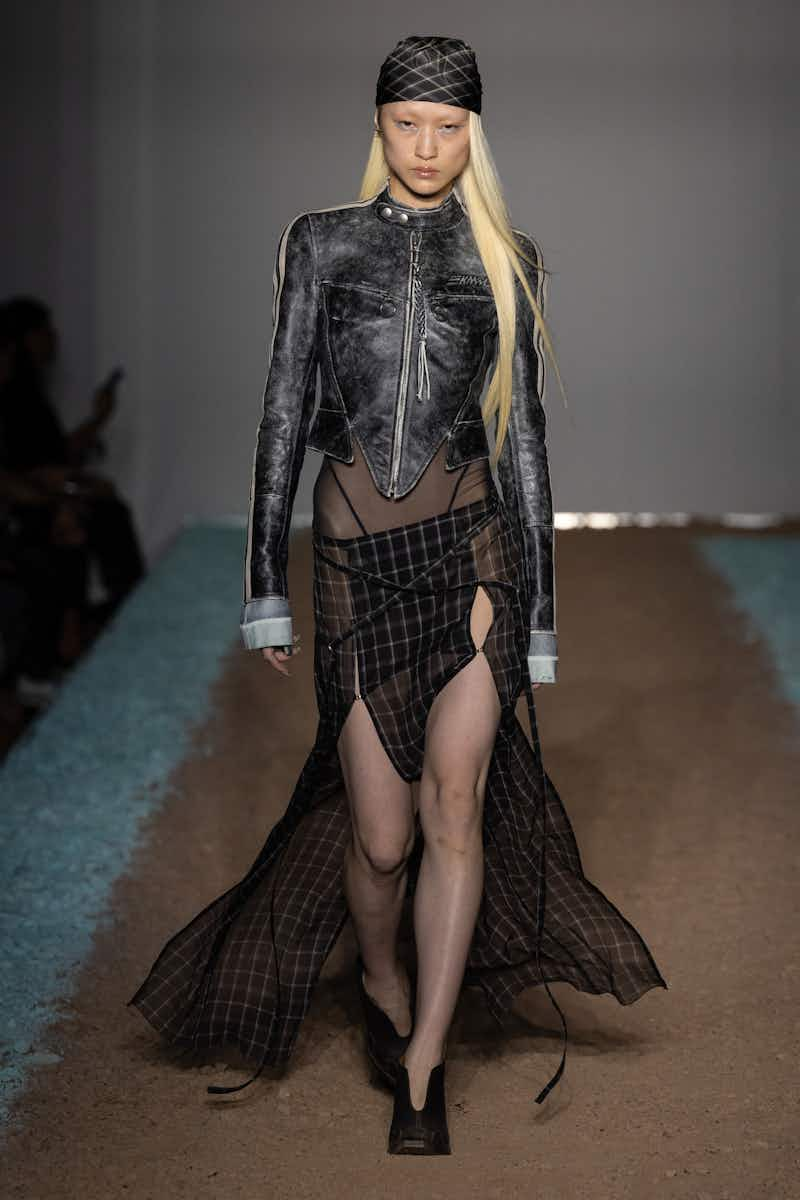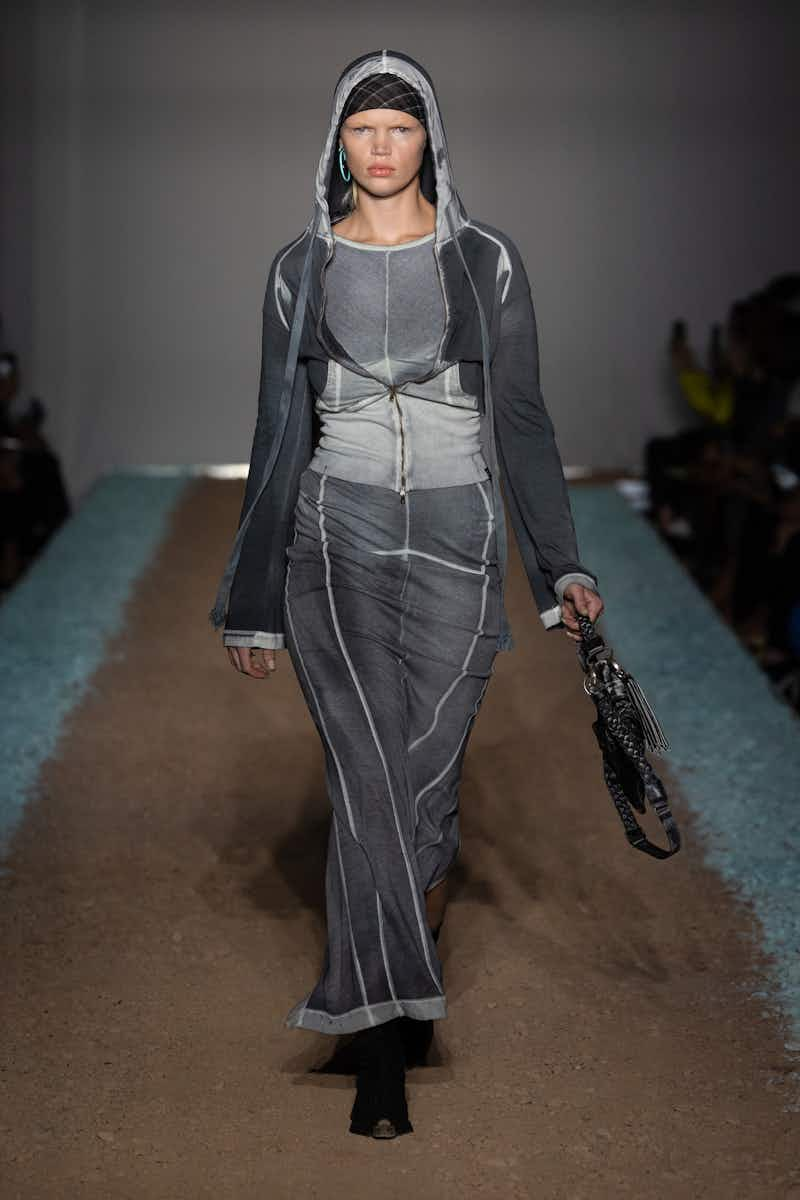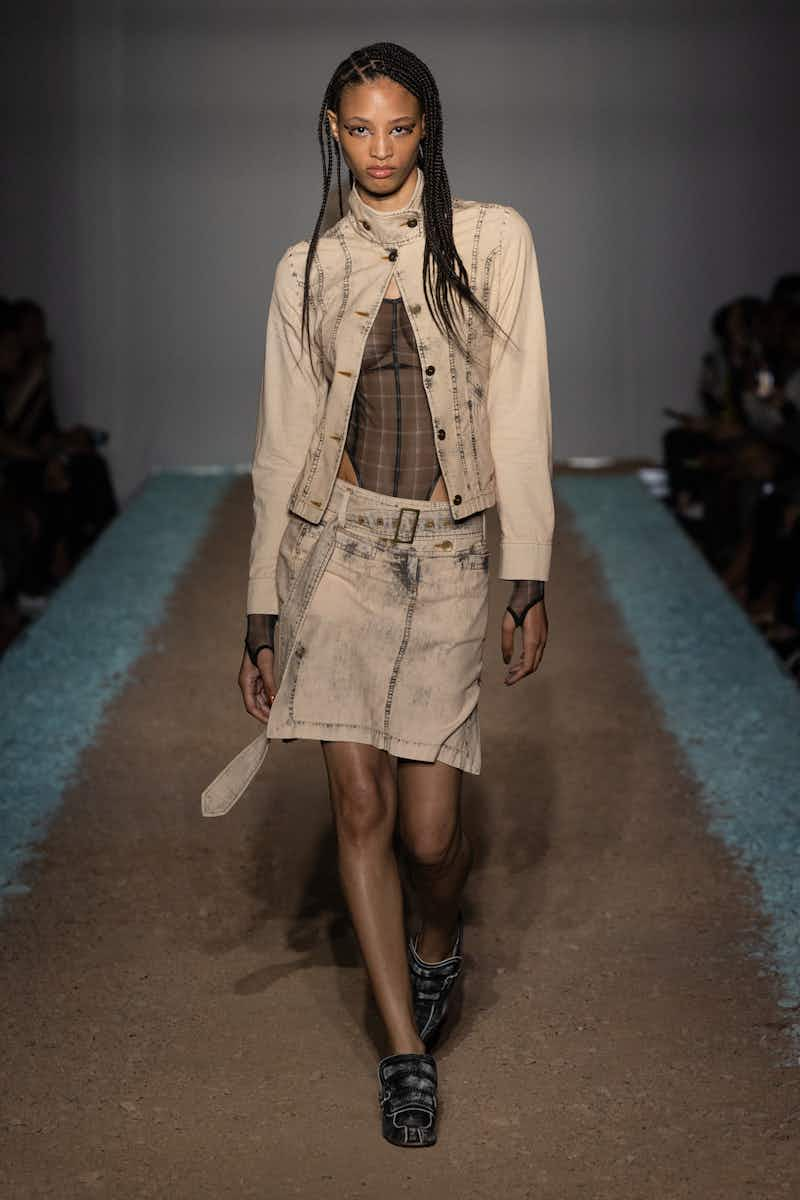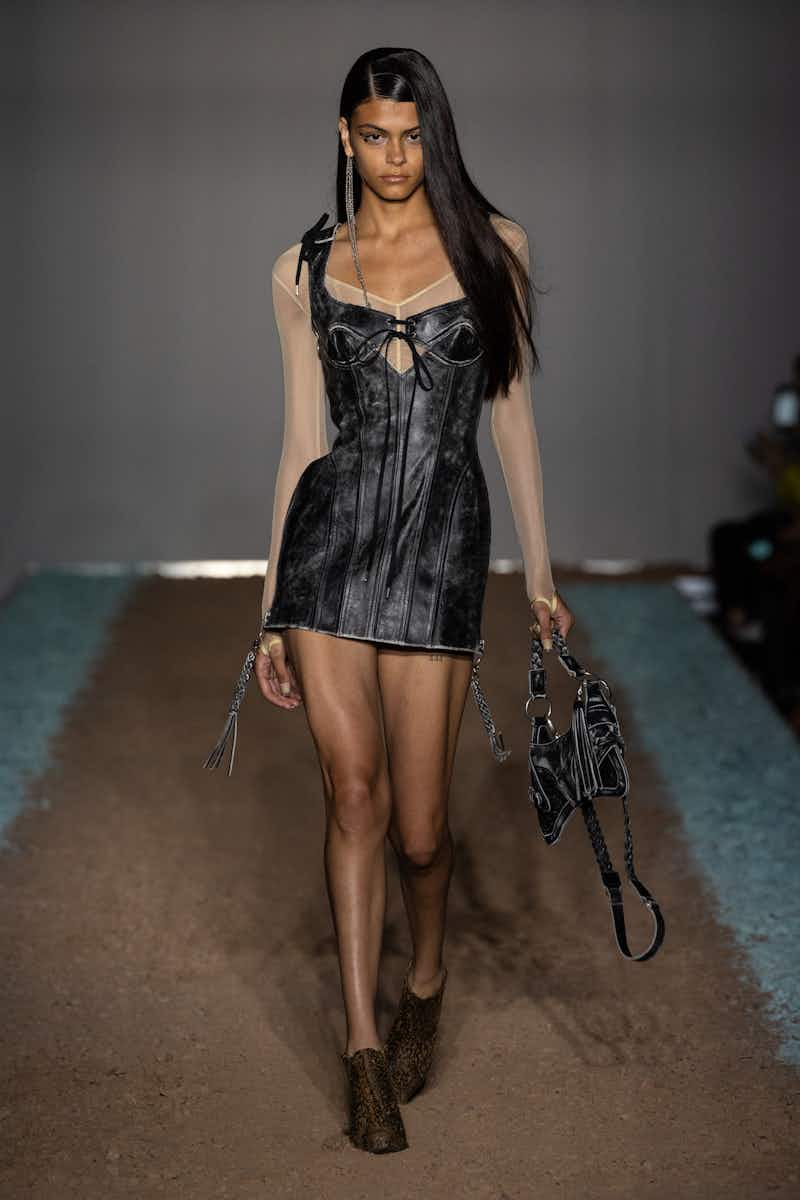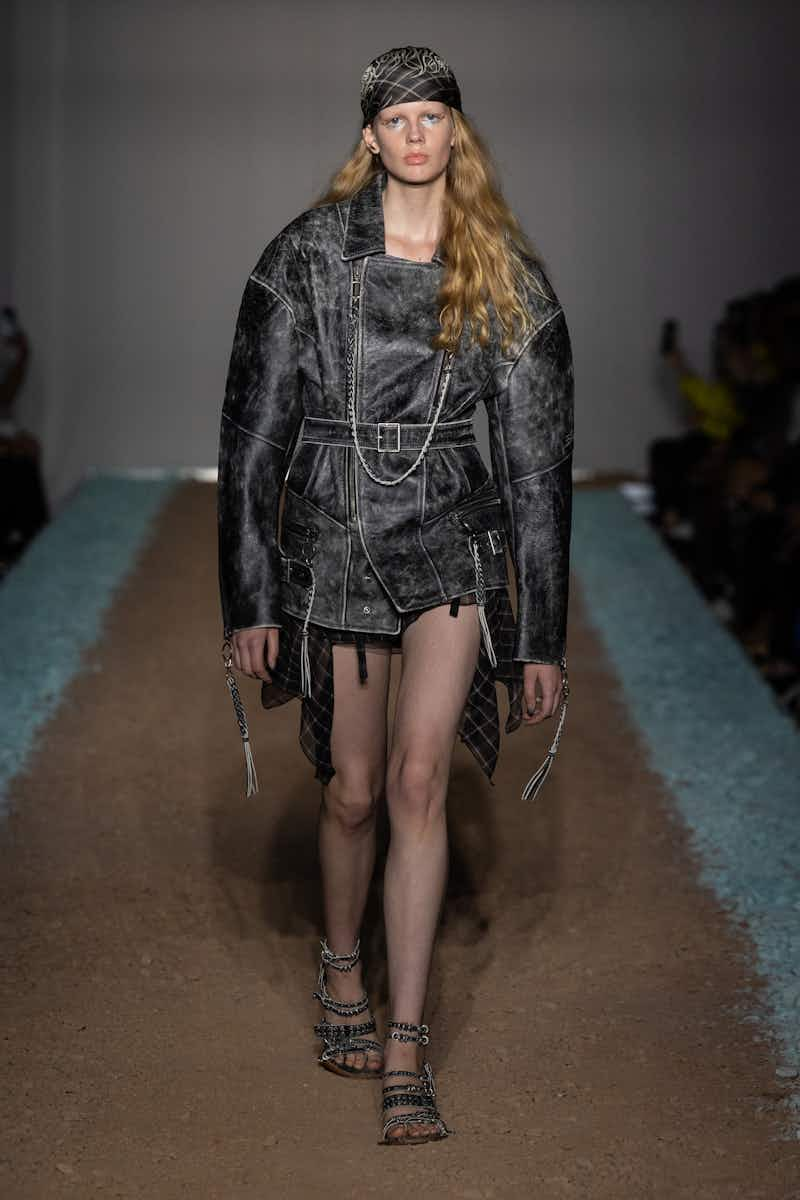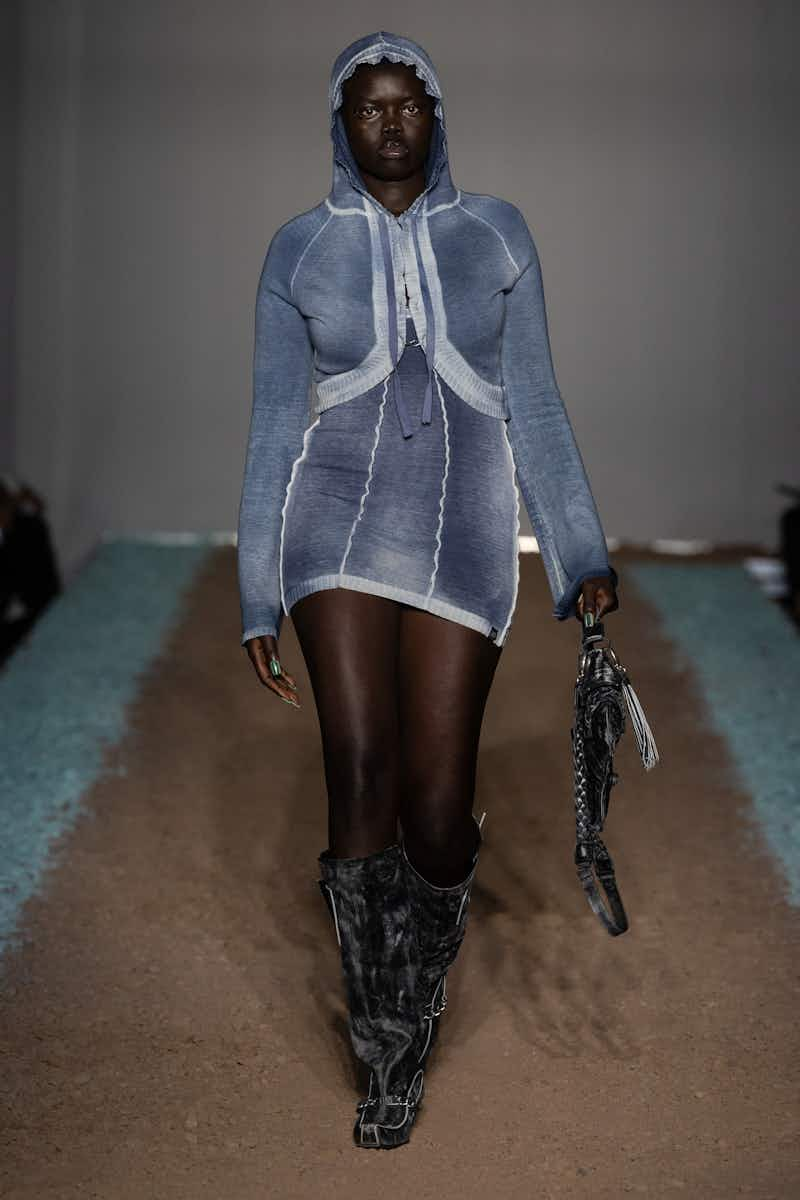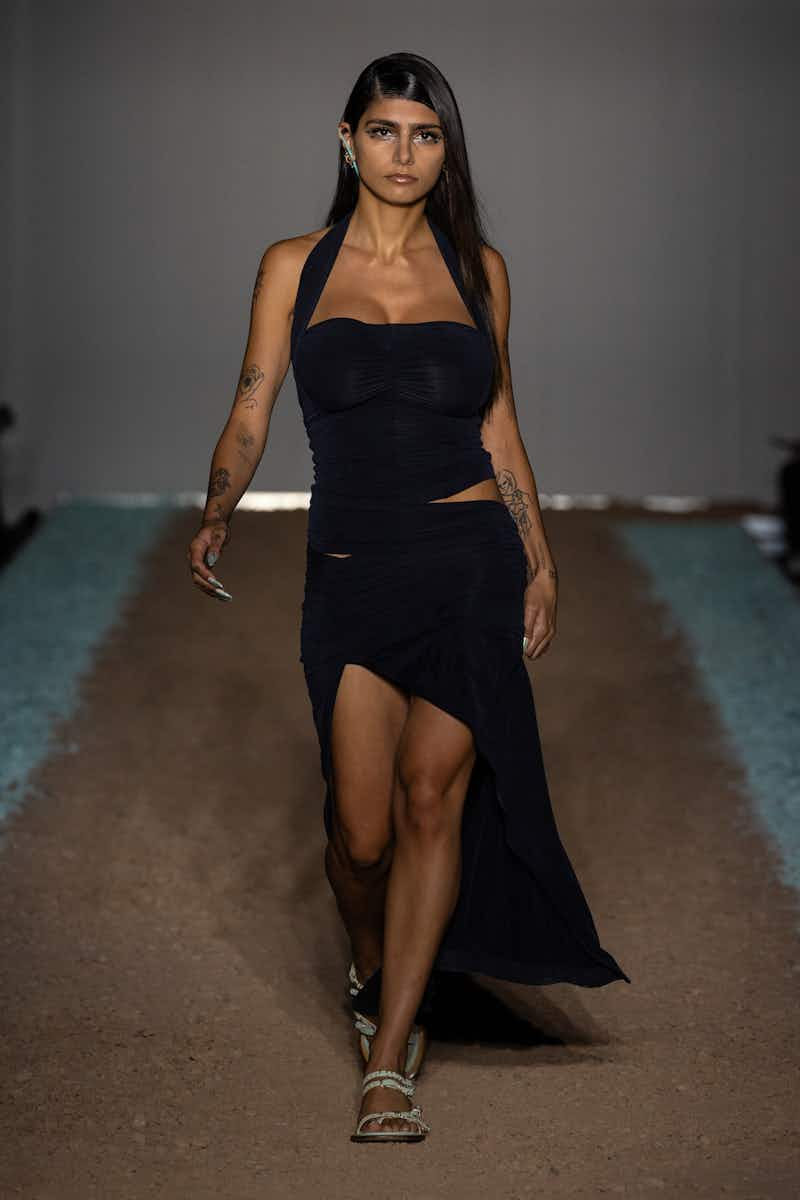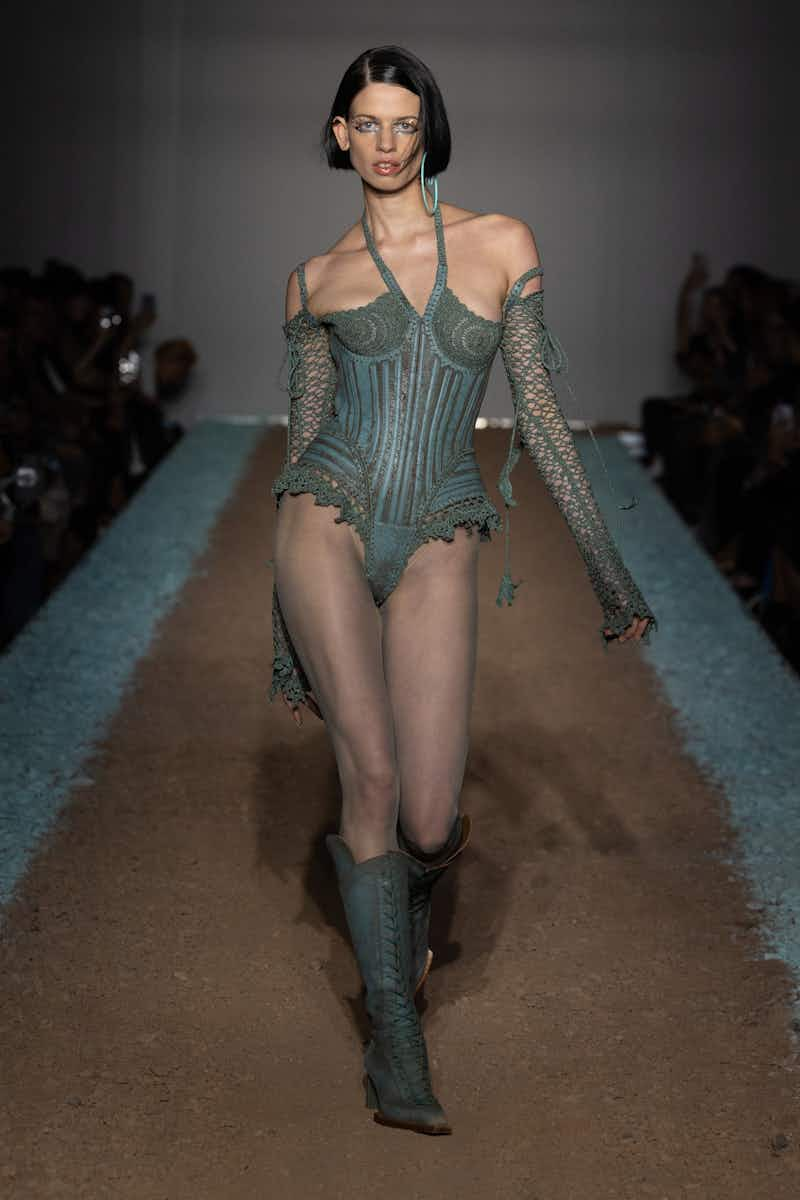 What?
Ashley Williams' buzzy return to the LFW schedule, her first runway show after a two year hiatus, as part of Fashion East's XLNC programme powered by UGG.

Where?
Underground – literally. The show took place in the cavernous concrete shell of an unfinished theatre deep beneath North London's Islington Green, which added to the dystopian mood of the collection.

What about the clothes?
It was Ashley Williams through and through. This season, she was imagining an apocalypse, but remastered into something saccharine and sweet. Think: catastrophic Hello Kitty style motifs, narcissistic ​"I Heart Me" printed tees and pants, tattered ballet flats and dresses detailed with multicoloured doodles. Restitching the fabric of time, mediaeval masks and ancient mythological relics became futuristic facial recognition blockers, to protect one's personal data, and post-apocalyptic accessories to ward off danger.

Of note:
A number of the pieces in the collection were reimagined with a little help from 54 The Gate, – a London arts centre for people with learning disabilities and mental health needs – where Ashley's been hosting a series of workshops.

Who walked the show?
Predominantly street cast models, alongside some familiar faces: America rapper Matt Ox, model Lux Gillespie and early-internet indie sleaze It Girl Cory Kennedy, who flew in from New York especially for the occasion.

In a song?
Crystal Castles – Crimewave
WORDS: Brooke McCord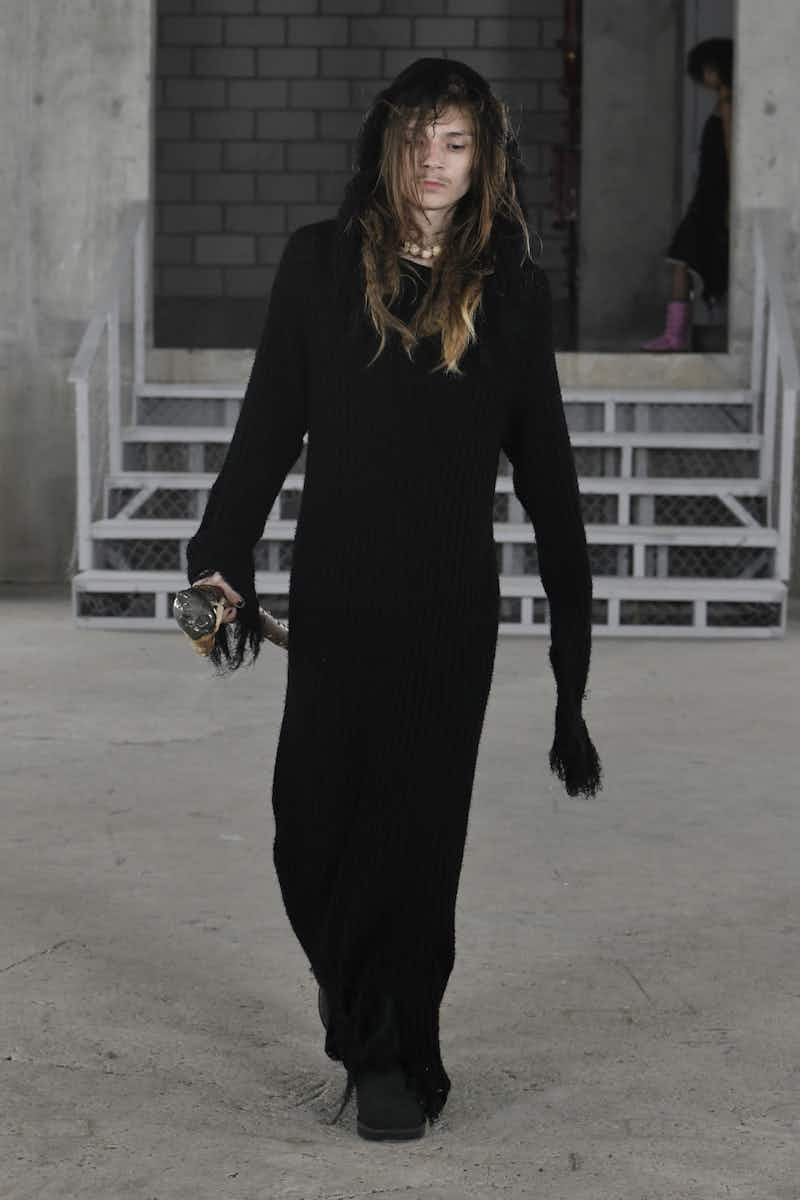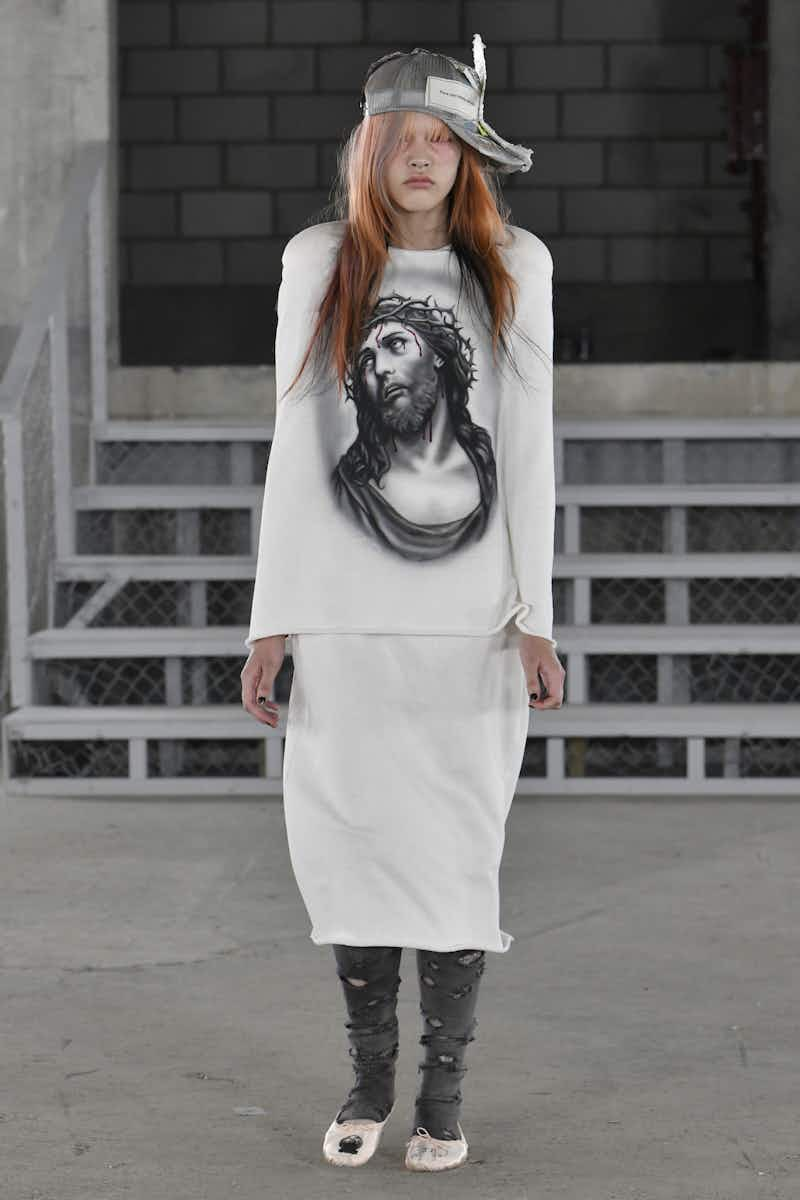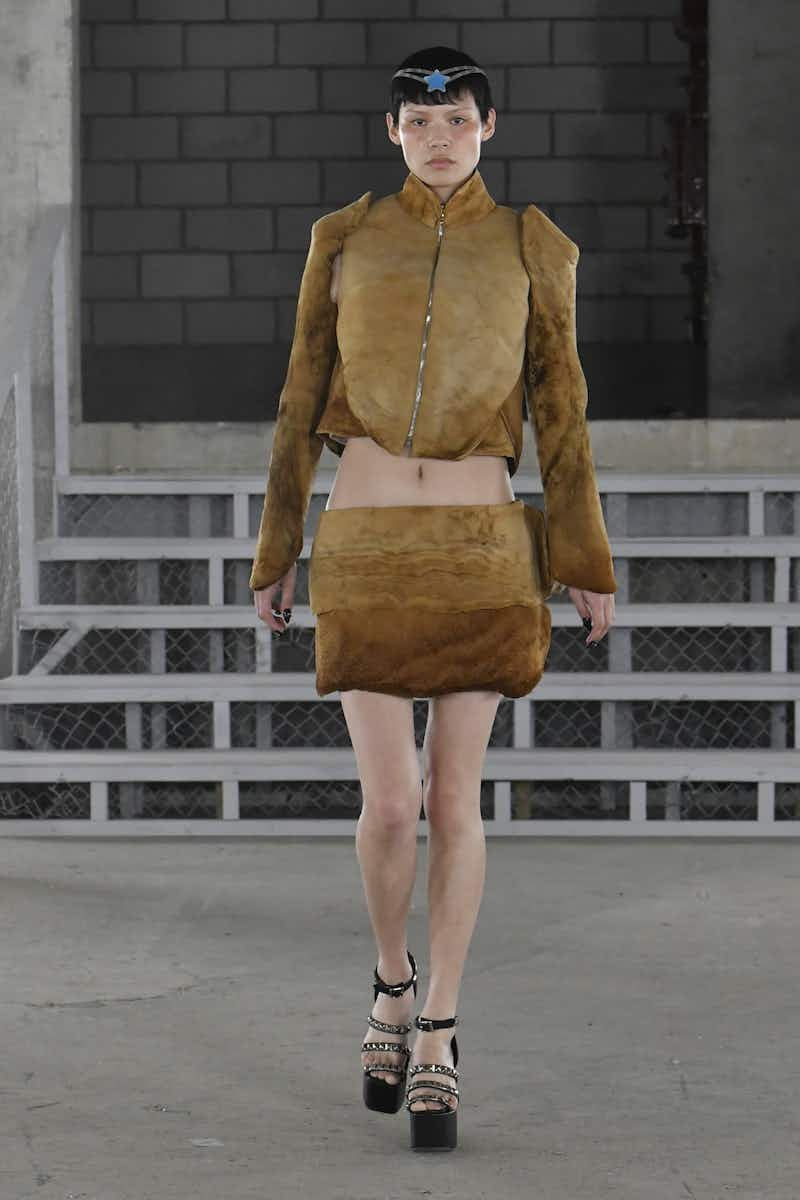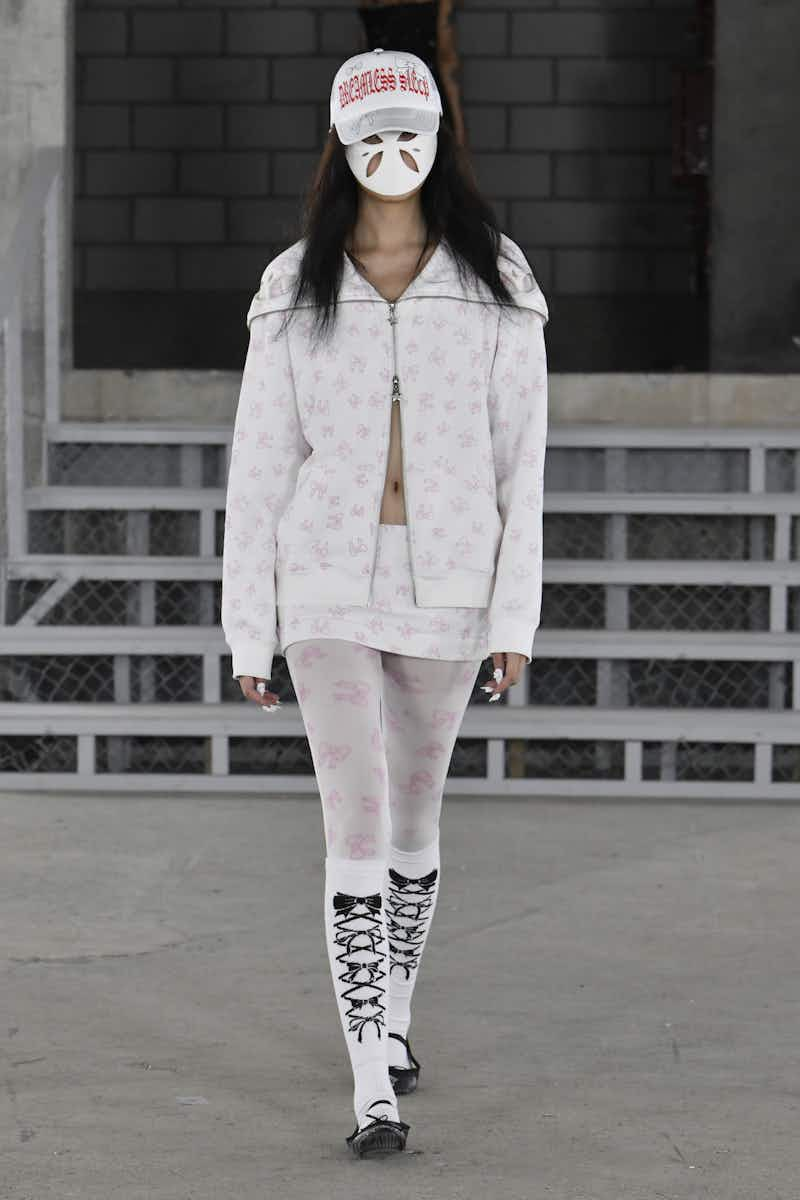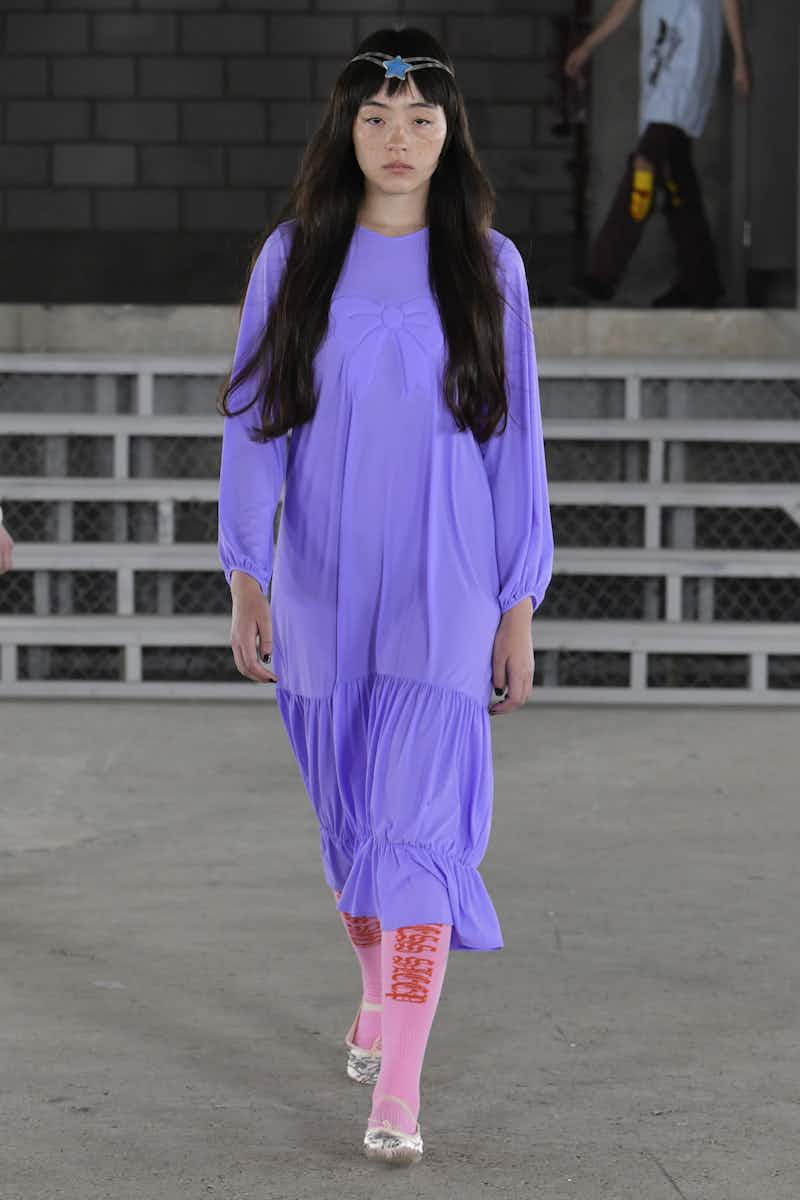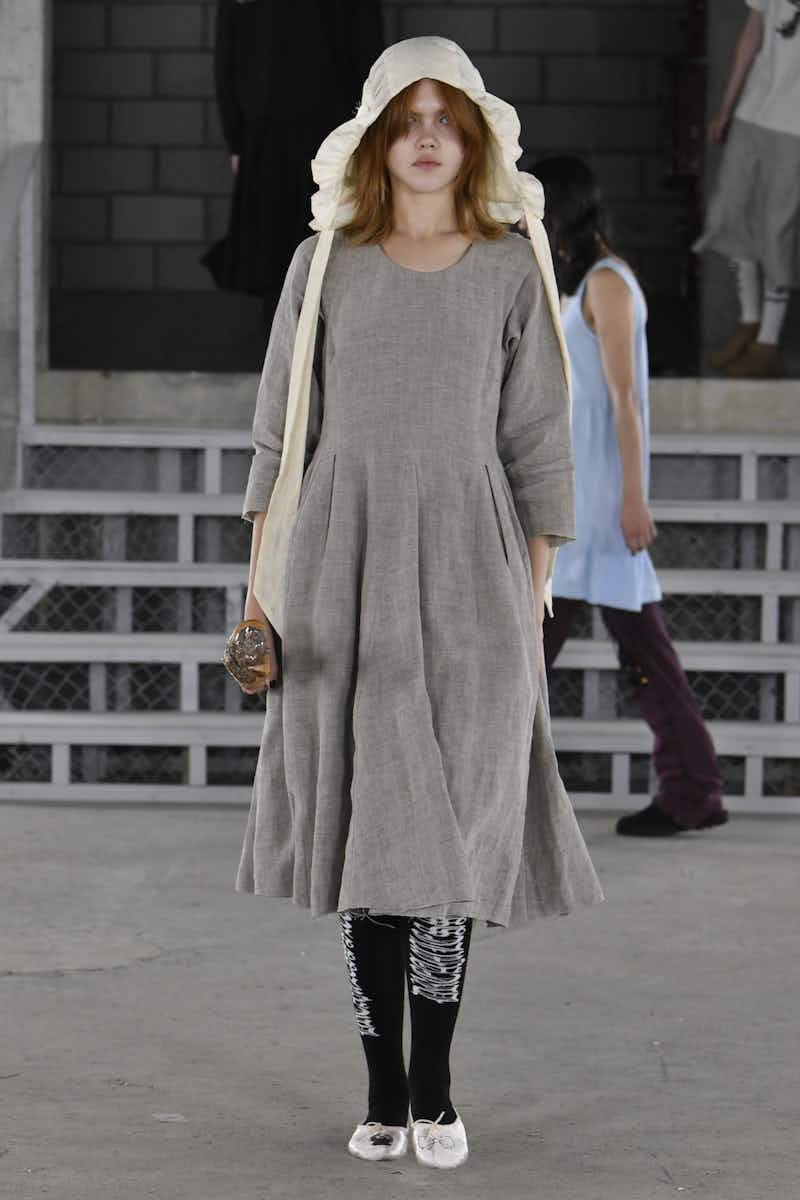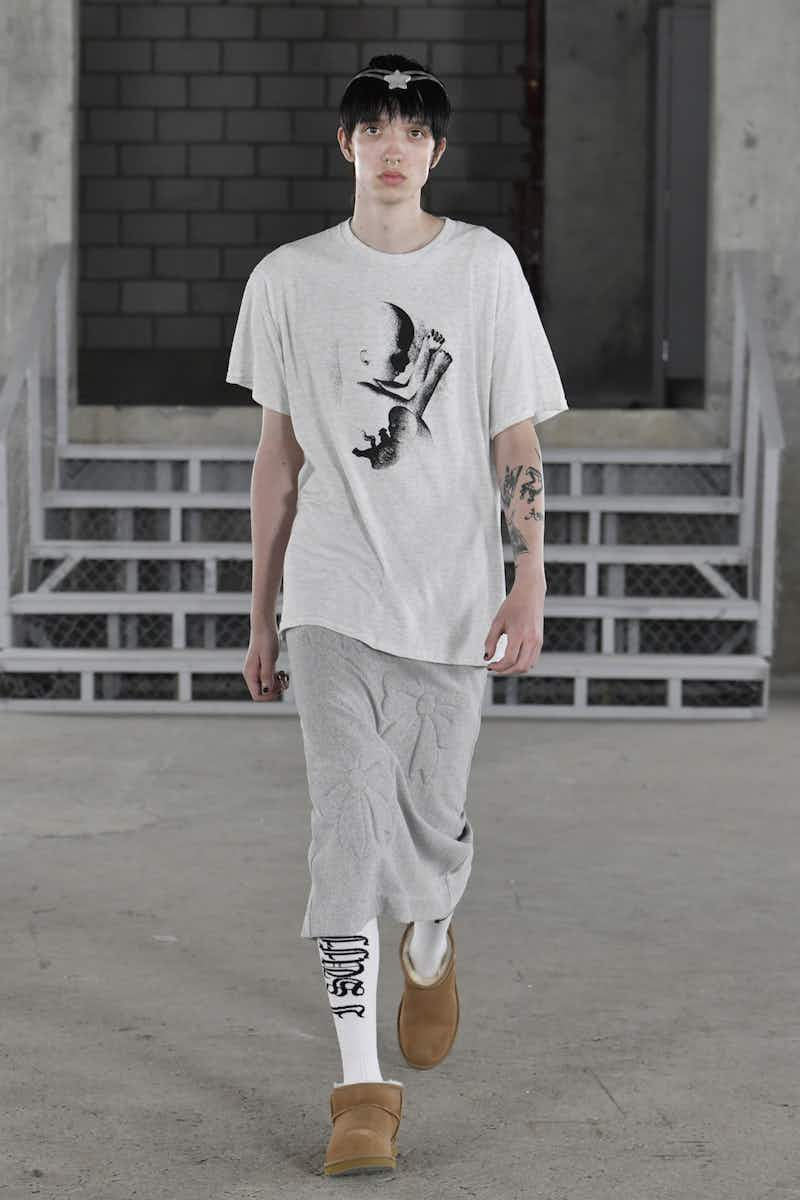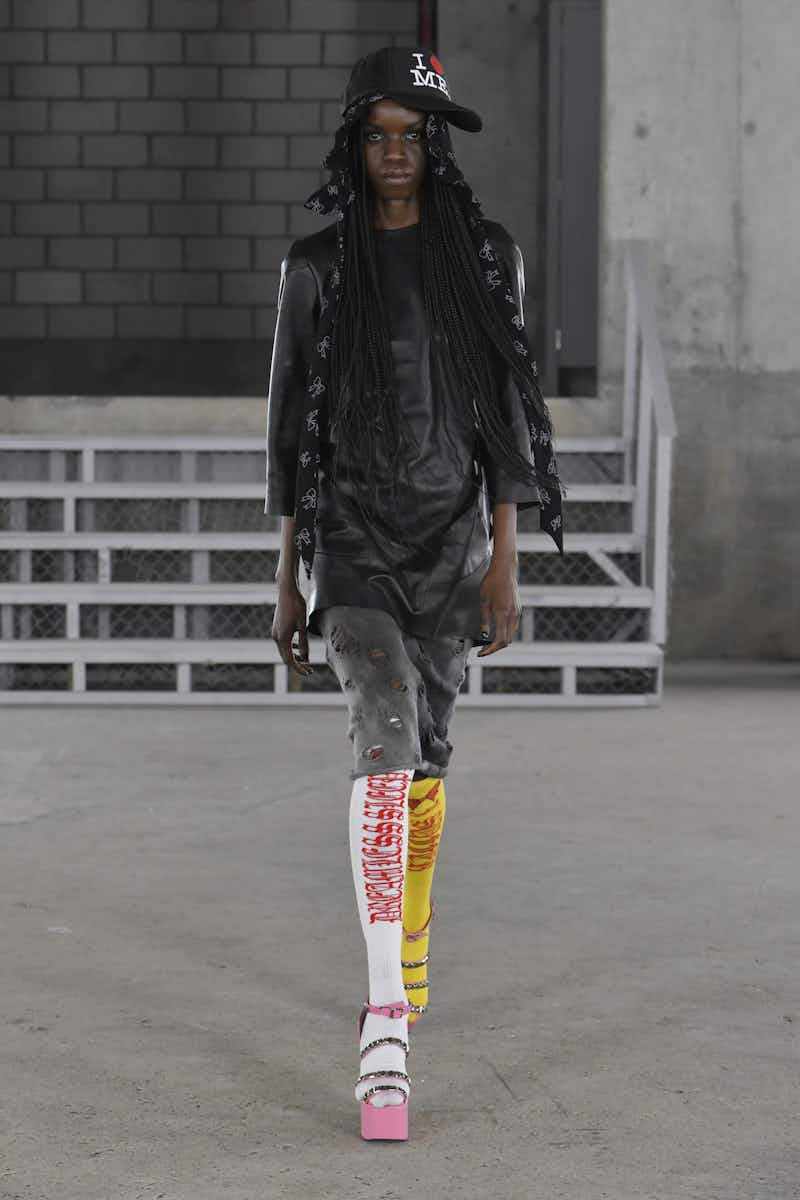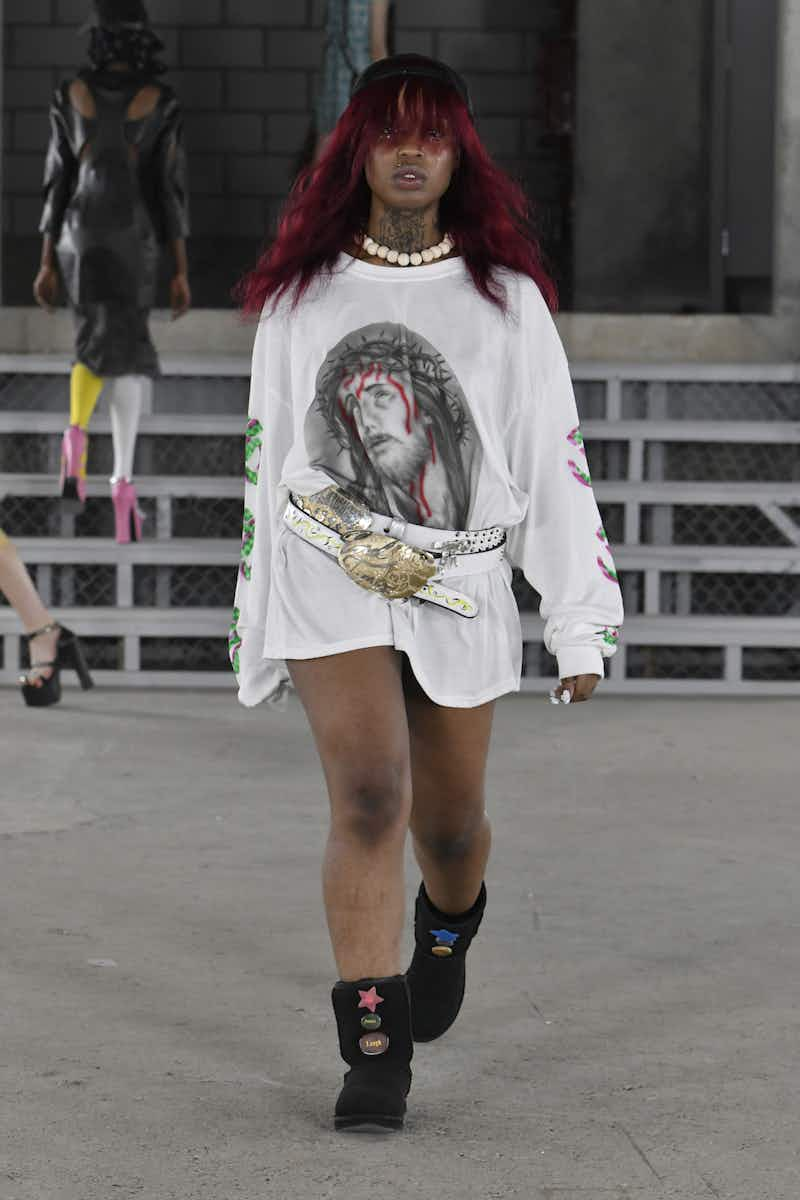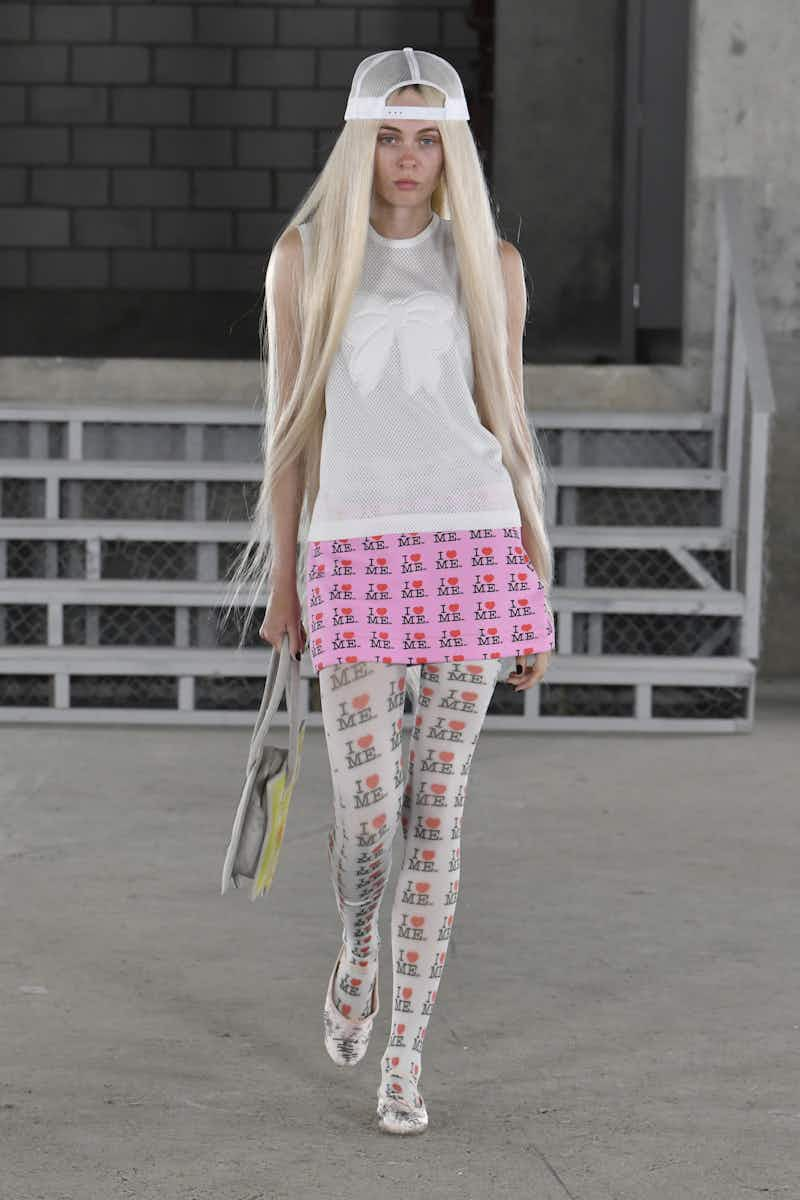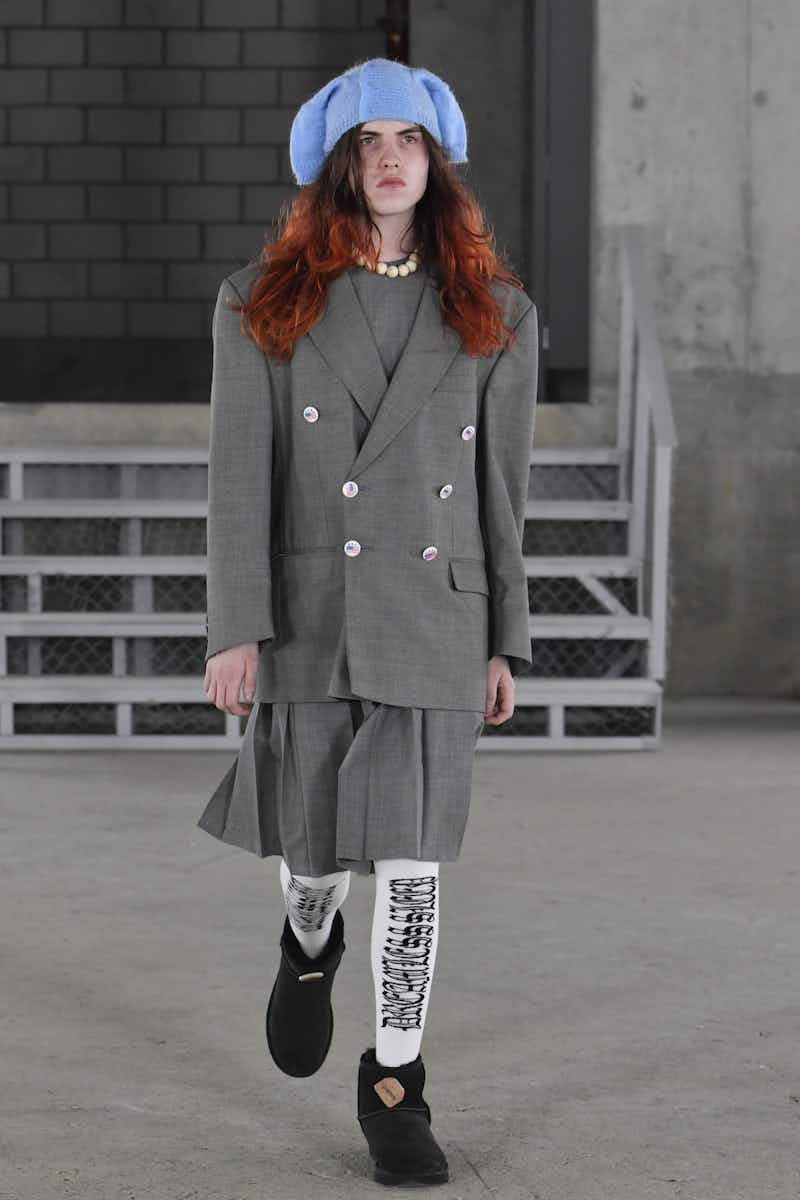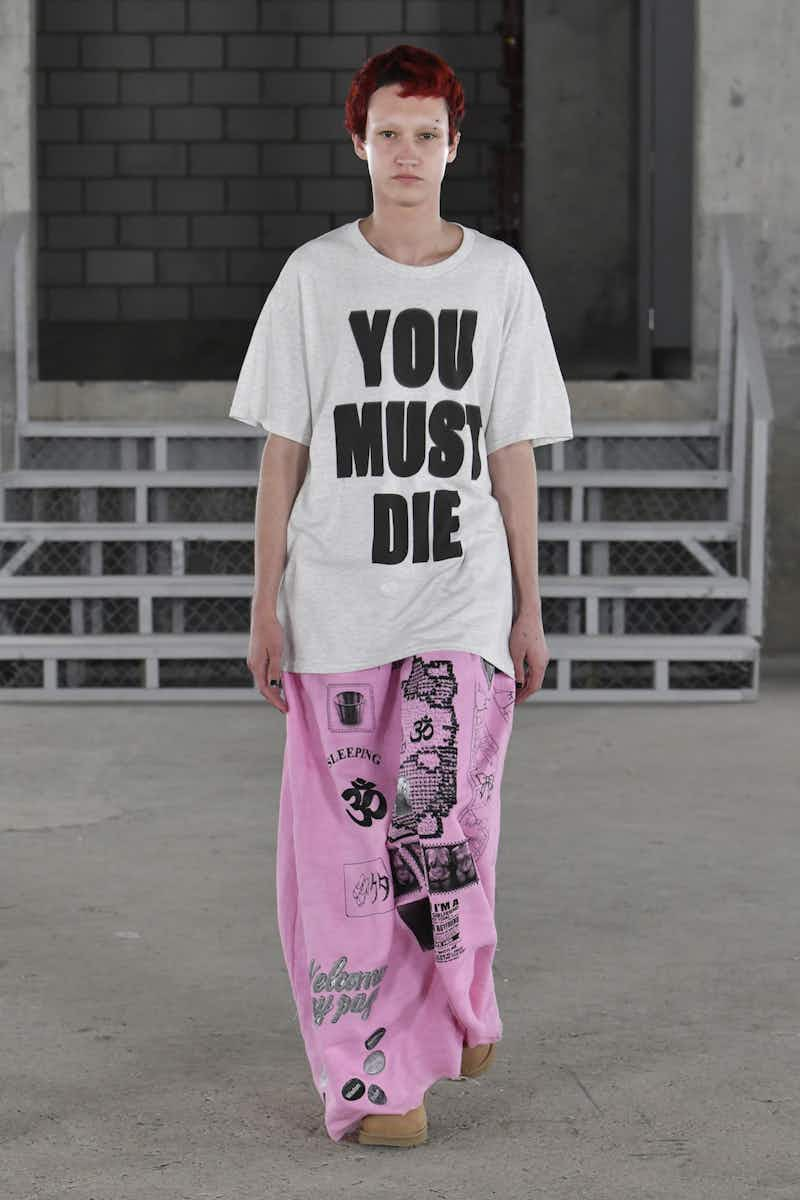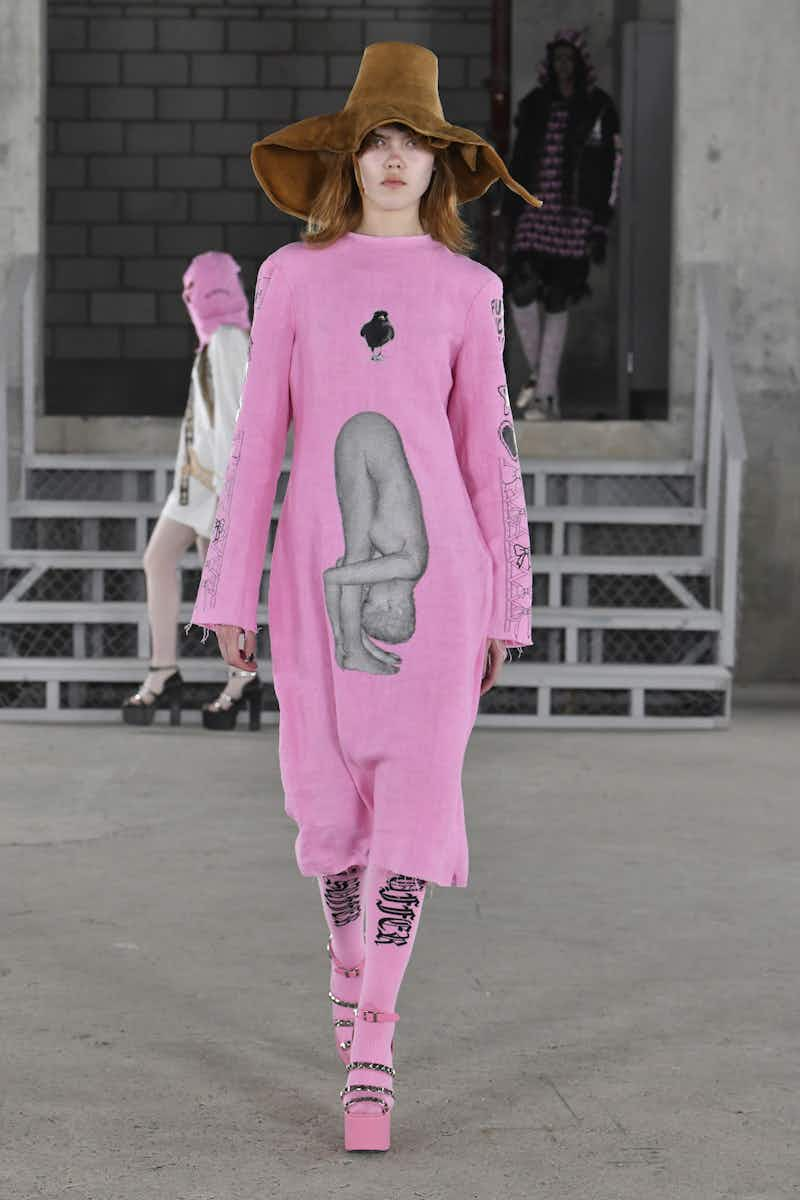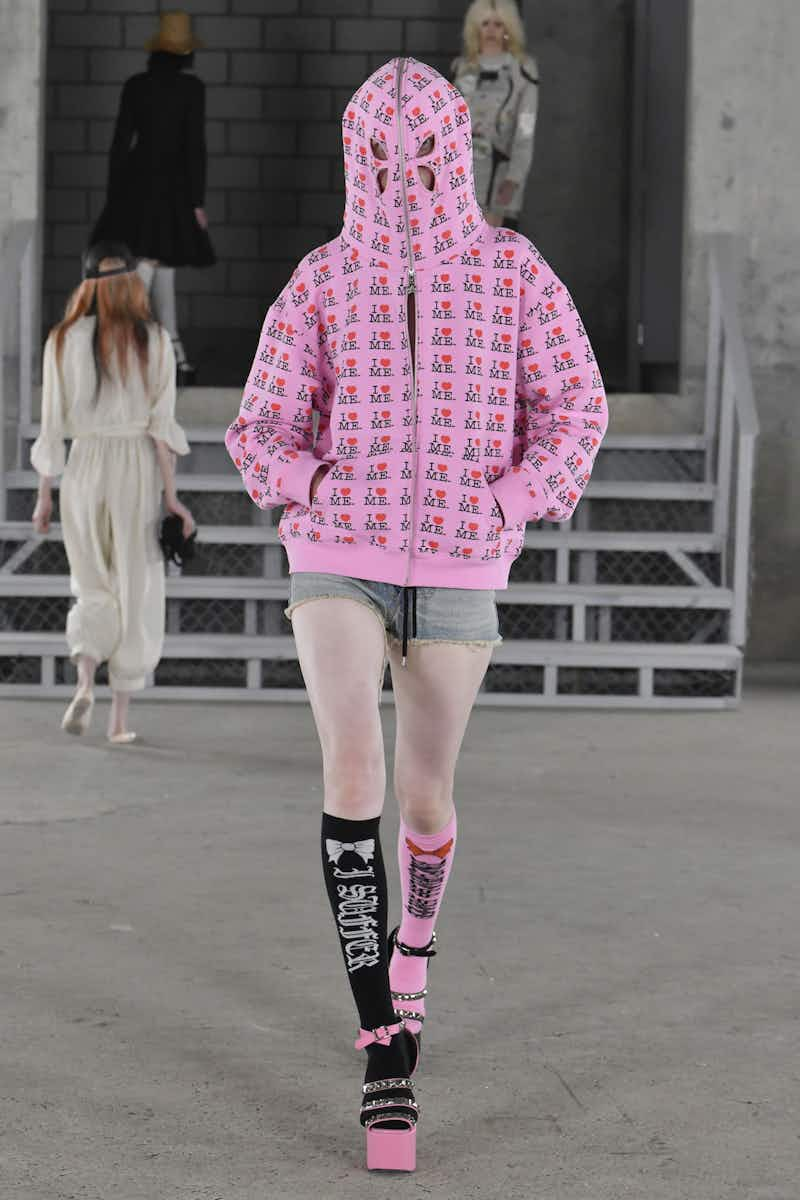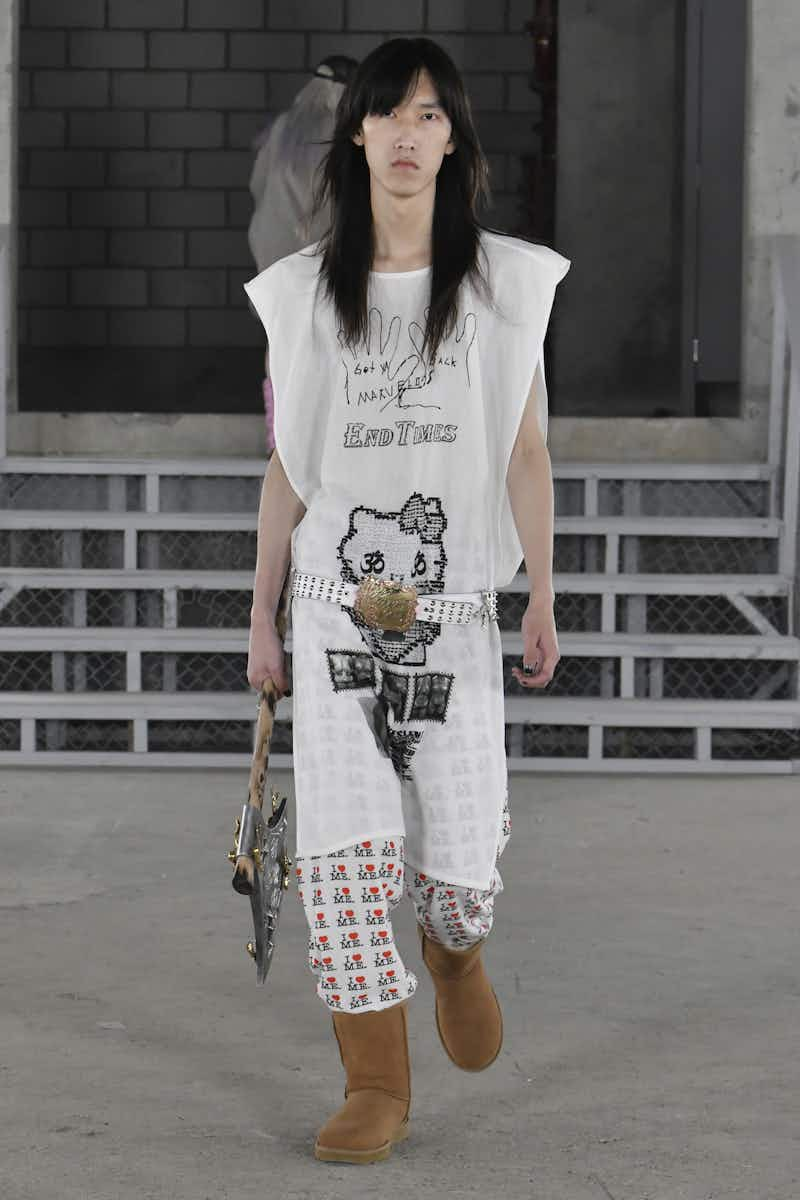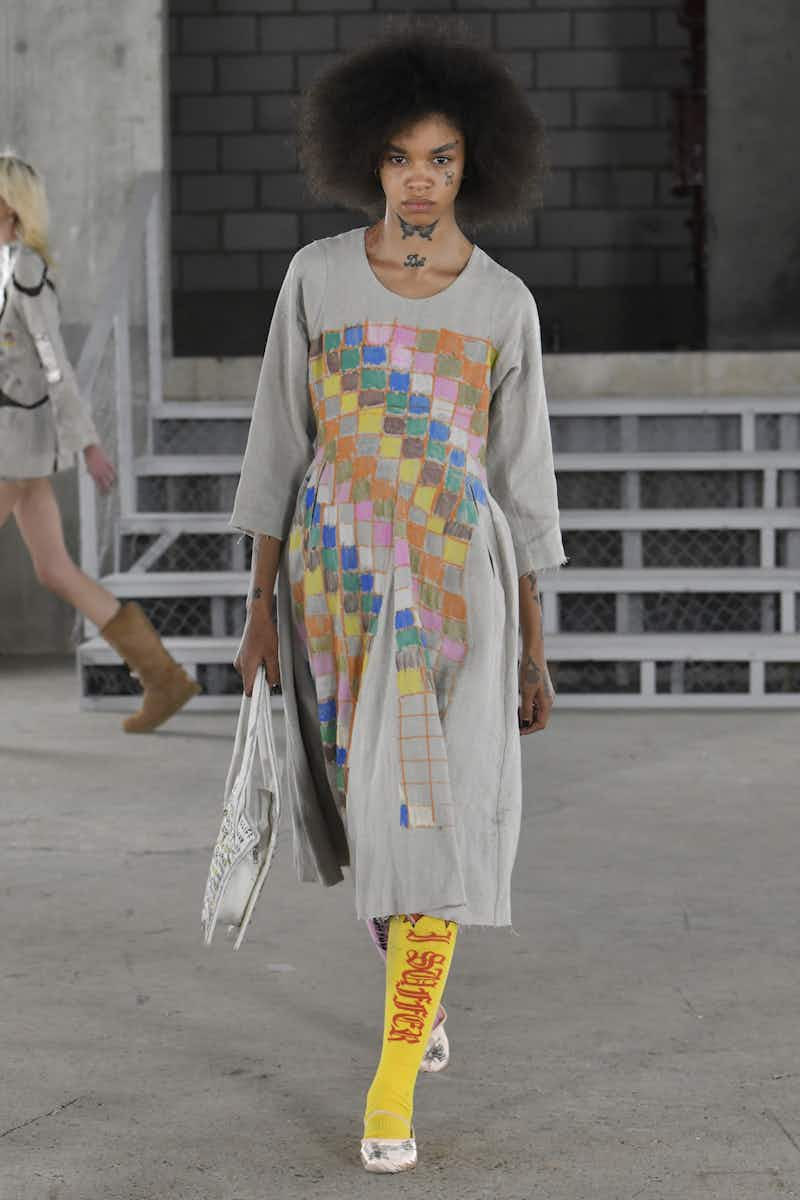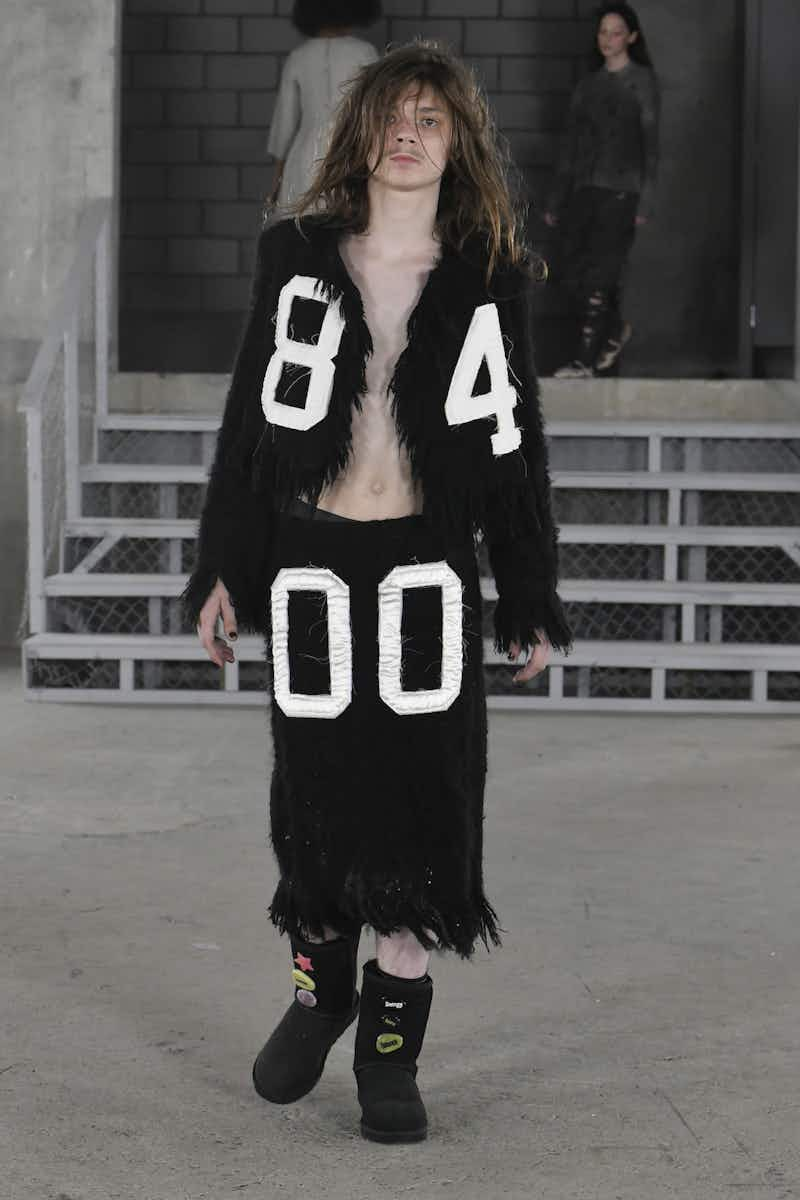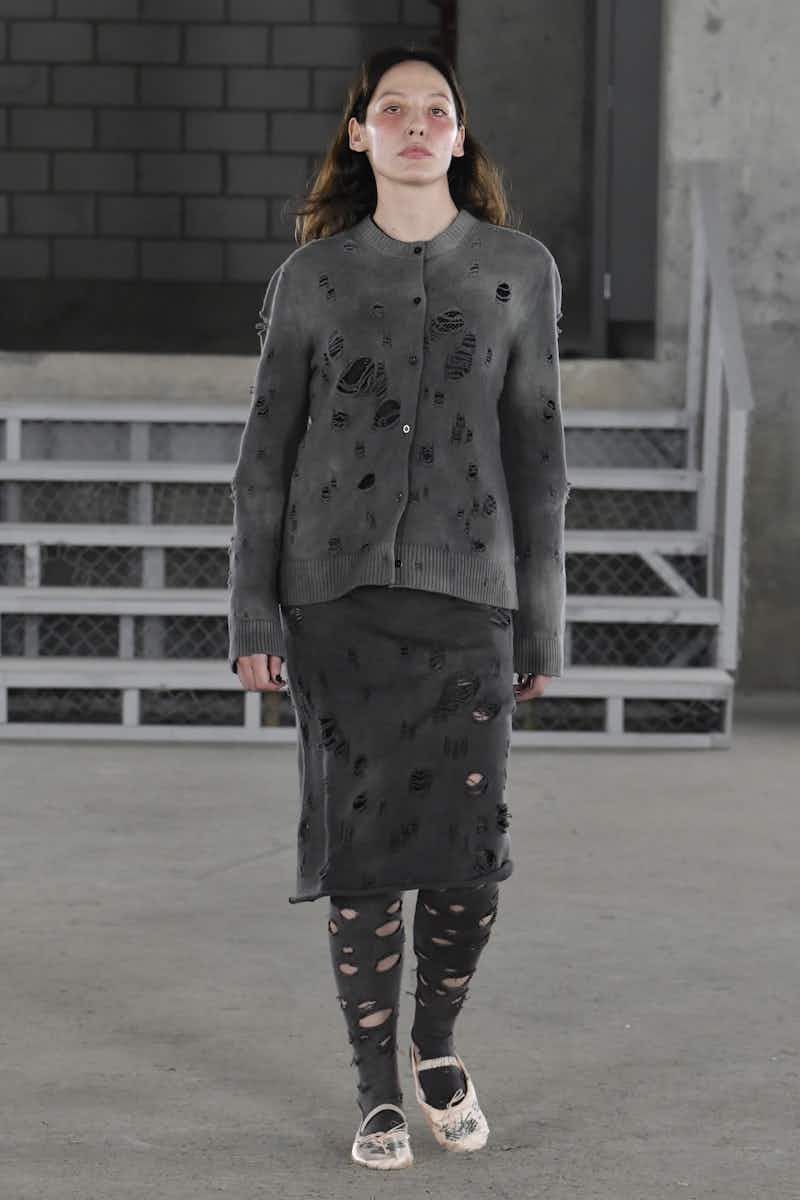 What?
Another bonkers and brilliant JW Anderson collection which took place at Camden's Roundhouse Theatre.

How was it?
Well, it's not everyday you see a hoodie made out of plasticine, is it? But that's exactly how Jonathan Anderson opened his SS24 show, with a blue hoodie and white shorts modelled entirely from Play-Doh. The childlike connotation is one to note – backstage Anderson spoke about cleansing, observing youth modes of dressing and finding a new path. The resulting collection was simultaneously practical and playful. Dresses came served with spherical, hula hoop-style hems, moccasins were stacked, unexpectedly, on kitten heels, and MA‑1 style bomber jackets were blooming with feathers at the seams. Anderson's ability to design clothes with a distinct sense of humour reigned supreme.

Of note:
A stellar front row. The likes of Charli XCX, Mabel, Maharishi, Chloe Cherry, Kit Connor, Cole Sprouse and more showed up for the Sunday morning soirée.


In a song:
The Shapeshifters – Lola's Theme

WORDS: Brooke McCord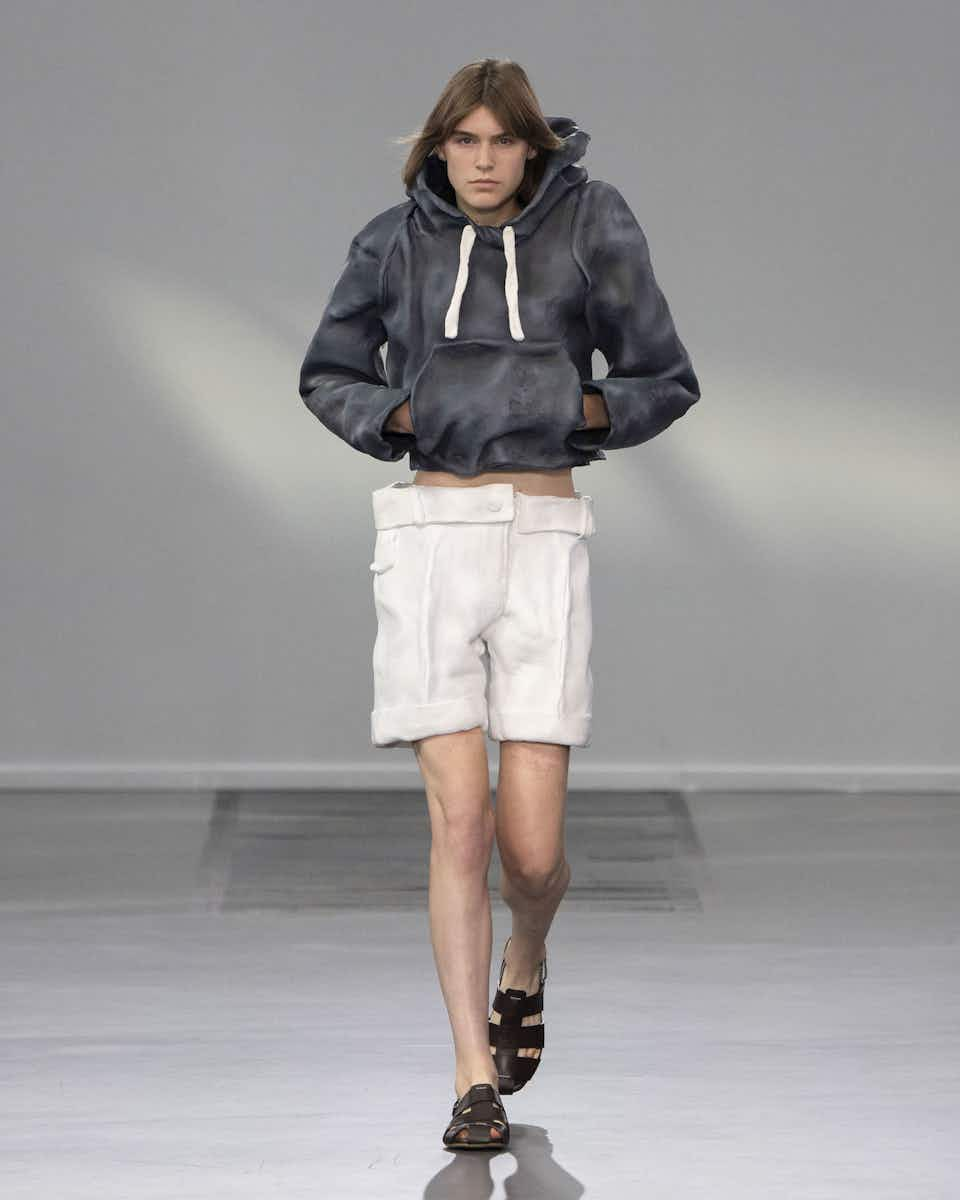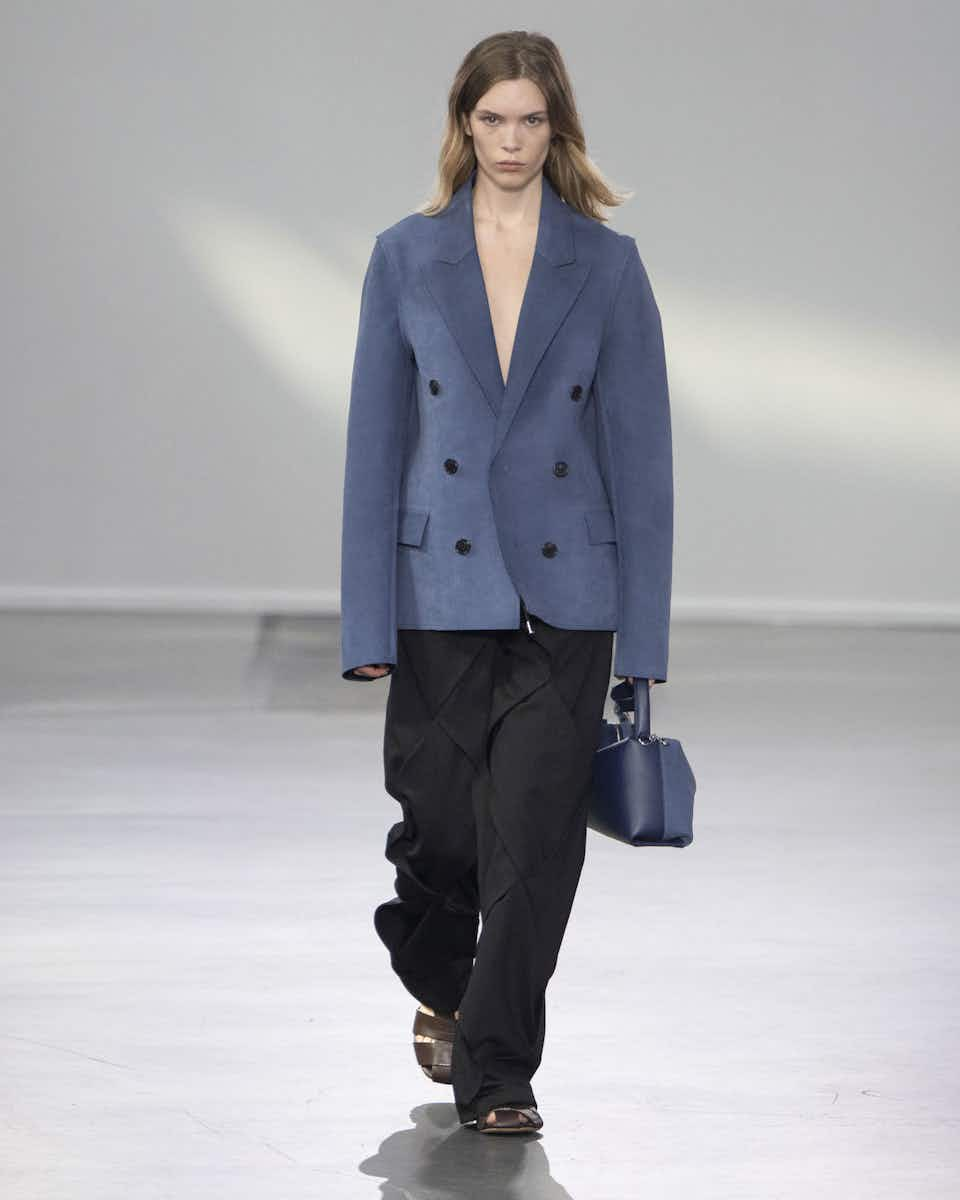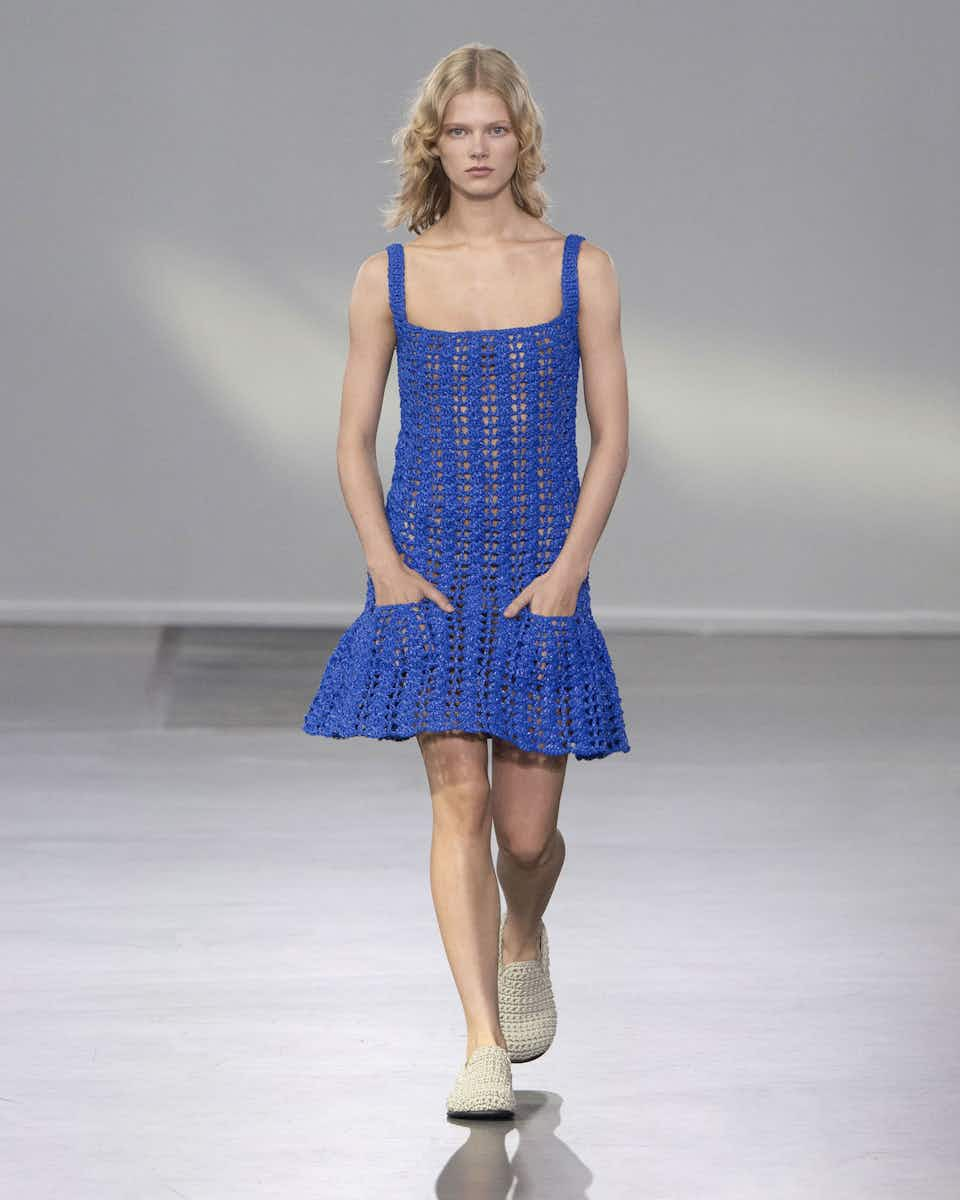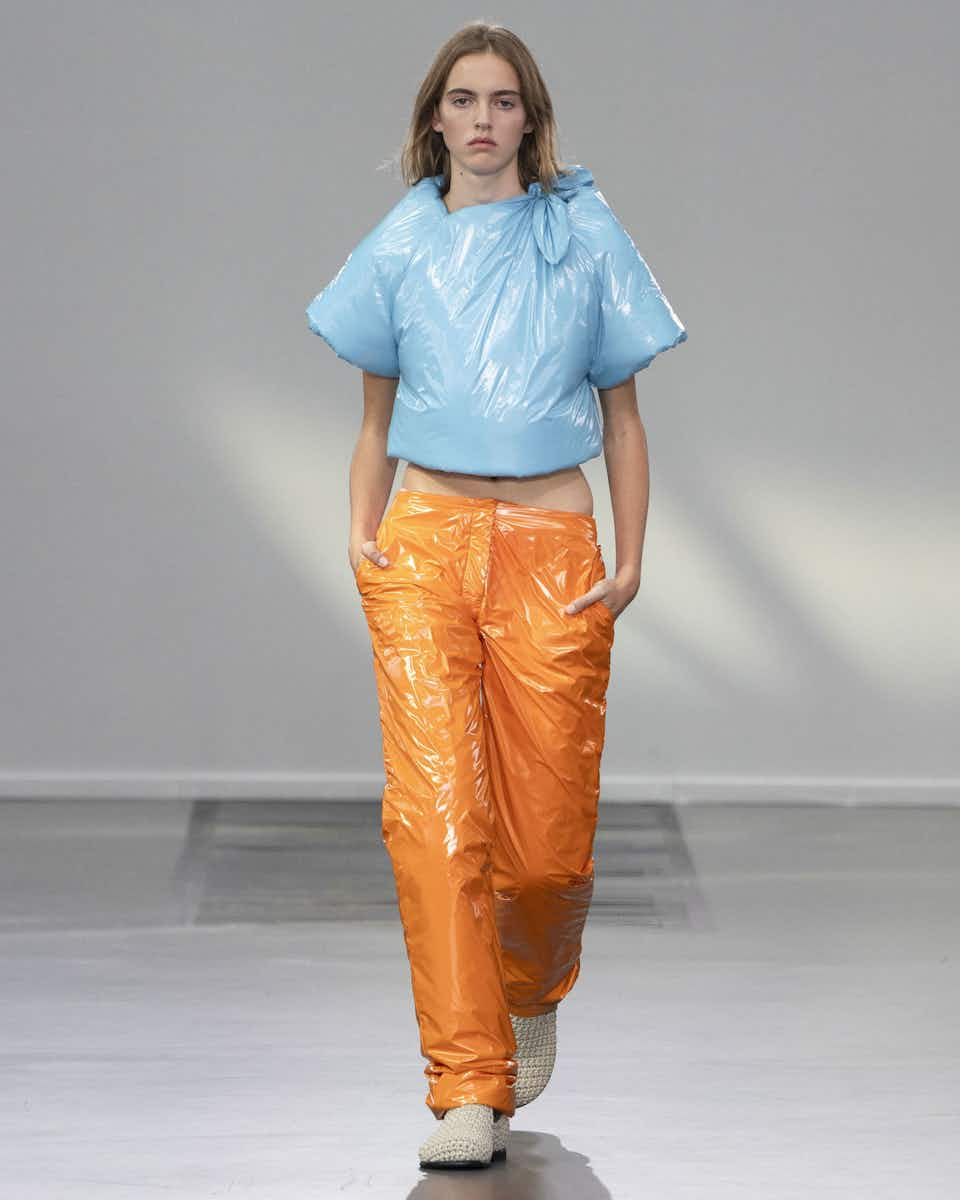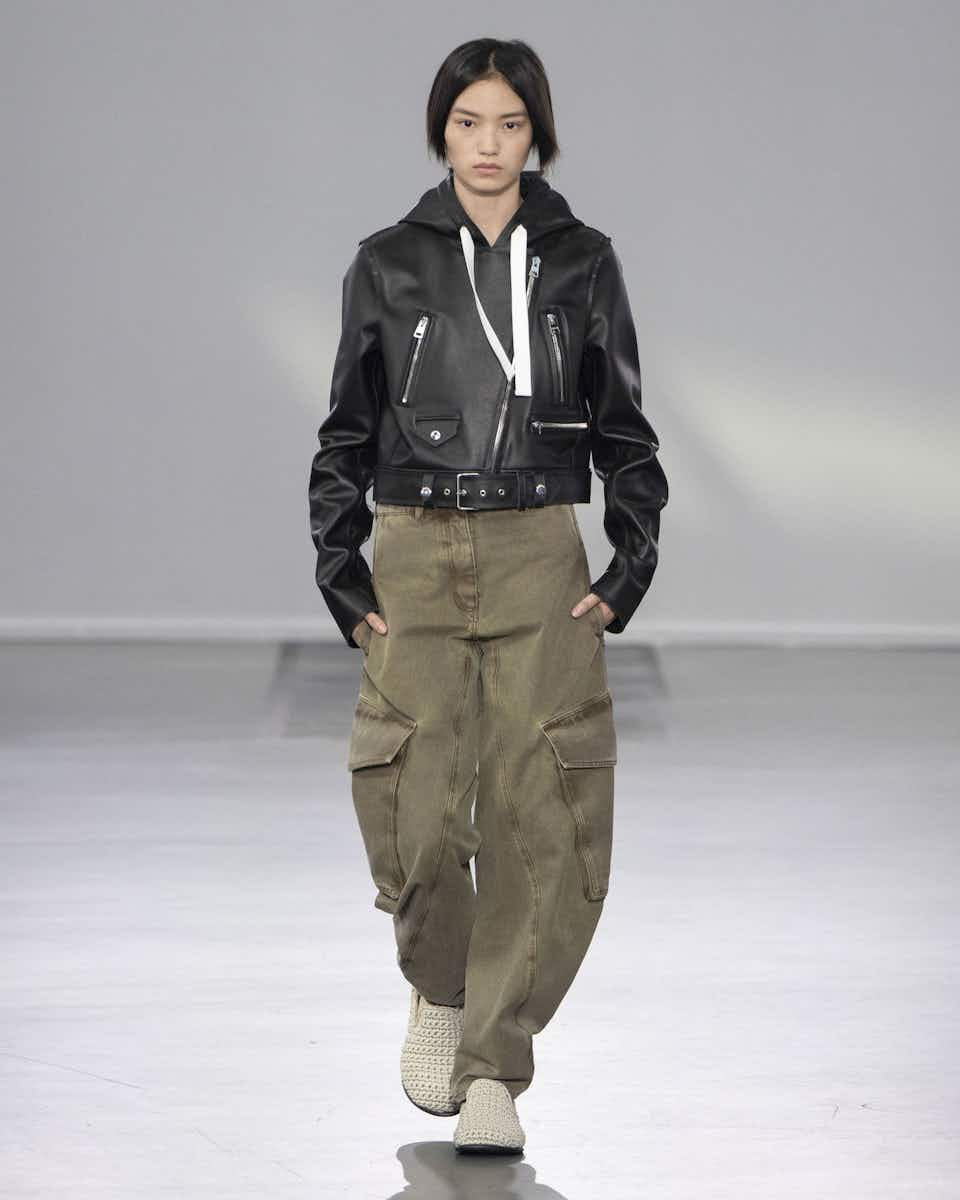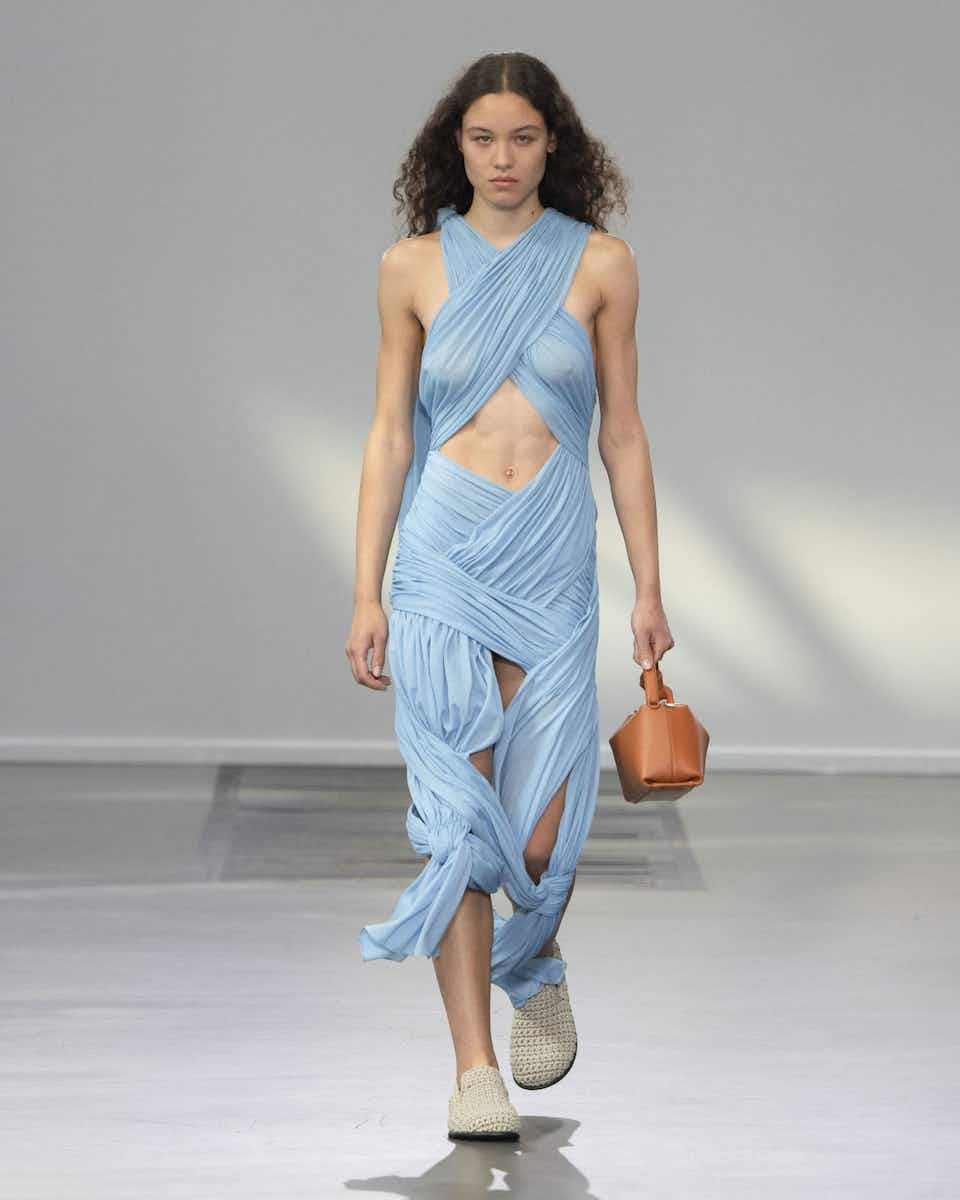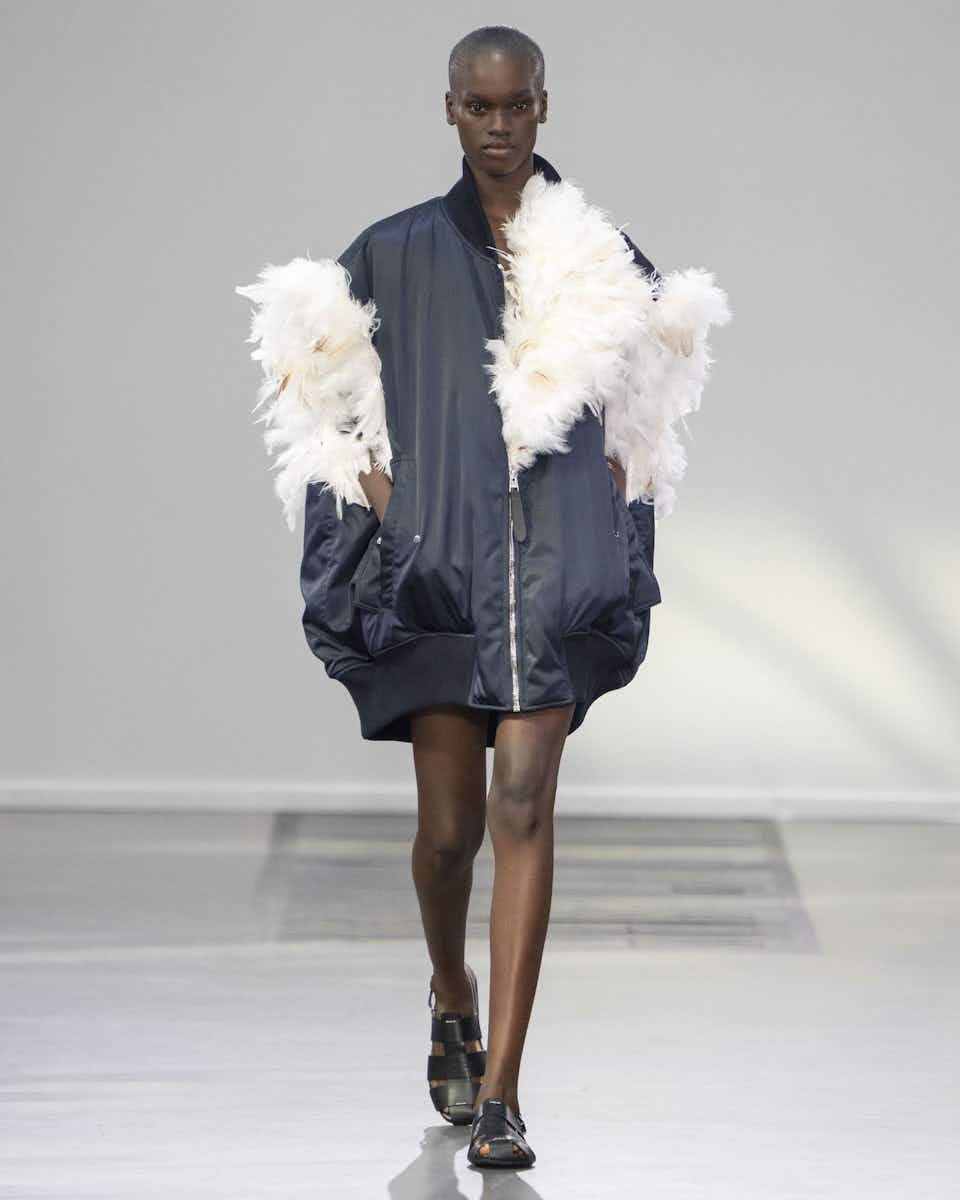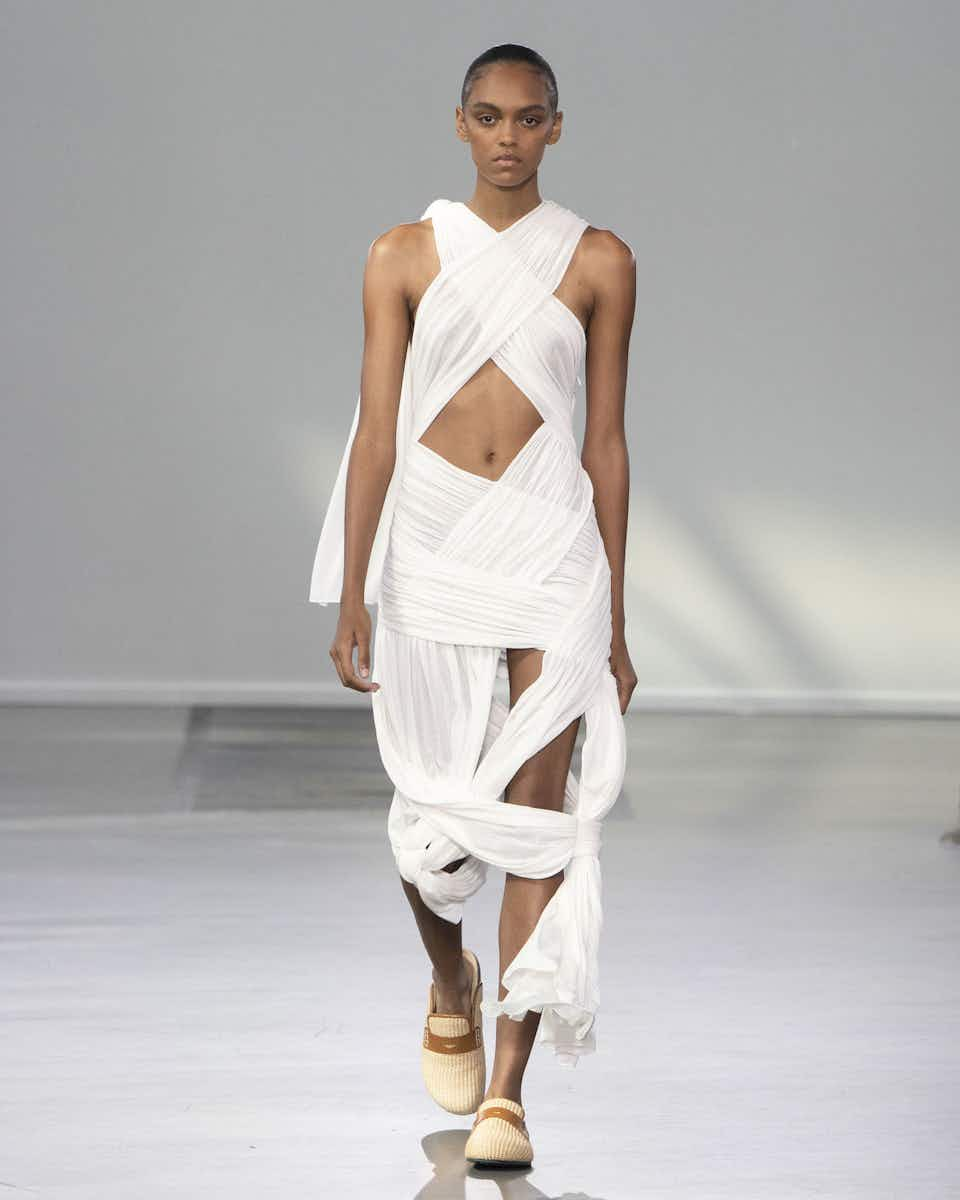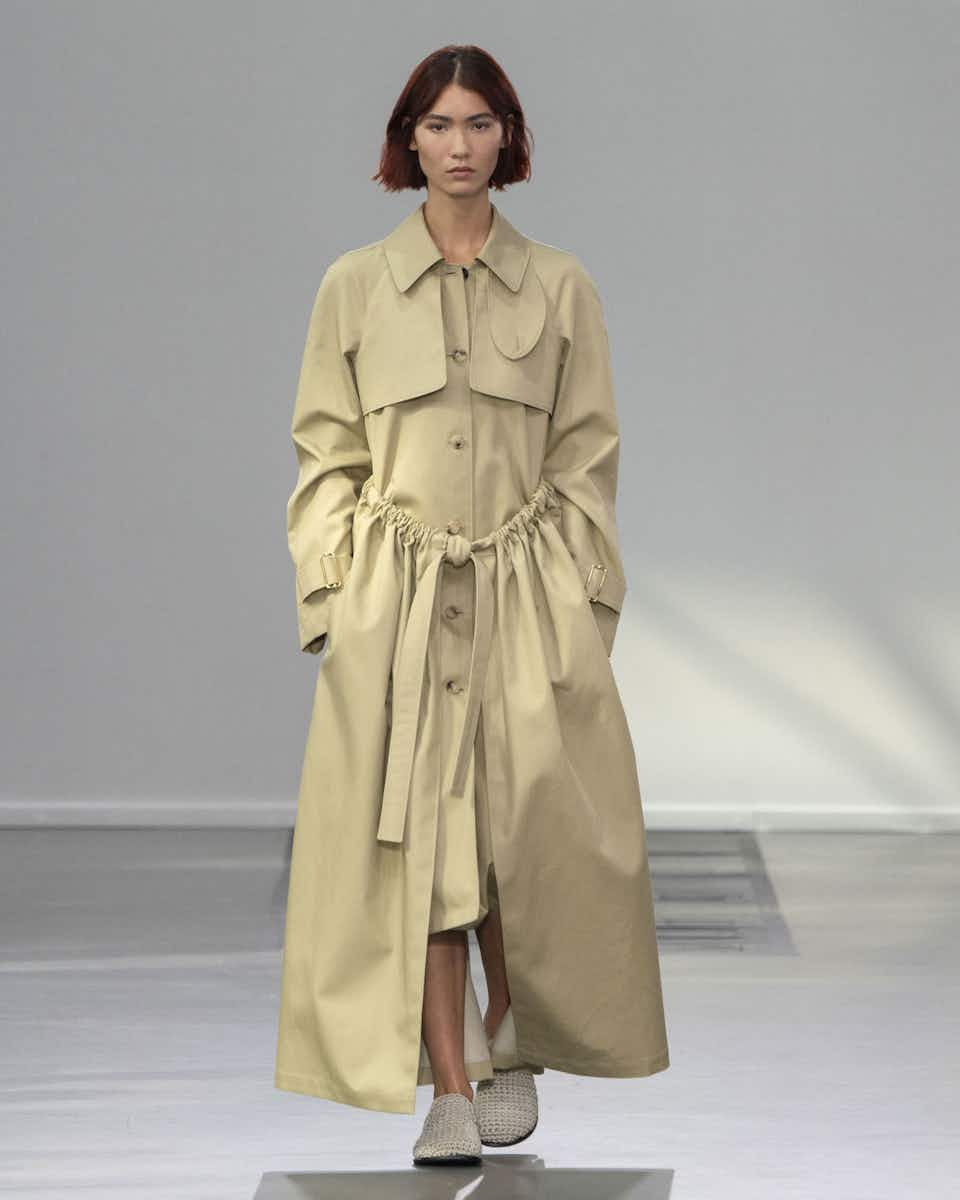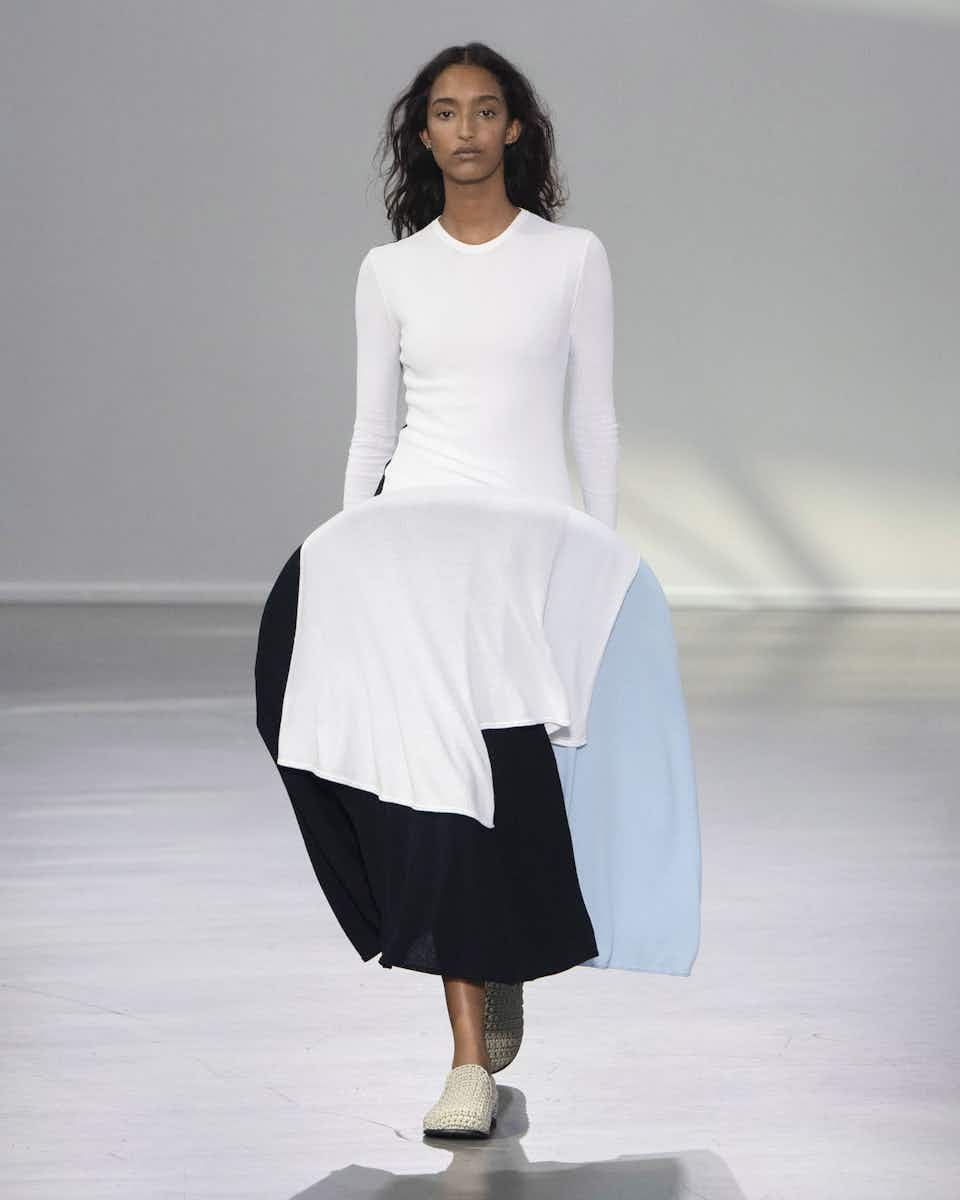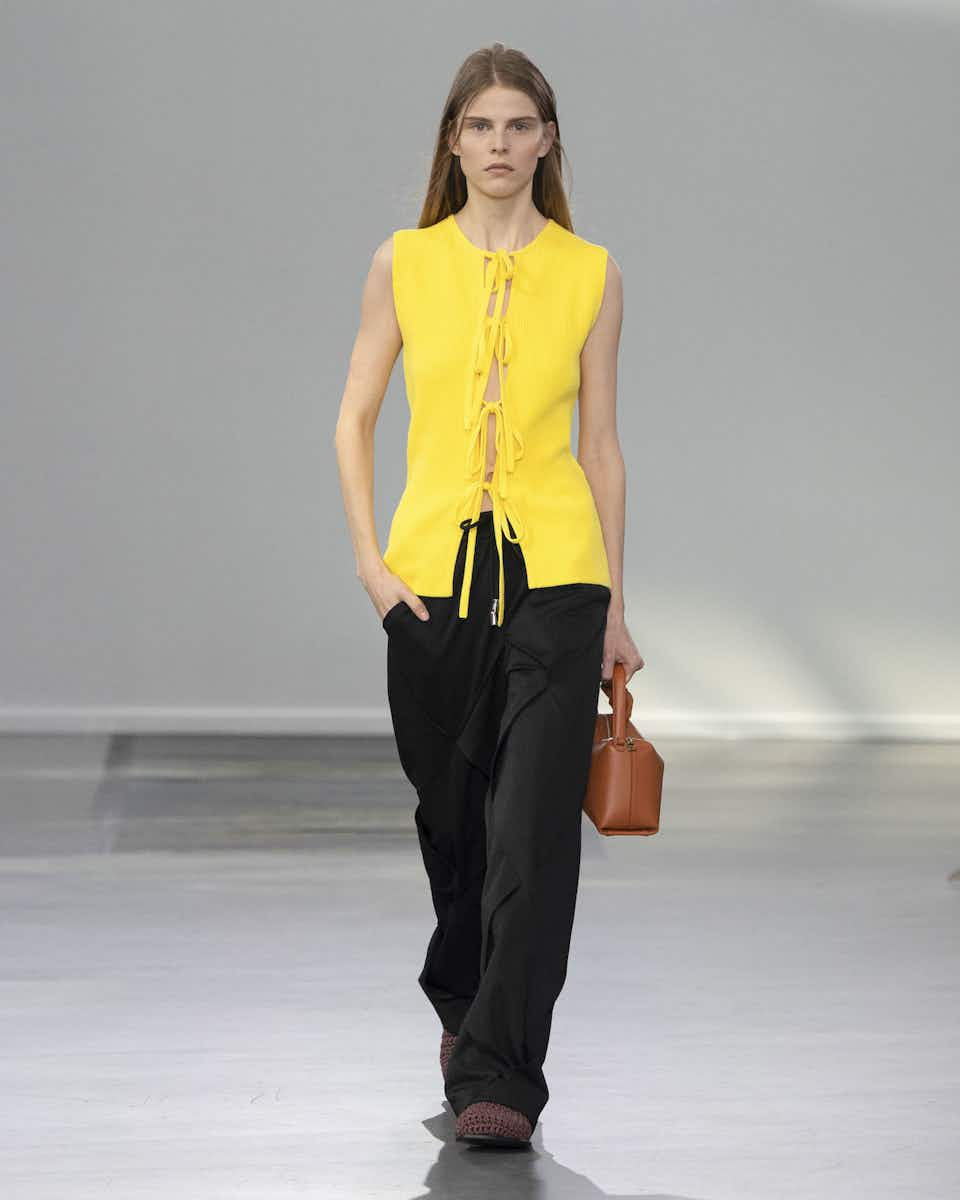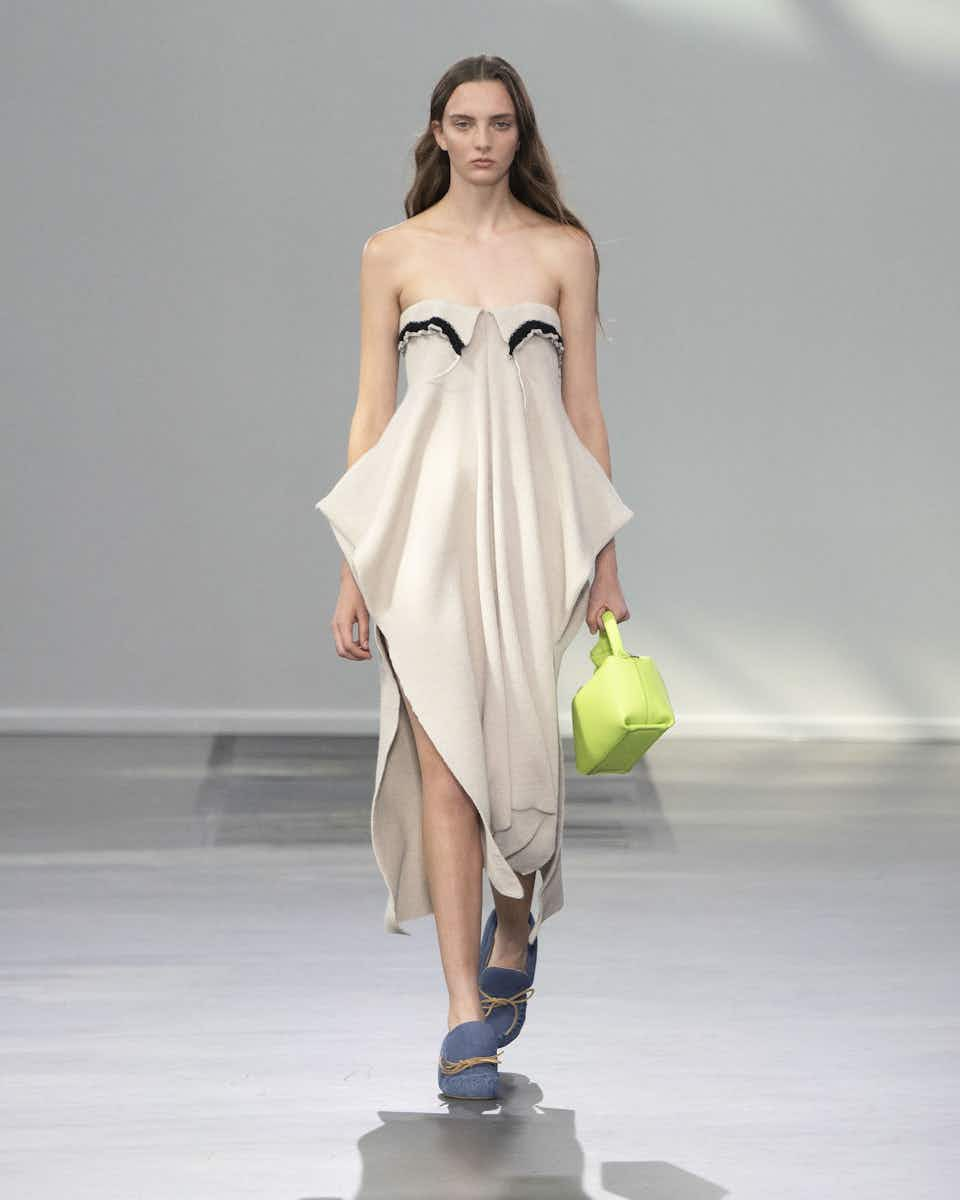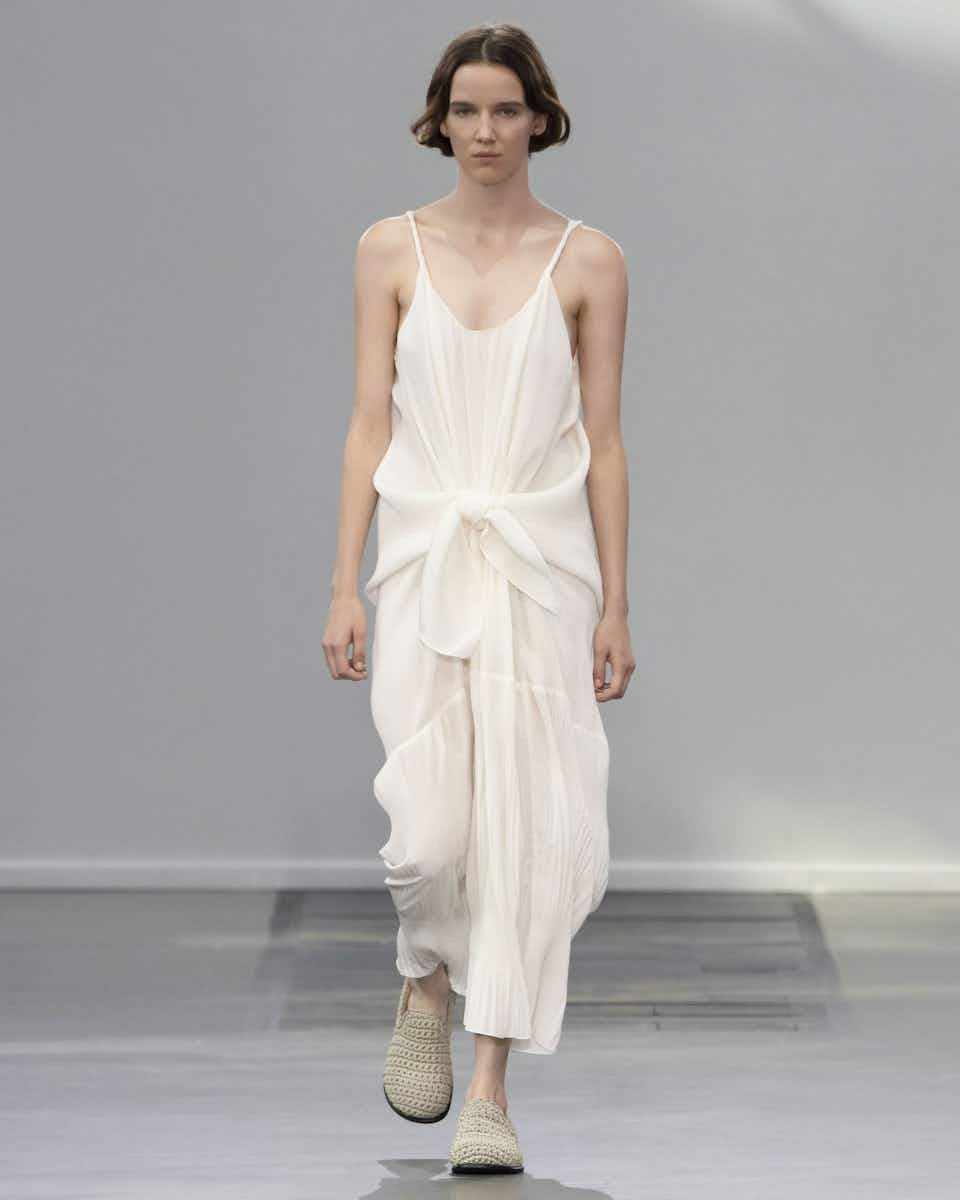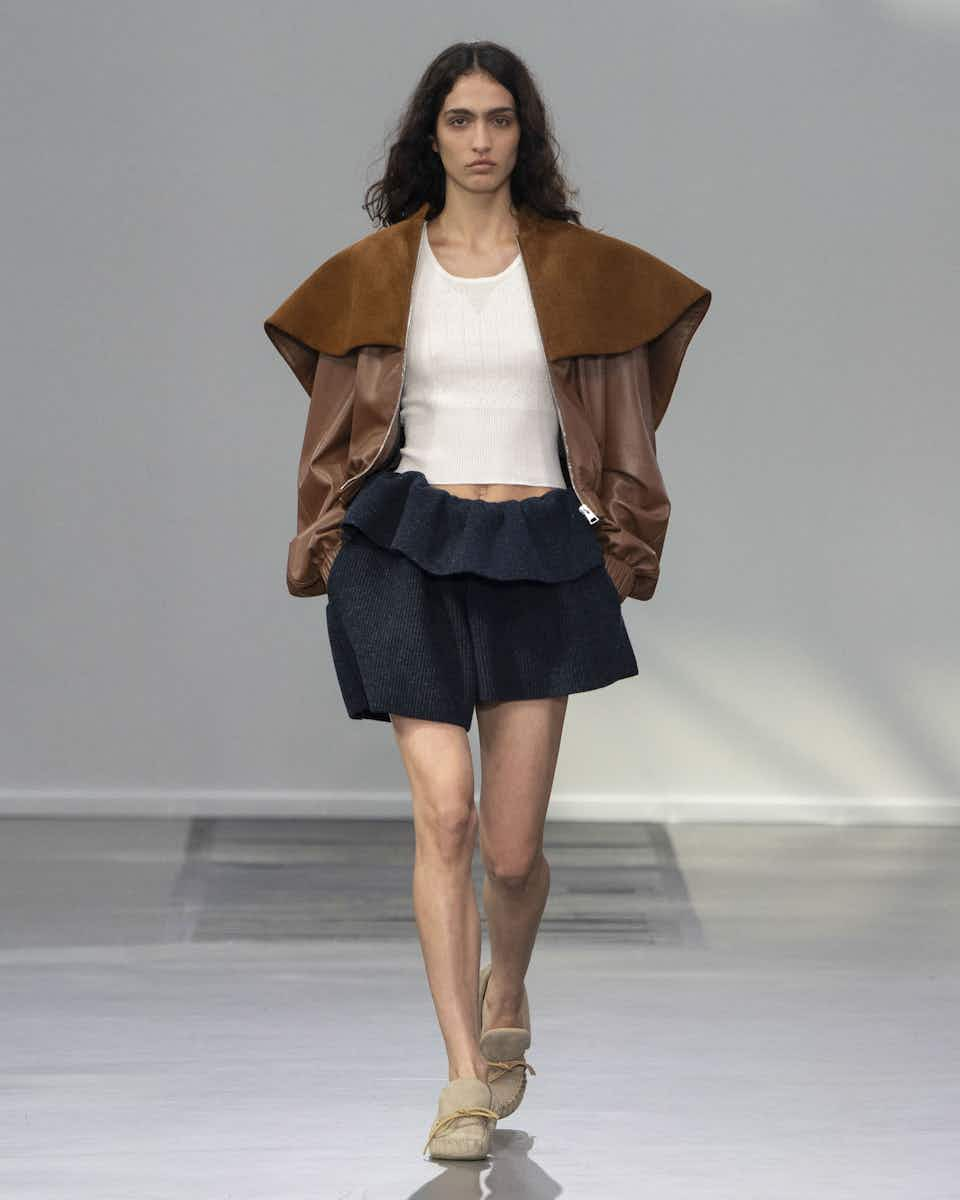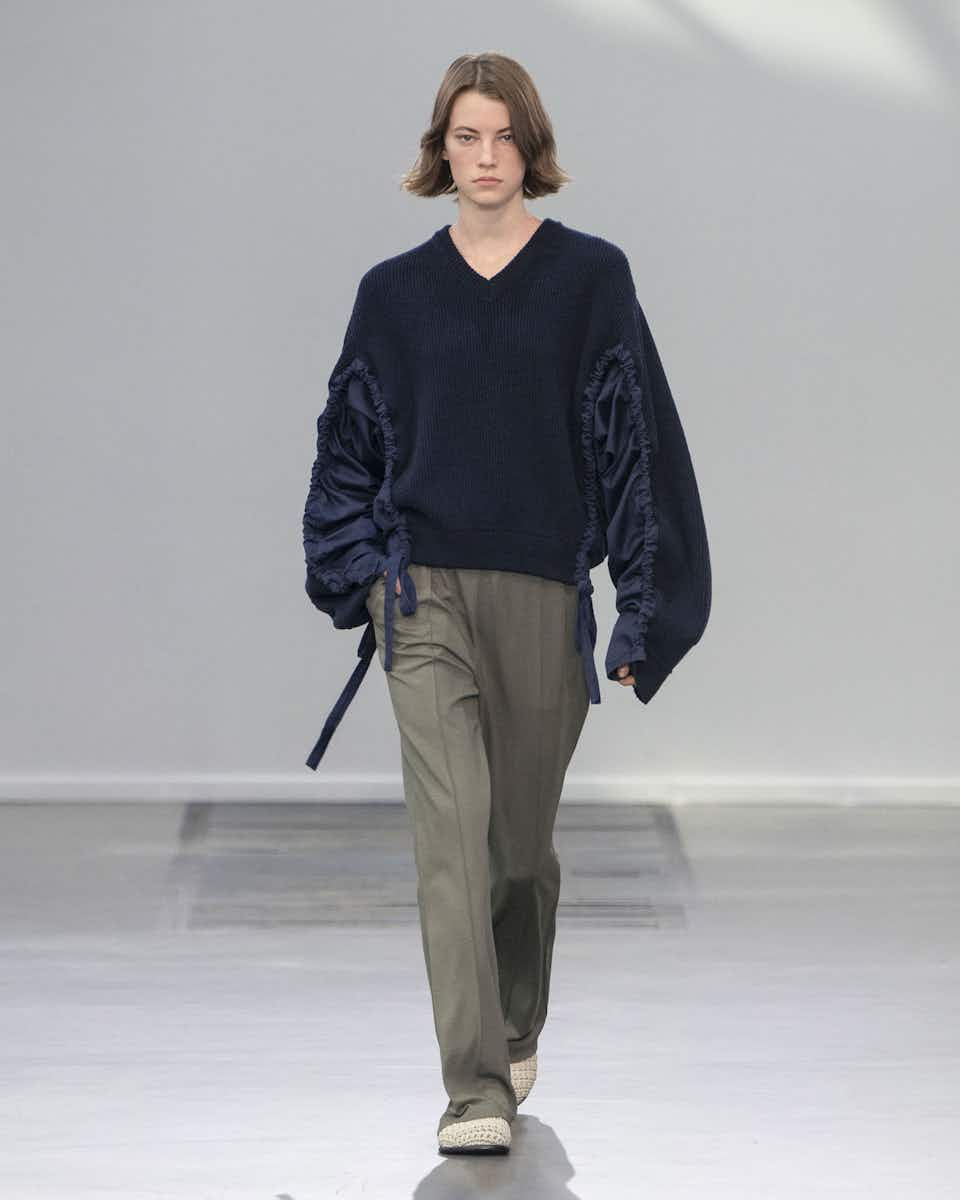 What?
Molly Goddard's SS24 show which toed the line between past and present and took place at London art and antique auction house Christie's.

What was it like?
In her show notes, Molly spoke about starting the collection at the National Theatre costume hire, which felt appropriate given the sense of mischief and magic that ran through the collection. Studying the inner workings of the garments – specifically underwear and undergarments, crinolines and 1950s bras – this research resulted in a collection that was turned inside out and upside down.

The mood?
Footloose and fancy-free. Cropped jackets revealed open bra structures crafted from delicately ruched silk, zig-zag stitching, usually seen on internal hemlines, was designed to be left on show and dresses were designed to be worn undone.

Stand out look:
A duvet-requested dress, perfect for rolling into when all the fun is over the morning after the night before.

In a song?
Robbie Williams – Come Undone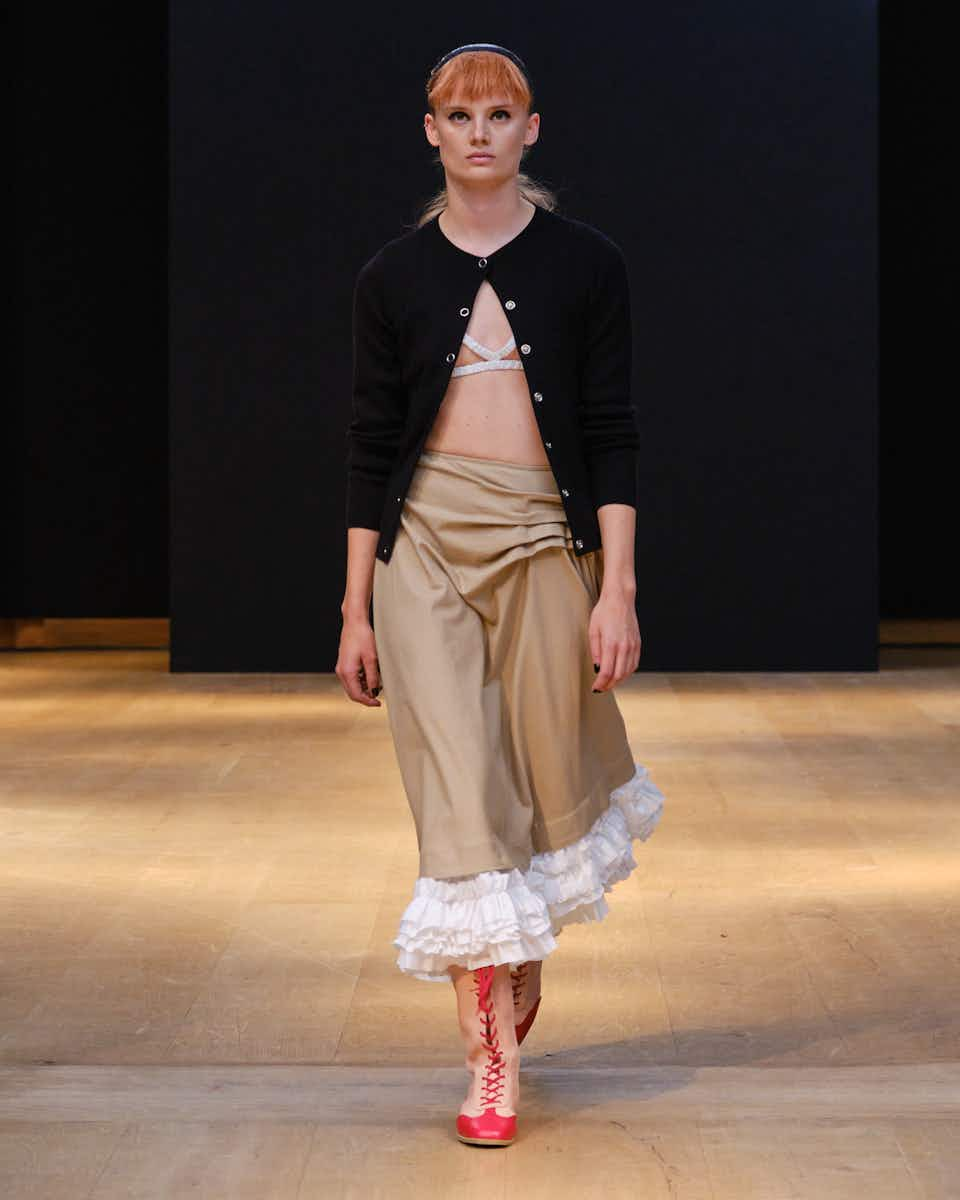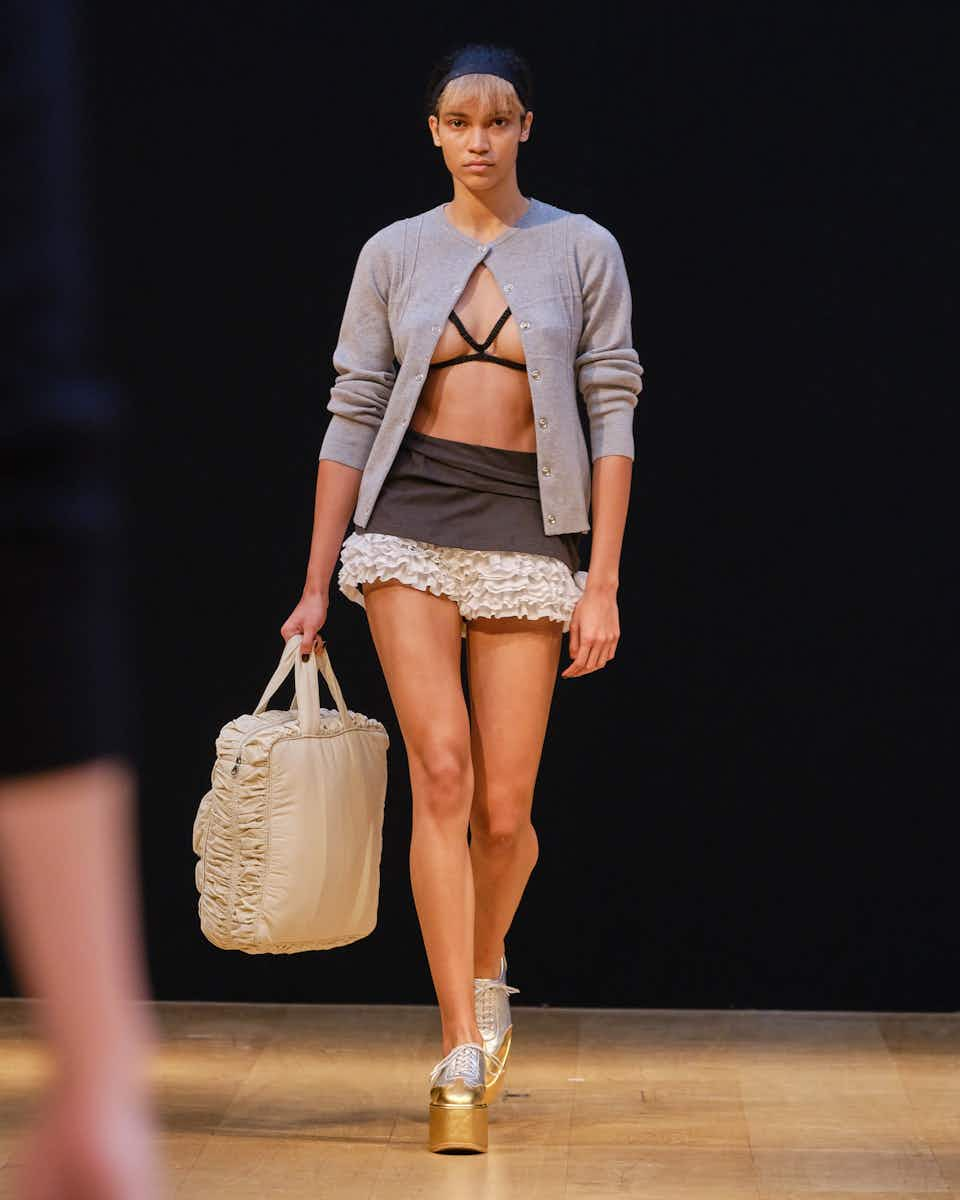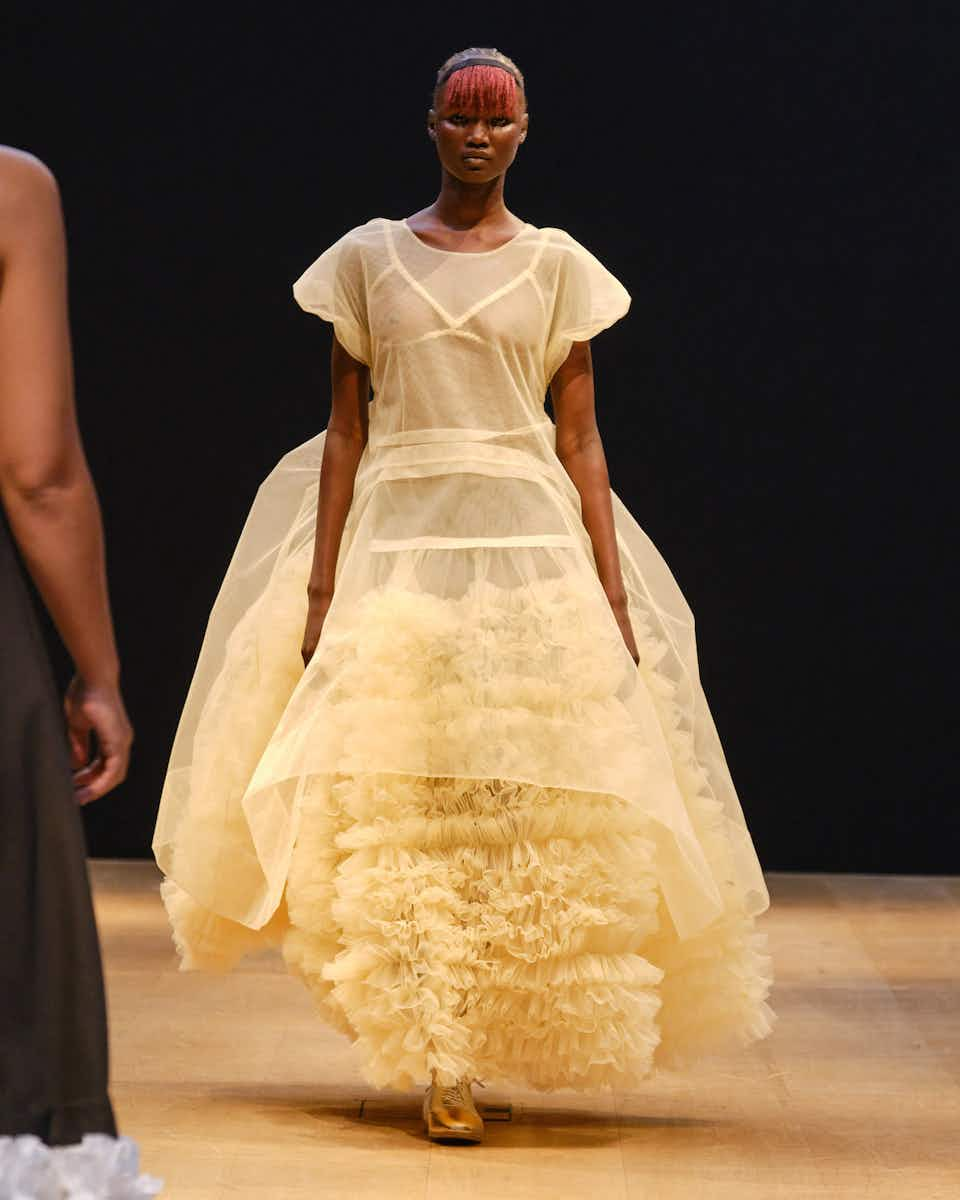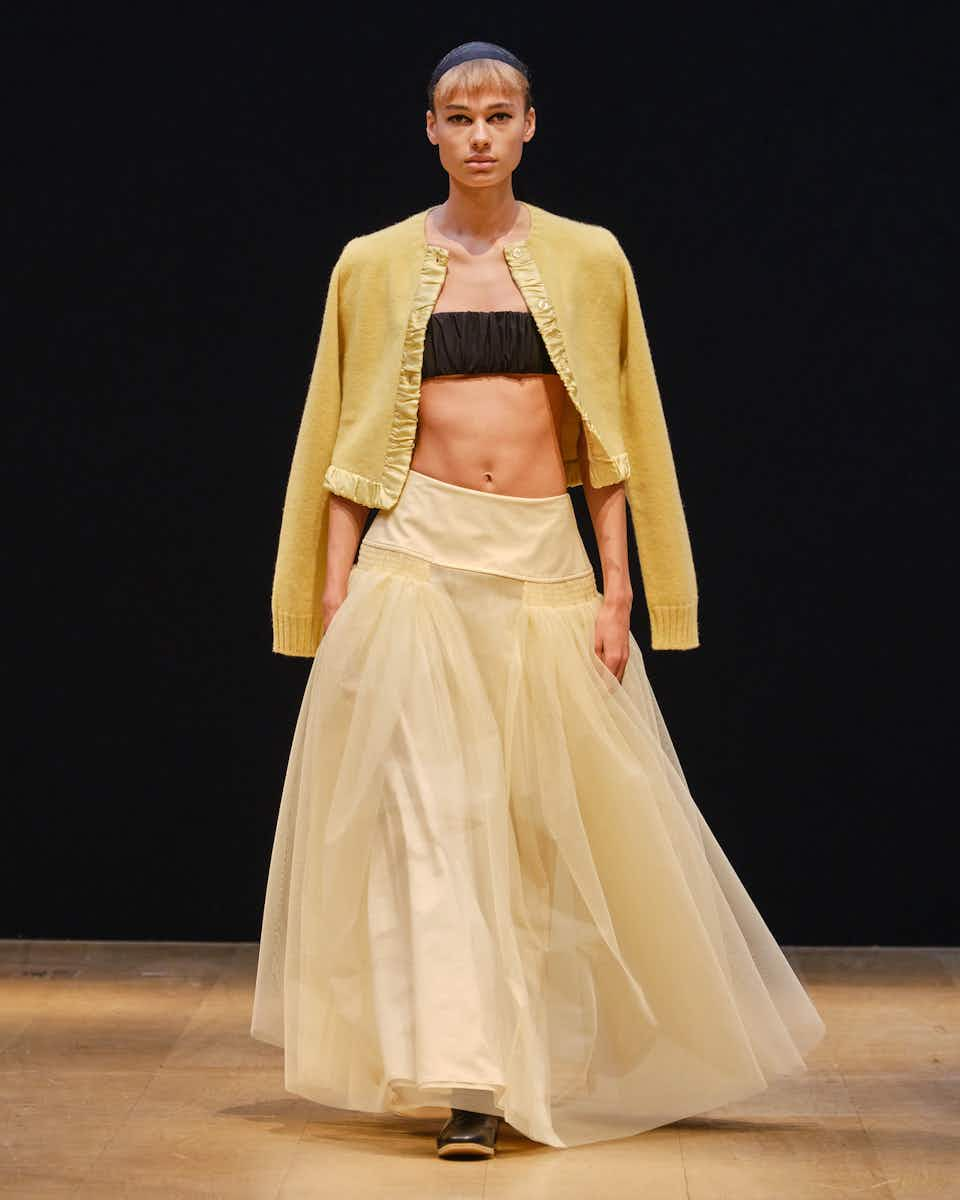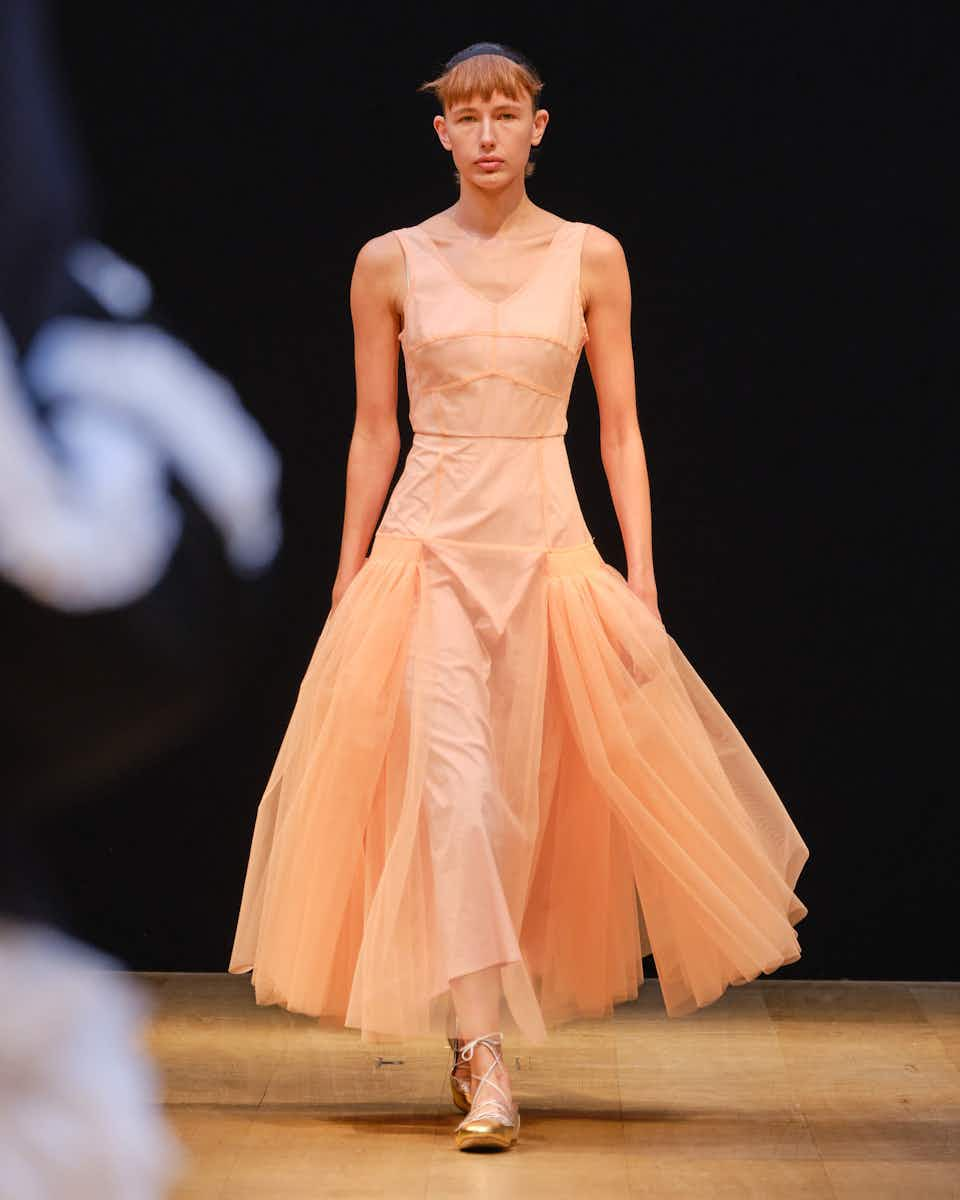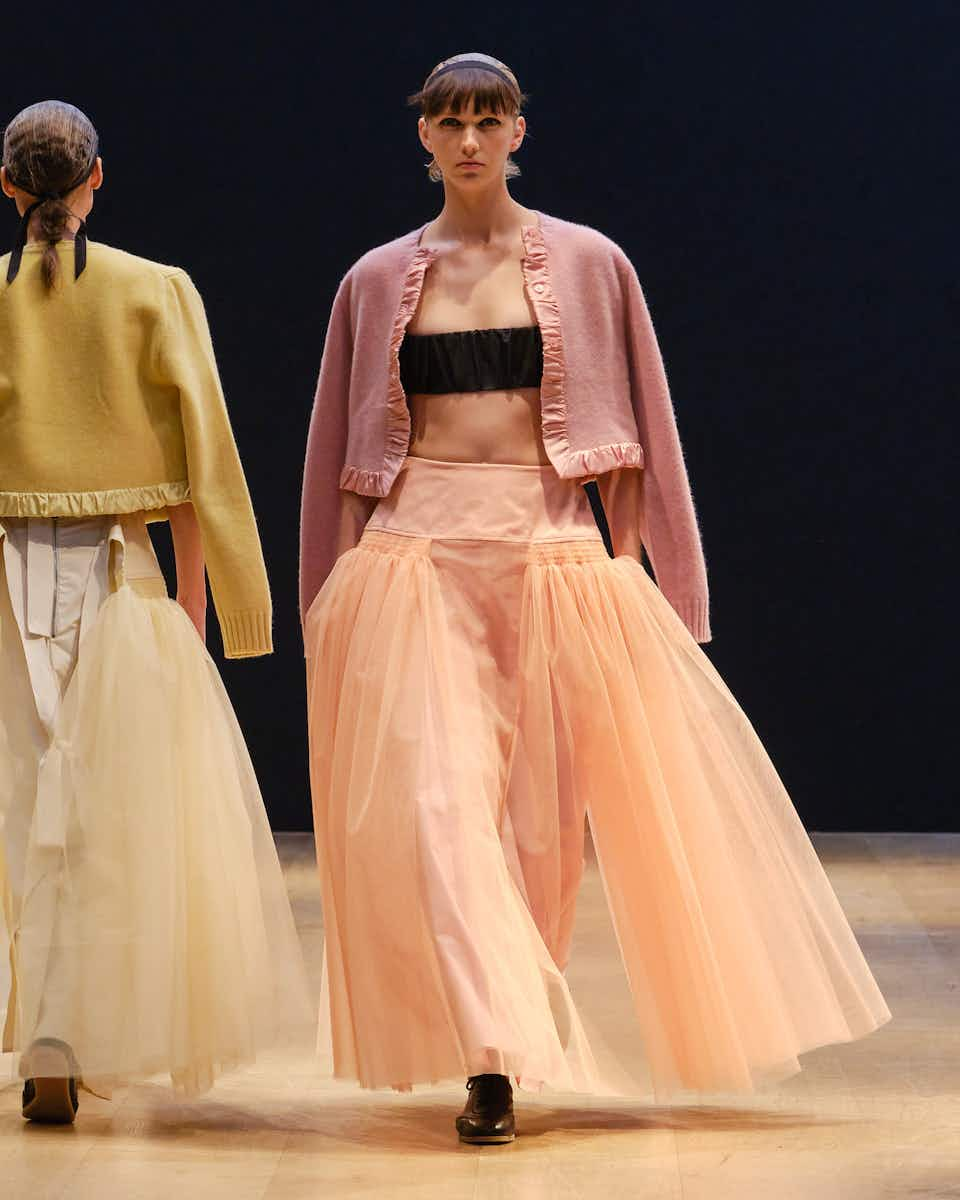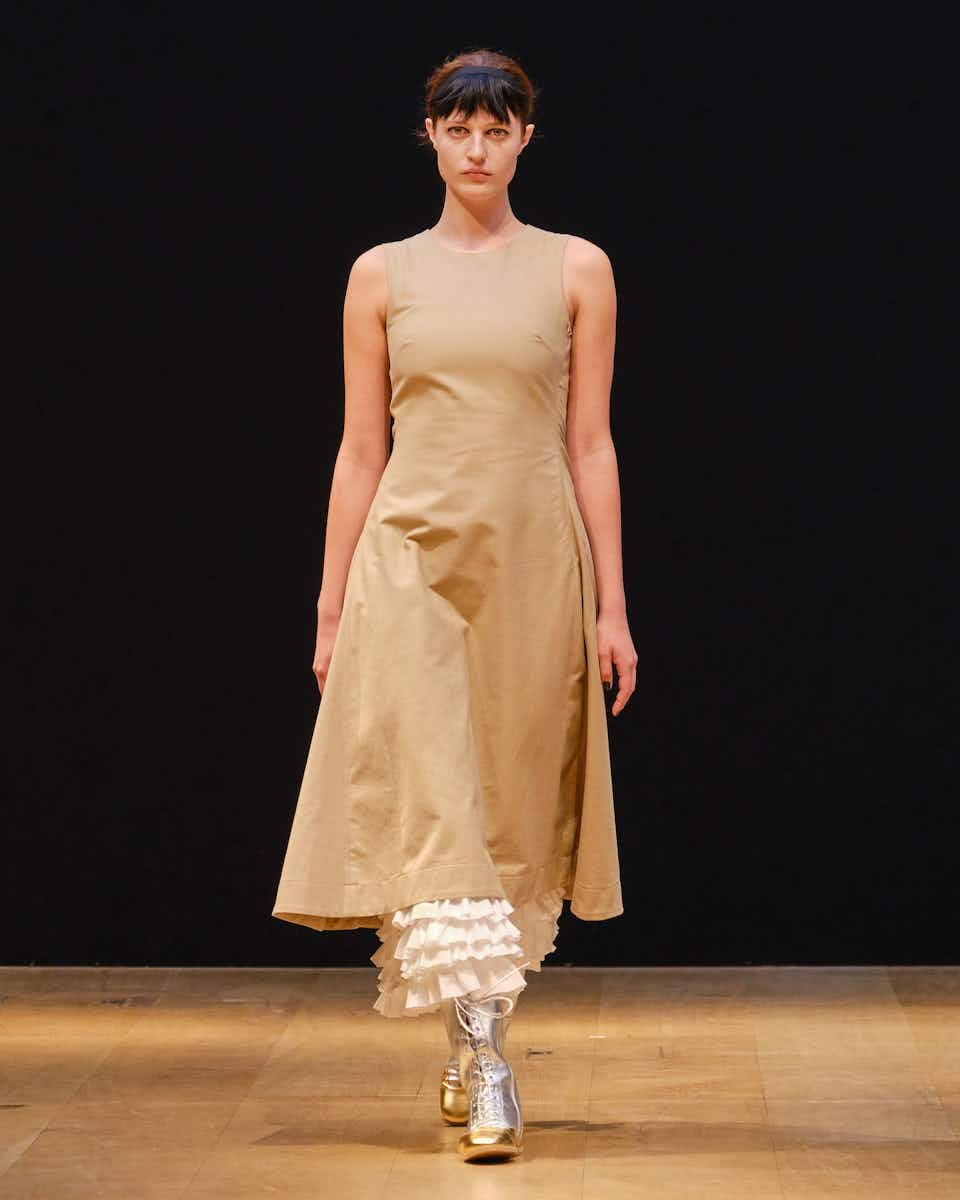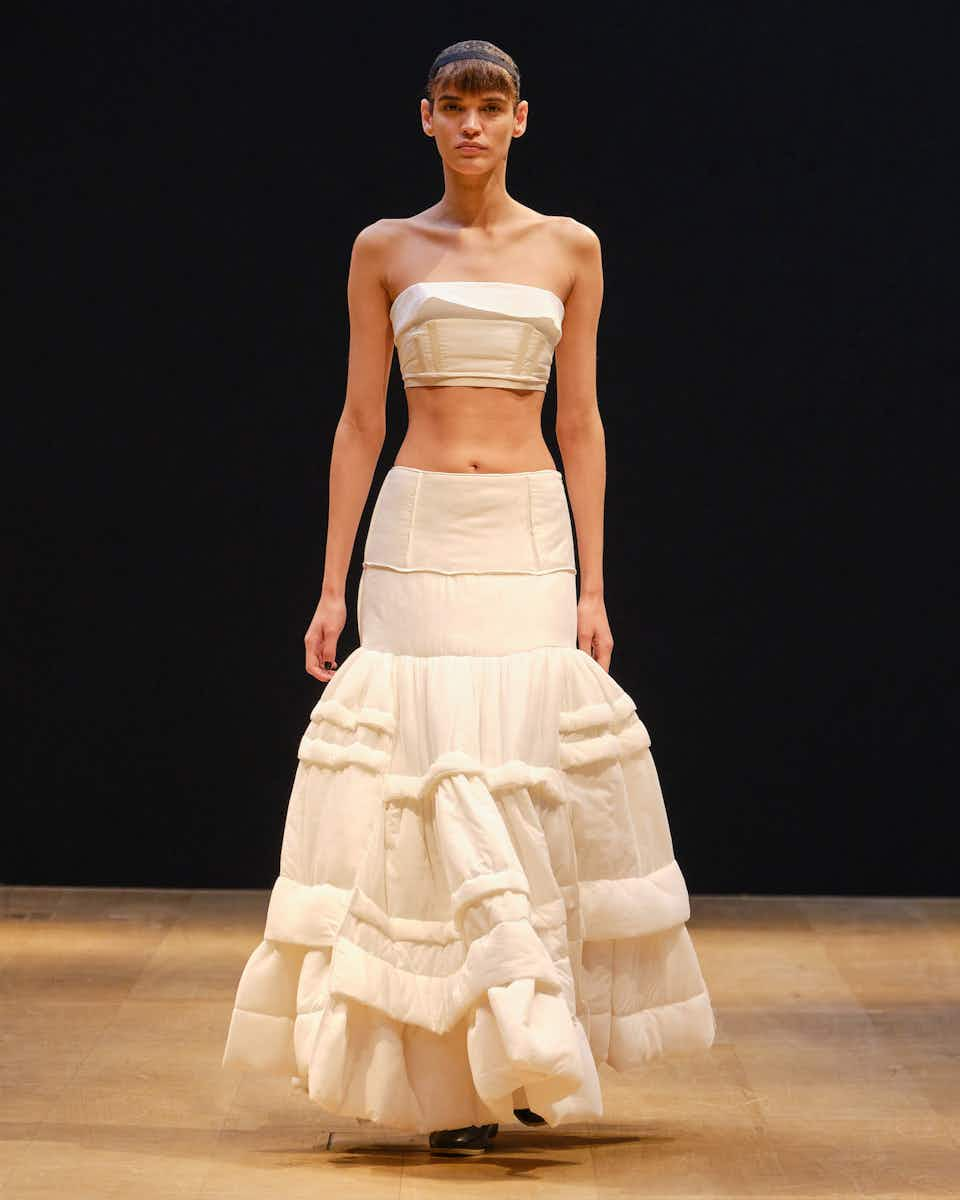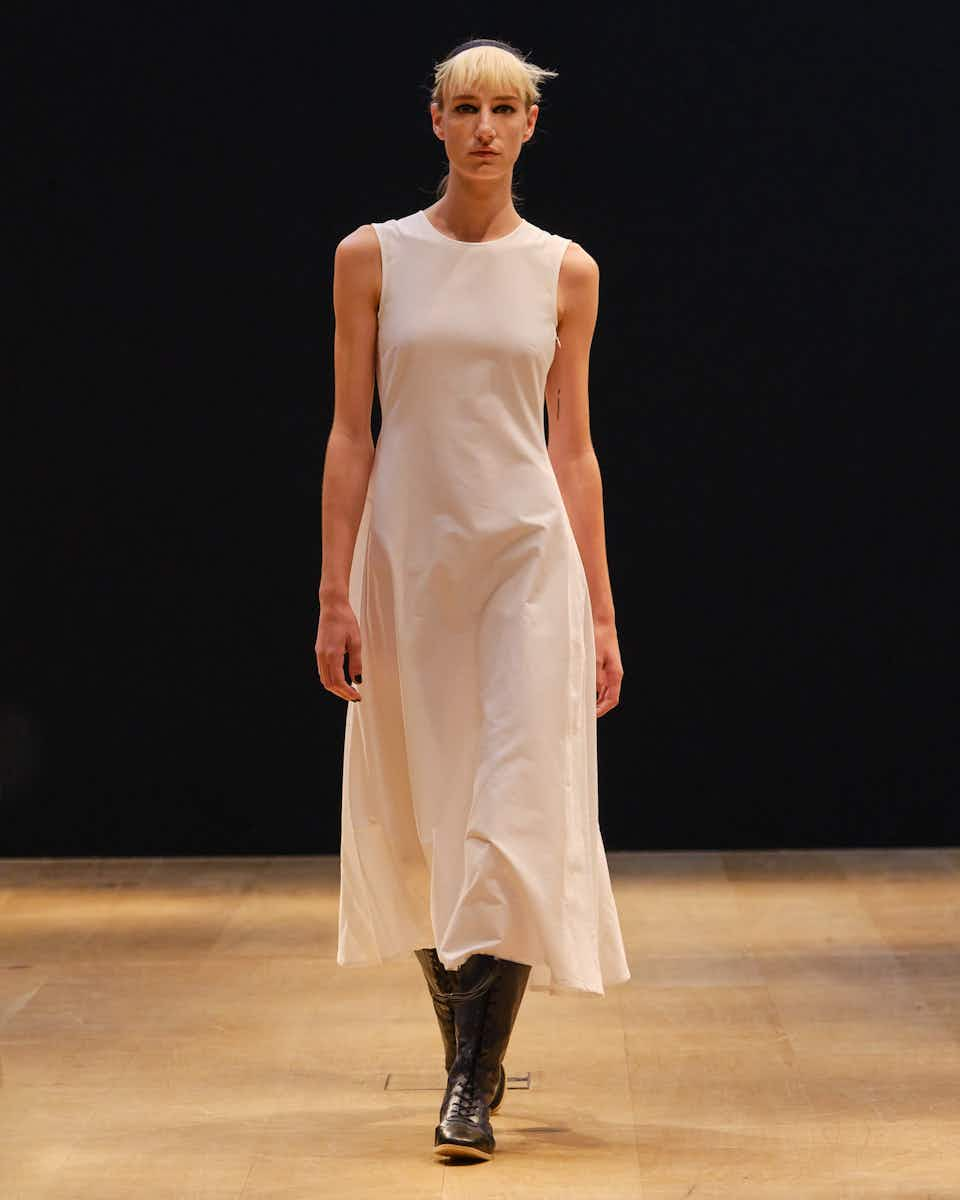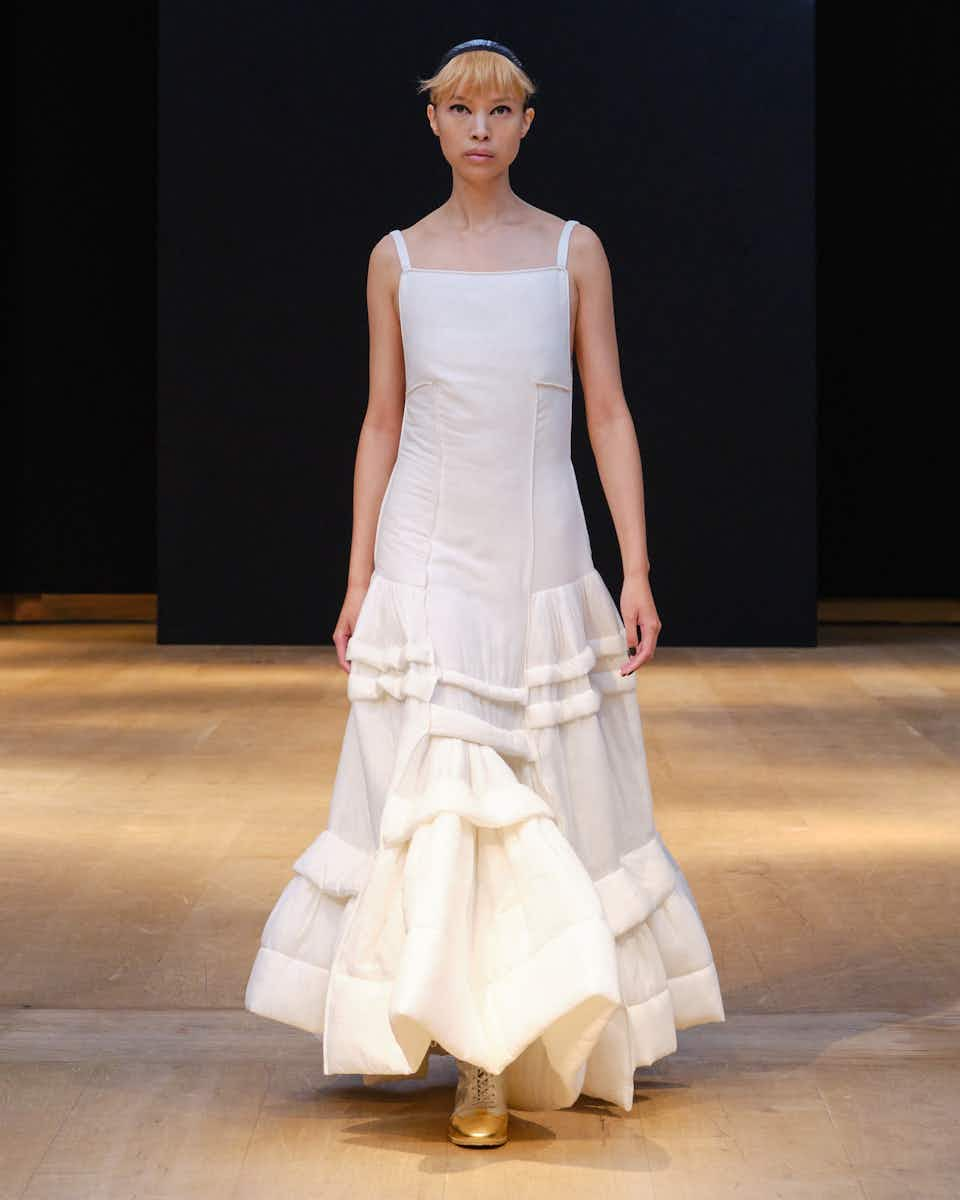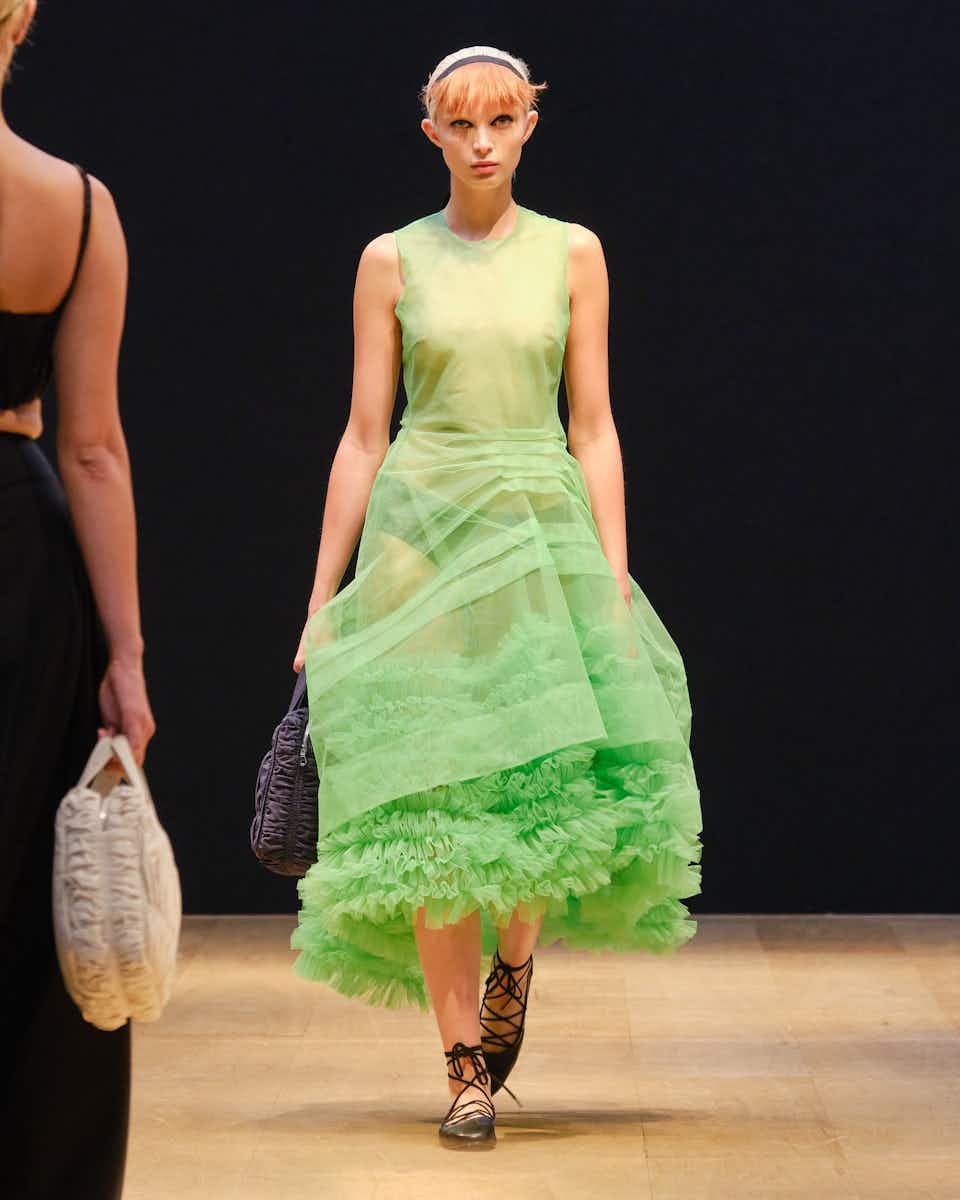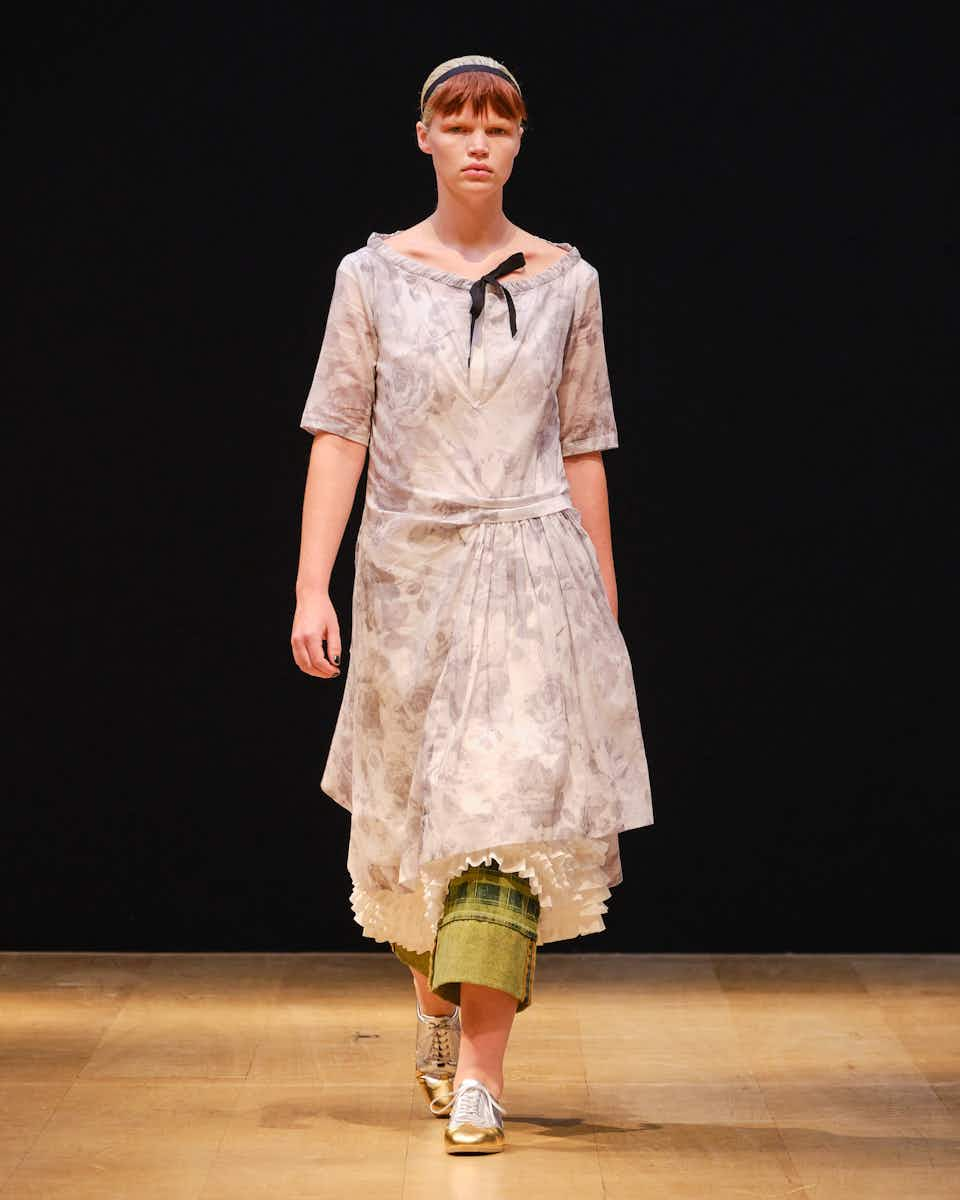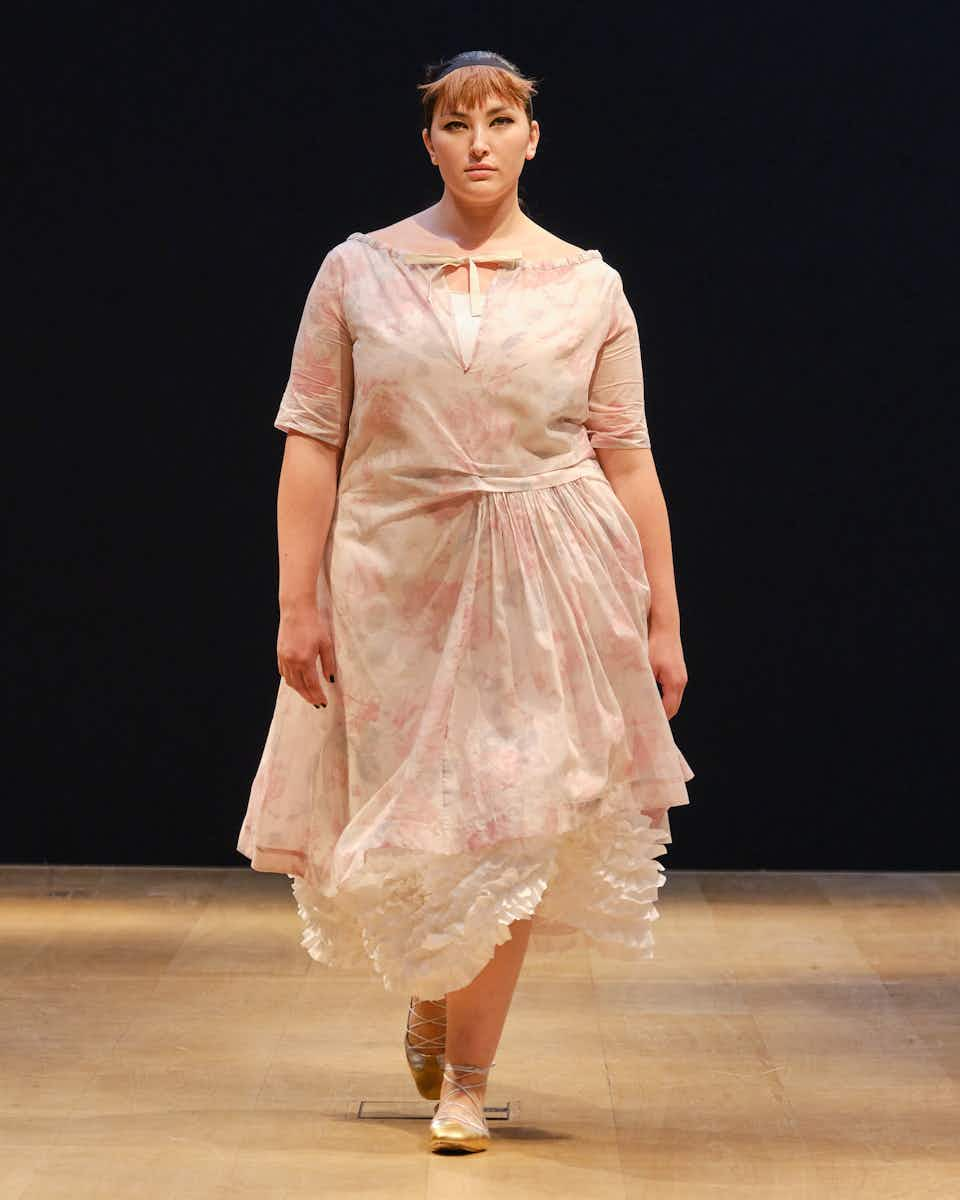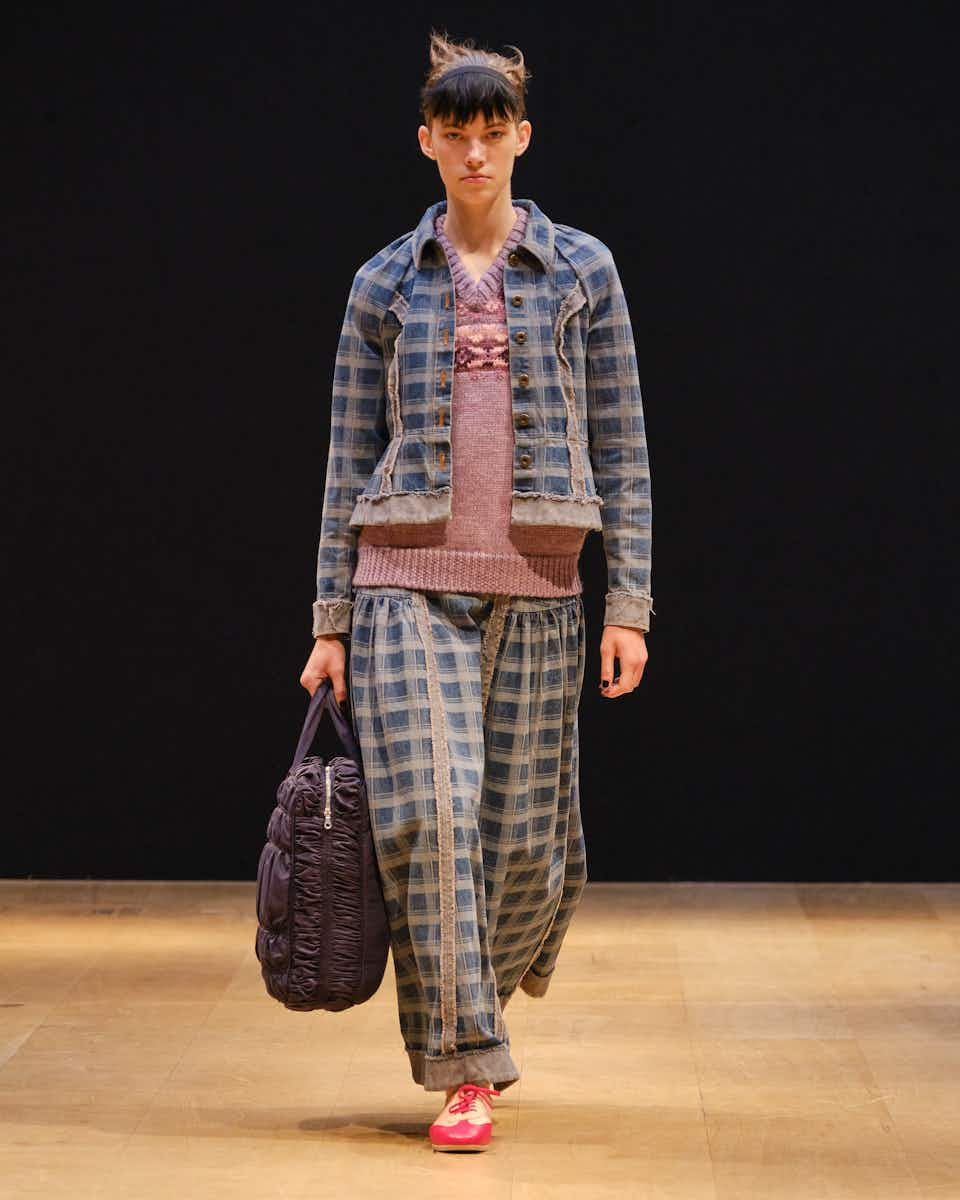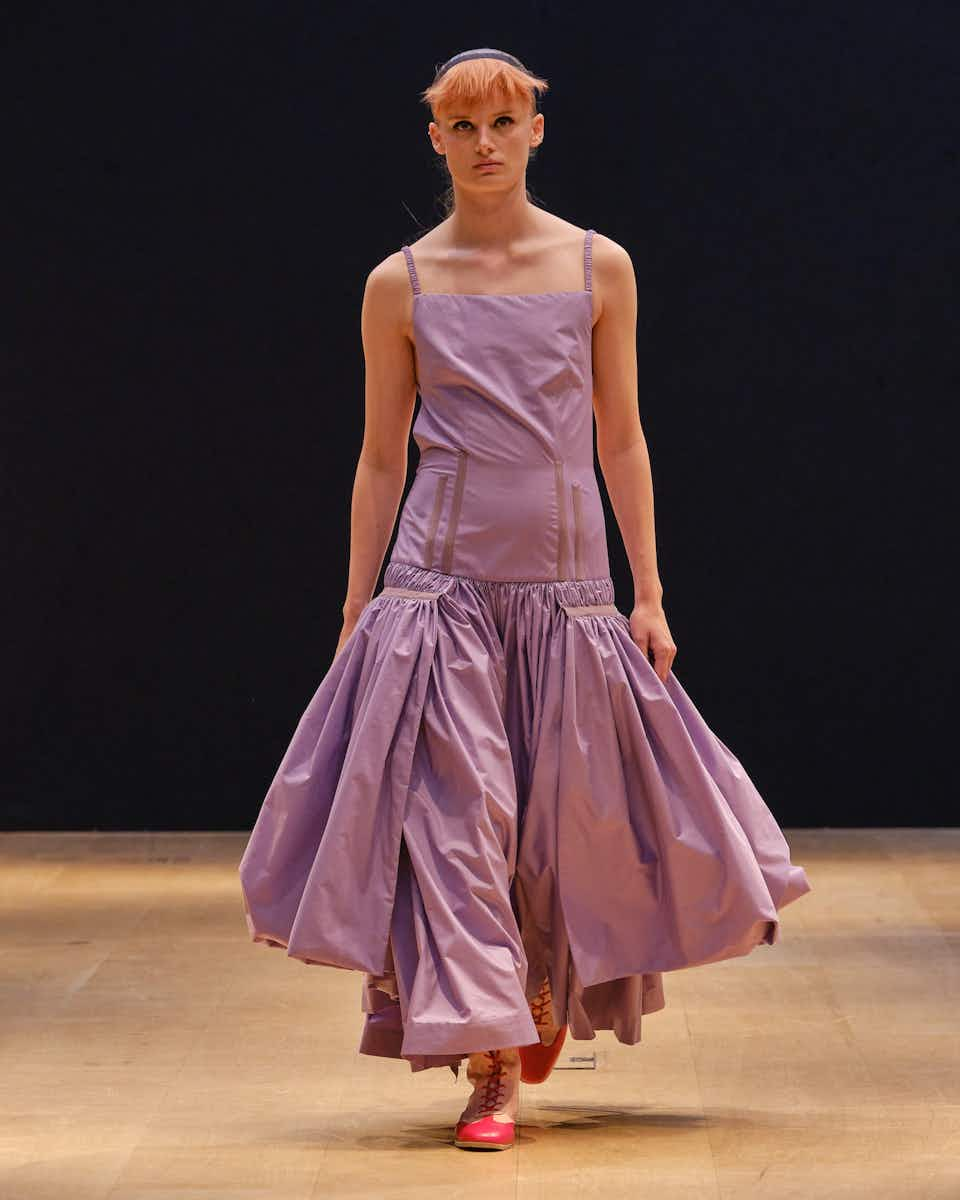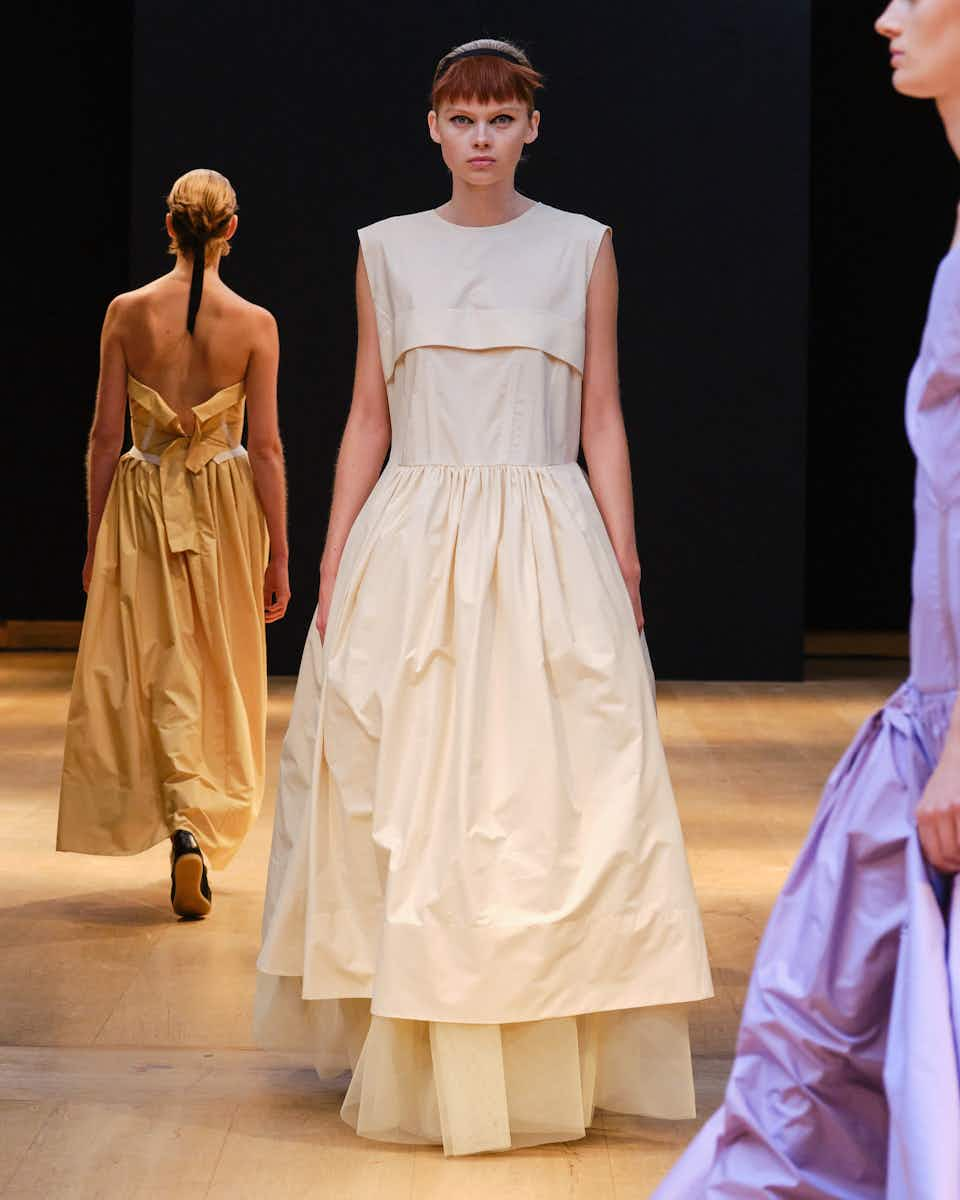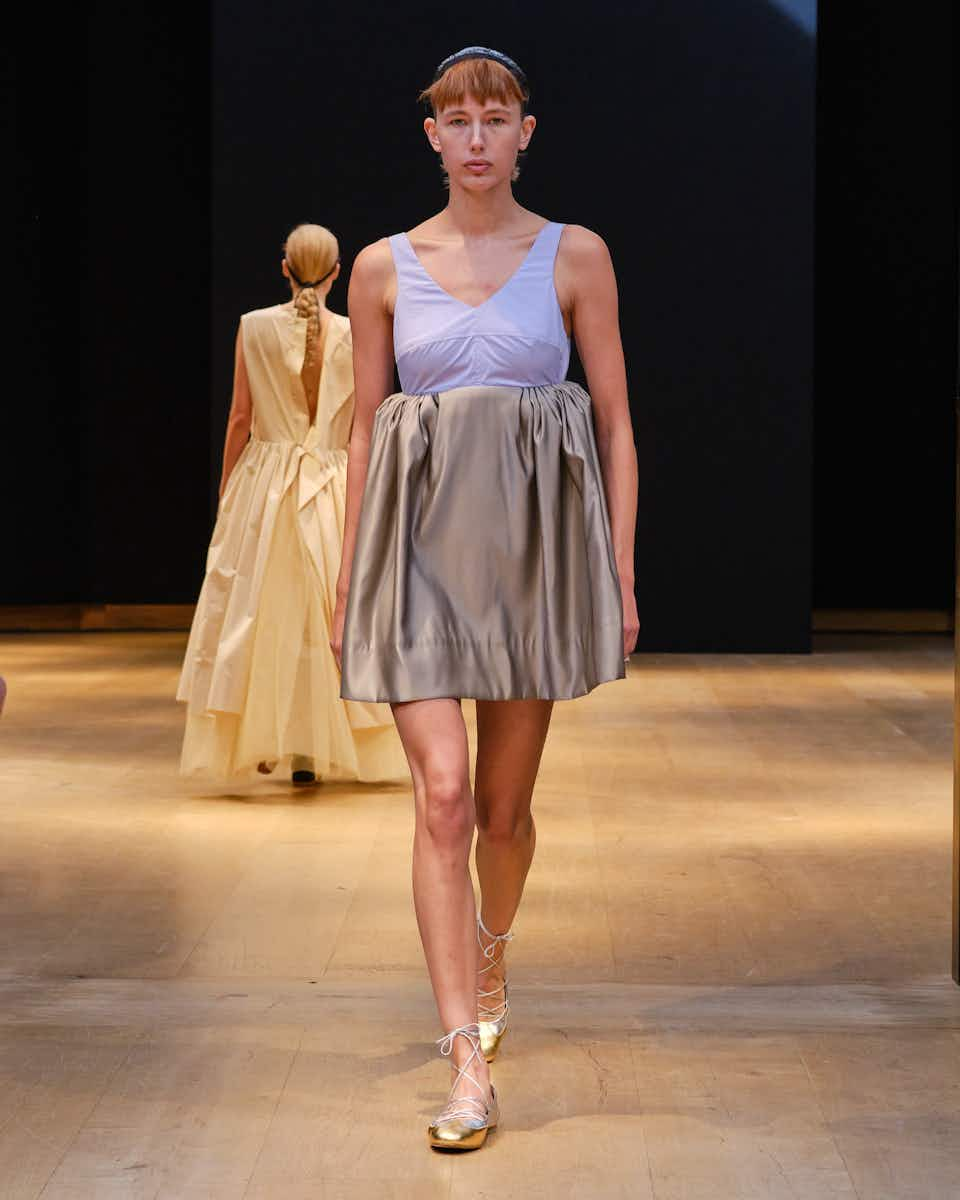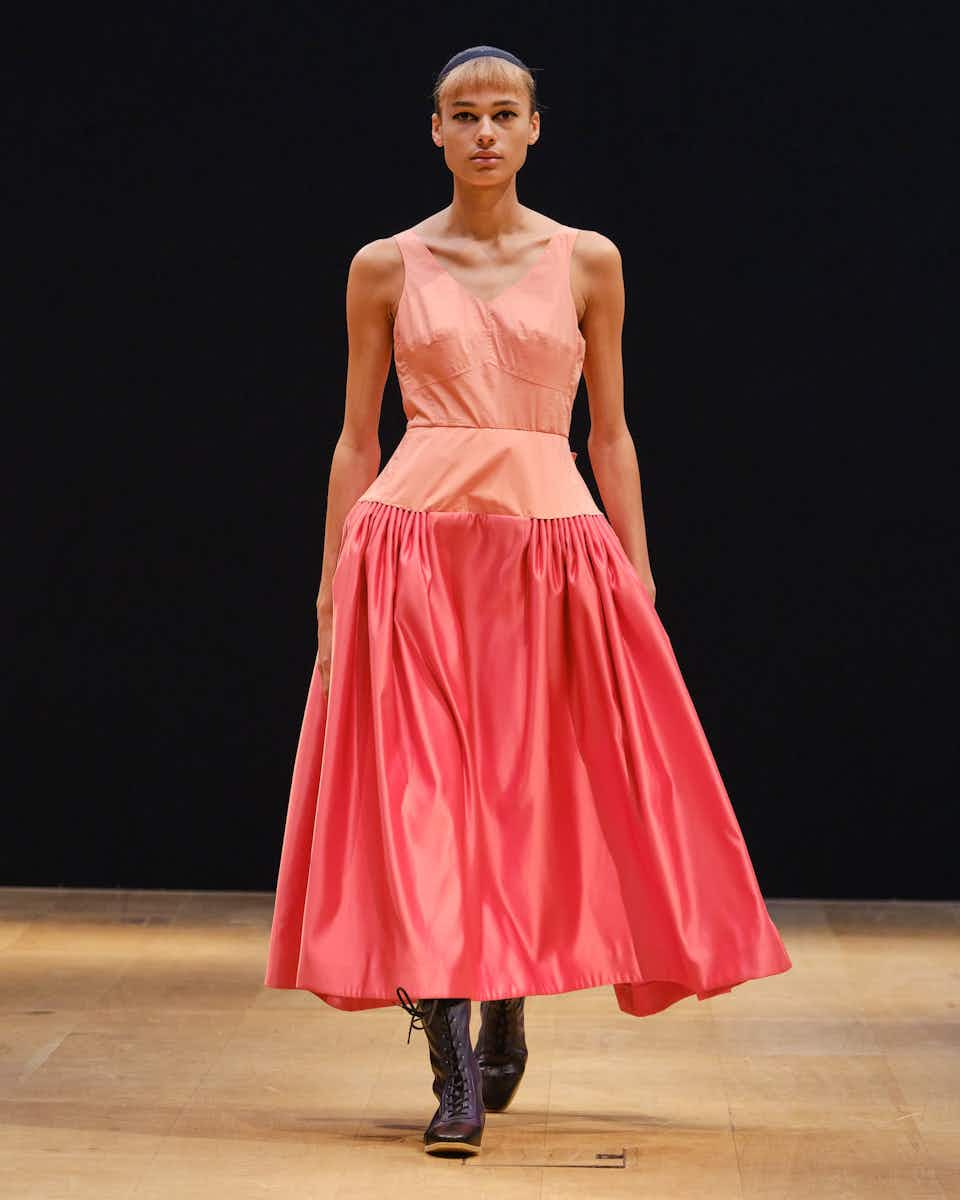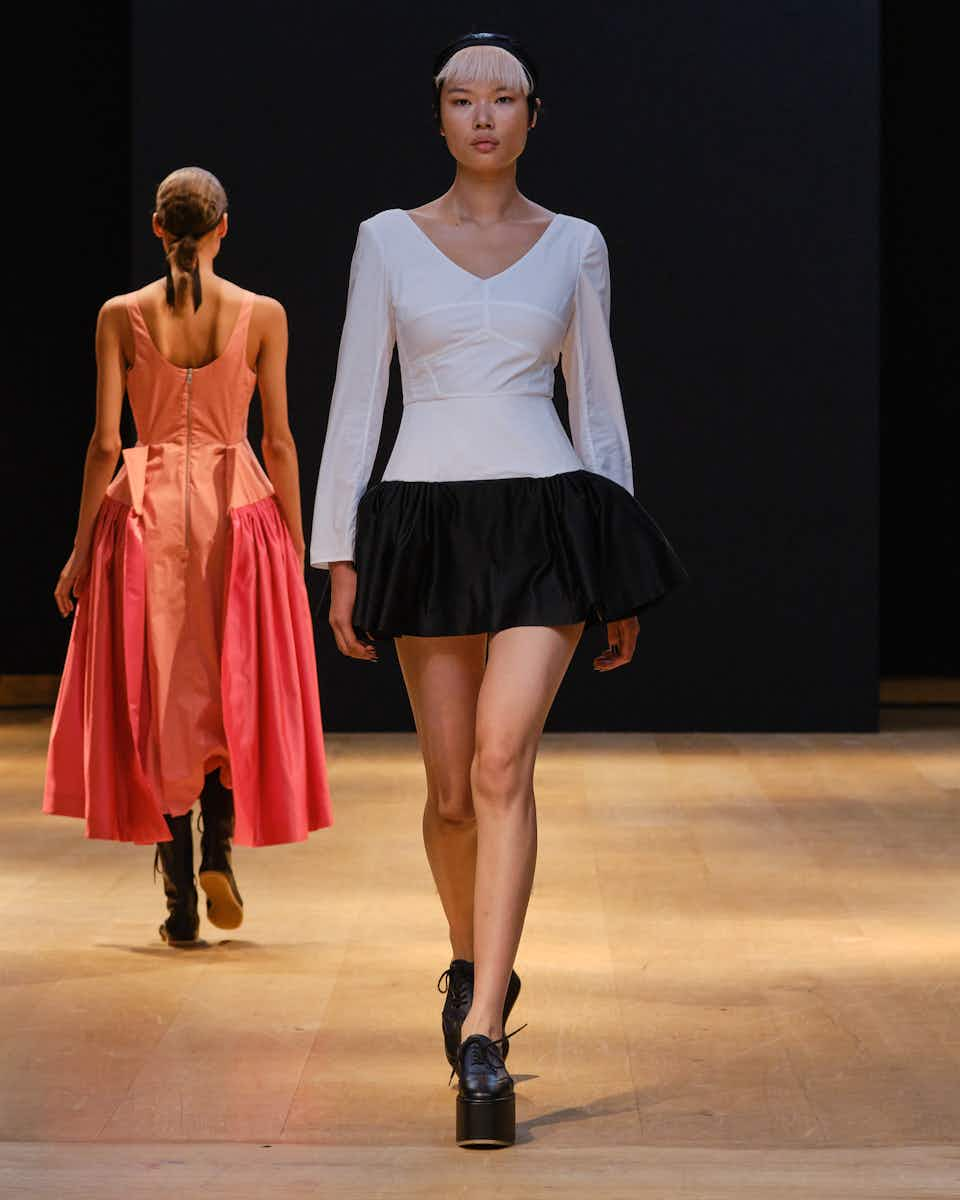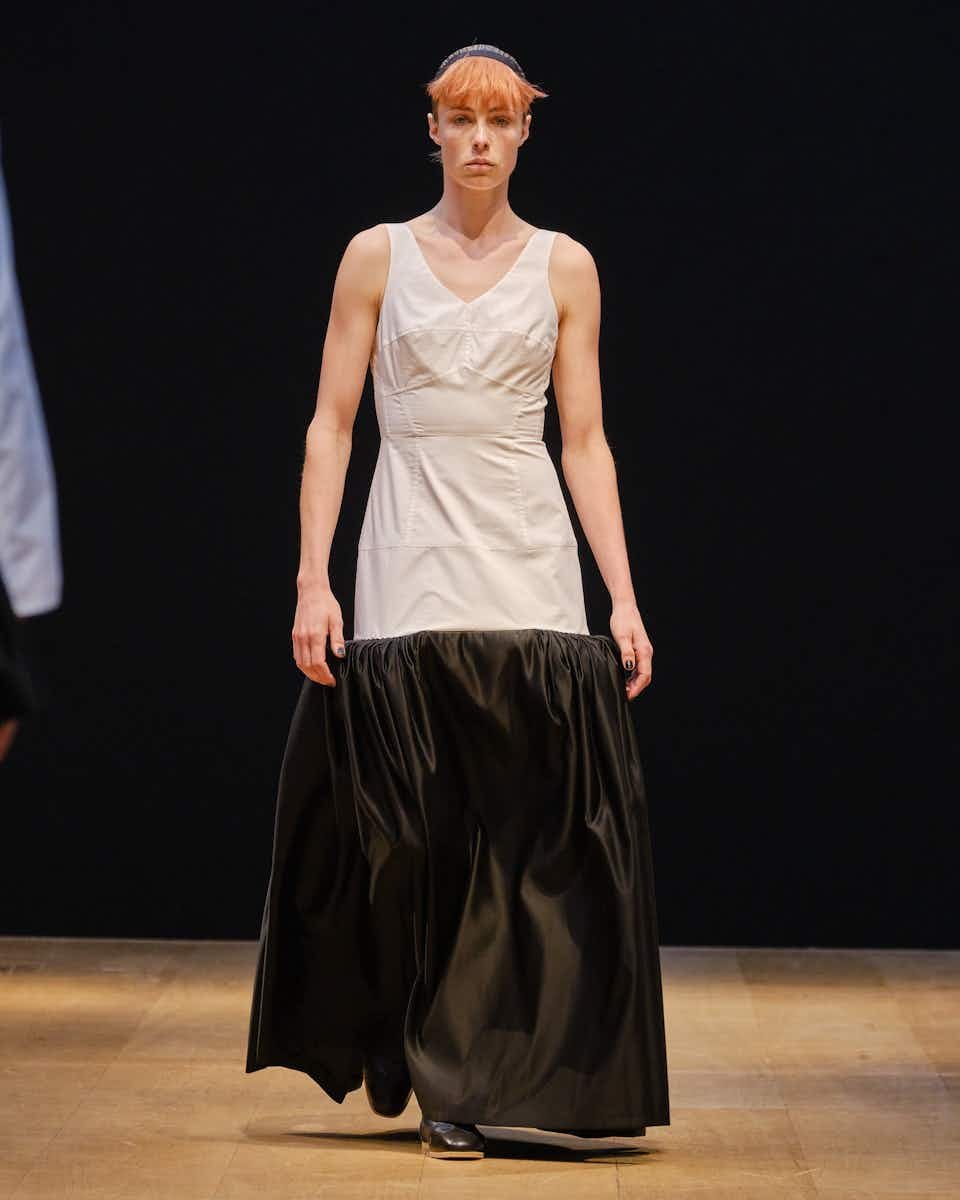 What went down?
It was a clash of cults on Friday night: over in east London, Mowalola's underground club kids caused a riot, while in the west, Chopova Lowena's superbly angsty tribe flocked to see the brand's frilly punk models take the runway. It was a real testament to London's spirit of subculture that, while not as overtly obvious these days, is still going strong. It's no easy feat for a brand to build a die-hard following in the age of the internet, but design duo Laura Chopova and Emma Lowena's sartorial defiance has got an army of punks, moshers and natural-born rebels under a folklore spell. Friends of the brand (including fellow designer Sinead O'Dwyer and GUT founder Ami Evelyn Hughes) repped the new collection: a wicked mash-up of milkmaid corsets, second-skin tops with cutesy collage prints, utilitarian bombers and moody hoodies pulled over the head. And, of course, the brand's signature tartan kilts, this time knee-length and in a slick new beige, layered over trackie bottoms.

Where was it?
Saluting the city's youth culture, the show suitably took place in the BaySixty6 Skate Park, not too far from Notting Hill, beneath the Westway crossover.

Anything for the playlist?
Nu-metal, baby. Drowning Pool's Sinner opened the show and Limp Bizkit's Break Stuff closed. Grrr.

WORDS: TJ Sidhu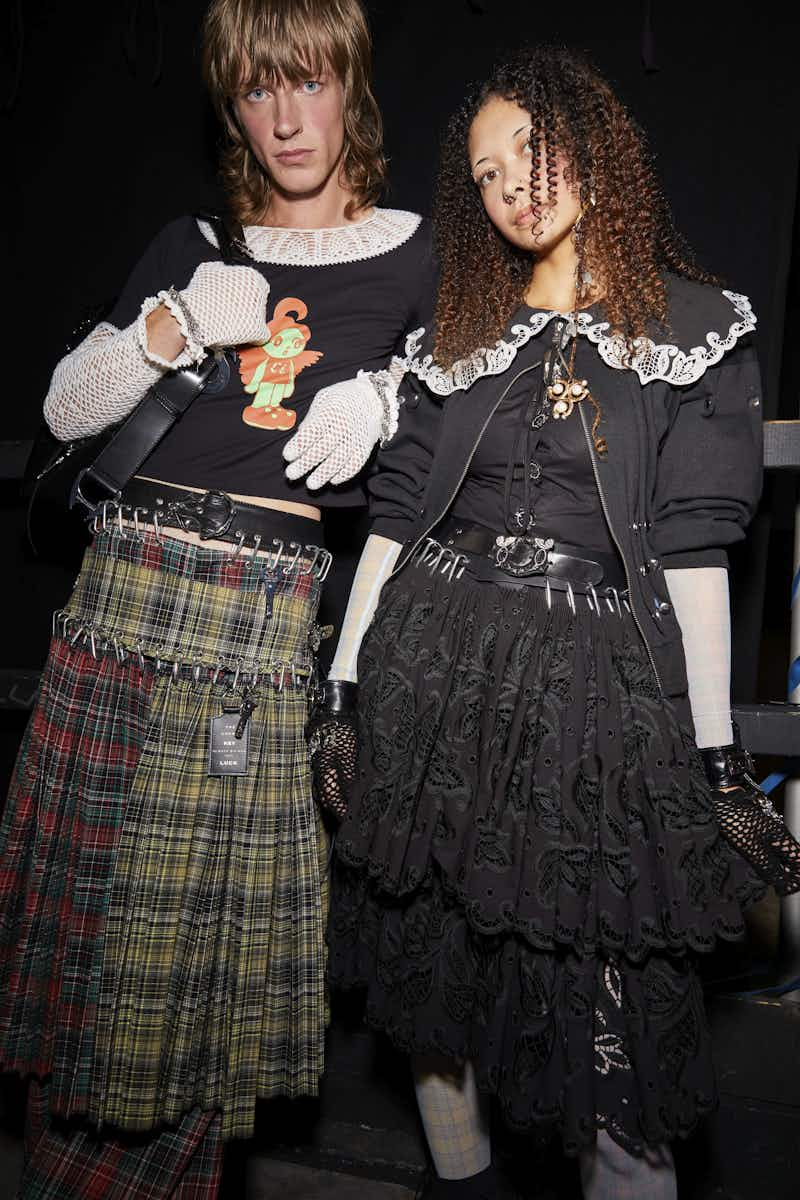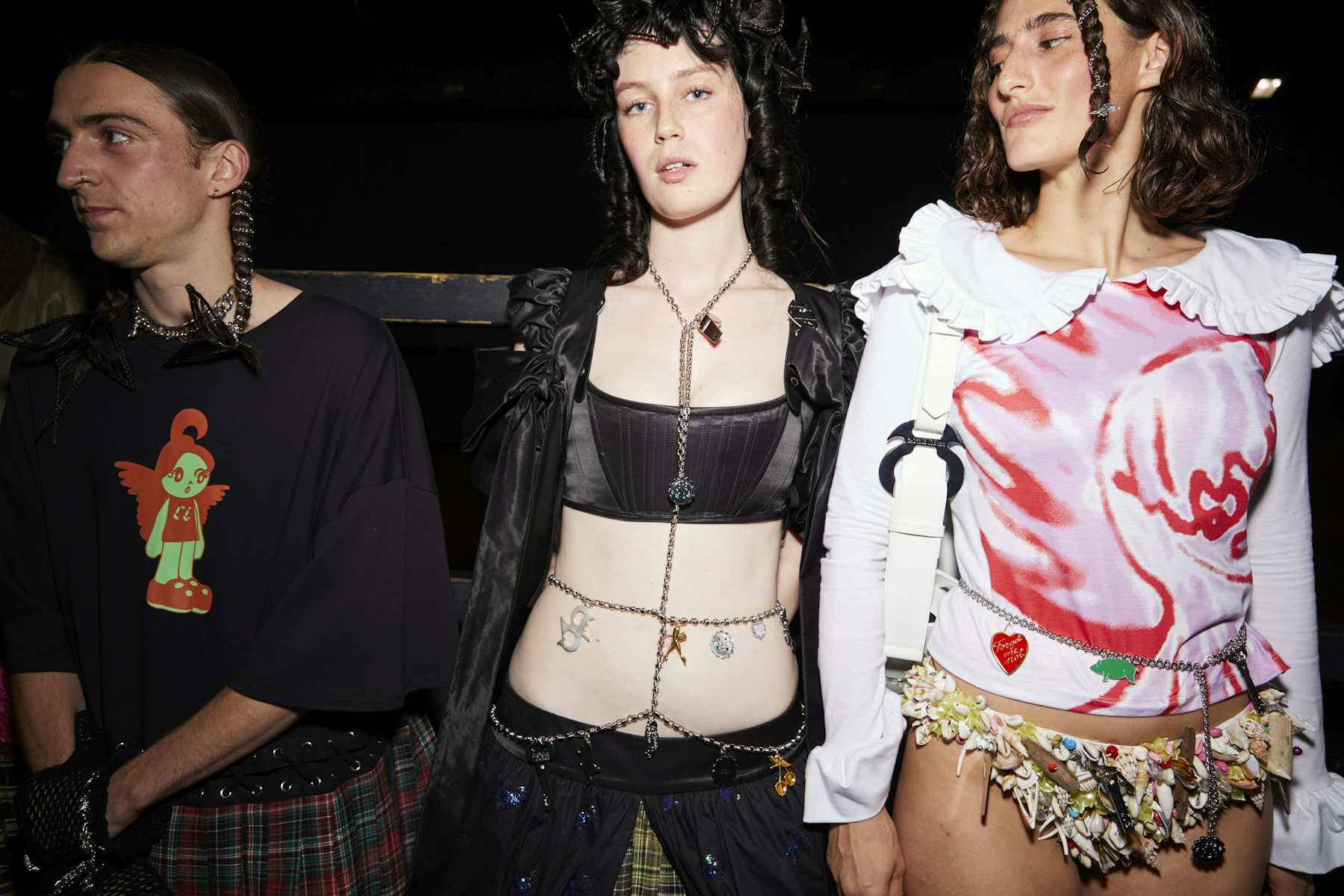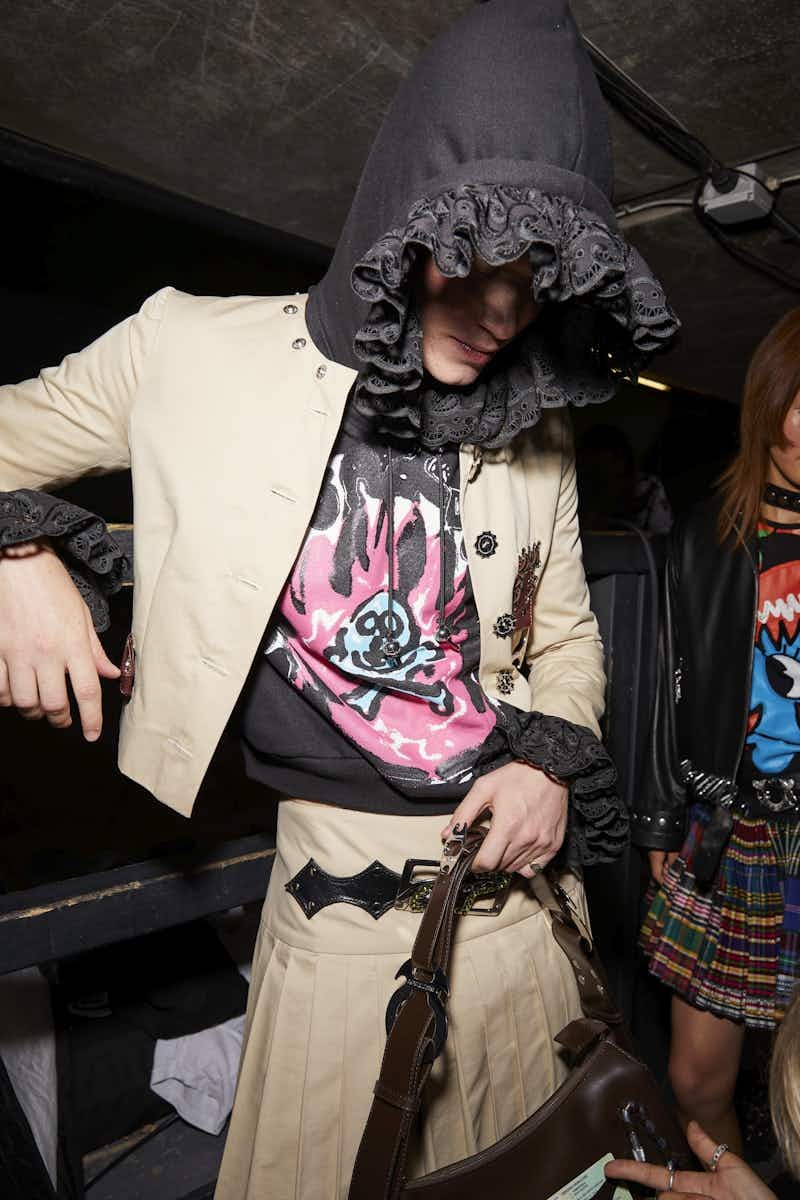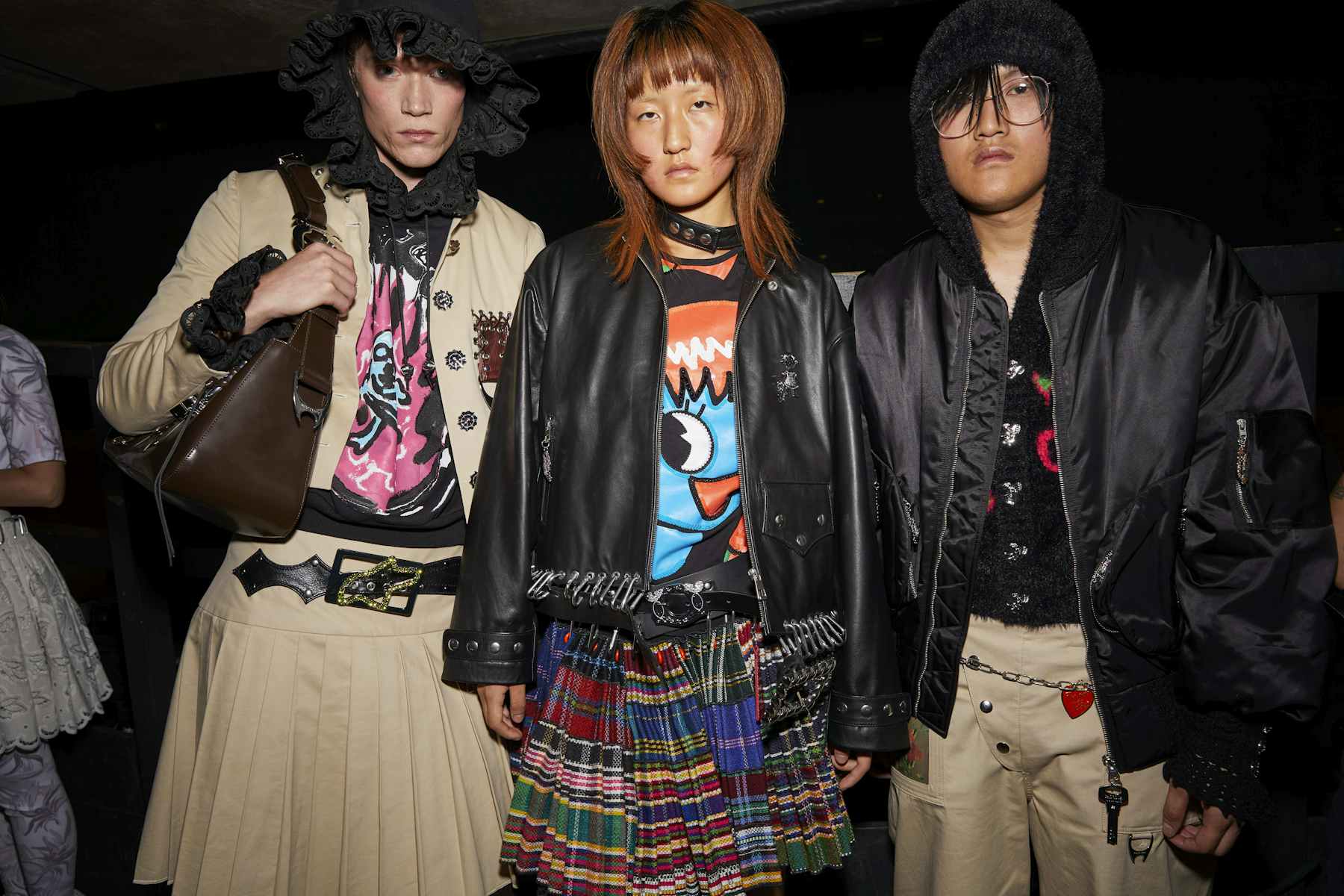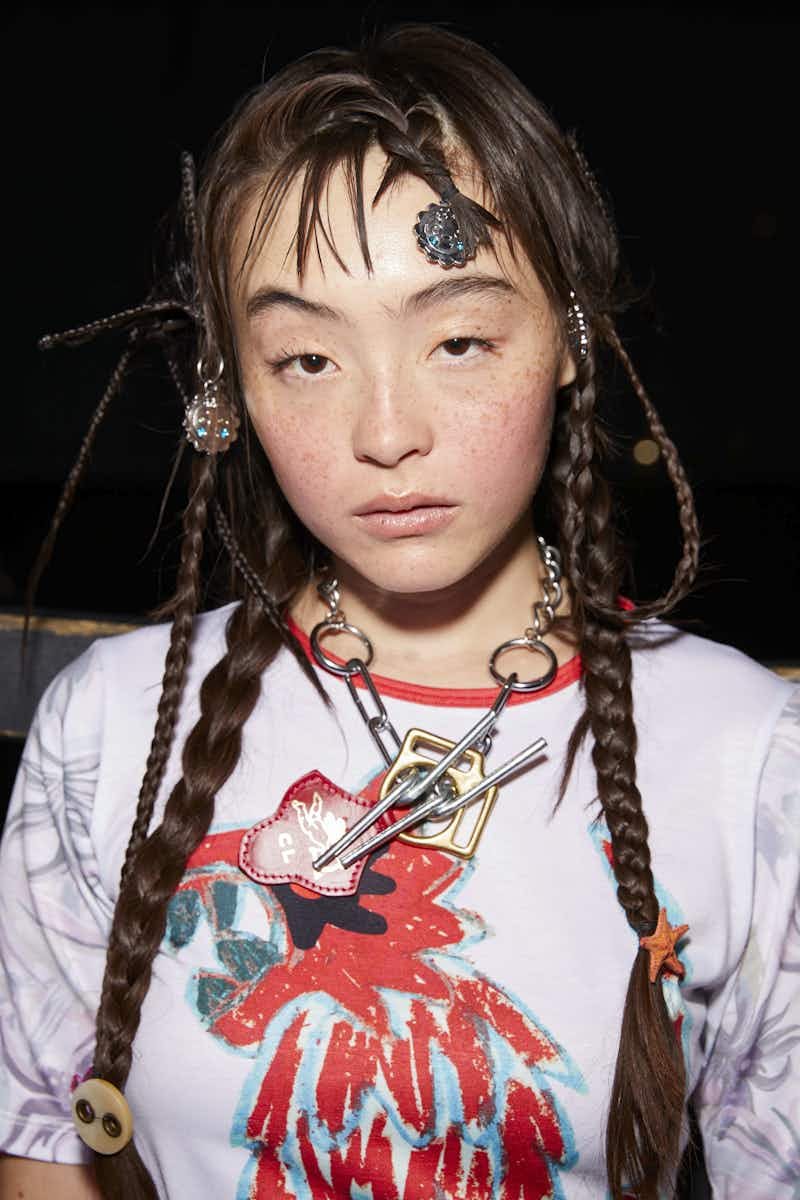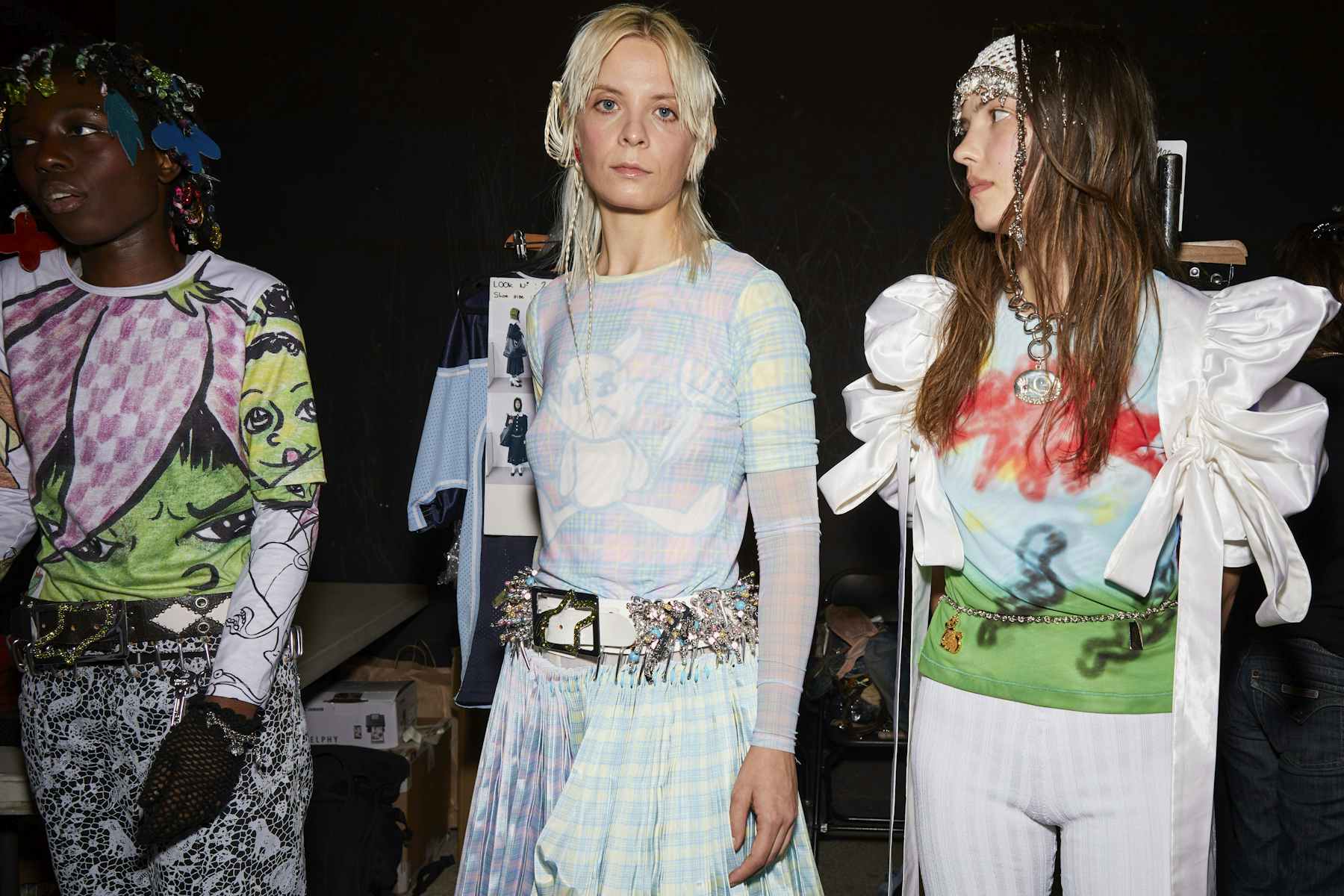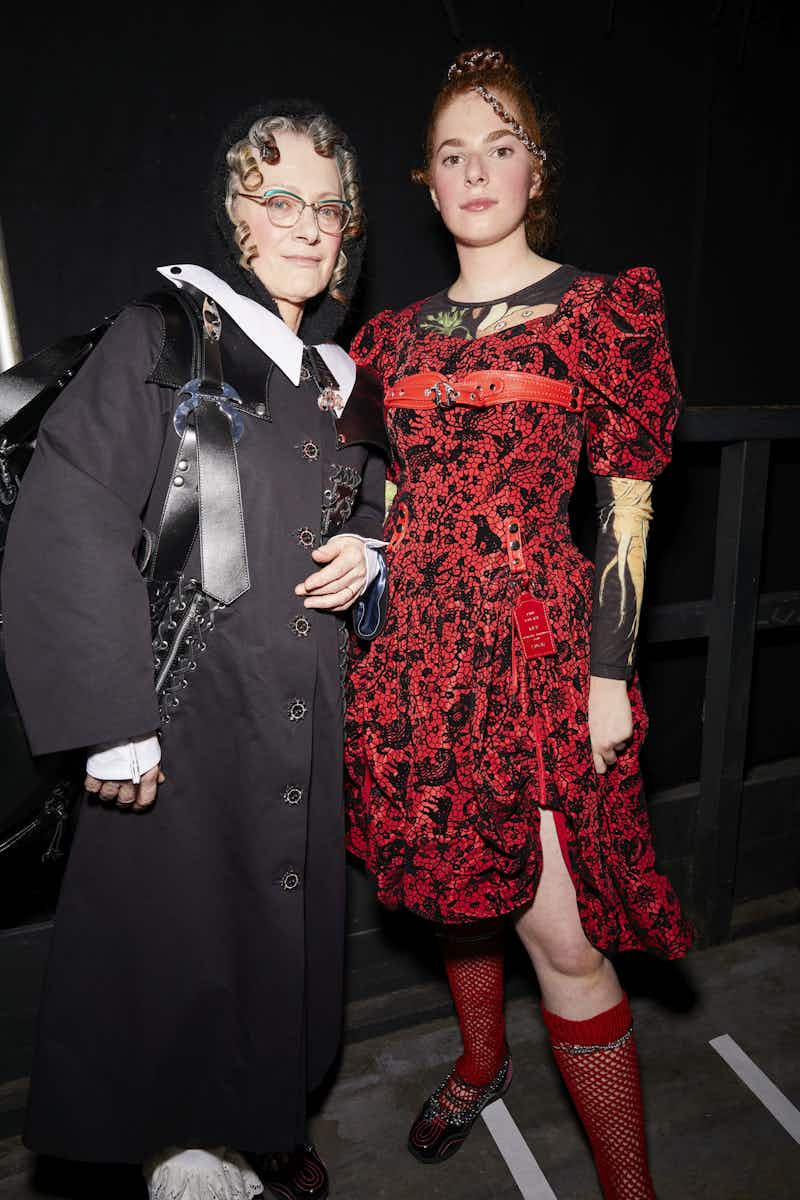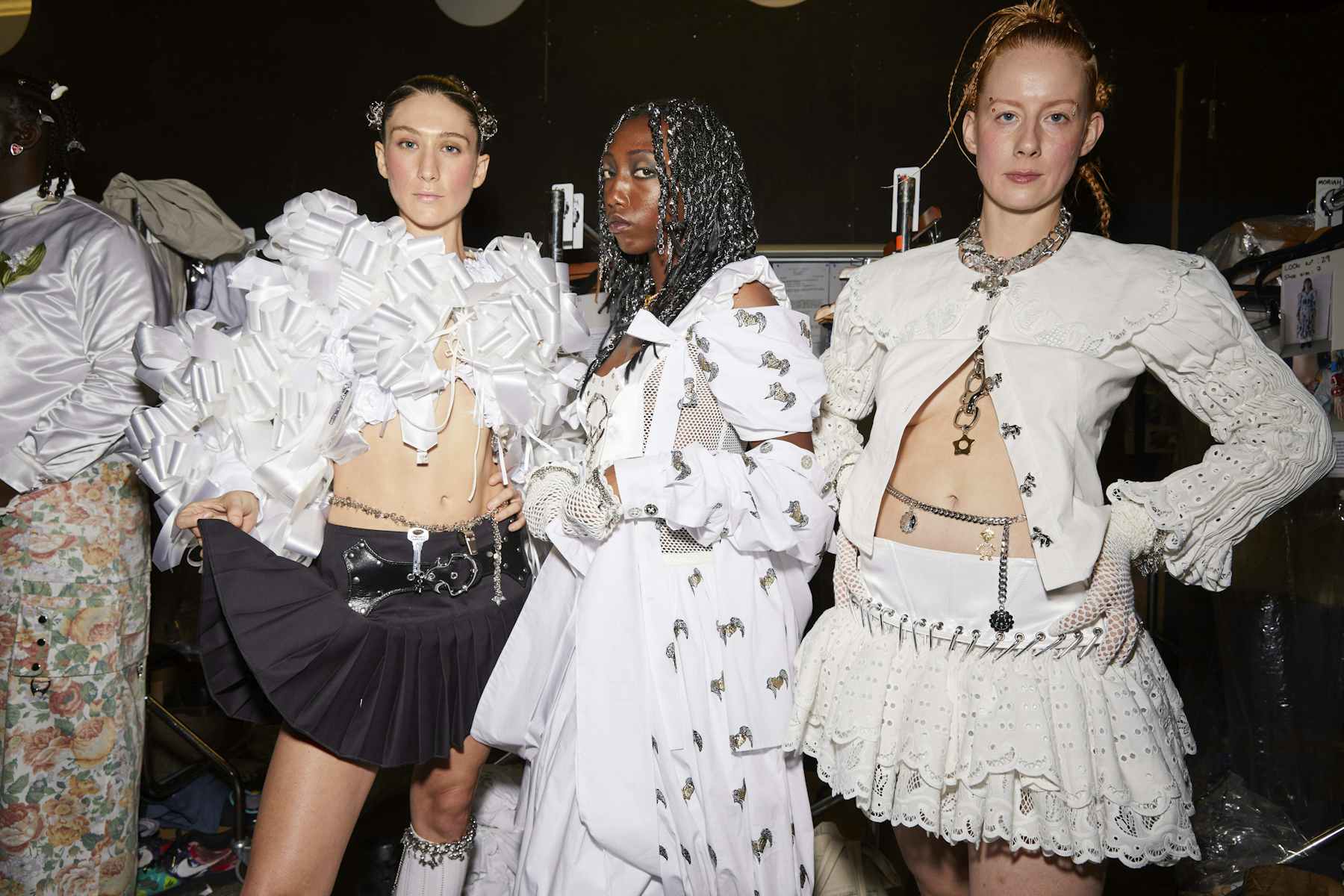 What's on the agenda, then?
Only the show that we all sprint in our stilettos to: Fashion East. This season, Lulu Kennedy pumped us up with the announcement of a brand-new designer being added to the roster: Olly Schinder, who we've been big fans of since the North Londoner graduated from Central Saint Martins last summer. Joanna Parv also returned for the second time, Standing Ground was back for a final outing, plus cult favourite and Fashion East alumni Asai closed the show as a special guest, in suitably technicolour style.
Sounds like a party. Who wore what?
Like any party worth its tequila salt, the SS24 line-up was a mash-up of styles in one room. Back when he was at CSM, Fashion East's latest recruit Olly Schindler earned his design chops via placements at German workwear brand Snickers and Celine under Phoebe Philo. During that time, Shinder uncovered a grey area of typically masculine sartorial tropes, such as the heavy-duty fabrics, durable boots and plaid shirts found on building sites, and the sexy, after-dark antics in Berlin and London's hedonistic gay clubs. When both scenes butt heads, the result is a throbbing idea of modern masculinity for all. Cue: mud-splattered cargo trousers, hi-vis details, kinky knee-length socks and flashes of skin via futuristic shirts with full-length zips.
Then it was Standing Ground's turn, with designer and founder Michael Stewart's gowns taken for a third and final outing. Stewart has done a consistent job of designing with a keen eye on the body: taking note of how fabrics react to movement, draping for drama and using crafty techniques that keep floor-sweeping gowns current amongst his designer peers' mini dresses and barely-there slips. For SS24, stretchy fabrics, intricate ruched detailing and Grecian influences took centre stage, pretty much tailor-made for red carpet photo-ops.
Away from the glamour, Estonian designer Johanna Parv was on a mission to simplify the nine-to-five, with malleable daywear crafted with zips, pulley bits and hoods for added protection. With Parv's keen eye for detail and knack for modernising practicality, her proposed wardrobe for the busy working woman is built for last-minute after-work drinks, hopping on a Lime bike when the bus is delayed and protecting the fresh cut and dye when the heavens open.

The grand finale came via ASAI's one-time return to Fashion East's line-up since graduating from Kennedy's class in 2019. The designer – big on explosive colours and frilly detailing, with a penchant for tearing up aEast London's dancefloors – was never going to come quietly. Instead, his designs super-charged down the runway, with an army of models wearing Timberland, which partnered with ASAI for this season. There were references to his much-adored Hot Wok tie-dye prints that circulated the scene in 2019 and were snapped up by the likes of Rihanna, SZA and Jorja Smith, as well as hot pinks, purples and lime greens, and theatrical cross-over detailing that looked a bit like fishing nets. A total catch.
In a question?
Who's doing the afters, then?
WORDS: TJ Sidhu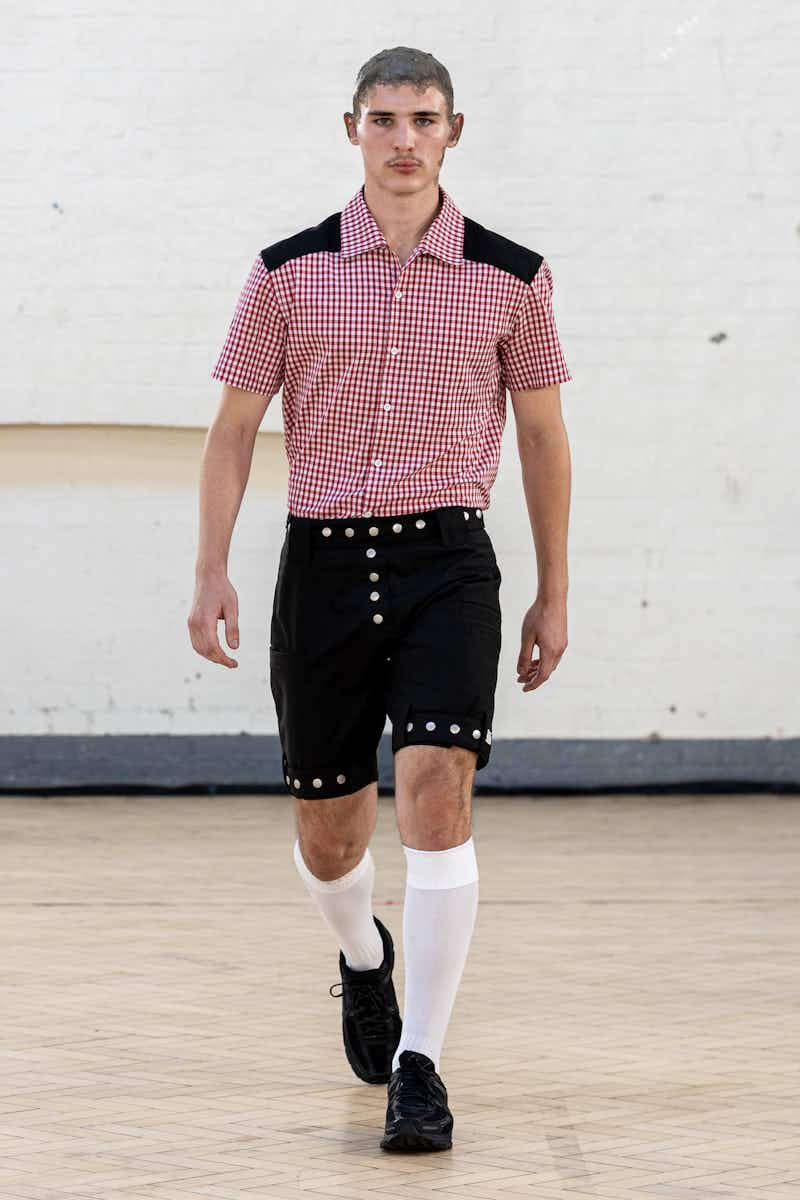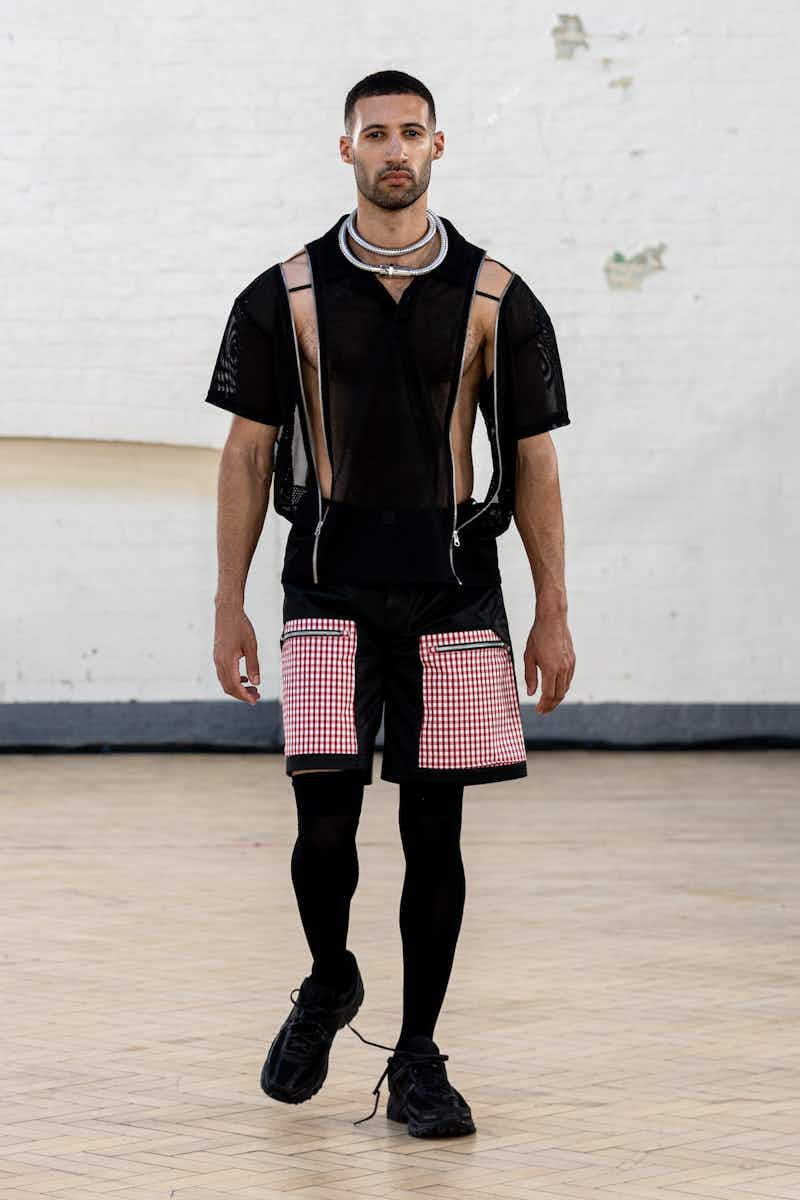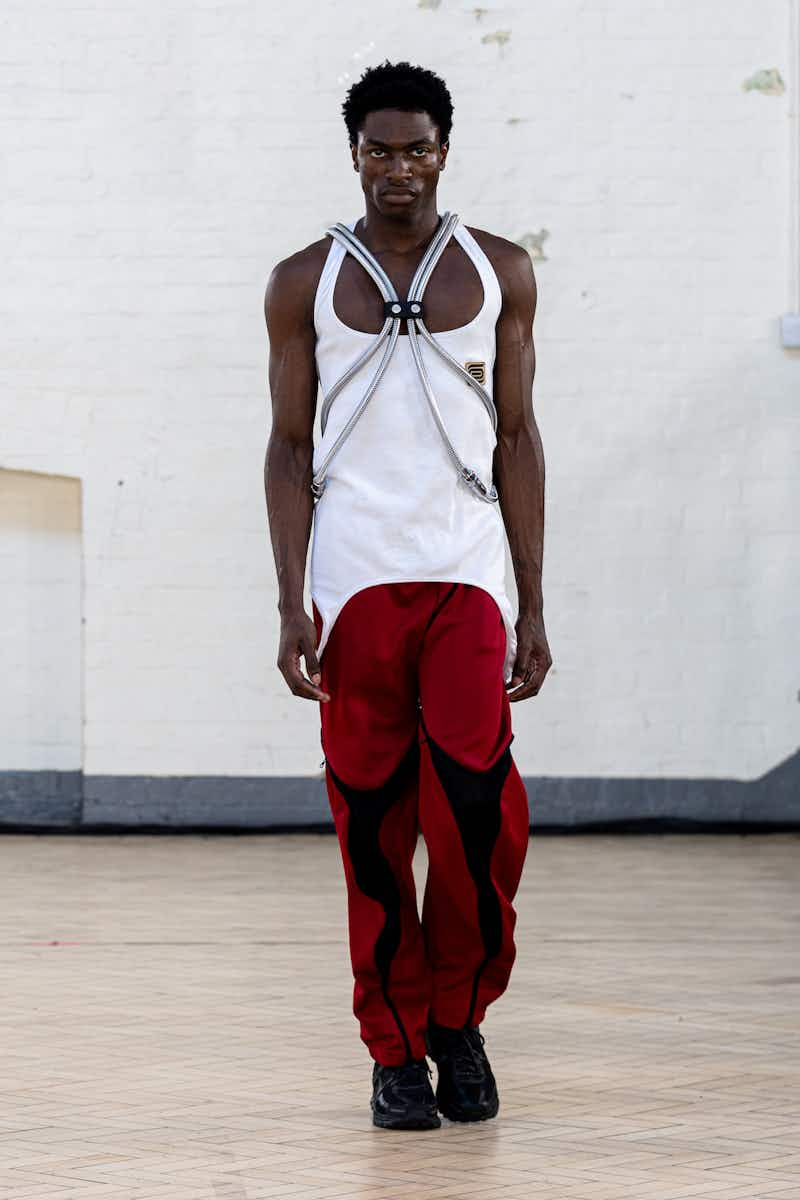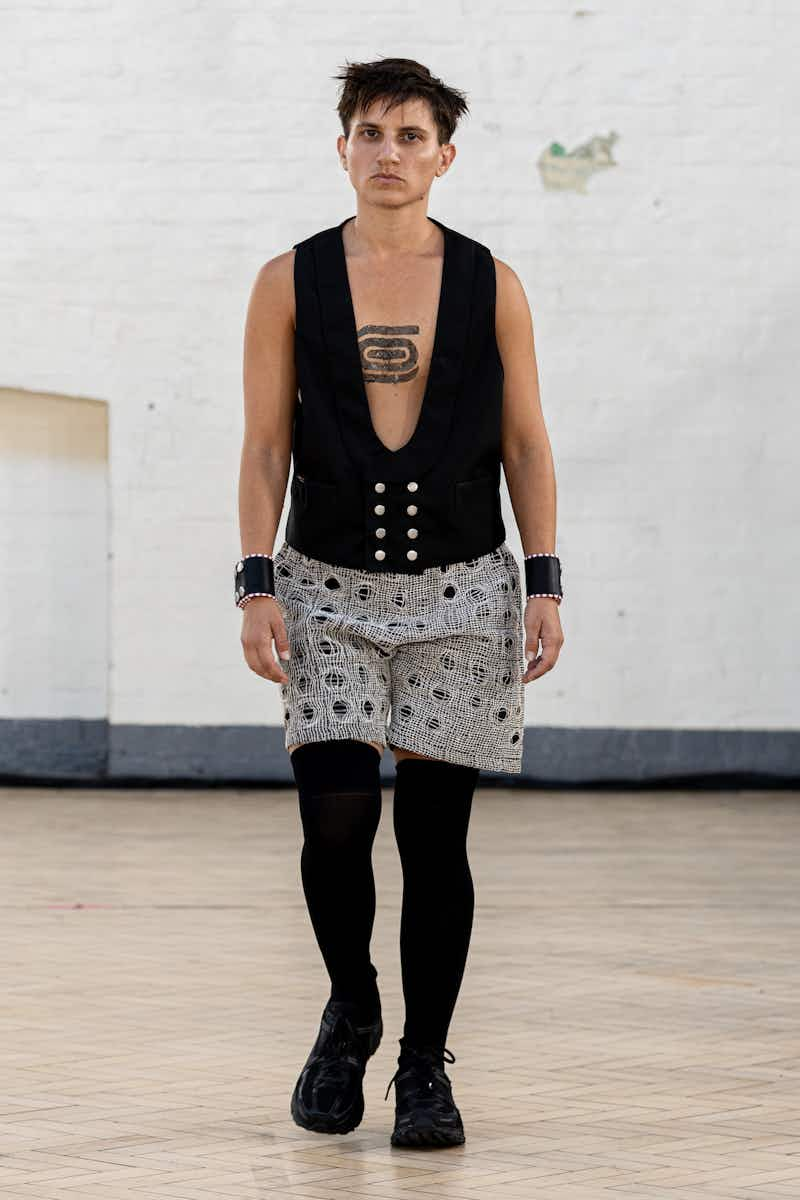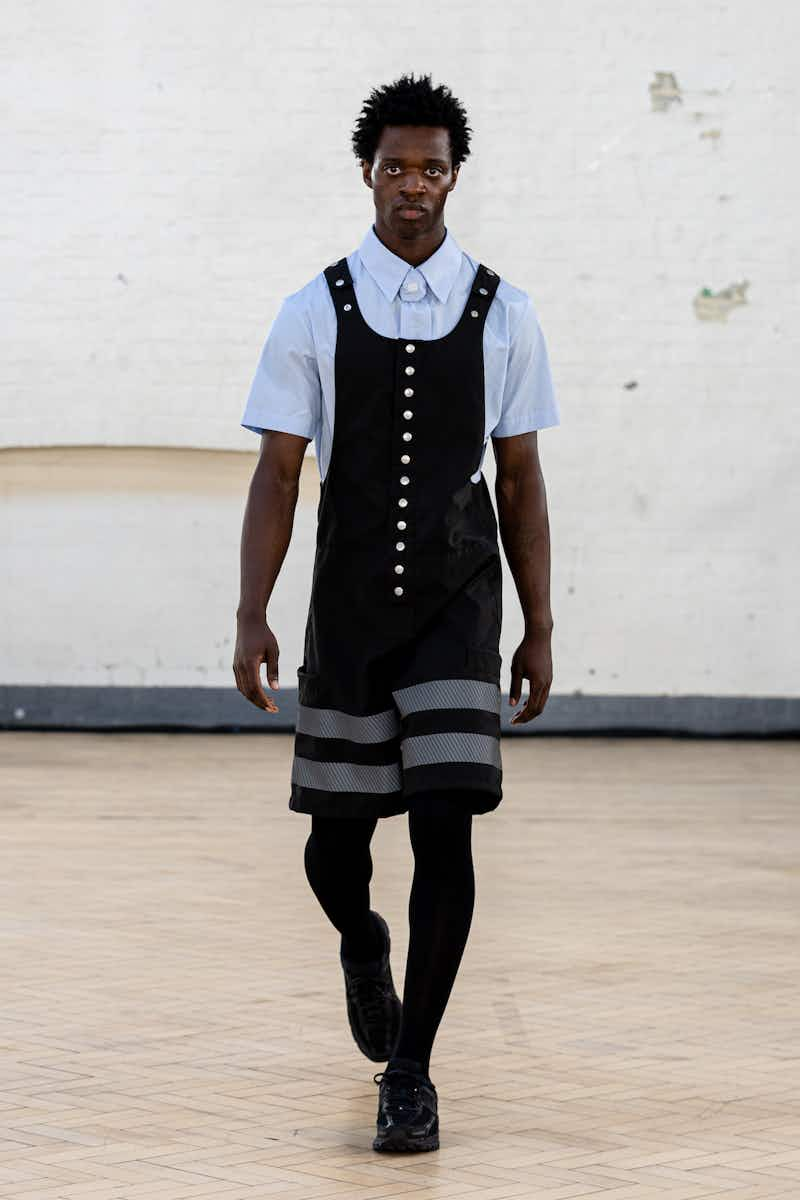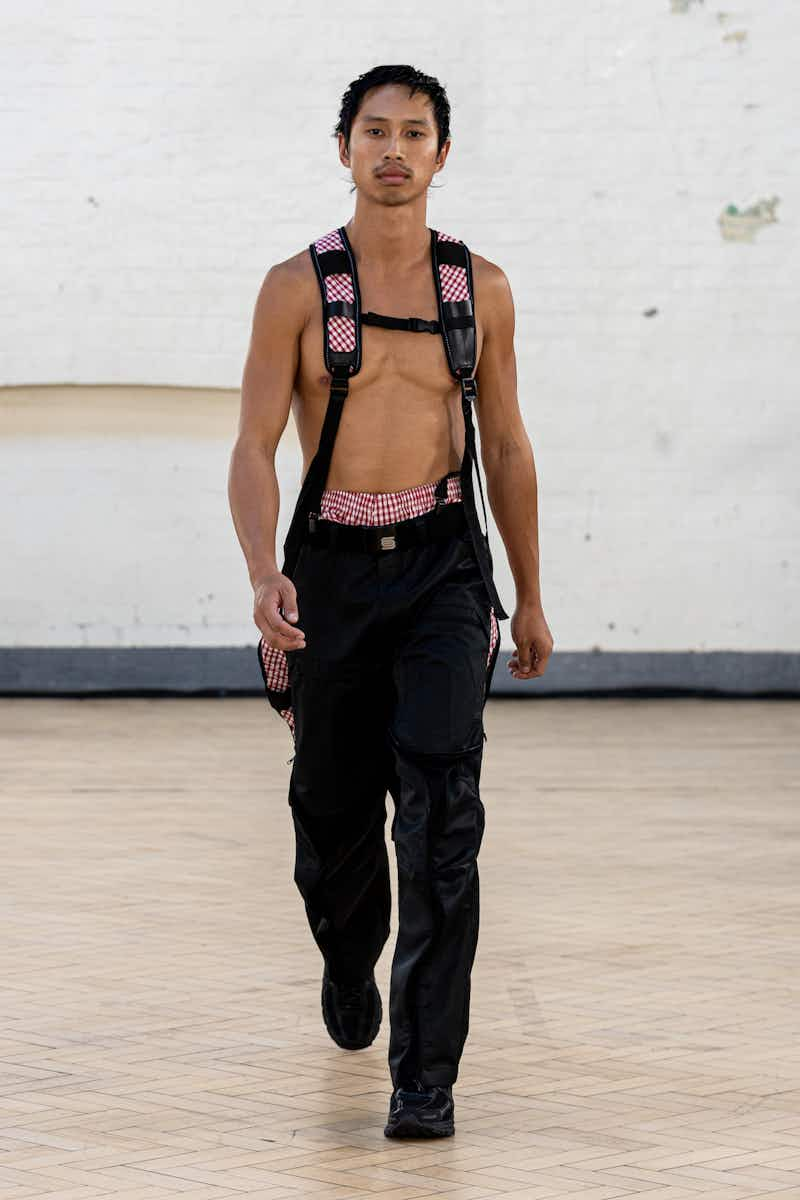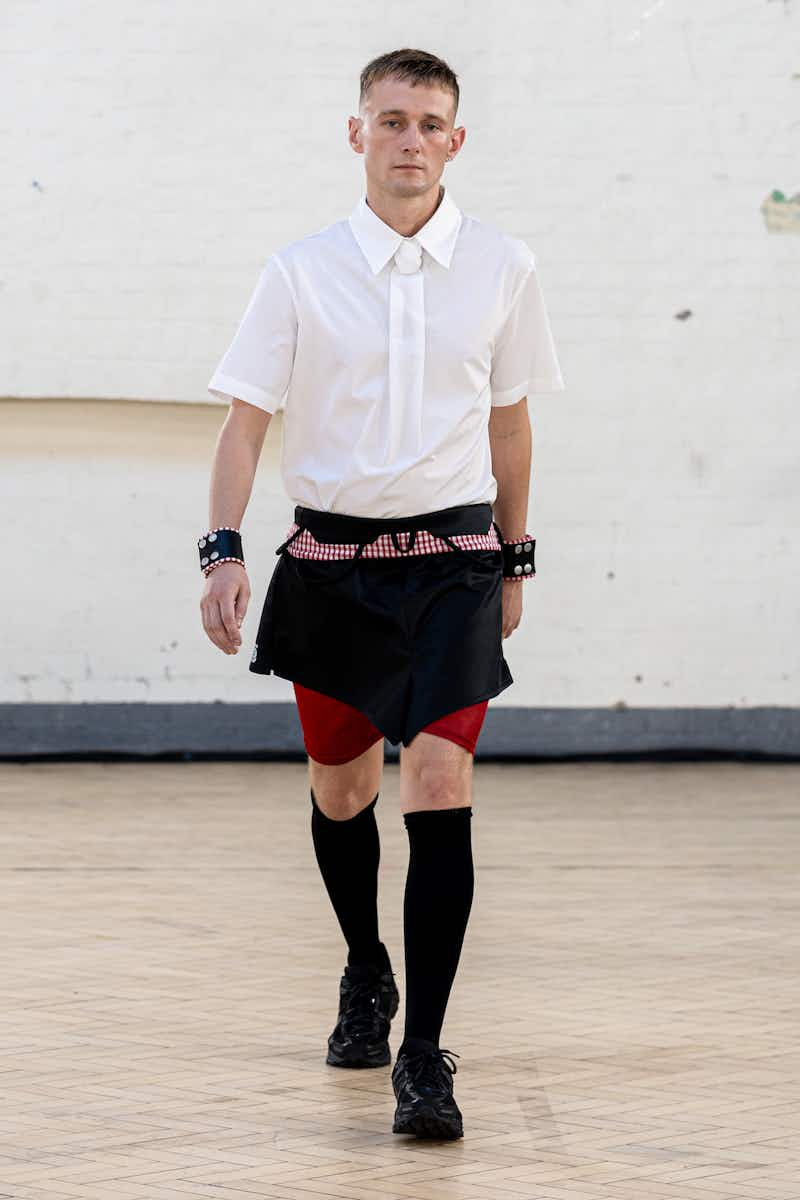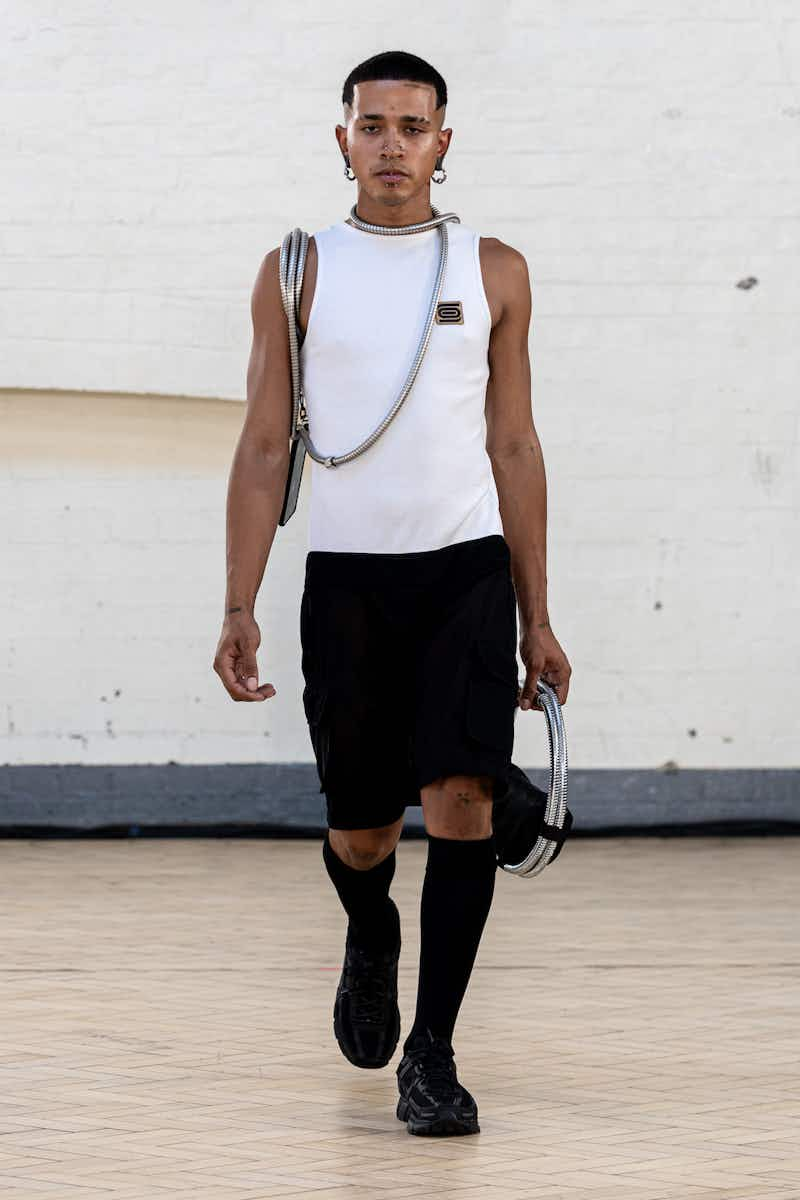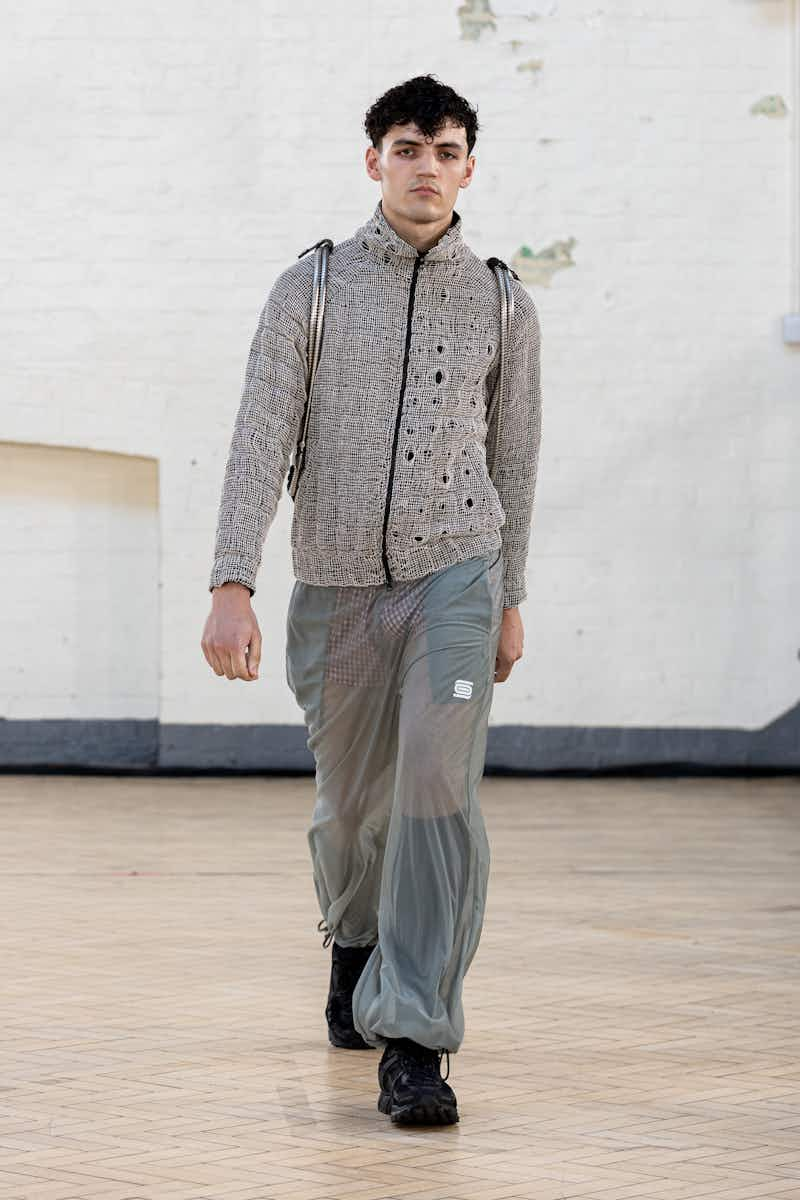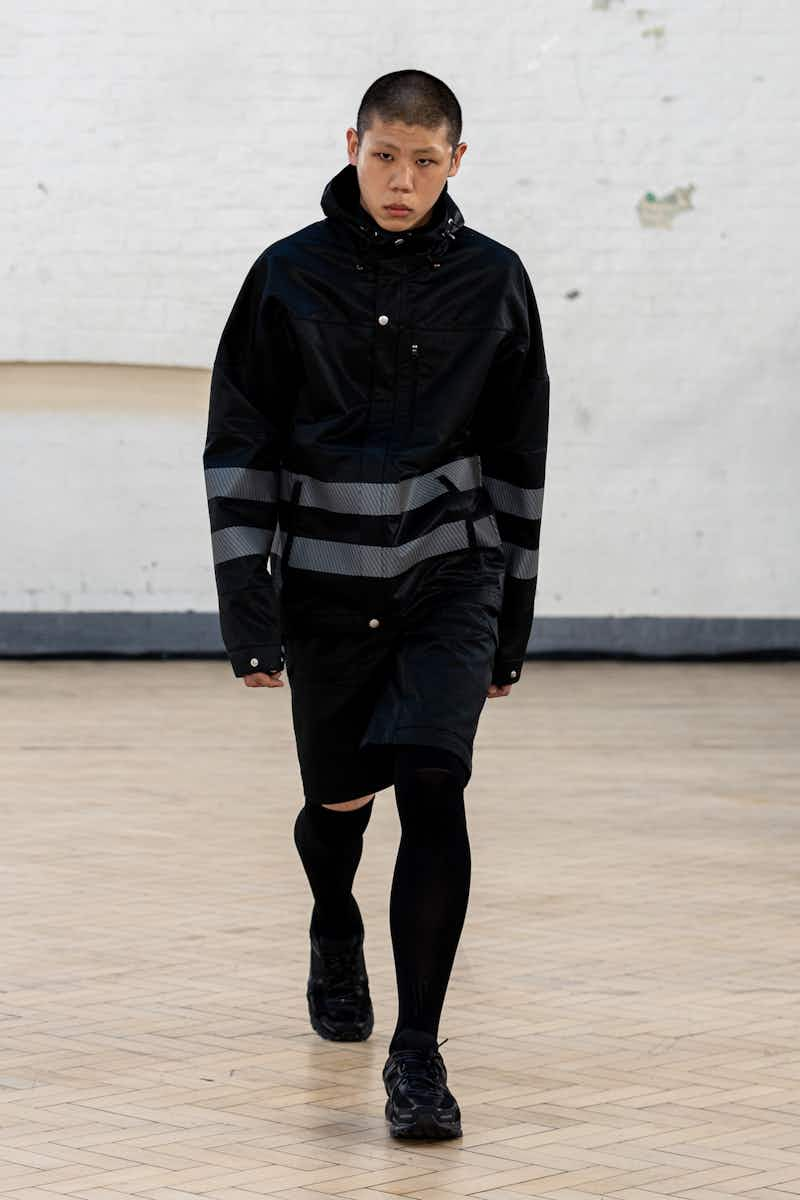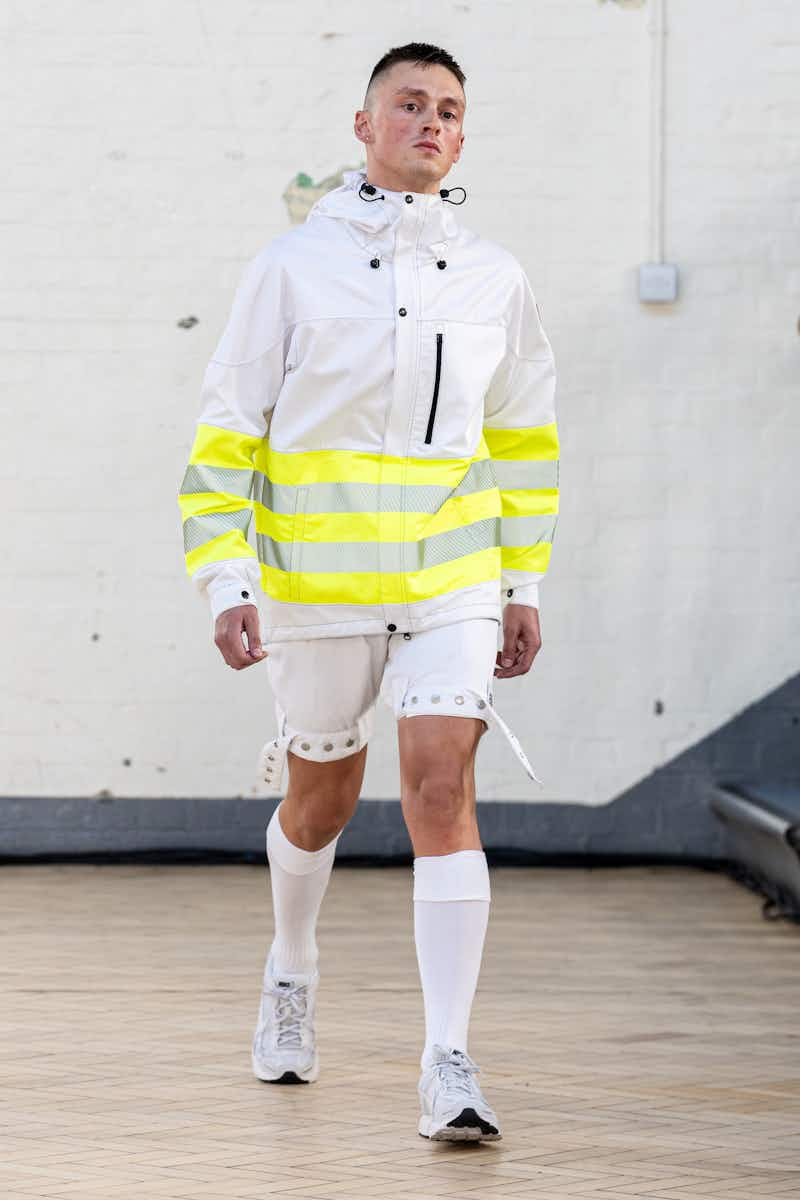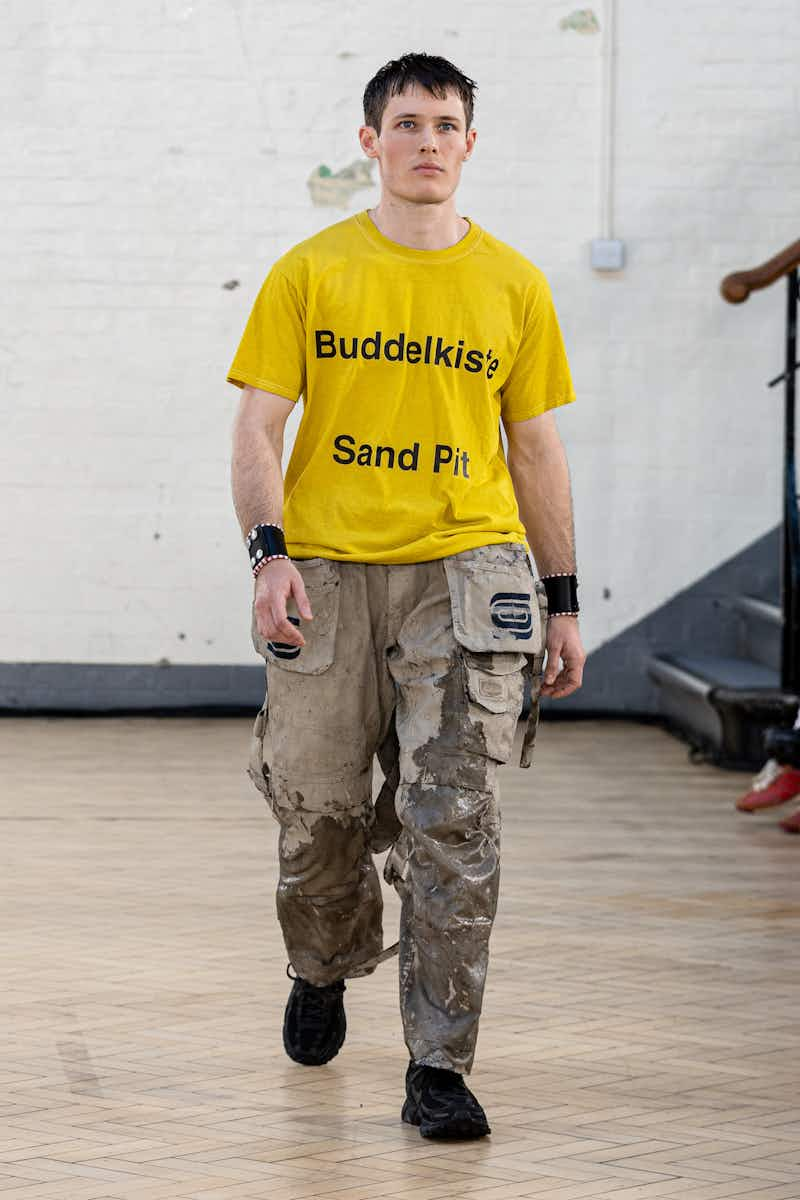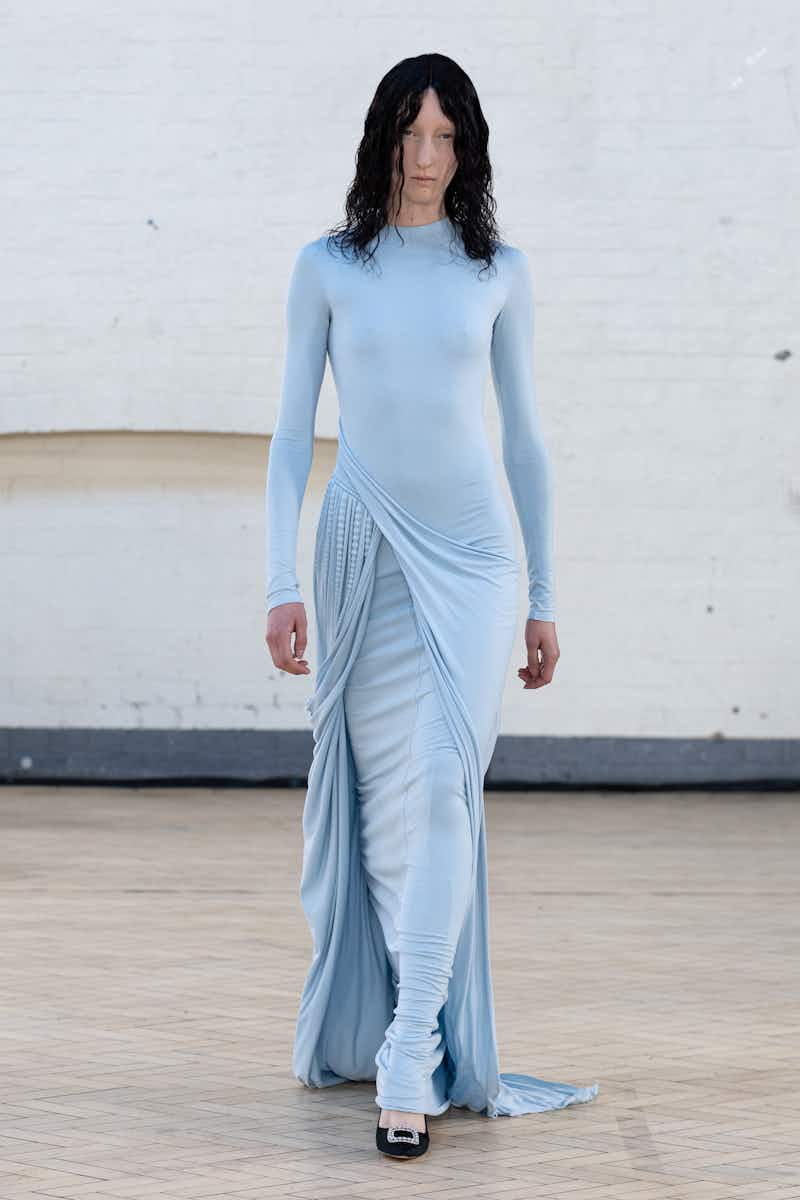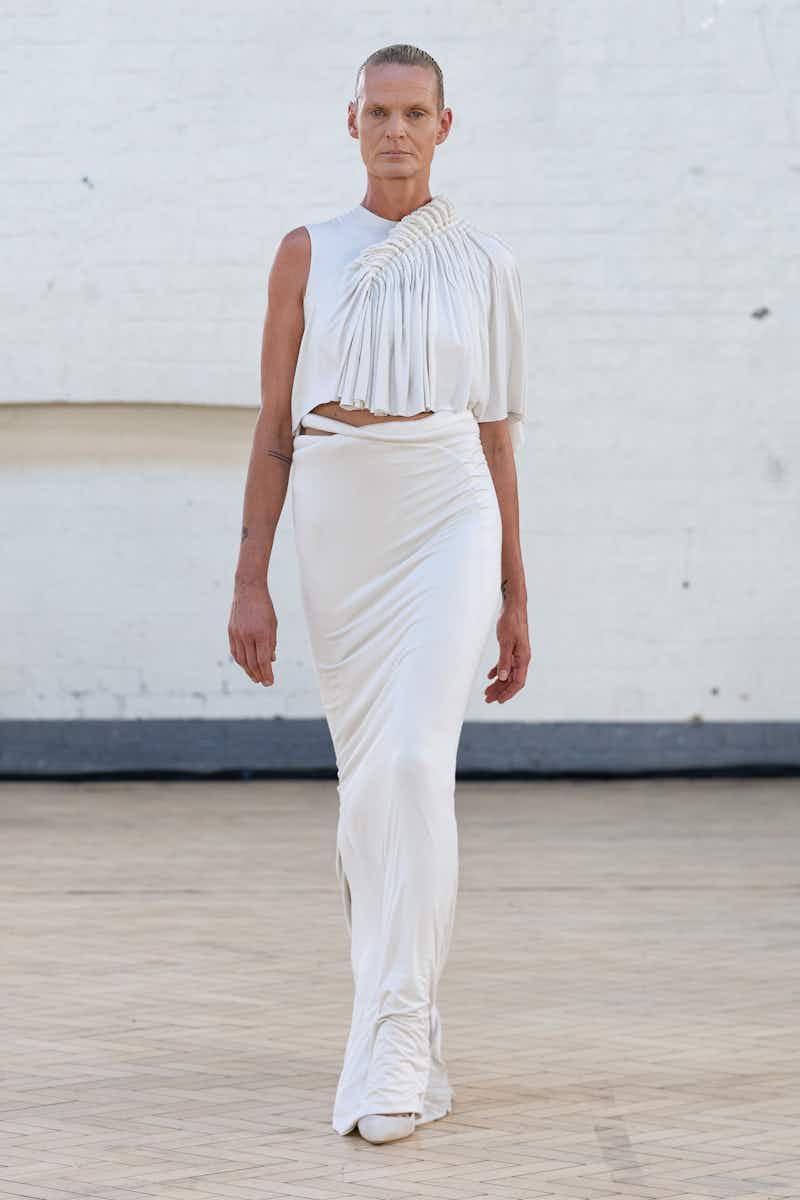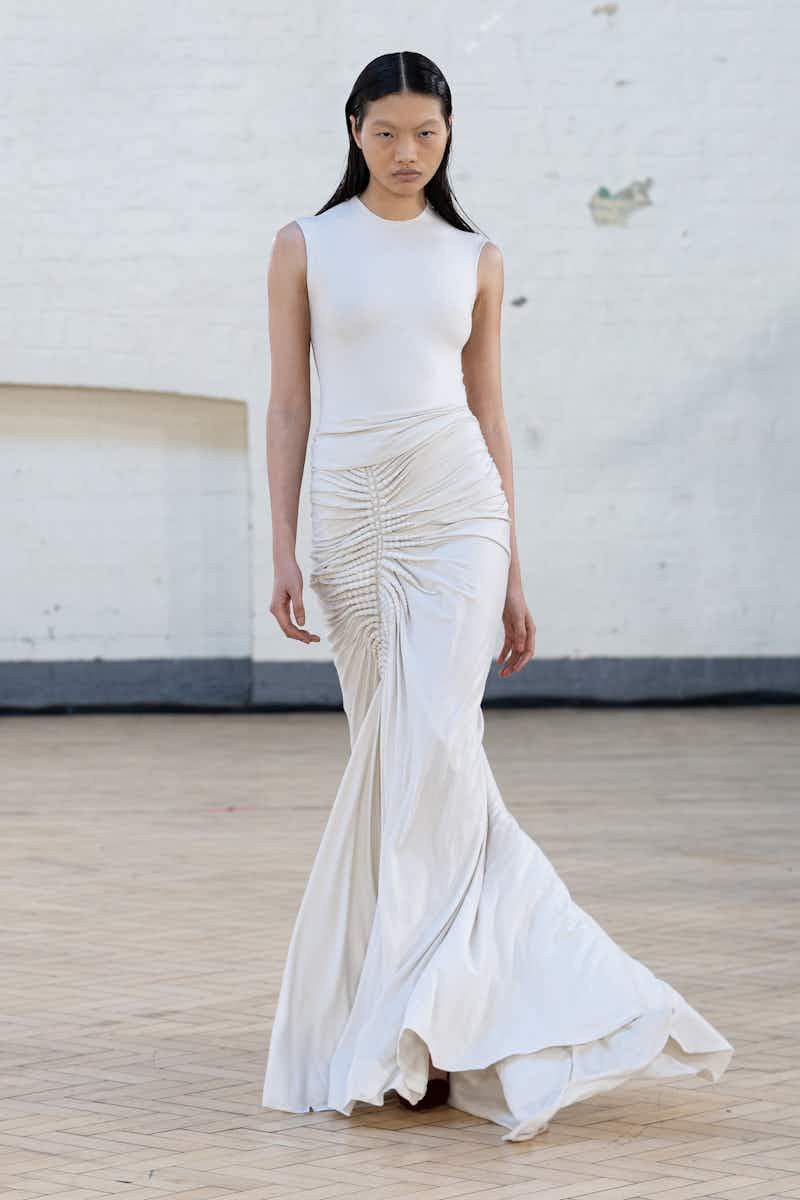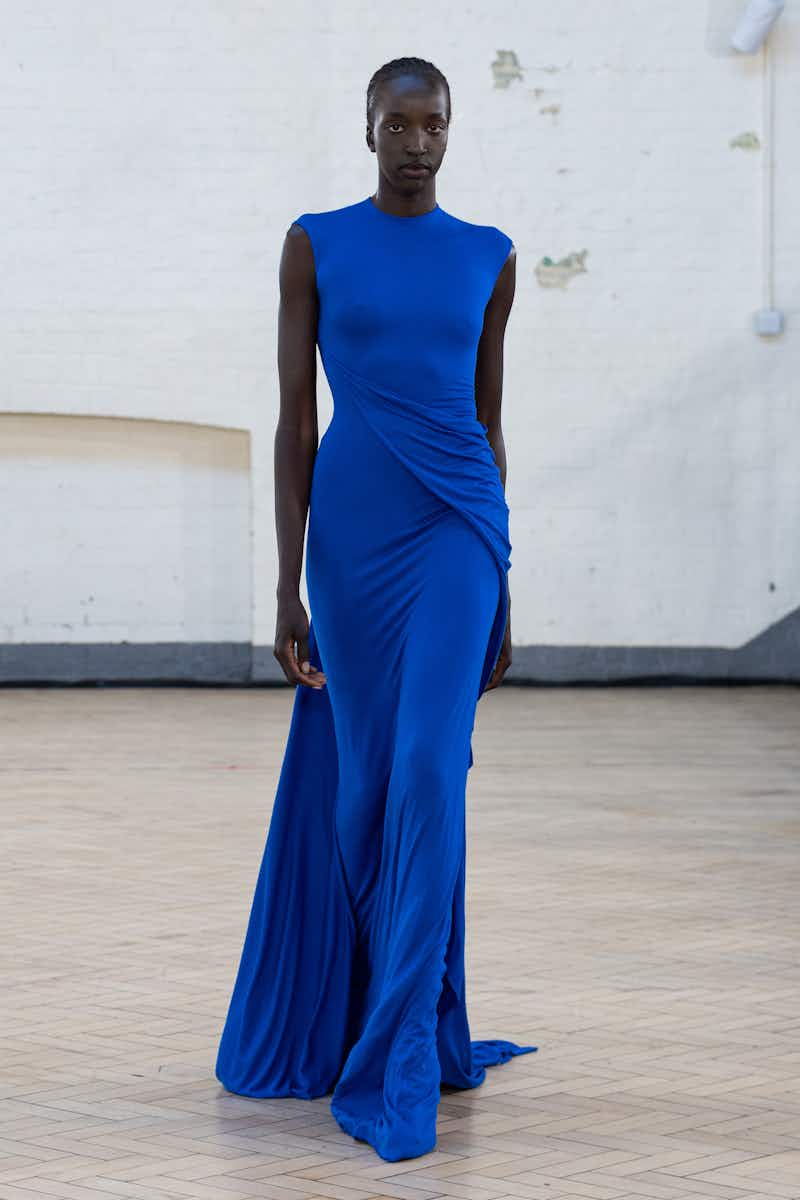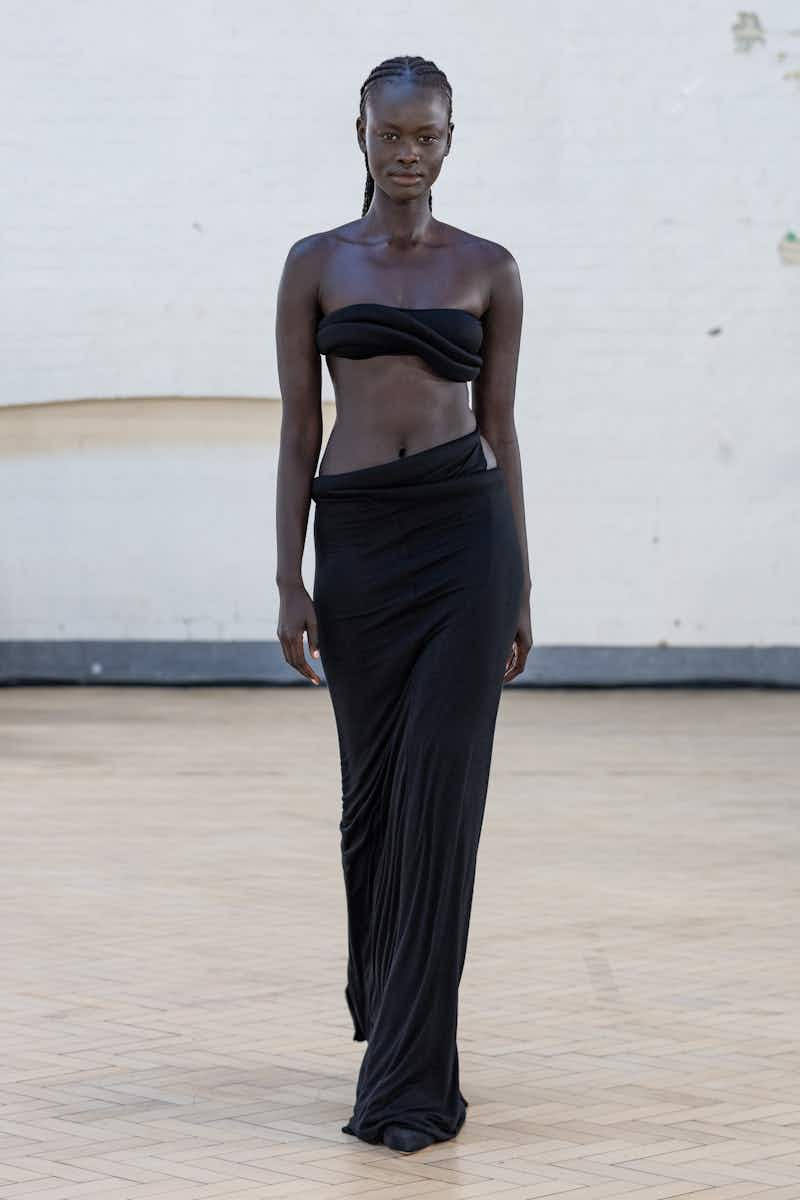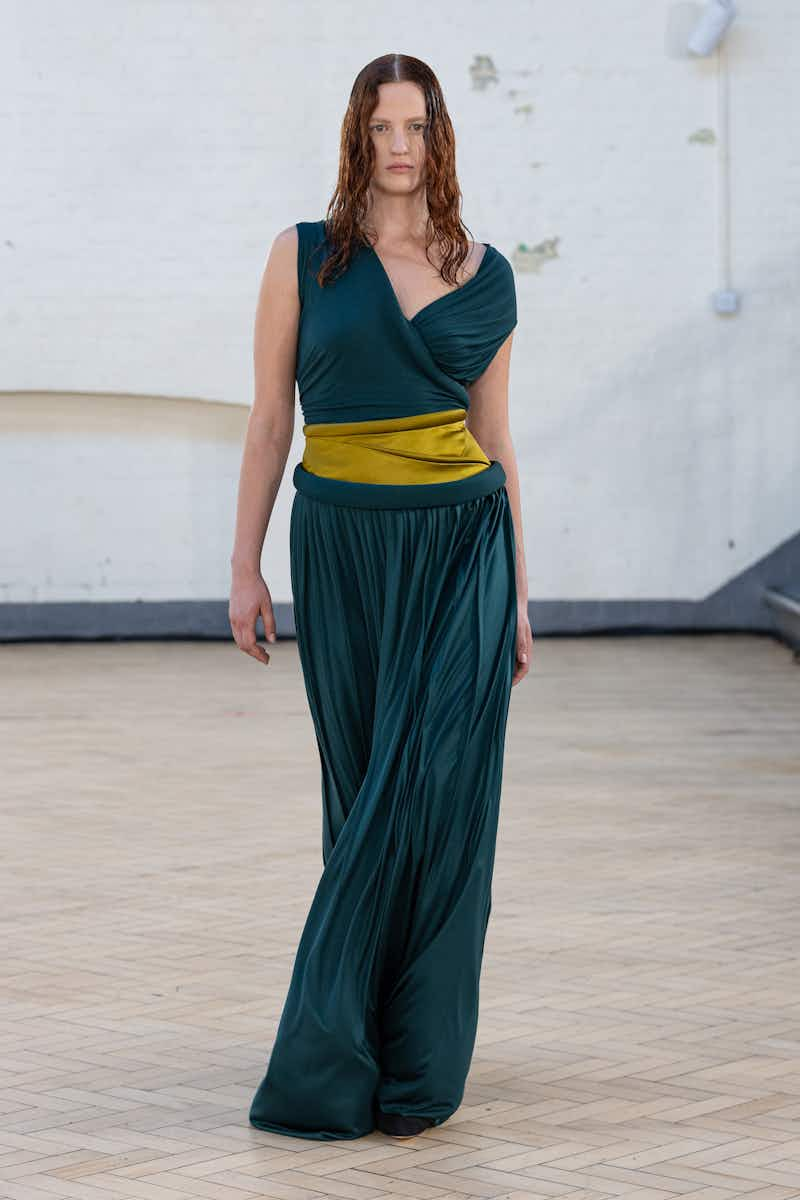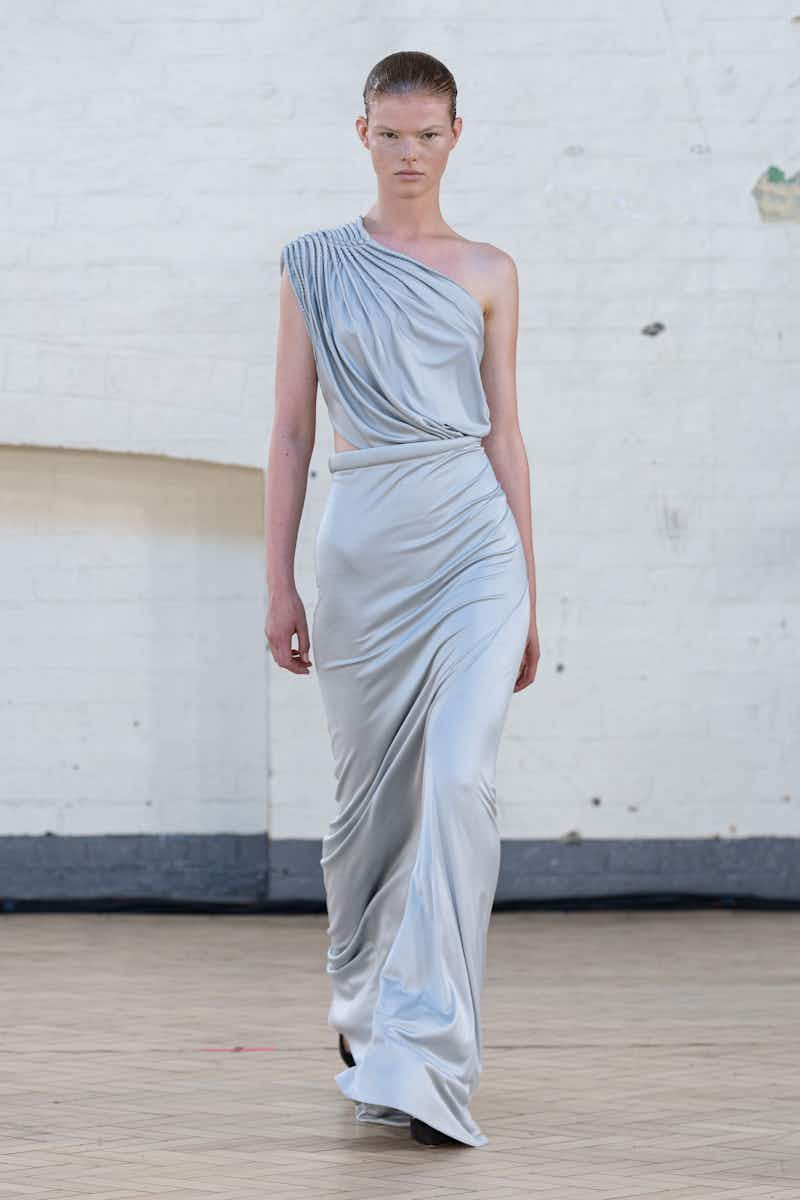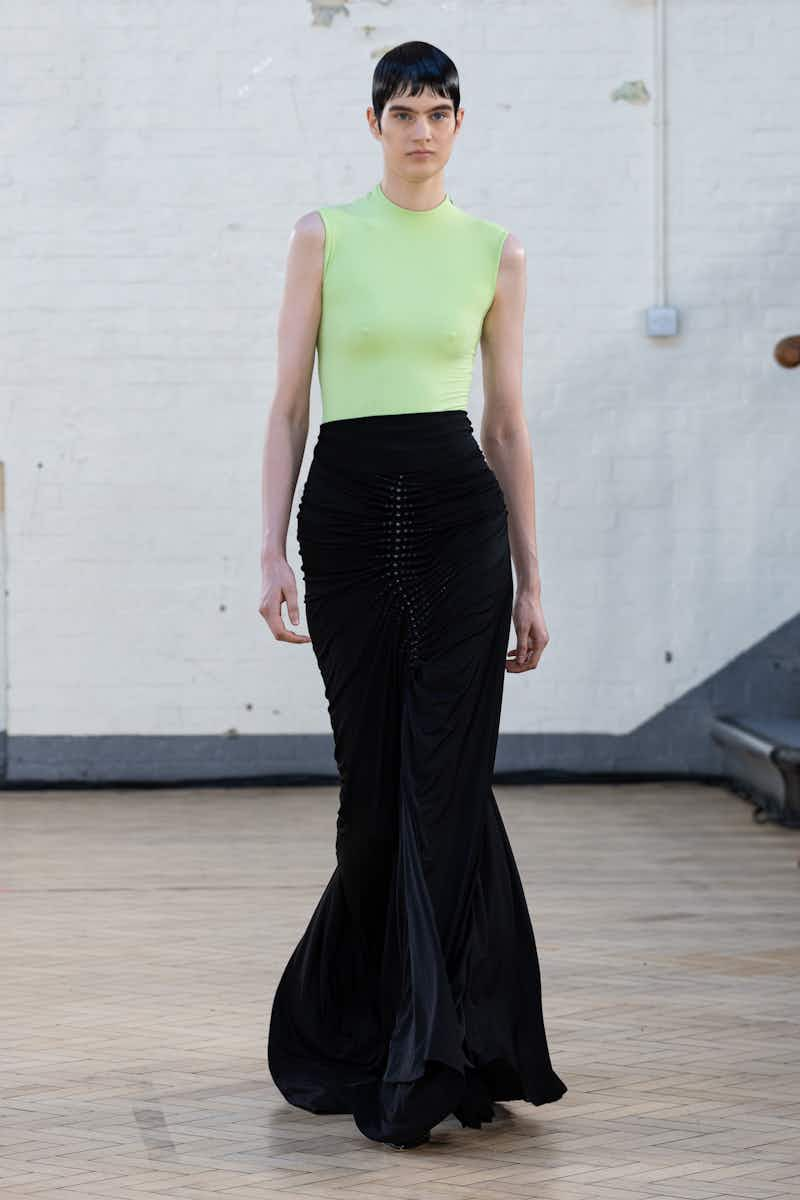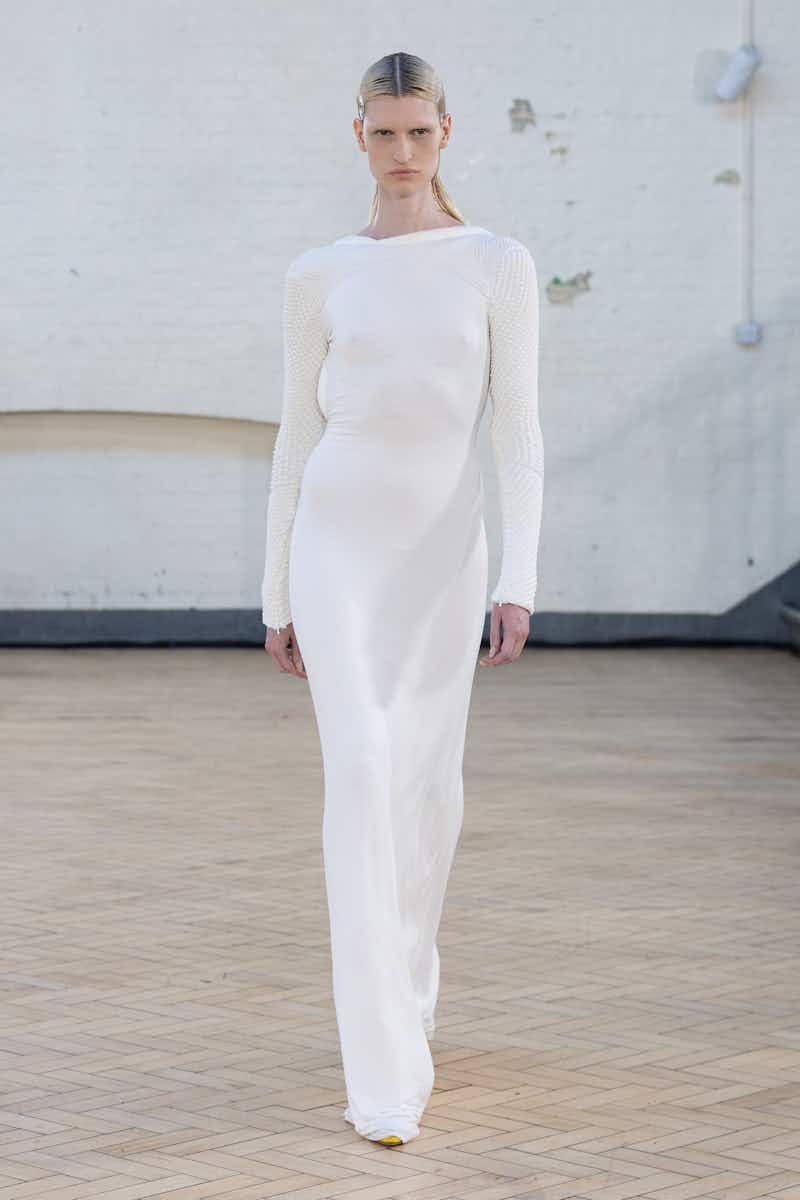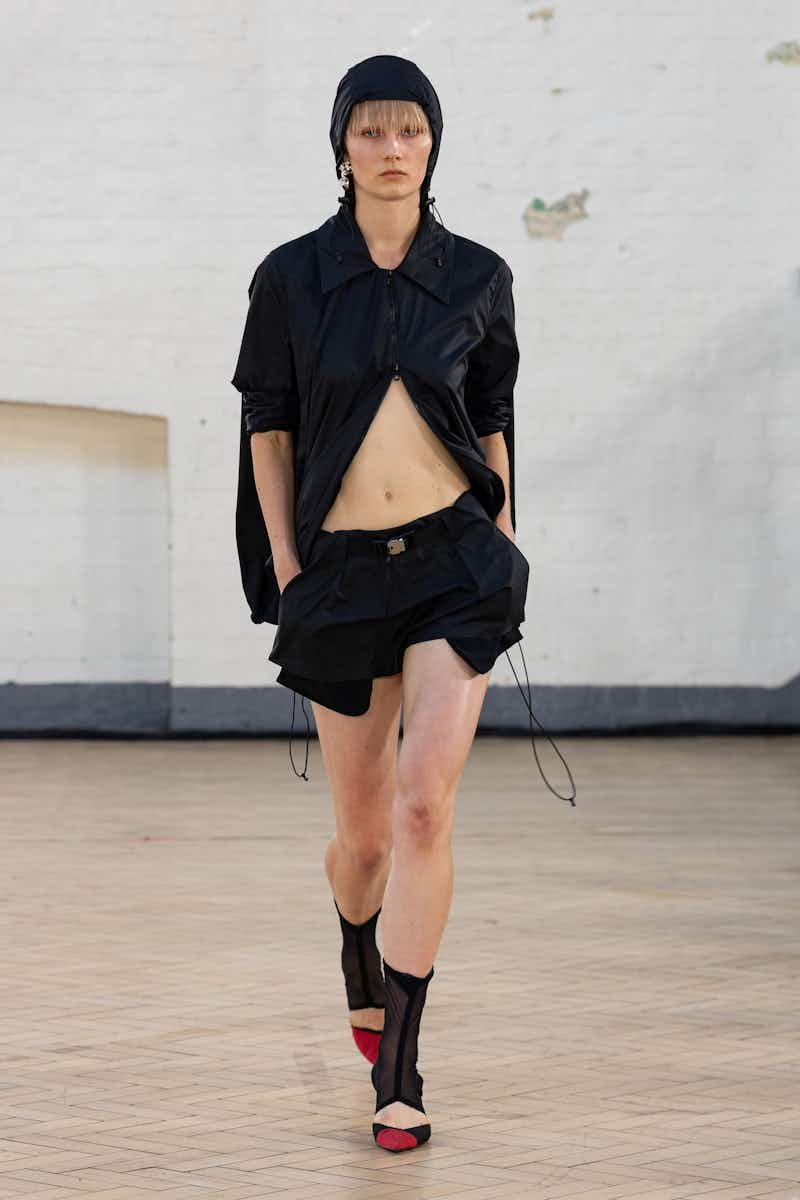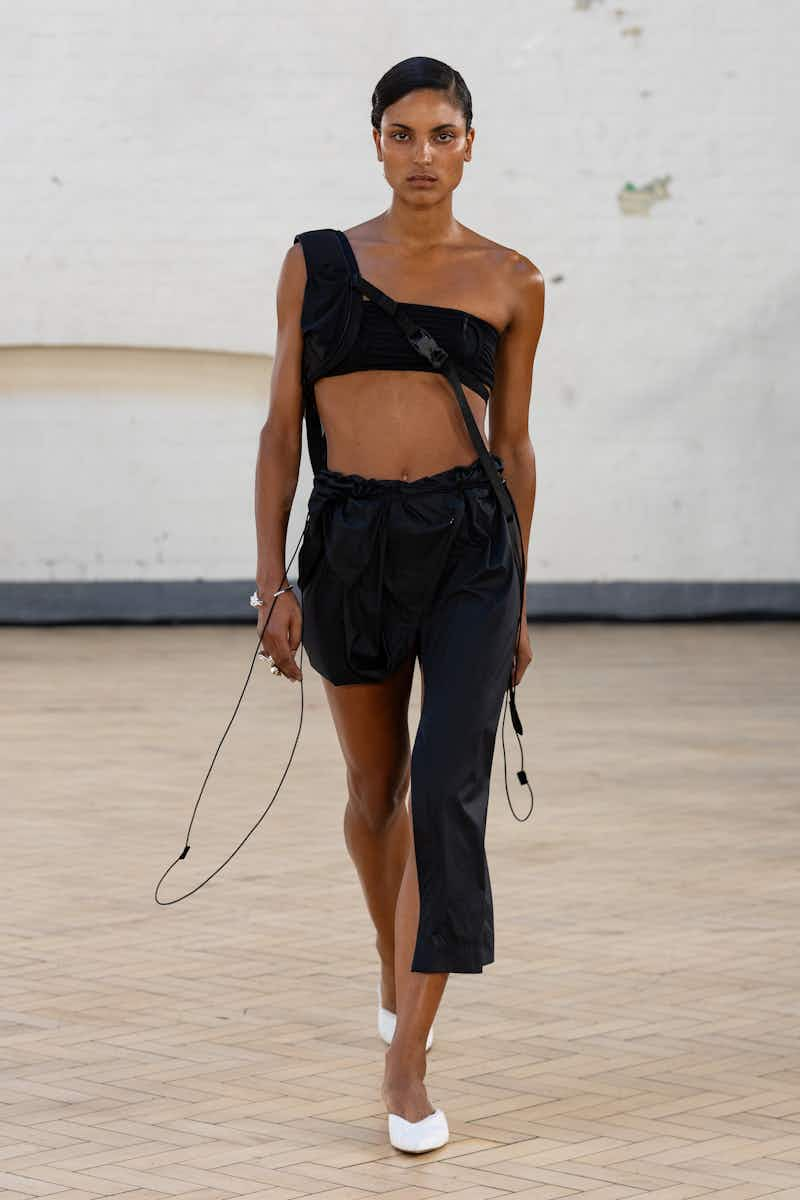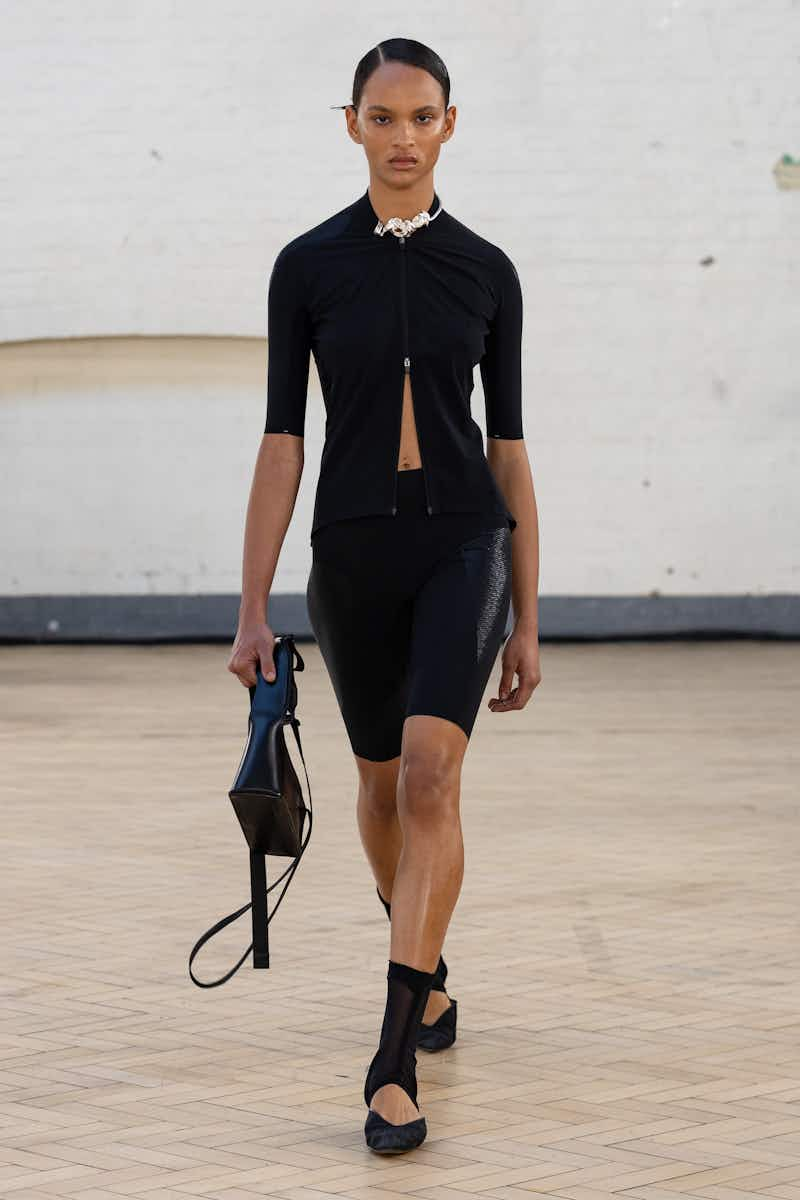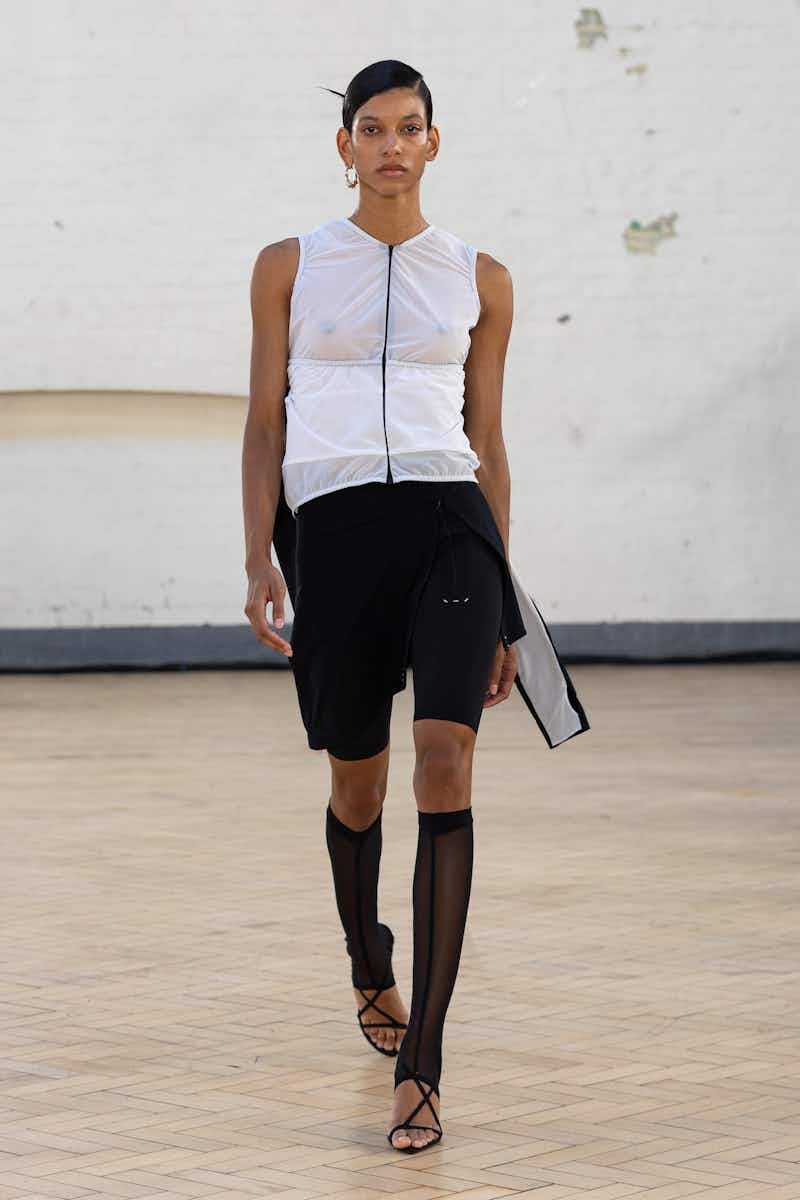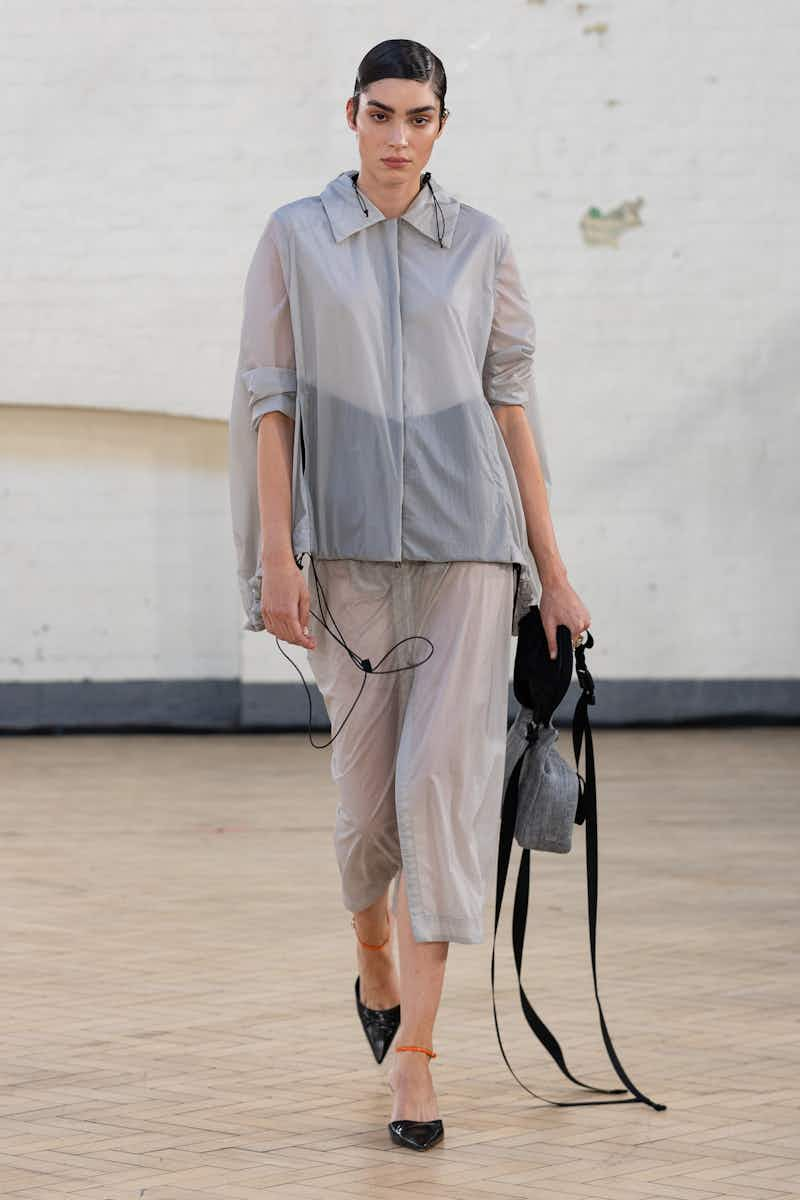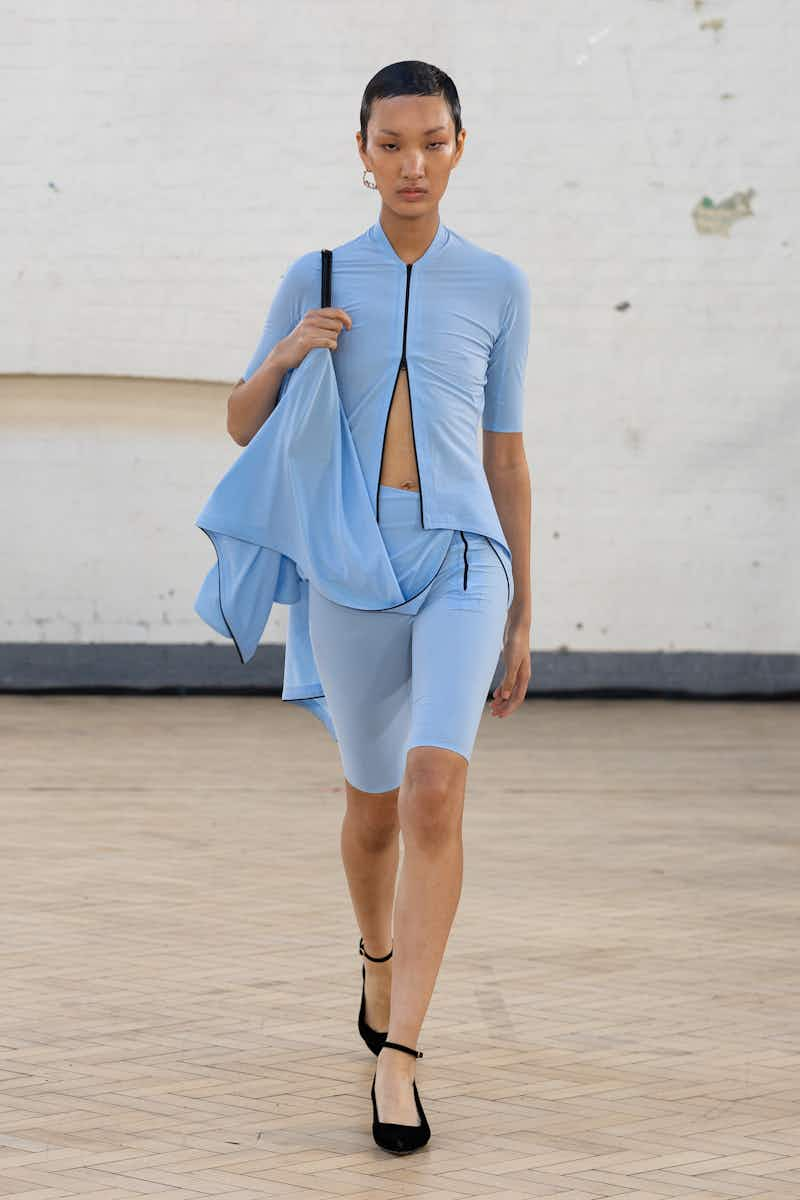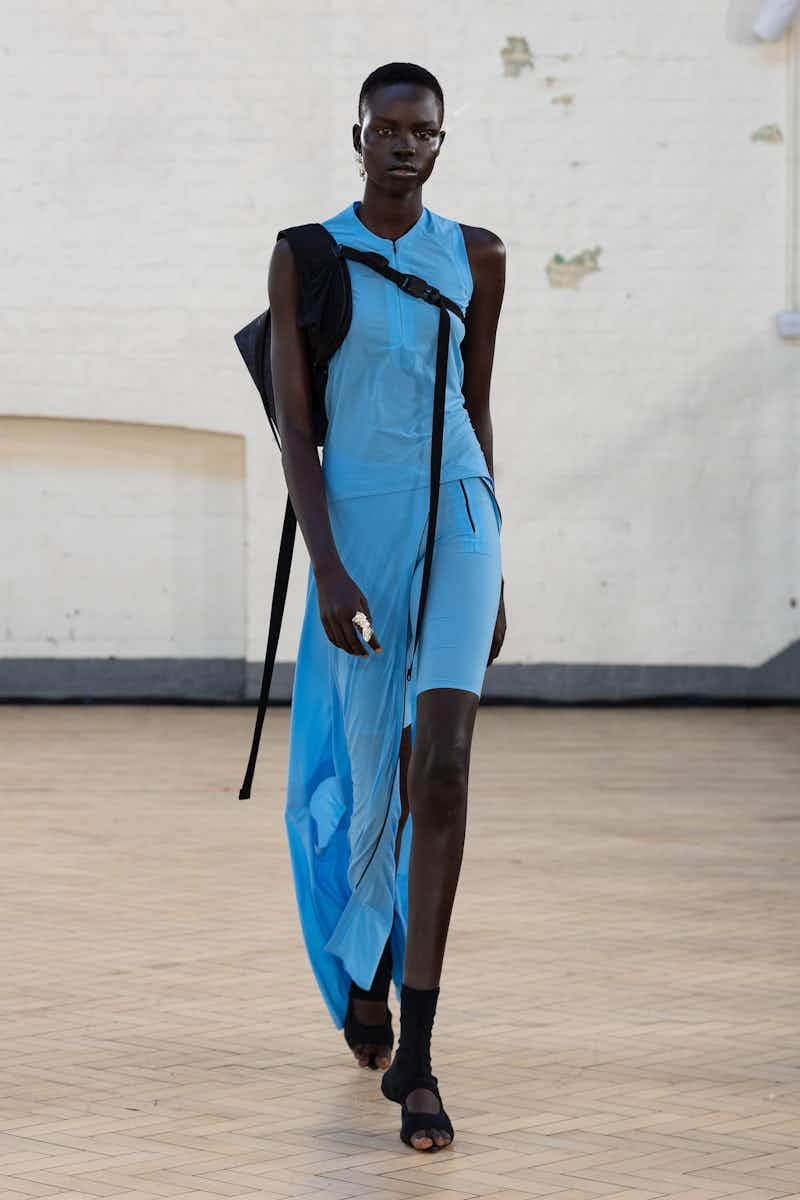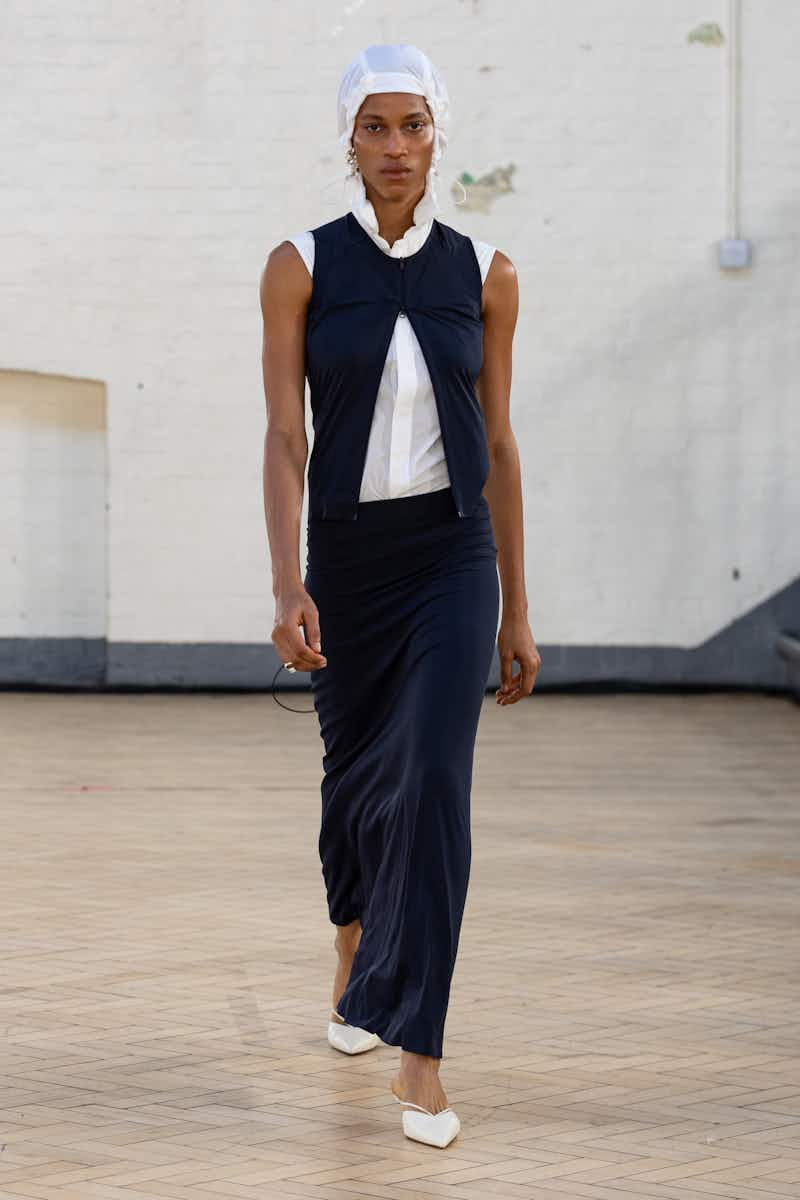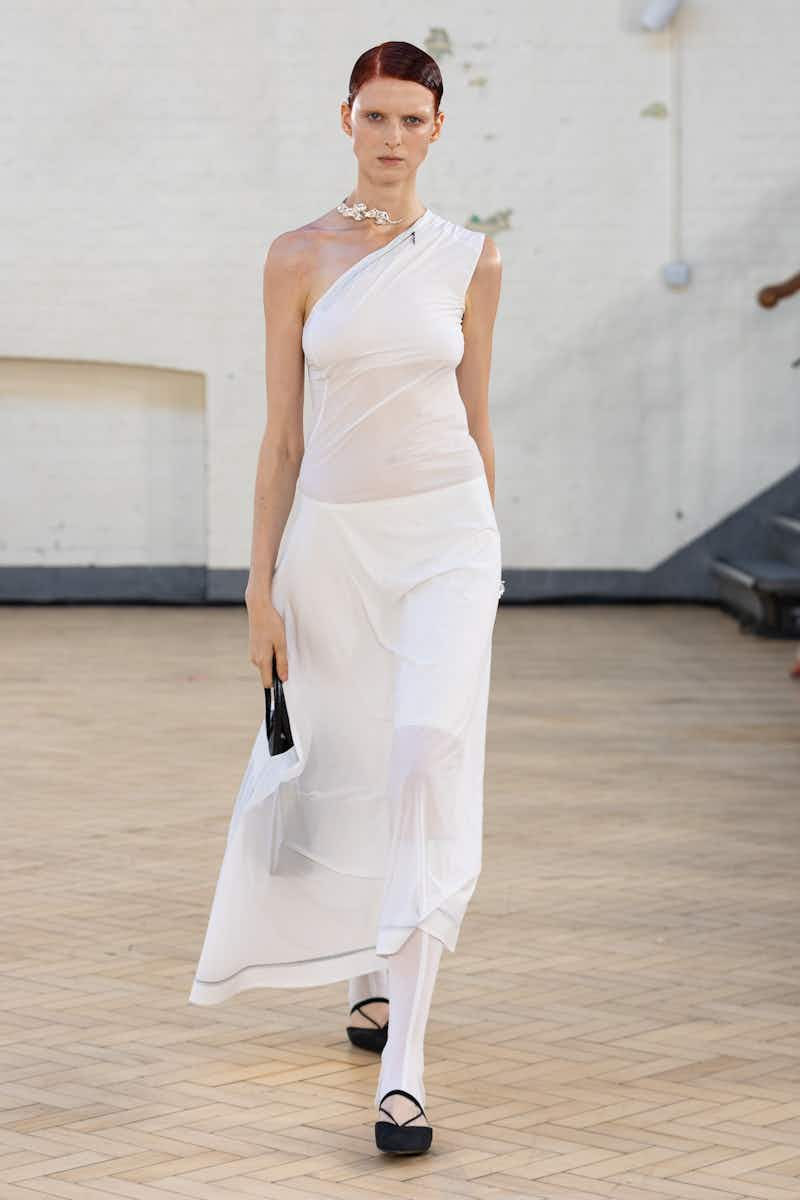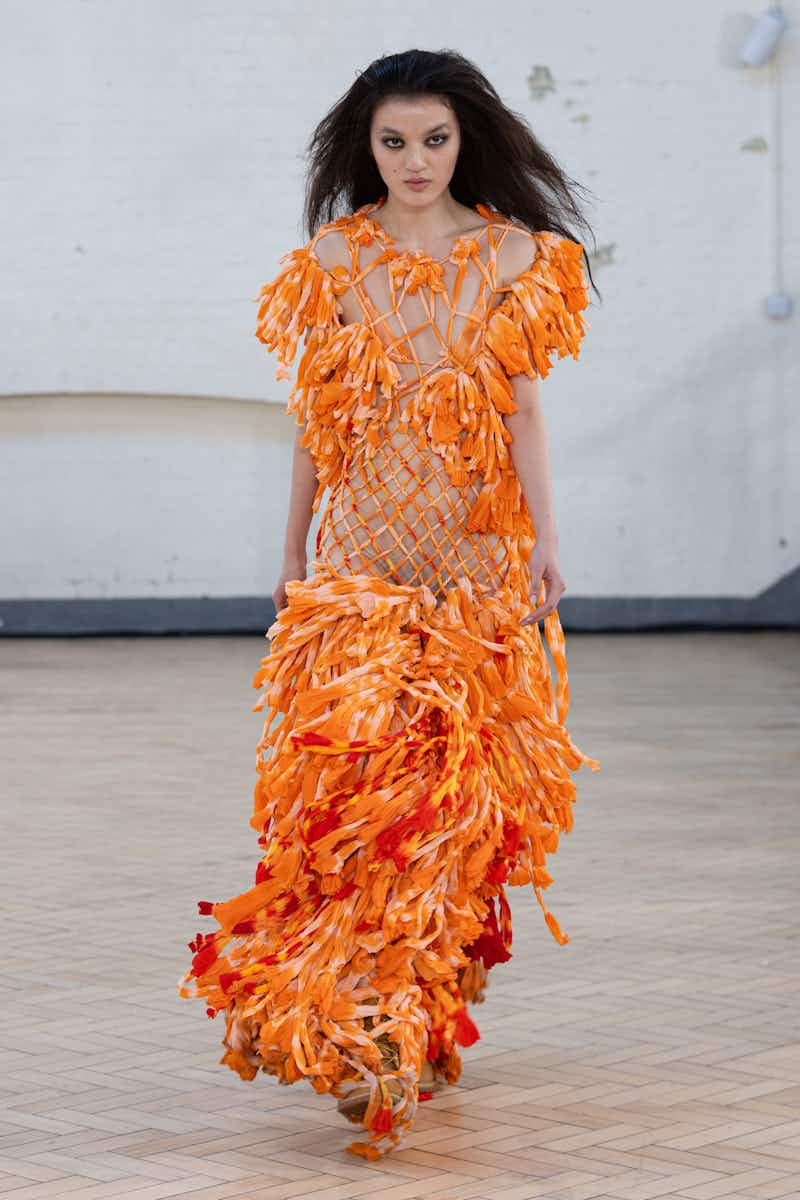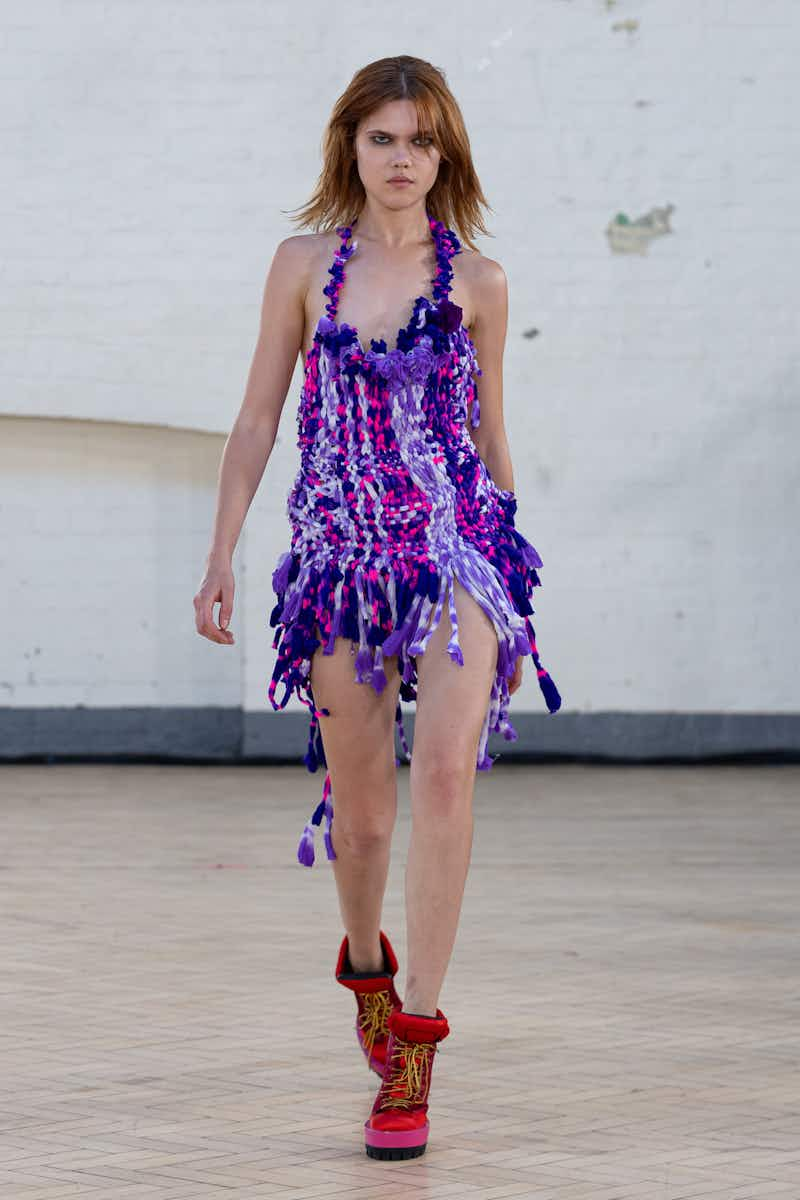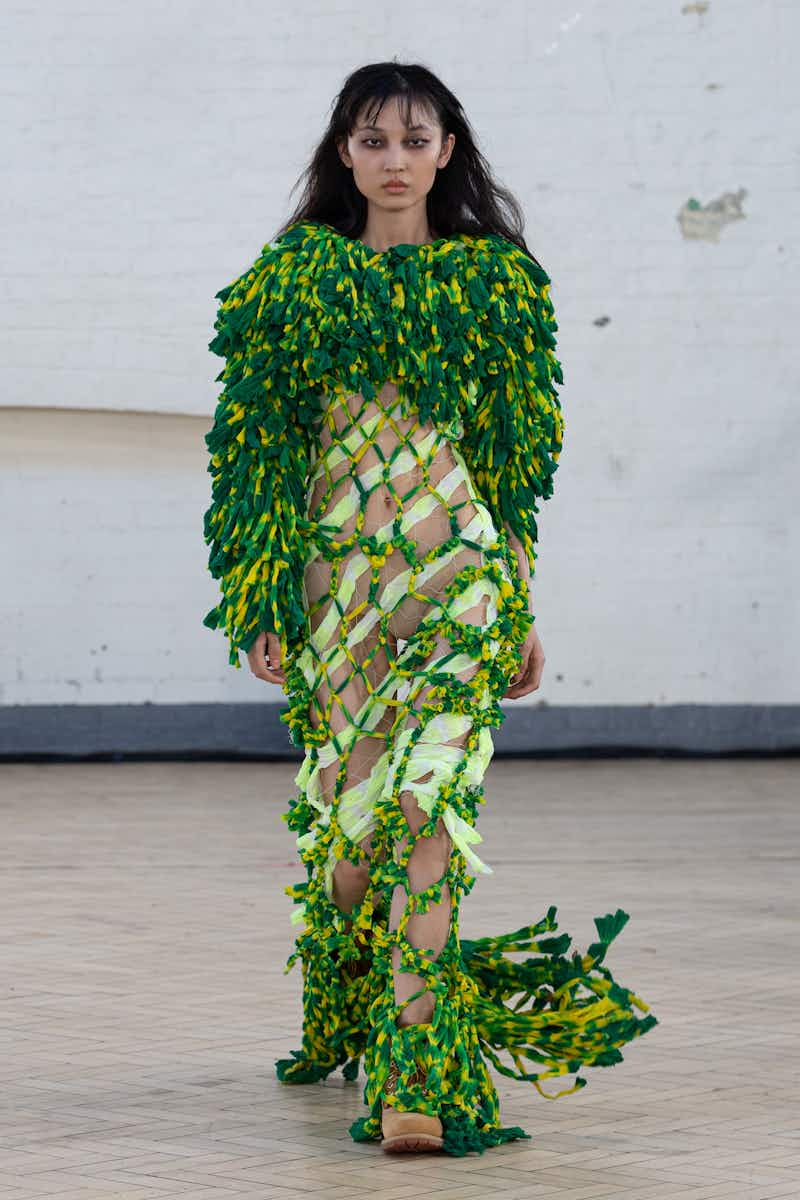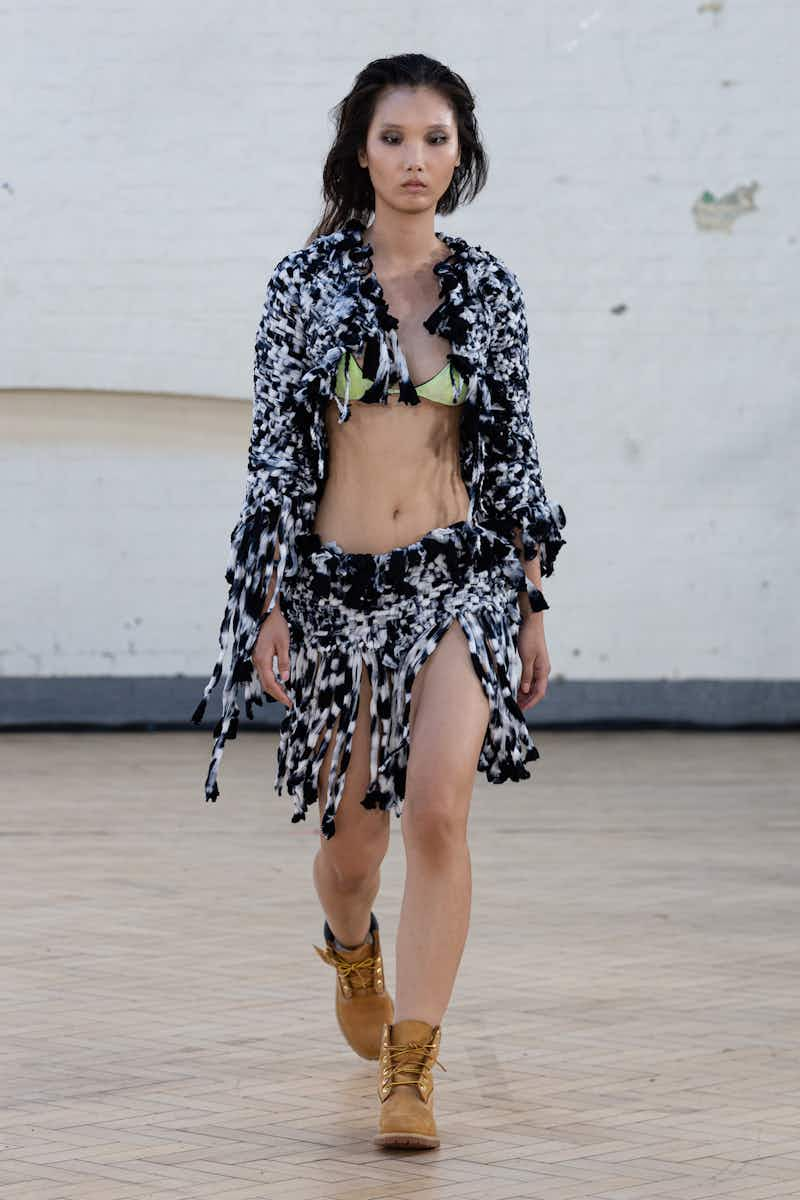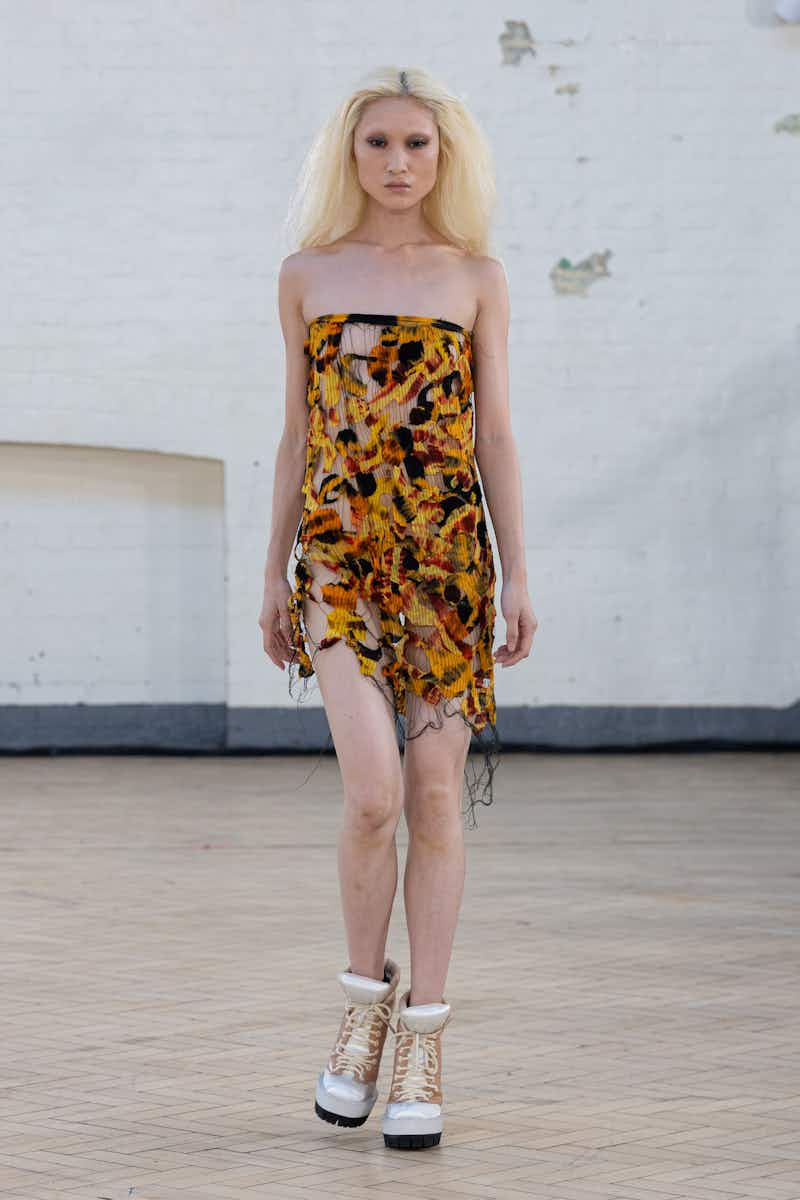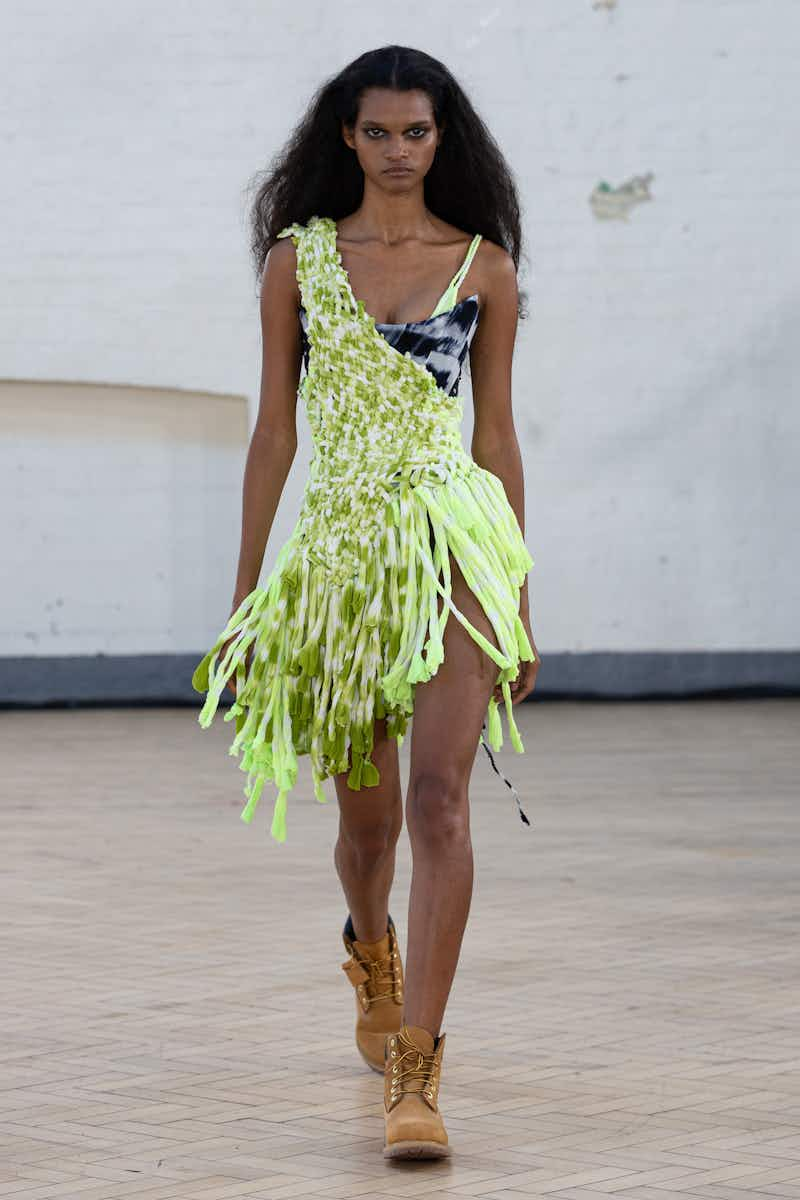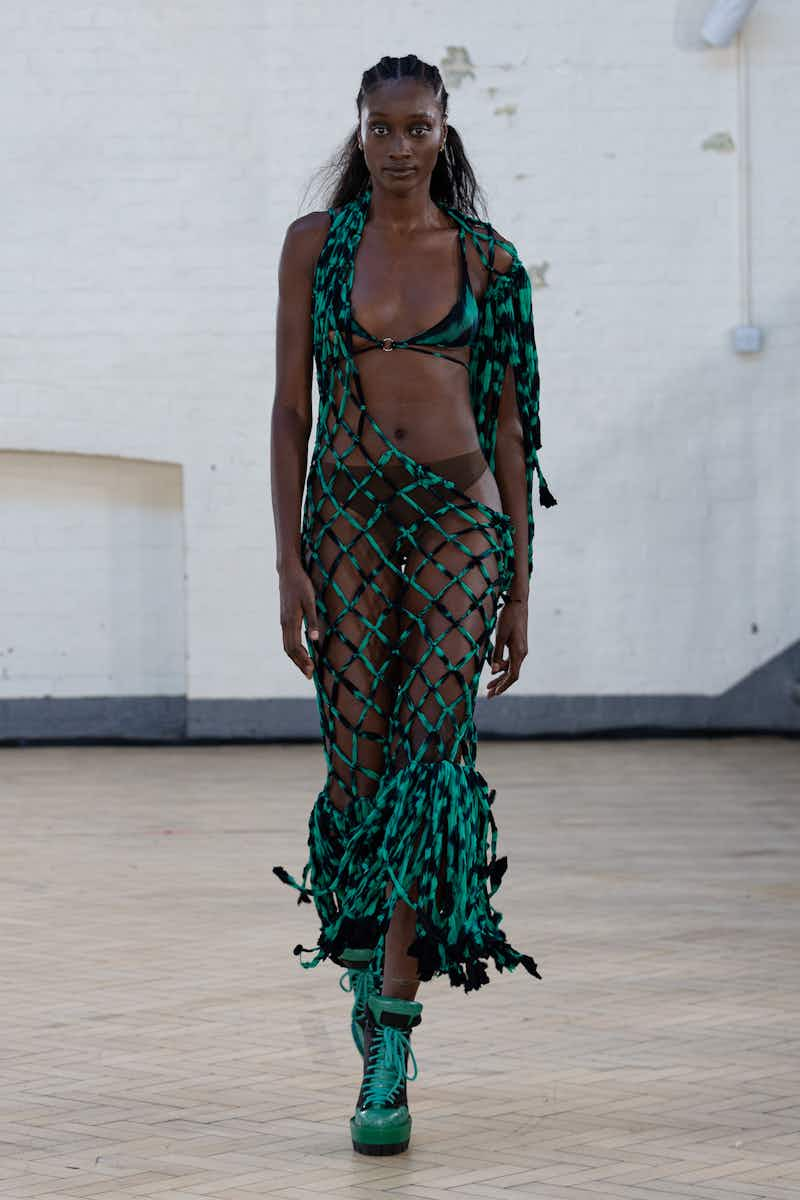 Give us the rundown, then
When questions on sartorial rules and non-conformity are raised over fashion week, London can rely on menswear duo Jake Bert and Stefan Cooke to proudly fly the proverbial flag for a future-facing point of view. The latest collection, titled ​"Away", was a lively continuation of Bert and Cooke's much-loved styles found on the backs of London's pretty boys – studded maxi skirts, bare legs, motocross jackets and belted waists. There was an irreverent Britishness throughout the collection, too, via bright red cagoules, heavy knits and sensible calf-length trousers that, when placed beside a thigh-skimming dress and a blazer scooped at the shoulder, felt like a middle finger to convention. A cult wardrobe with a cheeky sense of humour.

Accessories of note?
Besides the stellar studded bags made in collaboration with Mulberry, all eyes were on the foam fingers. Everyone's a winner!

Who'll be wearing it?
Mop toppers, gallery hoppers, art school kids, rollie smokers, young romantics, pub weekenders and daydreamers.

WORDS: TJ Sidhu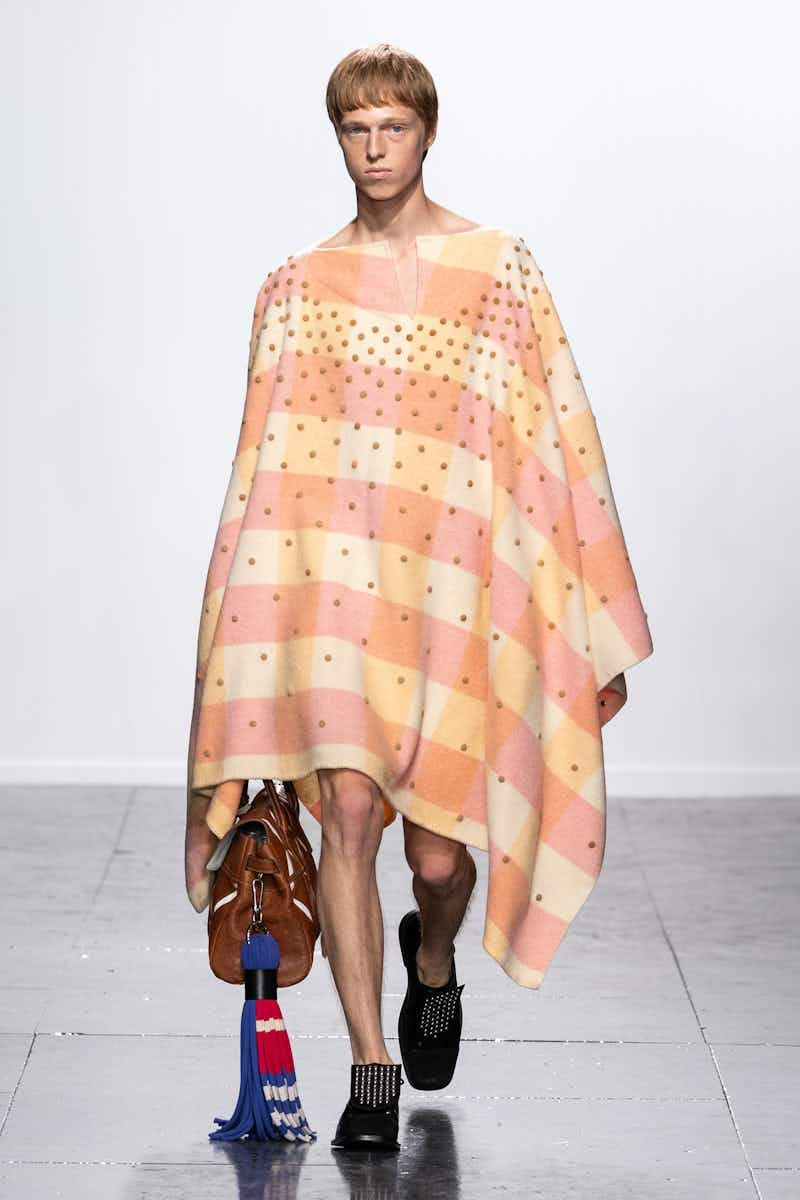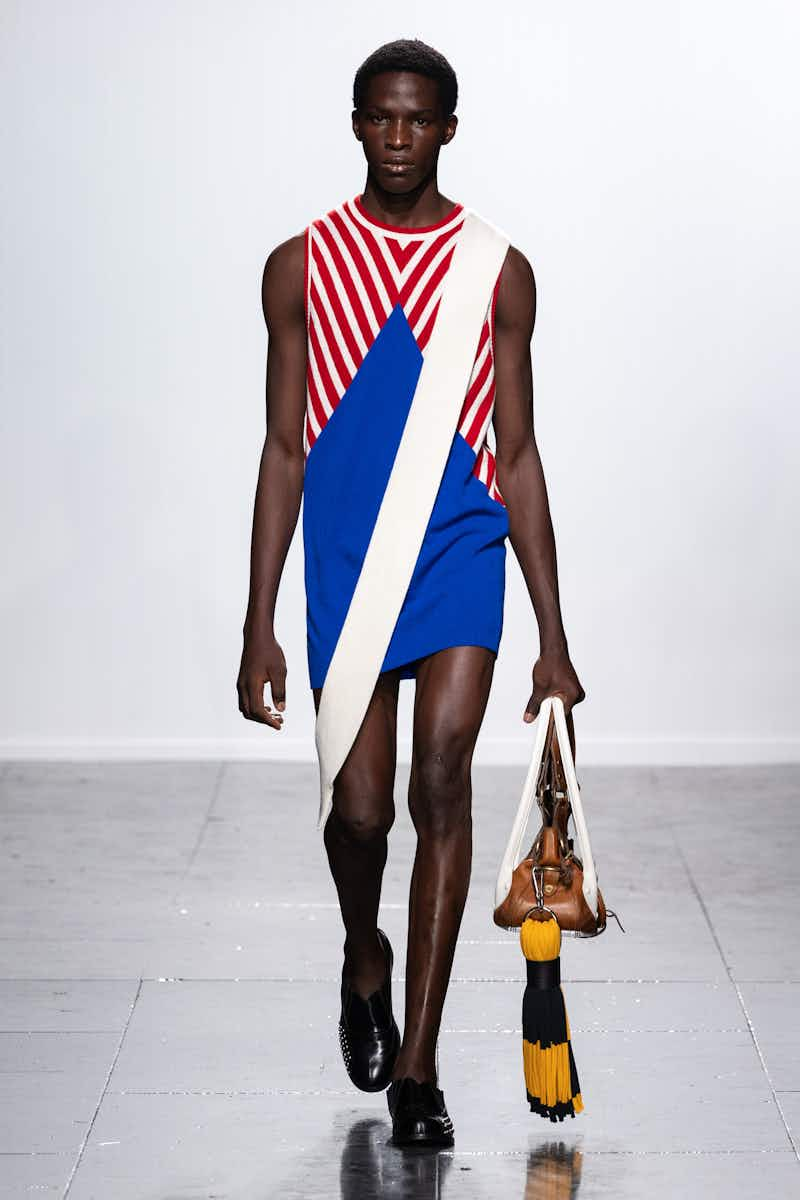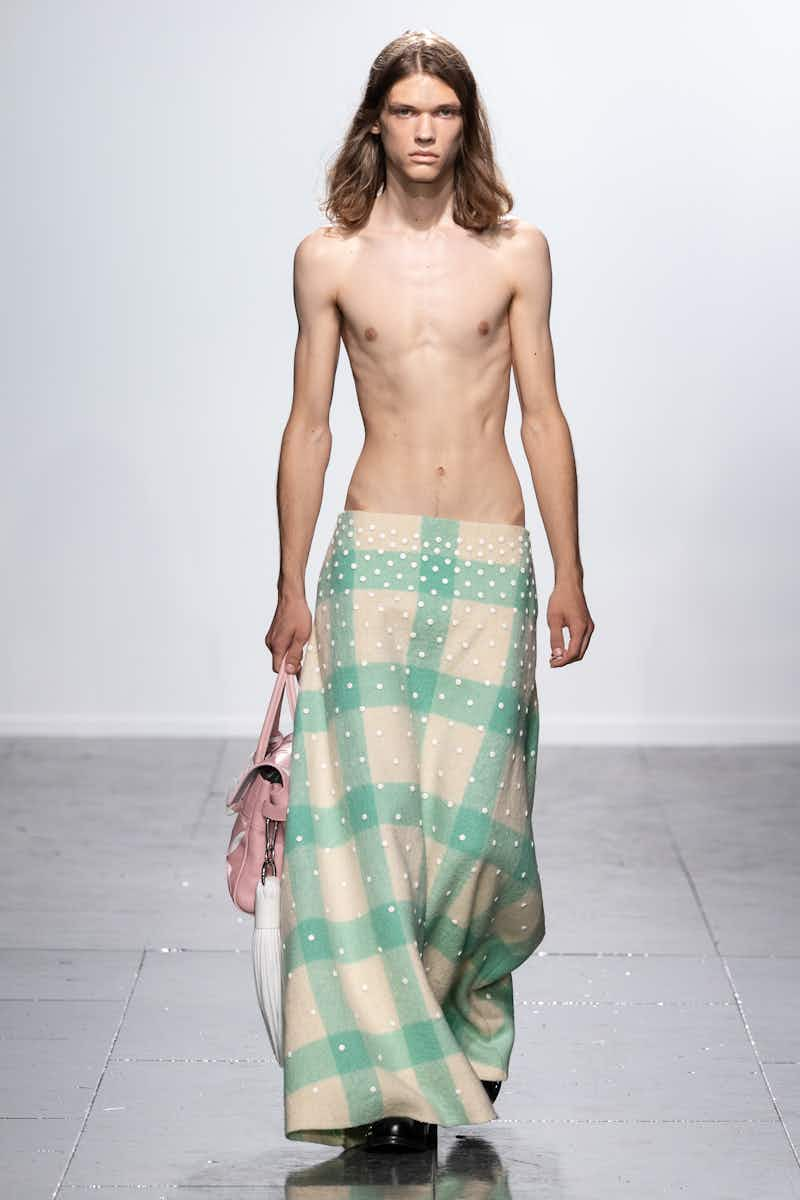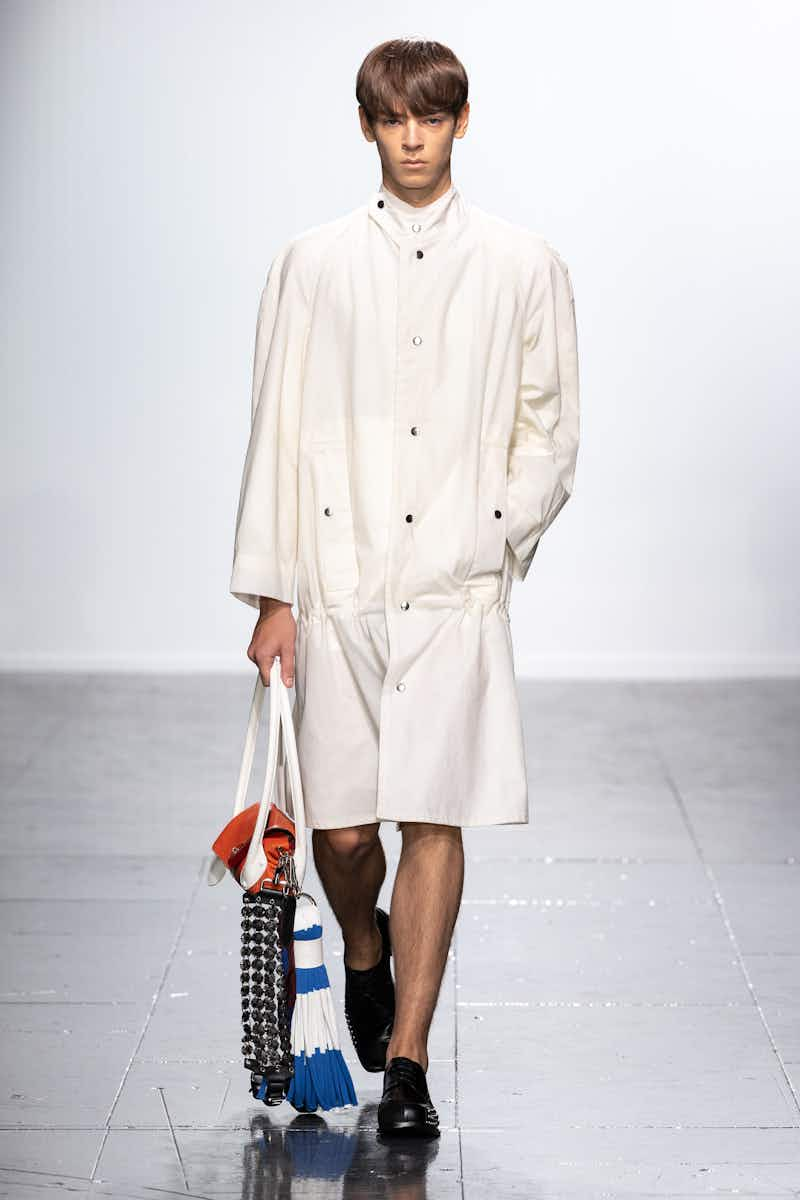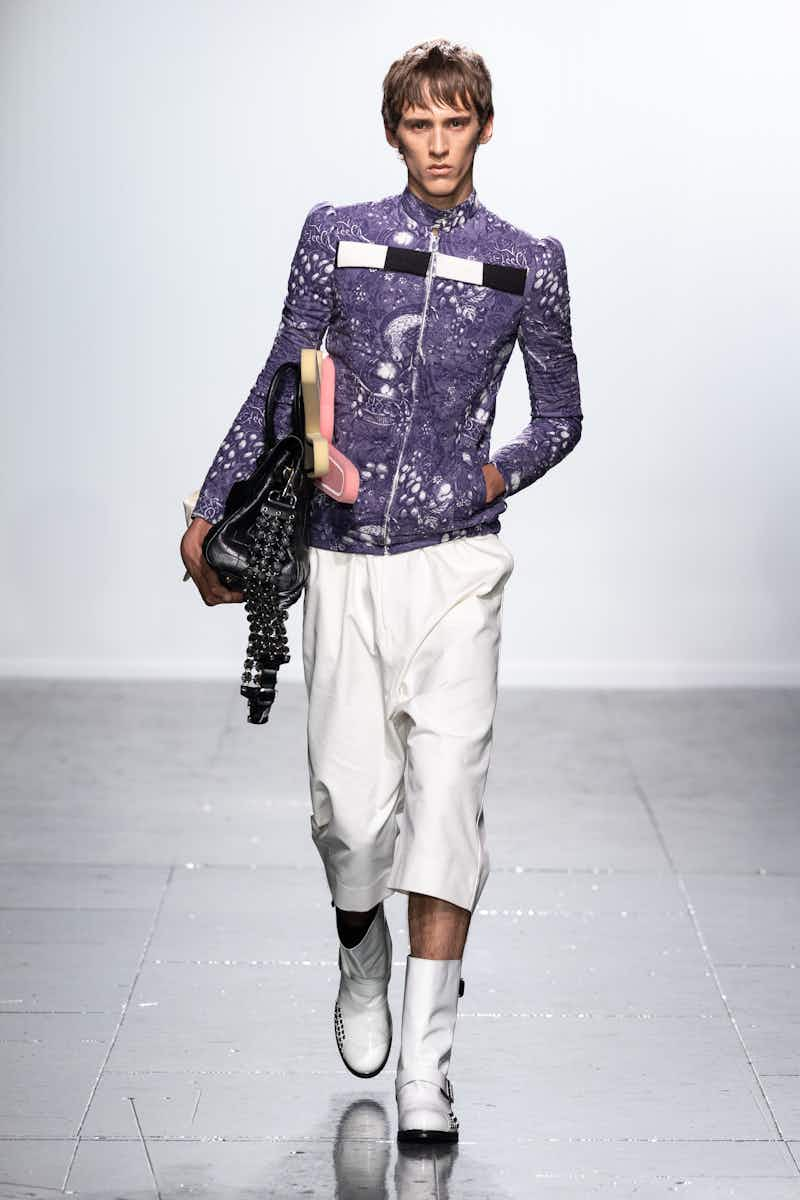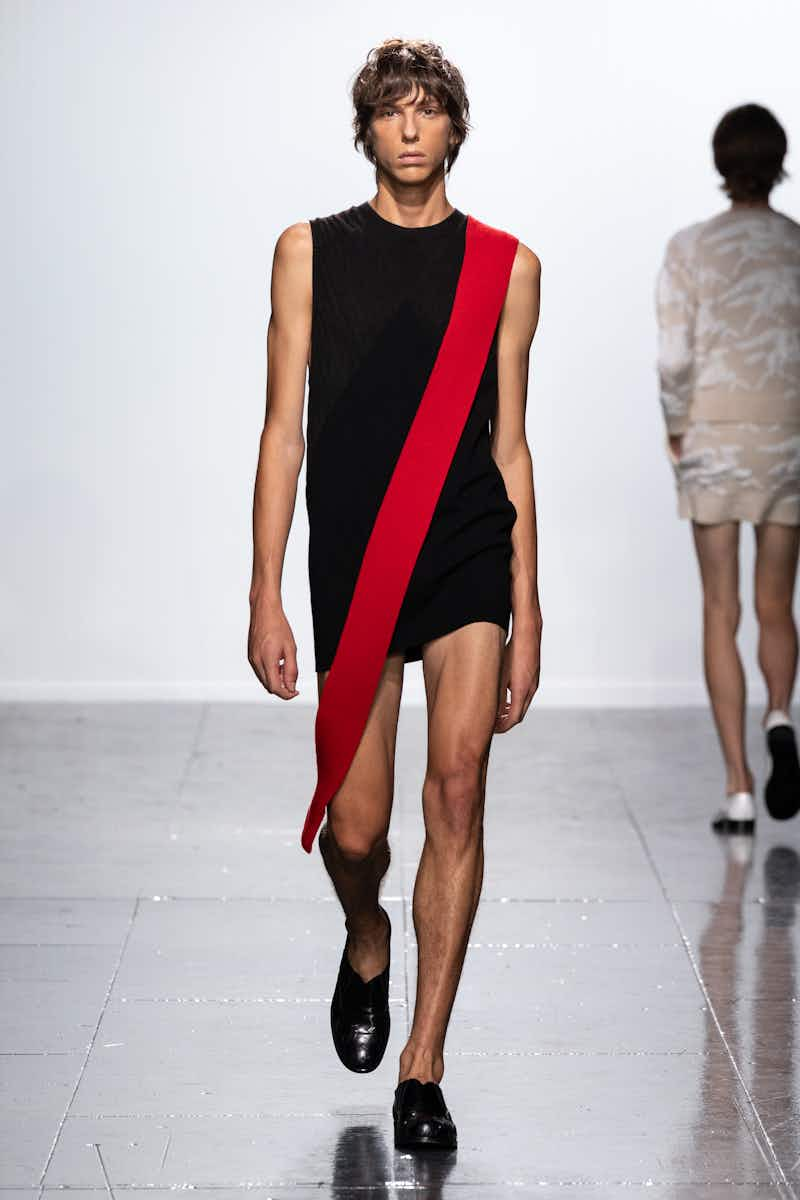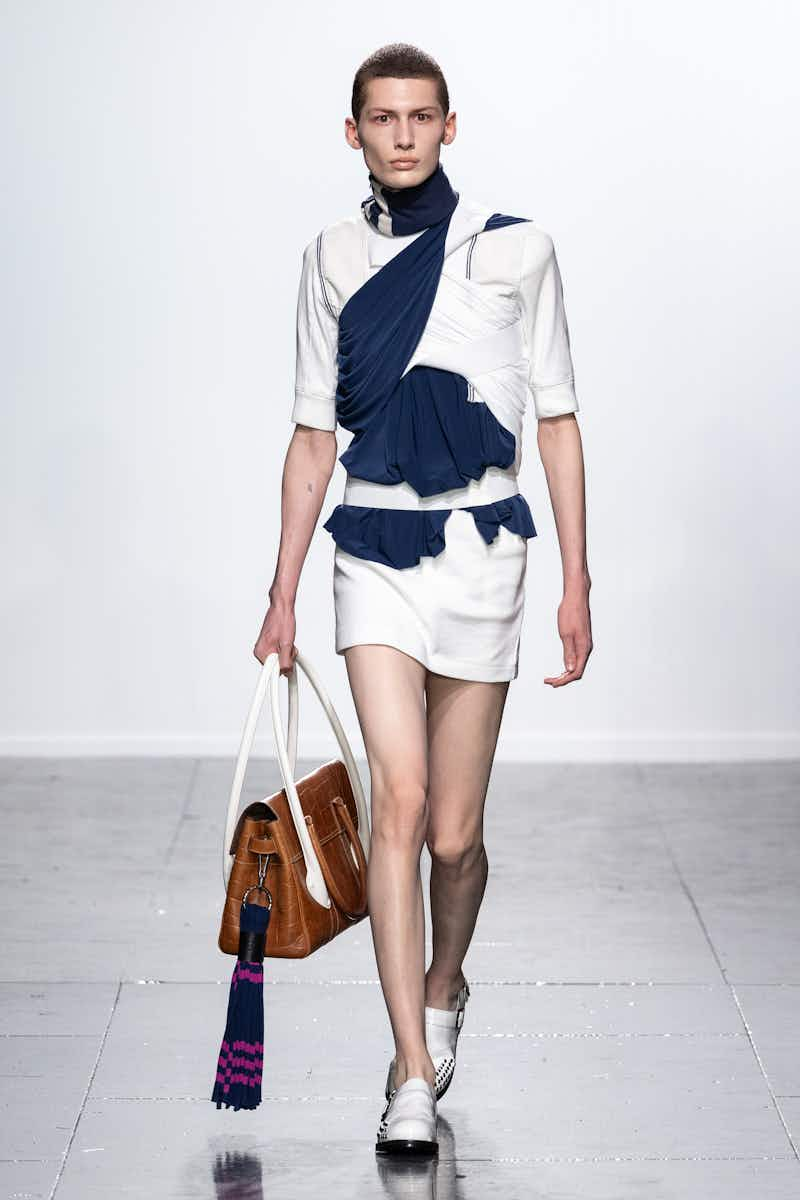 We at THE FACE would like to thank Mercedes-Benz for driving our spoilt bums from show to show (alright, and a few parties) in a very mega G‑Class. Until next time, guys!

More like this