Maison Margiela has reworked the Reebok footprint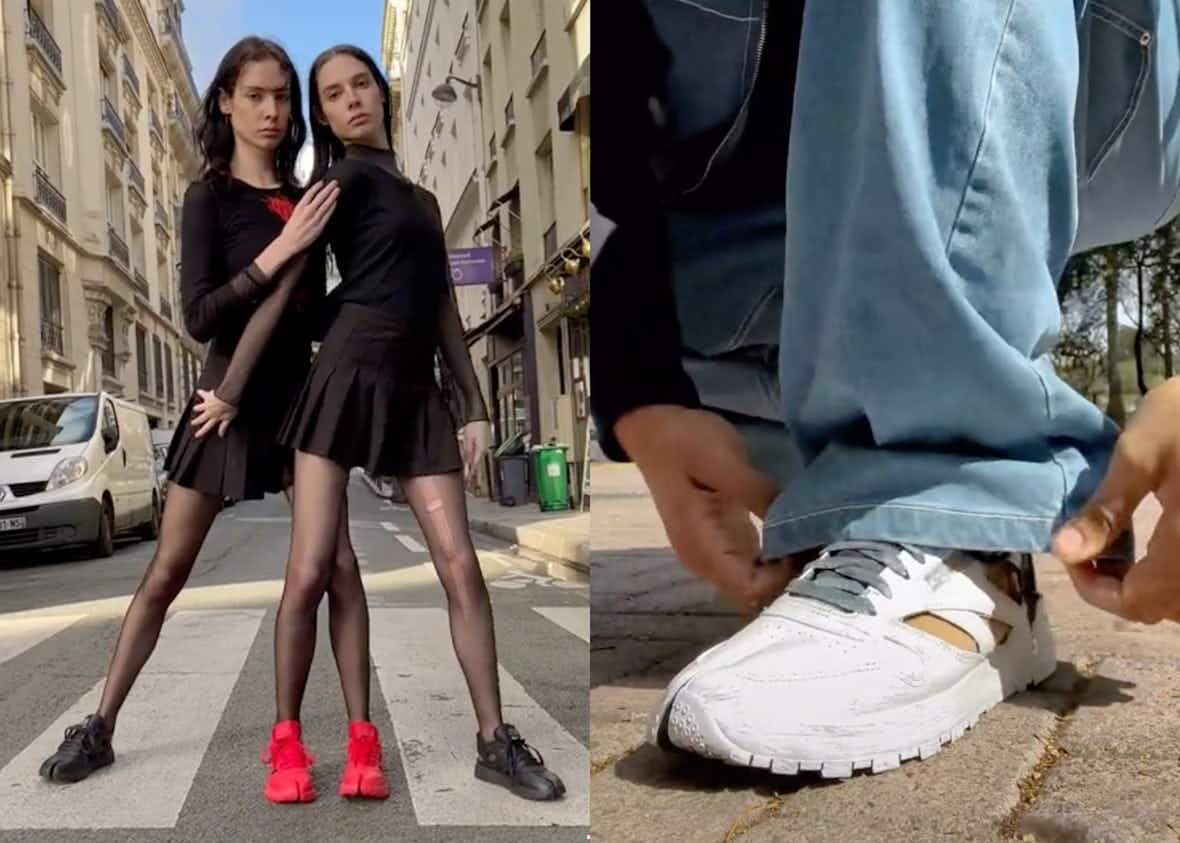 See what happened when the two fashion titans came together for a second collaboration celebrating the divisive split-toe Tabi silhouette.
Martin Margiela's iconic Tabi boot, which made its runway debut in 1988, has since become one of fashion's most recognisable, and divisive, footprints. Avant-garde, radical, and distinctive, Margiela's split-toe silhouette was an instant classic, inspiring fervent passion for people in the know, and bemused perplexity in those who weren't.
That's not to say it hasn't evolved – the Tabi has been reimagined in endless ways, transforming into everything from glitter-clad boots to plimsolls and wooden clogs. Last year, it reached the world of sportswear when the French fashion house teamed up with Reebok to create tabi-fied versions of the footwear brand's Reebok Classic shoe and Classic High-Top styles. Now the two brands are back for another round of collaborative kicks, intertwining their genetics once again to bring us the Classic Leather Tabi Décortiqué Low.
Martin Margiela built a legacy by deconstructing established forms to manifest new ideas, and it's a skill that has carried through to his successor John Galliano. For this latest collaboration, Galliano interprets the sneakers through his ​"décortiqué" technique, literally reworking the archetypical Reebok silhouette to its core structure. Sometimes you just need to cut right to the heart of the matter.
These new CLs, available in black, white, bianchetto and red leather, are stripped down to their most basic architectural framework, cutting away the fabric lining to leave just a cage-like form. In doing so, the aim is to expose the innermost construction of an object – revealing its true authenticity and individuality. Décortiqué is a figurative process, after all, not just a literal one.

To see the shoes in action, we asked five fashion-savvy TikTokers to show us how they're styling their CLs. See how Madelyn Whitley, her sister Margo Whitley and Donte Colley are wearing them below.
MADELYN AND MARGO WHITLEY
Maison Margiela x Reebok Classic Leather Tabi Décortiqué Low will be available from 28th January in select Maison Margiela stores, on maison​margiela​.com and reebok​.com