In heaven with Marc Jacobs collaborator Ava Nirui

The art director talks us through Heaven by Marc Jacobs' hallucinogenic new collection, launched today via a campaign starring Kate and Lila Moss, Brian Molko and Rex Orange County.
Ask Ava Nirui, art director of Heaven by Marc Jacobs, what was occupying her mind when working on the label's latest collection and she'll tell you it was Brian Molko, the androgynous frontman of the alt rock band Placebo. Specifically, the self-expression demonstrated throughout his career during a time in which mainstream media was rife with testosterone-fuelled Britpop and laddish masculinity.

"Brian was a bit of a muse this season – not only his sense of style and sensibility, but also his intellect and willingness to challenge gender norms from the ​'90s till now," Nirui explains, citing Molko as one of the ​"dream people" she wanted to approach for the label's campaign, styled by THE FACE's fashion editor Danielle Emerson and shot by Harley Weir. ​"I feel that he is totally Heaven inside and out. I grew up listening to Placebo, and his rebellious attitude and aesthetic is the blueprint for so many things we celebrate today."

Joining Molko is none other than Kate Moss ("Kate is Marc's ultimate muse and longtime friend, so it made sense for us to work with her as it is a tradition") and her daughter Lila, models Lily McMenamy and Georgia Palmer and musician Rex Orange County. ​"I love how they are the modern day equivalents of people like Brian and Kate – renegades who are talented, have smart style, and are really free-spirited and eccentric in the way that they think and operate," Nirui says of the casting, something she wanted to be an authentic ​"representation of people who would genuinely wear Heaven – no matter the age of the individual."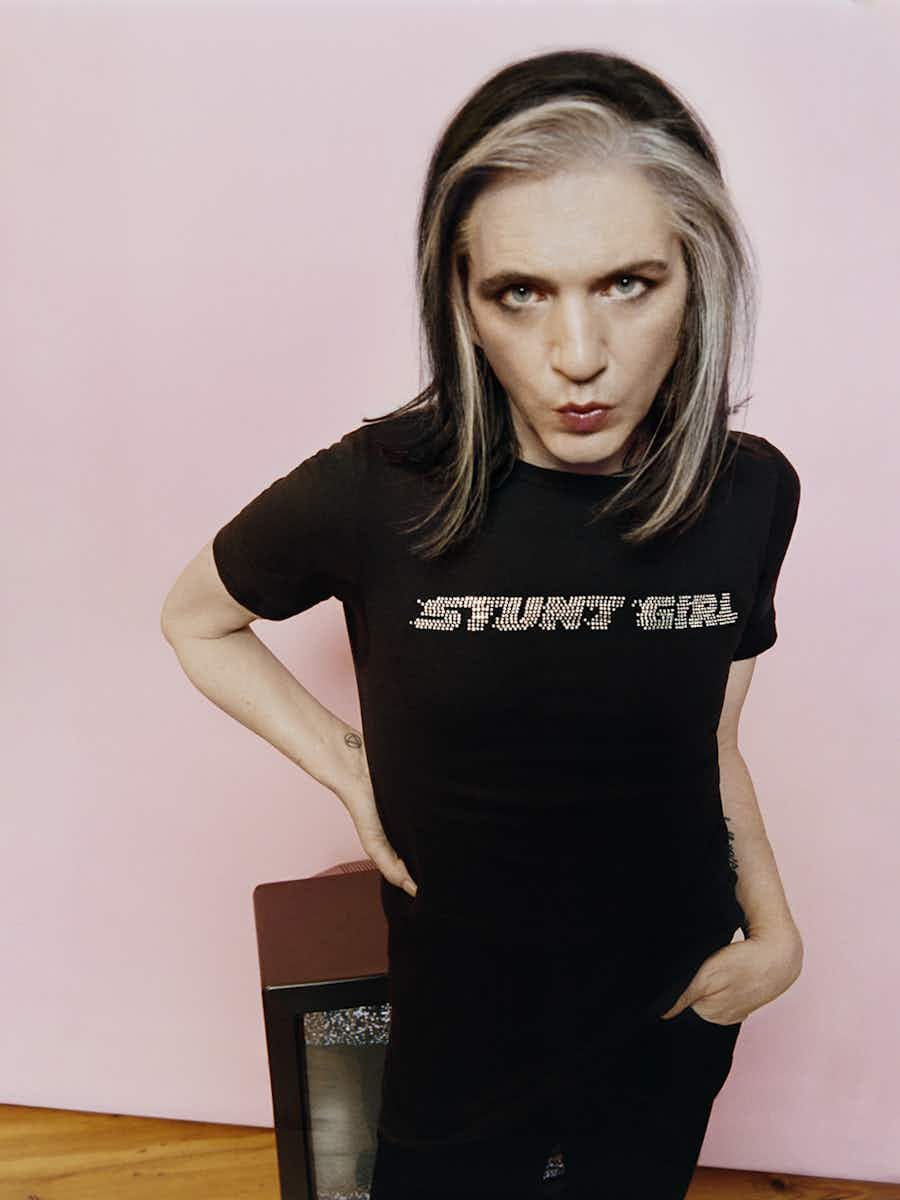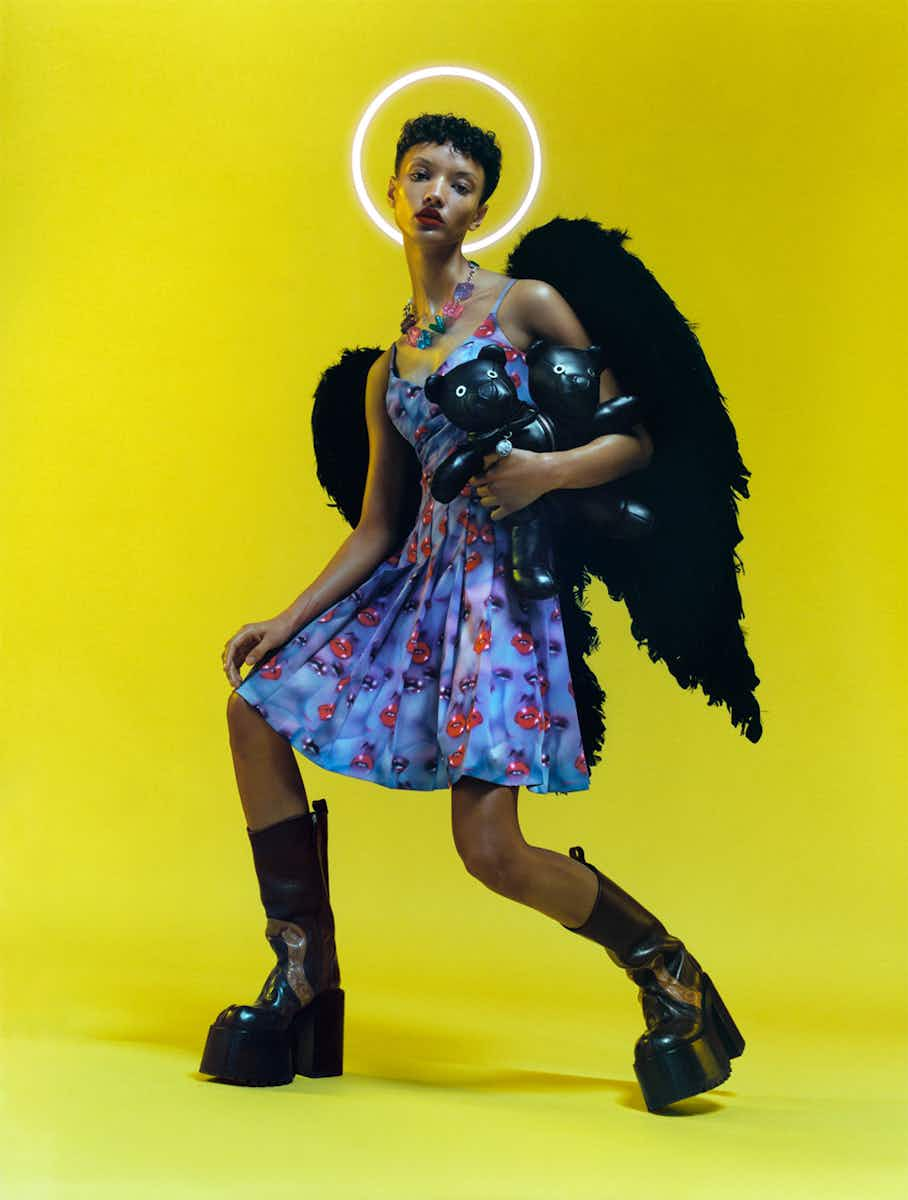 Heaven's multi-generational appeal comes to life on this season's moodboard, which features photos of Japanese singer Tomoe Shinohara, supermodel Naomi Campbell, British electronic band Sneaker Pimps and Japanese visual rock band Malice Mizer, alongside stills from Heaven-collaborator Gregg Araki's Nowhere and 2003 dramedy Pieces of April, the work of Mark Leckey and Ed Templeton and a whole load of Sofia Coppola ephemera.
The lookbook for the collection, now available to purchase, is shot around the house from the breakfast station to the bedroom (because where else would anyone be right now?). Heaven's debut offering focussed heavily on cut-and-sew pieces (see: sell-out graphic tees and sweatshirts), but this collection goes deeper: knitwear 2.0, woven pieces and killer denim. ​"Yes, we have introduced jeans with really dreamy prints, which we are excited about!"
The mood? Escapism (because we all know it's needed). ​"We used a lot of the colors and attitudes from the Marc Jacobs SS17 collection, and built a world around it – a fantasy land we would like to live in in 2021," Nirui says. ​"Last season was very much referencing the ​'90s, diving into a very specific pocket of Marc's brain, and this season we tapped into a more hallucinogenic, trippy side of the brand, whilst still paying homage to the Marc Jacobs legacy."

Expect sparkling lurex knits and preppy tank tops, tartan dresses and pleated skirts, printed sleeveless puffer jackets, loose gauge knits and trippy printed T‑shirts. Accessories come in the shape of heart-balloon earrings, a knitted double-headed teddy bear keyring and the label's signature puffy tote bag in an array of candy colours. Heaven's now-iconic double-headed teddy bear backpack (inspired by a photograph of Katie Grand in a 1994 issue of Dazed & Confused) is served in Berghain-ready black faux leather.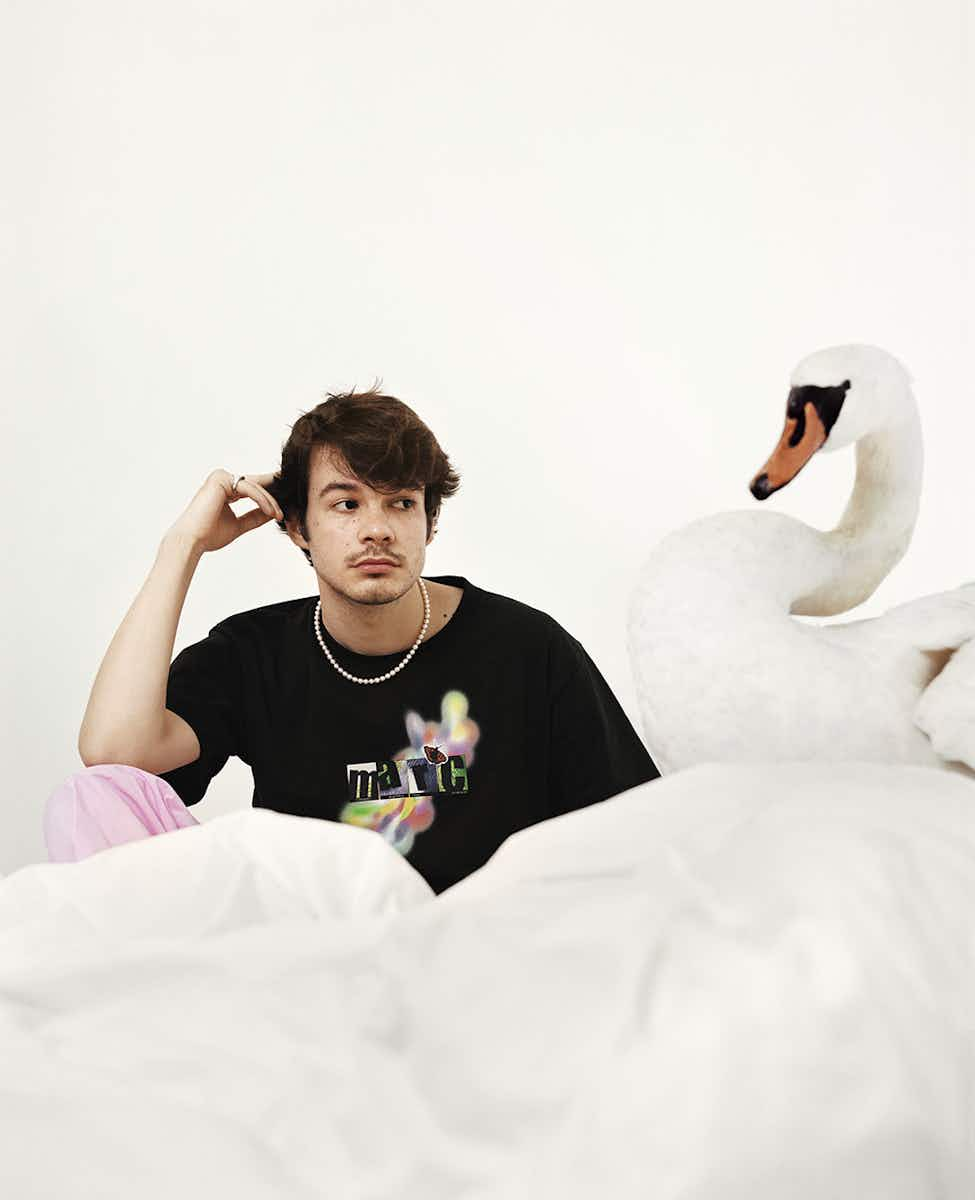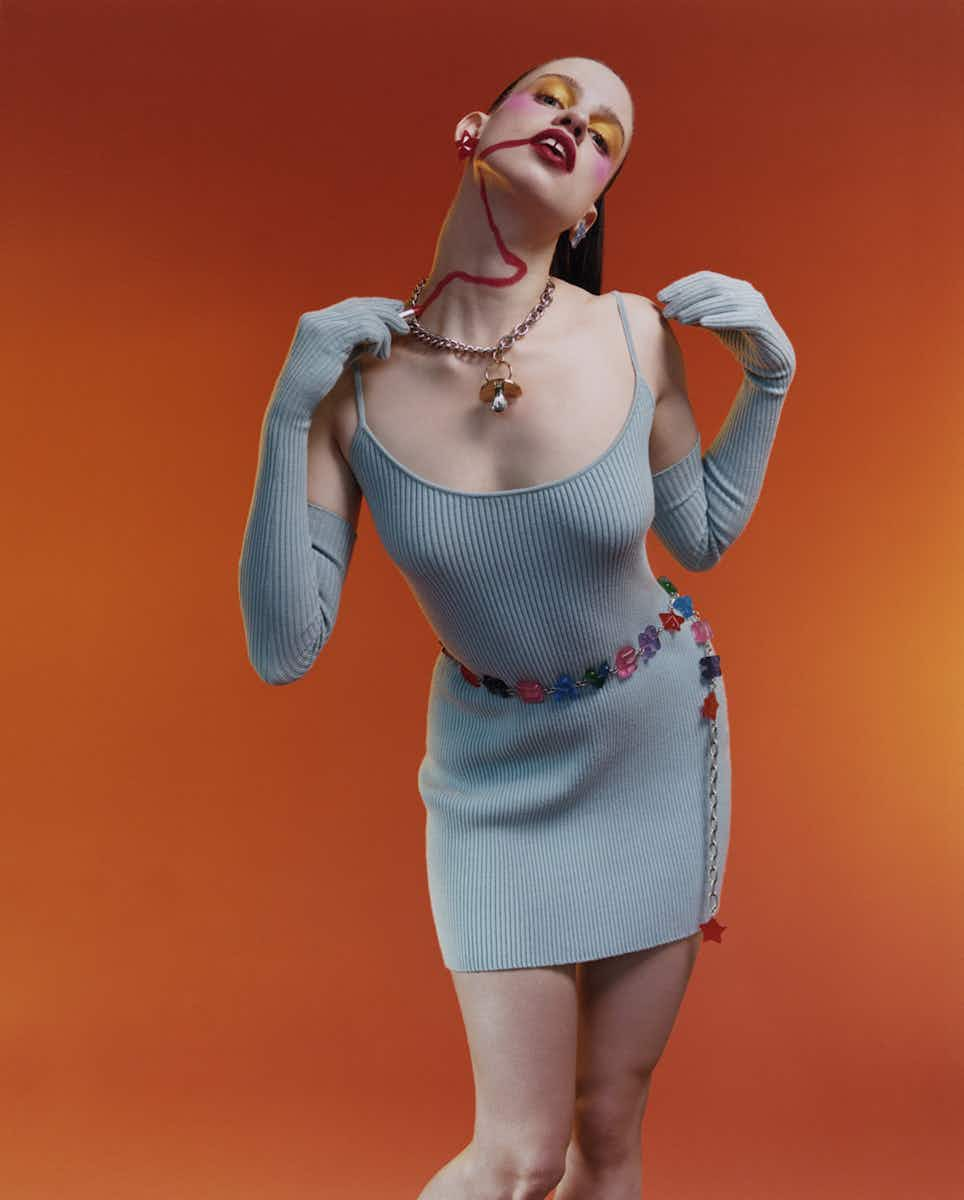 Collaboration is key to this collection, whether that's a recurring face-print painted by artist Sara Rabin; a gummy belt spelling out ​"H‑E-A-V-E‑N" based on candy created by Brooklyn-based artist Shana Sadeghi-Ray; a baseball cap embroidered with mutant bears drawn by Korean comic-book designer Ancco; a neon-pink cushion featuring a ​"Robot Girl" character concepted by Japanese digital artist Hideyuki Tanaka; or the ​"Angry For Love" print T‑shirt designed by Stray Rats founder, Julian Consuegra.
"I see a lot of similarities between Julian and Marc in the things that they value and the levels of care that they put into their work," Nirui explains. ​"Julian and I have been friends for a few years, and am I really inspired by the authenticity of all of the art he creates, within and independently of Stray Rats. Julian's work definitely has an anarchical energy that I see parallels to in Marc Jacobs' history."
It's that anarchical energy that's making Heaven so popular right now and fuelling the teenage fashion dream, while the way people are styling the brand feels representative of a shift from logomania to a grunge and emo revival. ​"I'm really excited about this – it's one of the first eras that has been rehashed that I actually lived through," Nirui says of the latter.
"I love the way that people have customised and bootlegged the Heaven product, as well as the way they have integrated the items into their own wardrobes!" Nirui continues. ​"It's really inspiring seeing how the younger generation individualises their clothes, and styles the clothes in ways I have never thought of before. Lots of layering and fun color combinations." Coming from the queen of bootleg herself, that's a pretty big deal.

More like this