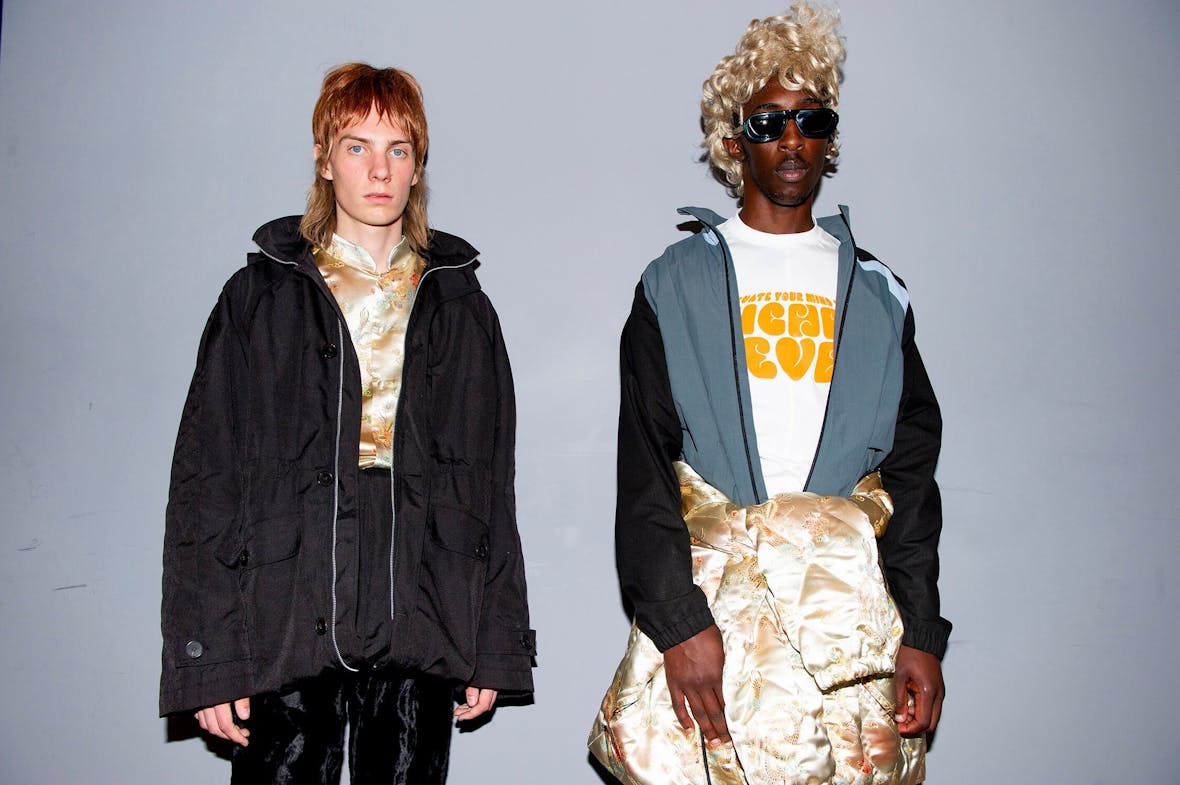 Mar­tine Rose com­ments on the state of the nation
WHERE WAS THE SHOW?
On the rooftop of an office block in East Lon­don (with pon­chos pro­vid­ed incase of rain).

WHAT WAS THE VIBE?
Mar­tine Rose's SS20 col­lec­tion is a cri­tique on the state of the nation. Inspired by her years going to post-rave gath­er­ings on Clapham Com­mon (and the safe space these pro­vid­ed in which peo­ple from all back­grounds could coex­ist), Mar­tine looked to the ener­gy of Britain's ear­ly ​'80s sub­cul­tures from ravers and new roman­tics, to skin heads and uni­formed foot­ball fans. Draw­ing on a time in which things were not always what they seemed, Martine's col­lec­tion was pep­pered with car­toon graph­ics and slo­gans like ​'Some Place Spe­cial' ​'Change Ahead' and ​'Promis­ing Britain', posi­tioned above a clown encir­cled by EU stars.

WHAT WERE THE LOOKS?
Martine's knack for sub­vert­ing tra­di­tion­al sil­hou­ettes was present through­out in the shape of dou­ble neck t-shirts, over sized jack­ets with exag­ger­at­ed shoul­ders (with car­toon t-shirts peep­ing beneath), and fit­ted trousers that flared from the knee down. Amidst the Brit inspi­ra­tion appeared a rodeo char­ac­ter dressed in a fringed jack­et paired with red satin bro­cade trousers. Shirts were per­ma­nent­ly crin­kled, track­suits came with con­trast­ing kimono sleeves, and square toe loafers were designed with an elon­gat­ed toe.






WHAT ABOUT THE HAIR?
We can thank Gary Gill for this. Martine's gang wore a med­ley of fringed, curled, coiffed, back-combed and bleached wigs that played into her inspi­ra­tion for the col­lec­tion: the idea of an aver­age-look­ing office work­er hav­ing a wild alter-ego that's only unleashed after-dark, or per­haps a foot­ball fan always decked out in their favourite team kit that masks a flam­boy­ant inter­nal energy.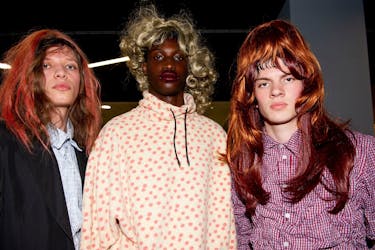 ---