Jeremy Scott on escapism: ​

"

It's a survival mechanism"

Moschino's creative director places emphasis – perhaps more than ever – on the need for fantasy, optimism and hope for the Italian house's AW21 collection.

It's safe to suggest Jeremy Scott is the designer of escapism. Always one to make a scene, whether immersed in a pink plastic Barbie fantasy (2014), a luxury spin on McDonald's (same year), harking back to cake-eating enabler Marie Antoinette last year and, most recently, when Scott was stripped of his devotion to producing showstopping presentations in real life, he flipped the script and produced a collection worn by wooden marionettes, no bigger than a foot in height. Two fingers to Covid, the show must go on – even in puppet form.
"I'm a slave to the diva!", Scott told THE FACE when we spoke in the run-up to his SS21 collection last September. It's true – Scott's musings come thick and fast throughout his collections, seasonally bound by an over-the-top camp sensibility often drawn from his own technicoloured world. And this season is no different, as Scott references to The Women – a trailblazing 1939 film featuring an all-female cast – to bring glamour, whimsical fantasy and high fashion as a temporary respite from our daily struggles throughout the ongoing worldwide pandemic. ​"We need escapism now more than ever," Scott says. ​"We're all trying to escape one scenario or another, so this is my little gift for the season."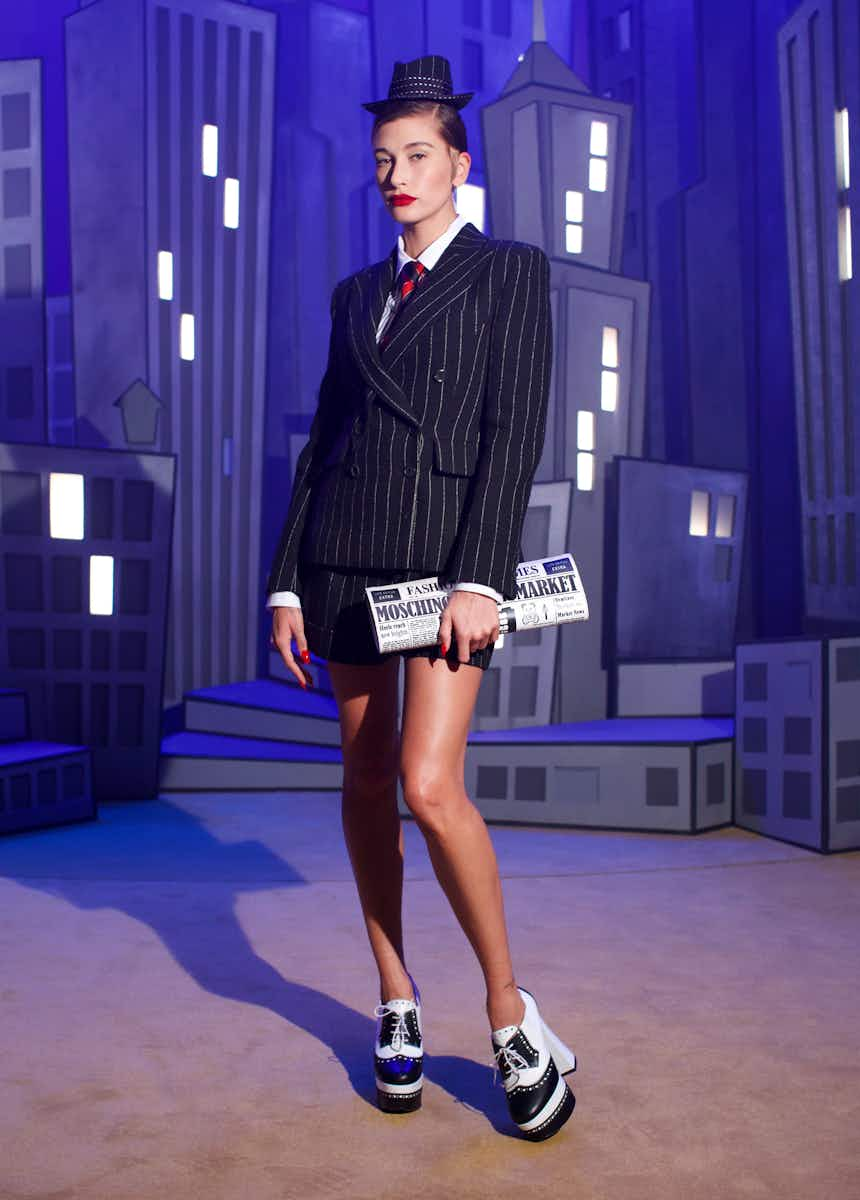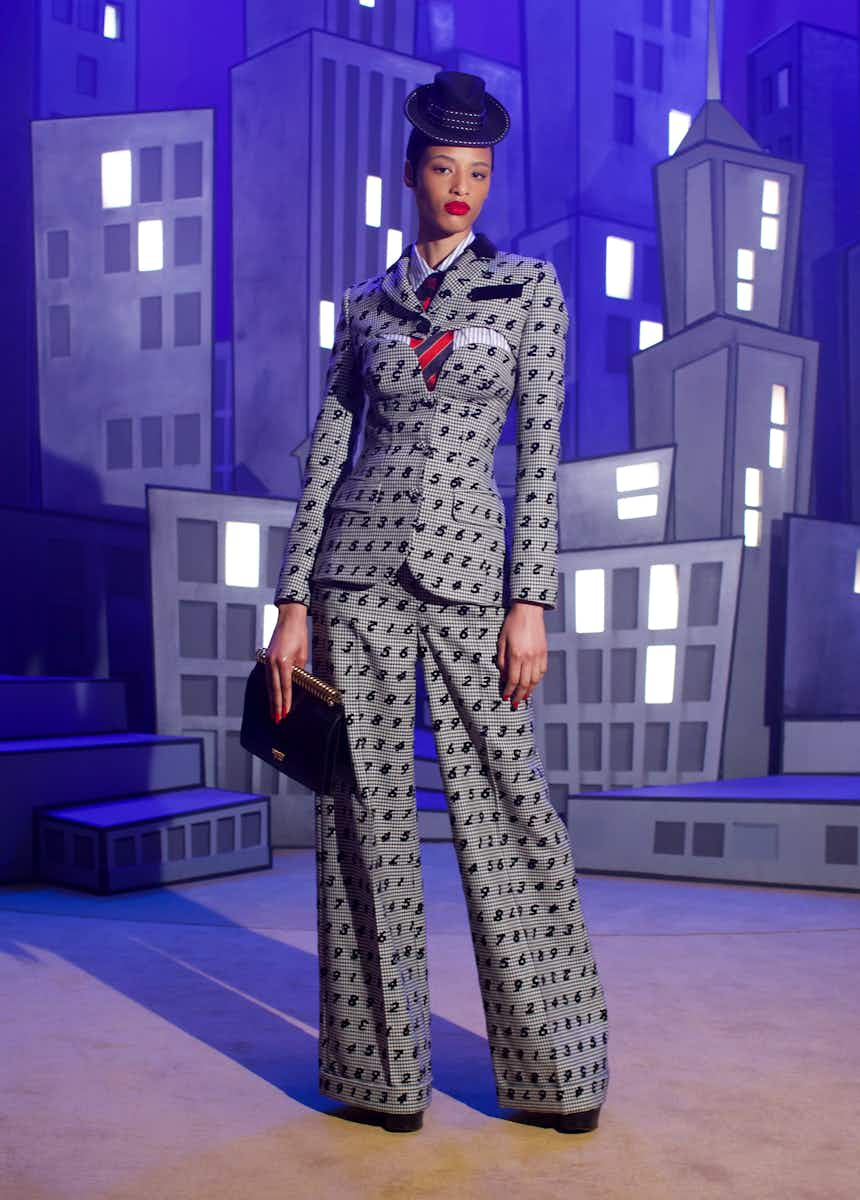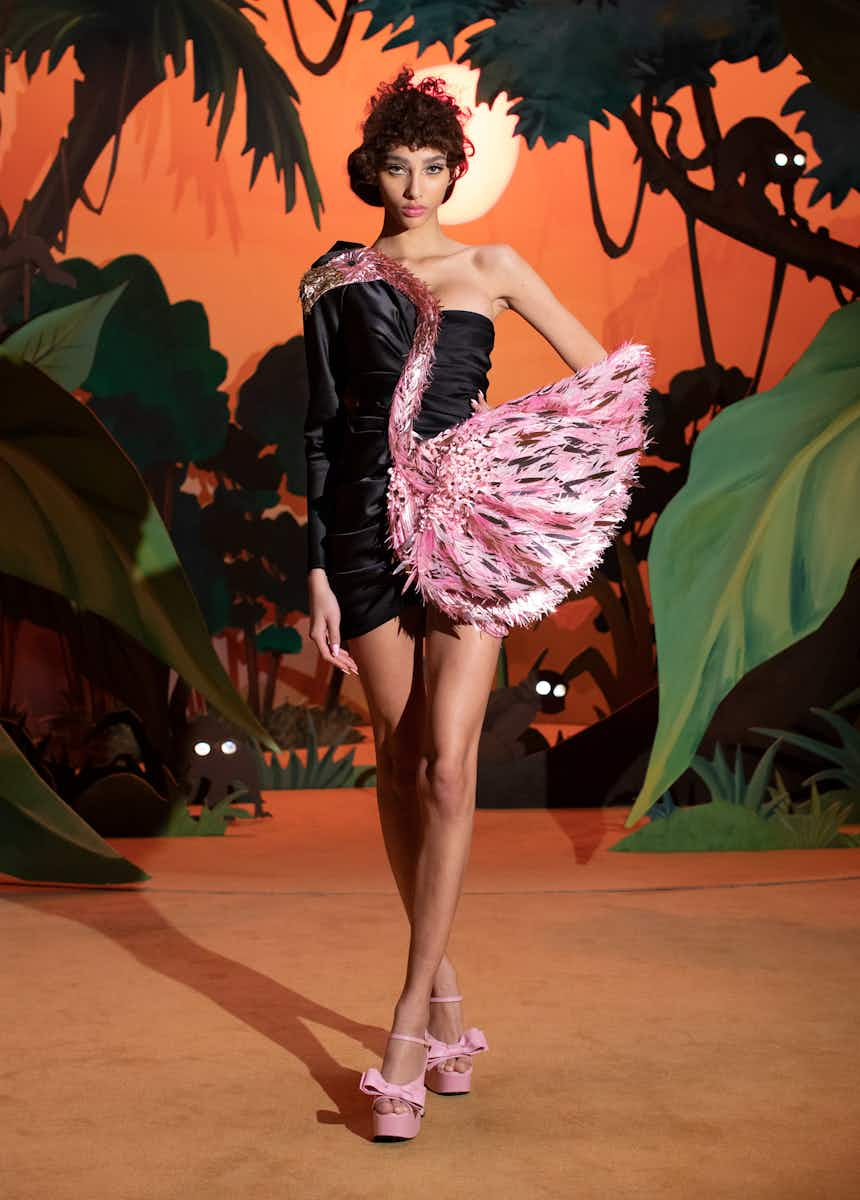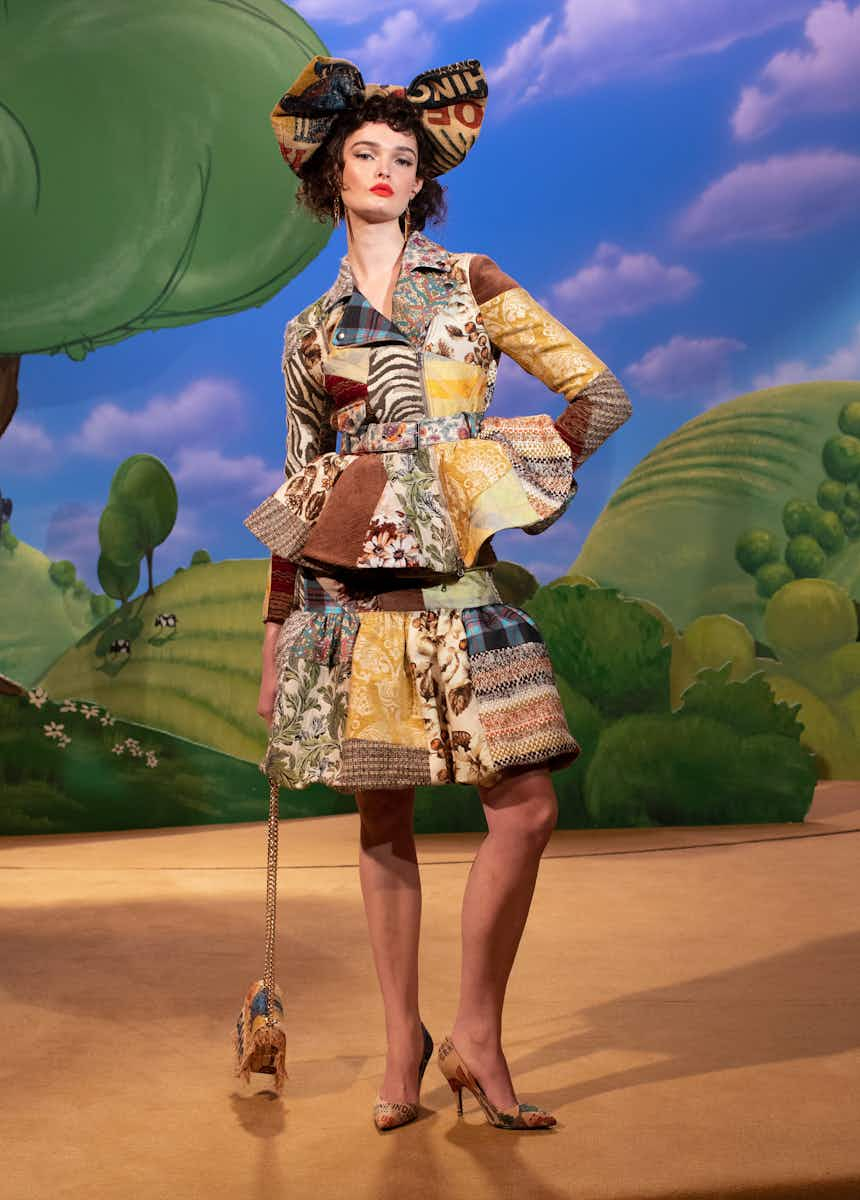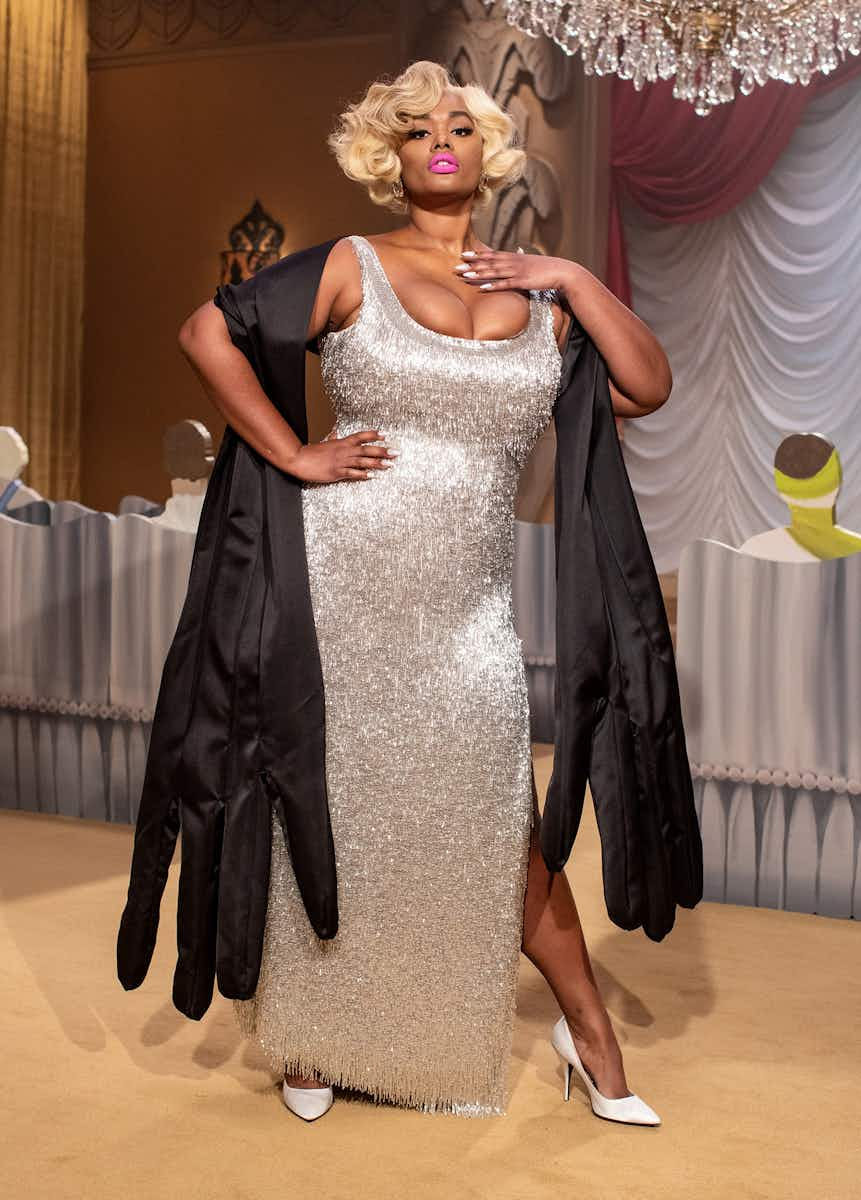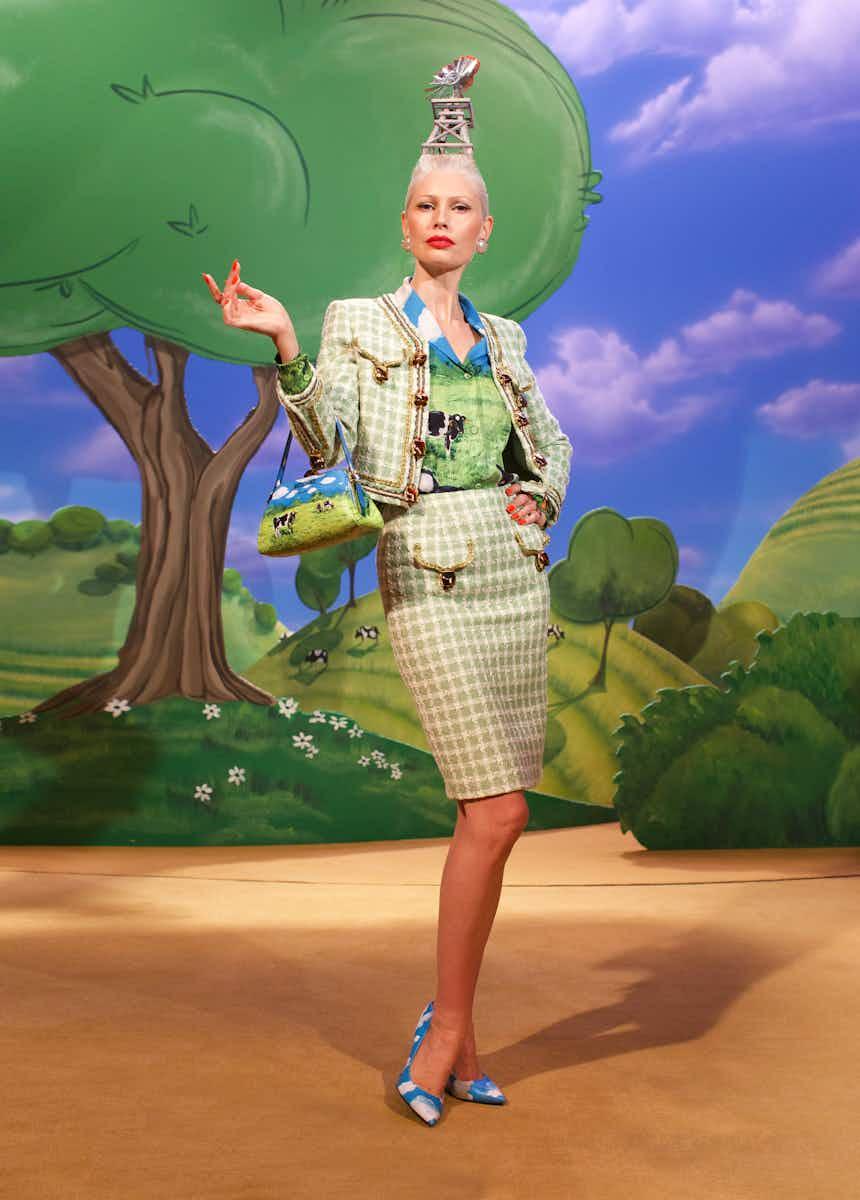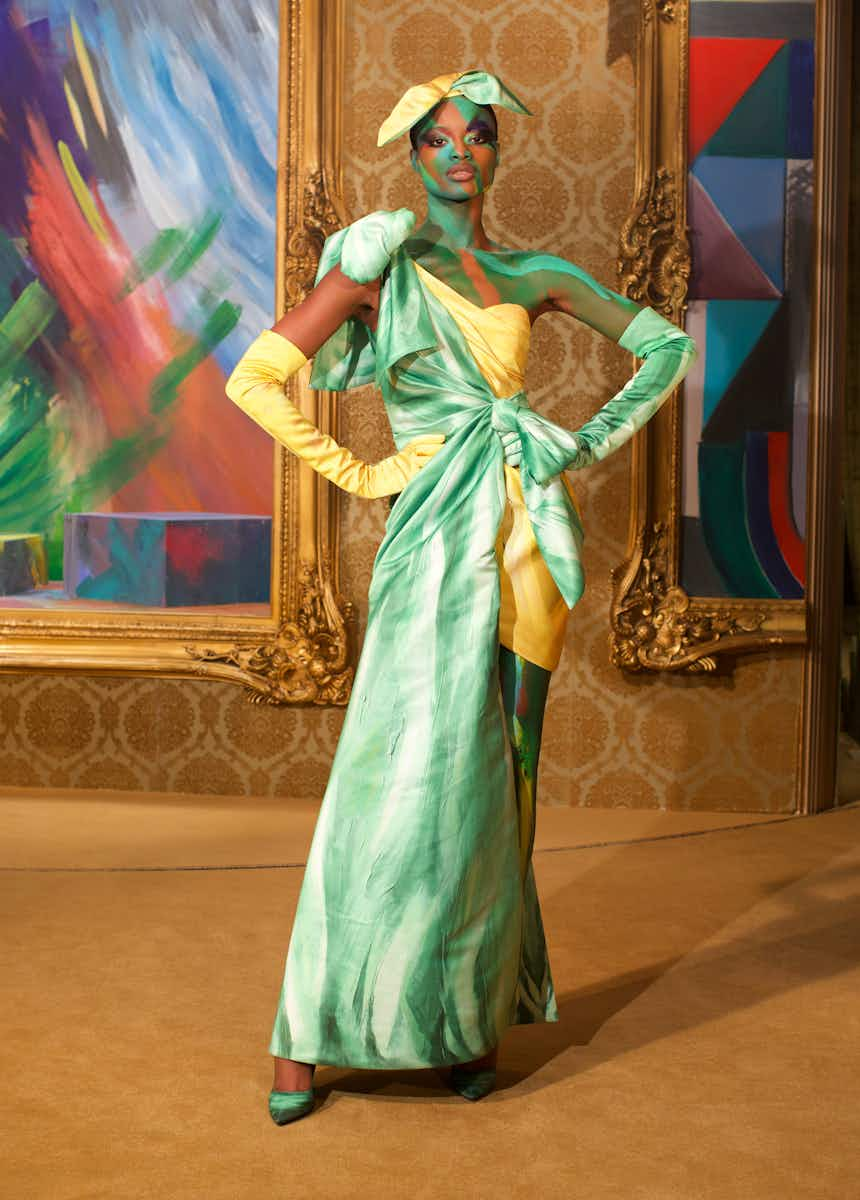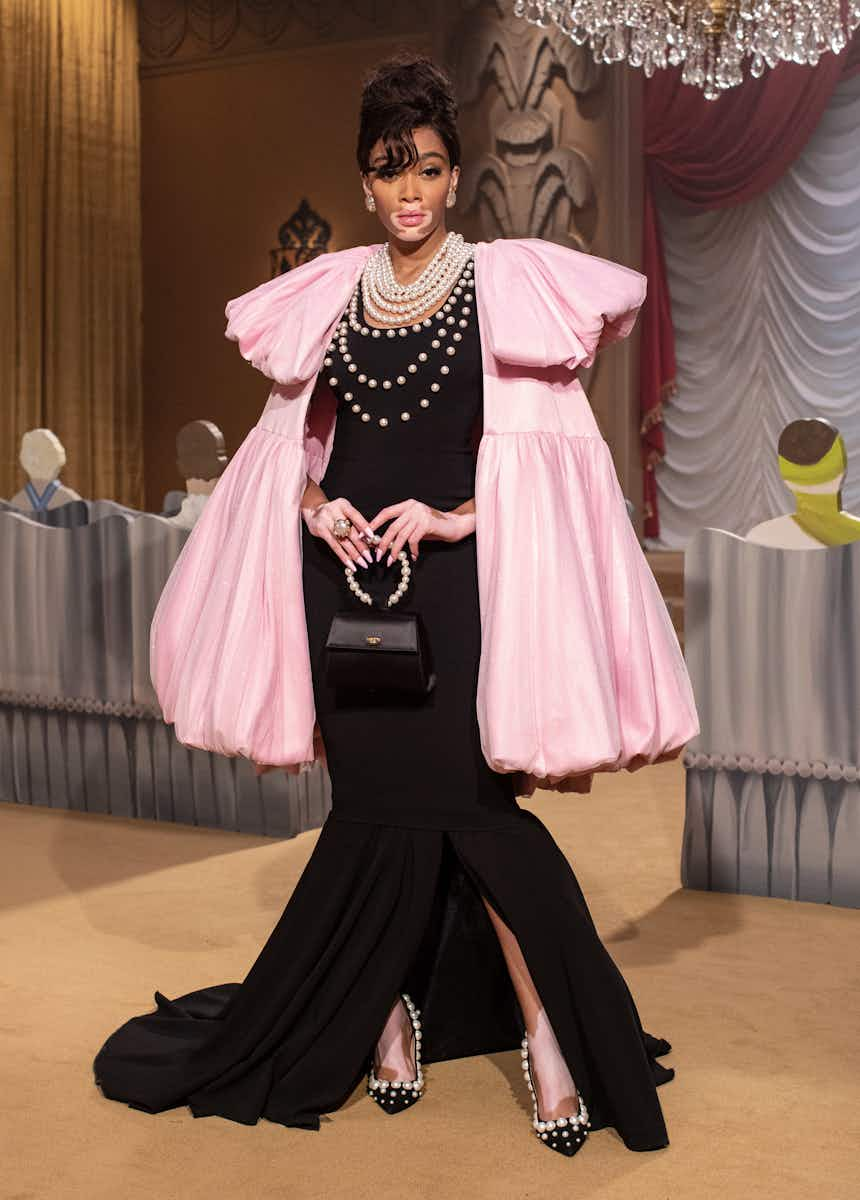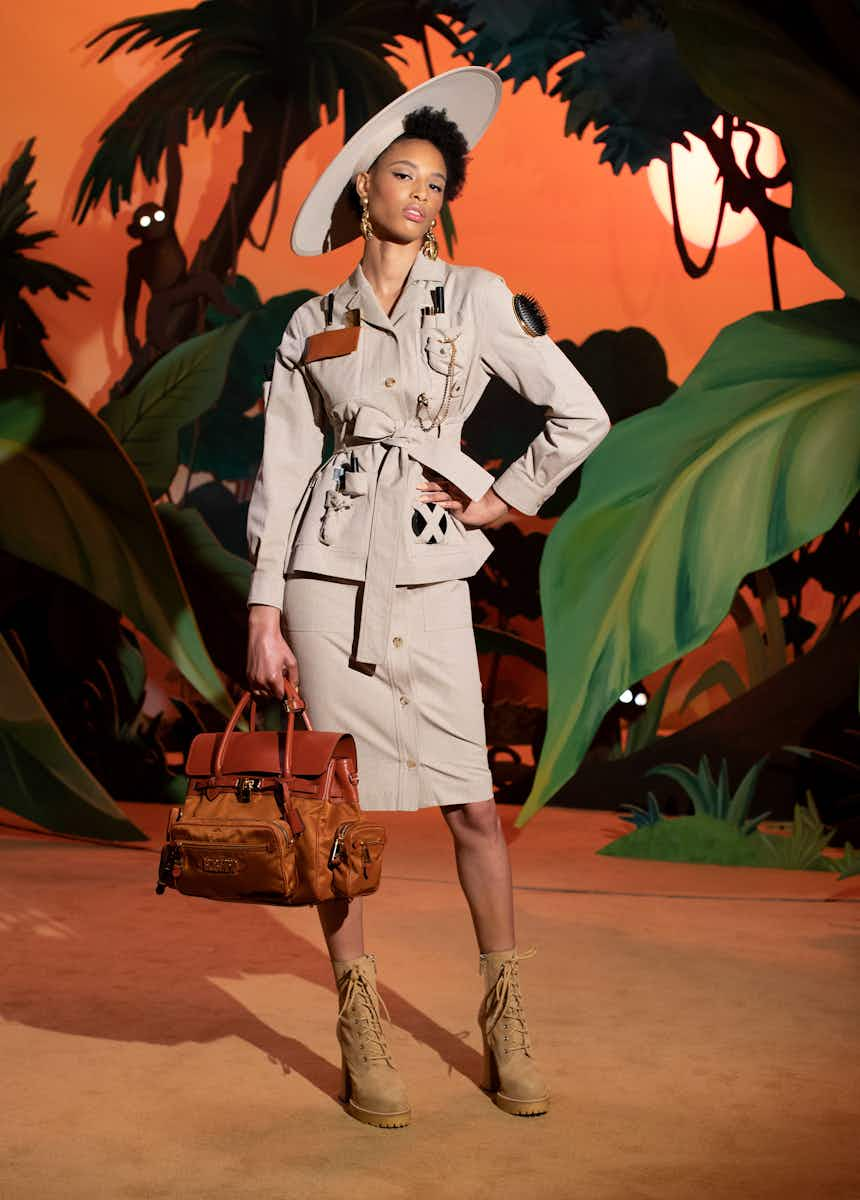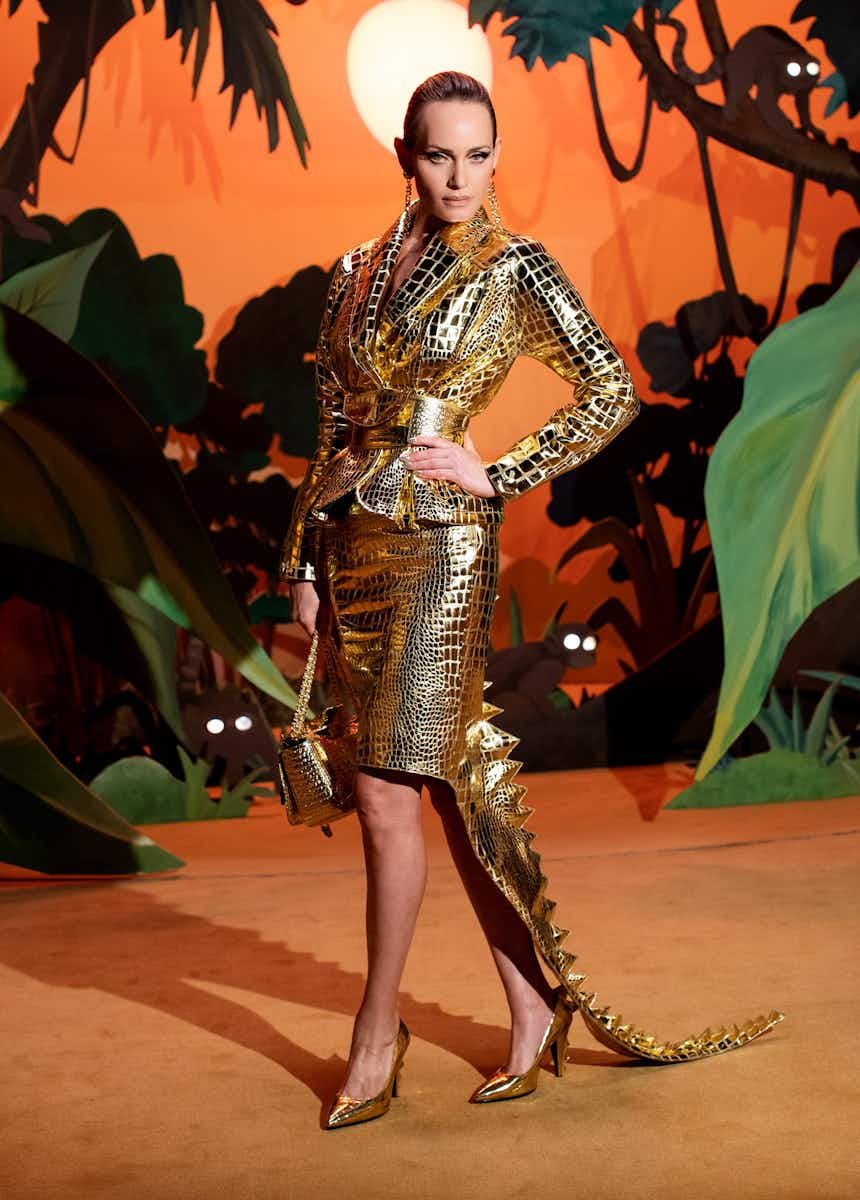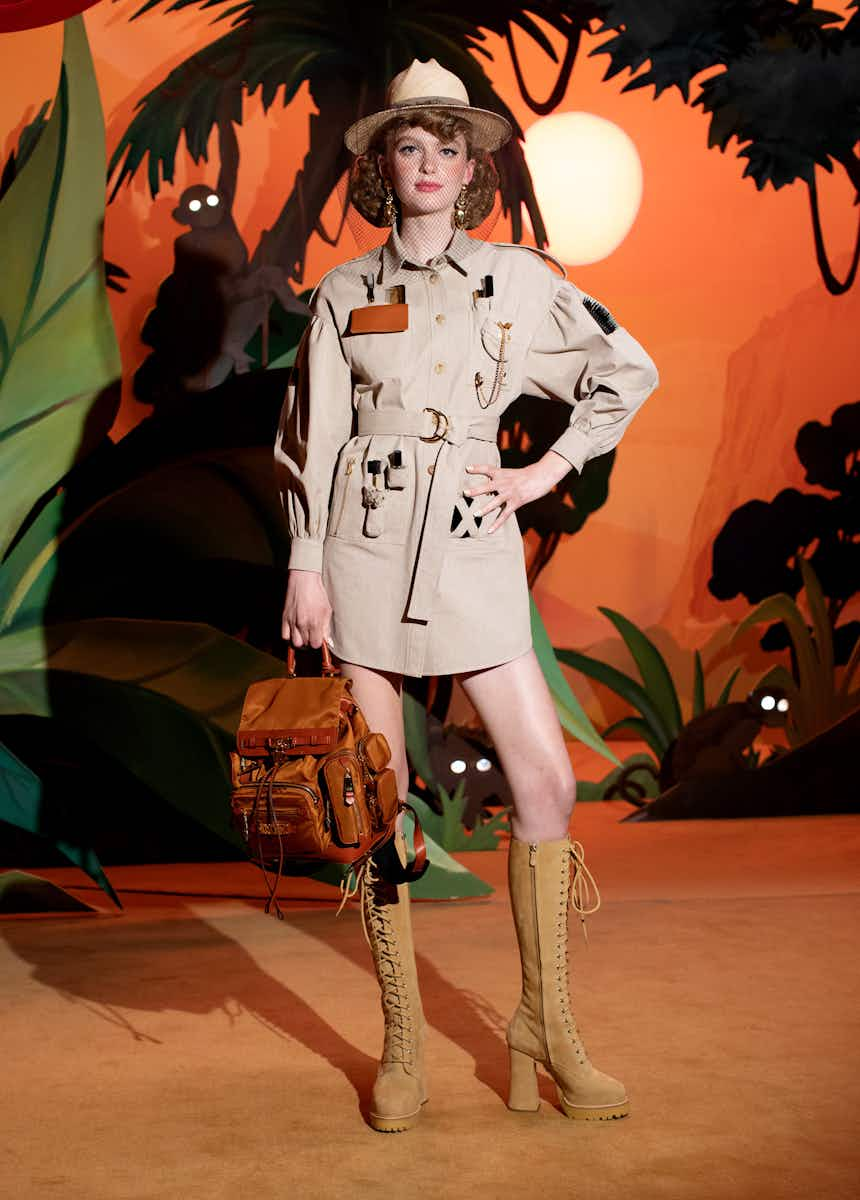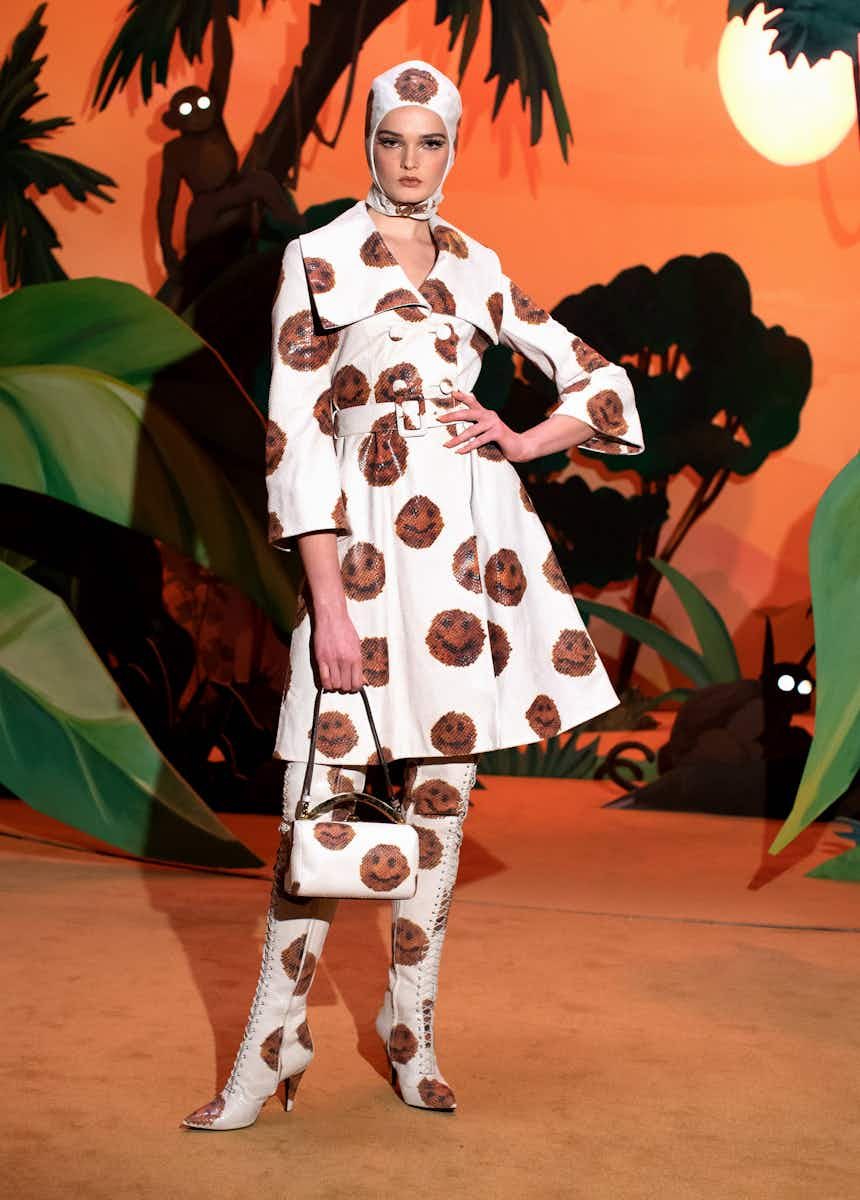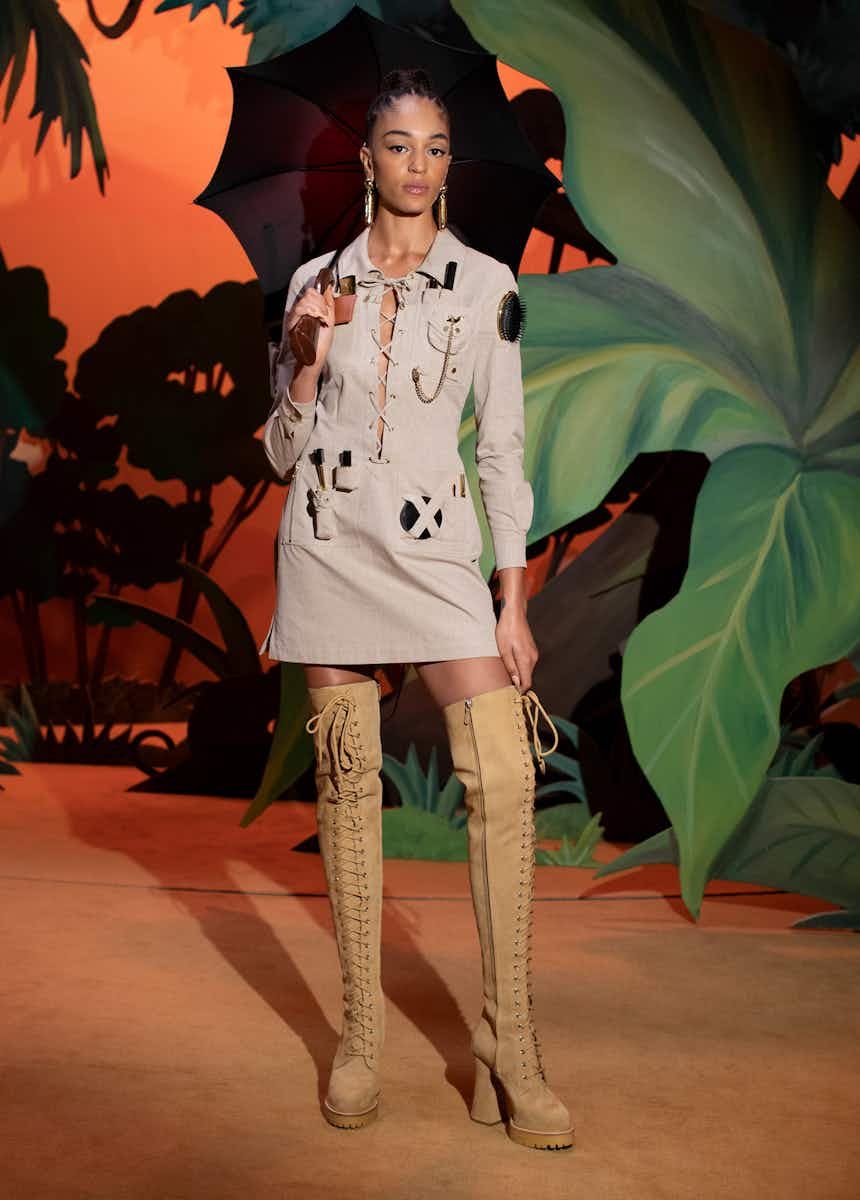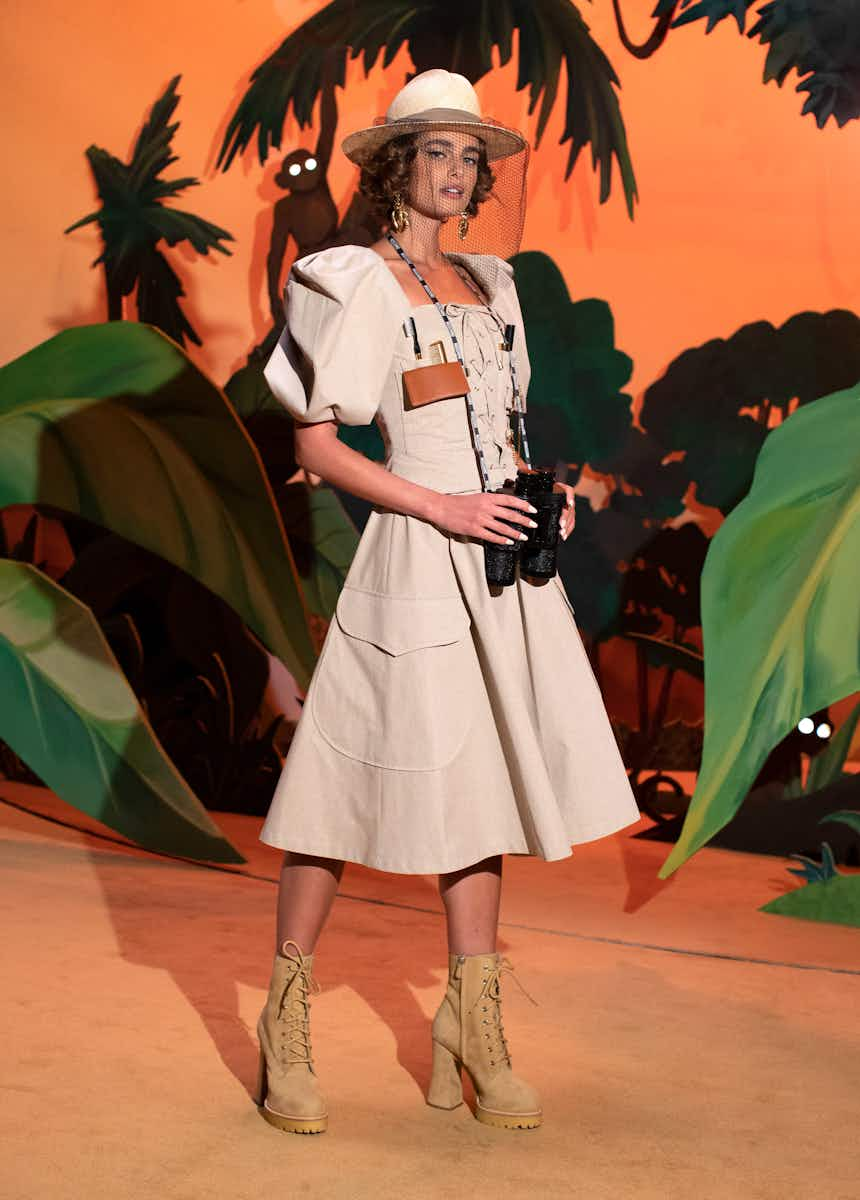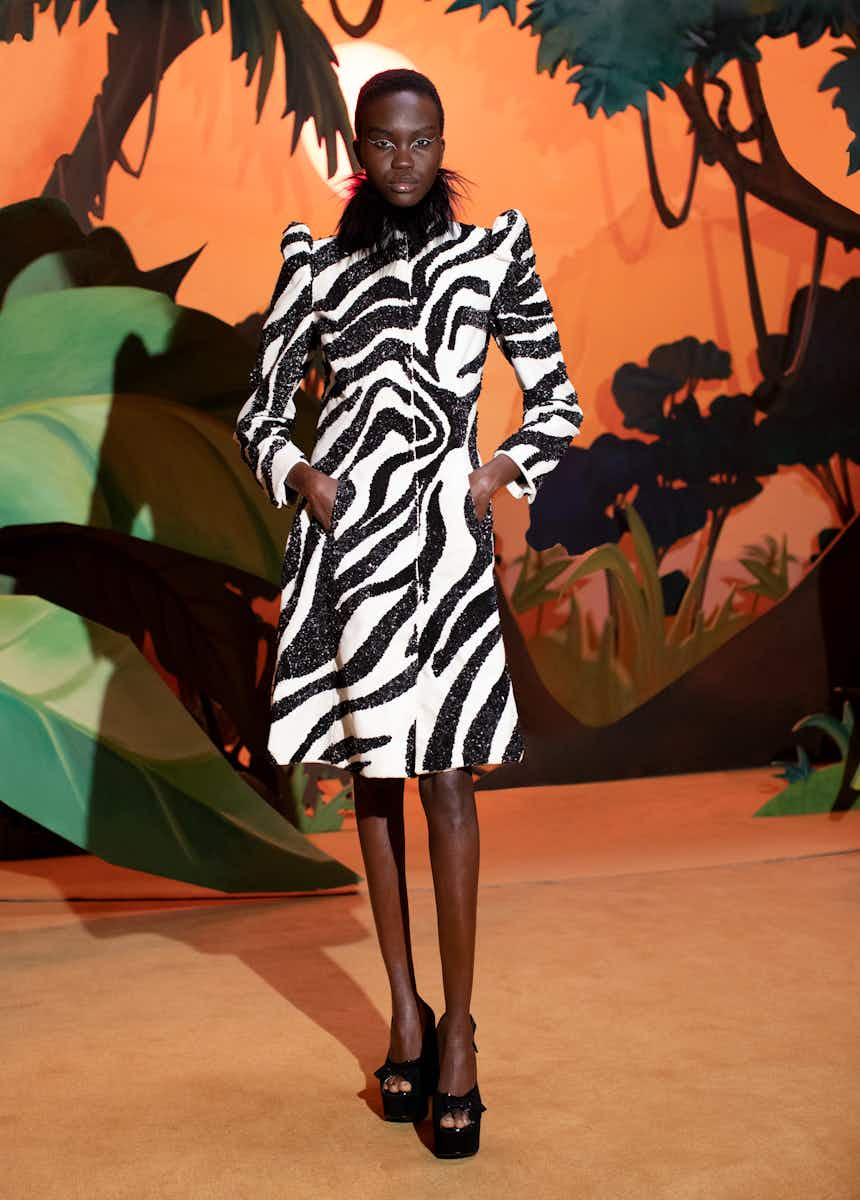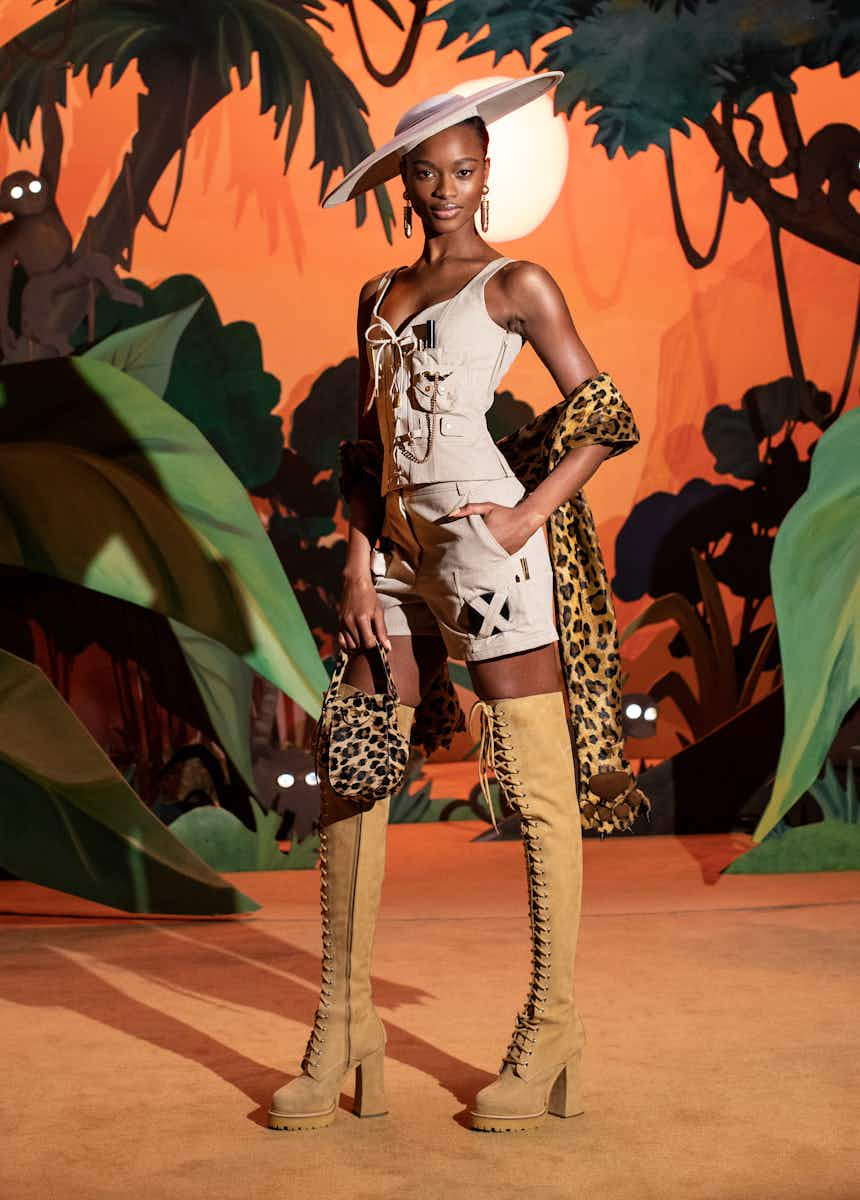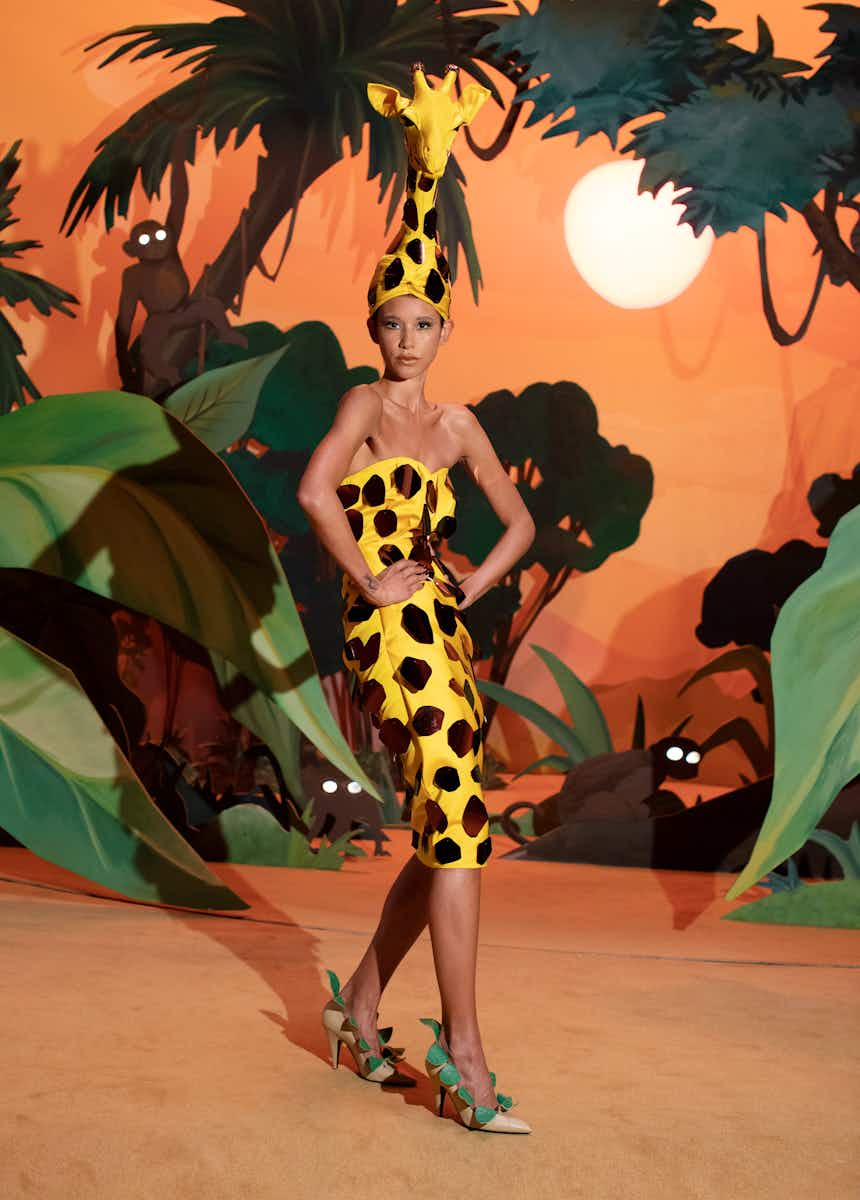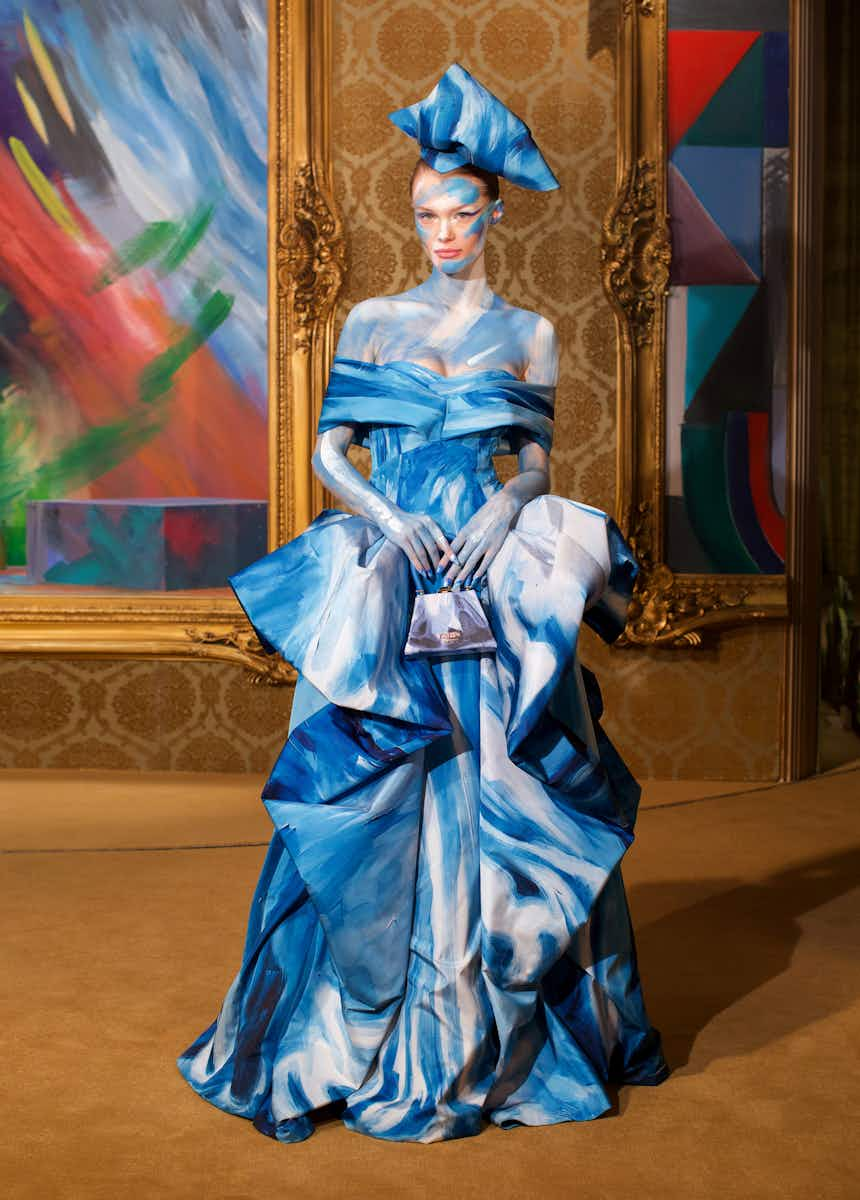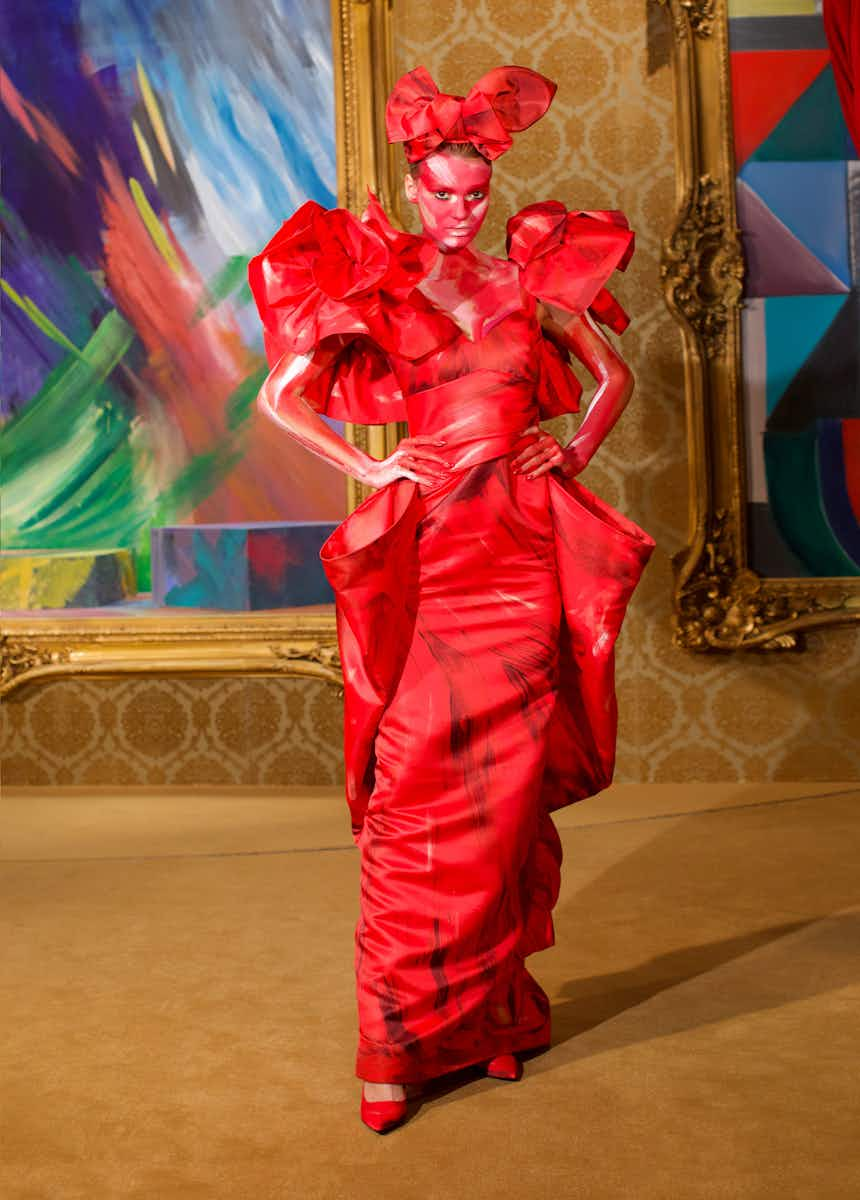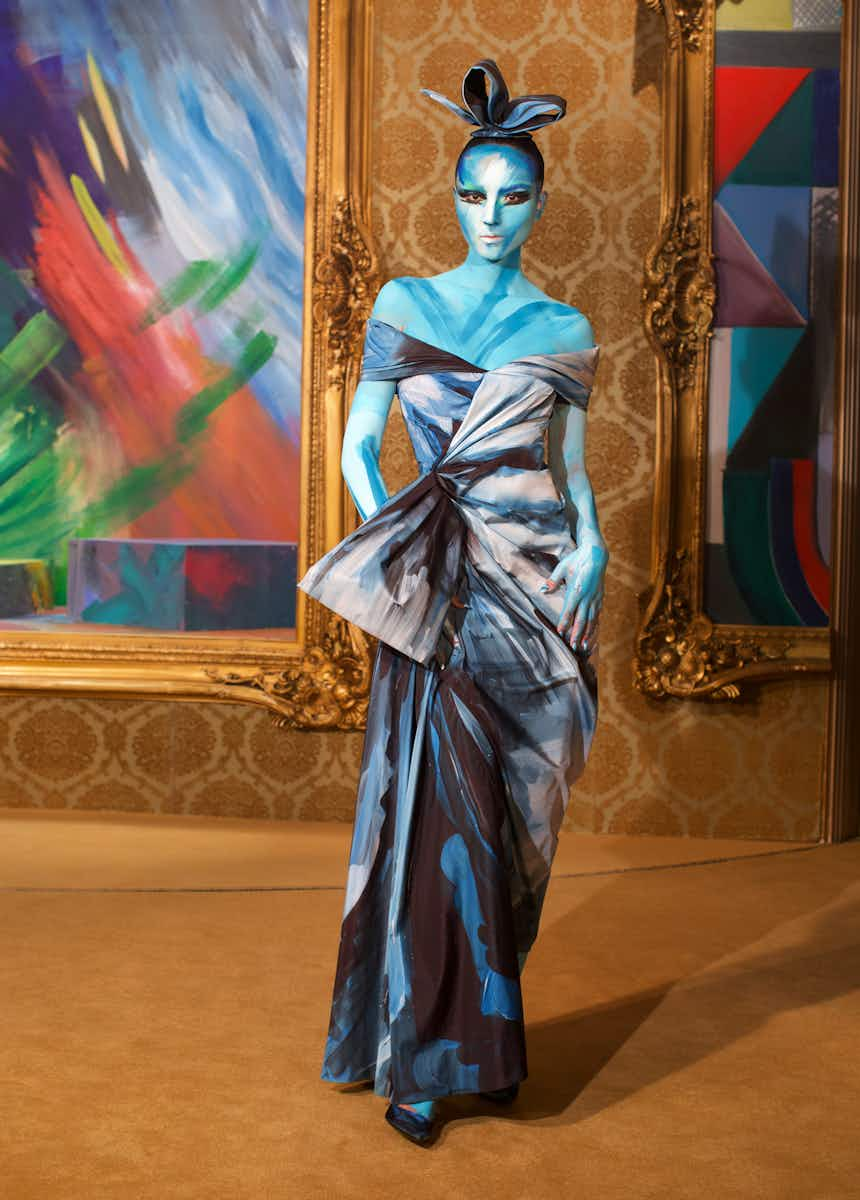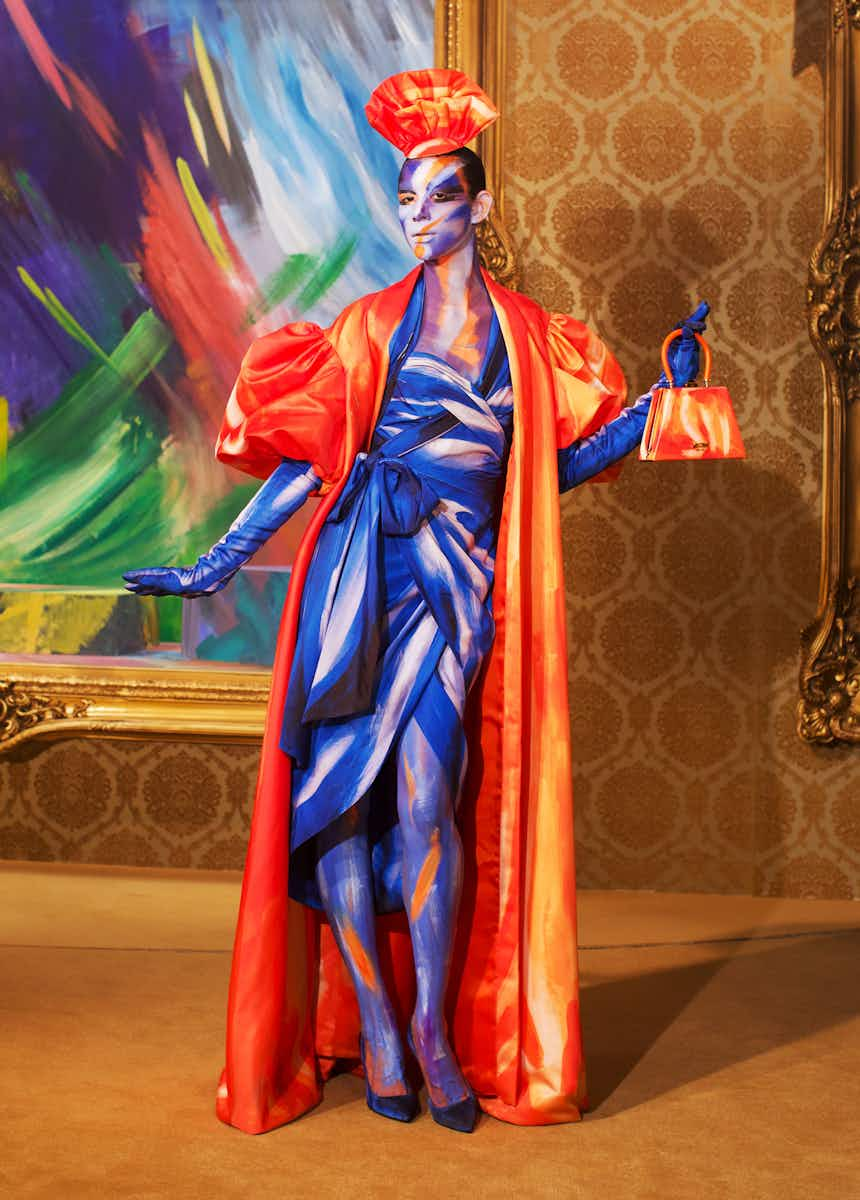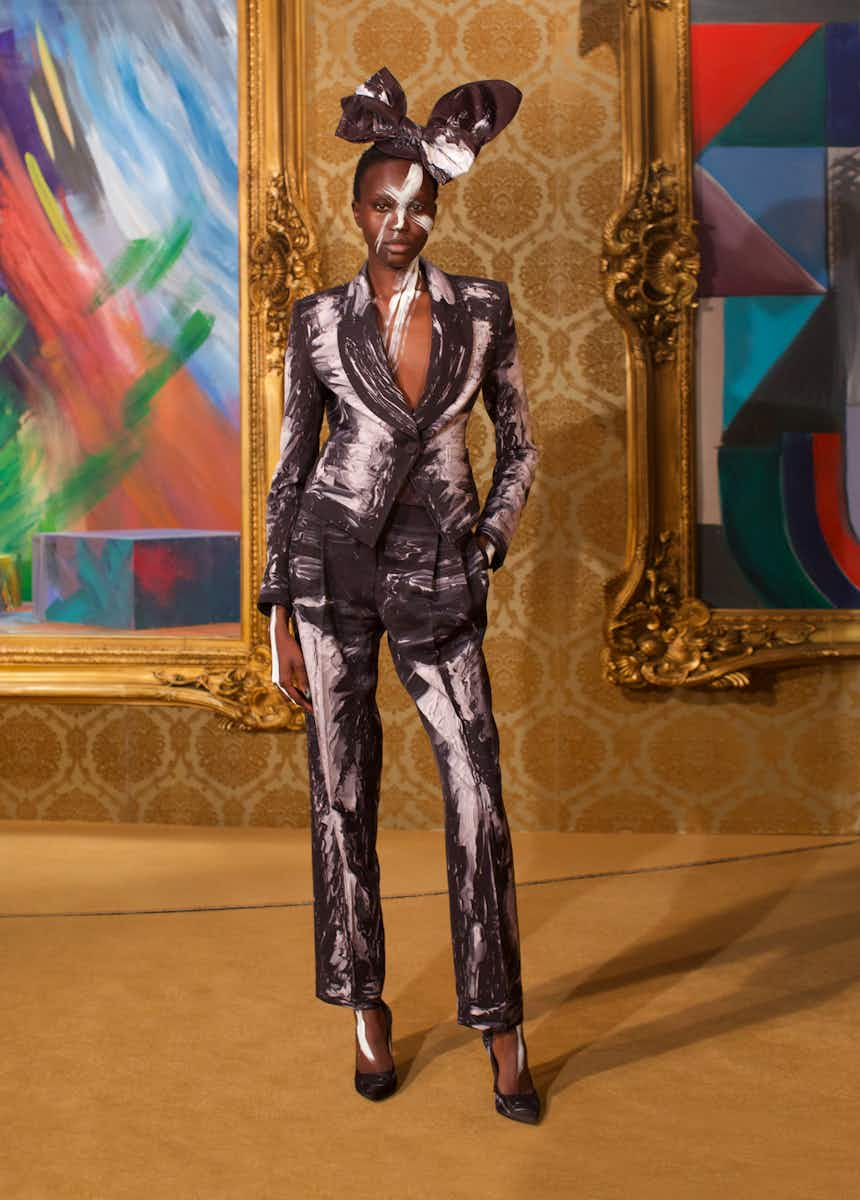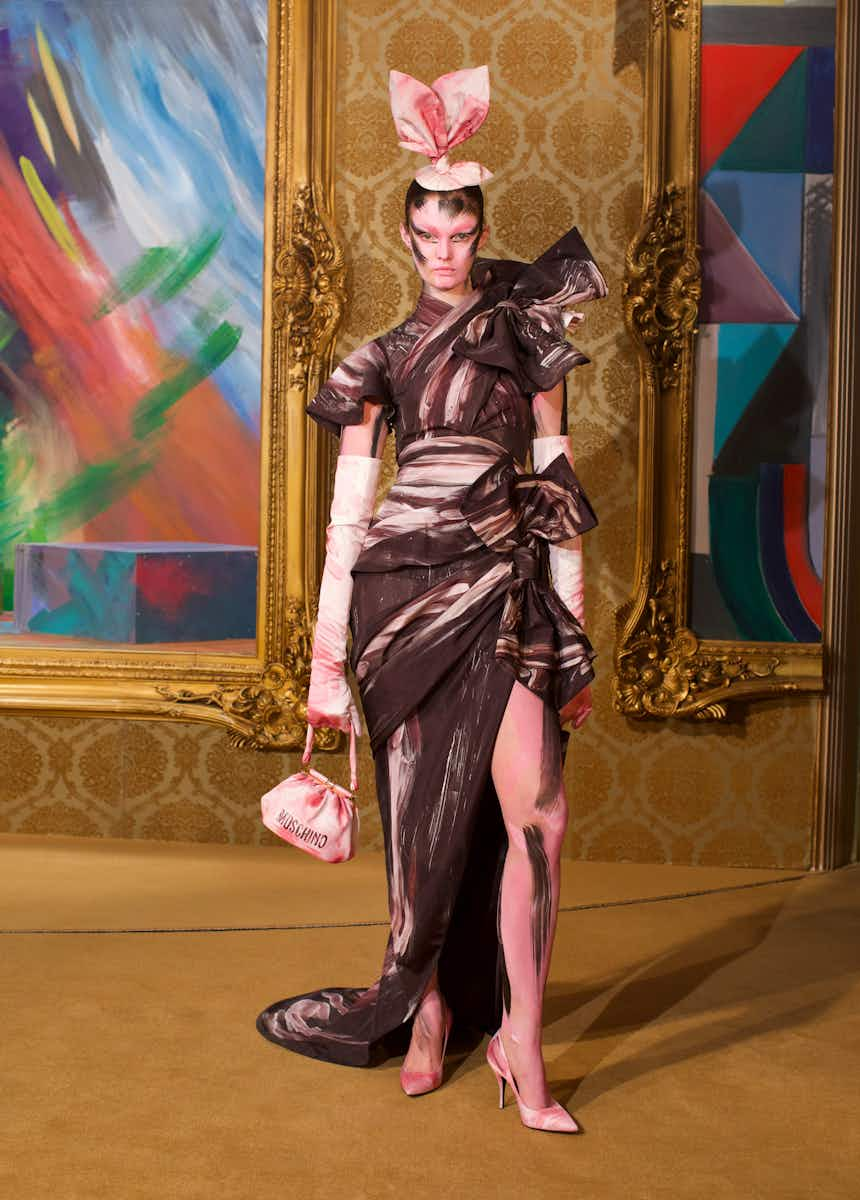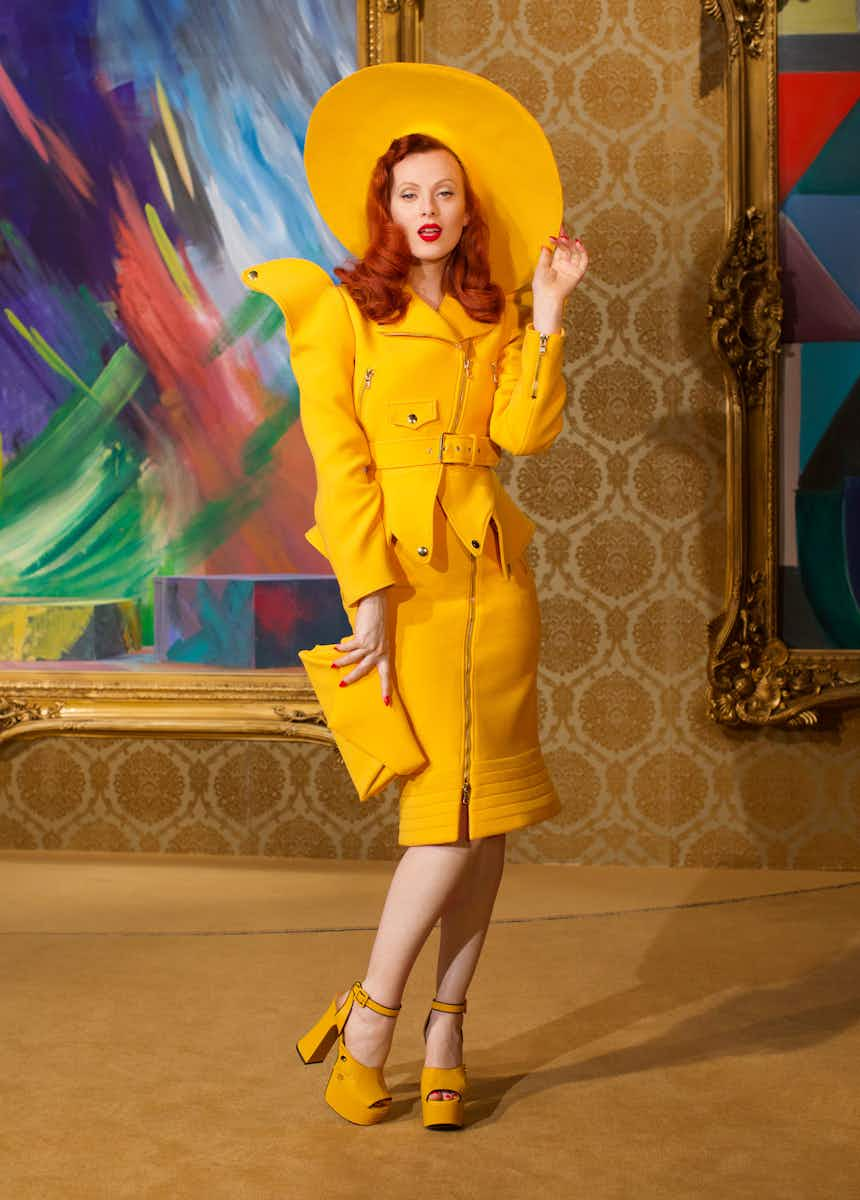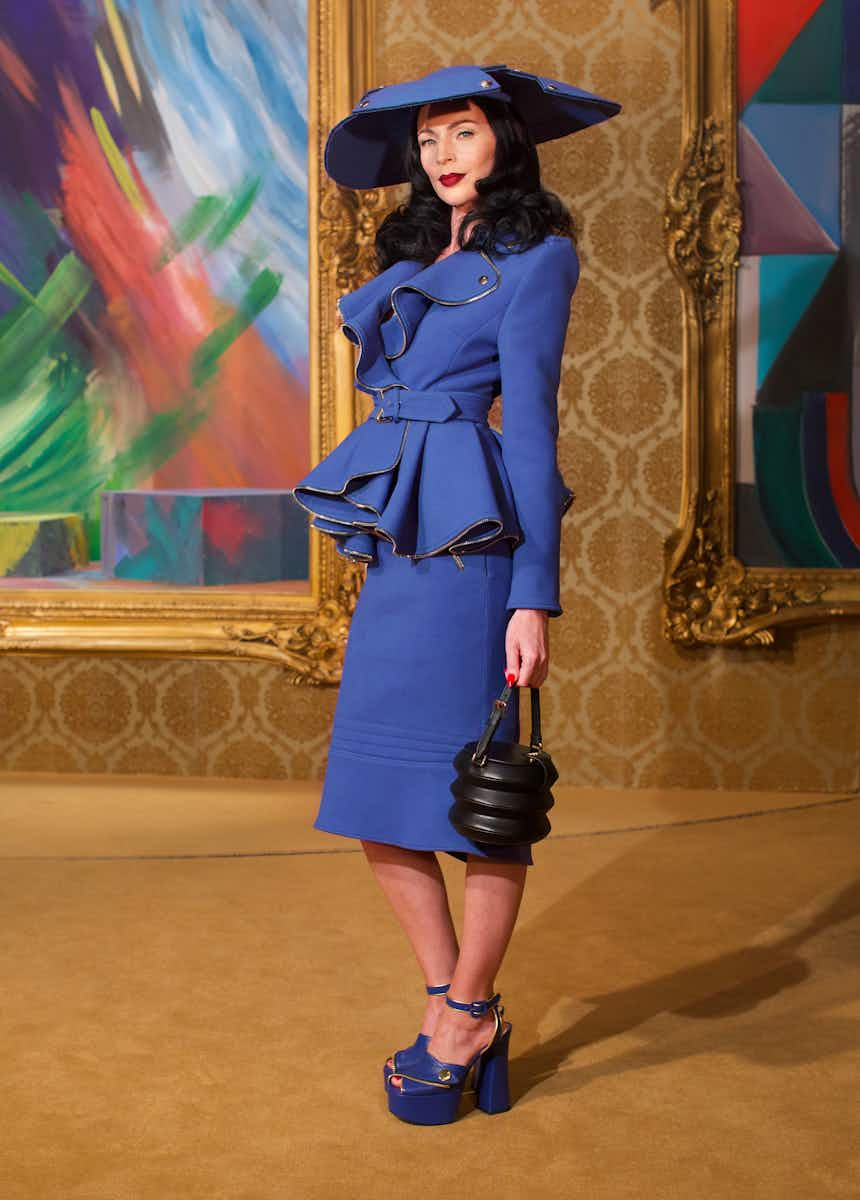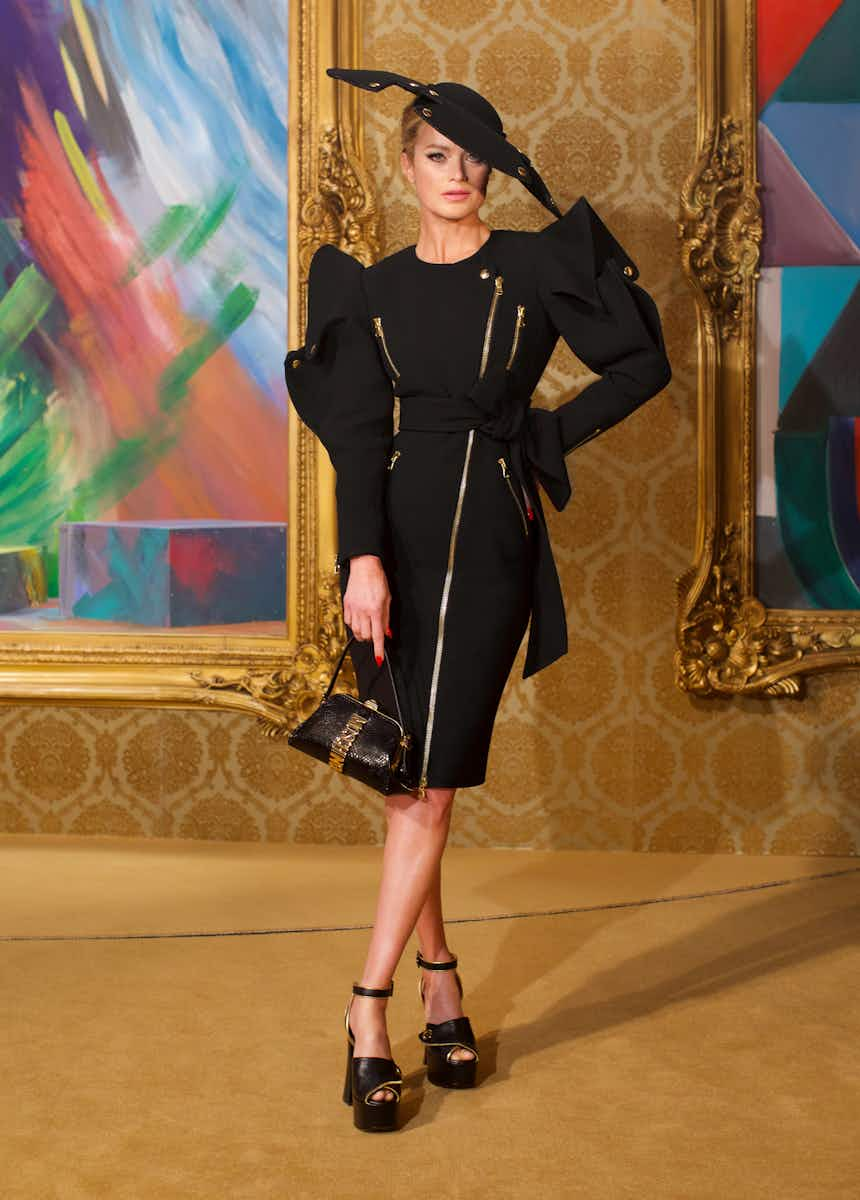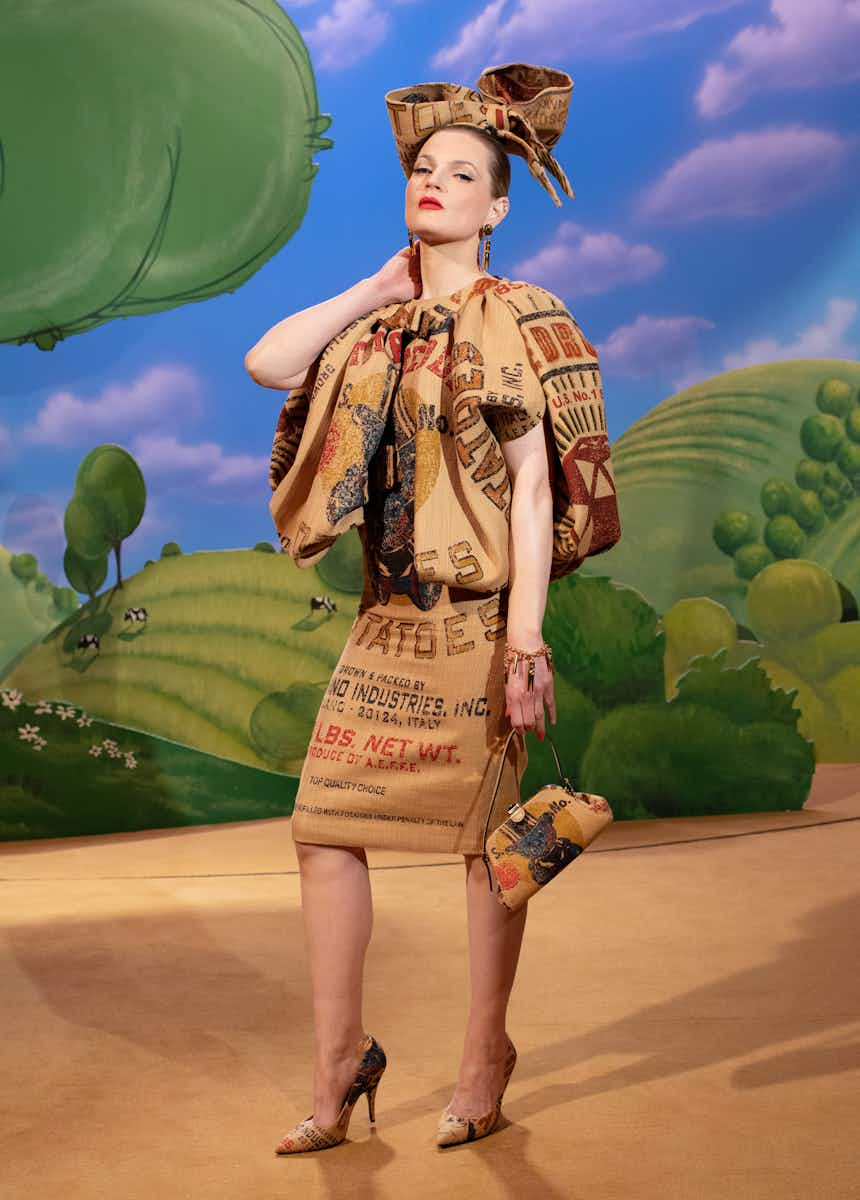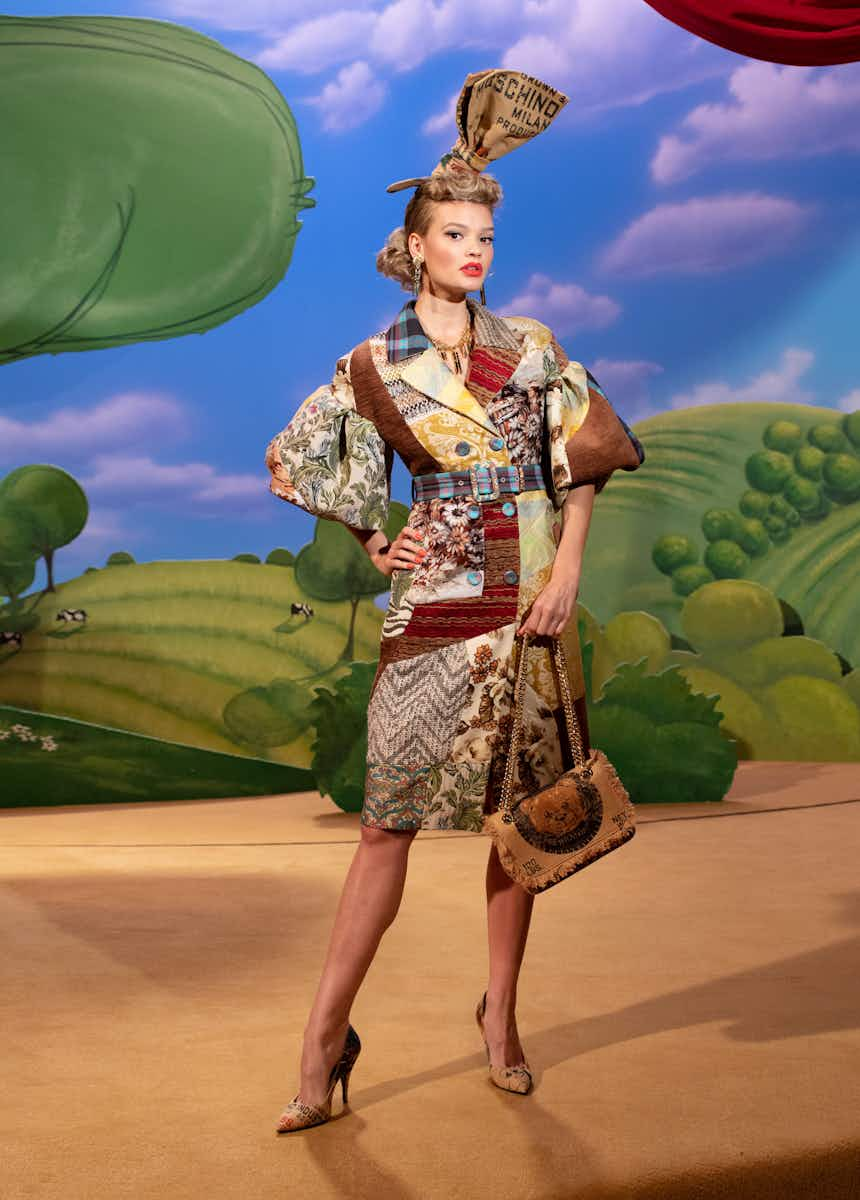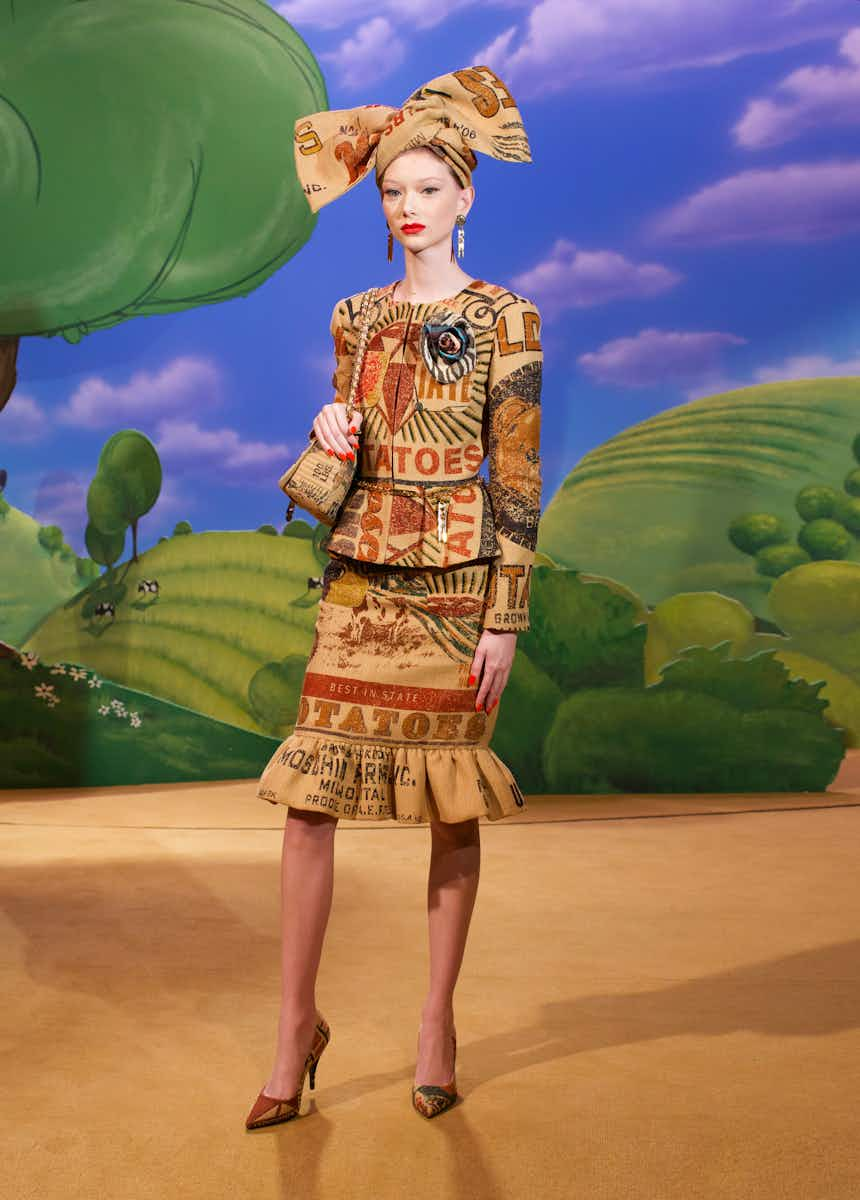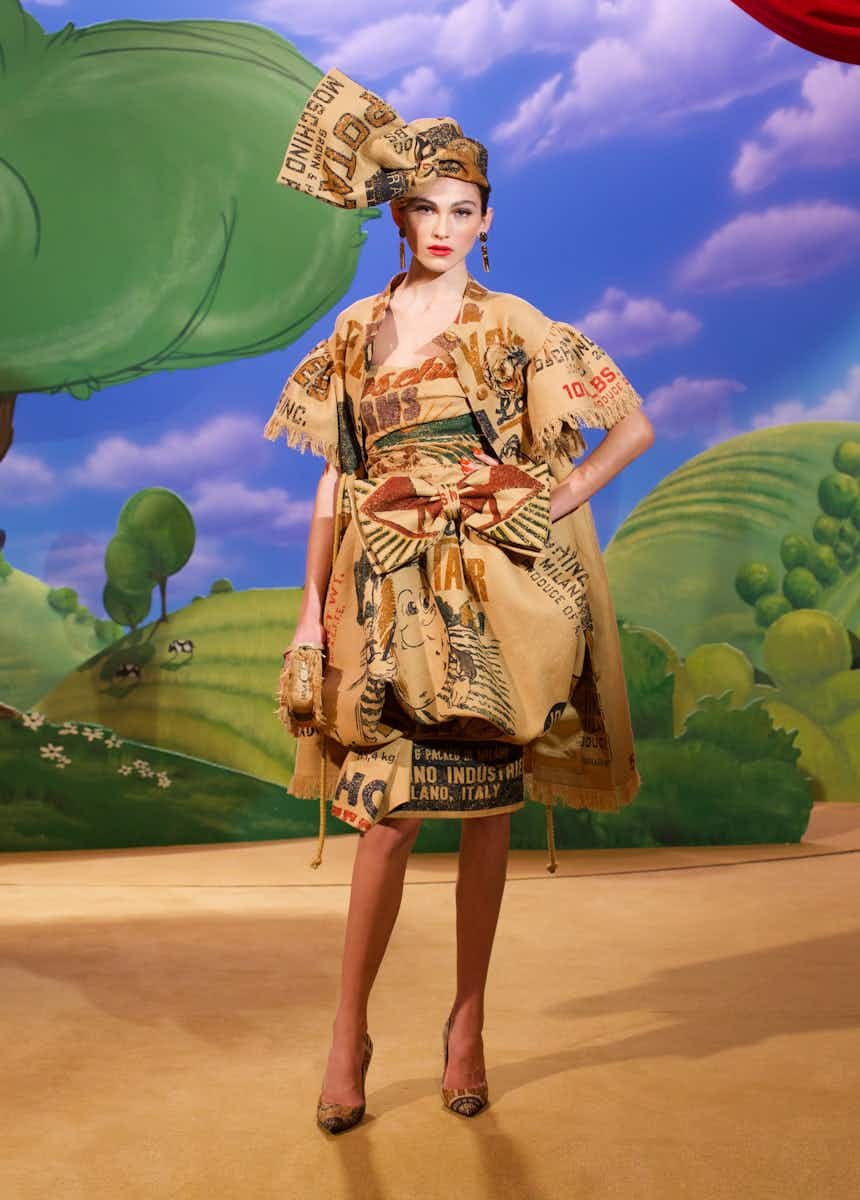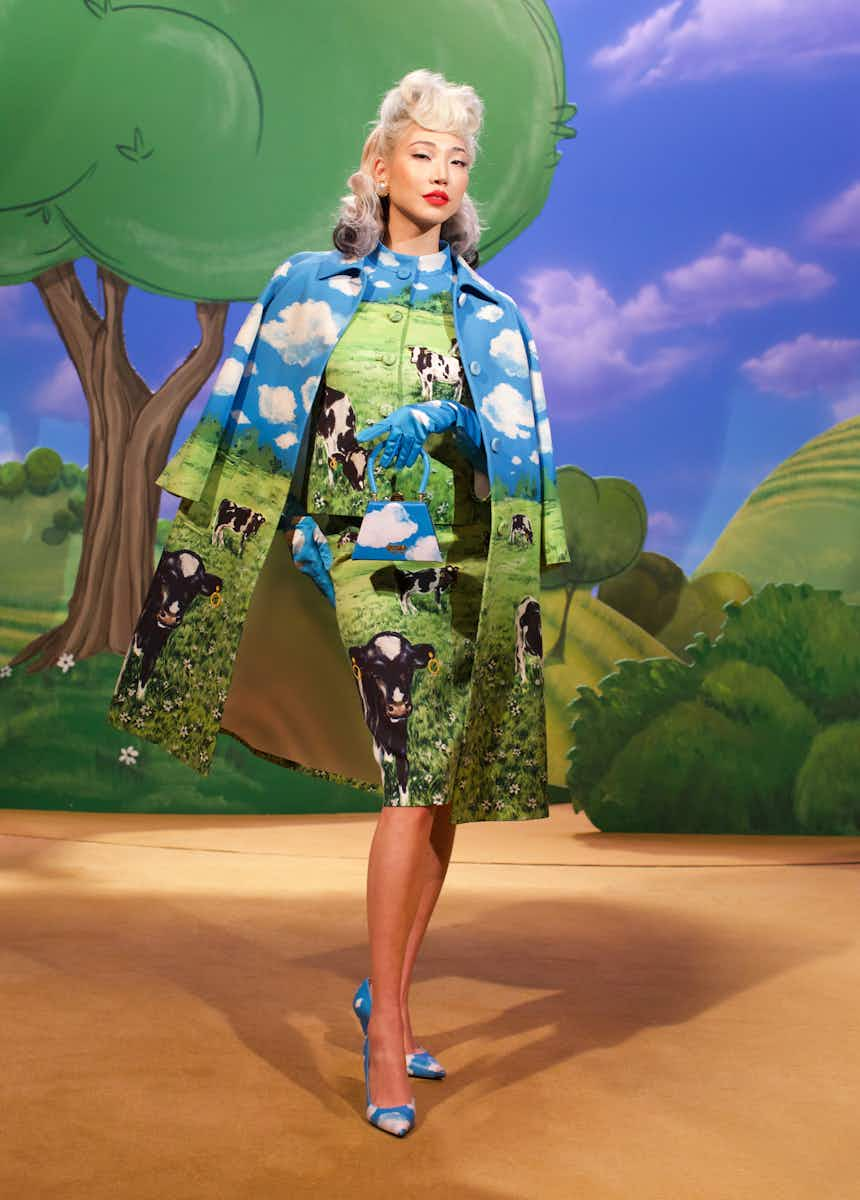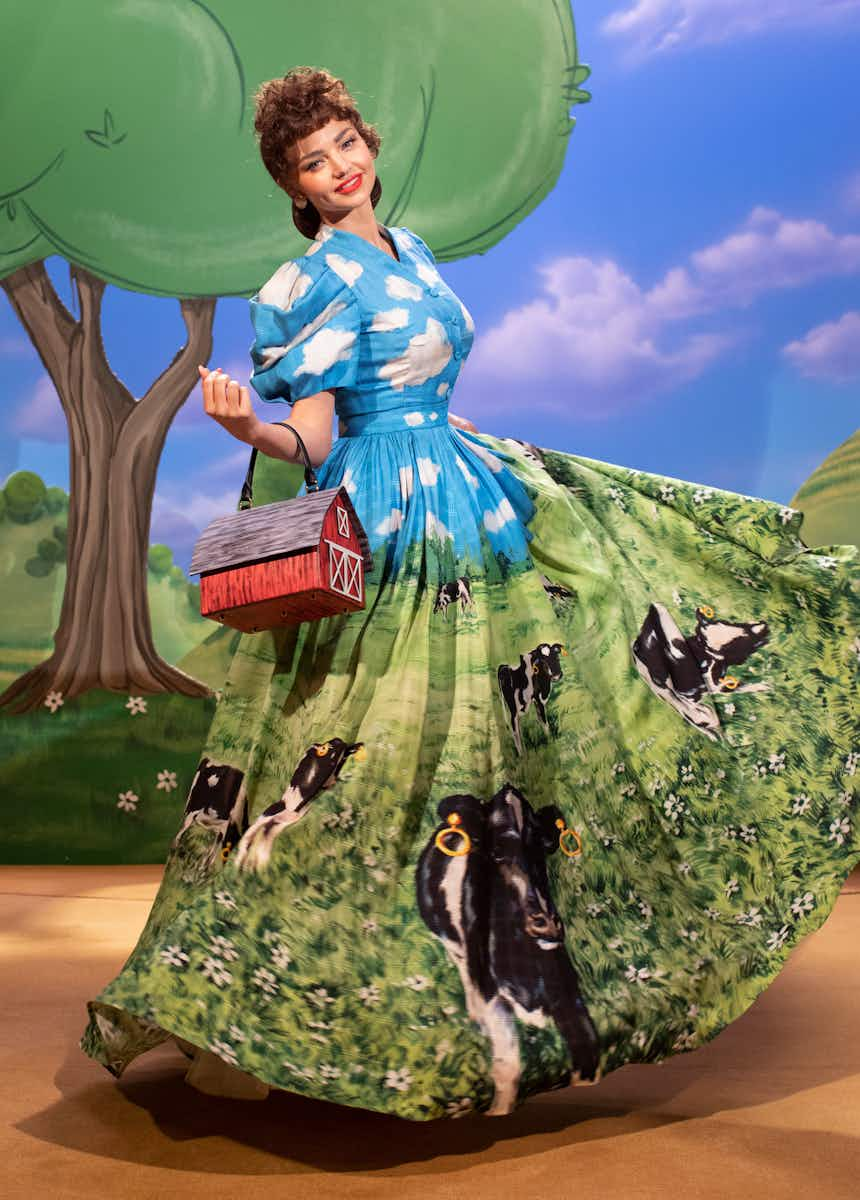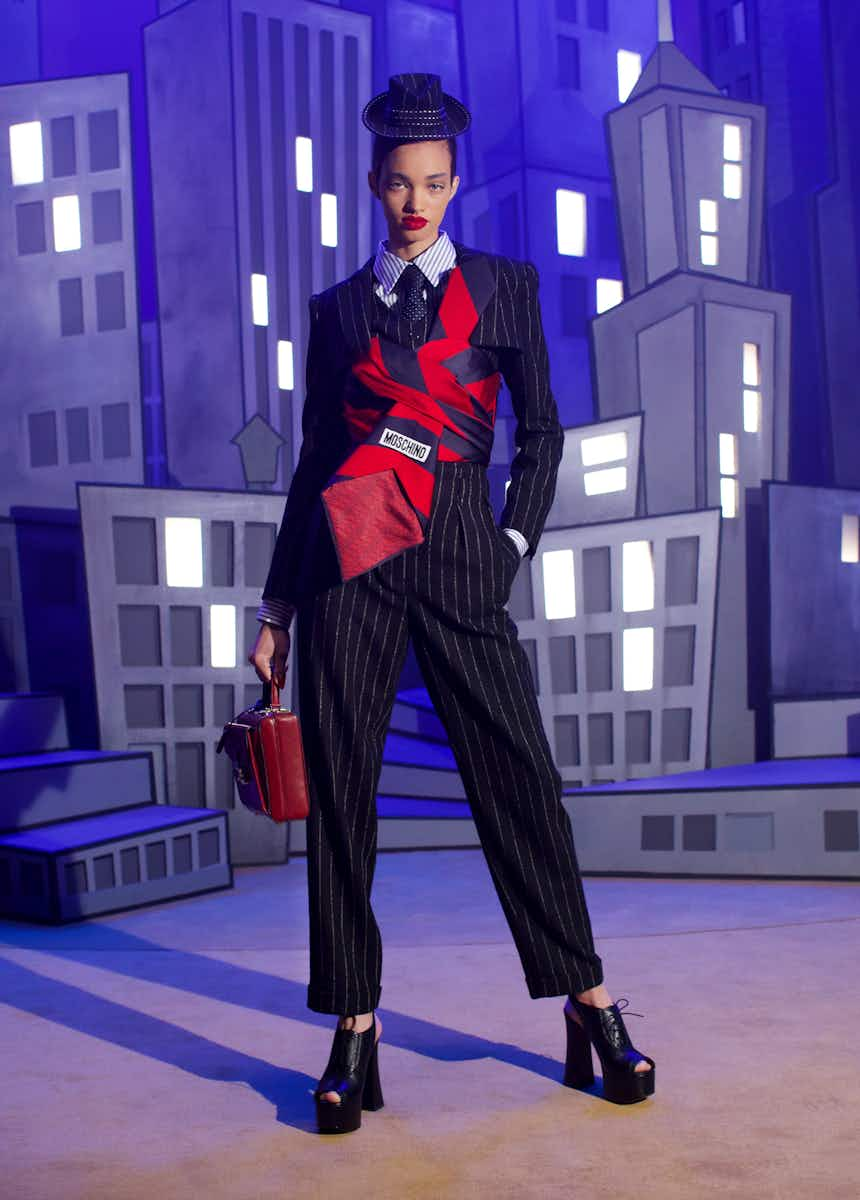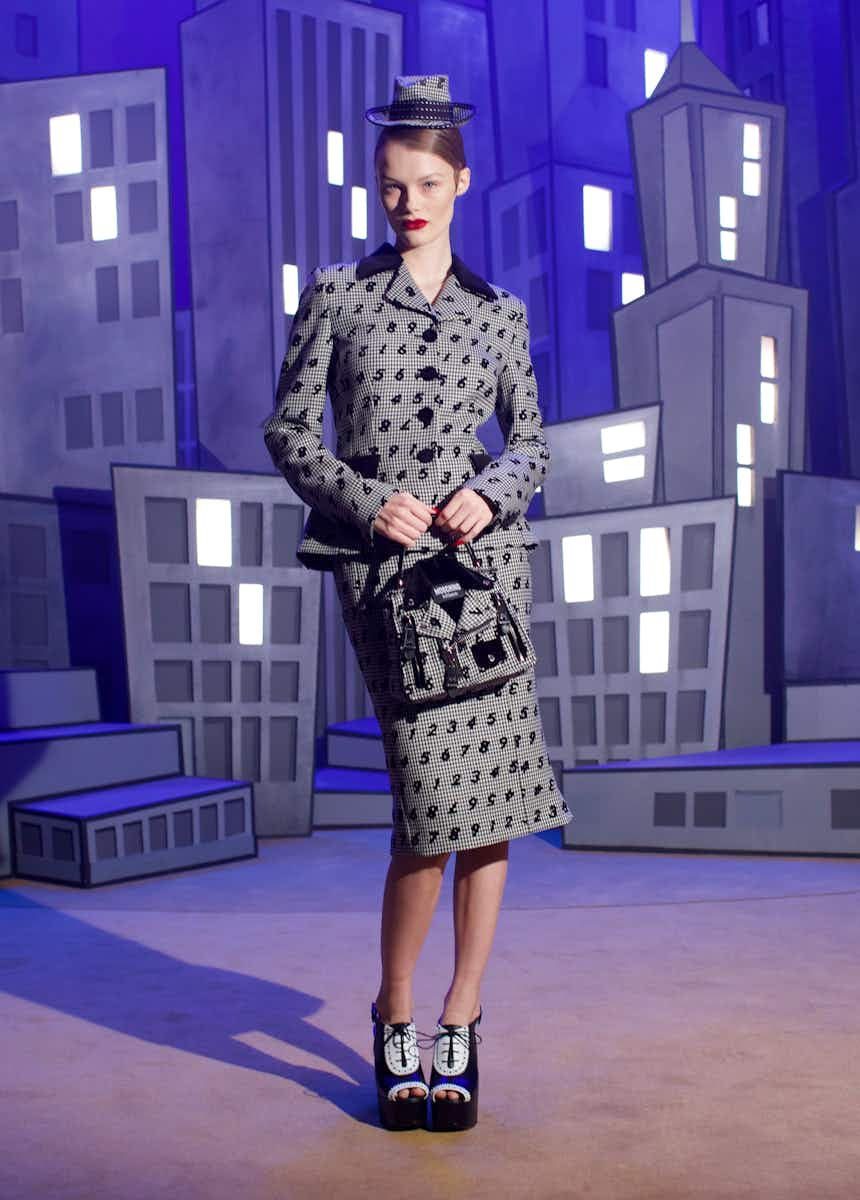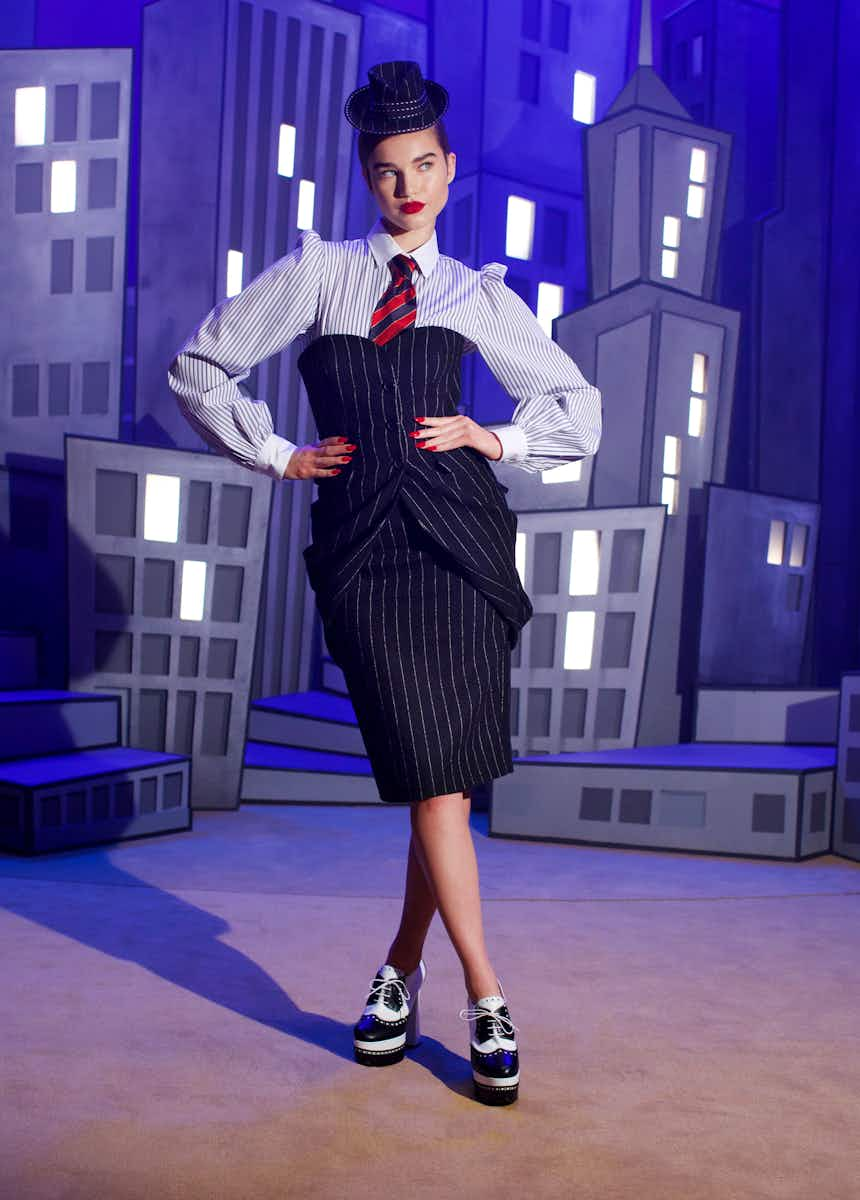 Steeped in old Hollywood, the collection and accompanying film, Jungle Red – a name taken from an infamous nail bar scene in The Women – takes the Moschino woman through the ​"different possibilities they would have in their daily life", as the show opens with a Wall Street-inspired take on businesswear. It was Scott's intention to flip the gender roles for the women who would not have been allowed to work in these sectors during late ​'30s America. And so he subverts a traditional suit jacket, cutting out the bustier and leaving the top as a bolero. Traditional crisp white shirts and ties are worn underneath, but humorously blown up in proportion – a nod to Franco Moschino's archive by turning a jacket upside down so the sleeves become a bustle. Throughout, prints of numbers and dollar signs appear on the fabric, which could be a reference to the western recession or an irreverent nod to the busy, money-making businesswoman in Scott's Moschino fantasy.
Then it's off to the farm, with potato sacks elevated into glittering suits and cocktail dresses, mini-bags and headwear, nonchalantly bearing the remainders of their original form: ​"potatoes", emblazoned across the midsection. And the Francoisms return, with Moschino's archival clouds and cows printed onto a flowing tea dress à la Julie Andrews, and a three-piece ensemble complete with a teeny-tiny bag.
But a day in the life of Scott's Moschino woman doesn't end there. He presents a selection of evening gowns rendered in an expressionistic style, painted with brushstrokes as though to emulate a canvas. A ​"shopping safari" is the next pitstop, with zebra, cheetah and giraffe prints accompanying flamingo motifs on skirt suits, structured mini-dresses and thigh-high boots. Then comes Scott's grand finale: a night at the opera, where the likes of Winnie Harlow, Precious Lee and Dita von Teese slip into full length satin gloves, sweetheart busts and shimmering gold gowns.
It's an optimistic outlook to our unpredictable future – one that grants freedom, haphazardly swaying from work to play to party – and it only serves to grow Scott's imaginary world that he's been moulding since his first season as Moschino. There has been no better time for him to emphasise the power of escapism. ​"It's so important right now, to fantasise and get carried away with your imagination," he says. ​"It's a survival mechanism in itself."


More like this